Are you looking for some unique campervan gifts for someone who's living in their campervan? Given that a van lacks much additional space, it's easy to see why picking something suitable may be difficult. You don't want to get them anything that would take up too much room since there isn't much extra space.
We've been road tripping or living in our van since 2015, so we're pretty clued in on what a campervan owner would like as a gift. We've come to appreciate the essentials and realize there isn't room for the unessentials in our lives. Most of the gifts on this campervan gift ideas list are based on our own experiences or are items that we would love to receive as a gift from someone who's looking to purchase a gift for the vanlifer in there life.
Whether you're in an RV, motorhome, or perhaps even camping, here are some of our favorite campervan gifts that every camper can use.
BEST GIFTS FOR VAN LIFE
I have categorized my campervan gift guide into 4 sections. Get ready because these are the best gifts for campervan lovers and some of these on this list are great motorhome gifts too.
Practical van life gifts
Funny campervan gifts
Gifts for campervan owners looking to stay warm and comfy
Kitchen campervan gifts
If you're anything like me you may become completely stressed out at the thought of gift giving especially when you're trying to figure out something to gift someone who appears to already have everything. When you're looking for a campervan gift for someone who lives in a van it can be difficult to find that perfectly unique gift. That's ok don't let it get to you because sometimes it's the little things that someone would appreciate the most.
Yep, the little things like a gift card for gas, or maybe even a gift card to their favorite coffee shop. I know one of the things we would appreciate most is a gift card to some of our favorite breweries.
1. GIFT CARDS- USEFUL CAMPERVAN GIFTS
BEST GIFT CARDS FOR VAN LIFERS
Here are our gift card recommendations:
LOOKING FOR ADDITIONAL GIFT IDEAS FOR THE CAMPER OR TRAVELER IN YOUR LIFE?
KITCHEN CAMPERVAN GIFTS
Obviously people save a whole lot of money by living in a van. The thing is that to stay on track and not spend too much money eating out vanlifers have to be calculated and planned with their meals. People living in vans, or RVs have limited storage space for food and often smaller than normal fridges.
2. THE CAMPER VAN COOKBOOK
Living in such a small kitchen can stunt creativity. Here's a great way to gather some new and different ideas to spice up your cooking.
3. SPACE SAVING MEASURING CUPS
Space is always tight in a van but don't let that hurt your culinary skills. These collapsible measuring utensils will make Martha Stewart jealous. Not only can you buy collapsible measuring cups you can add in more collapsible items such as bowls, colanders, funnels, and more.
4. A FAVORITE CAMPERVAN GIFT- THE STANLEY COCKTAIL SHAKER
The iconic campervan gift…a must have! No vanlife kitchen is complete without a cocktail shaker. Sure we're fans of beer but sometimes a nice cocktail is just what you need. The great about this campervan gift is everything stacks into the shaker cup so it's nice and compact.
5. STAINLESS STEEL WINE TUMBLER WITH LID
We have a set of these stainless steel wine tumblers, and one thing we appreciate about them is that they come with lids! We frequently bump into each other or Hank the dog decides to wag his tail, so it's nice to have a little more protection for your wine. These are ideal for people living in RVs, campervans or those who are even camping.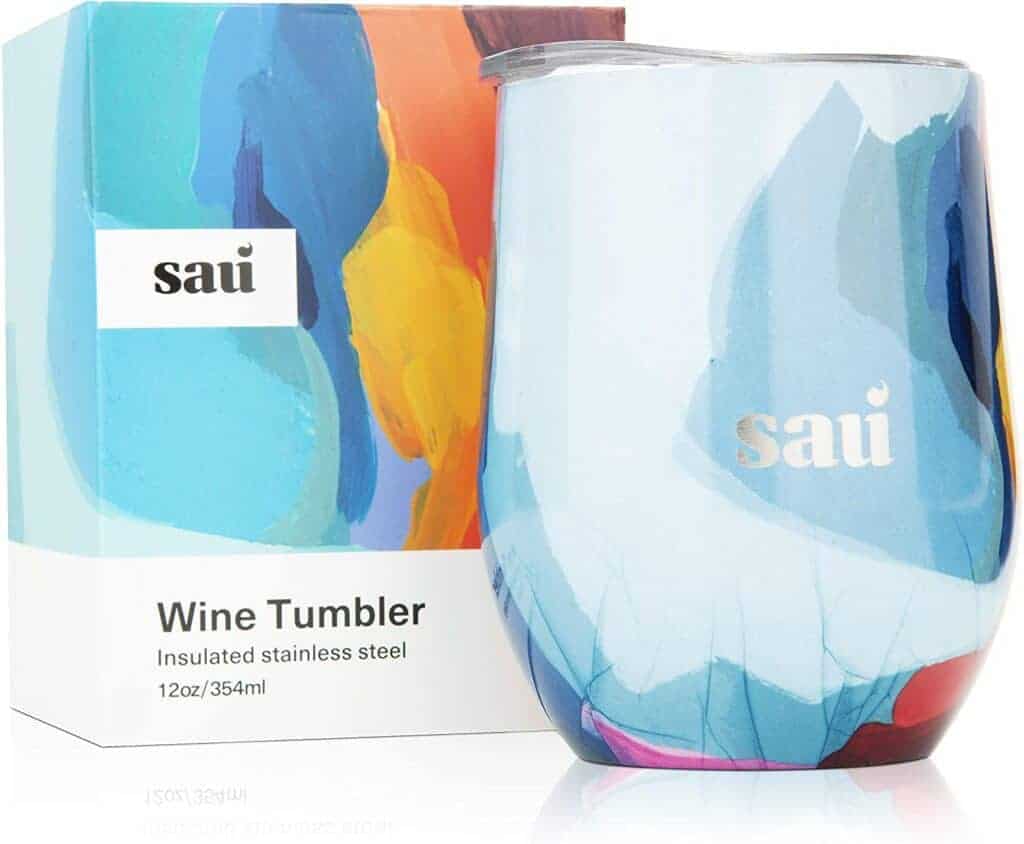 6. PORTABLE ESPRESSO MACHINE- THE BEST CAMPERVAN GIFT
You know what it's like when you need a shot of espresso when you're tired, especially while you're driving. It's tough, especially when there isn't a coffee shop for miles. That's why this Wacaco portable espresso machine is the perfect campervan gift. This tiny espresso machine is super compact so even people who are backpacking or camping may enjoy this gift.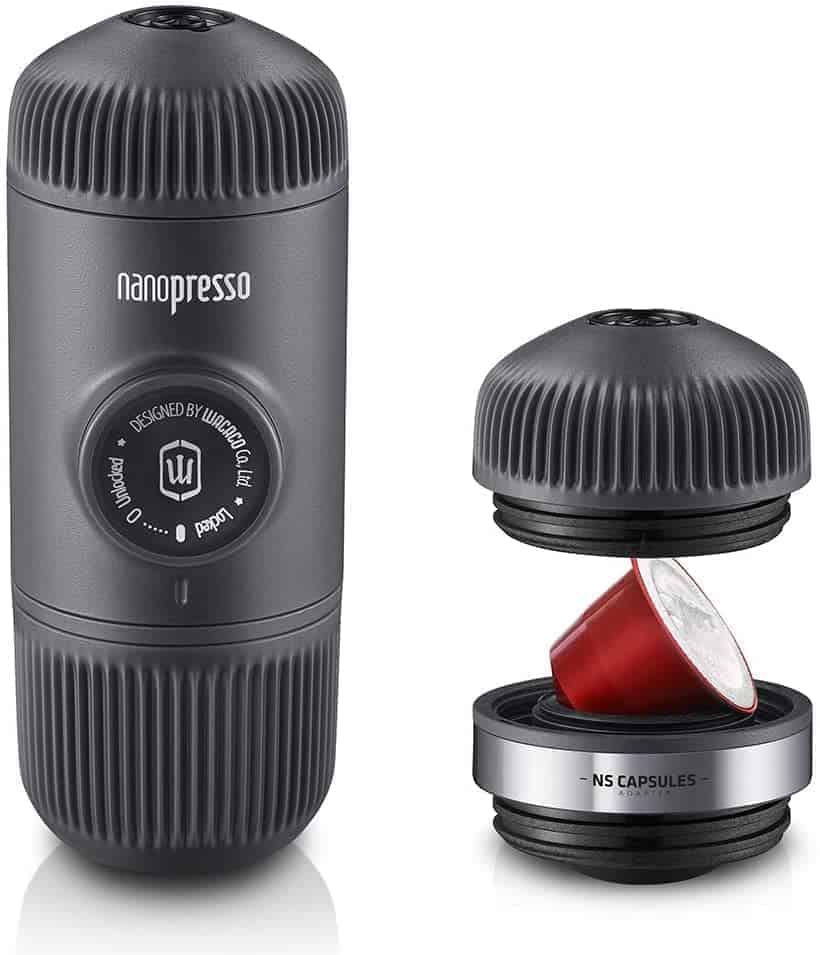 7. GCI OUTDOOR COMPACT CAMP TABLE
Whether you cook inside your campervan or outside your campervan I think that a compact camp table is a great item to have. We unfortunately had ours stolen and haven't replaced it quite yet but these tables are great for when you're camping and cooking with friends. The table is super easy to set up, it's nice and sturdy, and it packs down really small so you can easily find a place to store it in the garage of your vans
PRACTICAL CAMPERVAN GIFTS
8. DR. BRONNER'S PURE-CASTILE LIQUID SOAP
Anything from Dr. Bronner's is a must for Vanlife. They even have a sampler pack if you're not sure what you should buy. These travel sized soaps are the perfect gift for campers too.
9. MAGNETIC SPARE KEY HOLDER
We are soooo lucky to have a keypad on our Ford Transit because I can't tell you how many times I have misplaced our keys. In my opinion a magnetic spare key holder is a must for all RV'ers and vanlifers. I know this isn't an exciting gift to give but a spare key holder is one of those gifts for camper vans thats a necessity.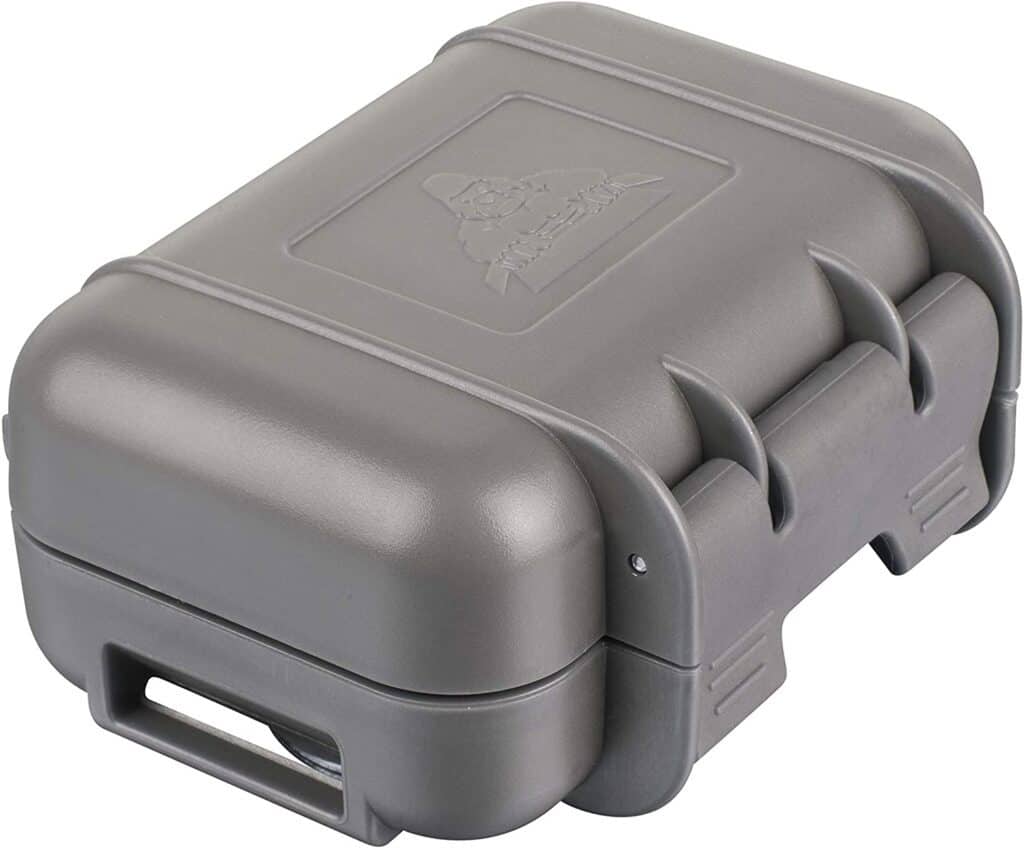 10. SHAMPOO & CONDITIONER BARS
If you haven't tried shampoo and conditioner bars you're missing out. They're great for travel, vanlife, and road trips because they're small, light, and they won't spill. These are also the perfect gift for campers and great gifts for a loved one who's living in a camper down by the river. Hahahah!
11. LUCI SOLAR POWERED STRING LIGHTS
I'm not sure if you've paid attention to how people in RV's, Motorhomes, and Vans live their day to life but if not I'll tell you it's all about the ambiance. Becuae there's only so many "things" you can have in your mobile home on wheels you have to make it feel comfy with lights. These Luci solar string lights are a great gift ifea for van life
12. RITE IN THE RAIN JOURNAL
Don't make the mistake of not keeping a journal. With all the great places your van can take you a journal is a must. Yah sure it's not the prettiest of journals but it's durable and waterproof making for a great campervan gift idea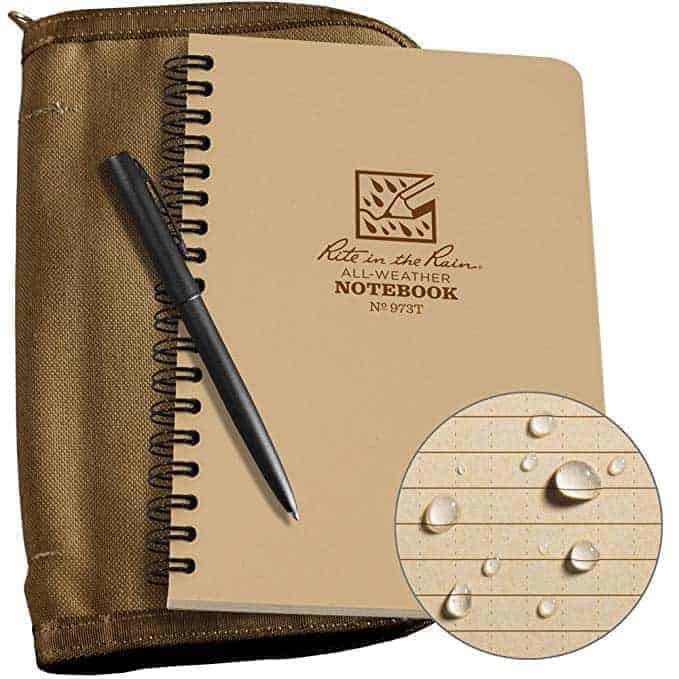 13. PORTABLE AIR COMPRESSOR
The beauty of living in a van is the ability to go anywhere but traveling on backcountry roads or sandy beaches can take a toll on your vehicle. It also requires that you inflate or deflate your tires depending on the conditions you are presented with. Airing down can be especially useful when you are traveling on especially soft and sandy roads.
Need some road trip ideas? Here are 11 Stunning Destinations Not To Miss In The US
14. NATIONAL PARK PASS
An annual pass to America's National Parks makes a great and inspirational gift. For just $80 you can keep the Vanlife stoke alive and strong.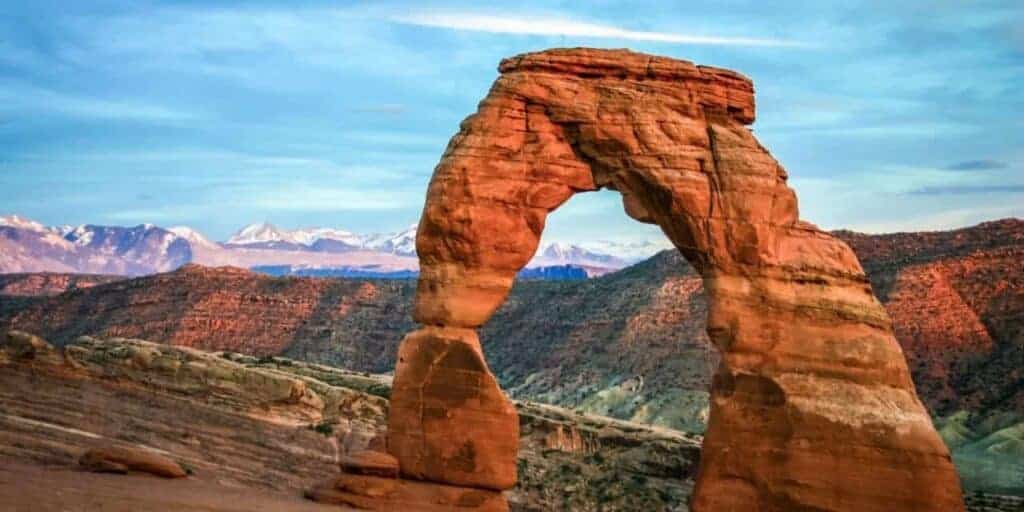 15. LED STICK ANYWHERE LIGHTS
I don't care how fancy your van build is, there's always more room for lights. These battery operated stick-on lights are perfect for that dark cabinet you can never see what you're doing in.
16. ADVENTURE WELCOME MAT
Every van needs a welcome mat so why not get a fun one.
17. PORTABLE WASH BAG
Sure you can head to the laundry mat and do a load of laundry but if you're spending a lot of time off grid it's nice to wash a few things and let them hang dry in the summer heat. This portable wash bag is great for doing just that, making it a very practical campervan gift for a loved one
This portable clothes washing bag gives you that option for when you are on the go, and it doesn't take up too much space. It would make a great campervan gift!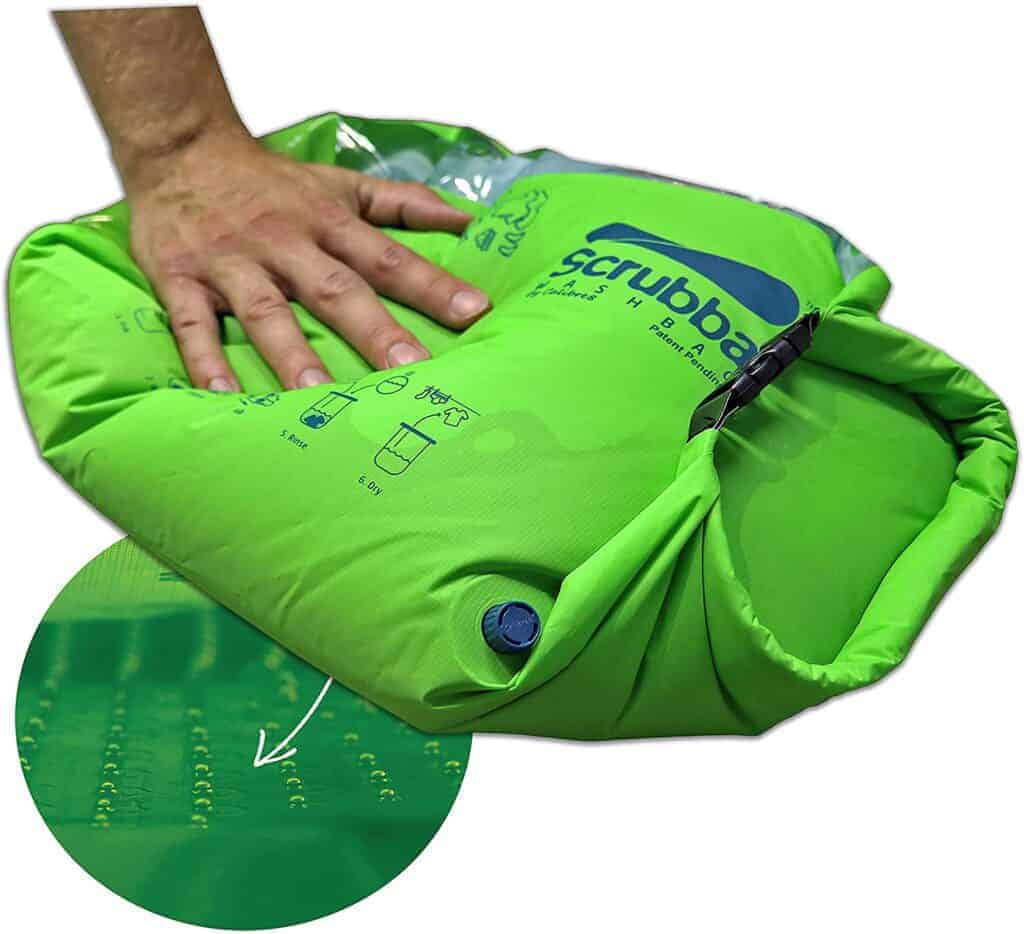 18. PORTABLE POWER STATION
When you're living in a van, motorhome or RV you aren't always connected to a source of power. Even if you have solar you may find that after several cloudy days your solar panels aren't charging as quickly as you'd like. That's why a portable power station is one of the best gifts for someone living off grid in a campervan
19. BLUETOOTH SPEAKER
Vanlife can get lonely and sometimes very quiet, I can't think of many people who love sitting in silence for hours on end and that's why I think a bluetooth speaker is one of the best campervan gifts you could buy for someone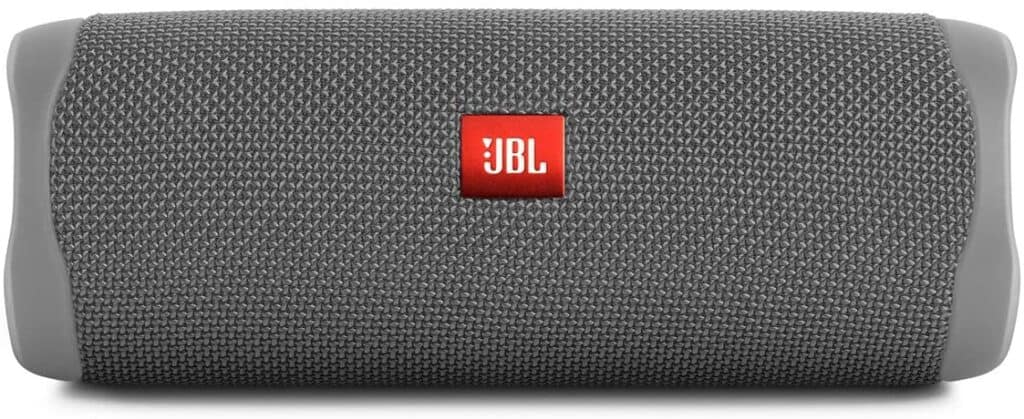 20. PACKING CUBES
Anything that can be used to conserve space is a win in my book, that's why I think packing cubes are a great vanlife gift. I know that some people use packing cubes and some don't. I am definitely an advocate for them and try and use them as often as I can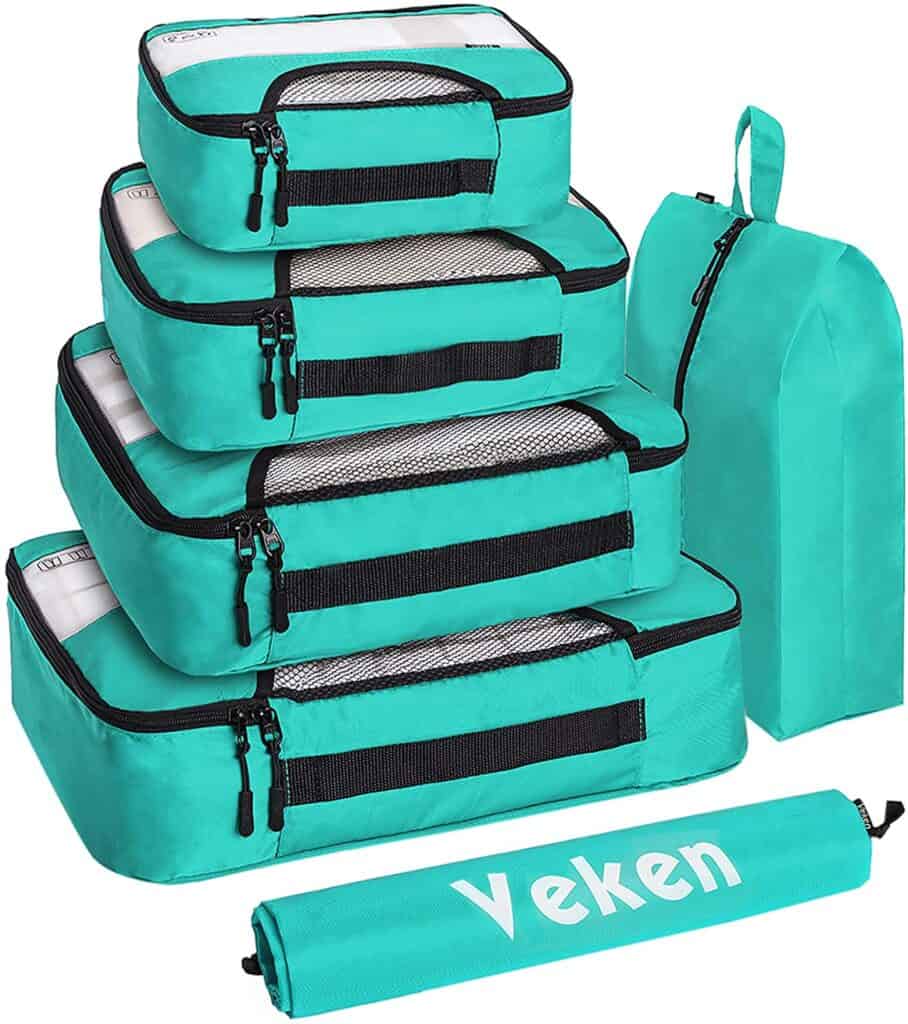 21. MINI VIDEO PROJECTOR
Mini video projectors are all the rage right now making them one of the best gifts for van life. People enjoy using the projector to project movies onto the side of their vans or they use it inside against a solid surface. I've seen some people who even have a pull down projector screen in their vans.
GIFTS FOR CAMPERVAN OWNERS LOOKING TO STAY WARM AND COMFY
22. COMFY DOWN SLIPPERS
Nobody likes cold feet especially in a van. Keep those little piggies stoked with some down slippers. Give the gift of warm feet, and they might just love you for life.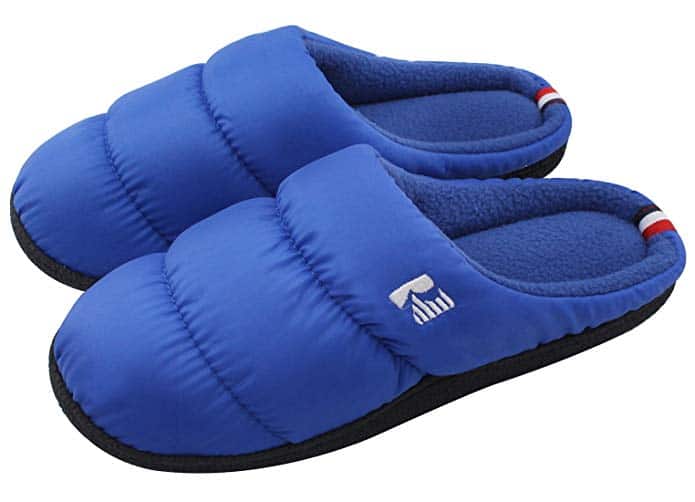 23. DOWN BLANKET AND PILLOW
I love these voited puffy blankets that are also a 2 in 1 pillow! You can easily stuff the blanket into itself forming a nice compact pillow and then bring it out when you need extra coziness in your life.
It's a pillow, a blanket, a sleep sack and a wrap around poncho in one. It's lightweight and packs down small – ideal for hiking, backpacking, picnics and festivals and they come in a bunch of fun colors and designs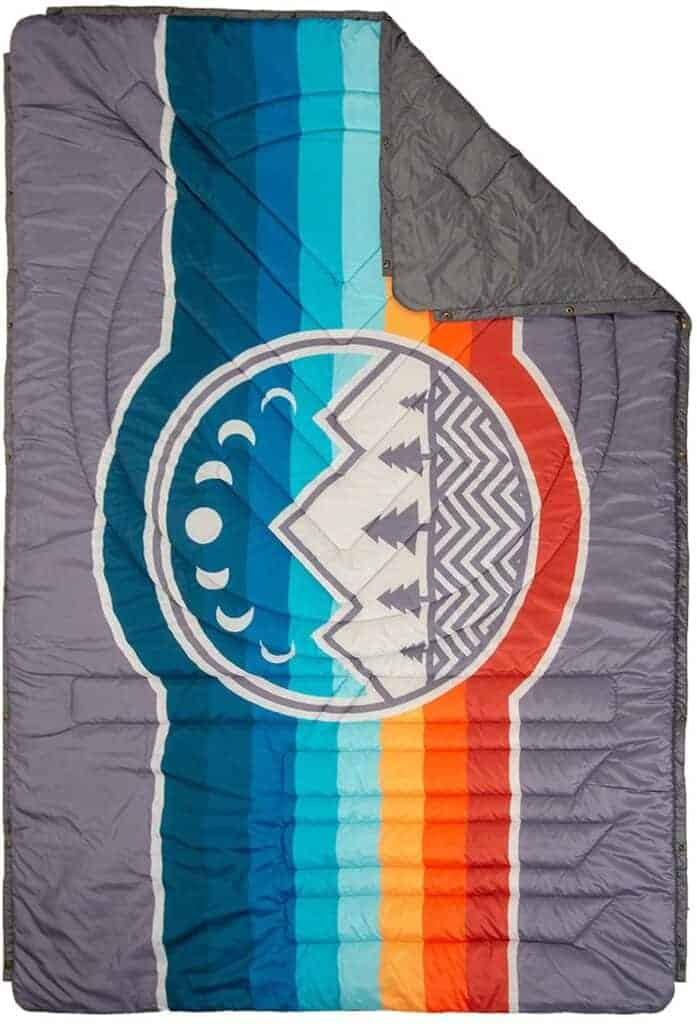 24. FLEECE PANTS
I love being warm and cozy, and there's nothing better than having soft comfy fleece pants for lounging around in a campervan. These pants are a a cozy van-life essential in my opinion.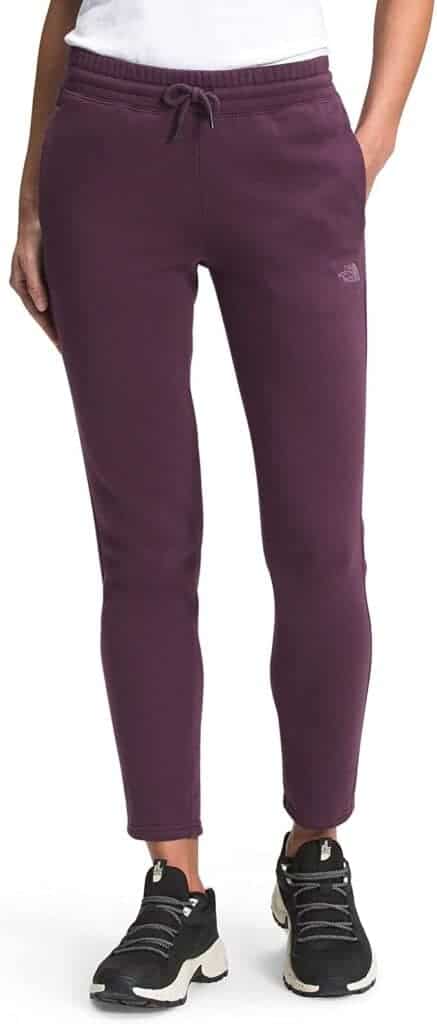 25. A COZY BLANKET
I don't care how insulated your van is or how many BTU's your heater cranks out, vans can get chilly. Take the edge off with a comfy blanket.
FUNNY CAMPERVAN GIFTS
26. ADULT MAD LIBS
Do you remember these things? Well, they are still around and an absolute blast. Laugh away that long day of driving with Mad Libs.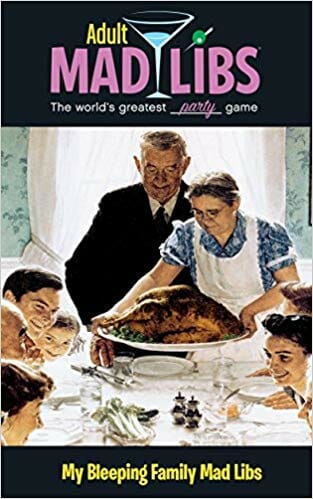 27. HAVE YOU EVER- FUNNY GIFT FOR VANLIFERS
Entertaining questions, this compact tin is filled with 50 conversation-starting questions to break the ice. Perfect for dinner-party hosts and partygoers, campers looking for a fun conversation game by the fire.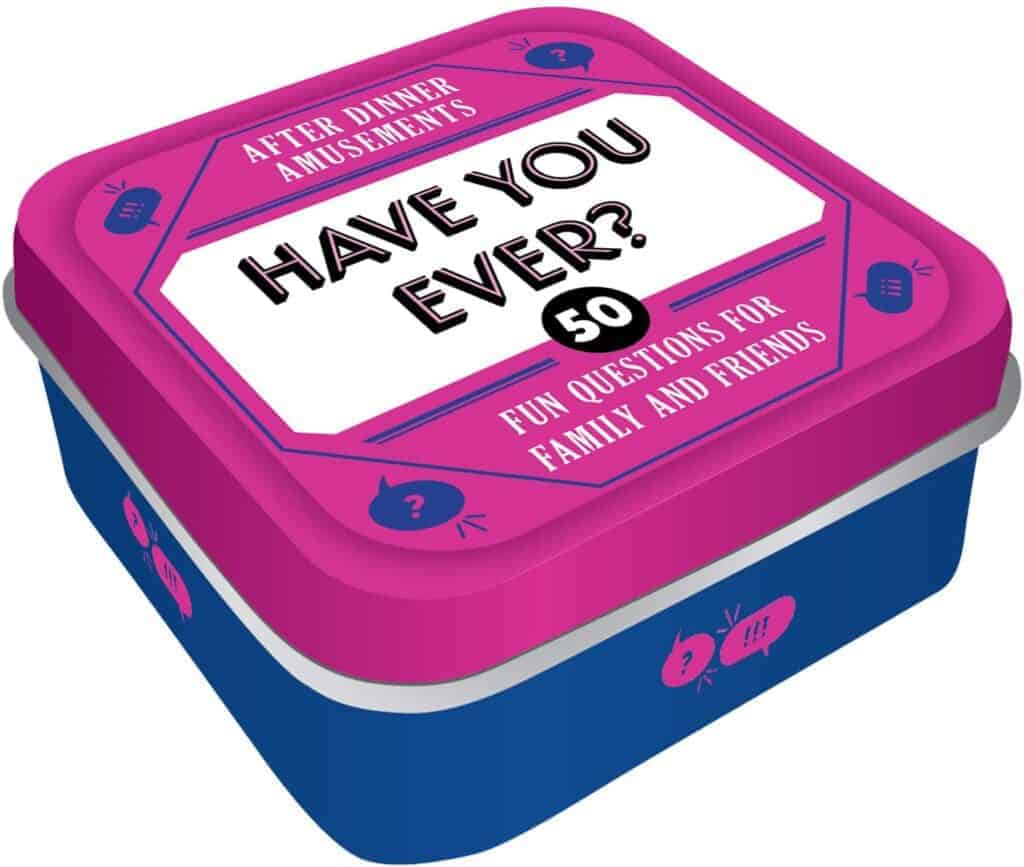 28. PERSONALISED CAMPERVAN MUG- FOR THE VOLKSWAGEN CAMPERVAN OWNER
I know I know we have to be picky with what we add into our small living spaces but sometimes you just need some personalization and character when it comes to things you own in your van. If you're looking for VW camper gifts this could be one of the perfect van life ideas.
29. PORTABLE BIDET
This gift isn't meant to be funny but I think some people may think this is a gag gift or something so I placed it under the funny van gifts. I personally think this is one of the best presents for campervan owners, especially those who don't have showers. There's no reason to feel dirty while your camping or on the road and this portable bidet will help you feel fresh and clean.
THE ABSOLUTE BEST GIFT FOR CAMPERVAN PEOPLE: APPS APPS AND MORE APPS
Yes that's right, give the gift of Apps to your campervan, RV and motorhome friends. Apps are simple, necessary and the smallest gift you could ever give someone
30. DRYT MEMBERSHIP- FOR FINDING GOOD CAMPING SPOTS
The Dyrt Pro Membership– Although the Dyrt camping app provides a free edition that is limited to WiFi and cellular access, it does not provide access when offline. Given how frequently campers go off the grid, an app that requires connection isn't very useful most of the time.
So, by signing up for The Dyrt Pro Membership, you can spare your campervan friend a lot of potential issues. The app displays all national camping locations and user feedback about the park, including recommendations and suggestions. Sign up for a free trial of three months, after which you'll be billed automatically. This is one of the greatest gift ideas ever!
31. HARVEST HOSTS MEMBERSHIP
Harvest Hosts Membership– Campsites and good ole Walmart and Cracker Barrel parking lots get old, really fast. Harvest Hosts allows van lifers and RVers to camp for free at gorgeous local businesses, including wineries, breweries, museums, and other fabulous entertainment and food options.
32. BOONDOCKERS WELCOME MEMBERSHIP
Boondockers Welcome– Boondockers Welcome is now owned and operated by Harvest Host, HH (Boondockers Welcome) still offers the same unique benefits for contained campervans and RVs. For a one-time yearly charge, a camper will be given access to private property all across the United States. This might include driveways or huge open spaces.
THAT'S A WRAP…
I hope you found our list of campervan gifts to be helpful, if you have any additional ideas drop them in the comments. We'd love to keep this as a growing list of campervan gift ideas
Have you heard of Glamping? Treat yourself to a little camping luxury.

Spice Up Your Road Trip: The West's Best Glamping Destinations