Whether you live in Pensacola or are just visiting, rest assured that there are plenty of free things to do in Pensacola, Florida. From swimming and listening to live music on the beach or learning about the area's rich history, Pensacola has plenty of fun things to do.
Pensacola Florida is known for it's very popular and beautiful white sand beach "Pensacola Beach." The mild temperatures, and crystal clear waters at Pensacola Beach attract beachgoers, fishing enthusiasts, and environmentalists from all walks of life.
This barrier island, located on the western edge of Florida and spanning miles along the Gulf of Mexico, provides a variety of activities.
You can get your daily dose of Vitamin D by surfing, swimming, sunbathing, kayaking or fishing in the Gulf of Mexico.
Our Opinion Of Pensacola Florida
Visiting Pensacola in the Panhandle region of Northern Florida was a pleasant surprise on our recent trip to the Southeast Coast. We weren't quite sure how long we wanted to stay… boy were we wrong!
In hindsight, it would have been great if we spent more time exploring what this area had to offer.Pensacola has so much to offer from exploring the downtown area, touring historical landmarks, visiting beautiful beaches, and enjoying outdoor activities.
Where is Pensacola Florida?
Pensacola is a city located in the westernmost part of Florida's panhandle, on the Gulf Coast. It is just over two hours away from New Orleans and Mobile, Alabama, making it an ideal destination for those looking to explore the South.
Pensacola Florida Map
Pensacola Florida Weather
PENSACOLA WEATHER
1 .Walk the Eco-Trail on Pensacola Beach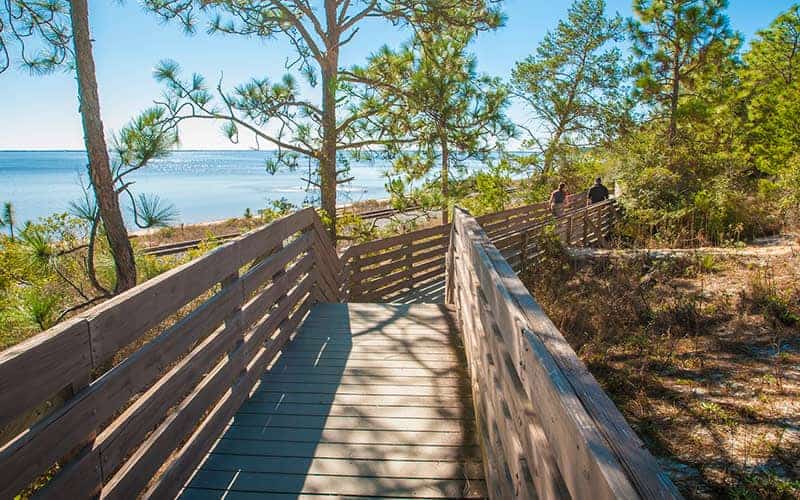 The Pensacola Beach Eco-Trail is one of the best locations in Florida for nature and animal lovers. Located right on the Gulf of Mexico, the beach contains white sands and clear waters, with some of the most interesting animals housed in Florida.
Some of the animals you can see on the beach include:
Dolphins
Whales
Manatees
Pelicans
Great Blue Herons
Sharks
Lizards
Alligators
Snakes
Turtles
Plus, all of this exploration is entirely free, and informative signs help you learn about the fragile and diverse ecosystem.
2. Explore Historic St. Michael's Cemetery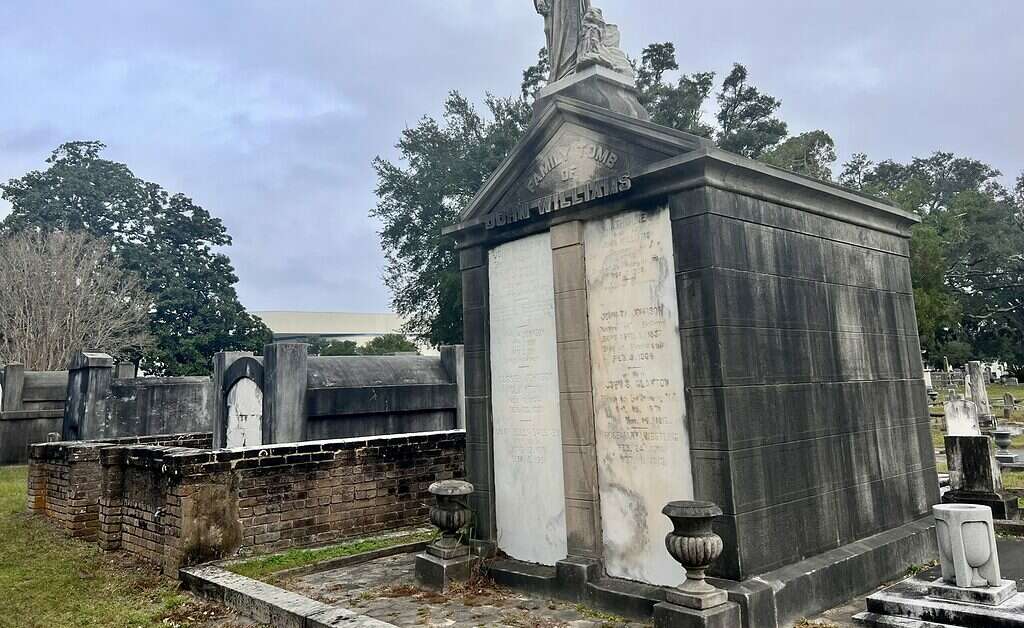 Located in the heart of urban Pensacola, St. Michael's Cemetery is a historic cemetery where people can learn about Pensacola. St. Michael's Cemetery is unlike most cemeteries because it is basically an open museum.
Locals have used the cemetery since the mid-18th century, and there are people of all faiths buried on the land. The area became a state park in 1949.
St. Michael's Cemetery is open to the public every day from 9 a.m. to 5 p.m. and is free for everyone. 
You May Also Enjoy:
3. Visit the National Naval Aviation Museum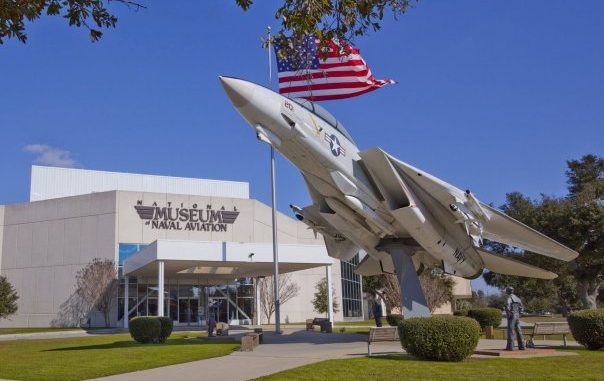 The National Naval Aviation Museum is a must-see for those who love airplanes. The museum holds 4,000 artifacts related to the Navy, Marine Corps, and Coast Guard, as well as 150 restored aircraft.
You can also try out the museum's flight simulator or see a film at the Giant Digital Screen Theater. If you get hungry, you can stop for lunch at the Cubi Bar Cafe.
The museum is open Monday through Sunday from 10 a.m. to 4 p.m., and the entrance fee is free.
4. Tour the Pensacola Colonial Archeological Trail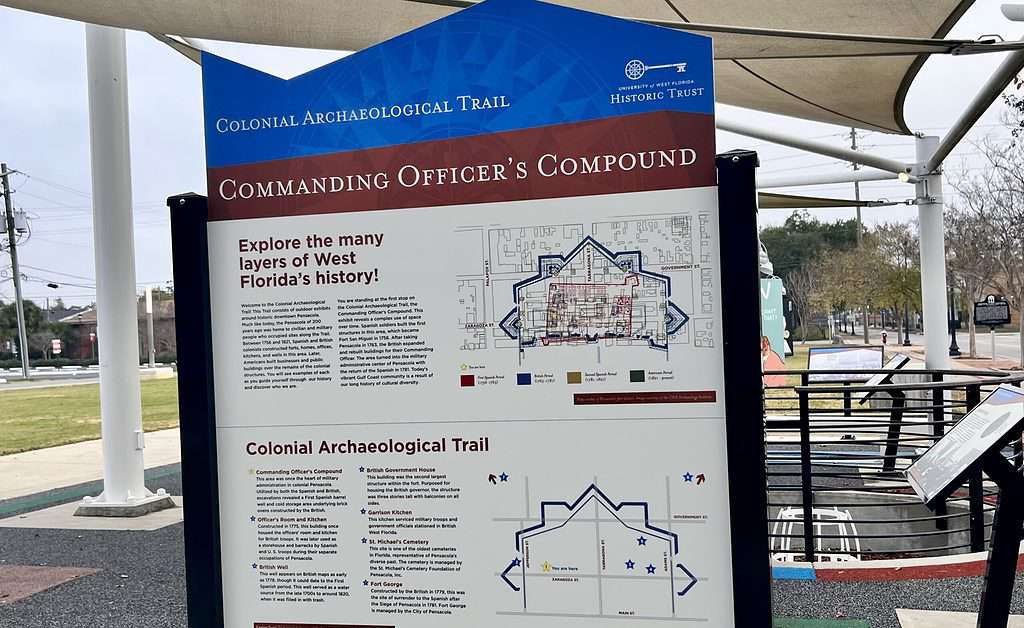 Immerse yourself in Pensacola's history with a stroll through the Colonial Archaeological Trail! This extraordinary, self-guided journey is completely free and showcases informative signs that guide you throughout this picturesque downtown area. It's an amazing way to learn more about your city without spending a dime!
With the map presented, you'll be able to clearly identify current streets and star marks that indicate various historic sites scattered throughout downtown Pensacola. Take a quick picture of the map for reference then begin your exploration!
Thanks to the joint venture of the University of West Florida, Florida Public Archaeology Network and additional regional historical organizations, this trail has been named a commemorative tribute to years past in this area.
Throughout the trail in downtown Pensacola, you can see sites like the British Government House, Old Christ Church, and the Garrison Kitchen.
You can download the brochure on the Historic Pensacola website, which will give you information on the areas you are visiting.
5. Listen to Live Music at the Gulfside Pavilion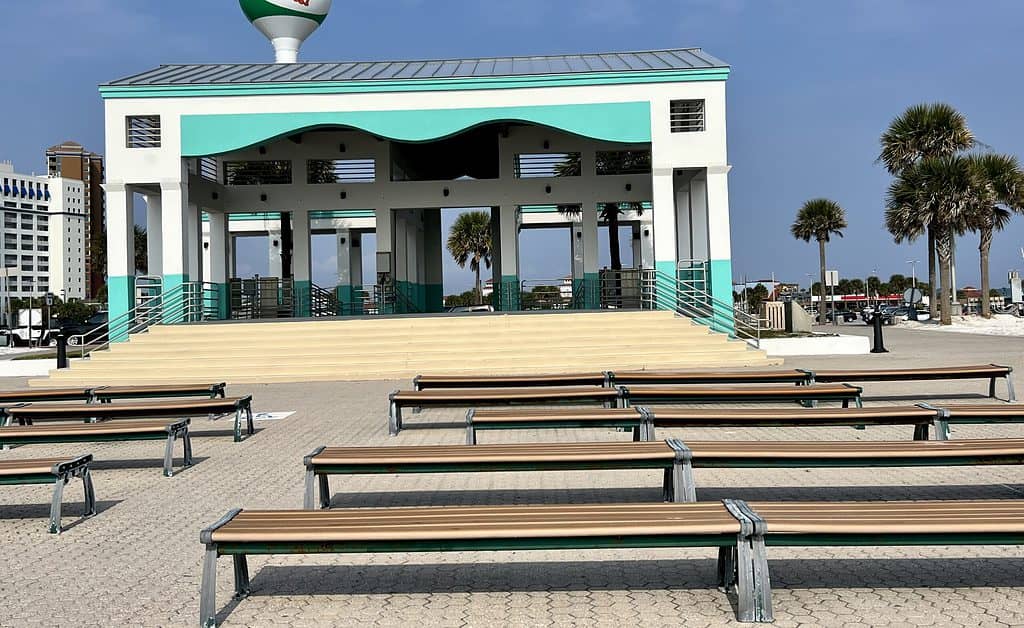 Right on Casino Beach, you can listen to live music at the Gulfside Pavilion while seated in Florida's white sands or taking a dip in the clear water of the Gulf of Mexico.
Every Tuesday, people of all ages can enjoy the Bands on the Beach concert series. Just show up at the beach at 7 p.m. to hear a diverse group of local artists from around the Pensacola area.
6. Pay Your Respects at Veterans Memorial Park
Veterans Memorial Park is a site filled with memorials for the veterans of Pensacola and all those who have served the United States. The park allows visitors to pay their respects to veterans from all walks of life and includes statues, benches, name placards, and a memorial tower.
Everyone is free to visit the park, but you can also donate to the memorial.
7. Enjoy the Naval Live Oaks Reservation

Many people don't realize that the Naval Live Oaks Reservation is one of the free things to do in Pensacola, Florida. The Naval Live Oaks Reservation (also called the Deer Point Live Oaks Reservation or the Deer Point Plantation) is the first federal tree farm in the United States.
The reservation is part of the Gulf Islands National Seashore, which the National Park Service has protected since 1971. Also, the area has been on the U.S. National Register of Historic Places since 1998.
Of course, the reservation has lots of live oaks, but you can also hike the seven and a half-mile trails on the Santa Rosa Sound.
8. Play at Perdido Key Kids Park/Visit Perdido Key State Park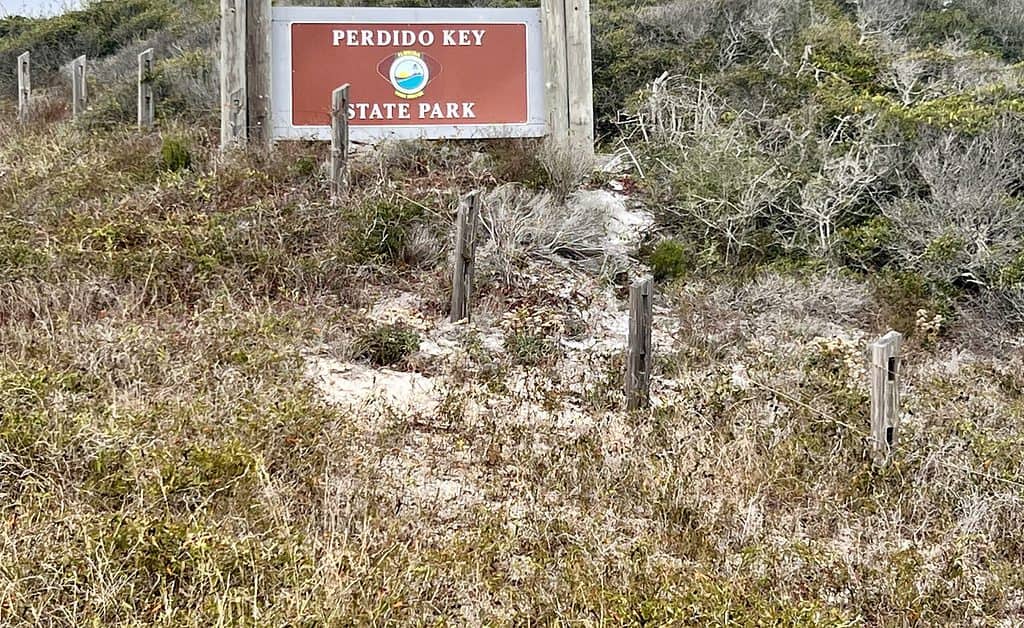 The Perdido Key Kids Park is a free three-acre park near the coast where kids can have a blast on the huge playground. The grounds feature slides, climbing walls, and toy planes and cars. Children (and adults) can also swing on the plethora of swings inside the area.
While the kids are playing, the rest of the family can relax and have a picnic at the pavilion or one of the park's many tables.
Don't have kids? Well not to worry because Perdido State Park is a great place for locals and tourists alike. The boardwalk in the state park is perfect for a beach stroll or you can enjoy sunbathing or swimming amongst the beautiful sand dunes.
Please note, if you're searching for free things to do in Pensacola Florida the State Park does require a $3 entry fee per vehicle if you don't already own a states park pass. If you'd like to learn more about purchasing a States Park pass click here.
9. Bird Watch
Pensacola sits between Pensacola Beach and Perdido Key, which are two major fly zones. You can see bird species, like black skimmers, black pelicans, ospreys, snowy egrets, and plovers.
You can see the birds any time of year, but many people prefer to watch for them in the spring because the Gulf islands are the first stop for hundreds of birds as they fly back north.
Some of the best places to see Pensacola's birds are:
Johnson Beach
Big Lagoon State Park
Tarkiln Bayou Preserve State Park
The Bayou Marcus Wetlands
The Edward Ball Nature Trail
Wayside Park
Pensacola Beach
Fort Pickens
10. Discover the Palafox Market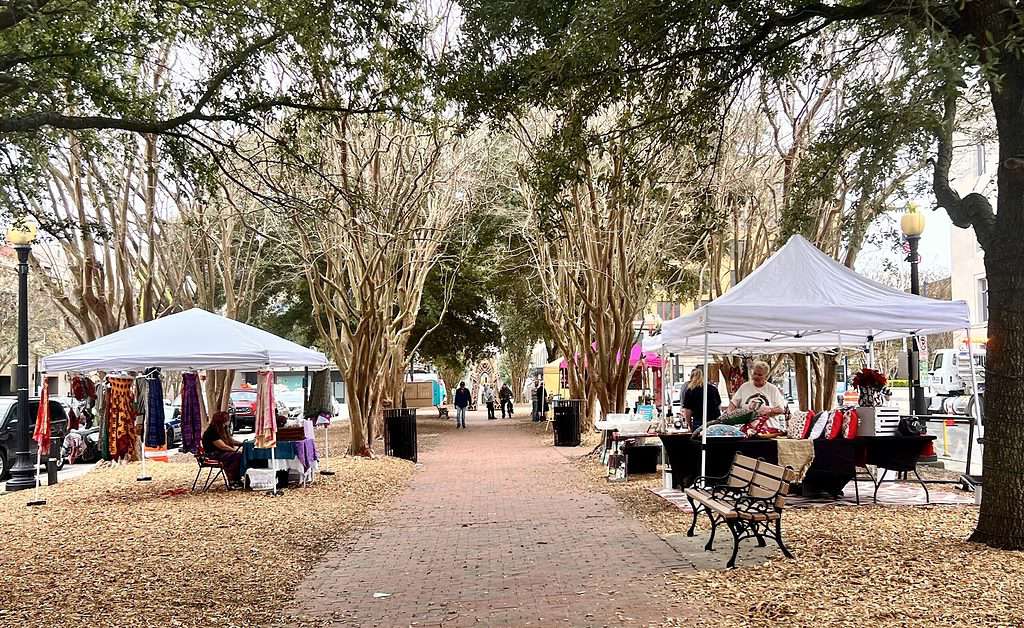 The Palafox Market is a gem of Pensacola. In the market, you can find a plethora of items, including arts and crafts, delicious food, and antiques.
Although this Martin Luther King Jr. Plaza event is a market, you don't need to spend any money to have a good time. Instead, you can speak with local farmers and artists while also walking under Florida's crepe myrtles.
You will find that the market is open every Saturday from 9 a.m. to 2 p.m. unless the weather is dangerous. More than 100 vendors gather in the plaza every week year-round so that both locals and tourists have plenty to do every Saturday morning.
11. Take Selfies on the Pensacola Photo Trail
The Pensacola Photo Trail is a trail through the streets of Pensacola where both visitors and locals can take selfies with some of the most interesting sights in the city.
On the walk, you can find fun photo-ops like the Pensacola Postcard, the Graffiti Bridge, the Futuro Spaceship House, and Jeremiah Pelican.
12. Pensacola Historic Downtown District (A Small Fee To Tour Inside The Gates)
The downtown area of Pensacola is rich with historical attractions. The Historic Pensacola Village is a National Register historic district located about three blocks from the Pensacola Bay.
The Historic Pensacola Village comprises 27 properties in the Pensacola National Register Historic District, including 11 interpreted facilities open to the public.
Although you do have to pay a fee of $10 for entry, I recommend taking a stroll around the area and admiring the buildings from outside. It's an educational experience that is sure to be enjoyable – and it won't cost you a dime!
13. Hike Around Bay Bluffs Park
This is a beautiful park, which is off Scenic Highway 90. The park has boardwalks and walking trails that provide views of Escambia Bay. On the boardwalk, there's an excellent viewing spot. Although it is rocky going north, you may have a lovely walk along the coast in either direction.
14. Enjoy Pensacola Beach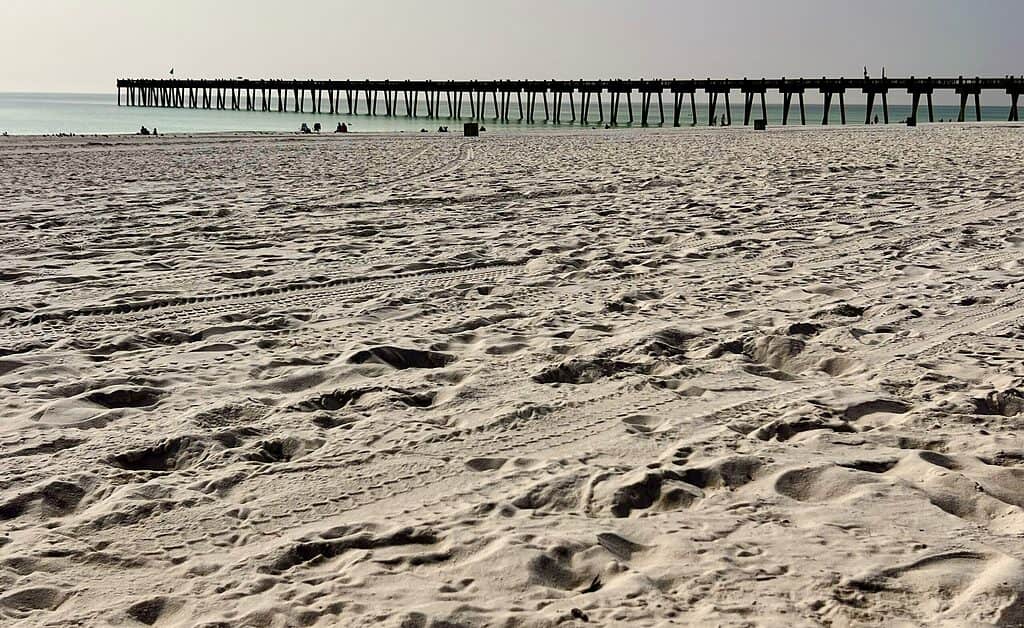 The crystal -clear emerald water of Pensacola Beach is one of the main attractions in Pensacola. Whether you're looking to relax on a blanket in the sand, partake in some beachside activities or enjoy one of the beachfront restaurants and bars, Pensacola Beach is the perfect destination.
There are plenty of activities to enjoy in and around the beach such as swimming, surfboarding, fishing, kayaking, windsurfing and more.
15. Walk Around Pensacola Downtown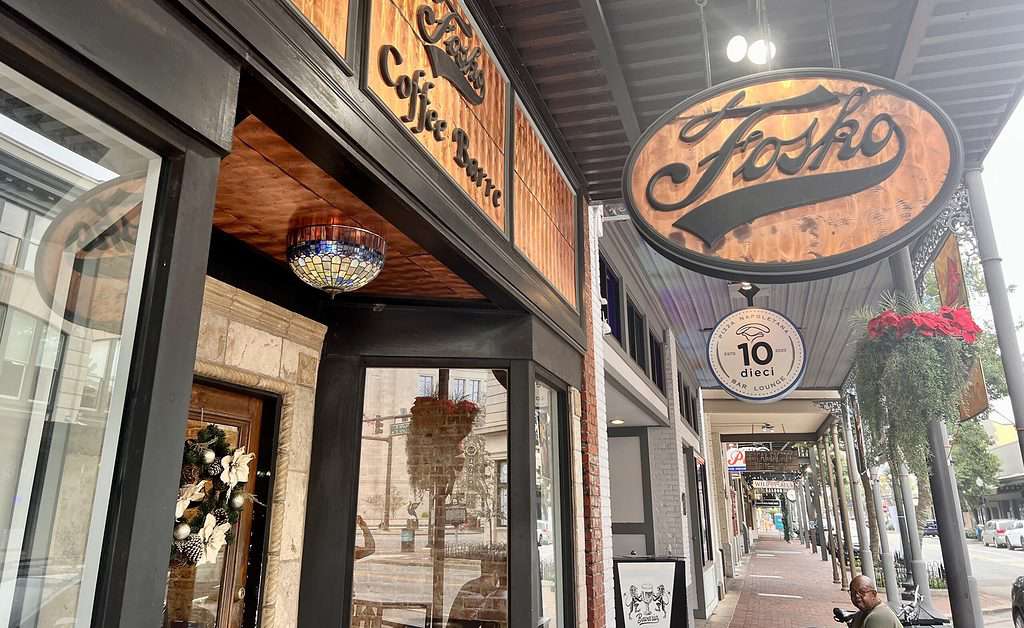 As I mentioned above we weren't really sure what to expect when arriving in Pensacola and we were pleasantly surprised by the downtown area.
In addition to its historical buildings, you'll find plenty of unique shops and restaurants plus a lively nightlife scene.
We've found that some southern cities don't offer up the "western vibe" that were used to full of breweries, coffee shops and an artistic crowd but Pensacola was definitely an exception!
16. Visit Seville Square
Seville Square is the lifeline for Pensacola's Historic District and its corresponding Seville Square Historic District, which proudly holds a place on the National Register of Historic Places.
Within this quaint square you'll find a gazebo which is often used for special events such as wedding ceremonies, benches for a peaceful rest, and a walking path to guide you around the square
Seville Square is the place to be during some of the most noteworthy festivals annually, including Pensacola JazzFest, Pensacola Seafood Festival and Great Gulfcoast Arts Festival.
17. Pensacola Christmas Parade
Let me just start out with saying that we DID NOT know what we were driving into when we slowly crept our way into downtown Pensacola.
Pensacola takes their parades very seriously and this one was no exception. Marching bands played music, floats and carriages filled the streets, candy and beads were being thrown from all different directions.
It seemed like everyone was in a festive mood as adults drank on the street and kids filled their pockets with candy.
Insider Tip: If you plan on going to the parade be sure to leave plenty of time for parking because its REALLY BUSY and many of the streets are closed because of the parade.
18. Explore The Palafox Pier and The Statue of Don Tristan De Luna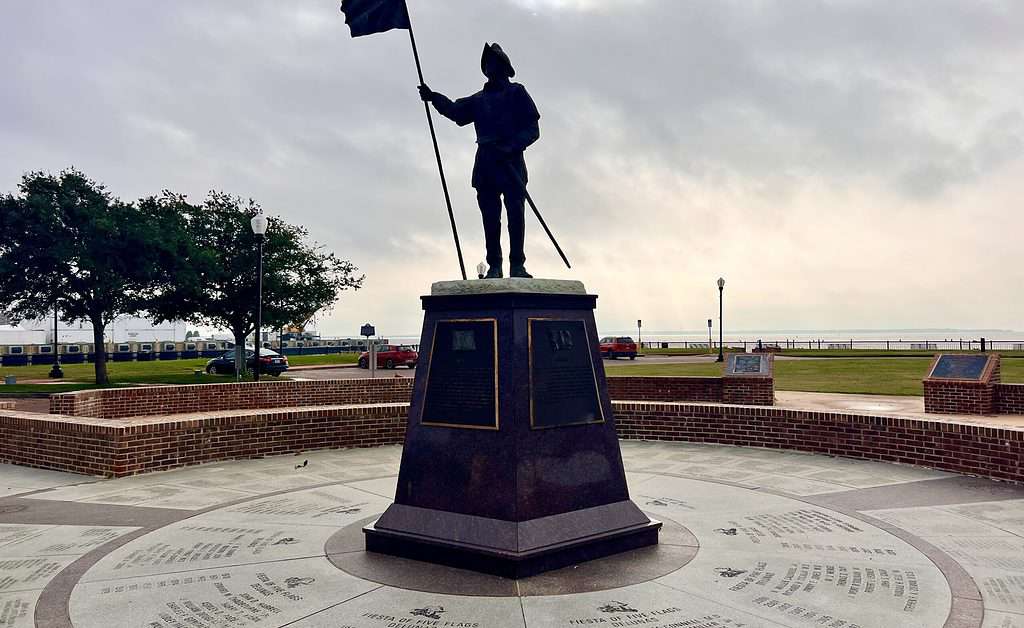 The Palafox Pier is the perfect place to take in sweeping views of Pensacola Bay and find a spot for some rest and relaxation. There, you'll find the statue of Don Tristan De Luna, which has become an iconic landmark in the city, paying homage to its rich history.
This is a bronze statue commemorating Tristan de Luna y Arellano, a Spanish Conquistador who arrived in current-day Florida in 1559 on behalf of Spain to conquer and colonize the New World.
Standing where the city of Pensacola resides today, it was once home to Tristan de Luna's colony – one of America's oldest known European settlements. With 11 Spanish ships carrying 1,500 people, this remarkable settlement seemed to have all the ingredients necessary for prosperity.
Get Out and Explore The Best Free Things To Do In Pensacola!
I hope that this list of free things to do in Pensacola Florida has helped you to have an affordable yet enjoyable trip in the Florida Pan Handle area. If you have any other ideas for things to do in Pensacola Florida please leave a comment below!
If you're new to Florida and are taking a road trip to get to there don't miss our how to plan a trip guide, that has everything you need to start your trip off right. Also if you're looking for more things to do outside of Florida here are our favorite scenic roadtrips in the US
FAQ About the Best Things Pensacola Has to Offer
What are the can't-miss things to do in pensacola?
Parasailing
Paddleboarding
Kayaking
Dive Charter
The Pensacola Children's Museum
Pensacola MESS Hall
Pensacola's Historic Village
Which are the top attractions to visit in Pensacola?
National Naval Aviation Museum
Historic Pensacola Village
Watch a Performance at The Saenger Theatre
Pensacola Lighthouse and Maritime Museum