During our travels, more than one destination has left a great impression and when it comes to a couple of our favorites; Hoi An Vietnam makes the top of the list with its lantern-lit streets and historic charm, this ancient town is a captivating snapshot of Vietnam.
To help fellow travelers navigate its wonders, we've crafted a 2 Day Hoi An Itinerary that encapsulates the very best of what the UNESCO World Heritage Site has to offer.
If you want to have the time of your life in Hoi An, read on for our favorite things to do in in this charming city.
We've designed it to make sure that you don't miss any of Hoi An's must-sees while also allowing you to experience some off-the-beaten-path adventures.
So pack your bags and get ready for two fun-filled days in Hoi An, Vietnam!
Flights To Hoi An
If you're flying from Hanoi to Hoi An expect a 3 hour flight. If you're flying from Ho Chi Minh to Hoi An you can expect an hour and a half flight time.
Where is Hoi An Vietnam?
Hoi An is a charming town located in central Vietnam, along the country's eastern coast. It is located in Quang Nam Province, about 22 miles south of the larger city of Da Nang.
The town is known for its well-preserved historic architecture, traditional lantern-lit streets, and its status as a UNESCO World Heritage Site. Hoi An is renowned for its cultural heritage and has become a popular tourist destination for those seeking to experience Vietnam's rich history and unique atmosphere.
The city's location near the coast means you can enjoy the historical Ancient Town and stunning nearby beaches, like An Bang and Cua Dai.
Hoi An Weather
When it comes to weather, Hoi An experiences a tropical climate with two distinct seasons: wet and dry. The dry season, from February to July, is the best time to visit, as you'll have plenty of sunshine and warm temperatures, averaging around 77-86°F.
The wet season, from August to January, brings heavy rainfall and occasional typhoons, so it's best to be prepared with waterproof gear if you plan to visit during this time.
🇻🇳 Exploring the whole country of Vietnam? Don't miss our favorite Mekong Delta tours.
Bridging Hoi An and Hanoi: A Tale of Two Cities
While Hoi An captivates with its lantern-lit grace, Hanoi, Vietnam's second-largest city, beckons from the north with a vibrant melody of its own.
A stark contrast to Hoi An's coastal allure, Hanoi stands as a testament to the country's diverse beauty. From the historic Hoan Kiem Lake to the bustling Old Quarter, Hanoi offers an urban tapestry steeped in culture and history.
👀Read Next: Best 4 Day Hanoi Itinerary
The Best 2 Day Hoi An Itinerary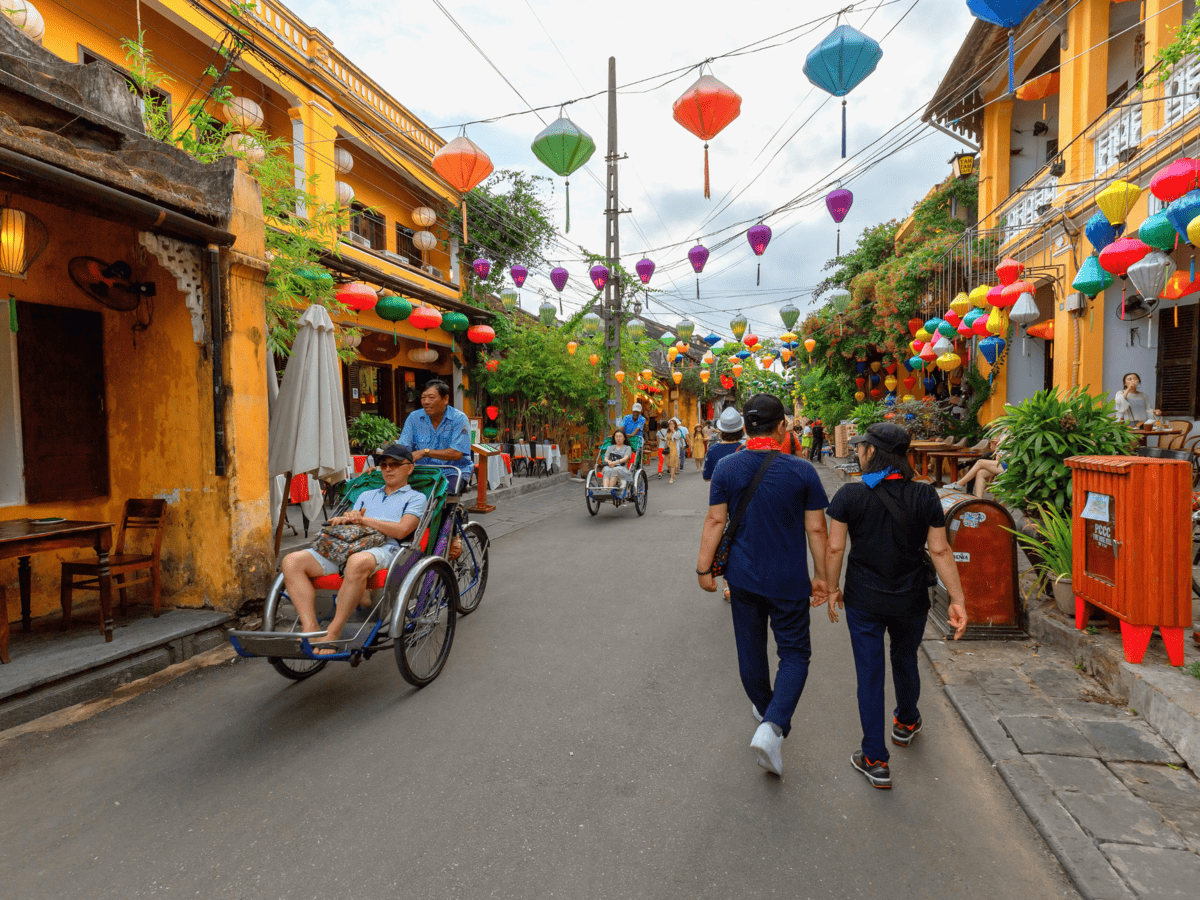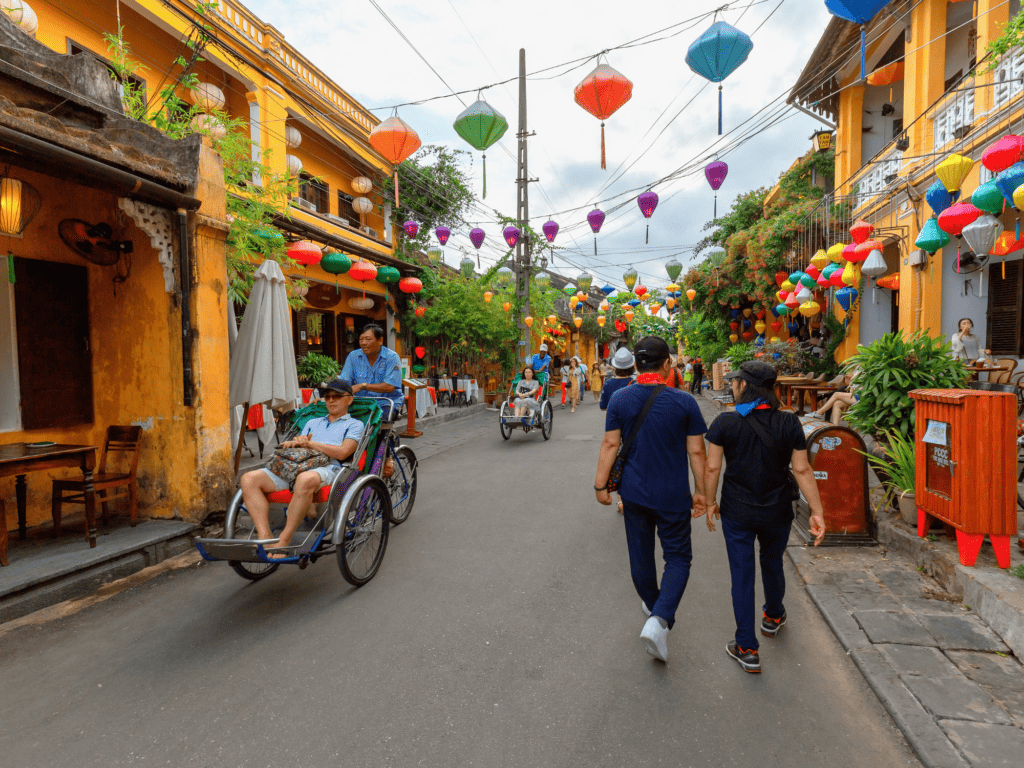 If you are searching for the ultimate Vietnamese vacation experience let's dive on in into this 2 day Hoi An itinerary.
Day 1: Old Town, Pagodas, Bridges and Temples
1st Half Day: Japanese Covered Bridge
Begin your first-day adventure at the breathtaking Japanese Covered Bridge (Chùa Cầu).
Chua Cau, an ancient bridge in Hoi An city, Quang Nam province, serves as a connection between Tran Phu and Nguyen Thi Minh Khai streets. Located in the southwestern part of Hoi An's historic district, this bridge extends over a small creek flowing into the Hoai River. Built in the 1590s, this iconic structure serves as a link between the Chinese and Japanese neighborhoods of Hoi An.
At the center of the bridge, there is an entrance to a temple, commonly referred to as a pagoda. However, this temple does not honor Buddha, but instead worships the Northern Deity Tran Vu, according to Chinese beliefs. Tran Vu is a god associated with calming storms and floods, safeguarding the nation, and bestowing joy and happiness upon the people
As you stroll over the bridge, take a moment to appreciate the intricate nuances of its Japanese-inspired architecture.
Cantonese Assembly Hall: A Glimpse into the Past
Just a few steps from the iconic Japanese Covered Bridge along Tran Phu Street, the Cantonese Assembly Hall, or Quang Trieu Assembly Hall, awaits. This architectural gem dates back to 1885 and was built by the Cantonese community in Hoi An as a gathering place and a symbol of unity.
As you enter the hall, you'll be greeted by an exquisite courtyard filled with ornamental plants and a beautiful fountain adorned with a majestic dragon sculpture.
Inside the main hall, you'll find a shrine dedicated to Quan Cong, a revered general known for his loyalty and righteousness. Be sure to light an incense stick and pray for good fortune on your journey. You might even spot locals doing the same, showcasing the deep connection between the past and present in Hoi An.
Ancient Houses of Hoi An
Next, visit the Old House of Tan Ky (Nhà cổ Tấn Ký), just a short walk from the bridge and Cantonese Assembly Hall. This beautifully preserved 18th-century merchant house offers a unique glimpse into Hoi An's trading history.
As you step inside, you'll notice the seamless blend of Chinese, Japanese, and Vietnamese architectural elements, reflecting the multicultural influences of the city's past.
Take a moment to appreciate the antique furniture, mother-of-pearl inlays, and intricate carvings adorning the house. The friendly caretakers will eagerly share stories of the family who once lived here, providing a deeper understanding of Hoi An's rich heritage.
Hai Nam Assembly Hall: A Sanctuary of Serenity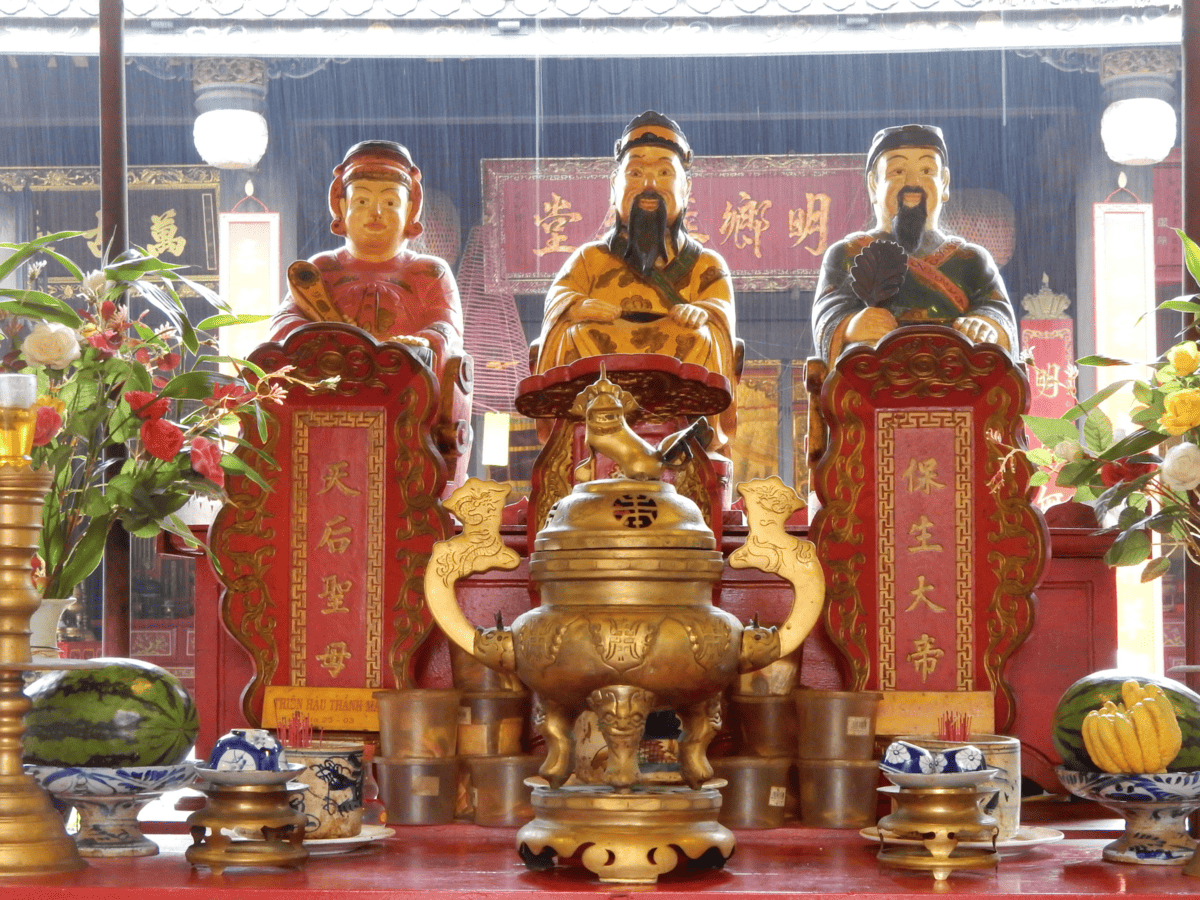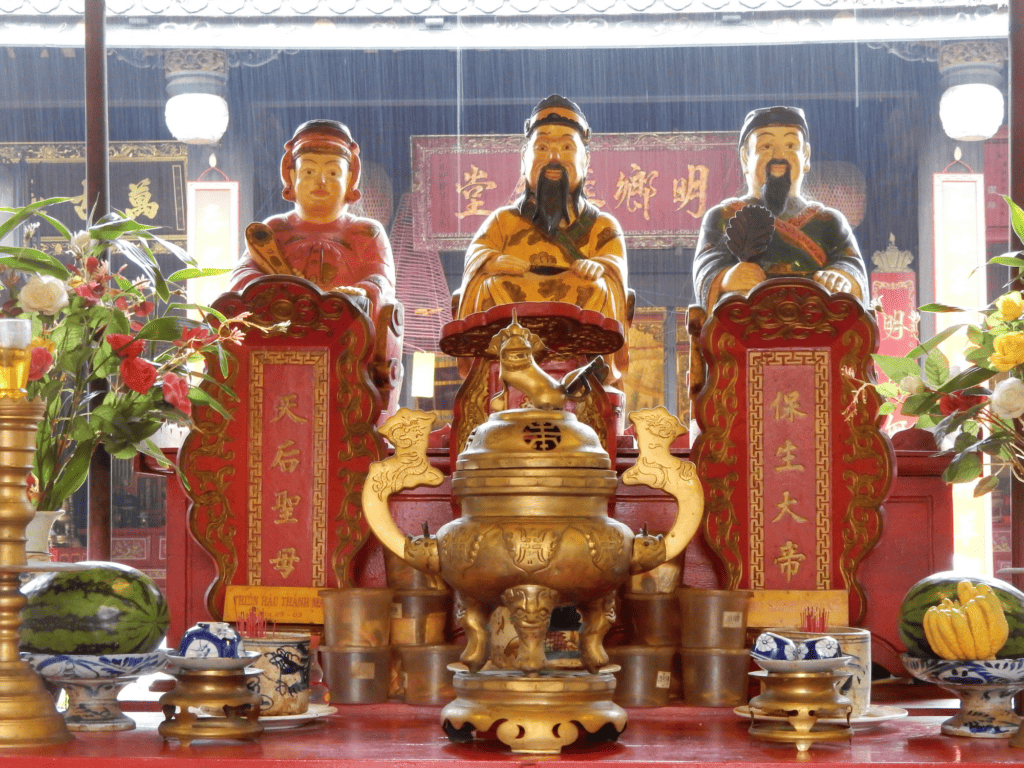 Our final stop on this half-day tour is the serene Hai Nam Assembly Hall, another testament to Hoi An's multicultural heritage.
Originally constructed in 1875 by Chinese immigrants from Hainan, the hall served as a community center and place of worship for the Hainanese people.
Inside the main hall, you'll discover an altar dedicated to the 108 Hainanese merchants who lost their lives at sea. Offer a prayer for their souls and appreciate the solemn atmosphere that surrounds you.
Feel free to wander around and admire the beautiful blend of Chinese and Vietnamese architectural styles, a hallmark of Hoi An's diverse history.
Afternoon: A Journey Through Time at Hoi An Silk Village and a Culinary Adventure
Enjoy Hoi An's Vietnamese Food : Hoi An Central Market
In the afternoon, head to the bustling Hoi An Central Market (Chợ Hội An) around lunchtime to sample various mouth-watering Vietnamese dishes. The market teems with life as local vendors sell everything from fresh produce to traditional handicrafts.
Your taste buds will sing as you try Cao Lầu, a signature Hoi An dish featuring tender pork, chewy noodles, and fresh herbs, topped with crunchy rice crackers.
Next, savor the flavors of Mì Quảng, a hearty noodle dish boasting a delicious broth, shrimp, pork, and a generous helping of vegetables.
And, of course, no visit to a local Vietnam market would be complete without a scrumptious Bánh Mì, a French-inspired baguette sandwich filled with various types of meat, pâté, pickled vegetables, and cilantro.
Hoi An Silk Village
A short bike or taxi ride from Hoi An's center takes you to the Hoi An Silk Village.
This isn't just a tourist spot; it's a working village where the traditional process of silk production is still practiced. From silkworm rearing to weaving, visitors get a straightforward look into the entire process.
Additionally, there are exhibits that discuss silk's role in Vietnam's history. It's a practical, hands-on learning experience for those interested in textiles.
Tailor-Made Fashion: Hoi An's Best-Kept Secret
After soaking up the Hoi An silk village, indulge in one of Hoi An's most famous offerings: custom tailoring. The town is a haven for fashion lovers, boasting more than 400 tailoring shops offering bespoke clothing at affordable prices.
Begin by choosing a tailor that suits your style and budget. Some popular options include Be Be Tailor, Yaly Couture, and Thu Thuy Silk. The quality and craftsmanship of these tailors will leave you in awe.
Evening: A Magical Walk Through Hoi An Ancient Town
As the sun sets, head back to the heart of Hoi An to explore the well-preserved Ancient Town. This UNESCO World Heritage site is famous for its stunning architecture, combining Vietnamese, Chinese, Japanese, and French influences that have left their mark over the centuries.
Walking through Hoi An Ancient Town is like entering a different world. The quiet ambiance and the lanterns' soft light give the city a unique charm.
Night: A Feast for the Senses at Hoi An Night Market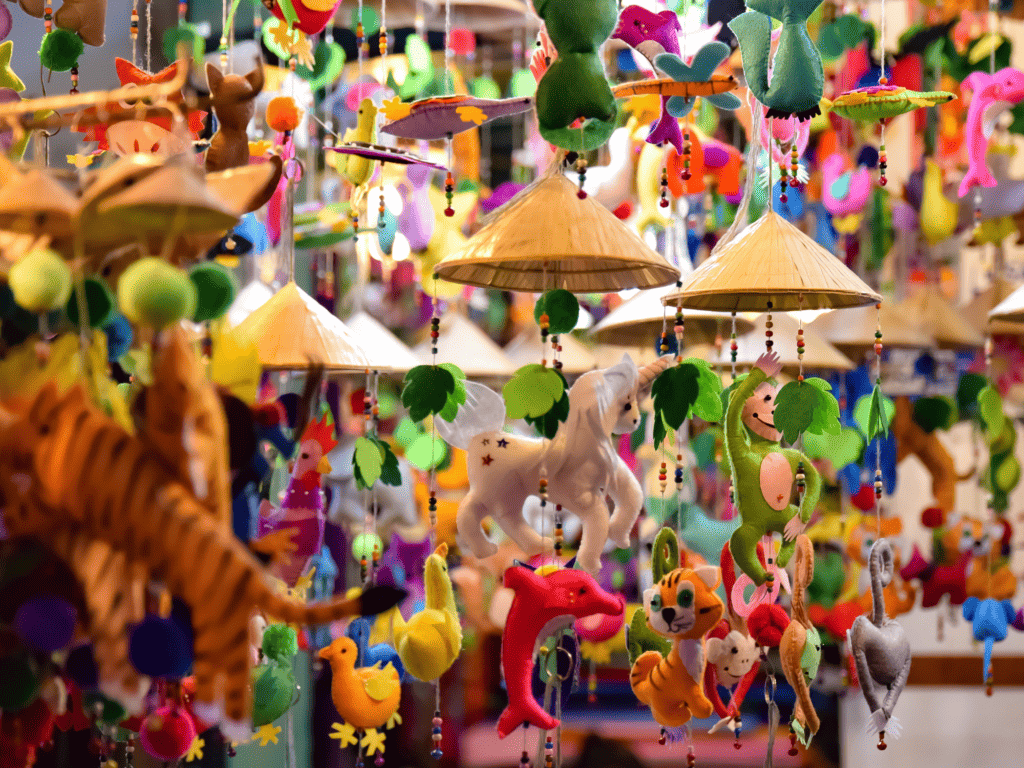 Located just across the Thu Bon River from the Ancient Town, this vibrant night market is a haven for foodies and souvenir hunters.
The air is filled with mouth-watering aromas of delicious Vietnamese street food, from bánh mì sandwiches and mi quang noodles to cao lầu, Hoi An's signature noodle dish.
Also savor the flavors of Mì Quảng, a hearty noodle dish boasting a delicious broth, shrimp, pork, and a generous helping of vegetables.
Besides satisfying your appetite, An Hoi Night Market is also the perfect place to pick up unique souvenirs and local handicrafts. From handmade lanterns and intricate embroidery to one-of-a-kind ceramics and wooden carvings, you'll find plenty of treasures to remind you of your unforgettable time in Hoi An.
Pro Tip☞: If you're up for a memorable experience, don't miss the opportunity to release a floating lantern into the river for good luck. This age-old tradition is believed to bring happiness and good fortune, as well as being a beautiful way to pay respect to the ancestors.
Day 2: Discovering The Countryside And The Beach
Morning: My Son Sanctuary (Thánh địa Mỹ Sơn)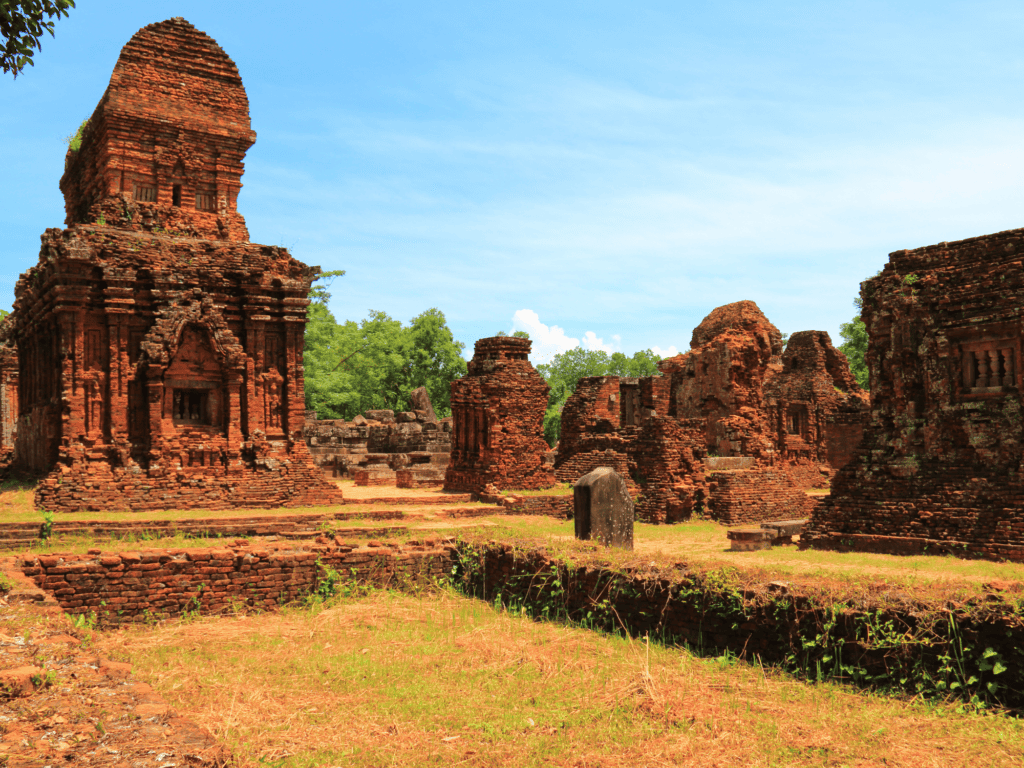 After a good nights sleep, begin your 2nd day in Hoi An with a visit to the awe-inspiring My Son Sanctuary, a UNESCO World Heritage site.
Nestled in a lush, mountainous landscape, this ancient temple complex bears witness to the incredible architectural and artistic achievements of the Champa Kingdom.
The temples, built between the 4th and 14th centuries, showcase a fascinating fusion of Hindu influences and indigenous culture.
An expert guide will walk you through the complex, explaining the stories behind the intricate stone carvings and the architectural marvels that have stood the test of time.
Late Morning: Tra Que Vegetable Village (Làng rau Trà Quế)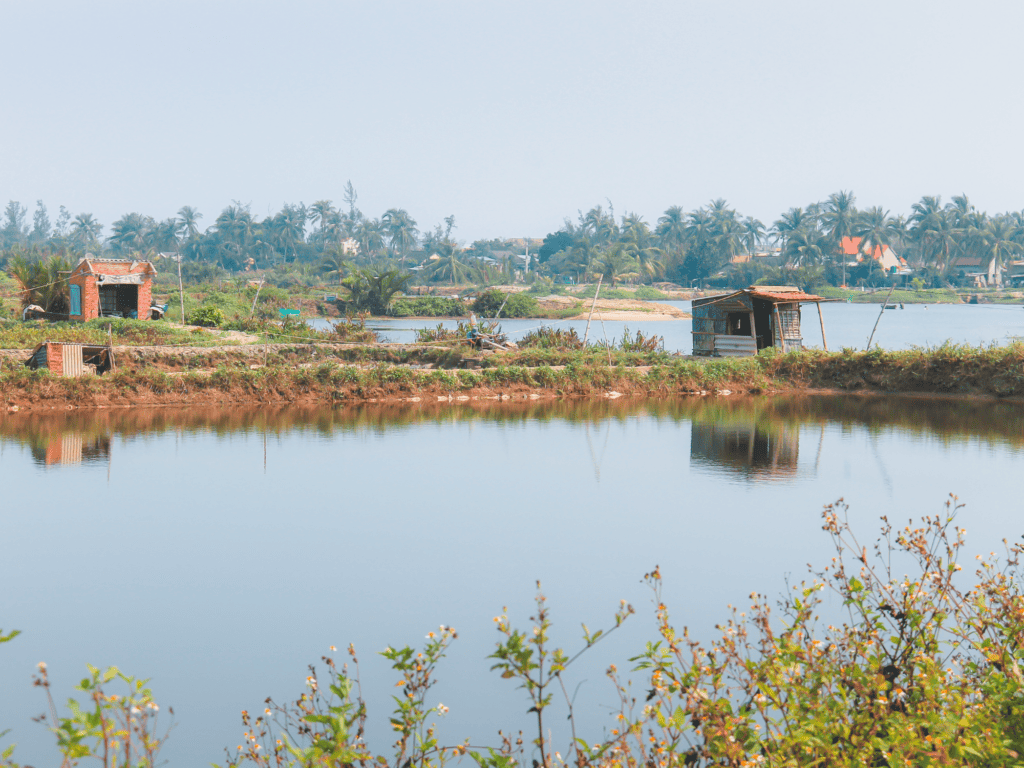 On your way back to Hoi An, make a quick stop at Tra Que Vegetable Village, a picturesque farming community known for its organic produce and sustainable agricultural practices. Here, you'll taste rural life in Vietnam as you stroll through the lush gardens and observe the farmers hard at work.
Participate in a hands-on farming experience, where you can learn about traditional farming techniques and even try planting or harvesting. Don't forget to sample some of the delicious, fresh produce while you're here.
Afternoon: An Bang Beach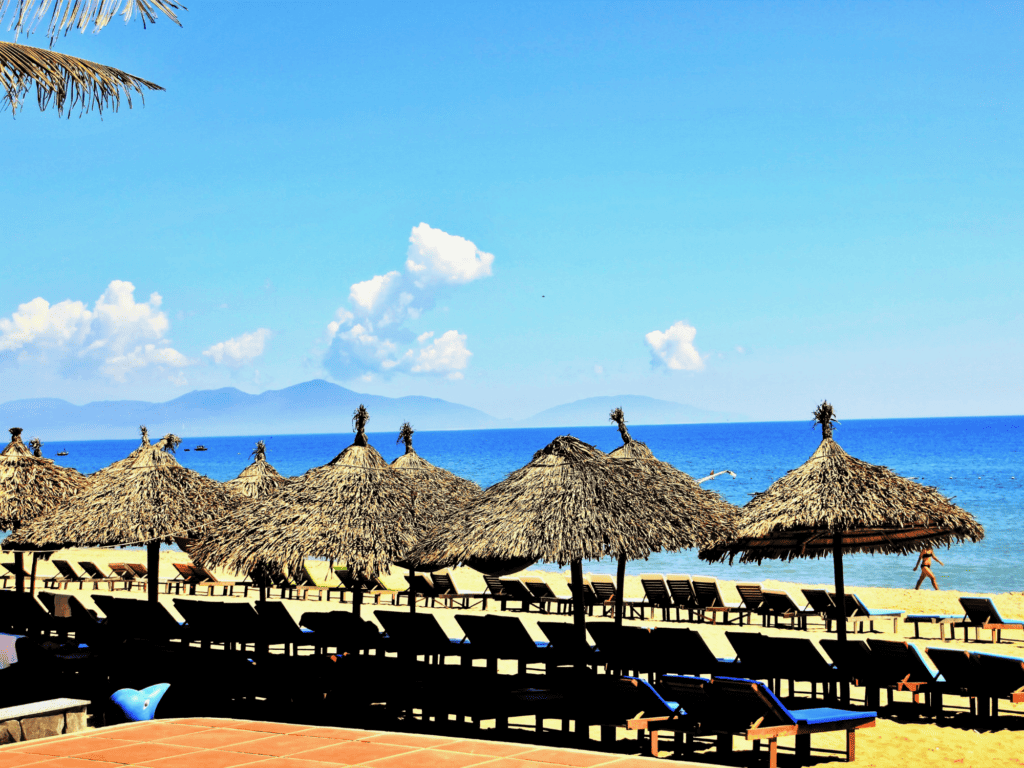 Time for some beach relaxation!
After your morning of exploration, unwind at the idyllic An Bang Beach. With its powdery white sand, crystal-clear water, and swaying palm trees, An Bang offers the perfect setting to relax and rejuvenate.
As you lounge on the beach, take a refreshing dip in the turquoise sea or engage in fun water sports. Rent a paddleboard or kayak and explore the coastline, or simply swim and bask in the warm sun. The laid-back atmosphere of An Bang Beach invites you to lose track of time and enjoy life's simple pleasures.
When hunger strikes, head to one of the charming beachside restaurants, where you can feast on fresh seafood and local specialties. Try the grilled fish in banana leaf, a popular dish that pairs tender, flavorful fish with the aroma of grilled banana leaves.
Evening: Thu Bon River Boat Cruise and Water Puppet Show
When the Hoi An breeze gets cold, board a traditional wooden boat for a serene cruise along the Thu Bon River. This is the perfect way to unwind and enjoy the beautiful scenery as you witness the daily life of locals along the riverbanks. As the boat gently glides through the water, you'll catch glimpses of fishermen casting their nets and children playing by the shore.
As the sky changes colors, the ancient town of Hoi An lights up with hundreds of colorful lanterns, creating a truly magical sight. Some cruises also offer traditional music performances and dinner onboard, allowing you to savor delicious Vietnamese cuisine as you're serenaded by the sweet melodies of local musicians.
Vietnamese Water Puppet Show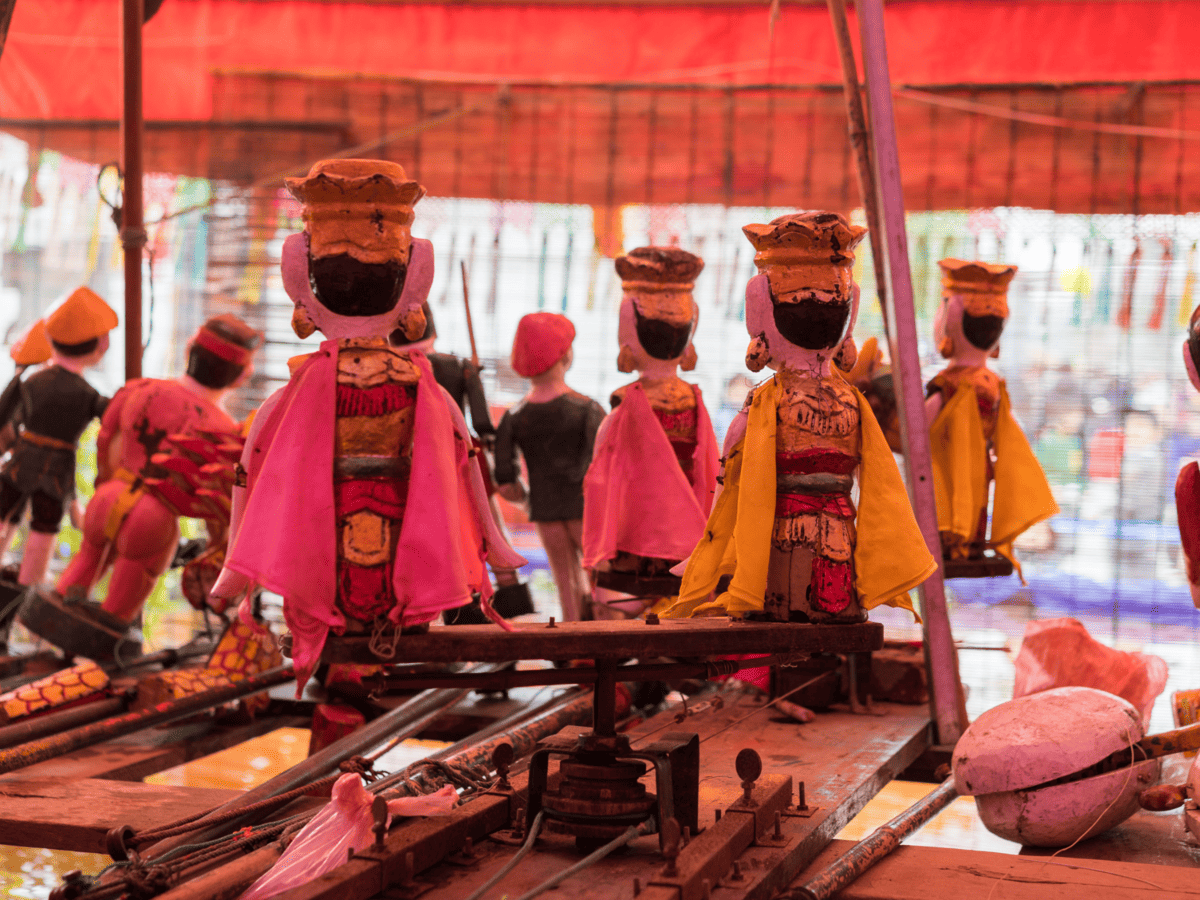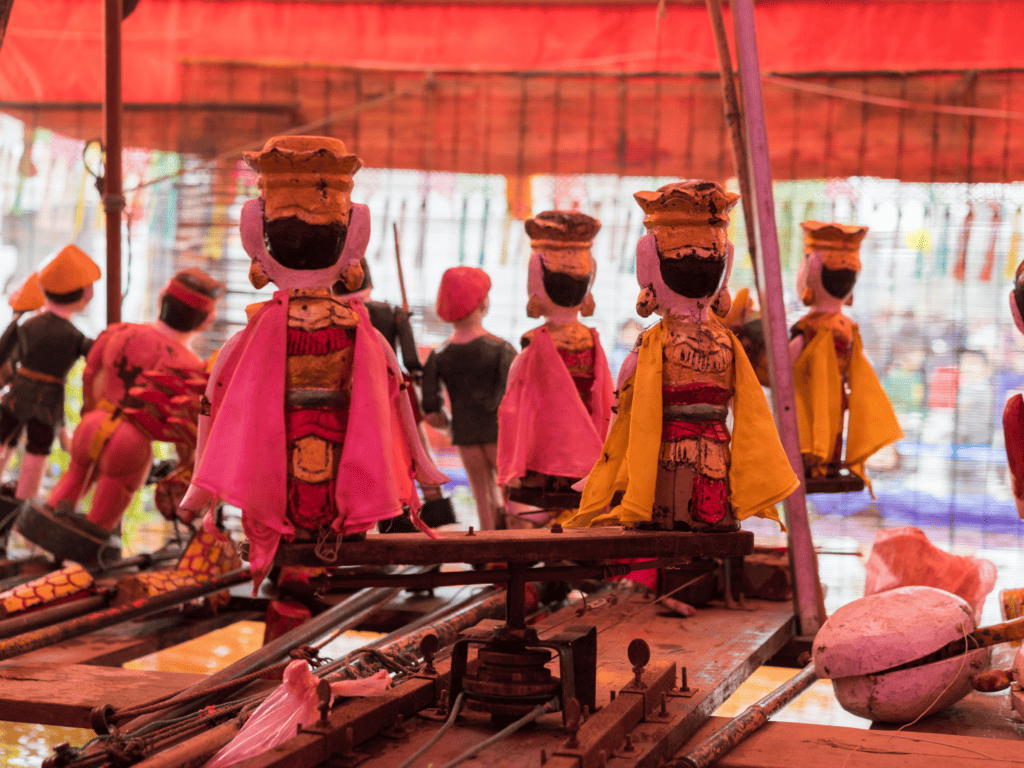 To conclude an incredible day in Hoi An, treat yourself to a traditional Vietnamese water puppet show, a unique art form that originated in the country's rural areas. The Hoi An Water Puppet Theatre is the ideal venue to experience this fascinating cultural performance.
Watch as skilled puppeteers bring colorful wooden puppets to life on a stage filled with water, accompanied by lively music and captivating stories of Vietnamese folklore and legends.
The water puppet show typically lasts for about 45 minutes, and it's an excellent opportunity to learn more about Vietnam's rich cultural heritage.
Make sure to arrive early to secure good seats, as the theater can fill up quickly.
Wrapping Up Your 2 Day Hoi An Itinerary
What an incredible journey through history and savory cuisines has it been.
After an amazing 2 days in Hoi An, your journey has come to its conclusion. But don't forget the incredible memories and experiences you had in this special town.
From beautiful pagodas and temples, to sandy beaches and quaint streets, you got to take in some of the best of what Hoi An had to offer.
Even if it was only for two days, by staying at a local homestay and participating in activities such as visiting vegetable gardens or shopping expeditions at night markets, you truly got an authentic taste of life here.
While it may be time to move on to the next destination, remember to look back on this amazing journey with fond memories!