With hundreds of miles of trails winding through the red rock landscape, Sedona offers unparalleled opportunities for outdoor enthusiasts to explore its stunning scenery.
From hiking and mountain biking to off-roading and exploring the unique Sedona culture and vortexes, there's no arguing that a weekend getaway in Sedona is the perfect vacation.
Our love affair with Sedona began back in 2015 when we visited during spring for mountain biking. From the get-go, we were impressed by the red rocks, unique culture, and diverse range of trails, and we've been coming back to Sedona ever since.
Each time we visit Sedona, we stumble upon new trails, hidden gems, and fantastic places to eat or drink that we're thrilled to pass on to you!
From heart-pumping trails like the Hangover or Hiline Trail to the more relaxed Bell Rock Pathway, there's always a new adventure.
Looking For The Perfect 2 Day Sedona Itinerary?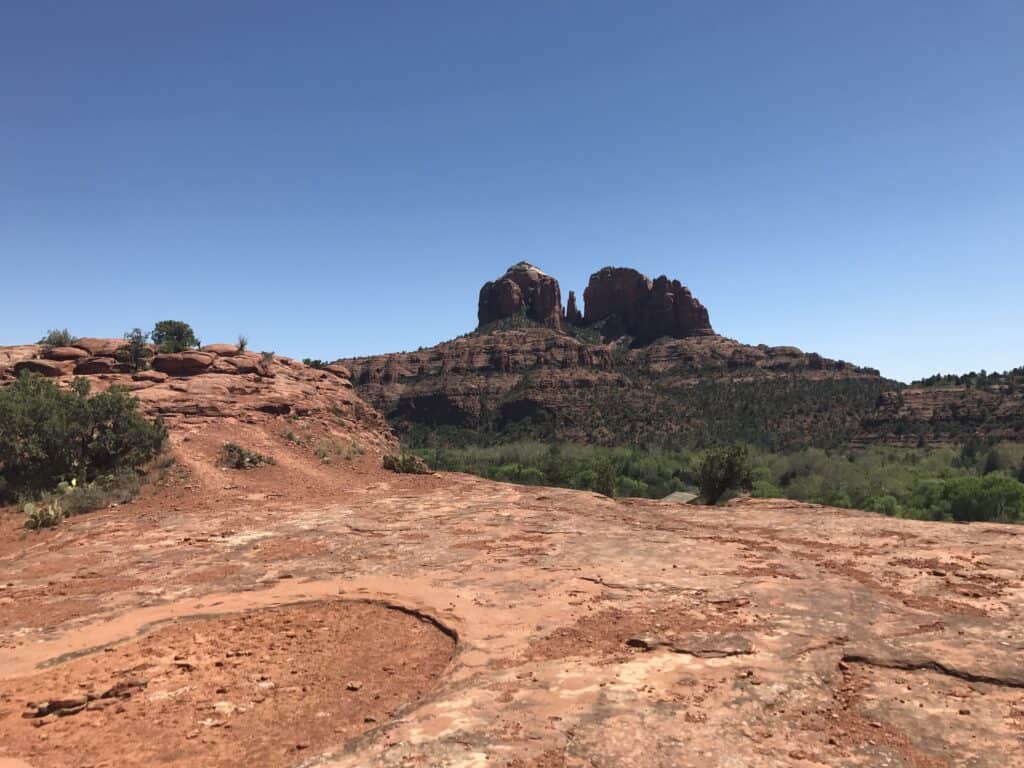 If you're planning a trip to Sedona, you're in luck. We understand that not everyone shares our interests and that travelers' budgets can vary significantly.
It's because of these reasons we are including activities for different budgets and interests. You'll find a couple of our favorite mountain trails along with some of our favorite hikes.
You'll also find some popular tours mixed in because who doesn't like to have someone else do all the work of planning and guiding their adventure?
From the top attractions like hot air balloon rides and Jeep tours and popular hikes to some off-the-beaten-path adventures, we've got your short trip to Sedona all planned for you!
And if you have a longer trip planned for Sedona, we have plenty of ideas of things to do in Sedona for you too.
✈️Fly: The best airport for to fly into is Phoenix Sky Harbor. Check KAYAK for tickets!
🚗Car Rental: Discover Cars is a car rental platform that partners with over 500 local car rental companies.
🌵When to Go: October through May can be a great time to visit Sedona
🚍Getting Around Sedona: Sedona is VERY busy during the tourist season. Be sure to look into the FREE Sedona shuttle that operates different hours throughout the year.
💵 Parking: Do not pay for parking at every trailhead if you'll be in Sedona for more than 3 days Be sure to Purchase The Red Rock Pass. If you have a National Parks Pass it will work at most trailheads.
Who This Sedona Weekend Itinerary Is For
We designed this Sedona 2-day itinerary for visitors who want to pack in as many fun and memorable experiences as possible in a short amount of time.
Regardless of your travel companions, this itinerary is designed to give you a taste of what Sedona has to offer and leave you wanting to come back for more.
If you're a traveler who doesn't shy away from touristy attractions but also wants to spend plenty of time exploring everything Sedona has to offer, then this is the weekend in Sedona itinerary for you.
Getting to Sedona
By Car: Sedona is easily accessible by car, with Interstate 17 providing direct access to the city. It's about a two-hour drive from Phoenix and four hours from Las Vegas.
By Air: The nearest major airport to Sedona is Phoenix Sky Harbor International Airport, located about two hours away by car. From there, you can rent a car or take a shuttle service to Sedona.
Best 2-Day Sedona Vacation Itinerary
Here is a glance at your perfect weekend in Sedona.
Scroll down for all the details, including where to go, what to do, and what to eat (aka the most important info you'll need to know!).
Day 1

Early Morning Hike at Devils Bridge
Breakfast at Pump House Station
Tlaquepaque Arts and Crafts Village
Chapel of The Holy Cross
Choose Your Afternoon Adventure in Sedona: (biking, hiking, tour)
Relax with a beer at Sedona Beer Company
Dinner at Elote Cafe or Open Range Grill and Tavern
Choose Your Sunset Adventure: (Amitabha Stupa & Peace Park, Star Gazing tour, Airport Mesa)

Day 2

Early Morning Sunrise Hot Air Balloon Ride or Sunrise at Airport Mesa Vortex
Breakfast at Coffee Pot
Choose Your Afternoon Adventure: (jeep tour, Vortex Tour, biking)
Explore The Spiritual Side of Sedona
Cool Off At a Local Swimming Hole
Dinner at Hideaway House or Javelina Cantina
Choose Your Evening Adventure (Sunset Helicopter Ride, evening cocktails, listen to live music)
Getting Around Sedona:
Considering the itinerary we've planned for you, a car is the best way to get around
Considering the itinerary we've planned for you, a car is the best way to get around. There's a lot to see while visiting in Sedona and having a car will allow you the freedom to explore at your own pace.
Day 1 Devils Bridge to Amitabha Stupa & Peace Park| A Day of Adventure in Sedona
Early Morning Devil's Bridge Hike: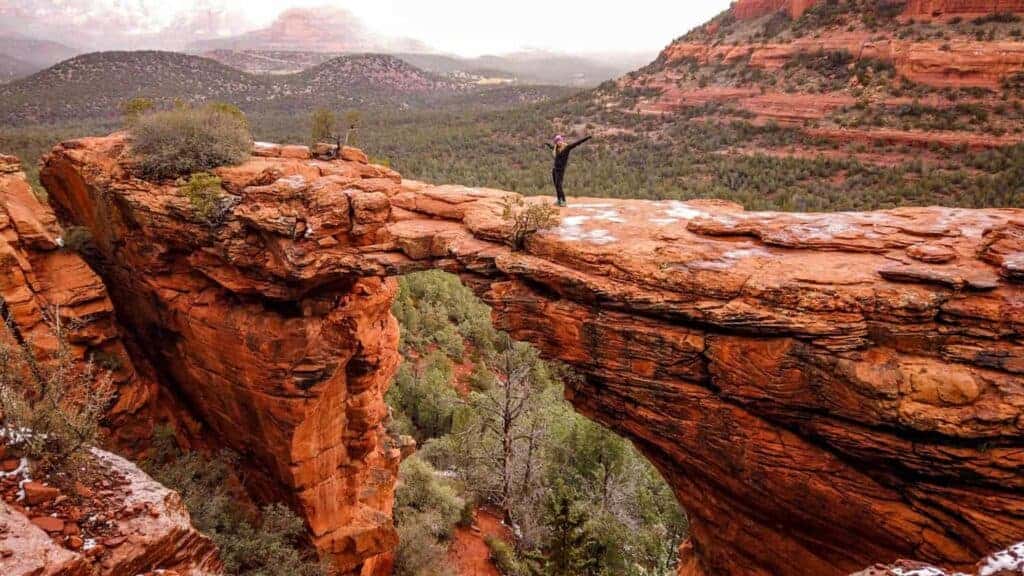 One of the famous hiking trails in Sedona, Devil's Bridge Trail, is a must-do! The hike is moderately difficult, but the views at the end are well worth the effort.
To make the most of the hike, we HIGHLY, I repeat… HIGHLY recommend doing it early in the morning before the trail gets too crowded. Not only will you get the sunrise to yourself, but you'll also avoid the crowds, and finding a place to park will be much easier.
So before heading to bed the night before, check out Google to see when sunrise is in Sedona so you can catch this hike at the best time of the day.
One of the easiest ways to access the trail is to park at the Dry Creek Road Trailhead. From here, you can start the hike. The Devil's Bridge trail is a 4-mile round trip hike, but starting at this trailhead is the shortest distance to the bridge.
As you hike up, you'll be treated to views of the red rock formations surrounding Sedona. The trail winds through the desert, with juniper trees and yucca plants dotting the landscape.
The highlight of the hike is, of course, Devil's Bridge. This natural sandstone arch offers incredible views and is a popular spot for all the Instagram shots you see all over social media.
Once you've had your fill of the views and snapped some photos, it's time to head back down the trail.
As you begin to see the crowds increase as you're heading down the trail, you'll be grateful that you had an early morning start. You're Welcome!
Breakfast At Pump House Station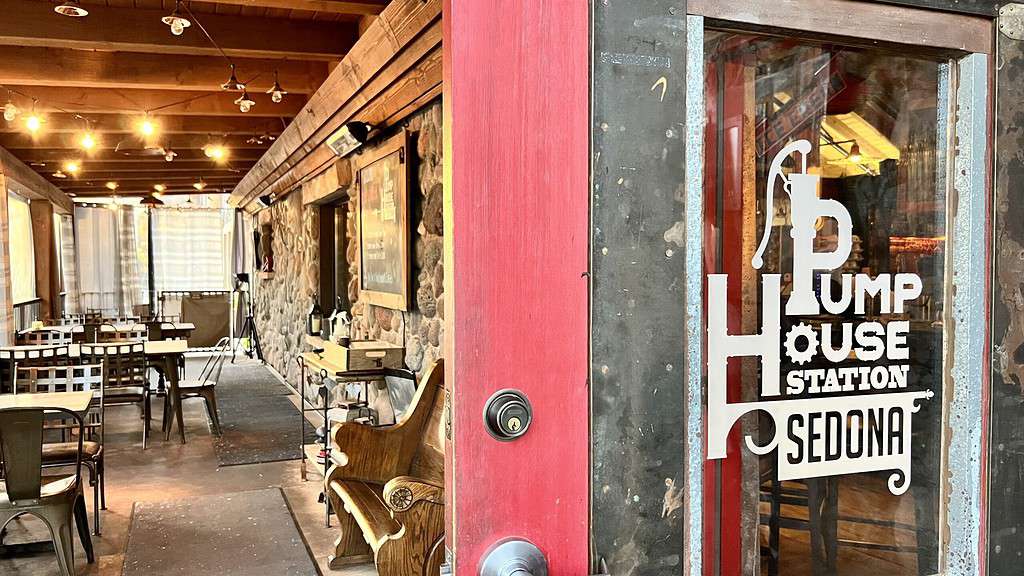 Is breakfast your favorite meal of the day? Then you'll definitely want to check out Pump House Station Urban Eatery And Market. This hip little restaurant serves it all, from top-notch eggs benedict and omelets to burritos and fruit and granola.
If you're looking for a recommendation, I suggest the Smoked Salmon Benedict. Hmmm Hmmm Hmmm
Don't worry… If you began your hike a bit later than expected. Pump House also serves an incredible lunch too with beautiful outdoor seating.
Tlaquepaque Arts and Crafts Village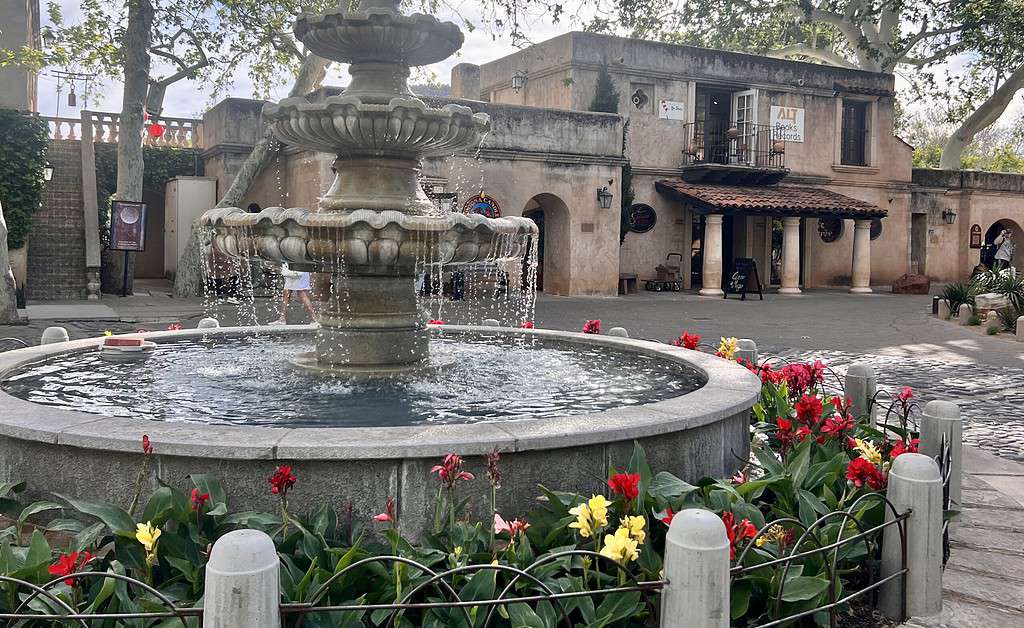 After you finish breakfast, it's time to discover Tlaquepaque Arts and Crafts Village, a charming shopping area located in the heart of Sedona.
With Spanish colonial-style architecture, beautiful courtyards, and handmade arts and crafts, this outdoor mall is a great spot to see the culture of Sedona.
Today, Tlaquepaque is home to over 40 shops and galleries showcasing the work of local and regional artists. Visitors can explore a wide array of art, including pottery, jewelry, paintings, sculptures, and textiles.
The Chapel of the Holy Cross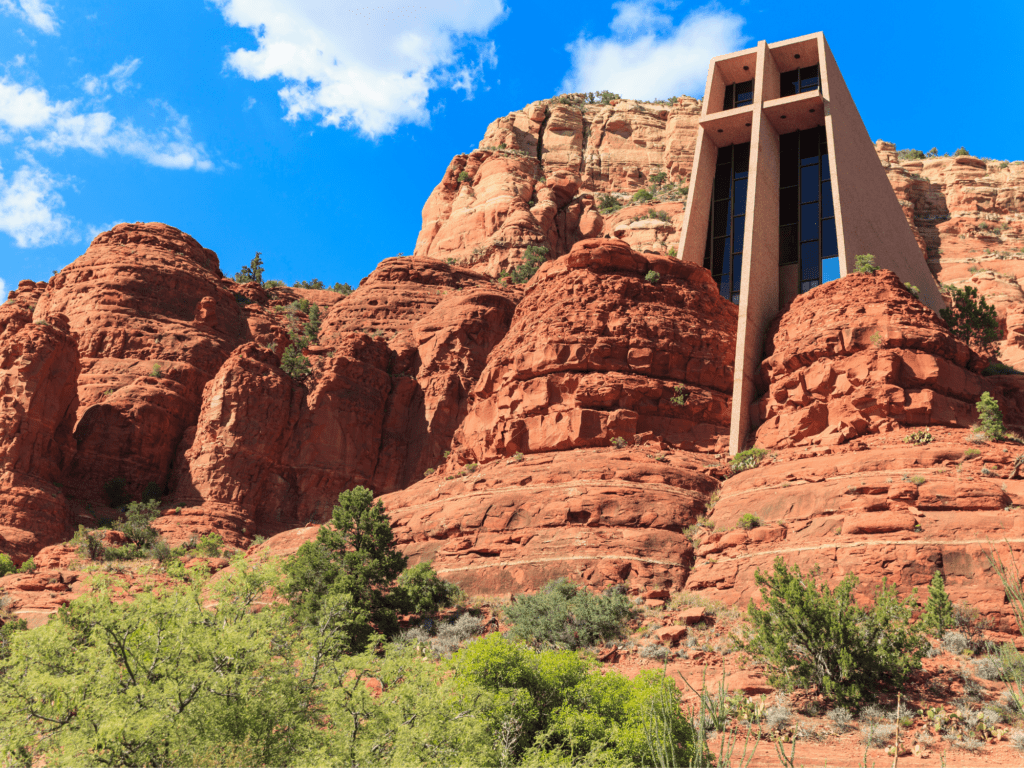 If visiting churches isn't your thing, that's understandable. However, I do recommend at least seeing the Chapel of the Holy Cross during your Sedona vacation. The great thing about this church is you can even see it from the highway on the way to our next adventure!
This church is more than just a religious site – it's an example of modern architecture (it's built directly into the red rocks of the area).
Additionally, the chapel is open to people of all faiths giving visitors a chance to experience spiritual renewal while connecting with the natural beauty of Sedona.
Afternoon Activity- Choose Your Sedona Adventure
Here are some of the most popular activities in Sedona to consider for this afternoon
A. 🥾Bell Rock Hiking
Yes, I know we already did a hike this morning but the great thing about hiking in Sedona is that the trails are all unique and offer their own stunning views and experiences.
Bell Rock is one such trail that you won't want to miss. This iconic landmark is named for its distinct bell shape and offers a relatively easy hike that's perfect for all skill levels.
The trailhead is conveniently located just off Highway 179, about 20 minutes from the center of Sedona.
The trail is well-marked, and you can choose to hike to the base of Bell Rock or continue on to the summit, which offers panoramic views of the surrounding red rock formations.
B. 🚵🏼Mt Biking Templeton Trail
I must admit that I would be stretching the truth if I claimed to prefer hiking over biking. To remain true to our colors we HAVE to include biking on this itinerary.
Sedona has some of the best mountain biking in the country and there's no better place to indulge than in this riding mecca.
C. 👀Sightseeing Tour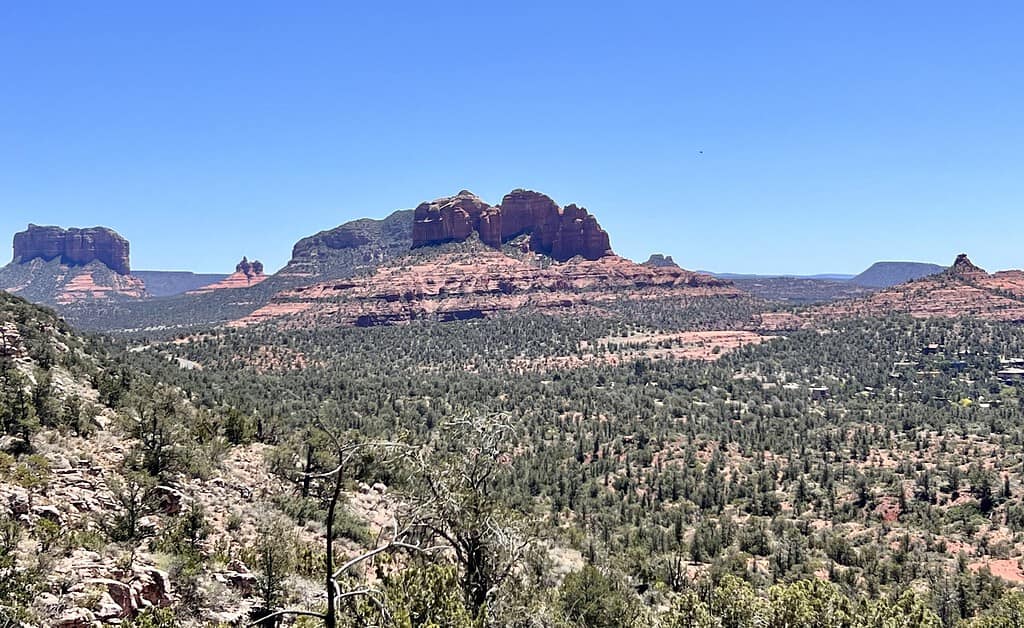 If you're seeking a stress-free way to explore the sights of Sedona, I highly recommend considering a tour. Opting for a guided tour allows you to sit back, relax, and fully immerse yourself in the beauty and wonder of this captivating destination.
Relax With A Beer At Sedona Beer Company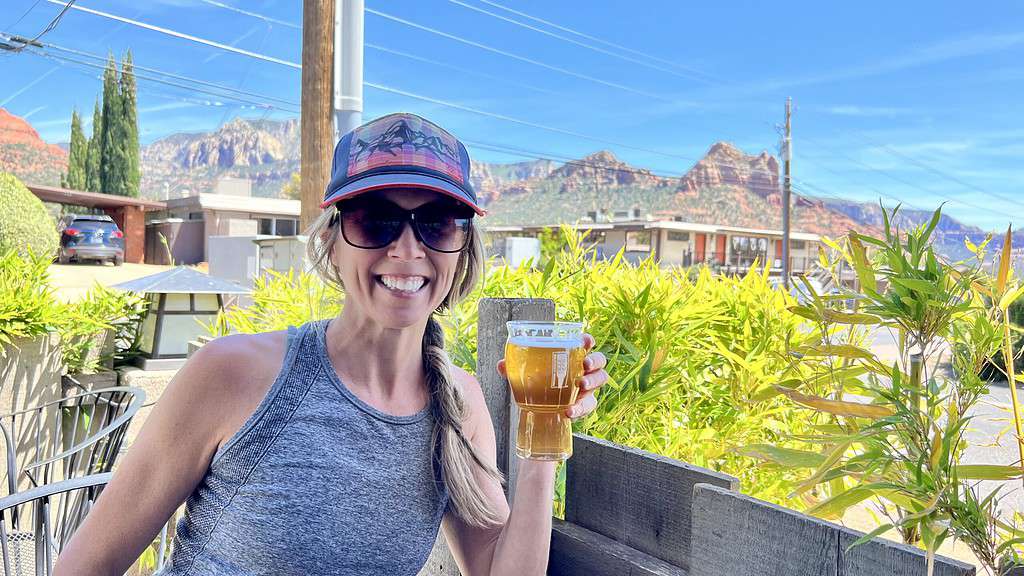 Our favorite way to end any day of adventure is with a tasty craft beer. Sedona Beer Company has a great selection of beers and a spacious outdoor patio, making it the perfect spot to unwind after a day of hiking, biking or exploring the town.
Dinner Elote Cafe: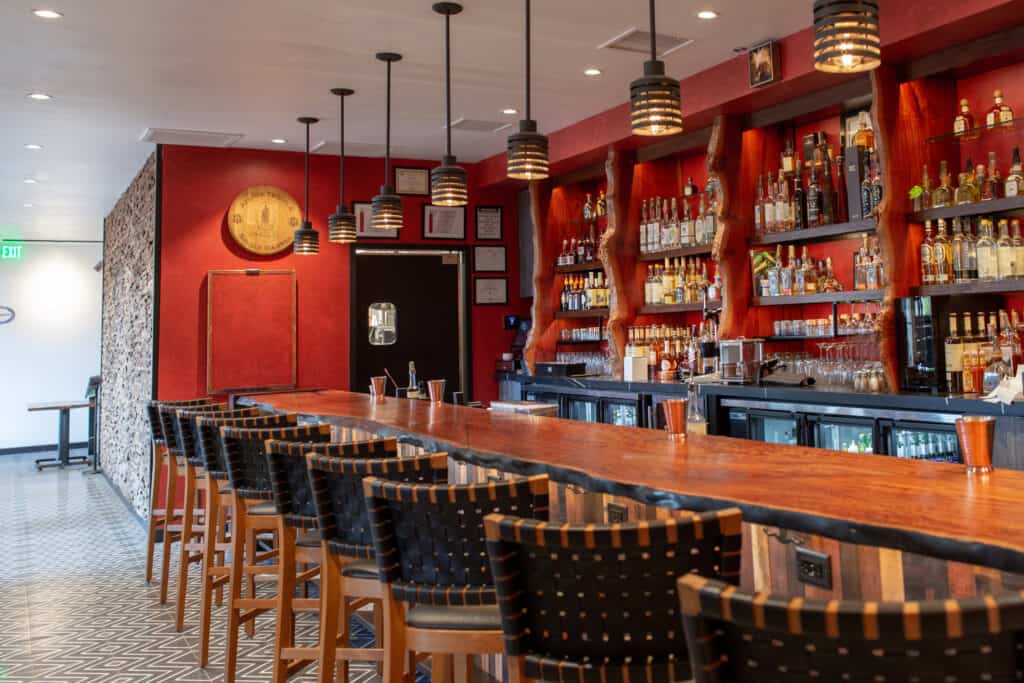 If you're looking for a dining experience that offers up modern Mexican cuisine, be sure to check out Elote Café. This VERY popular restaurant is known for its signature dish, the Elote
What is Elote You May be Wondering🤔?

It's grilled Mexican street corn served with a tangy sauce made from lime, chile, and cotija cheese. During our time in Baja Mexico, we became pretty addicted to this savory snack .
Other popular menu items include the Cochinita Pibil, a slow-roasted pork dish with pickled red onions and black beans, and the carne asada, a juicy steak served with guacamole and pico de gallo.
In addition to its delicious food, Elote has an extensive selection of tequilas and cocktails, as well as a variety of beers and wines.
Insider Tip: If your heart is set on eating at Elote be sure to make a reservation. The popular restaurants in Sedona can be quite busy, especially during peak season.
Alternative Dinner Recommendation-Open Range Grill and Tavern
Planning ahead isn't always my strong suit, and as previously mentioned, getting a reservation at Elote can be challenging.
But don't worry if you weren't able to snag a reservation in time, I have a back up plan just for you.
Head over to Open Range Grill and Tavern where the views alone will have you coming back for more.
Choose Your Sunset In Sedona
In my opinion Sedona has some of the best sunsets you'll ever see. Sedona's unique red rocks, provide the perfect backdrop for these captivating sunsets. Here are some of the most popular ways to watch the sunset
A. 🕉️Amitabha Stupa & Peace Park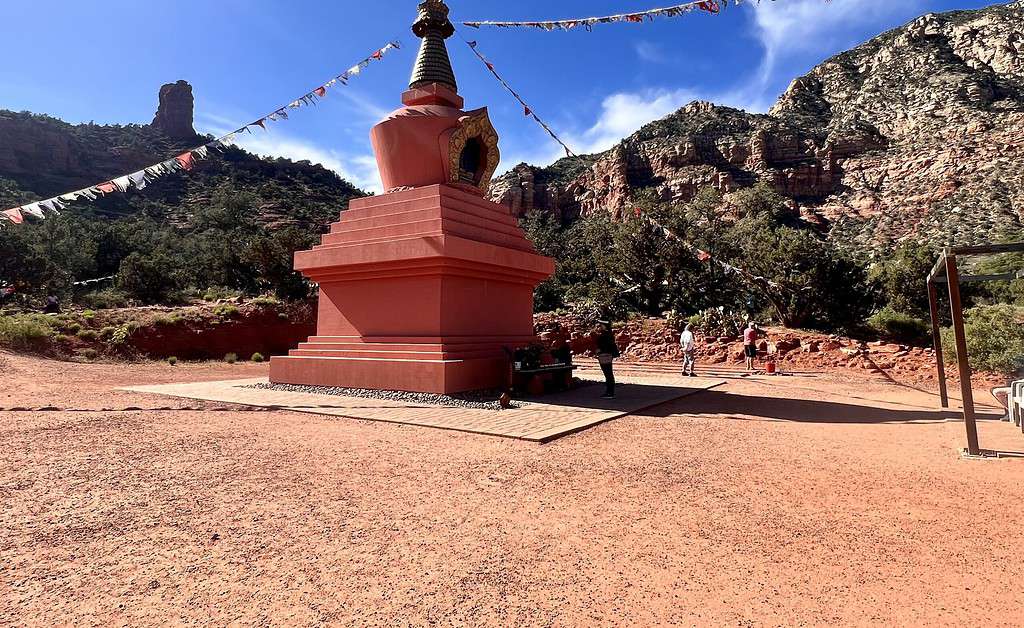 One great way to spend your evening is visiting the Amitabha Stupa & Peace Park. The stupa is a spiritual structure that has been used for centuries as a sacred monument and place of meditation.
The Amitabha Stupa & Peace Park is a stunning example of a traditional Buddhist stupa, located in Sedona, Arizona.
Visiting the stupa and park can be a peaceful and calming experience. Walking around the park's trails can help you connect with nature and find inner peace. The park also has a meditation area where visitors can sit and reflect in silence.
In addition to the spiritual aspect, the park also offers stunning views of the surrounding red rocks and valleys.
B. ⭐️Sedona Star Gazing Tour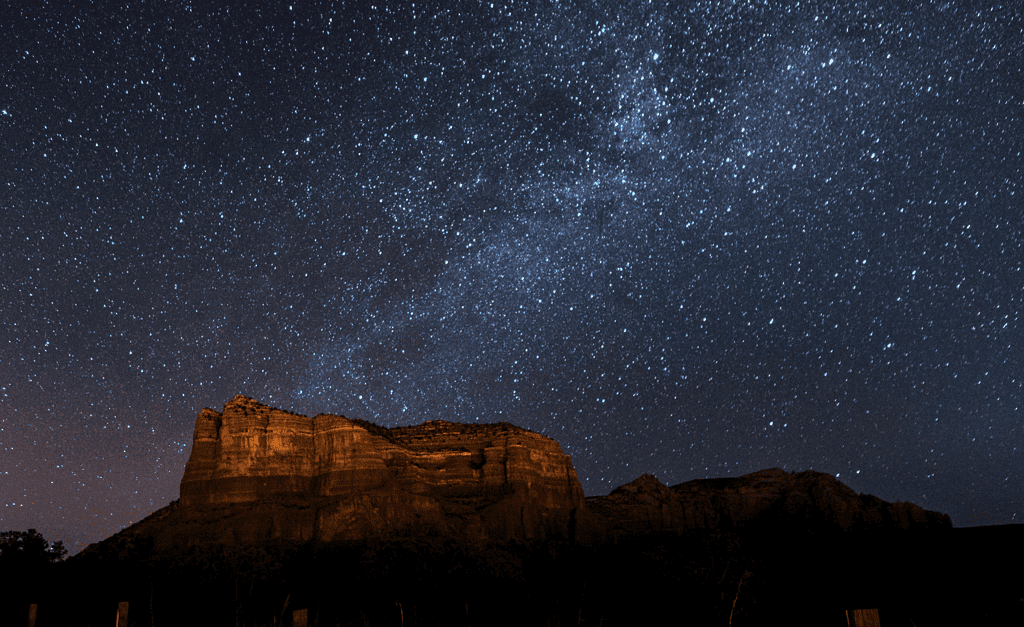 To be honest there's really not a bad place to see the sunset in Sedona but, if you're wanting to take your sunset experience in Sedona to the next level, I highly recommend considering a Sedona star gazing tour. While the sun bids its farewell and the sky transitions into darkness, Sedona's clear, unpolluted skies offer an incredible opportunity for stargazing.
Sedona's unique location within the Coconino National Forest and its designation as an International Dark Sky Community make it an ideal spot for observing the heavens. The absence of light pollution allows for clearer views of distant galaxies, planets, and celestial phenomena.
It's an awe-inspiring experience that can truly ignite a sense of wonder and connection with the vastness of the universe.
C. 🌅Sunset Airport Mesa and Vortex
Heading to the Airport Mesa for the sunset is a great idea if you're looking for a memorable experience. This popular viewpoint offers a panoramic view of the surrounding red rock formations, providing the perfect backdrop for a stunning sunset.
Watching the sun's final rays illuminate the red rocks as it sinks below the horizon is truly a sight to behold.
Good To Know: Keep in mind that the Sunset Airport Mesa is a REALLY popular destination, so it's best to arrive early to secure a good spot.
Sedona Day 2: From Sunrise to Sunset: A Day of Outdoor Fun in Sedona
Once again, it's going to be an early morning. We want you to make the best of your 2-day vacation in Sedona, so I hope you didn't stay up too late the night before.
Choose Your Sunrise Adventure
For day two, you can choose a budget-friendly option, or why not go for a splurge with a hot air balloon ride?
A. 🌄Sunrise Hot Air Balloon Ride (For EARLY Risers or Those Who Want to See It All)
For those of you who are EARLY risers or REALLY want to make the most of your weekend in Sedona, a sunrise hot air balloon ride is the perfect activity.
It's a unique way to experience the beauty of Sedona's landscape, and it's an adventure that will stay with you for a lifetime.
One of the best things about a hot air balloon ride is that it's a peaceful and calming experience. From high up in the sky, you'll see Sedona from a completely different perspective. The colors and patterns of the rocks and cliffs will take on a whole new dimension, and you'll be amazed at the beauty of the landscape.
B. ☀️Sunrise At Airport Mesa Vortex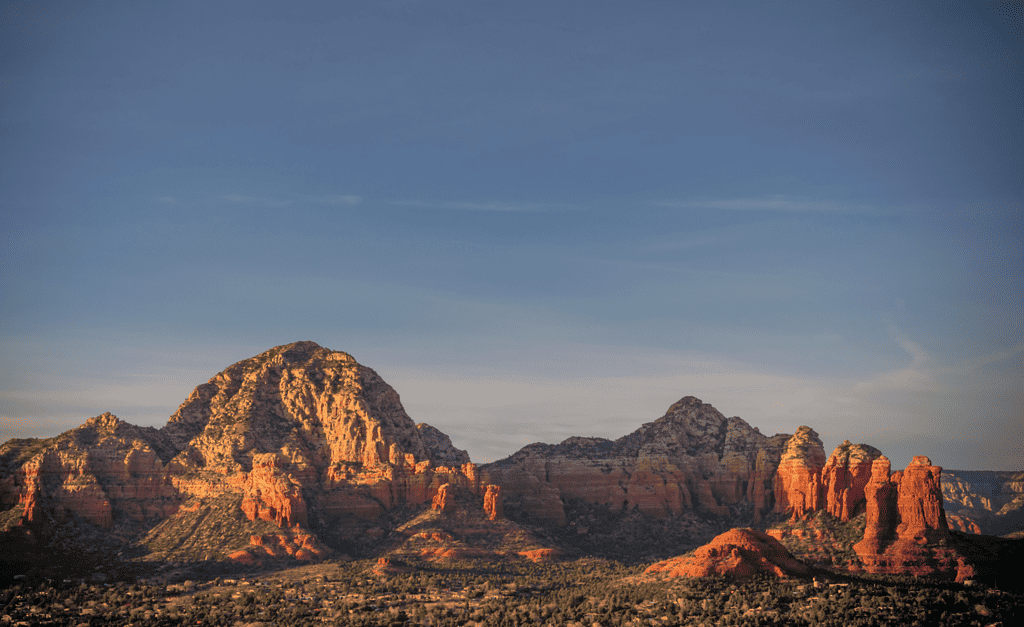 Just like it offers stunning sunset views, Airport Mesa is also a fantastic spot to catch the sunrise. The panoramic vistas from this elevated viewpoint provide a breathtaking display as the sun peeks over the horizon, illuminating the red rocks with warm hues.
What Is a Vortex And What Does A Vortex Do?
Are Vortexes New To You? They definitely were to us; it wasn't until we Googled them online that we understood what they are all about.
A vortex is a place in nature where the energy is believed to be exceptionally strong and can be felt by some people. The energy is said to flow in a spiral motion, and it is thought to affect those who visit or live in the area.
There are several recognized vortex sites in Sedona, which is known as one of the most powerful spiritual locations in the world. Sedona's four best-known vortexes are identified as Airport Mesa, Cathedral Rock, Bell Rock, and Boynton Canyon.
People who visit vortex sites may experience a range of sensations, including tingling, warmth, or a sense of peace and tranquility. Some believe that the energy of the vortex can facilitate healing, personal growth, and spiritual development.
If you're curious what this whole Sedona vortex thing is all about and want to do a vortex tour, there are vortex tours by Jeep and spiritual vortex tours.
To be honest, I'm not exactly sure how I feel about vortexes; however strong vortex energy or not the beauty of Sedona is energetic in its own right.
❓Intrigued? ⚡️Want To Learn More About Vortexes? Check Out This Jeep Tour
Breakfast At Coffee Pot
This iconic diner has been serving up breakfast for over 30 years and has become a local favorite.
One of the most popular dishes at Coffee Pot is the "101 omelets," which features a whopping 101 different omelet combinations to choose from. Whether you're in the mood for something savory or sweet, there's an omelet for everyone.
Some of the most popular options include the Sedona Sunrise, which features bacon, avocado, and cheese, and the Mexican omelet, which comes with chorizo, cheese, and green chilies.
If you're not in the mood for an omelet, there are plenty of other options on the menu, including pancakes, waffles, and French toast. The portions are generous, so be sure to come hungry.
Choose Your Afternoon Activity In Sedona
Just like day one I want you to have some freedom in your Sedona Itinerary; so pick the activity that resonates the best with oyou
A. 🛻Jeep Tour: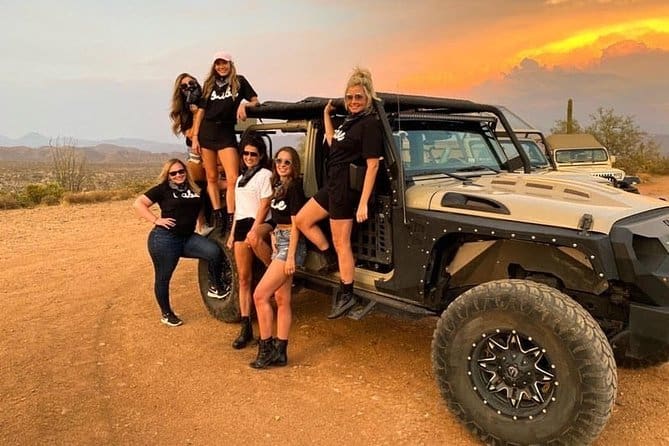 All hiked out? Okay. There's a Jeep tour waiting for you!
This is not your typical off-road tour. These custom-designed jeeps will take you to places that most vehicles can't access. They'll take you up close to the iconic red rock formations, offering breathtaking views and ample photo opportunities.
The open-air design of the Jeep allows you to fully immerse yourself in the sights and sounds of Sedona, feeling the refreshing breeze as you navigate the trails.
B. 🚵🏼Mountain Biking
There are so many trails to explore but for todays ride we recommend heading to
If you're interested in biking but don't have your own bike you can rent an E-bike here and take your own Sedona tour.
A couple of our favorite mountain bike trails are
Mescal trail
Hog Trails
Slim Shady
Bell Rock trail
Templeton Trail
HiLine
Depending on your route, HiLine Trail can be anywhere 10-15 miles and can be started in The Village of Oak Creek area.
C. ⚡️Take A Vortex Tour
If you're curious about Sedona's vortexes and the unique energy they offer, taking a vortex tour is an excellent way to explore this phenomenon.
These tours allow you to visit various vortex sites throughout Sedona, learn about their history and significance, and experience the energy firsthand.
As you explore the vortex sites, you'll have the opportunity to engage in practices that harness the energy of the vortex, including meditation, grounding exercises, and intention setting. Many visitors report feeling a sense of tranquility, inspiration, and a deeper connection to nature during these experiences.
Uptown Sedona Brunch Or Lunch
Here is where you'll have your lunch! This bustling area is the heart of Sedona and is loaded with great restaurants and cute shops.
If you're a fan of freshly baked bread, we recommend checking out Wildflower Bread Company. They offer a variety of delicious sandwiches and fresh loaves that are perfect for taking on a picnic or enjoying on the go.
We've tried several of their sandwiches, and they've all been great, so go ahead and pick the one that's calling your name.
A couple of our other go-to's in Sedona for lunch, apps, or dinner are Creekside American Bistro and The Secret Garden Cafe.
Creekside American Bistro is located on Oak Creek, and their outdoor patio is a great place to take in the scenery while sipping on a drink or getting something to eat. Their menu is a mix of American classics and Southwest flavors.
The Secret Garden Cafe is a charming spot located in Tlaquepaque Arts & Crafts Village, The cafe is hidden behind a beautiful garden, and their menu features fresh and healthy options, including vegetarian and gluten-free choices.
Explore The Spiritual Side Of Sedona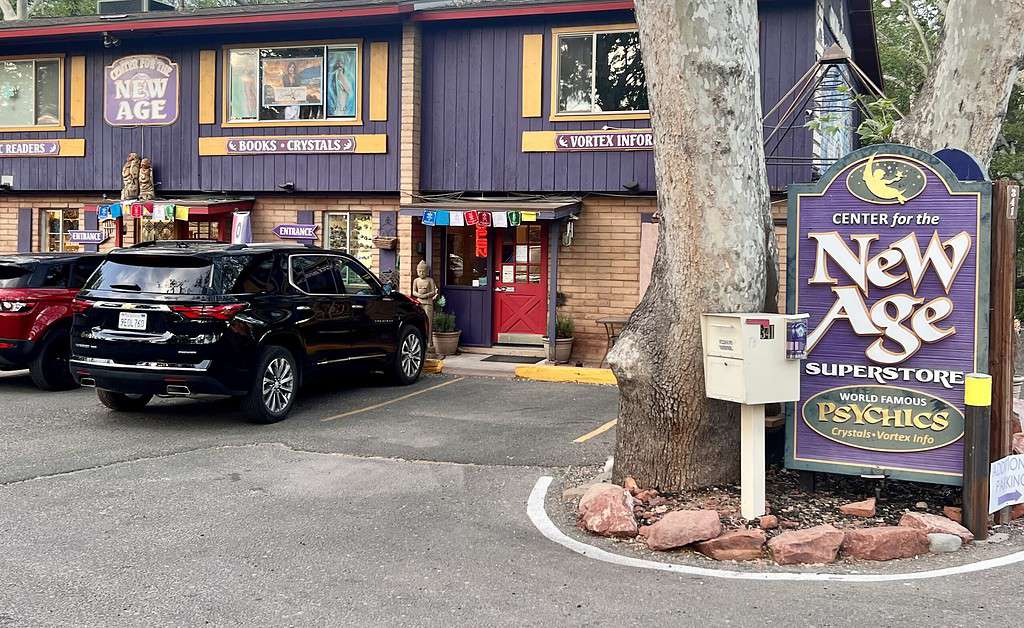 After lunch, take some time to explore the spiritual side of Sedona.
Sedona is a spiritual haven for many, offering a variety of stores, shops, and destinations that cater to those seeking spiritual growth and enlightenment.
Whether you believe it or not, it's still fun to explore crystals, psychics, vortexes, hand readings, and aura photos. I mean, come on… when are you ever going to experience something like this again?
Here are some of the best places to visit in Sedona If You're Seeking A Spiritual Experience
Center for the New Age Superstore: A one-stop-shop for all your spiritual needs, offering crystals, tarot cards, books, and more. They also offer workshops, classes, psychic readings, and aura photography services.
Sedona Crystal Vortex: This store specializes in crystals, gemstones, and jewelry, with a focus on the metaphysical properties of each item. They also offer psychic readings, aura photography, and energy healing sessions.
Mystical Bazaar: A store that offers a unique blend of spiritual, metaphysical, and new age items, including crystals, jewelry, books, and gifts. They also provide psychic readings and energy healing.
Head To One of The Nearby Swimming Holes To Cool Off Or Release Some Energy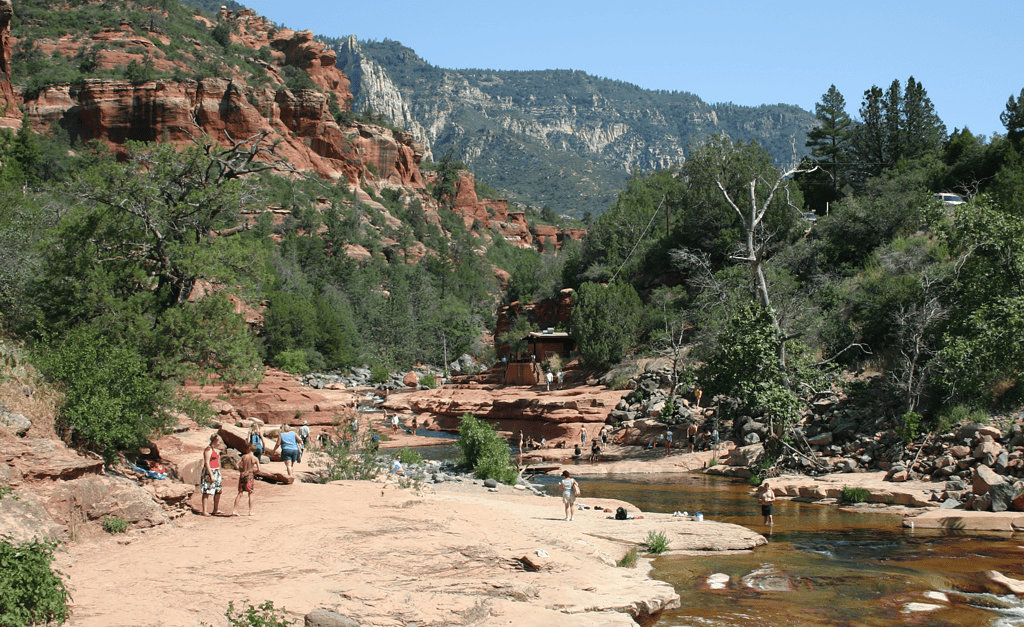 After immersing yourself in the spiritual side of Sedona, you might be eager to embrace some refreshing fun under the Arizona sun.
One of the best ways to cool off in the Arizona heat is by visiting one of the nearby swimming holes.
Here are some great options:
Slide Rock State Park: This popular park is known for its natural water slide and refreshing swimming holes. The park is located in Oak Creek Canyon and is about 7 miles north of Sedona.
Red Rock Crossing: Although more of a shallow area for wading, the picturesque scenery of Cathedral Rock and Oak Creek make Red Rock Crossing a great spot for a refreshing dip.
Beaver Creek: Located about 20 miles south of Sedona, Beaver Creek is a lesser-known spot for swimming and exploring. There are several access points along the creek, including Wet Beaver Creek and Bell Trail.
Explore a Wine Tasting Room
As we approach the end of our two-day trip to Sedona, I'd like to emphasize that no visit to this area is complete without experiencing or at least knowing about the wine scene in the nearby Verde Valley region.
Located just a 20 to 30-minute drive from downtown Sedona, this area is known for its wine, thanks to the ideal climate and soil.
There are currently two wine-tasting rooms located in Sedona. Here are some details about each of them: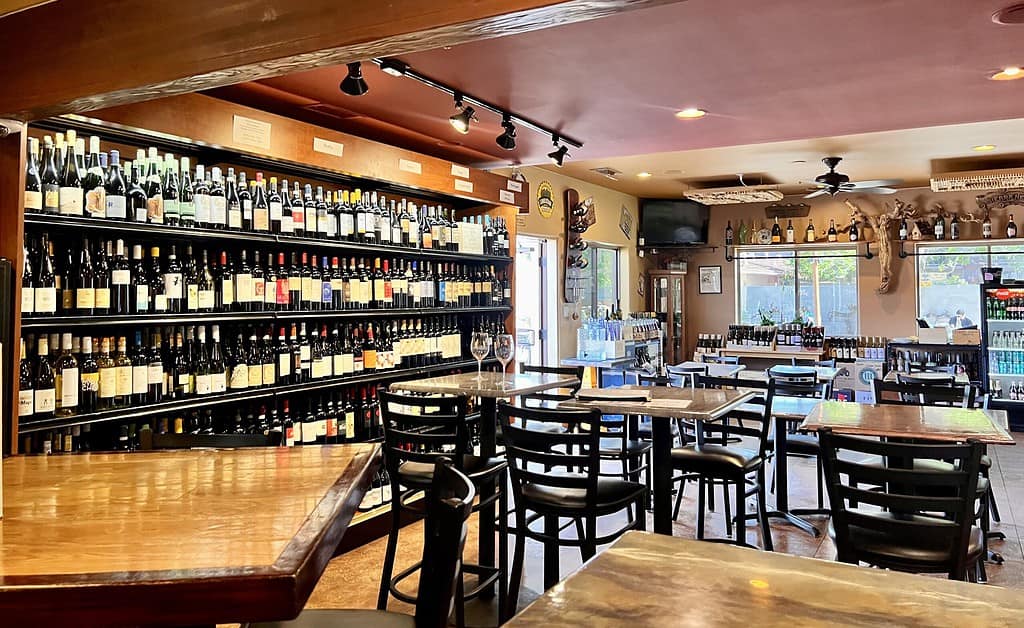 Winery 1912 Tasting Room: This tasting room offers a variety of Arizona wines, including several from their own vineyards in Willcox, Arizona. They offer tastings daily from 11 am to 6 pm, with reservations recommended for groups of 6 or more. In addition to tastings, they also have a small retail shop where you can purchase bottles of wine to take home.
The Art of Wine: This wine bar features a selection of wines from around the world, as well as craft beers and light bites. The Art of Wine also hosts events and music in their beautiful courtyard.
For a unique experience, check out the Verde Valley Wine Trail, which includes 21 wineries and tasting rooms located throughout the Verde Valley region. The trail offers stunning views of the area's vineyards and mountains and allows you to sample a variety of local wines.
Dinner At Hideaway House
We really like the Hideaway House because not only does it offer incredible views, but it's also reasonably priced compared to Sedona's usual standards. This is a restaurant we find ourselves going back to each time were in Sedona.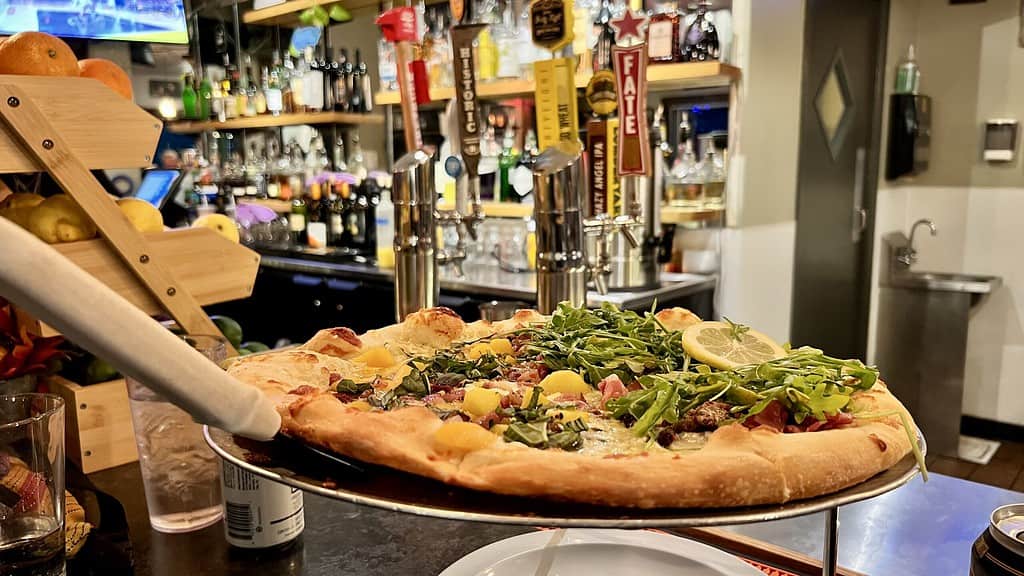 Not only do they offer a great Italian menu but the views from their patio are fantastic.
Insider Tip: If you eat here, I highly recommend the "Kat's Way" Pizza 1/2 Roasted Peach and Carmelized Pancetta and 1/2 ricotta and dates, baked then topped with prosciutto and tossed arugula salad.
Alternative Dinner Option- Javelina Cantina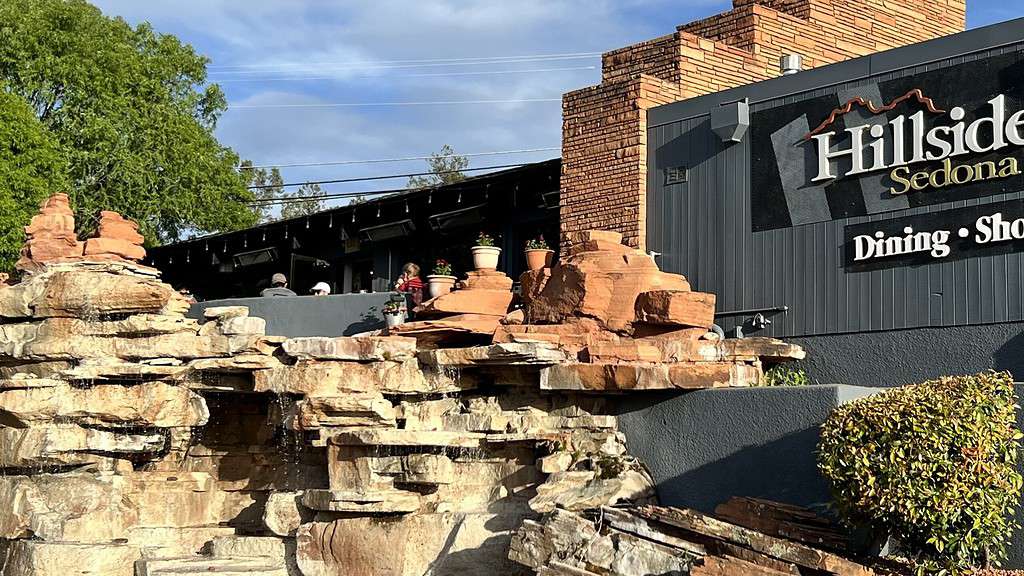 It's only fitting to finish our trip off with a dinner that captures the essence of the Southwest. Javelina Cantina is a popular dining spot known for its Southwestern-inspired cuisine, lively atmosphere, a great outdoor views.
You'll find a menu filled with delicious dishes that showcase the bold and zesty flavors of the Southwest.
Choose Your Evening In Sedona
This is your last evening in Sedona so depending on your energy level we have a couple of different options for you.
A. 🚁Take a Sunset or Sunrise Tour With a Helicopter Sightseeing Company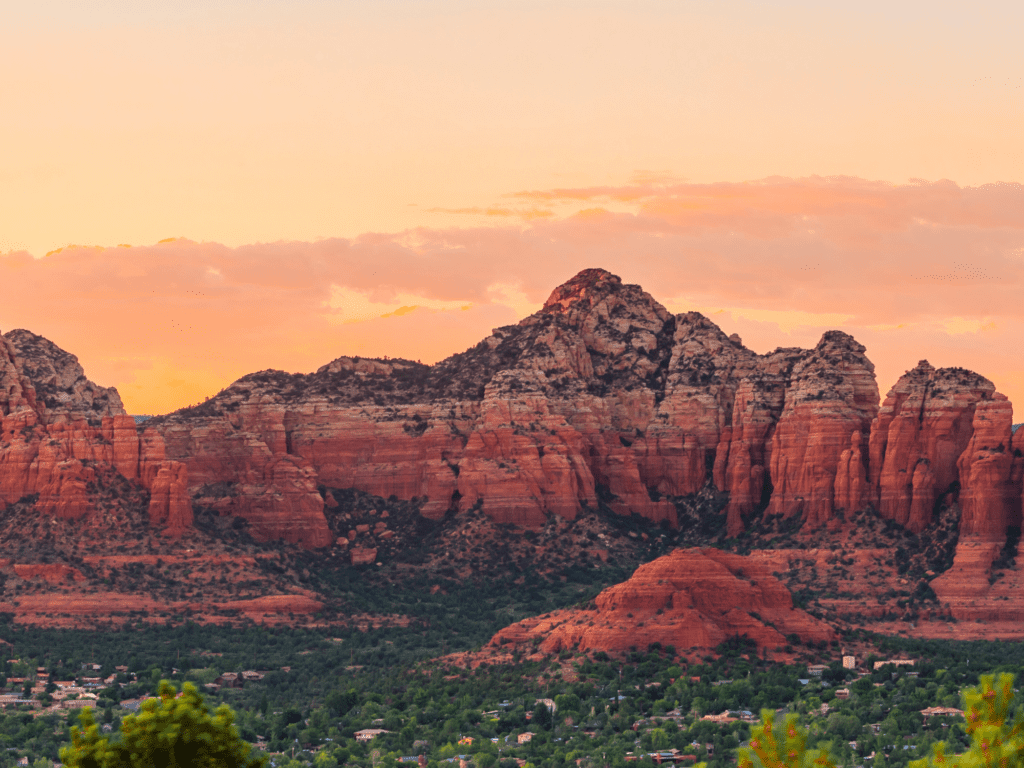 Take a tour high in the sky is a great way to see the area, but it's even better when you do it at either sunrise or sunset.
The colors of the rocks change as the sun hits them and it's truly a sight to behold. You'll be able to see the canyon walls and scenery in a whole new light.Be sure to book your tour in advance as they fill up quickly!
B. Have a Late Night Drink At Mooneys Irish Pub or Non-Alcoholic Drink at Lacuna Kava Bar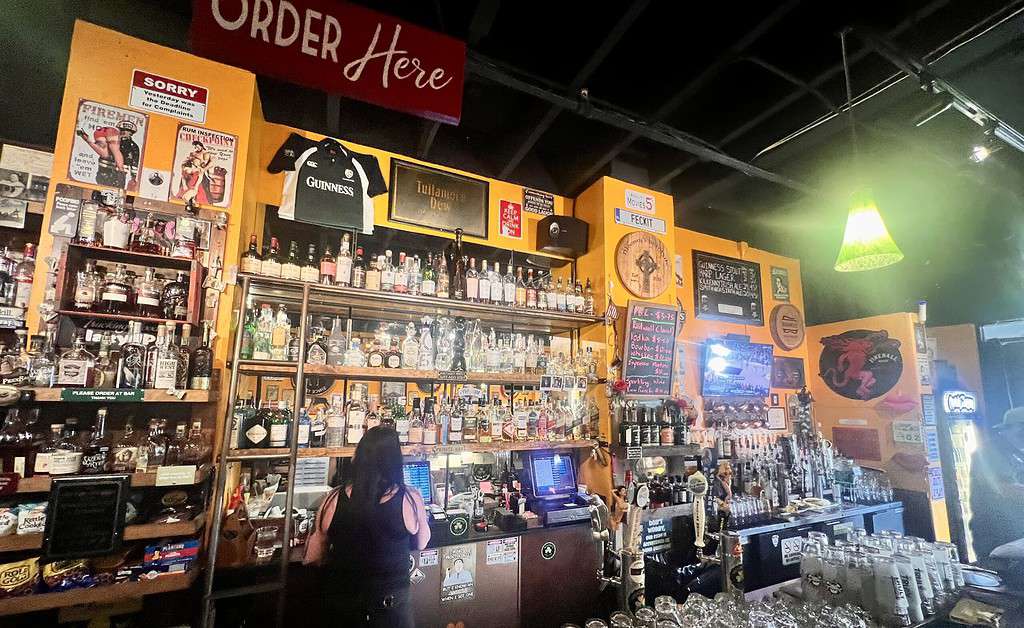 Sedona doesn't have a vibrant late night party scene, but if you're looking for a place to spend the evening into the later hours, your best option would be Mooney's Irish Pub or Lacuna Kava Bar.
C.🍺 Get A Beer And Listen To Music At Oak Creek Brewery (Not To Be Confused With Oak Creek Brewery And Grill)
Did you know that there are two locations to taste Oak Creek Brewery beers? Our favorite location is the one on Yavapai Drive they have a great outdoor seating area, a locals vibe, and music on select weekends.
Looking For Other Things to Do In Arizona? Check These Out
Sedona Weather
Sedona's weather is known for its mild and pleasant climate, making it an ideal year-round destination for travelers. The region experiences four distinct seasons, each with its unique charms.
Spring In Sedona- March to May, Sedona experiences mild temperatures with average highs ranging from the mid-60s to 70's, making it a great time for hiking and outdoor activities.
Summer in Sedona- June to August, can be quite warm, with temperatures ranging from the mid-80s to 90s. However, with low humidity levels, it still feels comfortable.
Fall in Sedona-September to November, is perhaps the best time to visit Sedona as the temperatures start to drop, making the weather perfect for outdoor activities.
Winter in Sedona-December to February is varied, and it can but can get pretty cold, and YES! It does snow in Sedona, believe me we've witnessed it!
Best Time to Visit Sedona?
We feel the best time to visit Sedona is Spring or Fall when the weather is mild and the scenery is at its best.
During the spring months of March to May, you can enjoy the wildflowers and lush greenery, while the fall months of September to November bring stunning foliage colors.
Good To Know: Sedona is a VERY popular AND busy destination for those who are looking to get in some quality outdoor time. It's essential to plan ahead and make reservations for accommodations, activities, and dining.

Some of the most popular activities include hiking, mountain biking, Jeep tours, and hot air balloon rides.
Have More Than Two Days In Sedona?
The Soldier Pass Trail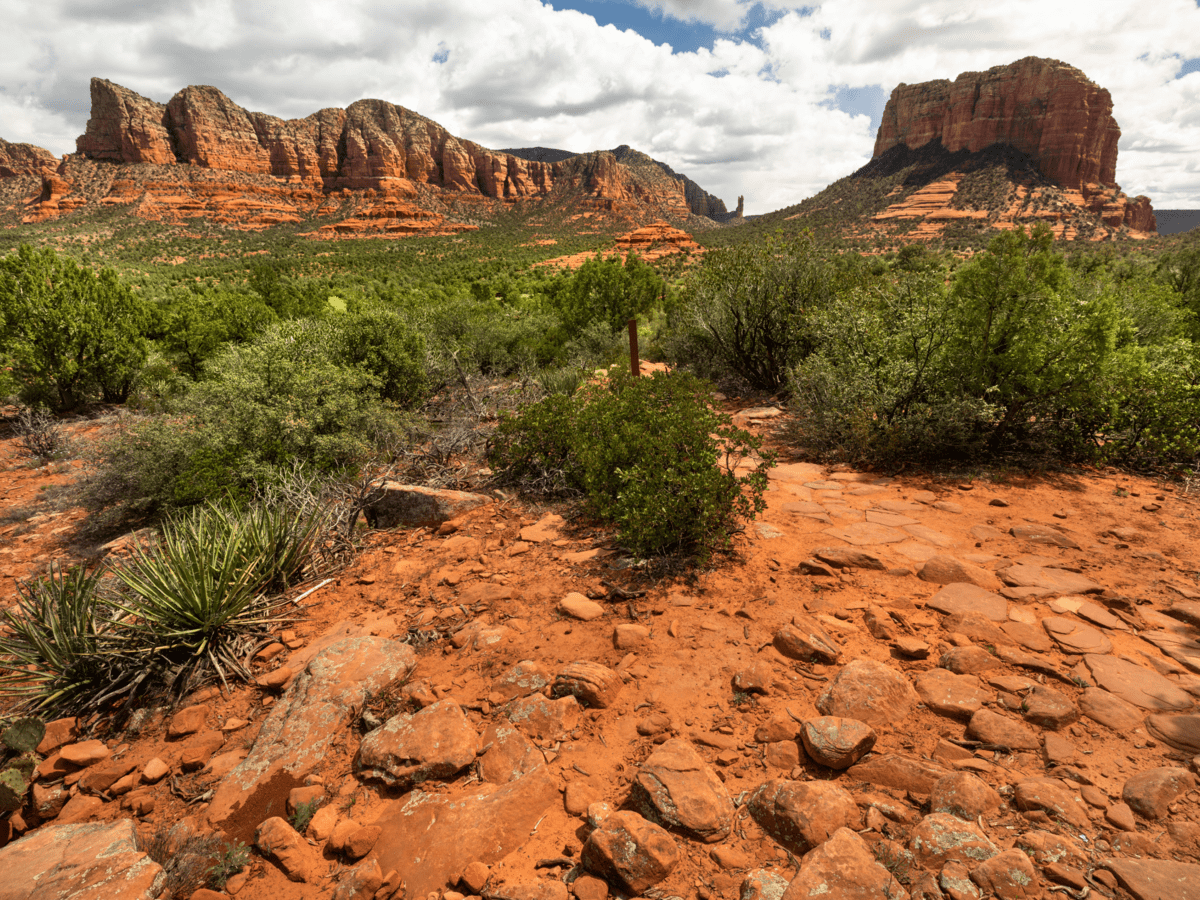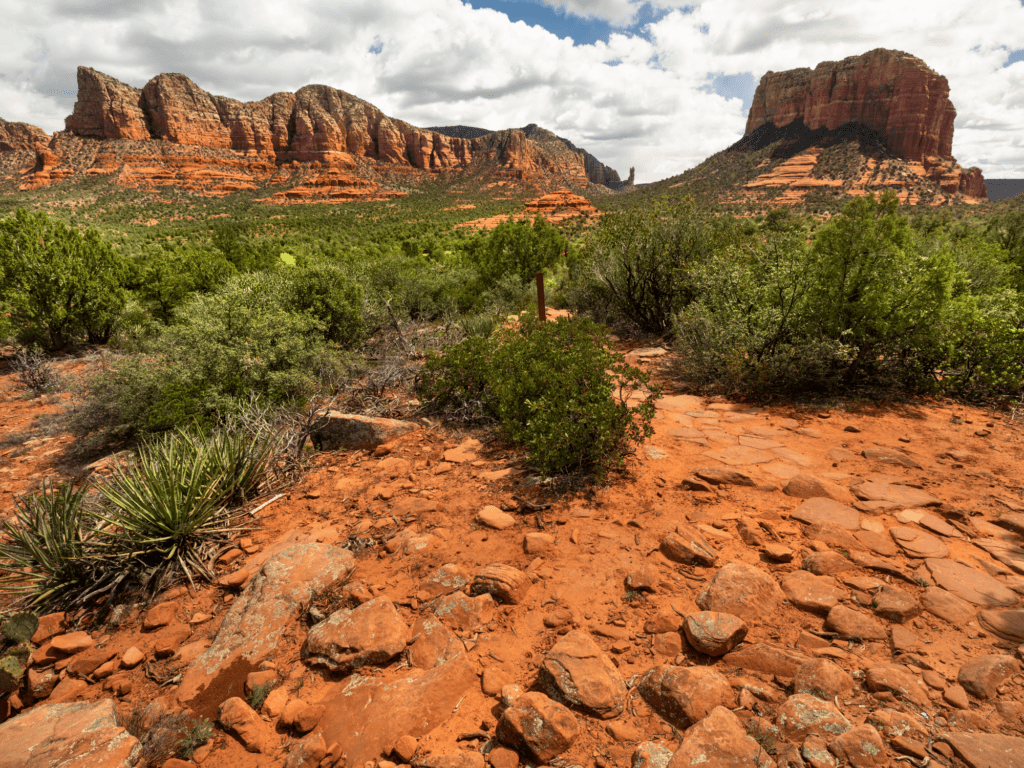 The Soldier Pass Trail is a bit longer than the Devil's Bridge Trail, but it's well worth it.
We highly recommend doing the entire loop if you're up for it. It's about seven miles, but you can always turn back around if you get tired.
You'll come across Devil's Kitchen, a sinkhole, and the Seven Sacred Pools.
Head To Pumphouse Wash To Explore A Sedona Slot Canyon
Pumphouse Wash is a stunning gorge with sheer walls made from Coconino sandstone. The cream-colored rock contains deep pools, small cascades, and flooded channels that look like slots.
You'll find this canyon by driving 89A between Sedona and Flagstaff.
Explore The Energy From A Psychic Reading Or Palm Reading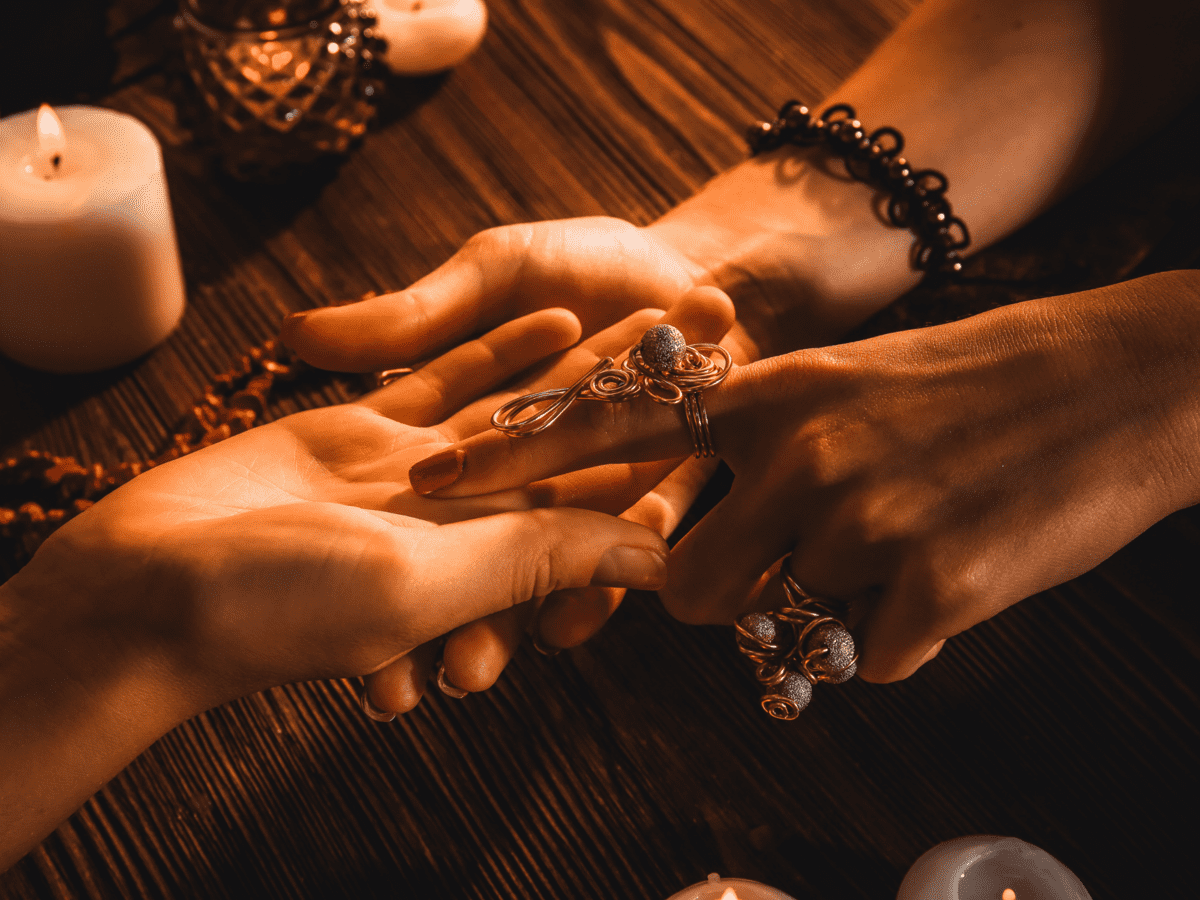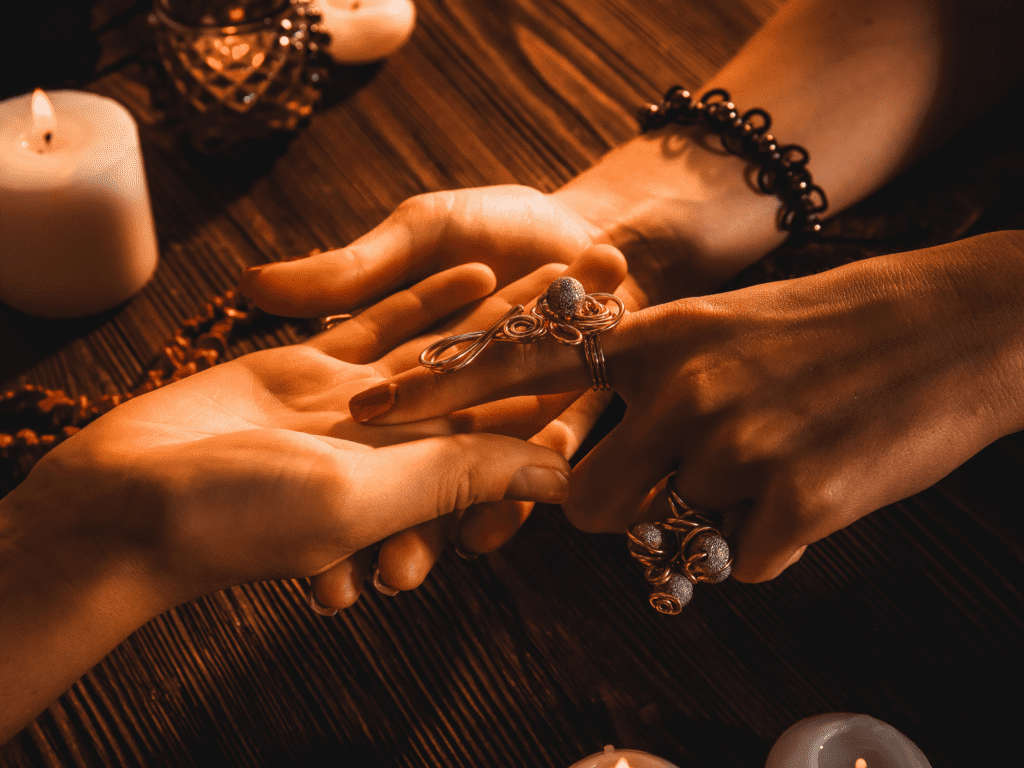 After you've charged up your battery at one of the Vortex sites why not try out a psychic or palm reading? Sedona is home to many talented psychics who can help you gain clarity and insight into your life.
There are many palm reading services available in Sedona, so be sure to shop around and find the one that feels right for you.
Fun Daytrips From Sedona That Offer Different Landscapes and Scenery
Explore Flagstaff For Cooler Temps, Mountains And Even Snow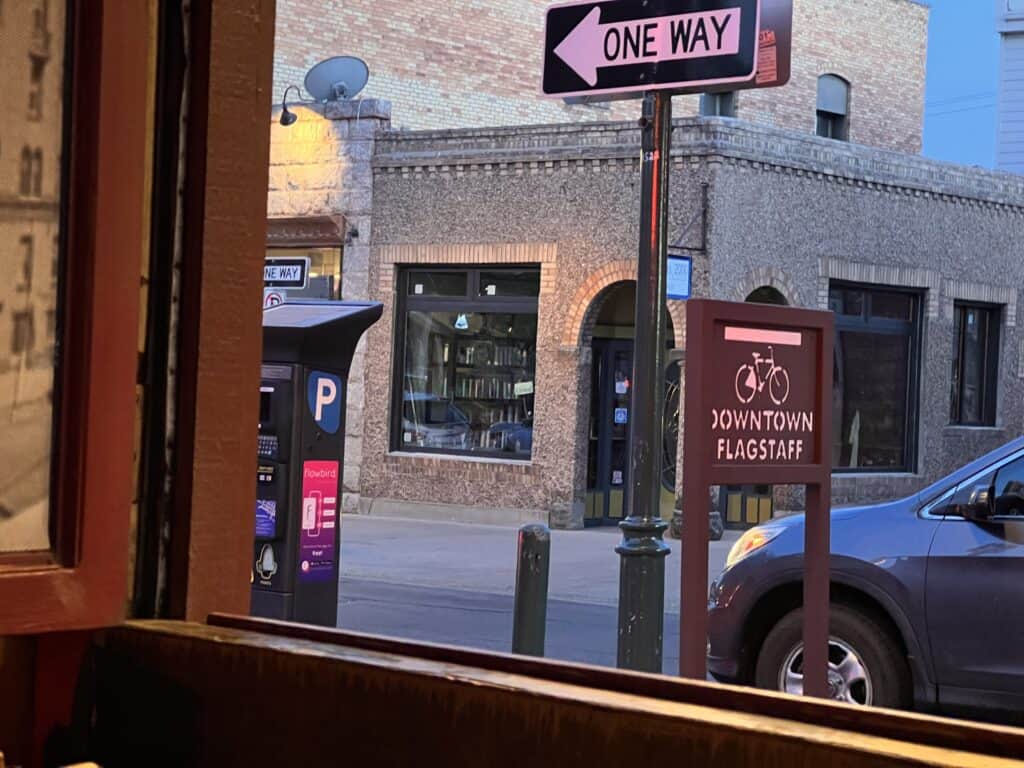 Flagstaff sits a much higher elevation than Sedona and as a result, offers different scenery and snow and a way to cool off during the hot months in Sedona! The city is home to Snowbowl, a popular ski resort. It's also worth driving up to see the San Francisco Peaks, the highest mountain range in Arizona.
We absolutely love the city of Flagstaff from a good downtown vibe with great food and breweries to mountain biking and skiing , it really does have something for everyone.
Grand Canyon National Park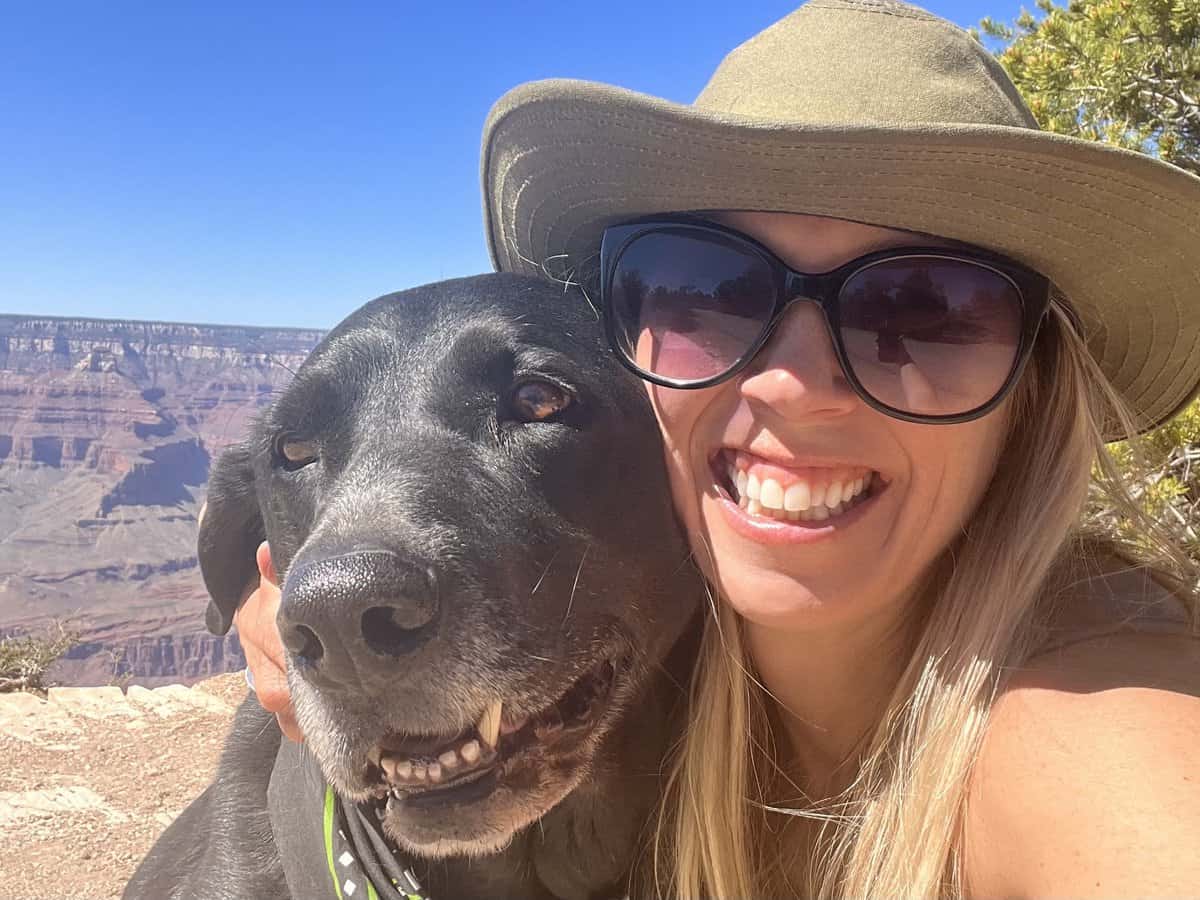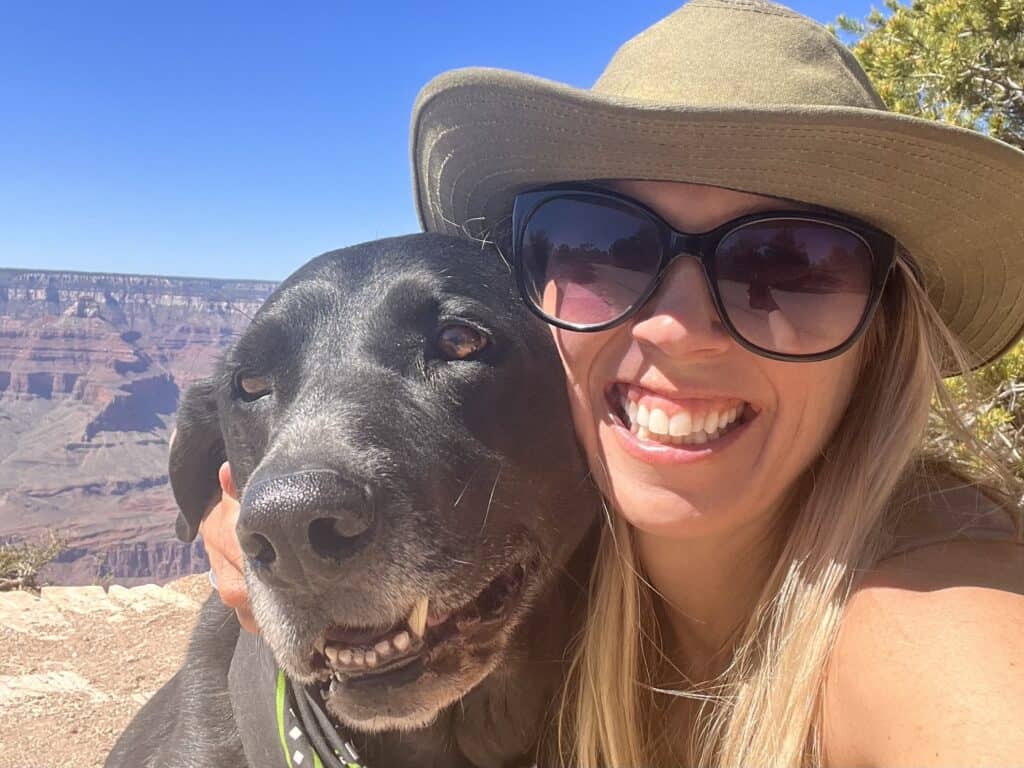 The Grand Canyon is one of the seven natural wonders of the world and is located (South Rim) just about 2.5 hours from Sedona. The canyon is massive and there are plenty of different ways to explore it. You can hike to the bottom, take a mule ride, or even raft the Colorado River.
Grand Canyon National Park has a north and south rim entrance. The south rim is much more crowded but offers more amenities like restaurants and gift shops.
The north rim is less crowded but only open from May 15 – October 15 due to weather conditions. It's our goal some day to hike from the North to South Rim of the Grand Canyon
Take A Quick Trip To Cottonwood
Cottonwood a small town located about 30 minutes from Sedona, is a haven for wine lovers. The town hosts several tasting rooms, providing visitors with the opportunity to indulge in the flavors of local wines while immersing themselves in the growing wine industry of the Verde Valley.
Alongside the wineries, Cottonwood has a diverse culinary scene, offering a range of restaurants that perfectly complement the wine tasting experience.
If you're looking to cool off on a hot day, take a float down the Verde River. You can also explore Dead Horse Ranch State Park and Tuzigoot National Monument in nearby Clardale.
Are You Looking To Take A Driving Tour To The Hillside Ghost Town of Jerome?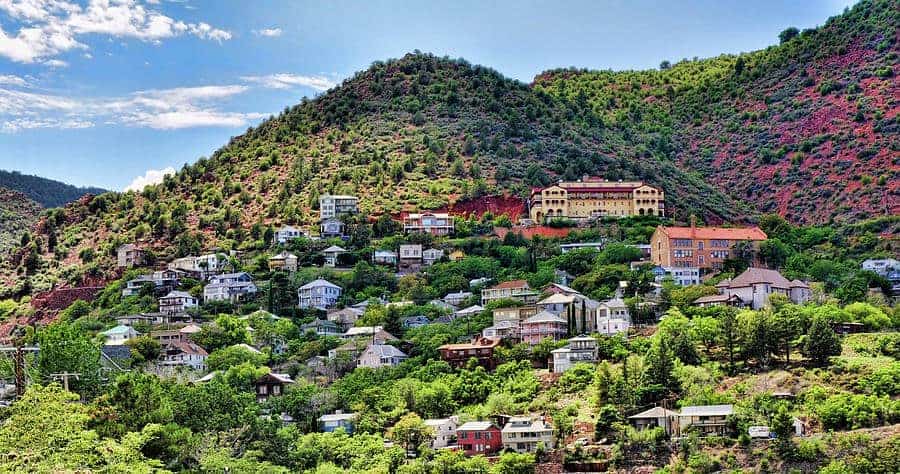 Jerome is a historic mining town located in the Verde Valley of Arizona. The town is situated atop Cleopatra Hill, which is rich in copper, silver and gold. The town was founded in 1876 and was once home to over 15,000 people.
Today, Jerome has a population of less than 500 people. There's plenty to see on a day or overnight trip to Jerome, from the many historic buildings, tasting rooms, walking tours, art galleries and the stunning views of the valley below.
Get Out And Explore A Weekend In Sedona:
We hope Sedona treats you well and fills you with good vibes! Pack all the right things but pack light! You don't want to be weighed down on your hike. You might need a sundress, a light jacket for those slightly-chilly nights, your beauty essentials, and lots of adventure spirit! Oh, the shoes! You can't leave them behind!