Want to have some epic, fun-packed, two-day trip that would rejuvenate your senses? Well, Sedona awaits you! Ah, the beauty and magnificence of Sedona! The clean air, the red rocks, and spirituality make for a perfect getaway destination.
Driving through the Coconino National Forest on Arizona's Highway 89A, Sedona's red-orange rocks and tall pine trees come into view. The scenic trifecta of Cathedral Rock, Bell Rock, and Courthouse Butte make for a perfect photo op.
Towering formations loom over the landscape while creeks and rivers wind their way through the canyons below. Sedona is loved by visitors from all over the world.
There's No Shortage of Things to do in The Red Rock Country Of Sedona!
Adrenaline-seekers can go hiking, mountain biking, or rock climbing in the area. At the same time, those looking for a more relaxing vacation can enjoy Jeep tours, horseback riding, or simply exploring the many art galleries and boutiques in town.
Outdoor enthusiasts will love the opportunities for aerial sports, while history buffs can explore the ancient ruins nearby. If you're a foodie, you can't miss the chance to try some of Sedona's unique restaurants. Mexican, French, Latin – you name it!
Regardless of your interests, visiting Sedona is sure to be an unforgettable experience. If you're planning a trip to Sedona, here's a suggested itinerary for making the most of your time!
Looking For Other Things to Do In Arizona? Check These Out
When to Visit Sedona:
Now, that's an important question!
We are talking Arizona here. Arizona is a sweltering summer, desert air kind of place. You definitely don't want to visit during the summer months unless you're a big fan of sweating profusely 24/seven. The perfect time to visit would be during the spring or fall when the temperatures are mild and comfortable.
April-May and September-October are the ideal months to visit Sedona. The temperatures range between 60 and 80 degrees Fahrenheit, which is just perfect! Rain is also unlikely during these months, so you can enjoy Sedona outdoors without worrying about getting wet.
Another factor you can't miss is the lighting. Oh, the lighting! It is magical and really makes the red rocks pop! You'll understand what we're talking about if you're a photographer.
If you want to experience Sedona's light at its best, aim to visit during the months of February-March or October-November. The ONLY downside is the crowds!
Sedona is a popular destination, so expect crowds no matter when you visit. If you're looking to avoid the crowds, aim to visit during the shoulder seasons (the months before and after the peak season).
You can also try visiting mid-week instead of on the weekends.
How to Get to Sedona: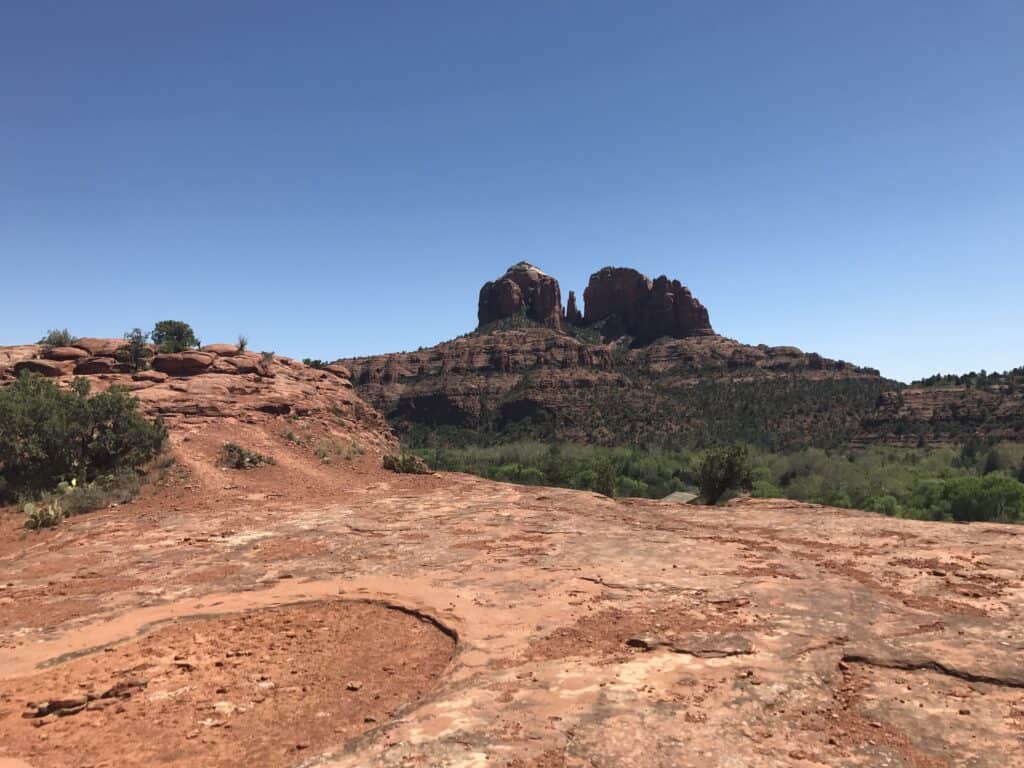 What's your departure point? Phoenix? Las Vegas? Or are you already in Sedona?
The drive time from Phoenix to Sedona is only two hours! Pretty manageable, right? You'll be covering a total distance of 116 miles using the most direct route! However, the congested roads and traffic might add some time to your journey. Since Sedona and Phoenix lie so close, most people opt for weekend road trips.
The distance is slightly longer if you're driving from Las Vegas. You'll be covering 279 miles, and the drive will take approximately four hours and 30 minutes. The route from Las Vegas to Sedona is scenic, so we recommend that you make a few stops along the way!
The best way to get from Phoenix to Sedona is by car. However, you can also take a bus or a shuttle if you don't have a car. Many companies offer shuttle services from Phoenix to Sedona, which takes approximately two and a half hours.
The buses from Phoenix to Sedona are run by Greyhound, and the journey takes approximately three hours.
Remember that the shuttle and bus schedules might be different on weekends, so it's always best to check in advance.
If you prefer flying, well, you can do that too! Flying into the Phoenix Sky Harbor International Airport (PHX) is the most convenient option. You can rent a car or take a shuttle to Sedona from there.
If you fly into the Las Vegas McCarran International Airport (LAS), you can take a shuttle or rent a car for the journey to Sedona.
Getting Around Sedona:
Once in Sedona, you'll be mesmerized by the endless red rocks, landscapes and scenery of the place.
Considering the itinerary, we've planned for you, a car is the best way to get around. You can easily find rental cars at the airport or in Sedona itself. However, if you're driving up North from Scottsdale, you might consider renting a car in Scottsdale and dropping it off in Sedona.
The best thing about having a car on the trip is that you can explore Sedona at your own pace and make spontaneous stops.
Another great way to see Sedona is by taking a wrangler jeep tour! These tours are conducted by locals and give you an excellent overview of the area. On these tours, you can learn a lot about Sedona's history, geology, and culture. Most jeep tours last for about four hours, and you can book them online in advance.
If your glutes are up for it, traveling by foot or bicycle can be exceptional too! Sedona is a very pedestrian-friendly town, and most major attractions are within walking distance. Wind through the narrow roads and explore the serene surroundings as you like. Many trails are well-marked, so you can easily find your way around.
Where to Stay in Sedona:
Sedona is home to picturesque resorts, lavish spas, and boutique hotels. However, it can get pretty pricey during the peak season.
Amara Resort and Spa is one of the most expensive resorts! BUT THE VIEW! You'll be sold! Hilton Sedona Resort: This is another popular boutique resort in Sedona. It doesn't nestle right up to red rocks like the Amara does, but have sweeping views, outdoor fire pits, great onsite dining and more! Your other options include Holiday Inn Express Oak Creek and Southwest Inn.
Airbnbs and VRBOs are a great option if you're visiting on a budget. You can find affordable places to stay, and you'll have the added benefit of cooking your own meals.
Sedona also has many camping sites if you're looking for an even more affordable option!
While making reservations, keep in mind that Sedona is a trendy destination, so it's best to book your accommodations well in advance. Also, check for the amenities that are important to you.
Some places offer free parking and Wi-Fi, while others have a pool or a fitness center. Once you've found an ideal place to stay, all that's left to do is relax and enjoy your vacation!
Also, factor in the travel distance and time when deciding where to stay. You'd want to be closer to the activities you have planned for the day, so you don't waste time traveling.
2-Day Sedona Itinerary:
How many days in Sedona are "enough" days? It all depends on your interest, budget, and activity level.
If you're looking for a jam-packed Sedona itinerary, two days is probably the minimum amount of time you should spend in this magical place. If you want to take things slow and extract the essence of Sedona, you can opt for six days or even more!
Assuming that you have only two days in Sedona, we've designed an action-packed yet well-rounded itinerary. So, without further ado, let's get started!
Sedona Day 1:
The Devil's Bridge Hiking Trail: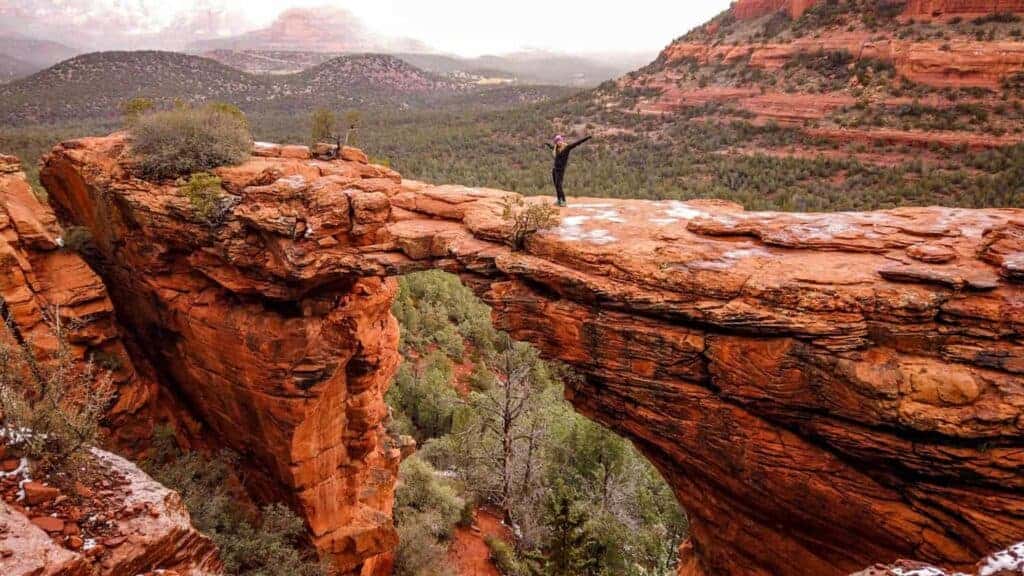 One of the famous hiking trails in Sedona, Devil's Bridge Trail, is a must-do! The hike is only about five miles, but it can be pretty challenging. The first half of the hike is a moderate incline, and then you'll reach the Devil's Bridge. You'll be rewarded with staggering views of the red rocks and the valley below.
You can even walk out on the Devil's Bridge if you're feeling adventurous! Be careful, though, as it can get quite slippery.
If you want to keep the bridge to yourself for Insta-worthy pictures and don't want to deal with the crowds, we recommend getting there early. The parking lots fill up in a jiffy, so aim to arrive by sunrise.
Pro Tip: You'll need a headlamp!
Indian Gardens Cafe & Market
Is breakfast your favorite meal of the day? Then you'll definitely want to check out Indian Gardens Cafe & Market slightly up north from Old Town Sedona.
Their breakfast menu includes breakfast burritos, and sandwiches, biscuits and gravy, tummy toasts, bowls, and refreshing smoothies. If you like the flavors of the Southwest you'll definitely want to order the Southwest Bowl and be sure to grab a coffee!
Moreover, you can cozily wrap yourself in a blanket and enjoy the stunning views of Oak Creek. Their outdoor setup is a perfect way to start your day in Sedona.
After making your way through breakfast, it's time to explore! The nearby market is a great place to pick up some souvenirs or gifts for your loved ones back home. J
ewelry, crafts, and local snacks are some items you'll find here. And if you're looking for a Sedona-themed t-shirt or hat, this is the place to get it.
The Chapel of the Holy Cross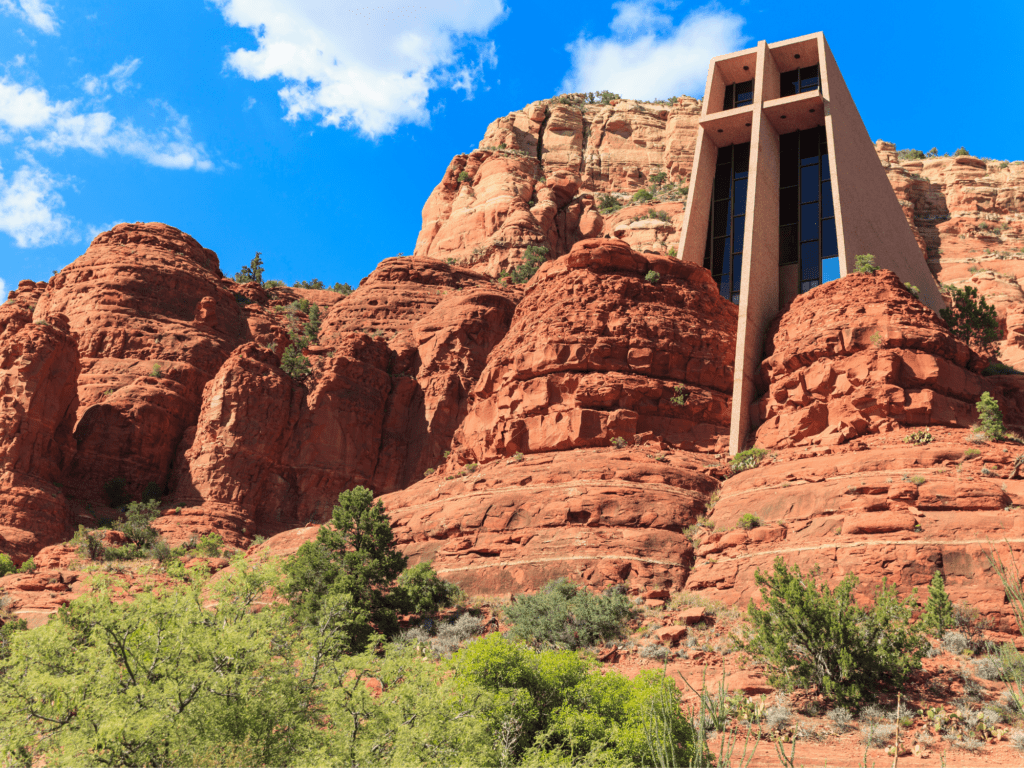 The Chapel of the Holy Cross is not only religious, but also an architectural masterpiece. The way the glass screen splits the chapel into two geometric halves on the cliff with a cross in between is unlike any other chapel in Arizona.
The aisle in the church is breathtaking, set against the dazzling blue skies.
If you're looking for a little souvenir to take home with you, there's a small shop outside the chapel that sells rosaries, coloring books, and native jewelry.
The Soldier Pass Trail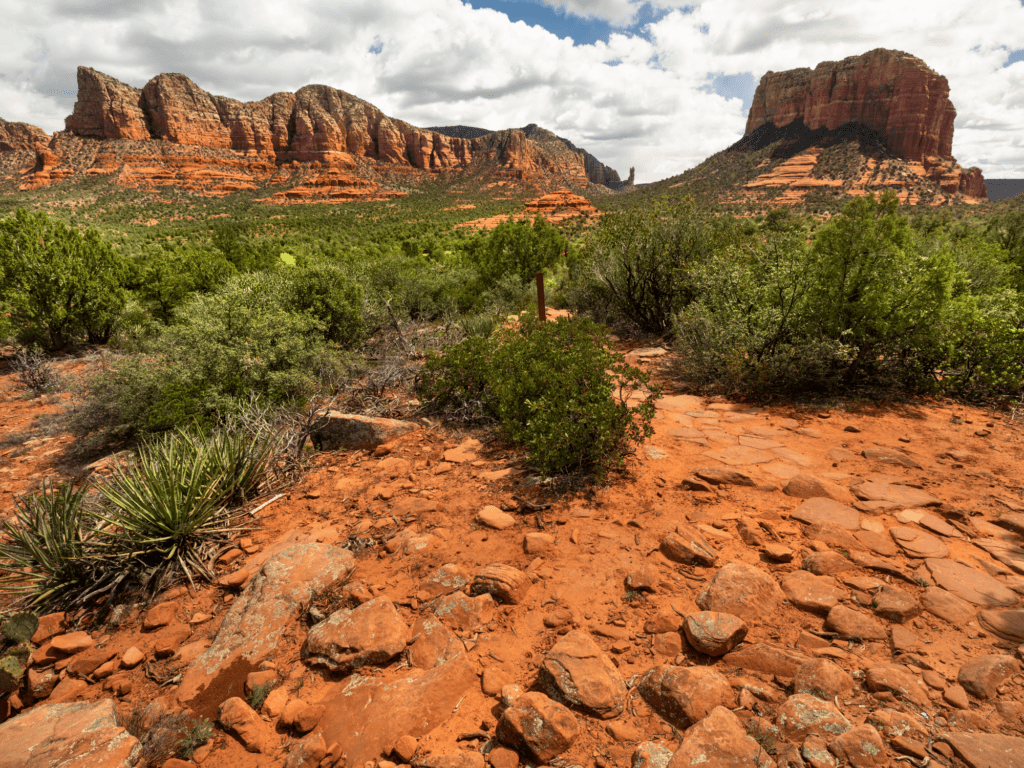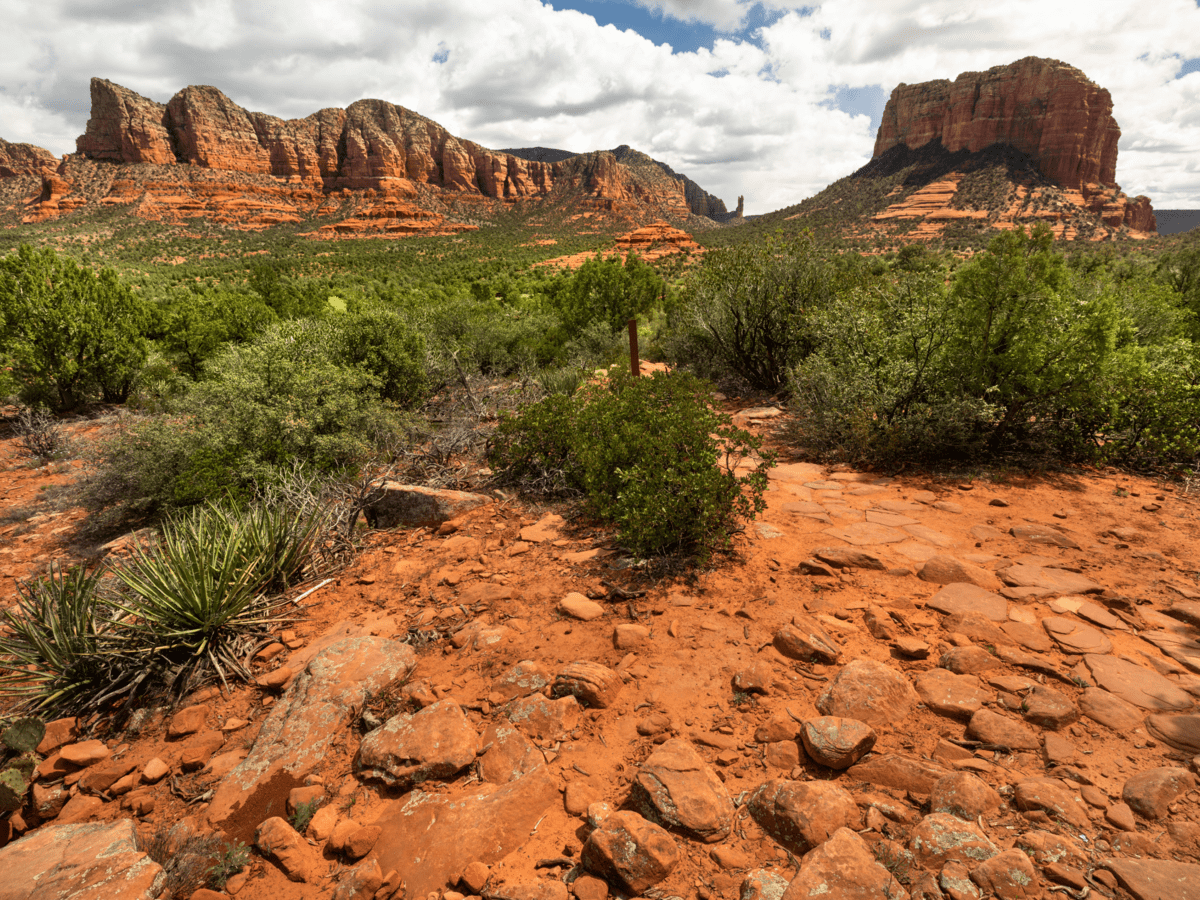 Another hike! That's just how adventuresome it can get in Sedona. The Soldier Pass Trail is a bit longer than the Devil's Bridge Trail, but it's well worth it.
The trail takes you through a stunning canyon and past several interesting rock formations. You'll also see a few native plants and animals along the 4.1 miles of sightseeing bliss.
We highly recommend doing the entire loop if you're up for it. It's about seven miles, but you can always turn back around if you get tired.
You'll come across Devil's Kitchen, a sinkhole, and the Seven Sacred Pools, which may be puddles or spectacular viewpoints with panaramic views depending on the year. Easy-to-hike, short trails connect these features, so don't worry about getting lost!
Carelessly graze back to your car and treat yourself to a well-deserved craft beer and post-hike feast. We recommend checking out Elote Cafe, famous for its Mexican Street Corn.
Oak Creek Brewery
Our favorite way to end any day of adventure is with a tasty craft beer. Oak Creek Brewery has a great selection of beers to choose from and has a large outdoor seating area perfect for relaxing after a day in the sun.
Elote Cafe: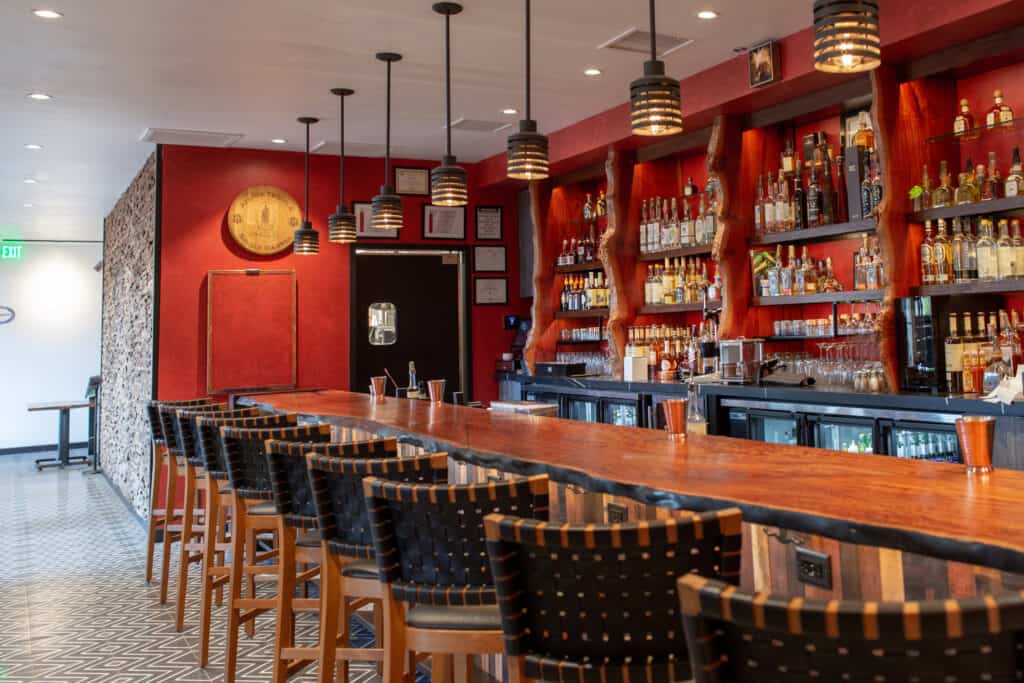 An intimate restaurant with sun-drenched colors and an outdoor patio, Elote Cafe is the perfect place to refuel after a long day of hiking.
The menu includes all sorts of Mexican favorites like tacos, enchiladas, quesadillas, and of course – elotes! If you're unfamiliar with elotes, they're grilled corn on the cob smothered in mayo, cheese, chili powder, and lime.
It sounds strange, but it's insanely delicious. And don't worry – they have plenty of vegetarian and vegan options.
Spending Your Evening in Sedona:
We are sure you could use some relaxation under the stars after all that hiking!
One great way to spend your evening is visiting the Amitabha Stupa & Peace Park. The stupa is a beautiful monument surrounded by gardens and is the perfect place to watch the sunset.
You can also meditate, do some yoga, or just enjoy the peace and quiet. When the night falls in Sedona, you'll witness a different visual drama. So why not star gaze?
Sedona's lack of light pollution makes it a great place to do amateur astronomy. You can even go on a guided tour to learn more about the constellations.
Sedona Day 2:
Time for a Wrangler Jeep Ride:
No more hikes? Okay. There's a PINK JEEP TOUR waiting for you!
This is not your typical off-road tour. These custom-designed jeeps will take you places that most other vehicles can't access. There are so many alternatives that it might be difficult to choose. You may select one that draws you in or boosts your excitement levels.
One absolute crowd favorite is the Broken Arrow Tour, which takes you on a thrilling ride through Sedona's red rocks.
This jeep tour is perfect for those who want to experience Sedona's natural beauty without all the hiking. And don't worry – there are plenty of opportunities to take photos!
Other popular tours include the Sunset Tour, the Ancient Ruins Tour, and the Wine Country Tour. You can also take a hot air balloon ride to feel the woo-woo of the vortexes while Sedona spins below you.
Uptown Sedona Brunch Or Lunch
Here is where you'll have your lunch! This funky little area is loaded with great restaurants and cute shops. There are also a few art galleries if you're interested in checking out some local Sedona talent.
Our favorite places to eat in Uptown Sedona are the HP Cafe, ChocolaTree Organic Eatery, and Canyon Breeze Restaurant Cafe. Your food choices would range from healthy to indulgent, so you really can't go wrong.
After lunch, take some time to explore Uptown Sedona. Check out the Sedona Candle Magic. You can hire spiritual healers, get your tarot cards read, or buy some magical crystals.
If the whole spirituality thing isn't your thing, you can always window-shop or people-watch.
Head To Pumphouse Wash To Explore A Sedona Slot Canyon
After a good lunch lets explore a slot canyon. Pumphouse Wash is a stunning gorge with sheer walls made from Coconino sandstone. The cream-colored rock contains deep pools, small cascades, and flooded channels that look like slots.
You'll find this canyon by driving 89A between Sedona and Flagstaff. You might hear faint traffic noise from the highway above, but otherwise the canyon is rather unspoilt and not much visited. This is partly because there is no trail or signpost, and only limited parking where the road crosses the lower end of the canyon.
Enjoy Some Pampering:
Sedona is a hotbed of wellness, spirituality, and healing, which is the ideal way to conclude your two days in Sedona. In Sedona, you'll find a variety of alternative therapies and disciplines ranging from rejuvenating bodywork to past-life seminars.
Whether you want to try Jin Shin Jyutsu or get a Reiki treatment, Sedona has you covered. You can also find many spas offering treatments, from facials to massages.
After all that hiking and jeeping, you definitely deserve some pampering!
Wine Tasting: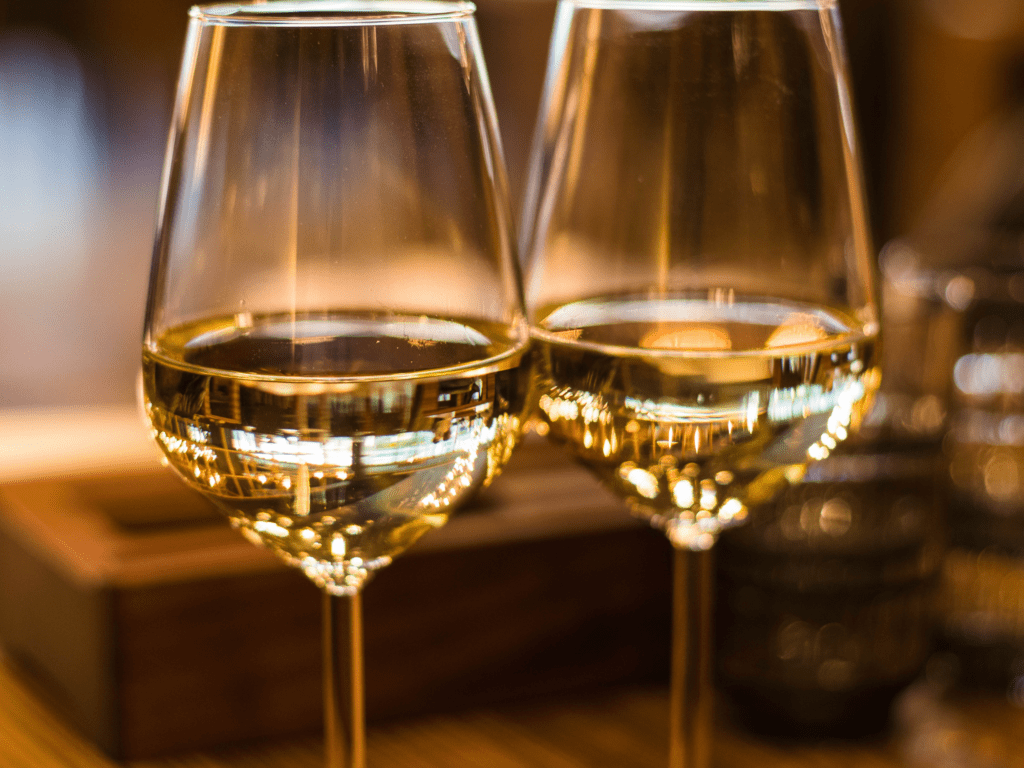 You don't want to miss out on the wine scene in Sedona! The Verde Valley region is specifically famous for its wines. The area's climate and soil are perfect for growing grapes, and the wineries take full advantage of it.
Sedona has many wine tasting rooms, so you can easily spend an afternoon (or evening) sipping on some local wines.
Some of our favorites include the Javelina Leap Vineyard and the Oak Creek Vineyards & Winery. You can take recommendations from your tour guide or the staff at the tasting rooms. Bring home a bottle or two of your favorite wine to enjoy later!
Your taste buds will thank you!
End Your Trip on a High Note: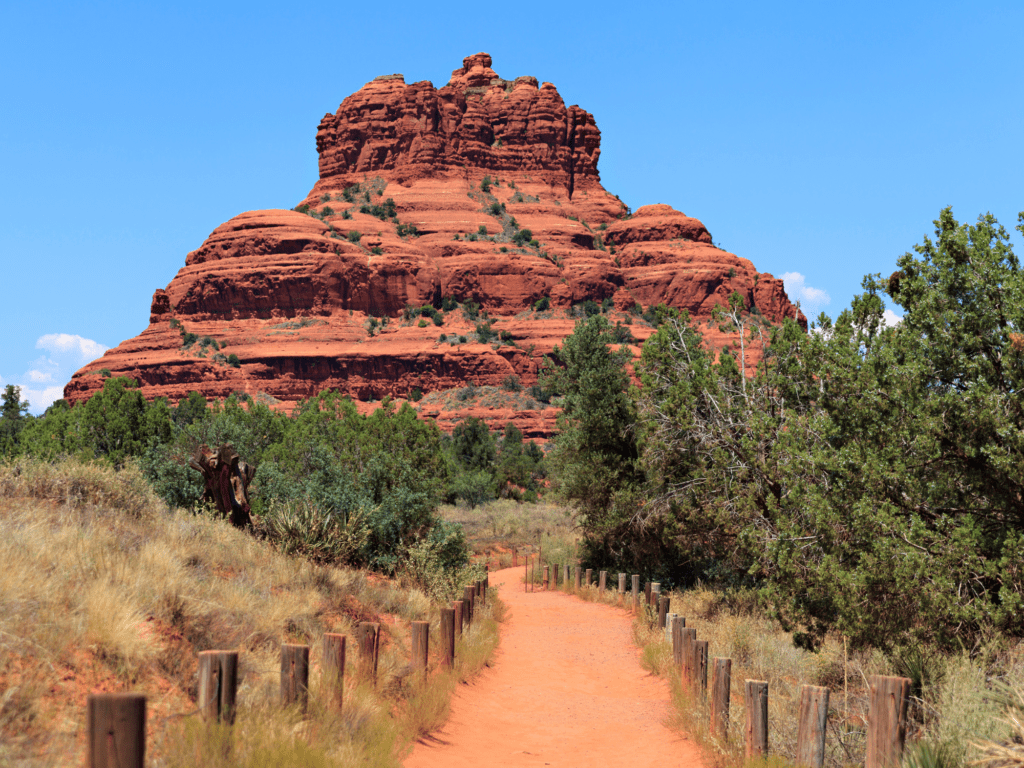 One of the finest restaurants in Sedona – Mariposa Grill – is the perfect place to end your trip. The menu features Latin-inspired cuisine with a southwestern twist. The dishes are all made with the freshest ingredients, and the flavors will tantalize your taste buds.
The ambiance is perfect for a romantic evening but also great for groups. The service is impeccable, and the wine list is impressive. Make sure to save room for dessert! The chocolate mousse is to die for.
Remember, if you show up in your hiking gear, they may not let you in. So, make sure to pack a change of clothes for your final evening in Sedona!
After dinner, leisurely stroll around the Uptown area and enjoy the cool evening air.
If you Have An Additional Day or Two In Sedona
Picnic Lunch at Slide Rock State Park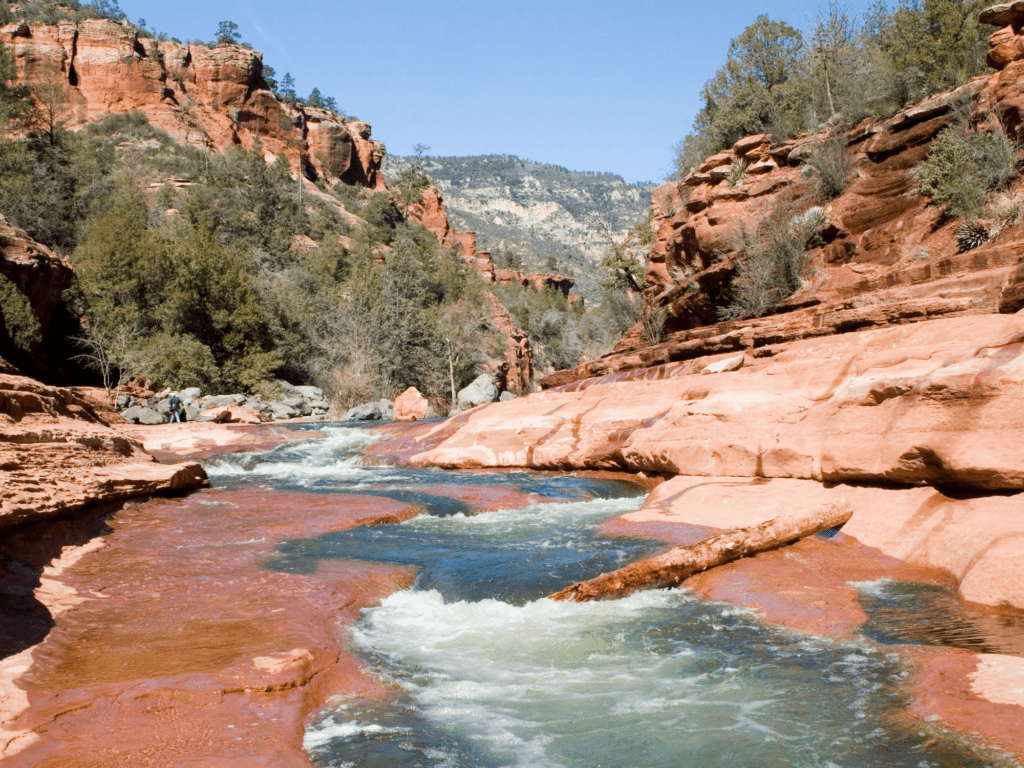 I recommend packing up a picnic and heading over to Slide Rock State Park for the day. Not only is the water a cooling 68 degrees, but the red rocks make for a beautiful backdrop to your lunch.There are plenty of hiking trails to explore afterwards or you can just lounge on a rock and take in all the natural beauty that Sedona has to offer.
Slide Rock is just as it sounds – a long stretch of smooth red rocks that have been worn down by years of water running through them. It's the perfect place to slide down the rock and take a dip on a hot summer day!
Be aware Slide Rock is VERY popular in the summer months, so get there early to avoid the crowds and to be able to find a place to park.
Explore The Healing Power Of One of the Many Vortex Sites
Sedona is a place of powerful energy and stunning scenery, so it's no wonder that so many people are drawn to this Arizona destination. If you have an extra day or two to spend in Sedona, take advantage of the area's unique vortex sites.
These are locations where the earth's energy is said to be especially strong, and many people believe that they can experience physical and emotional healing by spending time in these places.There are a number of different vortex sites in Sedona, so you'll need to do some research to find the one that's right for you.
Once you've zeroed in on a particular site, plan to spend at least an hour or two there. You may want to bring a blanket or mat to sit or lie on, and you might also want to bring some water to stay hydrated. Some of the most popular vortex sites in Sedona include Bell Rock, Cathedral Rock, Boynton Canyon, and Airport Mesa
Explore The Energy From A Psychic Reading Or Palm Reading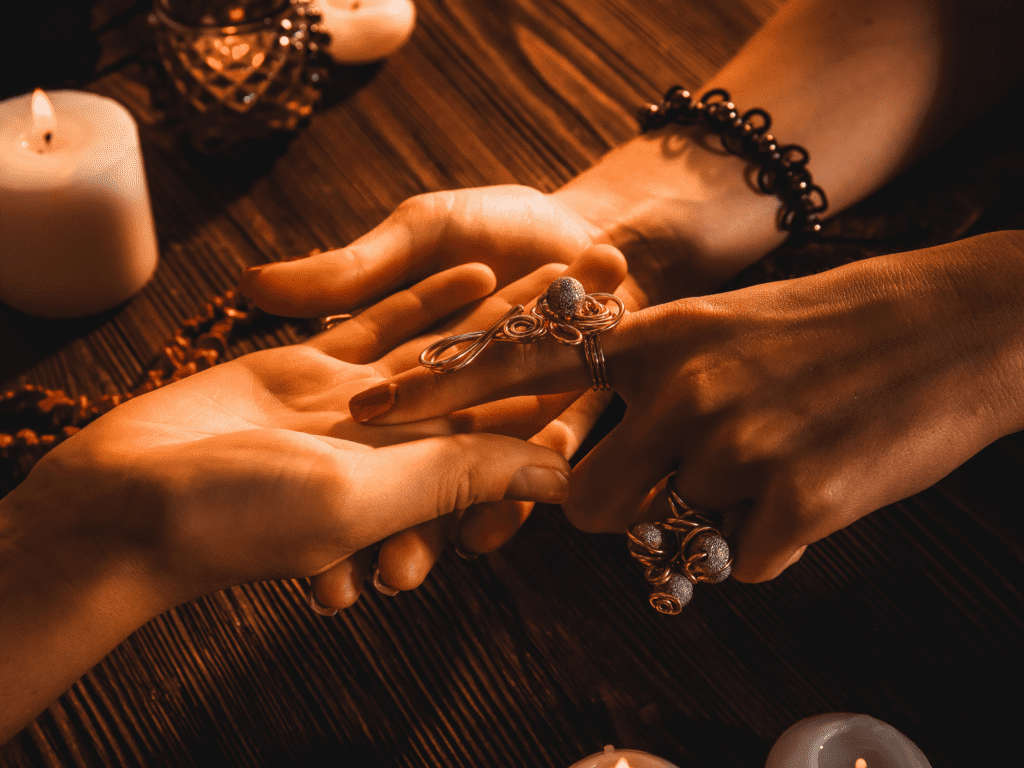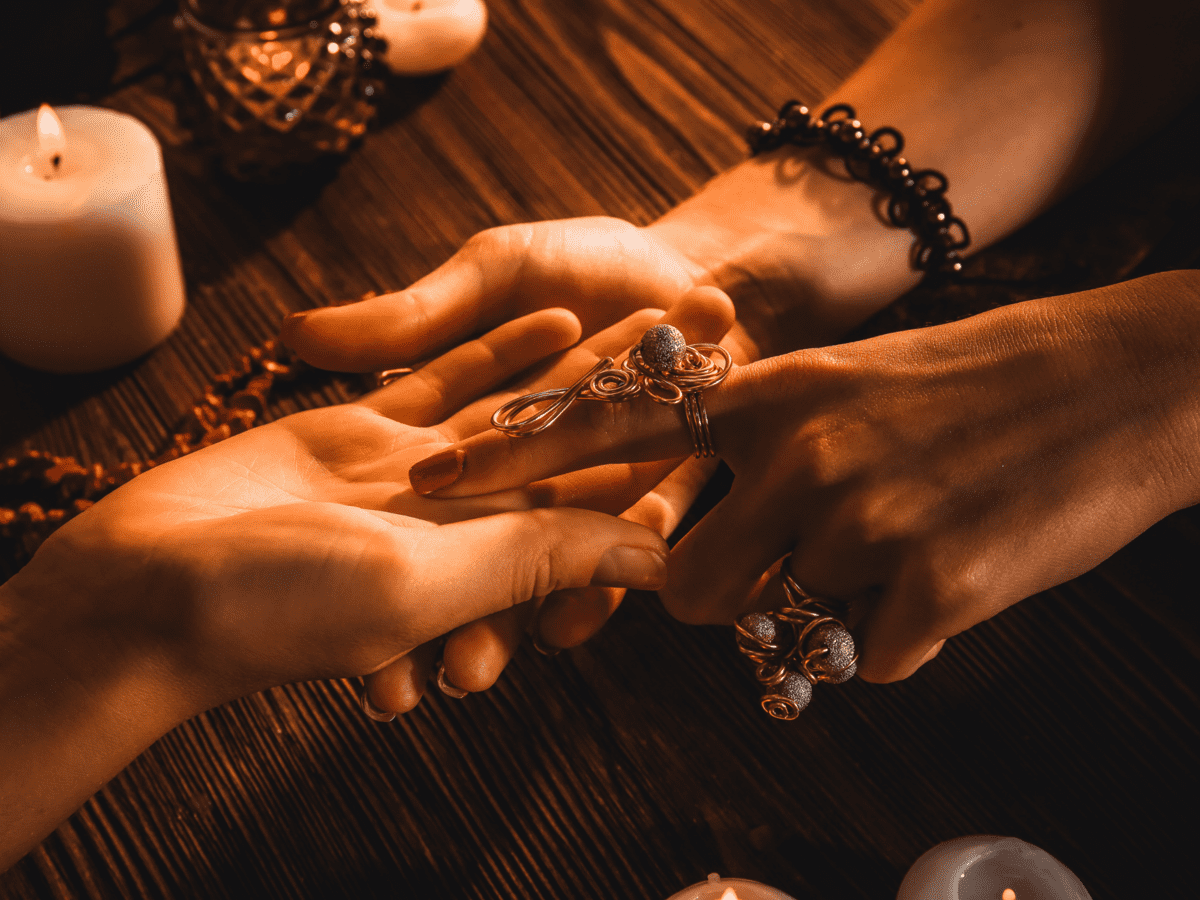 After you've charged up your battery at one of the Vortex sites why not try out a psychic or palm reading? Sedona is home to many talented psychics who can help you gain clarity and insight into your life.
There are many palm reading services available in Sedona, so be sure to shop around and find the one that feels right for you.
Take a Sunset or Sunrise Tour With a Helicopter Sightseeing Company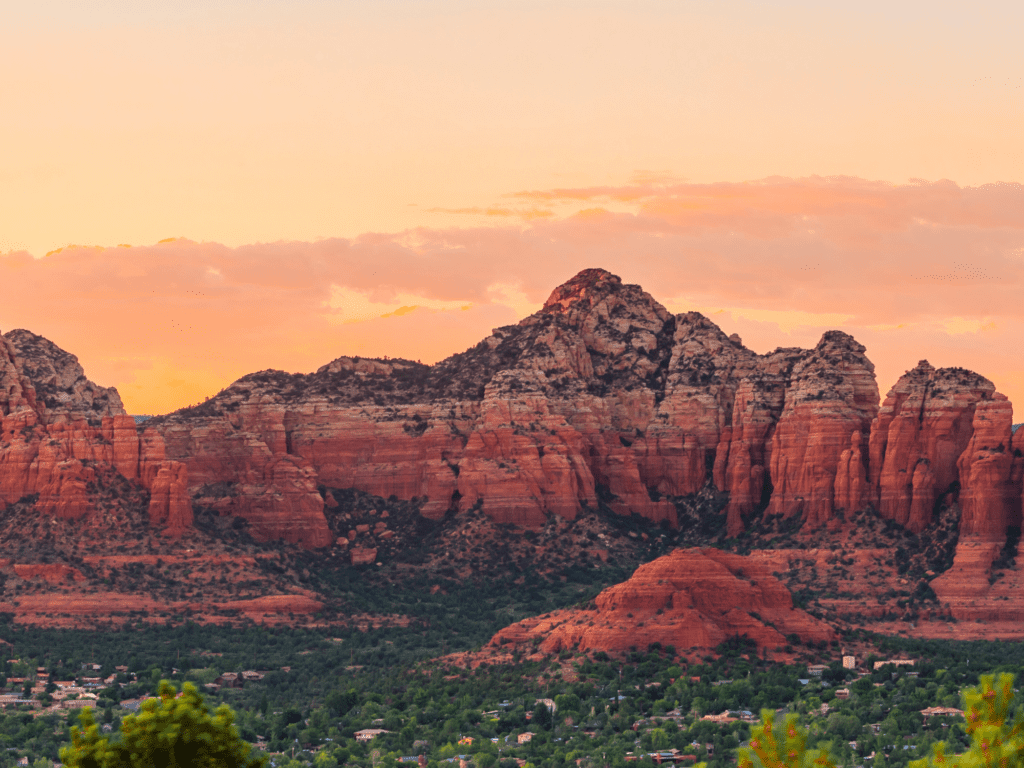 Take a tour high in the sky is a great way to see the area, but it's even better when you do it at either sunrise or sunset.
The colors of the rocks change as the sun hits them and it's truly a sight to behold. You'll be able to see the canyon walls and scenery in a whole new light.Be sure to book your tour in advance as they fill up quickly!
Life-Changing Retreats in Red Rock Country
Enjoy the red rock landscapes as you attend one of the many life-changing retreats in the Sedona area. These retreats involve everything from relationship healing, transformation classes, guidance sessions and so much more.
You're sure to find a retreat that resonates with you and leaves you feeling refreshed, renewed and ready to take on the world.
Explore More Biking Or Hiking Trails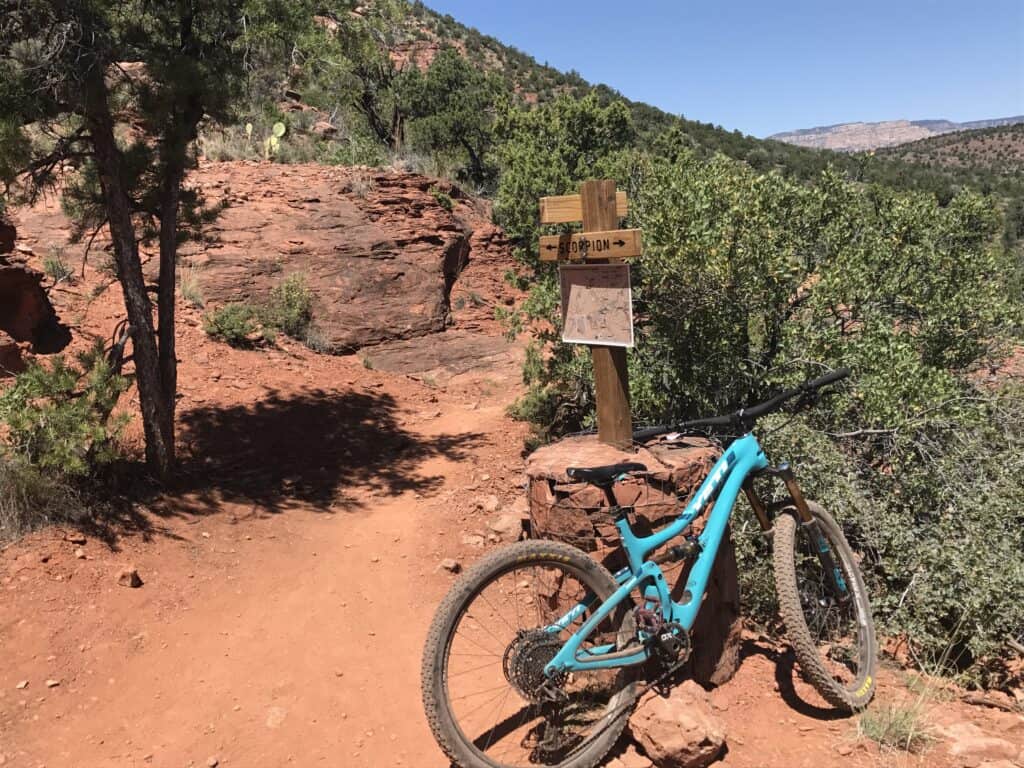 Sedona is home to sooo many trails, if hiking isn't your thing , try one of the many biking trails instead. We absolutely love biking in Sedona during spring and fall when the temperatures are cooler.
What we found interesting about many of the biking trailheads in Sedona is that they are often located near a vortex. So if you find yourself feeling tired or low on energy, there's likely a vortex nearby that can give you a little boost. Also , the views from many of the biking trails are absolutely incredible.
So if you're looking for some great exercise and amazing scenery, be sure to check out a few of Sedona's biking trails.
A couple of our favorite mountain bike trails are
Mescal trail
Hog Trails
Slim Shady
Bell Rock trail
Templeton Trail
HiLine
Depending on your route, HiLine Trail can be anywhere 10-15 miles and can be started in The Village of Oak Creek area.
I recommend grabbing a yummy coffee in the Oak Creek marketplace and then heading out for your ride. The views from this trail are incredible, especially during sunset. The trail is rated as difficult, so make sure you're prepared before you head out.
Wildlife in Sedona
You're bound to see some wildlife while you're in Sedona. Keep your eyes peeled for deer, elk, javelina, and even bobcats! I hadn't seen a javelina before until we were in Tucson during the spring. Boy are the a sight to see!
Fun Daytrips From Sedona That Offer Different Landscapes and Scenery
Explore Flagstaff For Cooler Temps, Mountains And Even Snow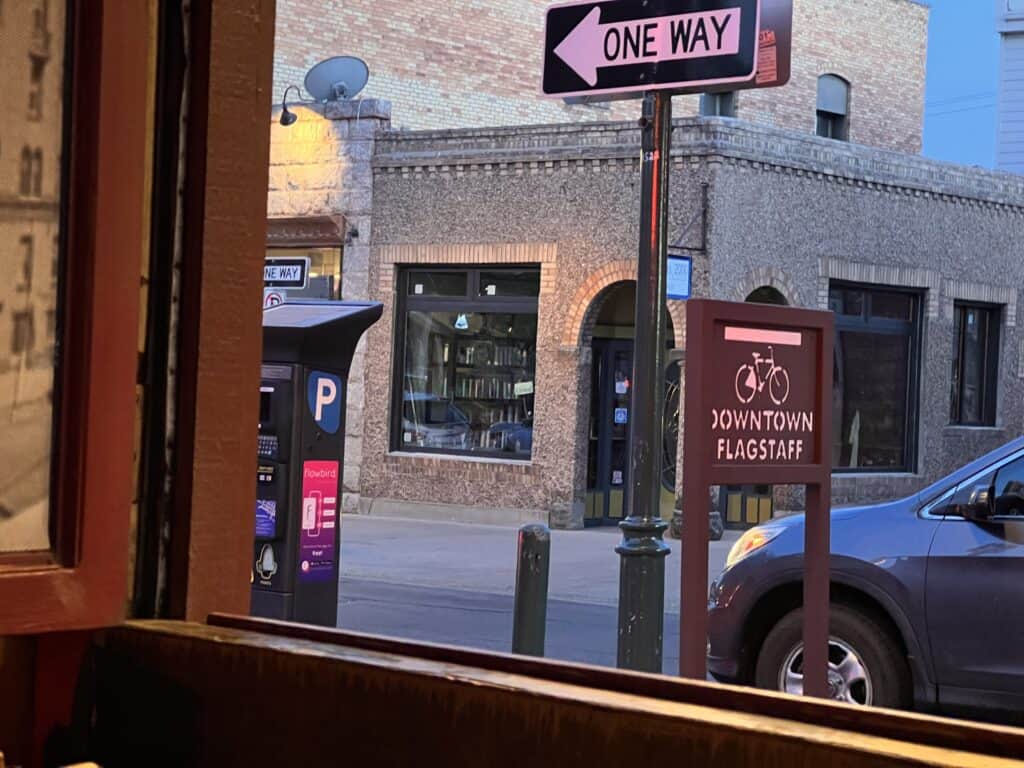 Flagstaff sits a much higher elevation than Sedona and as a result, offers different scenery and snow and a way to cool off during the hot months in Sedona. ! The city is home to Snowbowl, a popular ski resort. It's also worth driving up to see the San Francisco Peaks, the highest mountain range in Arizona.
We absolutely love the city of Flagstaff from a good downtown vibe with great food and breweries to mountain biking and skiing , it really does have something for everyone.
Grand Canyon National Park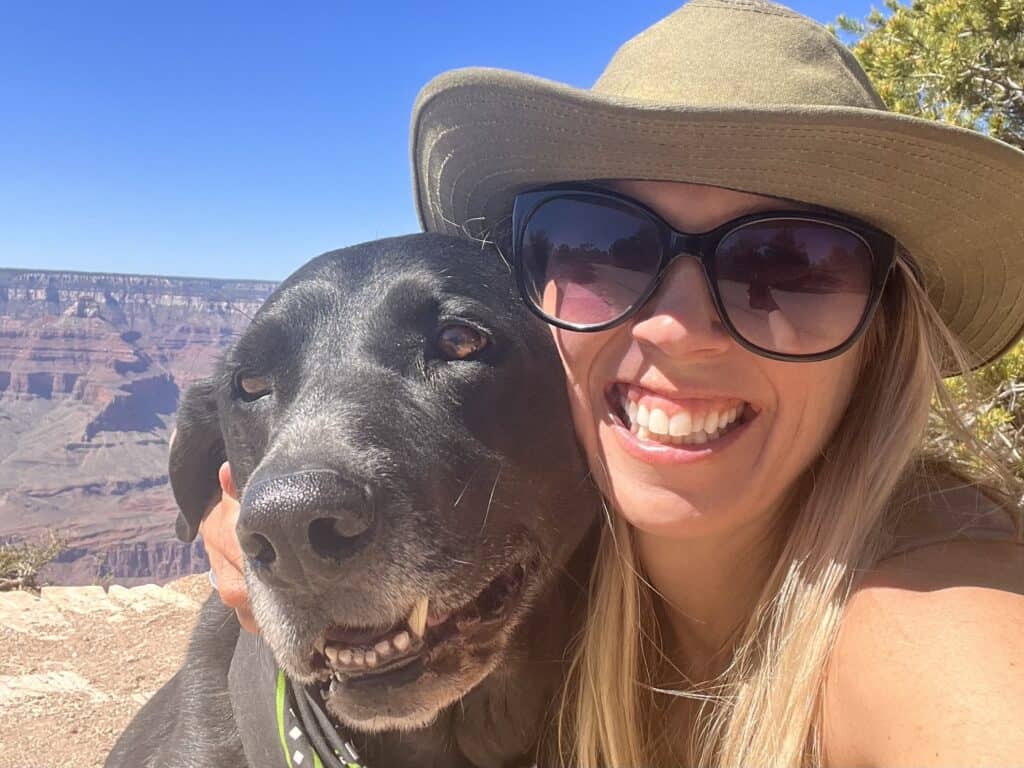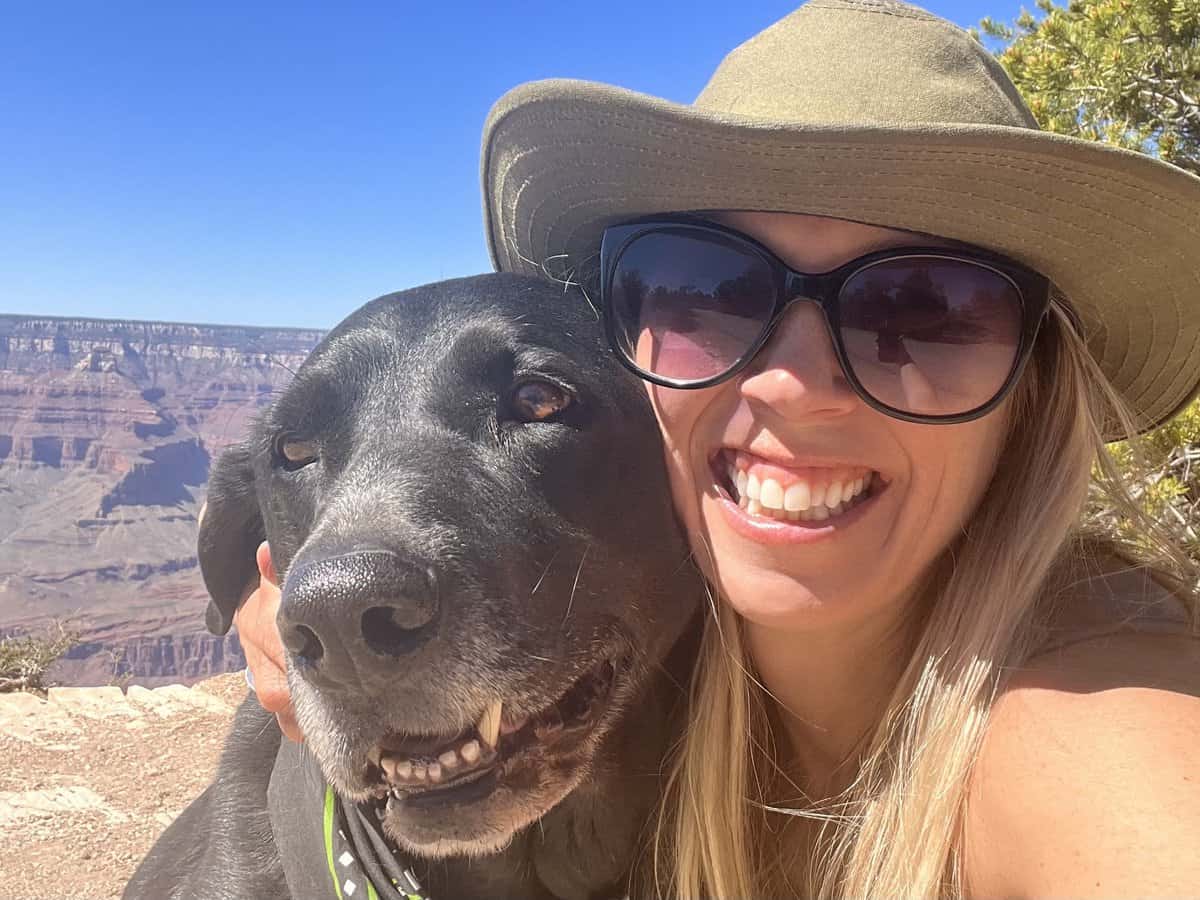 The Grand Canyon is one of the seven natural wonders of the world and is located (South Rim) just about 2.5 hours from Sedona. The canyon is massive and there are plenty of different ways to explore it. You can hike to the bottom, take a mule ride, or even raft the Colorado River.
Grand Canyon National Park has a north and south rim entrance. The south rim is much more crowded but offers more amenities like restaurants and gift shops.
The north rim is less crowded but only open from May 15 – October 15 due to weather conditions. It's our goal some day to hike from the North to South Rim of the Grand Canyon
Take A Quick Trip To Cottonwood
Cottonwood is a small town located about 30 minutes from Sedona. The town is home to two wine trails, Verde Valley Wine Trail and the Page Springs Cellars Wine Trail.
There are also cute shops and restaurants in town. We recommend checking out Alcantara Vineyards, Javelina Leap Vineyard, and Oak Creek Vineyards.
If you're looking to cool off on a hot day , take a float down the Verde River. You can also explore Dead Horse Ranch State Park and Tuzigoot National Monument.
Are You Looking To Take A Driving Tour To The Hillside Ghost Town of Jerome?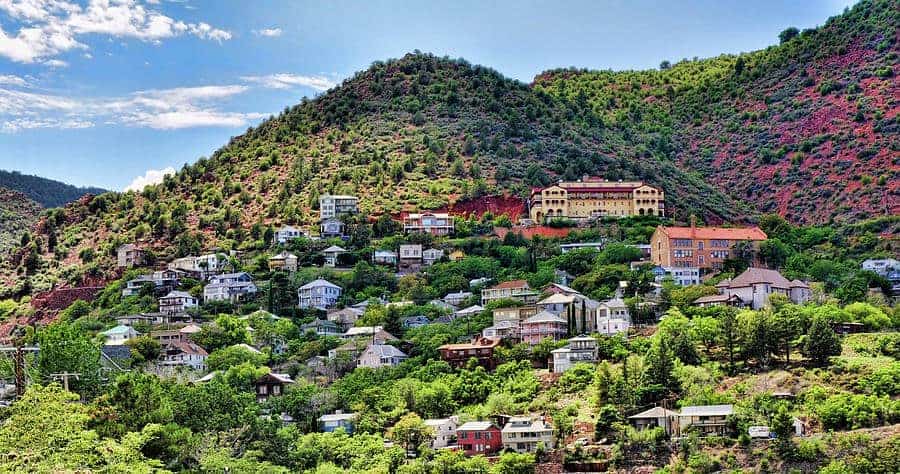 Jerome is a historic mining town located in the Verde Valley of Arizona. The town is situated atop Cleopatra Hill, which is rich in copper, silver and gold. The town was founded in 1876 and was once home to over 15,000 people.
Today, Jerome has a population of less than 500 people. There's plenty to see on a day or overnight trip to Jerome, from the many historic buildings, tasting rooms, walking tours, art galleries and the stunning views of the valley below.
Horseshoe Bend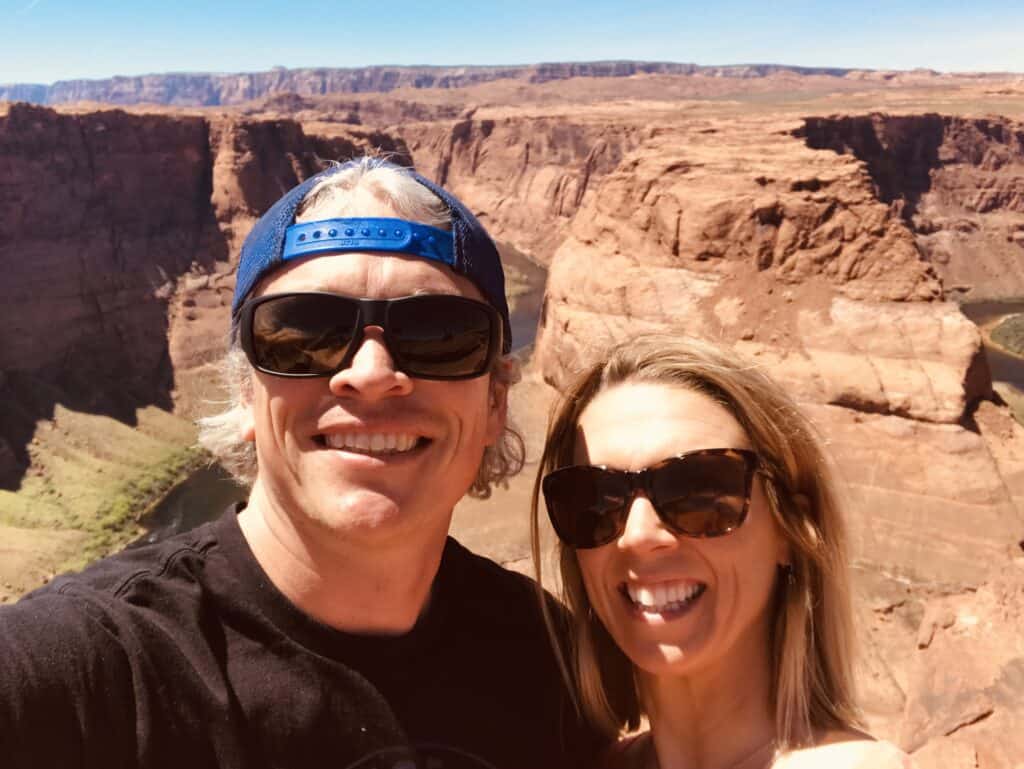 Horseshoe Bend is a beautiful spot located just outside of Sedona. The bend in the Colorado River looks like a horseshoe, hence the name.
The best time to visit Horseshoe Bend is either early in the morning or later in the evening when the sun isn't as strong. You'll have to pay a fee to park to see Horseshoe Bend , but it's worth it!
Get Out And Explore A Weekend In Sedona:
We hope Sedona treats you well and fills you with good vibes! Pack all the right things but pack light! You don't want to be weighed down on your hike. You might need a sundress, a light jacket for those slightly-chilly nights, your beauty essentials, and lots of adventure spirit! Oh, the shoes! You can't leave them behind!