Are you planning a trip to Seattle? Our 3-day Seattle itinerary for visitors tor Seattleites seeking suggestions for their next weekend getaway) is jam-packed with must-see hotspots, coffee shops, breweries, and restaurants.
Seattle will always be one of our favorite places to eat, visit, drink and play. Our Seattle history goes way back; August was born and raised in Seattle (U-district, to be exact). I worked at the UW (U dub) hospital (where we met). We've been away from the city for a handful of years, but that doesn't mean we don't visit often. All of our favorite hidden gems still exist today, and we find ourselves in awe of the scenery and endless list of things to do. We've put together all of our favorite things, including favorite neighborhoods, places to eat, drink, and things to explore.
Are you looking for more things to do in Seattle?
What to Bring For Your Visit to Seattle
There are a few things we recommend that you bring to make your most of your visit. These include:
GETTING TO SEATTLE
The Seattle-Tacoma International Airport (SEA), also known as SeaTac, is the major airport in the city. It is 15 minutes south of downtown Seattle, making it easy to get into the city.
FROM THE AIRPORT
So, you've arrived at the Seattle airport and are looking to head to your Airbnb or hotel. The most popular options are to take an Uber/Lyft, but this can cost a decent chunk of change to get to the Ballard or Fremont neighborhoods ($40). We recommend taking the inexpensive ($3) Link light rail to downtown Settle. The light rail runs from SeaTac Airport to Northgate; you can check the station stops here.
PRO TIP: Having an Orca card will save you money. You can use it to transfer across transit lines for free – without one, you'll pay multiple fares.
WORD OF CAUTION THIS 3 DAY SEATTLE ITINERARY INCLUDES LOTS OF EATING AND DRINKING OPTIONS
DAY 1: 3 DAY SEATTLE ITINERARY
PIONEER SQUARE, PIKE PLACE MARKET, SEATTLE CENTER
PIONEER SQUARE
If you are looking for a perfect way to explore the city, look no further than beginning your 3 day Seattle itinerary in Pioneer Square.
COFFEE AND BREAKFAST
With so many coffee shops to choose from, it can be overwhelming to decide where to go. We recommend getting a cup of coffee from Cherry Street Coffee and breakfast at Biscuit Bitch. Grand Central Bakery is an excellent option for pastries and quiche if you're a grab-and-go kind of person.
TRAIL TO TREASURE WALKING TOUR OF PIONEER SQUARE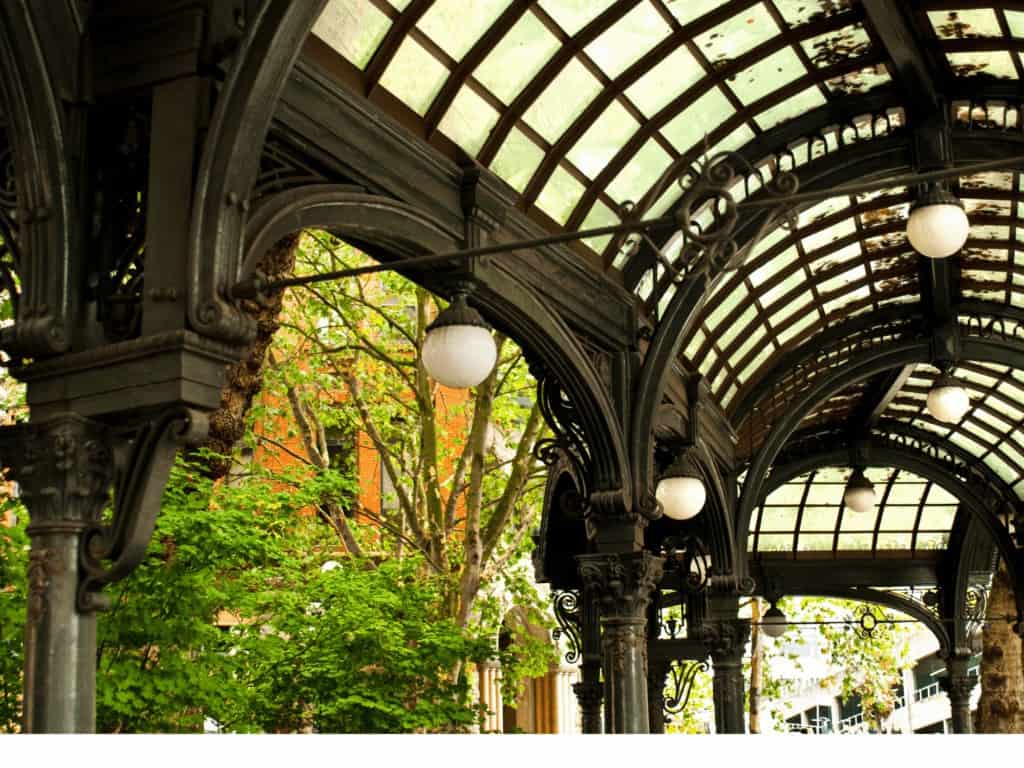 Pioneer Square, the first neighborhood of Seattle, is well worth a visit. You can witness Seattle's early history as you walk along with the exhibits and learn about the Klondike Gold Rush and how it shaped today's city.
Pick up your walking map at the Klondike Gold Rush National Historical Park or the information booths at Occidental Square and Pioneer Square Park. While you're at Occidental square, be sure you check out the Waterfall Garden Park, which has a hidden 22-foot waterfall.
PIONEER SQUARE ART WALK
After checking out the history of Pioneer Square, don't forget to explore its present-day charms, including the many murals and thriving art scene. Pioneer Square has long been a mecca for the city's creative scene, with notable galleries and active artist studios.
If you happen to be in Seattle on the first Thursday of the month, you can even enjoy the Art Walk!
SEATTLE UNDERGROUND TOUR
After exploring above ground in Pioneer Square, let's go underground to get a more detailed history. The underground tour fills you in on Seattle's colorful past and the boom during the Klondike Gold Rush. You'll go beneath the city into the basements of Pioneer square and see remaining architectural details, old plumbing fixtures, and the city that was once above ground.
The tour starts in the heart of Pioneer Square at Doc Maynard's, a restored 1890s saloon. Book in advance online.
DOWNTOWN SEATTLE
SEATTLE ART MUSEUM
As you're leaving Pioneer Square heading to Pike Place market on First Avenue, make sure to pass by the Seattle Art Museum. Out front, you'll see the Hammering Man, a mammoth 48-foot steel sculpture, working 24 hours a day, 364 days a year (even the Hammering Man gets Labor Day off). The Hammering Man is a sign of the worker's contribution to society.
PIKE PLACE MARKET
Pike Place Market, the oldest market in Seattle, has been around since 1907 and is the cornerstone of Seattle culture. Touristy? Absolutely! But that's what makes this place what it is today. Pike Place Market is a gold mine of activity, including delicious food, culture, arts, buskers, etc. The Market is vibrant, quirky, and sometimes a little chaotic, but it's always a great time. No 3 day Seattle itinerary would be complete if you didn't see the iconic Market.
HOURS OF PIKE PLACE MARKET
The Market is generally open from 9 am to 6 pm, although specific vendors may be open earlier or later in the day.
PARKING AT PIKE PLACE MARKET
The Pike Place Market parking garage has three entrances/exits, over 800 parking stalls,
Garage Entrances
1531 Western Ave, Seattle, WA 98101
1901 Western Ave, Seattle, WA 98101
1530 Alaskan Way, Seattle, WA 98101
If you park before 9 am, you can purchase early bird parking for $10 for the entire day; otherwise, it's about $4 an hour. You can find up-to-date parking information on their website here.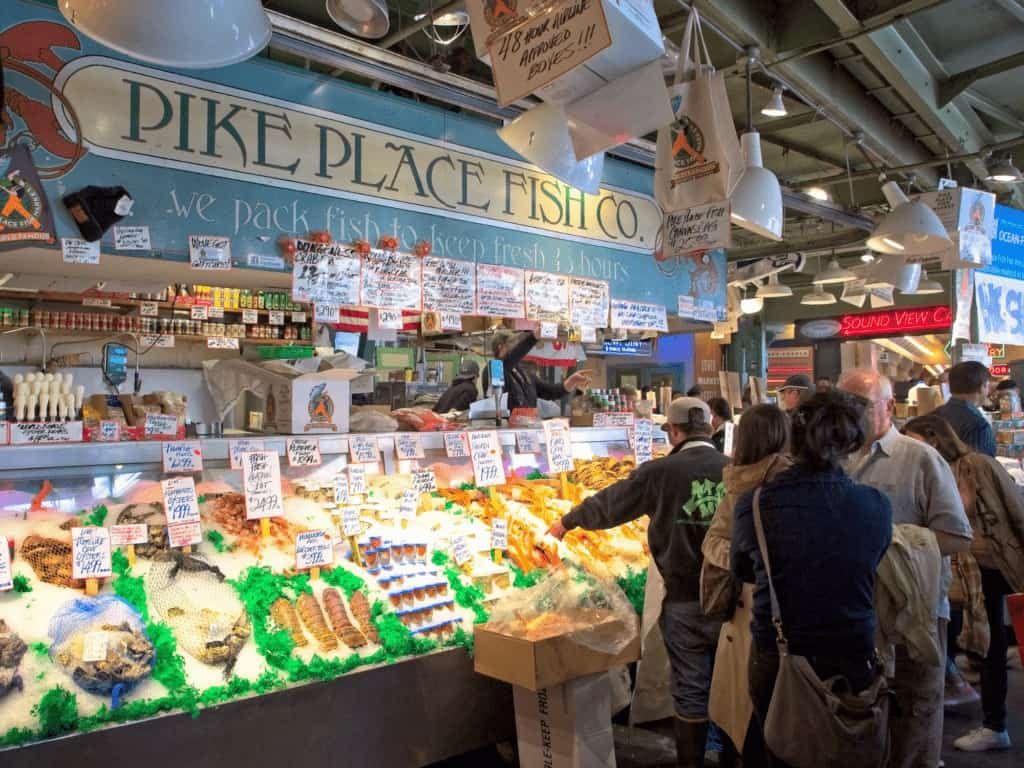 TIPS FOR VISITING PIKE PLACE MARKET DURING YOUR 3 DAY SEATTLE ITINERARY
Must-Sees: Rachel the Pig, the Mural, Fishmongers, and the Market's iconic neon sign, are classics to check out.
Arrive hungry. Don't miss this one up. You'll want to start sampling all of the different items on display as soon as you arrive.
Be selective. Don't settle for the first food stall you see. (Make sure you don't waste stomach space on something you can get back home)
Be spontaneous: This is the time to try something you've never tried before. One of the things we love about the Market is being spontaneous and experiencing new flavors. There's so much to see at the market; let your senses be your guide!
Pronounce it right. It's called Pike Place Market. (Not Pike's Place Market.) Don't worry if you call it Pike's Place, though, because even locals do it!
You don't need an umbrella. The majority of Pike Place Market is covered in the event of rain. And most people in Seattle don't need umbrellas because the rain isn't heavy or strong enough to require them. Instead, bring a good raincoat.
THINGS TO DO AND SEE AT PIKE PLACE MARKET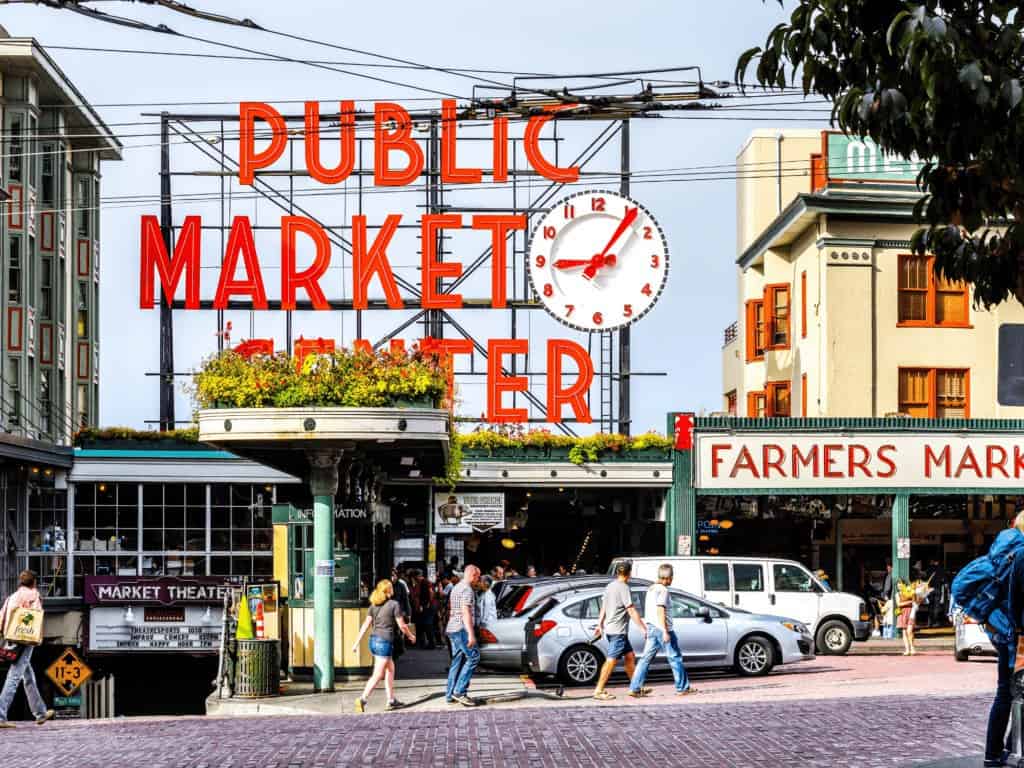 DAILY DOZEN DOUGHNUTS-You can't miss the Daily Dozen; the mini donuts are tossed in powdered or cinnamon sugar while you wait.
FISH MONGERS AT PIKE PLACE FISH CO– Pike Place Market is best known for its fishmongers at Pike Place Fish Market. The fish throwers are more like circus entertainers; they're funny, friendly and yes, they know their seafood. You'll see that the fish really do fly!
RACHEL THE PIG– Rachel, the pig, is just behind the fish tossers. Rachel is a life-sized piggy bank that leads into the Market. Throw some spare change in the bank, get a photo with Rachel, and stroke her nose for some good luck! The funds collected here assist with the Market's social service program, including health care, a food bank, housing for seniors, and much more.
SECRET GARDEN- Shhhhh (Yes, this is the actual name of the garden). The Pike Place Secret Garden is a thriving community-led intergenerational garden. Volunteers maintain the garden, and the produce produced is donated to the Pike Market Food Bank. Every year, around 500 fresh herbs and vegetables are given away. To get here, turn around from Rachel and walk past the fish throwers, and hang a left before you reach the Maximilien Restaurant (the Maximilien has a great rooftop bar).
GUM WALL- After the Secret Garden, head back towards Rachel the Pig; you'll see a set of narrow stairs leading down. Take the stairs and turn right at the bottom; you are now in Lower Post Alley at the Gum Wall! The gum wall is also well worth checking out as many tourists have popularized it; you may find it disgusting or intriguing (a bunch of pieces of gum plastered over old brick walls), but either way, it's a must-see.
GET FRESH FLOWERS– Bouquets of beautiful fresh flowers are offered at reasonable prices, typically between $5-$15 for a generous bouquet
PIROSHKY PIROSHKY– One of our favorite places to get a quick snack is Piroshky Piroshky. I don't think I've ever visited here without seeing a line out the door! They sell sweet and savory piroshkis. My favorite is the beef and onion.
PIKE PLACE BUSKERS- The Seattle Buskers at Pike Place Market are some of the best street performers you'll see. These entertainers lighten our days by singing, playing music, and performing magic or puppet shows. They're not simply performing; they're giving the City of Seattle its distinct character that you won't find anywhere else. If you haven't given all your spare change to the Rachel the Pig, throw some to the performers before you snap their pictures.
MARKET SPICE– When you enter this store, you will see walls filled with teas and spices. The smell of all of the different teas is impressive; this is a great place to try a new flavor of tea! The cinnamon orange tea is our favorite!
ELLENOS REAL GREEK YOGURT– Ellenos Real Greek Yogurt quickly became a favorite stop at Pike Place Market when it opened across from the fish throwers. Ellenos pairs the freshest fruits, flavors, and compotes; if you're into Frozen Yogurt, you have to try out Ellenos
RACHELS GINGER BEER- Try some ginger beer from Rachel's Ginger Beer. It's is a non-alcoholic drink (but they have alcohol options too) that delicious!
GIANT SHOE MUSEUM– Be sure to head down to the lower level for a peek at the oddball Giant Shoe Museum. Even if you don't want to pay to see the giant shoes, the mural is fun to see, and there's a cluster of funky gift and import stores, a comic book store, and a magic shop all worth checking out.
FEELING HUNGRY AGAIN? There are several high-end restaurants in the Market, but Lowell's has reasonable seafood prices and a stunning view of the Olympics and Puget Sound.
ARTS & CRAFTS AT THE MARKET– Arts and crafts merchants can be found towards the north end of the Market; this is where you'll find your Seattle souvenirs
Overwhelmed? That's okay. There are two ways to tackle the market: Just wander and see what catches your eye. Or, take a tour.
Seattle Food Tours and Savor Seattle offer walking tours of the Market. Their experienced guides will guide you through the history of Pike Place Market, introduce you to local sellers, and, yes, provide snacks so arrive hungry.
The tour costs $40 per person and takes around two and a half hours, so be sure to wear comfortable shoes. Online advanced booking is recommended.
SEATTLE WATERFRONT AND PIERS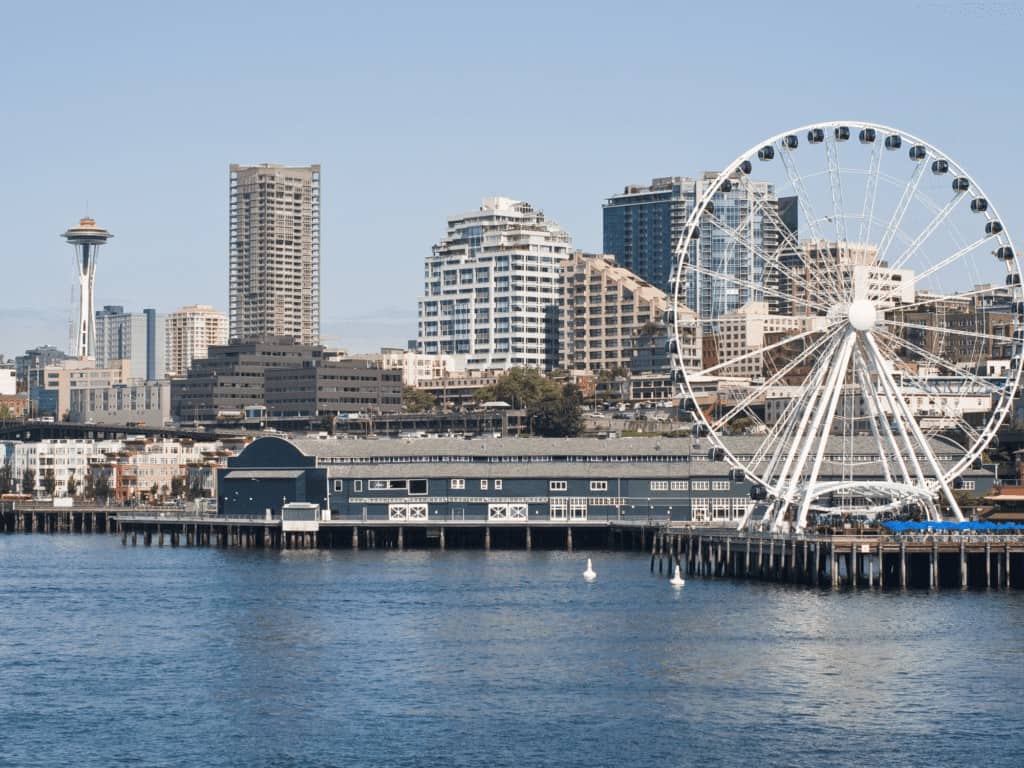 Overlooking the Puget Sound, the waterfront is a short walk from Pike Place Market. The waterfront has become one of the main draws for visitors; you can see Mt Rainier, the San Juans Islands, and many nearby landmarks on a clear day.
SCULPTURE PARK
Start at the Olympic Sculpture Park, which is part of the Seattle Art Museum and includes a free sculpture garden. This 9-acre park has views of the northern end of the waterfront and houses approximately 20 pieces of art by well-known artists.
SEATTLE WATERFRONT
Visit the waterfront where you'll find two pink metal viewing platforms for you to appreciate downtown Seattle's skyline, the West Seattle Bridge, the Waterfront, and out onto the Puget Sound.
GREAT WHEEL
The Seattle Great Wheel is a giant Ferris wheel overlooking Elliott Bay that boasts one of the city's best views. It takes you high above the water's edge in an enclosed gondola (making it a fun activity in either sunshine or rainy weather), giving you panoramic views of the Puget Sound and skyline.
Riding the great wheel in Seattle is a great thing to do with the whole family and makes for a great daytime activity during your 3 day Seattle itinerary.
FEELING HUNGRY YET?
Ivar's Fish and Chips is a Seattle staple. It offers some of the best fish and chips in town and other seafood options. The food is fresh and delicious, so it will definitely keep you coming back for more!
CHECK OUT A BREWERY OR TWO
Seattle's breweries are part of local culture and vibe, and no trip to Seattle would be complete without checking out a brewery or two. Here are two places to try Pacific Northwest brews. Bottoms up!
WALK OR RIDE THE MONORAIL TO SEATTLE CENTER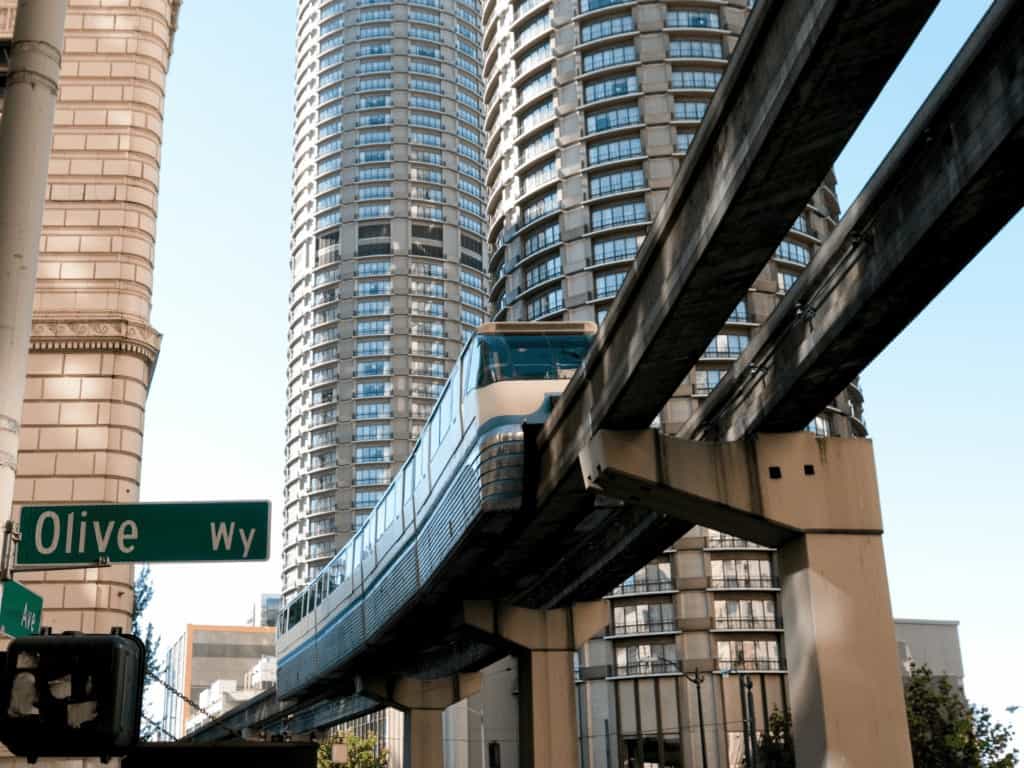 The Seattle Monorail is a fun, affordable ($3) way to get around the city. The entrance to the monorail is at Westlake Center, where you can buy your ticket.
SEATTLE CENTER- MUST SEE DURING YOUR 3 DAY SEATTLE ITINERARY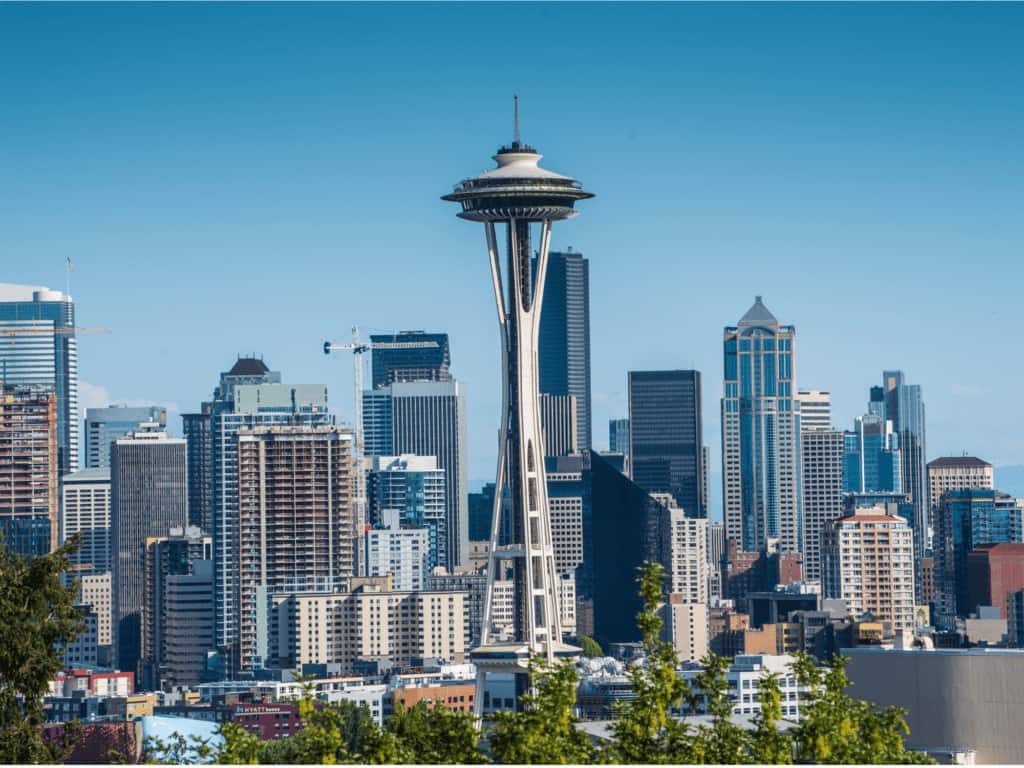 Seattle Center is a great place to visit with its many attractions, including Chihuly Gardens and Glass, the Space Needle, the Pacific Science Center, and the Museum of Pop Culture.
The Seattle Center offers various activities for visitors throughout the year, including arts and crafts fairs and special events and concerts.
SPACE NEEDLE
The Space Needle is an iconic landmark in Seattle, standing at 605 feet high. The observation deck offers panoramic views of the city and surrounding areas; on a clear day, the observation deck at the Space Needle is probably the best place in Seattle to get a look at just how beautiful the city's setting is.
If you're worried you won't get your money's worth from the view, check the webcam for a preview.
Tickets can be purchased in advance online or from tellers or kiosks at the Space Needle base. You'll save a few bucks by visiting early in the morning (8–10 am) or late at night (10–11:15 pm). There's a good combo ticket that includes the Chihuly Garden and Glass (a very worthwhile stop).
MUSEUM OF POP CULTURE
If you love pop culture or just want to learn more about it, this museum is your perfect destination. The Museum of Pop Culture's mission is to explore popular culture and its influence on society. Inside, MoPOP is a celebration of pop culture – not just music, but movies and ideas too.
The museum has a variety of collections, including Jimmy Hendrix, ACDC Nirvana, Kurt Cobain, and more.
CHIHULY GARDENS & GLASS
Chihuly Gardens & Glass is an incredible experience if you're up for it. This stunning glass garden was designed by world-renowned glass artist Dale Chihuly and was recognized as one of America's Top 10 gardens in 2012.
It boasts over 700 pieces of art that showcase his signature style: colorful installations made from blown glass.
INTERNATIONAL FOUNTAIN
While exploring the grounds of the Seattle Center, check out the International Fountain. This fountain is a beautiful landmark designed in a way that it's not only aesthetically pleasing but also provides an opportunity for visitors to cool off on hot summer days.
GRAB DINNER AND DRINKS FOR THE 1st NIGHT OF YOUR 3 DAY SEATTLE ITINERARY
For a fun evening out, with dinner and live entertainment, check out
OPTION 1 Can Can Culinary Cabaret while you watch the cabaret. We've been here several times, and it is always a good time, and their cocktails are amazing.
OPTION 2 Just a few steps away from Pike Place Market is the Zig Zag Cafe. This is a great place to go for date night. It's tucked away behind a staircase and a popular spot with the locals.
DAY 2: 3 DAY SEATTLE ITINERARY
WATER, POPULAR SEATTLE NEIGHBORHOODS
COFFEE AND BREAKFAST
Starting the day off right means getting a good cup of coffee. One of our favorite places to get coffee in the Pike Place Market is Storyville.
Storyville is located on the top floor of the Corner Market building at First & Pike in Pike Place Market; simply take the stairs or elevator to the top floor! If you're looking for breakfast downtown, try out the Crumpet Shop.
2 OPTIONS BAINBRIDGE FERRY OR WEST SEATTLE
Both options provide you with a Seattle water experience. The first option is slower-paced Island life, and the second option is bustling beach life.
OPTION #1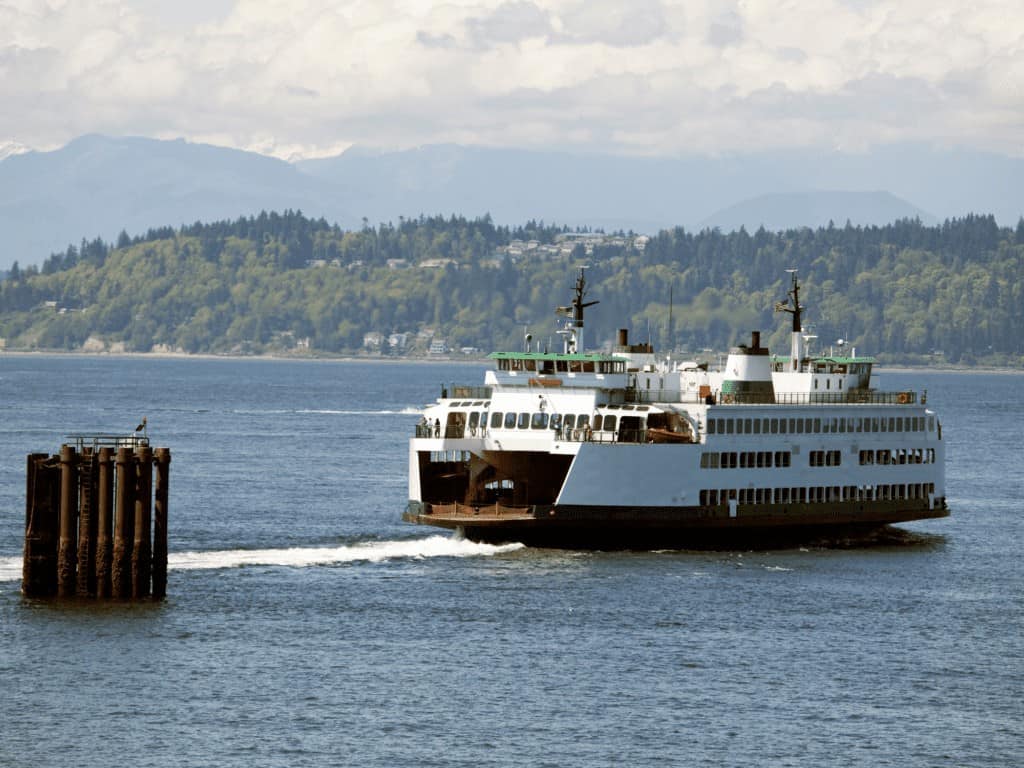 TAKE THE BAINBRIDGE ISLAND FERRY
Ferries are an essential aspect of what makes Seattle such a charming city. Bainbridge Island is a gateway to Washington's Olympic Peninsula and a fascinating place in its own right.
Choose how you'll get there: By car, bicycle, or simply walking. Fares vary depending on the mode of transportation you choose – check out the Bainbridge ferry schedule for more information. We recommend just walking onto the ferry; it'll save you some money. Once on the island, you can rent bikes from Bike Barn Rentals if you're feeling like exploring the island on two wheels (call ahead to reserve your ride).
OPTION #2
TAKE THE ELLIOTT BAY WATER TAXI TO WEST SEATTLE
For a similar experience without breaking the bank, the Elliott Bay Water Taxi takes you from Pier 50 in downtown Seattle to West Seattle. The crossing is just 15 minutes and costs $5.25 each way. It's easy, fun, the views are gorgeous, and it's the best deal in town for a quick trip on the water. Combine the boat ride with lunch at Marination Ma Kai (right at the Water Taxi pier as you disembark), and this might be one of our favorite outdoor activities for a sunny day in Seattle.
Don't worry about transportation at the end of your ride because once you've arrived in West Seattle, you can board a free shuttle bus that takes you up into the Admiral or Alaska Junction neighborhoods for shopping or snacks.
EXPLORE THE DIFFERENT SEATTLE NEIGHBORHOODS DURING YOUR 3 DAY SEATTLE ITINERARY
WEST SEATTLE- SEATTLE NEIGHBORHOOD #1
West Seattle is a great place to visit and explore, but most people stay along the waterfront, walking the promenade or taking the shuttle to Alki Beach. You can rent a bicycle to ride the paved trail in the summer months.
There are loads of places to eat along Alki, so don't worry about going hungry. You can head to Cactus for modern Mexican cuisine. There are many places in between, too– there's pho (Vietnamese noodle soup), Thai, fish, and chips at the Spud.
CAPITOL HILL- SEATTLE NEIGHBORHOOD #2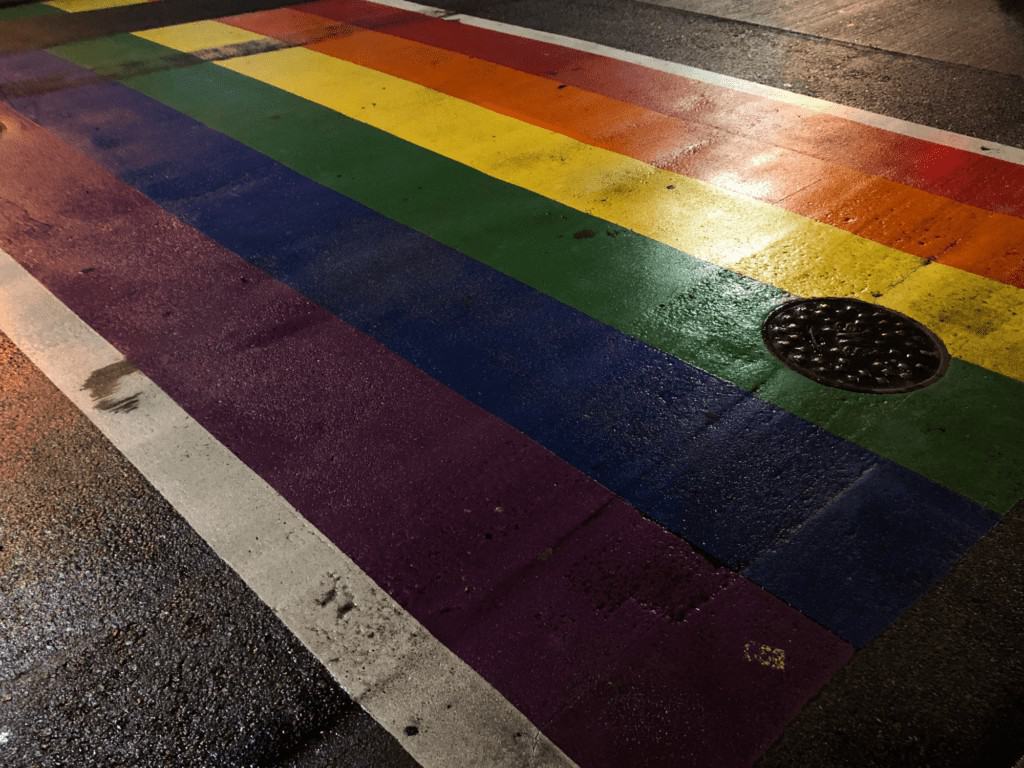 Arguably Seattle's coolest neighborhood, the LGBTQ epicenter offers bars, brunch spots, and boutiques galore. Capitol Hill is a densely populated residential district and one of the city's most popular nightlife and entertainment hot spots.
The neighborhood does not have any high-end malls or even strip malls, but Broadway is a big shopping destination and will not disappoint. You'll discover quirky independent stores and one-of-a-kind small businesses that reflect the area's character.
ELLIOTT BAY BOOK COMPANY- The Elliott Bay Book Company is undoubtedly one of the most well-known bookstores in Seattle.
STARBUCKS RESERVE ROASTERY– The Roastery is where the greatest baristas experiment with coffee as an art form, aging it, infusing it, and combining it in creative and frequently surprising creations.
ODDFELLOWS– Oddfellows offers a large welcoming space worth visiting. This French and Italian restaurant is an all-day, all-night café and bar that serves simple but fresh food. Enjoy cocktails at their "Pike/Pine corridor's living room," perfect for a one on one dinner or a casual outing with friends.
ASIAN ART MUSEUM-The museum sits in beautiful Volunteer Park, just off Capitol Hill's 15th Avenue.
TRY OUT A BREWERY OR TWO ON CAPITOL HILL- CHEERS!
Obviously, you can't visit all of them, but definitely check out one or two during your time on Capitol Hill
REDHOOK BREWLAB– This is the Seattle Redhook Brewery flagship brewery and pub, located in the Pike Motorworks Building. Redhook Brewery's Brewlab is a testing ground for brewing new small-batch brews for the pub and developing recipes that will eventually be released on a larger scale throughout Washington and beyond.
MCMENAMINS- This is a local chain of sorts, but every location is unique. They have some of the best craft beers in the Pacific Northwest Region.
ELYSIAN– This is a local chain, but each location is unique. They're recognized for having some of the finest craft brews in the Pacific Northwest Area.
OPTIMISM– This is an independent, family-owned brewery and tasting room located in a 100 year-old-warehouse space on Seattle's Capitol Hill. With rotating food trucks, Gay Gilmore and Troy Hakala's brewery features a variety of beer styles and flavors, reflecting their belief that there is a beer for everyone!
SOUTH LAKE UNION- SEATTLE NEIGHBORHOOD #3
This neighborhood, located on the northern edge of Lake Union, is just a few minutes north of downtown Seattle and home to Amazon's headquarters and a slew of biotech firms. It's also a lovely spot, offering a world-class museum, historic ships, fine dining with spectacular water views, and boat rentals.
EXPLORE THE AMAZON SPHERES-The Amazon Spheres are part of the Amazon Headquarters. They are open for FREE tours two Saturdays a month. Tours fill up quickly, so get in early!
Insider tip: Have you been to any Amazon Go/Amazon Fresh stores yet? If not, Seattle is the place to check them out. You can learn more about them here.
BALLARD- SEATTLE NEIGHBORHOOD #4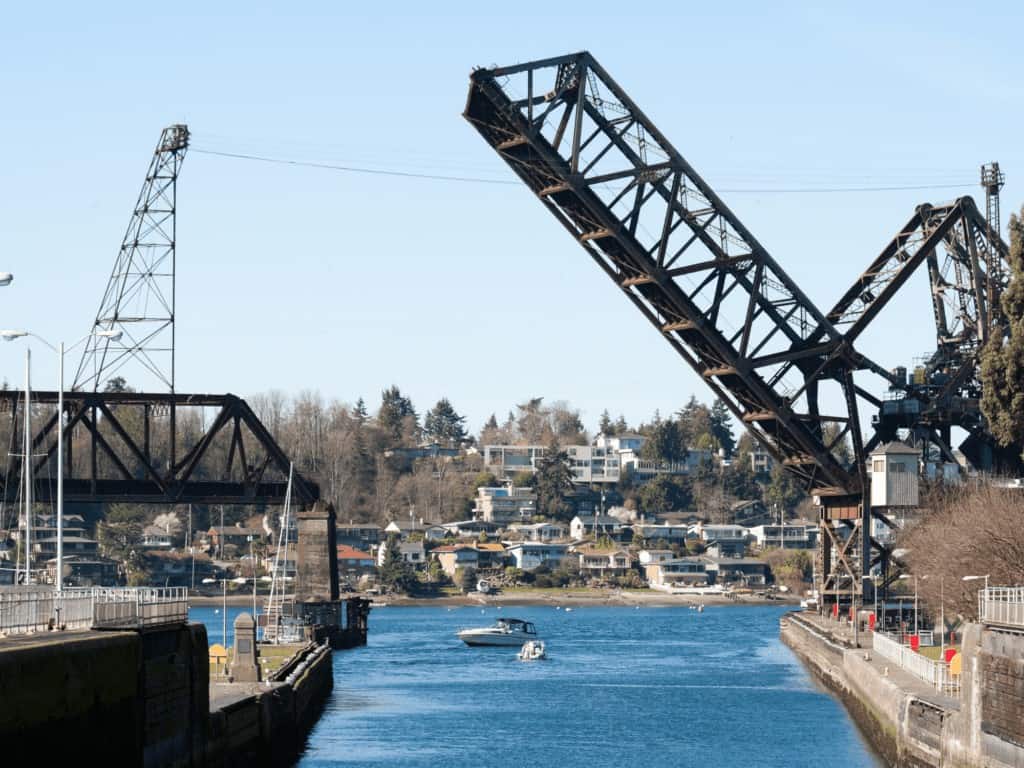 Next up, we're going to hit up the Ballard neighborhood. Ballard is an excellent place in the day or the evening.
BALLARD FARMERS MARKET-Almost every Sunday, year-round, from 10 am to 3 pm, Ballard Avenue closes to traffic and opens to the Ballard Farmers' Market – one of Seattle's largest
THE BALLARD LOCKS- A little under a mile away from the Farmer's Market, you'll find the Hiram M. Chittenden Locks and Fish Ladder. The locks were built in 1917 to allow boats to travel from Puget Sound to Lake Union, and the fish ladder allows salmon migrating upriver to get to their breeding grounds without being stopped by the locks.
We recommend checking out Stoup brewing or an old tavern like Hattie's Hat for a cocktail.
FREMONT- SEATTLE NEIGHBORHOOD #5
It is a funky little neighborhood with a fun vibe. There are all sorts of fun places to spend your day
THEO CHOCOLATE– Fremont is home to the only Theo Chocolate Factory and store with a mission to make fair-trade, ethical, and delicious artisan chocolates.
GRAB DINNER AND DRINKS FOR THE SECOND EVENING OF YOUR 3 DAY SEATTLE ITINERARY
If you're craving something fancy, the Pink Door– Is one of Seattle's most popular restaurants. They specialize in Italian-American cuisine and often have live entertainment, such as cabaret, trapeze, or tarot reading.
If you're craving something ethnic, try some Pho food at one of the many Pho Than Brothers locations.
DAY 3: 3 DAY SEATTLE ITINERARY
MOUNTAINS, WATERFALLS, LIGHTHOUSES, & SUNSETS
Get up early (we know you're on vacation, but there's too much to see!) and grab breakfast!
Pick up your rental car (we'd suggest doing this the day before, so you have it ready!), and let's get out for a road trip to explore the beautiful outdoors of Seattle! Just a heads up, ALL of the trails right outside the city get pretty busy, so be prepared!
Snoqualmie Falls– Snoqualmie Falls is 268 feet tall; it's one of the tallest waterfalls in the state, just 40 minutes outside downtown Seattle! It's also one of the most popular tourist attractions in the area, with over 1.5 million visitors each year.
Rattlesnake Ledge —These are two classic spots super close to the city and doable any time of the year. Between the two, it's about 5 miles of hiking and about 1,400 elevation gain, and neither requires a pass to park. Although they are really busy areas in Seattle, they are some of the most stunning and convenient to reach!
LIGHTHOUSE DISCOVERY PARK SEATTLE
If you're not feeling exhausted after your day East on I90, Discovery Park in Seattle offers excellent views of the Puget Sound and the Olympic Mountains. The park features beautiful, natural scenery. One of its most notable features is West Point Lighthouse, an iconic landmark since 1870.
WATCH THE SUNSET AT KERRY PARK SEATTLE
Kerry Park is one of the best places to see the views of Seattle. It's located in Queen Anne, and it has a view of Mt. Rainier, the Space Needle, and the city skyline. On top of that, it offers some fantastic views of nearby buildings like Safeco Field and CenturyLink Field.
Time to head back to the hotel to get cleaned up and be ready to hit the town.
GRAB DINNER AND DRINKS FOR THE LAST EVENING OF YOUR 3 DAY SEATTLE ITINERARY
This is your last night in Seattle, so let's make it the best! If I were you, I would hit up the rooftop bar at Monsoon on Capitol Hill, we love rooftop bars and unique restaurants, and this offers both.
If you're looking for a chill brewery vibe, then Rooftop Brewing Co in Queen Anne may be what you're looking for.
If you are planning a trip to Seattle, our 3 day Seattle itinerary is perfect for getting you going but don't miss out on the best things to do in Seattle or our favorite free things to do
I hope you found this 3 day Seattle itinerary to help plan your next trip to Seattle useful. If you have any questions, please drop them below, and we'll be happy to answer them.
FAQ ABOUT SEATTLE
Do you recommend Mount Rainier or Olympic National Park during the summer?
During the summer, Mount Rainier and Olympic National Park will be spectacular to visit – most trails will be accessible, and the wildflowers will be in bloom. If you want to avoid crowds, avoid visiting either park on the weekends.
Are there options for visiting the National Parks if I don't have a car?
If you're looking for a tour of Mount Rainier check this out!
If you're looking for a tour of Olympic National Park check this out
Is Mount Rainier National Park or Olympic National Park Closer to Seattle?
Mount Rainier is closer, so you'll have more time to explore. If you leave early in the morning you can get up to Olympic by mid-late morning and go to Hurricane Ridge and Lake Crescent before returning to the city Here's a list of Mount Rainier day hikes, Olympic National Park, and Hurricane Ridge hiking trails. Keep in mind that either of these places makes for a great Seattle weekend trip.
When is the best time to visit Seattle?
From June to mid-October, Seattle has beautiful weather, little rainfall, and a variety of outdoor activities and festivals. April and May are excellent months to visit because of the discounts and good sightseeing conditions. From October through February, expect the city to be chilly, gray, and wet; however, it's ideal for museums, restaurants, and Pike Place Market.