This 4 day Hanoi itinerary will show you everything from bustling streets, fragrant foods, and enchanting old architecture – Hanoi is an adventure in a vibrant culture that awaits your exploration.
But there's so much to see in this bustling city that you cannot do without a thorough itinerary. And that's what we're here to talk about.
We'll help you discover the depths of its history on a four-day itinerary to uncover the delights of this captivating city.
No matter if you want to:
Immerse in classic scenes of street markets.
Walk around temples and lakes.
Or spend evenings under flickering lanterns as you take in some of Southeast Asia's most iconic sights without missing a beat.
This expansive itinerary has it all. So pack your bags, lace up your shoes, and let's see what Hanoi has to offer with our well-planned itinerary designed just for you!….. Psssttt. Are you short on time? If you don't have 4 whole days to explore this amazing city be sure to check out our 1 day in Hanoi itinerary.
When to Plan Your Trip To Hanoi
Before we get down to the itinerary, let's see the best time to visit this city. Hanoi, like most Southeast Asian countries, has a tropical climate, making it a year-round destination.
Generally, Hanoi has two primary seasons: the dry season, which runs from November to April, and the wet season, which usually lasts from May to October.
The dry season here has lower humidity, cooler temperatures, and a more forgiving climate, making it an excellent choice for travelers who might not be too keen on braving the scorching heat.
November through January sees temperatures ranging from 57 to 68 degrees, but keep in mind that December and January can get considerably chilly.
February through April is slightly warmer but manageable, rarely exceeding 86 degrees. The landscape begins to transform, with flowers in full bloom and the greenery starting to return – a perfect backdrop for some memorable photos.
Plus, during this time, the iconic Tet Festival takes place, usually occurring in February.
This is Vietnam's most crucial national holiday, celebrating the Lunar New Year, with vibrant parades, fireworks, and cultural performances. However, be prepared for massive crowds and sky-high prices for almost everything during the Tet Festival.
As the wet season approaches, temperatures spike, and humidity levels rise, with May through October experiencing frequent rain showers.
When it's not raining, the city can be incredibly steamy, with temperatures soaring up to 38 degrees Celsius. On the bright side, the wet season also brings the breathtaking paddy field landscapes that Vietnam is famous for.
And let's not forget that the rainy season usually means fewer tourists, making it a fantastic time to explore the city without jostling for space with throngs of other travelers.
With all this information in mind, the most favorable time to visit Hanoi would ideally be in March, April, October, or November. That's when the climate is more comfortable, and the beautiful landscapes of Vietnam are in full swing!
Day 1: Old Quarter and Hoan Kiem Lake Area
Start your Hanoi ventures from this city's heart, i.e., the Old Quarter, which has the most affordable and diverse tourist places. Here's how you can spend your first day in Hanoi:
Hoan Kiem Lake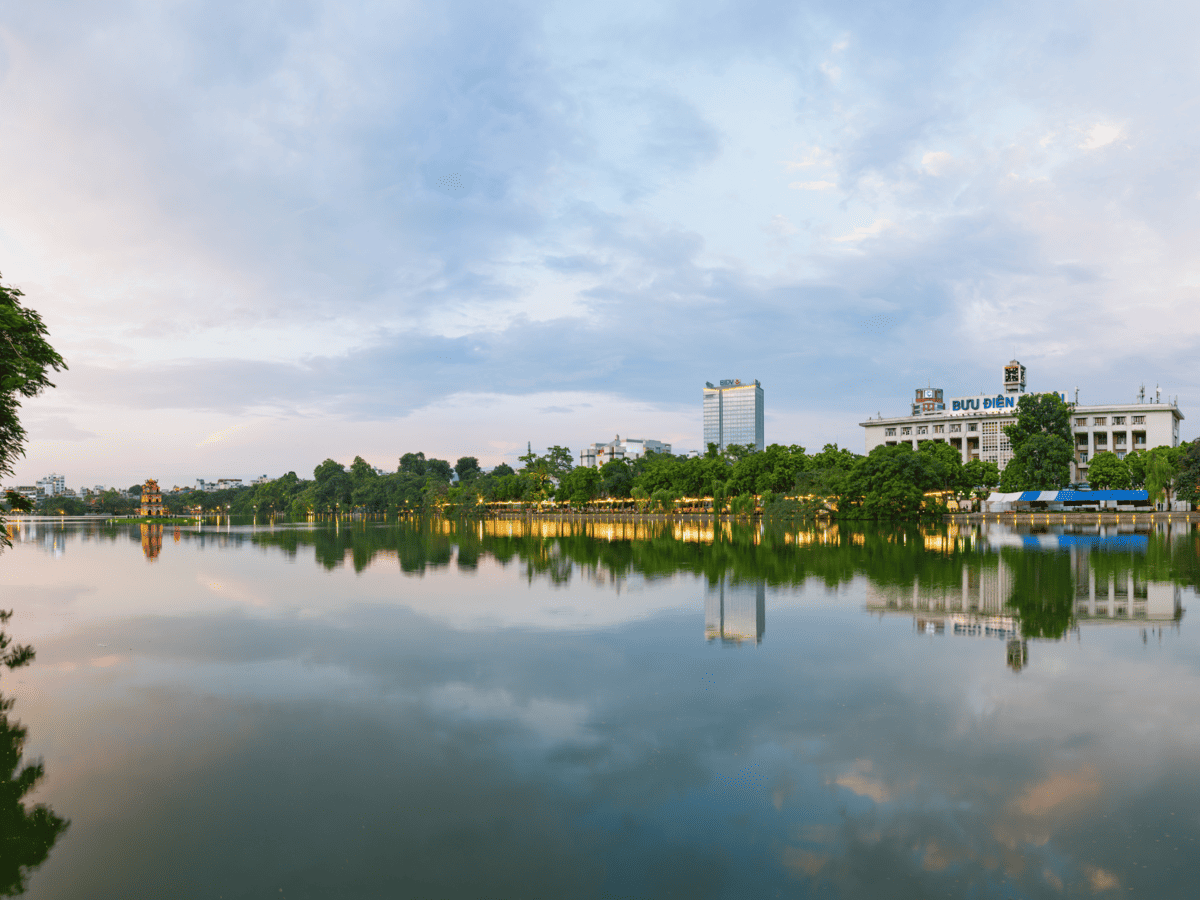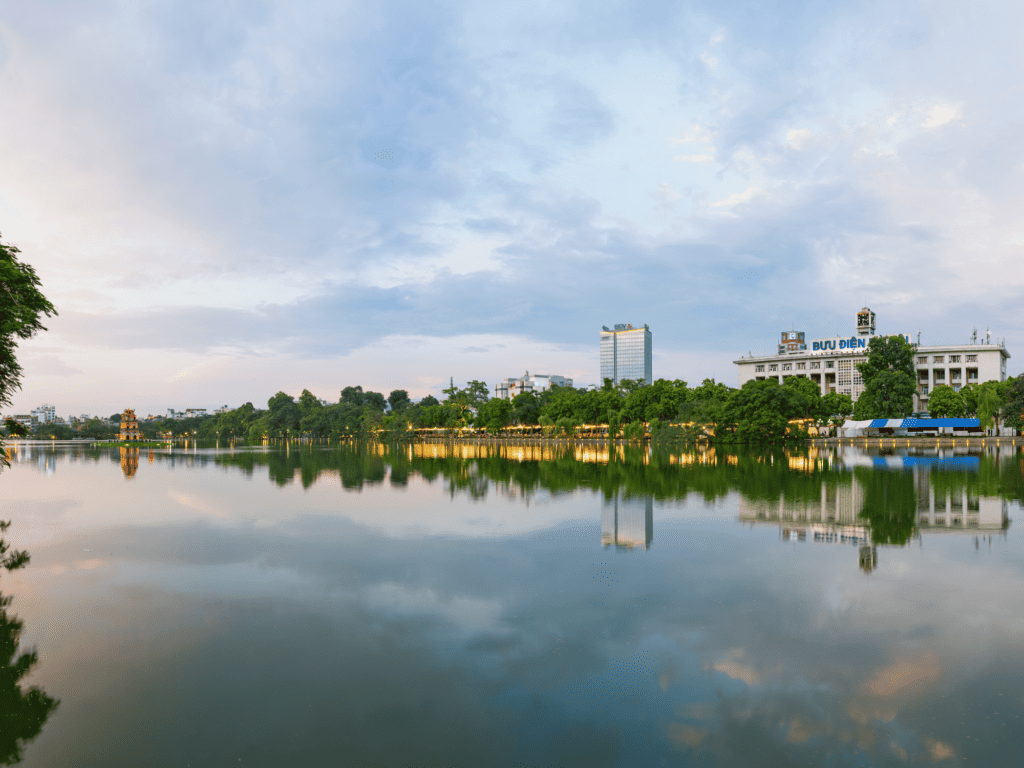 Located at Hanoi's heart, Hoan Kiem Lake enchants visitors with its serene beauty. Locals refer to it as Sword Lake, thanks to a captivating legend. Emperor Le Loi allegedly returned a divine sword to a turtle inhabiting the lake – this fascinating tale adds mystery to the tranquil waters.
Keep an eye out for turtles, though. They're still considered sacred by many, and if you're lucky, one may surface, granting you a rare sighting.
Locals flock to the lake every morning to practice Tai Chi, yoga, and other exercises. Join in for a unique bonding opportunity, embracing wellness and camaraderie. It's refreshing to start your day by immersing yourself in Vietnamese culture.
While leisurely strolling, indulge in local delicacies sold by street vendors. Savor a steaming bowl of pho or banh mi as you appreciate the lake's atmosphere.
Ngoc Son Temple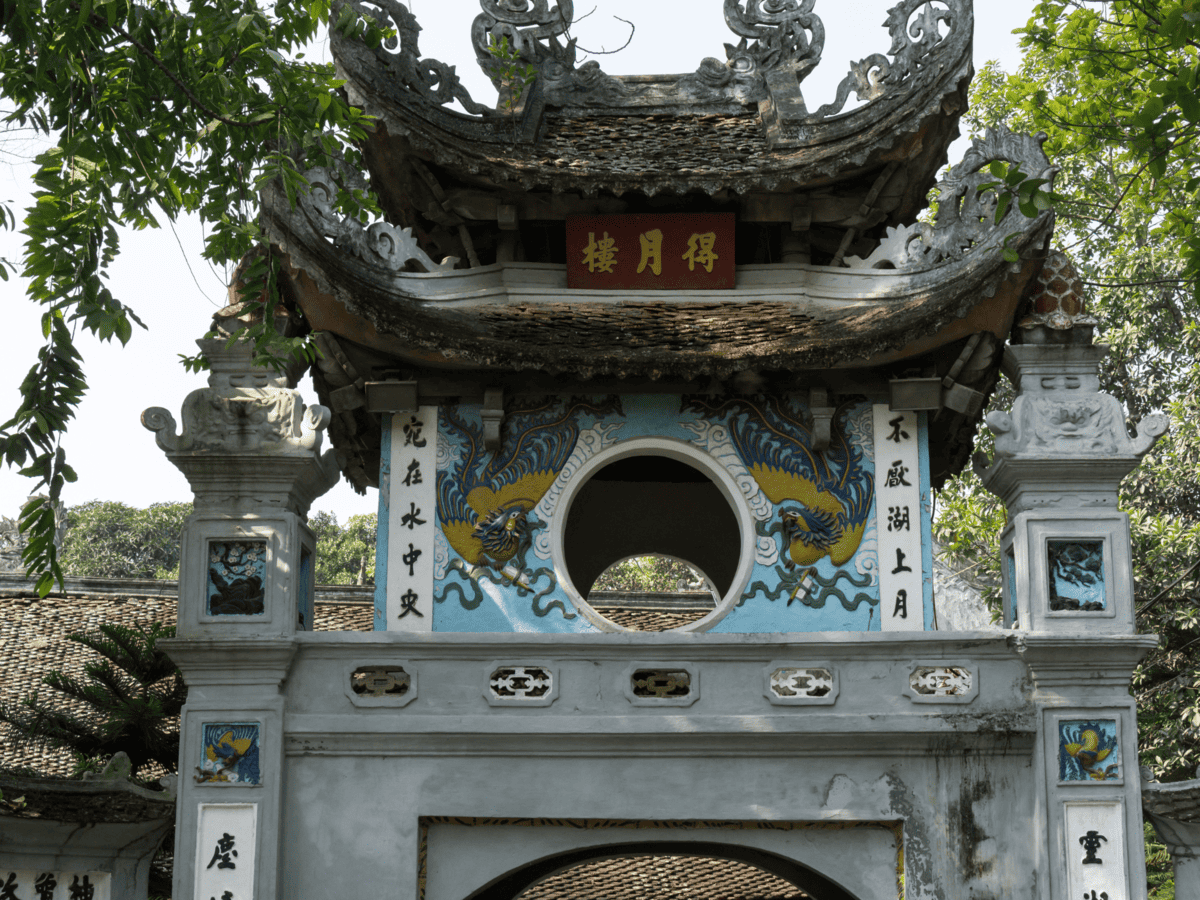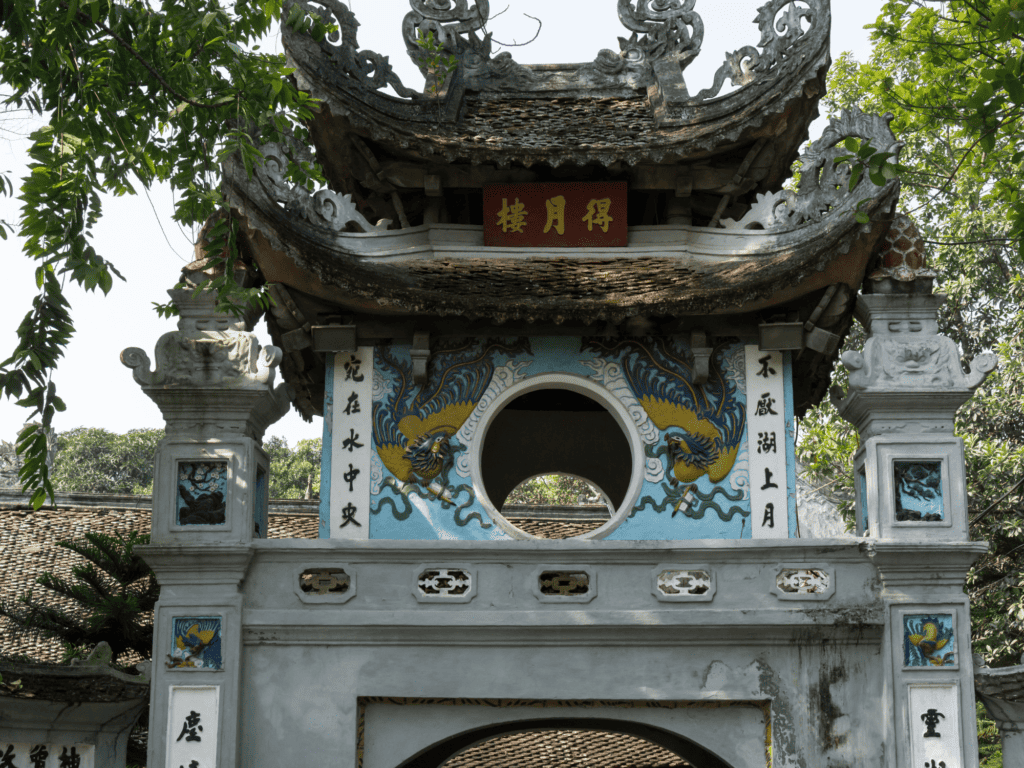 Ngoc Son Temple, a must-visit Hanoi gem, nestles on Jade Islet within Hoan Kiem Lake. A trip to this serene spot will surely enrich your 4-day itinerary.
Cross the iconic red Huc Bridge in Hoan Leim Lake, a symbol of good luck, to reach this sacred destination. The moment you step onto the islet, you'll feel the enchanting aura enveloping the temple – don't forget your camera.
Originally constructed during the 18th century, Ngoc Son Temple has witnessed Vietnam's tumultuous past. Today, it stands as a testament to the resilience and local beliefs.
This temple's layout illustrates typical Vietnamese architectural elements, blending harmoniously with natural surroundings. Truly, a feast for the eyes!
While exploring, look out for the preserved giant turtle. This fascinating relic represents a mythical creature believed to have lived in Hoan Kiem Lake. Legends say it safeguarded an emperor's magical sword, so immerse yourself in enchanting stories.
Address: P. Đinh Tiên Hoàng, Hàng Trống, Hoàn Kiếm, Hà Nội 100000, Vietnam
St. Joseph's Cathedral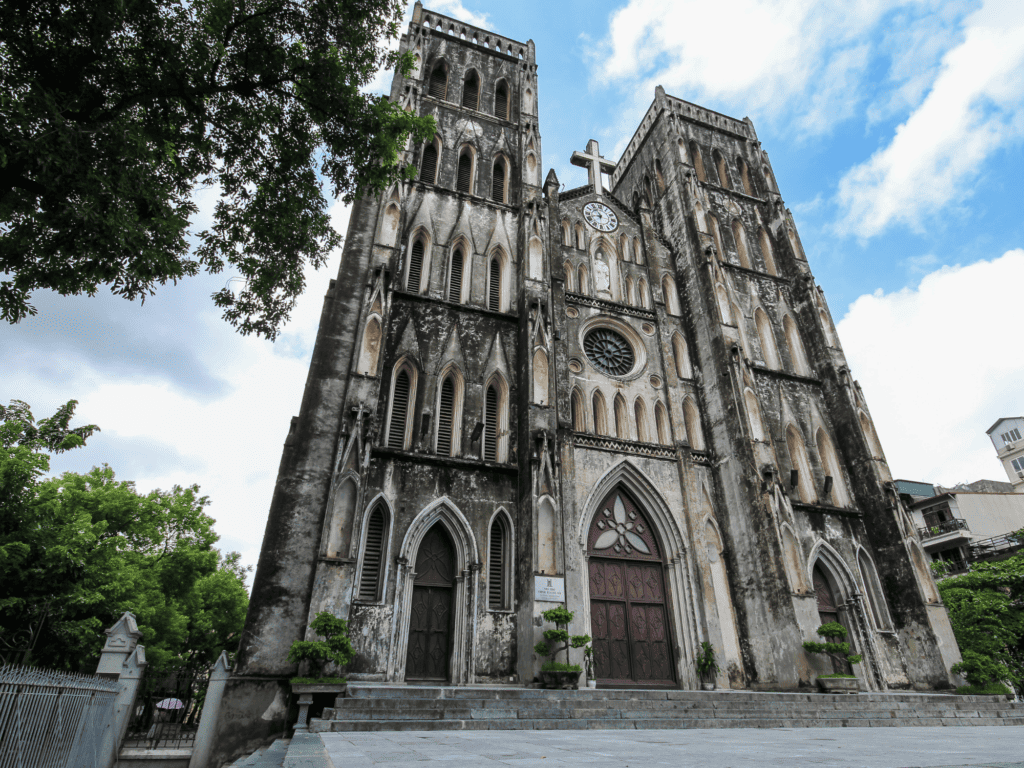 St. Joseph's Cathedral adorns Hanoi's landscape with its magnificent 19th-century Gothic revival architecture. This marvelous structure entices visitors seeking history and spirituality, making it a must-see spot.
Roaming around its exterior, you'll witness exquisite stained-glass windows and striking twin bell towers. Their elegant design captures hearts, leaving lasting memories for travelers exploring the city's charms.
Step inside the church, and you'll feel the serenity as soft light filters through the vibrant windows, illuminating the intricately detailed altar. Unwind in this peaceful haven amid Hanoi's bustling atmosphere.
Apart from religious significance, St. Joseph's Cathedral also played a crucial role during Vietnam's political milestones. So understanding its historical context will surely enrich your cultural experience and add depth to your Hanoi adventure.
Before leaving, don't forget to attend the mesmerizing choir performances that fill the cathedral with heavenly melodies!
Address: 2RHX+FHX, Hàng Trống, Hoàn Kiếm, Hà Nội, Vietnam
Hanoi's Ancient House (87 Ma May)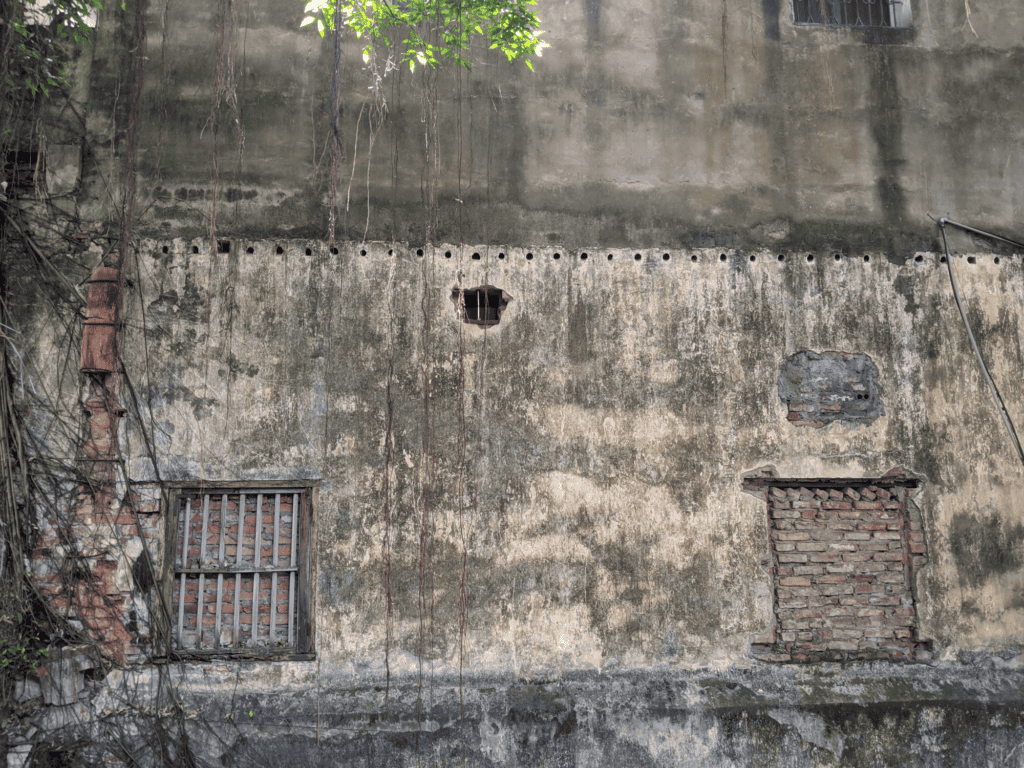 Got a thing for history? Remember to visit Hanoi's Ancient House, that'll take you back to the day when life was simple.
It's right in the busy Old Quarter but feels calm inside, so you can leisurely walk around its rooms and corridors.
The house is built in a special "tube" style, common in old Hanoi. It's narrow in the front but gets bigger inside – this smart design saves space!
You'll find old furniture, pots, and stuff inside, which show how Vietnamese people lived a long time ago. It's like going back in time without a time machine.
Also, local people can tell you about the house and their culture. Make sure you chat with them to learn more and make friends.
There's a small fee to get in, but it helps keep the house looking good for everyone to enjoy. You'll be doing something good!
Take pictures in this pretty house to remember your trip. Your friends on social media will love it too!
Address: 87 P. Mã Mây, Hàng Buồm, Hoàn Kiếm, Hà Nội, Vietnam
Dong Xuan Market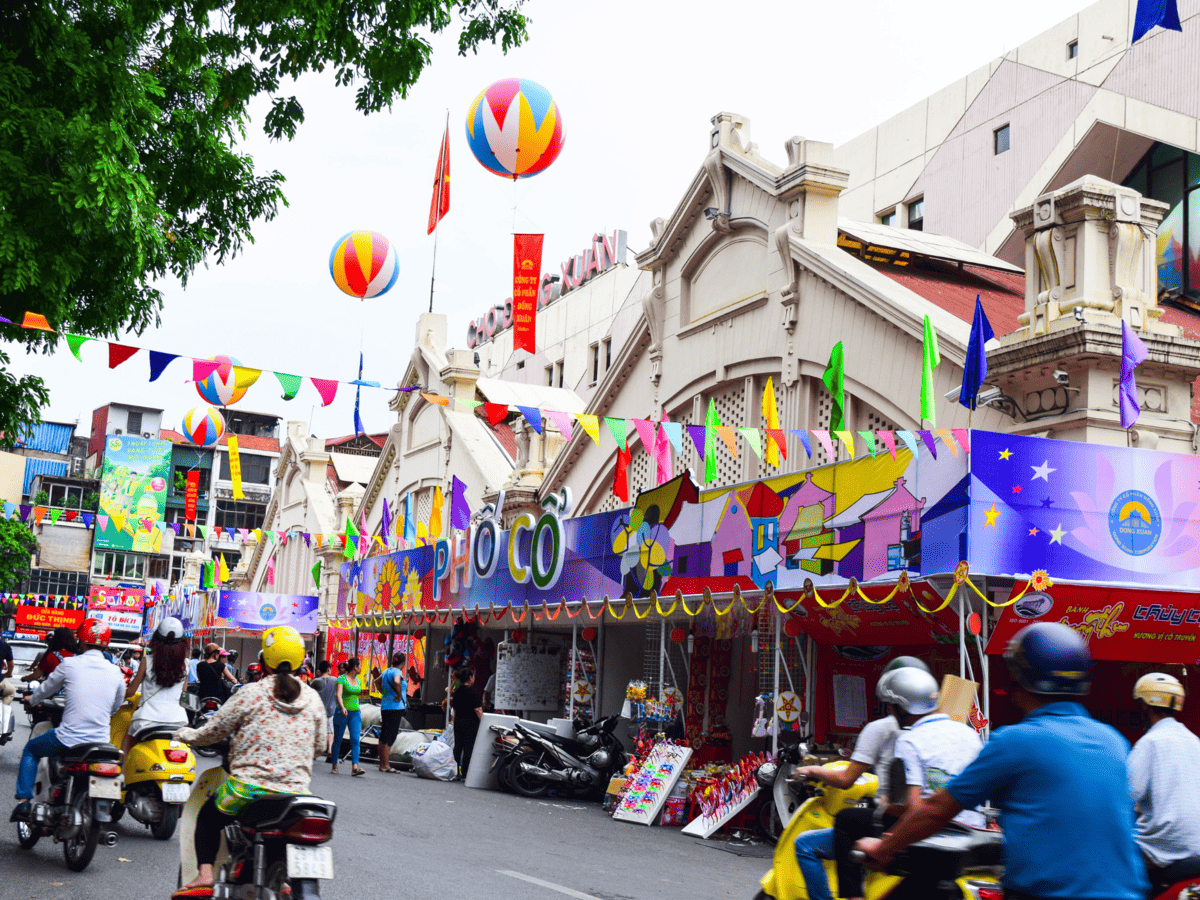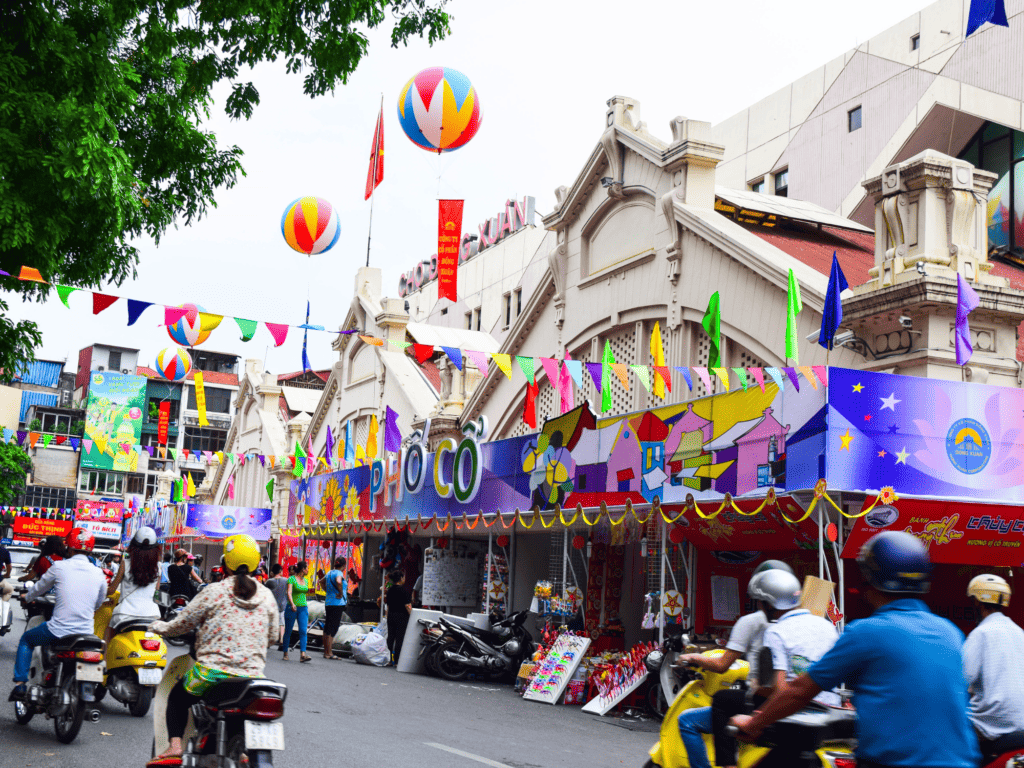 Dong Xuan Market, Hanoi's largest indoor bazaar, undoubtedly deserves a spot on your 4-day itinerary.
Established by French administrators in 1889, this historic shopping hub overflows with charm, lights, and color.
Wander around this market, and you'll spot Hanoi's traditional ceramics, intricate laces, delicate embroideries, and mesmerizing sand paintings. It's a fantastic opportunity to immerse yourself in local culture while snagging unique souvenirs.
This loud and proud market isn't just for shopping, though. Foodies rejoice! Scrumptious Vietnamese street food, like Pho or Banh Mi, awaits your taste buds. Savor authentic flavors in a bustling atmosphere.
Experience real Hanoian life through engaging interactions with vendors. They're friendly, eager to share stories, and sometimes offer bargaining tips! You might just make new friends here.
As nighttime falls, don't miss the adjacent weekend night market. It transforms into an energetic, lively spot with music, performances, and even more delicious cuisine to discover.
Ta Hien Street (Beer Street)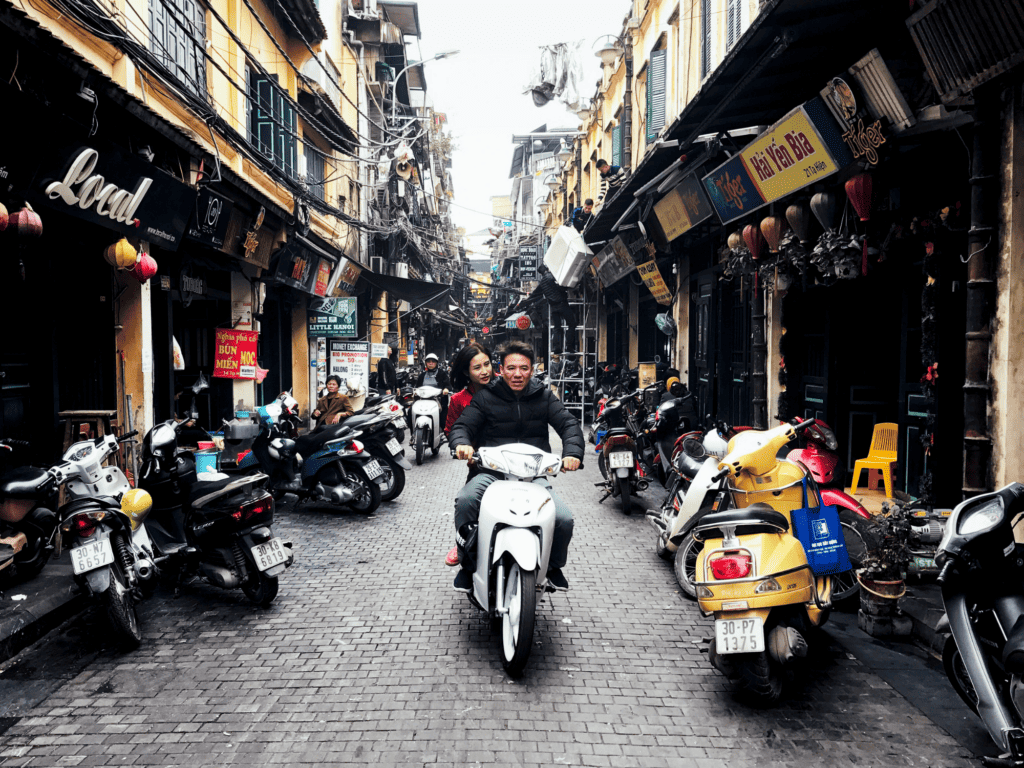 End your first day as a tourist in Hanoi on a good note – go taste local drinks on Ta Hien Street. Imagine a vibrant, bustling place where cold drinks meet warm smiles. That's this street for you!
We've included it in your 4-day itinerary since it's Hanoi's beer capital. Locally dubbed "Pho Tay," tourists can't get enough of its lively atmosphere. Locals say that foreigners visit this day multiple times during their stay and devour its vibe. Trust us; you'll adore it too!
So, what's special here? The answer: Bia Hoi, a super famous beer that's synonymous with Hanoi's nightlife. Sip on this refreshing brew and make new friends with fellow travelers.
But wait, there's more. Ta Hien Street isn't just about drinks – it serves equally mouth-watering street food, ensuring your taste buds dance with delight.
It's a cultural hotspot that showcases the city's youthful, dynamic vibe!
Day 2: French Quarter and Half of Ba Dinh District
After spending a whole day enjoying all that Hanoi's Hoan Kiem district has in store, you'll be tired and want to sleep in. But don't because there's a lot more to cover, and time is ticking. So, here's what you can do on your 2nd day in Hanoi:
Hanoi Opera House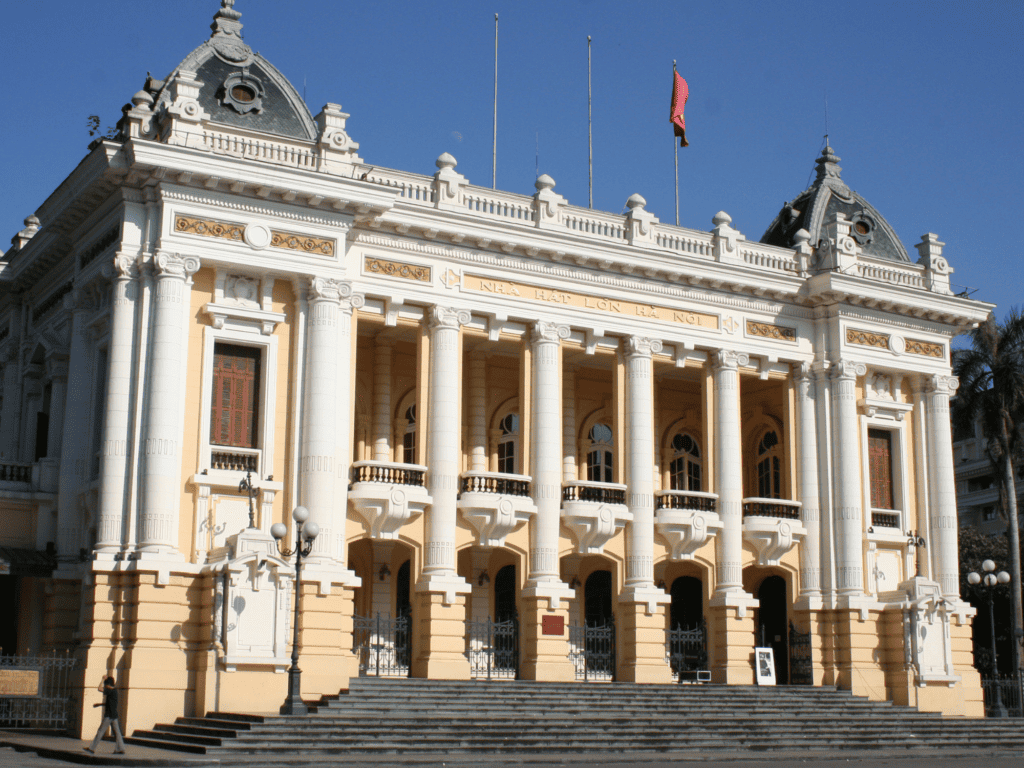 Colonization has impacted Asia in more ways than we can imagine. Take architecture, for example. You'll find French-style construction in the Hanoi Opera House.
This architectural gem boasts French colonial design, adding elegance to your trip. Located in the city center, it's easily accessible by foot or public transportation.
Stepping inside, your eyes will admire the opulent interior reminiscent of European theaters. With gilded chandeliers and plush seats, it provides a luxurious atmosphere.
Watch top-notch performances showcasing Vietnamese culture, international artistry, or classical music concerts.
Fun fact: Completed in 1911, the Opera House has witnessed pivotal historical events. Discover intriguing stories while seeing its magnificent exterior – friendly local guides can offer intriguing tales, enriching your visit.
Hungry after the show? Nearby, you'll find fabulous dining options, including traditional Vietnamese cuisine and international fare. Sample delicious dishes, making your evening truly memorable.
Address: 1 Tràng Tiền, Phan Chu Trinh, Hoàn Kiếm, Hà Nội, Vietnam
Vietnam National Museum of History
A few steps from the Hanoi Opera House is the Vietnam National Museum of History, showcasing the country's journey.
Housed in a stunning French colonial building, its architecture alone is worth admiring. Step inside to find over 200,000 fascinating artifacts from prehistoric to recent history.
Explore ancient ceramics, intricate sculptures, and eye-catching jewelry from various dynasties. Marvel at the bronze Dong Son drums or the enchanting Ngoc Lu drum, which holds symbolic significance.
Immerse yourself in the Cham culture section, boasting exquisite sandstone statues and exceptional terracotta pieces. The museum's chronological displays make it easy to follow Vietnam's journey through the ages.
Lastly, grab a unique souvenir from the on-site shop, taking home a piece of Vietnam's history!
Address: 216 Đ. Trần Quang Khải, Tràng Tiền, Hoàn Kiếm, Hà Nội 110000, Vietnam
Hanoi Hilton (Hoa Lo Prison)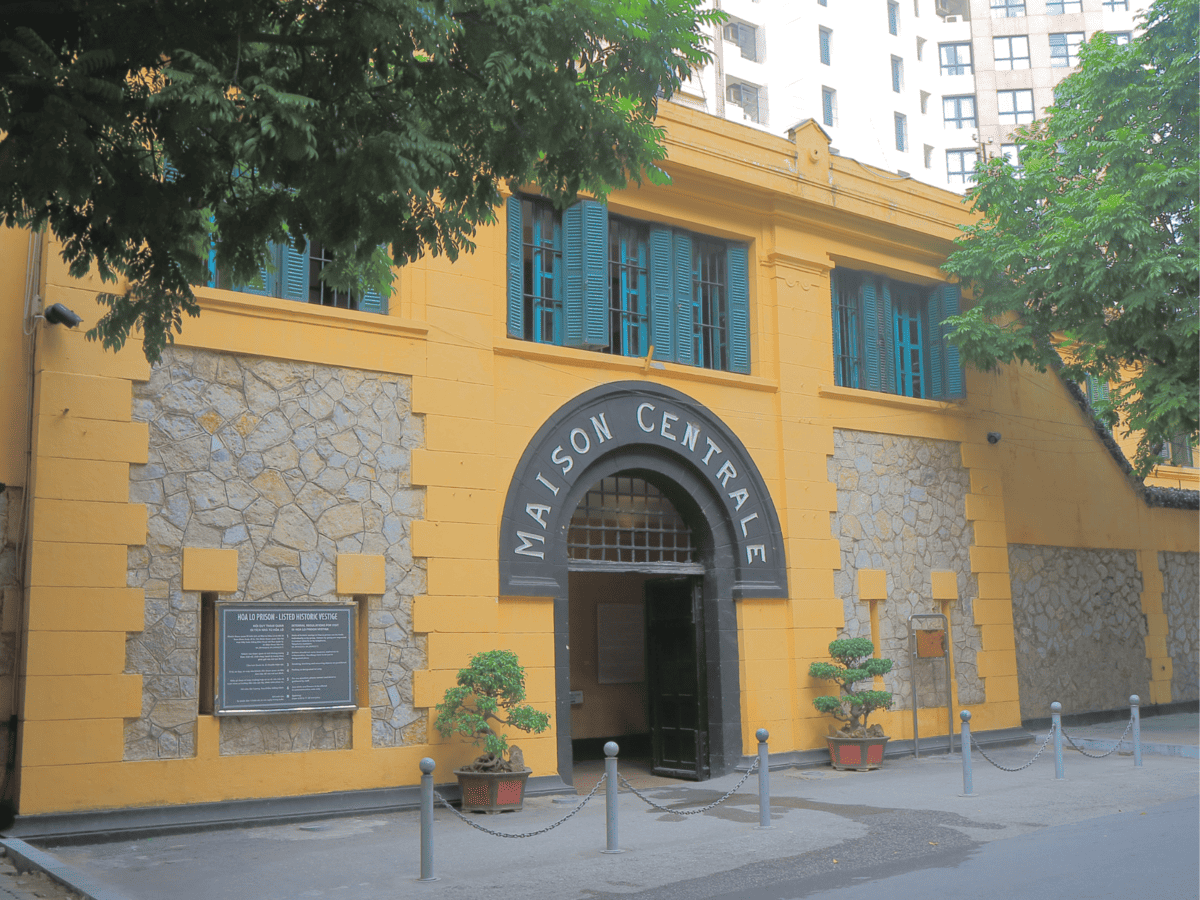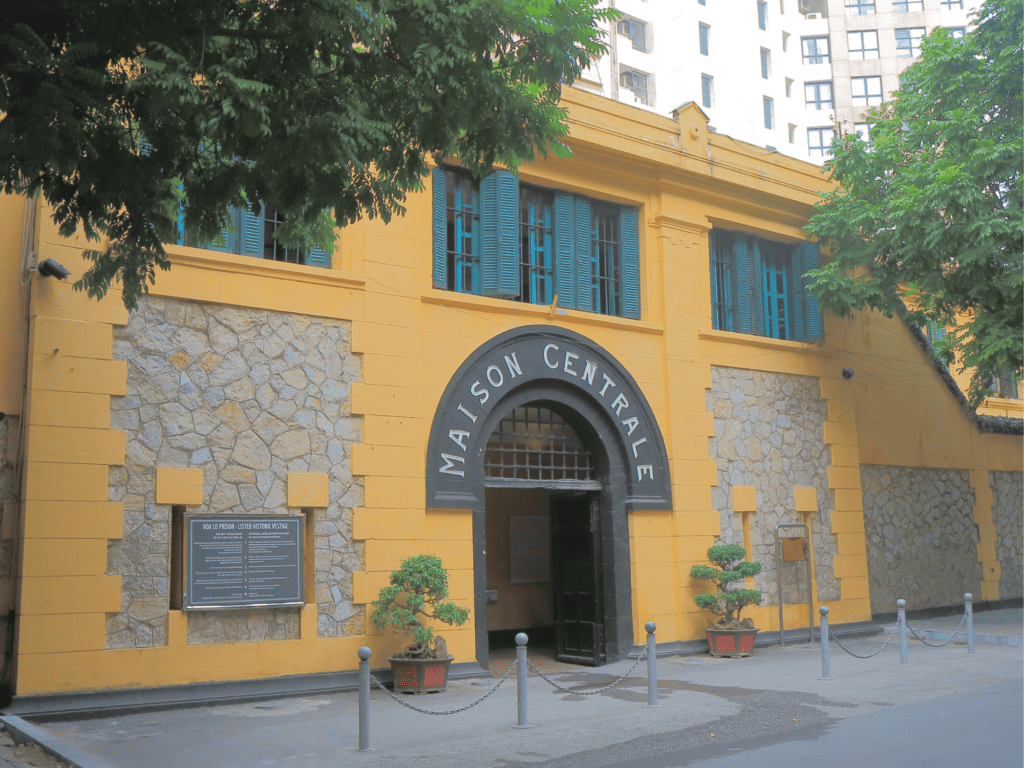 Visiting Hanoi Hilton, also known as Hoa Lo Prison, will give you an insightful peek into Vietnam's history. Built by French colonists, this once-infamous jail now serves as a museum.
Within its walls, you'll find captivating stories of political prisoners and American pilots during the Vietnam War. Senator John McCain's flight suit is on display, an iconic piece linked to his time as a captive.
Get ready for a thrilling experience exploring eerie cells, torture devices, and heart-wrenching tales. This excursion promises a deeper understanding of Vietnam's past struggles and resilience.
Stroll through thought-provoking exhibits and be amazed at how the country has transformed since. You'll leave feeling grateful and inspired by Vietnam's journey toward healing and progress.
Address: 1 P. Hoả Lò, Trần Hưng Đạo, Hoàn Kiếm, Hà Nội, Vietnam
Ho Chi Minh Mausoleum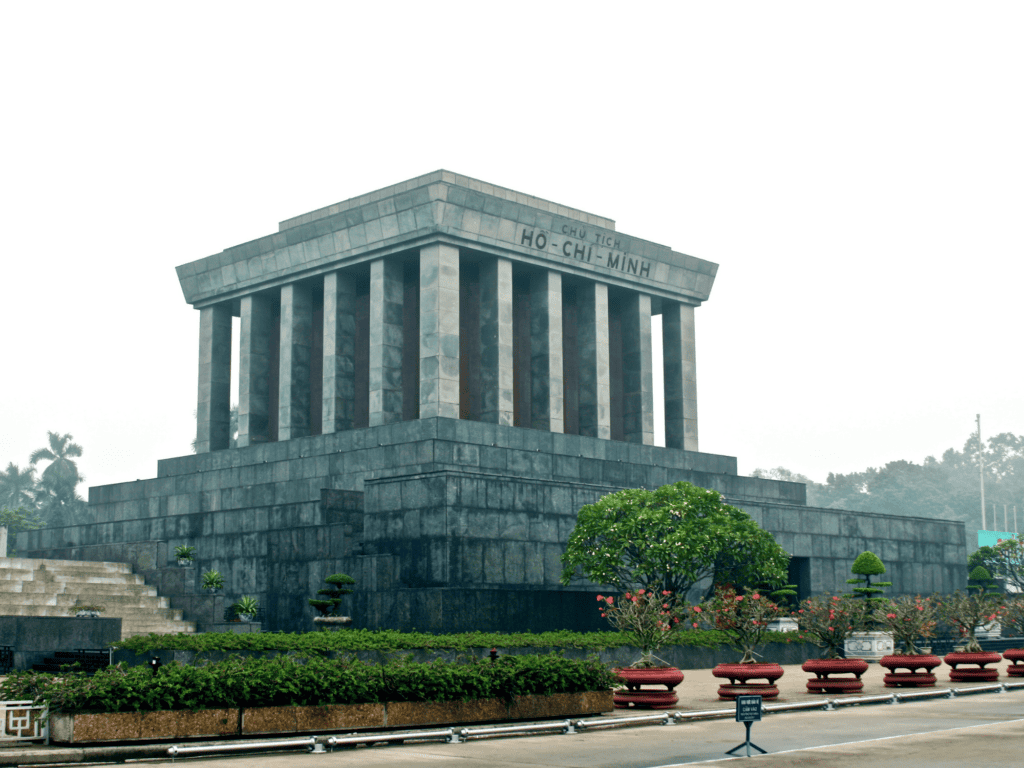 Located at Ba Dinh Square, this site is where Uncle Ho, Vietnam's iconic leader, rests in eternal peace. His preserved body lies within, drawing countless curious tourists yearly.
The mausoleum's grand exterior showcases a blend of Soviet and Vietnamese architectural styles, creating an imposing yet elegant structure.
Make it to the mausoleum during the changing of guards ceremony, occurring hourly from 9 AM to 5 PM. Witness the impressive display of discipline, a hallmark of Vietnamese military traditions.
Visiting this landmark will give you a chance to learn more about Ho Chi Minh's impact on Vietnam's modern history. Pay your respects to the revered leader and gain insight into the nation's past.
Also, keep in mind that dress codes and rules apply when you visit the landmark. So dress modestly, maintain silence, and avoid photography within the mausoleum.
Afterward, stroll around the well-manicured gardens, home to over 250 plant species, and see your tiresome melt away.
Address: 8 Hùng Vương, Điện Biên, Ba Đình, Hà Nội 100000, Vietnam
Day 3: West Lake and Ba Dinh District
On your 3rd day in Hanoi, focus on this city's political hub, i.e., Ba Dinh. In all fairness, there's a lot to explore in Ba Dinh that one day will fly by you. But let's try. Here's what your 3rd-day itinerary should ideally look like:
One Pillar Pagoda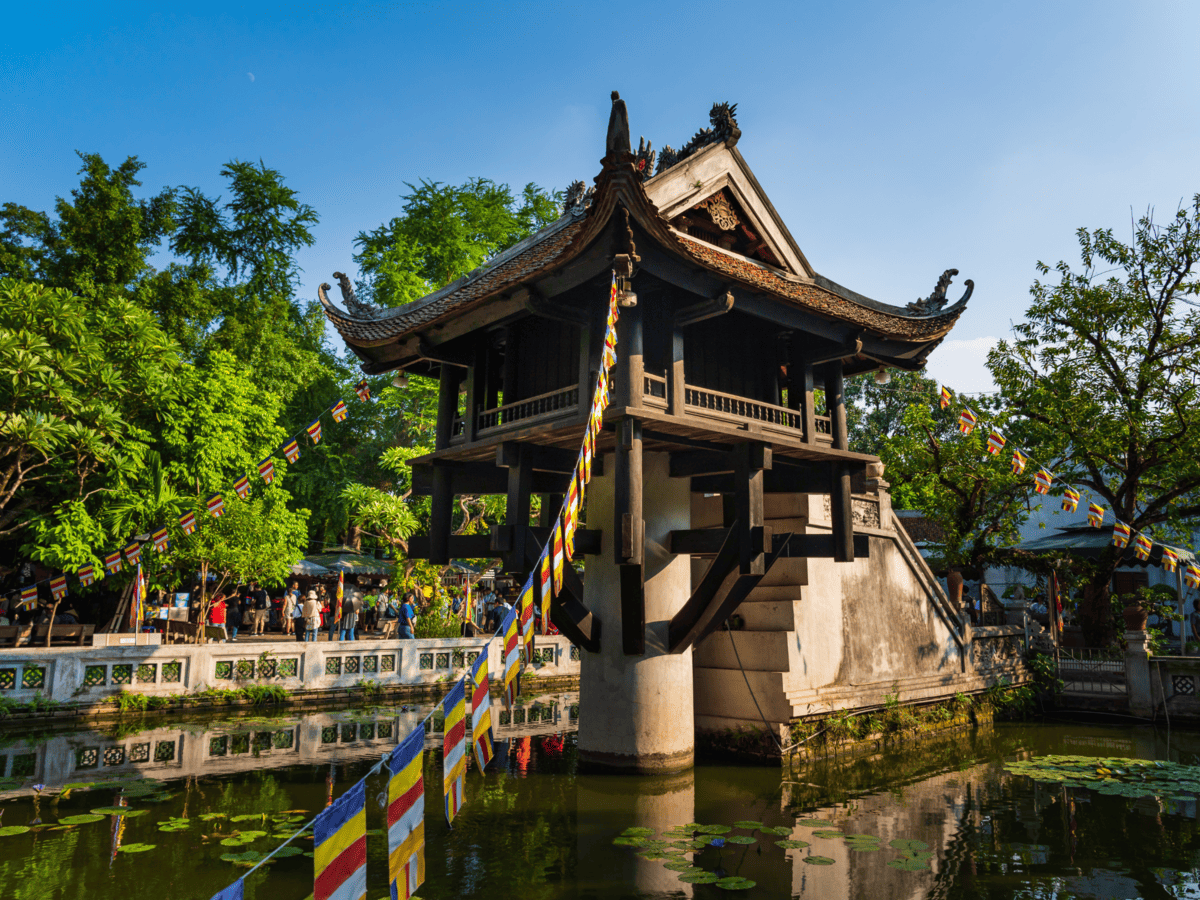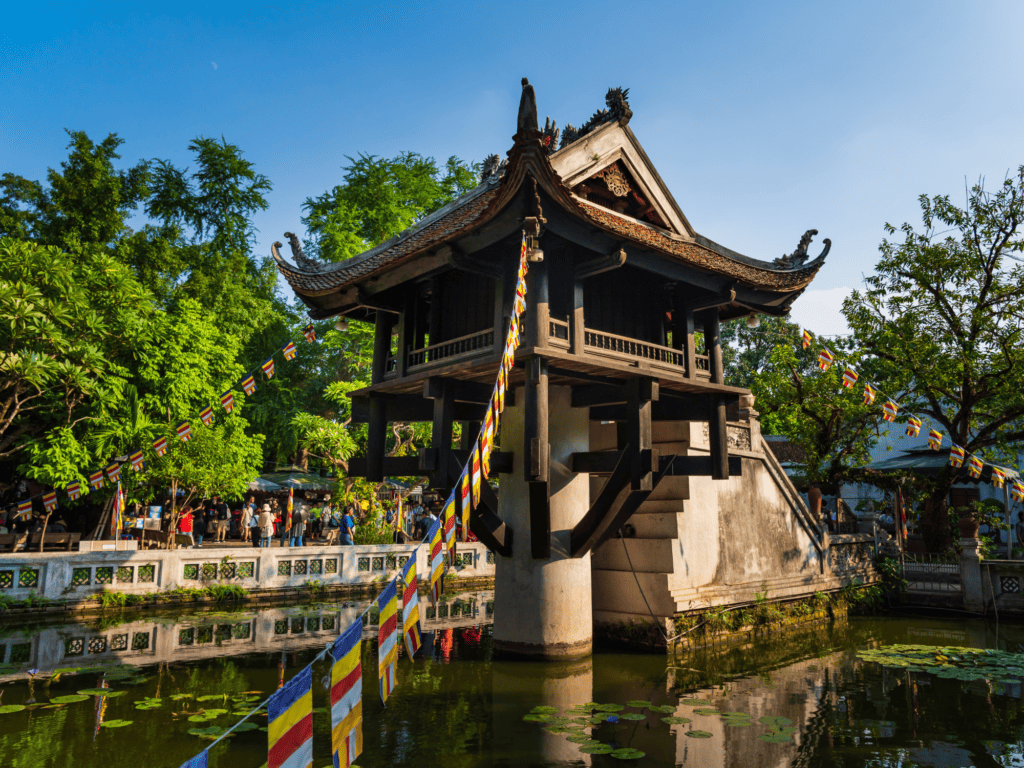 Constructed in 1049 under Emperor Ly Thai Tong's reign, the wooden temple has a fascinating tale. Dreaming of Guan/Quan Yin, the goddess of mercy, who handed him a baby boy, the emperor built this pagoda. It symbolizes his gratitude.
The architectural marvel is fashioned after a lotus blooming from water, symbolizing purity in Buddhism. As Vietnam's pride, the pagoda showcases the country's cultural and spiritual heritage.
Visitors here immerse themselves in the tranquil atmosphere. They light incense, send prayers, and feel a spiritual connection. Local folklore says that wishes here come true, so don't miss your chance!
The temple underwent several reconstructions but still maintains its original charm. Explore the intricacies of Vietnamese craftsmanship, evident in every corner.
Address: phố P. Chùa Một Cột, Đội Cấn, Ba Đình, Hà Nội 100000, Vietnam
Tran Quoc Pagoda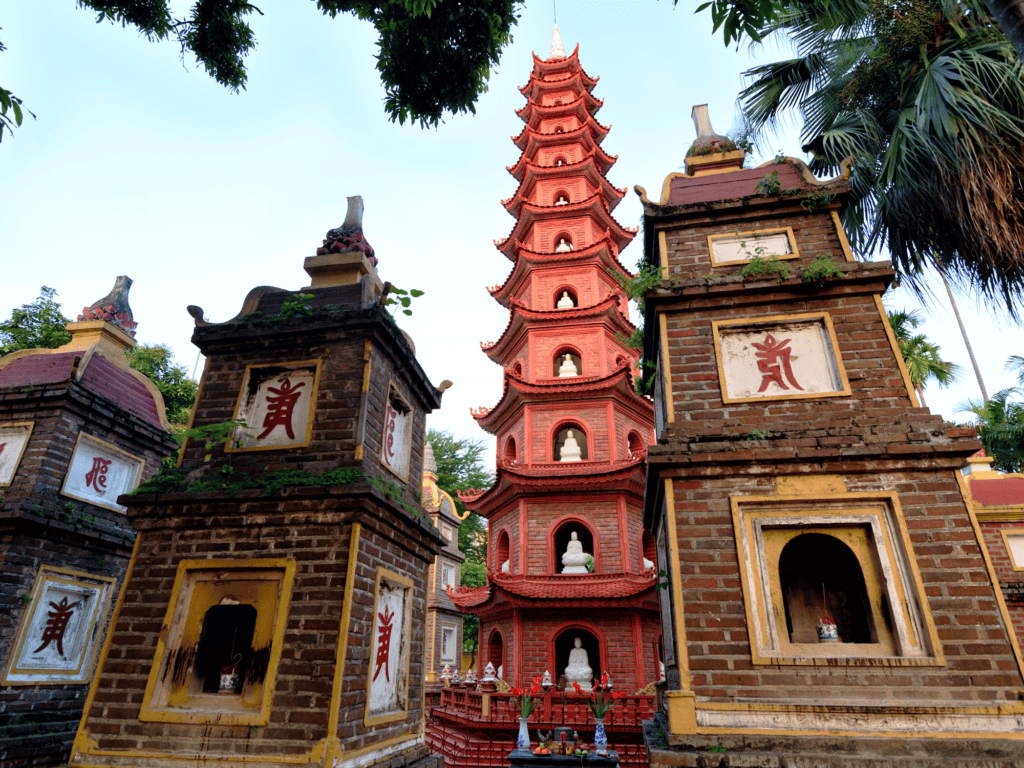 Visiting Hanoi without exploring Tran Quoc Pagoda? No way! This ancient gem boasts a rich history, dating back to the 6th century. Situated in picturesque West Lake, it's a serene escape from the crowded city.
Hop on a bike or stroll to reach this spiritual haven. Observe delicate architecture as you cross the captivating bridge, connecting you to a peaceful island.
Within the pagoda, you'll discover several awe-inspiring shrines. Each displays beautiful statues and precious relics, representing Vietnam's deep-rooted Buddhist traditions.
You'll surely marvel at the striking 15-meter-tall Bodhi tree, which holds great significance here. It's a direct descendant of the original tree (the one in India) under which Buddha attained enlightenment. A touch of sacredness right in Hanoi!
Address: 46 Đ. Thanh Niên, Trúc Bạch, Tây Hồ, Hà Nội, Vietnam
Quan Thanh Temple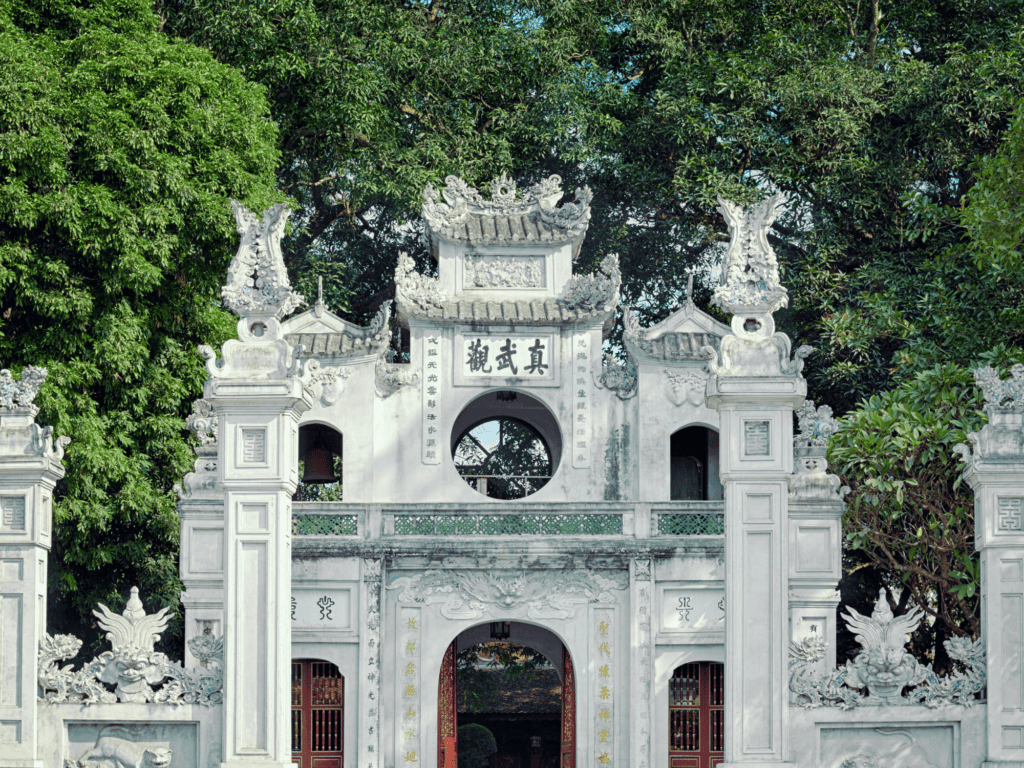 Quan Thanh Temple, an old Taoist spot, sits in Hanoi's busy center. This 11th-century wonder will take you back to simpler, more magical times.
Full of cool carvings, this temple celebrates Tran Vu, a god whose symbols of power were the tortoise and snake. When you gaze at the huge bronze figure, you won't hold back from appreciating the work behind it – it's super heavy – standing at four tons!
If you admire old buildings, the mix of Vietnamese and Chinese styles in this temple will catch your eye.
Stroll through the peaceful courtyard, soaking up the serene vibe. Away from the city's noise, find your zen moment here.
Address: Đ. Thanh Niên, Quán Thánh, Ba Đình, Hà Nội 118810, Vietnam
Lotte Observation Deck
Nestled atop the 65th floor of Lotte Center, this gem offers breathtaking 360-degree views of our vibrant city. Marvel at Hanoi's impressive cityscape, a blend of ancient structures and modern skyscrapers, from this sky-high vantage point.
As you step onto the deck, the first thing that'll make you gasp is the sheer vastness of the panoramic scenery. Appreciate iconic landmarks like Hoan Kiem Lake, Long Bien Bridge, and the Red River snaking through the city.
The deck's glass Skywalk, which seems to float above the bustling streets, provides a fantastic backdrop for envy-inducing selfies. Dare to conquer your fear of heights while capturing memories that'll last a lifetime.
This deck's sky telescope allows you to admire Hanoi's starry skies. Gaze upon the moon's craters, constellations, and even spot a few planets while you're at it. This celestial experience truly sets Lotte Observation Deck apart.
And don't worry about crowds. The Observation Deck spans an expansive area, ensuring ample space for visitors.
Address: 2RJ6+VX4, VN Hanoi 바딘 Liễu Giai st. cong viesrd, Ba Đình, Hà Nội, Vietnam
Phu Tay Ho Temple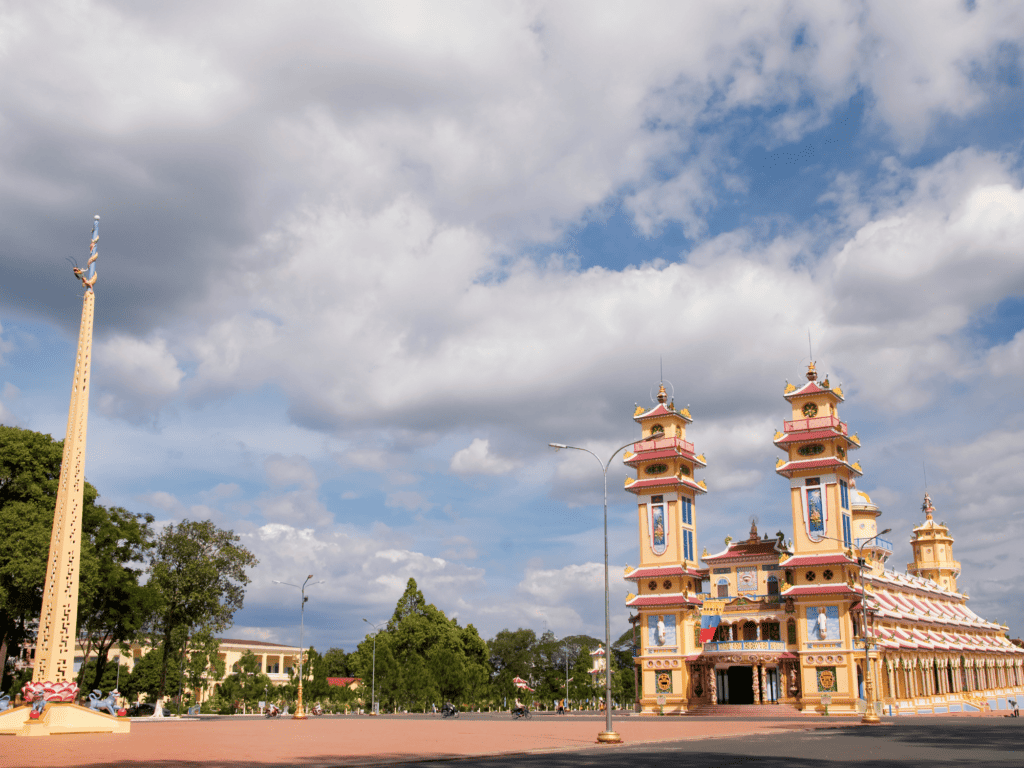 Phu Tay Ho Temple holds a special spot in Hanoi's heart – sitting gracefully on West Lake's shores, it's an enchanting spiritual sanctuary.
This captivating temple honors Mother Goddess Lieu Hanh – locals revere her, hoping to receive blessings of prosperity and harmony.
You'll enjoy this temple's striking architecture as its ornate carvings, vibrant colors, and elegant pagoda roofs exude charm.
Inside, find mesmerizing altars adorned with gold and intricate woodwork. Offerings of fruits, flowers, and incense create a sense of reverence. Witness devout worshipers praying for divine intervention.
During special occasions, the temple buzzes with lively festivities. Traditional ceremonies, music performances, and dance routines showcase Vietnam's rich cultural heritage. You'll also find delectable treats like banh tom and pho cuon nearby – don't miss out~
And while at Phu Tay Ho, try your luck with fortune-telling sticks. Shake the container, let one fall out, and decipher your destiny. Who knows, maybe you'll receive promising news for your future!
Address: 52 P. Đặng Thai Mai, Quảng An, Tây Hồ, Hà Nội, Vietnam
Day 4: Hanoi's Suburban Areas and Museums
Dedicate your 4th day in Hanoi to local crafts and simple lifestyles. Here's how you can plan your last day in Hanoi before saying goodbye to this full-of-life city:
Vietnam Museum of Ethnology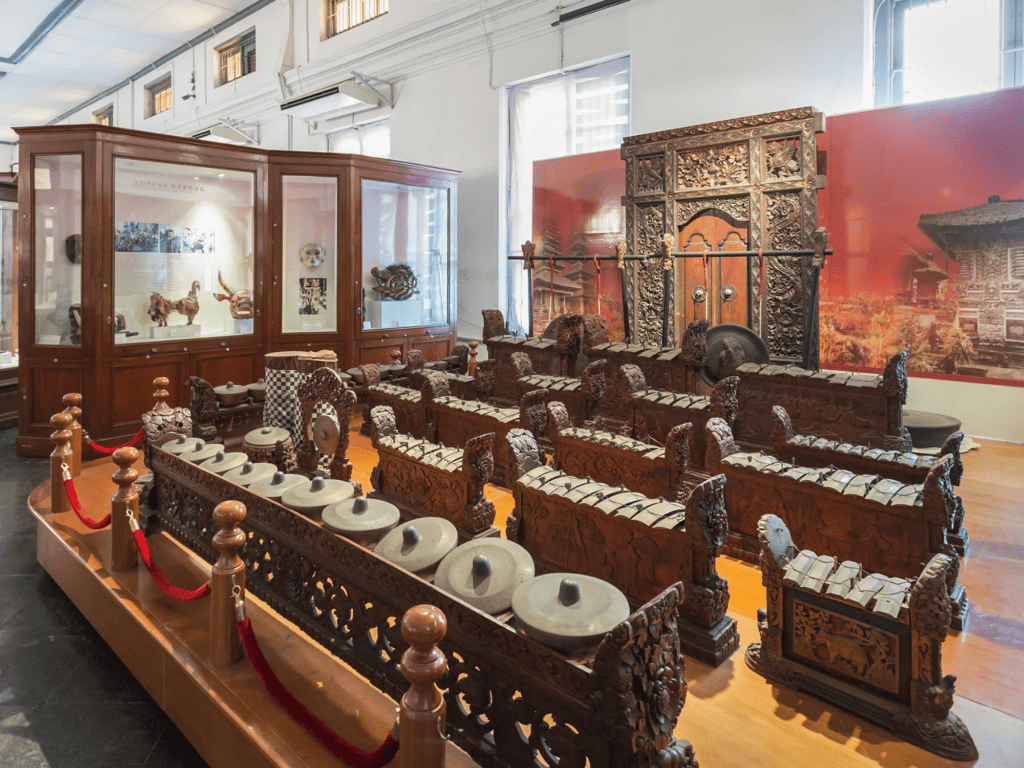 Vietnam's culture is truly marvelous, and you'll experience its full glory at the Vietnam Museum of Ethnology.
This extraordinary research hub and exhibition space showcases Vietnamese ethnic diversity in a compelling way.
Since this museum is in the well-developed Cau Giay District, you can easily reach it via taxi or bus. Once there, you'll love the stunning architecture, combining traditional and contemporary elements.
The museum has two primary sections: indoor and outdoor exhibits. Indoors, you'll find thousands of captivating artifacts, photographs, and multimedia presentations. These displays represent 54 ethnic groups from across Vietnam, each with unique customs and traditions.
You'll discover intricate textiles, ceremonial costumes, traditional musical instruments, and more. This amazing collection offers a glimpse into the country's rich cultural heritage. It's like traveling through time and space, without leaving Hanoi.
Step outside to explore the open-air exhibit, where you'll encounter life-size replicas of traditional Vietnamese homes. Built using authentic materials and techniques, these structures provide a deeper understanding of how various communities lived harmoniously with nature.
Fancy some hands-on learning? Participate in interactive workshops on bamboo weaving, pottery, or paper-making. These activities immerse you in the local culture, making your trip even more memorable.
Address: : Đ. Nguyễn Văn Huyên, Quan Hoa, Cầu Giấy, Hà Nội 100000, Vietnam
Bat Trang Ceramic Village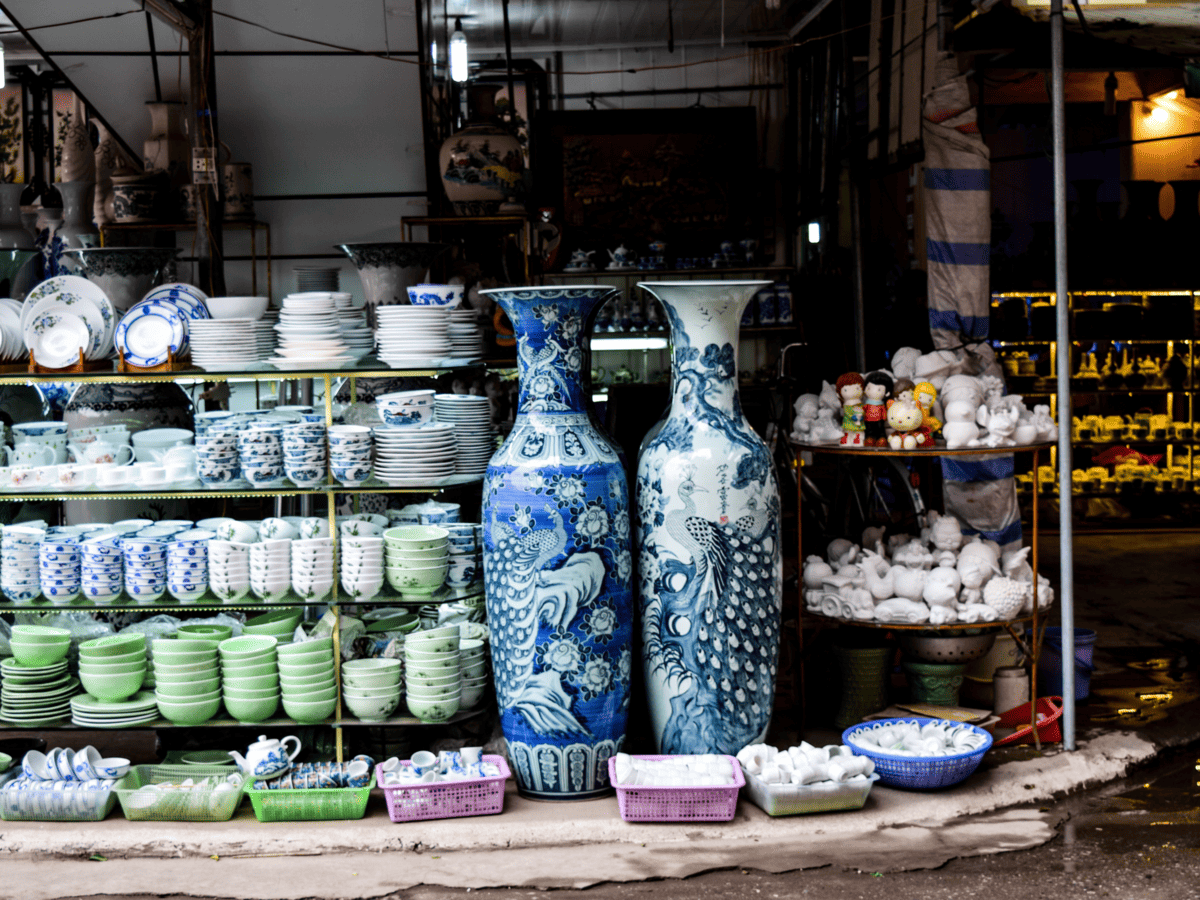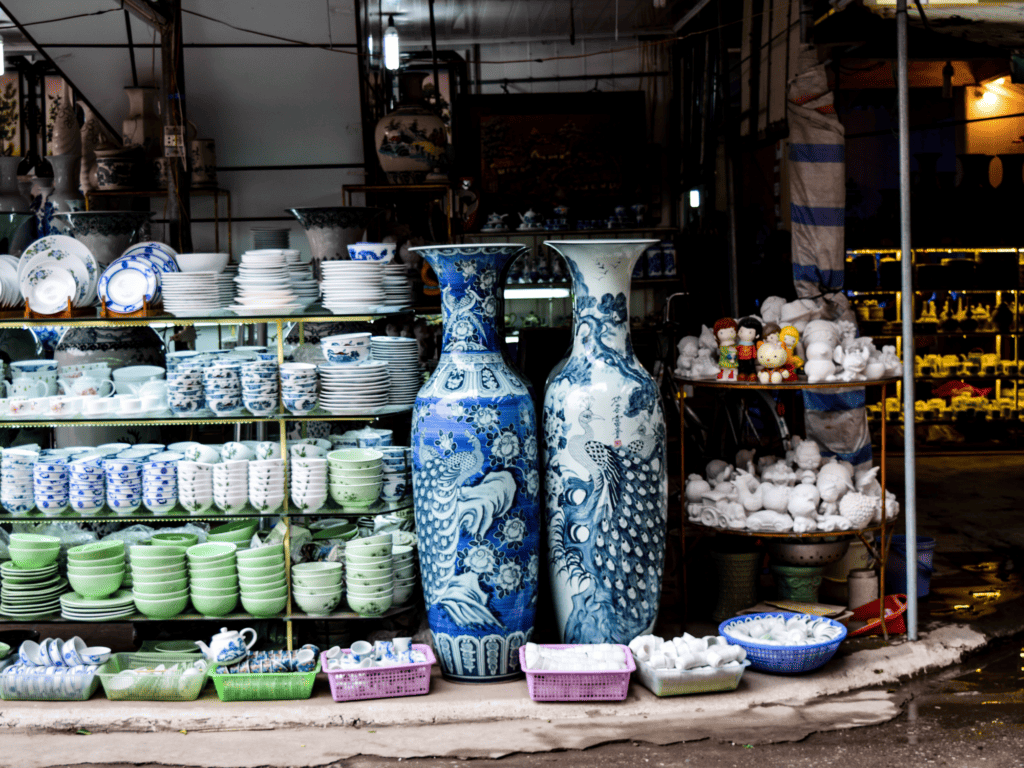 Another laid-back, no-rush location you can visit in Hanoi is the incredible Bat Trang ceramic village. Bat Trang boasts a rich history spanning seven centuries since it's nestled along the Red River banks.
This village offers exquisite, high-quality pieces crafted by local artisans. Their skills? Unparalleled!
Here you can wander through alleys, soak up the atmosphere, and admire the intricate craftsmanship at every turn.
Also, while we're at it, why don't you get hands-on with a pottery workshop? Create a masterpiece guided by friendly experts, and take it back home as a souvenir.
Don't miss the bustling market in this ceramic village. From teapots to vases, there's something for everyone. And the best part? Prices are affordable, so go ahead and splurge.
Address: Đ. Bát Tràng, Chợ Gốm, Gia Lâm, Hà Nội 100000, Vietnam
Duong Lam Ancient Village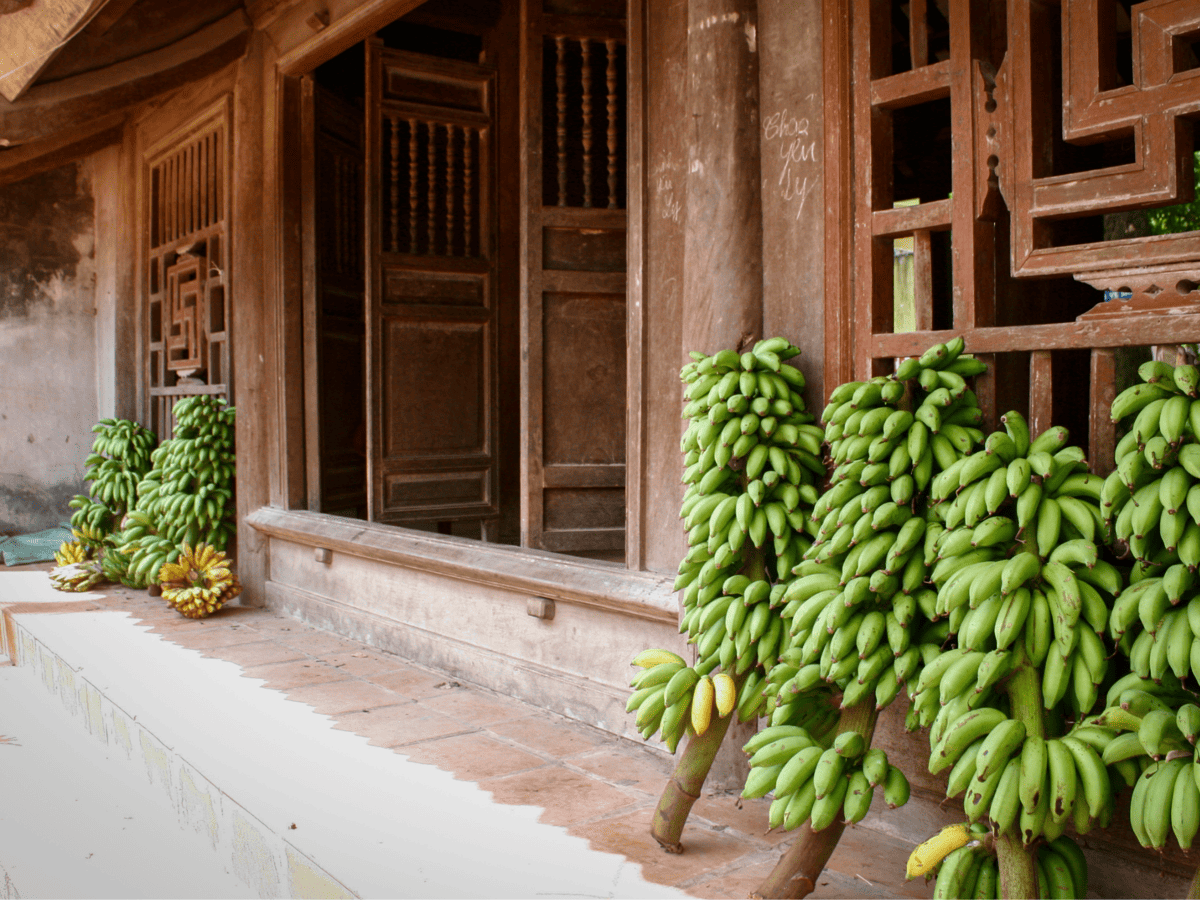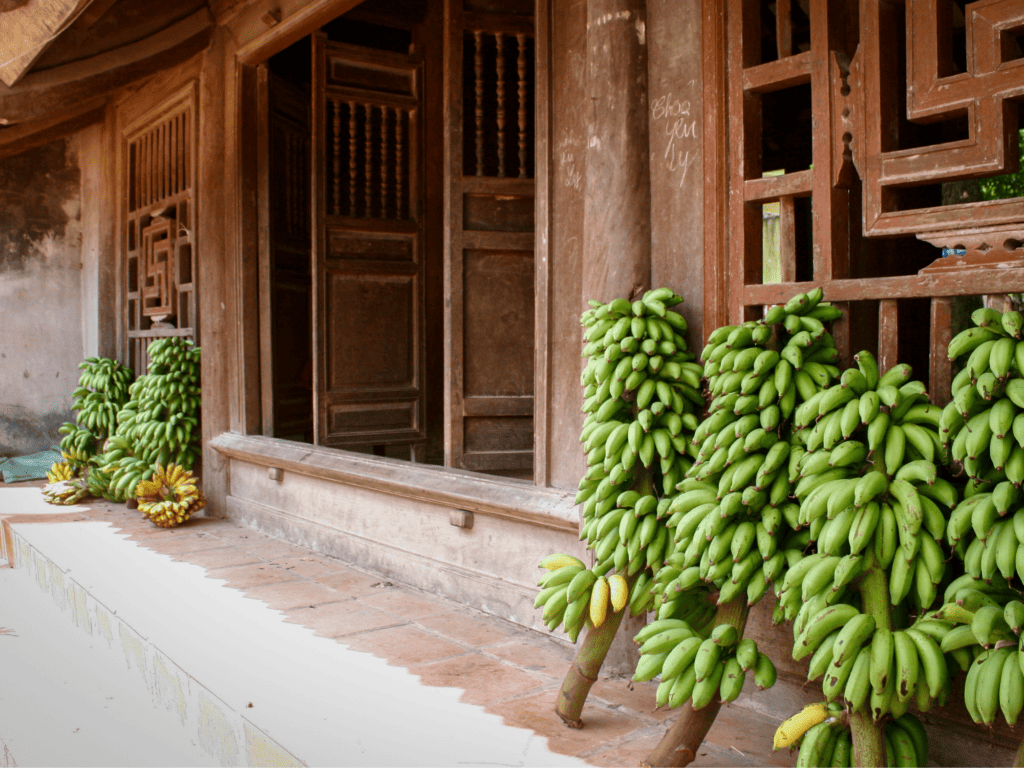 Duong Lam Ancient Village boasts 300-year-old houses, pagodas, and communal halls, so you'll get to learn how ancient Asians used to live.
As you stroll through narrow lanes, you'll observe well-preserved architecture, reflecting Vietnam's traditional beauty and feel transported back in time, savoring the serene atmosphere of a bygone era.
Then head to Mia and Mong Phu temples to appreciate their centuries-old wood carvings. These sacred spaces provide a unique spiritual encounter, deepening your understanding of local beliefs.
These old-school Vietnamese homes, where families graciously welcome you, reflect stories of their ancestors. You'll likely encounter warm-hearted locals eager to showcase their cherished customs and lifestyle.
Also, don't miss the chance to purchase handmade souvenirs in Duong Lam, like woven straw hats or wooden utensils crafted by talented artisans!
Address: Đường Lâm, Sơn Tây, Hanoi, Vietnam
Van Phuc Silk Village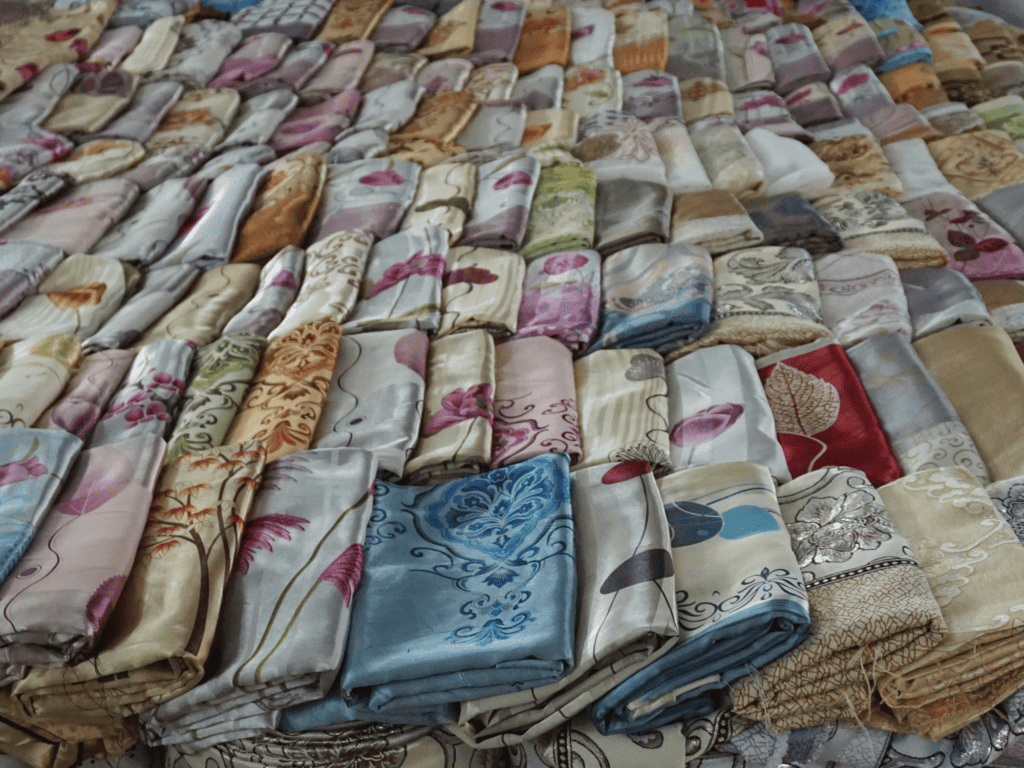 Van Phuc Silk Village, a must-see Hanoi destination, oozes charm and history. Located 10 km from Hanoi, it's a stress-free trip for your last day here.
For centuries, this ancient village has been Vietnam's silk hub. Weaving expertise is passed down through generations, preserving unique skills.
When you walk across alleys, your eyes will admire artisans' craftsmanship and witness traditional silk-making techniques.
Expect to find beautiful garments, scarves, ties, and home décor and spend some VNDs here. Since each silk piece showcases creativity, time, and dedication, you won't feel like missing out on them.
Discover the local legend of Tam Tang, a beautiful fairy who taught villagers silk-weaving; this tale will add magic to your experience!
Address: 69 Đường Vạn Phúc, Vạn Phúc, Hà Đông, Hà Nội, Vietnam
Thang Long Imperial Citadel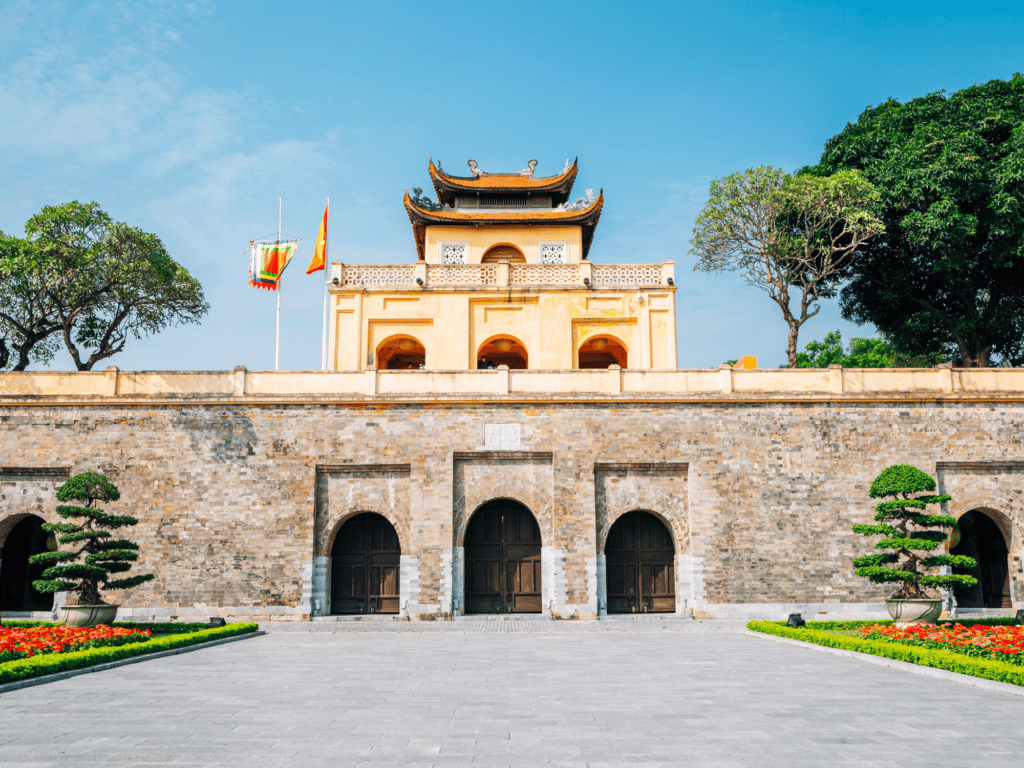 Once Hanoi's Flag Tower, UNESCO World Heritage Site now treats you to breathtaking panoramic views of Ba Dinh Square and the bustling city center. Climb up and watch life unfold below!
You'll also find ancient relics from centuries past, as this historical gem served as Vietnam's political nucleus for over 1,300 years. Talk about a time capsule!
This Citadel's serene gardens and restored buildings, including palaces, temples, and barracks, feel like parts of a painting. Each step reveals the country's rich cultural tapestry.
Another thing to intrigue you here is the archaeological dig site, where archaeologists unearthed artifacts dating back to the 7th century. Ready to step into a real-life Indiana Jones movie? Add Thang Long to your Hanoi itinerary.
Address: 19C Hoàng Diệu, Điện Biên, Ba Đình, Hà Nội 100000, Vietnam
Rounding Up 4 Day Hanoi Itinerary
Phew – quite a journey, right? That's exactly what you can feel on your trip to Hanoi where ancient cultures and modern-day living present the perfect balance.
After four days of discovering the many wonders and delectable delights that Hanoi has to offer, you're sure to have made magical memories to last a lifetime.
You experienced it all: the breathtaking beauty of Hoàn Kiếm lake, the wind-swept temple towers, the vibrant streets and alleys, and most importantly, the unforgettable flavors of classic Vietnamese cuisine that still linger in your mind.
Before you head off on your next adventure into the unknown, take one last look and remember this city for all its glory – Hanoi will be awaiting your return!