Vietnam is often thought of as a place through the lens of history, but that's just one side of Vietnam. Ready to soak some Vietnamese awesomeness this year? This 7 day Vietnam itinerary is the best place to start.
Vietnam isn't all about battles or rugged landscapes – it's an exotic destination blessed with nature's wonders in abundance, from stunning beaches to lush jungles and urban attractions.
With its hospitable people, exciting culture, delicious cuisine, and sights at every corner – you won't find any other place quite like Vietnam.
Ready to take the plunge? Below you'll find a our favorite Vietnam itineraries that are guaranteed to give you the best experience of what this amazing country has to offer.
Itinerary 1: Northern Vietnam (My Favorite 7 Day Vietnam Itinerary)
Stop #1 – 2 Days In Hanoi
Hanoi, the capital of Vietnam, is a captivating fusion of rich history, traditional culture, and unstoppable modernity. As you wander through the city, you'll be captivated by the energy of its bustling streets, the charm of its ancient landmarks, the aromatic street food, and the warm smiles of its friendly locals.
Despite its bustling city life, Hanoi is also a city of peaceful lakes and beautiful parks. The scenic Hoan Kiem Lake, located in the city center, is a perfect spot for a walk or boat ride.
The larger West Lake offers a more extensive water body and hosts some of the city's high-end hotels, restaurants, and villas along its perimeter.
We recommend staying in Old Quarter, booking your hotel in the Old Quarter of Hanoi not only puts you in the heart of the city but also immerses you in its vibrant culture and the popular highlights. It's a perfect base for exploring the city, and it's also very well connected for day trips to other parts of the country.
Pro Tip: For those who enjoy exploring on foot and don't mind covering over 2.5 miles, I strongly suggest undertaking a self-guided walking tour to capture all of Hanoi's highlights. This will ensure you don't miss any of the city's key attractions.
Day 1: Arrival in Hanoi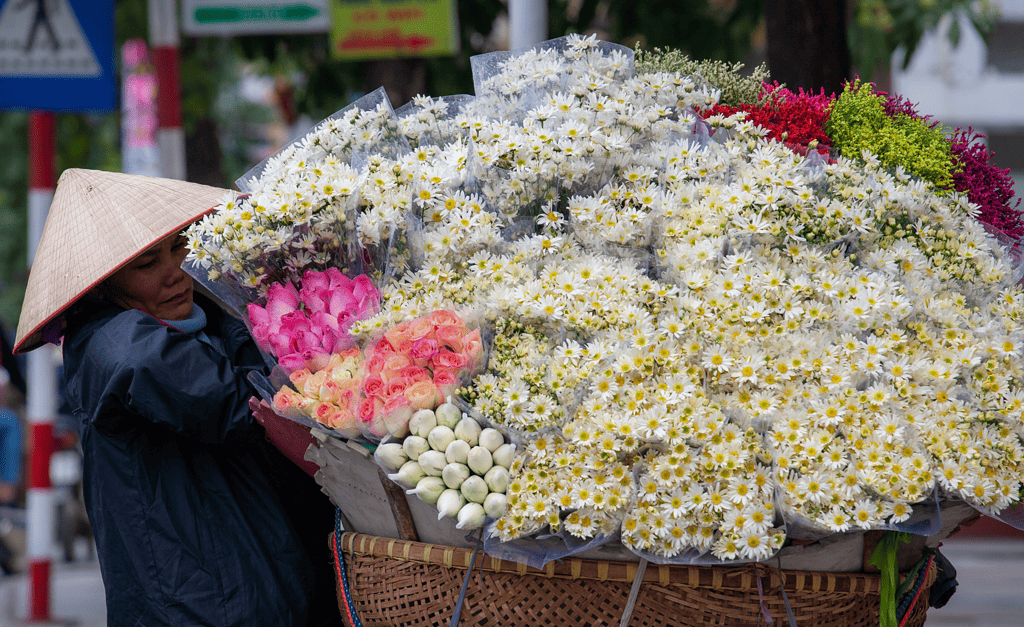 Welcome to Hanoi, a city that blends traditional Vietnamese culture and French colonial architecture.
Start your day with a hearty bowl of phở, the quintessential Vietnamese noodle soup, at Phở 10 Lý Quốc Sư, a popular spot among locals and travelers.
Once energized, dive into the vibrant Old Quarter, where you can wander through narrow streets lined with colorful shops and buzzing street food vendors selling a variety of goods from handicrafts to local specialties.
The heartbeat of Hanoi can be heard in its Old Quarter, a network of narrow, bustling lanes, markets, and shops selling a variety of goods – from street food to handicrafts.
This area, established since the 13th century, was once a flourishing commerce center where each street specialized in a specific trade. Today, these streets still carry names reflective of those specializations, such as Silver Street (Hang Bac) or Silk Street (Hang Gai).
Insider Tip: For those who enjoy exploring on foot and don't mind covering over 2.5 miles, I highly recommend doing this self-guided walking tour to see all the Hanoi highlights. It'll take you by all the must see places and guarantee you don't miss any of city's key attractions.
Time to make your way to Hoan Kiem Lake, the heart of Hanoi. Stroll around the lake, visit Ngoc Son Temple, and snap a photo of the iconic red Huc Bridge.
In the evening, indulge in a traditional Vietnamese water puppet show at Thang Long Water Puppet Theatre, an experience you won't forget!
Day 2: Hanoi Exploration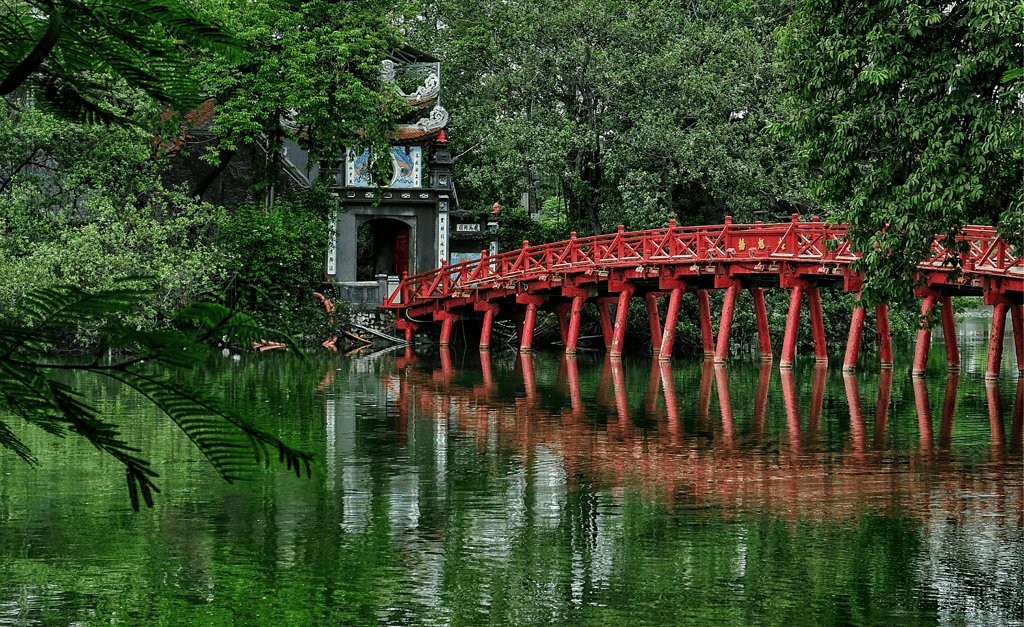 Start your day by visiting the Ho Chi Minh Mausoleum, a revered site dedicated to the country's most iconic leader. After paying your respects, head to the One Pillar Pagoda, an 11th-century wooden temple that appears to float on a single stone pillar (located inside the Ho Chi Minh Mausoleum complex).
Get ready to immerse in history and culture at the Temple of Literature, Vietnam's first national university. Wander through the serene courtyards, admire the ancient architecture, and don't forget to rub the head of one of the stone turtles for good luck!
Enjoy some street food at one of the many vendors you'll see dotted along the streets.
💡Good To Know: Don't miss out on trying some delicious bánh mì, a French baguette filled with various savory ingredients. Or a local dish, Bún Chả, which consists of grilled pork and noodles, typically served with a side of herbs and a dipping sauce.

And for dessert? Indulge in a refreshing cup of Chè, a sweet dessert soup with ingredients like beans, tapioca, and fruit.
End your day one of the lakes in Hanoi. Ho Hoan Kiem (Hoan Kiem Lake) in the middle of Hanoi's Old Quarter, although it's not the largest of the lakes it houses the Thap Rua (Turtle Tower) and serves as a sanctuary for the scarce Hoan Kiem Turtle.
The Ngoc Son Temple (Temple of the Jade Mountain) is located on a tiny island in the south of the lake.
A short distance from the Old Quarter lies Ho Tay, or West Lake, Hanoi's biggest lake offering a contrasting charm. The lake features temples and parks on its periphery, but it is also dotted with apartment buildings housing some of the city's wealthier people. West Lake is a preferred spot for leisure activities like boating and fishing.
Treat yourself to dinner at a lakeside restaurant, where you can savor traditional Vietnamese dishes while watching the sunset.
Stop #2 Ha Long Bay – 2 Days, Overnight Cruise
Day 3: Halong Bay, Overnight Cruise
Bid farewell to Hanoi and head to Halong Bay, a UNESCO World Heritage Site renowned for its emerald waters and towering limestone karsts. Board your overnight cruise, and embark on an unforgettable journey through the bay.
Spend your day kayaking around the limestone islands, exploring hidden caves, and visiting local floating villages. As night falls, unwind on the deck with a cold drink, marveling at the beauty of the surrounding landscape under a starry sky.
Alternative Itinerary: Visit Ninh Binh Instead of Halong Bay Cruise
Ninh Binh Vietnam is often referred to as "Halong Bay on Land" due to its landscape of towering limestone karsts and green fields, not unlike the famous seascape of Halong Bay, but on solid ground. This stunning region, just a couple of hours south of Hanoi, is a worthwhile addition to any Vietnam itinerary.
While Ninh Binh can technically be visited as a day trip from Hanoi, it is recommended to spend at least one night here to fully experience the region's beauty and attractions without feeling rushed.
Here are some of the top attractions you shouldn't miss when visiting Ninh Binh:
1. Tam Coc: This area, known as "Three Caves", is arguably the star attraction of Ninh Binh. Take a boat trip along the Ngo Dong River to admire the dramatic karst peaks and traverse through the caves.
2. Trang An Grottoes: Another popular site for a boat tour, Trang An offers a network of waterways winding through limestone mountains and rice fields, and passing through numerous caves.
3. Bich Dong Pagoda: Near Tam Coc, you can visit this beautiful pagoda which is partly built into a cave on the side of a mountain. The climb up offers stunning views of the surrounding countryside.
4. Hoa Lu: Once the ancient capital of Vietnam, Hoa Lu is now home to several historic temples dedicated to past emperors. This location offers a great historical complement to the natural beauty of Ninh Binh.
5. Bai Dinh Pagoda: This is one of the largest Buddhist complexes in Southeast Asia. It boasts hundreds of statues and is a very important religious site in Vietnam.
6. Mua Caves: For a bit of a workout, climb the 500 steps to the top of Mua Caves. The viewpoint at the top offers a breathtaking panoramic view of the Tam Coc region.
7. Van Long Nature Reserve: This is the largest wetland nature reserve in the country. A tranquil boat trip here will give you a chance to see many types of birds, and with a bit of luck, the endangered Delacour's langur.
8. Cuc Phuong National Park: If you have time, this national park offers lush forests, rich biodiversity, prehistoric caves, and a primate rescue center.There are several ways to travel from Hanoi to Ninh Binh, each with its own advantages:
How To Get From Hanoi To Ninh Binh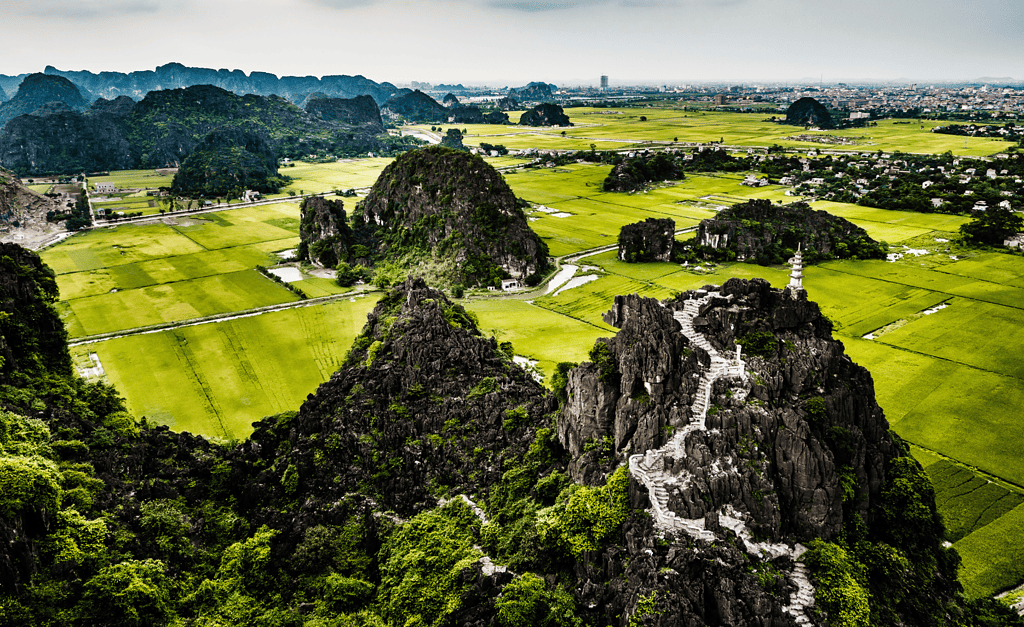 1. Train: Taking the train is a popular and scenic way to travel from Hanoi to Ninh Binh. It takes approximately 2 to 3 hours depending on the type of train you choose. You'll want to get off at the Ninh Binh station.
2. Bus: There are frequent buses from Hanoi to Ninh Binh. The journey takes about 2.5 to 3 hours. Many buses depart from Giap Bat or My Dinh bus stations in Hanoi and arrive at Ninh Binh bus station.
3. Private Car/Taxi: Hiring a private car or taxi is a convenient but more expensive option. The journey can take 2 to 2.5 hours depending on traffic.
4. Motorcycle: If you're an experienced rider, you might enjoy the 2 to 3-hour ride from Hanoi to Ninh Binh by motorbike. This option offers the most flexibility as you can stop and enjoy the scenery along the way.
Remember, it's always best to book your tickets a day or two in advance, especially during peak travel seasons. If you're hiring a private car, taxi, or motorbike, make sure to negotiate the price before the journey starts to avoid any misunderstanding. Once you arrive in Ninh Binh, there are several transportation options for getting around, including bicycles, motorcycles, taxis, or even a "xe om" (motorbike taxi).
Day 4: Enjoy The Morning On The Halong Bay Cruise And Return to Hanoi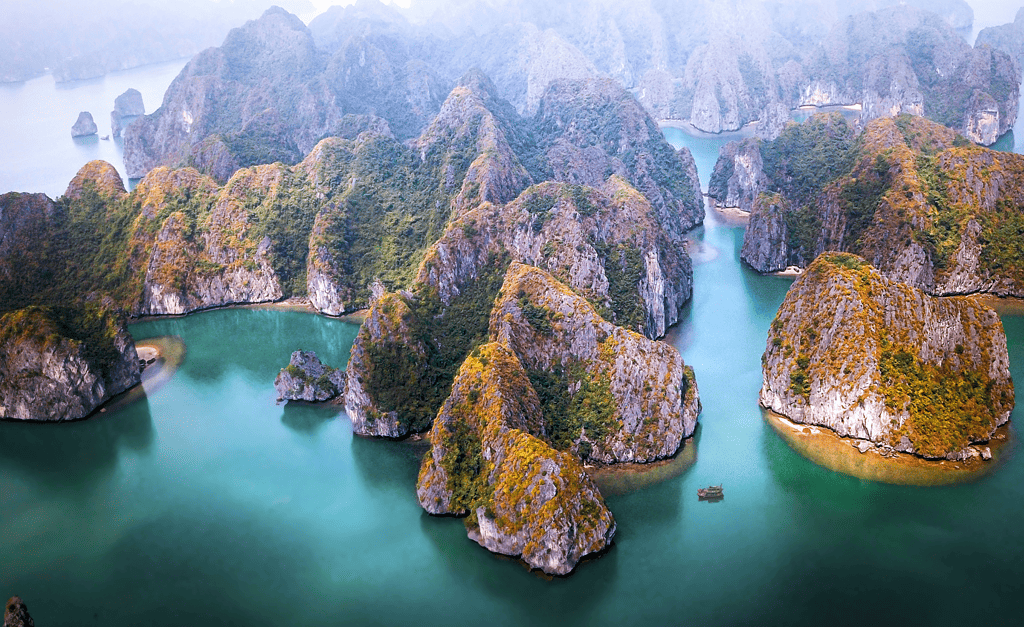 Rise early to catch the mesmerizing Ha Long Bay sunrise and participate in a Tai Chi session on the sundeck. After breakfast, your cruise will take you to Sung Sot Cave, a spectacular cavern adorned with stalactites and stalagmites.
In the afternoon, make your way back to Hanoi. If time permits, visit the Hanoi Opera House, a stunning example of French colonial architecture, and enjoy a performance or take a guided tour.
Sapa – 3 Days, Including a Homestay
Sapa, nestled in the Hoang Lien Son Mountains of northwestern Vietnam, is known for its beautiful terraced rice fields, rich mountain scenery, and vibrant local culture. It's a region of breathtaking natural beauty, offering a serene retreat away from the urban hustle.
Sapa is home to several ethnic minority groups, including the Hmong, Red Dao, Tay, and Giay, each having their own unique traditions, clothing, and dialects. This cultural diversity adds a distinctive flavor to the town and provides tourists with a deep insight into the indigenous ways of life.
Day 5: Journey to Sapa
Depart from Hanoi on an early morning train or bus heading to Sapa. This scenic journey, often through mist-covered mountains and lush rice fields, provides a fascinating glimpse of rural Vietnam. Depending on your choice of travel, the ride can take between 5 to 8 hours. So sit back, relax, and enjoy the changing landscapes as you move towards your destination.
Day 6: Trekking in Sapa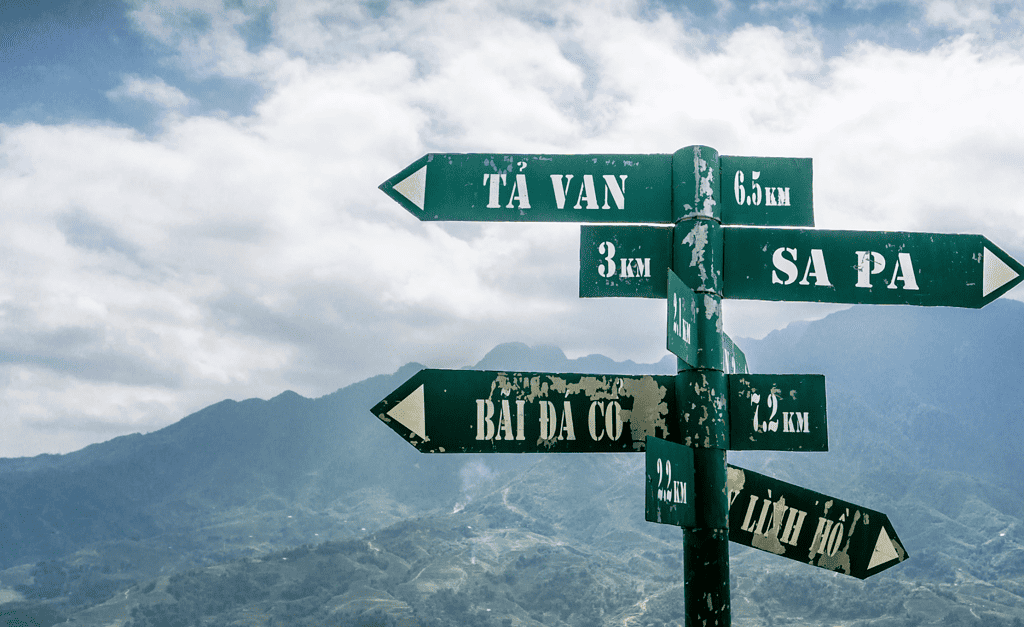 Start your day with a hearty breakfast before embarking on a guided trek through the stunning Sapa countryside.
You'll pass through verdant rice terraces, visit local ethnic minority villages, and learn about their fascinating customs and traditions. As you hike, soak in the breathtaking views of the Hoang Lien Son mountain range.
Lunch will ideally be served at one of the villages, allowing you to try authentic regional dishes.
Continue your trek in the afternoon, making your way to another village for an overnight stay. Share stories with your host family, and learn more about their way of life over a communal dinner.
Day 7: Sapa Exploration and Return to Hanoi
Wake up to the crisp mountain air and savor your last breakfast in Sapa. Spend the morning exploring the town, visiting the bustling Sapa Market, and picking up unique souvenirs from local artisans.
If you're up for a little more adventure, take a short trek to the Silver Waterfall, a cascade nestled amidst the lush forest.
Itinerary 2: Central Vietnam (Favorite One Week Vietnam Itinerary For Exploring The Cultural Cities)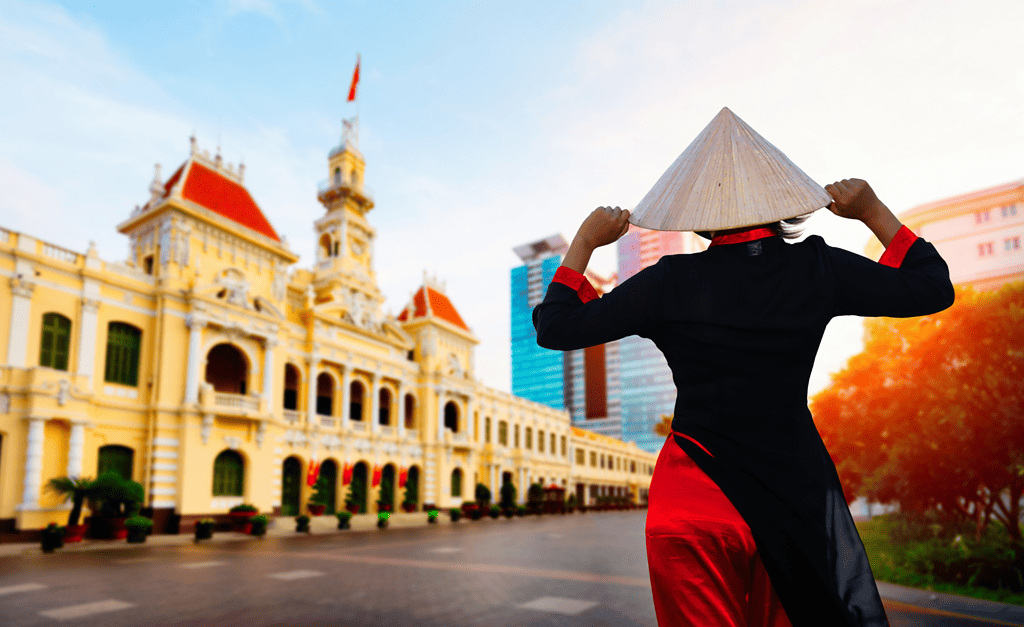 Stop #1 Hue – 2 Days
Day 1-2: Hue – The Ancient Capital
Our journey begins in Hue, the former imperial capital of Vietnam. Immerse yourself in the city's rich history as you explore the Imperial City, a walled fortress and palace within the citadel. Don't miss the Forbidden Purple City, where the Nguyen emperors once lived.
If you're a history buff, you'll also love the intricate architecture and historical significance of the royal tombs in Hue, including the majestic Minh Mang, Khai Dinh, and Tu Duc tombs.
While in Hue, a leisurely boat trip along the Perfume River is a must.
The serene river offers picturesque views of the city and a chance to visit the iconic Thien Mu Pagoda, a seven-story Buddhist temple dating back to the 17th century.
Stop #2 Da Nang – 1 Day
Day 3: Da Nang – The Dynamic Coastal City
Next up is Danang, a bustling coastal city with beautiful beaches and a fascinating mix of modern and traditional attractions.
Start your day by exploring the Marble Mountains, a cluster of five marble and limestone hills, each representing a natural element.
They are home to various caves, tunnels, and temples waiting to be discovered.
In the evening, head to the iconic Dragon Bridge, a 666-meter-long bridge with a unique dragon design that breathes fire and water on weekends.
If you have time, take a day trip to the nearby Ba Na Hills, a mountaintop resort complex featuring the famous Golden Bridge – a pedestrian bridge supported by giant stone hands. You'll feel like part of a painting here!
Read Next: The Best Danang Vietnam Itinerary
Stop #3 Hoi An – 2 Days
Day 4-5: Hoi An – The UNESCO-Listed Town
The charming town of Hoi An, a UNESCO World Heritage site, is next on our itinerary. As you wander through the well-preserved Ancient Town, you'll be captivated by the colorful lantern-lit streets, historic houses, and bustling markets.
Be sure to visit the Japanese Covered Bridge, a 16th-century bridge adorned with intricate carvings and a small temple dedicated to the Taoist god of weather.
While in Hoi An, indulge in the local cuisine. Don't miss the famous cao lầu (a noodle dish with pork and greens) or bánh mì (a scrumptious Vietnamese sandwich).
Stop #4 My Son Sanctuary – 1 Day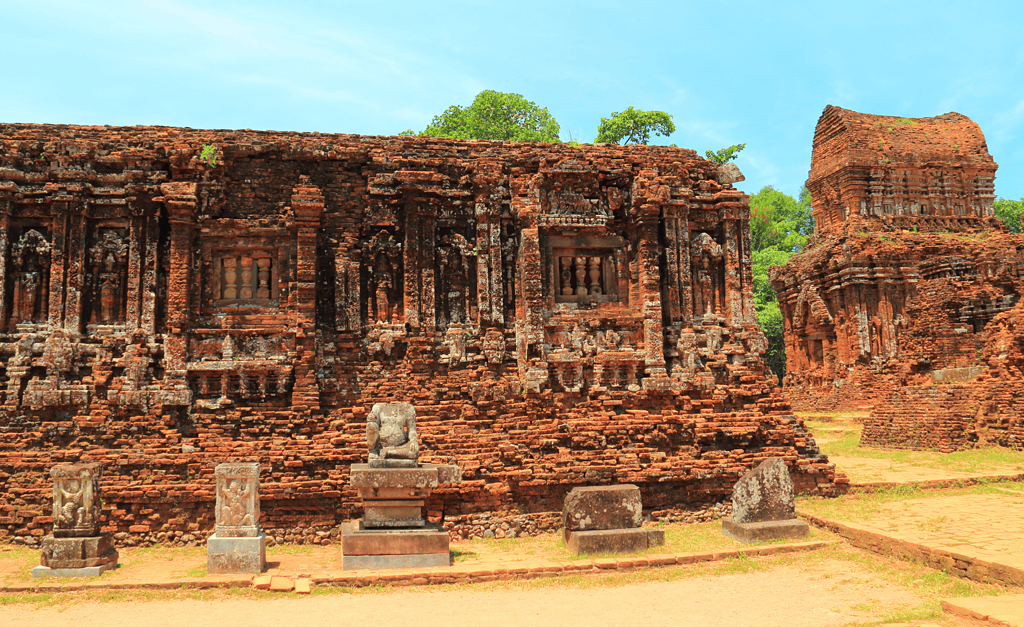 Day 6: My Son Sanctuary – Ancient Hindu Temples
Dedicate a day to explore the My Son Sanctuary, an ancient Hindu temple complex showcasing the impressive architecture of the Champa Kingdom. Wander through the ruins and marvel at the intricate carvings and sculptures depicting Hindu gods, mythical animals, and scenes from the Ramayana.
As you learn about the site's history, you'll gain a deeper understanding of the Cham people, their beliefs, and their unique place in Vietnam's cultural mosaic.
Stop #5 Phong Nha-Ke Bang National Park – 1 Day
Day 7: Phong Nha-Ke Bang National Park – Caves and Adventure
On your 7th day, head to the breathtaking Phong Nha-Ke Bang National Park, a UNESCO World Heritage site known for its stunning caves and underground rivers. Prepare for a day of adventure and natural beauty as you explore some of the most remarkable caves in the world.
First, visit Paradise Cave, a mesmerizing 31-kilometer-long cave adorned with spectacular stalactites and stalagmites. Next, venture to Phong Nha Cave, accessible only by boat, where you'll discover an underground river, enchanting rock formations, and a rich history dating back to the Champa Kingdom.
For thrill-seekers, the Dark Cave offers a unique experience, including ziplining, swimming, and mud-bathing in the pitch-black environment. Make sure to bring a change of clothes – you'll need them!
Itinerary 3: South Vietnam
Stop #1 Ho Chi Minh City – 2 Days
Day 1-2: Discover the Wonders of Ho Chi Minh City
Start your South Vietnam journey in Ho Chi Minh City, the largest and most vibrant city in Vietnam. This bustling metropolis seamlessly blends old-world charm with modern architecture, offering an unforgettable cultural experience.
Start your first day by visiting the War Remnants Museum, a poignant reminder of the Vietnam War's tragic events. Here, you'll learn about the war's history and see various military equipment, photographs, and personal artifacts.
Next, head to the Reunification Palace, also known as the Independence Palace. This historical landmark used to be the presidential palace during the Vietnam War and is now a museum. Wander through its well-preserved rooms and marvel at the stunning architecture.
Don't forget to visit the iconic Notre Dame Cathedral, a beautiful example of French colonial architecture. Built in the late 19th century, this red-brick cathedral is a must-see for history and architecture enthusiasts.
On your second day in Ho Chi Minh City, explore the city's vibrant markets. Start at Ben Thanh Market, where you can find everything from souvenirs and clothing to delicious street food. Make sure to try some local dishes like bánh mì, phở, and bánh xèo. In the evening, venture to Bui Vien Street, the city's famous backpacker street, for an unforgettable night of fun, food, and drinks with fellow travelers.
Stop #2 Cu Chi Tunnels – 1 Day
Day 3: Step Back in Time at the Cu Chi Tunnels
On day three, head to the Cu Chi Tunnels, an intricate network of underground tunnels used by the Viet Cong during the Vietnam War. These tunnels were essential for the Viet Cong's strategy, allowing them to move around undetected, store supplies, and launch surprise attacks.
Join a guided tour to learn about the tunnels' history and the ingenious traps and hidden entrances used by the soldiers. Experience what it was like for the Viet Cong by crawling through a portion of the tunnels, but be prepared – it's not for the claustrophobic!
Stop #3 Mekong Delta – 2 Days, Overnight at a Homestay
Day 4-5: Immerse Yourself in the Mekong Delta
On the fourth day, we'll venture into the Mekong Delta, a sprawling network of rivers, swamps, and islands that is the lifeblood of South Vietnam. This region is famous for its floating markets, fruit orchards, and traditional villages, making it a must-visit for anyone seeking a genuine taste of Vietnamese culture.
Book a guided tour, which will take you on a boat trip through the delta's narrow canals and past verdant rice paddies. Visit the famous Cai Rang Floating Market, where you can buy fresh fruits, vegetables, and local delicacies directly from the vendors' boats.
During your time in the Mekong Delta, you'll have the unique opportunity to stay at a local homestay. This is an excellent chance to experience authentic Vietnamese hospitality and learn about the delta's traditional way of life. Enjoy home-cooked meals and spend time with your gracious hosts!
Stop #4 Phu Quoc Island – 2 Days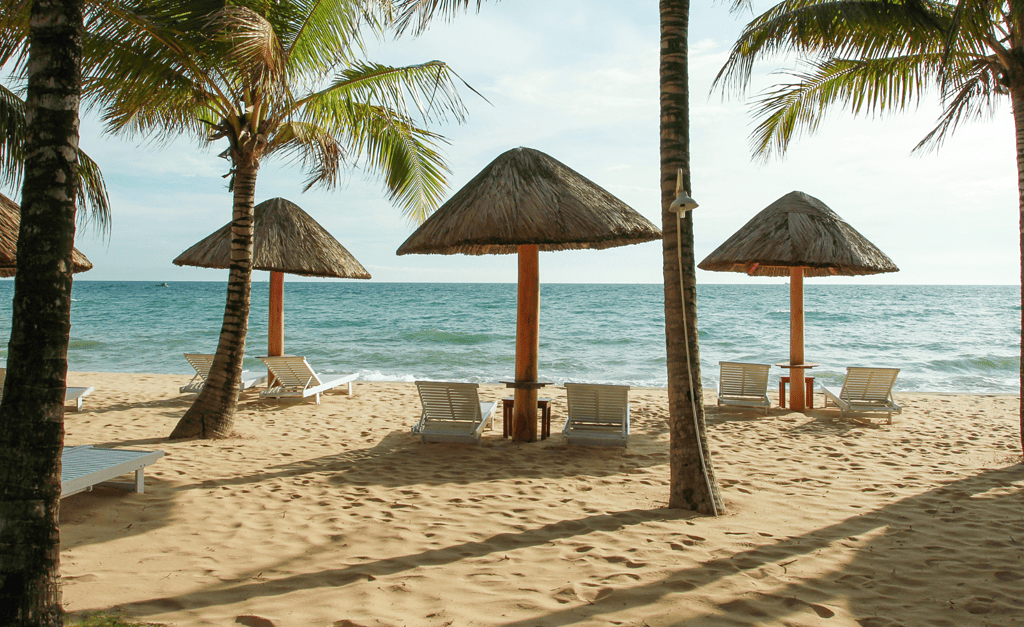 Day 6-7: Relax and Unwind on Phu Quoc Island
On the sixth day, it's time to leave the mainland and head to Phu Quoc Island, a tropical paradise in the Gulf of Thailand. With its idyllic beaches, lush jungle, and laid-back atmosphere, Phu Quoc is the perfect place to relax and unwind after your South Vietnam adventure.
Start your island experience by exploring the stunning beaches that dot the coastline. Bai Sao, in particular, is known for its powdery white sand and crystal-clear turquoise waters. Grab a sunbed, soak up some rays, and take a refreshing dip in the sea.
If you love snorkeling, Phu Quoc offers fantastic underwater experiences. Head to the An Thoi Archipelago, a group of over 18 small islands just off the southern coast of Phu Quoc. Here, you'll find colorful coral reefs teeming with marine life, making it an ideal spot for snorkeling or scuba diving.
When you're not basking on the beach, venture into the island's lush interior and explore Phu Quoc National Park. This vast protected area is home to unique flora and fauna, as well as a network of hiking trails suitable for various fitness levels. Keep an eye out for wildlife, such as the elusive slow loris and the long-tailed macaque.
In the evening, don't miss the chance to visit the bustling Dinh Cau Night Market in Duong Dong Town. This lively market offers a wide variety of fresh seafood, street food, and local handicrafts. It's the perfect place to enjoy a delicious meal and pick up some souvenirs for friends and family back home.
Itinerary 4: Coastal Vietnam
Stop #1 Nha Trang – 2 Days
Day 1-2: Nha Trang – The Coastal Resort City
Start your coastal adventures in Nha Trang, a bustling city known for its white-sand beaches, warm turquoise waters, and vibrant nightlife. Upon arrival, head straight to Tran Phu Beach, the city's central shoreline, where you can relax, soak up the sun, and take a refreshing dip in the sea.
If you're feeling adventurous, try some of the exciting water sports available, such as jet-skiing, banana boat rides, or even scuba diving at the nearby Hon Mun Marine Protected Area. With its colorful coral reefs and diverse marine life, it's an underwater paradise you won't want to miss.
No visit to Nha Trang is complete without exploring the historical Po Nagar Cham Towers. Built between the 7th and 12th centuries, these beautiful temples offer a glimpse into the fascinating Cham culture. After your visit, treat yourself to some delicious local seafood at a nearby restaurant.
Stop #2 Quy Nhon – 2 Days
Day 3-4: Quy Nhon – The Undiscovered Coastal Gem
Let's now head towards Quy Nhon, a lesser-known coastal gem that boasts stunning beaches and mouth-watering seafood. Start your visit with a stroll along the serene Bai Xep Beach, a picturesque spot perfect for sunbathing or swimming.
When it comes to historical attractions, Quy Nhon doesn't disappoint. The Banh It Towers, an impressive Cham temple complex, offers panoramic views of the surrounding countryside. Don't miss the Thap Doi Towers, another set of Cham ruins hidden within the city.
One of the must-try experiences in Quy Nhon is feasting on fresh seafood at a local market. Head to the bustling Cho Dam Market to find an array of delicious options, from grilled fish and squid to steamed crab and clams. As the sun sets, take a leisurely walk along the promenade and watch the city come alive with twinkling lights.
Stop #3 Da Nang – 1 Day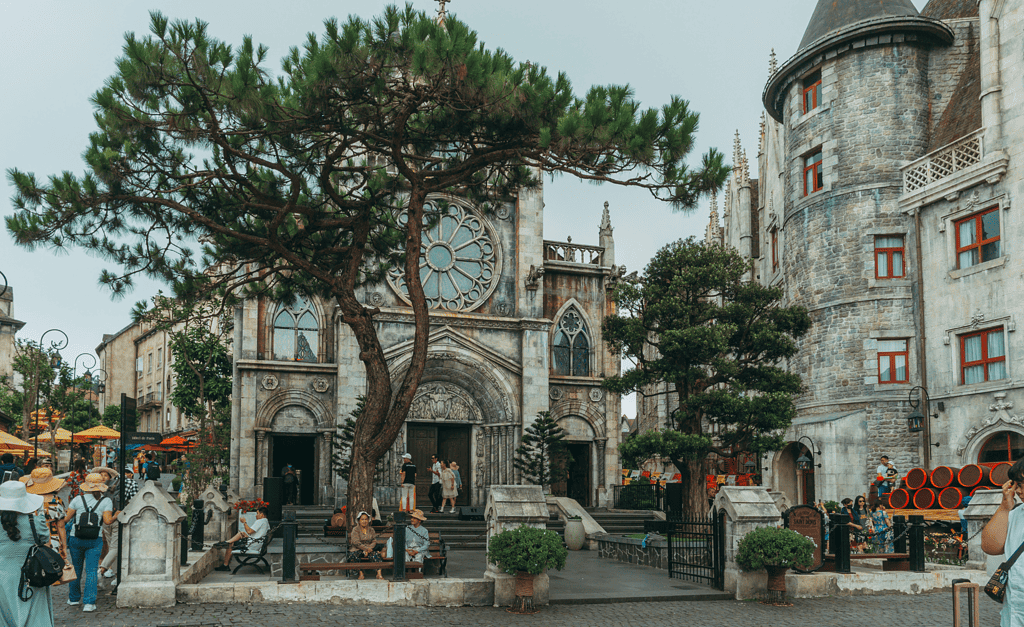 Day 5: Da Nang – The Modern Coastal Metropolis
Our next destination is Da Nang, a dynamic coastal city that gels modernity and tradition. Begin your day with a visit to the Marble Mountains, a cluster of five limestone and marble hills that are home to ancient pagodas, caves, and incredible views.
In the evening, make your way to the iconic Dragon Bridge. This architectural wonder is a must-see, especially on weekends when the dragon breathes fire and water. While in Da Nang, don't forget to indulge in some local cuisine, such as the city's famous Mi Quang noodles.
For a memorable day trip, head to the nearby Ba Na Hills and walk across the awe-inspiring Golden Bridge, a pedestrian walkway held by giant stone hands. This enchanting location offers stunning views, amusement park rides, and lush gardens.
Stop #4 Hoi An – 2 Days
Day 6-7: Hoi An – The UNESCO-Listed Ancient Town
Fix your final coastal stop in Hoi An, a charming town recognized by UNESCO for its well-preserved Ancient Town. As you wander through the narrow streets, you'll be captivated by the town's unique blend of Vietnamese, Chinese, and Japanese architecture.
Make sure to visit the Japanese Covered Bridge, a symbol of Hoi An and a testament to the town's multicultural history.
No trip to Hoi An is complete without experiencing its vibrant lantern-lit streets at night. Stroll through the bustling night market, where you can pick up unique souvenirs or try your hand at lantern-making workshops. While you're there, don't miss the opportunity to release a candle-lit paper lantern on the Thu Bon River – a magical experience that's perfect for capturing memories.
Savor a bowl of Cao Lau, a delicious noodle dish unique to the town, or try the delectable Banh Mi Phuong, a baguette sandwich that's earned rave reviews from locals and international travelers.
Itinerary 5: Off-The-Beaten-Path Vietnam
If you want to ditch the over-crowded tourist places and experience unique adventures in Vietnam, here's an off-the-beaten-path 7-day itinerary for you:
Stop #1 Ha Giang – 3 Days Including a Motorcycle Loop
Day 1: Ha Giang to Quan Ba
Kick off your adventure by heading to Ha Giang, a remote province in northern Vietnam, known for its dramatic landscapes and vibrant ethnic cultures.
Rent a motorbike (make sure to have a valid Vietnamese driving license) and set off on the legendary Ha Giang motorbike loop. This 350-km loop takes three days to complete and is best experienced with an overnight stop at Quan Ba, a small town with picturesque views of the surrounding hills.
Stop #2 Dong Van
Day 2: Quan Ba to Dong Van
On day two, continue your ride to Dong Van, a UNESCO-recognized Karst Plateau Geopark. The twisting roads through the mountains provide thrilling views of the Nho Que River, rice terraces, and local H'mong villages. Don't miss the famous Ma Pi Leng Pass, one of the most awe-inspiring mountain passes in Vietnam.
Stay overnight in Dong Van and explore the town's rich history, including the ancient H'mong King Palace.
Stop #3 Ha Giang
Day 3: Dong Van to Ha Giang
On the third day, head back to Ha Giang, but stop at Lung Cu Flag Tower, Vietnam's northernmost point. The tower offers amazing views of the surrounding mountains and valleys. Also, visit the Vuong Family Mansion, a unique architectural marvel built by a H'mong king in the early 20th century. Upon returning to Ha Giang, rest up and prepare for the next leg of your journey.
Stop #4 Ba Be National Park – 2 Days
Day 4: Ha Giang to Ba Be National Park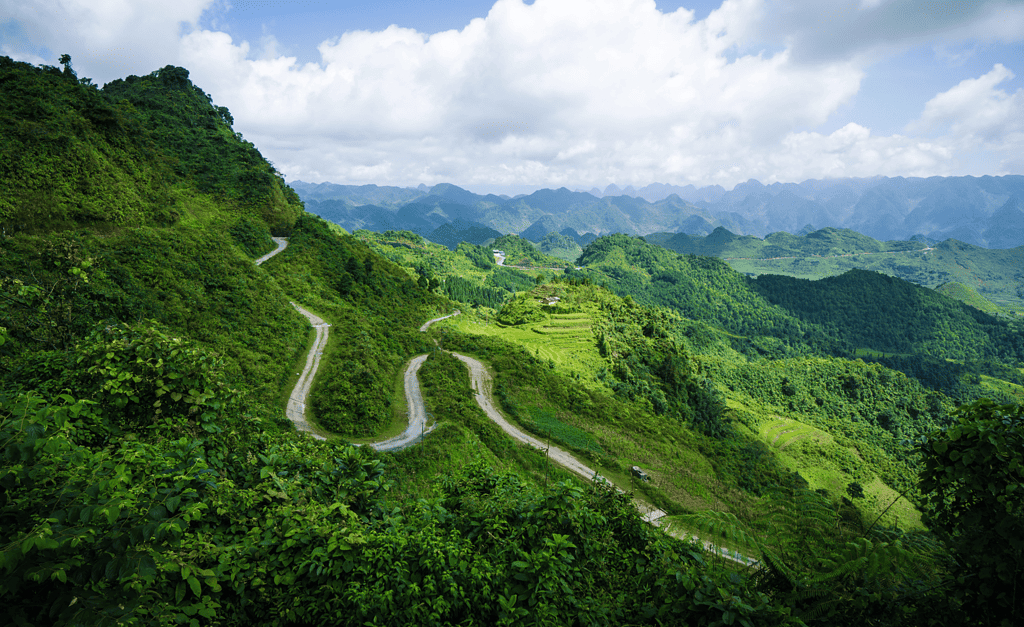 From Ha Giang, make your way to Ba Be National Park, home to Vietnam's largest freshwater lake, surrounded by lush forests and limestone mountains. The park offers various activities such as trekking, boating, and birdwatching. Spend your first day in Ba Be exploring the park's flora and fauna, and stay overnight at a local guesthouse.
Day 5: Ba Be National Park Exploration
On your second day in Ba Be, visit the magnificent Hua Ma Cave, known for its otherworldly stalactite and stalagmite formations. Then, head to the Dau Dang Waterfall, a stunning two-tiered waterfall located on the Nang River.
In the afternoon, take a relaxing boat trip around Ba Be Lake, where you can spot wildlife and enjoy the park's serene beauty. Spend another night at a local guesthouse before continuing your journey.
Stop #6 Mai Chau – 2 Days Including a Homestay
Day 6: Ba Be National Park to Mai Chau
The final stop on your 7-day itinerary is Mai Chau, a peaceful valley in Hoa Binh Province. Surrounded by rice paddies and mountains, Mai Chau is home to Thai and H'mong ethnic minorities.
Upon arrival, check into a traditional stilt house for a unique homestay experience. Spend the afternoon exploring nearby villages, such as Lac and Pom Coong, and immerse yourself in the local culture.
Don't forget to try the region's delicious specialties, like sticky rice and grilled pork. In the evening, enjoy a traditional dance performance by the locals and join them for a memorable night of music and fun.
Day 7: Mai Chau Exploration and Return to Hanoi
On your final day, head out for a trekking adventure through Mai Chau's beautiful countryside.
The valley is perfect for hiking, with scenic routes that take you through rice paddies, bamboo forests, and traditional villages. During your trek, you'll have the opportunity to witness local life up close and interact with the friendly villagers.
General Vietnam Travel Tips For Successful Adventures in Vietnam
Here are some tips to make your 7 days in Vietnam more enjoyable:
Always carry a map or GPS device when navigating remote areas.
Respect local customs and traditions, and be open to new experiences.
Bring along some basic Vietnamese phrases, as English may not be widely spoken in remote areas.
Pack light and dress in layers, as the weather in the mountains can be unpredictable.
Don't forget to bring a camera to capture the stunning landscapes and unforgettable moments.
Be prepared for basic accommodations, as some remote locations have limited luxury options.
Travel with an open heart and mind, and cherish the unique experiences that come your way.
Stay hydrated and pack enough snacks for long treks or rides, as you might not always have easy access to shops or restaurants in remote areas.
Carry a small first aid kit with essentials like band-aids, pain relievers, and any personal medications you might need, as medical facilities can be sparse in off-the-beaten-path destinations.
Ensure you have enough cash, as ATMs and card payment options might be limited or unavailable in rural areas. It's always a good idea to have some smaller denominations for purchasing souvenirs or paying for local services.
Insider Vietnam Travel Tips To Make The Most Of Your 7 Day Itinerary
Don't miss a street food tour
Try Vietnamese coffee
Cruise in Ha Long Bay
Rounding Up The Best 7 Day Vietnam Itinerary
Vietnam is an enchanting mix of cultural experiences, geographical beauty, and delicious food. Planning a visit to this richly-historic country can be stressful – but our 7-day itineraries have you covered.
Take a joyous journey north to the tranquil beaches of Nha Trang or a lively trip crammed with activities in Ho Chi Minh City.
However you plan to spend your time, make sure it's full of adventure. Come explore the bustling cities, deserts, mountains, and islands that make up this amazing part of the world.
/