Finding accurate information on Albania Transport is no easy task. There's virtually nothing to be found online which has earned Albania a bad reputation on Public Transport.
But I assure you it's not that bad and Getting Around Albania for us was a great experience. So let's jump in and get you heading in the right direction.
Getting around Albania starts with a good map. What you won't find in Albania are big tourist offices that hand out city maps and guides. The beauty of Albania, at least right now, is that it's not all that touristy.
For an Albania map, we used MapsMe which is available FREE for both IOS and Android.
The beauty of this app is that you can download the map for the entire country and then use it offline with the GPS of your phone. It's great for getting around a big city or driving across the country. This app is a must for getting around in Albania.
When using the app in these various cities I'll give you the exact wording to use in the Mapsme search box to find these bus stations.
PUBLIC TRANSPORT IN ALBANIA
Let's cover a few basics of Public Transport In Albania. First off there are not a lot of trains. The trains are old and slow with questionable schedules so I will not be discussing them as I have not tried any. Traveling by bus is far more common.
All of these bus options I'll be talking about will have a sign of where they are going in the front window. While there are some official bus stops, the majority of these buses will stop if flagged down. This is typically how the locals get around.
This is even true for the larger Coaches or tourist buses.
TAXIS IN ALBANIA
Taxis are available in the cities and are a good option if you need to get somewhere quick. They will cost about 10-times what a bus might cost but if you're in a hurry that's an option. For example, hiring a taxi from Shkoder to Tirana was 40 Euro while an air-conditioned coach was 3 Euro.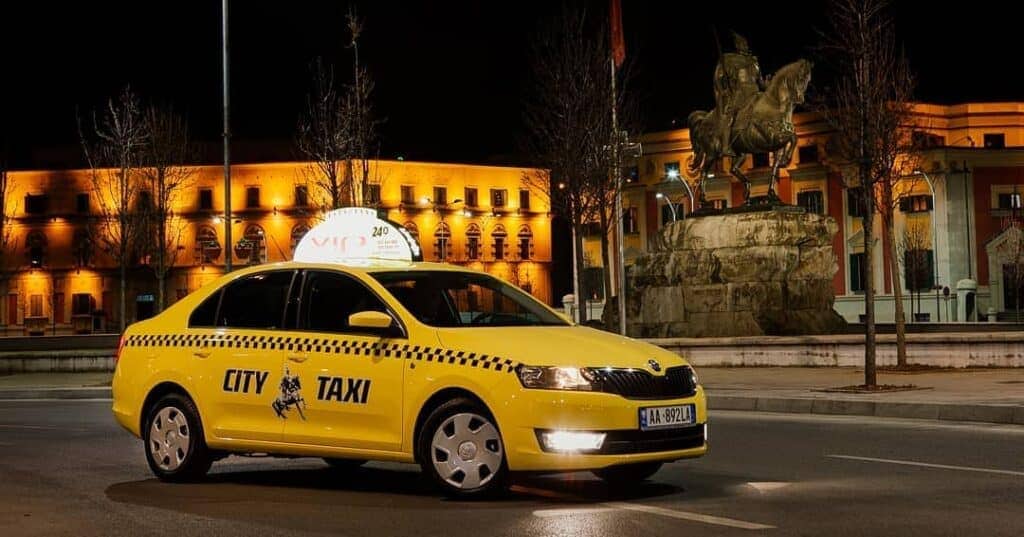 GETTING AROUND ALBANIA BY BUS OR COACH
This is by far the most common way to get around. We're talking the big tourist buses here and not the city buses. These buses are comfortable, have AC, and plenty of storage below for bags.
Depending on where you're going you can buy tickets ahead of time but most often you'll just buy them on the bus. Now finding where these bus stations are can be a bit tricky which I'll cover here in a bit.
ALBANIAN MINIBUS OR FURGON
By far the most common public transport in Albania. These Minibuses or Furgons are privately owned un-licensed public transportation. They are basically large vans that cruise back and forth between their chosen destinations which will be shown in the front window.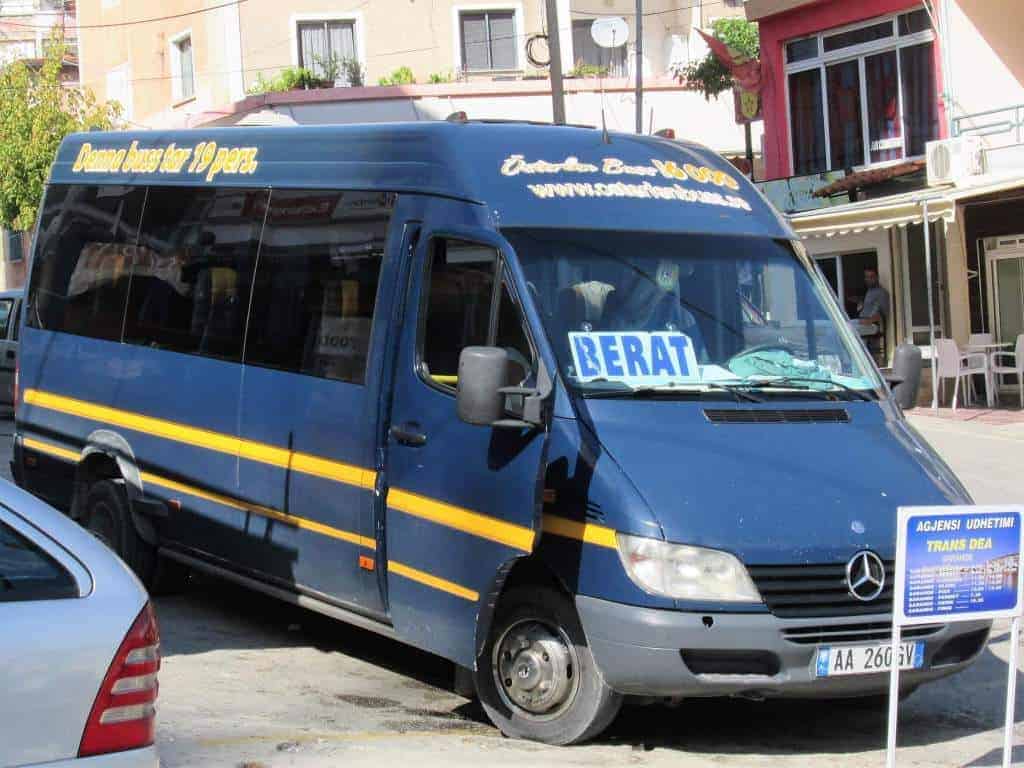 To catch one you simply wave your arm and they'll stop assuming they have room. And by room I mean if there's a chance they can squeeze one more person in they will.
These buses can get packed so if having your own personal space is important to you I would stick with the larger Coaches.
These are the most affordable options and you'll pay once you're on board. We found this type of transport really fun and a great way to get shoulder to shoulder with the locals. They will stop anywhere you want and we would just open our Mapsme app to show them where.
For longer trips they'll stop for bathroom breaks and coffee shops where you can grab a quick bite and a drink.
Don't Miss Our BEST tips for Visiting Albania. Check out the signup form below
RENTING A CAR IN ALBANIA
If you're interested in renting a car in Albania I have an article dedicated to that HERE. This is a great way to get around and certainly opens up some unique opportunity to see parts of the country that are easily missed.
To get to some areas like Theth in the Albanian Alps, absolutely stunning by the way, you'll need a 4×4 vehicle. These can easily be hired through your hotel or by asking around town. There are also lots of coastal areas worth exploring that require a 4×4 as well.
You can read more about our experience hiring a 4×4 in the amazing Theth to Valbone Trek.
ALBANIA BUS STOPS AND BUS STATIONS
While they may be difficult to find, in each city there is a bus station or bus road. Larger cities may have multiple bus stations depending on where you're going.
Keep in mind these won't look like an official bus station. They look more like a dirt parking lot packed with as many buses as possible. More of a bus graveyard than a station.
Let's get out your map and find these hidden Albanian bus stations for some of the more common cities you'll likely visit.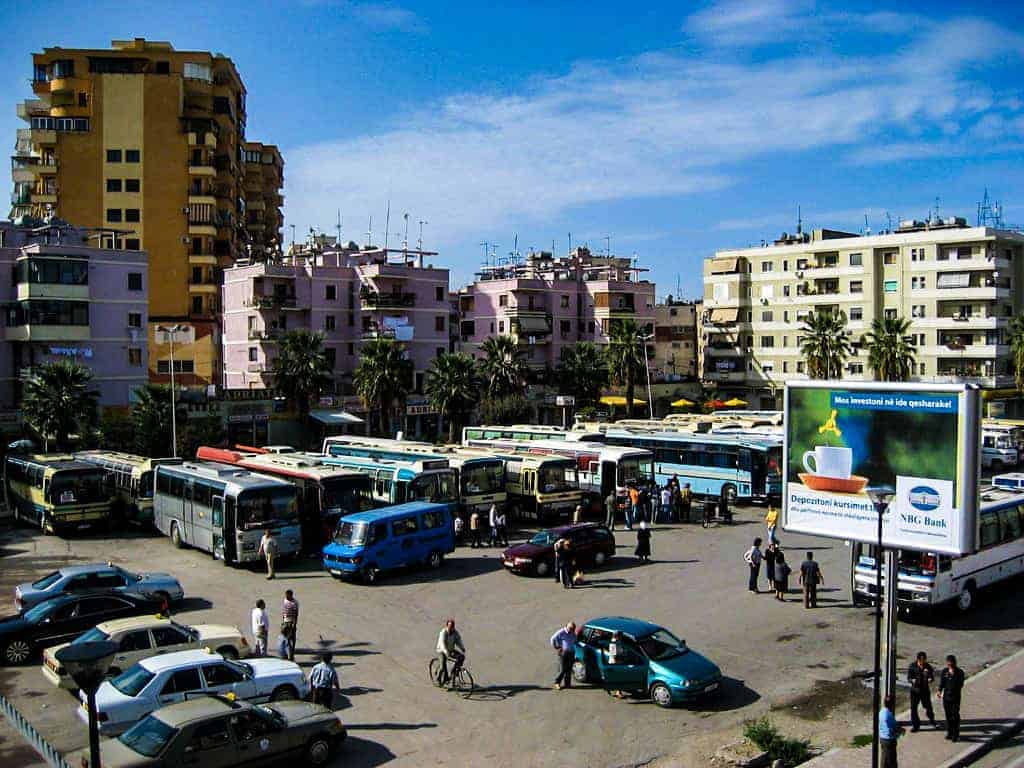 TIRANA BUS STATIONS
TIRANA BUS STATION – SOUTHERN DESTINATIONS
Here's a Google Map showing the Tirana Bus Station for Southern destinations.
Serves the destinations in and around Berat, Dhermi, Himare, Vlore, Durres, Gjirokaster, and Sarande.
The stations is located about 1.5 miles West of downtown. In the Mapsme app search for "bus station to south Albania."
TIRANA BUS STATION – NORTHERN DESTINATIONS
Here's a Google Map showing the Tirana Bus Station for Northern destinations. This station is just a mile outside of town.
Serves Northern destinations such as Shkodra and Kukes.
The South and North bus stations are along the same road and about a 1/2 mile or 15-minute walk between them.
In the Mapsme app search for "bus station to north Albania."
TIRANA BUS STATION – SOUTHEAST DESTINATIONS
Here's a Google Map showing the Tirana Bus Station for Southeast destinations. This station is just a mile outside of town.
This station serves destinations such as Permet, Korca, Pogradec, or Elbasan.
In the Mapsme app search for "Southeast bus station."
TIRANA BUS STATION – INTERNATIONAL DESTINATIONS
Here's a Google Map showing the Tirana Bus Station for International destinations.
This station is a bit more legit and resembles an actual bus station.
In the Mapsme app search for "International bus station Tirana."
TIRANA AIRPORT BUS STATION
The Tirana airport shuttle is a breeze. It runs from 7am till midnight on the hour. The ride costs 150 Lek ($1.50). Look for the white bus.
From the airport hang a left when exiting the terminal and you'll see a bunch of buses. Just ask for the downtown Tirana bus and they'll point you in the right direction.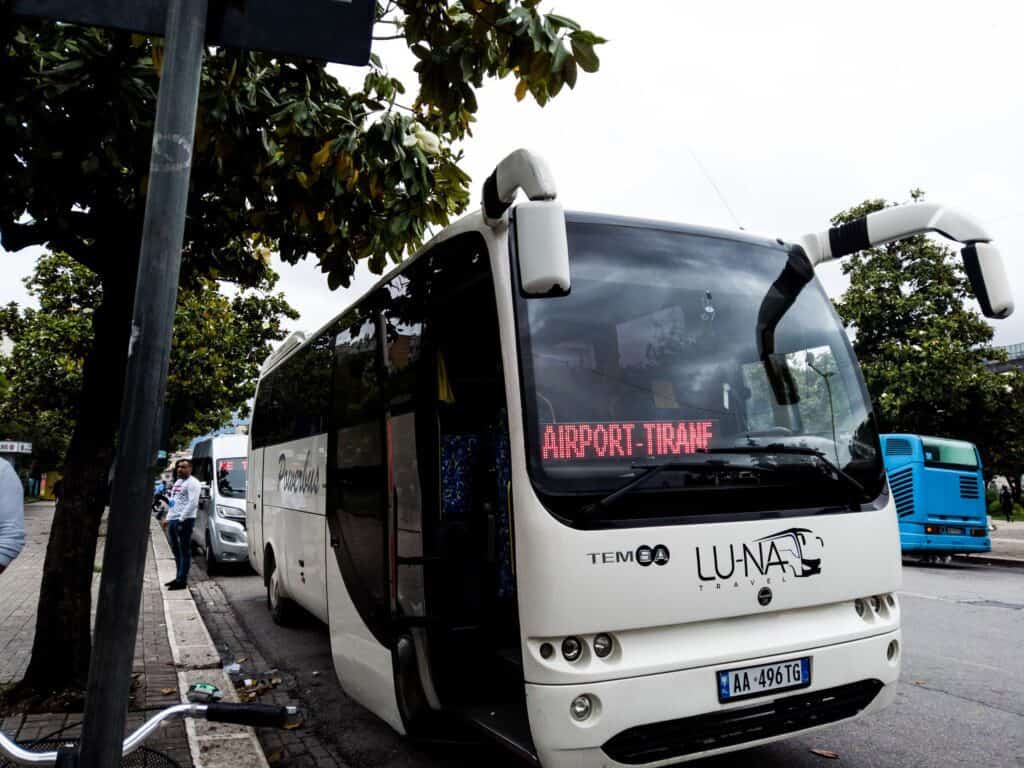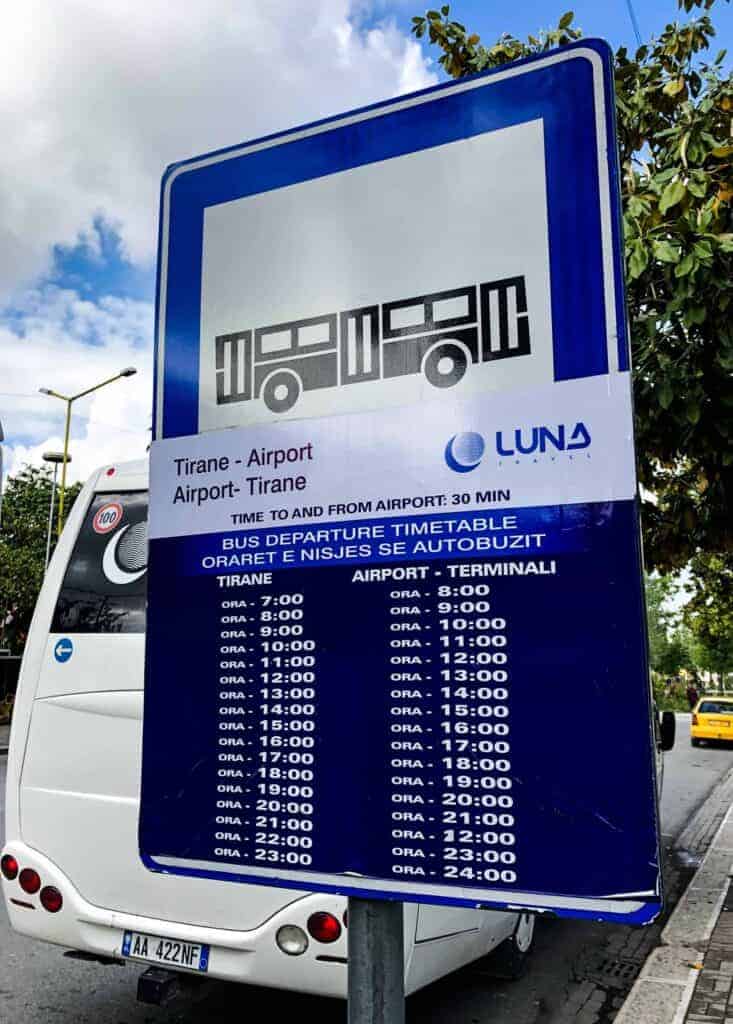 From town you'll catch the bus just outside the main square alongside a park. This is also where you can catch the blue city bus(labeled Porcelani) that go to BunkArt 1 and the Gondola.
In the Mapsme app search for "Tirana airport shuttle bus."
SARANDE BUS STATION
Google almost got it right. It's actually just down the street from where Google Maps placed it. Directly across from the park.
There's actually a ticket booth here where you can purchase tickets ahead of time. A good idea during peak season. The buses however just line up along the street.
For a bus heading North to Tirana there were about 6 buses a day but I hear this changes seasonally.
In the Mapsme app search for "bus to Tirana" to find the station.
SHKODER BUS STATION
The Shkoder bus stations are concentrated around the large main roundabout near the mosque. It's easiest to just ask once you get to the roundabout and someone will happily point you in the right direction.
In the Mapsme app search for "bus to Tirana" to find the main roundabout.
MY FAVORITE WAY TO GET TO ALBANIA
You certainly have a few options of how to get to Albania but there's one way that's best in my opinion.
Just off the coast of Albania is the Greek island of Corfu. By highspeed ferry it's only a 30 minute ride. Because Corfu is such a popular destination it has some really great flight deals from European cities.
We flew from Scotland to Corfu for $23. No that's not a typo.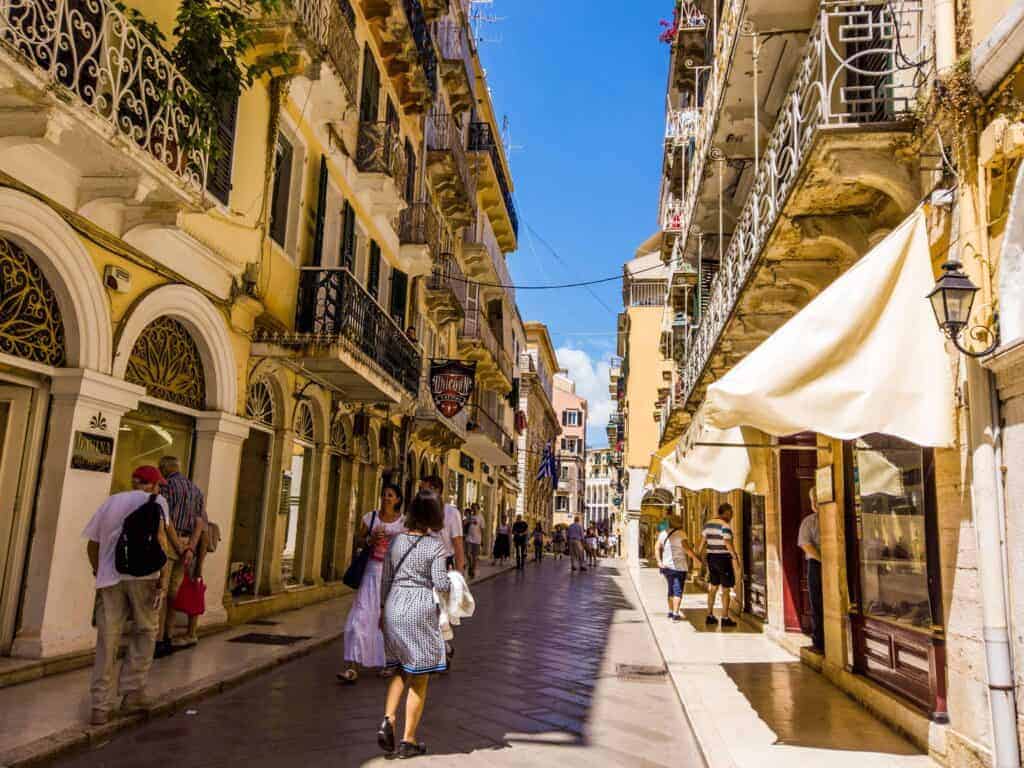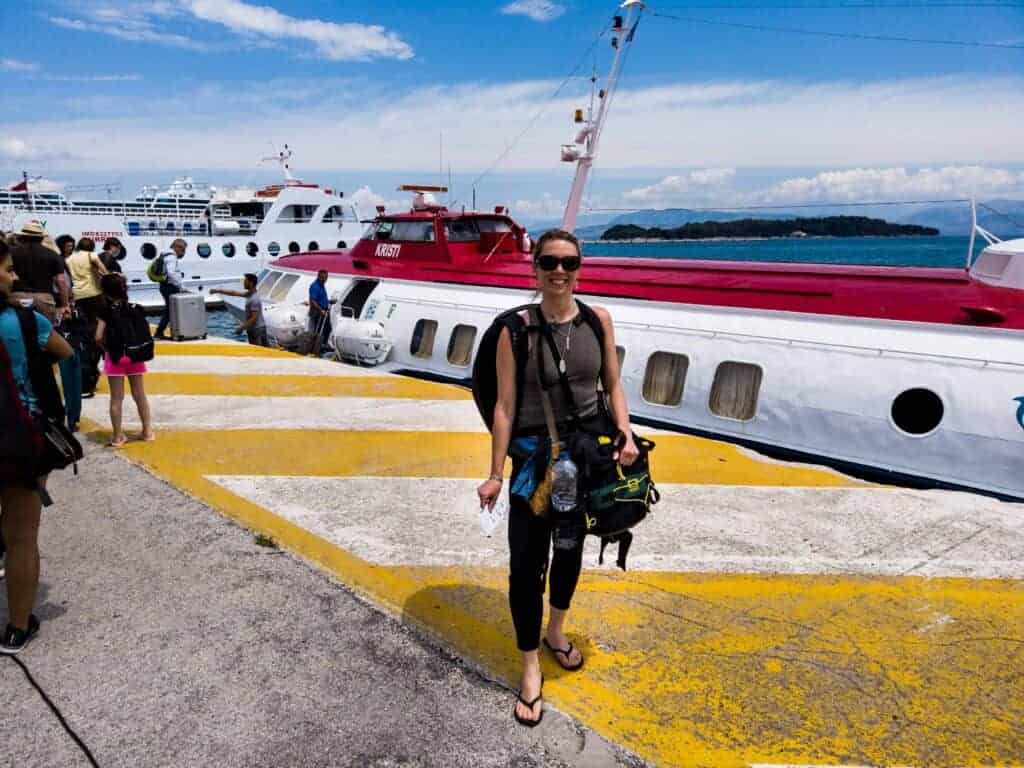 You can't go wrong with a quick stopover in Corfu on either end of your trip.
GETTING AROUND ALBANIA WAS EASIER THAN WE THOUGHT
Well I hope we instilled some confidence in the Albanian transportation system. Getting around Albania is a little more challenging than many other countries out there but the infrastructure does exist and we found it quite good once you get it figured out.
When in doubt just ask. I think you'll find Albanian people are extremely friendly and helpful. I know we did.