As challenging as it is beautiful, the Annapurna Circuit Trek should be on everyone's bucket list. From the low elevation rain forest to the most rugged high mountains, it truly is the trip of a lifetime.
Along with a trip of this magnitude comes a lot of preparation. My wife and I along with 4 friends recently completed this epic trip and I am here to share with you EVERYTHING you need to make this trip a success.
If the Annapurna Circuit Trek isn't number one on your bucket list then it should be, because it's shrinking. The circuit of villages and towns were once only connected by trails. Requiring all goods to be carried in by pack animals or on the backs of people.
This has allowed for a very authentic view of the culture and people. The impact of tourism while significant, has been slowed by the fact there are no roads along this trek. This however is changing.
Each year they are pushing roads further and further along the Annapurna Circuit. Villages that once took days to hike to can now be driven to. Tour buses, resorts, and swanky hotels are sure to follow, displacing the indigenous people of the land.
It's sad to see this happening which is why it's more important than ever for you to make this trip a priority.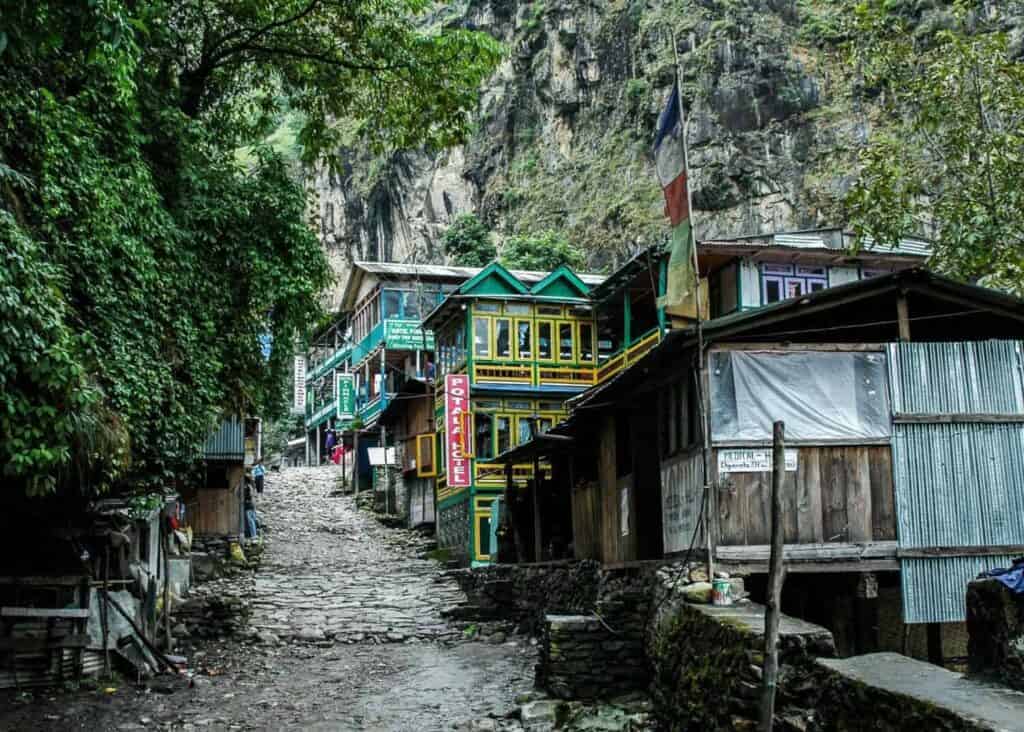 WHAT IS THE ANNAPURNA CIRCUIT?
The trek lies within the Annapurna mountain range of central Nepal. The route varies between 100-145 miles, depending on starting and exit points. It's highest point at Thorung La pass (17,769 ft) sits atop the Tibetan plateau.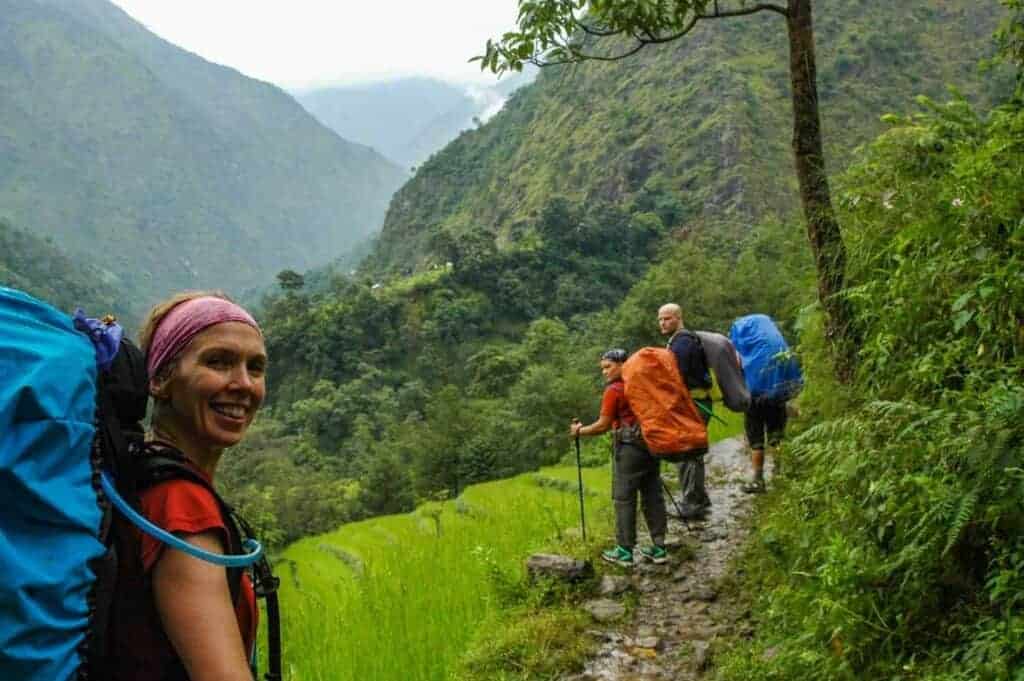 The trek starts low at just 1,900 ft amongst paddy fields in a subtropical rainforest. Waterfalls and enormous cliffs surround you. From here you slowly gain altitude, moving from village to village, until you reach the rugged peaks of Thorung La pass. From there you rapidly descend to Jomosom in a freakishly fast transition from glacial peaks to lowland farming.
Additional Reading:
International Travel Planning Guide – From visas and passports to cheap flights
ANNAPURNA SANCTUARY TREK
The trek starts low around 1,900 ft in Besisahar and slowly climbs to Thorung La pass. The days are generally about 6-10 miles long and about 5-6 hours worth of hiking. There are some longer days, in particular, the push over the summit which is a recommended 4am start. But in general you can take things at your own pace.
Best Times to Trek: March – April and October – November
PORTERS AND GUIDES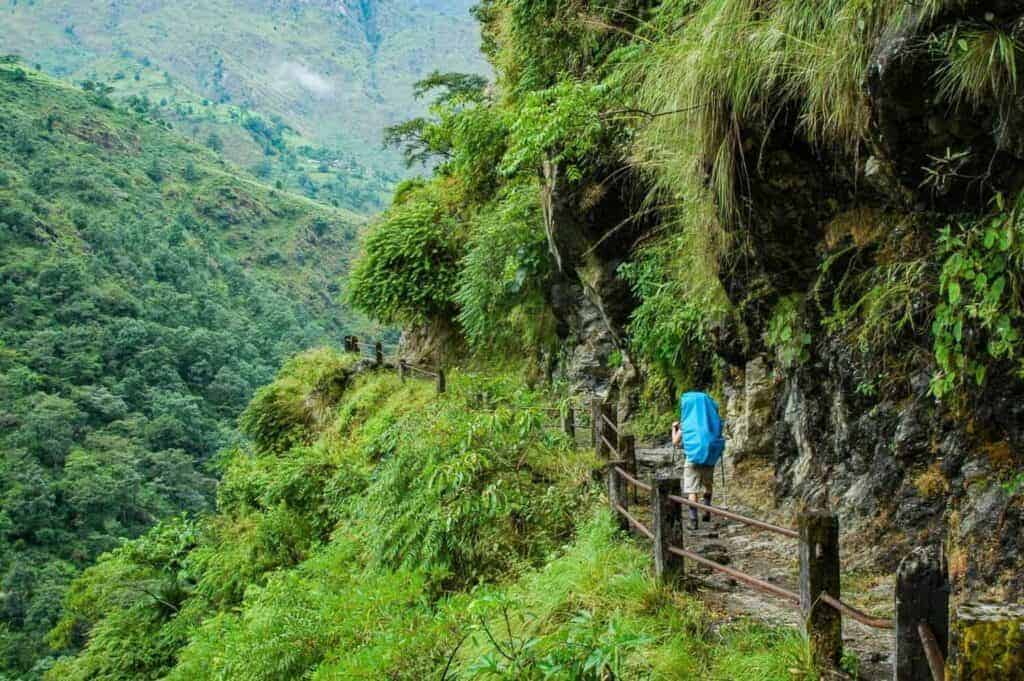 Whether a guide or porter is right for you is a personal choice. But here are a few things to consider. The route is well traveled and signed. It would be difficult to get lost so a guide for that reason would not be necessary.
The hike is strenuous and as the air grows thin at higher altitudes you will feel the effects. Depending on your level of fitness a porter may be a good option.
It's worth noting that you don't have to hire a porter for the entire trip if you don't want to. At any of thevillages you pass through porters can be hired.
Many people just higher a porter for the Thorong La pass which is arguably the most difficult day.
My advice would be to wait and see how you feel since you can always pick up a porter mid trip.
The cost for a porter is roughly $15 per day.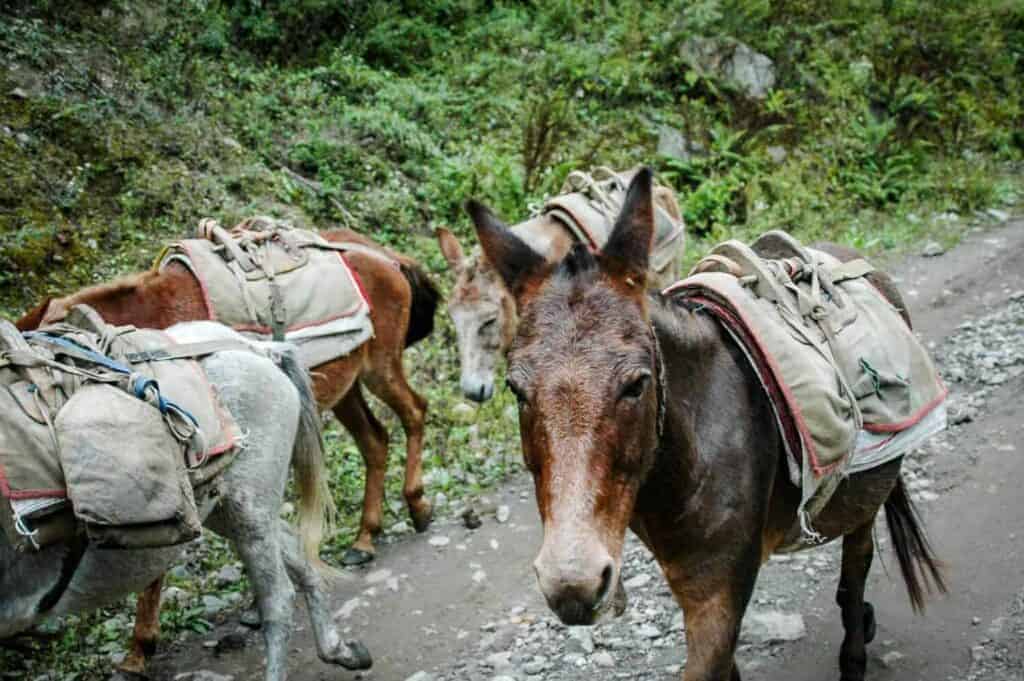 ANNAPURNA CIRCUIT COSTS
If there's one thing about the Annapurna Circuit that's not difficult, it's the cost. If you can skip the guide and porter, Annapurna can be done for about $15 a day per person. That's for everything, rooms, and meals. My wife and I averaged about $30 per day for both of us. And believe me, we weren't skimping.
Permits – $40
Guide – $25 per day
Porter – $15 per day
Accommodations and food – Accommodations will include meals and you can expect to pay about $8-10 per night.
If you want to indulge in a beer expect to pay about $5, otherwise teas and other drinks are included.
You will need to get all the cash you need beforehand in Kathmandu or Pokhara.
I would also plan to have a little extra money for tips especially if you plan to hire a guide or porter.
ANNAPURNA CIRCUIT TREK PERMITS
In addition to your entry visa for Nepal there are a few additional permits needed for the trek. To find out if you need a visa visit our International Travel Planning Guide or head to iVisa.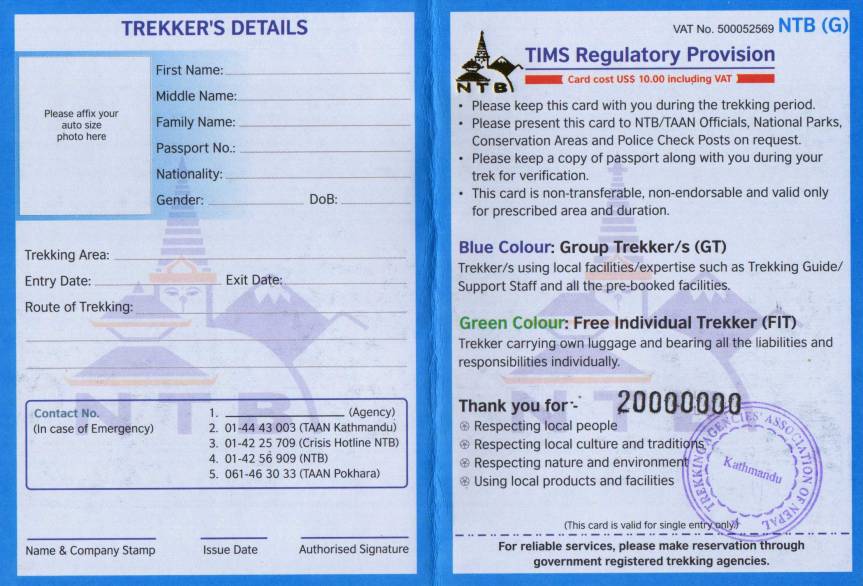 The required permits are, Trekker's Information Management System (TIMS), and Annapurna Conservation Area Permit (ACAP).  
These are both required and you will have to show them at various points along the trek.
Cost – $20
Requires a passport identification
Requires 4 passport photos. These can be purchased in Nepal but I would recommend getting those back home to keep things simple.
Depending on the time of day there may be a line so expect the process to take about an hour from start to finish.
Both permits may be purchased in Kathmandu or Pokhara.
TOURISM OFFICE KATHMANDU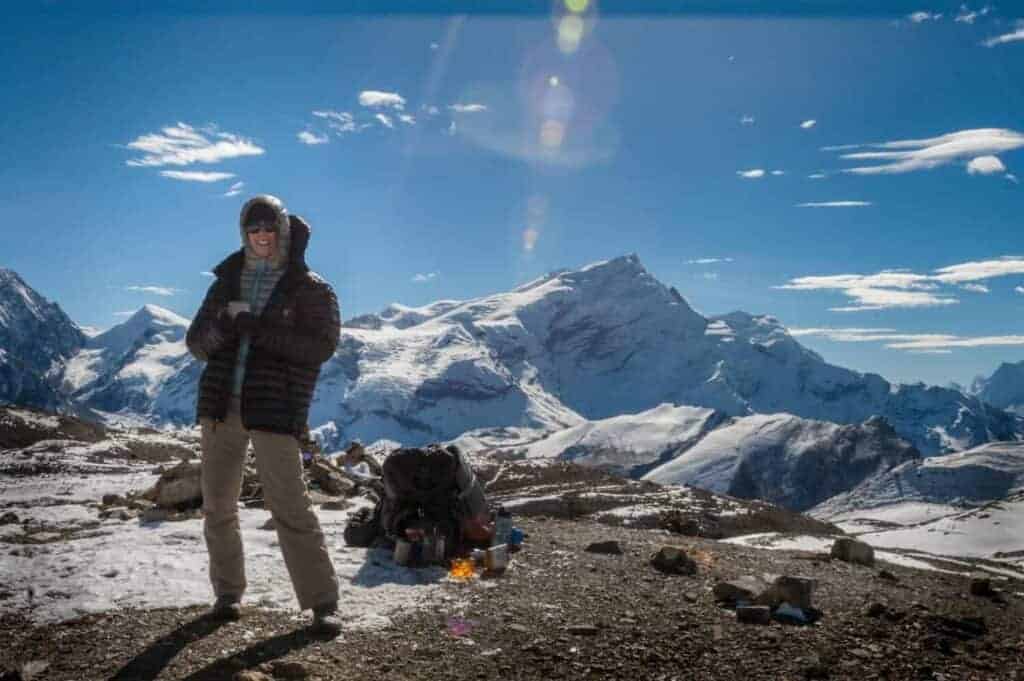 TOURISM OFFICE POKHARA
ALTITUDE SICKNESS
18,000 feet is no joke and people have died on the Annapurna circuit from altitude sickness. So be sure to read How To Prevent Altitude Sickness. And do yourself a favor and get some travel insurance just in case.
ANNAPURNA PACKING LIST
Having the right equipment and clothing for a comfortable and safe trip are essential. Be sure to read my detailed Annapurna Trek Packing Guide.
TREKKING CLOTHING
(3) Underwear synthetic
(2 pair) Liner socks
(2 pair) Socks
Boots
Sandals
(1) Base layer bottoms
(1) Synthetic pants
(1) Fleece pants
Baseball cap or hat
(1) Shorts
(3-4) Short-sleeve shirts
Baselayer top
Middle layer top
Puffy coat
Shell Jacket
Hat and gloves
TREKKING GEAR
Trecking permits
Cash for rooms, food, and tips
Backpack
Sun glasses
Sunscreen
Insect repellent
Cash
Trekking poles (rent locally)
Headlamp
Sleeping bag (can be rented)
Sleeping bag liner
Sleeping pad (can be rented)
Water bottles
Toilet paper in zip-lock bag

Ear plugs for snoring neighbors
Camera
Toiletries
Hand sanitizer
This is the map we used, we were really happy with it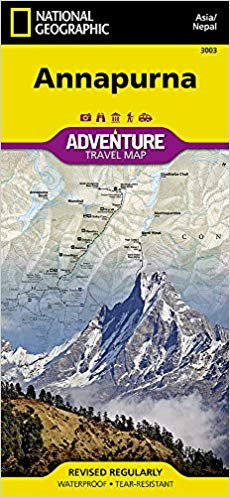 STARTING THE TREK – WHAT TO EXPECT
Let's now talk about what to expect on the Trek itself
GETTING THERE
From Katchmandu you have about a 6.5 hour ride to Besisahar. You can go by bus for about $4 or by private shuttle for about $20. The ride in from Phokhara is touch shorter and a little less expensive.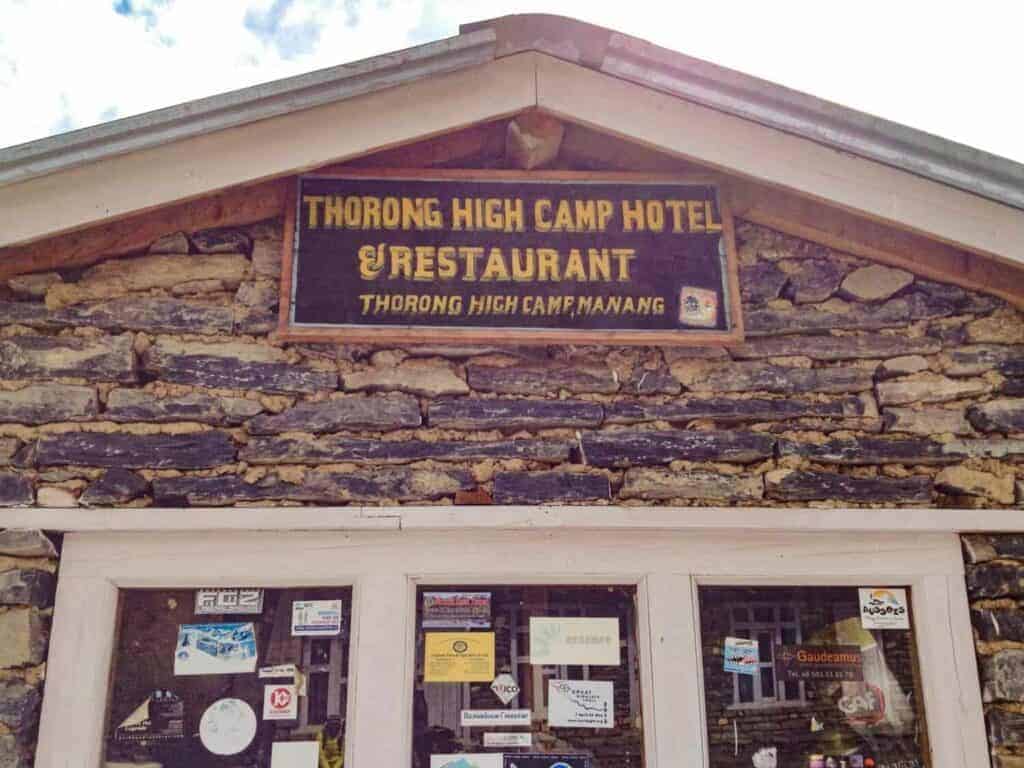 ACCOMMODATIONS
The accommodations of Annapurna are referred to as guesthouses. The guesthouses are typically built around a common area kitchen. The rooms are basic and often have outlets. In the lower elevations you will find plenty of wifi but not up higher on the trek.
The rooms were always warm, some even had private bathrooms. Toilettes ranged from traditional western style to a pit style toilette.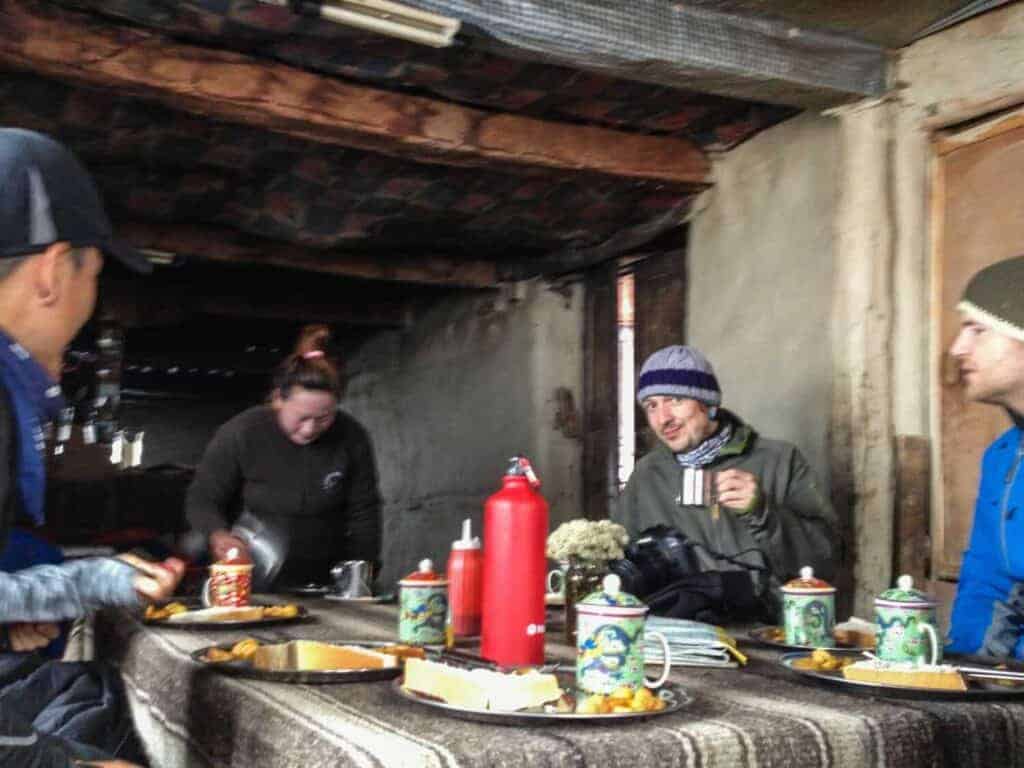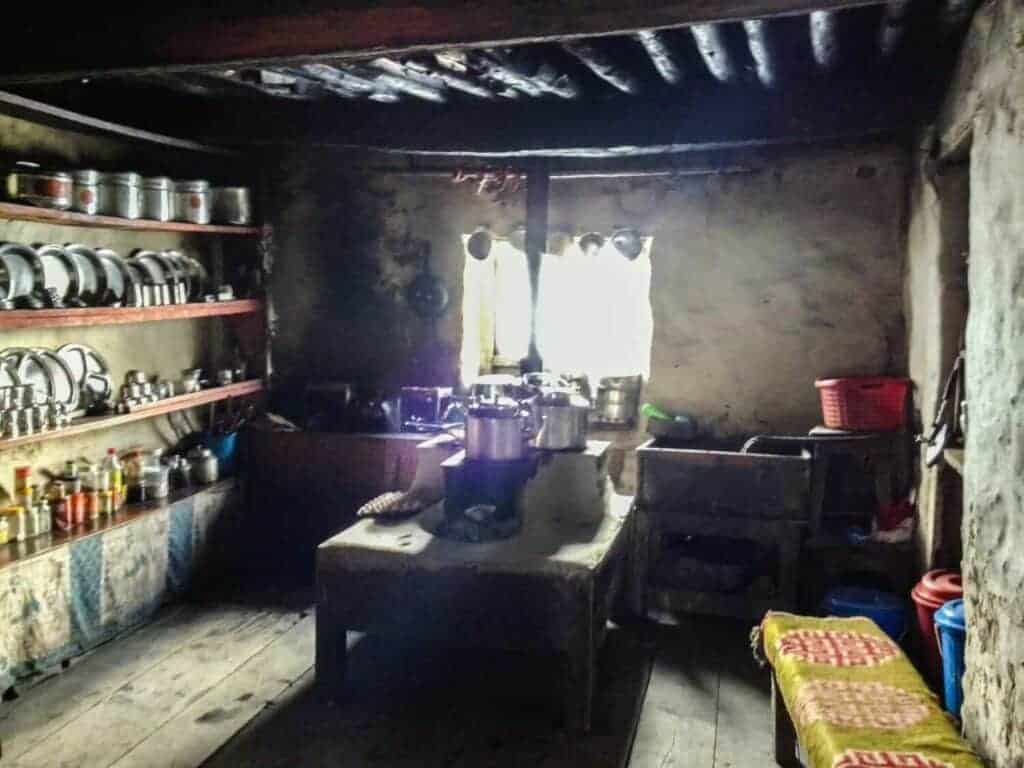 The guesthouses usually include your room for free if you buy a meal from them, usually around $3 to $8. Or you can buy a room for a few dollars and they will probably feed you for free. Either way, it's ridiculously inexpensive.
We did not bring sleeping pads since the guesthouses always had some sort of pad or mattress. If you're picky about sleeping pads it might be worth bringing one.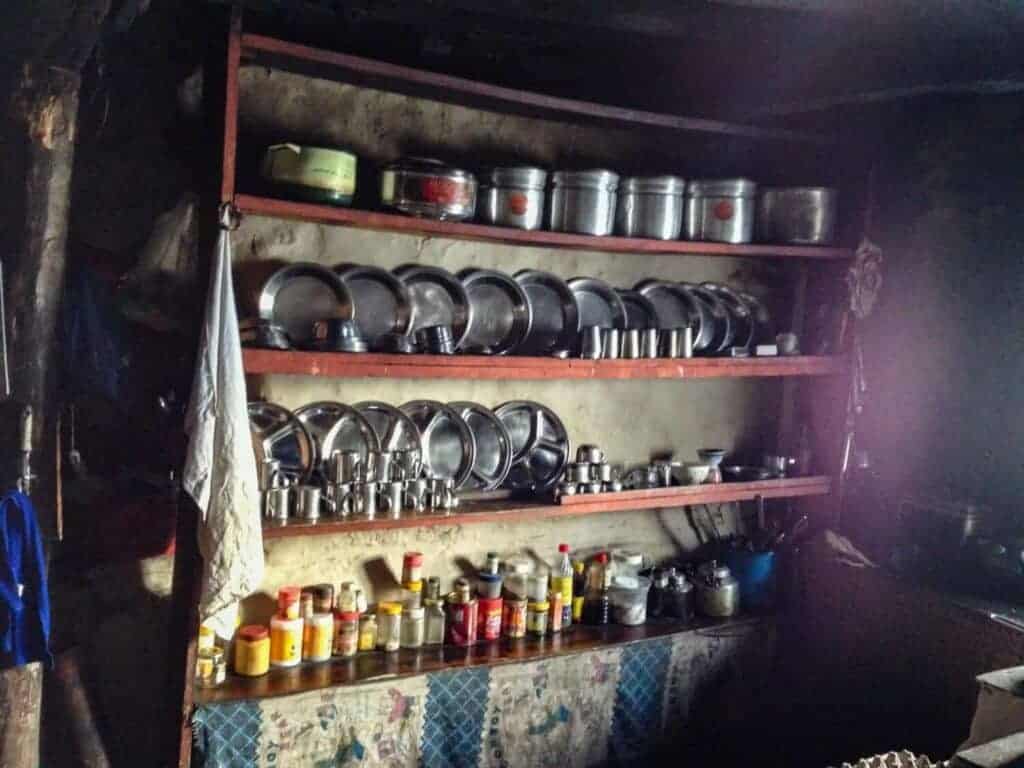 During the peak seasons many of the guesthouses can fill up. If you get an early start on the day and don't arrive too late you should be okay. Calling ahead each night and getting reservations is an option as well. Because we had a group we typically reserved each night ahead of time to assure we could all stay together.
If private bathrooms are important to you I would reserve ahead as those rooms typically fill up first.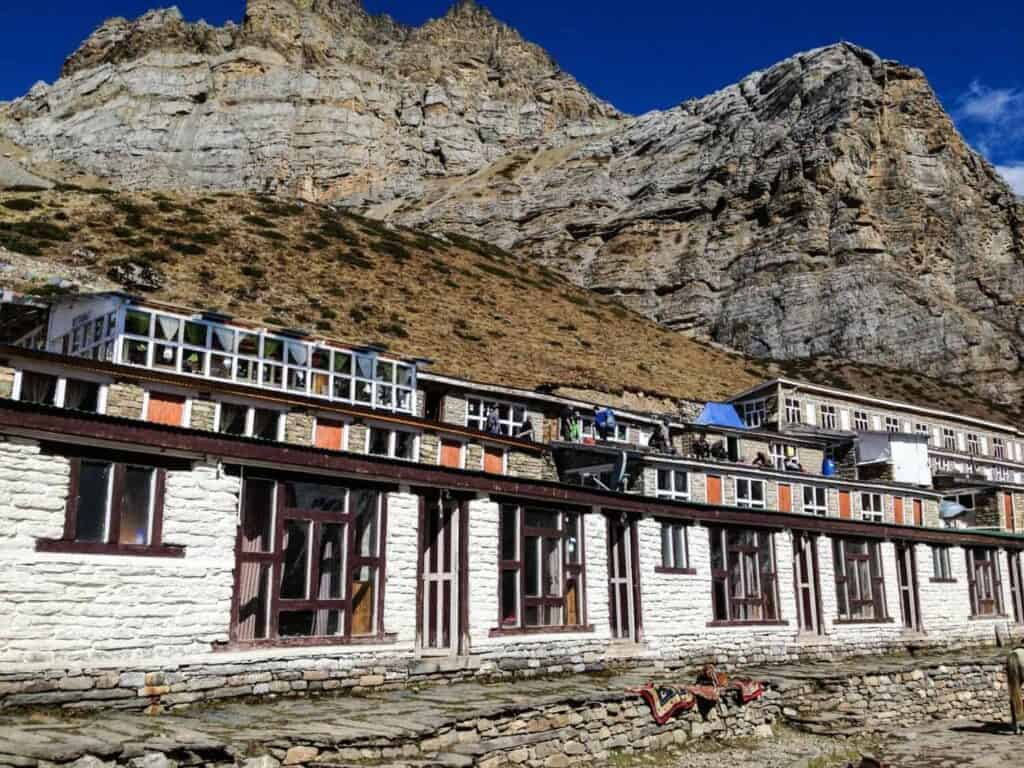 THE FOOD
Your dinner and breakfast will be covered at your guesthouse. A common dinner item is Dahl Baht and is great because it's all you can eat. Potato dishes, pasta, and even burgers are often available as well but you'll likely pay extra.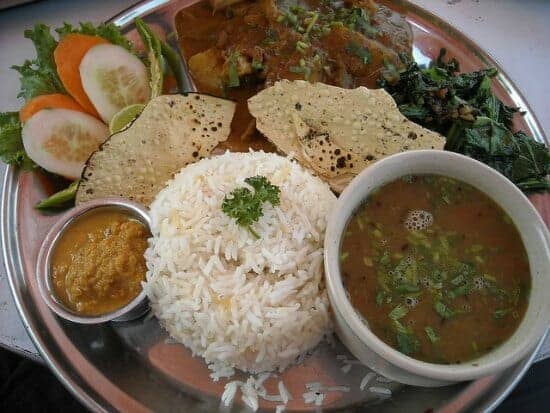 For breakfast you'll have the options of eggs, pancakes, and porridge. They serve coffee and tea but be warned, the coffee isn't great.
We actually packed our Jetboil and Aeropress so we could make a good cup of coffee. We really enjoyed the Jetboil and found ourselves using it more than expected. We would definitely take it again.
Throughout the villages you will find little stores that have a variety of snacks. Mostly pre-packaged items like Granola bars, candy, and potato chips. Some bigger villages even have bakeries and there's nothing better than a good cookie when you've been hiking all day.
You will also come across restaurants where you can enjoy a quick meal. We found there were plenty of options and didn't feel the need to pack a bunch of food.
ANNAPURNA CIRCUIT TREK ITINERARY
I thought I would go through our actual itinerary to show you one possible plan of attack for the Annapurna Circuit Trek.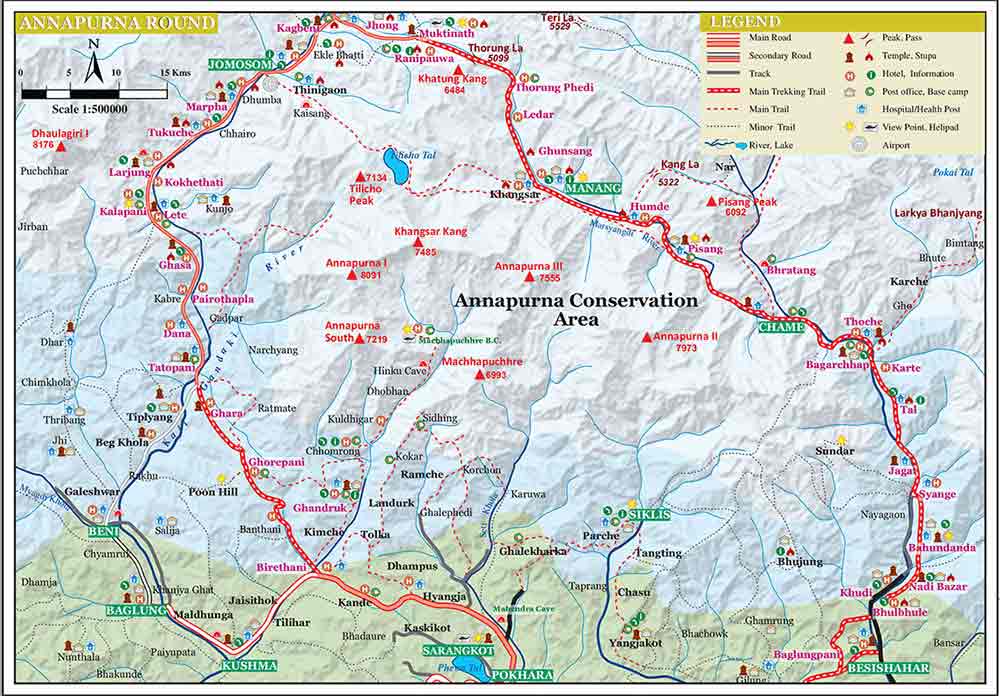 Day 1 – From Katchmandu all 6 of us crammed into an SUV and headed to Bhulbhule, the start of the trek. It was a long and rough road, about 6 hours total.
Day 2 – Bhulbhule to Ghermu. It was was a light drizzle most of the day. A lush and green landscape with moss covered rocks everywhere. Stayed at the Fish Tale guesthouse.
Day 3 – Ghermu to Tal. Stayed at the Paradise lodge and had a delicious pumpkin curry.
Day 4 – Tal to Chame. ridgeline was a longer day and I could tell some of us were starting to feel the altitude. The hiking was a bit steeper as well. A few of the villages we walked through were quite interesting. Thanchok was remarkable as it was perched high on a bluff. Arrived to Chame after dark and town was noticeably busier. A few of the guesthouses we tried were full.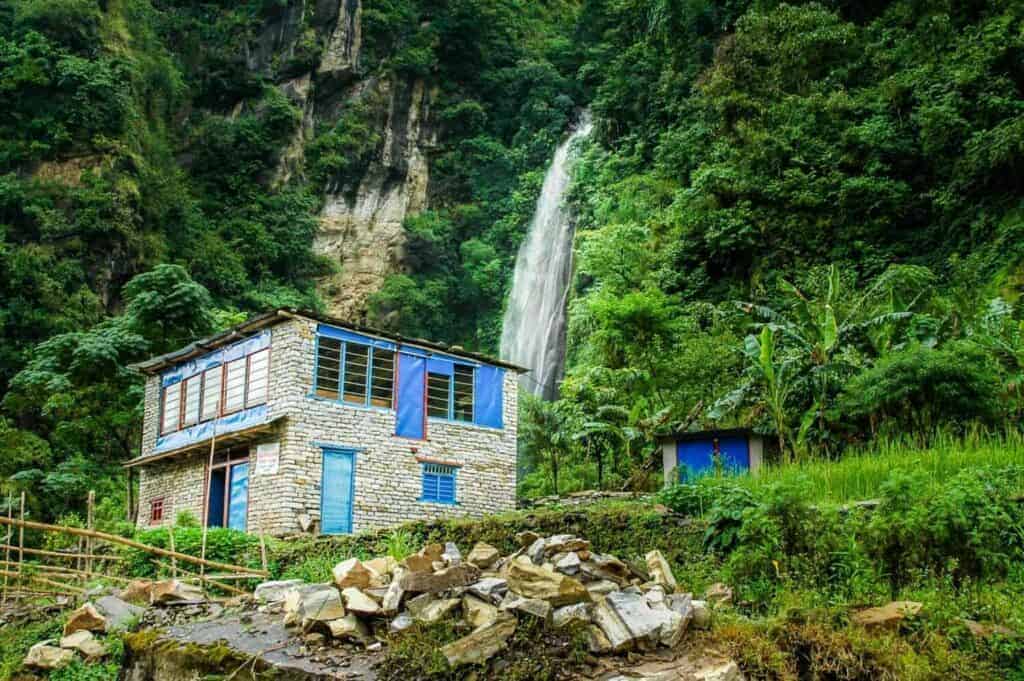 Day 5 – Chame to Upper Pisang. Had some clearer weather today and could really start to see some of the big glaciated peaks. Upper Pisang was great, perched on a steep hillside with great views.
Day 6 – Upper Pisang to Braka. The hike to Braka has two different routes, one is called the high route and is a touch more strenuous. The group split up and Jill and I took the high route. Passed through several more really neat towns. Wish we could have stayed in all of them.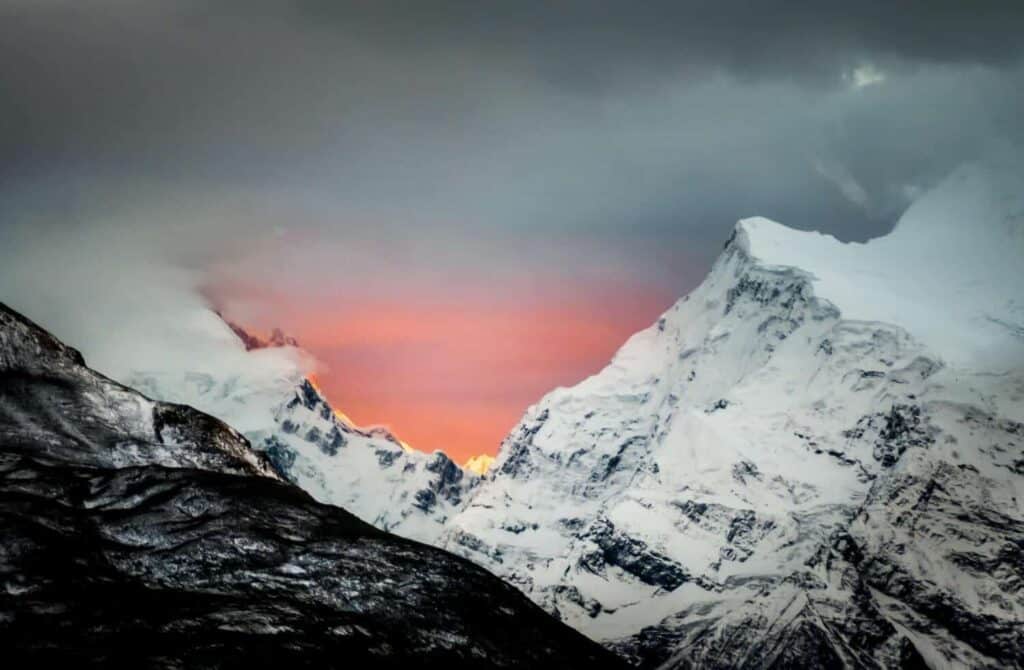 Day 7 & 8 – Braka to Manang. This was a short hike and people typically spend a couple of days in Manang to acclimatize. There are several day hikes out of Manang you can take to get ready for the big summit push. We stayed at the Yeti guesthouse. Manang has pretty much everything you need, from bakeries to an American run clinic. We took a great hike up to a Gompa where we were blessed by a monk for safe travels. He lived inside this natural cave with his own garden and said he hadn't left his place in 50 years. A tremendous experience. Yak burgers and Enchiladas were delicious at the restaurant in town.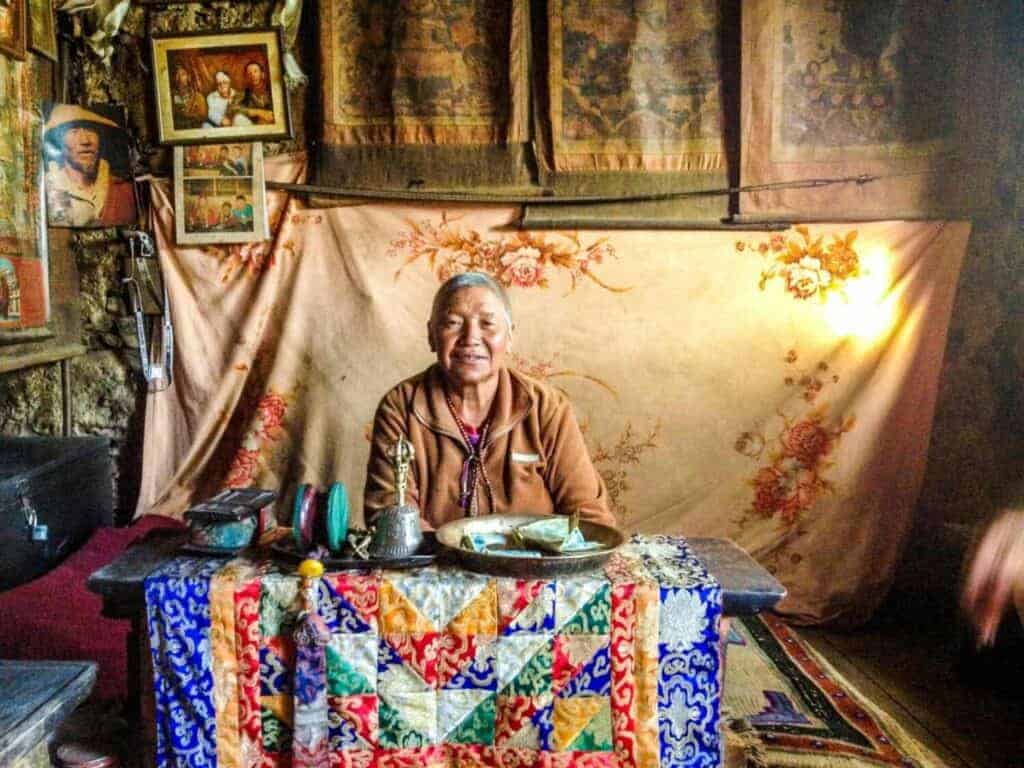 Day 9 – Manang to Letdar. A couple folks in our group hired a porter for the next couple days since they had some heavy photography and video equipment. Our porter and his horse Rainbow were a pleasant addition to the group.
About an hour passed Manang we walked through Gunsang. The village had stunning views and some really nice looking guesthouses. Next time we plan to stay there for a night or two. When we arrived at Letdar it appeared we had made a mistake and should have stayed at an earlier village. Letdar wasn't all the appealing from the outside.
Turns out are little place, while not charming on the outside was quite charming inside. We spent a late night hanging out by the kitchen fire with the owner and had an absolute blast.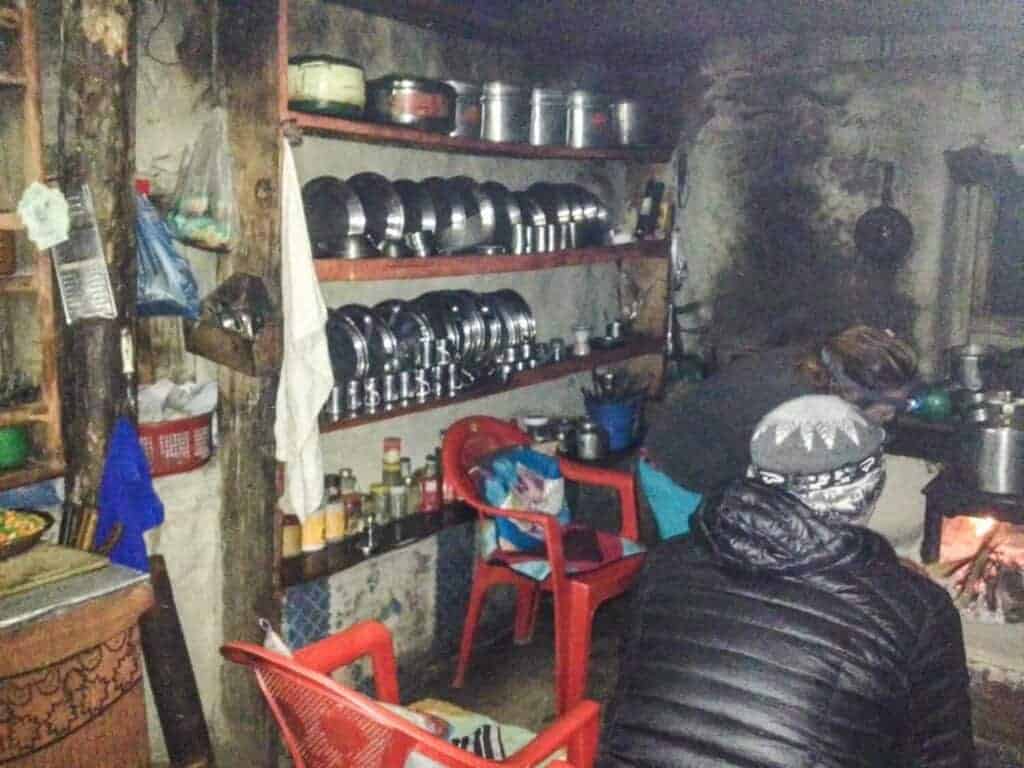 Day 10 – Awoke to a couple inches of snow and made our way up to Throng Pedi. It also looked like a great village and the views were amazing. Kept working our way up to high camp and boy did things get steep. Took it nice and slow and were rewarded with the best views of the trip thus far.
Day 11 – This was the big day, the push over the summit. The majority of the folks were getting up at 4am to start the long day. Jill and I had been feeling really good so we opted to sleep in till 6 and catch up to them on the trail. I'm not gonna lie, the trail was steep and you could definitely feel the altitude. Once we hit the summit we cranked out a quick cup of coffee on the Jetboil.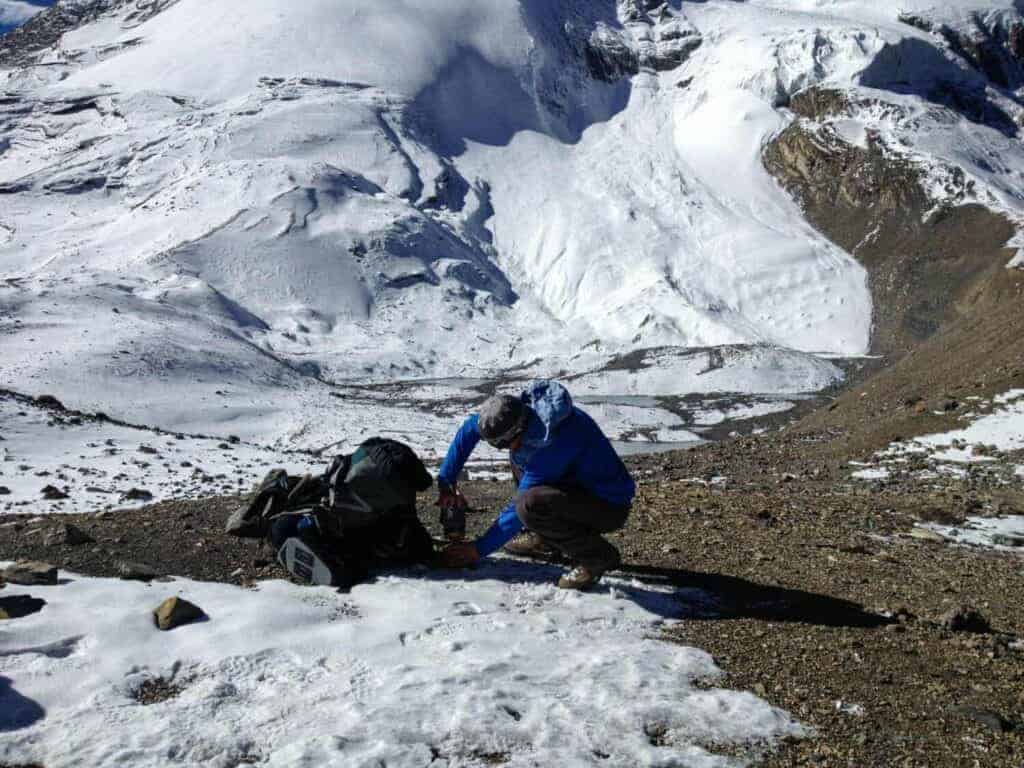 We opted to head up the ridgeline so we could actually hit 18,000 feet. Seamed like the right thing to do when you're so close.
The walk down from the summit was brutal. 6,000 feet down till our next stop at Muktinath. Town was pleasant and the food was great. Headed to the Bob Marley bar and pounded a few beers.
Day 12 – Made our way to Kagbeni. Passed through Jharkot. The fall colors were amazing with beautiful terraced fields all around.
Day 13 – Got up early to walk to Jomsom. Unremarkable walk as most if it was along a road. It was now pouring rain so hopping on the city bus was a blessing. It was a rough road and on several occasions the bus got stuck in the mud. We would all get out and push. Eventually made it to Ghaza.
FINAL THOUGHTS ON THE ANNAPURNA CIRCUIT TREK
Well I hope I articulated just how special this trip was. We liked it so much we can't wait to do it again.
This budget friendly trip should not be missed. Remember not to overpack and certainly don't haul a bunch of food with you.
Take altitude sickness seriously and educate yourself on the signs and symptoms. If you follow our itinerary with the rest days you should be fine. Adding an extra day on the climb up would be a fine option. But I would not try to get through this trek in fewer days than we did.