Looking down on the outdoor wonderland of Moab Utah stands the mighty Arches National Park. This part of Utah just begs to be explored and a stunning site is around every corner.
You've come to the right spot for Arches National Park Hikes and there is no need to look any further. Arches National Park offers a wide variety of hikes suitable for all skill levels. We're here to help you find that perfect hike.
So let's get off the beaten path and explore the great hikes in Arches National Park.
ARCHES NATIONAL PARK IN WINTER
I know I'm a broken record but I'll say it once again….Arches National Parks is one of the best parks to visit in winter.
For the majority of the winter, you won't find much snow in the park. This picture was taken after a big snowstorm and made for some really fun hiking.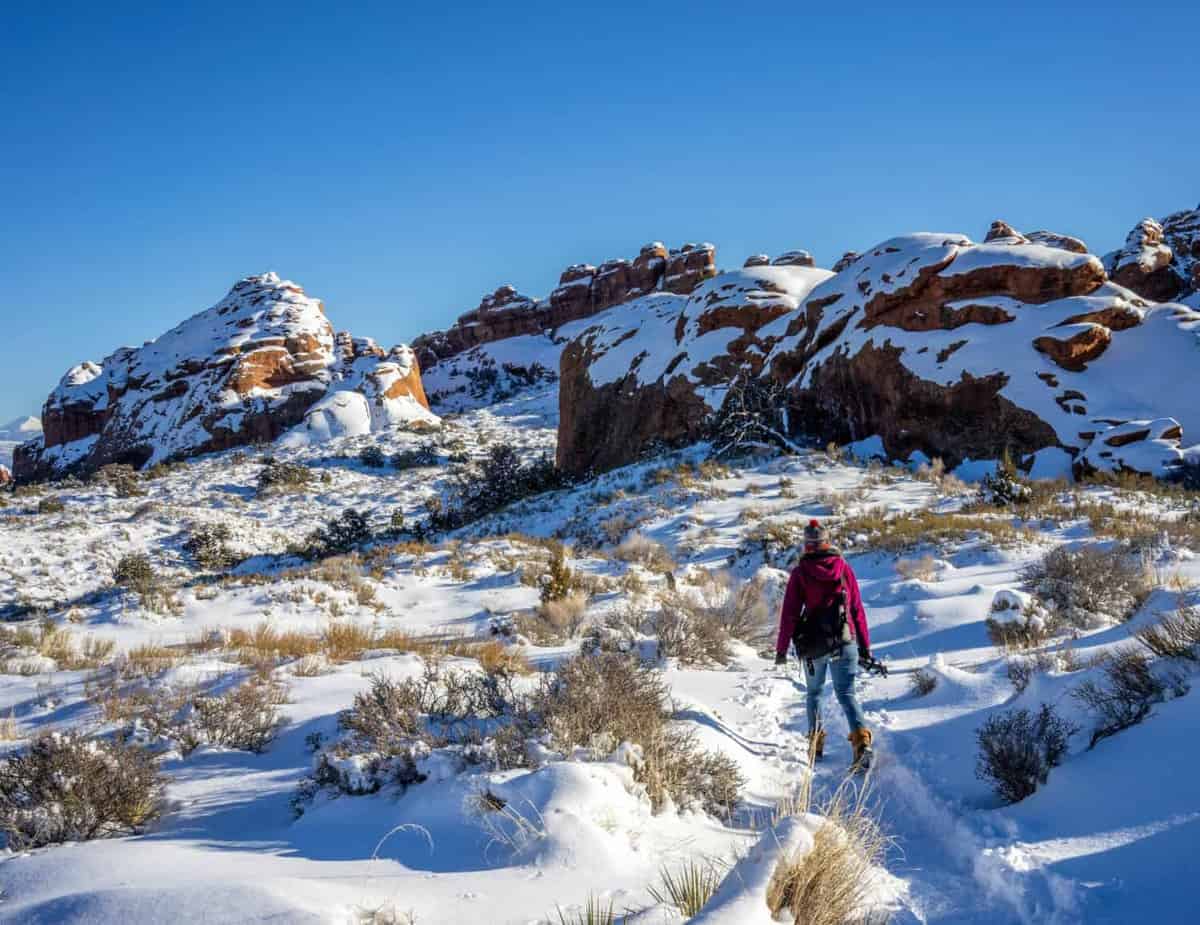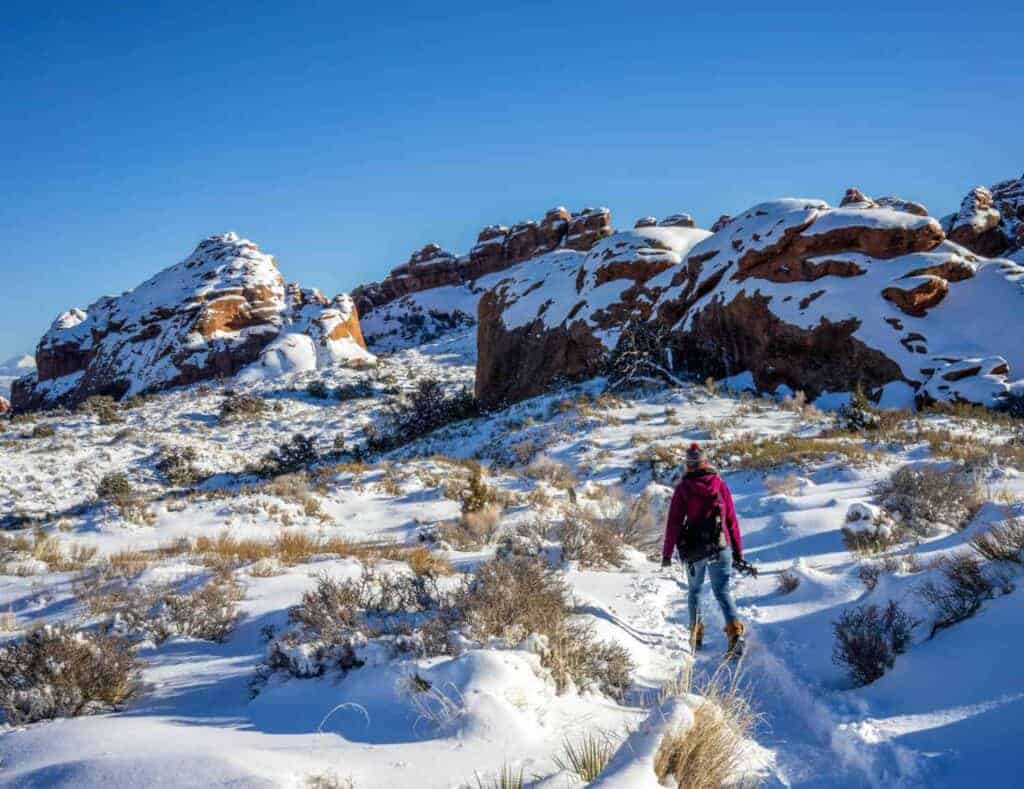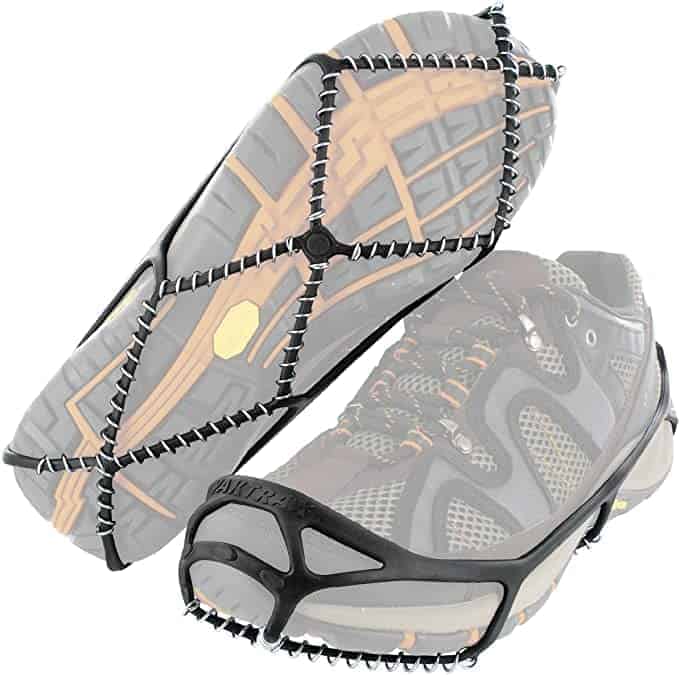 Our one piece of advice if you do decide to visit in the winter, be sure to grab some Yaktrax. The trails can get rather slick, in particular the Delicate Arch trail which we ended up on our ass multiple times. $15 at Amazon
ARCHES NATIONAL PARK HIKES
Here's a quick summary of the Arches National Park Hikes, many of which I'll cover in more detail below..
Park Avenue (one way) (1mi) – Moderate short hill and then a smooth canyon bottom amongst the massive tall walls.
Balanced Rock (0.3 mi) – Easy walk around the base of the rock.
Windows Trail ( 1 mi) – Easy trail to North Window, South Window, and Turret Arch.
Double Arch (0.5 mi) – An easy trail to a really cool arch.
Delicate Arch (3 mi) – More difficult trail with about 500 feet of elevation gain. Exposed with very little shade.
Sand Dune Arch (1.3 mi) – A flat and mellow trail that can be combined with Broken Arch.
Devils Garden Trail (7.5 mi) – A more difficult and lengthy hike that takes you to Double O Arch and Landscape Arch.
Landscape Arch (1.6 mi) – Moderate hike on a good trail.
Double O Arch (4.2 mi) – Difficult with some ups and downs. A little more exposure to heights and trail is a bit rougher.
Tower Arch (3.4 mi) – Moderately difficult with some sand and elevation changes.
The Fiery Furnace (2 mi) – Is a more difficult off trail route that requires a guide or backcountry permit. The hike involves a bit of scrambling as you squeeze your way through some narrow rock formations. Check out our Arches National Park Hikes for more details.
ARCHES NATIONAL PARK VIDEO TOUR
If you need to give the reading part of your brain a break, check out our video of the Arches from this past winter.
1. DELICATE ARCH
The Delicate Arch hike is the most popular hike in the park and every time we visit we're reminded why this is such a terrific hike.
3 miles round-trip
500 feet of elevation gain
Difficult due to lack of shade, elevation gain, icy sections in winter, and moderate exposure.
There are actually two ways to see Delicate Arch. I'll be focusing on the hike but there is also a viewpoint just past the trailhead that offers views of the Arch should a hike not be possible.
---
If you haven't heard of Glamping you're in for a treat because Moab has it!
---
The hike starts out on a well maintained smooth path that eventually climbs up a short but steep bluff. From here you'll work your way up a gradual climb on this massive piece of slickrock. Don't worry it's not actually slippery.
The views here are tremendous and the vast piece of rock lets the crowds disipate as you are no longer contstrained to a narrow trail.
My favorite thing about the hike is that you never see the thing coming. The anticipation just eats away at you and then…..bam you're suddenly staring eye to eye with the massive Delicate Arch.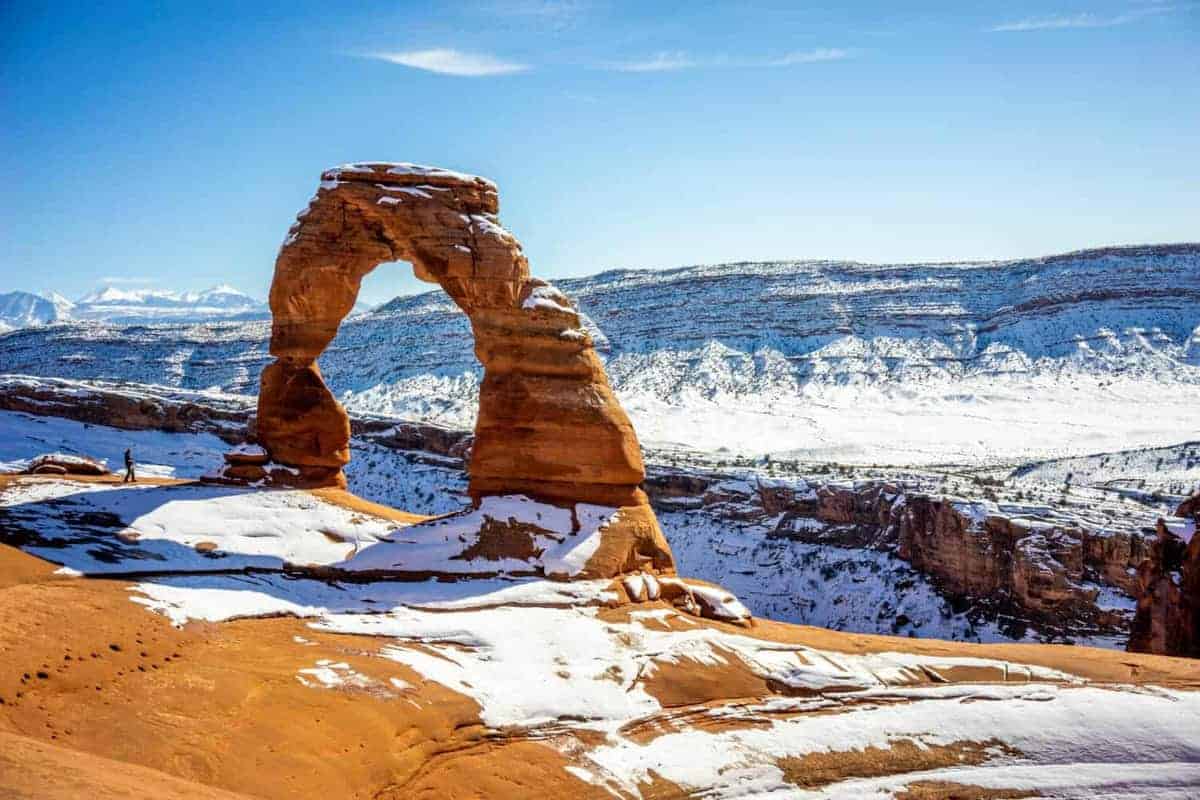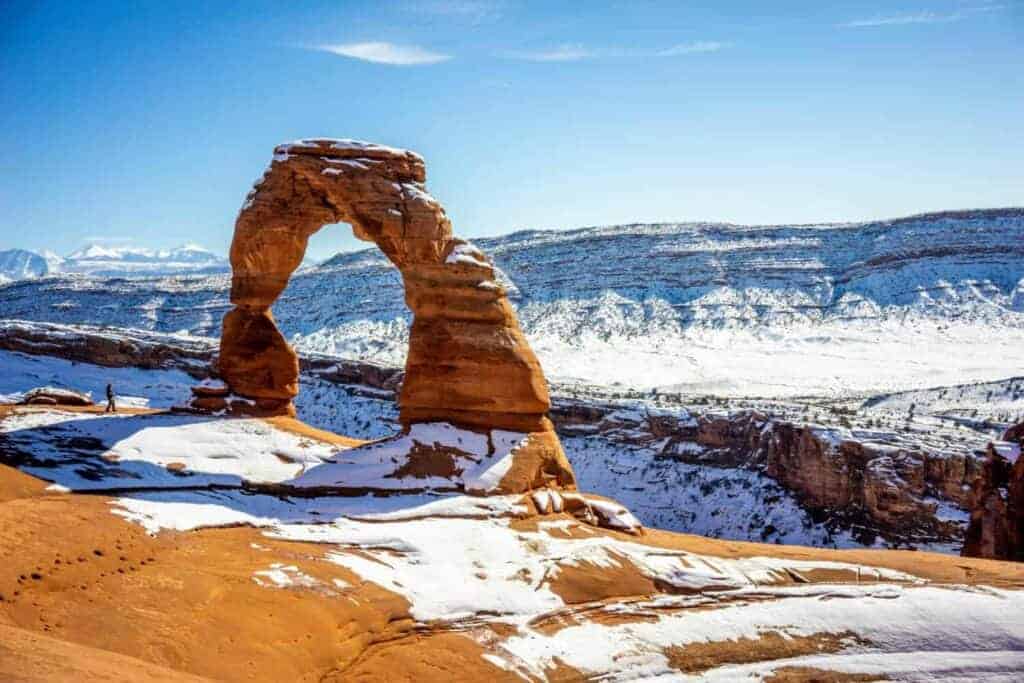 ---
If you're planning a road trip check out these must see small towns of the West
---
2. PARK AVENUE
Park Avenue is one of the first major trailheads you'll come to from the main park entrance. This quick and easy hike is worth doing and will make you feel rather tiny amongst the massive vertical cliffs of red rock you'll be walking under.
2 miles round-trip
Easy with just a touch of hill at the very beginning but otherwise smooth sailing.
This trail can be completed as an out and back or better yet have someone pick you up around the bend about a mile down the road. You'll be hiking right down the gut of these massive thin walls precariously balanced in a way that defies gravity.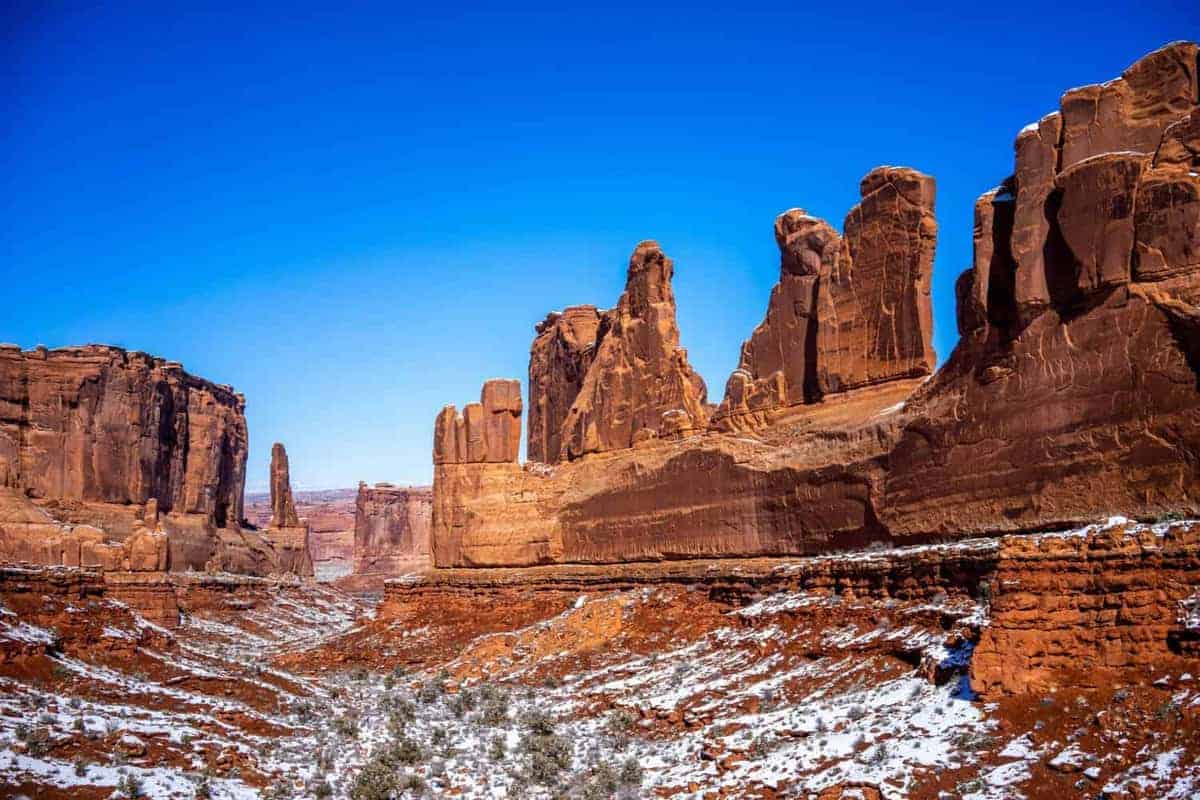 3. BALANCED ROCK
Another rock feature that seems to defy the laws of mother nature. This quick hike around the base of the rock also has great views of the La Sal mountains.
0.3 miles
Flat and a large portion of it is paved making this trail accessible to wheelchairs.
Easy – suitable for everyone
After seeing this Balanced Rock up close it will leave you wondering just how much longer that rock will remain.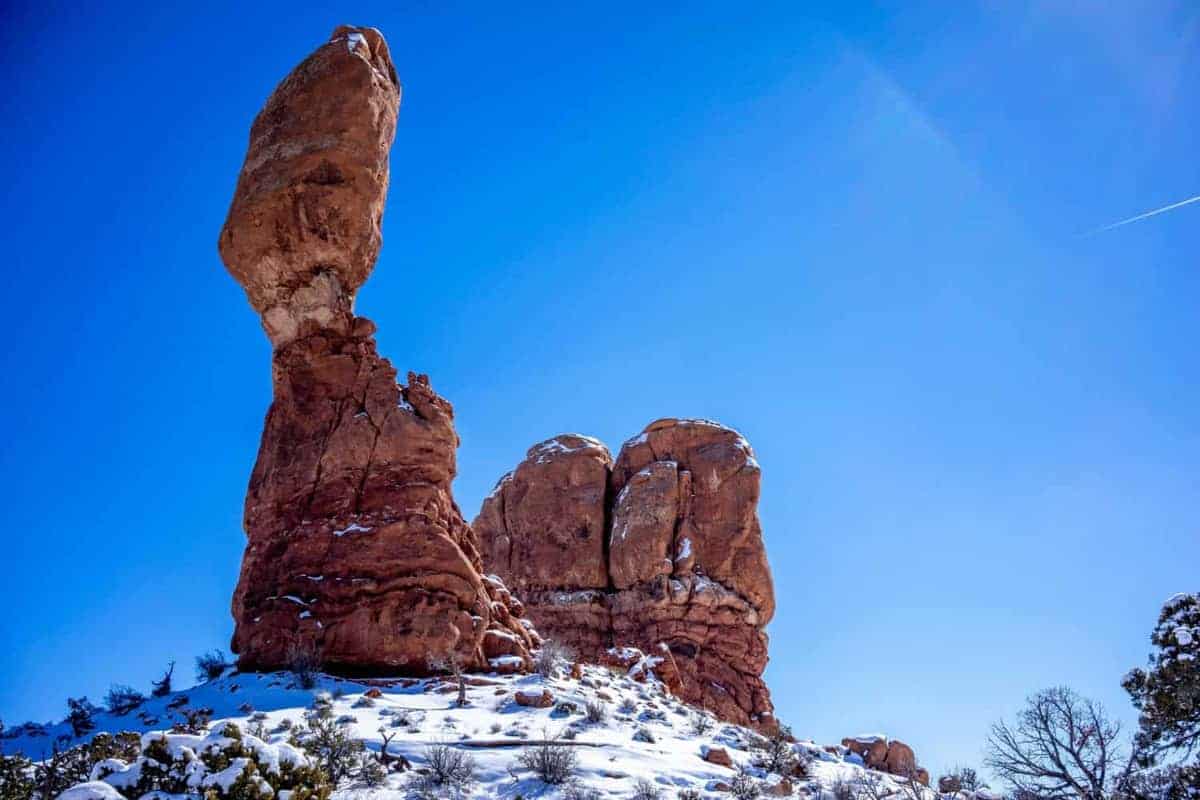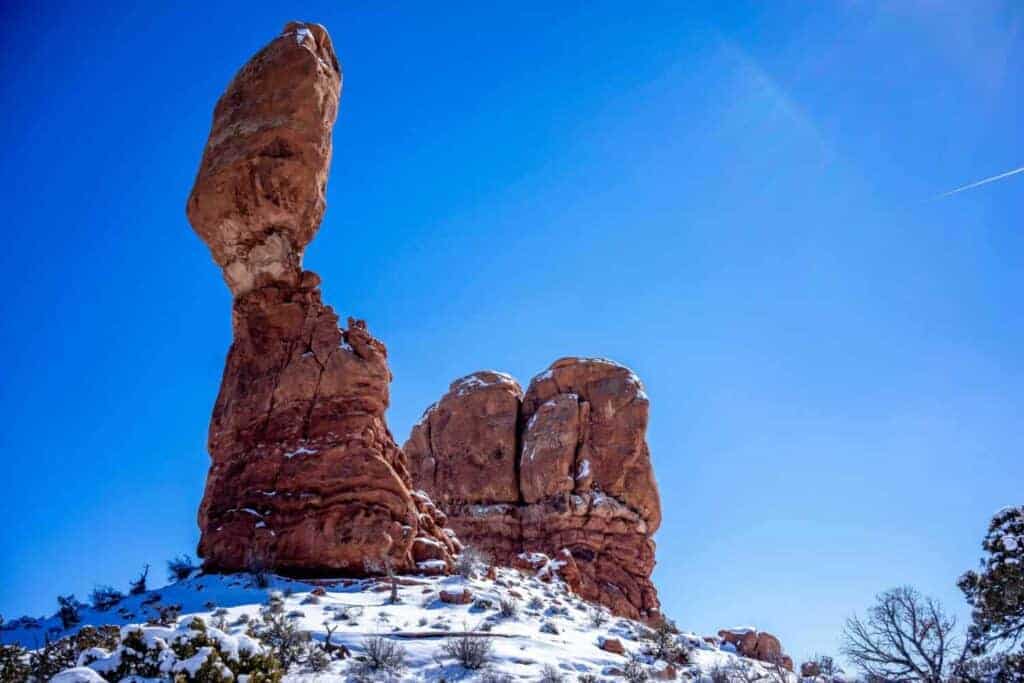 ---
For an in depth guide on all things Arches National Park
---
4. THE WINDOWS LOOP
Another popular and must do hike in Arches National Park. This hike is a great bang for your buck as you'll see several really cool attractions all within a short and easy hike.
2 miles with the addition of Double Arch
200 ft of elevation gain
Easy
If you are short on time and can only get in one hike this would be our recommendation. To get to the Windows you'll take a right off the main road just past Balanced Rock.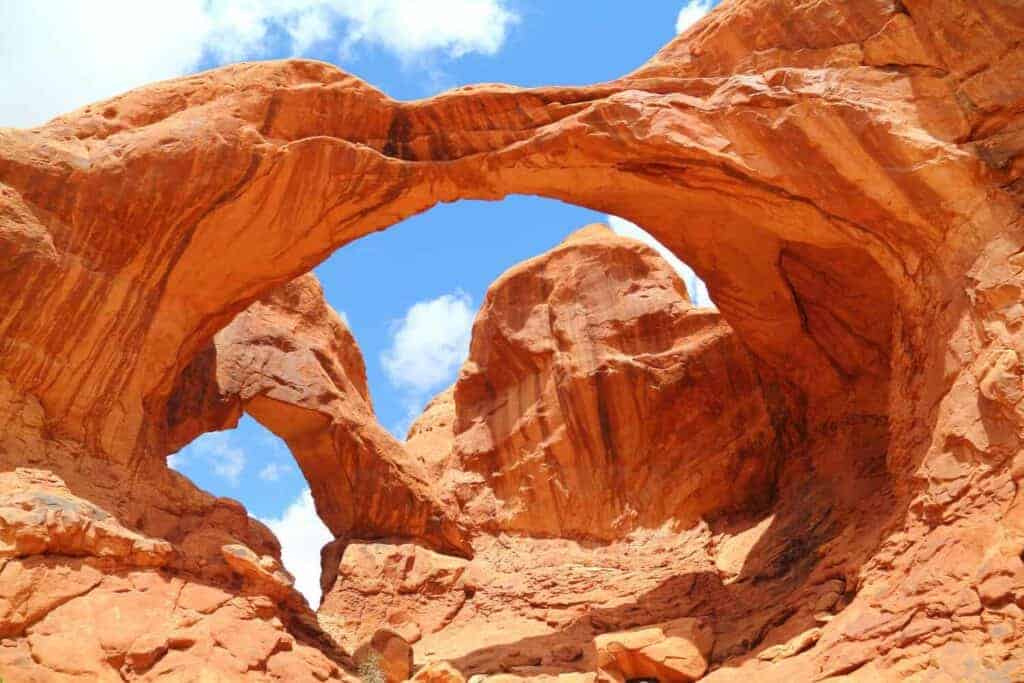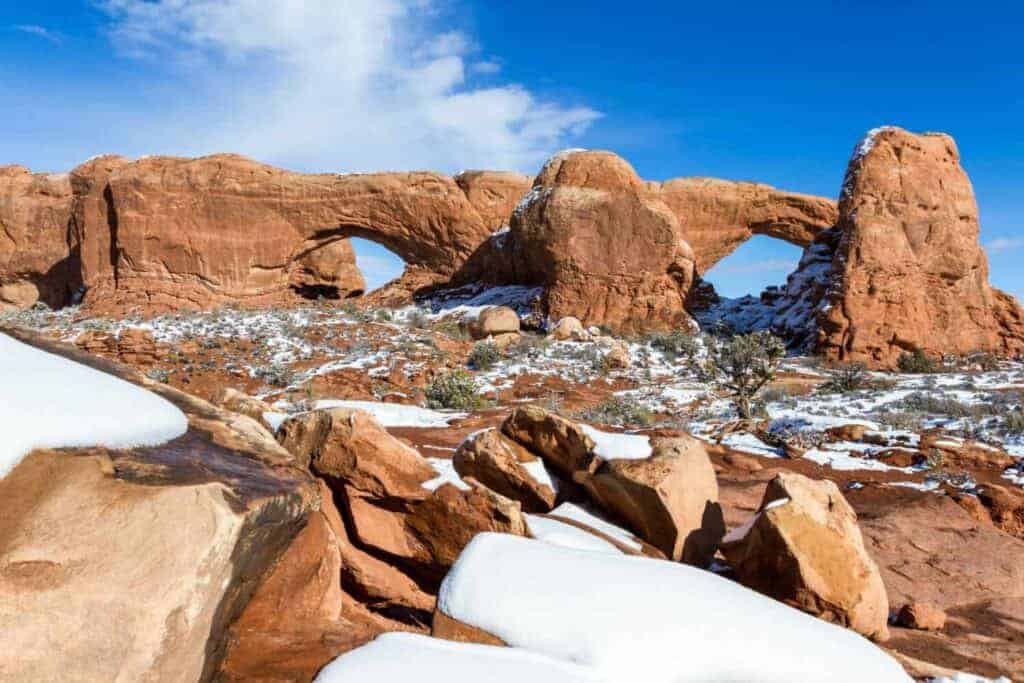 The Turret Arch is a lot of fun as you can walk up these stone stairs and stand inside the arch. It reminded us of a grand entrance to a castle and the only thing missing was the red carpet.
5. DEVILS GARDEN
The longest of the trails in the park offers you a glimpse of 7 unique arches. As you separate yourself from the crowds you'll pass by Landscape Arch, Double O Arch, Partition Arch, Navajo Arch, Pine Tree Arch, and Tunnel Arch.
7.5 mile loop
1,000 feet elevation gain
Difficult and in winter when we completed it, took a bit of hand and feet scrambling due to the slick rocks.
Get yourself some Yaktrax if hiking in winter.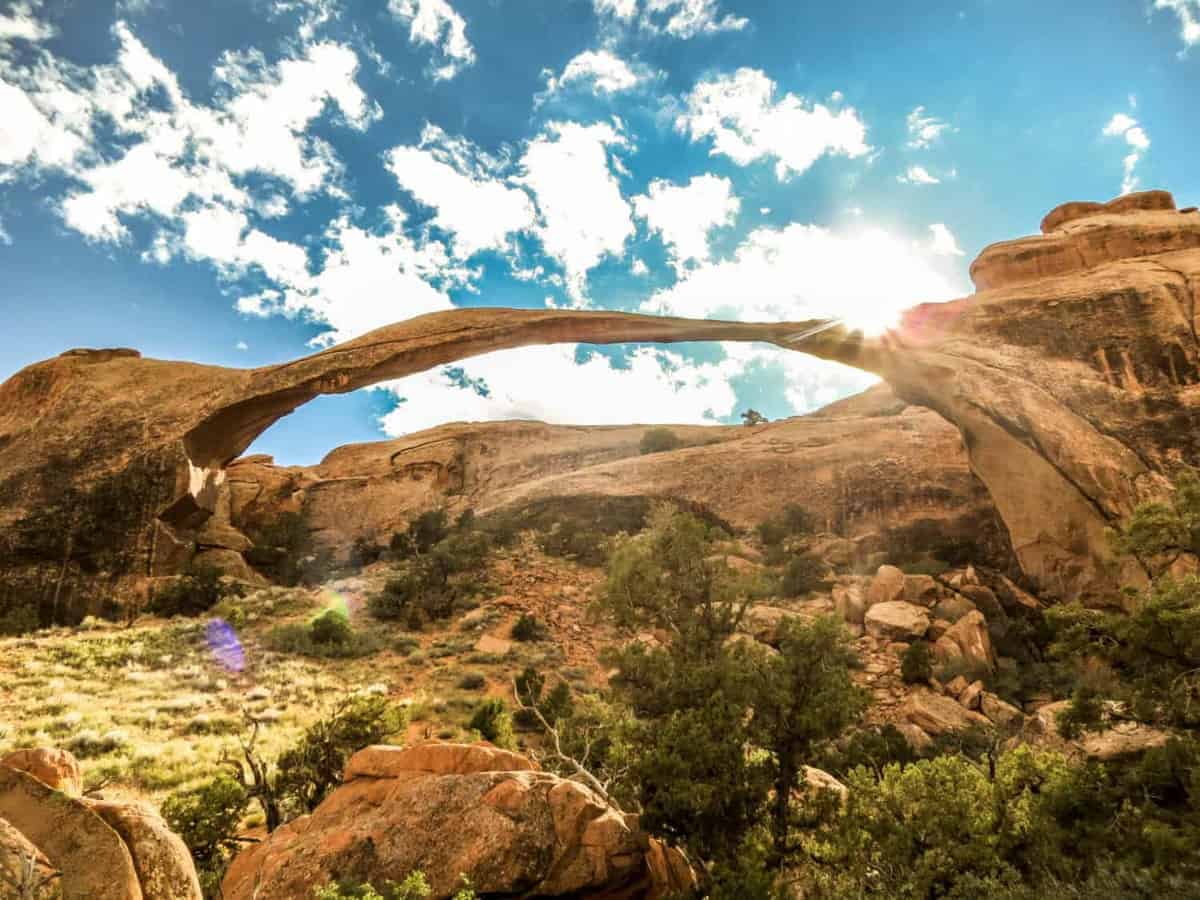 If doing the entire loop is out of the question you can do an out and back hike to Landscape Arch which will put you back 2 miles round-trip. The trail is well maintained and pretty easy.
The trail affords some nice shade in the hot summer as it passes through these narrow openings between the red rock cliffs.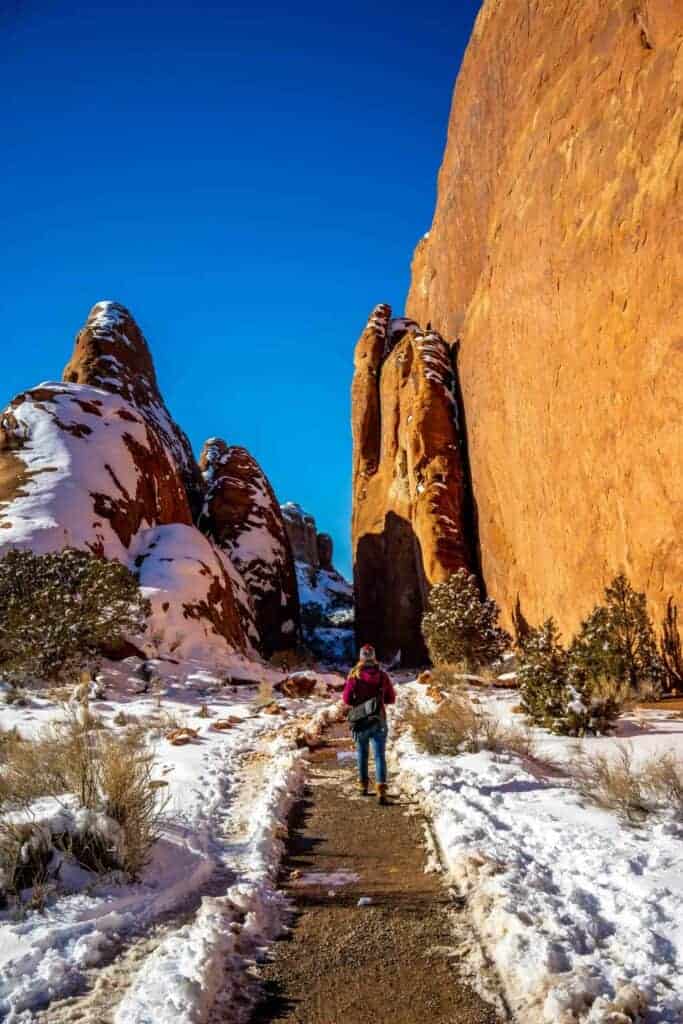 ---
While you're in the area…
---
6. FIERY FURNACE
The Fiery Furnace puts you deep inside this labyrinth of narrow canyons, towering pillars, and massive walls. The hike only gets better as you must scramble and get a little dirty to complete this epic.
The hike does require either a permit or ranger-led trip. While the trail is marked it's easy to wander off trail and get lost so be sure to come prepared.
2 miles but plan about 3 hours to complete
Not a lot of elevation gain but there is some scrambling and squeezing your way through narrow passages.
Difficult
To get more information head to the Arches NPS.
Be sure plan ahead as the permits and tours can sell out.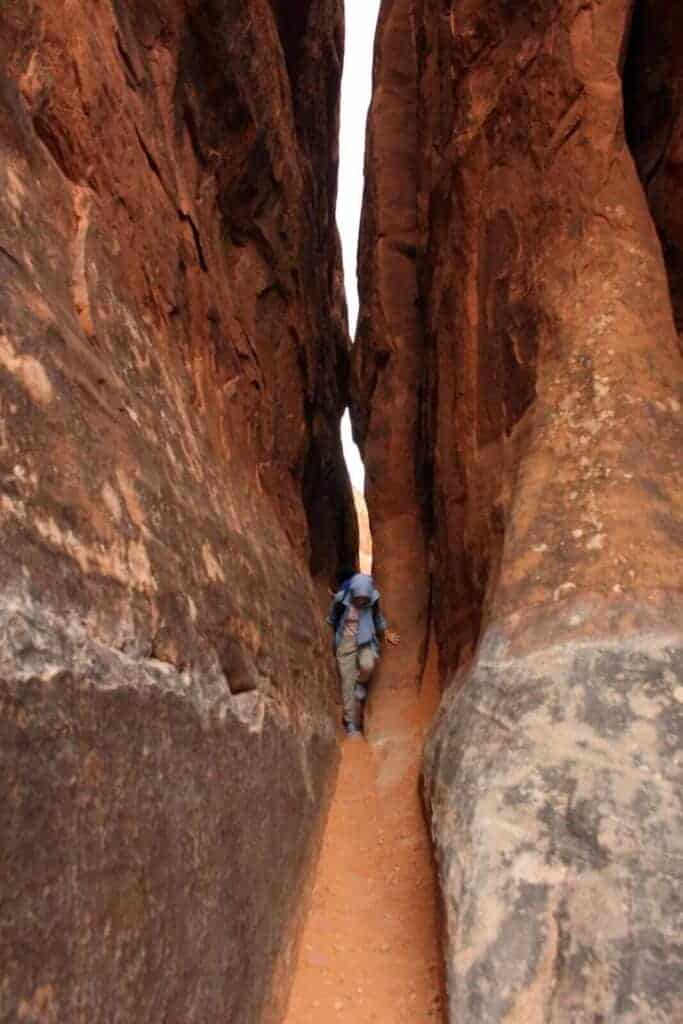 7. SAND DUNE AND BROKEN ARCH
This hike is an easy although a bit sandy hike that will work for folks of all abilities. The hike can be shortened by just going to Sand Dune Arch which is a quick 0.3 mile trip.
1.7 miles round trip to Sand Dune and Broken Arch
Mostly flat
Easy but you will be walking in deep sand
Oh and by the way, Broken Arche isn't actually broken! WTF?
UNTIL NEXT TIME…
Well folks we hope you have a blast hiking Arches National Park. It's a great place but don't forget to skip the crowds and visit this gem in winter.
Happy travels!
More reading: