The geological wonder of Arches National Park is a diamond in the rough of this vast desert landscape. The park at over 75,000 acres is filled with deep canyons, petrified dunes, stunning rock formations, and of course over 2000 arches.
ARCHES NATIONAL PARK HOURS
Arches is open year round, 24 hours a day, and is hands-down one of our favorite parks to visit in winter. During the winter some of the more remote backcountry roads may be closed due to mud or snow but the vast majority of the park and all of the sites remain open.
The park can get rather busy in the summer in addition to being stupid hot. Winter, fall, or spring is the way to go. If you do visit Arches in the summer expect long lines between 8 a.m. to 3 p.m.
We just recently visited the park in February and it was perfect. Great temps, a dusting of snow, and almost no people. This chart below showing the daily vehicle entrances I found quite amazing. Over 3,000 vehicles through the park in a day!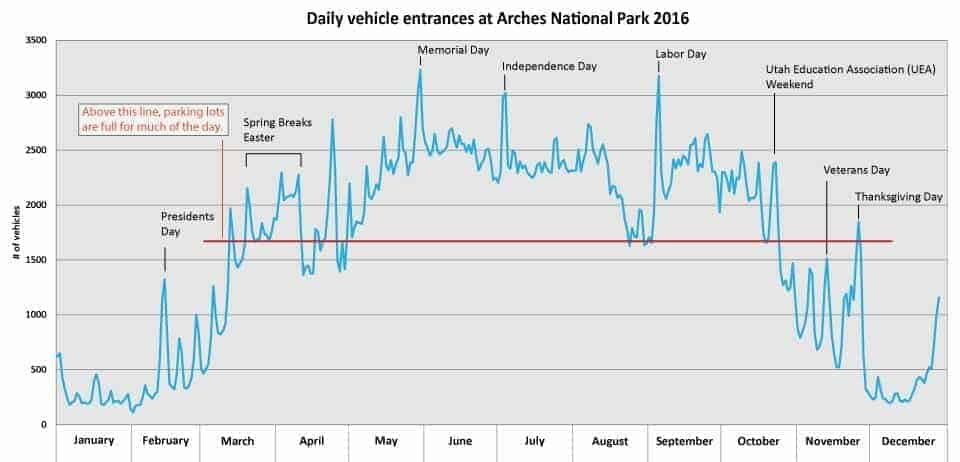 PARK ENTRANCE FEE
Private Vehicle – $30.00 – Admits one private, non-commercial vehicle (15 passenger capacity or less) and all its occupants.
Motorcycle – $25.00 – Admits a private, non-commercial motorcycle and its riders.
Per Person – $15.00 – Admits one individual with no car. Typically used for bicyclists, hikers, and pedestrians. Youth 15 and under are admitted free.
Annual passes are also available and run about $75, more info here.
MOAB WEATHER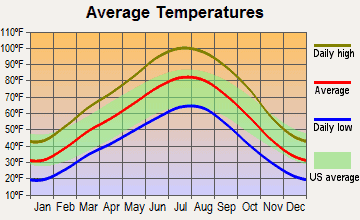 Our one piece of advice if you do decide to visit in the winter, be sure to grab some Yaktrax. The trails can get rather slick, in particular the Delicate Arch trail which we ended up on our ass multiple times. $15 at Amazon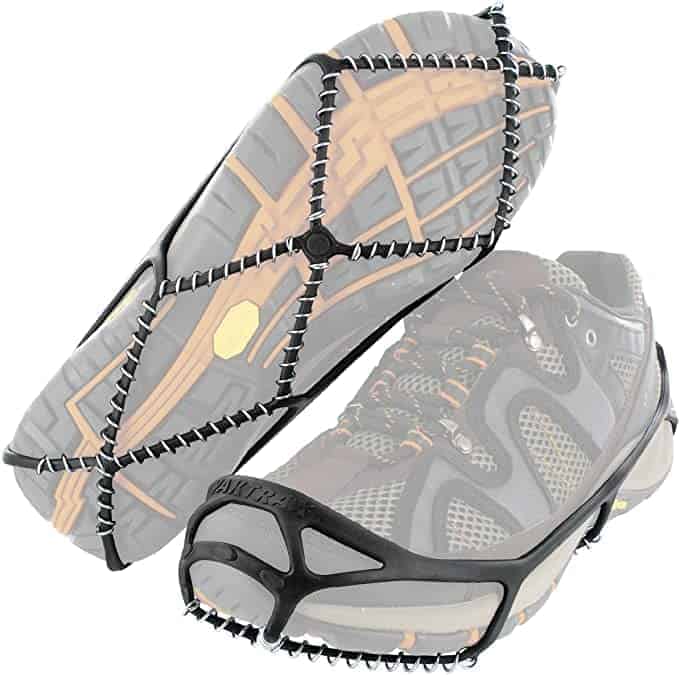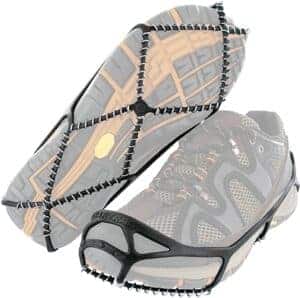 During the winter the weather is quite mild in the Moab Utah area and makes for a great time to visit the park. The only thing to be aware of would be that occasional snowstorm that may blow through. Fortunately, the snow never sticks around too long and usually isn't much trouble.
During the summer months expect things to get hot and busy. Peak weekends can see over 3,000 cars entering through the gate daily. Plan to enter the park during the morning or late afternoon when the entrance line won't be so long. There are few services once inside so bring plenty of water and whatever else you might need to get you through the day.
PARK SERVICES
The park has a large visitors center where you can watch an orientation film, visit exhibits, and they even offer a self-guided audio tour.
The park has no food or lodging facilities. You will find a small gift shop and a cafe where snacks can be purchased but don't go into the park hungry.
Pets – Are allowed on park roads, parking lots, and campgrounds but must be leashed. Pets are not allowed on any of the trails.
ARCHES NATIONAL PARK CAMPING
Devils Garden Campground ($25/night) is open all year and has 52 sites. The campground has water and flush toilets. There are two group sites for 11 or more people but no RV's are allowed at group sites.
Reservations for individual and group sites must be made at least 6 months in advance.
To reserve a site visit, www.nps.gov/arch or call 435-719-2299.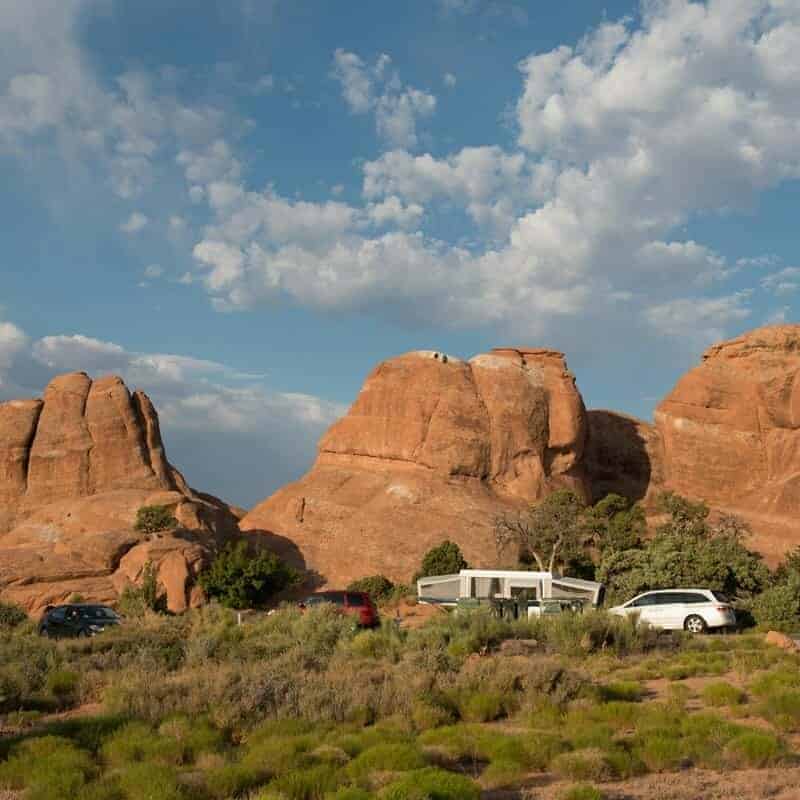 NATIONAL PARK MAP
Let's first have a look at a map to get you all situated. This is a copy of the map that you'll get upon entrance to the park. Click for a full size view.
If you're planning to do any backcountry hiking or camping you can get a proper Topo map below for about $10. Check prices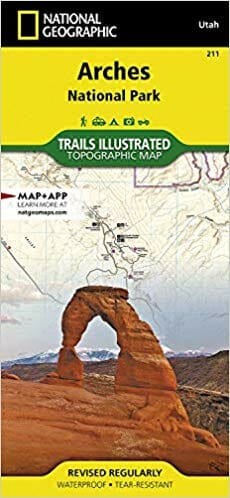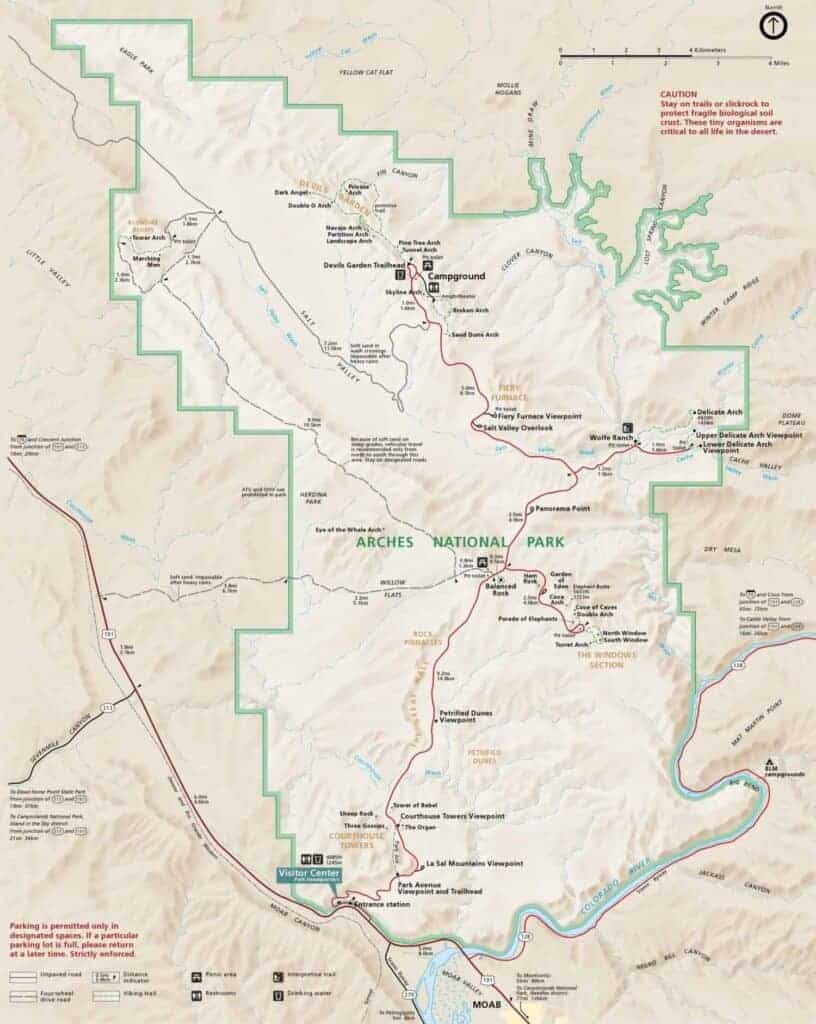 WHAT'S THE MAGIC AND HOW DO THESE ARCHES GET FORMED.
Well, it all started about 300 million years ago when the area was covered by the sea.
The park lies atop a 300 million year old salt bed. This salt bed is thousands of feet thick and was deposited when the area was covered by seawater which eventually evaporated.
The instability of the salt bed as it shifted, buckled, and liquified has shaped the area into what we see today. This movement caused vertical cracks to form creating fin like rock formations. As erosion continued to eat away at these fins the arches were formed.


ARCHES VIDEO TOUR
If you need a break from the reading check out our video from our most recent trip to this red rock playground.
GETTING AROUND THE PARK
The park has just one primary road which winds its way through all the sites and dead ends at Devils Garden. There are two spur roads that will take you to Delicate Arch and Double Arch which are both dead ends as well.
The road, which is about 25 miles, is smooth and well maintained with plenty of pull-outs. The most impressive part of the road is right out of the park entrance. As you climb the steep switchbacks it's as if the road was chiseled out of this massive stone cliff.
As you quickly gain altitude you'll be afforded some terrific views of the La Sal mountains.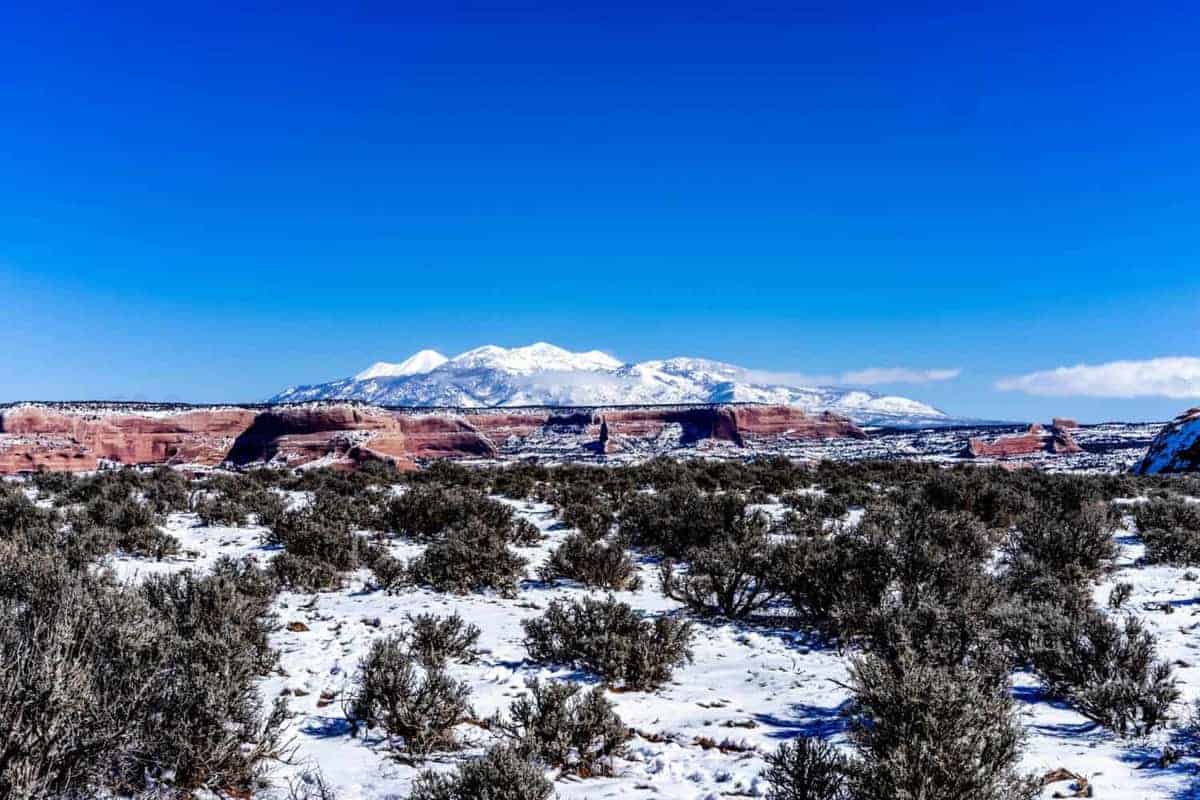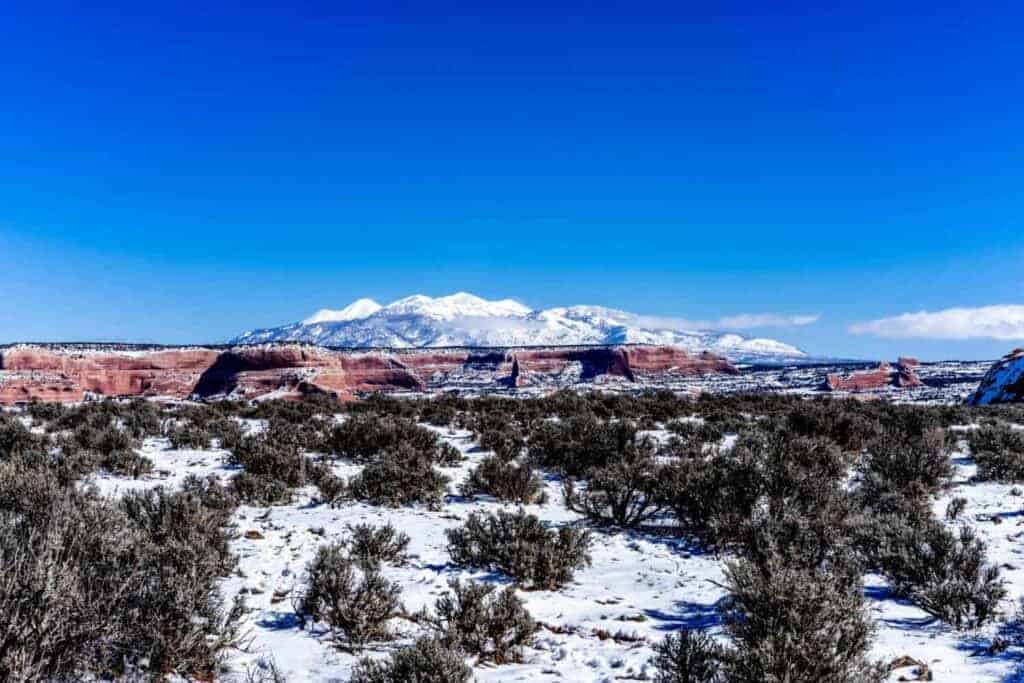 WHAT TO SEE AND DO 
I'll take you on a south to north itinerary through the park. How long do you need? Well, that really depends on how much hiking you'd like to do. A full day will get you to the majority of sites including a couple 1-2 hour hikes.
PARK AVENUE VIEWPOINT AND TRAILHEAD
At about 2 miles from the entrance you'll arrive at Park Avenue. Here you'll find yourself a glimpse of just how stunning these rock formations can be.
There's a quick 1 mile out and back hike or better yet have your driver pick you up around the corner about a mile down the road. You can see the trail on the map called Park Ave. If you're looking at the picture below you'll be hiking right down the gut of these massive walls.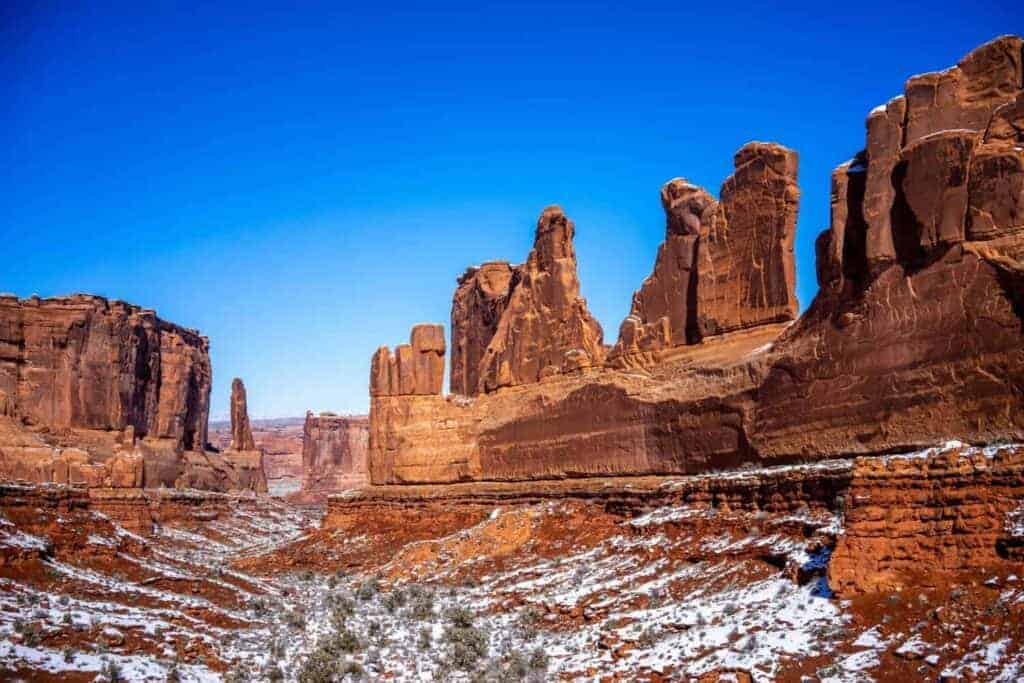 From here you'll wind your way up past Courthouse Towers viewpoint and the Petrified Dunes.
BALANCED ROCK
At about 10 miles you'll arrive at Balanced Rock. Here you can take one of several trails that work their away around this precariously balanced rock. You can't help but wonder how much longer this thing will be standing here for.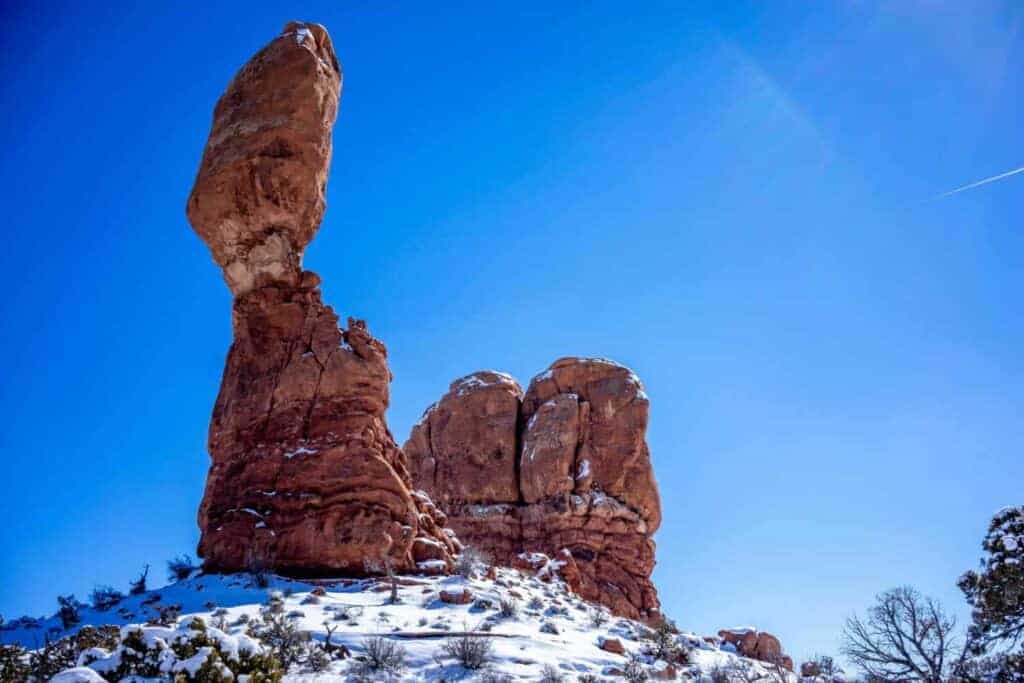 From here you'll have the option to hang a right and head towards the Windows. There you'll have Pothole Arch, Double Arch, and Turret Arch. All are accessible by a short hike.
Once you return to the main road you'll have about a 2 mile drive till you reach the next Y in the road. To the right takes you to the most famous arch of them all, Delicate Arch.
DELICATE ARCH HIKE AND VIEWPOINT
This is a must do as it's absolutely amazing. If you're doing the hike you'll stop at the trailhead well before the viewpoint. The Delicate Arch trail is 3 miles and moderate in difficulty.
There's about 500 feet of elevation gain and very little shade so be sure to bring plenty of water.
My favorite thing about the hike is that you never see the thing coming. The anticipation just eats away at you and then…..bam you're suddenly staring eye to eye with the massive Delicate Arch.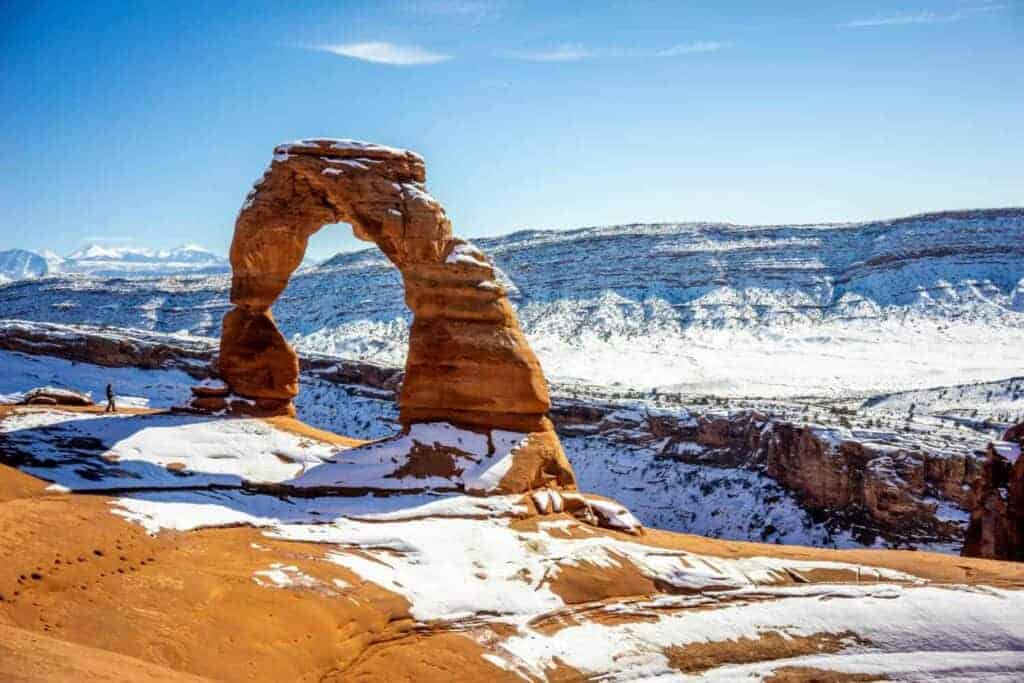 Once back on the main road you'll then pass by the Fiery Furnace viewpoint which offers a great but challenging hike that I'll talk more about later.
As you continue on you'll pass by a bunch more lookouts and eventually find yourself at Devils Garden Campground.
DEVILS GARDEN CAMPGROUND
Devils Garden offers a bunch of great hikes that I'll talk more about in a bit. Here you'll find numerous arches including Broken Arch, Tapestry Arch, Tunnel Arch, and Pine Tree Arch to name just a few.
Sand Dune Arch, Broken, and Tapestry can all be seen via an easy hike of about 1.5 miles.
The Devils Garden area is also where you can take the Salt Valley dirt road for some less visited parts of the park that include Tower Arch and Marching Men.
FAVORITE HIKES
For those that are looking for more details on hiking, head over to our favorite Arches National Park Hikes. Below is a quick summary of the most popular hikes.
Trail distances are round-trip unless otherwise noted.
Park Avenue (one way) (1mi) – Moderate short hill and then a smooth canyon bottom amongst the massive tall walls.
Balanced Rock (0.3 mi) – Easy walk around the base of the rock.
Windows Trail ( 1 mi) – Easy trail to North Window, South Window, and Turret Arch.
Double Arch (0.5 mi) – An easy trail to a really cool arch.
Delicate Arch (3 mi) – More difficult trail with about 500 feet of elevation gain. Exposed with very little shade.
Sand Dune Arch (1.3 mi) – A flat and mellow trail that can be combined with Broken Arch.
Devils Garden Trail (7.5 mi) – A more difficult and lengthy hike that takes you to Double O Arch and Landscape Arch.
Landscape Arch (1.6 mi) – Moderate hike on a good trail.
Double O Arch (4.2 mi) – Difficult with some ups and downs. A little more exposure to heights and trail is a bit rougher.
Tower Arch (3.4 mi) – Moderately difficult with some sand and elevation changes.
The Fiery Furnace (2 mi) – Is a more difficult off trail route that requires a guide or backcountry permit. The hike involves a bit of scrambling as you squeeze your way through some narrow rock formations. Check out our Arches National Park Hikes for more details.