Austin Day Trips- Things You Have To See
Sitting on the edge of Hill Country, Austin is a city that must be experienced to be understood. It is known for its lively nights packed with music, eclectic food like the legendary Tex-Mex, art scenes, and warm weather that invites you to soak in one of the many rivers and lakes.
With over 250 music venues in town, it's no wonder Austin was voted the "Live Music Capital of the World." When Austinites aren't indulging in food or music, they're often exploring the less-traveled roads. Here are some out-of-dream, scenic day trips within driving distance of Austin.
Pedernales Falls State Park – Beauty Unmatched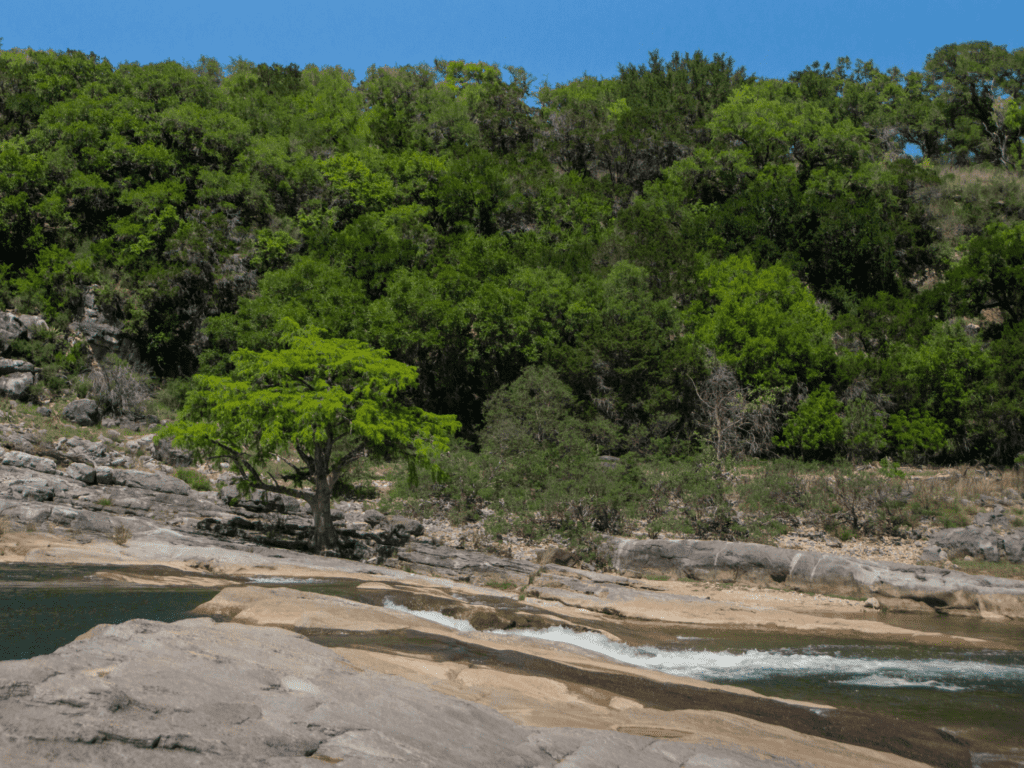 Just 42 miles west of downtown Austin, Pedernales Falls State Park is a haven for outdoor lovers and adventure seekers. With over 5000 acres of land, this park has plenty to explore. Whether you're an adventurous soul or more of a water baby, there's something for everyone at Pedernales Falls State Park.
However, the main attraction is the Pedernales River, which cascades over layers of sun-kissed limestone rocks before flowing into several pools. The tranquility of the river is in stark contrast to downtown Austin's bustle and activity, making it ideal for relaxing and revitalizing purposes.
There are several hiking routes to discover, from simple to difficult. You're guaranteed to be rewarded with stunning views of the Hill Country if you pick any of the trails.
If your fortune smiles on you, you might even see a glimpse of the tall and flat Bluegill sunfish frolicking in the water or hear the endangered Golden-cheeked Warbler whistling through the trees.
New Braunfels – A Slice of Bavaria in Texas
Just an hour's drive from Austin, New Braunfels is a charming town with a rich German heritage. The city was founded in 1845 by German settlers, and many of the original buildings are still standing today.
Wander down Main Plaza, and you'll feel transported to a different era. With their intricate brickwork and colorful facades, the buildings are straight out of a fairytale.
If you're luckily in town during Christmas, the whole town is decked out in lights and festive decorations. It's truly a sight to behold.
And, just before you plan to end your tour of New Braunfels, don't forget to pick up some mouth-watering snacks from the oldest bakery in Texas – Naegelin's Bakery. The aroma of freshly baked pretzels will tantalize your senses and leave you wanting more.
San Marcos – The Outlet Capital of Texas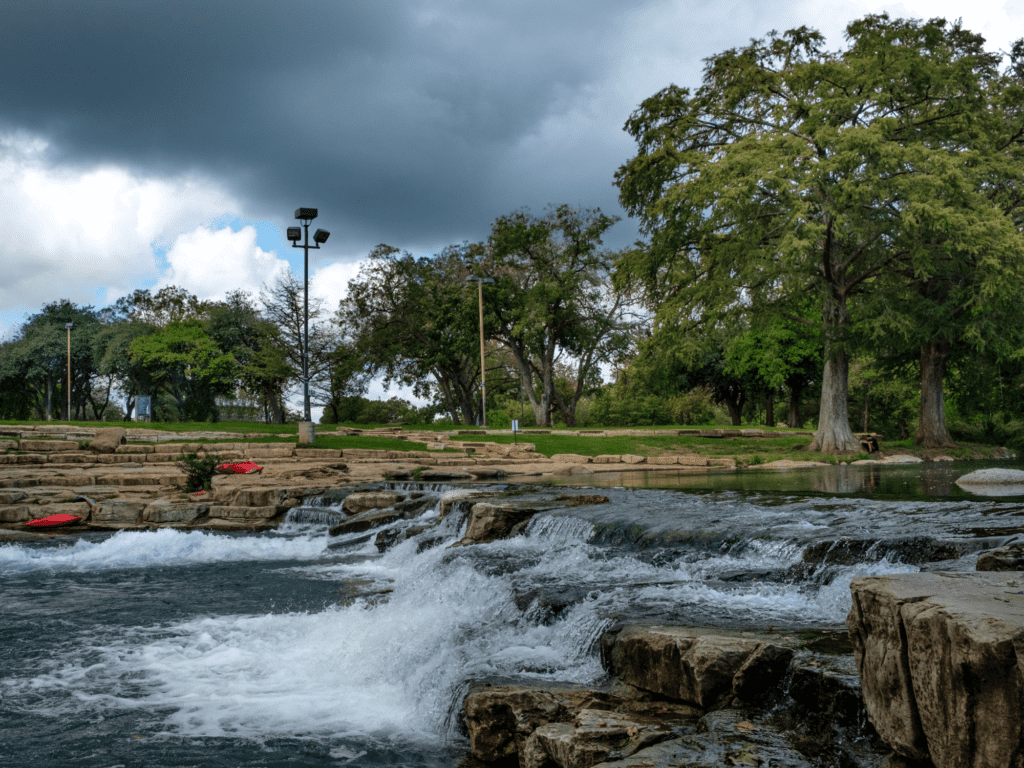 If you're looking for a bargain, look no further than San Marcos. Just 30 miles south of Austin, this city is home to over 100 outlet stores. Business is booming here, and it's easy to see why.
Whether you're looking for clothes that'll keep you cool in the Texas heat or the latest fashion trends, cosmetics to swell your collection, or home goods to spruce up your place, you'll find them in San Marcos. And with discounts of up to 70%, you can't go wrong.
But San Marcos is more than just a shopping destination. The city is also home to the beautiful San Marcos River. This crystal clear river is perfect for tubing, swimming, and kayaking.
If you're feeling venturesome, you can even try your hand at cliff jumping. Just be sure to take caution as the rocks can be slippery.
So whether you're looking for a day of retail therapy or a day of outdoor adventure, San Marcos is the perfect place.
Buda – A Small Town With Big Charm
Just south of Austin is the small town of Buda. This quaint town is the quintessential place to escape the swamped city life and relax in the peace and quiet of Hill Country.
The best time to visit Buda is during the Wildflower Festival in April. The fields and hillsides are blanketed with a colorful array of wildflowers. It's a breathtaking sight.
If you're not a fan of large crowds visit Buda during the week as it can get quite crowded on weekends.
There are also several parks and hiking trails in Buda where you can take in the scenic beauty of Hill Country. One of the most sought-after trails here is the Barton Creek Greenbelt. This easy to moderate trail that runs for nearly 8 miles takes you through fields of bluebonnets and wildflowers.
Without a pit stop at the Original Mathis Brothers BBQ, no trip to Buda would be complete. Since 1949, this family-owned restaurant has been dishing out the delectable barbecue. Try their famous brisket; it's mouth-wateringly delicious.
San Antonio – The Alamo City
San Antonio is a favored tourist destination in Texas. And for a good reason too. The San Antonio Riverwalk, the highlight of many trips, has stone pathways and numerous restaurants on the water. To experience this cultural beating heart of the city, tourists may hop aboard a boat and tour the San Antonio River.
The city features several historical landmarks, including the Alamo and Mission San Jose.
The Alamo is one of the most famous battle sites in American history. The mission was originally built as a Spanish fortification in 1724 but gained fame in 1836 when it was the site of a battle during the Texas Revolution.
Now, the Alamo is a shrine and a symbol of Texas liberty.
If you're a history buff, you'll also want to visit Mission San Jose. This 18th-century Spanish mission is the largest of the five missions in San Antonio. It's known for its intricate stonework and beautiful grounds.
The San Antonio River Walk is worth seeing when visiting San Antonio. The 15-mile network of rivers and walkways winds through the city, offering scenic views of the river and downtown San Antonio.
Georgetown – Beauty and Charm in the Heart of Texas
Nestled in the heart of Texas is the charming city of Georgetown. This picturesque city is known for its Victorian-style architecture and quaint shops.
This pleasant city, located 30 minutes north of Austin, has locally run shops and restaurants that adorn the ancient facades of downtown Georgetown, where you can purchase everything from baked goods to antique collectibles.
The ideal town square is picturesque and is filled with artistic events, including Downtown's First Fridays. The entire neighborhood participates in the magnificent scenery and creative exhibitions at these neighborhood block parties.
Georgetown, located in the Texas Hill Country and surrounded by beautiful scenery, is a gateway to outdoor adventure. Blue Hole Park is ideal for enjoying a swim in the refreshing waters of the San Gabriel River or hiking one of the picturesque paths.
The Eagle Ford Shaft is one of Georgetown's most famous natural attractions. In 1963, the Texas Department of Transportation discovered the Inner Space Cavern while building Interstate 35. Since then, guided tours have been available. These underground adventures don't require any crawling and are led on paved pathways through illuminated passageways.
RELATED: Fun Free and Cheap Things to Do in Austin Texas
Hamilton Pool – A Hidden Oasis
Just outside of Austin situates the beautiful Hamilton Pool Nature Preserve. This hidden oasis is a swimming hole formed when an underground river collapsed, creating a 50-foot waterfall.
The pool is surrounded by large limestone cliffs and has been designated a preserve since 1990. In order to protect the frail ecosystem, only a limited number of visitors are allowed each day.
If you're looking to make a bolt for the heat and enjoy some time in nature, Hamilton Pool is the perfect place for you. The soothing waterfalls in the coveted grotto keep the air cool and refreshing, even on the hottest days.
On the weekends, there are several interesting eateries and local businesses in Dripping Springs, which is renowned for its bandshell. You can spend the following afternoon sipping the most exquisite wine while enjoying a picturesque view of the vineyards.
In addition to being a fulcrum for live music, Dripping Springs is also known as the "Wedding Capital of Texas." This title is due to the many picturesque wedding venues, including ranches and vineyards, that the city has to offer.
If you're looking for a day trip that's a little bit out of the ordinary, Dripping Springs is the place. While you're on your way back to Austin (and hungry), don't forget to try The Salt Lick nearby Driftwood.
Get Out and Explore Day Trips Around Austin
Austin is music incarnate, with live performances as its essence. It is a multifaceted city with spectacular entertainment districts, well-known culture, and outstanding restaurants. The city receives around 27.4 million tourists each year. This city's access to the internet is greater than that of the rest of the region.
The city has experienced a fair share of filming, with over two hundred movies and TV shows shot in Austin. There are more than 12,000 hotel rooms downtown and nearly 43,000 citywide. Therefore, there will always be a place to stay while you're visiting Austin.
The best times to visit Austin are March, April, October, and November when the weather is mild, and there are fewer tourists. So, make your plans accordingly and enjoy your trip!
When planning your itinerary, remember to include some of these amazing day trips just outside of Austin! From swimming in natural pools to exploring underground caverns, there's something for everyone to enjoy.