Summer is here, and that means it's time to break out the sunscreen and get ready for some fun in the sun!
Whether you're a beach bum looking to lounge by the ocean or an adventure seeker searching for a thrill, there are plenty of amazing beaches around the world that can provide you with a memorable vacation.
So, let's take a look at some of the best beach vacations to take this year!
Phuket, Thailand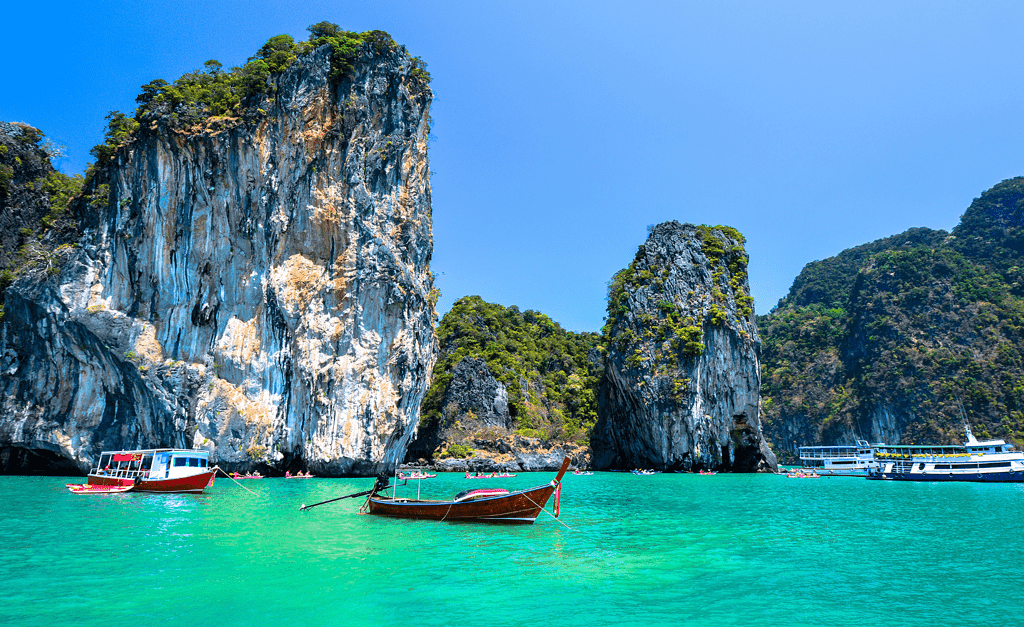 Have you been dreaming of a tropical getaway where the sun always shines and the days are filled with adventure? Look no further than Phuket.
From Patong Beach—the most popular beach—to Laem Singh Beach—a hidden gem located on the island's west coast—Phuket has something to offer everyone.
For those who want to explore beyond the beach, head into the town of Phuket.
You'll find plenty of things to do here, from touring historical sites like Wat Chalong Temple and Big Buddha Hill to shopping at bustling markets and taking a cooking class so you can bring home some new recipes!
Be sure to make time for some street food as well — it's one of the best ways to experience Thai culture and cuisine.
For a luxurious experience, book one of the many private villas on the island. These lavish homes come complete with pools and private chefs who can prepare meals right in your own kitchen!
If that's not enough luxury for you, then why not check out one of Phuket's five-star resorts?
No matter what type of accommodation you choose during your stay in Phuket, it will surely be memorable.
Bali, Indonesia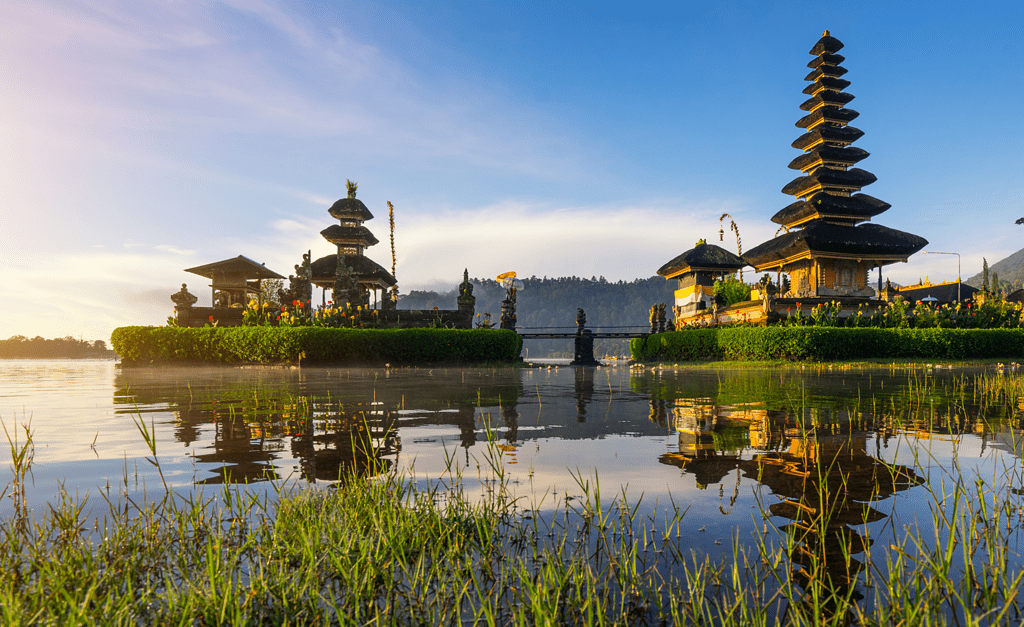 Bali's coastline is filled with hidden coves and secret beaches that are sure to delight beach lovers. From majestic cliffside views to white sand beaches, there is something for everyone in this South Pacific paradise.
If lounging on the beach isn't quite your style, don't worry! Bali offers plenty of outdoor activities to satisfy even the most adventurous traveler.
Hike through lush jungles and explore hidden waterfalls; go surfing on some of the best breaks around; or take a day trip out to one of the nearby islands like Nusa Penida or Gili Air for snorkeling and diving adventures.
If you're into amazing food, Bali is your place—from traditional Balinese dishes like nasi goreng (fried rice) and sate lilit (minced meat skewers) to modern fusion dishes such as lobster sushi rolls and coconut ice cream sandwiches.
There's truly something for every palate in Bali!
Plus, many restaurants offer ocean views so you can take in the sights while enjoying your meal.
Maldives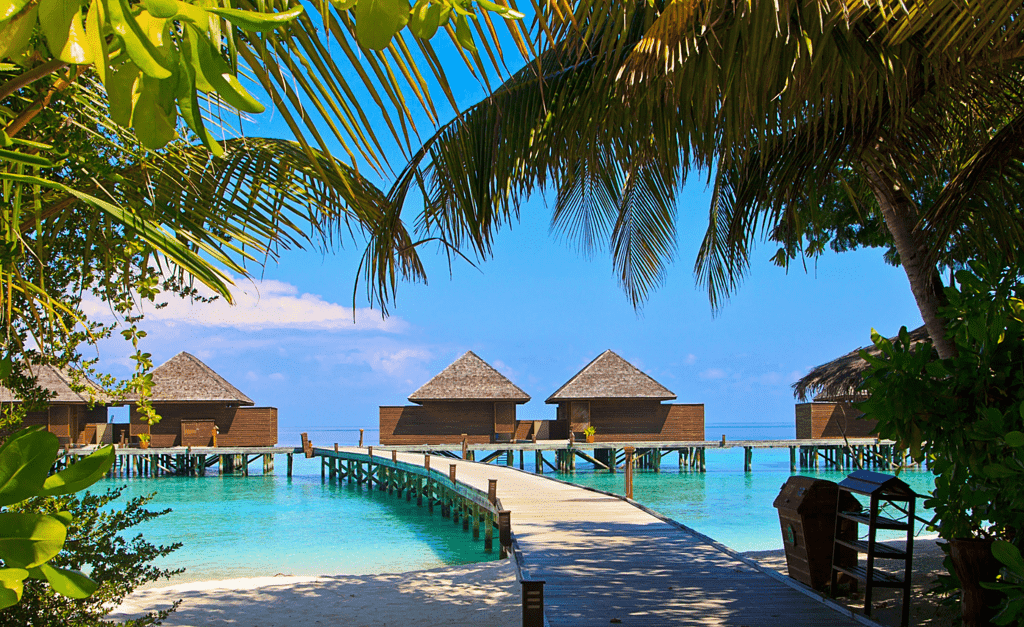 The Maldives is a paradise like no other. With its crystal clear waters and powdery white sand beaches, the Maldives is the perfect destination for anyone looking to escape from their daily grind.
Whether you're a fan of snorkeling or scuba diving, fishing, or kayaking, you'll find it in the Maldives. If you prefer something a bit more relaxing, you can go kayaking in the calm turquoise waters.
You can also opt for island-hopping tours that will take you around some of the most stunning islands in this archipelago.
Regarding accommodations in the Maldives, there are so many choices! From luxury resorts with overwater villas perched atop crystal-clear lagoons to beachfront guesthouses that offer budget-friendly rates and local hospitality.
Plus, its close proximity to India and Sri Lanka makes it an easy addition to any South Asian itinerary. So if you're looking for a luxurious beach getaway that will make your vacation unforgettable, add the Maldives to your bucket list!
Cancun Mexico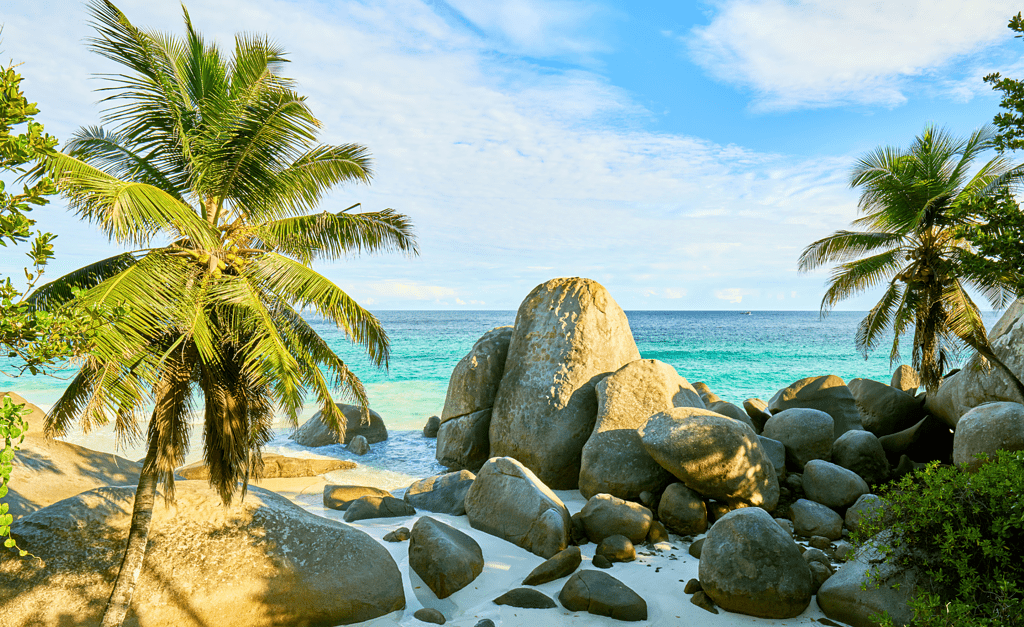 With miles of white sand beaches and crystal clear waters, it's easy to see why Cancun is one of Mexico's most popular vacation spots.
Whether you're looking for a peaceful beach day or a spot to participate in some awesome water sports, there's something here for everyone.
Take some time to relax on the beach under a palm tree or explore the beauty of this area with a snorkeling excursion.
If exploring unique cultures is more your speed, this vibrant city offers many cultural attractions like ancient Mayan ruins, museums and galleries, and quaint markets selling authentic Mexican handicrafts.
Don't forget to try some traditional Mexican dishes, such as tacos al pastor or chilaquiles, while you're here too!
When the sun sets over the Caribbean Sea, it's time to party in Cancun! This vibrant city is home to some of Mexico's hottest nightclubs, where you can dance until dawn or sip on delicious cocktails while enjoying live music performances.
There are also plenty of bars and restaurants spread across this city, with restaurants serving up classic Mexican dishes to upscale establishments dishing out gourmet fare.
Seychelles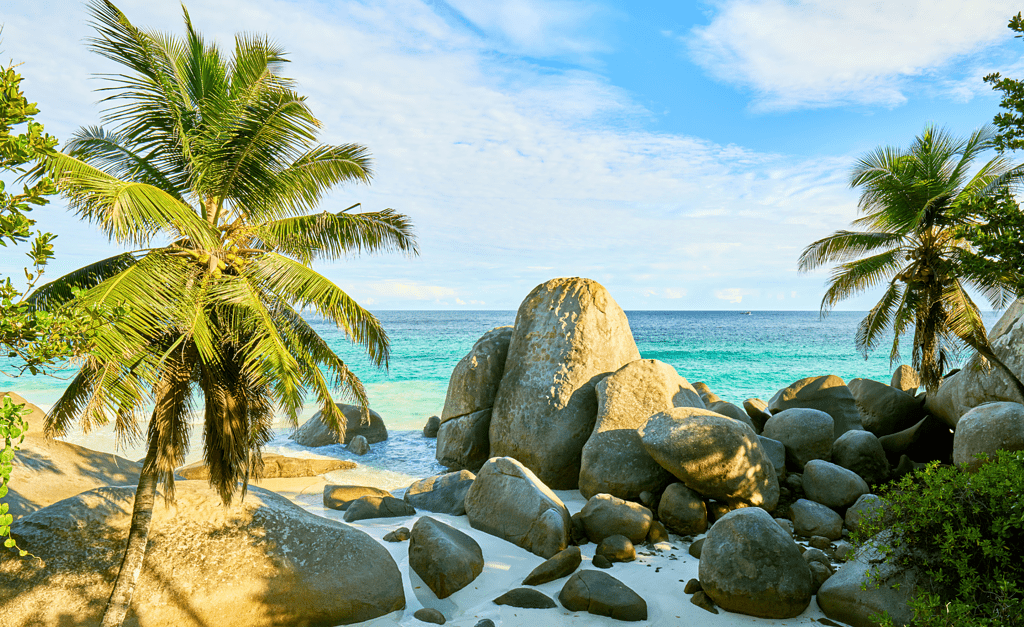 Seychelles is home to some seriously stunning natural wonders that will take your breath away. From powdery white sand beaches set against dramatic granite cliffs to lush green vegetation.
Whether you're taking a stroll along one of the many pristine beaches or exploring the vibrant coral reefs, you won't be disappointed with the incredible views in Seychelles.
Seychelles is also home to a thriving culture and cuisine worth exploring during your stay. Victoria (the capital city) offers some amazing local dishes such as fish curry, fried octopus, and grilled prawns that are sure to tantalize your taste buds.
You can also check out some interesting cultural attractions like the Natural History Museum or the historic clock tower in Victoria -the clock tower is a landmark in Victoria and perhaps one of the iconic historical features of that city.
Or, if you're looking for more adventure, you can participate in one of the many water sports activities available, such as snorkeling or kayaking.
After exploring, why not treat yourself to a stay at one of the world-class luxury resorts in Seychelles?
These resorts offer up everything from luxury spas and gourmet restaurants to private beachfront villas so you can relax in style after a long day of sightseeing.
Oahu, Hawaii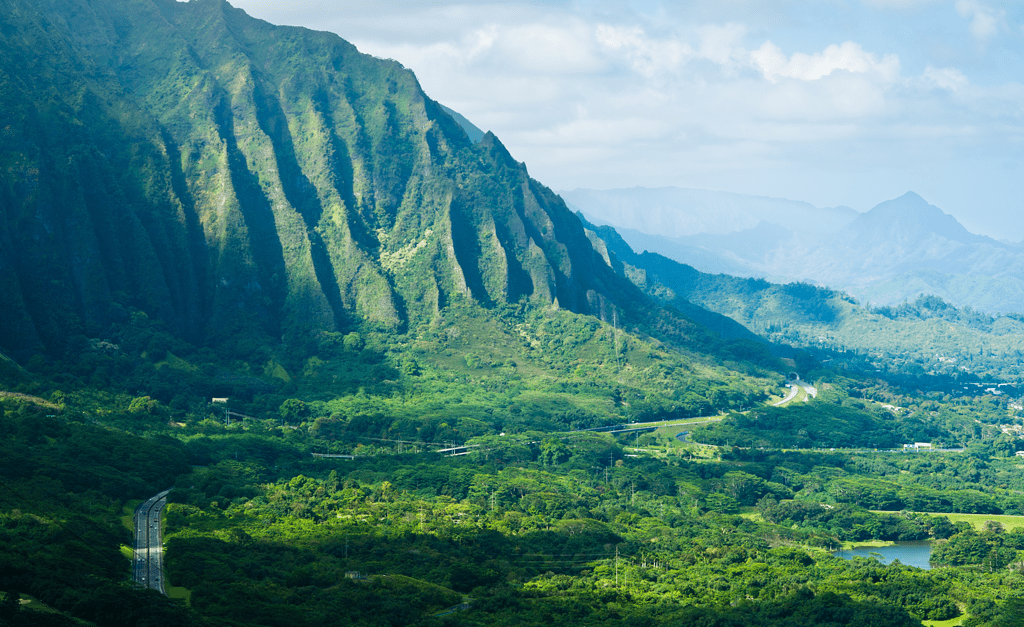 Oahu is home to some of Hawaii's most stunning beaches. From Lanikai Beach, with its soft white sand and crystal clear waters, to Waimea Bay—where you can watch professional surfers riding world-class waves.
You can take an afternoon stroll along the famed Waikiki Beach or grab a board from one of the many surf shops and hit the waves yourself!
What sets Oahu apart from other Hawaiian islands is its strong cultural presence. Spend an afternoon exploring the historic Pearl Harbor, or take a stroll through Chinatown.
Then, make sure to sample some of Oahu's amazing traditional Hawaiian dishes like poke and lau lau.
Bora Bora, French Polynesia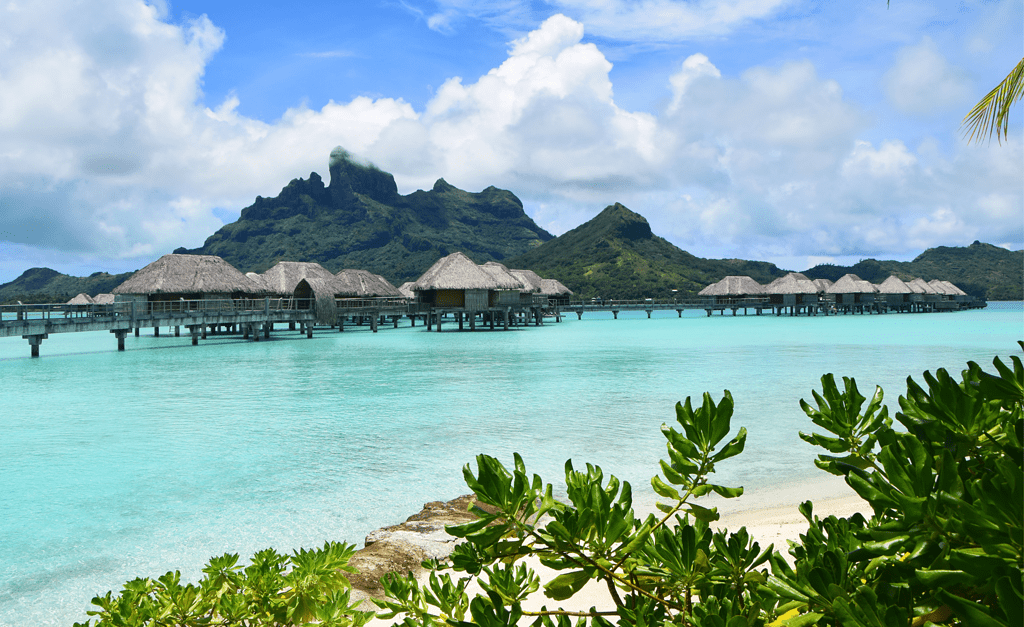 One of the best things about visiting Bora Bora is that you can relax on some of the world's most beautiful beaches.
The white sand stretches for miles, and the crystal blue waters provide a stunning backdrop. If you're looking for something unique, why not stay in one of the many resorts offering overwater bungalows?
These little houses sit directly above the sea, giving their guests access to some of the best views of the area.
Boredom will never be an issue during your stay in Bora Bora. Plenty of activities are available, from jet skiing and snorkeling to parasailing and scuba diving.
Plus, if you want something a bit slower-paced, there are also plenty of opportunities for exploring the island by foot or bike too!
No visit is complete without exploring the local culture and cuisine!
Take a cooking class taught by a local chef and learn how to make Polynesian dishes, or explore some of the traditional dances at one of the island's cultural events. You won't be disappointed by all that's on offer in French Polynesia!
Tulum Mexico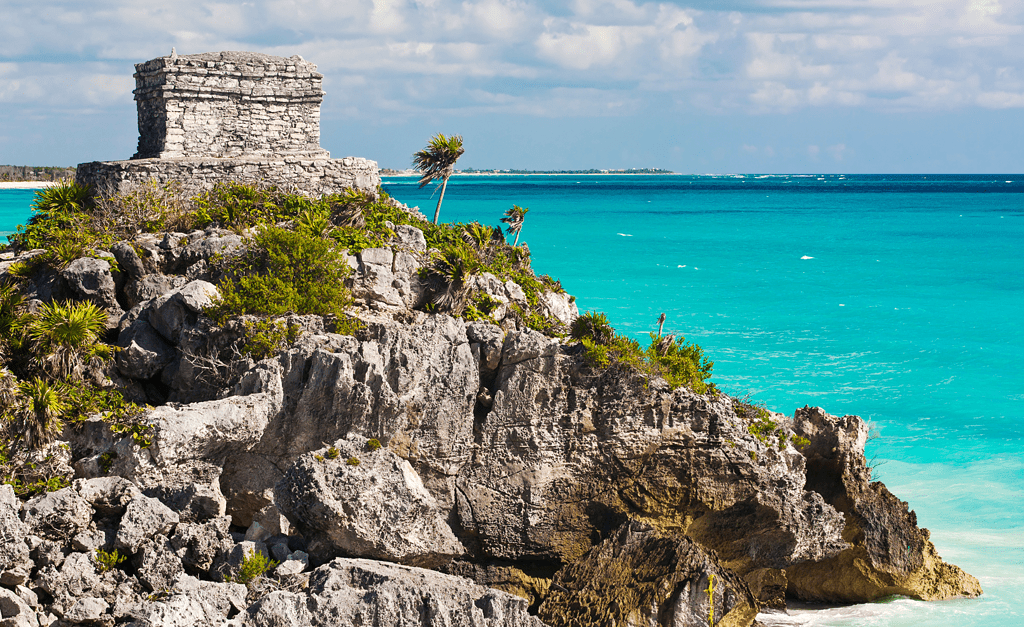 One of the main reasons people visit Tulum Beach is the wide variety of activities it offers. From snorkeling and diving among coral reefs and vibrant sea life to fishing trips and yoga classes on the beach, you'll find a bit of everything.
And if you want to treat yourself while you're there, plenty of spa treatments are available at one of many luxurious resorts nearby.
Tulum Beach is simply breathtaking! The bright blue waters contrast beautifully with the lush green plants in the background.
Whether you're lounging on the beach or taking a walk along one of its many trails, you'll always be surrounded by stunning views.
Plus, Tulum is home to many of the world's most popular Cenotes that are perfect for swimming, snorkeling, and exploring.
Maui, Hawaii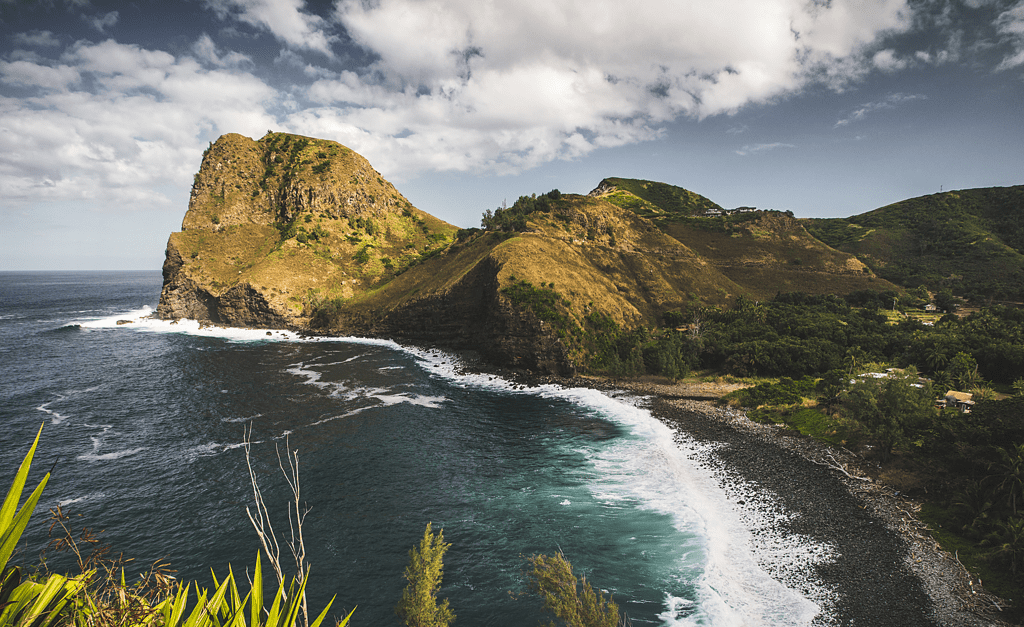 Maui offers some of the best beaches in the world. Kaanapali is home to Black Rock Beach, a gorgeous stretch of white sand that's perfect for cliff-jumping swimming and snorkeling.
Here you can explore underwater caves and spot brightly colored fish, sea turtles, and more. If you're looking for something a bit more adventurous, head to Makena State Park, where you can go hiking or take part in water sports like kayaking or paddleboarding.
The park is also home to several hidden coves perfect for exploring by boat or jet ski.
When it comes to nightlife, Maui has plenty of bars and clubs to choose from. Whether you want to dance the night away at one of the local nightclubs or just grab a few drinks with friends after dinner, plenty of options are available.
And if you're looking for something a bit quieter, why not take a night-time stroll along the beach or relax with some live music at one of the many open-air bars?
No matter how you choose to spend your time here, Maui is sure to provide some incredible memories for years to come.
Cape Town, South Africa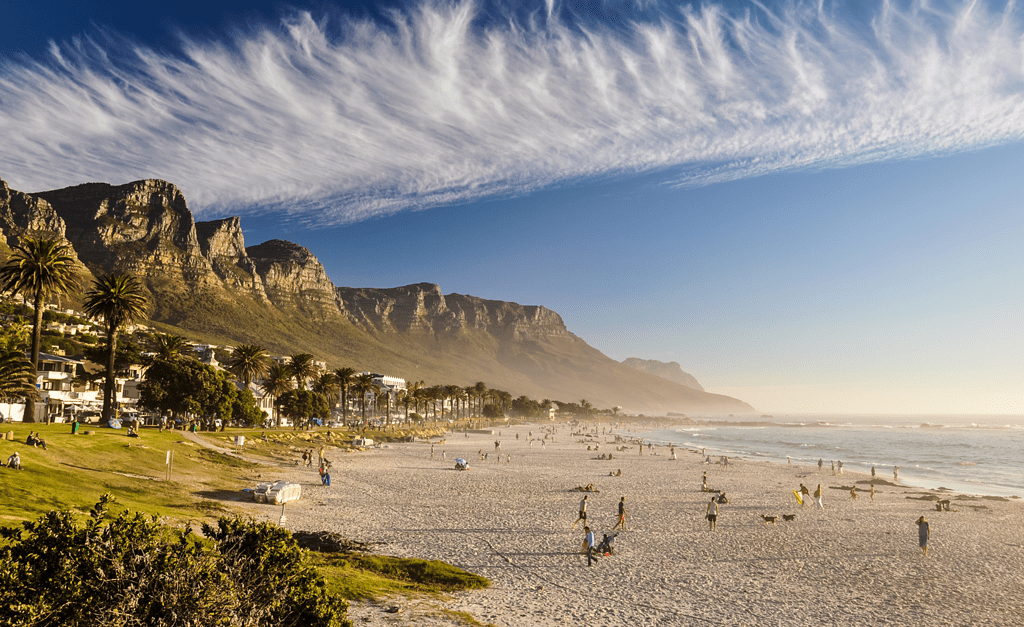 Stunning beaches, vibrant culture, and plenty of things to do—Cape Town, South Africa, has it all! You can't go wrong when exploring the beautiful beaches of Cape Town.
From Clifton Beach with its four picturesque bays to Camps Bay's golden shoreline, you'll find them all amazing.
Muizenberg is great for surfing waves, while Bloubergstrand Beach offers gorgeous views of Table Mountain. If you want to take a break from swimming and basking in the sun, try one of the many beach activities, such as kiteboarding or yoga!
You can also simply relax and soak up some rays while taking in the breathtaking views.
If you want something a little more laid back, consider taking part in one of Cape Town's many wine tours. The region around Cape Town boasts some of the best wineries in South Africa, so why not take advantage?
Whether you are looking for red, white, or sparkling wines, you can sample them all while learning about their production process from local experts.
Punta Cana Dominican Republic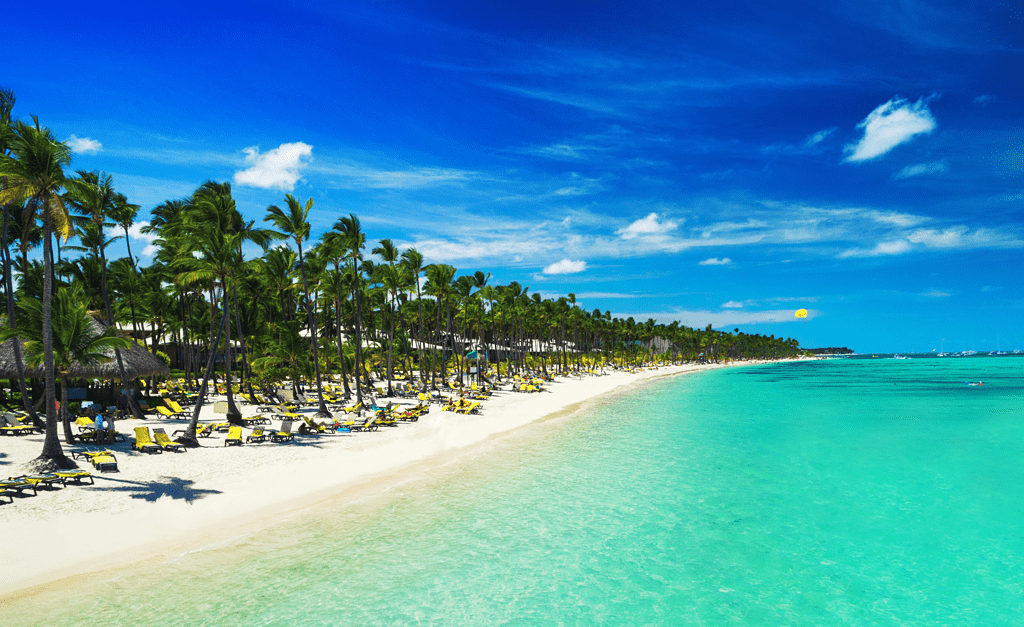 If you love adventure activities, then Punta Cana has plenty of options for you! Go zip lining through the jungle canopy or take a catamaran cruise for some dolphin watching.
You can also try your hand at kitesurfing or stand-up paddleboarding if you're up for the adventure. When night falls, head out on a sunset cruise where you can watch beautiful colors paint the sky as they reflect off of the water.
When it comes time to rest your head after all that exploring and adventuring, there are countless luxurious resorts scattered throughout Punta Cana that offer everything from all-inclusive packages to private villas.
If golf is your game, then make sure to check out one of the many championship courses located around town.
After hitting a few rounds on these lush greens, relax with a massage at one of their world-class spas before indulging in gourmet cuisine from local restaurants. It doesn't get much better than this!
Koh Samui, Thailand
The beaches in Koh Samui are simply breathtaking. From sweeping bays with crystal-clear waters to secluded coves with pristine white sand.
Chaweng Beach is one of the most popular spots on the island and offers plenty of opportunities to kick back and enjoy a relaxing afternoon.
If you're looking for something a bit more adventurous, then be sure to check out Ang Thong National Marine Park—where you can explore hidden islands by kayak or even take part in some snorkeling and diving!
When night comes around, Koh Samui has plenty of options for nightlife as well. Whether you want to hit the dance floor at one of the local clubs or enjoy a romantic dinner overlooking the ocean, you'll find plenty of opportunities to let loose and have fun.
With its stunning beaches, lush jungle landscape, and vibrant culture, Koh Samui is sure to offer something for everyone.
Costa Rica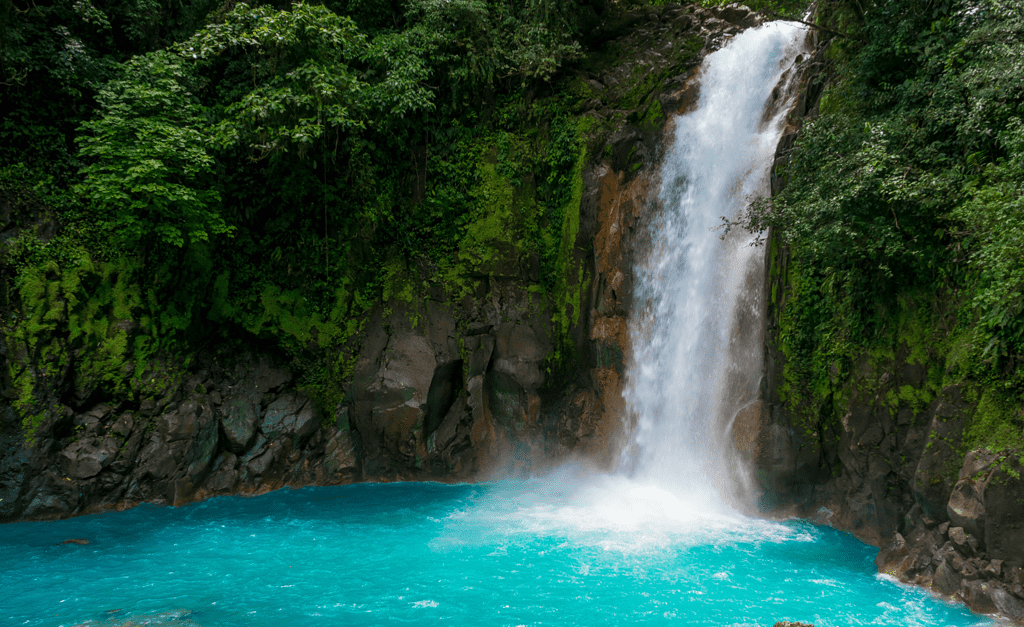 Costa Rica's beaches are some of the most beautiful in Latin America, from secluded coves surrounded by tropical forests to long stretches of powdery white sand perfect for sunbathing.
Costa Rica is full of opportunities to explore its lush jungles and diverse wildlife. From zip lining through the trees or rafting down rivers to hikes up volcanoes or even just lounging around the water – there is something fun for everyone.
Don't be surprised if you spot some monkeys while out exploring – they are everywhere! Plus, with plenty of national parks throughout the country, it won't be hard to find a place to get away from it all for a day.
If you're looking to explore a volcano head to Arenal or Poas.
For an up-close look at the country's local wildlife, check out Manuel Antonio National Park.
Bondi Beach Australia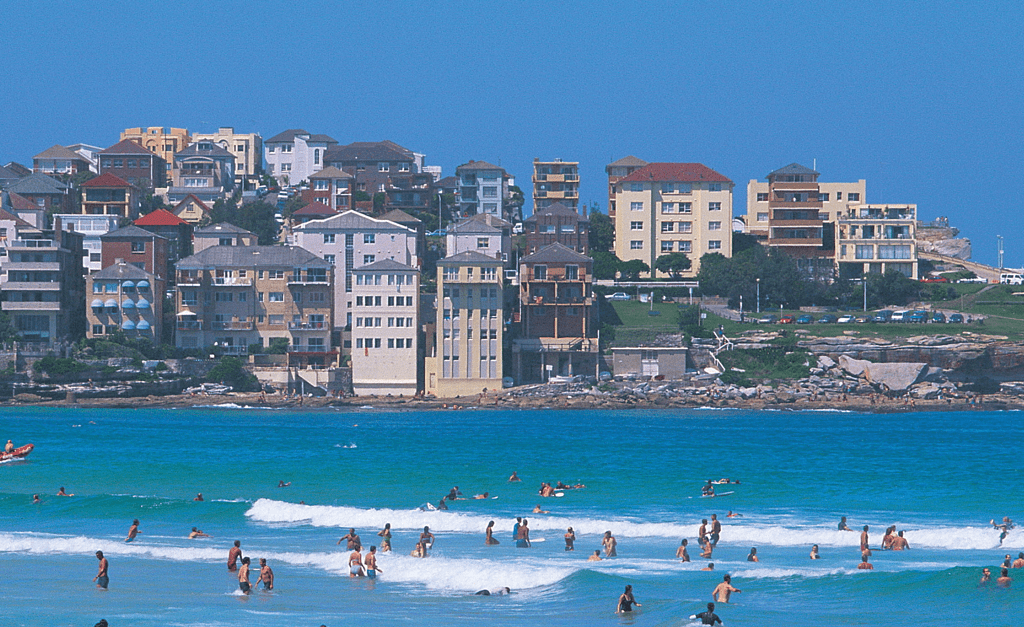 If you're looking for a beach that has it all, look no further than Bondi Beach in
Australia. This is the perfect spot for swimming or surfing, thanks to its gentle waves and pristine waters. Whether you're an experienced surfer or just learning the ropes, you can find a spot on the beach that will suit your skill level.
Plus, the scenery is unbeatable; imagine yourself gliding across the water with stunning views of the ocean and shoreline as far as you can see!
After a long day in the sun, head over to one of the many restaurants and bars that line the beach. Here, you can grab a bite to eat or sip on some cold drinks while watching the waves roll in.
Bondi is also home to plenty of cafes, shops and galleries, so there's no shortage of things to do!
Rhodes Island, Greece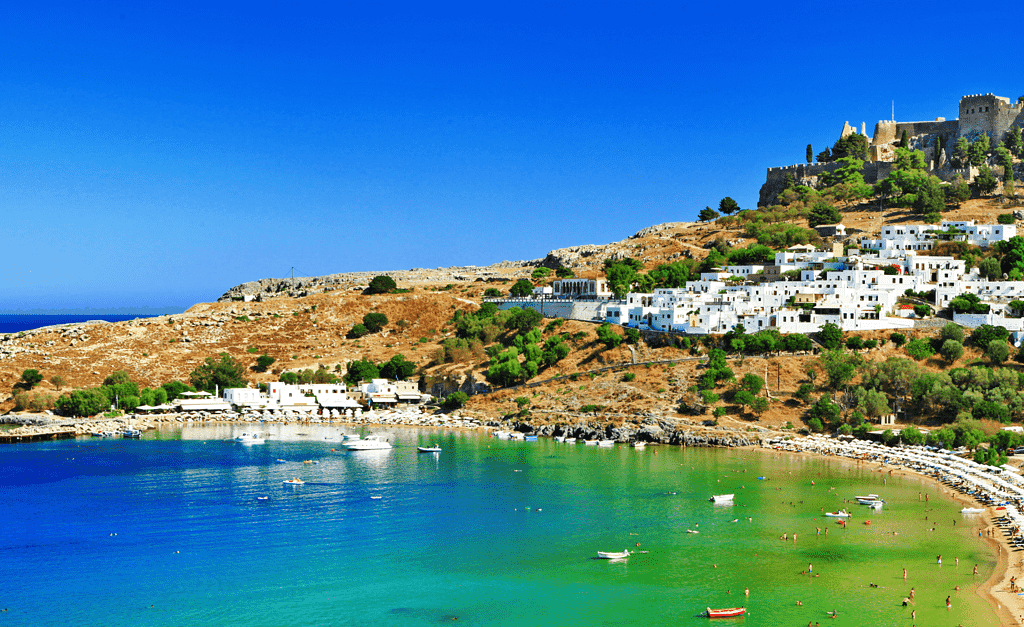 Rhodes Island is known for its stunning golden beaches. Whether you're looking for a relaxing day of sunbathing or an active day of swimming and snorkeling in crystal-clear waters, the beaches here are sure to please.
Offshore from Rhodes Island lie many sunken ships from different eras and exploring these wrecks is guaranteed to be an experience like no other – it truly feels as if you have stepped back into another time period!
Rhodes isn't just about beaches, though – it also has plenty to offer land lovers too!
Take a trip back in time by visiting some of the nearby villages, such as Lindos, which still retains much of its medieval charm due to its 14th-century castle perched atop a hill overlooking the Aegean Sea.
Other must-see attractions include the Acropolis of Rhodes, the Medieval City and Palace of Grand Master.
Wrapping Up The Best Beach Vacations To Take This Year
No matter what kind of beach vacation you're looking for this year—whether it be an adventure-filled excursion or a quiet retreat—there are plenty of amazing destinations worldwide that will fit your needs perfectly! Take some time to research each location before deciding which one is right for you!
Before long, you'll be packing your bags and soaking up some sun on your dream beach vacation! Happy travels!