Experience the ultimate freedom of travel and off-roading with our curated list of the best 12 volt air compressors for vans, expedition vehicles, and RVs.
Whether you are exploring rocky terrains, traversing sandy dunes, or embarking on an extended road trip, maintaining optimal tire pressure is essential for safe and efficient driving.
These compact yet robust air compressors offer high performance, durability, and portability, designed to meet the diverse needs of off-road enthusiasts and nomadic adventurers alike.
So, buckle up and let's dive into the world of tire inflation solutions that promise to keep your journey moving smoothly, no matter where the road takes you.
If you don't want to read the entire article here are our
top picks
What Makes a Good 12 Volt DC Air Compressor
There are several key terms that you'll want to become familiar with to help you pick the best 12-volt air compressor for your needs.
Duty Cycle
Duty Cycle is how long the compressor can be continuously run for. A compressor that has a 100% duty cycle can be run continuously until all your tires are inflated.
Whereas a 30% duty cycle would be 18 minutes of run time with 38 minutes of rest. The duty cycle is largely dictated by how well the unit can stay cool as that is the big enemy with small compressors.
If you're only occasionally topping of a tire or two on your RV then a short duty cycle air compressor may be okay. However, if you're airing down large off-road tires and need to re-inflate them a short duty cycle is not going to be ideal.
Keep in mind many of these larger off road tires can take up to 10 minutes per tire to inflate after airing down. In our opinion the best 100% duty cycle on board air compressor is the Extreme Outback.
Max Air Pressure or PSI
PSI or pounds per square inch, is a unit of measure for tire pressure. Some tires like on an RV may require pressures of up to 150 psi while your typical passenger car may be only 35 psi.
For this reason it's important to identify where and how you'll be using your pump to assure it will be up to the challenge when you need it.
CFM(cubic feet per minute) of Air
CFM is simply how fast the compressor can inflate. A higher CFM means the compressor will inflate your tires faster. Now it's important to note CFM changes as the pump is forced to pump against higher tire pressures.
For example, your CFM will be highest with a completely flat tire at 0 psi but as your tire pressure increases to say 60 psi your CFM could drop to half.
Check Out These Other DIY Build Topics
Air Compressor Power Supply
How your air compressor gets its power is an important consideration. Small units can simply plug into the cigarette lighter or USB plug in your car. While others need to be directly connected to the battery terminals by way of alligator clips or direct wiring.
The best and most powerful 12 volt air compressors can pull as much as 80 amps at 12 volts which would simply melt your cigarette lighter plug in seconds.
Permanent Vs. Portable Air Compressor
Portable Air Compressor
Having a portable air compressor can be quite handy. The biggest benefit is that you can bring it right to the tire assuming you have long enough cords for the electrical connection. This can eliminate the need for a bulky air compressor hose.
But remember even with the portable they can only go as far as the electrical hookups will get you. So be sure to check out how long the electrical lines are or make sure you have multiple places to plug the compressor in to.
Permanent Onboard Air Compressor
Permanent or onboard air compressors have the added benefit of always being ready to use without having to dig them out from somewhere. Onboard air compressors also tend to be higher performing since they are hard wired and can use more powerful motors.
With permanent air compressors you also have the option to have an air storage tank which allows you to run air tools or inflate tires a bit faster.
Reputable Off-Road Air Compressor Brands
Before we dive into the individual unit specs I think it's worth just quickly talking about the different 12-volt air compressor brands. I can't possible go over every model, VIAR for instance has over 50 different air compressor models, but I can at least steer you towards reputable and reliable brands.
Extreme Outback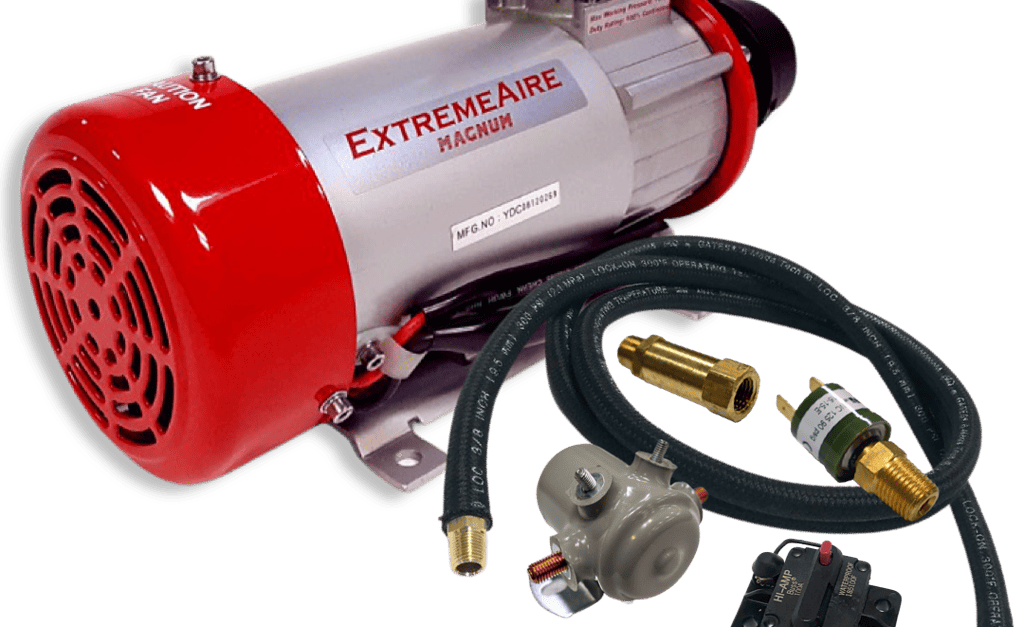 Extreme Outback does one thing and one thing really well, air compressors. You're not gonna find little underpowered portable units here. These are all permanent onboard mounted solutions that offer the ultimate in power and fast filling times.
They even have belt drive compressors to run off your engine as well as 12v and 24v models.
This is the on-board air compressor we use to inflate our massive tires and after years of use I can't recommend them enough.
Oasis DC Air Compressor
The Oasis air compressors are often found on million dollar overland vehicles like Earth Roamers. The compressor specs are very good with CFM's in the 8 range but boy are they pricey. Expect to pay between $2-3k for a unit. But if you want to the best these just might be the ticket.
***If I were going to spend this much I would just mount two of the Extreme Outback compressors for 12 CFM plus redundancy if one dies and you're still spending less than a single Oasis.
VIAIR Compressors
VIAIR makes a great product and offers the most variety in models. So much so it's a bit overwhelming! Rest assured they have a model that will likely fit the bill from small portables to large on-board air systems.
Don't worry I'll pick a couple of my favorite models below.
ARB 12v Air Compressors
If you're into off-roading you've likely heard of ARB winches but they also make some great 12 volt air compressors. ARB offers single and twin compressor models in both 12v and 24v configurations.
In addition, they offer permanent mounting brackets for common trucks and jeeps making for easy and clean DIY installs.
Now, there are TON more 12 volt air compressors out there and one quick look on Amazon will reveal dozens of no name budget options. But I'm just not willing to trust something as important as tire inflation to a brand that doesn't stand behind their product.
If you're on a tight budget you can't beat the VIAIR options below as they are reputable and stand behind their products. I would encourage you to save up for one of these instead of a no-name amazon air compressor.
Best Onboard 12 Volt Air Compressors
A hard wired onboard air compressor is often the best choice for most expedition vehicles and serious off road enthusiasts. What I like most about permanently mounted air compressors is you can tuck them away somewhere so they don't take up precious storage space.
People often mount them under the hood in the engine compartment or like we did underneath our truck in the frame rails. Onboard air systems also give you the option of having air storage tanks for even better performance.
1. Extreme Outback Off Road Air Compressor
Extreme Outback offers several models in both 12 volt and 24 volt. Prices start at around $400 for their basic model and go to about $700 for their Magnum versions.
They also offer everything you'd need for an external air tank and best of all when you call you'll get a real person, likely the owner, who's happy to answer any questions. Something you won't find with many other manufacturers.
Use code "NOMAD" for 5% off at Extreme Outback.
2. VIAIR Off Road 12v Air Compressor
VIAIR has been in the 12v air compressor game for a while and they make high quality systems. They have the biggest variety of compressors from small portables to larger onboard air. We'll have a look at their smaller systems in a bit but for now let's look at their onboard air systems for overland vehicles.
For larger systems, instead of making bigger compressors, VIAIR adds a second compressor to up the CFM numbers. While this adds complexity to the system and is less space efficient it is nice to have two compressors for redundancy.
They have so many options to choose from but their Adventure Series is likely the best starting point for most Expedition vehicles.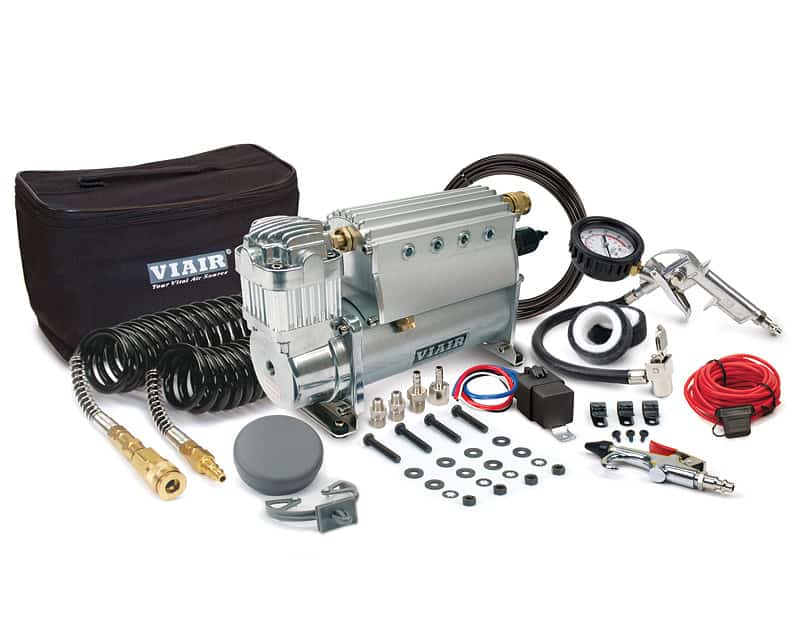 Best RV Air Compressor
For an RV air compressor I tend to favor portable units so you don't have to cary 50 plus feet of air hose. In addition, you'll want the highest max psi since many RV tires will be in the 150 psi range.
The other consideration is how you plan to get power to the compressor. Most compressors for RV's will need direct access to batteries by way of alligator clips. You could use your tow vehicle or even the RV house batteries for power.
Our top pick for this category are any of the VIAIR RV Compressors. Just pick the model based on the max tire pressure of your RV. They have smaller 30% duty cycle compressors as well as 100% duty cycle depending on your needs.
Best Portable 12v Air Compressor
For a lot of folks the portable light duty compressors are going to do everything you need. These are a great air compressor for vans and lighter trucks or anyone willing to wait a bit longer to inflate their tires.
And because they're portable it's easy to help out others when in need. This will be the only air compressor in this roundup that you can simply plug into a cigarette lighter making it very easy to use.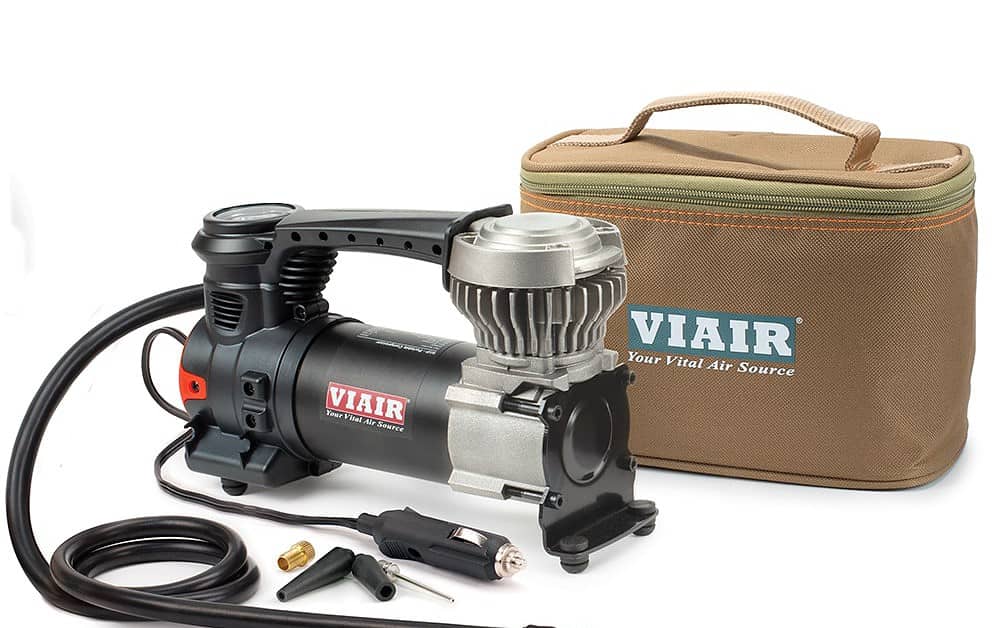 If the max 60 psi doesn't cut it the next model up, 88P offers max psi of 120 but requires direct connection to battery with alligator clips.
12v Air Compressor Comparison Chart
Final Thoughts On The Best 12 Volt Air Compressor
In conclusion, when it comes to picking the right air compressor for YOU the first step is to understand your needs. From there you have numerous options ranging from portable to robust onboard air systems.
We have nothing but good things to say about our Extreme Outback compressor and feel it's a very good deal for what you get. But make no mistake, VIAIR and ARB have some impressive options as well.
Safe travel everyone!
How much current does a 12v air compressor draw?
Smaller 12 volt air compressors that connect to your cigarette lighter plug will draw about 10 amps. While bigger units that connect directly to your vehicle battery with alligator clips will draw 20-80 amps.
What should I look for in a 12v air compressor?
1. Max pressure rating
2. CFM(cubic feet per minute) how fast the compressor can inflate
3. Duty cycle – how long the compressor can continuously run
4. Electrical hookups – Hard wire, cigarette lighter, or alligator clips