The world loves chocolate, and it's easy to see why. The variety in texture, from silky smooth, melt-in-the-mouth to nutty and indulgent, chocolate offers something for everyone.
Whether you want to take a present to a reunion party or just want to show your partner how much you care, a box of chocolates never leaves you feeling disappointed.
But where to pick some of the best chocolates in the world?
Belgium – the heaven of chocolate. A country where two-thirds of the population eat chocolate every day!
And it's not just any old chocolate, but some of the best chocolate in the world.
With over 2000 chocolatiers, it's no doubt that this country knows a thing or two about the sweet stuff. From the fudgy and dense pralines to the light and airy mousses, there's Belgian chocolate to suit every taste.
Belgian chocolate is made with a higher cocoa content than other countries and has a reputation for being some of the best quality chocolate. If you don't want to settle for anything less than the divine, Belgium is the place to go.
What Makes Belgian Chocolates So Unique?
There are many factors that contribute to the delicious taste of Belgian chocolates. Belgium produces some of the finest cocoa in the world, and their chocolatiers are masters at creating beautiful confections. When you combine these two elements, it's no wonder that Belgian chocolate is so highly prized.
Antwerp Port is known for having the largest storage of cocoa beans worldwide, making Belgian soil an excellent place to grow cacao.
Unlike other supermarket chocolates, Belgian chocolate is made with 100% cocoa butter.
Belgian chocolatiers are known for their high quality ingredients. To source the best beans, they travel to cocoa plantations around the world.
Because Belgian chocolate contains a high percentage of cocoa and cocoa butter, it is unique compared to other types of chocolate.
Belgium takes its chocolate seriously- never compromising on quality and taking great pride in their confections.
As you can see, there are many reasons why Belgian chocolate is so special. It's no wonder that these chocolates are so highly sought-after by chocolate lovers around the world.
Best Belgian Chocolates And Chocolate Shops
The below list contains several famous Belgian brands that are recognizable globally. Of course, many smaller Belgian chocolatiers deserve recognition as well and have been included on this list.
So, if you find yourself in Belgium and want to try some of the best chocolate in the world, here are some unmatchable options.
Godiva – One Of The Most Well Known Chocolate Shops
Founded in 1926, Godiva is one of the most famous Belgian chocolate brands globally. Joseph Draps started the company, and today, it has over 600 stores in more than 80 countries. Yes, they're loved!
Godiva is known for its luxurious and decadent chocolates. The company uses only the finest ingredients and powers it with the craftsmanship of some of the world's most refined and artistic chefs. Tantalizing flavors, unique and beautiful textures, and opulent packaging – Godiva has it all.
Godiva doesn't miss out on any chocolatey opportunity, from truffles and pralines to their famous hot cocoa. The company also has a range of seasonal chocolates and special collections for perfect gifts.
You can find luxuriously wrapped gift boxes with a world of Godiva goodness inside, or pick out your favorite chocolates from over 100 different varieties.
If you want to relish some of the best Belgian chocolates, Godiva should be on your list! Regardless of their audacious experiments to wow the world with every new flavor, their quality hasn't faltered even slightly.
One should never miss out on the flavorsome, heavenly, hazelnut-laced milk chocolate or the 72% dark chocolate that's expertly blended to perfection. And if you prefer caramel, fruits, or even a little salt with your chocolate, they have that too!
Neuhaus- Make A Great Milk Chocolate And White Chocolate Bar
Jean Neuhaus – the mastermind behind delectable medicine (yes, he made that a possibility), fueled the idea of pralines. In his apothecary store in Brussels, he began coating his medicines in chocolate to make them more palatable for his young patients. The rest, as they say, is history.
In 1912, Jean Jr., his grandson, took over and created the lip-smacking fillings to replace the original medicines. The family tradition continues, and today, Neuhaus is one of the most iconic brands in Belgium. In fact, in 2007, Neuhaus was officially awarded the title of the world's best Belgian chocolate truffle.
Neuhaus has branches in New York and Washington DC; however, if you want to feel the real Neuhaus experience, you'll have to visit the store in Brussels.
The original store is located in the Galeries Royale Saint-Hubert in central Brussels and is worth visiting just for its exquisite interiors. The chocolates here are nothing short of heavenly and come in unique flavors like cream, ganache, gianduja, praliné, and more.
The thoughtfully designed Love Letter Box and the Crunchy Hazelnut Spread shouldn't be missed. If mint, pistachios, and raspberry are more your thing, go for their milk chocolate bars packed with specific flavors of the staple ingredients.
If you want to take some home with you, they have a range of beautifully packaged gift boxes. Pick the Neuhaus Collection Discovery box and enjoy the brand's handpicked goodies.
They have an online presence, so you can get your Neuhaus fix even if you're not in Belgium!
RELATED: The Best Swiss Chocolates: 10 Brands Worth Indulging In and 7 Mouth Watering Argentina Chocolates You Have To Try
Côte d'Or- One Of The Most Popular Brands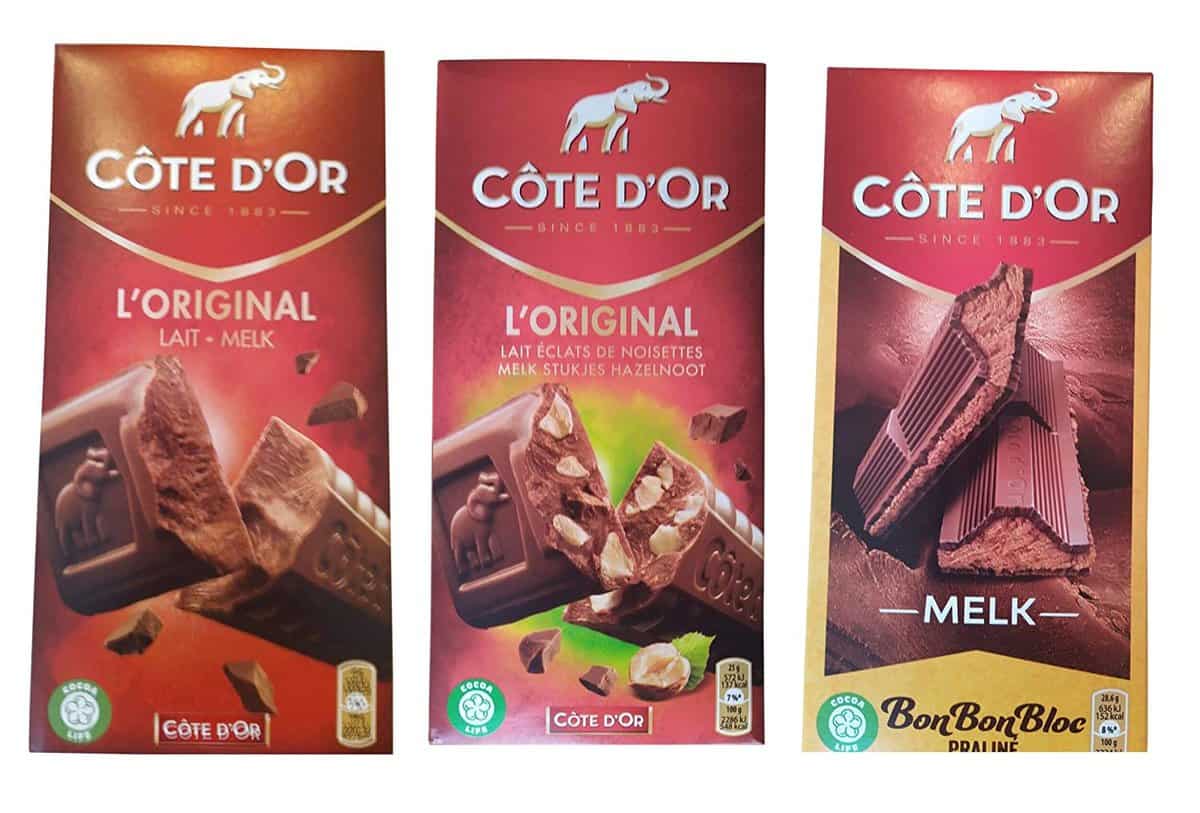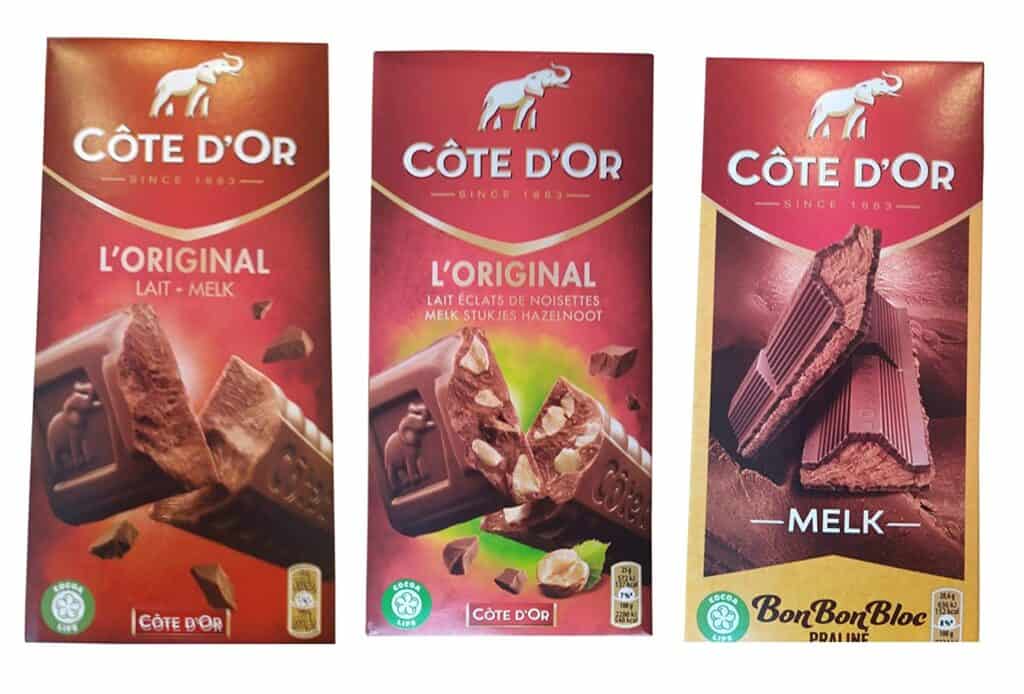 A brand name inspired by the golden coast of Africa, Côte d'Or was founded in 1883 by Charles Neuhaus. The company is now a part of the Mondelez International group and is one of Belgium's most popular chocolate brands.
Côte d'Or is known for its iconic Eclairs, which come in various flavors, including dark chocolate, milk chocolate, white chocolate, and more. The company also has a range of other chocolates like truffles, pralines, bars, and spreads.
The chocolate produced in the Côte d'Or is known for its incredible smoothness and luxurious decadence. Chokotoff, Les Bouchées, Milk Chocolate, Dark Chocolate, Noir 70% cacao with caramelized cocoa nibs, Lait Intense Mignonnettes, and Milk Chocolate with Hazelnuts are among their diverse selection.
There is no reason why you shouldn't pick a chocolate bar from Côte d'Or to dive in. The divine cashew-almond combination with pure milk chocolate, dark chocolate with caramelized pistachios, nougats, and almonds, or the 85% dark chocolate with orange are all excellent choices!
Côte d'Or also has a range of sugar-free chocolates for those with dietary restrictions. No matter your preference, Côte d'Or has the perfect chocolate for you.
Leonidas-One Of The Best Gift Ideas
Belgian chocolates don't come at a low price, but they're worth the splurge. Leonidas is one of the most famous chocolate brands in the world and has been around since 1913.
The company was founded by Greek immigrant Leonidas Kestekides in Brussels and is now run by his grandson, Patrick. With 1300 stores worldwide and a team of passionate chocolatiers, Leonidas is an authentic Belgian chocolate institution. The best part is that your wallet wouldn't have to suffer too much!
Their chocolates use only the finest ingredients and no artificial flavors or preservatives. Untouched butter, fresh cream, natural vanilla, and genuine couverture chocolate are just some of the things that make Leonidas' chocolates so special.
The brand offers a wide range of the cutest chocolate figurines and classic flavors like dark chocolate, milk chocolate, white chocolate, and more. You can also find a selection of sugar-free and gluten-free chocolates and dairy-free options.
With more than 80 different chocolates to choose from, you'll be spoiled for choice at Leonidas. But with so many delicious options, how can you possibly go wrong? You can pick a caramelized white chocolate bar or a dark chocolate praline online or visit one of their many stores in person.
You're guaranteed to have a delicious experience no matter what you choose!
Belvas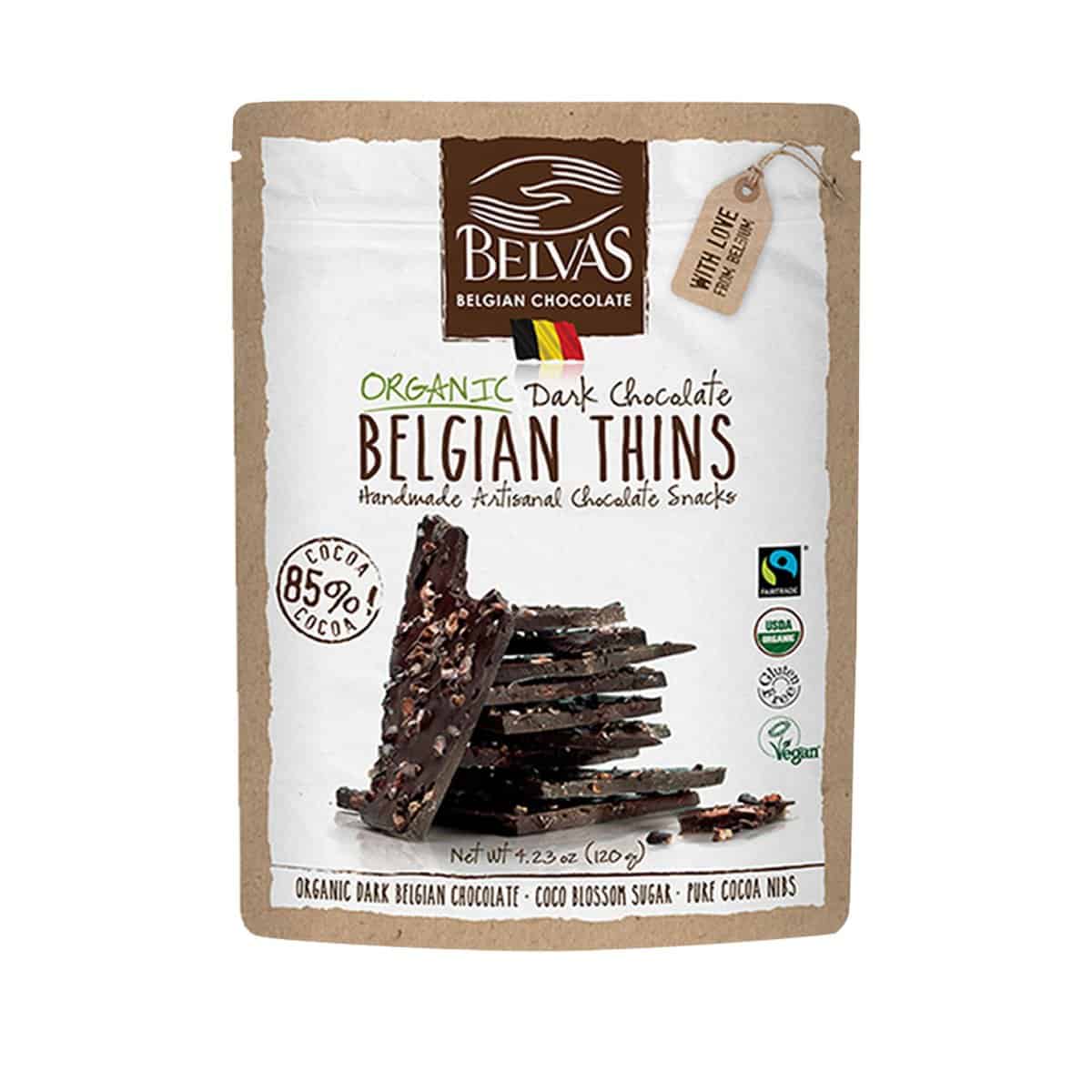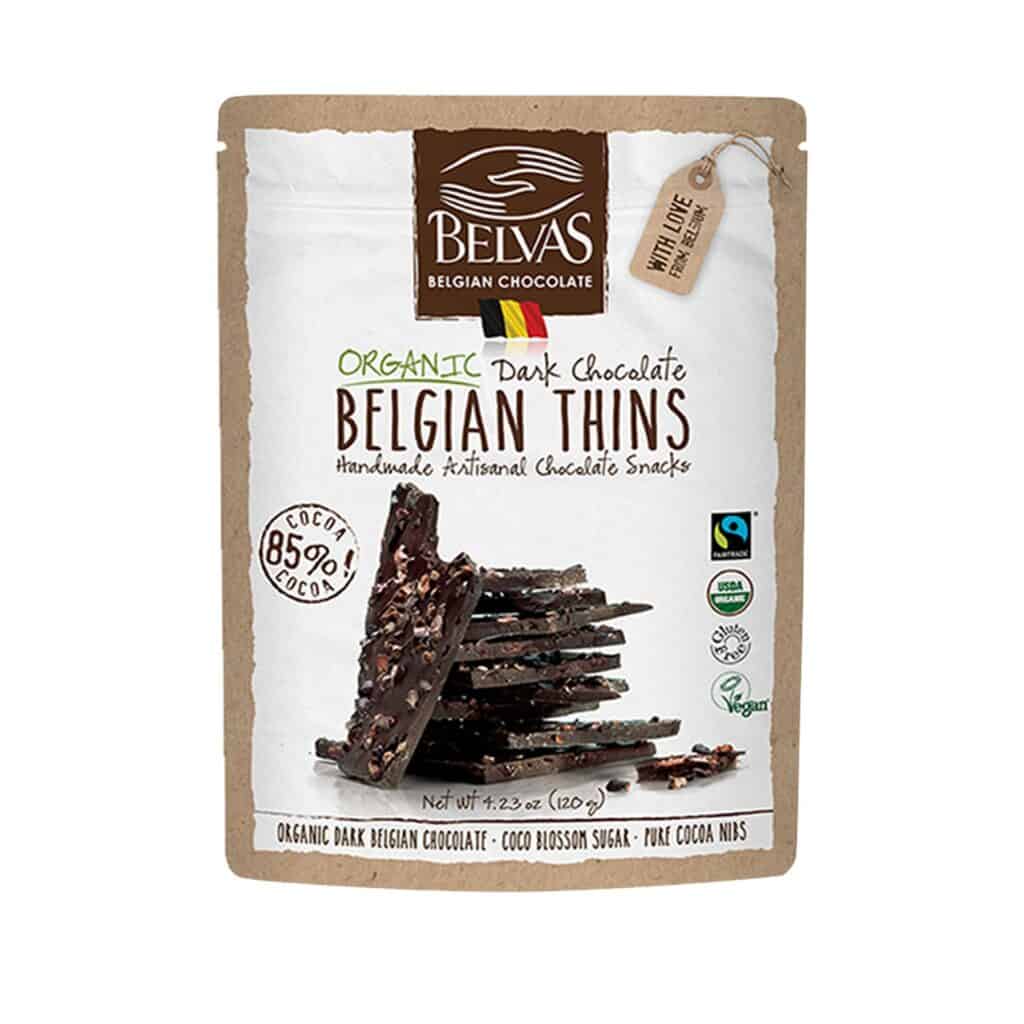 Cocoa is an all-powerful, flavorsome, and highly versatile gift of nature. When used right, it can create magic. Belvas does that and more.
The company was started in 2005 by Thierry Noesen, a passionate chocolate lover who wanted to create something unique. And that's precisely what he did.
Belvas is known for its organic and Fairtrade chocolate, that's made using only the finest ingredients. The company also has a range of sugar-free and gluten-free chocolates for those with dietary restrictions.
From truffles and chocolate bars to spreads and baking products, Belvas has something for everyone. And if you can't find what you're looking for, they also take custom orders!
Their chocolates are available with crusty hazelnut, rich honey, dense coconut, crunchy roasted almonds, and more. You have to try the Belgian Thins Florentin and the Organic white chocolate.
Belvas' chocolates are handmade in small batches to ensure quality and freshness. If you want to indulge in some of the best Belgian chocolates, Belvas is the way to go!
The brand procures its cocoa beans from Peru, Ecuador, and Santo-Domingo, then masterfully transforms them into some of the most delectable chocolate creations.
You can pick their gift box of rich flavors online or visit one of their stores in person. Whichever way you choose, you're in for a real treat!
Bruyerre- Offers A Great Assortment
Gosselies, Belgium, is home to the Bruyerre chocolate factory. The company was founded in 1909 and had been making some of the best Belgian chocolates ever since.
Bruyerre is known for its dark chocolate, made with 64% cacao. The company also makes milk chocolate, white chocolate, and a variety of flavored chocolates.
The unmatchable praline fillings ranging from the tangy 'Orange & Carrot' ganache and the reviving 'Lime & Fresh Mint' cream are a must-try, as is the Dark Chocolate with Sea Salt.
Apart from the sweet and creamy flavors, the long-lasting and rich aroma of dark chocolate will linger with you long after you're done savoring it.
Bruyerre chocolates are available in38 countries globally. You can find them online or in stores. The company also has a beautiful store located in the heart of Brussels, where you can taste some of their delicious chocolates.
Mary- What Chocolate Dreams Are Made Of
Nothing beats the mouthfeel of good Belgian chocolate. Mary is a family-run business making some of the best chocolates in Belgium since 1919. Mary Delluc, the founder of the company, was a true pioneer in chocolate.
Delluc was one of the first people to use fresh cream and butter in her chocolates, which resulted in smoother, creamier chocolate. She was also the first to use fillings like ganache, praline, and caramel.
The company is now run by Delluc's grandson, Jean-Pierre, who has continued her legacy of making high-quality chocolate.
Mary's chocolates are made using traditional methods and only the finest ingredients. The company is known for its presentable and ornate chocolates and its delicious flavor combinations.
Their most popular chocolates include dark chocolate with hazelnuts, almonds, pistachios, and white chocolate blended with dried fruits.
The packaging will win you and the person you gift it to over. Ranging from the bright flowers printed boxes to the heart-shaped box with a giant red ribbon, it's all so beautiful.
You can find Mary chocolates in stores across Belgium and online. And once you taste the chocolate, you'll be hooked for life!
Guylian  – One Of The Best High Quality Chocolates In a Great Gift Box
Guylian shells are one of the world's most iconic Belgian chocolate brands. The traditional gift box includes a seahorse and shells, making it the perfect choice for any chocoholic.
Almost 50 years ago, Guy and Liliane founded Guylian Chocolates. The word "Guylian" is a combination of the couple's names. Today, you can find Guylian chocolate seashells and chocolate seahorses in stores all over the world.
Guylian is a Belgian chocolate brand that you can find on most supermarket shelves. It's worth mentioning that Guylian operates under a Fairtrade policy with its West African cocoa bean suppliers, which sets it apart from other well-known chocolate brands.
Guylian only uses the finest cocoa butter to create an incomparably silky smooth chocolate. They then source their hazelnuts from the Mediterranean before using them to make a creamy hazelnut praline filling. These quality ingredients are what make Guylian chocolates so special.
Galler- History Of Unique Recipes And Chocolate Treats
Established in the beautiful Liège, Belgium, in 1976, Galler is one of Belgium's most beloved chocolate brands.
The company was founded by Jean Galler, a passionate chocolate lover who wanted to share his love for the sweet treat with the world. Today, the brand stands independently with 170 dedicated and zealous chocolatiers.
The company is famed for its distinctive and innovative flavors and alluring packaging. Galler's chocolates are the perfect balance of sweet and sophisticated.
Their most popular flavors include dark chocolate with orange, dark chocolate with mint and lemon, and white chocolate with raspberry. If your taste buds are feeling adventurous and can stand the dense dark chocolate, Galler is for you!
Galler produces high-quality pralines, bite-sized bouchées, and chocolate bars. You can find Galler's chocolates in stores all over Belgium and online.
The Easter range with adorable bunnies and chicks is a must-try, as are the Christmas chocolates shaped like bells and Santa Claus. No matter what time of year it is, Galler never lowballs on the quality or flavor of their chocolates! And the creativity, well, you must check it for yourself.
If you want to take some deliciousness home, you must visit the Galler store in Brussels. You can taste samples of their chocolates and learn about the history and process of making chocolate.
Wittamer – A Boutique Feel To The Shop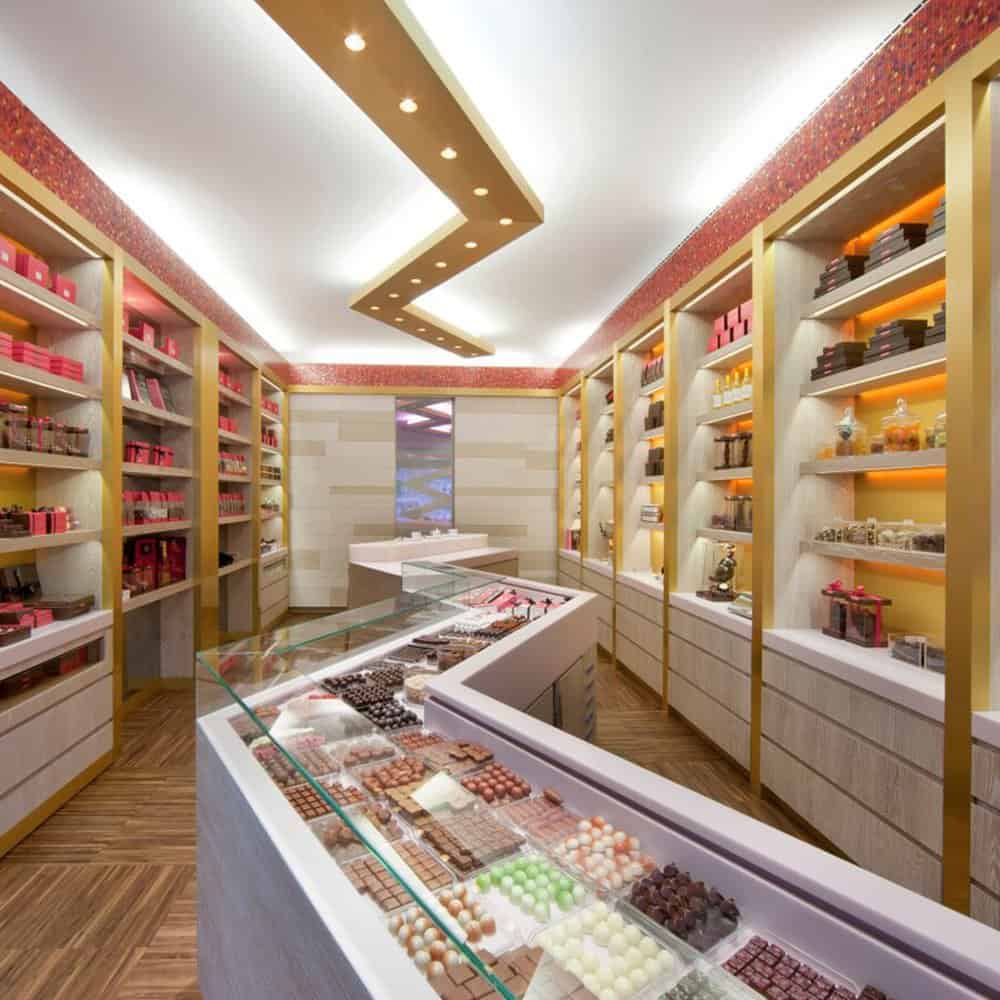 Wittamer has a history every village boy would love to create. In 1910, Henri Wittamer started his bakery 'Modern Bakery' on the Grand Place of Brussels with only three employees.
Wittamer is now a world-renowned company known for its fresh and creative pastries and its high-quality chocolates. 1999's recognition as the Certified Royal Warrant Holder in Belgium brought Wittamer a great deal of prestige.
The Wittamer chocolate store on the Grand Place is a must-visit when you're in Brussels. From beautiful truffles to delicate chocolate-dipped fruits, there's something for everyone at Wittamer.
Make sure to try the chocolate-dipped strawberries and the dark chocolate truffles. And if you dare, don't let the cranberry chocolate bar pass you by!
Other Famous Chocolate Brands In Europe
Godiva (Belgium)
GuyLian (Belgium)
Toblerone (Switzerland)
Lindt (Switzerland)
Milka (Switzerland/Germany)
Ritter Sport (Germany)
Ferrero (Italy)
Cadbury (United Kingdom) Luxury European chocolate brands.
Who is the most famous chocolatier?
Who Are Some Of The Most Famous Chocolatiers In The World?
1. Teuscher (Zurich, Switzerland)
2. Vosges Haut-Chocolat (Chicago, Illinois, USA)
3. Scharffen Berger Chocolate Maker, Inc. (Berkeley, California, USA)
4. Jacques Torres Chocolate (New York, New York, USA)
5. Norman Love Confections (Ft. Myers, Florida, USA)
6. Valrhona (France)
7. Godiva Chocolatier (Brussels, Belgium and worldwide)
8. Richard Donnelly Fine Chocolates (Santa Cruz, California, USA)
9. Richart (Paris, France)
10. Puccini Bomboni (Amsterdam, Netherlands)
Where To Buy Belgian Chocolate In The US
You can find some of the best Belgian chocolate brands in the US, but it is often more expensive than buying it in Belgium.
To get the authentic experience, we highly recommend going to the source but if all else fails Amazon has a good selection of Belgian Chocolates.
Get Out And Explore The Best Belgian Chocolates
If chocolate lovers could, they would solve the biggest problems in the world with the best Belgian chocolates. And with so many different and delicious Belgian chocolates to choose from, it's hard to go wrong.
Whether you're looking for a gift for a special occasion or just want to treat yourself, Belgian chocolate is the way to go. With its rich flavor and creamy texture, Belgian chocolate will satisfy your craving.
So, while strolling through Brussels, stop by one of the many chocolate stores and pick up some delicious Belgian chocolate. Your taste buds will thank you!