As you hit the open road in your campervan, take a moment to appreciate the view. Whether you're gazing out at the mountains or watching the sunset over the ocean, the window is one of your best allies in creating lasting memories on your trip.
But with so many campervan windows available, which one is right for you? If you're revamping your campervan before the next road trip, one of the most important decisions you'll make is what type of windows to choose.
Do you want sleek and stylish tinted windows? Or would you prefer something more traditional with panoramic views? This guide will help you weigh the pros and cons of each option so you can make the best decision for your needs. Find out which windows will be the perfect fit for your needs, style and function.
Follow along as we build our dream Overland Adventure Truck, check out our build series on YouTube HERE
Stealth Windows
Are you looking for a way to make your campervan more stealthy? If so, consider installing stealth windows. Stealth windows make your campervan less noticeable and help you stay cooler in hot weather. These are simple windows that have been tinted or smoked so that they're less visible from the outside.
There are different ways that you can smoke or tint your windows. You can buy window film, which can be applied directly to the glass, or you can purchase pre-tinted or smoked windows from a company specializing in van conversions. This is a great option for existing windows that you may already have.
Check Out These Other DIY Build Topics
Benefits of Stealth Van Conversion Windows
As we mentioned above, one of the biggest benefits of stealth campervan windows is that they can help keep your van cool in hot weather. This is because tinted windows block out some of the sun's rays, which helps to keep the inside of your van cooler.
In addition to keeping your van cool, stealth windows can also help reduce glare. If you've ever tried to drive with the sun in your eyes, you know how difficult it can be to see. Tinted or smoked windows can help reduce glare and make it easier to see while driving.
Another plus point of stealth campervan windows is that they make it more difficult for people to see inside your van. This is helpful if you're trying to camp stealthily or don't want people peeking into your home on wheels.
Drawbacks of Stealth Campervan Windows
These windows often decrease visibility from the inside of your van as well as from the outside.
Another point to remember is that smoked or tinted windows can make it more difficult for emergency responders to see inside your van if there's an accident. This means that it could take them longer to find and rescue anyone who may be injured inside your van following an accident.
If you like to camp off the beaten path or frequently boondock, stealth windows can also help make your campervan less noticeable so that you're less likely to draw unwanted attention. Can also help by hiding belongings to prevent smash and grab theft.
When adding stealth windows to your campervan, weigh the pros and cons carefully to decide.
The Porthole
Porthole windows are typically round or semi-circular and often used on ships or boats. But you can also spot these round windows on some buildings. Porthole windows are usually small, but they can vary in size. We've been seeing a lot more of these on vans and campers and they are perfect for a small bath or shower window.
Pros of the Porthole Windows
They provide ventilation even when the main door is closed – perfect for when you need to keep the van door closed but still want to allow some air to circulate.
Porthole windows can let in natural light even when the main door is closed and are ideal for campervans that do not have a lot of window space.
They are small enough that you can often leave them open when it's raining without soaking your interior.
Downsides Of The Porthole Campervan Windows
Because porthole windows are typically small, they do not provide as much ventilation as larger windows.
They are often located high up on walls or doors and can be difficult to reach.
They are not big enough to be used as an emergency escape window.
If you're camping in an area with a lot of bad weather, porthole windows can be a great way to let in some fresh air and light. They're also suitable for small campervan spaces such as bathrooms or kitchens where you need ventilation but cannot have a large window.
Sliding Windows
Sliding windows are another popular choice for campervans because they offer good ventilation and natural light. Most sliding windows have screens to keep bugs out, and some even have shades or blinds to block out light when needed. Sliding windows also create a more open feel in your van, which can be nice when you're spending time inside.
These windows are an excellent option for campervans and are in our opinion the best windows for van conversions. Sliding windows come in various sizes and styles, so it's easy to find one that will suit your needs.
Advantages of Slider Windows
One of the main advantages of a sliding window is that it takes up less space than a traditional hinged window, making it ideal for smaller vehicles.
They often have integrated bug screens so you don't need to worry about any pesky mosquitos finding their way.
They also remain flush to the outside of your van or camper so there's nothing to hit or walk in to.
You can keep them open while driving
Cons Of Sliding Van Windows RVers Must Know
They can be more difficult to install than other types of windows.
They are drafty if not installed properly or kept in good working ourder.
These windows are a security risk if left open and unlocked
Overall, sliding windows are an excellent option for campervans and provide many benefits. Ultimately, the best window choice for your campervan will depend on your specific needs and preferences. With sliding windows, you can control the air entering your van and comfortably drive around regardless of the weather. When you need some ventilation, simply slide them open and enjoy the fresh air.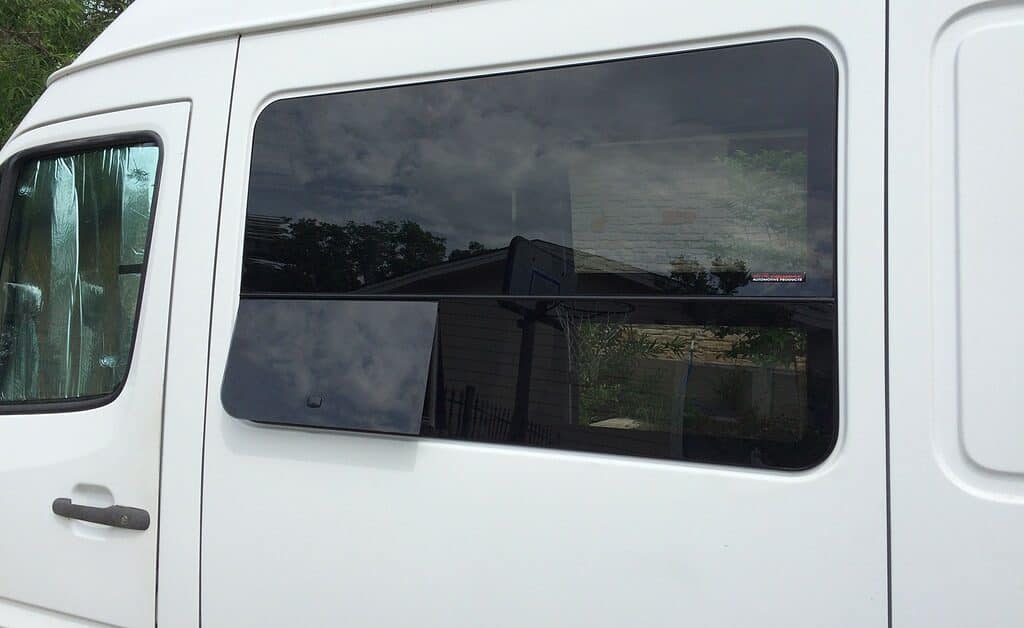 Venting Windows
Venting campervan windows usually have two panes of glass with a hinge horizontally in the middle, allowing them to open up and provide airflow into the van. Similar to sliding windows these often have built in bug screens. These are the types of windows you commonly see as an upgrade on Sprinter vans.
Pros Of Installing Venting Campervan Windows
The main advantage of venting windows is that they provide good airflow and ventilation, which is essential for keeping the van comfortable while you're camping.
They offer more peace of mind when you want to pull over and rest because venting windows are typically very small for any burglar to attempt getting in.
Integrated bug screen with many of them.
Cons of Venting Windows
One downside is that they can be more expensive than other types of windows.
Because they hinge outward, an open window does protrude out a bit which can hit things or be walked into by accident.
Venting windows offer good airflow and ventilation, energy efficiency, and generally provide a better view than other styles. However, keep in mind that they can be more expensive. Make sure screens are properly installed if you live in an area with lots of bugs and insects so that they don't get into your vehicle!
Hopper/Flip-Out Windows
Hopper/flip-out campervan windows typically have a hinge on one side that allows them to be opened up, similar to a door, and they usually have screens on both sides. Some people find them more convenient than traditional windows because they can provide better ventilation and allow for easier outdoor access.
Pros of Flip-Out Windows
Flip-out windows provide excellent ventilation. Whether you're cooking dinner or enjoying a pleasant summer breeze, the fresh air will help keep your campervan feeling comfortable and spacious.
These windows can help to give your campervan a unique look. Whether you choose a classic bay window design or something more modern, they'll help make your van stand out from the crowd.
Hopper windows can be used as an emergency escape if sized appropriately
Cons of Hopper Windows
A drawback of flip-out windows is that they can be difficult to seal properly. If there are gaps around the window's edges when it's closed, insects and other small critters can easily find their way inside.
Another thing to consider is that hopper/flip-out windows can potentially be a security risk. If the window is left open, even just a crack, someone could easily reach in and unlock the door from the inside.
These windows cannot be left open while driving.
So there you have it – three great reasons to choose (or not) flip-out windows for your next campervan.
How to Install Campervan Windows?
Now that you have an understanding of the different types of windows available for your campervan or RV, let's now have a look at the installation. Because installation difficulty can vary greatly between different styles of windows it's an important consideration for the DIY van builder.
Conversion Van Windows On a Flat Surface
A completely flat surface like an RV or box truck is ideal for installing windows. That's because the surface is flat allowing you to install almost any window out there. I've even heard of people installing residential windows in their camper.
Installing Van Windows On A Curved Surface
What complicates things is installing a window into a curved surface like most vans. Because the van body has a slight curve to it, a flat window won't work without some modification. For this type of installation you'll need a window with a curvature which matches that of your van or camper. This often significantly increases the price for the window as they are often specific to a certain van body.
Now if you pick a relatively small window you can get away with a flat window on a curved surface. For this reason it's best to get in touch with the window manufacturer and ask for a window that's designed specifically for your make and model of van or camper.
Van Window Installation
Below are the general steps of installing a window as well as the typical tools needed. But remember, every window is different and it's important to follow the specific manufacturers instructions. Having installed almost a dozen campervan windows over the years let's have a look at the basic steps.
Tools Needed
Tape measure
Pencil/marker
Ruler or a straight edge
Jigsaw or oscillating saw
3M VHB double-sided tape
Caulking gun
Silicone sealant
Painters tape
Drill
Installation Steps
Find a suitable location that is free form any seems or creases on the outside, as well as free from any ribs on the inside. On the inside make sure to account for extra space needed for trim or blinds.
Follow the manufacturers directions and make a template for the window. Get a nice flat piece of cardboard and cut out the window hole and test fit it. It should be a snug fit as it's always easier to remove material than add it.
Mark the location and triple check everything. As they say, measure twice cut once.
I often use blue painters tape along the cut line so that the jigsaw doesn't scratch the surface.
I never use cutting discs because they spray hot embers which can embed in the paint and eventually rust.
The type of say you use will depend on the material your cutting. For steel van bodies a jigsaw works well but for composite bodies I prefer oscillating saws.
With everything marked you can now drill holes just inside the cut line. You'll need this for starting the cut depending on the say you're using. I like to put a hole in each corner. This also serves as a good final check on the window location, so go inside and maker sure it's still looking like the correct location.
Once you make the cut you'll want to do a quick dry fit of the window and file or sand as needed to make it fit.
Next you'll want to file or sand the cut edge smooth and then paint with a rust preventing primer or paint. I prefer the brush on version over the spray can.
Once the pain is completely dry you're ready to install the window.
Be sure to clean the outer surface where the window will seal to the van or camper body. This is important for both rubber seal type windows as well as glue in windows.
From here you're just going to follow the final steps of the installation based on the manufacturers instructions.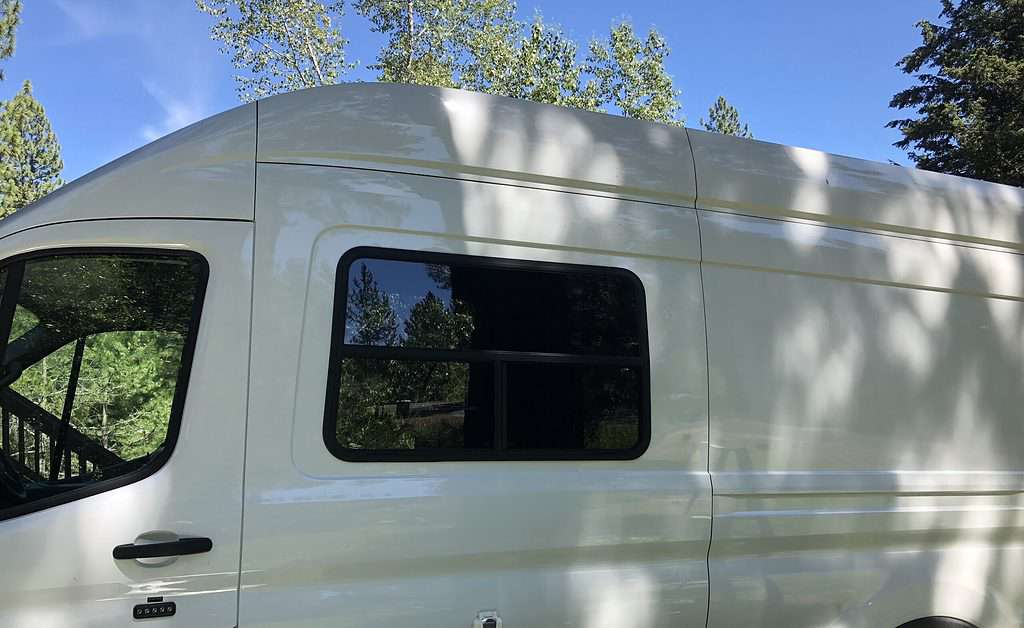 Our Favorite Campervan and RV Windows
Here are a handful of window suppliers and manufacturers to get your window journey started. Like I mentioned earlier you'll first need to figure out if your mounting on a flat or curved surface.
Rounding Up
By understanding the key differences between these window styles, you can decide which one is right for your vehicle. If you want to experience maximum light and ventilation, a skylight or sunroof may be worth looking into as well. If privacy is a concern, then window shades or curtains can provide the perfect solution along with any of these windows. Likewise, installing sliding windows may be the way to go for both security reasons and ventilation while driving. If you're installing windows on a curved surface like a van be sure the window you pick is designed for a curved surface.