Recently named one of the New Seven Natural Wonders of the World, Halong Bay is a breathtaking destination that won't disappoint. But navigating the ridiculous amount of cruise options can be overwelming. In fact, some of the cruises aren't even licensed and can be downright dangerous. Not to worry we're here to help, let's find you the best Halong(Ha Long) bay cruise for your budget.
The name Halong means "descending dragon." The legend says, the dragons were sent there by gods to protect Vietnam from invaders. The dragons spit jades and jewels to the sea and afterwords they turned into the islets and islands. These islands created a protective wall to shield against enemies.
This ring of limestone islands and islets, numbering in the thousands, and topped by rainforests are a remarkable site. The emerald waters and floating villages make Junk boat or kayak tours a must for any Vietnam itinerary.
By the way, they call their boats "Junks," in case you were wondering.
Mostly dry weather and getting warming as summer approaches. This makes for an ideal time since it's getting warm but without the summer rain. For some this time might be a little too cold for swimming.
May to June – Summer
This is the warmest time but expect some rain. For swimming and kayak activities this would be an ideal time.
July to August are the times to avoid. Rough seas will make for an interesting ride and often trips are cancelled due to weather.
September to November – Autumn
This is a great time as well, perhaps a touch cooler but also less crowded.
WHAT TO DO IN HALONG BAY
Halong Bay is full of fascinating things to do in addition to admiring the nearly 2000 rainforest covered islands.  It's home to some of the most amazing sand beaches, caves, fishing, and floating villages.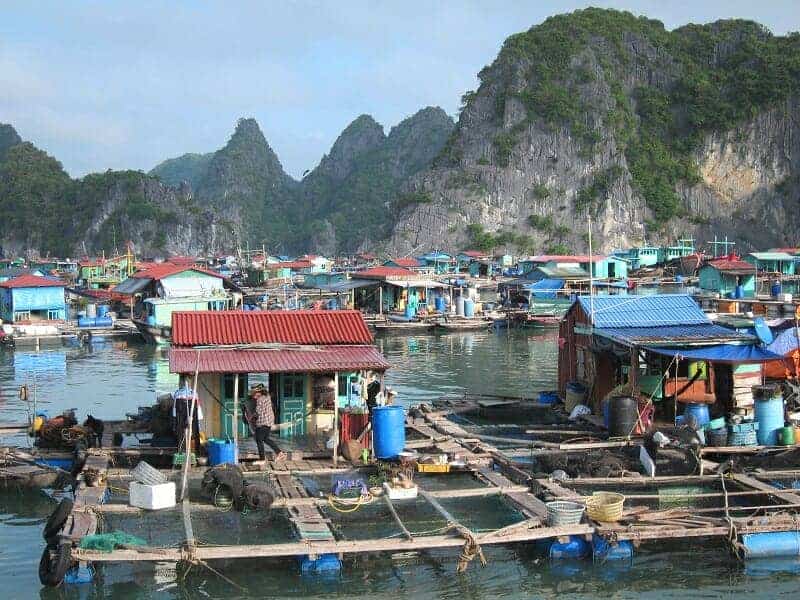 The floating villages are definitely worth a visit. You will find schools, grocery stores, and floating markets that let you live the culture of the locals in Halong Bay. It's truly a remarkable way of life.
The limestone islets are also home to some stunning caves. Get a break from the water and head on a hike to one of the many caves. Even better, take a kayak ride to the cave.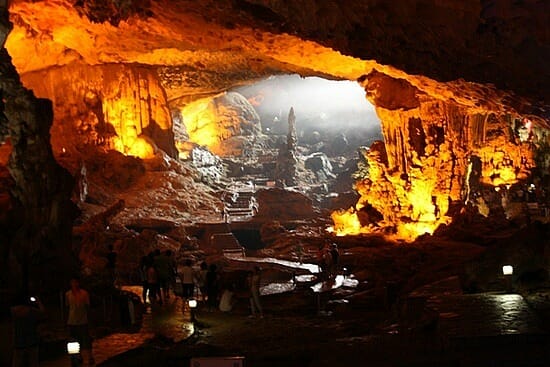 HALONG BAY CRUISE
Don't be fooled into trying to see Ha Long Bay in just a day. The drive alone form Hanoi will take you over 4 hours. No matter what, just plan on at least a night or two.
We typically aren't into the "group" thing while traveling. We tend to prefer to go it alone but Halong was different and we're glad we did a cruise.
Be sure to read:

International Travel Planning Guide – Plan an affordable and safe overseas trip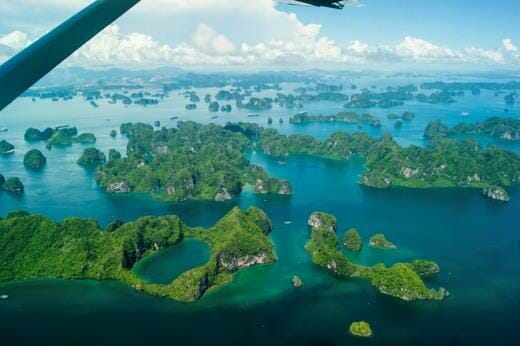 Picking a cruise kept things simple. Halong Bay is best seen from the sea and navigating by water lets you reach those remote areas you'd never reach on your own.
It also takes care of accommodations, food, and numerous activities. But not all cruises are equal so let me help you get on the right cruise for your budget.
BEST HALONG BAY TOURS
Whatever you do, don't go for the cheapest option you can find. The poor service, lack of good food, and paying extra for activities will leave a sour taste in your mouth.
The two-day/one-night (2D1N) cruise is the most popular choice but you can choose longer options as well.
Picking a longer trip will allow you to see multiple areas of this immense bay. Bau Tu Long Bay and Lan Ha Bay are two popular areas and could both be done in a 3D/2N cruise. On a one-night cruise you will just visit one of the many secluded bays.
While there are many different areas of Halong, in all honesty, you can't go wrong as they are all magnificent. Keep in mind the larger cruise boats (50 person or so) won't be able to get into some of the smaller areas that a private or 10-person boat can. So if a smaller boat is within budget you'll avoid some of the crowds.
The trip will go something like this for a 2D1N cruise,
Shuttle van to and from Halong from Hanoi.
Includes two lunches, dinner, and breakfast
Accommodations for the night
Various day activities-Kayak, swimming, caves, fishing, or beach time
PICKING THE RIGHT HALONG BAY CRUISE
I mentioned earlier that skimping on the cruise is not a good option for most people. At the same time going all out will cost you a pretty penny. Let's explore a few of the options.
PRIVATE HALONG BAY CRUISE
If you're looking for the ultimate in luxury then the Indochina Junk private cruise is the ticket. Expect superb service, excellent food, and deluxe accommodations. On suite bath and shower for a comfortable and luxurious trip. You can enjoy your candle lit meals on the outdoor deck dining area so you never miss a minute of the stunning Halong Bay views.
These are the ultimate for a couple seeking a romantic getaway. You'll be in a smaller private boat which allows you to visit the less busy bays like Bai Tu Long. Because these are a private cruise you will have a lot more flexibility with your day activities. Whether it be relaxing on the beach, kayaking around the islets, or visiting a fishing village.
The Indochina Cruises offer several different boats but the L'Amour is the ticket if private luxury is what you're looking for.
The L'Amour is rated #1 on TripAdvisor with over 5,000 reviews and a 5-star rating.  Expect to pay about $200/person for a 1 night and $340 for the 2 night option.  If it's in your budget you simply won't find a better way to visit the area.
SHARED HA LONG BAY CRUISE
We opted to take an Indochina Junk boat but on a shard cruise. This less expensive option will put you on a slightly larger boat that holds up to 10 people. You'll still have private accommodations, very nice in fact, but you will be sharing the rest of the boat with other people.
We absolutely loved it and met some really great people. We opted for the Dragon's Pearl which was highly rated and a perfect size, max 10 person, boat. Not to be confused with their Dragon's Legend, also a good option but a much larger 50 person boat.
Expect to pay about $180/person for the Dragon's Pearl.  We got a really good early-bird deal at $150.  I recommend shopping around between booking directly with Indochina or through Get Your Guide.  We found the prices a little better on Get Your Guide and it was nice to book through an American website.
Our cruise didn't feel crowded at all as you can see from the pictures. There were plenty of different areas on the boat for people to hang out. In the mornings there was Yoga and before dinner was a cooking class.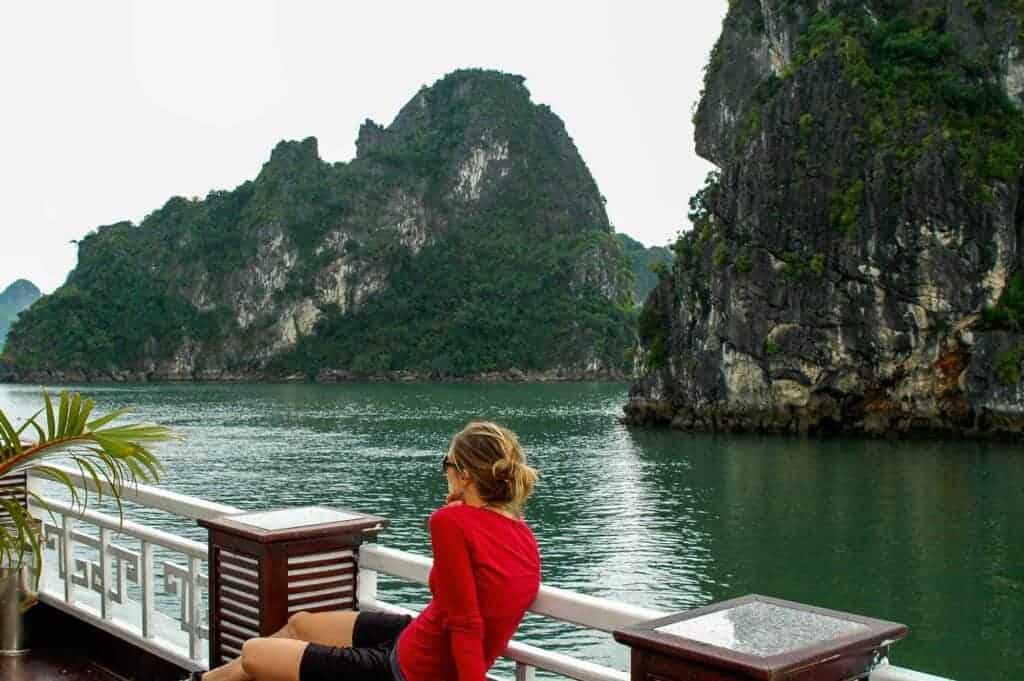 Do I need travel insurance? We think so but read on to decide for yourself.

Is World Nomads Travel Insurance Worth It
1-NIGHT/2-DAY ITINERARY
This was our itinerary from our 1N2D cruise on the Dragon's Pearl.
DAY 1: HON GAI HARBOUR – BAI TU LONG BAY – THIEN CANH SON CAVE
7.30 – 8.00: Pick up at your hotel in Hanoi's Old Quarter area.
12.00 – 12.30: Embark at Hon Gai International harbor.
12.30 – 13.00: Check-in, enjoy welcome drink & cruise briefing.
13.30 – 15.00: Have lunch while cruising to magnificent Bai Tu Long bay; admire the fascinating formations on the way.
15.15 – 15.40: Explore the well- hidden Thien Canh Son cave.
15.45 – 18:00: Enjoy relaxing on a white sandy beach at Hon Co island, swimming or kayaking.
18:00 – 19.00: Back to junk for refreshing before having dinner on board.
20.00 – 21.00: Relax, enjoy fresh air & overnight on board.
DAY 2: VUNG VIENG FISHING VILLAGE – HON GAI HARBOUR
07.30 – 08.00: Morning view of Bay's landscape with a cup of tea or coffee. Have breakfast in the fresh air.
08.30 – 09.30: Visit Vung Vieng fishing village by a rustic row-boat.
10.00: Check out of the cabin. Start cruising towards the harbor while an A la carte lunch is served.
11.45 – 12.00: Disembark. Drive to Yen Duc village in Dong Trieu province.
14.00 – 14.30: Enjoy water puppet show performed by local artists. 14.45 – 17.30: Arrive in Hanoi. Trip ends.
ADDITIONAL HALONG BAY CRUISE OPTIONS
While the above are the deluxe options there are certainly less expensive ways to see Halong Bay. Don't think you have to spend that kind of money because you don't. While I think those deluxe trips are a good value let's look at some more budget-friendly options.
To drop down in price without loosing much in the quality simply means getting on some bigger boats. You'll still find very nice rooms with private bath/shower, windows, and even private decks.
My only advice here is to stay above $70 a night. Once you get into the $40/night option I hear they throw additional charges at you to do anything other than use the bathroom.
I would recommend Get Your Guide for booking these options as most of these boats are not available to book direct with.
Our friends picked a cruise at $100/night and were very happy with it. Just be sure to read the reviews and you shouldn't have any trouble finding a great cruise within your budget.
BOOKING AHEAD OF TIME
A lot of people have asked us if it's better to book ahead or try to find a deal while in Vietnam. We looked around while we were in the area and simply didn't see any better deals than what you could book online. And we certainly found some worse deals.
Our advice would be to book ahead as it will save you some headache and allow you to better enjoy your time in Vietnam.  If you are worried about having a flexible schedule, we found that Get Your Guide will work with you if you need to change a date.  If you book directly with one of the cruises be sure to ask about cancellations and get that in writing.
It's also worth considering Travel Insurance as that can cover you for unexpected cancellations as well.
Getting around Vietnam is best with a light pack

Check out How To Pack Light for all the tips and tricks for a light bag
WHAT TO BRING
Sunblock
Hat
Insect repellent
Swim suit
Warm clothes for evening
Passport and Visa
Cash in Vietnamese Dong for tipping
While the food was magnificent I would bring some snacks. Perhaps some energy bars of your liking. As well as beverages of your choice. Purchasing snacks or beverages outside of your meals can get pretty expensive.
SUMMARY
While some people may say Halong Bay is "too busy," remember it's busy for a reason. We definitely felt it was worth a visit. Make sure to read the reviews on the cruise you're looking at. Some cruises are definitely better than others.
Be sure to explore and get off the boat at least once. Seeing the villages and school were a really neat experience.
If you have any specific questions let us know.
Happy travels!