Best Lakes in California for Camping
A quiet weekend by the lake is all you need to disassociate from this chaotic world and reconnect with yourself. When the cold breeze brushes against your skin and you wake up with a stunning sunrise, everything starts falling in place. The serene breeze, the fragrance of nature, and a peaceful evening by the water – ahh, you wish you could stop the time and be there until your tiredness melts away.
When it comes to lakeside camping, the Golden State is spoiled with choices. Whether you want a mix of hiking and camping fun or laying by the lake is all you have in mind, California lakes don't disappoint.
However, the amount of fun you have on your California camping trip depends on the lake you choose to visit. Since you don't want unruly crowds spoiling your getaway, it makes sense to learn as much as you can about the various California lake campgrounds. That's the reason we have listed the best lakes in California to make your camping getaway worth the effort and time.
So, before you start loading your RV, check out this list of camping lakes in California and visit one that strikes a chord with you!
Want to Camp But Don't Have a Van, Camper or RV?
There's nothing to worry about. Did you know that several companies provide RV, camper, and van rentals, and they are actually clean, functional, and ready to transport you on your next excursion? Renting a campervan or RV is a great way to discover whether "camping life" appeals to you before buying one.
In fact renting from a reputable company like Outdoorsy is easy breezy. You can read about more about Outdoorsy here.
DL Bliss State Park (Lake Tahoe)- Best Lake Camping in California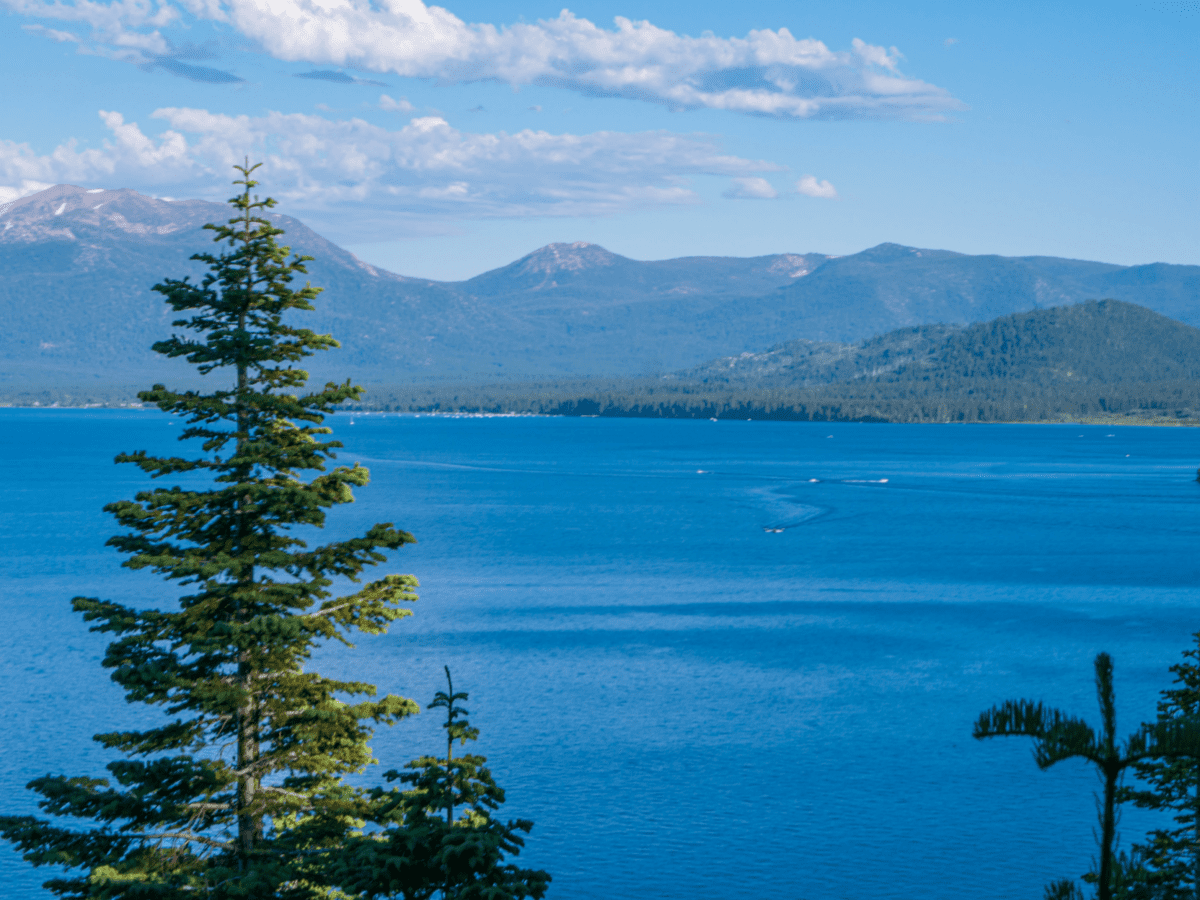 The jewel of the Sierra, DL Bliss State Park, is sure to leave you spellbound with its beauty. There's nothing quite like this park's blue water, dense forest line, five-star amenities, and quiet ambiance. Campers love the DL State Park for its awe-inspiring views and campsites perfectly tailored to meet their desires.
Anyone who has an eye for nature's magic will fall in love with DL Bliss Park, all thanks to its rich color pallet. Whether you want to paddleboard on Lake Tahoe or set up a fire pit on the shore, nothing is stopping you. Tourists flock to Lake Tahoe for camping in late Spring and Summer when cities get hot, and they need a place to cool off.
The DL Park's amenities include lakeside camping, swimming, boating, hiking, scuba diving, and other water activities.
RV campers prefer lake Tahoe for its easy access and first-class amenities that don't make them work hard for a relaxing vacation.
June Lake Loop (Eastern Sierras of California)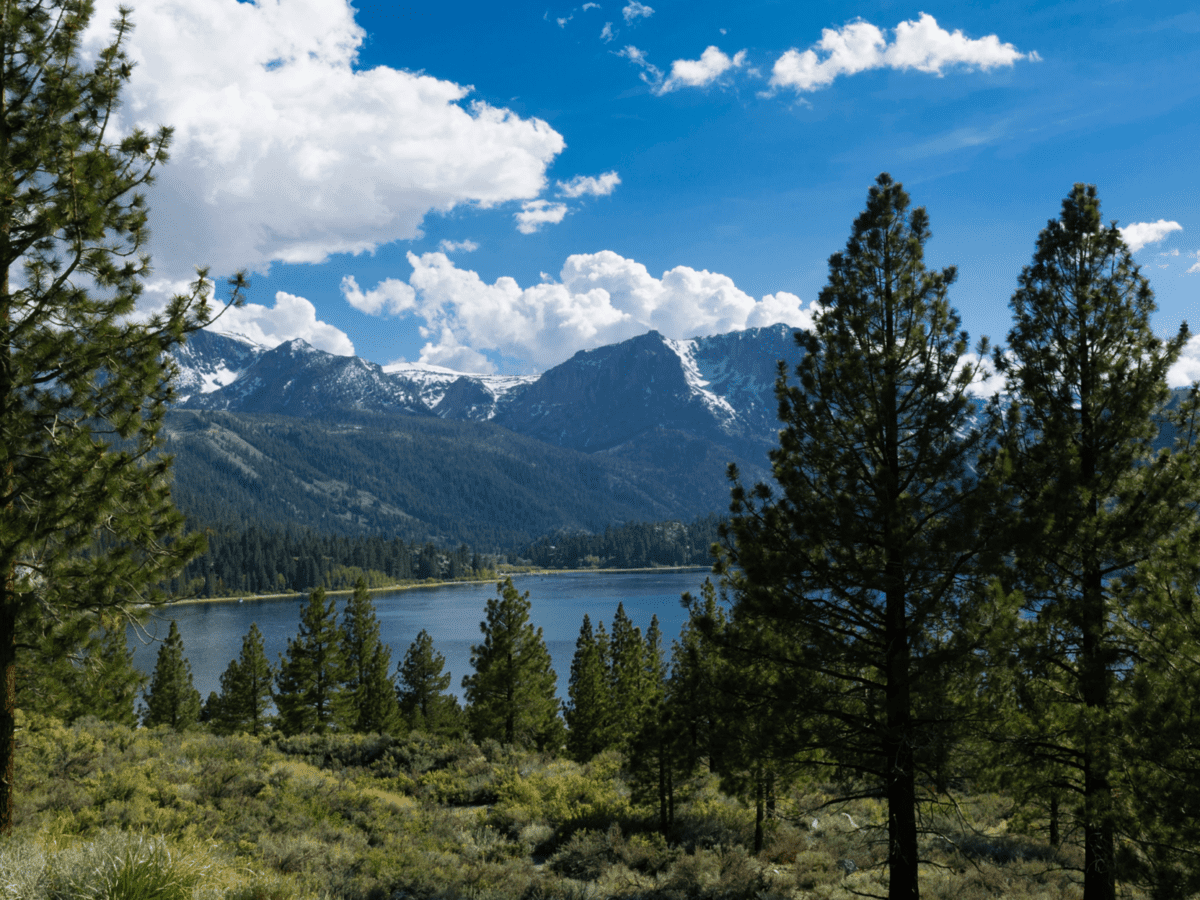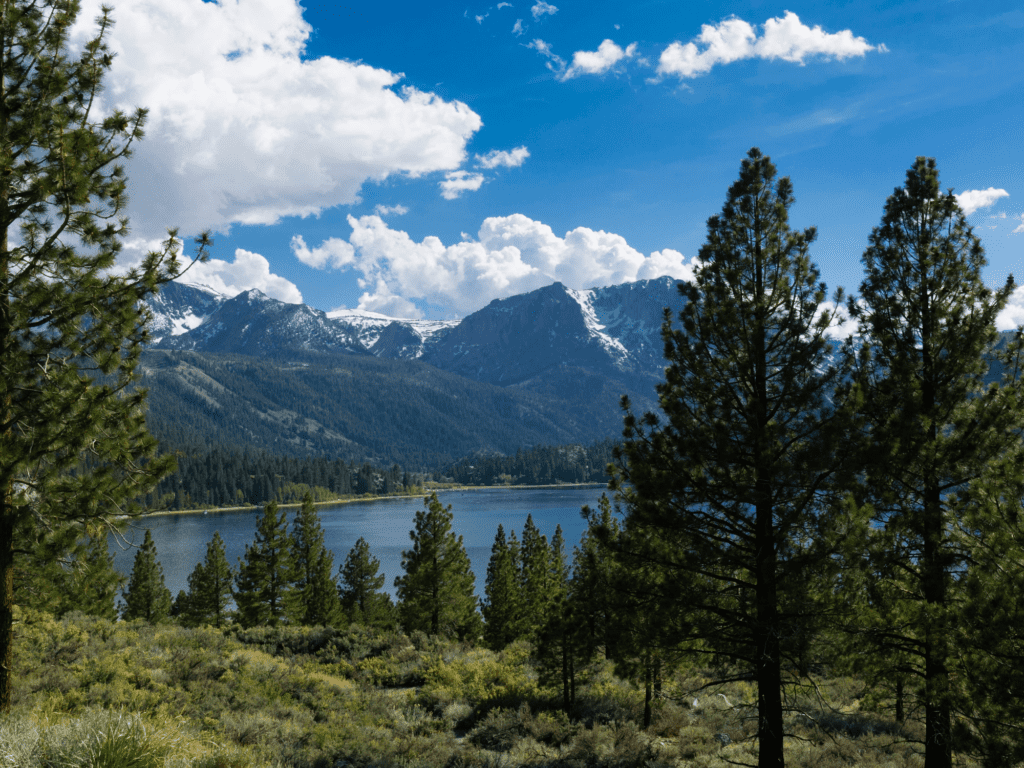 In the mood to see wildlife up close? June lake is calling you! Located in the Inyo National Forest and a part of the June Lake Loop, this camping lake is bound to satiate your craving for nature. You can access the eastern Sierra Nevada and Ansel Adam Wilderness from June Lake to double the fun at your camping break and explore California's natural beauty.
Camping on the bank of June Lake is a great family activity because here you have access to many adventures and leisure activities. June Lake is the finest camping lake in California, with excellent restaurants within walking distance and water so blue you never want to take your eyes away from it. Your June Lake excursion will be packed with fun, from well-managed campgrounds to rental boats and waterfront relaxation. Since the June Lake camping ground is on the lake's southern end, it's near wildlife, so keep some bear locks with you and watch out for the deer there.
Trinity Lake (West of Redding)
Located in the heart of Shasta-Trinity National Forest, Trinity Lake is a site you cannot miss. This campers' haven has everything you need for a memorable close-to-nature break.
This lake has all the perks of California's raw nature, from catching freshwater fish and grilling it on the shore to diving in the deep blue water. When you get tired from everyday life, make Trinity Lake your next stop and come back with some refreshing memories.
The campsites on Trinity Lake offer some spectacular views and amenities within walking distance. A fishing ramp, rental boats, water sports facilities, and swim beach are some things you'd love on your Trinity
Lake trip. The Alpine View campground is an excellent recreation spot where you can soak nature's serenity and relax your nerves. The sounds of birds chirping and water slowly moving will make your Trinity Lake getaway worth it. Be sure to book a campsite timely because Trinity Lake campground gets filled quickly in Spring and Summer.
Lake Shasta (North of Redding)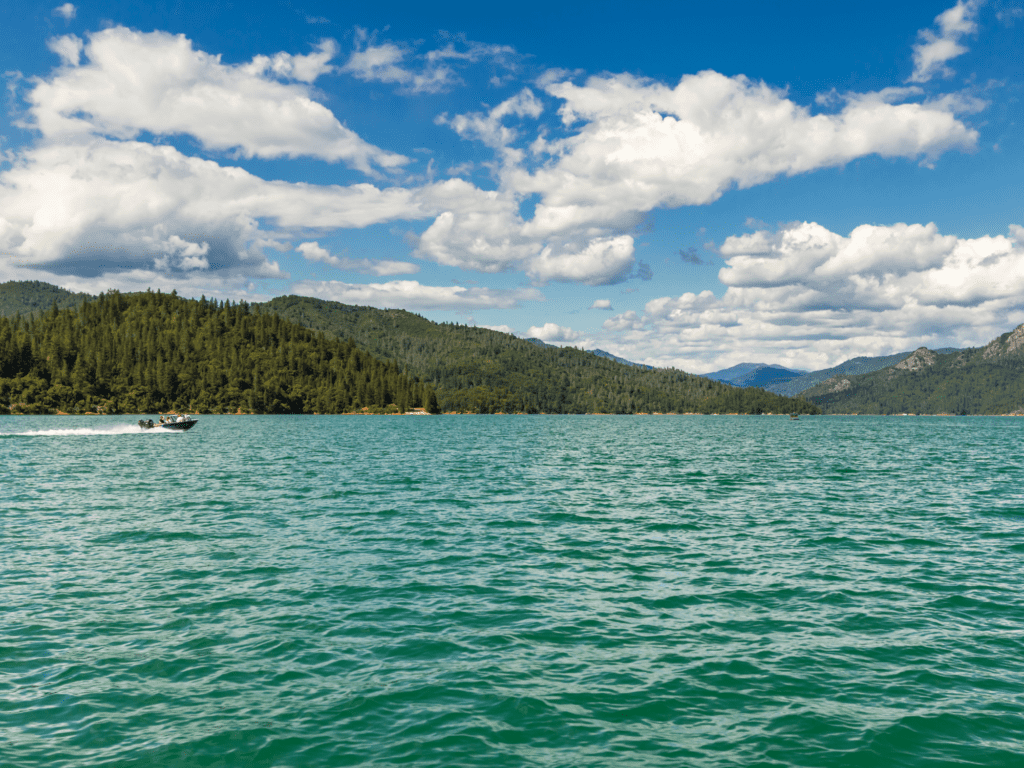 Located about 10 miles north of Redding is Lake Shasta, offering spectacular views and tourist facilities. If we talk about camping lakes on the west coast, Lake Shasta takes the lead with its views, unique formation, and amenities – all set to make your weekend great.
Lake Shasta is divided into three arms, each offering unique facilities and water activities. This freshwater reservoir is not your typical lake because its geography is unique and worth exploring.
On your camping tour to Lake Shasta, rent a houseboat and spend your time floating. Lake Shasta houseboats are decked with most things you need; rest assured, you and the fam will have fun on a boat all day long.
If floating fun is not your thing, there are aplenty campsites by the shore and high-end resorts you can come back to. When you're in the mood to float on peaceful water and shut everything else out, head north from Redding and get ready to love Lake Shasta's peace; make reservations early, though.
Want to camp but looking for a bit more luxury? Check out Glamping
Bass Lake Recreation Area (Sierra Nevada)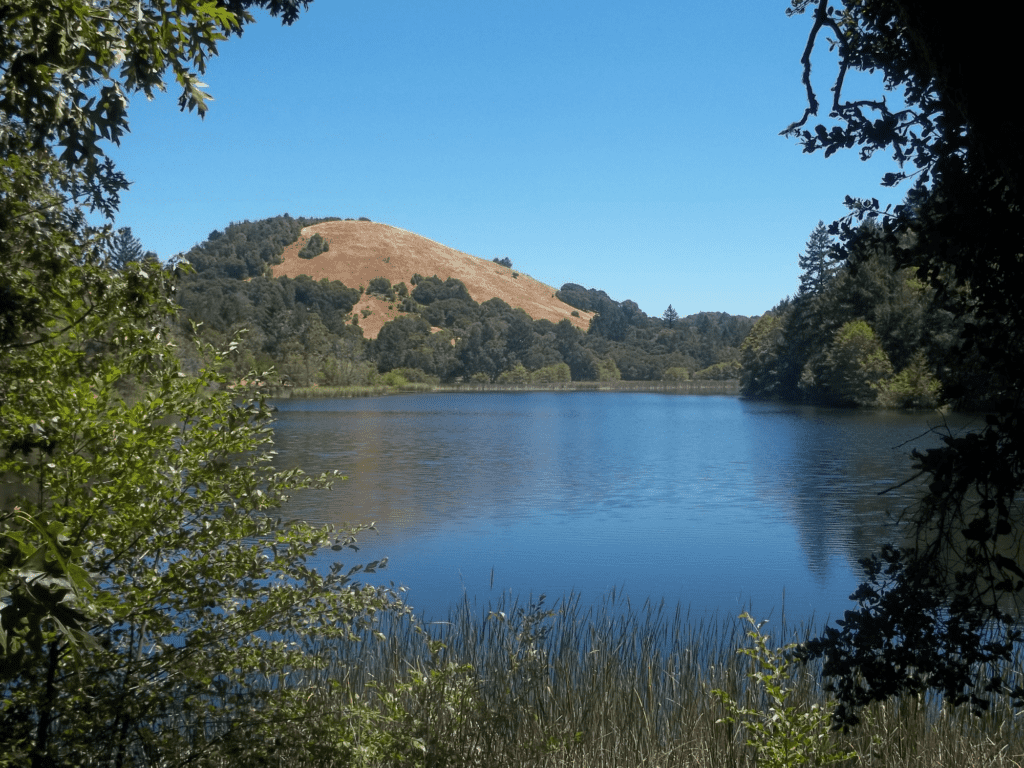 Located 14 miles from the Southern gate of Yosemite National Park is Bass Lake recreation area, North California's most popular camping site. Campers, hikers, nature lovers, and sunbathers consider this lake a treat to the eyes and soul, all thanks to the views it offers.
The Bass Lake recreation area is not to miss, from striking blue water to campgrounds loaded with everything campers need. You can visit Bass Lake 365 days a year and indulge in its gorgeous views and unmatchable serenity.
Anglers love Bass Lake for its freshwater fish variety and hotspots, where they find plenty of catch. With Kokanee, salmon, and catfish being its well-known species, anglers love a visit to Bass Lake in summer.
This lake's 10-mile accessible shoreline is home to many water activities, including swimming, skiing, and kayaking. Since the lake's 28 campgrounds have all essential facilities for your getaways, you don't have to worry about your comfort. And if you prefer a more secluded accommodation, there are many lakefront hotels, lodges, and cabins to make your excursion better.
Folsom Lake (Folsom)
Thirty miles east of Sacramento is Folsom Lake. Folsom Lake's convenient location makes it an excellent choice for campers and anglers. Folsom Lake's beauty lies in its location and surroundings.
Since this lake is at the base of Sierra Foothills, you can easily access the nearby mountains from here. The Folsom Lake's campsites will add some spark to your break and ensure you have a great time. Folsom Lake is nature at its best, from safe campsites to biking and hiking trails.
Starting from the Folsom Lake State Park and ending in old Sacramento is a 32-mile bike trail. Along this trail, you'll find many restaurants, experience California's raw beauty, and even find some spots to cool off on a hot day.
You can enjoy fishing, water sports, and waterfront bonfires at Folsom Lake, all leading to some incredible memories for your camping break.  
We believe that no camping experience is complete without a bit of dutch oven cooking. Check out our favorite recipes here.
Lake Isabella (East of Bakersfield)
Nothing short of amazing, Lake Isabella is a Southern California gem.Lake Isabella, located near Sequoia National Forest to the east of Bakersfield, is one of the largest reservoirs in Southern California.
With 11,000 acres spread across two forks, this Kern County lake is perfect for fishing enthusiasts. From catfish and rainbow trout to bigmouth and smallmouth bass, Lake Isabella's two forks have a lot to offer.
After setting up your tent enjoying a bit of downtime, you can head out for a one-day rafting tour in the Upper Kern River. There are three campgrounds on Lake Isabella and many shops to keep you stocked up on food and drinks.
If you leave for a camping trip in a rush, fret not because you'll find almost all camping essentials near this lake. You'll also come across some fine dining places and hotels near this lake, so no worries if you cannot compromise on your comfort because this is a pretty well-developed area.
Clear Lake (Near Kelseyville)
The largest freshwater lake in California, Clear Lake, packs a punch of fun and relaxation to make your camping adventure the best of all. This magnificent lake leaves no stone unturned to make your nature-time unforgettable.
Clear Lake has four campgrounds, which are situated at the bank and offer gorgeous views. You can find fire rings, lodges, tables, and other amenities in these campgrounds without walking away from the scenic views. Once your camp is set and you're ready for some hectic action, there's a lot you can do.
First, the 6½ miles hike of Mount Konocti will warm your muscles and show you a spectacular view of the lake. Then, there are plenty of water sports and hiking activities you can indulge in. You can fish, boat, swim, hike, and sunbathe during your Clear Lake camping experience.
The breezy weather and majestic views at Clear Lake tell why campers from across the country admire this place. Clear Lake is bound to be a treat, showcasing the Golden State's glory and providing unmatchable facilities to the campers.
Big Bear Lake (Southern California 2 Hrs East of Los Angeles)
When the snow melts and the pine forests wake up with their majestic green glory, it's the best time to visit Big Bear Lake and camp. You might think of Big Bear Lake as a winter destination, but once you see it during warm months, its offerings will leave you spellbound. With plenty of campgrounds and activities to choose from, you'll have the time of your life at Big Bear Lake.
Holloway's Marina and RV park is a noteworthy landmark you should explore near Big Bear Lake because that's where you'll love setting your camp. From direct access to freshwater to rigorous hiking trails, Big Bear Lake is an all-in-one camping package.
You can enjoy boating, hiking, skiing, walking, and a plethora of other activities in Big Bear Lake to make the most out of your time. Once tired from all that hiking and skiing fun, hook your tent on a scenic spot and close your eyes to feel SoCal's warm breeze on your skin.
Mammoth Lakes (Mammoth Lake)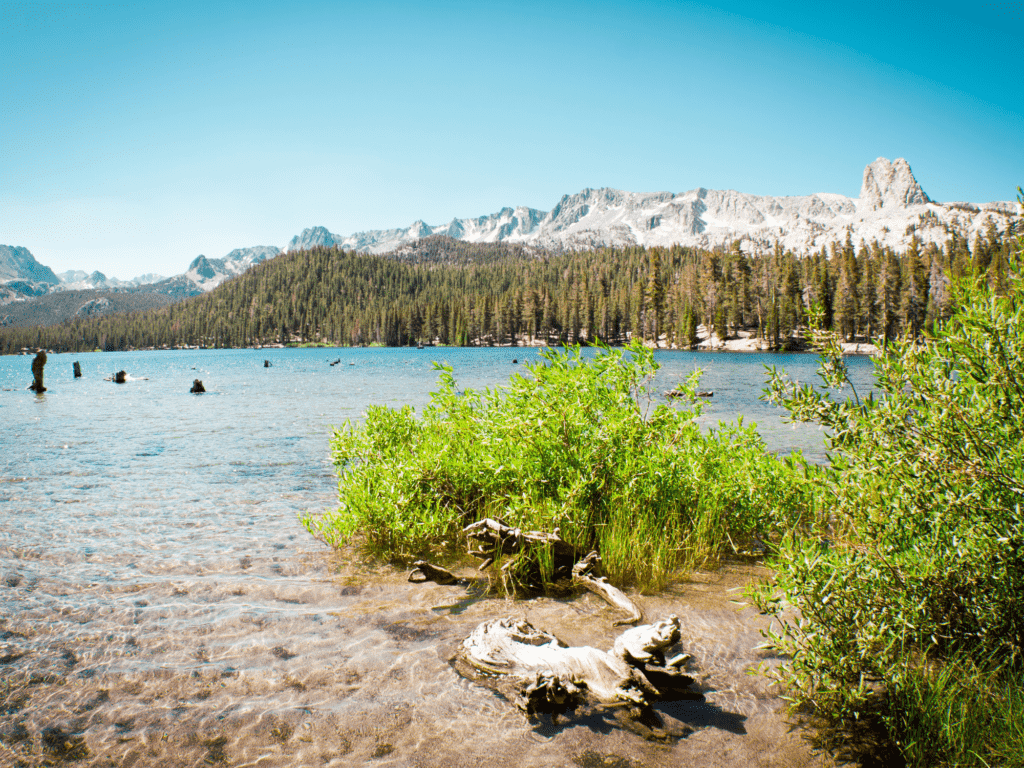 Mammoth Lakes is a hidden gem nestled in the Inyo National Forest, not far from June Lake. This mountain retreat offers a peaceful getaway into the mountains, and though it's well-known as a winter wonderland, it has so much more to offer than you would believe; with over 800 campsites, the Mammoth Lakes region invites tourists year after year.
The town of Mammoth Lakes is a top winter getaway, but the region is also fantastic in the summer. The area gets its name from its numerous crystal pools that fill the basin.
Duck, Shelton, and Deer Lakes are part of the upper basin, while the lower basin comprises Lake Mary, Lake George, Lake Mamie, Twin Lakes, and Horseshoe Lake. Given all the lakes and campsites available, it's tough to get bored seeing new things throughout the camping season at Mammoth Lakes.
Donner Memorial State Park (Truckee)
The Donner Memorial State Park Campground, on the banks of Donner Lake, is one of California's most popular camping destinations. The facilities are excellent, and the lake is spectacular; all in all, it makes for a fantastic experience for people of all ages.
A variety of activities are available at Donner Lake, including swimming, fishing, boating (sailboats only), waterskiing, and paddleboarding. Exhibits about Native Americans, pioneers, and the transcontinental railroad building are featured in the new High Sierra Crossing Museum.
The Campground at Donner Memorial State Park has 154 campsites split into three different sections. The majority of sites are suitable for RVs, trucks, and tents. A few of the sites are only available for tents. Restrooms include both hot and cold showers. Each day, new reservations for camping dates six months in advance become available.
Have you ever heard of boondocking? Boondocking is a great way to camp for free or VERY affordably, click here for more information and find our guide to boondocking
Your Next California Camping Adventure Starts Now!
Whether you want a fun weekend or some time away from the everyday hustle-bustle, camping in California never goes wrong. With scenic forests, deep blue water, and camping sites minutes away from dashing waterbodies, anyone can fall in love with the Golden State's camping adventures.
While planning your next camping adventure, make reservations in advance and look at the weather forecast to avoid any trouble. Remember to pack wisely and take care of your supplies while heading on a camping adventure. We hope the above list of best camping lakes in California gives you the much-needed clarity, and you'll pick a destination wisely. Have fun at your next camping getaway!