I don't know about you, but for us, one of the downfalls of living in a van is not having the comfort of a traditional toilet.
We hear the debate all the time; do you install a portable cassette toilet in your campervan or RV or do you forgo it. For us we spent about a year "getting by" without a toilet; however during this year we weren't fulltimers in our van. After spending more and more time in our van it became apparent that we wanted a proper place to relieve ourselves. And you know what? It's been a lifesaver.
In the beginning dealing with a toilet was not something that I even wanted to think about.
However, things slowly began to shift and I began thinking about how nice it would be to actually have a toilet in certain situations. Perhaps it was a ski trip to Jackson Hole where I was trying to go number 1 in sub-zero temps and every time I pulled my pants down, everything in me froze (even my pee) because it was so fricken cold.
The first thing I did the next morning is a frantic search for cassette toilets. It was at this point that I was done with the inconveniences of not having a toilet.
Through hours upon hours of research I've discovered what campervan cassette toilets are the best for van life.
WHAT IS A PORTABLE CASSETTE TOILET?
A cassette toilet is a toilet that you do your business in, and the waste is stored in a holding tank until you take it out and dump it. These toilets are very convenient for campervans, RVs, and trailers. There are two separate holding tanks in these toilets, one for fresh water to flush the toilet and the second tank is for the waste.
Cassette toilets have their own black tank, so you have to physically take the holding tank out and dump the contents into a regular toilet, outhouse, or RV dump station.
As you can guess, emptying your portable tank is a bit of an uncomfortable situation, and it's not for everyone. But for stealthy campers who don't want to use public restrooms, this is what comes with the territory. Let's dive in and cover how cassette toilets work and the different portable toilet options.
HOW TO USE A CASSETTE TOILET?
To use the cassette toilet, begin by pushing or pumping the freshwater button to allow a tiny bit of water to fill the basin. Do your business and then either add a bit more water to the basin if necessary or open the valve to flush the contents into the waste tank.
Pro Tip: Every time we dump our cassette and flush it out with fresh water, we pop an odor eliminator tab in to the holding tank to help eliminate the smells.
DO CASSETTE/CARTRIDGE TOILETS SMELL BAD?
I'm not going to lie; ours did! But it wasn't something that smelled all of the time. You couldn't smell the contents that were in the toilet unless you cracked the lid or flushed the toilet allowing for the offensive smells to escape.
To be honest, if you choose to only use your cassette toilet for #1 duties the smell shouldn't be too bad. The nasty smells begin to present themselves when the pee and poo mix in the tank.
TIPS FOR USING A PORTABLE CASSETTE TOILET
Being that one of us (Jill) has a killer nose and the slightest of smells make her nostrils flare, we have a few tips for using cassette toilets that will help you get started.
Test For Leaks: First, give that portable toilet a test run outside the van or RV before plopping it inside. You want to make sure there aren't any leaks or malfunctions before taking it on a real road trip.
Practice Dumping: Know how your specific model works and how you separate the holding tank for the top tank to dump the contents. For some portable toilets, there are release valves you'll want to make sure you know how to use.
Trash that TP: To preserve space in your tank and minimize the dumping routine, we like to dispose of our toilet paper in a trash bin. Minimizing the amount of toilet paper you use also helps with cleaning. Nobody wants rogue pieces of toilet paper hanging out in the dump tank.
Tightly place the lid down: To minimize the stench, make sure you securely place the lid on the toilet.
What's your number? Are you using this for number 1 only? If so, lucky you, the smells and the cleaning process will be much more manageable. Those who are using it for number 2, too, realize it'll need to be dumped more often.
Be on the look out for dump stations: If you're a vanlifer who loves stealth camping, you want to keep your eyes open for dump stations or toilets where you can dump your tank. When we were traveling in Florida, we had a difficult time finding appropriate places to dumb our tank, so it was a bit annoying.
Spray your toilet cassette down: We prefer dump stations over the typical outhouse or toilet. I HATE being locked in an outhouse during the dumping process and having to deal with the smell. Also, we really like to spray the whole thing down, including the holding tank and the basin.
Carry or roll your portable waste tank?– Cassette toilets can become quite heavy when filled with waste, so decide if you want a style with a handle that you physically carry or one with rolly wheels that you can roll to the dump area.
HOW DOES A CASSETTE TOILET WORK?
You have 3 main elements when you purchase your cassette toilet: The upper portion that includes where you sit, a portable waste tank, and a water reservoir.
A cassette toilet is essentially the same as a conventional toilet. However, you fill the upper tank with fresh water to set it up, the wastewater tank receives a chemical solution or disinfectant. After adding water to the tank there isn't much ongoing maintenance required and it's ready to use.
The waste is washed down into the chemically treated reservoir with a pump flush. To separate the top portion from the bottom holding tank there are levers on each side of the toilet to separate the two. Once you have the holding tank by itself you use the sturdy handles to walk it or roll it to be emptied into an RV dump station, outhouse, or standard flush toilet.
Pro Tip: A toilet with a tight seal and frequent emptying will help keep smells tolerable and your RV or campervan smelling fresh.
HOW TO DUMP YOUR PORTABLE CASSETTE TOILET
A level indicator is built into most cassette toilets; check this indicator to see if it is getting close to the red area (full).
Next, you'll wheel or carry your cassette to the dumping area, swivel the pour spout to point away from the cassette, and remove the cap on the spout. Lift or tilt the holding tank and let gravity do its work. There is a pressure release button on most cassettes to help with getting rid of the contents. Be careful to have the pour spout positioned over the dumping area before pushing the button, or you could have a huge nasty mess.
Once the contents have been dumped, you'll want to give it a couple of spray cleans with some water to thoroughly remove everything from the portable waste tank. If you're a chemical user, place new chemicals back in the cassette and put it back into your van.
CAN YOU POOP IN A CASSETTE TOILET?
You sure can. Some people try to reserve the toilet for number 1's only, but when nature calls, and there's nothing you can do, you have your trusty cassette toilet to rely on. It's recommended to fill the basin of the toilet with a bit of freshwater from the fill tank before going number 2 so that when you flush; everything is eliminated from the basin.
CASSETTE TOILET CHEMICALS
Many of the top name brands recommend cleaning the tank twice a year to preserve its quality, keep it looking good, and more importantly keep it smelling fresh! Flush chemicals including Thetford AquaRinse have emerged in recent years to leave a pleasant fragrance and glossy finish in the cassette bowl.
THINGS TO LOOK FOR IN YOUR PORTABLE CASSETTE TOILET
1. CASSETTE TANK HOLDING SIZE
Bigger isn't always better, especially when you can't carry the weight. Most waste tanks are usually about 5 gallons and take some getting used to if you're not used to thinking about toilet capacity.
Even though 5 gallons doesn't sound like much, remember that the weight of 5 gallons will be a little over 50ish lbs and you'll have to carry/move this weight.
If you're looking for an easily portable option, choose one with a smaller capacity; you'll have to empty them more frequently, but they won't be as difficult to carry when full.
2. SECURE HANDLES
The worst part of portable black tanks are emptying them. Look for brands like Theford Porta Pottie that can easily be carried to dumping area.
3. DUMPING SPOUT
We've found that a swivel spout is key for keeping things clean when dumping our cassette toilet holding tank. Another thing to consider is a lid that covers your swivel spout so you don't end up with a mess carrying the waste to the disposal area.
As you can see from the photos below the Thetford 565E has a swivel spout, a release valve, and a cap to help rid of the contents without creating a mess.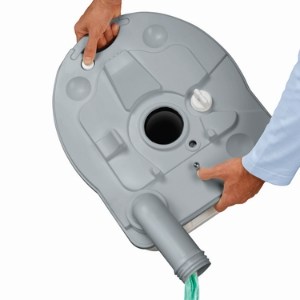 The Serenelife is another very popular option for RV or van owners because of it's durability and its swivel spout.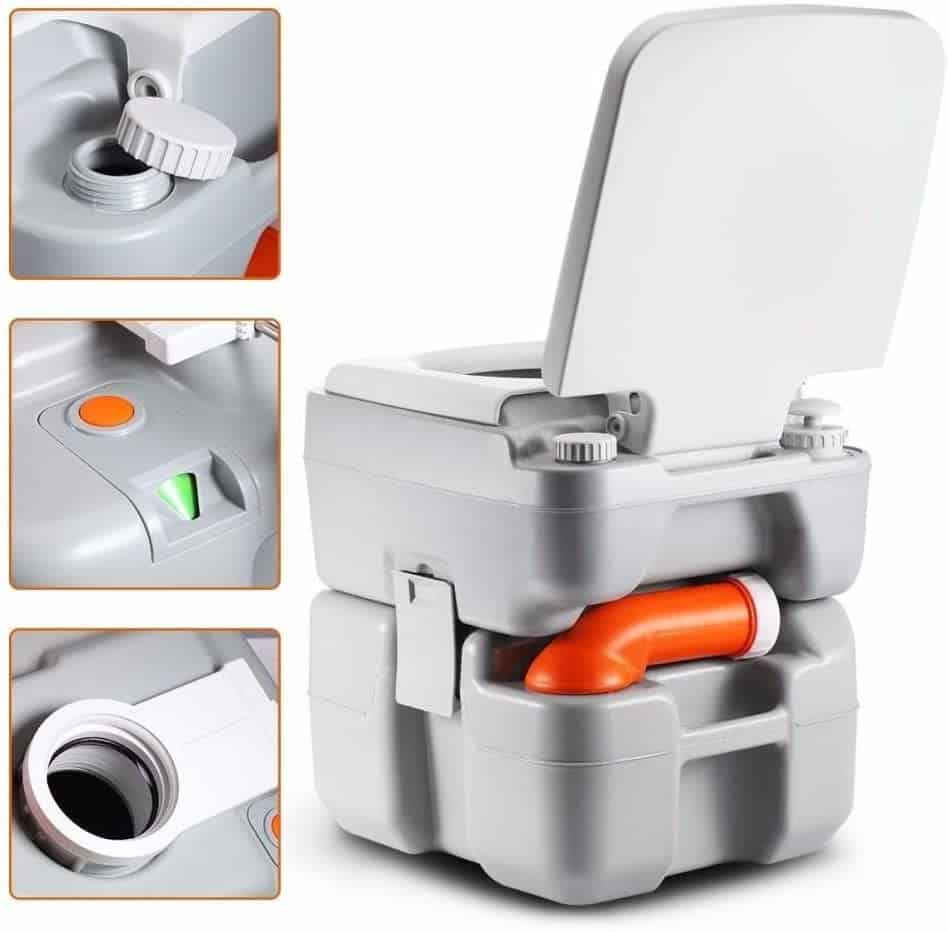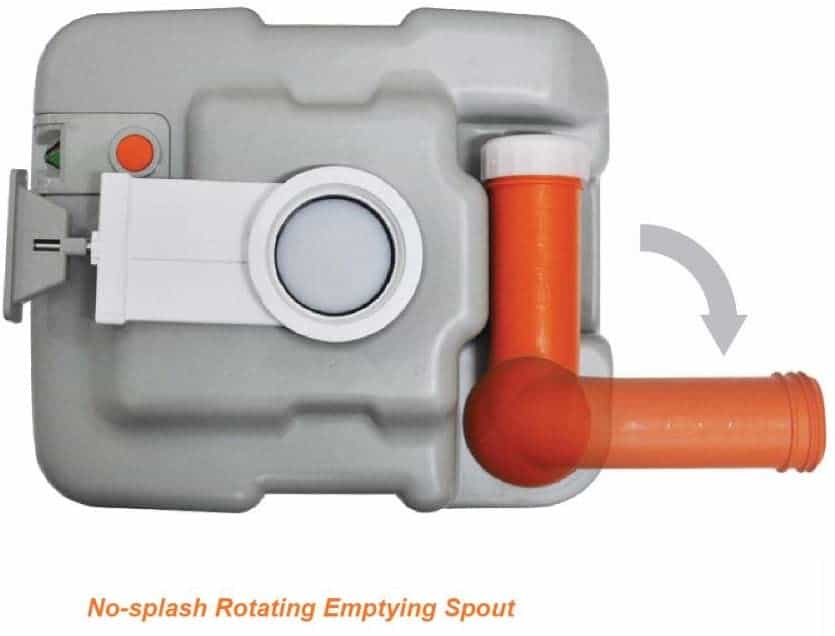 4. CASSETTE TOILET WEIGHT
A large portable travel toilet is obviously going to weigh more than a smaller one. But remember that the weight of the toilet when full is going to be different than an empty gallon waste tank. A five-gallon camper cassette toilet filled with waste will weigh around 53 lbs. Remember this needs to be physically walked to the dumping area so you need to be able to carry this amount of weight.
If you're concerned about your ability to carry your holding tank to the dumping area, a lighter weight toilet like the Thetford Porta Pottie 135 may be what you need. However if you'd like something with larger holding capacity the SereLife Outdoor Portable Toilet may be perfect for you.
CASSETTE TOILET FEATURES COMPARISON
Not every toilet is made the same so make sure you're aware of the features that each of the cassette toilets comes with
PORTABLE CASSETTE TOILET FEATURES
1. FLUSH TYPE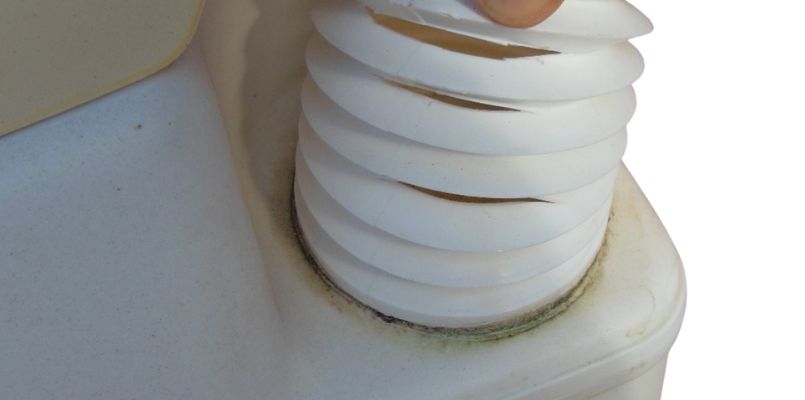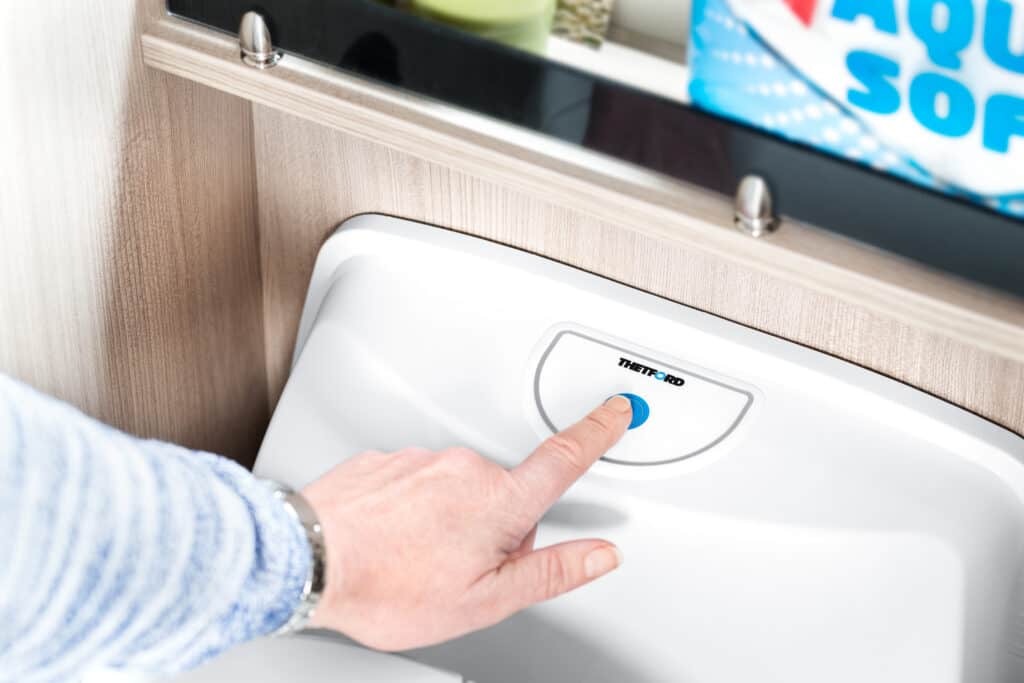 Some chemical toilets are equipped with a pump flush, also referred to as a bellows style flushing system while others have a push button. The bellows works by pumping water from the upper tank to the bowl to clean the area. Some people complain that the bellows style can dry out and crack needing replacement. The cost for replacing the bellows can be around $30-40, which is a bit steep if you ask me.
Instead of a bellows style flush to pump clean water into the bowl, the Dometic 970 series cassette toilets uses a piston pump to pressurize the water in the holding tank. All you have to do with this style is push the button to release water into the bowl.
Depending on how long you press the button, more or less water releases, so you can get multiple flushes from one charging. The result is a more reliable mechanism and a more forceful flush.
There are also cassette toilets that have one flush nozzle, but some like the Camco portable toilet have up to three, which makes for a cleaner flush. More water sprayed across the toilet surface means a cleaner bowl after your flush.
Pro Tip: some of the push button flush toilets are battery operated so you'll need to make sure that you have batteries on hand if you need to replace them.
2. LEVEL INDICATOR
Choosing a toilet with a level indicator will help you gauge the amount of time before you you need to dump your portable black tank. These indicators are really helpful.
3. LID LOCK
Look for a model that allows you to tigthly secure the lid of the toilet. Also you'll want a good gasket between the upper and lower tanks to reduce smells
4. CASSETTE TOILET DIMENSIONS
The Thetford Porta Pottie 135 is the most compact of all of the toilets listed below. If you're looking for something that can fit in a slider cabinet or in a small area be sure to check your cassette toilet dimensions because they all slightly vary.
We have a cassette toilet shower combo in our small van bathroom and it works very well for us.
5. PORTABLE CASSETTE TOILET CAPACITY
As mentioned above the weight of your cassette toilet should be considered when purchasing the one that's right for you. Having a cassette toilet with a large storage capacity isn't useful if you aren't able to carry the thing. However if you're planning to camp for a handful of days you may want to consider a toilet with a larger capacity giving you more flushes.
6. CASSETTE TOILET WEIGHT CAPACITY
During my research for the best cassette toilet some of the toilets listed their total weight capacity while some didn't. The two toilets that stood out from the others are the Camco 41541 with a weight capacity of 330 lbs and the Earthtec ETEC with a weight capacity of 350 lbs.
MOST POPULAR BRANDS OF PORTABLE CASSETTE TOILETS
Thetford cassette toilettes are the most well-known cassette toilet systems. Their cassette toilets are used in RVs, campers, and boats.
Thetford offers 3 different sizes of holding tanks
5.5 gallons
3.2 gallons
2.6 gallons
Two other popular brands are SereneLife and Dometic cassette toilets.
OUR FAVORITE PORTABLE CASSETTE TOILET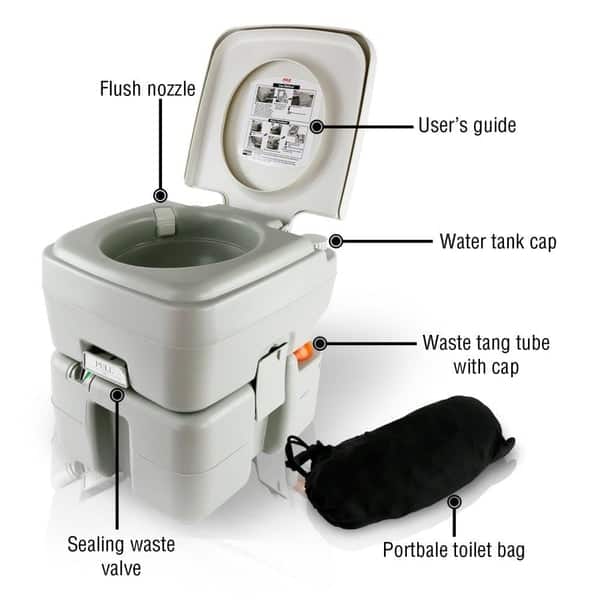 BEST PORTABLE CASSETTE TOILETS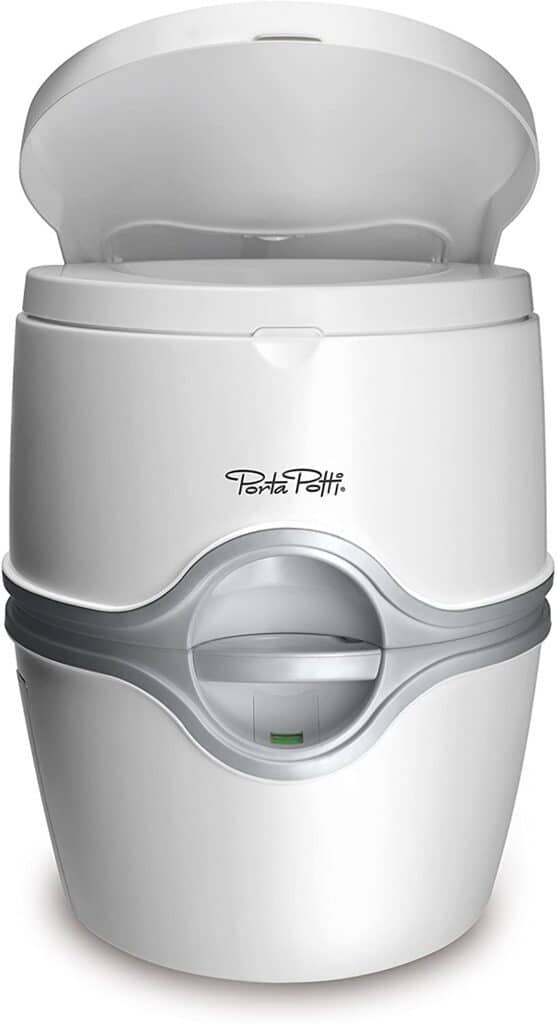 Thetford Porta Potti 565e Portable Toilet is a great solution for those who are looking for a toilet that can be easily transported and used in remote locations. The Porta Potti 565e Portable Toilet comes with a flush-water tank of 3.8 gal capacity and waste-holding tank of 5.5 gal capacity.
It also features a level indicator display for the waste-holding tank, as well as level indicator display for the flush-water tank. This portable toilet is available in luxury large size and has an easy to clean finish.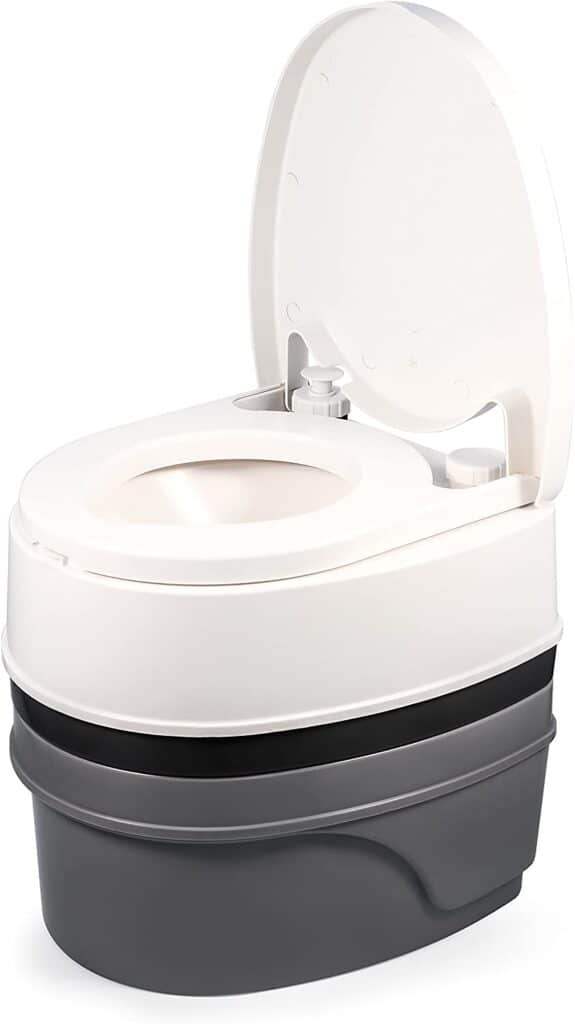 The Camco 41541 Portable Travel Toilet is a great solution for those who spend time camping, boating or RVing. The 5.3 gallon holding tank is detachable and has a 2.5 gallon flush tank which makes it easy to empty when you need to.
The toilet also features a sealing slide valve locks in odors and protects against leakage, side latches secure the tank to the toilet, bellow type flush and sturdy construction.
Piston pressured water release with Three Directional Flush to really clean the bowl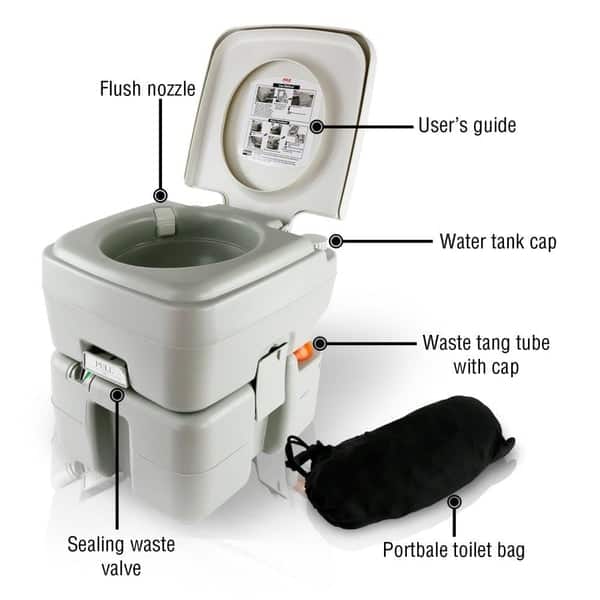 SereneLife Outdoor Portable Toilet with Carry Bag, Travel Toilet with Level indicator and Sturdy Seat is a must have camping toilet seat for any outdoor enthusiast. Whether you are traveling by car, boat or RV this portable toilet will make your trips more comfortable.
The extra large 5. 3 gallon tank holds more than most other portable camping toilets which means you'll have to empty it less often.
It also comes with a level indicator that allows you to view the contents of the waste tank without having to open the lid and expose yourself to odor and germs.
The DOMETIC Portable Toilet is perfect for remote locations, construction sites, campsites and areas where flush toilets are not available. The toilet features a high-strength ABS construction that withstands harsh environments.
It has a smooth, easy-to-clean finish and the prismatic tank level indicator allows easy tank level monitoring.
A push-button flush clears the bowl instantly while the full-size seat provides comfort to users of all sizes. The latching lid adds security to keep contents safe from animals or children.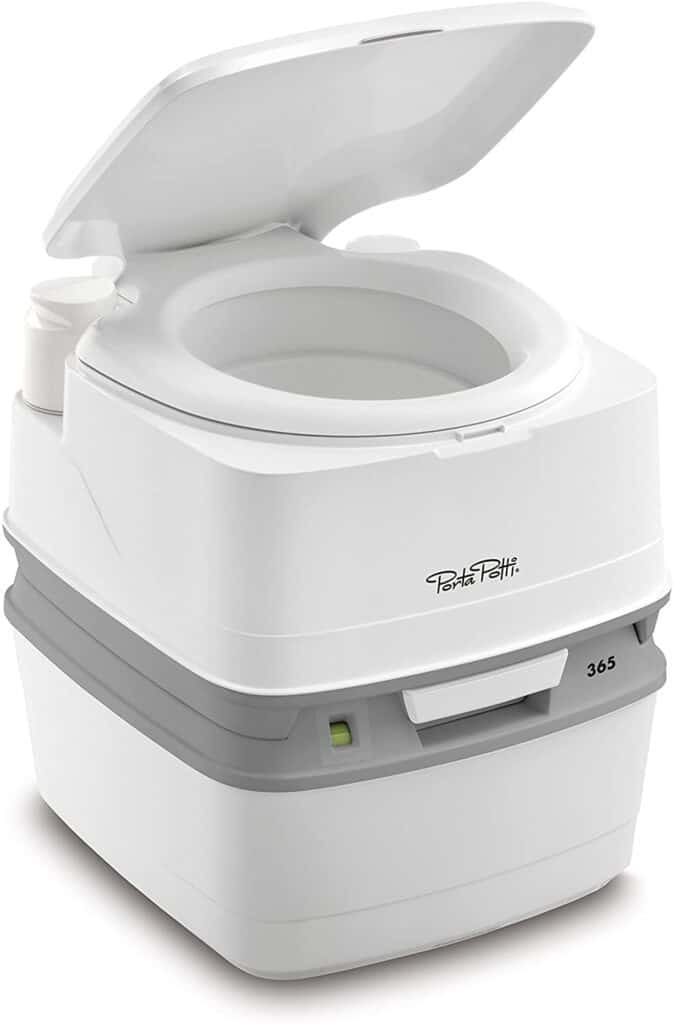 The Porta Potti 365 has a sleek, modern design with a large bowl and comfortable seat height. With built in water level tank indicators, you can eliminate the guesswork when it comes to knowing when your Porta Potti needs to be emptied.
The waste water tank is 5.5 gallons, while the fresh water tank holds 4 gallons. The sturdy construction makes this portable toilet ideal for both indoor and outdoor use, and its compact size makes it easy to store or transport.

The Earthtec ETEC Non-Stick Sanitary Portable Toilet Bowl is a lightweight, portable toilet that will not break or crack. The 5 gallon holding tank has an exclusive non-stick bowl with nanotechnology polymer for extra sanitation and durability.
This toilet can hold up to 350 lbs., making it perfect for camping, hunting, fishing trips and other outdoor activities. The sturdy yet lightweight construction means you can take it anywhere! And the airtight lid keeps odors in so you don't have to worry about anyone else knowing.
Alpcour Portable Toilet is a convenient, sanitary and hygienic alternative to the traditional outhouse. The powerful piston pump delivers an amazing 50+ flushes per tank filling, while the 3.2 gallon water tank requires fewer trips to your local dump station.
Its sturdy seat supports up to 350 pounds, making it perfect for use by the entire family including toddlers, kids, teenagers and adults as well as elderly care facilities. The 5.3 gallon waste tank can hold up to five days worth of waste
MOST COMPACT PORTABLE CASSETTE TOILETS
Thetford 92860 135 Porta Potti is the most compact cassette toilet available. With a modern appearance in a durable, easy-to-use design, this portable toilet features a removable seat and cover for easy cleaning.
The 2.6-gallon waste water holding tank has an oversized pour spout and uses Bellows Pump to add water to bowl.
A 3-year limited warranty ensures long term use of your new Thetford.
Get Out and Explore
I hope our roundup of the best portable cassette toilets help you in your decision making process. If you already have a toilet let us know if the comments below which portable cassette toilet is your favorite and why?
Looking For Other Van Related Content Don't Miss The Articles Below