The secret is out, Nicaragua is fast becoming the hot spot and is an excellent alternative to the more touristy Costa Rica. Once plagued by civil unrest and Contras, today's country is friendly, stunningly beautiful, and cheap.
Retirees, backpackers, and families are flocking to Nicaragua for its quaint charm. It has everything you would expect from Central America; great surf, stunning beaches, and lush tropical mountains with endless villages to explore. You can even visit Lake Nicaragua, the largest freshwater lake in Central America.
While the country has been "found," now is the time to explore this great country before the resort chains start showing up.
This list of bucket-list activities in Nicaragua, as well as the most popular Nicaraguan travel destinations, are guaranteed to provide great times. Discover what makes Nicaragua unique and why you should visit it.
WHERE IS NICARAGUA?
Nicaragua is the largest country in Central America, the country is bordered by Honduras to the north and Costa Rica to the south.
WHAT IS THE WEATHER LIKE IN NICARAGUA?
The climate in Nicaragua varies depending on where you are. Nicaragua has a tropical climate in the lowlands and is cooler in the highlands. It experiences two seasons, wet and dry. There is virtually no rain during the dry season (January – June); once the rains come in June they only continue through July.
During August and September, you can expect it to rain once a day; luckily, it rains for a very short time, and these are often spectacular tropical downpours.
GETTING TO NICARAGUA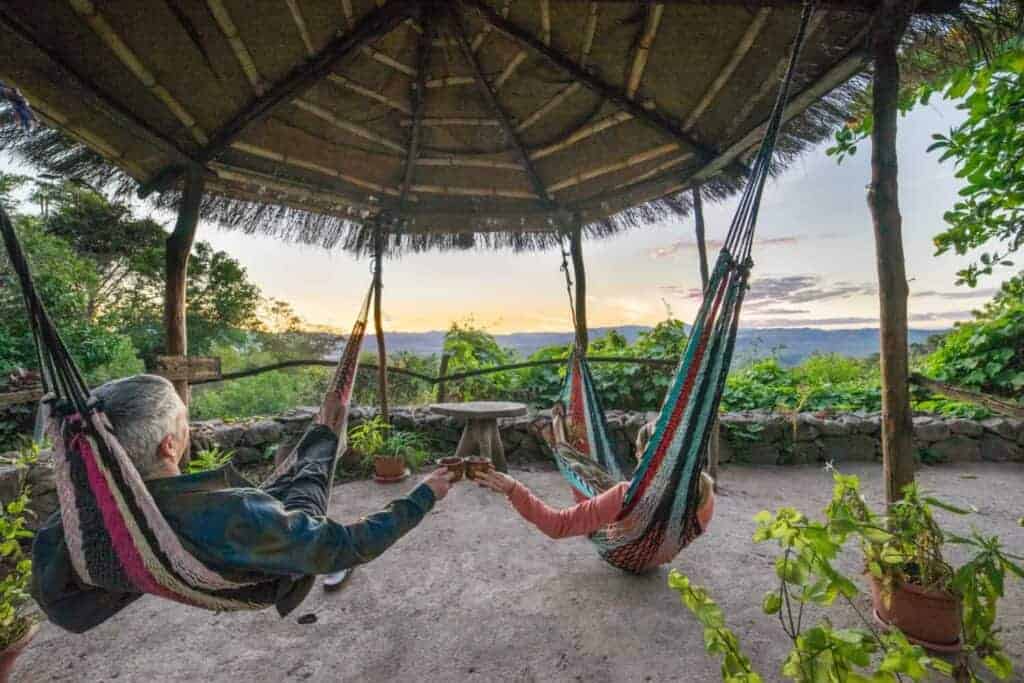 Getting to Nicaragua is pretty easy, and for U.S. citizens, there is no Visa requirement. You can stay up to date with Visa requirements here.
Booking through Airwander has some really great extended layover options right now that are worth a look. Prices vary a lot based on the days of the week you travel, so if you're flexible, look at Skyscanner to find the cheapest days to fly.
Once in Nicaragua, the best way to get around is by bus, private taxi, flights, or car rental. We did a bit of chicken bus travel, and a car rental, both worked out really well.
NICARAGUA IS A BUDGET TRAVEL OPTION FOR NORTH AMERICAN TOURISTS
Nicaragua is really cheap to visit; it's actually one of the cheapest countries in Central America to visit. Entrance fees to Nicaraguan attractions are only a couple dollars, food is incredibly cheap, and you won't have to stress over your budget with $1 beers on your tab! If you're looking to vacation on a budget, hostels and hotels are both very affordable options in Nicaragua.
Your money goes a long way in Nicaragua, and this country begs for the "travel slow" philosophy, which is our favorite way to trave..
TELL ME HOW MUCH I CAN EXPECT TO PAY FOR THINGS IN NICARAGUA?
For an average couple, living in Nicaragua would cost around 1,500 USD per month. Obviously, if you're a high-end traveler who prefers the more expensive places in Nicaragua it'll cost around 2,000 USD per month.
Meal for $5
Domestic beer $1
Coffee $1
Entrance fees- Couple of dollars
Hostels $10
5-star hotels $50
WHAT TO PACK FOR NICARAGUA
One of the smartest ways to travel in Nicaragua is with a backpack. Our favorite brand of backpacks have been Osprey for years, this is the backpack I have and this is the one that August has.
This is what I recommend packing for your Nicaraguan adventure:
TIPS FOR VISITING NICARAGUA
Take a chicken bus– Don't let the chaos scare you. The chicken bus is the locals way of getting around the country and you should give it a shot.
Plan for ferries- If you are heading over to Ometepe be aware that your departure to the island depends on the ferry schedule. We didn't plan our time around the ferry schedule for getting to Ometepe so our departure was much later than we hoped for
Rent a motorbike- There is so much to explore in Nicaragua if you get the chance to rent a motorbike (or scooter) definitely try it out
See a volcano- You can't go to Nicaragua without seeing one of it's many volcanoes.
Be open minded– When things don't go the way you were hoping for don't let it get you down. You're on vacation and part of vacation is to explore and experience other cultures that are different than ours.
OUR BUCKET LIST THINGS TO DO IN NICARAGUA
If you don't want to read everything we've written below here's our bucket list places to visit in Nicaragua.
Marvel at the colonial Granada
Take a boat trip around Las Isletas.
Hike Mombacho Volcano.
See the lava at Masaya Volcano.
See the Corn Islands (little Corn Island too

)

Walk around León
Visit the largest Cathedral of Central America
Take a ferry to Ometepe
Surf in Popoyo
OUR FAVORITE THINGS TO DO IN NICARAGUA
Having just returned from Nicaragua, here are our BEST things to do in Nicaragua.
1. VISIT ESTELI AND MIRAFLORES
We opted to start up north and work our way south to the beaches. Miraflores is a Nature Reserve just outside of Esteli. There's no shortage of things to see and do here. You'll be hiking around the lush cloud forest surrounded by waterfalls, small farms, and a surprising lack of other tourists. The multi-day trips and tours allow you to stay with host families where you can really get to know the amazing culture here.
The park costs $15 USD for a single-day trek with meals included. The park does require that you have a guide on the hike, which is included with the entrance fee. They also offer overnight packages, which I would highly recommend.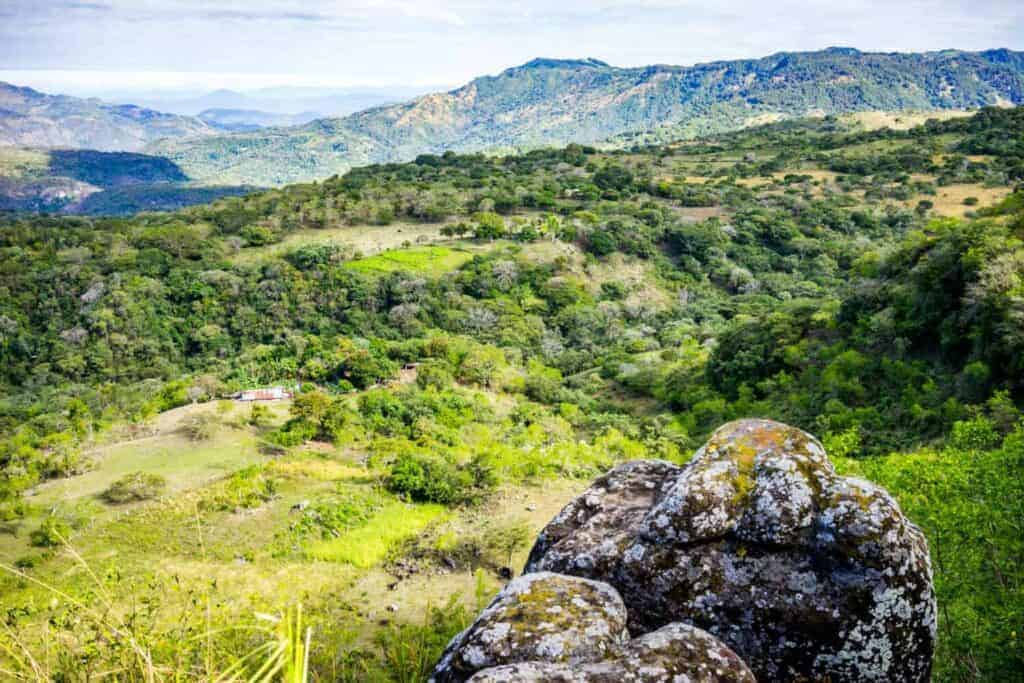 2. HOMESTAY IS THE BEST WAY TO EXPERIENCE NICARAGUA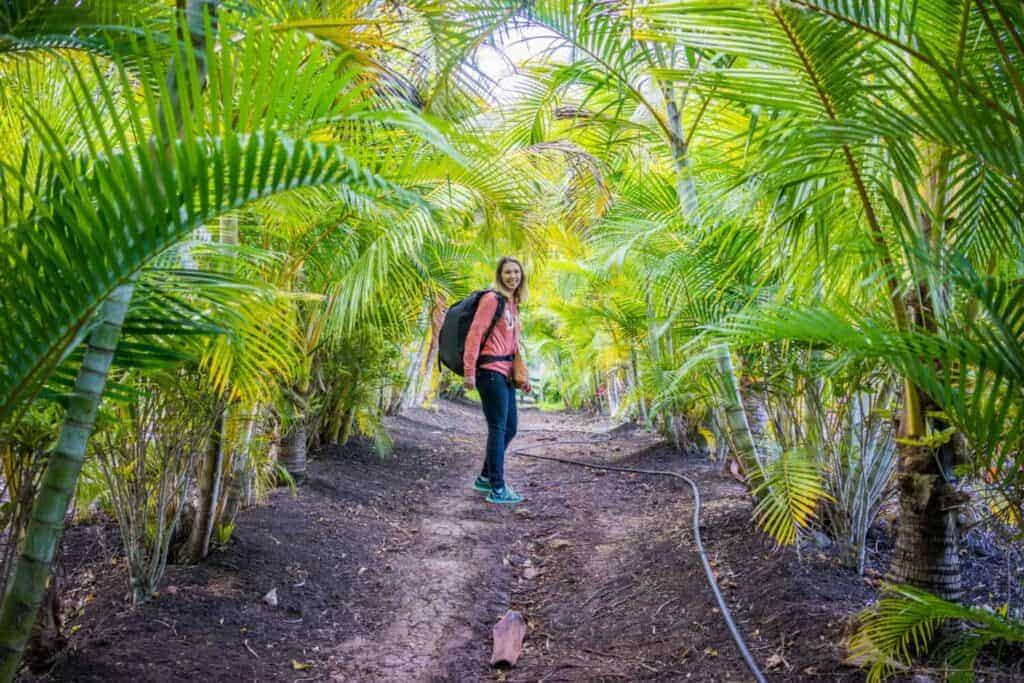 There's no better way than a homestay when it comes to getting a real taste of what a country has to offer. We opted for a homestay just outside of the park, and it was the highlight of our trip. Our host family was La Finca Linda in Coyolito. Highly recommend these folks. To book them, head to the hostel in Esteli.

All of the food was prepared on a wood-burning stove and the meals were delicious. The home was stunning, and the accommodations were clean and comfortable. One of the children at the homestay took us on a half-day hike throughout the hills. It was an absolute blast.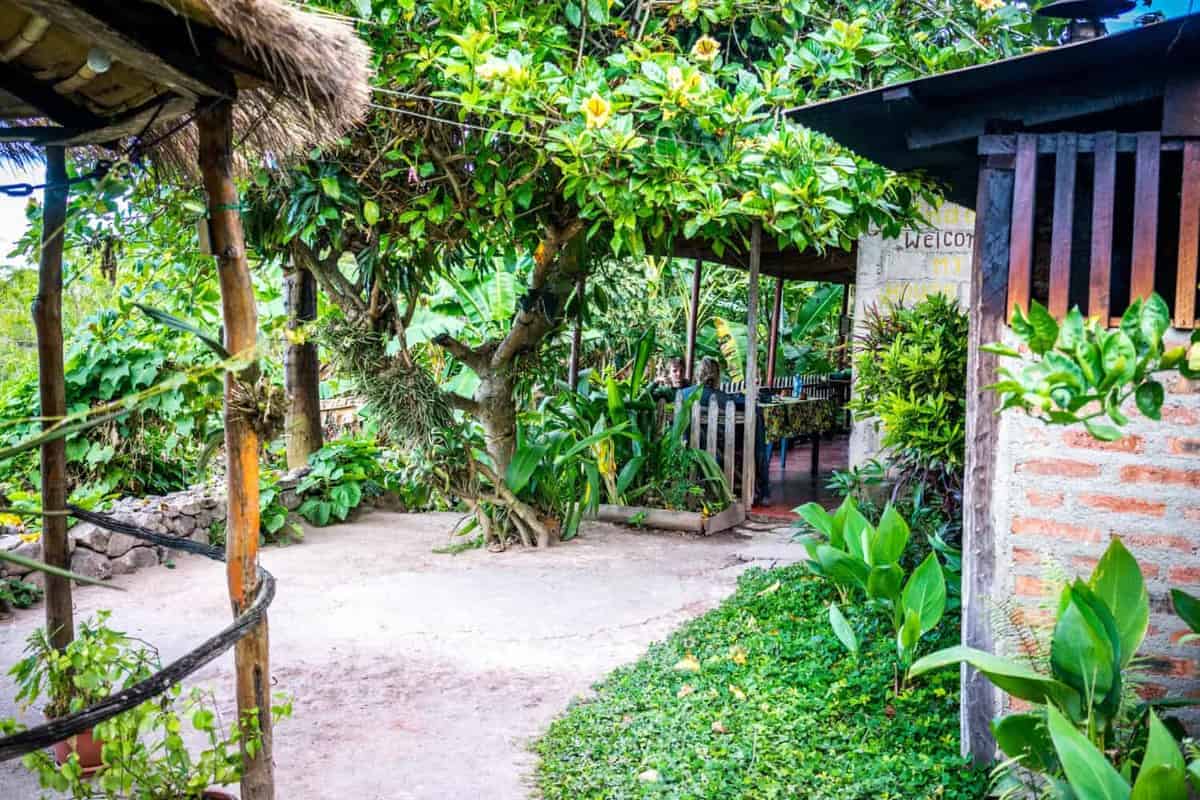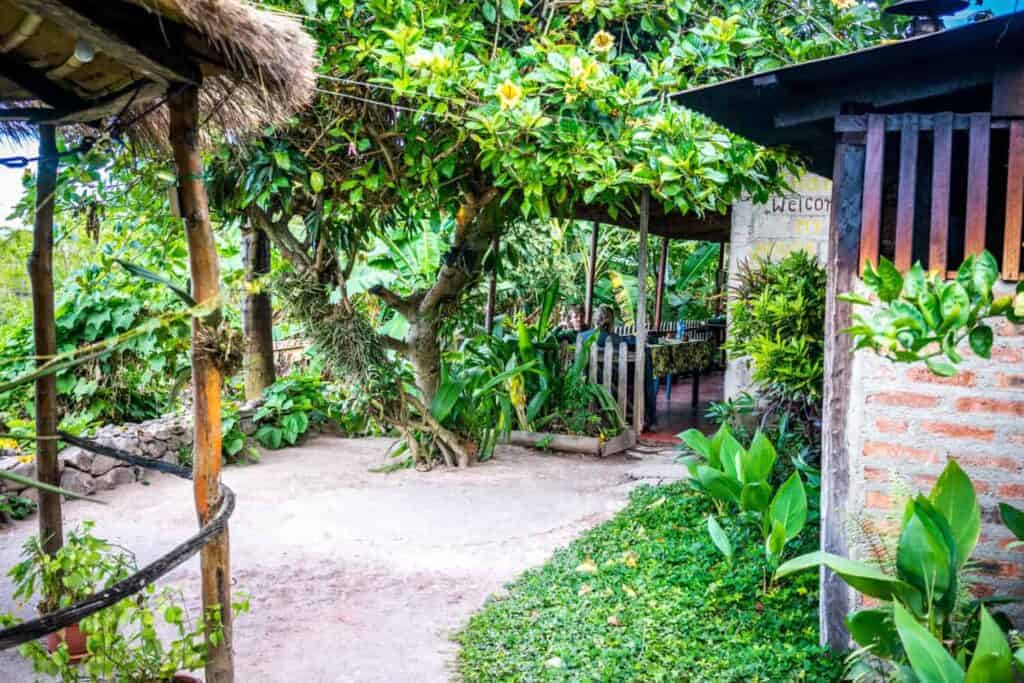 3. EXPLORE GRANADA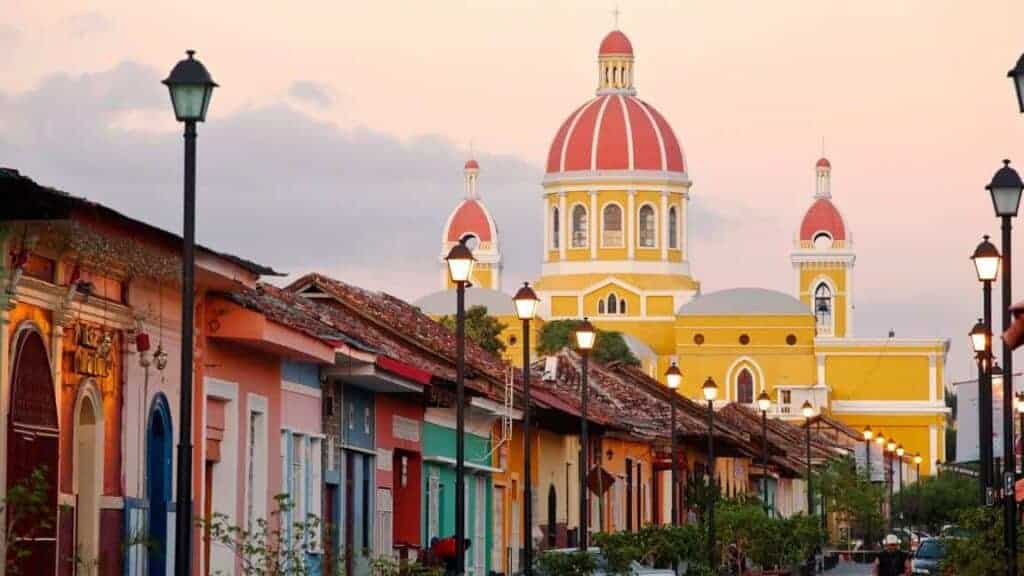 While people often compare Leon and Granada as similar, we definitely preferred Granada. This well-preserved Spanish colonial-style town is a real treat on the eyes. The architecture and colors alone make it worth a visit.
Granada is fast becoming a major part of the Nicaragua itinerary for travelers, and for good reason! The city's center, is not only charming but most of the popular places to visit in Nicaragua are only a few hours from Granada.
The inviting square in Granada makes you feel like you're in a tiny little town rather than a big city. The square is alive with activity at all hours, with tiny cafés, restaurants, and lots of places to get a drink it's easy to lose track of time.
Don't let the town square's plethora of restaurants fool you into thinking Granada isn't genuinely "Nicaraguan" because a stroll down to the central market brings you face-to-face with locals in one of Nicaragua's largest markets. This is a unique opportunity to get a glimpse into how Nicaraguans live.
PRO TIPS: Granada sits on the shores of the 19th largest lake in the world, Lago Colcibolca. After you've had your fill of town, don't forget to grab a kayak and explore the lake and its many islets. If you'd prefer to stay on land you can head to nearby Mombacho Volcano for some hiking or take the chicken bus to the Masaya Market.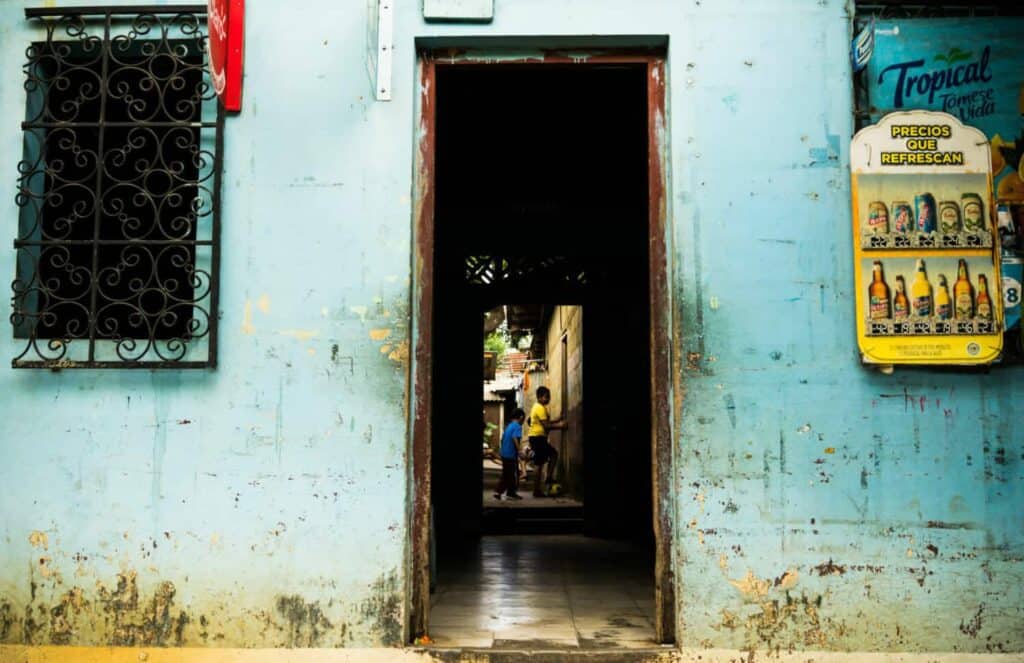 4. HIKE MOMBACHO VOLCANO
The Mombacho Volcano Nature Reserve in Nicaragua, to the south of Granada and the Islets of Granada, is one of Nicaragua's most popular sites. This area's beauty and richness of flora and fauna make it a one-of-a-kind location. There are three main hiking trails on Mombacho that circle around the various craters. All 3 hikes have an entrance fee to hike and you may find hiring a guide to be useful. For more useful information about hiking Mombacho volcano check out this blog for details.
If you're looking for other fun things to do at Mombacho Volcano Nature Reserve after you've finished your hike you can also try zip-lining. The nature reserve has 17 platforms where you can zip through the area. Check out this Mombacho canopy and hike combo tour if you'd like to book a tour.
5. RIDE A CHICKEN BUS
Chicken buses aren't exactly what they sound like they are, however you may feel like a caged chicken after being cramped up in one of these buses. Chicken buses are converted American school buses that now serve as the local transportation in Central America. If you haven't ridden a chicken bus, on a trip to Central America, I don't think you can really claim that you've been to Nicaragua. The chicken bus will take you virtually anywhere you need to go in Nicaragua for less than $2.
6. VOLCANO BOARDING CERRO NEGRO
Volcano boarding down an active volcano is something I've only dreamt of doing. If you're looking for fun things to do in Nicaragua this is definitely one of those bucket list things you should try. You put on protective goggles, jump into the the provided jumpsuit before heading up to Cerro Negro. Then, using a wooden board, you'll toboggan down the side of the volcano! If you ask me, it's quite an experience!
Pro Tip: I believe it goes without saying that you should have travel insurance in Nicaragua, especially if you are doing activities like volcano boarding, surfing, or scuba diving. Whenever we're traveling abroad and plan on taking part in adventure sports we always make sure to check out World Nomads travel insurance policy.
7. VISIT MASAYA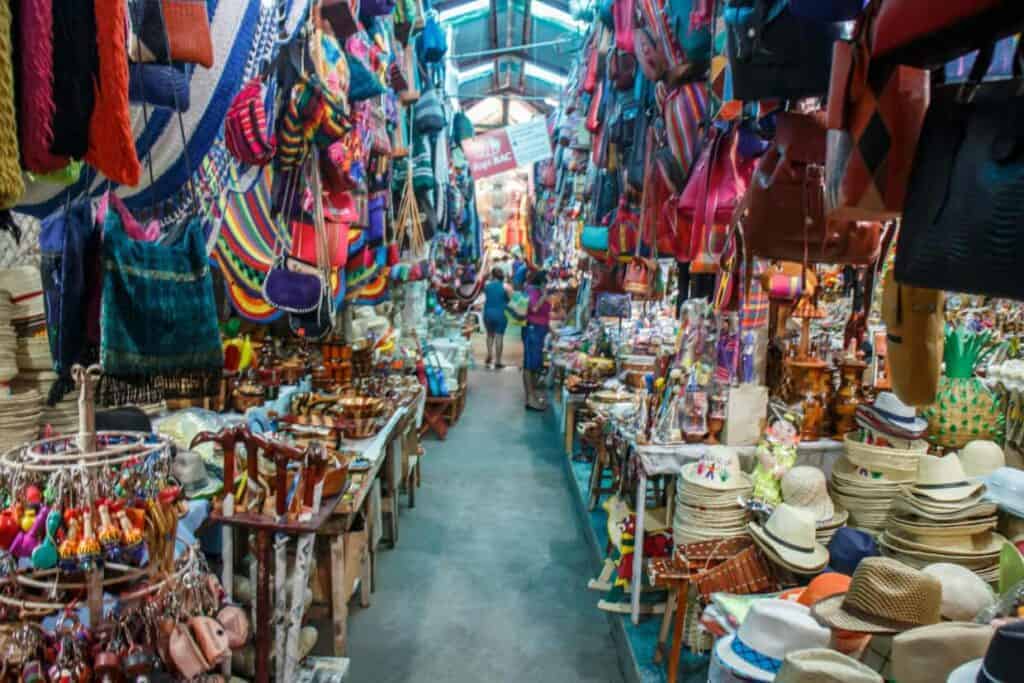 Masaya is a tiny town near Granada that provides a one-of-a-kind experience in Nicaragua. Although Masaya is most recognized for its volcano, the city's markets are also well worth seeing.
We think that a day trip or tour to Masaya from Granada is the best way to visit this area. Of course, you can opt for a night over, but within a couple of hours you should be able to see all of the main sites in Masaya.
THINGS TO DO IN MASAYA
Visit Mercado de Artisanal: Just a bit outside of Granada is the mighty Masaya market. It's big, it's crazy, and has everything you could ask for. It's just a bus ride away.
Visit Masaya Volcano- The Masaya Volcano is the major draw in Masaya. You can visit the volcano during the day but a popular thing to do is visit the volcano in the evening when you can see the active volcano brightly lit in the dark skies.
8. VISIT THE BIG CITY OF LEON
Leon is one of Nicaragua's biggest cities. In my opinion if you had to choose between spending time in Leon or Granada I'd definitely choose Granada. But for those looking to do the famous Cerro Negro Volcano boarding this is your launching point for this popular attraction in Nicaragua.
I don't want to completely discourage you from visiting Leon because Leon does have some old city charm and offers plenty of things to do. For those looking to take part in salsa dancing, drink cheep beer, and grab a bite at one of the many restaurants Leon has plenty to offer.
THINGS TO DO IN LEON NICARAGUA
Cerro Negro Volcano boarding – The Cerro Negro Volcano Boarding is not only one of the most exciting things to do in Leon, but it's also one of the most unique.
Visit a UNESCO World Heritage site- The ruins of León Viejo date back to the 16th century and are only a few miles from León. This is one of Nicaragua's only UNESCO World Heritage sites and is one of the oldest Spanish settlements in North Central and South America.
Take a Walking Tour- A walking tour of Leon is a great way to see all of the best attractions.
Tour the largest Cathedral in Central America: The Cathedral of Leon is one of Nicaragua's top attractions. This is Central America's biggest cathedral, located in the heart of Leon. Visitors can pay a small fee to go onto the roof of the cathedral for fantastic views of the city.
9. SURF OR RELAX IN LAS PENITAS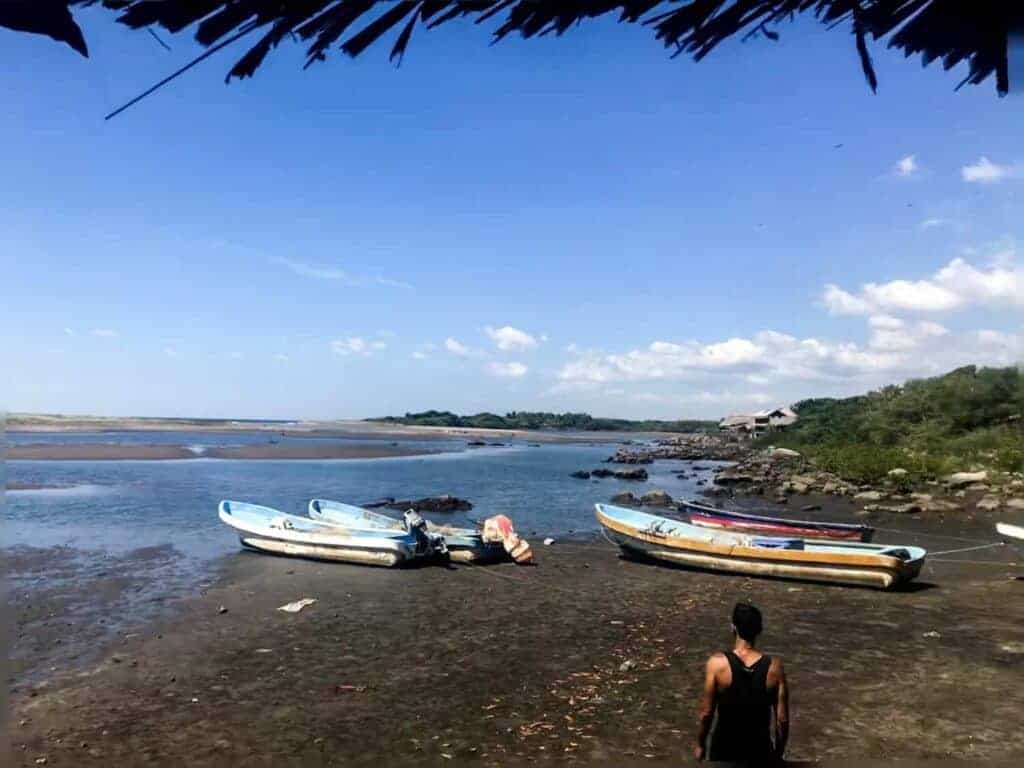 The tranquilo surf spot located west of Granada, although small, is worth a visit. It's a sleepy and chill town that doesn't offer up the party scene like some of the spots down south.
If you only had time for one beach destination I would recommend Popoyo over Las Penitas but if time allows, I'd do both.
BEST THINGS TO DO IN LAS PENITAS
Surfing – Las Penitas is a popular place to surf, especially for beginners. While the waves vary depending on the season, it seems there are always good beginner waves. Surfboard rentals: $5 half-day / $10 full day / Lessons $25
Fishing – An active fishing hub and a beautiful marina where you can take in all the action. Boats are for hire as well should you be interested in trying your luck at some fishing. Prices vary, but a two to three-hour trip can be had for under $100 USD.
We stayed at the Simple Beach Lodge, which was great.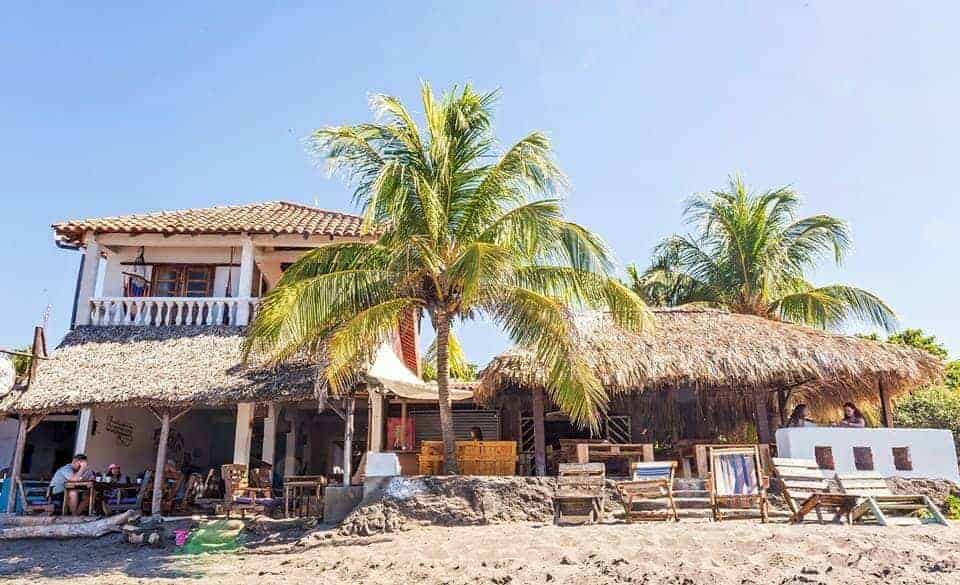 10. OMETEPE ISLAND
The beautiful island of Ometepe is formed by two linked volcanoes, Concepción and Maderas, which lie on Lago de Nicaragua. The perfectly conical and active Concepcion Volcano lies to the north on Ometepe and on the south of the island you'll find the extinct Volcano Maderas.
While Concepcion is predominantly lava rock, Maderas is covered in the cloud forest with a lagoon in its center. With the addition of its rich history of different tribes and cultures, this paradise island is an oasis of Nicaragua. The main reasons for visiting the island are hiking, kayaking, cycling, sustainable lodging, and a healthy cuisine.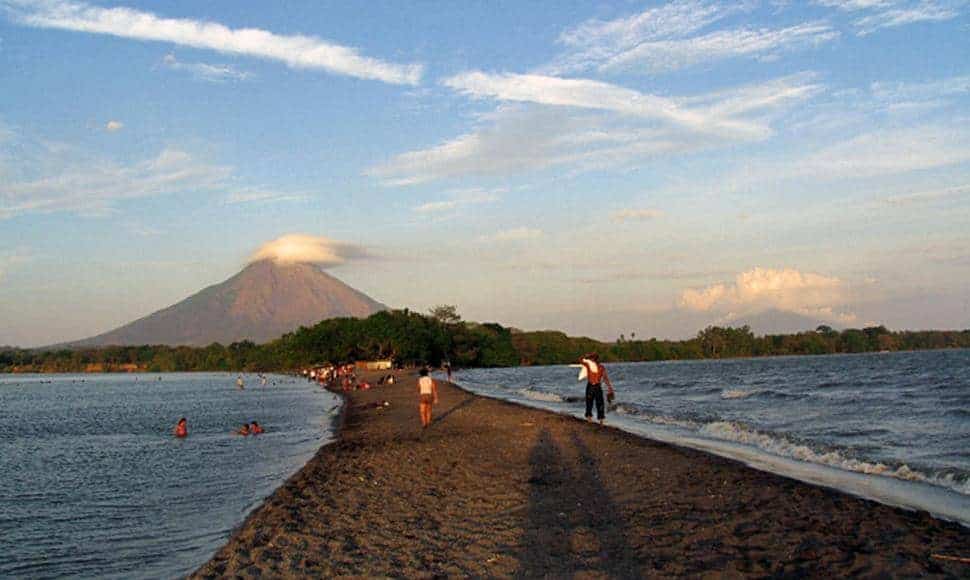 BEST THINGS TO DO ON OMETEPE ISLAND
Climbing– Both volcanos can be climbed but expect a long day of at least 8 hours. While you can climb these on your own, guides ($20 USD) are highly recommended as the route finding can be tricky.
Kayak- Grab a kayak or SUP and cruise the shores of Ometepe. Keep your eyes out for caiman and howler monkeys along the shore. Or you can opt for a 3-hour Kayak tour for $25 USD.
Black Sand Beaches- Enjoy one of the many black sand beaches that line the shores.
Rent a motorbike– Getting around on the island is best done by renting a motorbike but beware, the road gets rather rough in spots.
Visit a lagoon- Ojo de Agua (Eye of Water) is a crystal clear lagoon that begs for a swim. The two pools fed by thermal springs provide for a continuous flow of freshwater. Wooden lounge chairs and gazebos line the shore, and there's even a restaurant tucked in amongst the lush forest.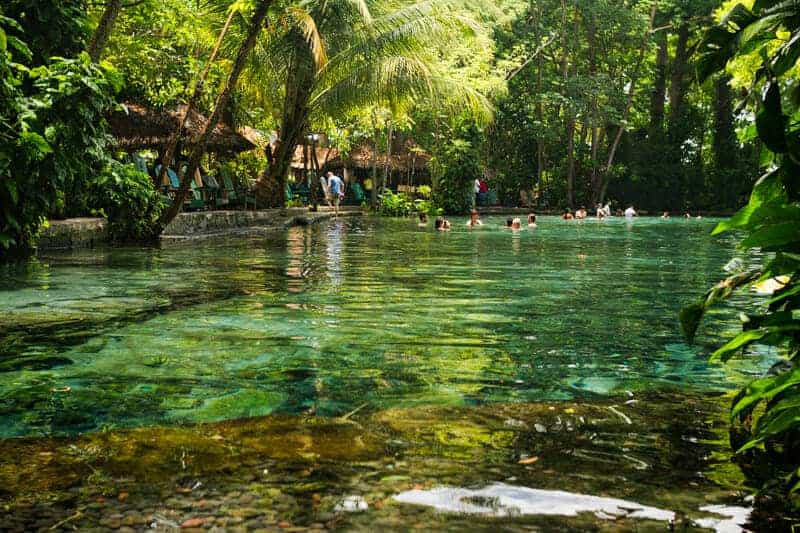 Planning your first overseas trip? Find out How To Plan Your Best International Trip
WHERE TO STAY ON OMETEPE
All sorts of accommodations are available, ranging from the popular Landing Hostel (near the ferry terminal) to more luxurious spas and resorts. Ometepe is well known for its eco-resorts, and we opted to stay at the Totoco Eco-Lodge. It was a quiet and relaxing place with a small bar and restaurant serving up local cuisine with ingredients grown on-site.
The lodge was located high up in the hills and offered a stunning view from its pool.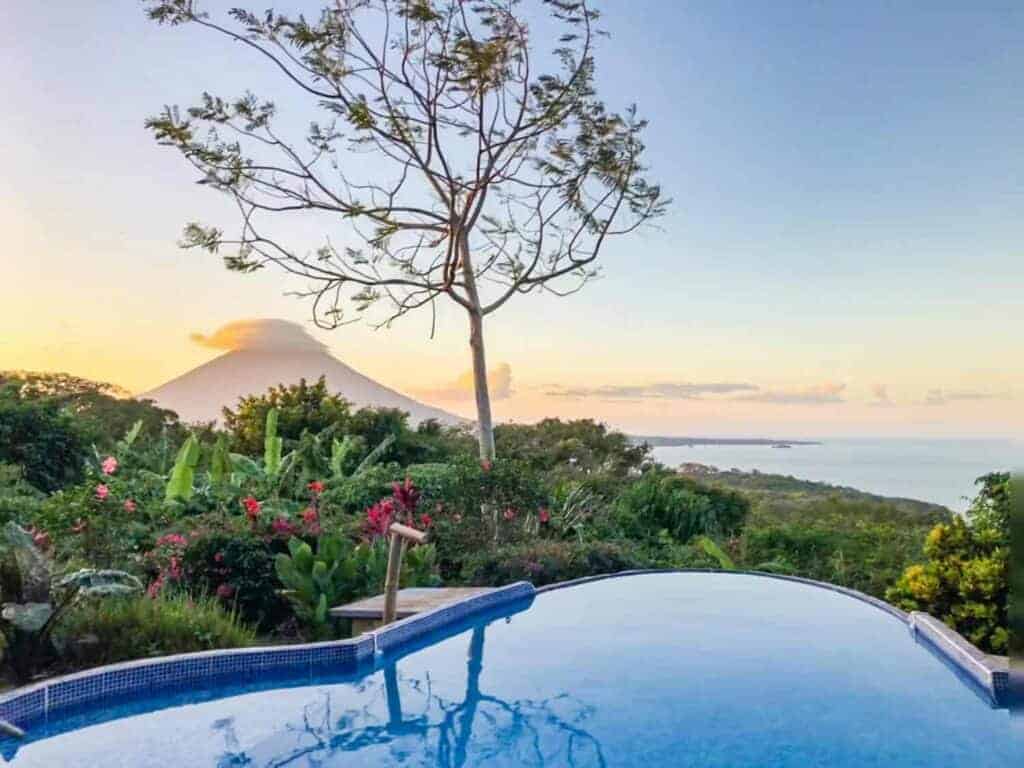 11. CANOE NICARAGUA LAKE BETWEEN VOLCANOES
On Ometepe Island, there are two volcanoes (Concepción and Maderas) on opposite ends. If you rent a kayak or canoe and paddle out onto the lake, you'll be able to see both volcanoes from the water. There are several businesses as well as hostels that rent out gear for an hour or more.
12. POPOYO BEACH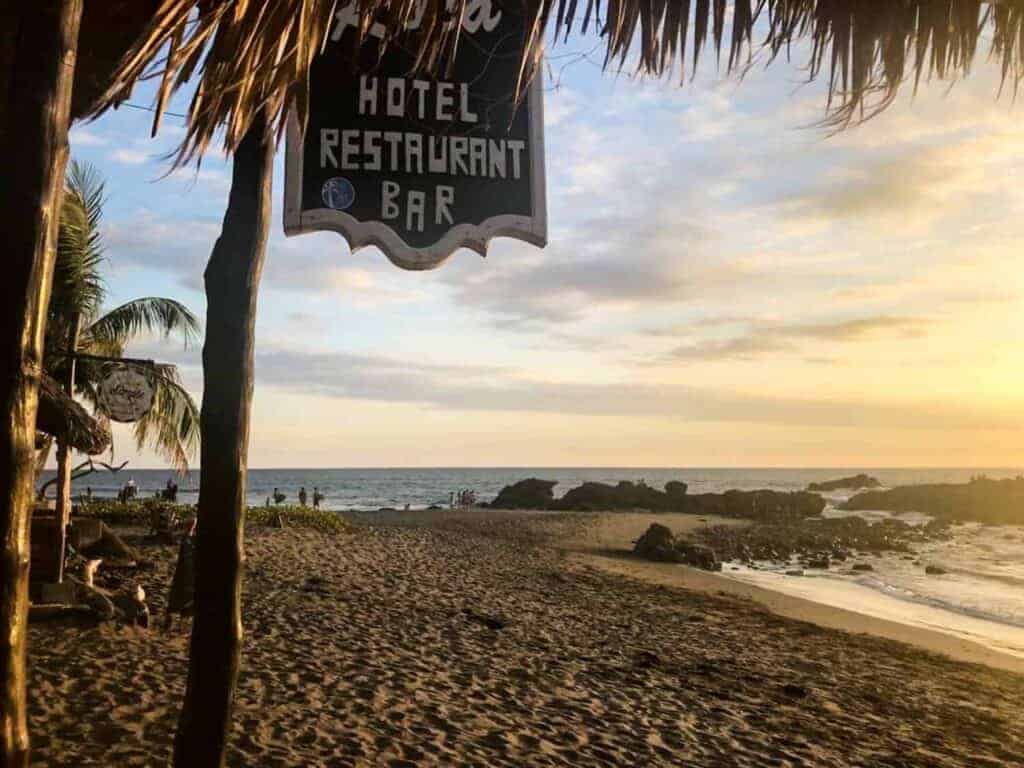 The once quiet but now popular surfing town, Popoyo beach, sits due west of Ometepe on the pacific coast. Popoyo beach takes it down a notch from the more rowdy San Juan del Sur to the south but not too worry; you can still drink your night away.
For those who want to avoid the crowds or desire a bit more adventure, visiting Popoyo is a must-do activity in Nicaragua. The tiny surfing town has some excellent waves that are suitable for all skill levels, but its best known for it's world-class waves along a pristine stretch of sandy beach.
The beach is lined with numerous bungalows, hotels, and hostels, all offering up food and drinks.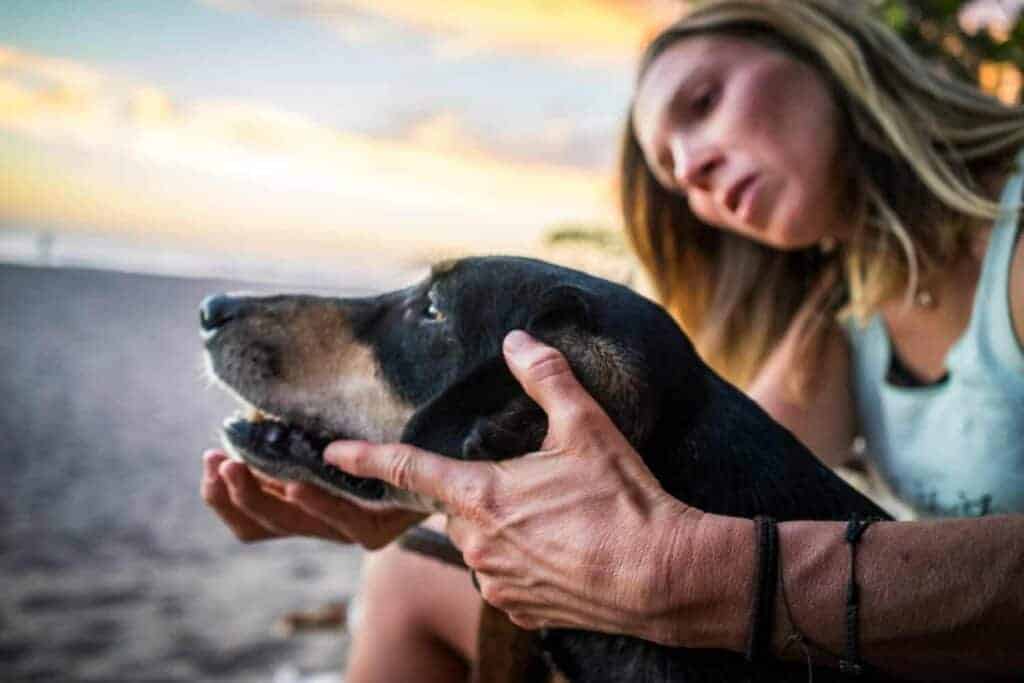 BEST THINGS TO DO POPOYO BEACH
Popoyo is all about the beach and surfing. Surfboard rentals and lessons can be had just about anywhere.
Salinas Hot Springs:The Salinas Natural Hot Spring in Popoyo has three pools filled with spring water from below the earth and contain naturally hot water.
Visit the Tidal Pools, Guasacate Beach: At low tide, Guasacate Beach is home to beautiful tidal pools. These are ideal for swimming and viewing a variety of marine life.
On the southern end of Popoyo, sitting up high on the bluff, is Magnific Rock Hotel. While I prefer my accommodations to be on the beach, Magnific Rock is definitely worth a visit. With the best view in Popoyo, be sure to grab a bite or a drink and take in one of Popoyo's famous sunsets.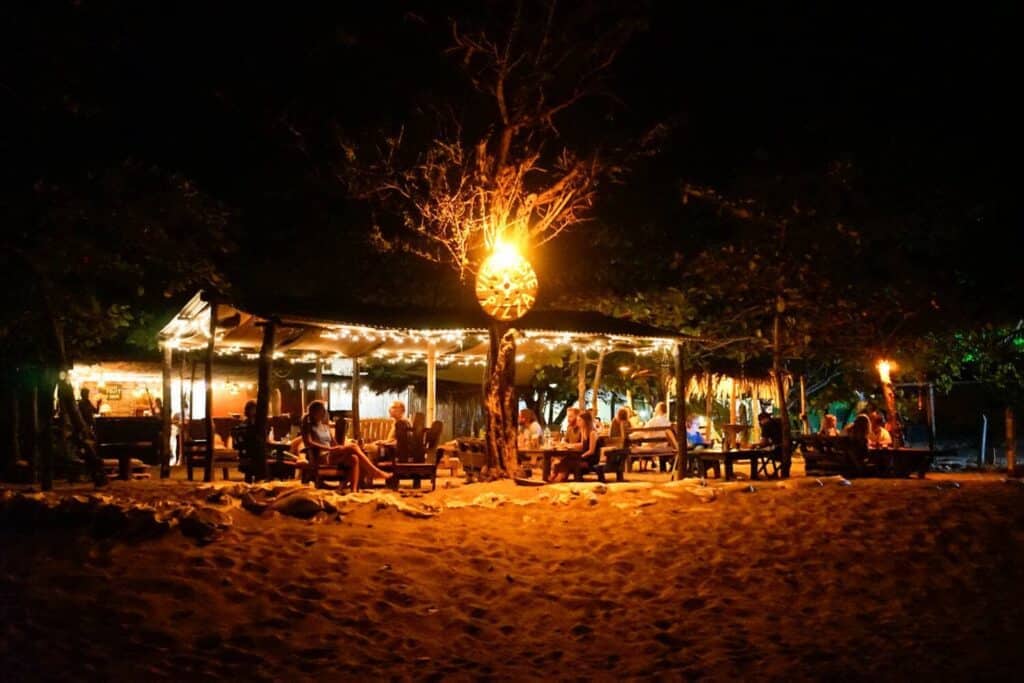 WHERE TO STAY ON POPOYO BEACH
If you are up to splurge a bit ($50 a night), I highly recommend Casitas Pacifica. The rooms were modern but with a perfect blend of bamboo and wood accents. The staff was nice, and the food was terrific. There are numerous hostels as well, ranging from just dollars a day on up.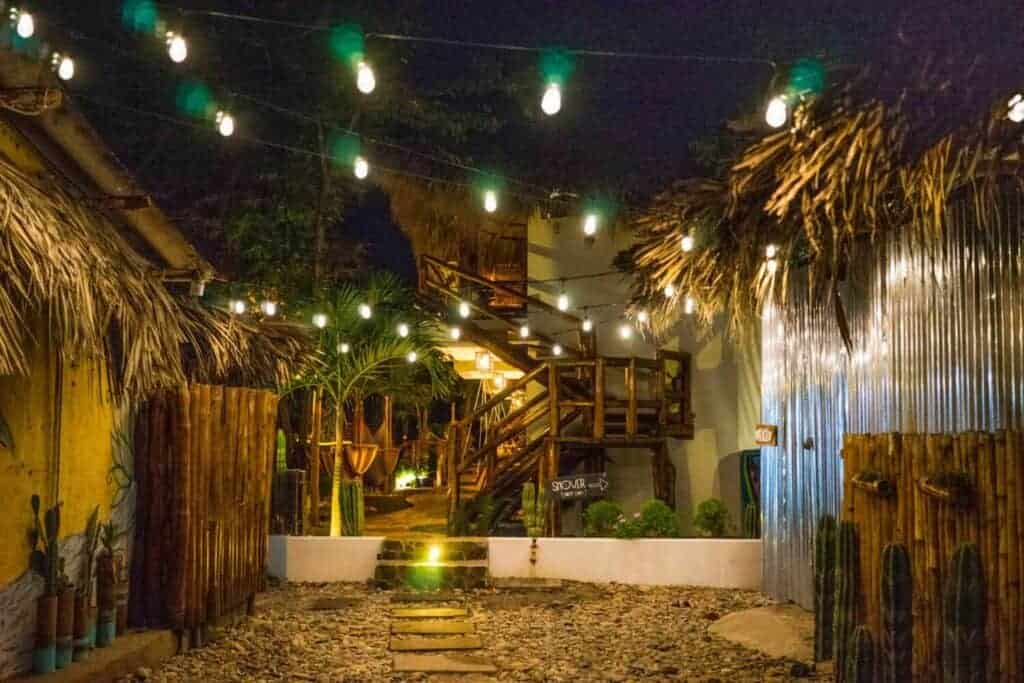 Is travel insurance worth it? Is World Nomads really the best for you? Picking the right travel insurance for YOU
13. SOMOTO CANYON
In rural Nicaragua, there is a beautiful protected area named Somoto Canyon. This recently discovered and lesser-known gem of Nicaragua is perhaps the closest thing they have to a slot canyon. The turquoise blue water has carved out this narrow canyon which offers ample swimming or cliff jumping should you desire. It is home to some of Central America's oldest rock formations, including canyon walls that soar up to around 500 feet.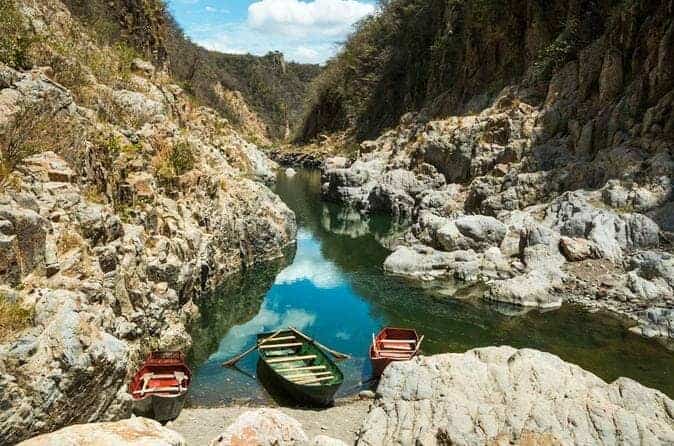 You can navigate these waters on your own or book a guided trip where you can just leisurely float through the canyon on inner tubes. Getting to Somoto is about 1.5 hours by bus from Esteli. You will then need a cab to get you to the park entrance.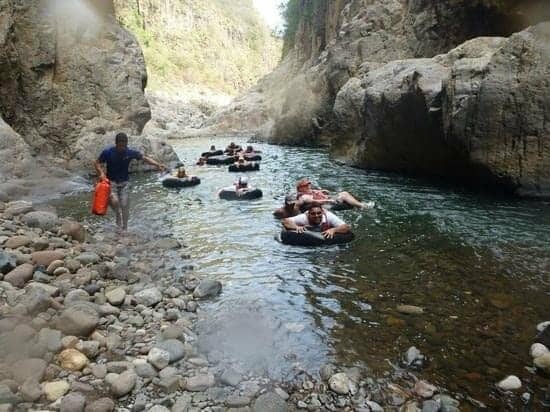 14. CORN ISLANDS- ONE OF THE BEST THINGS TO DO IN NICARAGUA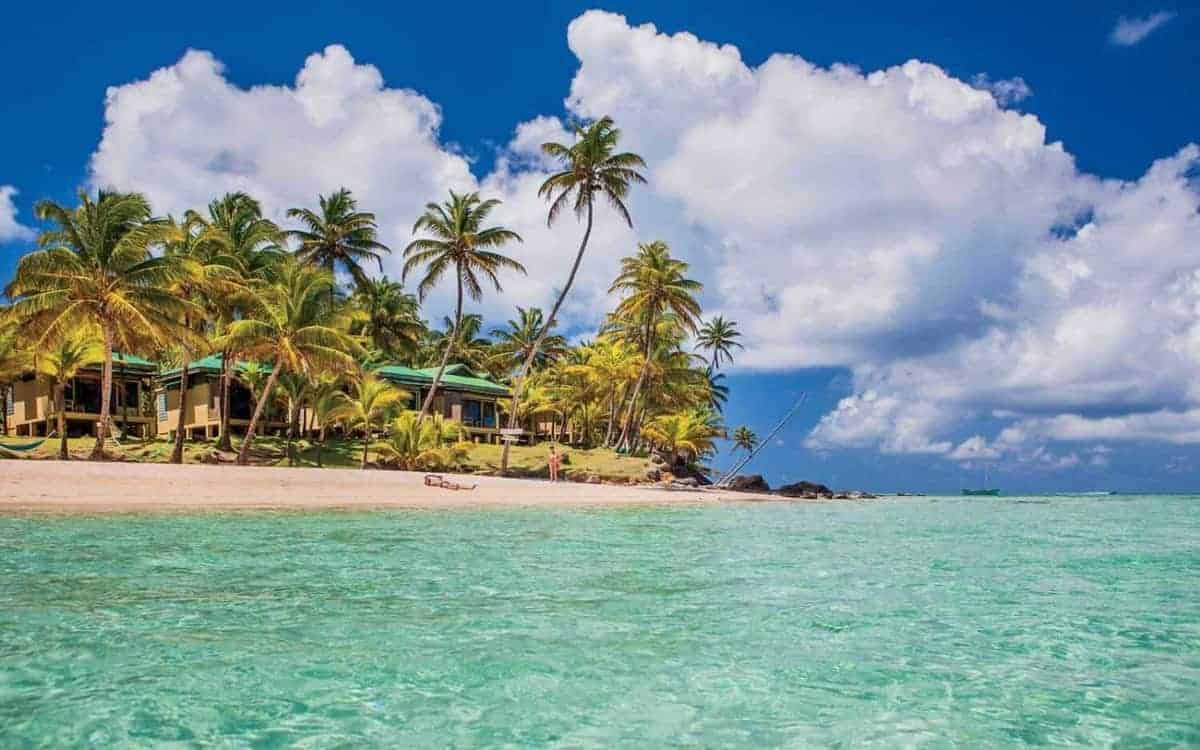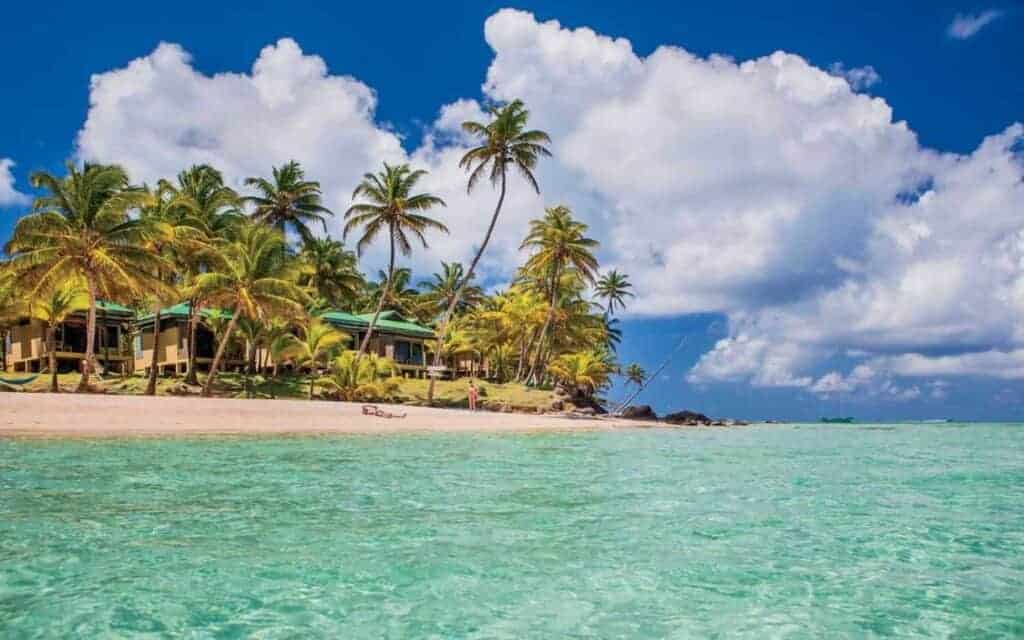 On the Caribbean coast of Nicaragua sits the Corn Islands. With the calm and crystal clear waters of the Caribbean, here you will find some of the best snorkeling, scuba diving, fishing, and just straight up relaxing.
The Corn Islands are accessible by plane from Managua with two flights a day. You can take a ferry to the islands, but it's quite time-consuming.
Most people just depart Big Corn as quickly as possible and head for the smaller, less populated Little Corn. Although I do think that Little Corn is a more attractive island, spending a day or two on Big Corn is an excellent way to learn about how the locals live and, enjoy the beaches that are just as nice as Little Corn Island. The lack of motorized vehicles on Little Corn Island makes it an interesting destination to explore.
Although the journey to the islands is a little inconvenient, it is well worth it. In my opinion, one of the best places to visit in Nicaragua is the Corn Islands.
A popular place to stay is Mimundo Hostel as it is right on the water.
WHAT TO DO IN THE CORN ISLANDS: ONE OF THE BEST PLACES IN NICARAGUA
SCUBA DIVING: The Corn Islands are known for excellent scuba diving. The visibility is spectacular and you'll most likely see some interesting marine life such as hammerhead sharks and huge stingrays.
Beach Stroll: Did you know in only a few hours, you can tour the entire Little Corn by foot? Yep, you can go on a journey around the whole island while seeing breathtaking beaches and cute cafés.
Get a Massage: Getting a massage anywhere in Nicaragua is super affordable but there's just something about getting a massage on the beautiful Corn islands
15. MASAYA VOLCANO NATIONAL PARK
With 19 active volcanoes, no trip to Nicaragua would be complete without staring down the gut of one of these mighty giants. At Masaya Volcano National Park, you can do just that. While they offer both day ($5) and night ($10), viewings go for the night as it is spectacular.
Volcán Masaya is one of the most active volcanoes in Nicaragua, and seeing it is a bucket list thing to do in Nicaragua. Although smoke and steam escape from the Santiago crater, giving off vapors with a peculiar sulfurous odor, it is possible to stroll around the crater. There are a variety of hiking paths around the area and you can also rent a horse to take you all the way down to see the lava if you don't feel like walking.
The best time to go to Volcán Masaya is at night when you can see the lava in the dark. You can book a guided tour here to see the lava.
16. OJO DE AGUA- SWIM IN VOLCANIC WATER
Have you ever had the chance to float in volcanic water? If not here's your chance, El Ojo de Agua is a beautiful natural swimming hole on the stunning Isla de Ometepe, which is made up of two volcanoes in Nicaragua's Lake Nicaragua. The crystal clear water of Ojo de Agua originates from Concepción Volcano. Because it is volcanic water, with minerals rich in potassium, magnesium, calcium, sulfur and sodium it has tons of healing properties.
17. SURFING SAN JUAN DEL SUR
Are you looking for things to do in Nicaragua that give you that "Sunday Funday" kinda feeling? If so, San Juan del Sur is your place. Surfers and backpackers flock to this area to experience the most popular beach in Nicaragua. You'll find great surfing, lots of parties, and cheap hostels lining this beautiful beach area. The most popular beaches for surfing in San Juan del Sur are Playa Hermosa and Playa Maderas.
What we loved the most about San Juan del Sur is the enthusiastic beach vibe, restaurants, beautiful beaches, and plenty of places to get an umbrella drink. Being that this is the most popular beach in Nicaragua it's more expensive than other smaller beaches but it' still affordable in the grand scheme of things.
If you're looking to spruce up your surfing skills you can expect to pay around $9 USD to rent a surfboard and $25 an hour for some surfing lessons.
18. APOYO LAKE
Apoyo Lake is one of Nicaragua's most beautiful natural wonders (and a great place to vacation or backpack). If you've ever wanted to spend some time in the crater of a Volcano then Apoyo Lake has to be on your bucket list of coolest activities in Nicaragua
Apoyo Lake is only a 20 minutes taxi ride from Granada making it really accessible for a day trip or even an overnight trip. During the day you'll see people paddle-boarding, kayaking, and swimming but if you want to do a really cool activity in Nicaragua I'd vote for staying the night in the Apoyo Lake area.
Where to stay in Apoyo Lake
Casa Bella: For those who want a quieter stay but still want to keep within a budget, Casa Bella is a wonderful option. It's not far from Paradiso Hostel, but it's in a more tranquil location with a less hectic atmosphere. The hotel's ratings are also excellent!
Apoyo Lodge– is one of the few luxury retreats in Laguna de Apoyo. This lodge, which is set in a peaceful location on the lake, offers pure luxury. Breakfast and dinner are also included in the room rate, making this place even more appealing.
19. TAKE A BOAT OR FERRY ACROSS NICARAGUA LAKE
The beautiful and impressive Lake Nicaragua is home to 3 volcanoes and over 400 islands, it's the largest freshwater lake in Central America. Despite it being a freshwater lake, the lake has Bull Sharks that have evolved to live in the freshwater.
THINGS NICARAGUA IS KNOWN FOR
Nicaragua is famous for having lots of lakes, volcanoes, and great beaches. The two largest freshwater lakes in Central America, Lake Managua, and Lake Nicaragua are located here. Besides the beautiful landscape, additional attractions in Nicaragua include The Ruins of León Viejo dating back over 500 years. Leon Viejo is the oldest city in Central America
FINAL THOUGHTS
Well, I hope these things to do in Nicaragua sparked your interest in this terrific country. We can't wait to go back. While there are a lot of great things to do here, we feel these options are a great place to start. If you have any specific questions, shoot us an email.