albertIn a world that can feel so divided and uncertain, it's now even more important to get out and see the world. Travel has an amazing way of putting things into perspective and restoring trust in humanity.
These 20 bucket list travel destinations are easy on the budget and great for millennial travel in 2019. Many of these hip travel destinations are ideal cheap places to travel for college students.
Let's check out these cheap trips abroad and make travel a priority with these tried and true travel destinations.
1. NEPAL
If affordability, safety, culture, and intense mountains are your thing there's no better place. For those that love the outdoors Nepal offers endless opportunities.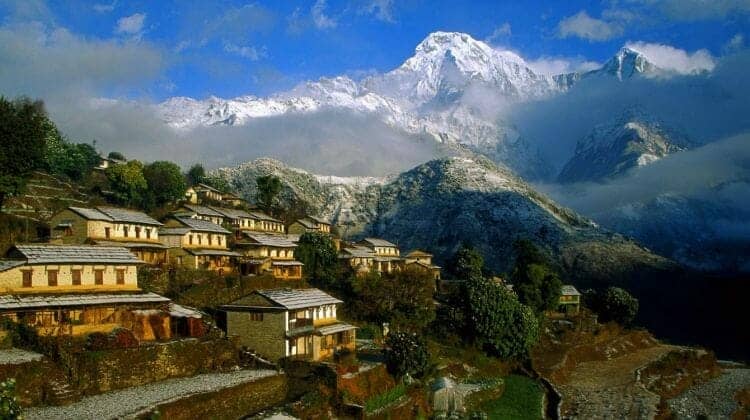 Annapurna Trek – This 15-day trek where you wind your way through the mountains as you travel from village to village is a must. From 3,000 feet to just under 18,000 feet this trek has challenging written all over it.
Find our full write up on the Annapurna Trek here
Or how about hiking to Everest Base Camp where you can get a taste of the mighty giant and its rich history.
Nepal also has some terrific cities filled with a rich diversity of food and culture. Kathmandu and Pokhara are a must.
BUDGET FRIENDLY
Pint of beer $2.00
Cappuccino $1.50
Meals for under $3.00
Accommodations easily under $20
Annapurna Circuit Trek can be done for less than $20 per day including accommodation and food!
Check out more accommodation options and prices HERE
2. VIETNAM
Vietnam ranks as one of our favorite places to visit. It checks all the boxes of being friendly, affordable, delicious, and beautiful.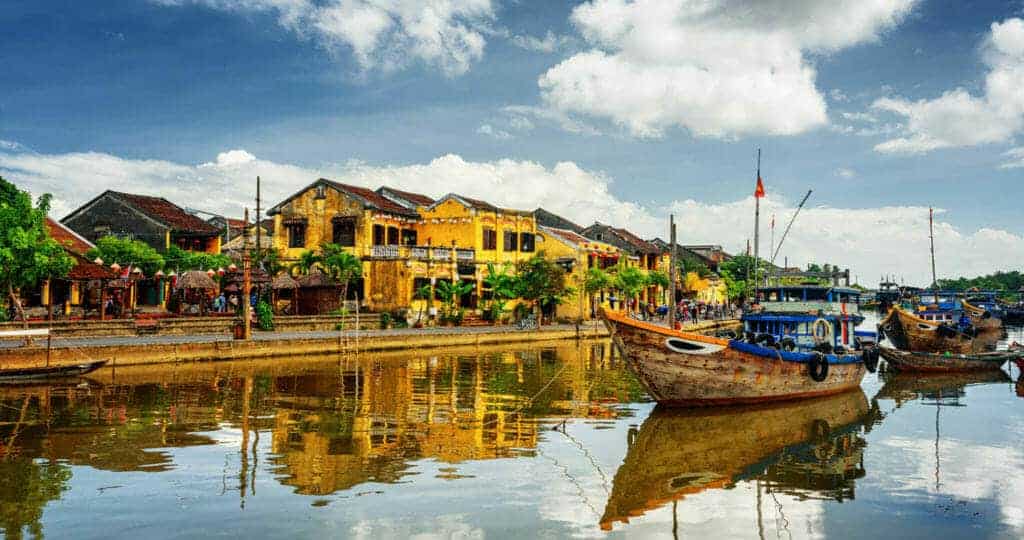 Don't miss Hoi An where you can eat your way through town in the picturesque narrow streets under an umbrella of lanterns.
Halong Bay while busy should not be missed. This true wonder of the world with its thousands of small islands is only more beautiful when you see it in person. Spend the night on a boat amongst this amazing seascape.
You know the pictures of the lush green rice fields you've probably seen, well those are likely from Sapa. The immense and green rice fields surrounded by jagged peaks are an amazing site.
Vietnam also has great beaches that are rapidly becoming more popular. Check out Nha Trang for a tranquil break from the city life.
AFFORDABILITY?
Affordability is an A+ in Vietnam
Beers for a buck
Street food for a couple bucks
Banh Mi sandwiches, a Vietnam classic, for a couple bucks.
Check out more accommodation options and prices HERE
3. UKRAINE
While Prague might be the most popular affordable eastern Europe destination, Ukraine is right on its heals in 2nd place. If you're looking to stay ahead of the curve on what's trending then Ukraine is the spot.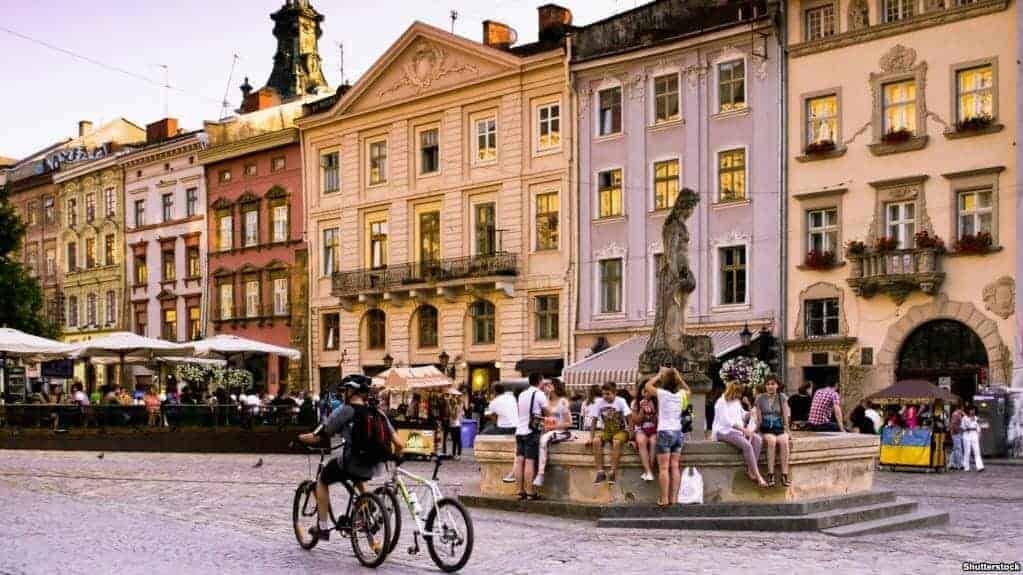 Dubbed the "little Paris" the city of Lviv is perhaps best described as a perfect blend between Prague and Paris.
The friendly city of Lviv holds the most cafes per capita of anywhere in the world! So for some great people watching and a cold beer Lviv can't be beat.
Head to Odesa on the mythical Black Sea and enjoy a little beach time.
Dubbed the "little Vienna" Chernivtsi a UNESCO World Heritage Site is home to the high priest complex, a truly stunning archetectural masterpiece.
AFFORDABILITY?
You guessed it…cheap!
Beers and coffee for a buck
3-course meal for $10
Comfortable accommodations for under $20
Check out more accommodation options and prices HERE
---
New to overseas travel? Here's everything you need to know to plan the perfect trip.
---
4. NEW ORLEANS
This is closest you'll get to feeling like you're in a different country without leaving the States. From the language and culture to the outrageous party atmosphere you'll think you're in a different country.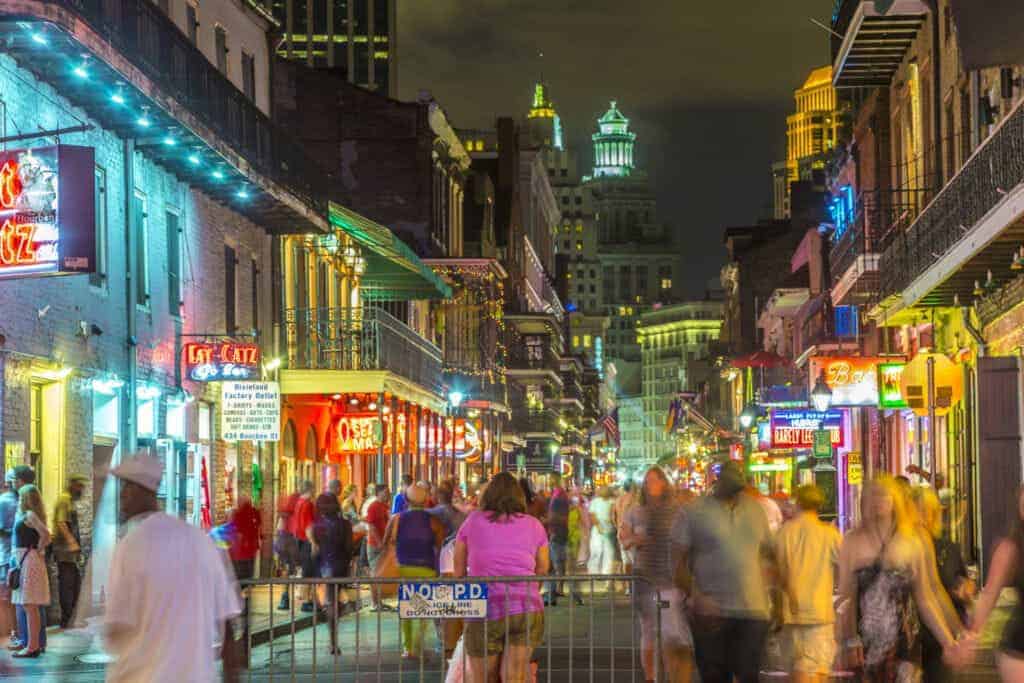 New Orleans is rich with history and when blended with Jazz and a little drink it's a trip not to forget.
If it's a party your after head to Bourbon Street where you can dance and drink the night away.
Don't miss the clubs on Frenchmen Street where you can catch the best live music.
Take a bite into a Beignet at Cafe du Monde, an iconic New Orleans experience.
Catch a show at Preservation Hall where you will be up close and personal with jazz giants.
Gorge on a Po-Boy at Domilise's and stuff your face with New Orleans' most famous sandwich.
IS IT CHEAP?
Well that depends. It's not cheap like a few of the places we've been talking about but let's not forget it's a lot less expensive to get here.
Affordable accommodations can be had but prices vary greatly depending on when you go. Take a look at Hotels.com to get an idea.
For food and drink it's relatively average for the states and if you keep your eating and drinking to the streets you can do pretty well.
Check out more accommodation options and prices HERE
5. BARCELONA
While it may be the cliche post-graduation travel spot, Barcelona Spain has something for everyone. The work of Antoni Gaudi is not to be missed and seeing these architectural masterpieces by foot is a blast.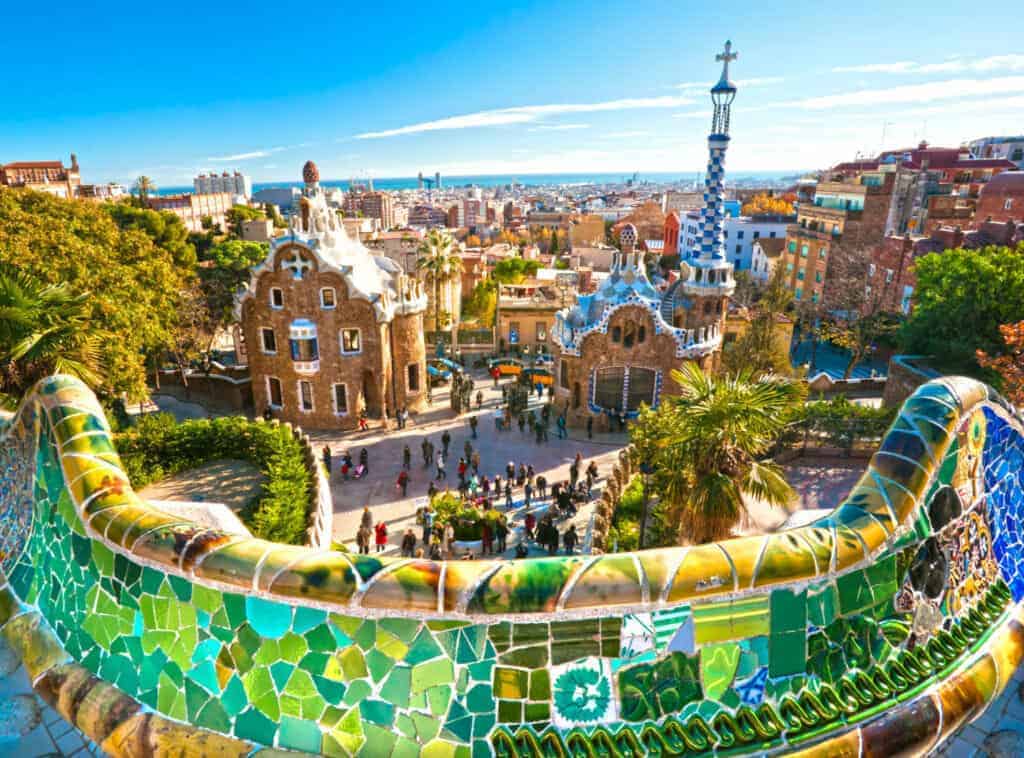 Park Guell in Barcelona, Spain.
Let's not forget about the food, thriving night life, and sandy beaches.
Barceloneta City Beach where you can soak in the rays and get your swim on.
The iconic Boqueria Market where you will be taken back by the sights and smells of this legendary market. Relax with a beer and a tapa at one of the many market bars.
Park Guell will top off your Gaudi experience where you will be rewarded with panoramic views of the city.
WHAT'S IT COST?
Hostel bed about $20
Beer will run around $2
Cappucino $2
Takeaway or street food about $6
Check out more accommodation options and prices HERE
6. MOROCCO
This budget-friendly and culturally rich country has a lot to offer. From riding a Camel to city markets and sandy beaches it's just a quick flight from Europe.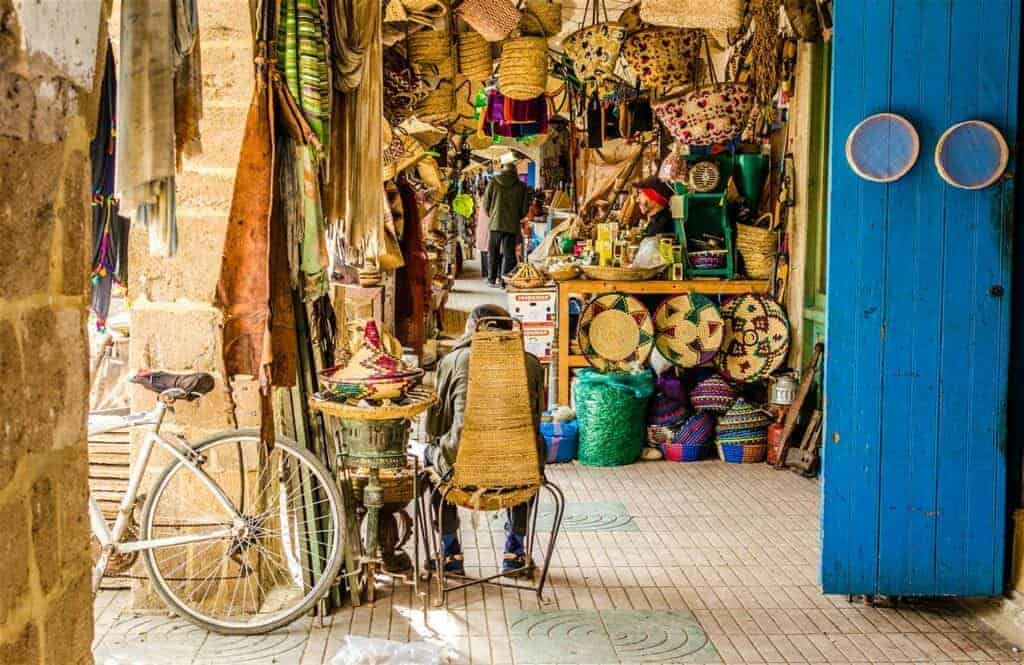 Don't miss the coastal town of Essaouira where you can grab that fresh off the boat seafood and spend some time chillin' along the water. Or try your luck at Kiteboarding.
The bustling city of Marrakesh with its nightly markets and Moroccan street food.
Check out the blue city of Chefchaouen where the blue-painted houses and narrow streets are a photographers dream
HOW ABOUT THAT COST….
Pint of beer $3
Cappuccino $1.50
Mid-range restaurant, 3-course meal for two $12.
Average lunch at a cafe $2.50
3-star hotel room $30
Check out more accommodation options and prices HERE
---
How to travel FREE using extended layovers…it's my favorite travel hack.
---
7. TRAVEL TO WATCH THE WORLD CUP
You don't have to be a diehard soccer fan to feel the energy from this truly unique experience. The World Cup is the one game that brings people from all over the world and packs them into a single stadium.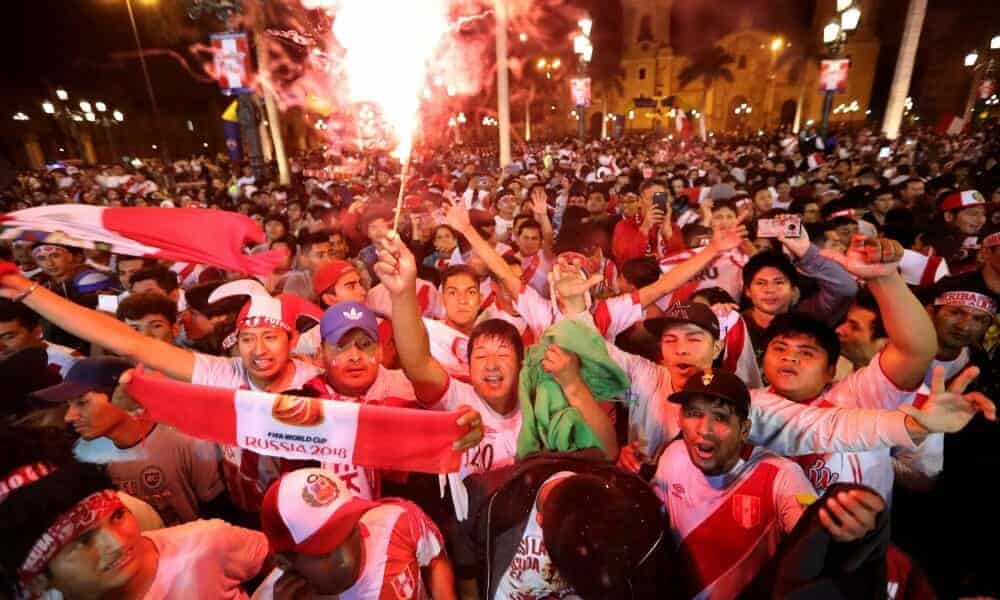 Whatever city it's held in is sure to be buzzing with energy and life making for an unforgettable trip.
The next World Cup is being held in Qatar 2022! See you there!
8. FULL MOON PARTY – THAILAND
No 20 year old travel bucket list would be complete without a trip to Thailand. And why not catch a full-moon party while you're there.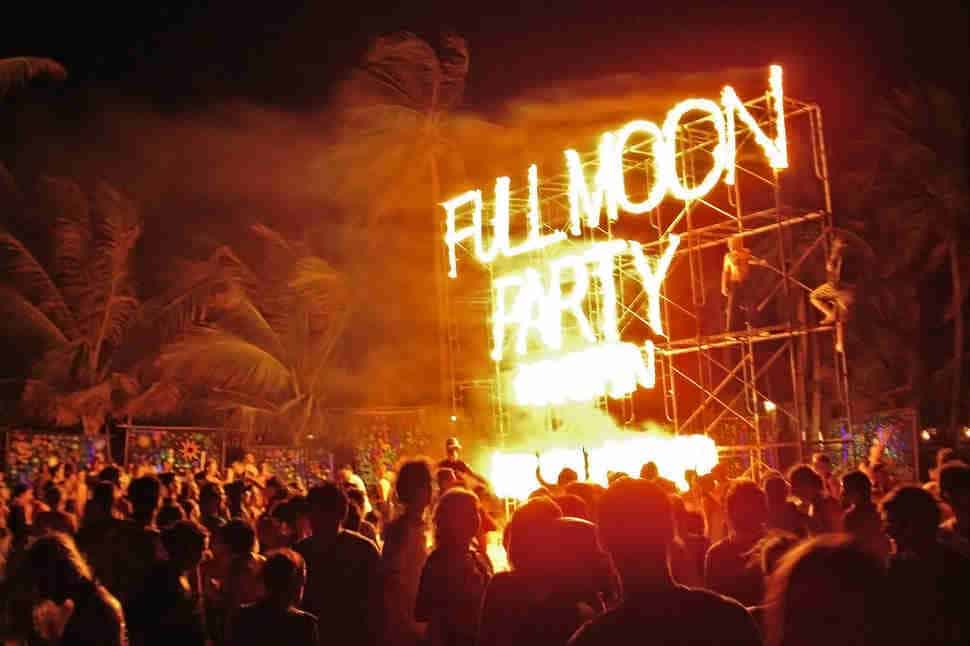 This monthly party held on a beach in Koh Phangan is an epic for sure. From cocktails served in buckets to the latest DJ's slamming you tunes you're guaranteed to go all night.
Read up on How To Conquer Thailands Full Moon Party
It would be a shame to miss the rest of Thailand so here are a few of my favorite spots of the north.
Chiang Mai – A trip to the north wouldn't be complete without a stop here. The old city is surrounded by a defensive wall and moat that still stands today
Pai – Once you get your taste of the big city of Chiang Mai it's time to head further North to Pai. A more chill vibe in a lush and green landscape that is becoming immensely popular so you'd better hurry.
Mae Hong Son – A scenic but twisty 6-hour drive from Chiang Mai will land you in this less visited part of the north. This is a great place to visit by motorbike if you're up for it.
WHAT'S IT COST?
Don't worry it's really cheap, simple as that!
Check out more accommodation options and prices HERE
9. MACHU PICCHU, PERU
This sacred archaeological site is like nothing else in the world. There are many ways to get to Machu Picchu but the best is by foot.
Trekking to Machu Picchu gets you even further off the beaten path where you can really take in the culture and scenery as you meander through the lush mountains.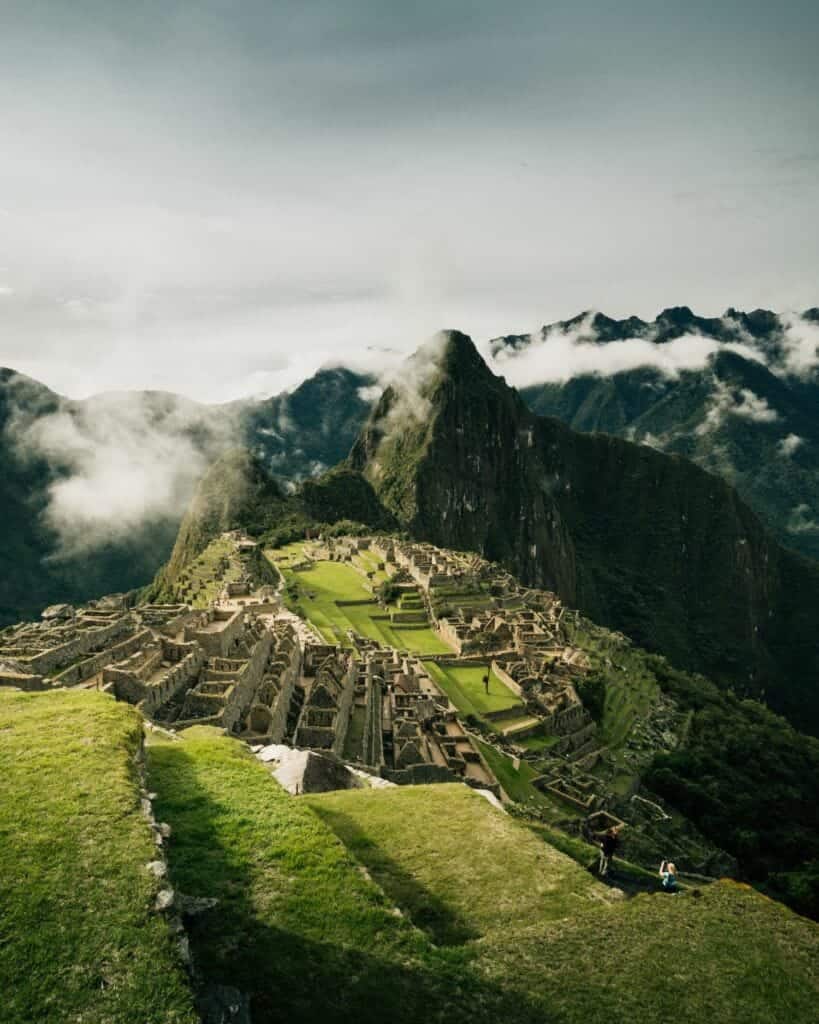 While the Inca Trail is the most popular trek there are several other great and less crowded options as well.
All things Machu Picchu are covered HERE so you can pick the right route for you.
Check out more accommodation options and prices HERE
10. HIGHWAY 1 CALIFORNIA COAST
Starting in Oregon and working your way south, you'll be stunned at the sights as you wind your way down this magnificent Highway.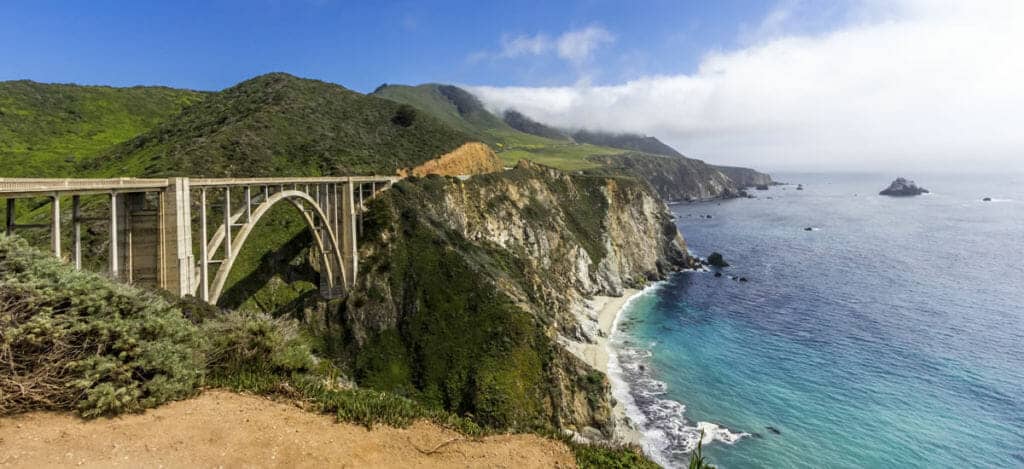 The route is speckled with little towns offering great places to stay and a fresh bite to eat. Or try one of the many campgrounds along the route where you can fall asleep to the waves of the Pacific.
The Lost Coast sits about 20 miles off HWY 101 but is well worth the visit. One of the most undeveloped coastal areas of California. If you like to surf it's a must.
Glass Beach in Fort Bragg is home to what used to be the city dump back in the 1800's. Today the beach is filled with small, smooth, and colorful pieces of glass that have been pounded by the surf for hundreds of years.
Hearst Castle in San Simeon is worth a visit unless you just recently had your fill of European castles. It's quite a site here in the US.
How about some luxury Glamping at Treebones Resort
11. PORTUGAL
Don't let its size mislead you as this small country has lots to offer. From the quintessential narrow cobbled streets to the uncrowded beaches, you'll need more time here than you think.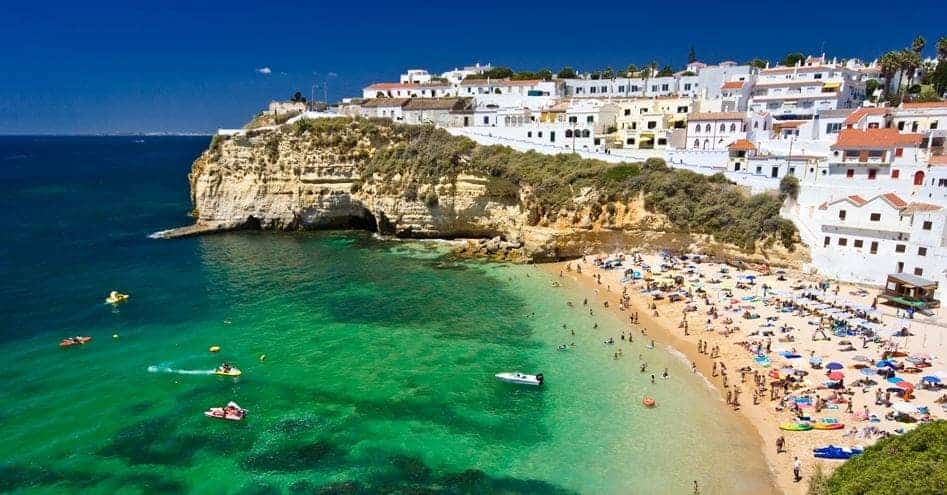 Head to the Northern Country where you can really get away from the tourists and experience the culture on a whole new level.
Don't miss Porto which is famous for its port wine.
For a party on the beach with fellow backpackers head to Lagos.
IT WON'T BREAK THE BANK!
Beer for $1.50
Simple meal $9
Cappuccino $1.50
A night at a hostel $25
Check out more accommodation options and prices HERE
12. BUENOS AIRES, ARGENTINA
This large city is unique with its distinct neighborhoods, each with its own local culture. This makes for fun place to neighborhood hop as a backpacker.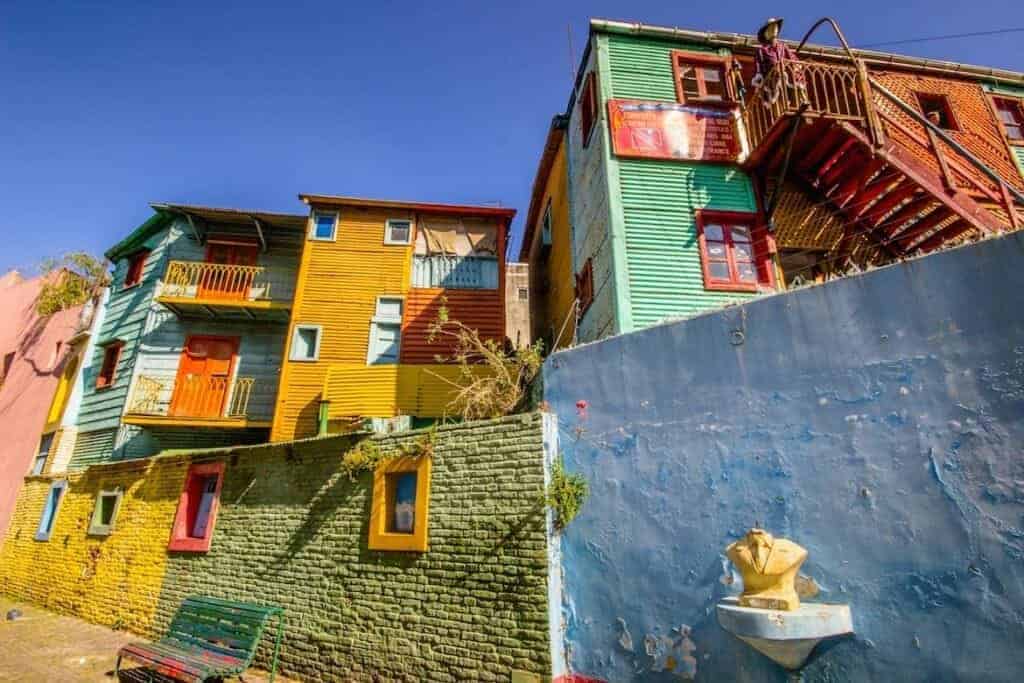 Visit this grand theatre turned cinema and now a bookstore. El Ateneo Grand Splendid is not your average bookstore. Enjoy a cup of coffee and the live music as you revel in this magnificent space.
Tango is the life and soul of Buenos Aires and the best place to see this in action is at La Milonga on Sunday evenings. Just watch or if you dare join in.
We're blowing the budget on this one but I couldn't resist. Bar Isabel is a lush late night drinking spot that is the Studio 54 of South America. Come dressed to impress as they have a strict dress policy. Oh and bring your big wallet cause this place aint cheap.
COUNTING YOUR PENNIES?
Meal with drink $6
Pint of beer $2
Cappuccino $1.50
A bunk will run around $9 or a private room for $25
Check out more accommodation options and prices HERE
---
Packing light keeps you mobile and ready for anything
---
13. OKTOBERFEST IN GERMANY
One of the biggest parties of the world, gathering hundreds of thousands of young people who all have a thirst for some delicious beer.

Held in Munich Germany it makes for a great jumping off point to explore Germany or other nearby European countries.
IT'S A BIT PRICEY….
Cost of EVERYTHING skyrockets around Octoberfest. Flights and accommodations get particularly pricey. In addition Germany isn't as cheap as it used to be.
Beer $4
Cappuccino $4
Average meal $12
Check out more accommodation options and prices HERE
14. CUBA
At just 90 miles from Florida, Cuba has plagued many Americans bucket lists. In 2014 Obama rolled back regulations making travel to Cuba legal. Trump recently created some restrictions making travel a little more difficult but still possible and legal.
To me this just ads to the challenge and why Cuba should be on your bucket list.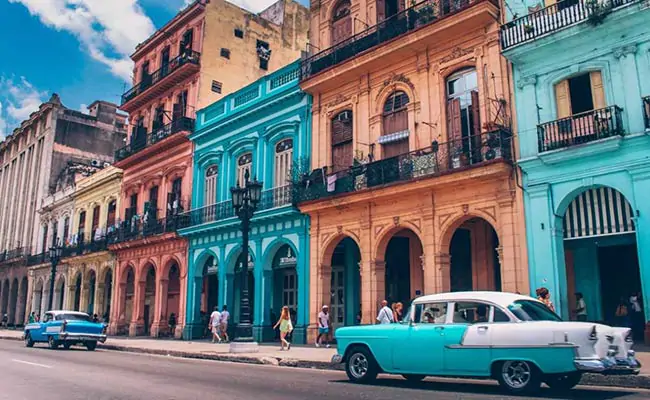 The Pearl of the Antilles, Cuba, is the largest island in the Caribbean Sea. Cuba has a rich and recent history of revolutions and communism. The overthrow of the government is still fresh on people's minds.
The Malecon of Havana is a seawall and roadway that stretches 5-miles along the coast. Grab a cigar and join the locals as they puff away on this iconic stretch of town.
Old Havana will remind you more of Europe than anything in the Caribbean. The architecture, squares, and central plazas are dotted with cafes perfect for people watching.
Grab a swim in the turquoise bay of Cayo Coco
Don't forget the laid back town of Trinidad which retains its Spanish charm from when it was founded back in 1514.
WHAT'S IT GONNA COST ME?
Regular meal around $5
Domestic beer for a buck
Cappuccino for a buck and a half
Hostels from $8 on up
Check out more accommodation options and prices HERE
15. CROATIA
With over 1,100 islands, pristine waters, and picturesque villages, Croatia easily makes the list. In fact, Croatia has been one of the fastest growing destinations of the Mediterranean.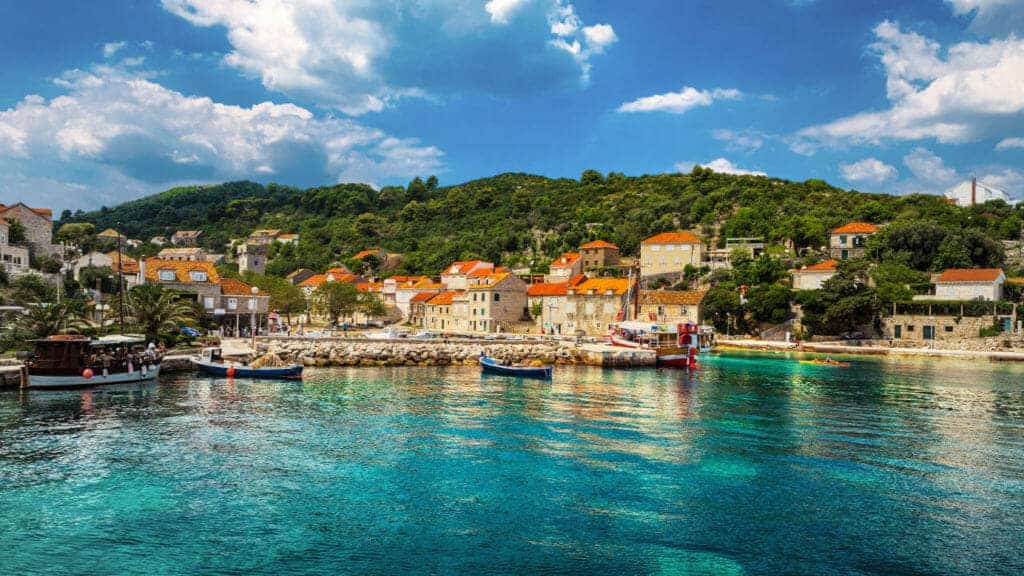 The pristine national parks and UNESCO World Heritage sites just add to the list of why this is a worthy destination.
Check out the UNESCO medieval old town of Dubrovnik
To find all of the hidden beaches you'll want to rent a scooter. Best of all Croatia launched an electric scooter sharing program to cut down on the amount of cars on the road.
Enjoy a local craft beer while walking along the historic Split's Waterfront.
Check out the waterfalls at Krka National Park and get a view of Visovac Monastary located on an island in the middle of the lake.
YOUR WALLET WILL THANK YOU
While Croatia did join the European Union it made the smart choice, at least for us, to retain its currency. Currently Croatia offers a better exchange than the Euro.
Average meal for around $8
Pint of beer $2.50
Cappuccino $1.50
A stay at a hostel will run in the mid $20's
Check out more accommodation options and prices HERE
16. CHILE
Chile is a magical place where you can ski and surf in the same day. It's a paradise for nature lovers and outdoor enthusiasts.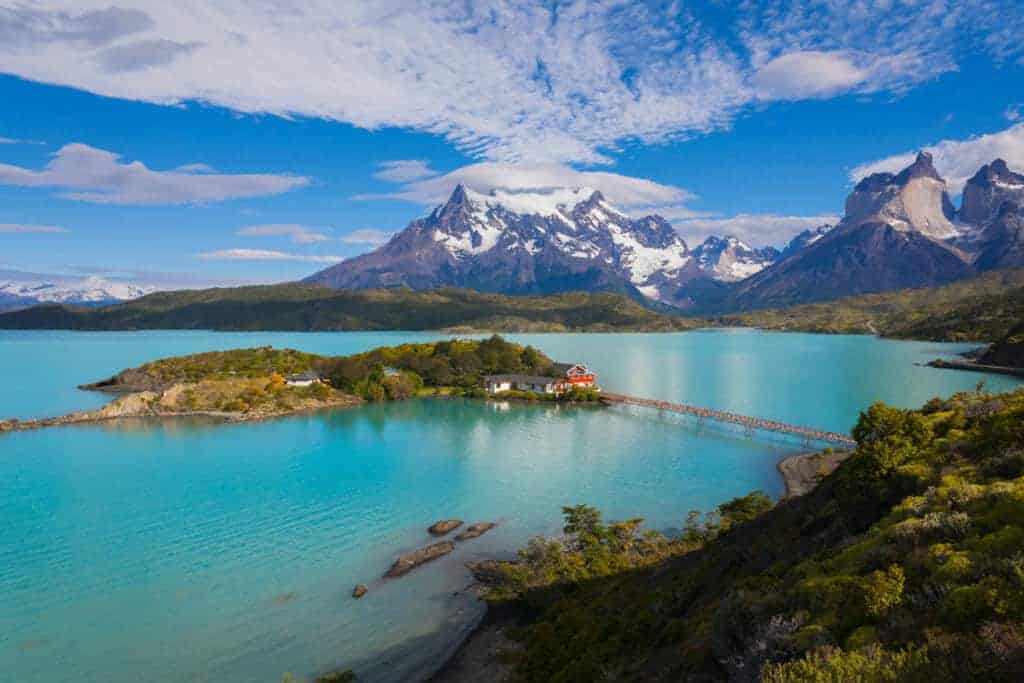 It's a diverse landscape with volcanoes, deserts, lakes, glaciers, forest, and beaches. As well as terrific food, culture, and people.
Get your trekking on at Torres del Paine National Park. The dramatic stone peaks have become the symbol of Chile.
Check out the glaciers of San Rafael National Park. Opt for the smaller Zodiac boats that will get you right up close and maybe you'll be lucky enough to see icebergs calve.
Lake General Carrera has a labyrinth of marble caves that can be explored by boat.
PRICES?
An average meal $8
$3 for a pint of beer
Cappuccino about $2.50
$20-$30 for hostels
Check out more accommodation options and prices HERE
17. VIENNA, AUSTRIA
The artistic city that was home to Mozart, Beethoven, and Freud continues the be named the city with the highest quality for living.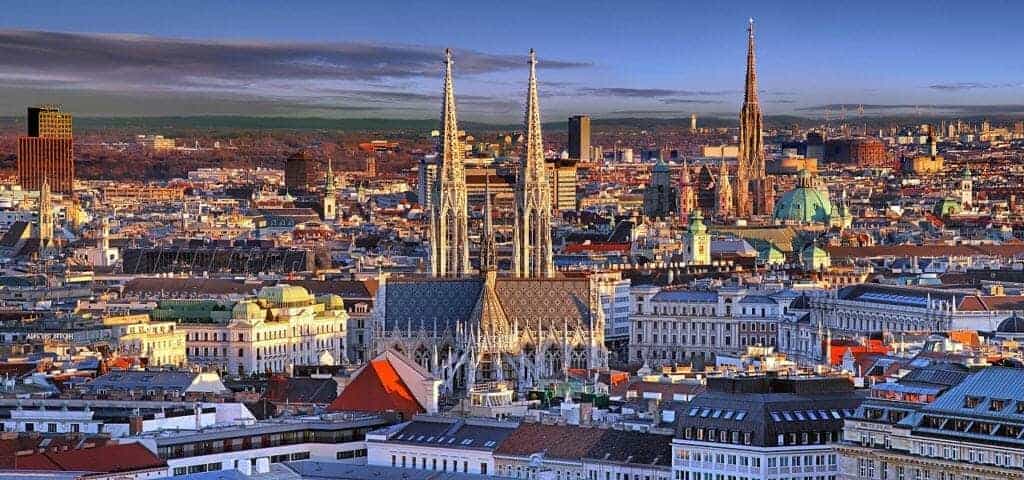 As one of the most liveable cities in the world full of happy people it's a must visit destination.
Rich architecture and history are everywhere. Check out St. Stephen's Cathedral, Hofburg Palace, and Schonbrunn Palace to name just a few.
For the freshest food head to Nashmarkt on Wienzeile street. This city market is the hub of energy for the locals as they pick up the freshest produce, cheeses, and seafood.
Don't miss the Riesenrad Ferris Wheel. Built in 1897 and features these rather large and stately gondolas like nothing I've ever seen.
NOT THE CHEAPEST…
$12 for an average meal
Pint of beer $4.50
Cappuccino $3.50
Hostels for the most part are $30 and up
Check out more accommodation options and prices HERE
---
How I maximize travel hacking to score FREE travel
---
18. ISTANBUL, TURKEY
A city steeped in history and culture provides for endless things to do. It's an east meets west city where century old buildings stand near modern skyscrapers.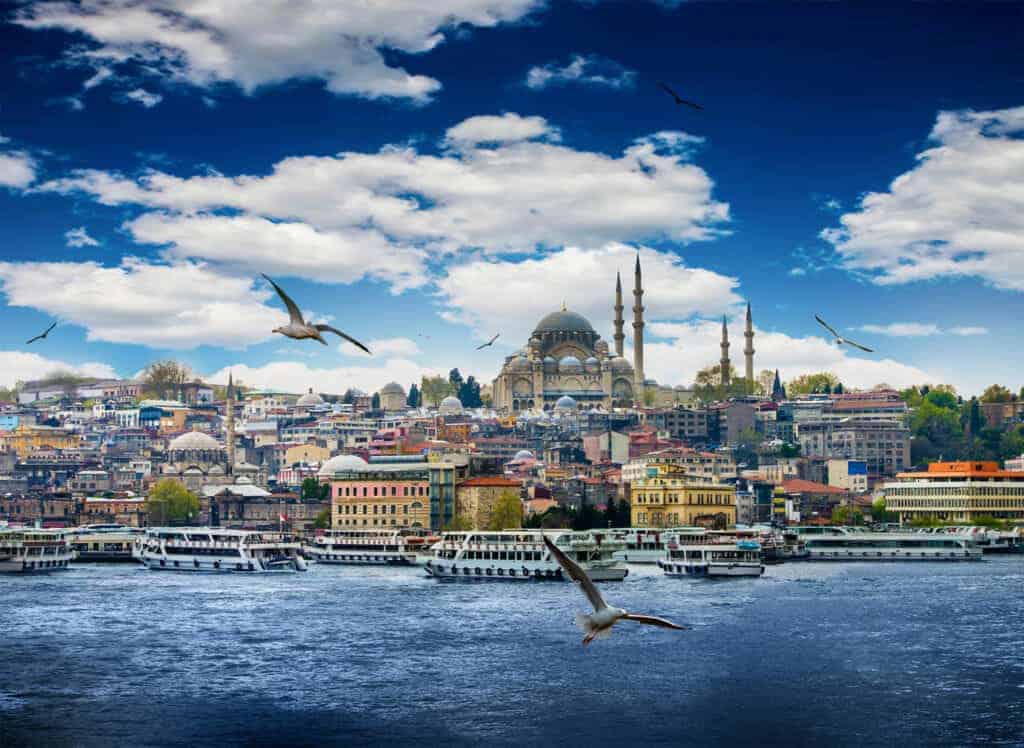 Check out the lesser known landmarks of Suleymaniye Mosque, Basilica Cistern, and Galata Tower.
For a little nightlife hit up these rooftop bars that offer up outstanding views. Sortie, Ruby, 360, and Babylon Bomonti should get things started.
Get your shopping on at the Grand Bazaar and try some of Turkey's delicious food.
PRETTY AFFORDABLE HERE IN TURKEY
Meals for $4.50
Beer $2.50
Cappuccino $2.00
Hostels as low as $10 a night
Check out more accommodation options and prices HERE
19. AUSTRALIA
The tremendously popular, especially amongst backpackers, Australia checks all the boxes for a ton of fun. This remote island will not disappoint.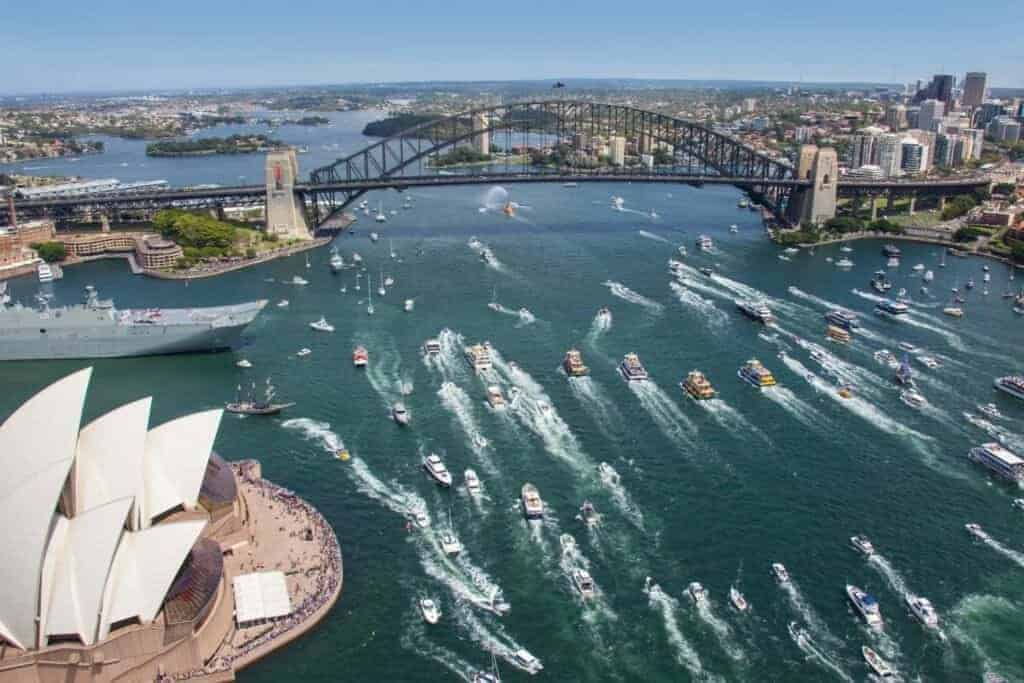 Perhaps the most famous reef system of the world, the Great Barrier Reef is world renowned for its abundance of sea life.
Australia is upping their wine game and taking a trip out to the wine country for a tasting is a blast. Try Margaret River or Hunter Valley.
Perth is a lively city filled with young energy. Sunday drinking sessions ar the famous Cottesloe Hotel is a must.
AUSTRALIA IS NOT CHEAP
Australia is typically a touch more than U.S. prices. That's not to say you can't do things cheap. But going out for a beer is gonna run you about $6 a pint.
Rest assured there are plenty of budget backpackers that make it happen. Eating in and laying off the booze will ease the budget significantly.
Hostels can be had for around $30 which is quite reasonable. Here you can meet fellow travelers and learn some of the tricks. Australia is all about the beach bbq which will likely become your staple.
Check out more accommodation options and prices HERE
20. BANFF, ALBERTA
Another outdoor mecca of an area offering winter and summer activities of just about anything you can think off.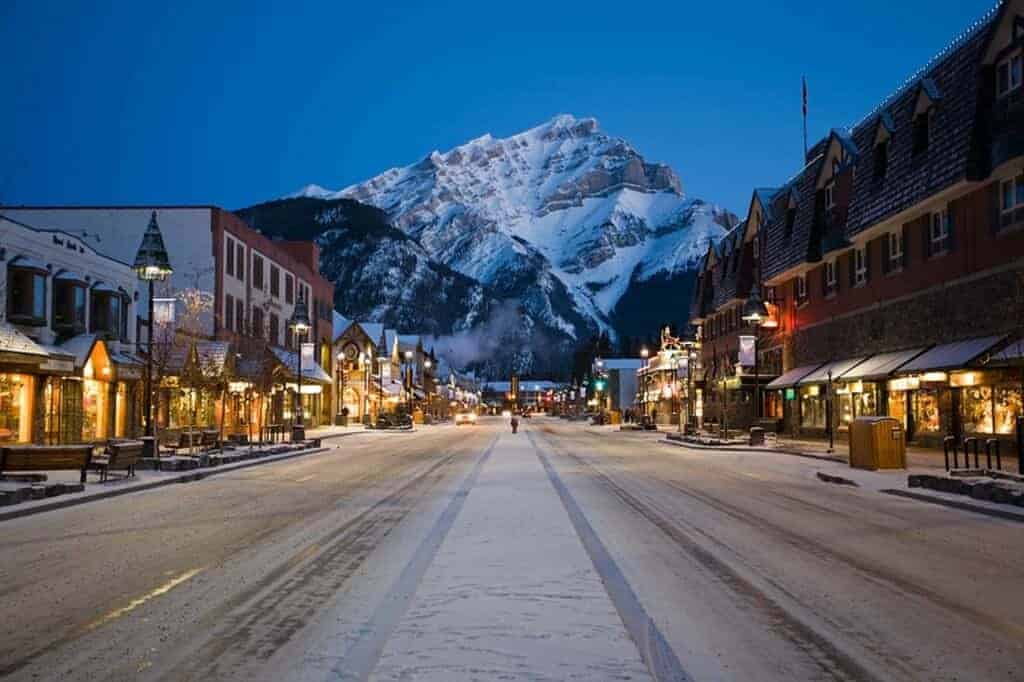 Downtown Banff is perhaps one of the most stunning main street views you'll ever see.
For winter check out Lake Louise Ski Resort and during the summer they offer up great hiking and backpacking as well.
Banff Upper Hot Springs is a must visit with its sacred waters.
Whitewater, climbing, biking…Banff has it all.
PRICES…
The best way to keep Banff prices down is to camp. There is a ton of camping and backpacking here and that's what you want to be doing anyway.
For a night on the town they have several affordable hostels as well that will run about $30.
Food and drink are typical State prices although currently the exchange rate is heavily in our favor.
Check out more accommodation options and prices HERE
ADDITIONAL READING: