Want to travel somewhere this year but you don't have a lot of money? That's ok you can still getaway! Don't let your lack of funds deter you from exploring the world.
Budget travel destinations aren't for just the savviest of travelers, you too can visit these areas!
This may come as a surprise to some of you but travel doesn't have to be expensive, in fact, if you live in one of the bigger metropolitan cities it's most likely cheaper for you to leave your home and travel.
Two years ago August and I went to Thailand and Cambodia for 4 weeks and we actually spent waaaay less money than we would have at home.
Because I want you to have the best time possible with the money you have I've created the ultimate list of budget travel destinations. All of these countries are places you can travel to for under $35 (USD) a day.
1. CAMBODIA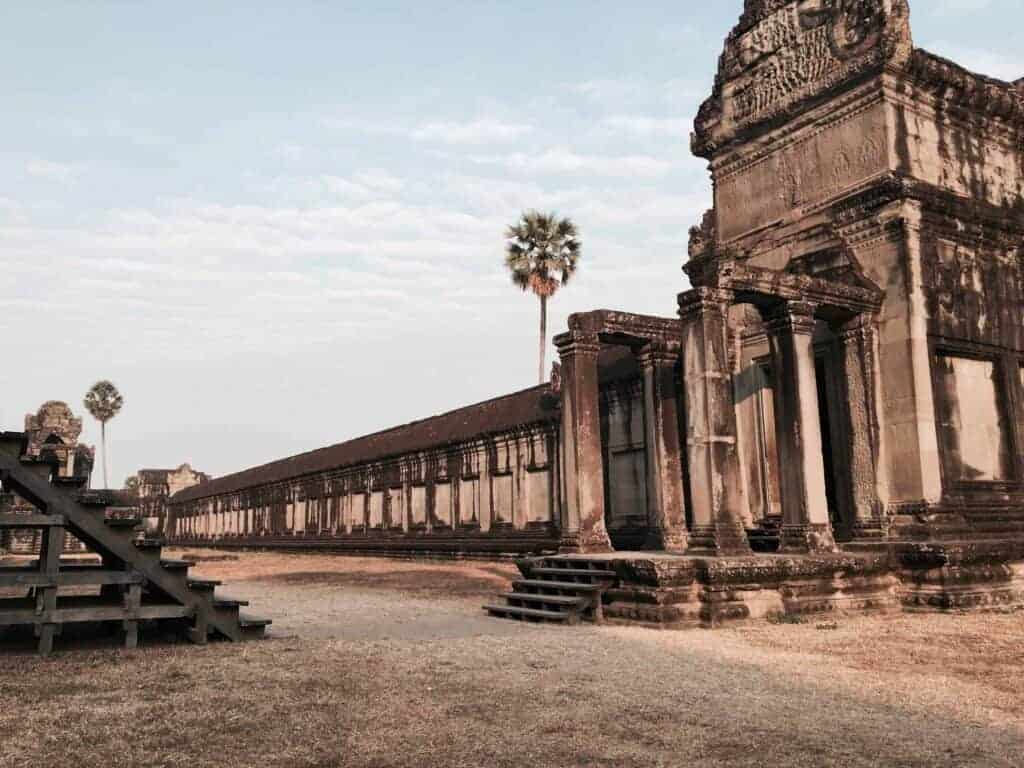 Of course, there are lots of good budget-friendly reasons to travel to Southeast Asia but when you're looking for the best value Cambodia may just be your place.
Cambodia offers everything from beautiful white sand beaches in Sikhanoukville, outdoor adventures in Banlung, old city charm and history in Battambang, and a vibrant city vibe in Siem Reap. Siem Reap is Cambodia's fastest-growing city and serves as a small gateway city to the world-famous Angkor temples.
Seeing Angor Wat in person was an incredible experience that shouldn't be missed. Just make sure to bring some good walking shoes because there is soo much to see once you're there.
Besides all the attractions Cambodia is a fantastic place to visit on a budget. Travelers can expect to spend as little as $15-$20 per day on accommodation, food, and travel.
While we were in Cambodia we spent $1-$2 for various street food dishes which I highly recommend you try. When dining at a restaurant you can expect to pay $4-$5 per meal and if you decide to order a local beer it'll cost around .$50 -$1.00.
Traveling by Tuk Tuk was our preferred method within the city and we found it to be super affordable ($2-$3) and efficient. If you're looking to get from Phnom Pehn to Siem Reap you can expect to pay around $10 for a reserved seat on an air-conditioned bus.
Don't miss the floating villages of Tonle Sap just outside of Siem Reap.
2. THAILAND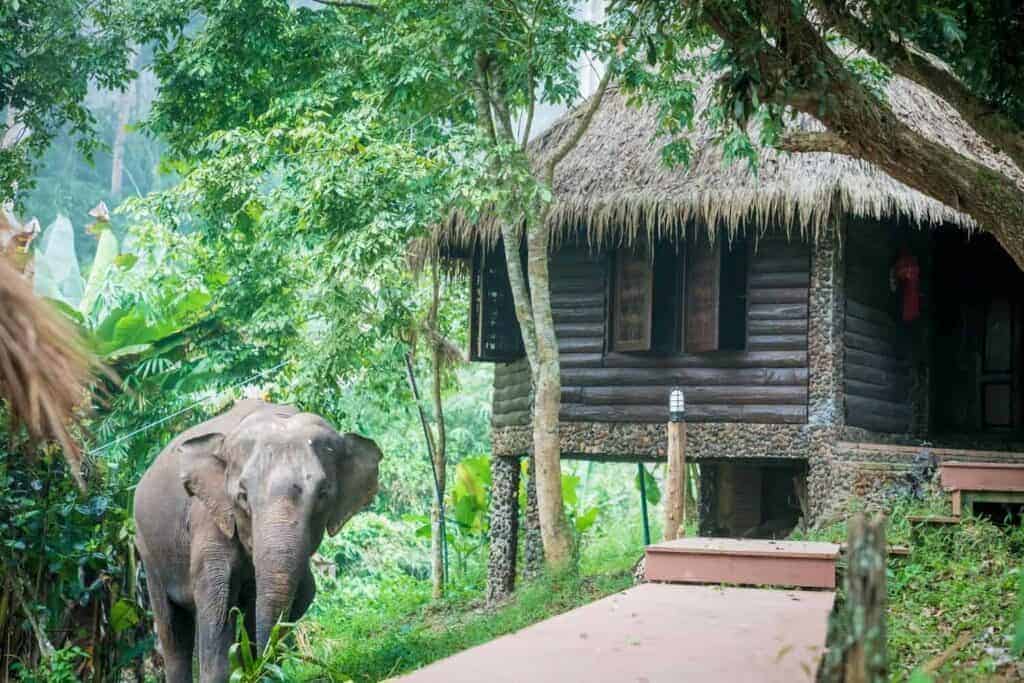 Thailand is the mecca for budget travelers. From beautiful white sand beaches and crystal clear water to extravagant temples and jungles, what more could you ask for in a budget trip? Oh, and did I mention that the weather is fantastic all year round?
Those who are on an extra tight budget can find dorm rooms for as little as $5. We found mid-range accommodations for two people with a private bathroom for $20-$25 per night.
You better believe we ate a TON while we were in Thailand. I'd like to say I mastered the art of making red curry but I definitely HAVE NOT. Man those Thai's know how to make some good curry.
We ate from street carts, markets, and restaurants. If you choose to eat from the street carts which I highly recommend you do you can expect to pay $1.25-$2.00 per meal. If you decide to go to a restaurant you can expect to pay $5-$10 for a meal. If you're looking for an ice-cold Chang (local beer of Thailand) you can expect to pay $2-$3 for a big bottle in a restaurant or about $1.40 at the local 7 Eleven. There are 7 Eleven's everywhere in Thailand!
Transportation is super cheap and will cost you a dollar or two to get most places. We paid to get from Chaing Mai up to Pai which is a 4-hour bus ride (Northern Thailand) and it cost us less than $4.00 per person.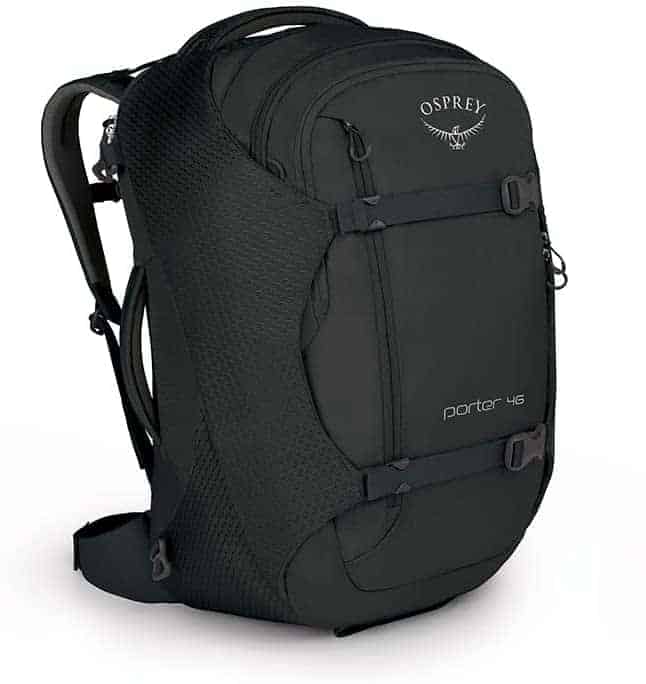 BEST TRAVEL BAGS FOR INTERNATIONAL TRAVEL
While we're talking about budget travel and all of the amazing places to go, I figured it may be helpful if I gave you a couple of suggestions of some of the best travel bags for international travel.
Both August and I absolutely love our Osprey Travel Bags and it's our go to brand year after year. His favorite Osprey bag is the Osprey Farpoint 40 Men's Travel Backpack and my favorite bag for travel is mine is the Osprey Porter 46 Travel Backpack because it's a bit bigger.
If you're looking for all of our tips for traveling light don't miss this article How To Pack Light
3. VIETNAM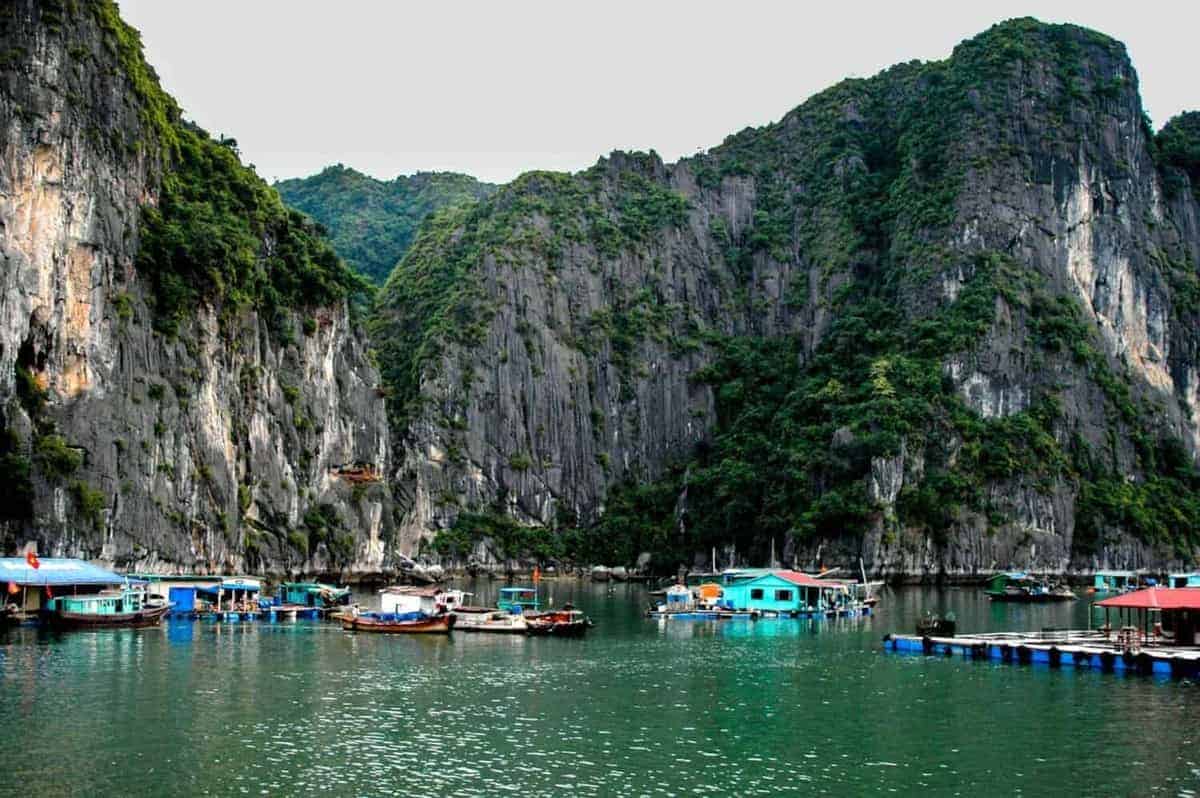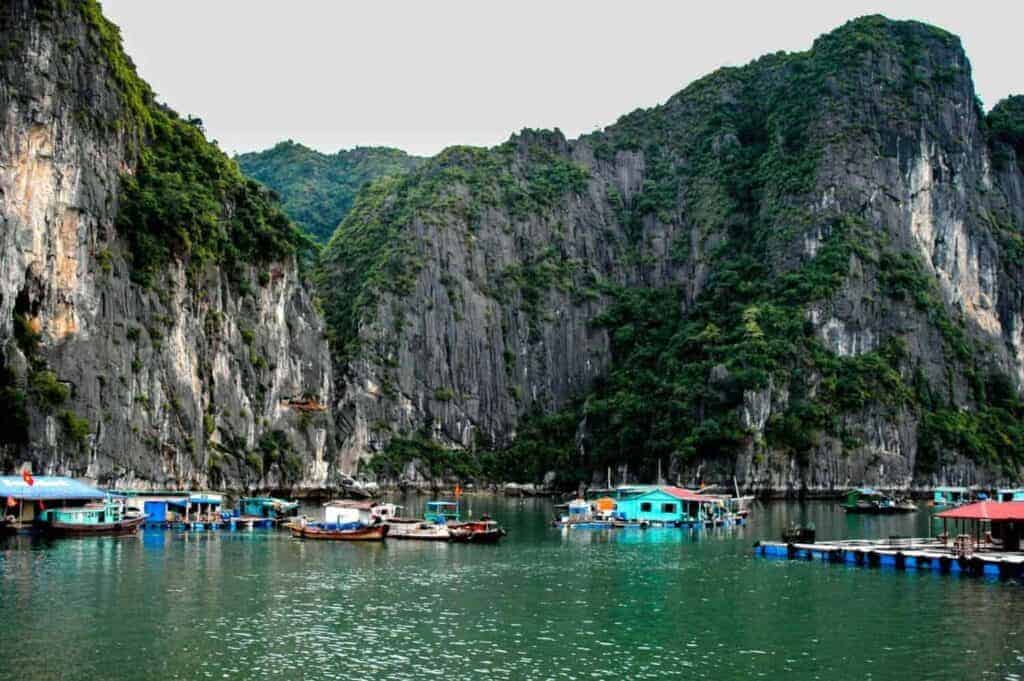 If you're anything like us you'll love Vietnam. Vietnam has been one of our absolute favorite places to visit on a budget. Vietnam is a country where you'll experience historic towns, the Mekong Delta, white sand beaches, temples, rice fields, markets.. and so much more.
If you're traveling on a tight budget you can get a dorm accommodation for as little as $5-$7 a day. If you're open to spending a bit more you can get a two-person room with private bath and breakfast for $20-$25.
Street food is the bomb diggity in Vietnam. On average we spent about $5-10 a day per person eating in local restaurants and from street carts. If you're a fan of Pho you will be in Pho heaven. Don't know what Pho is? Think of a flavorful bowl of broth, rice noodles, cilantro, sprouts, basil and your choice of meat all for $1.50.
If you're into local beer, bia hoi (keg beer) goes for as little as 20 cents. If you want a bottle of beer it will be about $2.
Transportation is another thing that is super affordable in Vietnam. We took the night bus from Ninh Binh to Hoi An (13-hour train ride) and it cost us $20 per person.
4. MYANMAR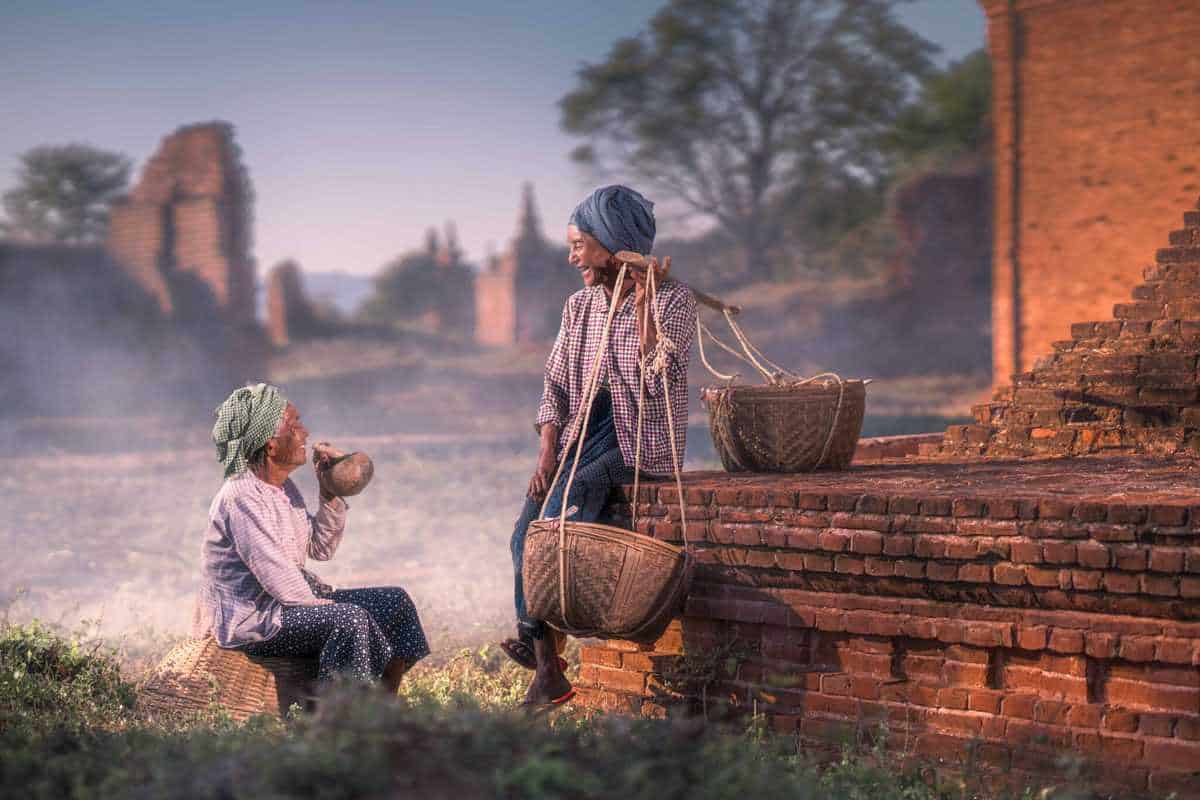 Accommodations in Myanmar can be slightly more expensive than other Southeast Asia countries running you $10 for a basic dorm room but the food is extremely cheap.
You can expect to pay around $3 for a meal at a restaurant and $2 for a bottle of beer. If you're looking for something that's a step above dorm room accommodations you can get a budget hotel room for two people with breakfast for $25.
You can expect to pay $2 for a short taxi ride or you can take the famous circular train in Yangon for $0.15. The Yangon circle line train was built by the British during colonial times and is now used to connect the metropolitan area in Yangon with 39 stations.
When looking for things to do in Myanmar don't miss visiting Yangon via the circular train, exploring Bagan via bike, and climbing to the top of Golden rock.
If you're looking for a super easy and affordable way to book accommodations while traveling we love using Booking.com. We've found Booking.com has some of the best travel locations and options in the world. The best part is you can easily cancel and rebook if necessary with most bookings!
5. PHILLIPINES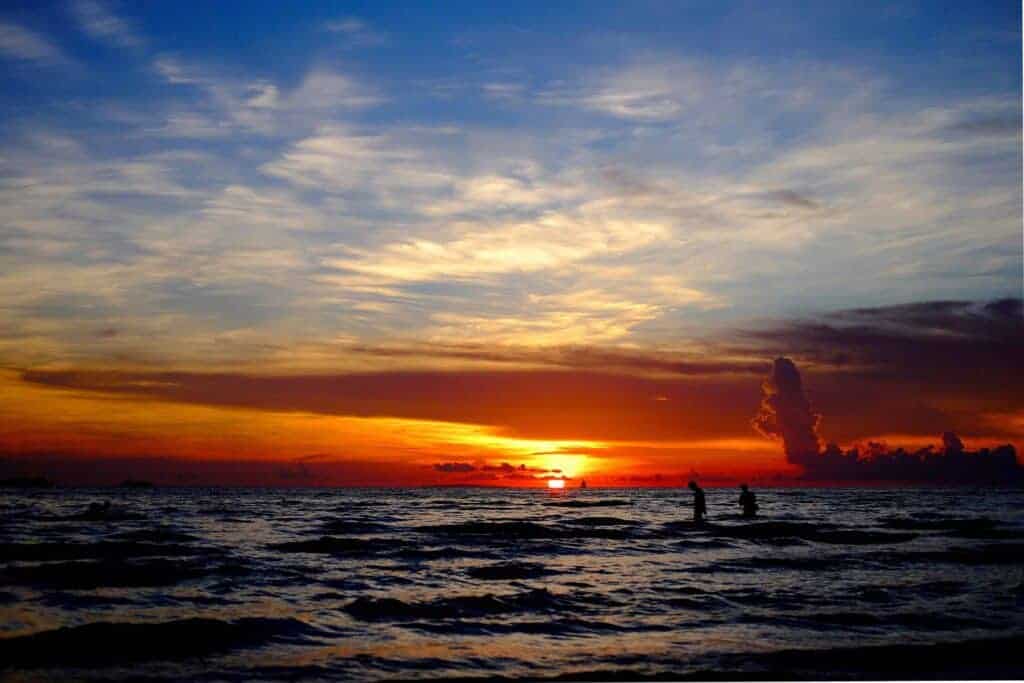 The Philippines is one of those up and coming places that still offers an authentic travel experience with an amazing amount of culture and fewer tourists than Thailand.
These islands, 7,107 of them to be exact provide some of the best beaches in the world and are home to some amazing diving spots. You'll also find terraces of rice fields, active volcanos, fast-growing cities, mountains, a tight-knit culture, and trekking adventures.
Street food is plentiful in the Philippines where you'll find the popular budget-friendly dish of BBQ chicken and rice for about $1. You can also save some money if you eat at carinderias (restaurants). Meals in caranderias can cost anywhere from $2-4 per person or around $6-$10 in a fine dining setting.
A room for two people with private bath will cost around $20-$25. You may even find budget friendlier options for $10 on some islands.
Be aware that hostels are still quite rare on the islands, so if you are traveling solo, you might want to find someone to split a room with to save money.
If you're looking for a beer you'll be happy to hear they don't cost too much. A bottle of San Miguel, the local brew will cost you $1-$2.
As for transportation, you may have to budget a bit more in the Philippines. It's not as easy as other Southeast Asian countries where you can just hop on a cheap bus. In the Philippines, you have to take ferries or planes to get from island to island.
If you limit your trip to one or two of the major islands, your transportation expense can be drastically reduced. You can expect boat trips to start at $10 one way, this of course depends on the destination you choose.
For trips around the city, taxis are quite common (around $6 for a 1-hour trip). You can also take advantage of jeepney's for a minimum of $0.15, (the local's way of getting around). Buses are another option in the city where you'll pay $4-$10 depending on the destination.
Some smaller motorized boats can take you island to island for as little as $0.40. Or you can always use the local budget airline and book a round-trip ticket for about $40.
6. NEPAL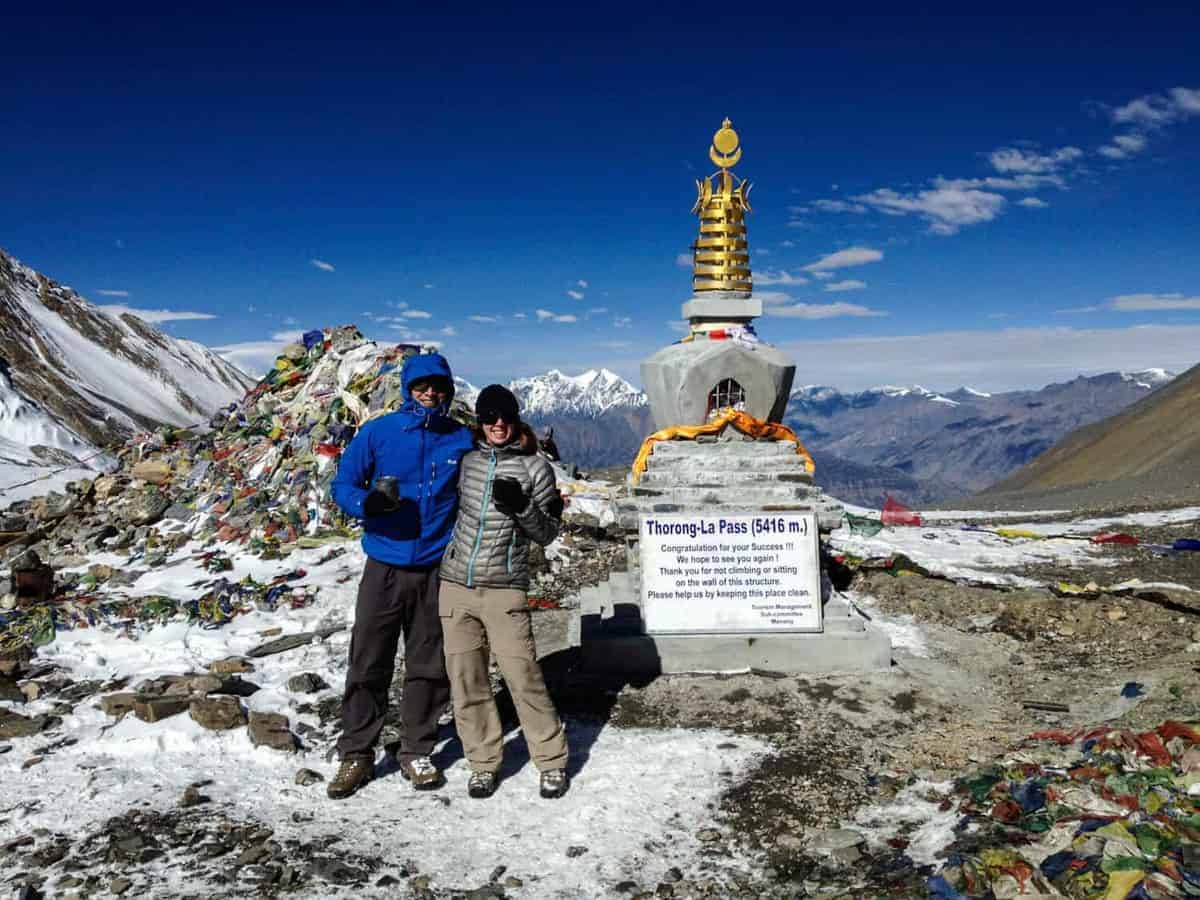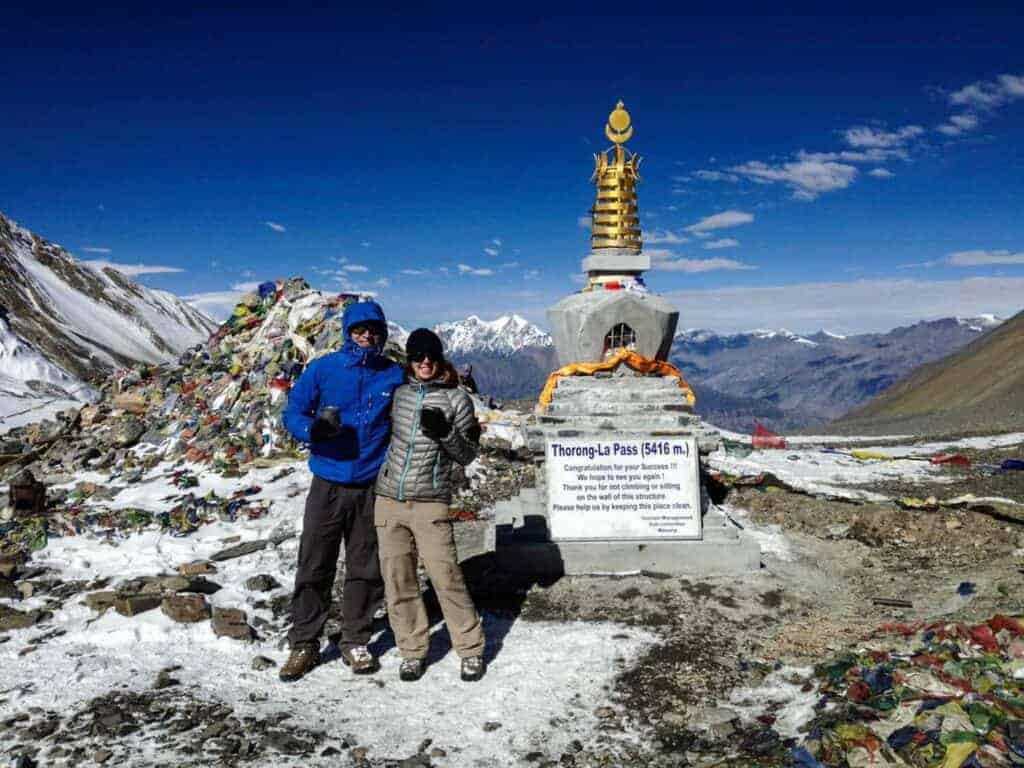 We were absolutely blown away with our trip to Nepal. Nepal is home to some of the most gorgeous terrain we've ever seen. If you're a fan of "bagging peaks" this is your place.
The people are incredibly friendly, the food was amazing, (believe it or not we found food from all over the world while in the bigger cities of Nepal) and the mountains are the top of many people's vacation bucket list.
Nepal is cheap and surprisingly easy to navigate. Most food and accommodations cost only a couple of dollars. We didn't run into many food carts but budget-friendly restaurants were plentiful, running us $3-$4 per person per meal.
While we were in Nepal we did the Annapurna circuit trek and budgeted $30 a day per person. We got to the end of our trek in Pohkara with an excess of spending money (lucky us because there are plenty of outdoor stores where you can spend your money). We were pleasantly surprised by the cheap accommodations and food along the trek.
You can expect accommodations to run you $5-$10 per night in a local guesthouse along the Annapurna Circuit. Or $20 a night for two people at a budget hotel with private bathroom in the bigger cities.
Transportation is super affordable in Nepal but you may find that prices vary depending on where you are and how the driver is feeling that day.
The bus is the most popular method for getting around and it can be quite entertaining. The music, the eclectic decorations, the sound of the horn, the scenery you'll find it all while riding the bus.
If you're looking to get from Kathmandu to Pohkara via bus (6-12 hour ride) you can expect to pay anywhere from $5 for a local bus to $30 for a luxury tourist bus.
A private car (van) is considerably faster than a bus and a lot more comfortable and convenient.
This is a great option if you have a group of people who you're traveling with. This was our preferred method for getting from Kathmandu to the start of the Annapurna Circuit. I believe we paid about $85 for 6 people.
7. UKRAINE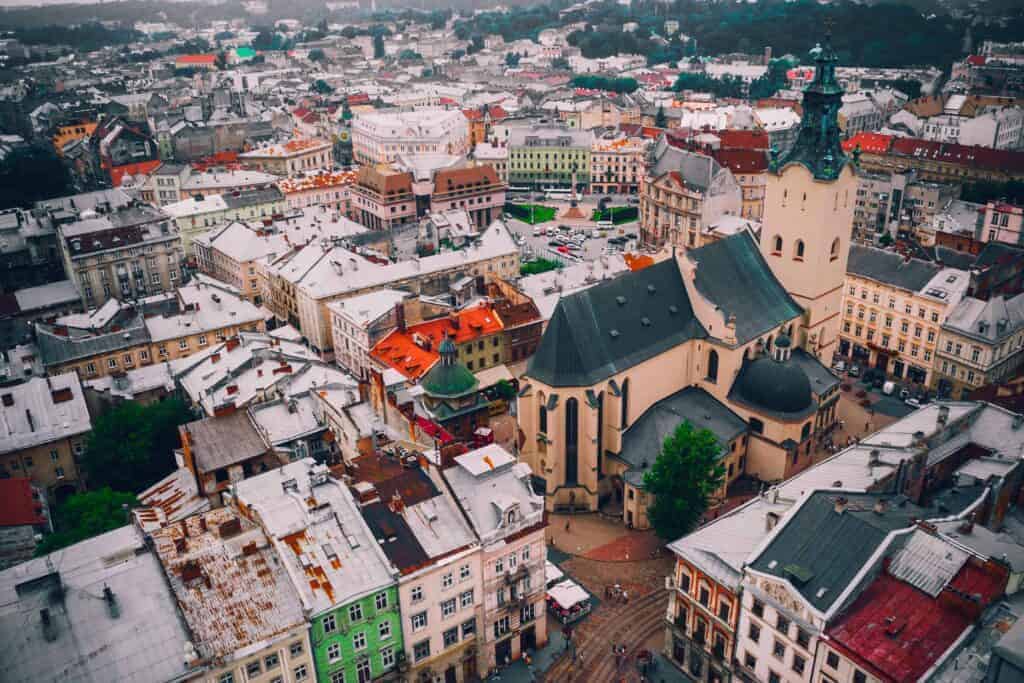 While Prague might be the most popular affordable eastern Europe destination, Ukraine is right on its heels in 2nd place. Ukraine is a city that is often overlooked by travelers due to its troubled history, but it is a safe and charming city. Dubbed the "little Paris" the city of Lviv is perhaps best described as a perfect blend between Prague and Paris.
If you're looking to stay ahead of the curve on what's trending then Ukraine is the spot.
While you're in Ukraine make sure you head to Odesa on the mythical Black Sea and enjoy a little beach time.
The friendly city of Lviv holds the most cafes per capita of anywhere in the world! So for some great people watching and a cold beer, Lviv can't be beaten.
Dubbed the "little Vienna" Chernivtsi a UNESCO World Heritage Site is home to the high priest complex, a truly stunning architectural masterpiece.
Affordability? Yep, it's cheap. You can get a whole meal with sides for $3. Looking to go above and beyond how about a 3-course meal for $10. Beers and coffee will cost you about $1 and you'll easily find comfortable accommodations for under $20.
Want to explore some of the sights further? Entry into most religious buildings will only cost you a couple of pennies.
8. MOROCCO
At just a stone's throw away from Europe, Morocco couldn't feel more different. In general, Africa can be an expensive continent to visit, but Morocco is budget travel must. This budget-friendly and culturally rich country has a lot to offer. From riding a camel to city markets and sandy beaches it's just a quick flight from Europe.
Essaouira is a beautiful beach town on the Atlantic coast of Morocco that is absolutely stunning
You can expect a meal to cost anywhere from $1 for a simple street food sandwich to around $4-5 for a sit-down meal in a non-touristic location. An average lunch at a cafe can run you $2.50.
Alcohol is surprisingly expensive in Morocco running you around $3-$5 for a beer so if you're on a budget this may not be the best place to get your drink on!
Transportation can also be a bit expensive, the best way to get around is by bus or taxi. There are two main bus companies Supratours and CTM. CTM is the fancier of the two with more route options to choose from. You can expect a 3 hour bus ride from Marrakech to Essaouira to cost you around $8.50.
If you're feeling rich you can hire a taxi to go between cities averaging around $20-40 on the low end.
9. TURKEY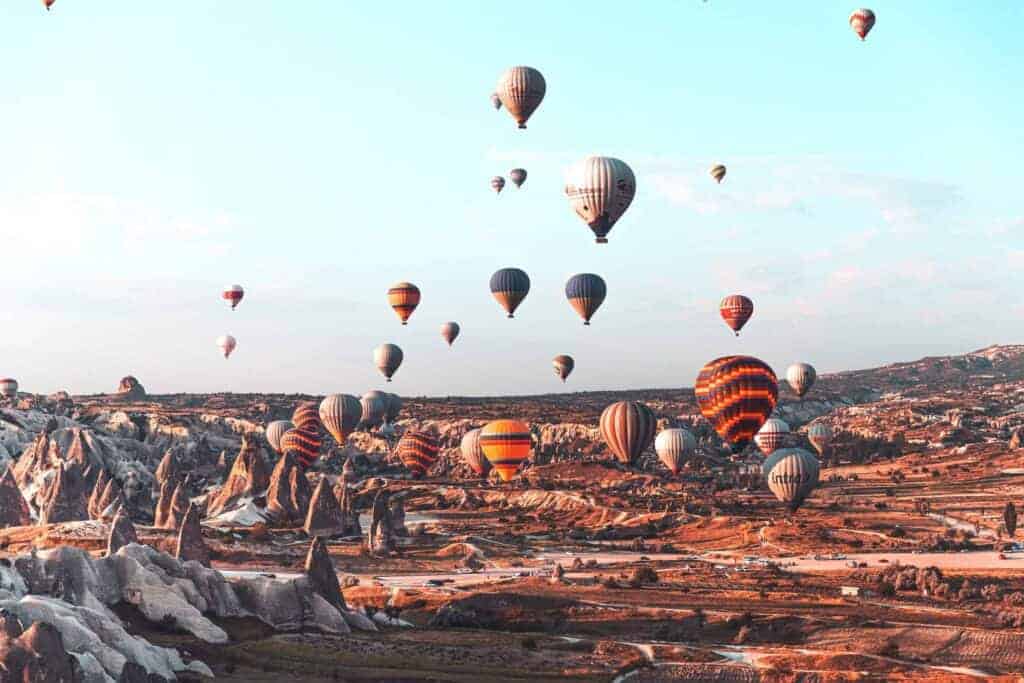 A city steeped in history and culture provides for endless things to do. It's an east meets west city where century-old buildings stand near modern skyscrapers.
There's something for everyone in Turkey, from ancient sites and progressive cities to endless turquoise beaches, majestic green mountains, and the iconic rock formations of Cappadocia.
Turkey isn't as cheap as Southeast Asia countries but it's definitely a budget trip within Europe that we feel is a must!
Also don't forget to check out the lesser-known landmarks of Suleymaniye Mosque, Basilica Cistern, and Galata Tower.
You can get a private taxi in Instabul for $1.50 or you can opt for a one-way public transportation ticket for $.50-$1.00.
You can keep your trip on a budget by taking in some of the amazing street food options where you can get a Doner for as little as $1-$2. Or you can splurge at a restaurant for $6-$12. Looking to get a beer it'll set you back $2.50.
For accommodations, you can find a dorm room accommodation for $10 or you can find a private room for two people with a bathroom for $20-$25.
10. ALBANIA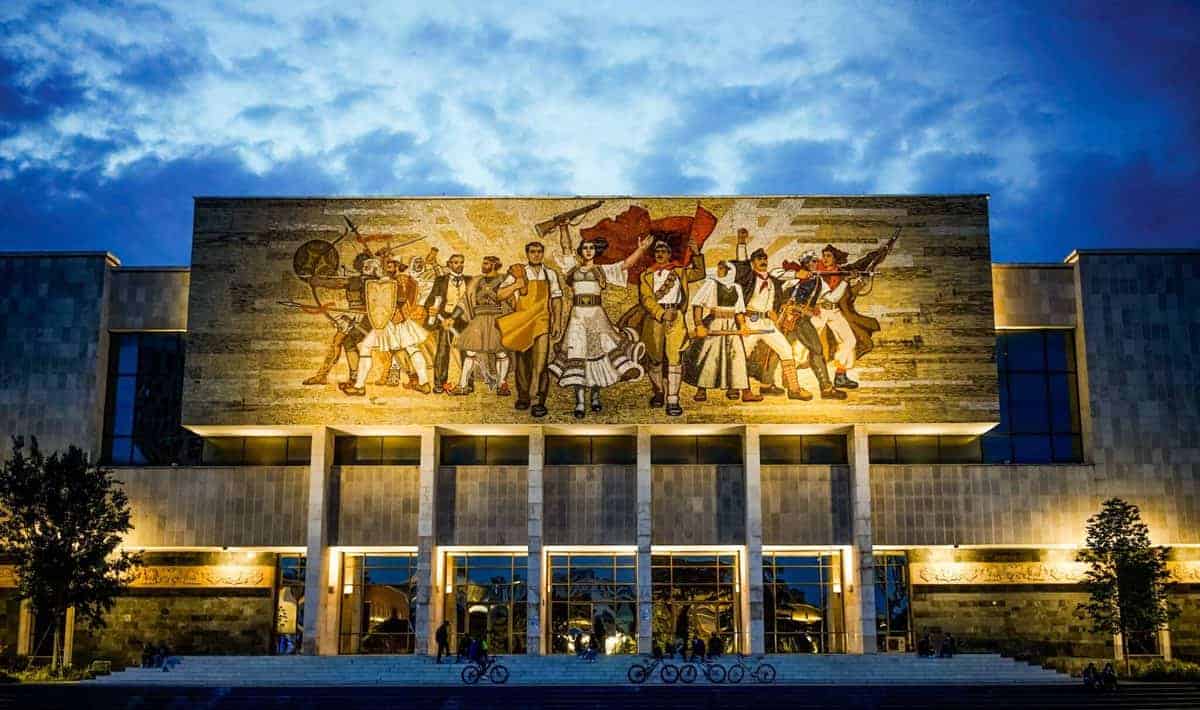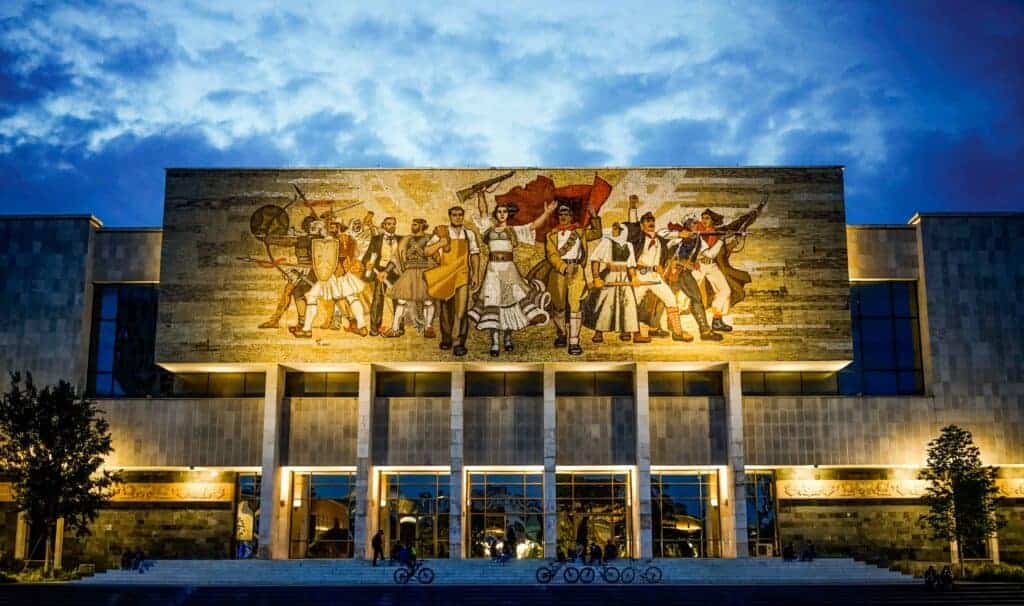 We found Albania to be a perfect budget destination after spending time (and money) in Ireland and Scotland earlier this year.
While we were there we explored two UNESCO world heritage sites, Butrint and Gjirokastër, the jaw-dropping Albanian alps, the cultural city of Tirana, the pristine beaches of Sarande and Ksamil.
Don't miss Burtrint and Gjirokastër because you'll have the opportunity to learn about Albania's rich past and the culture of today which is very insightful.
We had a great time indulging in $2 glasses of wine, large pizzas for $5, and delicious seafood pasta for $8. We paid $4-$5 for a cocktail at the famous Sky Tower in Tirana which is a fabulous experience.
As for transportation local buses only cost a $.50-$1.00, and you can travel between towns for a few bucks.
Accommodations can be quite affordable with dorm beds as cheap as $7 and budget hotels with a private bathroom for 2 people for $20-$30 a night.
BUDGET TRAVEL IS POSSIBLE!
Travel doesn't have to be expensive. Give these tried and true destinations a try for your next vacation.