We never thought we'd need a campervan air conditioner. But that changed after spending some time down south where we struggled to get a good nights sleep during the summer heat. The solution was easy, just go somewhere else that's cooler but what if we didn't want to go somewhere else.
We didn't like the thought of getting pushed out of an area because things got too warm. We decided the heck with that let's get some air conditioning so we can see and do the things we want to.
That led us down a long road of researching the Best Campervan Air Conditioner. And to make it even more difficult, we wanted a system that could be run off-grid using just solar and lithium batteries. Because plugging in just isn't our thing.
First let's have a quick look at the different types of air conditioning units that are a good fit for a campervan.
You might also enjoy:
Campervan Electrical How To Beginners Guide
Rooftop Air Conditioners
These are by far the most common type of air conditioner seen in the RV and campervan industry. These units, until recently, have been designed to run exclusively off shore power. They are terribly inefficient(except for a couple that we will look at), very loud, and take up a lot of rooftop space and height.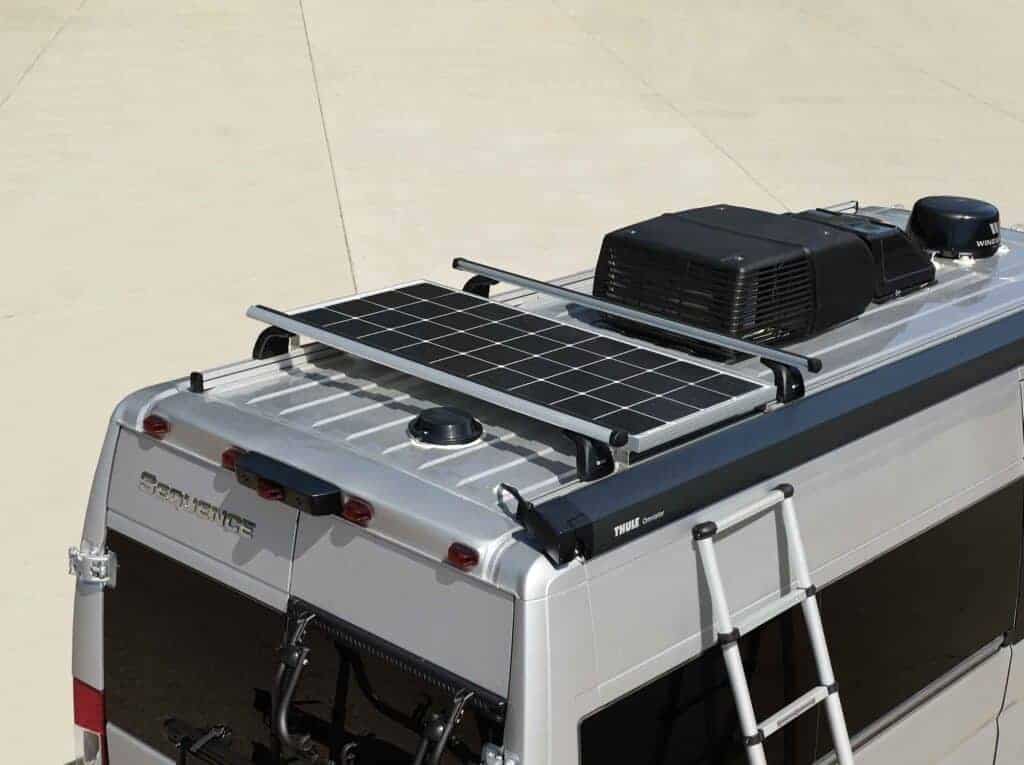 One of the biggest draw backs with these units is the footprint. They take up a lot of rooftop space that could be used for other things like solar panels. rooftop deck or storage. In addition, they add a lot of height and weight to the roof which is definitely not ideal.
To be fair there are some rooftop AC units that have recently come out designed to run on 12v or 24v. These units are much more efficient, lower profile, but expensive(2-5K). Don't worry we will have a look at them in more detail below.
DC Split Air Conditioner
Although similar these should not be confused with the more common residential "Mini Split AC" systems. The DC Split AC units from Cruise 'N Comfort are purpose built for our intended use in a campervan. These are the cream of the crop and built like tanks to withstand the riggers of off road travel.
Designed to run off 12v or 24v and built with some of the most efficient compressors available. Thus, making these a great choice for an off grid AC solution.
These DC Air Conditioners are a great choice because they are modular. They consist of two or three basic components, the condenser and compressor/blower.
The condenser is a fan unit that lives on the outside of the van. People often mount them underneath the van but they can be mounted anywhere outside.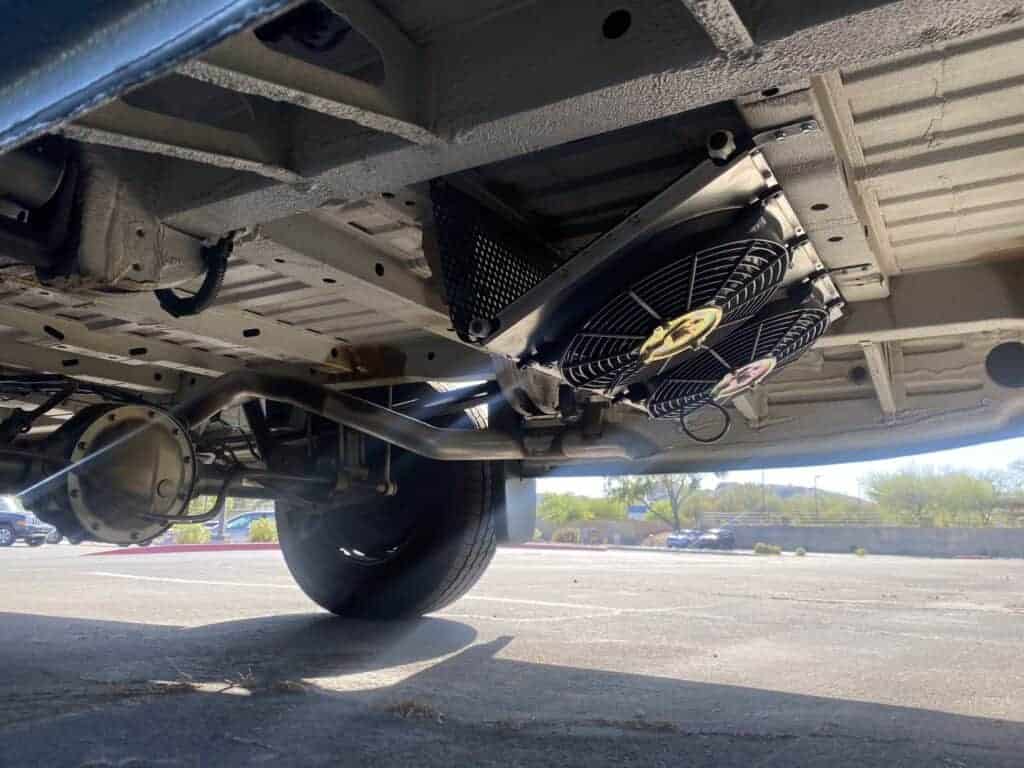 The other component to the system is the compressor and blower. You can choose to have the compressor and blower as one unit or separate. These pieces must be in the are that you are cooling. In order to keep your weight down low people often mount these on the floor of the living area.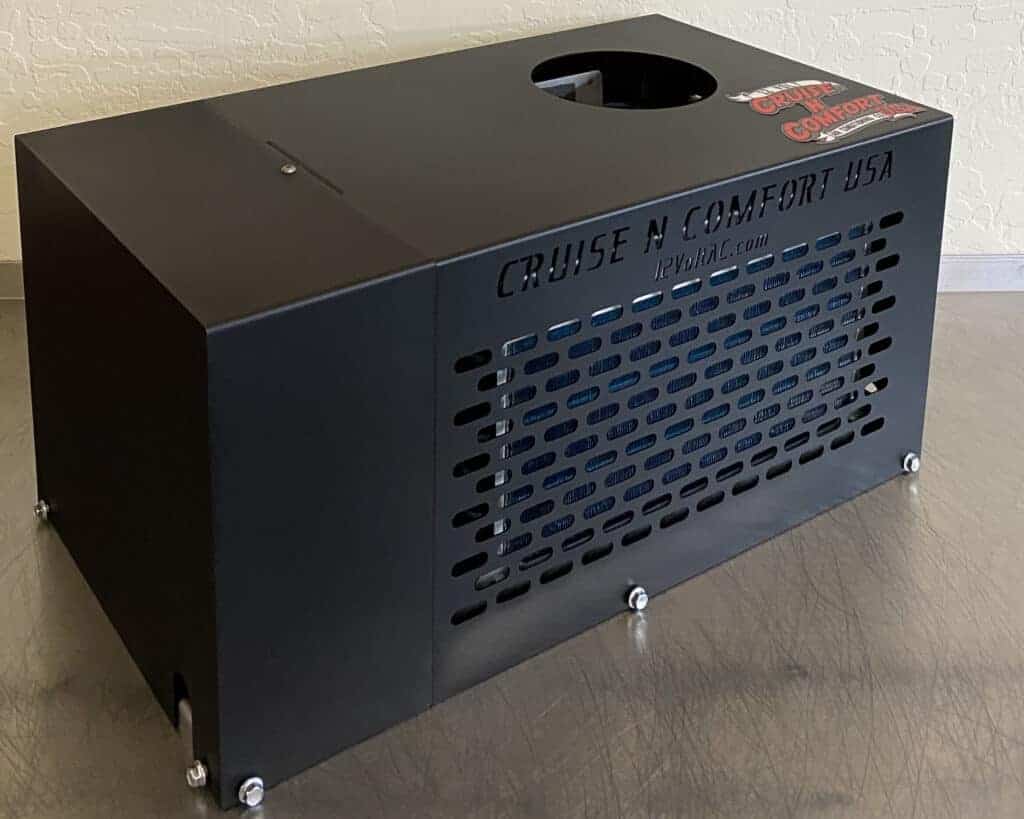 This modular design is great for a couple reasons. First, it keeps things off the roof, doesn't add to vehicle height, and keeps the weight down low. Second, because the pieces are separate it makes finding mounting spots for everything much easier.
You might be asking what the downsides are with these systems. One issue is the added complexity of the install. Because you have these separate components you basically have 2 or 3 pieces that will require mounting. In addition, you'll have to run refrigerant and electrical lines to connect them all together. This is significantly more complex than a rooftop AC unit that only needs to be mounted and hooked to power.
And finally we have the price of around 5K for these units. Not the most affordable unfortunately.
Mini Split AC For Campervans
These residential air conditioners are gaining popularity in the RV and campervan industry. And that's primarily due to their incredible efficiency. Now I realize we are talking about air conditioning but mini-splits have the added bonus of being a heater as well. Now I wouldn't choose to have the mini-split as a primary heat source but it's great when plugged in or as a backup.
Mini splits consist of an outside condenser and indoor compressor/fan similar to the DC units mentioned above. Installation however, is not as flexible as the DC unit above.
The outside unit must sit upright as in the picture so there's no option to mount it under the rig or on top. That leaves the only viable option of having it mounted on the back of the campervan. This is no problem for an RV or box truck conversion but does pose some issues with the doors on the back of a van.
Mini-split air conditioners do two things really well. And that is efficiency and being very quit. They gain the efficiency by have a variable speed compressor that are not often found in other types of AC units.
A typical AC turns on and rapidly cools to a set point and then turns off until things heat up again. The result is a a lot of variability in the temperature from hot to cold. Mini-splits work a little differently and don't just simply turn on and off. Instead, the variable speed compressor gently speeds up or slows down depending on the cooling needs. This results in a much more stable room temperature.
Now that we've covered the basic types of camper air conditioning units let's now look at what specifications make for a good campervan AC unit.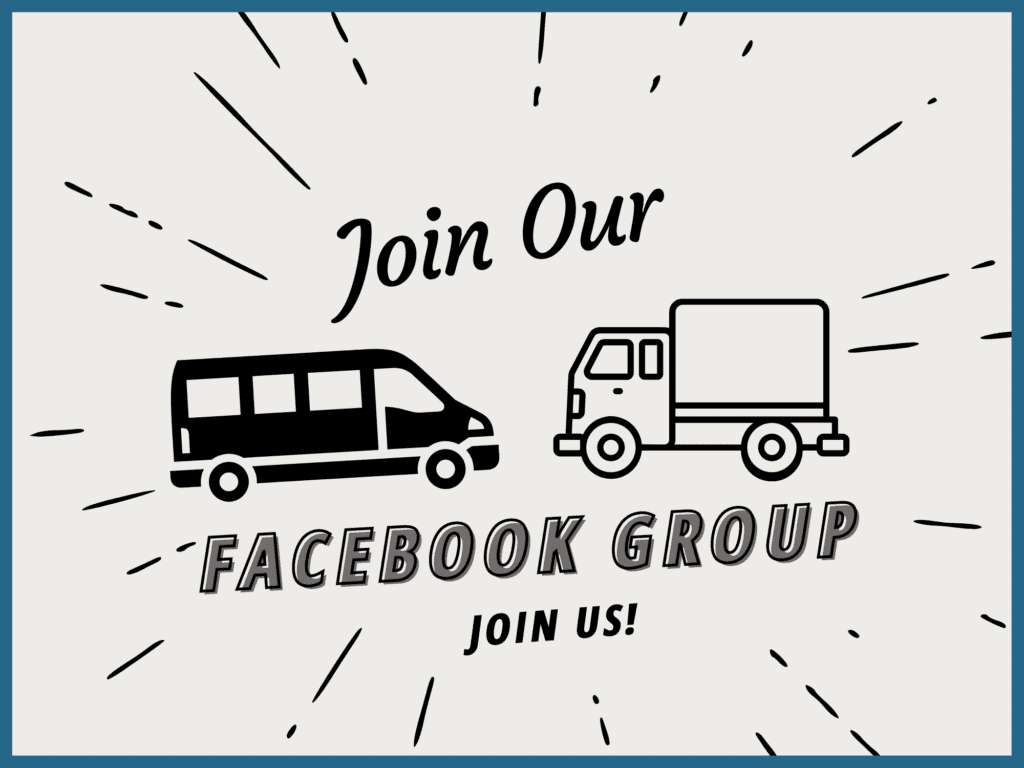 What Makes a Good Campervan Air Conditioner
When I set out to find the best Campervan Air Conditioner it was more difficult than I expected. It was apparent that companies have only just recently started to develop AC units for campervans. Below are the characteristics that we will be looking at to help us choose the best camper van air conditioner.
Efficiency (watts) – AC Vs. DC power
Noise! Traditional RV AC units are way too loud for a campervan
Air conditioning unit size and footprint
Cooling capacity
Price $$$
Air Conditioner Efficiency
Efficiency to us Vanlife folks boils down to how much energy these devices use. You might be asking how much battery capacity do I need to run AC? To figure that our let's first have a look at the power draw these different AC units have.
We will be looking at energy consumption in watts so that we can fairly compare energy across 12 volt, 24 volt, and 120v units. Remember, Amps is not a good measure of energy use because it changes with your voltage. For example, 10 Amps at 12 volts is the same as 5 Amps at 24 volts.
As far as batteries go, A 100ah battery has 1200 watts of energy. With lithium that would give us about 1000 watts of usable energy. Most of the AC units will be pulling roughly 500 watts while running. So a 400 Ah lithium battery bank could get you about 8 hours of run time.
If you need a quick electrical 101 crash course head here
Best Campervan Rooftop AC Units
Rooftop AC units are a fine choice and offer the easiest installation. The drawbacks are that they add height to your vehicle, add weight up high, and take up valuable rooftop space. If you're like us and want enough solar to run AC off grid these rooftop units were not our first choice.
The following units are all DC air conditioners designed to run on 12 volt and some can do 24 volt as well. I won't be including any120 volt traditional style RV AC units because they pull far too much energy. If you plan to always be plugged in they might be a good option for you as they are very affordable at around $600-$900 but they pull well over 1000 watts of energy.
In looking at this list the clear winner is the Mabru RV 1200. It has the most BTU's, is very quiet, and has a great range of watts from 260-660. Check out the installation video below to have a better look at the Mabru AC unit.
DC Air Conditioners
Next up let's have a look that Cruise N Comfort DC air conditioner units. They have a couple different models worth looking at and like I mentioned earlier these are the ideal solution in my opinion and likely what we will be going with.
The thing I don't have for these units is information on how loud they are. But what's unique about these units is that you can run ducting from the compressor/blower to the living area. That allows you to hide the blower say underneath the bed. This would make for a very quite install.
AC Unit
Cooling BTU
Price
Watts
Dimensions
Cruise N Comfort
HD-12s 5K
5000
$4,400
370-480
Indoor unit L 22" x W 12" x H 10.5"
Outdoor unit 14″ tall x 20″ wide x 4-1/2″thick
Cruise N Comfort
HD-12L 8K

8000
$4,400
540-630
Indoor unit L 22" x W 12" x H 10.5"
Outdoor unit 14″ tall x 20″ wide x 4-1/2″thick
Cruise N Comfort
HD-24L(24 Volt)
10000
$4,900
650-850
Indoor unit L 22" x W 12" x H 10.5"
Outdoor unit 14″ tall x 20″ wide x 4-1/2″thick
Note: You can purchase the system with the indoor unit as a combined compressor and blower assembly. These dimensions are listed above.
The system can also be purchased with the indoor compressor and blower separate.
Compressor dimensions: 10″ x 10″ x 10″
Blower dimensions: 15 3/4" wide x 13 15/32" deep x 6 1/8"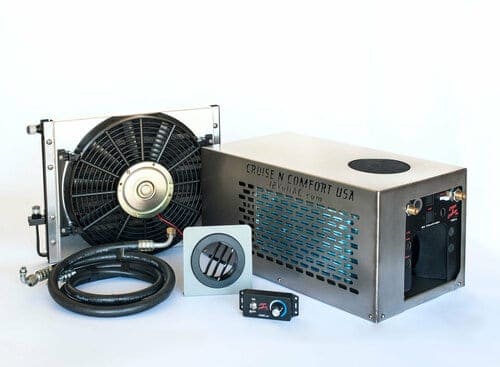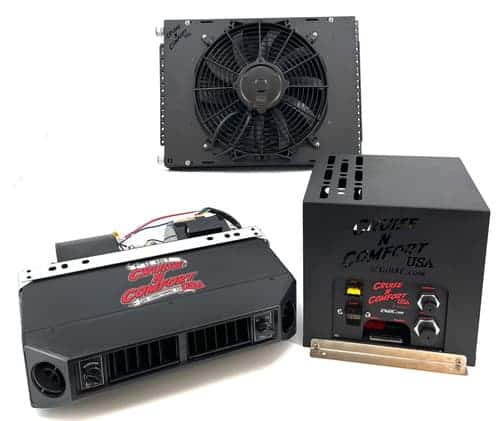 As you can see these are a great choice if you want to keep things off your roof and desire the flexibility of mounting options. The ability to hide this unit out of the way and running ducting to the living space makes these DC air conditioners very flexible.
Other DC Air Conditioners Worth Considering
In doing my research I can across the company, undermountac.com. They have similar systems to the Cruise n Comfort but power draw was rather hight at over 1,000 watts. Keep in mind these systems are higher BTU's at around 16,000 so for a bigger RV or camper these could be a good option. But for my purposes I ruled them out because of their energy use.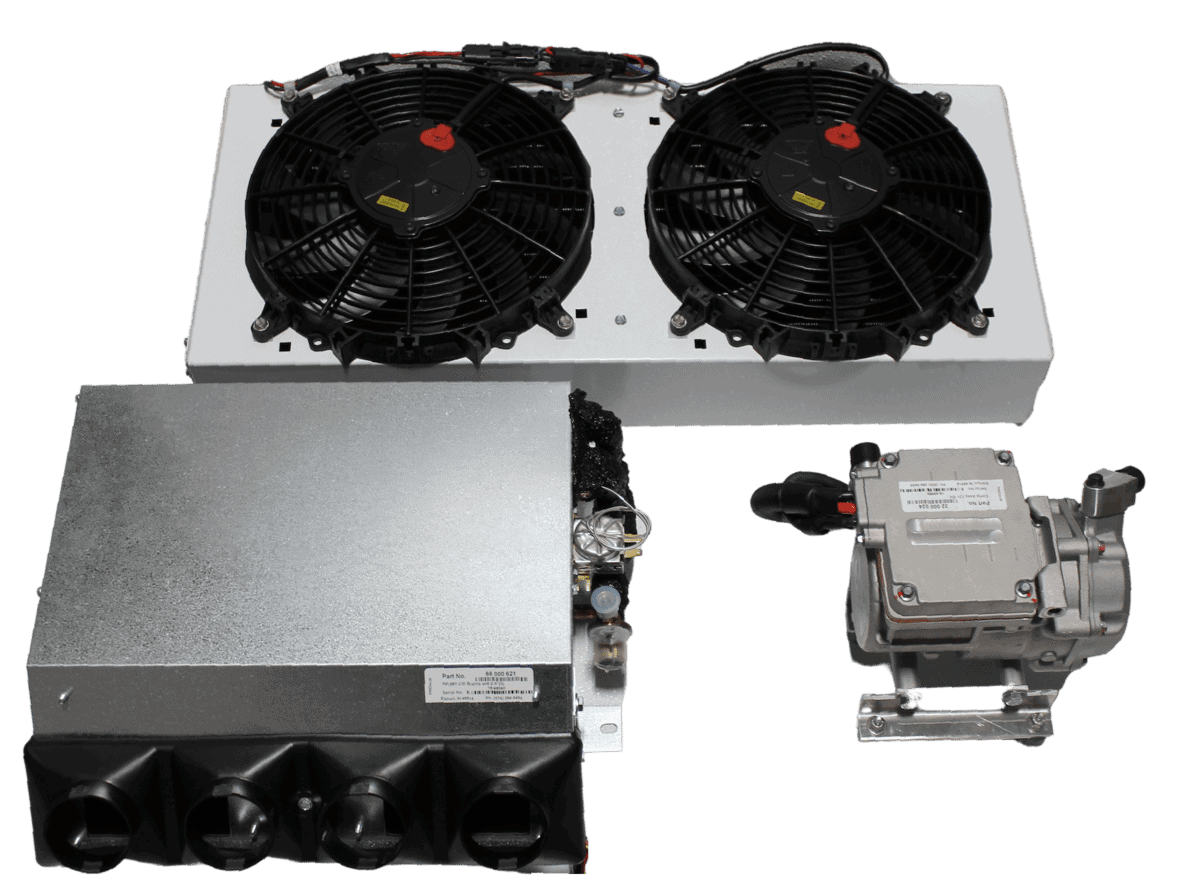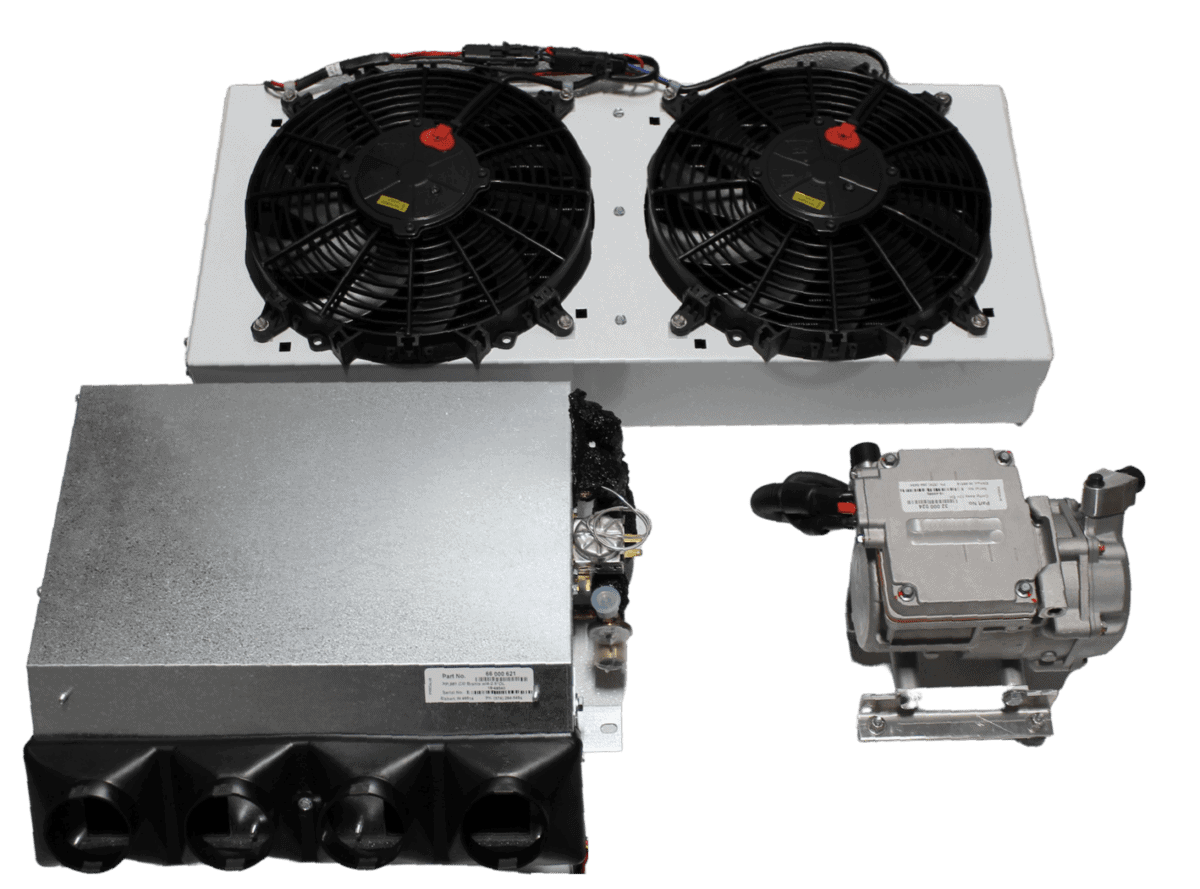 Sharkaire is another company that has a modular DC air conditioner. They also make DC mini-splits that we will talk about next. Sharkaire is a Chinese company and I'm willing to bet these are drop shipped from China. So quality and customer service is a bit of a gamble.
Mini-Split AC For Campers
Next let's have a look at these mini-split air conditioners. They have both 120 volt AC systems as well as 12v/24v DC systems.
While these are a great option for a box truck conversion they are problematic for vans with rear doors. But it is doable and I've seen them mounted directly to the door, bumper mounted, or mounted to some sort of external rack on the back.
As you are about to see these units offer tremendous value for how efficient and affordable they are. Let's not forget, the majority of these are also heat pumps so they can heat as well as cool.
Here's a video showing one mounted to box truck style overland vehicle.
There are a LOT of different brands out there for 120 volt Mini-splits AC's. They all have very similar specs so for the sake of simplicity I will be showing you Pioneer. Another brand I would look at is Mr Cool. I think you can even buy those through Home Depot.
I also included a 12 volt DC version from Sharkaire.
All of these brands come pre-filled with refrigerant which makes install a breeze as well as saving you some money.
AC Unit
Cooling BTU
Price
Watts
(3% added to 120v Units)
Dimensions
Noise
Pioneer 120 Volt
WYS009AMFI19RL
9,000
$700
300-1000
Indoor 28″-1/2 x 7″-3/8 x 11″-3/8
Outdoor 30″-3/8 x 11″-7/8 x 21″-7/8
25-38
Rollicool
10,000
$500
450
Indoor 16″ x 16″ x 8″
Outdoor 21″ x 8″ x 16″
40
SharkAire 6000 BTU
12 Volt
6,000
$1,900
300 – ?
Indoor 28″ x 10″ x 7.7″
Outdoor 26 x 10″ x 20″
<40
The Rollicool is the unit in the video above. I really like it for how small the outside unit is and you can't beat that price. Most people report that the BTU's are a bit inflated and cools more like a 6,000 BTU unit. For a well insulated box truck like in the video that is probably fine but for a van this could be a touch under powered.
Final Thoughts On The Best Campervan Air Conditioner
The mini split AC systems are very appealing for us since we are building a box truck. Their pricing, efficiency, and the fact that they can heat make them hard to beat.
If I was putting an air conditioner on our current van I would probably go with a rooftop or the Cruise N Comfort. We use our back doors on the van a lot and I'm not sure I would like the AC unit hanging back there.
Once we decide on our new AC unit I'll be doing a detailed write up of the install so keep an eye out for that.
FAQ
How much battery do I need to run AC in a campervan?
With an efficient DC air conditioner you will need at least 300 amp hours of dedicated lithium to run AC in a campervan. This is in addition to your base battery capacity for the camper. You can expect the AC to run for 7-8 hours on 300 Ah. We've got a great calculator to help you gauge your campervan electrical needs. Check it out here, Campervan Electrical How To Beginners Guide