We never thought we'd need a campervan air conditioner. But that changed after spending some time down south where we struggled to get a good nights sleep during the summer heat.
We didn't like the thought of getting pushed out of an area because things got too warm. We decided the heck with that, let's get a van air conditioner so we can see and do the things we want to.
That led us down a long road of researching the Best Campervan 12 volt Air Conditioner. And to make it even more difficult, we wanted a van ac unit that could be run off-grid using just solar and lithium batteries. Because plugging in just isn't our thing.
First let's have a quick look at the different types of air conditioning units that are a good fit for a campervan.
Then we'll dive into the details and finally finish with an install of the camper van air conditioner we decided on.
If you don't want to read the entire article here are our
Top 3 Picks
Let's take a look at the 3 most popular Van Life Air Conditioning systems
Check Out These Other DIY Build Topics
1. Rooftop Van 12 Volt Air Conditioner
These are the most common type of air conditioner seen in the RV and campervan industry.
These motorhome air conditioners, until recently, have been designed to run exclusively off shore power.
They are inefficient(except for a couple that we will look at), very loud, and take up a lot of rooftop space making them a poor choice for a camper van AC unit.
You may also enjoy:
Electrical Fundamentals for DIY Campervans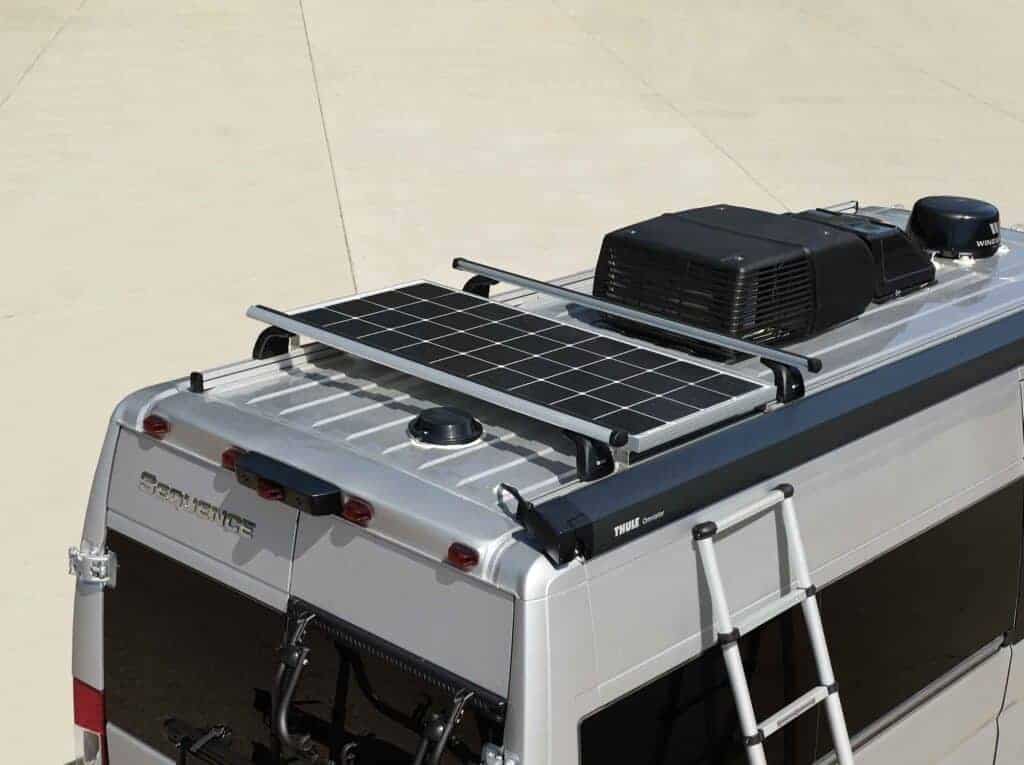 One of the biggest draw backs with these units is the footprint. They take up a lot of rooftop space that could be used for other things like solar panels, rooftop deck or storage.
In addition, they add a lot of height and weight to the roof which increases center of gravity in an already top heavy RV or van.
To be fair, there are some rooftop AC units that have recently come out designed to run on 12v or 24v.
These units are much more efficient, lower profile, but expensive(2-5K). Don't worry we will have a look at them in more detail below.
Overall this is why we prefer the RV mini split or under van air conditioner systems which we will talk about about next
2. DC RV 12v Mini Split- Best 12 Volt Air Conditioner For Vans
Although similar, these should not be confused with the more common residential "Mini Split AC" systems.
The DC RV Mini Split AC units from Cruise 'N Comfort or our cheapo Chinese one are purpose built campervan air conditioning units.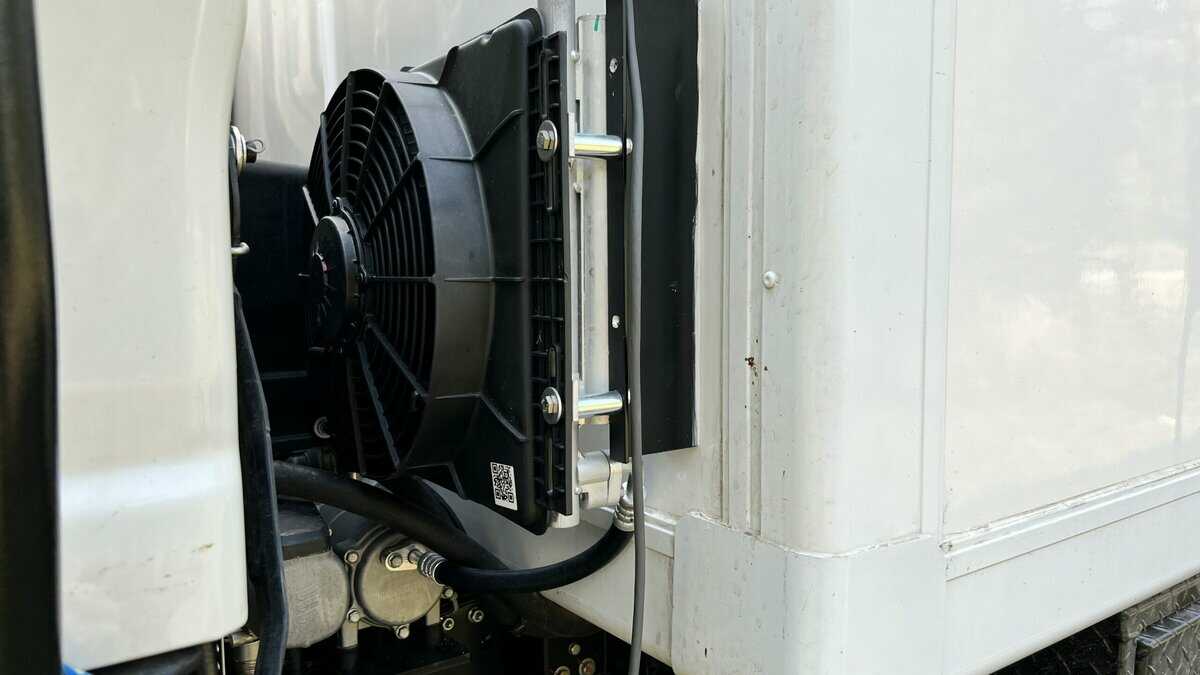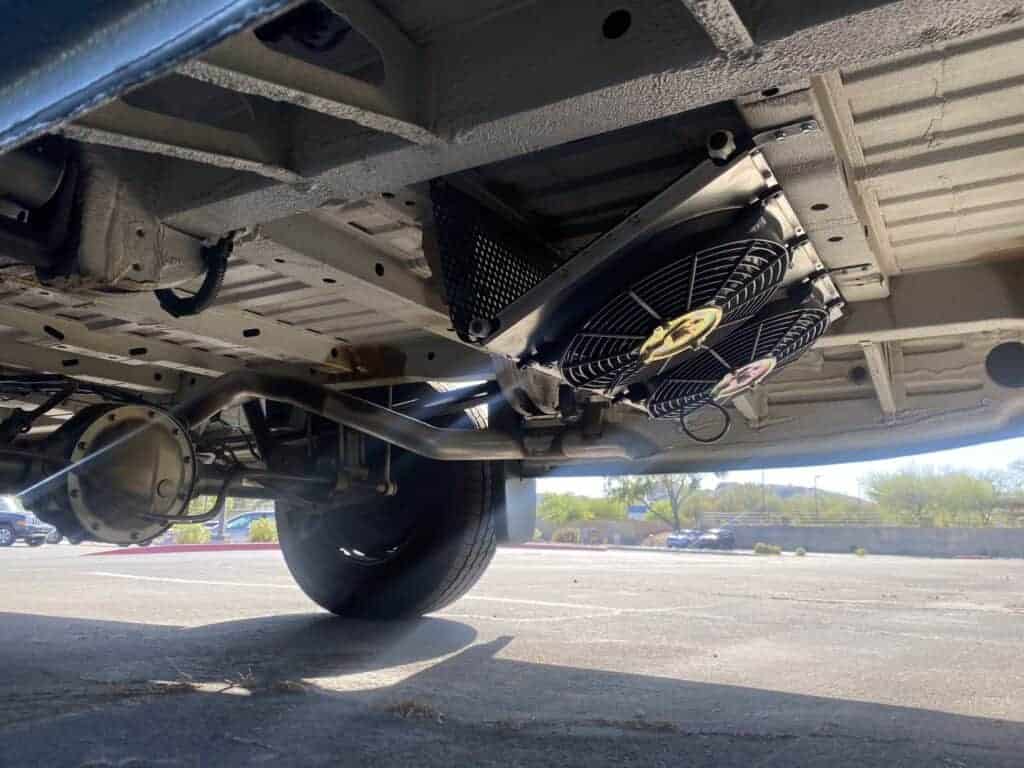 Designed to run off 12v or 24v and built with some of the most efficient compressors available. Thus, making these a great choice for an off-grid RV air conditioner.
These DC Air Conditioners are a great choice because they are modular. They consist of two basic components, the outside condenser/compressor and inside evaporator/blower.
The condenser is a fan unit that lives on the outside of the van. People often mount them underneath the van but they can be mounted anywhere outside.
The other component to the system is the evaporator and blower. These pieces must be in the area that you are cooling. In order to keep your weight down low people often mount these on the floor of the living area.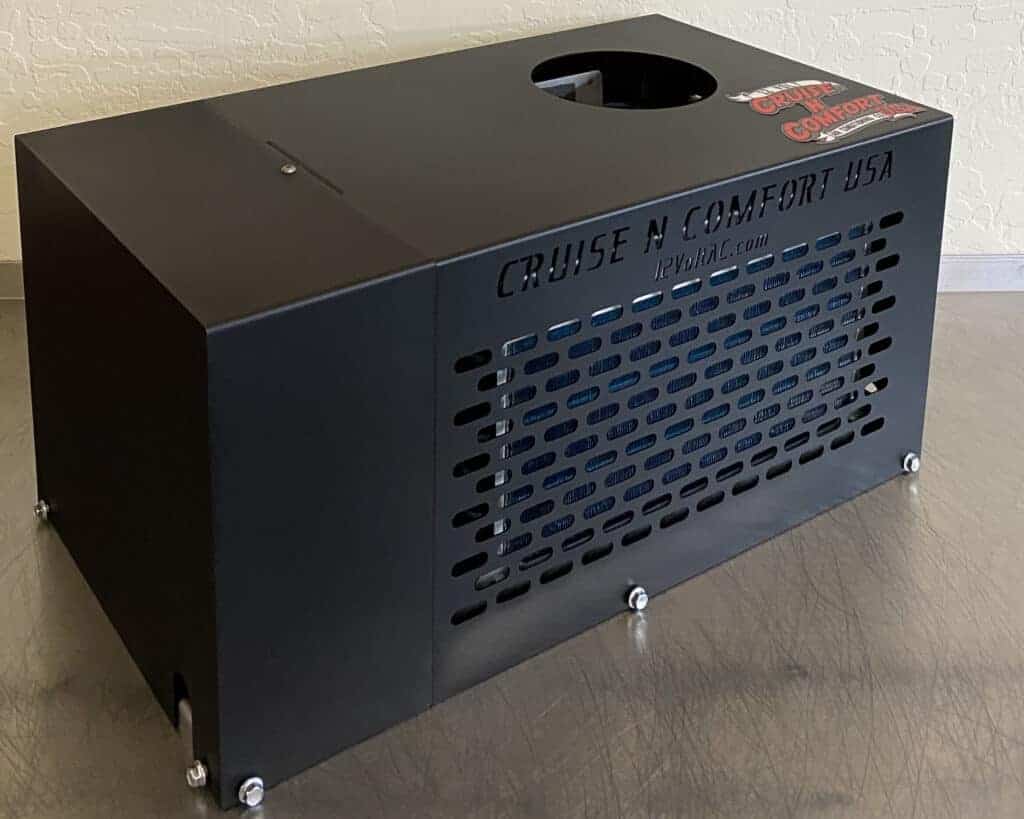 Because you have these separate components you basically have 2 or 3 pieces that will require mounting. In addition, you'll have to run refrigerant and electrical lines to connect them all together.
This is significantly more complex than a rooftop AC unit that only needs to be mounted and hooked to power.
These particular units from Cruise N' Comfort do come at a cost anywhere from $3-5K. They have a VES model which is likely the best 12v air conditioner for vans which start around $3,000.
We ended up going with a much less expensive option, also much lower quality, that cost under $800. More on that in a bit.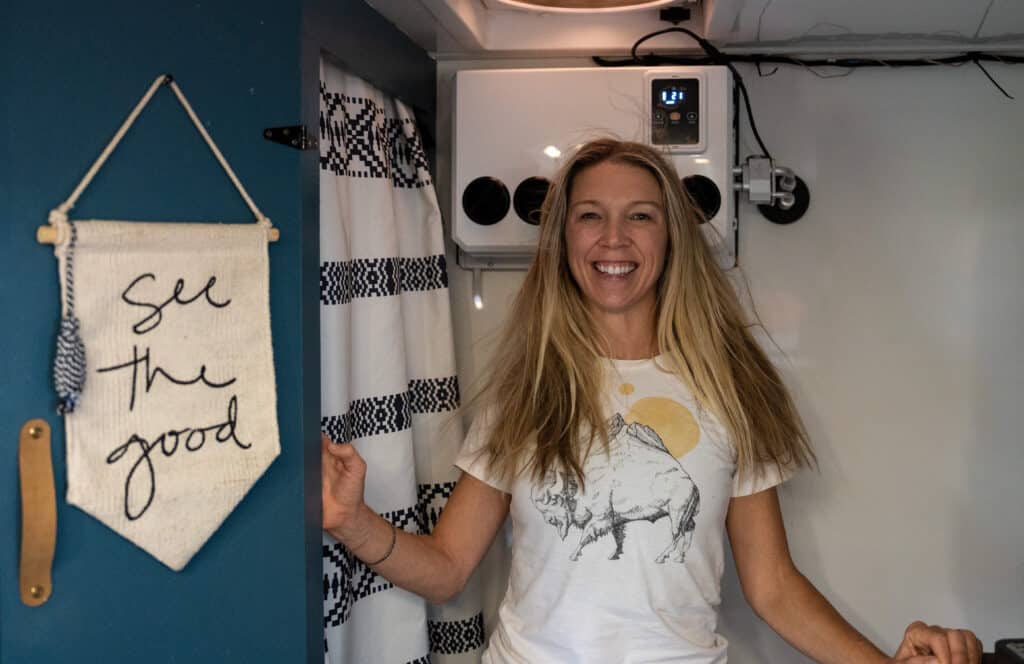 3. Residential RV Mini Split AC For Campervans
These residential air conditioners are gaining popularity in the RV and campervan industry.
That's primarily due to their incredible efficiency.
Now I realize we are talking about air conditioning but mini-splits have the added bonus of being a heater as well. Now I wouldn't choose to have the mini-split as a primary heat source but it's great when plugged in or as a backup.
These are hands down the Best RV Mini Split since they have the cooling power for larger spaces of an RV.
RV Mini-split air conditioners do two things really well, efficiency and being very quit.
They gain the efficiency by have a variable speed compressor that are not often found in other types of van AC units.
A typical air conditioner turns on and rapidly cools to a set point and then turns off until things heat up again. The result is a a lot of variability in the temperature from hot to cold.
Mini-splits work a little differently and don't just simply turn on and off. Instead, the variable speed compressor gently speeds up or slows down depending on the cooling needs. This results in a much more stable room temperature.
Mini splits consist of an outside condenser and indoor evaporator/fan similar to the DC units mentioned above. Installation however, is not as flexible as the 12 Volt mini split air conditioning units mentioned above.
The outside unit must sit upright as in the picture so there's no option to mount it under the rig or on roof.
That leaves the only viable option of having it mounted on the back of the campervan. This is no problem for an RV or box truck conversion but does pose some issues with the doors on the back of a van.
For that reason we don't think this is the best 12v air conditioner for vans.
Now that we've covered the basic types of air conditioners for vans, let's now look at what specifications make for the best van life air conditioning system.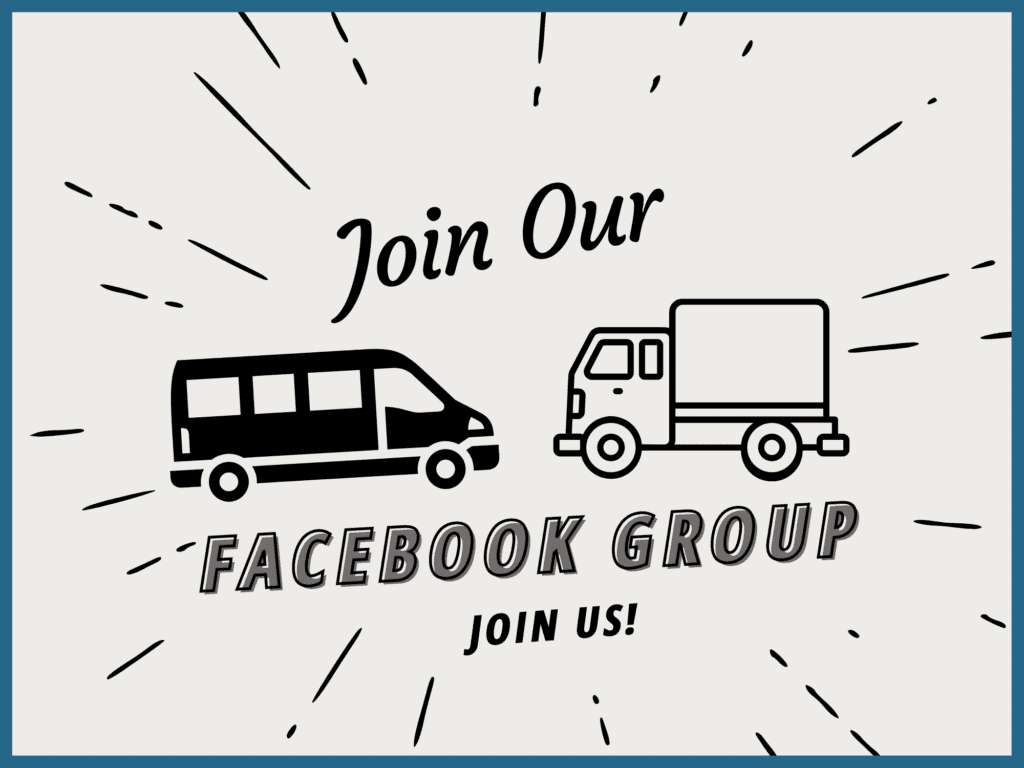 What Makes a Good Van Life Air Conditioning System
When I set out to find the best Campervan Air Conditioner it was more difficult than I expected.
It was apparent that companies have only just recently started to develop AC units for campervans that are efficient enough to be run off solar and batteries.
Below are the characteristics that we will be looking at to help us choose the best camper van air conditioner.
Air Conditioner Efficiency
Efficiency to us Vanlife folks boils down to how much energy these devices use.
You might be asking how much battery capacity do I need to run AC off-grid?
To figure that our let's first have a look at the power draw these different van life air conditioning units have.
We will be looking at energy consumption in watts so that we can fairly compare energy across 12 volt, 24 volt, and 120v units.
Remember, Amps is not a good measure of energy use because it changes with your voltage. For example, 10 Amps at 12 volts is the same as 5 Amps at 24 volts.
As far as batteries go, A 100ah battery has 1200 watts of energy. With lithium that would give us about 1000 watts of usable energy.
Most of the AC units will be pulling roughly 500 watts while running. So a 400 Ah lithium battery bank could get you about 8 hours of run time.
If you need a quick electrical 101 crash course head here, Campervan Electrical How To Beginners Guide. It even has calculators to help you figure out just how much battery you need.
Best Campervan Rooftop Air Conditioners For Vans
Rooftop AC units for Vans are a fine choice and offer the easiest installation.
The drawbacks are that they add height to your vehicle, add weight up high, and take up valuable rooftop space.
If you're like us and want enough solar to run AC off grid these rooftop units were not our first choice.
The following units are all DC air conditioners designed to run on 12 volt and some can do 24 volts as well.
I won't be including any 120 volt traditional style RV AC units because they pull far too much energy.
If you plan to always be plugged in traditional RV AC units might be a good option for you as they are very affordable at around $600-$900 but they pull well over 1000 watts of energy.
Best DC Mini-Split Camper Van Air Conditioners
Next up let's have a look at what we think is the best van air conditioner system. These split systems offer the most flexibility in a camper van 12v AC unit and are highly efficient.
First let's take a look at the Cruise N' Comfort system, arguably the best 12v air conditioner for vans, then have a look at the budget system we got from Amazon.
AC Unit
Cooling BTU
Price
Watts
Dimensions
Cruise N Comfort
HD-12s 5K
5000
$4,400
370-480
Indoor unit L 22" x W 12" x H 10.5"
Outdoor unit 14″ tall x 20″ wide x 4-1/2″thick
Cruise N Comfort
HD-12L 8K

8000
$4,400
540-630
Indoor unit L 22" x W 12" x H 10.5"
Outdoor unit 14″ tall x 20″ wide x 4-1/2″thick
Cruise N Comfort
HD-24L(24 Volt)
10000
$4,900
650-850
Indoor unit L 22" x W 12" x H 10.5"
Outdoor unit 14″ tall x 20″ wide x 4-1/2″thick
Note: You can purchase the system with the indoor unit as a combined compressor and blower assembly. These dimensions are listed above.
The system can also be purchased with the indoor compressor and blower separate.
Compressor dimensions: 10″ x 10″ x 10″
Blower dimensions: 15 3/4" wide x 13 15/32" deep x 6 1/8"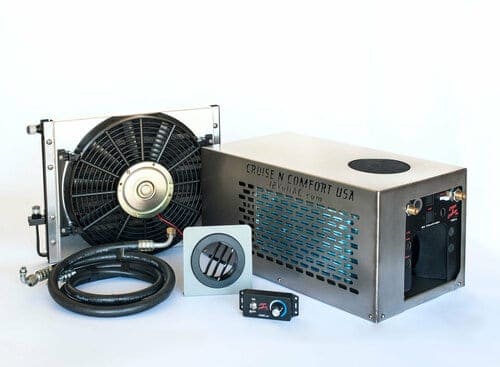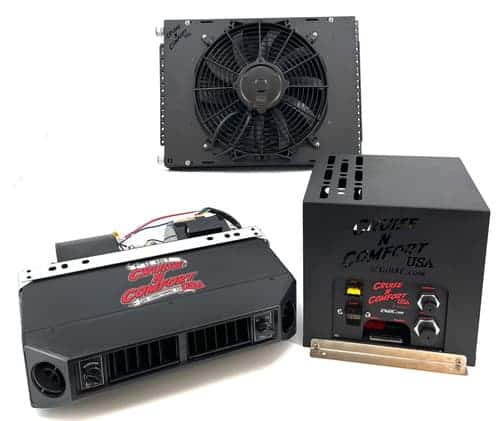 As you can see these are a great choice if you want to keep things off your roof and desire the flexible mounting options.
The ability to hide this unit out of the way and run ducting to the living space makes these DC air conditioners very flexible.
The Best Camper Van Air Conditioner For Our Expedition Vehicle
We knew we needed a split air conditioning system to maximize roof space for solar. While the residential mini-splits systems were tempting we just couldn't wrap our heads around mounting something that large on the back of our camper box.
So that left us looking at the DC min-split air conditioning systems mentioned above. While we liked everything about the Cruise N' Comfort we just couldn't justify the cost for us.
So instead we opted for this Chinese drop-shipped unit that can be purchased through Amazon or direct from Alibaba or Aliexpress. Very reasonably priced at just under $800 delivered.
AC Unit
Cooling BTU
Price
Watts
Dimensions
NEKPOKKA
12 Volt AC
9000
$800
720-960
Indoor unit L 18" x W 6.3" x H 12.6"
Outdoor unit 15.7″ tall x 21.6″ wide x 9.5″
NEKPOKKA
24 Volt AC

13000
$800
360-900
Indoor unit L 18" x W 6.3" x H 12.6"
Outdoor unit 15.7″ tall x 21.6″ wide x 9.5″
We have the 24 volt version and are seeing about a 50% run cycle with peak amperage at 35 amps. The average hourly watt consumption was only around 400 watts or 16 amps.
Check out the video for more details on the power consumption.
The numbers for the 12 volt version are from the supplier which I have not been able to verify. I'm a little surprised they are reporting the low end at over 700 watts when the 24 volt version gets down to 360.
Here are a couple videos I put together on this unit. In the first video we disassembled the outdoor unit so that I could mount the radiator/condenser separate from the compressor.
In the second video we covered the complete installation as well as charging the unit with refrigerant.
We then did some real life tests to have a look at unit efficiency and wether this would be the best 12v air conditioner for vans.
Is It Really The Best Van Life Air Conditioner?
UPDATE: After almost 2 years of using this budget Campervan Air Conditioner we are happy to report that it continues to work great. It's survived months of bumpy roads through Baja and continues to perform great.
The cooling capacity and efficiency a just right for our 14′ overland box truck. The ability to separate the outside components made for a clean looking install with everything easily accessible should it ever need servicing.
While I was initially concerned about having to charge the unit with refrigerant that turned out to be quite simple. That entire process was covered in the Part 2 air conditioner install video.
I will post updates on this AC unit once we have more time with it. Better yet, give us a follow on your favorite social media where you can join us as we tour North America and beyond.
Installation details on the air conditioner can be found below or just watch the videos above.
Other DC Van Air Conditioners Worth Considering
In doing my research I came across the company, undermountac.com. They have similar systems to the Cruise N' Comfort but power draw was rather hight at over 1,000 watts. Keep in mind these systems are higher BTU's at around 16,000 so for a bigger RV or camper these could be a good option. But for my purposes I ruled them out because of their energy use.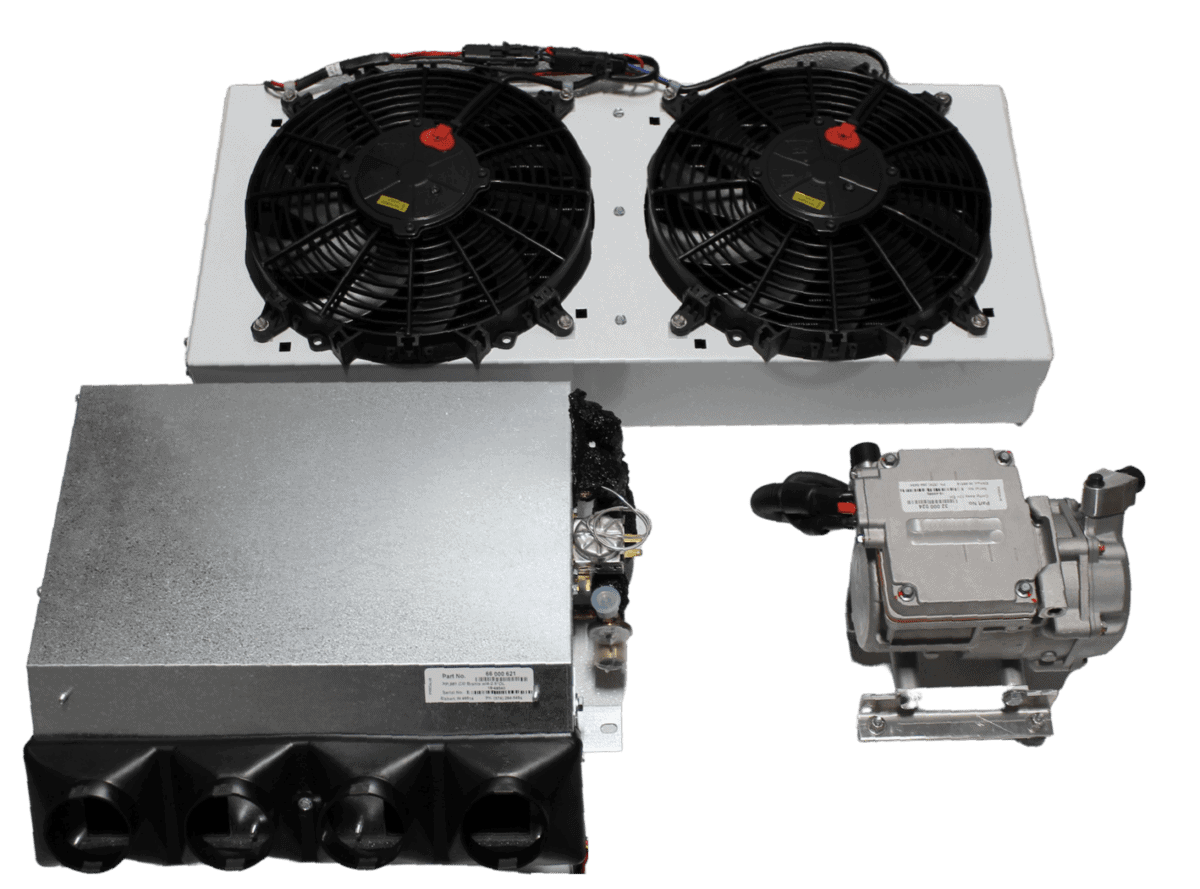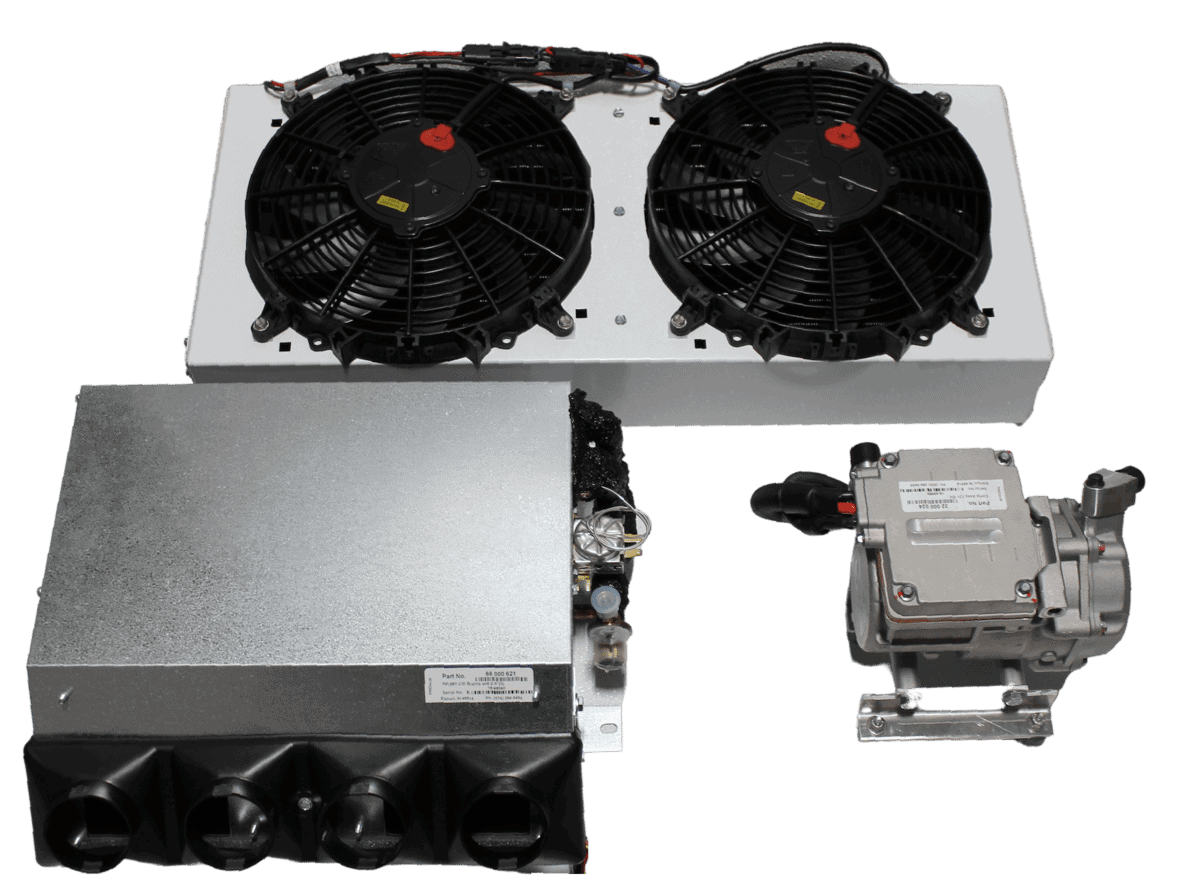 Residential Mini-Split AC For Camper Van
Next let's have a look at these residential mini-split air conditioners. They have both 120 volt AC systems as well as 12v/24v DC systems.
While these are a great option for a box truck conversion or RV mini split, they are problematic for vans with rear doors.
But it is doable and I've seen them mounted directly to the door, bumper mounted, or mounted to some sort of external rack on the back.
As you are about to see these units offer tremendous value for how efficient and affordable they are. Let's not forget, the majority of these are also heat pumps so they can heat as well as cool.
There are a LOT of different brands out there for 120 volt Mini-splits AC's. They all have very similar specs so for the sake of simplicity I will be showing you Pioneer.
Another brand I would look at is Mr Cool. I think you can even buy those through Home Depot.
I also included a 12 volt DC version from Sharkaire.
All of these brands come pre-filled with refrigerant which makes install a breeze as well as saving you some money.
AC Unit
Cooling BTU
Price
Watts
(3% added to 120v Units)
Dimensions
Noise
Pioneer 120 Volt
WYS009AMFI19RL
9,000
$700
300-1000
Indoor 28″-1/2 x 7″-3/8 x 11″-3/8
Outdoor 30″-3/8 x 11″-7/8 x 21″-7/8
25-38
Rollicool
10,000
$500
450
Indoor 16″ x 16″ x 8″
Outdoor 21″ x 8″ x 16″
40
SharkAire 6000 BTU
12 Volt
6,000
$1,900
300 – ?
Indoor 28″ x 10″ x 7.7″
Outdoor 26 x 10″ x 20″
<40
Thoughts On the Best RV and Vanlife Off-Grid Air Conditioner
The residential mini split AC systems were very appealing for us since we are building a box truck camper.
Their pricing, efficiency, and the fact that they can heat make them hard to beat. But their size and weight make them less than ideal for a lot of folks.
The AC unit that we decided on once disassembled provided us with a very compact install that so far has been working great for us.
With our 1,000 watts of solar we can easily run the air conditioner entirely off the sun.
Next up let's have a look at the install including a refrigerant system charge.
Our Budget Campervan Air Conditioner Install
There was very little information on this AC unit so it was a bit of a gamble especially since it is a drop shipped air conditioner from China.
I opted to purchase it through Amazon and purchased the extra insurance coverage just to be safe.
I did message the seller several times with questions and they were quick to reply and seemed knowledgable.
Taking The 12v Mini Split AC Unit Apart
My plan for the AC unit was to disassemble the outdoor condenser/compressor into its individual components so I could ditch the ugly red box.
I originally wanted an undermount air conditioner but I opted for the mounting spot below.
I confirmed with the manufacturer that once disassembled I could mount the fan and condenser(radiator) upright or flat with a slight tilt..
The only component that must remain upright is the compressor motor due to oil circulation.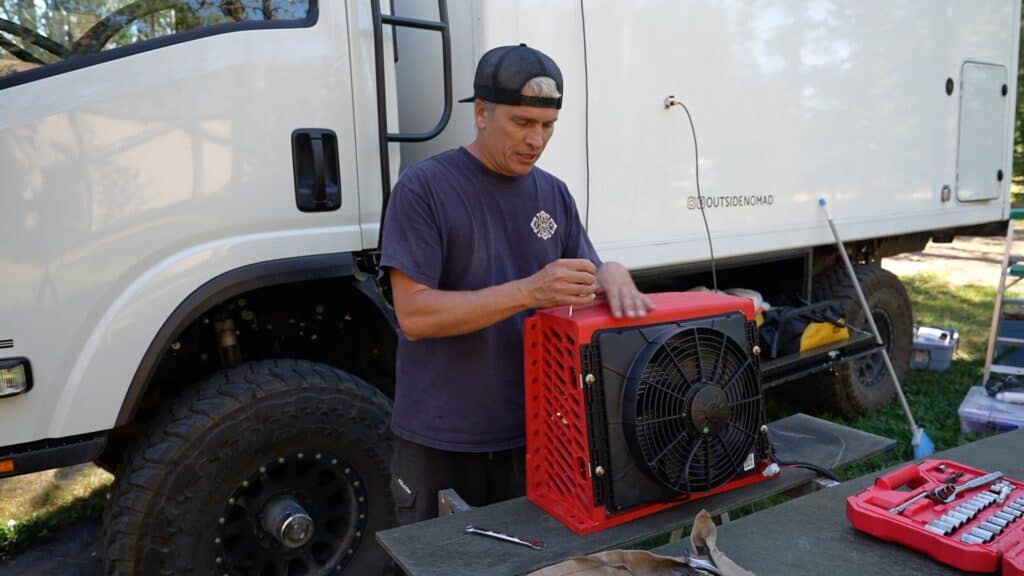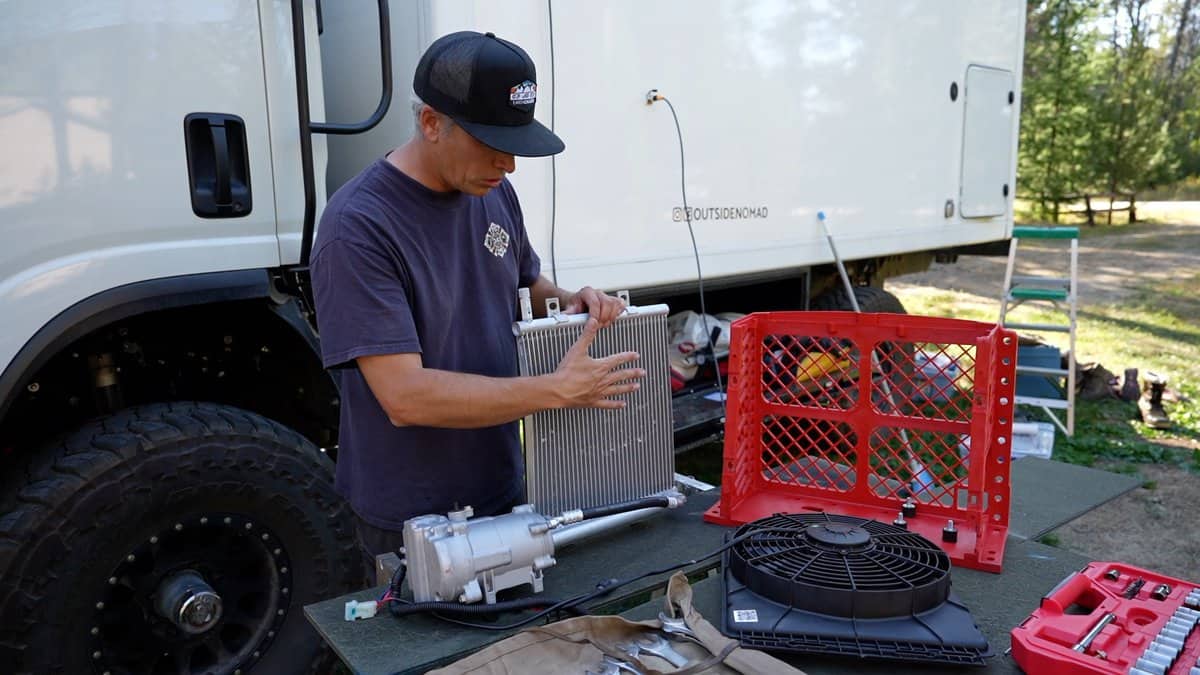 One of the reasons I picked this unit was the flexible hose that connects the compressor to the condenser. This would allow me to mount the compressor away from the condenser.
Mounting The 24 Volt Air Conditioner
With the original box apart it was easy to mount up the compressor and condenser. I used some aluminum angle to space the condenser off the box to allow for air flow.
The compressor I bolted to a 1/4 steel plate which was bolted to the frame rails.
Mounting The Inside Air Conditioner Unit
The inside unit I kept in its original box but you could build a better looking box for the indoor evaporator and fan unit.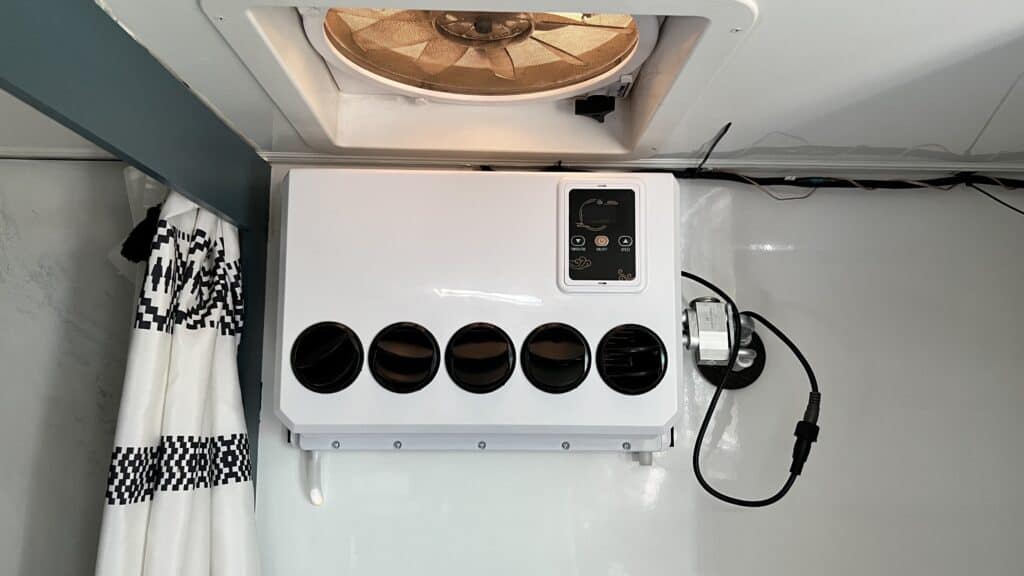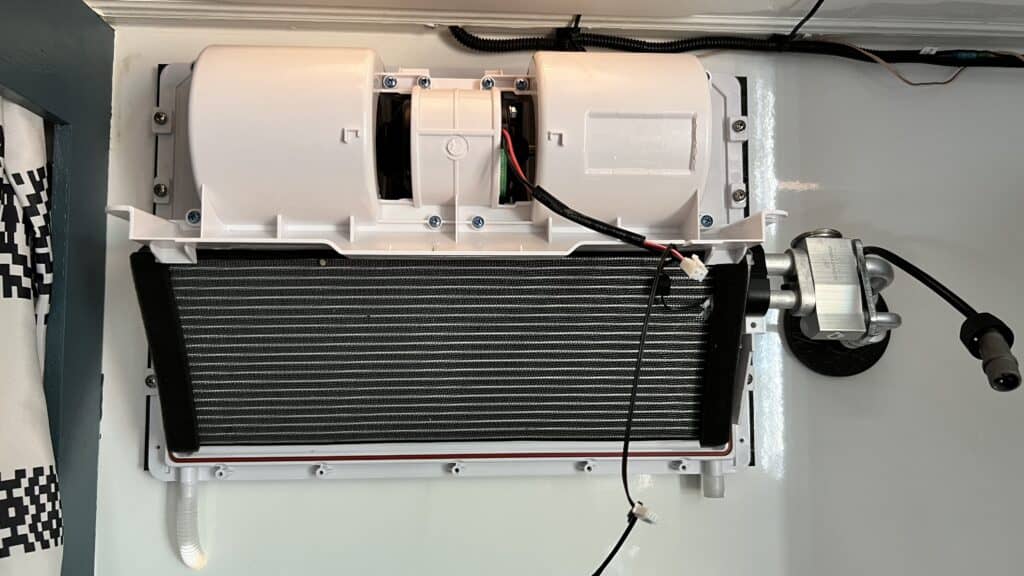 The connections between the indoor and outdoor air conditioner components are two refrigerant lines and an electrical/communications line. There's also a condensation drain line that gets routed to the outside.
Once the indoor and outdoor components are mounted it's just a matter of routing and connecting all the lines.
Check out the video for details on hose lengths and the various electrical connections. The manufacturer also mentioned that they can do custom length hoses if needed.
Connecting Air Conditioner to Power
The air conditioner comes complete with wiring and a fuse to connect to your battery bank. It comes with about 8 feet of wire but it could be extended if needed.
For a 12 volt system wire gauge would need to handle 75 amps or 35 amps in a 24 volt system.
Checking Air Conditioner Hoses For Leaks
Once all of the refrigerant lines are connected it's time to test for leaks. This is done using a vacuum pump designed for 134a refrigerant line connections.
All air conditioners have a high pressure side and a low pressure side. The connection fittings are different so you can not connect things incorrectly.
Once everything is connected you simply open all of the valves and turn on the vacuum pump and let it run for 20 minutes or so.
Then make a note of the negative pressure reading, should be around negative 22-28 psi(depends on elevation).
Then wait for several hours and make sure that the pressure did not change. I actually let it sit overnight to be certain there were no leaks.
Vacuuming Refrigerant Lines
Now that you're sure there are no leaks it's time to vacuum the lines again for a period of at least 30 minutes. This is important as it helps to pull any moisture from the air inside the lines as well as create the vacuum needed for adding refrigerant.
Charging With 134a Air Conditioner Refrigerant
This particular air conditioner uses the common 134a refrigerant. It's also worth noting that oil has already been added to the system so there is no need to add refrigerant oil.
Other air conditioners may not come pre-oiled so it's important to double check.
In order to charge with refrigerant the air conditioner needs to be running on high with the coldest temperature setting.
With the AC running you can now add the refrigerant. See video for details on how to do that using the vacuum pump assembly that I had.
The refrigerant is added through the low pressure side of the system and this particular air conditioner needs about 660-700 grams of refrigerant. The bottles that I used had 340 grams per bottle so 2 bottles was just right.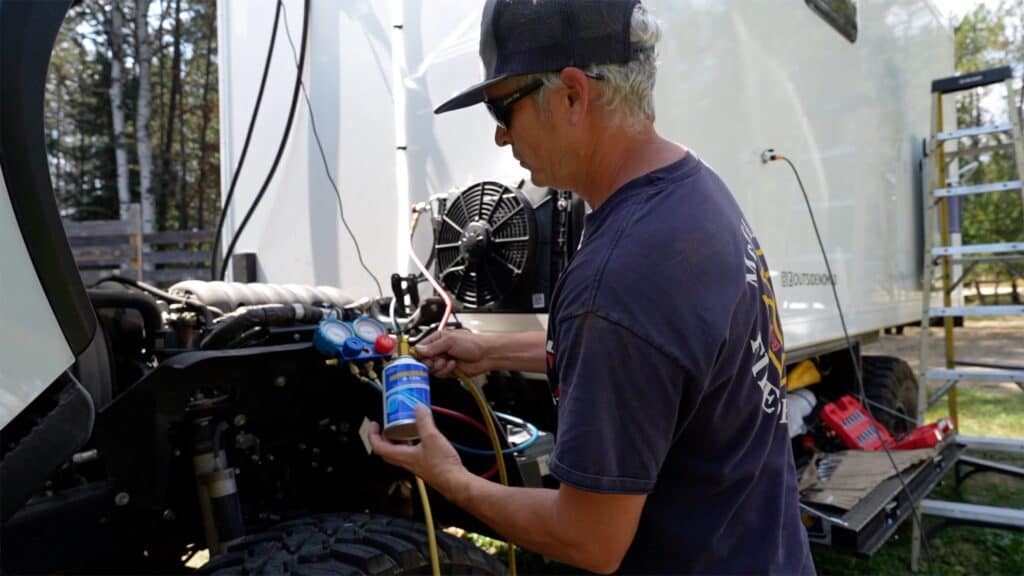 As you add the refrigerant you will start to see pressure readings go positive on both the low and high pressure gauges.
Adding the correct amount of 134a refrigerant by weight is the most accurate way to get the correct amount but it's also important to keep an eye on the gauges to make sure you're within specs for the AC unit.
134a High and Low Refrigerant Pressures From Manufacturer
You'll see some variation in these pressures as the air conditioner compressor cycles on and off so it's not exact but make sure you're in the ballpark.
Now that the correct amount of refrigerant is in the system it's time to hop inside and see if it's cold. I must say it was a good feeling having that frigid air blow in our faces.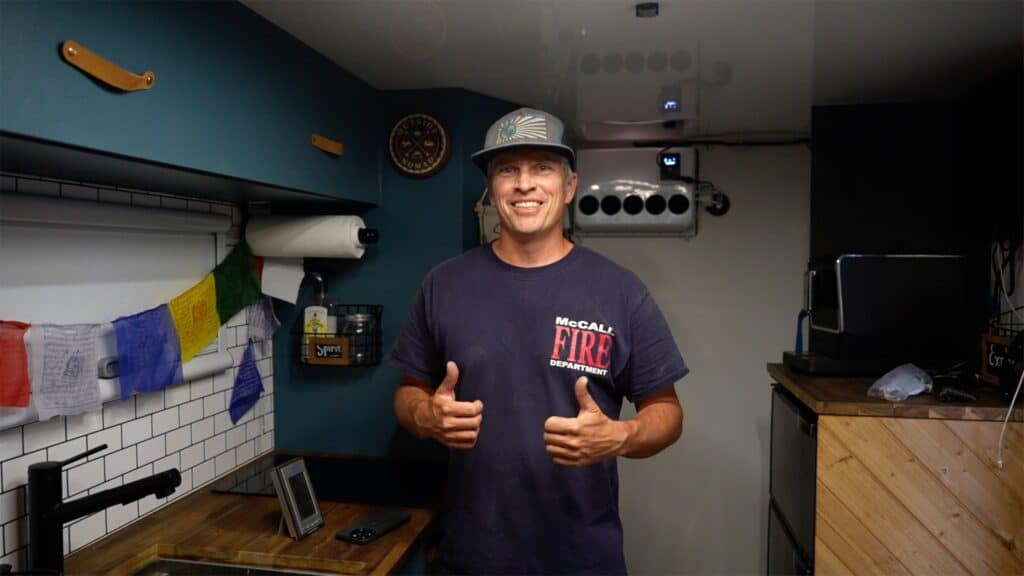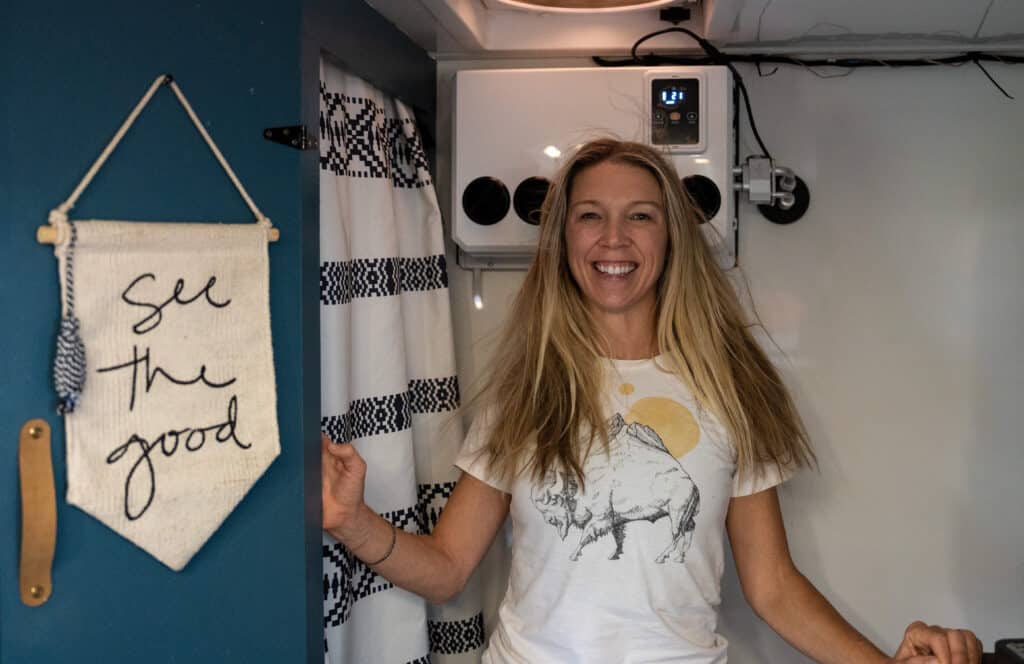 How Does The Air Conditioner Work?
So far it's working really well. We've been bouncing around Baja and Mexico with it for the past year with 100's of hours of use and it just keeps on ticking.
It cools our Total Composite Camper Box easily on the low setting and even with the door wide open the medium setting keeps us nice and chill.
The fan noise on low is plenty quiet and is similar to your roof vent fans. It has an eco mode but not really sure what that setting even does.
The air conditioner only comes in Celsius and can not be changed to Fahrenheit. It has a digital touch pad on the unit itself if you don't want to use the remote.
Questions?
If you're on Facebook join our DIY Overland Truck Build group and post your questions there as we can respond to those quickly. Otherwise drop a comment here and we will get back to you as soon as possible.
Air Conditioner Equipment and Tools
FAQ
How much solar do I need to run a camper van air conditioner?
For units consuming between 300-500 watts per hour I would say the minimum is 1000 watts of solar. Here are some power consumption numbers on the 24 volt AC unit that we have. https://youtu.be/cY8ddGCzNp8
How much battery do I need to run AC in a campervan?
With an efficient DC air conditioner you will need at least 300 amp hours of dedicated lithium to run AC in a campervan. This is in addition to your base battery capacity for the camper. You can expect the AC to run for 6-8 hours on 300 Ah. We've got a great calculator to help you gauge your campervan electrical needs. Check it out here, Campervan Electrical How To Beginners Guide
How much does it cost to put air conditioning in a caravan?
The price can vary greatly depending on the AC unit you choose. Rooftop AC units are the easiest to install and total cost can be under $3,500. More robust split systems will run you between $5-6K installed.