Campervan Electrical Systems are often one of the most anxiety ridden parts of building an expedition vehicle or DIY camper. But it doesn't have to be. Let's dive into the vanlife electrical system and turn that anxiety into knowledge so you can build your ultimate expedition vehicle camper.
By the end of this you will have a good understanding of the following:
The different types of charging sources in a campervan
Battery types – Lithium Vs. AGM
Lithium BMS systems and what they do and how to chose the right one
Amp hours and watts
12v vs. 24v battery systems
And finally, using our Energy Use Calculator you'll have a good idea of how much battery and solar you need.
CAMPERVAN ELECTRICAL SYSTEM OVERVIEW
The electrical systems of Expedition Vehicles, Campervans, and RV's are fundamentally the same and consist of the following 3 components
Now let's take a closer look at each of these systems so you can make the right choice with your campervan, RV, or expedition vehicle electrical system.
Check Out These Other DIY Build Topics
VANLIFE CHARGING SOURCES

CHARGING SOURCES TYPICALLY CONSIST OF SHORE POWER, SOLAR, AND ALTERNATOR CHARGING
SHORE POWER
Shore Power is connecting to a residential power source at 120v which is then converted to a lower voltage to charge the battery or run your electrical loads. This is the least expensive way to charge your batteries and power your camper.
SOLAR POWER
Solar Power is taking the free energy of the sun to charge our batteries. Harnessing the power of the sun is the only way to truly free yourself from the grid and make your Boondocking last even longer. This is one of the more desirable ways to charge your batteries and power your camper but is also the most expensive.
ALTERNATOR CHARGING
Alternator Charging is another great option which pulls energy from your engine while you drive or could be in the form of a gas powered generator which are common in larger RV's. The only catch here is that some vehicle alternators don't have the extra capacity to spare a lot of energy so you may have to add a second alternator or upgrade the primary alternator.
Having all three is of course ideal but may be overkill for some people. Here are a few questions to ask yourself to help decide what you may need.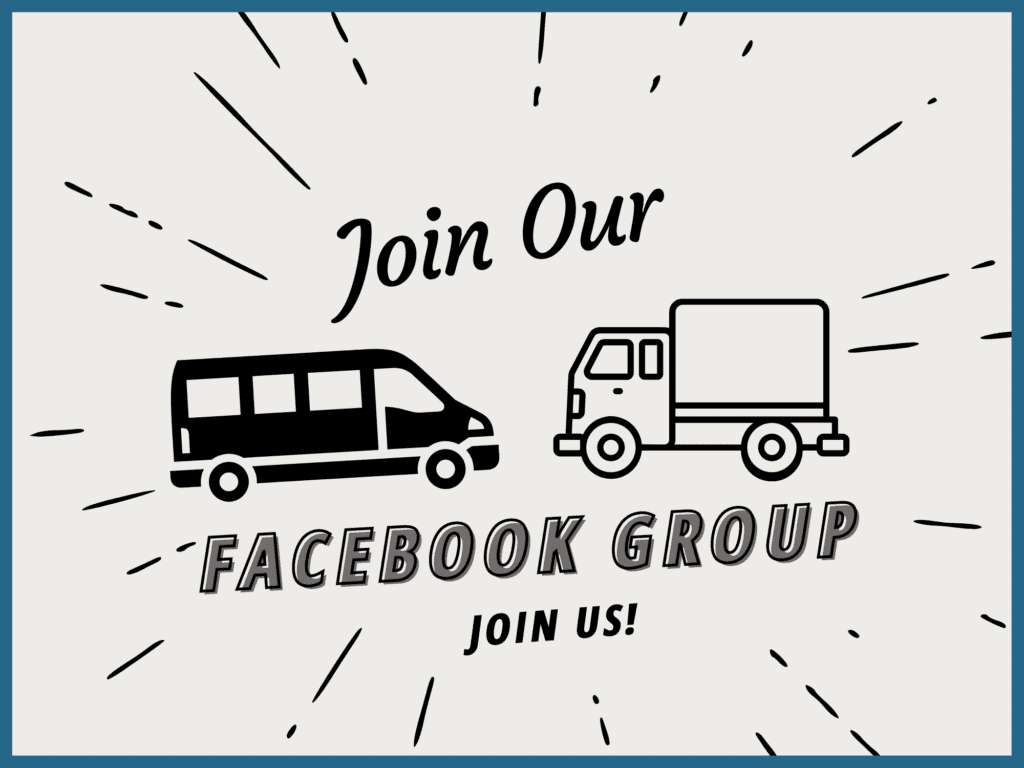 WHAT TYPE OF CAMPER ARE YOU?
Are you the weekend warrior type and primarily do short 2-3 day trips? Or do you prefer camping at RV parks and campgrounds with electrical hookups?
A simple shore power system of charging with enough battery to last you a couple days might be a good fit for you
Do you frequently move and don't stay camped in one spot for more than a couple days?
This is a good fit for an alternator charging system which will take care of your charging needs as you drive to your next destination.
Do you like to Boondock and stay off the grid for long periods of time?
Yes please! Well for this one you're going to need plenty of solar.
The ideal combination for many is a Solar and Alternator Charging system. This is what we primarily rely on and gives you the ability to charge by alternator if the sun don't shine.
We do a lot of winter camping at ski areas and we can typically go for about 3 nights without good sun which is just right since we usually drive somewhere else and can take advantage of the Alternator Charging while heading to our next stop. Now that we have a good idea of charging sources let's now move on to Energy Storage or batteries.
BEST BATTERIES FOR CAMPERVAN
There are 3 common types of batteries in use today, Lead Acid, AGM, and Lithium.
LEAD ACID
PROS
CONS
Requires ventilated storage
Requires topping off with water
Heavy and bulky
Short life span
Poor performance at extreme temps
AGM
PROS
$$ Affordable
Lower maintenance – no ventilation or topping off needed
CONS
Heavy and bulky
Short life span
Okay performance at extreme temps
LITHIUM
PROS
Very low maintenance – no need for ventilation or service
Low weight
Small size
Long Lifespan – not so expensive in the long run
Faster charging and higher discharge ability
CONS
$$$ Higher initial cost – but can be less expensive in the long run
Requires BMS – usually built into the battery but some are better than others – see below
You might also enjoy:
Mastervolt Vs. Victron & Why We Picked Mastervolt For Our Campervan Build
WHAT IS A LITHIUM BATTERY BMS?
Lithium batteries require careful monitoring of their voltage, they don't like to be drained too low or charged too high. Unlike other batteries, Lithium do not have the ability to manage this on their own. Even one instance of over charging can ruin a Lithium battery.
BMS simply stands for Battery Management System. The BMS protects Lithium batteries by monitoring their voltage and some even monitor their temperature. Lithium also don't like to be charged/discharged if they are too cold.
The battery BMS keeps an eye on these parameters and will disconnect the battery from a charging or discharging source in order to protect the battery.
LITHIUM WINS!
Let's be honest, there's really only one right choice here and that is Lithium. With the prices of Lithium coming down each year it really does check all the boxes. Do everything you can to make room in your budget for Lithium batteries. You won't regret it.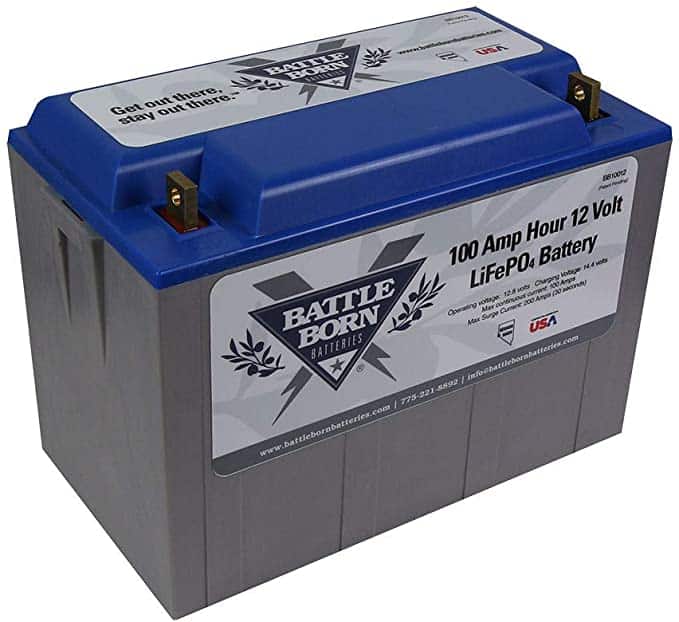 We have been using Battle Born batteries for the last 5 years and have been very happy with them.
They have an outstanding warranty and a very good BMS system that protects the batteries from charge/discharge if they are too cold. Many other lithium brands do not have this protection.
If you're interested in building your own Lithium batteries stay tuned. We will be doing a detailed write up of our new 1,100 Ah DIY Lithium battery build. Coming soon….
CAMPERVAN BATTERY CAPACITY
Battery capacity is most often measured in Amp Hours but Watts is becoming more common and is a better way to compare battery capacity. More on Watts in a bit…
If you're not sure how much battery capacity you need for your campervan we have a calculator at the end of the article to help you. But for now let's have a look at amp hours.
SO WHAT EXACTLY ARE AMP HOURS?
Amps are a measure of current or flow and Amp Hour is a measure of capacity. Confusing right! Hang in there it gets easier.
Think of Amp Hours(Ah) as gallons of water, it's the capacity of storage tank. Now think of Amps as flow or opening a drain on the storage tank.
If we have a 100 gallon pool(100 Ah) and I open the drain at a rate of 10 gallons per hour(10 Amps) then that pool will be empty in 10 hours.
So if you have a 100 Ah battery attached to a heater that uses 10 Amps per hour, how much battery will you have left after 5 hours?
Answer: 5 hours at 10 Amps will use 50 Amps total leaving 50 Amps in the battery. A 10 Amp heater running continuously would fully deplete a 100Ah battery in 10 hours.
Making sense yet?
USABLE BATTERY CAPACITY LITHIUM VS. AGM
It's IMPORTANT to note that the usable battery capacity or Amp Hours of a battery is not equal across all battery types

Lead acid and AGM batteries should only be discharged to around 50% of their capacity. That means a 100Ah AGM battery only has 50Ah of usable energy.
Lithium on the other hand can be discharged up to 90% of its capacity. Therfore a 100Ah Lithium can give you up to 90Ah of usable energy. That's a BIG difference!
If you're at a van rally inevitably after about the 3rd beer someone will start talking battery capacity. It goes something like this…

So based on what you know now that doesn't tell us much right?
Is that 300Ah usable? Or is that just 300Ah of AGM? You get the point…
There is however one more thing we need to consider when chatting about, "my battery bank is bigger than yours," and that is Voltage. I promise we're almost done with battery talk…
WHY WATTS IS BETTER THAN AMP HOURS
Now that you understand Amp Hours I'm gonna turn Ah on its head and tell you why Watts are a much better way to measure and compare battery capacity.
Amp Hours has one big issue and that is it's only usefull when comparing capacity across the same voltage. Talking Amp Hours between a 12v and a 24v system requires a conversion as they are not apples to apples.
Watts on the other end gives you an energy capacity number that is the same regardless of voltage. So why don't more companies and people talk in Watts? That's a great question and as you migrate from amateur level to more professional level battery talk you'll see Watts used a lot more. A lot of your higher end Lithium battery companies like Mastervolt refer to their battery capacity in Watts and not Amp Hours.
With more and more people building 24v and 48v battery systems for their Expedition Vehicles and campervans it's important to understand how volts figures into the battery capacity talk.
THE 3 BATTERIES BELOW ALL HAVE THE SAME BATTERY CAPACITY

Luckily the math is pretty easy on this one. As you can see the actual battery capacity stays the same despite them having very different Amp Hour ratings. This is why Watts is a better way to compare battery capacity.
Our build will have 560Ah in a 24v system which is equal to 1,120Ah at 12v.
HOW TO RUN 120V APPLIANCES IN YOUR CAMPERVAN
So by now after some Shore Power, Solar, and Alternator charging we have all this energy stored up in our batteries. But how do we get that power out of those batteries to power the light for your disco ball?
Well that depends…
DC AND AC POWER
There are two types of electrical power. DC powered devices that is designed to run off of 12v or 24v batteries directly. And AC powered which is designed to run off 120v electricity like what you have in your home.
The most effecient and simple way to power devices in your campervan are to use electrical appliances that are designed to run on 12v or 24v DC. Fortunately there are a ton of devices designed for DC power. Scroll to the end of the article where we've listed our favorite 12v campervan appliances.
AC APPLIANCES
Powering AC appliances requires what's called an Inverter. This device takes the DC power and converts it to 120v AC power. These inverters come in different sizes as well as two different varieties that will determine the types of AC electrical devices you can use. Inverters are typically about 80-95% efficient so you will lose some energy to waste. That's why it's best to pick devices that can be powered directly off DC.
WHAT SIZE INVERTER DO I NEED?
Inverters are sized according to how many watts they can power. Go grab your blender and look on the back or bottom and you'll likely see some small print that states how many watts that appliance uses. Let's say it uses 1,000 watts.
To run that blender you would need an inverter sized at around 1,300 watts. It's recommended to add 30% to give a little extra margin.
Keep in mind that if you want to run multiple devices at the same time you will need to size your inverter to handle the combined load. So a 1,000 watt blender and a 1,000 watt coffee maker would require and inverter sized to at least 2,500 watts.
MODIFIED SINE WAVE VS. PURE SINE INVERTER
In addition to the size or wattage of an inverter, there are also two types of inverters and it's important to get the correct one.
MODIFIED SINE WAVE INVERTER
Think of this type as "dirty" electricity. This type of inverter is less expensive and works fine for a lot of devices but won't power sensitive electronics like some laptops.
PURE SINE WAVE INVERTER
These inverters produce "clean" electricity that will power any device but do tend to cost a bit more.
WHAT DO I NEED A PURE SINE WAVE INVERTER TO RUN?
Appliances with AC motors: Microwaves and refrigerators
Medical equipment, such as CPAP machines with humidifiers
Sensitive electronics
Laser printers
Newer TV's
Appliances with electronic timers or digital clocks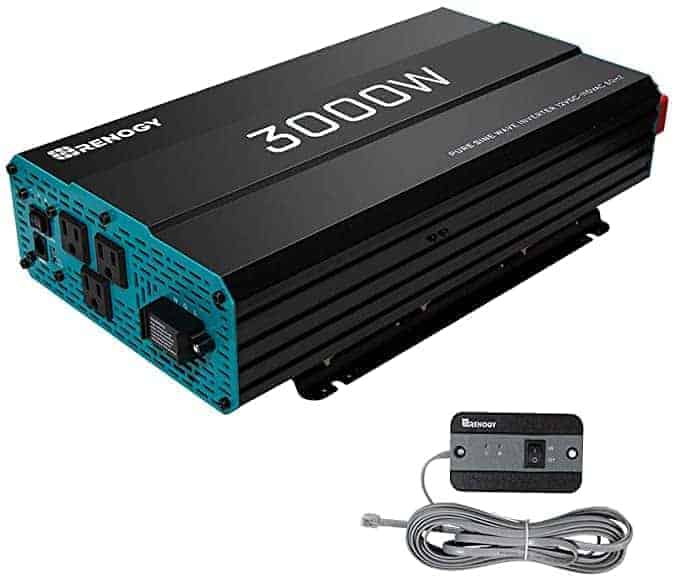 This is the Renogy 3000 Watt Inverter that we have been using for the past 5 years. It has worked great for us and is really affordable. From Instant Pots to table saws it has worked flawlessly.
The remote switch is really handy to easily turn the unit off when not using it. Remember, if you leave these on even if nothing is plugged in they will draw a small amount of power.
CALCULATE YOUR CAMPERVAN ELECTRICAL POWER NEEDS
The first step in deciding how much battery capacity or solar you need is to understand your power needs. Below is a calculator that once completed will determine your power needs. By inputing the types of appliances like an air conditioner, heater, and induction cooktop you can start to understand how many watts you will use in a day.
1. CALCULATE YOUR TOTAL WATT HOURS USED
Figure out the power draw in Watts of all the electrical devices you plan to use. Use the conversion calculator up top if you need to switch from amps to watts. You can find this information printed on the device or the power cord. For example, on my Macbook the charger that plugs into the wall has this information.
List all of your electrical devices and the approximate amount of time per day they will be used. Laptops, fan, heating, coffee maker, etc…
You now have your total watt hours which you can see on the left side of graph.
2. ALTERNATOR CHARGING
If you'll be charging with you alternator you can input the charging rate multiplied by how many hours of driving you expect to be doing. If you plan to drive say 6 hours every 2 days then put in 3 hours along with your charging rate in watts from your alternator. The average alternator in most vans can produce around 500 watts of extra power.
3. SOLAR POWER
The solar calculator lets you factor in different amounts of solar and how that will recharge your system.
1. Determine your solar hours per day using the map below
2. Choose your solar array size in watts
BATTERY CAPACITY NEEDED
Now that we have all this information you can see your recommended MINIMUM battery capacity. This is the amount of battery you would need to run all the appliances listed for a 24 hour period. The battery capacity does not factor in charging from solar or alternator.
For most people I recommend going 2-3 times that minimum. This gives you some extra wiggle room if charging sources like solar or driving aren't an option.
CAMPERVAN ELECTRICAL CALCULATOR
Use this map to estimate the hours of sun for your solar calculations. These are yearly averages and can obviously change a lot but it's a good place to start.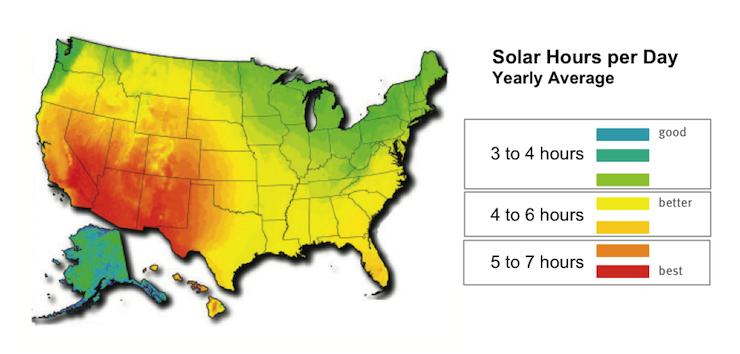 FINAL THOUGHTS CAMPER VAN ELECTRICAL SYSTEM
Well I hope I was able to lessen your campervan electrical anxiety a bit. Having the electrical knowledge is the first step in building a robust and safe electrical system for your camper. Please comment below if you have any further questions or need clarification.
We have a TON more articles and YouTube content coming as we take you along step by step on our dream Expedition Vehicle Build.
FAQ
How much battery do I need to run AC in a campervan?
With an efficient DC air conditioner like one of these, you will need at least 300 amp hours of dedicated lithium to run AC in a campervan. This is in addition to your base battery capacity for the camper. You can expect the AC to run for 7-8 hours on 300 Ah. Check out, The Best Off-Grid Campervan Air Conditioner
How much battery do I need for an induction cooktop?
In our camper we have 400 watts of solar and 300 Ah of Lithium battery which runs an induction cooktop no problem. We frequently camp in winter without lots of sun and we even have a 12 volt water which all run fine with our 300 Ah of Lithium.