As full time travelers, we're always looking for ways to simplify our life and that includes things we have in the kitchen. As we all know space is limited in these tiny homes and every inch counts.
We've discovered some fantastic campervan kitchen accessories that make time spent in the kitchen easy, even if you're on the road. Although we love exploring the local town by going out to eat we make every effort to cook food in our campervan as much as possible. It can get expensive to eat out, and cooking in our van guarantees we eat nutritious meals and save a bit of money.
After breaking a few plates, spending too long scrubbing a dutch over skillet, and not having the proper space-saving tools, I've compiled a list of the best campervan kitchen accessories along with some things you should look for when adding things to your campervan kitchen.
LOOKING FOR IDEAS FOR CONVERTING A CAMPERVAN? HOW ABOUT OUR FAVORITE CAMPERVAN ACCESSORIES ?
WHAT TO LOOK FOR IN THE BEST CAMPERVAN KITCHEN ACCESSORIES
I'm pretty picky when it comes to things I'll add to our already small living space. The best camper van or RV kitchen accessories have to meet a couple of requirements before I'll add them to my van life accessories list.
After all, this isn't your typical kitchen. This is a van kitchen that must withstand life on the road, be sturdy enough to take a beating, and store kitchen accessories in its limited area.
TOP 5 CONSIDERATIONS WHEN CHOOSING YOUR CAMPERVAN KITCHEN ACCESSORIES:
DUAL-PURPOSE
I "dual purpose" our slow cooker pot by using it as a salad bowl when not in use by the slow cooker
I use our collapsible kettle to boil hot water for coffee and doing dishes
MINI SIZED ACCESSORIES
For obvious reasons (limited space) I buy kitchen accessories that are small and compact and and I'm confident will fit in our campervan kitchen. We had to ditch our regular size spiralizer and go with this smaller handheld one because we didn't have room for the large one.
COLLAPSIBLE OR STACKABLE
Anything that can maximize space in your campervan cabinets and drawers is worth its weight in gold. This space-efficient kitchen pot set stacks inside of each other making storage neat and tidy. We love this set because of the detachable handle, which makes it simple to store.
It's all about maximizing available space, so if you can find kitchen equipment that folds or collapses down taking up less space you're going to be a winner.
FUNCTIONAL
Right now isn't the time to be cutting corners. You don't have the time (or space) to be purchasing things that don't work well. Get yourself some quality kitchen accessories; you'll be using them a lot so pick something good.
DURABLE
Nobody wants van life accessories that are fragile and will break while you're on the road. Van kitchens take a beating and we need to be prepared by having durable items that can withstand rough and bumpy journeys.
Pick kitchen van accessories that can get roughed up a bit. Look for plastic or rubber storage containers, shatter proof plates, bowls and glasses.
NOISE
Keep in mind that when you're driving, things are constantly shifting. There's nothing worse than dishes clattering around back there! Choosing items that won't make too much noise will help eliminate frustration.
TOP CAMPER VAN KITCHEN ACCESSORIES
DRAWER LINERS
Before you get too carried away with loading up your drawers do yourself a huuuge favor and line your drawers with this grippy drawer liner. This is the perfect method to keep everything in its place while driving and to minimize noise and rattling in your camper van kitchen.
PLASTIC REUSABLE WINEGLASSES
When partaking in van life people are typically doing a lot of moving around and adventuring down bumpy back roads. Nobody has time to clean up a mess from broken wine glasses.
Do yourself a favor and check out these shatterproof wine glasses that add just the right amount of fancy to your evening
DUTCH OVEN CAST IRON SCRUBBER
I don't know about you but I don't have the time or patience to scrub pans that have dried food on them. To save time and water I use this cast iron scrubber to keep our skillets clean. I like using this scrubber because it's durable and made specifically to clean cast iron skillets.
FLAT CUTTING BOARDS
Thin, lightweight, and flexible, these flat cutting boards are the ideal kitchen camper essential. I love the flexibility because they easily fit in your camper van sink when they're dirty. The great thing is they come in a set of 4 and each is color-coded for its specific use. For example, cutting veggies or raw meat.
BAMBOO UTENSILS
I don't know if you've ever considered the many different rattles that may occur while you're driving in your van. The ideal solution to prevent your silverware from clanging around in your kitchen drawer is to select a great bamboo alternative.
By switching out your metal silverware to a wood material you'll be able to experience your scenic drive in peace rather than being annoyed by the constant rattles.
PLASTIC PLATES AND BOWLS
For several reasons (noise, excess weight, space, risk of breaking) glass and ceramic dishes aren't the best idea for your van. Instead, look into these plates which are one of my favorite kitchen van essentials.
COLLAPSIBLE TUPPERWARE THE ULTIMATE SPACE SAVER
When you need them you need them but when you don't storage containers can take up a whole lot of space when not in use. These collapsible Tupperwares are your perfect solution for compact storage along with keeping leftovers fresh and flavorful.
SPICE CONTAINERS FOR A CAMPER VAN KITCHEN
We love our spices and what better way to spice up cooking in a camper van than by having all the spices you need. We have used two different spice options and I have to be honest I like and dislike each of them for different reasons.
This round one is great because it comes preloaded with all the spices we use and it's ready to go.
My only gripe with it is that you can't refill it.
The other option we've tried are these plastic spice containers. They are great because they come in a set of 6 and stack nice and compact taking up as little room as possible.
My gripe with these is because they are so compact some of the bulkier spices like basil, oregano, and dill don't come out very easily.
AEROPRESS COFFEE JUST THE RIGHT SIZE
I'm not sure about you but around here we can't start our day without a good cup of coffee. The Aeropress is the perfect way to make a fabulous cup of coffee. We've been using it both at home and in our camping for several years.
The great thing about the Aeropress is that it's super small so you can stow it away in one of your van cabinets super easy.
FRENCH PRESS MEGA BOOST YOUR KITCHEN CAMPERVAN ACCESSORIES
If you're one of those people who need a couple of coffee refills before you're feeling like you're ready to go, I'd recommend something like a french press that allows you to make coffee in larger quantities.
We love coffee and by using our french press we can keep the caffeine flowing while getting our work done!
ESPRESSO MAKER
Obviously we're coffee lovers, you need to stay caffeinated while driving right? The beauty of driving our camper van (our home) is that we have the freedom to get a quick snack or make a cup of coffee at anytime.
Full disclosure this fancy espresso maker is not in our camper van kitchen accessories arsenal yet but we're REALLY REALLY considering it. What are your thoughts yes or no?
MINI HANDHELD FROTHER
We think this battery operated mini frother is the perfect campervan kitchen accessory. This tool can be used to froth milk for your coffee, blend up your morning Matcha, or even mix up your favorite DIY salad dressing.
---
---
COLLAPSIBLE NESTING MEASURING CUPS
I really like collapsible things, they save so much space. If you're accustomed to using normal measuring cups take a minute to think about how much space they take up in your camper van drawers even if you're able to nest them. These collapsible measuring cups are the perfect space-saving solution.
CAST IRON PAN THE ONLY ONE YOU'LL NEED
We only have one pan in our kitchen van and we absolutely love it. We use our cast iron pan for cooking eggs, grilling veggies, meats, and even campfire cooking. Yes, I know that a cast iron skillet is pretty hefty but its versatility makes it worth it.
COLLAPSIBLE COLANDER
Yep, one more collapsible tool that is super useful in a camper van. By now you're probably figuring out how useful collapsible items can be in van life. The more you can collapse the more room you'll have for the things you "really" need.
The great thing about this colander is that it's made from environmentally friendly BPA free materials and has extendable arms to fit almost any sink. When collapsed it hardly takes up much more room than a plate!
GOOD QUALITY KNIFE
Do yourself a favor and get a good quality knife. Yes, they're not cheap but if you invest in one upfront you'll be able to use it for years. We got this knife a couple of years ago and have been able to use it for everything.
COLLAPSIBLE COOKING UTENSILS
Even though we're limited on space in our van cabinets and drawers we have a few campervan cooking accessories we'd like like to share with you. These collapsible cooking utensils are great for a small motorhome kitchen, or even great to take with you on a camping trip.
BLENDER
OK, I get it there's something to be said about having minimal appliances in your camper kitchen but there are certain things we just can't give up.
By using our blender for smoothies it is our guaranteed way to get in our daily dose of fruits and veggies. Also, if you're into single-serving soups take them to the next level by blending up some veggies to have your own ready to go soup in minutes.
STACKABLE POTS AND PANS
Whether you're boiling water for pasta or simmering a pasta sauce you'll want a couple of saucepans that easily stow in your camper kitchen. This set of stackable, nesting pans gives you 3 different sized saucepans and a lid so they stow neatly in any tight spaces. The thing I love about these pots is the handle is detachable making it easy to stow these away in a campervan cabinet without the handles getting in the way.
I can't find the exact ones we have but these are similar
VEGGIE SPIRALIZER GET YOUR VEGGIES
If you're a fan of getting a good dose of healthy veggies in your diet this is a great way to do so.
This spiralizer is small and portable making it a great kitchen tool for a camper van. You can make two different sizes of vegetable noodles with the double-ended design: wide spiral ribbons and thin, spaghetti-style noodles.
LIGHTER -YEP JUST A GOOD LIGHTER
No trip is complete without a good lighter. How are you supposed to light a campfire and get the grill going without one?
COLLAPSIBLE KETTLE FOR YOUR CAMPERVAN KITCHEN
Having a collapsible kettle to boil water is a one of those campervan cooking accessories that I think you'll really enjoy. Sure, you can use a pot to boil water but if you're like us you may already be using it to prepare your daily bowl of oatmeal, so having a kettle allows you to start some hot water for your morning brew.
INSTANT POT- A POSSIBLE MUST-HAVE KITCHEN ACCESSORY
To be honest, we don't have this kitchen accessory BUT we're wondering if its something we should add. I've seen several people living the vanlife who have an Instant Pot but since we have a crockpot we're not sure if it's necessary.
What do you think? Let me know if you think the Instant Pot outweighs the benefits of a crockpot.
UNDER CABINET PAPER TOWEL HOLDER
Who wants to fill up their storage spaces or their countertops with a big roll of paper towels when they're already short on space? Not me, which is why this under cabinet mounted paper towel holder is a great solution. Keeping the paper towels beneath the cabinets is convenient, as they're always accessible when you need them.
You can easily attach your new campervan accessory with some 3M command strips. We used 3M strips for attaching our paper towel holder and it hasn't budged in over 4 years.
DUTCH OVEN
We're big fans of van life gatherings and what better way to contribute to the spread than bringing something you've cooked in the dutch oven. The great thing about cooking in a dutch oven is it takes very little effort.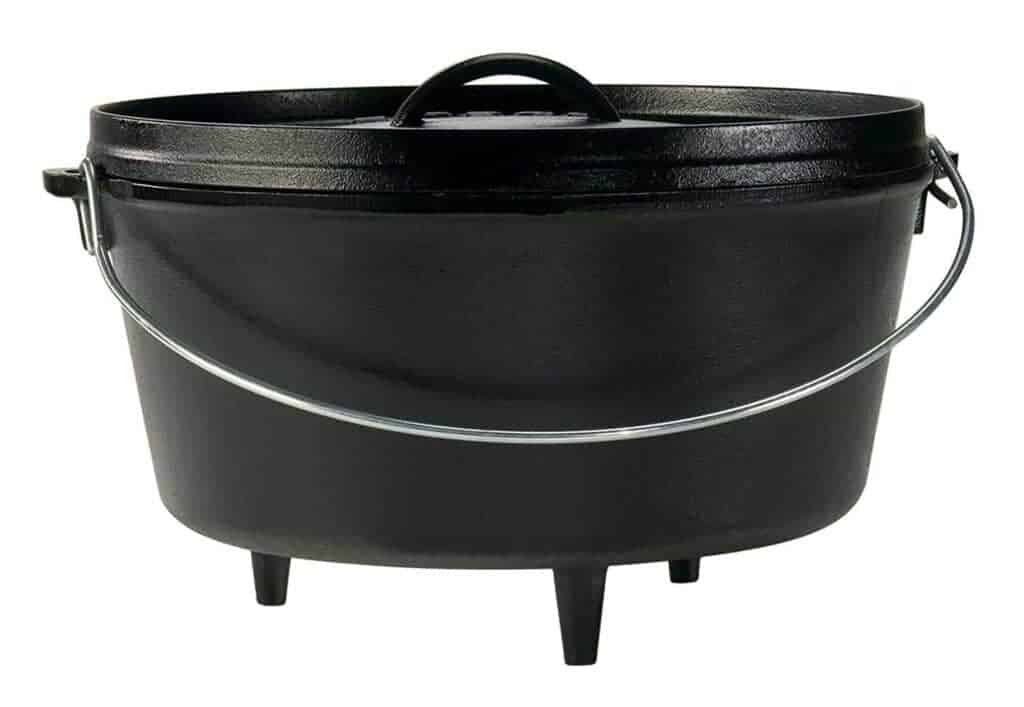 We tend to have one cup that we use for almost everything, whether it's coffee, a cold beverage, soup or even spaghetti we like to have a good quality insulated mug. This Yeti insulated tumbler is one of our favorites. It keeps hot drinks hot and cold drinks refreshing. The easy-open lid keeps spills to a minimum, while the BPA free construction makes it safe for all beverages. Oh and the lids is super easy to clean which preserves our water while we're doing dishes. I call that a double win! We like this one the best.
MINI-CROCKPOT
We purchased this 4 quart mini-crockpot last ski season while we were chasing snow storms and it's been a complete lifesaver. It's the perfect size for two and is convenient for making up soup or chili while we're on the road.The greatest thing about this slow cooker is that it's small enough to fit in our campervan sink while we're on the road, allowing us to cook and drive without having to worry about anything falling over.
There's nothing better than having a hot meal ready to go after a full day of skiing or driving.
SHATTERPROOF SOAP DISPENSER
We enjoy having our soap in this shatterproof dispenser on our van counter. You can easily secure it in place by using a bit of velcro.
QUICK DRY KITCHEN TOWEL
When you live in small living spaces you don't want to deal with soggy wet towels that take forever to dry. Quick-dry towels dry fast and take up much less space than a traditional towel. In addition they're soft, absorbent and come in fun colors.
ECO-FRIENDLY HAND AND DISH SOAP
When washing dishes outside, it's important to use environmentally friendly dish soap. We like the Sea to Summit Wilderness Wash because it's biodegradable, grease-resistant, and highly concentrated, so a little bit goes a long way.
KNIFE SHARPENER
A good knife is important in any kitchen, but because we only have 1 knife in our campervan kitchen we want to make sure we keep it cutting sharp. To keep our knife in tip-top condition we use a knife sharpener.
A knife sharpener is one of those kitchen campervan accessories that I think is a must. It makes food prep so much easier when you have the right tools! We keep it nestled in a plastic bin for easy access and to prevent it from rusting when wet.
DISH DRYING MAT WITH RACK
This is the perfect lightweight low-profile dish drying mat for your next road trip. The great thing about this is it folds up for compact storage in a drawer or cupboard leaving your counter-top clutter-free.
FRUIT AND VEGGIE HAMMOCK – THE VANLIFE STAPLE
When you're living the vanlife and space is limited this hammock is perfect for storing fruits and veggies.
SQUARE CAST IRON PIE IRON FOR CAMPFIRE FUN
This is the perfect accessory for cooking over an open fire. With this pie iron, you can cook up yummy melted sandwiches, quesadillas, and delicious desserts. It's THE thing to have when sitting around a campfire.
FINAL THOUGHTS ON CAMPERVAN KITCHEN ACCESSORIES
I really hope that these ideas will make your kitchen meal prep and planning a bit easier. If nothing else many of these can save a ton of space. Any clever kitchen accessories were missing? If so let us know!