You've heard about #vanlife and #rvlife before, and now you are curious about campervan rental companies but have no clue where to begin. Don't worry; you're not the only one. With miles of open highways, campsites all around you, stunning mountains, and seemingly endless things to see, it's easy to see why people would want to rent out a campervan.
If your heart is swaying in this direction and you can't stop thinking about falling asleep to the crashing of the waves or the breeze blowing through the trees, this lifestyle may be something to explore a bit more. In our opinion, there's nothing better than experiencing these things while having the comfort of your tiny home on wheels with you.
In recent years campervan rental companies have been sprouting up everywhere to help people get on the road and enjoy this thing called vanlife. The great thing about renting a campervan is that you don't have to fork over thousands of dollars to buy your own you can "try before you buy."The sky is the limit when finding a rental campervan that suits your needs. The best part is when you hire a campervan; it is vacation-ready. All you have to do is grab your belongings, map out your destination and get ready for a road trip of a lifetime.
Let's dive into a couple of questions to see if going with a RV or van rental company is right for you.
Why Rent a Campervan or RV?
1. Costs
Renting a campervan is a good option because it's much cheaper than owning one. And in case you're wondering yes, there are cheap campervan rental options. If you're not 100% sure that owning a van is the right thing for you, the next best thing to owning is to rent. There are a lot of costs that come with owning a campervan, such as insurance, maintenance, RV storage fees, and fuel. If you're the infrequent weekend warrior kind of person, owning an RV or campervan may or not be the best option. A better option may be paying per day or weekly to rent a campervan or RV.
2. Try Before You Buy
With such little space in your campervan, it's hard to decide which layout caters the best to your lifestyle. We know this from experience; we have remodeled our same van three times. By having the option to try out different van styles, you'll find what fits your lifestyle the best.
3. Discover if Vanlife or RV Life is Really For You
I don't know about you, but we've bought TONS of things on a whim only to discover that we don't need/want the items we purchased a couple of months later. The same is true with a van or camper, too; you could buy one and find that it's not a fit for your lifestyle.
Sure, Instagram and social media glamorize this lifestyle, but by renting a campervan or RV, you get to try it out first hand to see if living in a tiny space is your thing. I'll be honest sometimes the limited amount of space can feel REALLY small on a rainy day.
What is Your Campervan Budget?
Renting a campervan in the USA isn't the cheapest thing, but it doesn't have to be super expensive either. The cost of a rental can differ significantly by location, time of the year, and the length of your trip. In addition to that, cleaning charges, excess mileage, and insurance can all add up.
Campervans may help you save money while traveling. You can cook your own meals (which is less expensive than dining out) and, with a campervan, you can find free places to camp.
Traveling in a campervan can be a great way to save money during your road trip. Not only can you cook your own meals (which is cheaper than eating out), but with a campervan, you can often find places to camp for free.
Are you into luxury campervan rentals with all of the amenities or are you looking for cheap campervan rentals?
The difference between the two is what will affect the price the most. You can find budget rentals that cost less than the price of a hotel and there are luxury rentals that can cost quite a bit more.
For budget rentals, you'll receive the basics, a comfortable place to sleep, cook, eat, and drive. With most luxury models you'll get a full kitchen, toilet, hot water shower, and solar panels.
What Kind of Van Can I Expect to Get For My Budget?
Budget campervan rentals: As low as $33 per day
Mid-Range campervan rentals: Will cost you $80 – $120 per day
Luxury campervan rentals: Starting at $150 per day and they go up from there
Pro tip: One-way rentals oftentimes have an extra fee.
What's Your Comfort Level?
Another very important thing to consider is what level of comfort you are expecting in your campervan rental. Make a list of your preferences and make sure you're being honest with yourself when selecting the best campervan rental for yourself.
The low maintenance minimalist
If you're the kind of person who doesn't need much to get by and is used to camping, backpacking, and cooking outside you'll feel pretty comfortable in any of the vans listed below.
The mid-range minimalist who appreciates some of the comforts of a nice hotel
If you prefer to cook a meal in a complete kitchen, enjoy the amenities of an indoor shower, and toilet then one of the higher-end rentals may be more fitting for your needs.
Most Important Questions to Consider in a Van Rental?
Do you want a toilet?
What kind of toilet do you want in your campervan?
Do you want an indoor shower?
Do you want a shower that's ready to use or do you want to have to set it up each time you want to use it?
What size watertank do you want?
Do you mind converting your living area to your bed every night?

Do you want to be able to stand up in your campervan?

Do you want to bring your mountain bikes, skis, climbing gear, surf boareds and other toys?
Not all of the budget campervans are meant to be able to stand up inside, and some of the smaller campervans require you to convert the bed into the living area during the day. Consider this and whether it is a deal-breaker for you.
For us, it's very important to be able to stand up inside of our campervan. Think of things like making your bed, getting dressed, can you handle not being able to fully stand up? It's also important for us to have our bed "sleep ready" I don't want to have to deal with converting the area twice a day.
Pro Tip: You'll find that most of the smaller campervans that don't have room to stand up have the kitchens outside in the back of the van.
Pro Tip #2: The cost of large campervans that have built-in kitchens and do not require the bed to be converted will be more expensive.
There's a Rental for Everyone
What's your style? Are you the Instagram model who wants to pose in your bathing suit with the ocean views "behind" you? Lucky you, there are luxury campervan rentals. But for everyone else who's a bit more practical, there's are great options for you too.
Companies like Outdoorsy offer campervan rental by owner options that allow everyday people to rent out their rigs. The great thing about this is there are campervan and RV rentals in pretty much any location you may need and, of course, any style. Popular locations for renting are Salt Lake City, San Francisco, Portland, Denver Colorado, Pheonix, and New York.
Freedom to Go Where You Want When You Want
Road trips have always been a popular thing in North America. The great thing about taking a road trip in a campervan is that you can see all of the best roadside attractions and stay for free anywhere you choose since you aren't tied to a hotel reservation.
The best part of having our van is we aren't always the best planners. If we want to stay a couple more days in Salt Lake City or Moab for skiing or mountain biking, it's easily done because we don't have to worry about a hotel reservation.
You Can Road Trip With Your Favorite Lil (or) Big Friends
The great thing about many of the campervan rentals is that they allow pets. These companies understand the nomad mindset and know animals are just as much a part of our lives as people are. You can specify search criteria for pet-friendly van rentals on sites like Outdoorsy Campanda, and RV share.
Save Money On Your Vacations and Road Trips
I know for some people, the cost of renting a campervan may seem pretty expensive, but when you consider the costs of drinks, eating out, and accommodations, you may find renting a campervan or RV is more affordable. We love exploring happy hours as an inexpensive drink and food option, but our favorite is heading back to our van to make a big healthy dinner with a glass of wine.
Ready to take that USA road trip to a whole new level?
Popular Pickup Locations For a Campervan Rentals
Roadtrip Ideas
There are several great rental companies that exist these days. When searching and evaluating these rental companies consider some of the popular places that people would want to pick up their rental RV or van from to begin their vacation.
Campervan rentals Salt Lake City- All the national parks, including amazing locations like Moab
Campervan rentals Denver Colorado– All the amazing ski resorts Vail, Aspen, amazing mountain biking and hiking around the Boulder Colorado area
Campervan rental near Texas– This state is HUUUGGGEEE I can't imagine a better way to see all of Texas than by campervan
Campervan rental San Francisco California-First thing to do Hwy 101 road trip, followed by San Franscisco and the Golden Gate bridge. There is so much to see in Califorinai I don't even know where to begin
Campervan rental Seattle WA– Olympic Penninsula and North Cascade National Park with a stopover in Leavenworth, Seattle, and Wenatchee
Campervan rental in Phoenix– In our opionion a road trip to Arizona is the absolute best get away during the shoulder seasons up north. Our favorite places are Sedona, Flagstaff, Tombstone, and Bisbee
Campervan rental San Diego– Enjoy beach life and all that the glorious things that come with it
Campervan rental Boise– Did you know that Boise Idaho is one of the fastest growing cities? So obviously there's more than just potatoes in Idaho.
Popular Locations to Roadtrip in Your Rented Campervan
There are plenty of options throughout the country that make for great campervan road trips. The thing about western states is it's easy to find places to camp because there's so much BLM (Bureau of Land Management) and National Forest land.
Utah
Arizona
Colorado
Idaho
California
Hawaii
Washington
Portland
Campervan Rental Tips to Make Renting a Campervan or RV a Smooth Experience
Book your campervan reservation well in advance for the trip you're planning
Consider traveling in shoulder seasons you may find the cost per day to rent a rig to be cheaper
Check into roadside assistanace options
Compare Prices- Check into different options, RVs Vans, Overland Vehicles, Campers
Look into campervan rental insurance
Think about your sleeping arrangements
Look into one way campervan rentals if you're doing something like a Hwy 101 trip. If you do this I'd defintely plan on a North to South one way RV rental so you're close to the water while driving
Is Renting a Campervan Worth it?
If you've read the above information and still haven't decided if a campervan rental is right for you. Here's our advice, Rent a Campervan! If you're looking for an epic road trip without fully committing to the whole vanlife thing, renting a campervan is a perfect way to dip your toes in the very addicting waters!
Or perhaps you've been wanting to try out #vanlife but aren't ready to commit to building your own conversion just yet.

Either way, renting a campervan in the USA is one of the best ways to get off the beaten path and discover cute towns and hidden gems you'd never come across if you'd made hotel reservations.
OUTDOORSY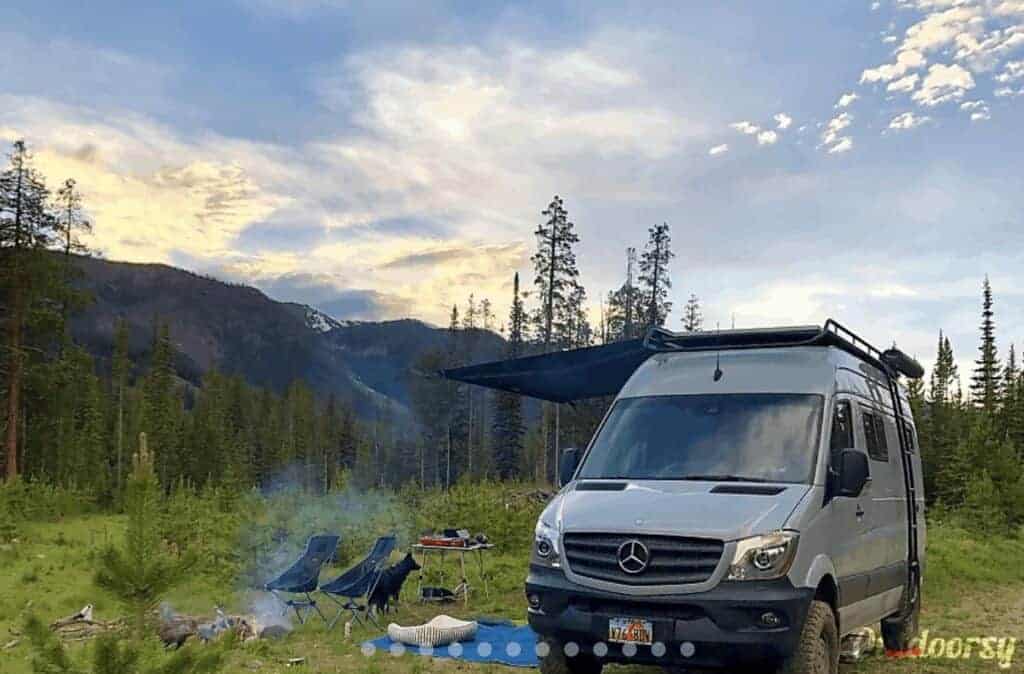 Outdoorsy is a unique van and RV rental company and offers tremendous value and variety that you won't find anywhere else. Outdoorsy is like the Airbnb of campers. Owners can put up their campervans and RV's for rent. All the insurance headache is taken care of through Outdoorsy's included massive insurance policy that protects both the owner and the renter.
What I like most about Outdoorsy is the tremendous variety they offer. From top-of-the-line professional van builds to more of a DIY setup you'll have plenty to choose from. There is no better way to test out #Vanlife since you can rent a van that might be similar to how you want yours built.
Campervan rentals by owner start at about $80/day but expect about $160 for a fully loaded van.
You can learn more about Outdoorsy at our Guide To RV and Campervan Rental Through Outdoorsy.
NATIVE CAMPERVANS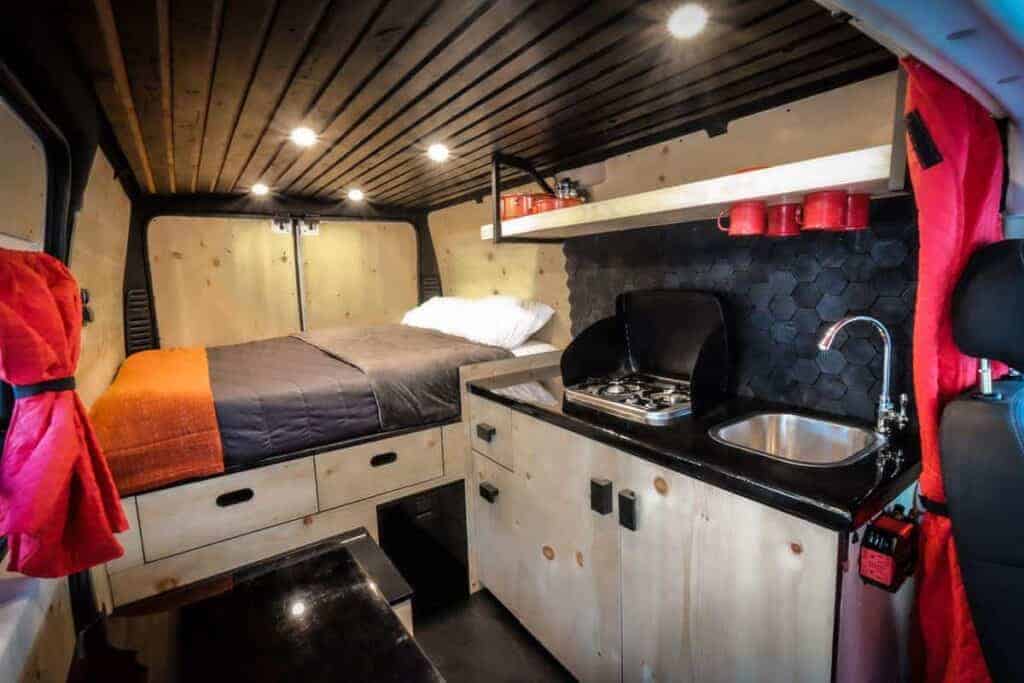 Denver-based Native Campervans has well-equipped vans with all the comforts you'd need for a long trip. They offer three different van sizes (all Dodge ProMasters) to suit your needs. The Biggie is their superstar. It's the perfect Campervan for any couple or friends wanting to live #vanlife to the fullest. Queen memory foam mattress, dual-burner grill, 7-gallon water tanks, and much more.
Ram ProMaster 136" High Roof • Seats 3 / Sleeps 2 • Automatic • Front-Wheel Drive • MPG: 13 (City), 18 (Highway)
During the off-season, campervan rentals start at $79 per day and go up from ther depending on the type of vehicle and length of your journey. All campervan rentals include basic insurance coverage and 100 miles per day. Bedding, propane, and cooking equipment are among the extra features.
USA Rental Locations: Denver, Las Vegas, Salt Lake City
WANDERVANS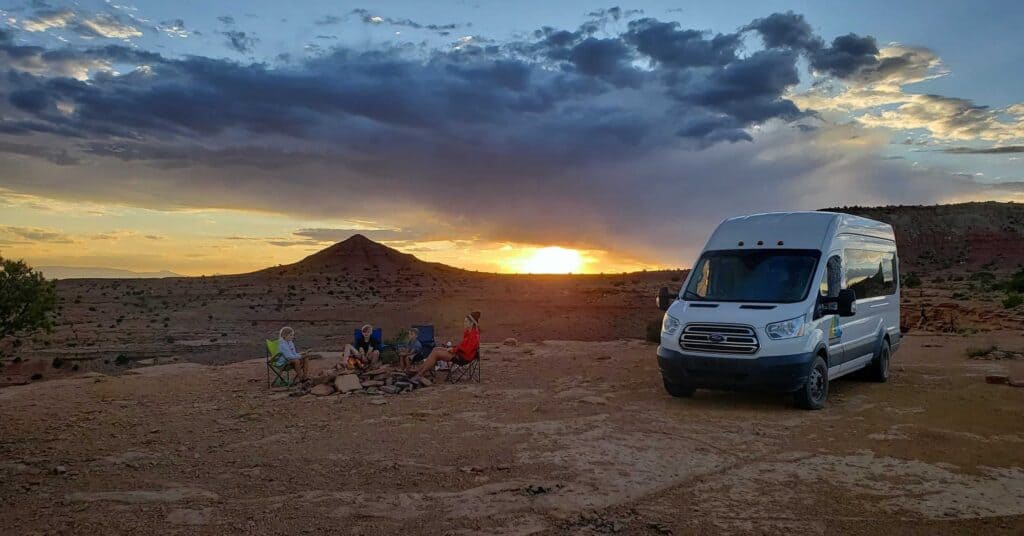 Boise Idaho based Wandervans offers three different sizes of vans which are all built on the Ford Transit. They just recently opened up in Salt Lake City as well.
All of the vans include:
Kitchen area, refrigerator, window curtains, fitted sheet on each mattress, portable fan, table, camp chairs, two burner stove, and magnetic bug screens for the doors and windows.
They are very reasonably priced from $100/day to $130/day depending on the size.
Rental Locations: Boise, Salt Lake City
VINTAGE SURFARI WAGONS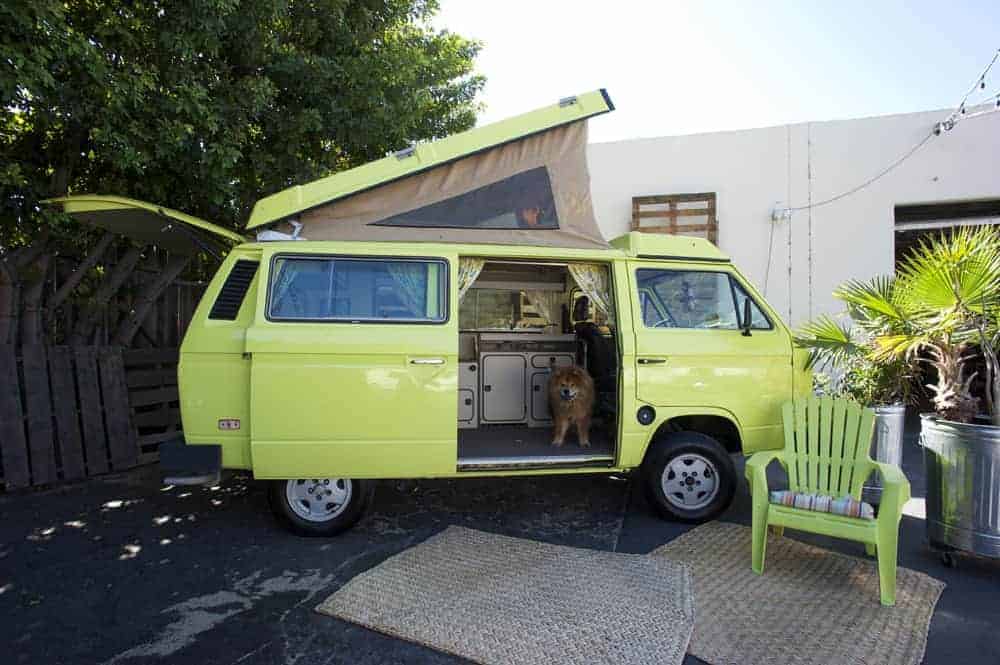 If you're looking for a classic ride then Vintage Surfari is the place to go. The classic VW Westfalia will have heads turning as you cruise the pacific coast. They also offer the newer Eurovans s well. But if it were me I'd stay classic my friend.
During the low season, Surfari Classic vehicle rentals start at $129 per day for a daily rental. The cost of vw campervan rentals is determined by the model you pick and the length of your trip; there is a 3-day minimum (with 120 miles each day). The cabins have two to four sleeping spaces, and all rentals come with a stove, sink (with water tank), icebox or refrigerator, dining table, and other features. Extra items such as bedding, camping gear, and kitchen supplies are available for an additional cost.
ROAMERICA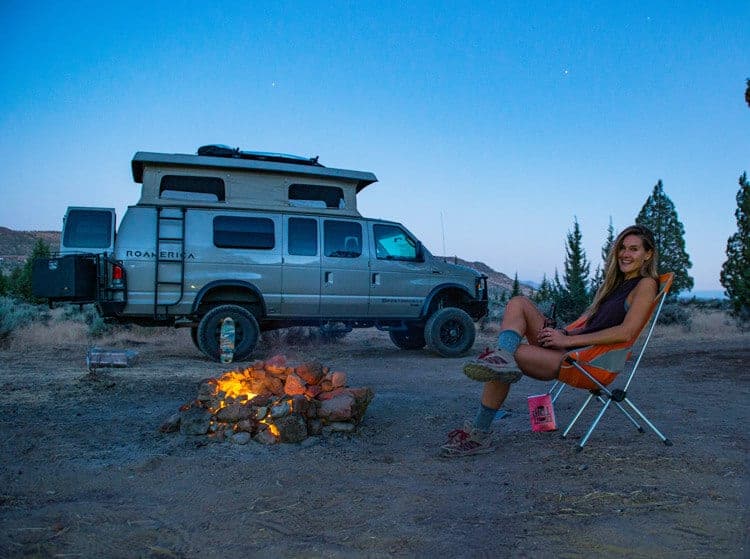 Roamerica out of Bend Oregon enables you to explore the United States and Canada in your campervan. They provide airport shuttles, so you may get started exploring the Pacific Northwest as soon as possible. Their fleet consists of Ford Econolines style pop-tops and Ford Transits with 2WD and 4WD choices available.
Regardless of which one you choose you'll be stoked at how well built these camper van rentals are.
Expect to pay around $200-250/day depending on the time of year.
BOHO CAMPERVANS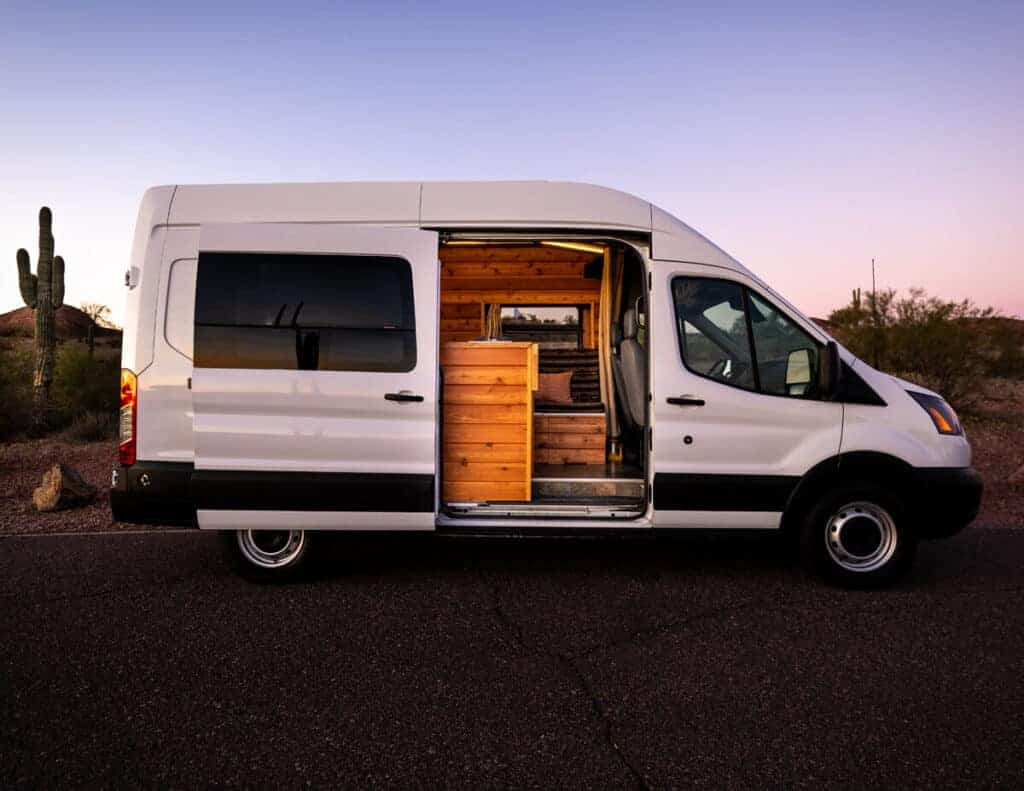 Boho Campers has six different campervan models (both Dodge and Ford) with various interior amenities to make your vanlife adventures more enjoyable. The meticulously designed interiors will have you feeling like you're staying in a luxury cabin rather than just a vehicle.
The daily rate starts at $159 per day, with a three-day minimum. With their solar power installation and 25-gallon water tank, it makes it simple for you to go off the grid. All Boho vans come standard with running water (including an outdoor shower!), a stove, portable cooler, cookware, privacy drapes, bedding, and outdoor chairs.
Rental Location: Phoenix AZ
CAMPERVAN NORTH AMERICA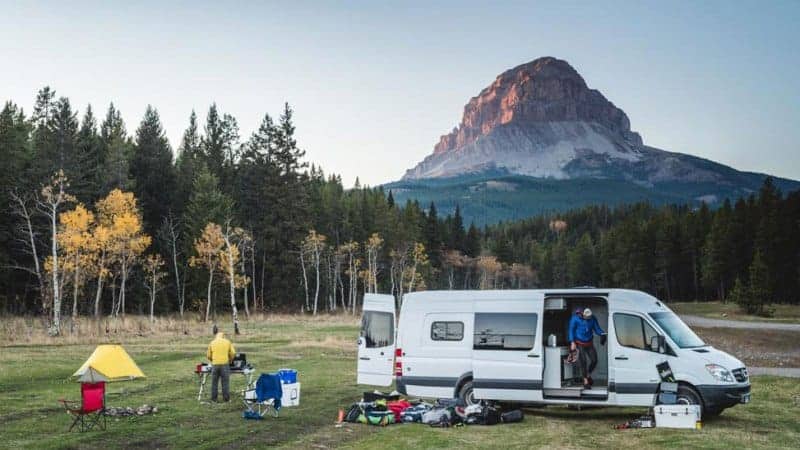 Campervan North America has one of the bigger fleets and offers several different locations for pickup. For families, these are a great option because they have some pretty clever bunk bed designs that will sleep the whole gang.
Campervan North America offers converted Dodge Promaster, a Dodge Sprinters, a Nissan NVs, and more. Many of their vans were bought new and modified, making them quicker with fewer miles on the odometer than other choices you might find. Depending on the model, their vehicles can accommodate up to 5 people. The interiors are tidy and basic; some models come with kitchens and baths while others do not. In the low season, a base rate of $48 per night is charged. There are no miles included in this rate. During the high season, when rates start at $80 per night, they have a five-night minimum but provide price reductions for longer rentals.
Rental Locations: Denver, Bozeman, Las Vegas, Seattle
HAWAII SURF CAMPERS RENTALS
Hawaii Surf Campers rent a variety of campervans with Volkswagens to Ford Econolines and Transits beginning at $149 per night. They provide airport pickups and drop-offs for a little extra, as well as a map of camping suggestions around the island. One cool thing about Hawaii Surf Campers is they have teamed up with a local surf school where you can get discounted surf lessons and the rental company will rent you a surfboard for an additional fee.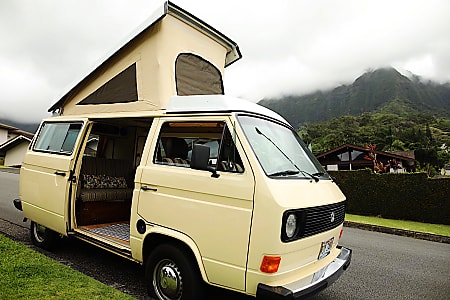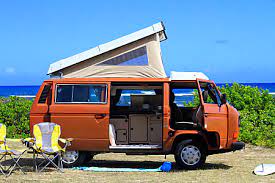 Rental Locations: North Shore of Oahu, HI and San Diego, CA
ESCAPE CAMPERVANS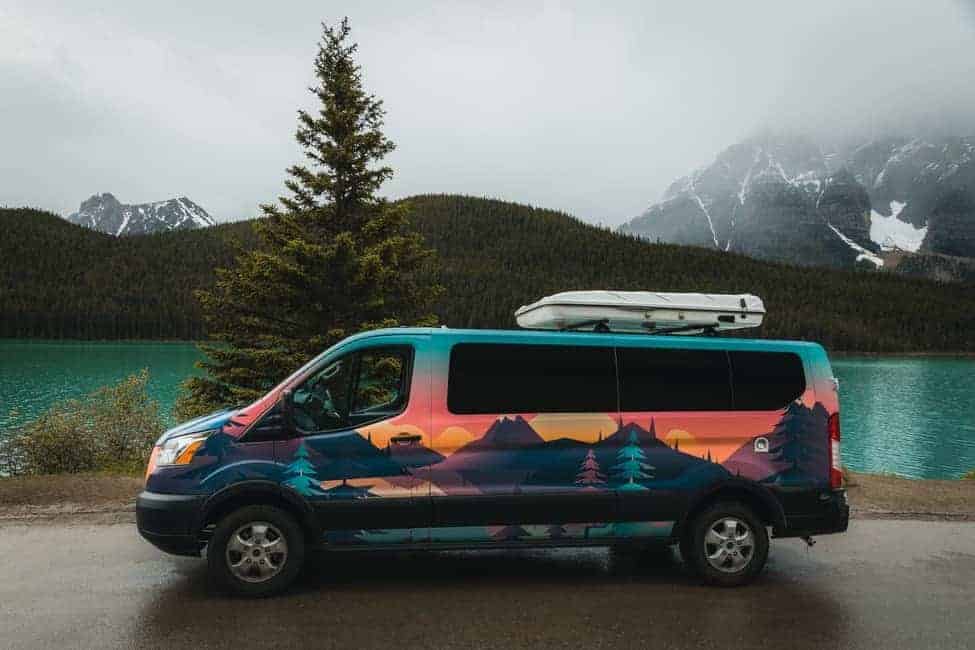 You've likely seen these camper vans cruising about as they are hard to miss with their unique paint jobs. Escape Campervans on many of their models utilize roof-top mounted tents making for a 2-story van.
Budget-friendly rates start at $33 a day during the low season and vary depending on the vehicle type, time of year, pick up/drop off location, and length of your journey (the longer you rent, the lower rates will drop). Because they have such a large network they often offer 50% off relocation specials. Escape Campervans can accommodate from two to five passengers and come in a variety of styles. A sink, refrigerator, and stove are standard for all camper van rentals, as is a dual battery system with solar. Extras like sleeping bags, camping equipment, and cooking supplies may be added for an additional fee.
Rental Locations: Los Angeles, Las Vegas, San Francisco, Portland, Seattle, Salt Lake City, Denver, Phoenix, Atlanta, Miami, New York, Chicago,
They also have rentals in Canada and would be a great option for a cross-country or one-way campervan rental trip.
TREKKER VANS FORD TRANSIT RENTALS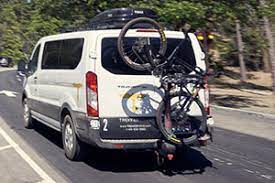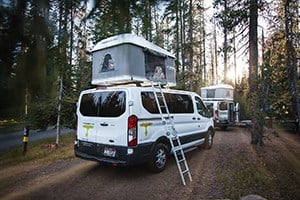 If you're an outdoorsy person, Trekker Vans may be your kind of place. Unlike some of the most well-known camper van rental businesses, Trekker Vans is a self-funded, locally owned, and managed company. The owners are active outdoors people, so they're always delighted to assist you with your trip planning.
Their camper van rentals come fully equipped with beds, curtains, cookware, stove, refrigerator, sink with running water, and camping chairs. The dinette folds down into a two- or three-person bed that sleeps lengthwise or crosswise depending on the configuration. A rooftop tent may be added for extra space if necessary.
While the prices do vary significantly by season and duration of the journey, a camper van rental can be rented for around $99 per night in the off-season with at least three nights booked. Be aware the prices will be about twice as high during peak season.
If you're searching for a camper van rental service near San Francisco International Airport, this is a great chance because you'll be on the road quickly.
Rental Locations: San Francisco and Los Angeles, CA
CAMPERVAN RENTAL ROUNDUP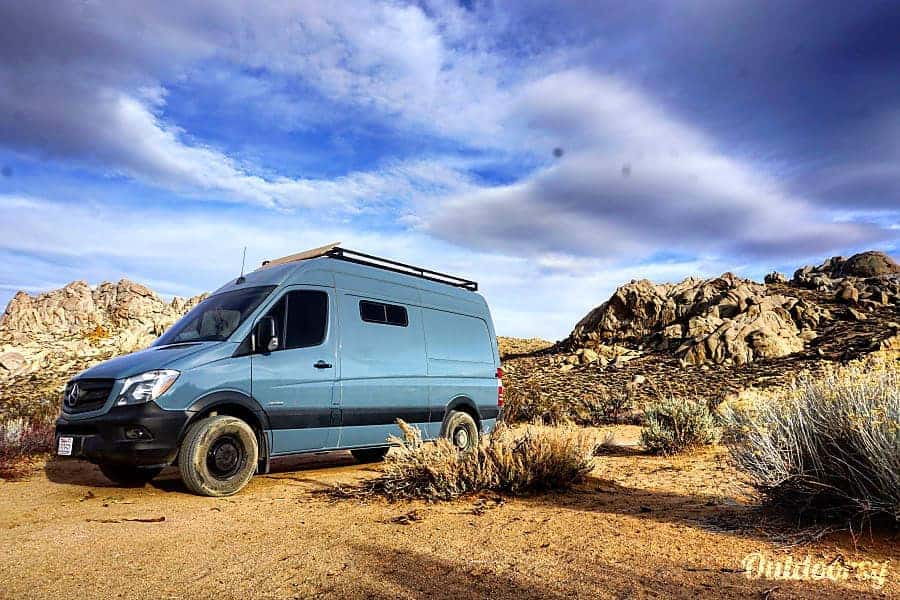 As you can see, taking a test drive with Van Life has become much easier with all these great options. For about what a hotel would cost you can take your experience to a new level.
For me the clear winner of the bunch is Outdoorsy. You'll notice that Outdoorsy has most of these other rental company vans listed on their site and often for a better price.
It's an easy place to browse all the different vans and the variety and unique builds make it the best Campervan Rental experience.
Additional Questions You May be Asking Yourself
Where can I find a cheap campervan rental?
Your best option for finding the cheapest campervan rental is to travel during the low season. Just as any kind of travel during low season you'll find things to be much more affordable.
Are there small campervan rentals?
Most people consider any van to be small when compared to normal living but yes you can find small campervan rentals like vw campervan rentals at Vintage Surfari Wagons
Your best