Anyone who has spent a reasonable amount of time in a campervan knows that space is limited, especially when you're living in it full-time. Knowing the best campervan storage ideas will not only help you to save valuable space in your van, but it'll also save your sanity.
Obviously, you'll need a place to store your everyday essentials like clothes, toiletries, food, and cooking accessories, but that's not all.
You need to think of the stuff you currently store in your home garage and the things you put away in your "office." For us deciding where to put our toys, gear, and tech devices were at the forefront of our mind when we built our van. The reason we are living in our van is so that we can play, adventure, and work on the road, so everything in our van was built around our toys, office needs, and of course, our sleeping quarters.
All of these campervan storage solutions are versatile and can be used as storage ideas for small campers and organizing a camper too so don't think these ideas are only for vans.
CONVERSION VAN STORAGE IDEAS
Toys: If you're into adventuring while on the road, you'll need to consider space for your bike, paddleboard, skis, climbing gear, surfboard, kites, etc.
Adventures: Sometimes, it's nice to get a bit further into nature than the van will allow. In this case, tents, sleeping pads, and backpacking gear come in handy.
Tech: A nice secure place to store your computer, external storage, cameras, drone, batteries, etc
Entertainment: If you're into reading you need an organized place to store all of your books
These days there is so much inspiration on Pinterest, Instagram, and Google. So don't let your lack of knowing how to organize or create storage solutions in your van stop you from getting organized. With so many campervan storage hacks and space-saving techniques in the tiny home living space, I'm sure if you do some Google searching you'll find your solution. Organization is crucial and will go a long way to helping you feel comfortable and at home in your van.
Looking for Additional Campervan Hacks and Ideas? Check These Out
Van Storage Areas
We've divided up the different areas that you'll most likely need some organizing help.
Bedroom campervan storage ideas
Kitchen campervan storage ideas
Living room campervan storage ideas
Bathroom campervan storage ideas
"Garage" campervan storage ideas
Campervan Storage Accessory ideas
Campervan Bedroom Storage Ideas
Storage Cubes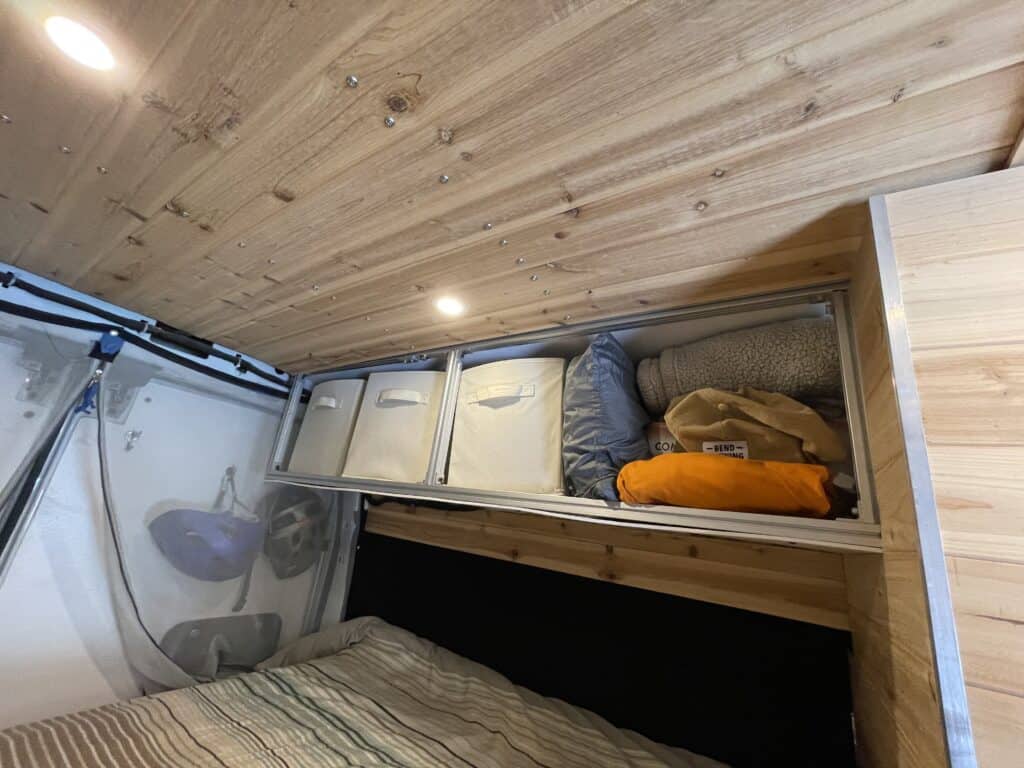 We have 3 storage cubes above our bed that we use to store our clothes. The great thing about these storage cubes is they fit perfectly in the open shelves so sliding them in and out is a breeze. No cabinet doors are needed because the cubes keep things looking tidy in our over-the-bed storage area.
Step up Storage (Stairs for Bedroom)
I don't see a ton of van conversions like this but these step are great because you're maximizing storage area in the garage of the van and you even have a nook for storing things directly under the bed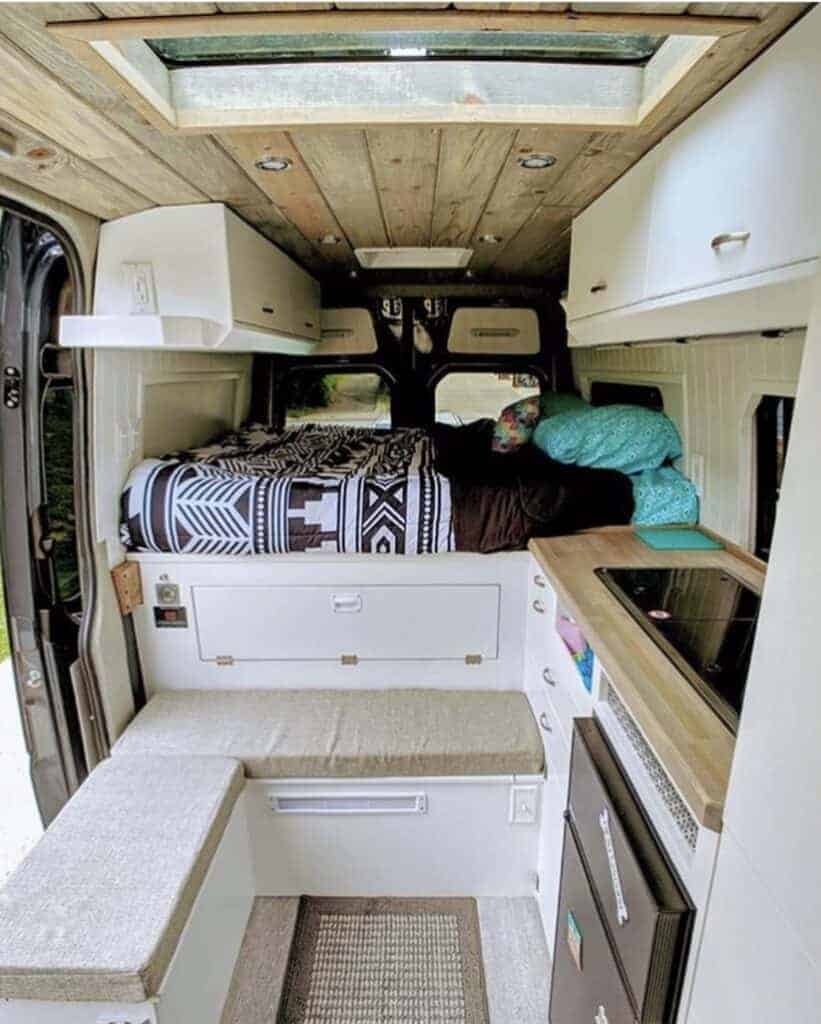 These are some fantastic cabinets that are built to maximize organization throughout the whole van.
Because we have a garage full of adventure gear our bed is situated on a platform. To access the bed we needed a step so what better way to create a useful step than to store our 55 galls of fresh water under it. The best part is the water tank is always in sight so we know how much water we have before we need to fill up again.
Under Bed Drawers and Storage Cubes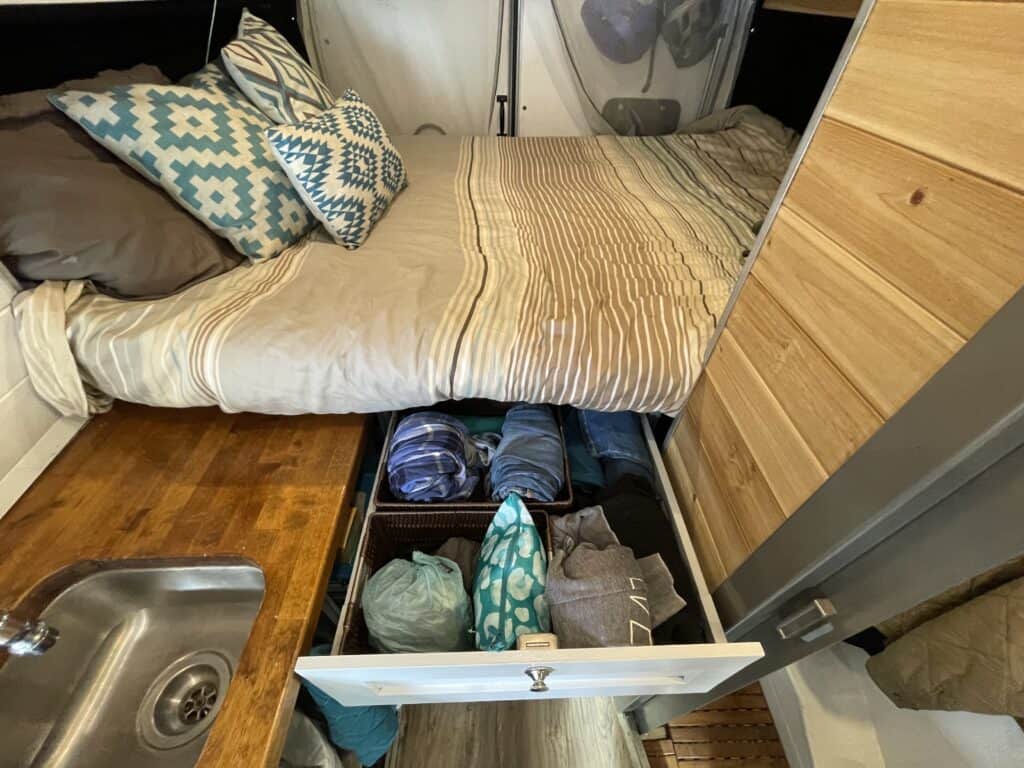 Finding a good van life clothing storage solution doesn't have to be difficult if you plan properly. Yes of course you have to slim down your wardrobe so you're only bringing the most important things but it doesn't have to cause unnecessary stress. We use compressible bags to store things like socks, bras, and undies so that I can keep them organized in their own little stuff sack.
But these under-bed drawers are perfect for us. We store all of our day-to-day necessities in these drawers and anything that is out of season ends up stored in the back garage area.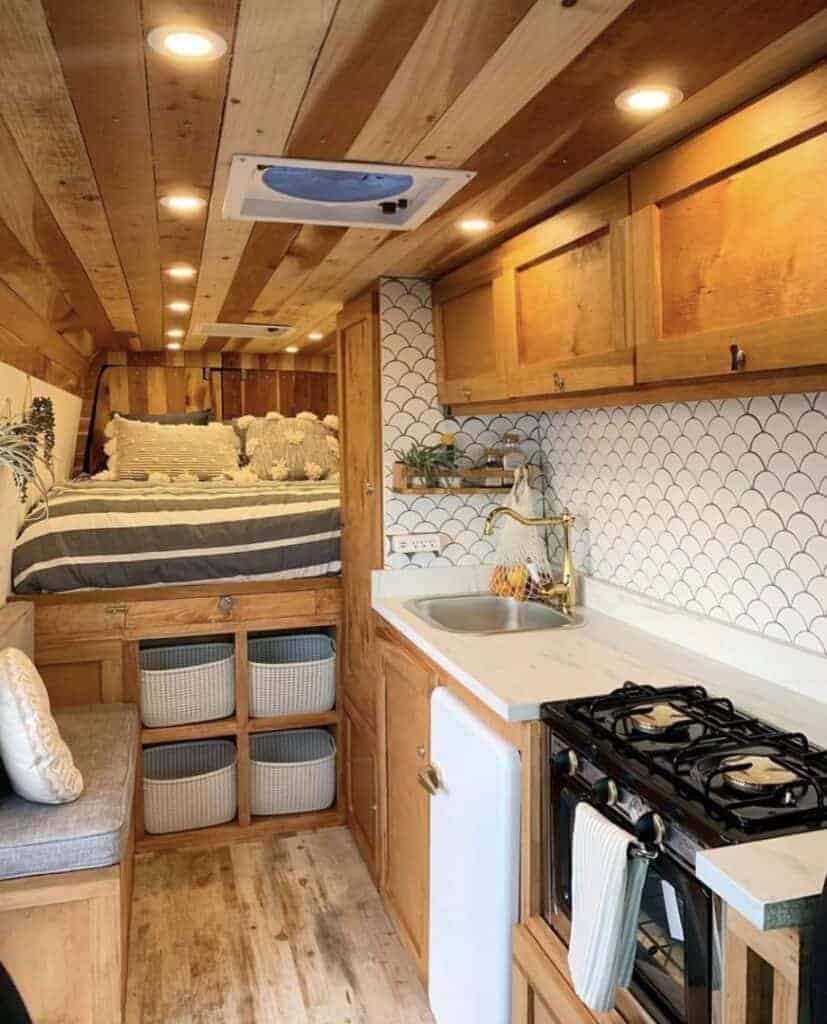 Campervan Kitchen Storage Ideas
We spend a ton of time in our kitchen and I'm sure many of you do too! I hope you find some of these camping kitchen storage ideas to be useful in helping you to organize your kitchen.
Fruit and Veggie Hammock
Not only is a fruit and veggie hammock a space saver it keeps all of the produce out of the overhead storage cabinets allowing space for other things that can't be hung. Anytime you can find a campervan hanging storage accessory it's a win in my eyes because it's a versatile storage solution that can be taken down when not in use.
Campervan Overhead Storage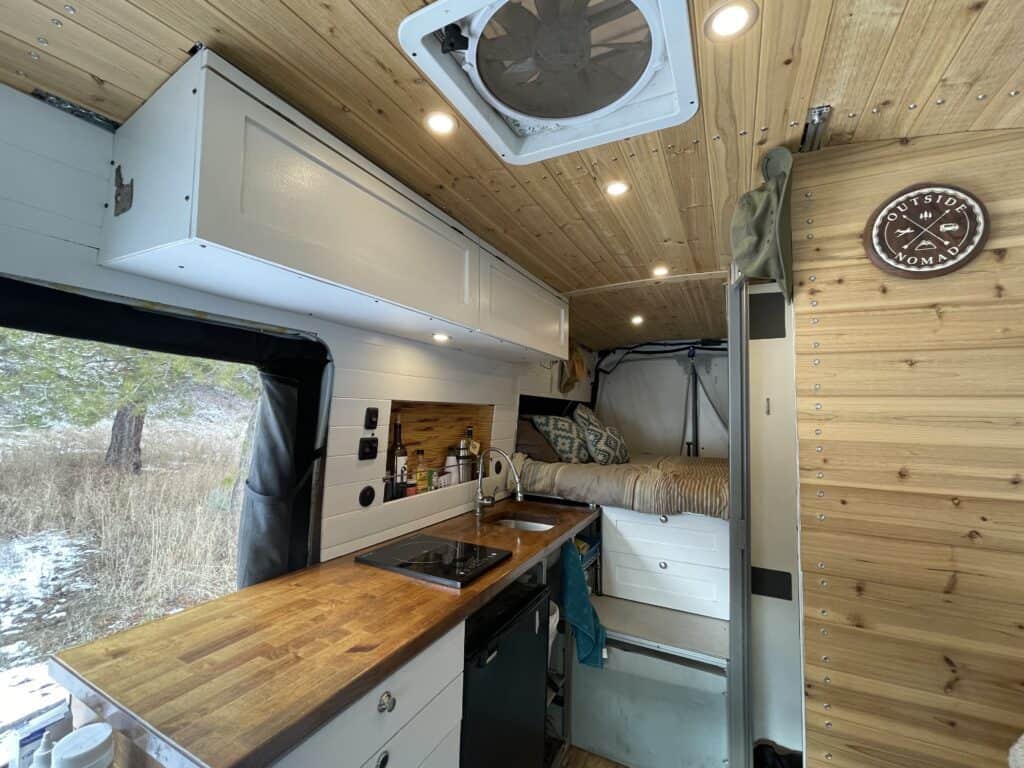 Not to get into all of the specifics of why we chose the High Roof Ford transit but one of the reasons is because of all of the overhead storage and that we wanted "most" people to feel comfortable with the height while in the van.
With about a foot of clearance above August's head, we feel like we have plenty of space to breathe and we knew the extra space would be excellent for building overhead storage. We use overhead storage for the space above the countertop as well as above the foot of our bed.
Our overhead storage area is perfect for our food and when we use our inside cupboard storage organizers to help us stack things while keeping things accessible and organized.
Camper Van Table Ideas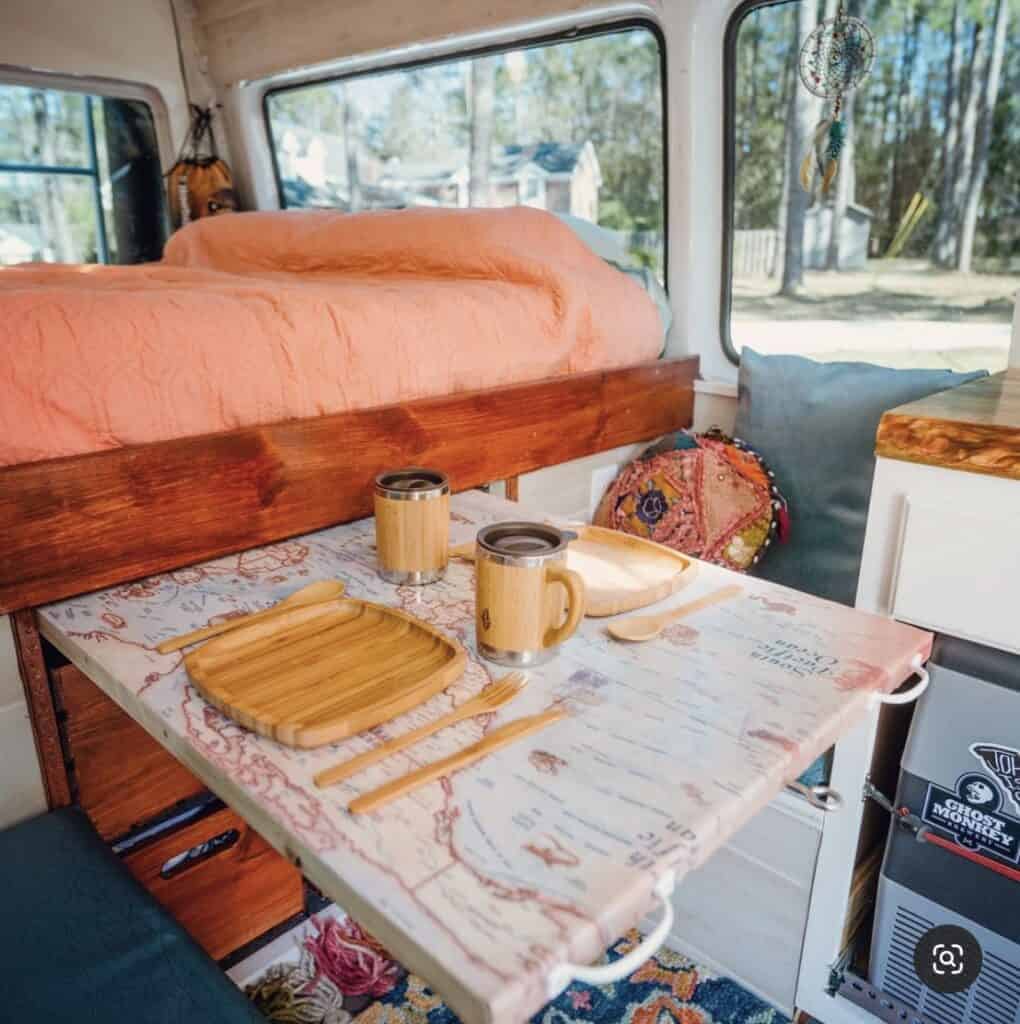 There are a handful of different ways you can go about creating a campervan table but for those who have a fixed bed the most popular campervan tables are sliding tables and lagun mounted tables because they are versatile and mobile
Campervan Inside Cupboard Storage Ideas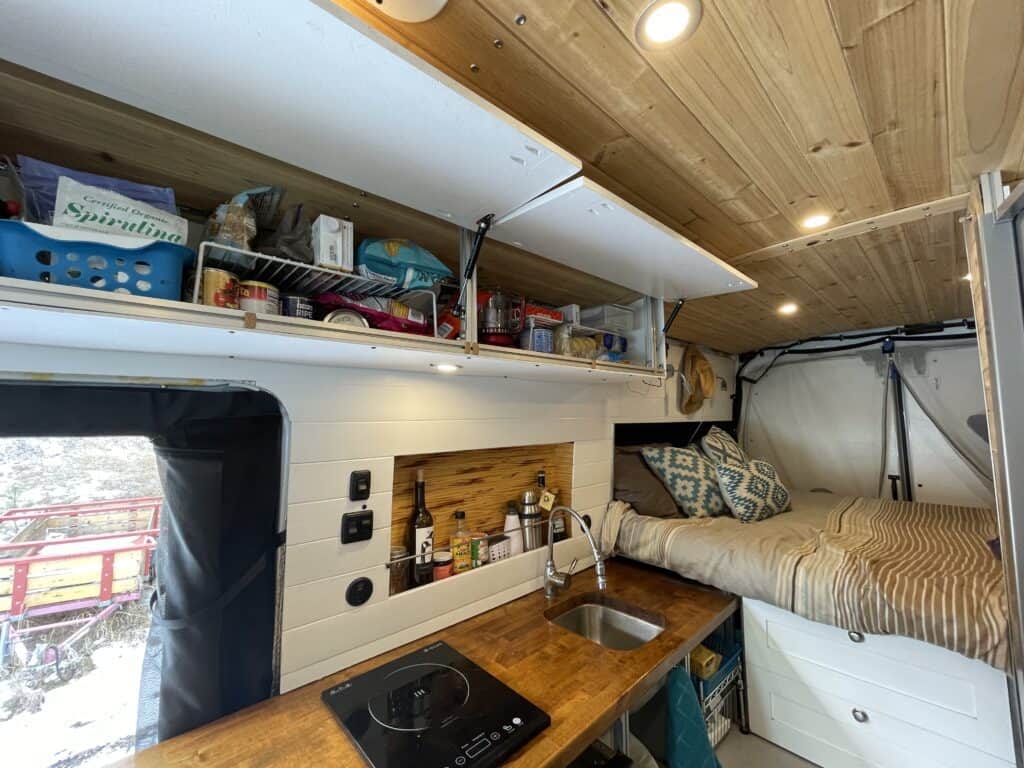 Using things like storage cubes and shelf dividers will come in really hand when you're trying to keep the inside cupboards organized. We like to use cubes for the little items that may get lost in the back of the cupboard.
Campervan Spice Rack
By using wall space or under mounted cabinet space for spices you'll be saving a lot of room in your van cabinets. Finding some nice looking jars for your spices is a plus because everything looks very organized.
Vertical Storage
Save cupboard space by using vertical storage to hold nice looking wine glasses like these. Maximizing free space wherever you can is what it's all about when living in a campervan.
Campervan Magnetic Knife Holder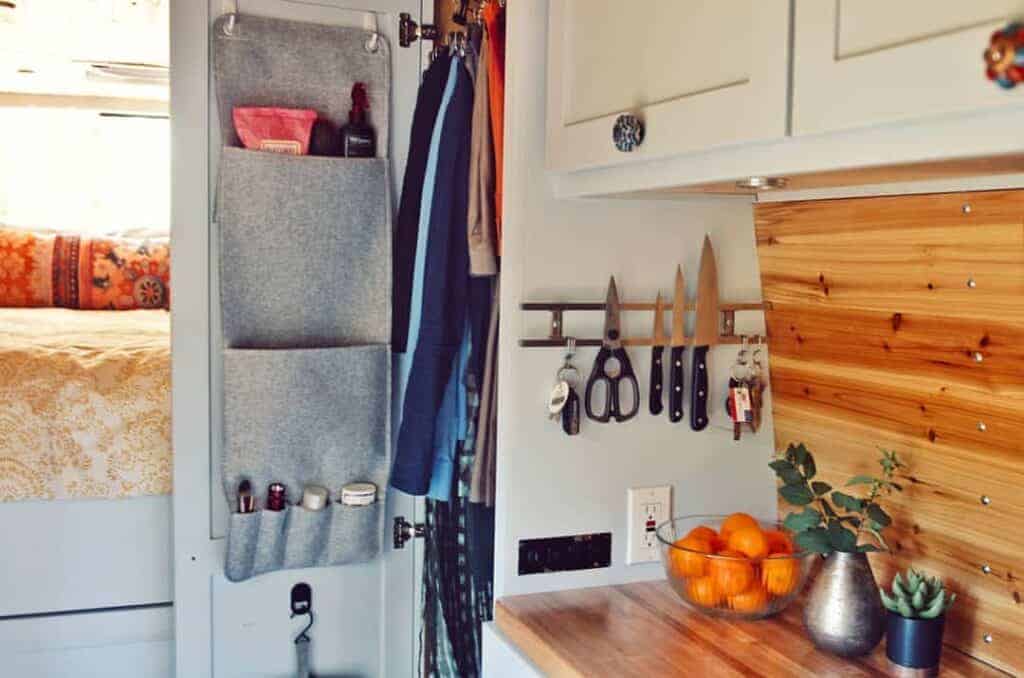 As mentioned before anything that can be used as a campervan hanging storage accessory is key for space-saving. If you plan on having more than one sharp knife I'd recommend looking into something like a magnetic knife holder. Keep those the sharp items out of the drawer where space is super valuable.
Campervan Sink Cover
Depending on your kitchen set up a sink cover will most likely come in super handy. What a lot of people do is use a cutting board that doubles as a sink cover so you're killing two birds with one sink cover. The multi-purpose sink cover will save you on storage space since they're a larger object that may not be easily slide into a compact space.
Take Advantage of Tiny Spaces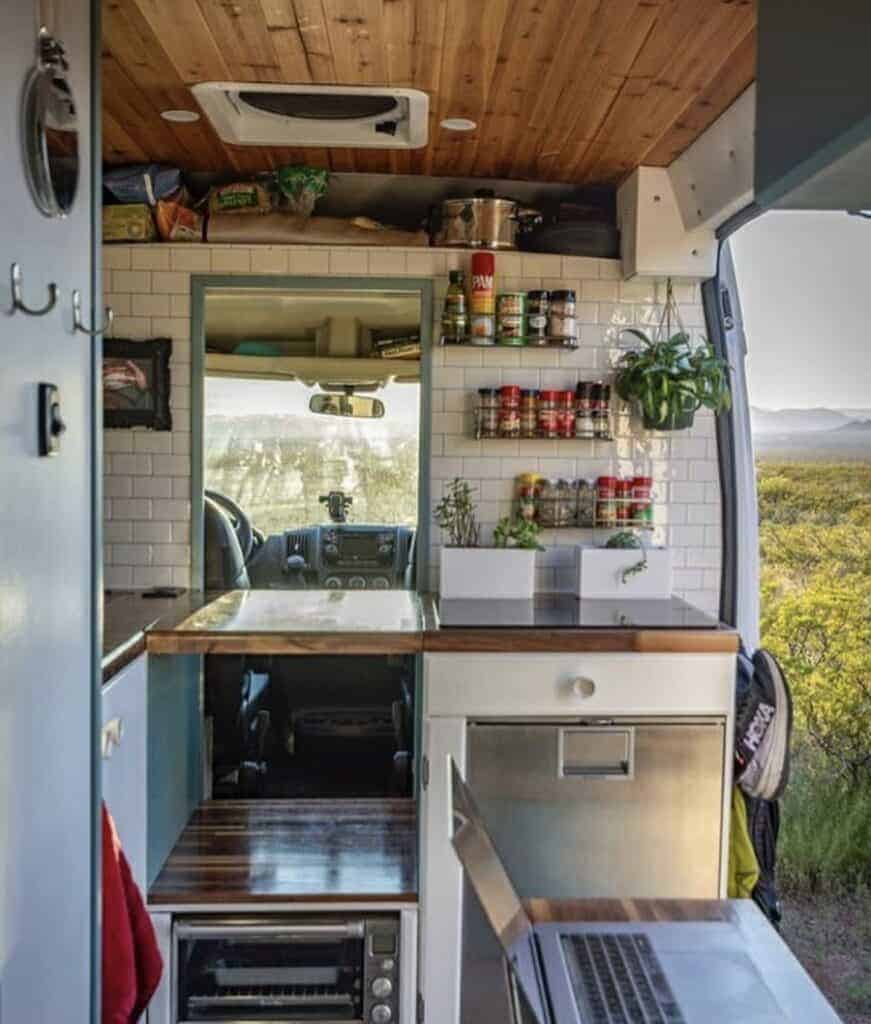 Yes, every little nook and cranny can be strategically used for campervan storage. I use the back of our kitchen area behind the trash to store things that we don't use often like cleaning supplies, dog brush and extras.
Campervan Main Living Area Storage
Pop-Up Table or Shelf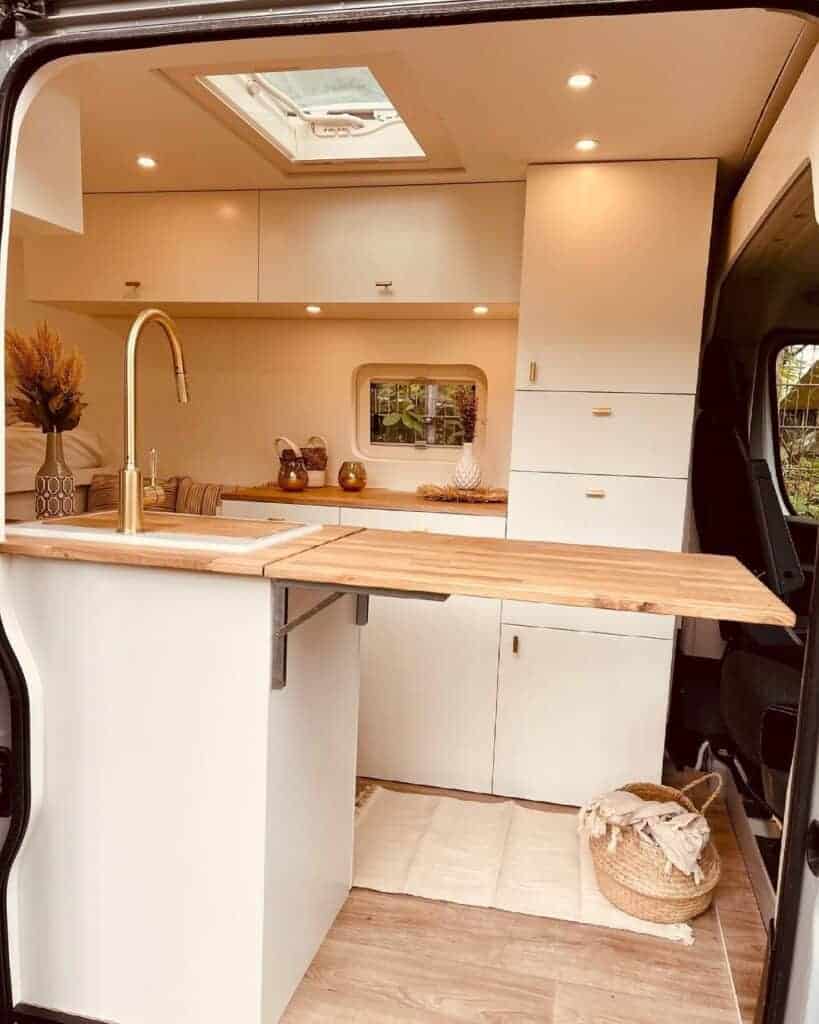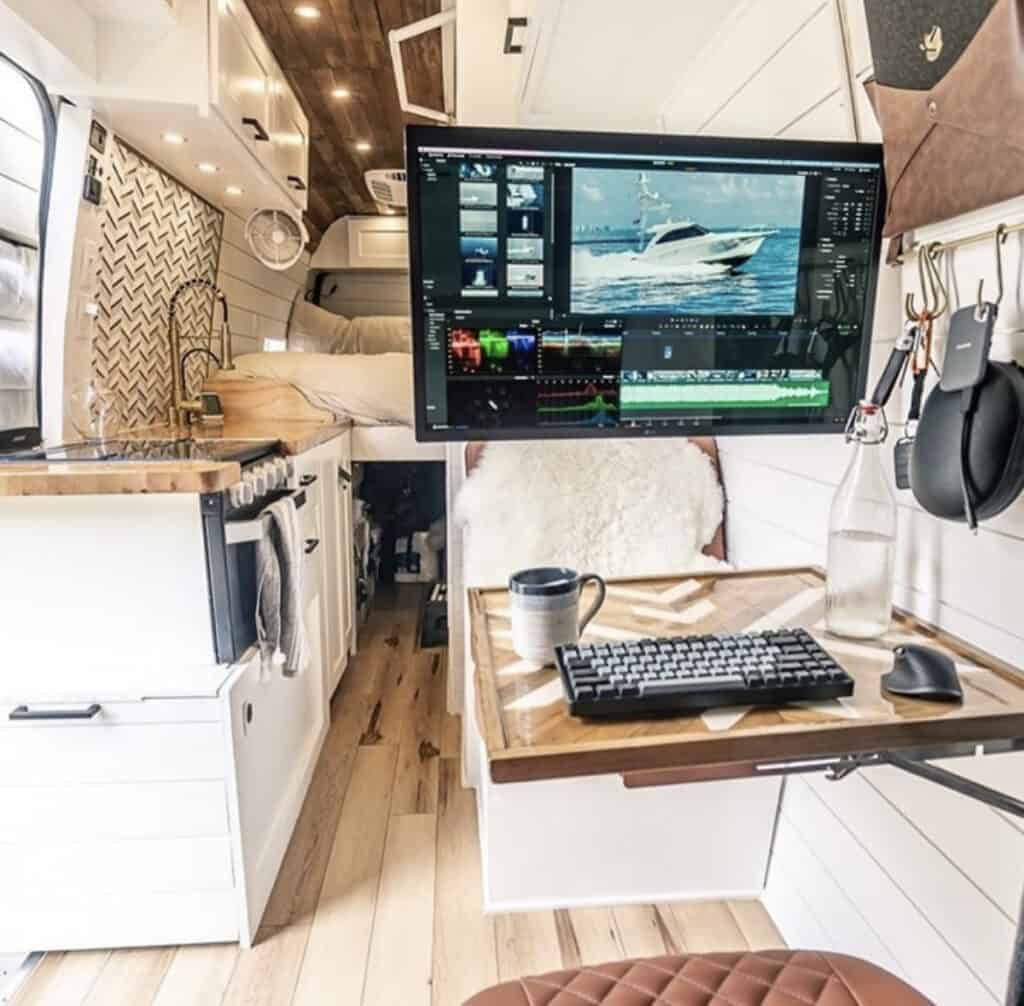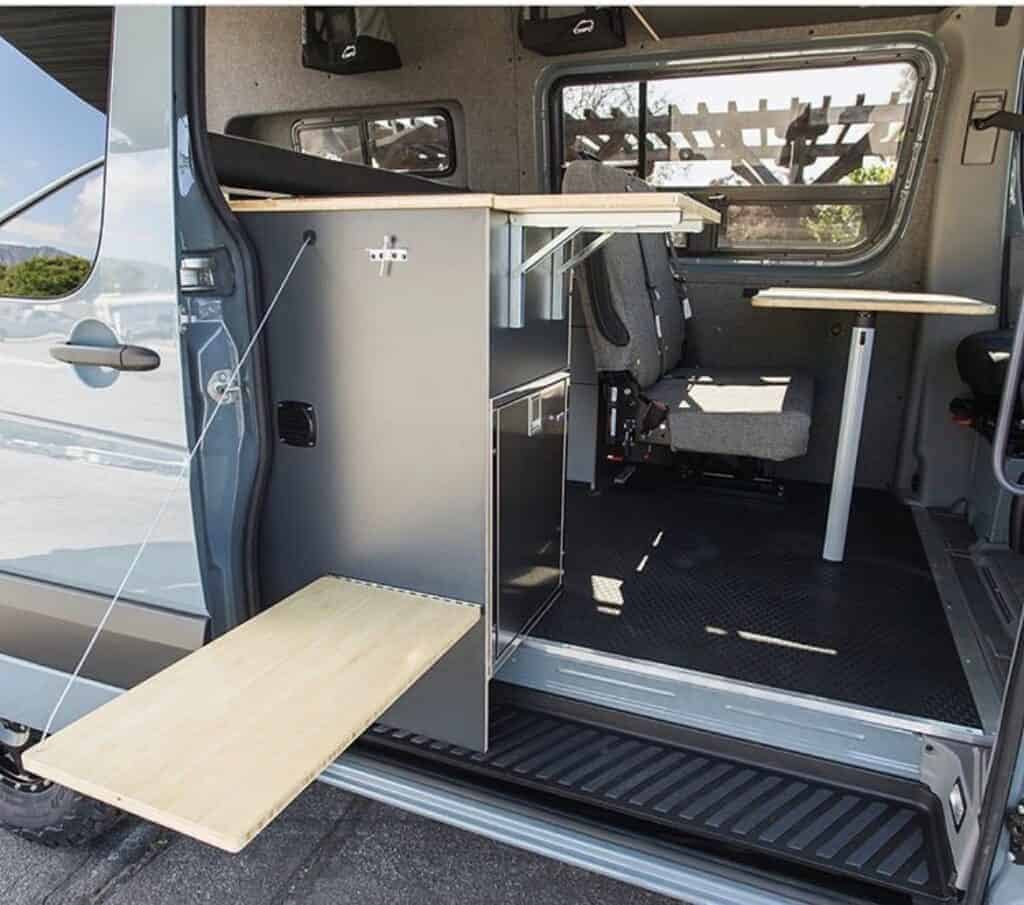 We think having one of these pop-up shelves is one of the best campervan storage ideas. It can easily be stowed away when not in use but can be extended with spring loaded hinges to create additional counter space or make an extra workspace for someone looking for a workspace with a view.
Campervan Desk Options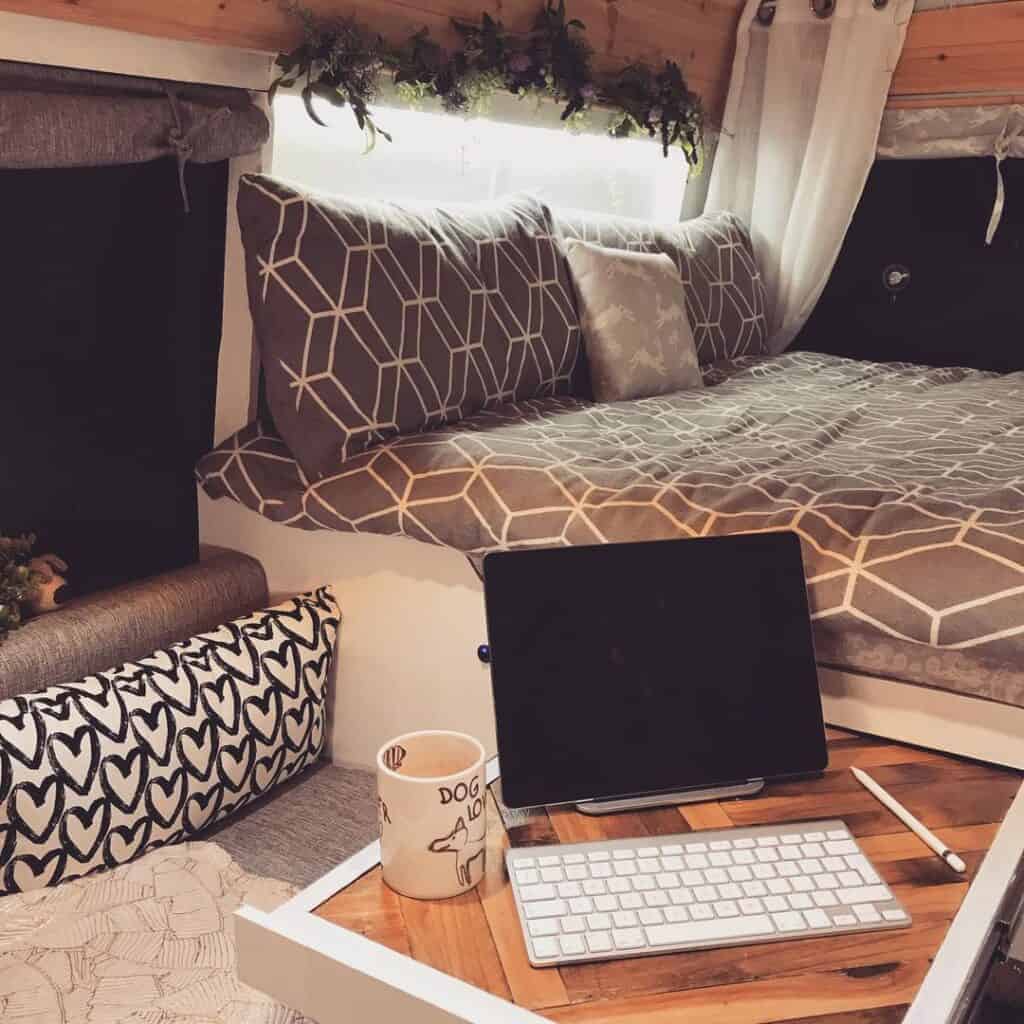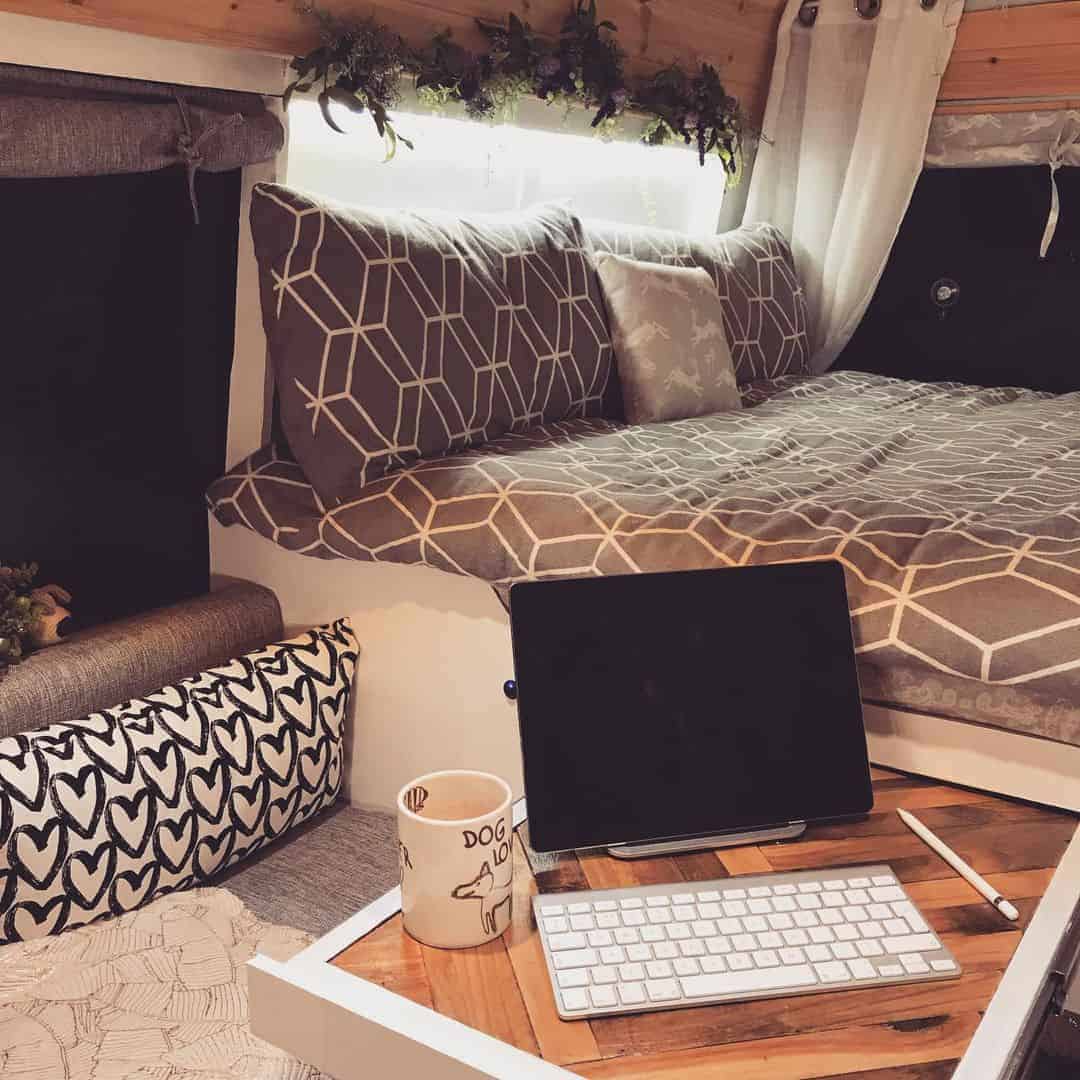 There are so many different ways you can configure and organize your campervan office area. I really like the idea of the slide out table under the bed. However, many people really like using the Lagun adjustable tables for vans.
Secure Items For Departure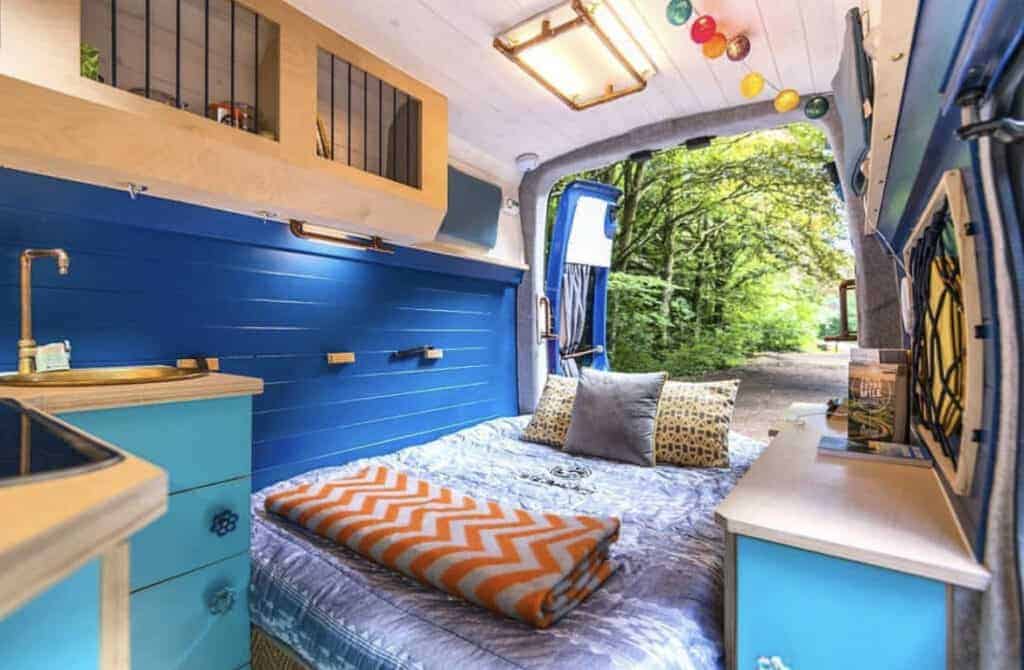 Make use of magnets, locks, and bungee cords to keep things where they should be while on the road. Believe me the last thing you want (or need) is a bunch of loose items sliding around or drawers crashing open on a sharp turn.
Shoe Rack/Shoe Storage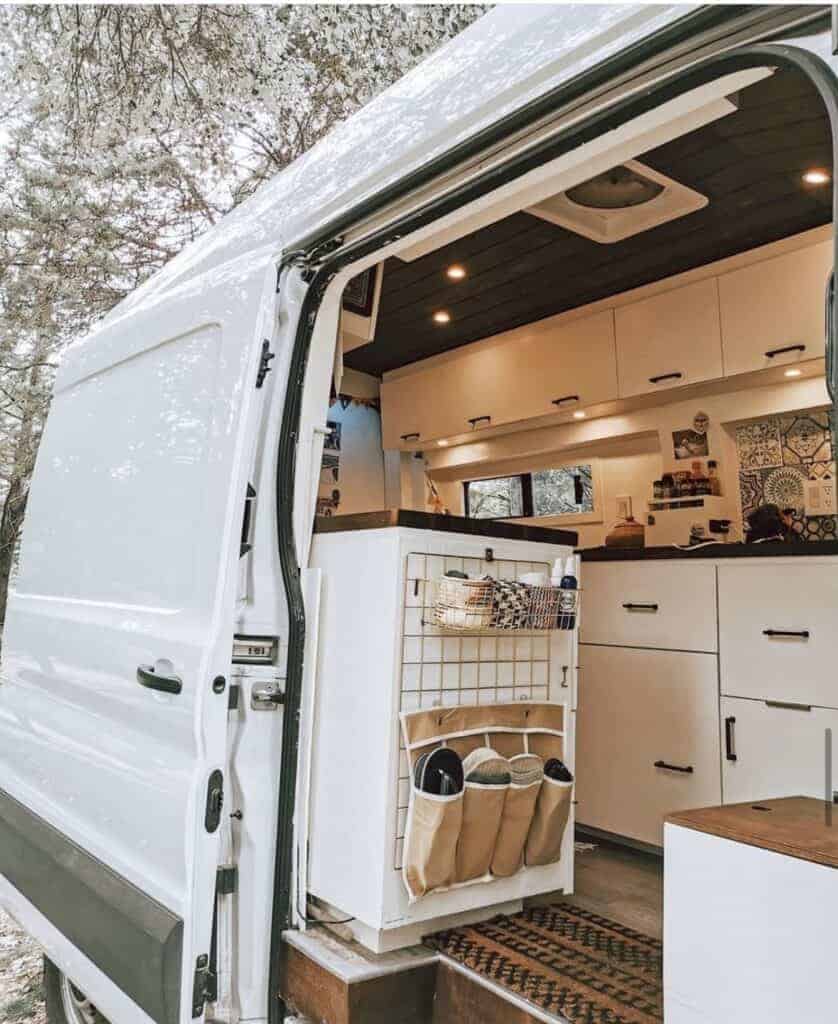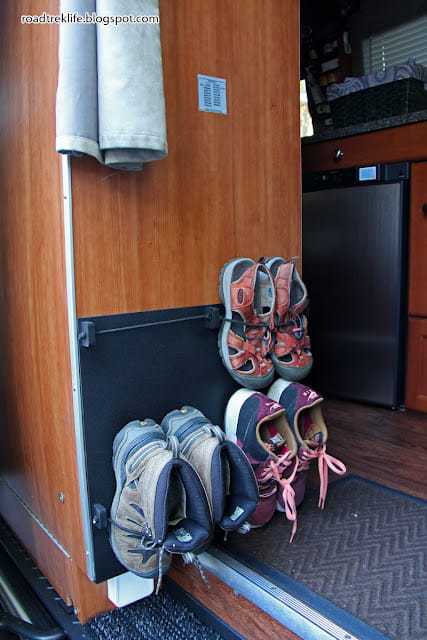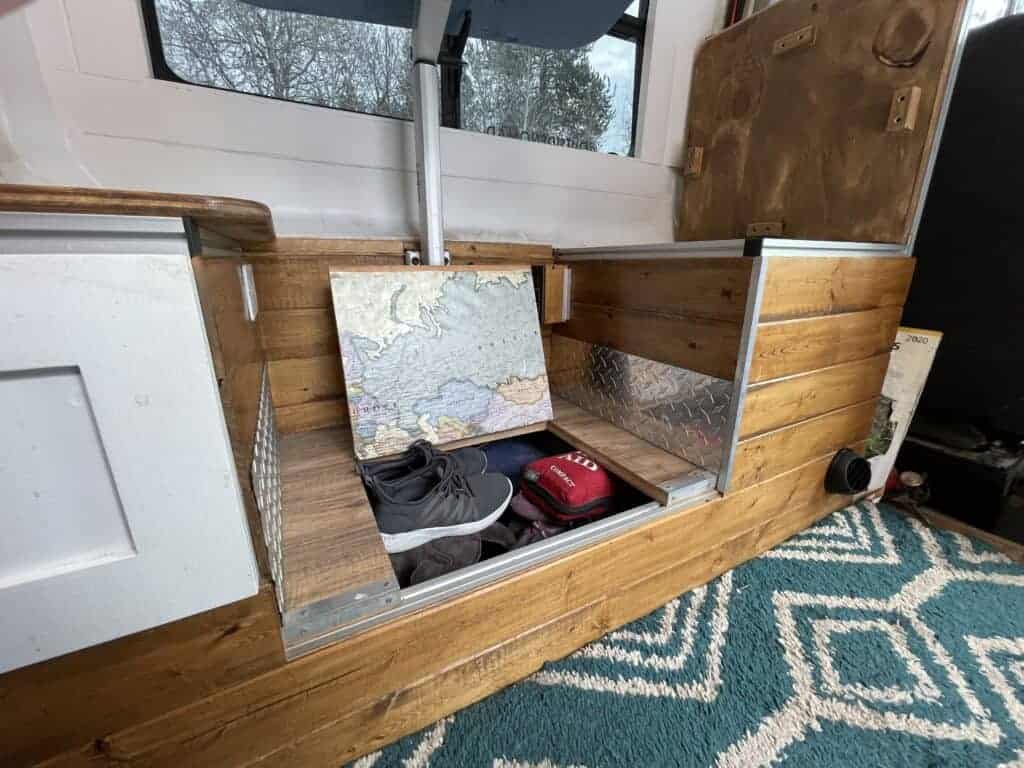 Shoes can be a huge pain when it comes to finding storage in a van. Using a bungee cord or hanging pockets to secure extra shoes to the wall of the entrance is a perfect way to keep them out of the way so you aren't tripping on them.
Mesh Storage Pockets
Using Mesh storage pockets on the back of the front seats is a great way to use space that really doesn't have a purpose. We store our dog leashes, dog poo bags, maps, headlamps, sunscreen pretty much all of the things that we need quickly accessible in our mesh storage pockets
Bench Seat Storage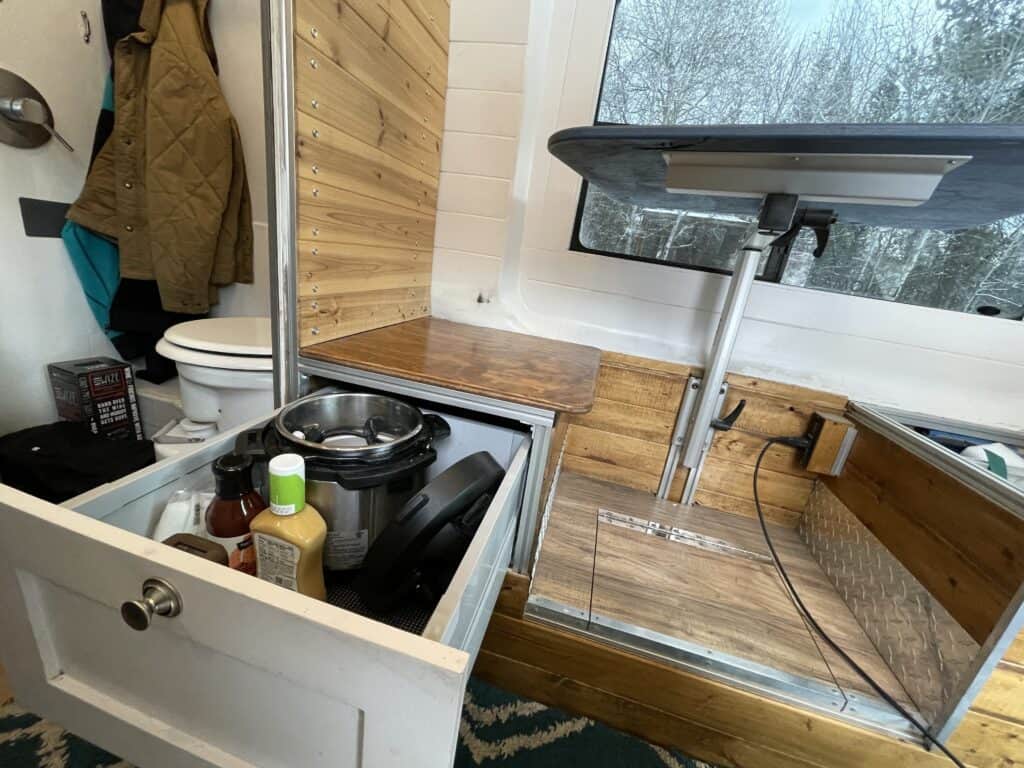 Make those seats multi-functional! Sure having a nice comfy seat is one thing but use that under bench storage area for things like batteries, meters, etc.
Bulkhead Storage
I think the one thing the Mercedes did awesome was to create a kick a$$ bulkhead storage area, this is great real estate for people. I'll be honest the Ford Transit over seating storage area isn't amazing but it's great for sunglasses, extra cords, and our front living room curtains,
Campervan Garage (Gear-rage) Storage
There's soooo much you can do in your campervan garage area. If you're looking for van garage inspiration check out this article.
Bike Rack Holder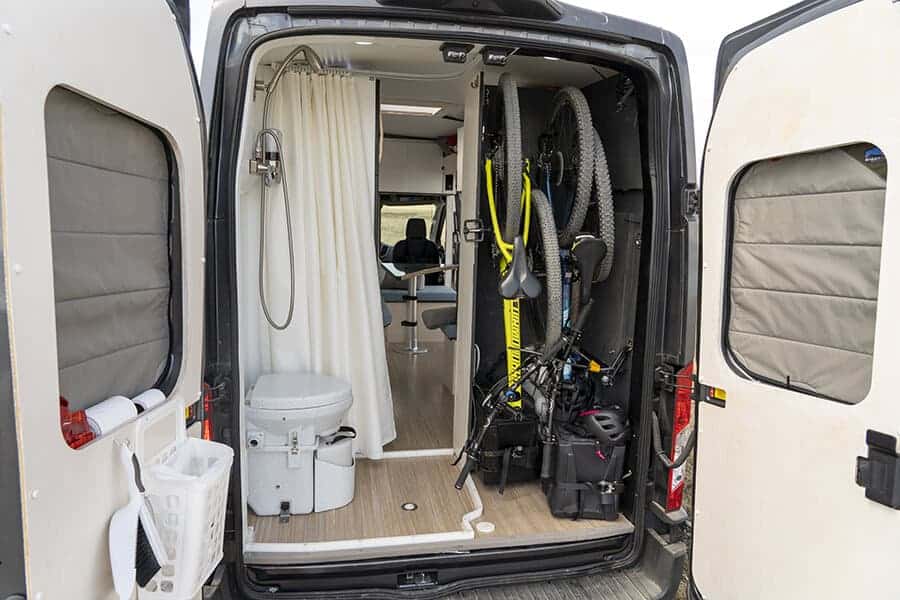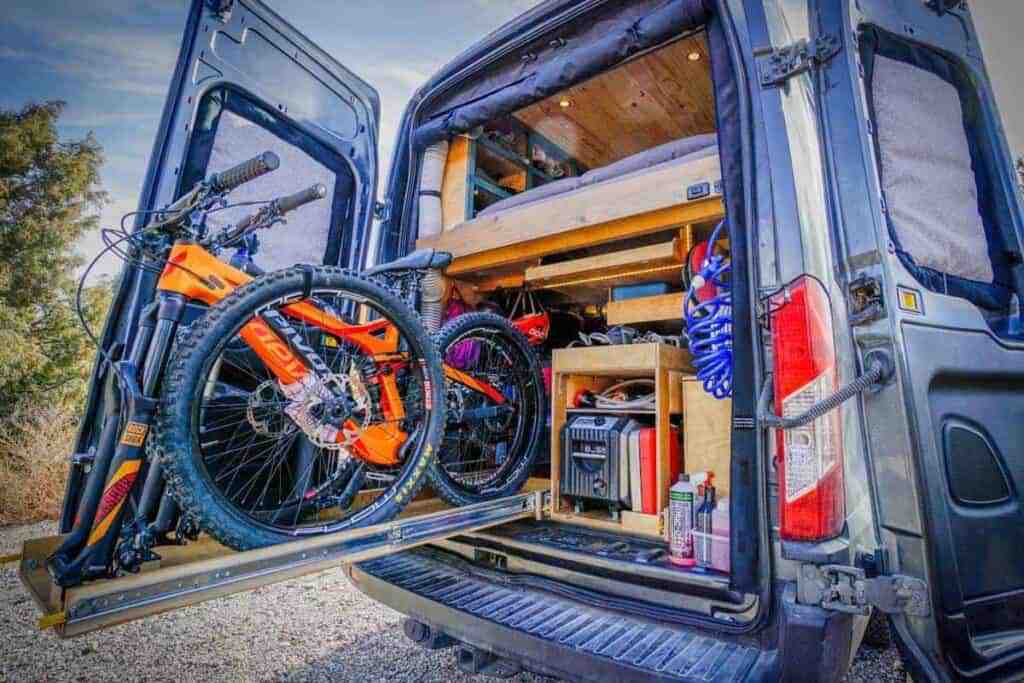 Shelf Slides
These van storage drawers are spacious and beautiful. They provide a lot of extra space and are great for the person who doesn't use their van garage for bikes, paddleboards etc.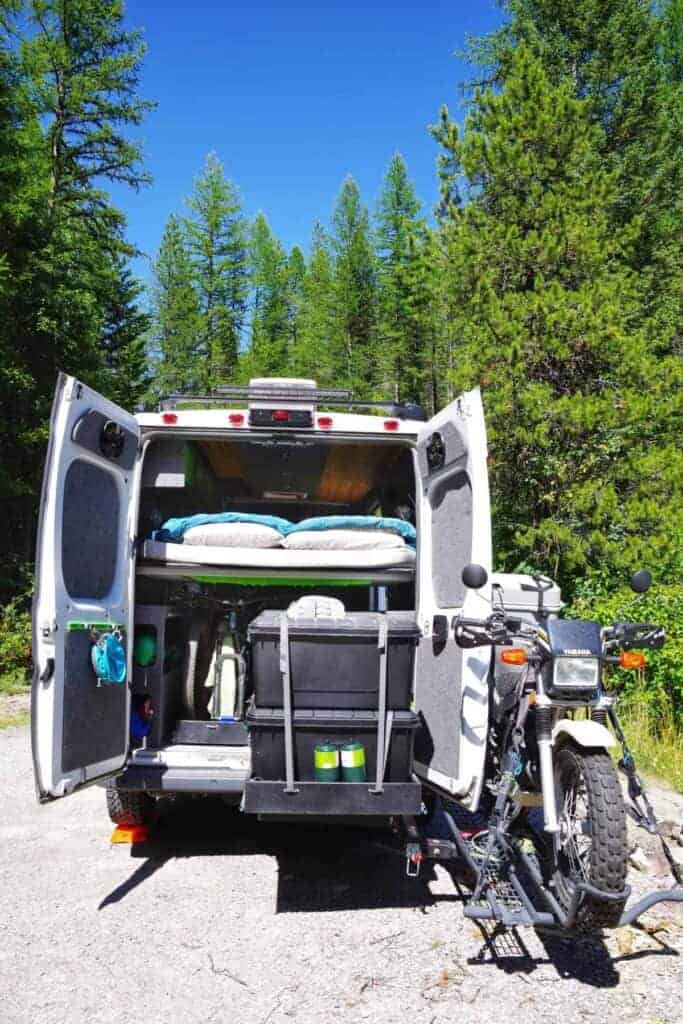 These heavy-duty shelf slides are the bomb! Especially in the garage storage area. I love that you can easily unlatch the locks on the slides and the drawers roll out for us to get hard to reach things.
Back Door Storage Ideas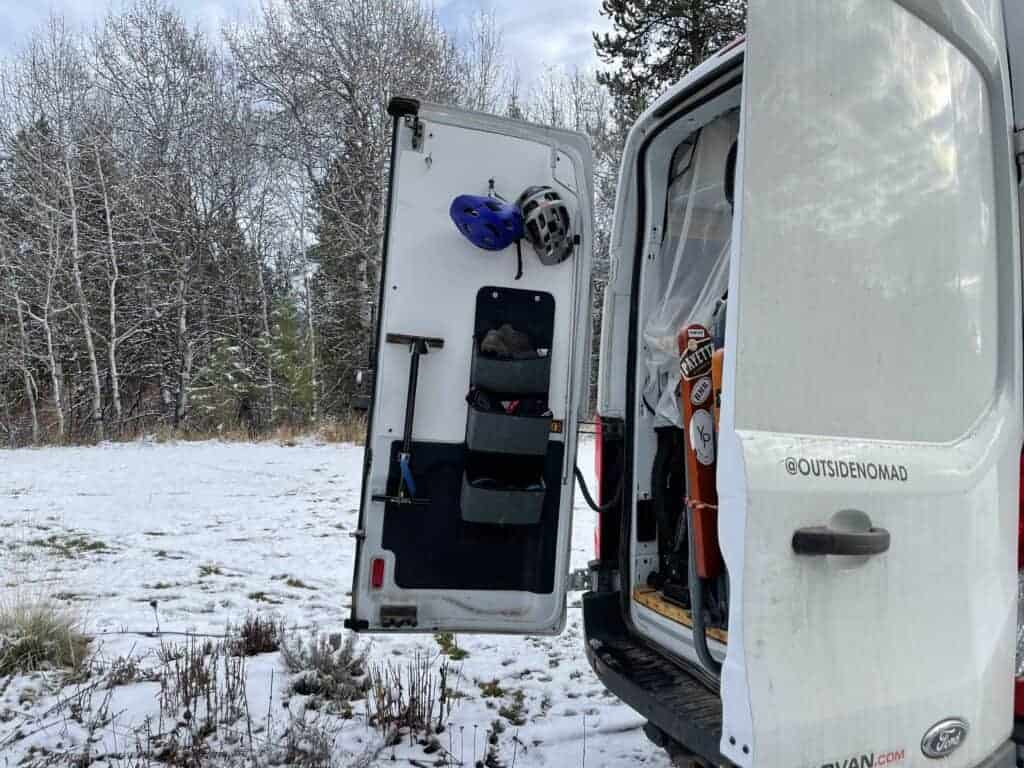 Don't let that back door storage space go to waste. Use it up. For us, we're really into biking so hanging all of our biking gear is a great way to use this space. We like to use storage hooks for things like our helmets but these hanging organizers are perfect for our campervan organization.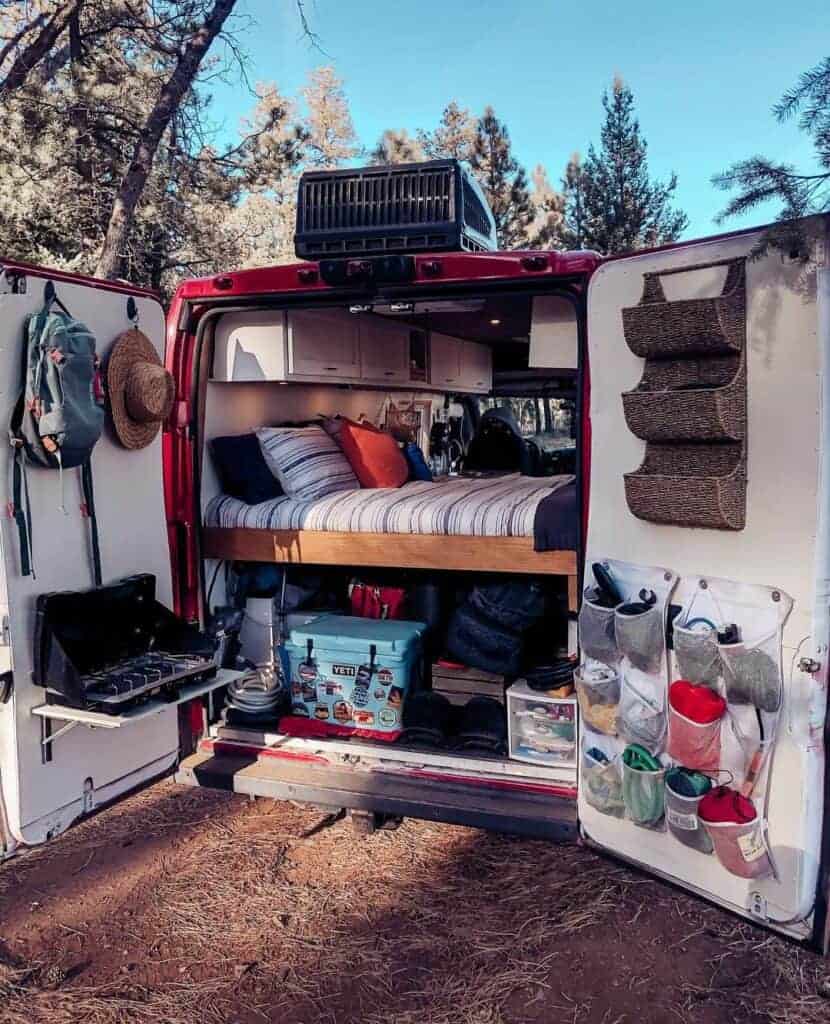 Campervan Bathroom Storage Ideas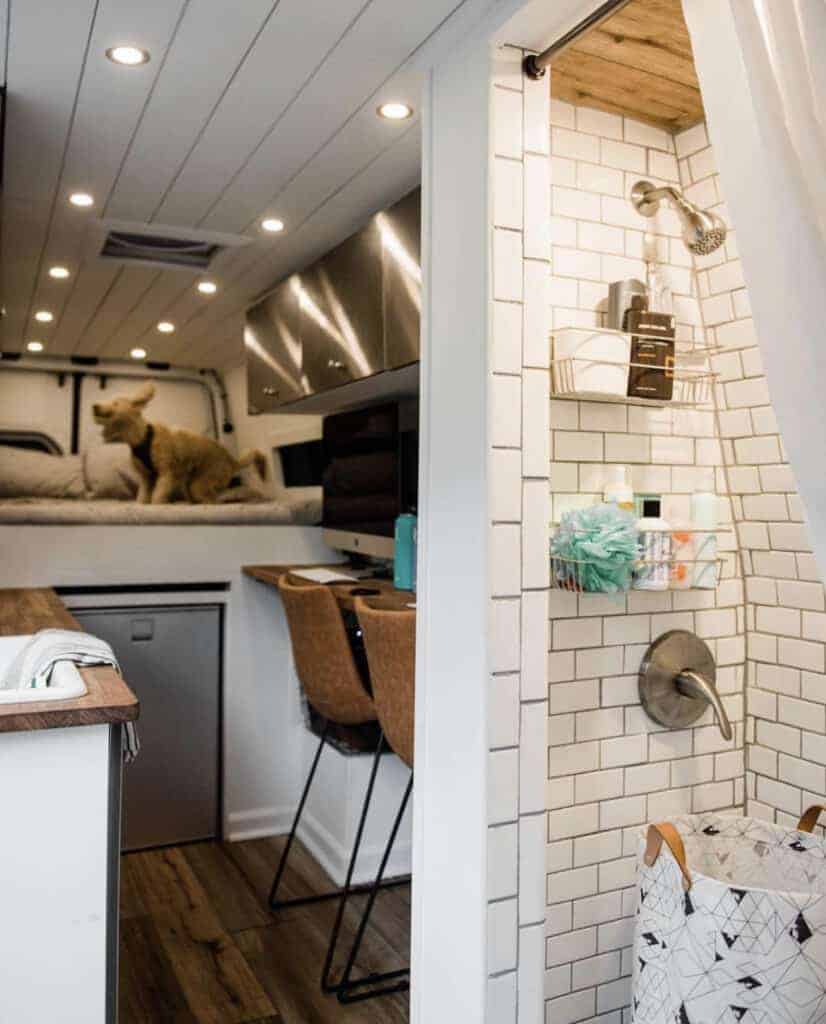 As much as I (Jill) really really enjoy hot sunny days and heat we both enjoy chasing snow storms and finding the best powder. This is reason 133 why we love van life. However, as you can imagine keeping things dry in between ski days can be a challenge. For us, our bathroom doubles as a storage unit to dry wet clothes and ski boots.
I know that not everyone living in a campervan has a legit bathroom but for us it's a multipurpose room that holds our skis in the winter and we can leave our boots in the shower to let the snow melt without creating puddles in our van garage.
Cleaning Supplies
We store all of our toiletries and cleaning supplies in the baskets in our shower. The top basket is used for things that we use less often but the lower one holds all of our day to day grooming supplies in addition to supplements.
Campervan Hanging Storage
Campervan Storage Pockets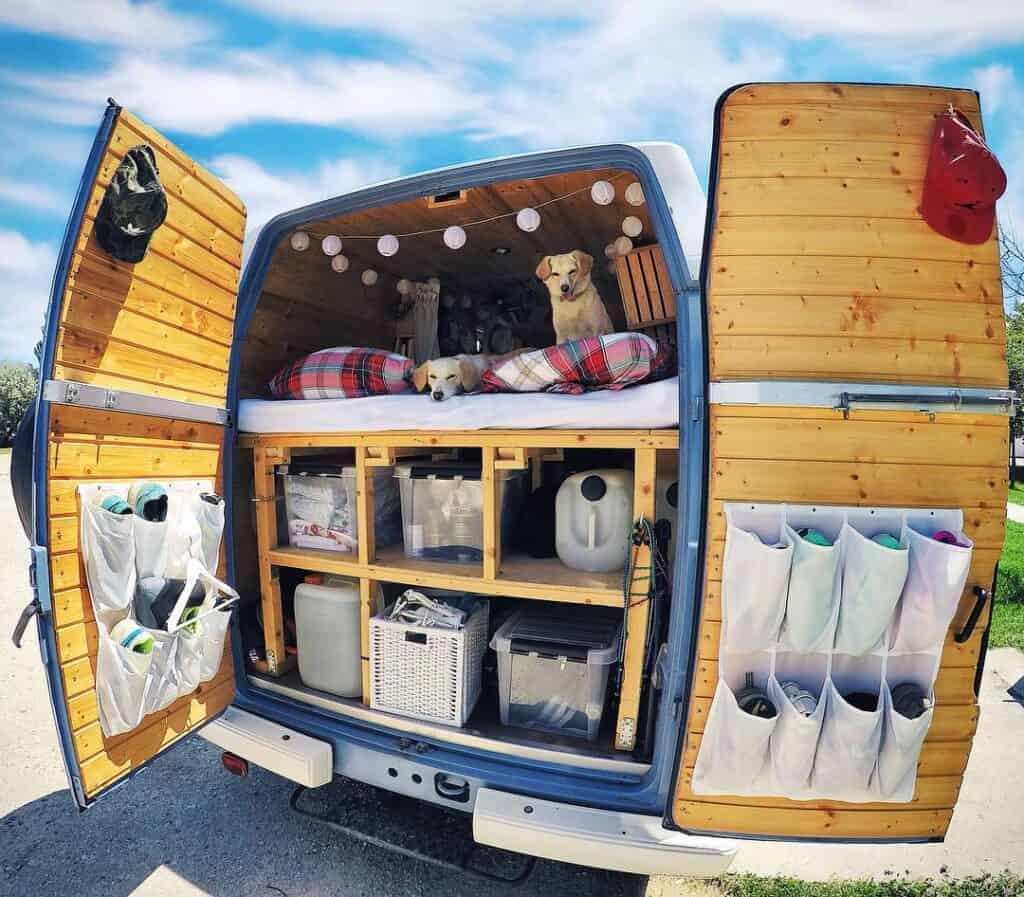 Creating little storage pockets and nooks for personal belongings is a great way to keep things nice and tidy. We use campervan storage pockets for things like shoes, jackets, workout clothes and towels.
Hooks are Priceless in a Van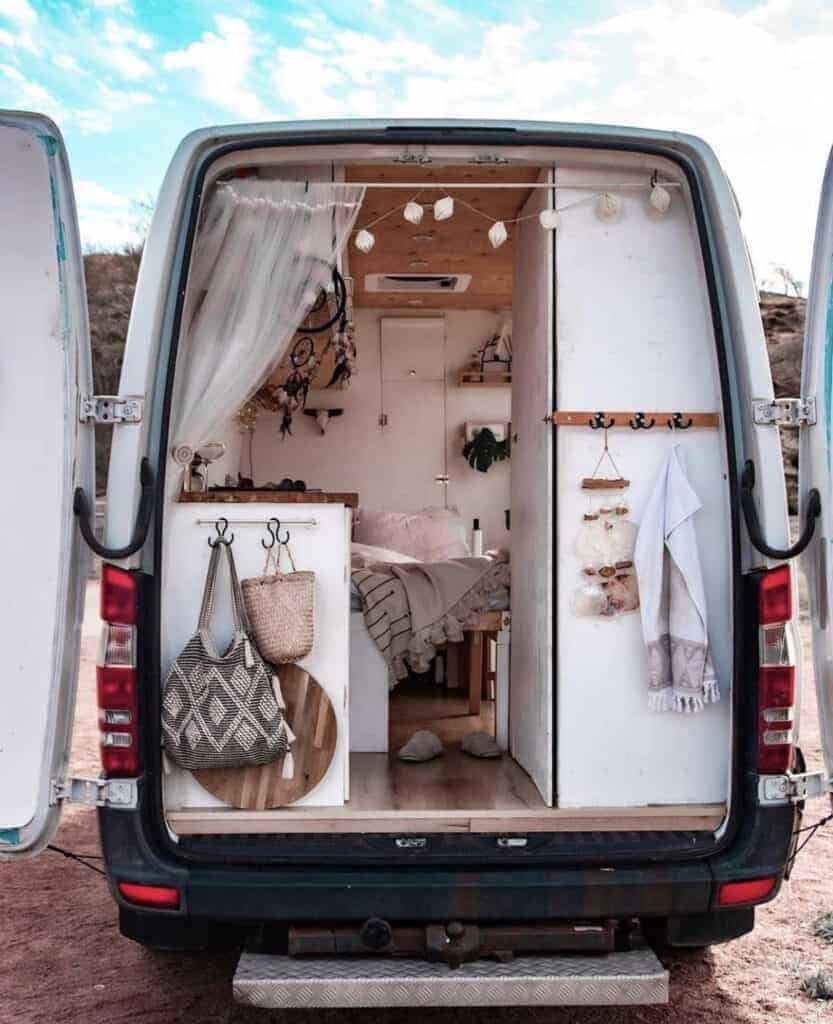 Hooks hooks and more hooks. We use them for everything from holding everyday hats to hanging coats or helmets. Be sure you get sturdy hooks that are heavy-duty and able to hang what you want to hang. I can't tell you how many times we've had the poor quality hooks fail us.
Building Into the Doorway of Your Van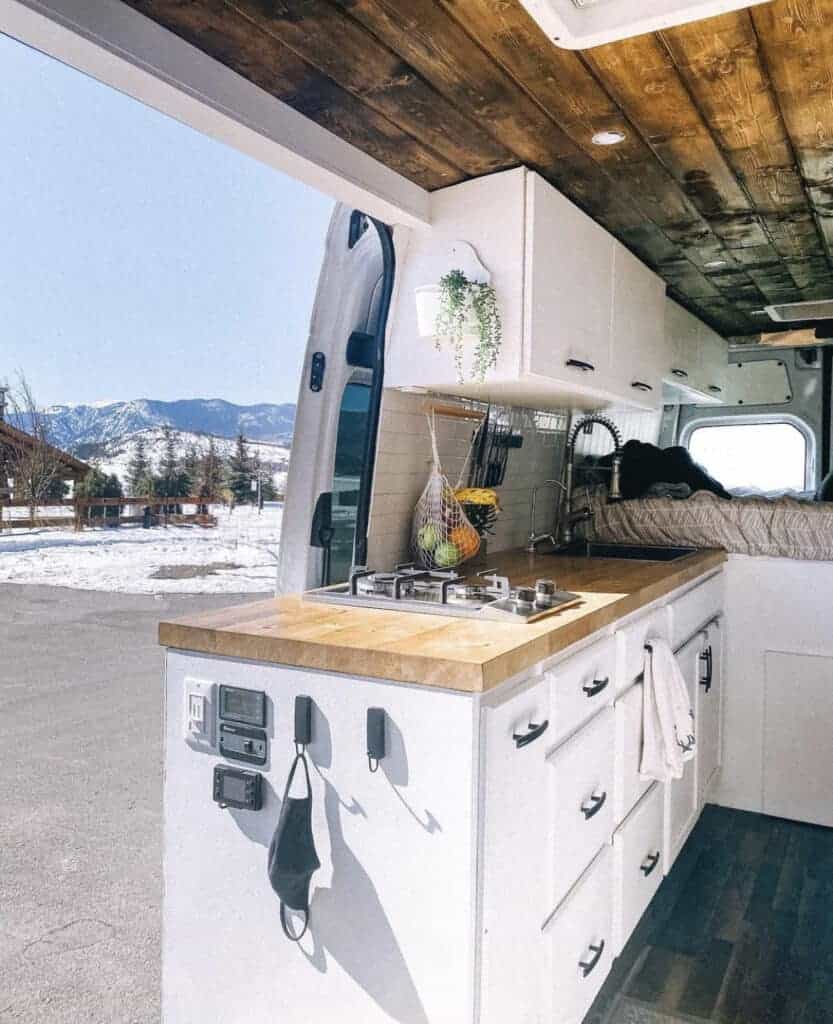 By building into the doorway of your van you're maximizing useable space. This is a great vanlife storage idea because depending on how far you build into the entrance you can almost double your cabinet and drawer storage.
Campervan Storage Accessories
Choosing the right campervan storage accessories is pretty important. You need to make sure that you measure the area you're looking to create organization and storage for because having accessories that don't fit the area can really impact the amount of free space you have.
Look for storage solutions that are multi-purpose and size adjustable. I really like these drawer organizers that can be sized to fit the exact size of drawer your camper van has.
Get Out and Explore!
That's about it, but we'd love to know if you have any campervan hacks that you'd like to share with us. We're always looking for unique campervan storage ideas that take the hassle out of living in a small space.