Top Campgrounds for Southern California Beach Camping
Sand, sun, and the beautiful ocean- seems like a dream come true, maybe? If that's on your mind, there is nothing better than going for Southern California Beach camping. California is one of the best places on the earth to be blessed with mountains, beaches, snow, deserts, and agricultural land.
And when it comes to SoCal, the beauty of the beaches is unmatchable.
Imagine taking a morning walk in your PJs with a warm cup of coffee and having beach front for as far as the eye can see. Or how about sitting by the bonfire and camping under the canvas of a million stars.
All this is possible without buying an expensive beachfront villa! Just pack your RV or get in the car and go beach camping in SoCal.
But wait, don't just pack and go! First, read this detailed list about beach camping in Southern California divided across SoCal Main divisions.
While in Southern California you may enjoy visiting a hot spring or two. Don't miss some of our favorite hot springs in California
Camping at the Beach in Southern California
Whether you are looking for a quiet getaway, some quality friend time, or a romantic getaway to enjoy sunsets and take a long walk- this guide about Southern California Beach Camping is the perfect place to start preparing.
We have listed down all the must-see camping sites for you across all the main SoCal divisions, so pick one suitable for you and give yourself a truly-deserved break.
As you continue reading you'll see that the campgrounds listed below are established "pay" campgrounds but if you're looking for our best tips and tricks for boondocking and finding free camping check this out.
Looking to Camp But Don't Have a Van, Camper or RV?
Not to worry. Did you know that there are several companies that offer RV, camper, and van rentals and they are actually clean, functional and ready to take you on your next adventure? Renting a campervan or RV is the perfect way to try out the "camping life" and see if it's something that you like.
In fact renting from a reputable company like Outdoorsy is easy breezy. You can read about more about Outdoorsy here.
Southern California Beach Camping in Los Angeles
Leo Carrillo State Park- Malibu (Tents and RVs)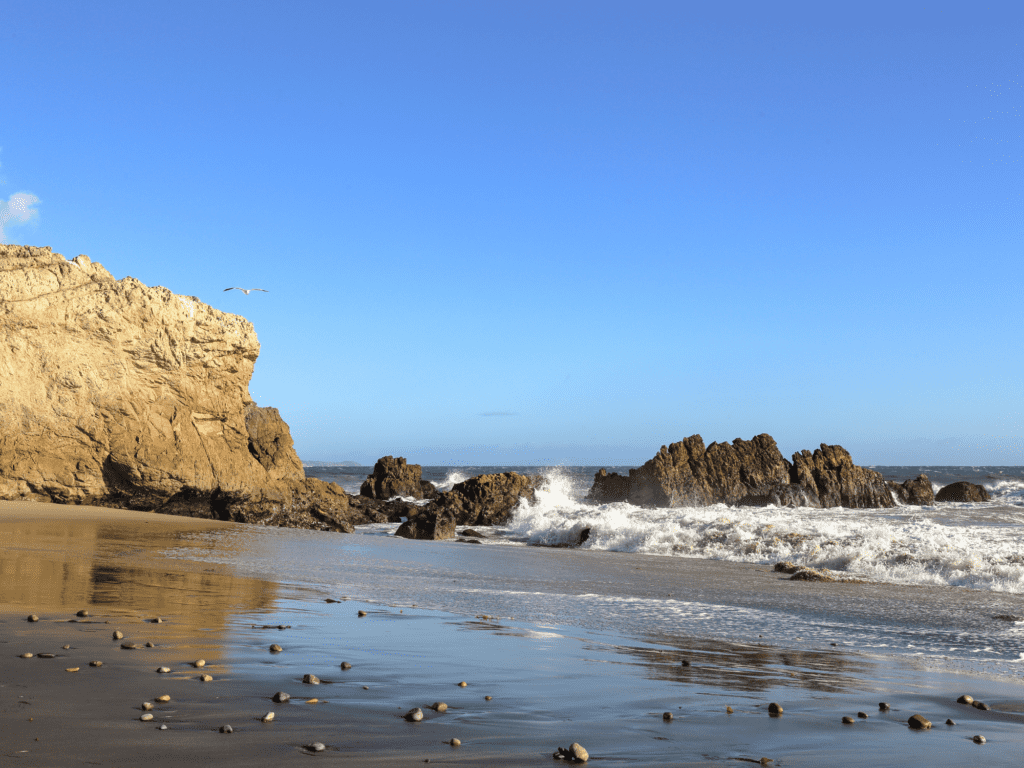 Looking for a quick camping trip near LA? Head over to the Leo Carrillo State Park in Malibu. Stretched across a mile and a half along the Pacific Coast Highway, this charming beach is scattered with Sea caves, green rocks, enchanting coves, and a tide pool which is why it is so popular.
Equipped with 135 campsites and several group sites, it's clear why it's a favorite for beach camping in Southern California. The great part about camping here is easy access to several hiking trails right from Leo Carillo State Park.
Dockweiler State Beach RV Park- Los Angeles (RVs only)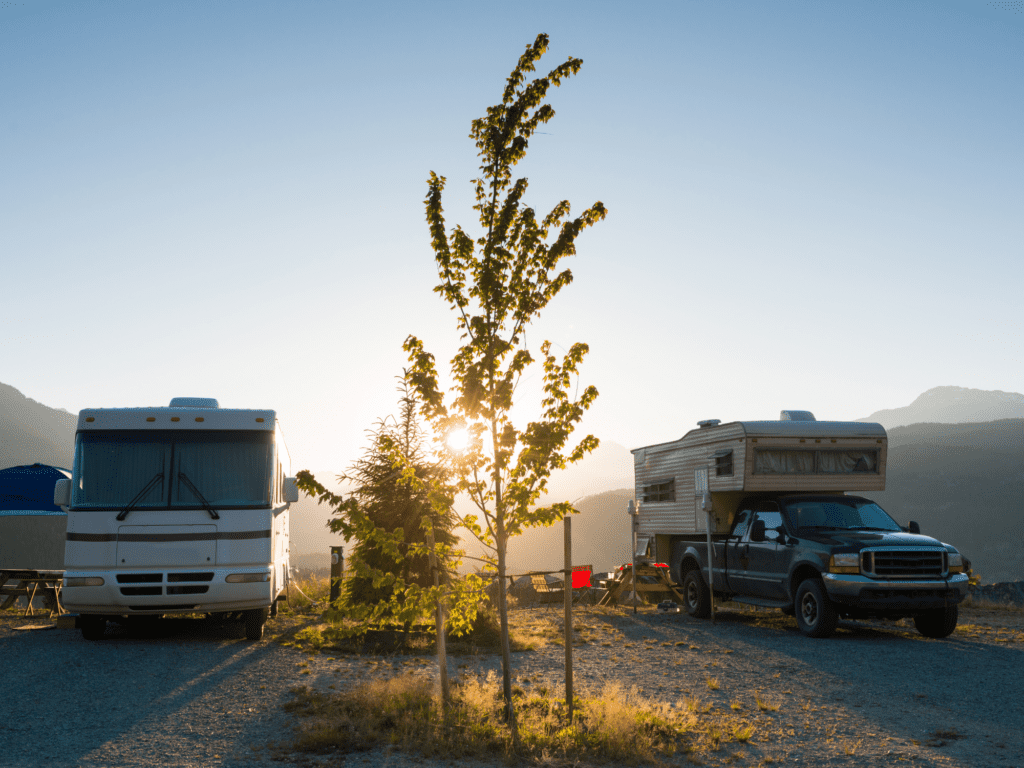 If you love planes and oceans, then you will have the time of your life at Dockweiler State beach park. With hookup space for 118 RVs, this state park is situated right beneath the runway of LA airport.
The wide and beautiful beach is a perfect spot for unlimited fun with plenty of space for cycling, running, and other outdoor activities. There are fire pits for evening bonfires and drinks with friends. Tent camping is not allowed in this park, and your reservation must be made in advance.
Southern California Beach Camping in Orange County
Crystal Cove State Park/Beach Cottages- Laguna Beach (Tents and RVs)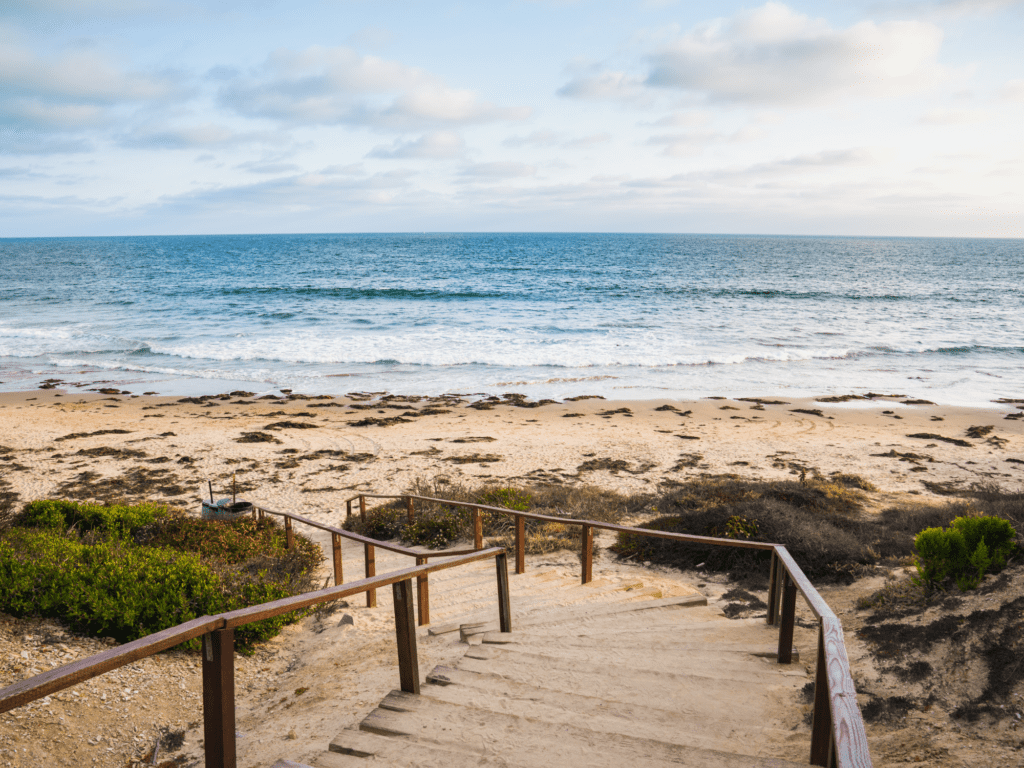 Beach camping in Crystal cove beach is an absolute treat for hikers and backpackers. Combine the scenic view and secluded routes with the sparkling water and rustic cottages- and you have got yourself a perfect weekend getaway.
The Crystal Cove State Park is stretched across 3000 acres and stands out from other beach camps because of its holistic vibes complemented by vintage cottages on the seaside. If you want to time travel to the '40s to experience rustic living, crystal cove beach cottages are preserved for just that. The cottages come with a microwave, refrigerator, and bed.
San Clemente State Beach Park- San Clemente (Tents and RVs)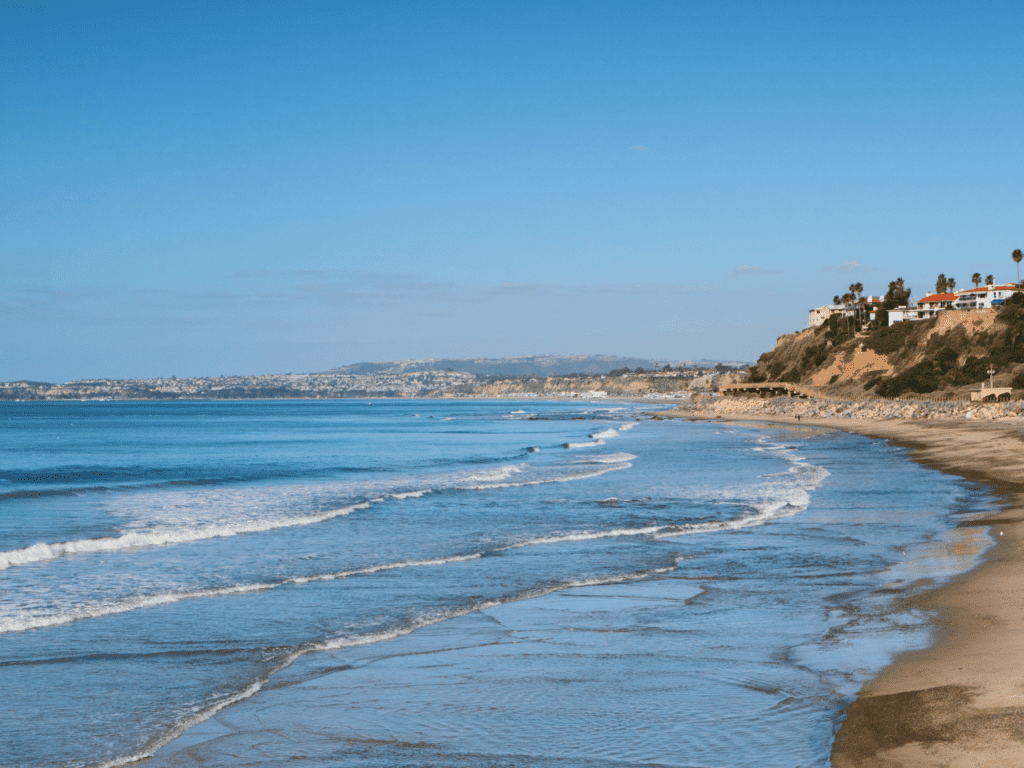 Wanna go somewhere remote but not off the beaten track? San Clemente beach is close to Interstate 5 yet secluded enough to give you a much-needed break. Encompassed by many trees and shade with a wide beach, this is a perfect spot for sun-bathing.
The bluff campground has an open feel, and the surrounding trees give a resort-like feeling. The beach is stretched across a mile, making it a pleasant spot to walk, bask in the sun, or listen to the waves.
The beach is spectacular here, but you can also visit the nearby San Onofre state Beach for surfing as the waves at Trestle are ideal for surfing. It's just a mile walk down from the campground, or you can make a short car trip out of it.
Bolsa Chica State Beach- Huntington (RVs Only)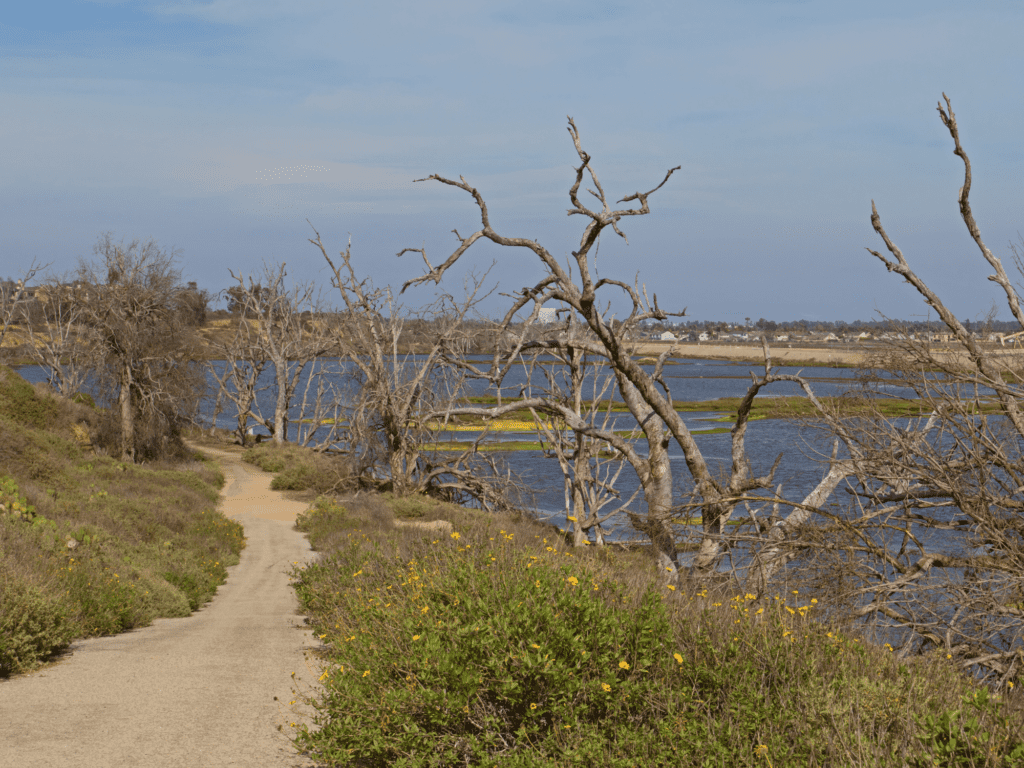 The paved lot at this state park has 50 RV hookups (tent camping is not allowed). Visitors may beach walk, bike the paved route that meanders along the coast or cross over the highway to explore nature trails at Bolsa Chica Ecological Reserve.
Nothing says camping like dutch oven cooking. Check out our favorite dutch oven recipes here
Southern California Beach Camping in Santa Barbara
Jalama Beach County Park- North of Santa Barbara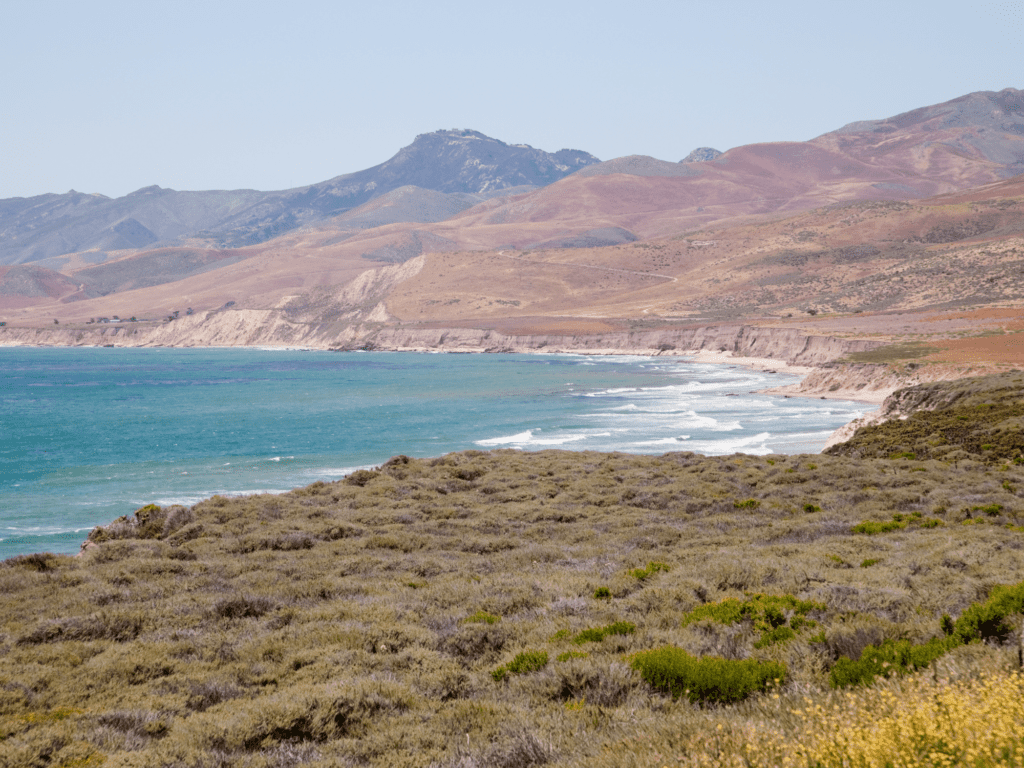 If you are looking for the most secluded place for beach camping in California, Jalama Beach county park is the perfect spot for you. Located north of Santa Barbara and south of Vandenberg Air Force Base, this country park has 100 campsites with ocean views. If you love waking up to the sound of waves and taking a walk in your PJs, this place is for you!
As Jalama county beach is pretty far away from civilization, it's best to bring your camper or RV with everything you may need. You can also rent a fully equipped trailer if you don't own one. The tranquil beauty of this beach will calm your nerves and give you a much-needed break from a rigid routine.
As per sunset magazine, it's one of the most beautiful campgrounds in California. The road to Jalama beach is an experience in itself. Cutting right through the western Santa Ynez mountains, slithering through oak forests, and sinking into arroyos- you will enjoy each moment.
If camping isn't your thing. You can try out glamping by staying in 1 of their seven cottages.
Gaviota State Park- Santa Barbara (RVs and Tents)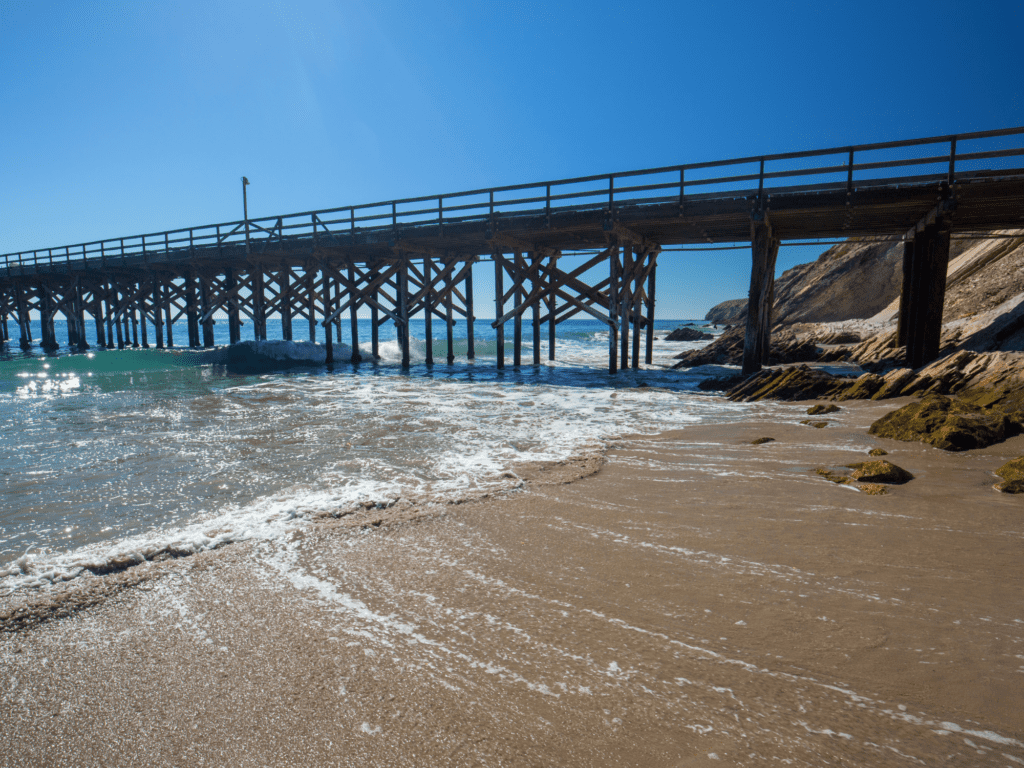 Nestled near a small town in Santa Barbara, Gaviota State Park is the last stop on Highway 101. If you are a fan of stunning beach views and hiking is your thing, then Gaviota Sp has a lot to offer. The Railroad trestle over the beach certainly looks cool.
The campground is developed with 41 campsites to facilitate RVs and tents up to 27 feet. The hiking trails connect to the Los Padres National Forest, and there is a fishing pier, too, where you can go fishing if you are bored of just camping.
The campground is properly established with a restroom providing shower facility. The picnic tables are plenty if you just want to go for a quiet picnic day.
We recommend this beach for people who have RV or trailer or can rent one. It is not very suitable for good old camping as the wind is too strong for tent camping.
Emma Wood State Beach- Ventura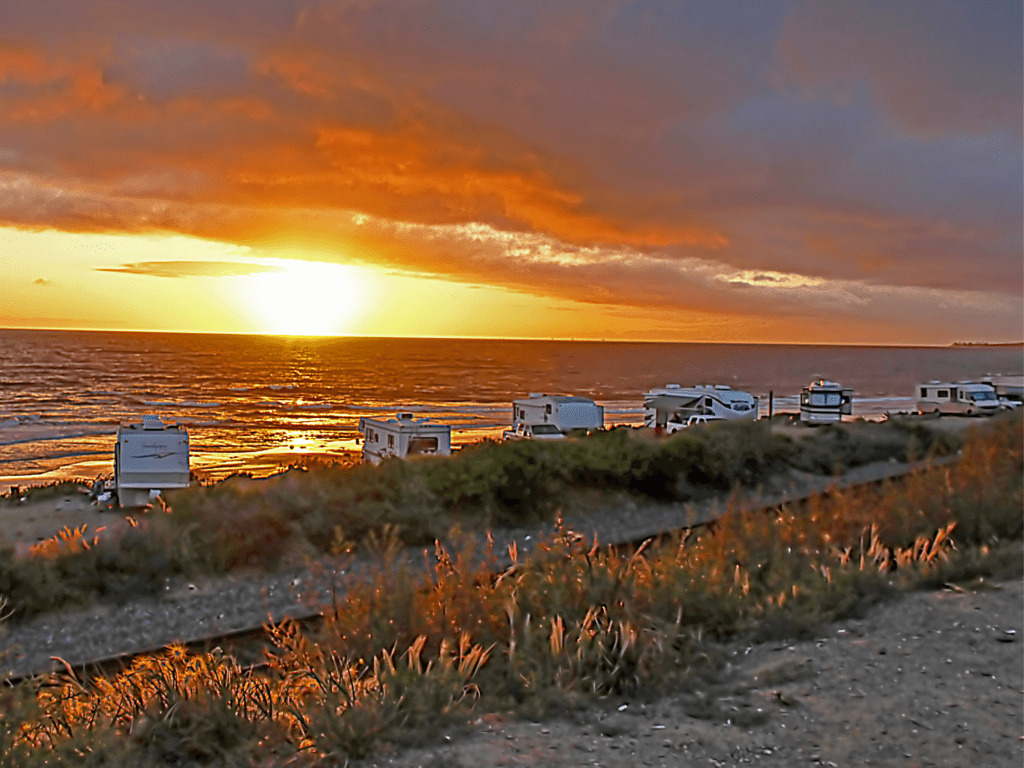 On the beautiful Central California coast, Emma Wood State Beach has breathtaking panoramic views of the Pacific Ocean. Emma Wood's offers campers and day visitors an ideal location to unwind and soak up some sun, with comfortable temperatures year-round.
Moderately cool temperatures make Emma Wood State Beach a popular destination in all seasons. Ventura, California's Highway 101
Refugio State Beach- Goleta California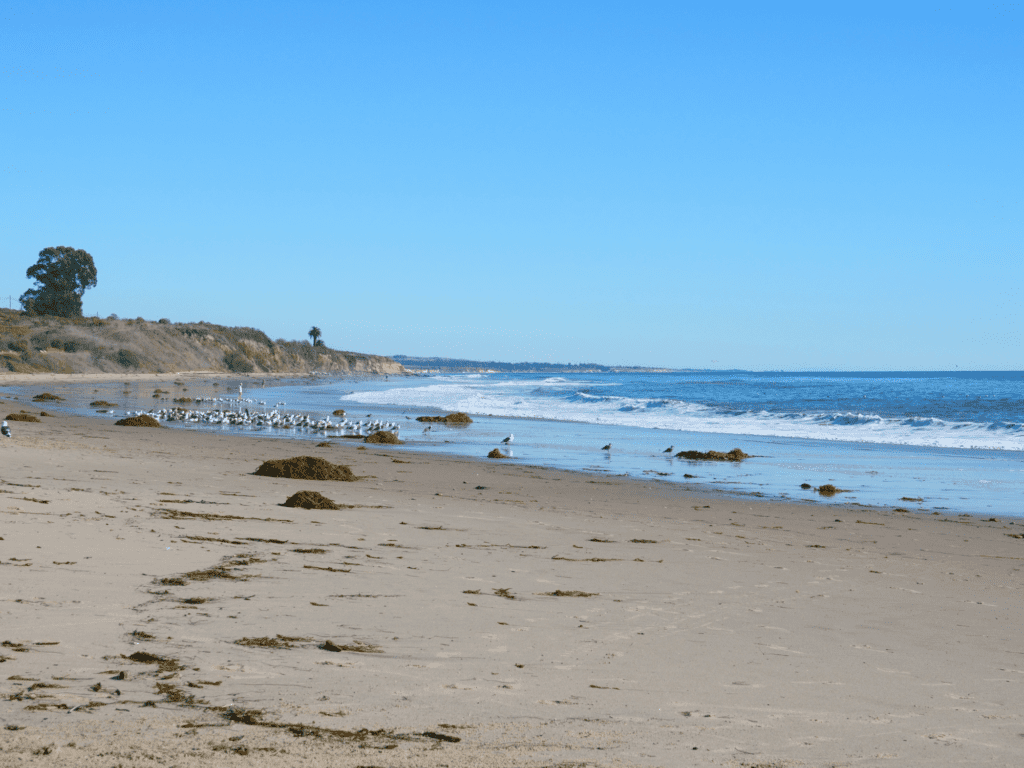 Refugio State Beach is a beautiful stretch of sand with palms that provide a lovely day at the beach or an exciting camping excursion if you enjoy beach camping. Campsites are conveniently located near the water, some of which are tucked in shady palm trees.
Consider falling asleep to the roar of crashing waves. This picturesque seaside location is ideal for both tent and RV campers. 10 Refugio Beach Road, Goleta, California
Carpinteria State Beach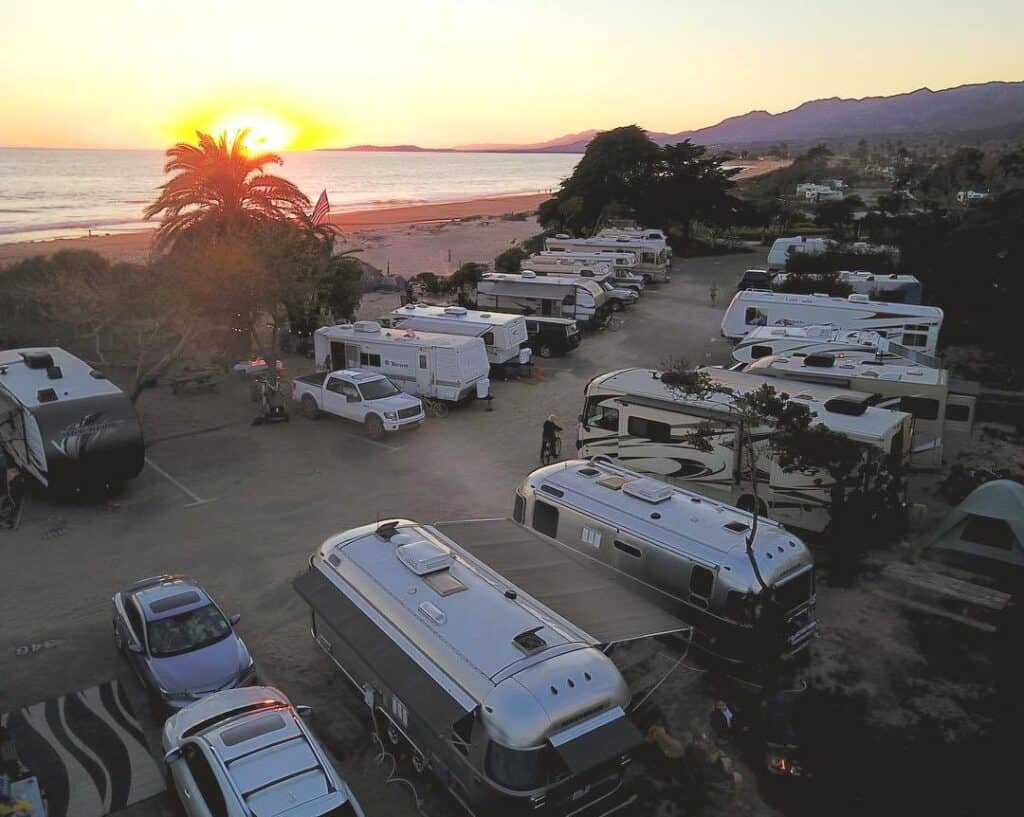 If you want to go beach camping somewhere that isn't too far from LA but still secluded enough, Carpinteria Beach park is just what you want.
Situated 12 miles south of Santa Barbara, this beach is just an hour and a half drive away from Los Angeles. With a mile-long sandy shore and four campgrounds: Anacapa, Santa Rosa, Santa Cruz, and San Miguel- it is a beautiful place to enjoy the ocean.
RV camping is available in Santa Rosa or San Miguel beach, while tent camping is available on all four grounds, so reserve your spots accordingly. The beach is near the town of Carpinteria, so you won't have any problems getting food and provisions in case you forget anything.
Love camping close to the beach and sleeping to the sound of waves? You are in luck as the camping sites are just steps from the ocean, so you can enjoy the ocean lullaby to its fullest. Although don't get startled if you hear a train passing by as the railway station is pretty close to the Carpinteria state park.
Carpinteria is a pretty famous beach in SoCal, and that's why it's busy in the summers. Always make a reservation in advance before coming. And if you like to enjoy the peace and quiet of the ocean, then winter is a perfect season for you.
Don't miss some of southern California's hidden gems- These are some of our favorite places
Southern California Beach Camping in San Diego
San Elijo State Beach- Encinitas (Tents and RVs)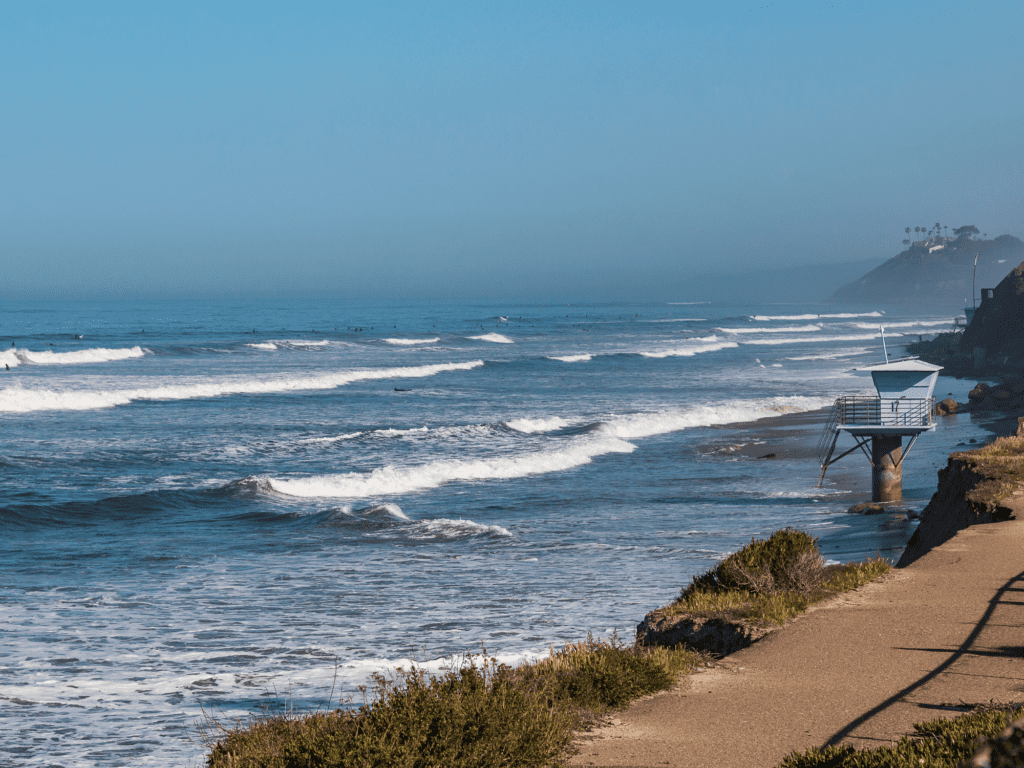 Are you looking for some picturesque views and a lot of ocean? San Elijo State Beach, just north of San Diego, offers bluff-top camping where you can enjoy the stunning ocean view without any interruption.
And if you get tired of that, there are plenty of activities to keep you occupied, like swimming, surfing, and snorkeling.
The popular campsite is right on the top of a bluff facing oceanside, making it a perfect ground to relax in the company of waves and enjoy a stunning sunset. The camp store, hot showers, and fast-food joints make this beach worth the while.
Don't forget to make reservations in the peak summer season, but getting a spot should not be a problem if you are going in the off-season.
South Carlsbad State Beach- Carlsbad (Tents and RVs)
The large 5 miles plus coastline of South Carlsbad state beach is a favorite spot for beach camping in California. Situated between Highway 101 and the pacific ocean, this beach is clean with easy access to the beach area.
All the locations have fire pits and picnic tables, making it a great camping site for family fun. The beach attracts lots of surfers thanks to the best waves in California. For fishing enthusiasts, the nearby fishing pier at Ocean Beach and San Clemente is an excellent place for fishing enthusiasts.
With over 200 campsites, there is plenty of room, and you can always get the premium campsite that offers ocean views.
Go Surfing or Soak the Sun- Southern California Beach Camping is for Everyone!
If you love the great outdoors and a whole lot of sun and water- beach camping is the best activity for you. There are plenty of activities you can do on the beach campsite.
Whether you are looking for a quiet getaway, some quality friend time, or a romantic getaway to enjoy sunsets and take a long walk- this guide about Southern California Beach Camping is the perfect place to start preparing. We have listed down all the must-see camping sites for you across all the main SoCal divisions, so pick one suitable for you and give yourself a truly-deserved break.