Camping Tips For Beginners: Everything You Need To Know
How to Plan Your First Time Camping Trip
Planning your first-time camping trip can seem daunting, but it doesn't have to be. The most important thing to do is choose the right time of year and location for your trip. Make sure you are familiar with the campsite you will be visiting and know what amenities are available.
It's also important to plan your meals ahead of time, as space is limited in a backpack or camping cooler.
Pack food that doesn't need a lot of refrigeration and is easy to prepare on a camp stove or over a fire. If you're not comfortable cooking outdoors, many websites have recipes to help you prepare yummy food while away from home.
Here are some tips to help you plan your first camping trip:
First, decide what time of year is best for you. Different times of year offer various activities and weather conditions.
Next, choose a campsite. Not all campgrounds allow campfires, so check before you go. If things go wrong during your trip, it's good to have a backup plan in place. Restaurants and pubs can be great places to end up if you need to call it quits early.
Plan for a few days instead of one week when planning your first camping trip. This will give you enough time to get comfortable with camping without feeling rushed. And don't forget: ice chests need to be refilled with ice often!
To make sure you're comfortable outdoors, consider purchasing some camping chairs, tents, or sleeping bags ahead of time.
You'll want to pack food that doesn't require cooking – food needs to be sealed in a waterproof container – and keep in mind that space is limited when camping, so meals should be planned accordingly.
Most importantly, have fun and enjoy your first camping trip!
What to Wear Camping for Beginners
When you're camping, it's important to wear comfortable clothing made from moisture-wicking materials.
Cotton is a material that you should avoid wearing as it absorbs moisture and can make you feel uncomfortable quickly. It's also important to choose lightweight clothing that will dry quickly if it gets wet.
You want to be comfortable, but you also don't want to get too cold or too hot. And if it rains, you need to be prepared for that too!
There are many different types of clothing that you can wear while camping, but some materials work better than others in various weather conditions. Synthetic materials and wool are two good choices for base layers because they are durable and lightweight. Down jackets and vests are also essential to bring while camping, as they can be easily condensed into a small bundle and carried anywhere.
It is important to avoid wearing moisture-absorbing materials like cotton or denim while camping, as they will trap in sweat and leave your clothing stinky for the rest of the day. Instead, opt for clothes made from brands like Patagonia, North Face, Arc'teryx, and REI, which are known for their long-lasting durability.
What to Wear Camping: Based on Seasons, Temperature, And Weather Conditions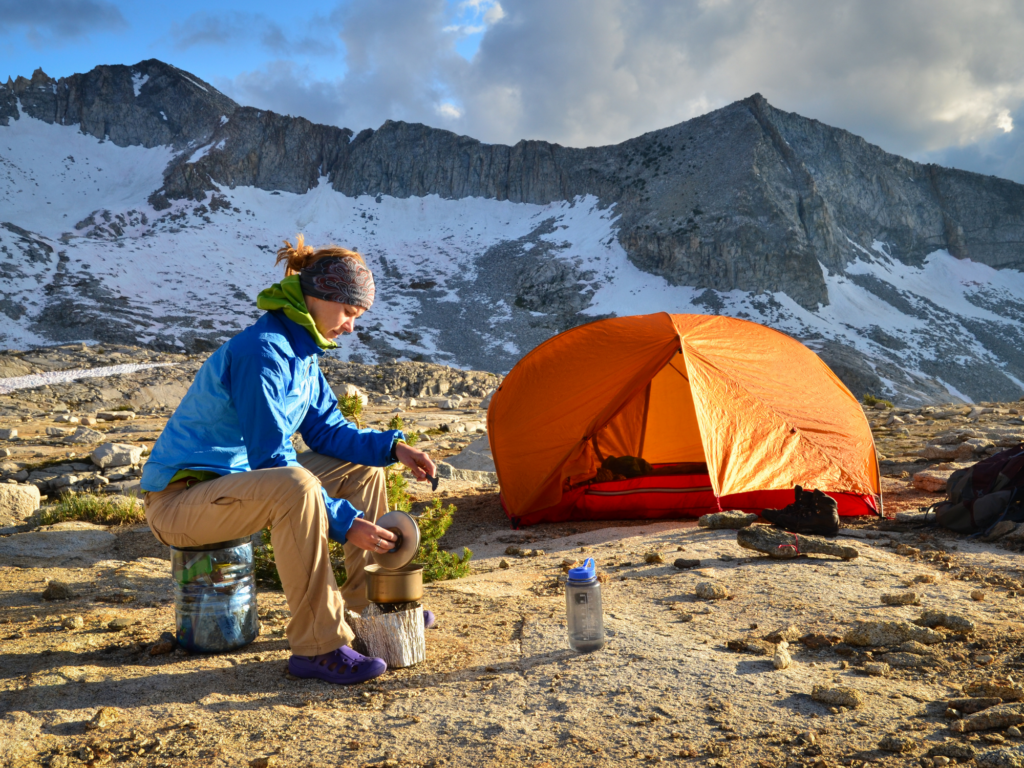 In the summertime, lightweight clothes made of synthetic or wool materials are best. Avoid wearing moisture-absorbing materials like cotton or denim because they will trap in sweat and make you feel uncomfortable.
If it's going to rain, make sure to bring along a raincoat or poncho. And don't forget your waterproof boots!
What to Bring Camping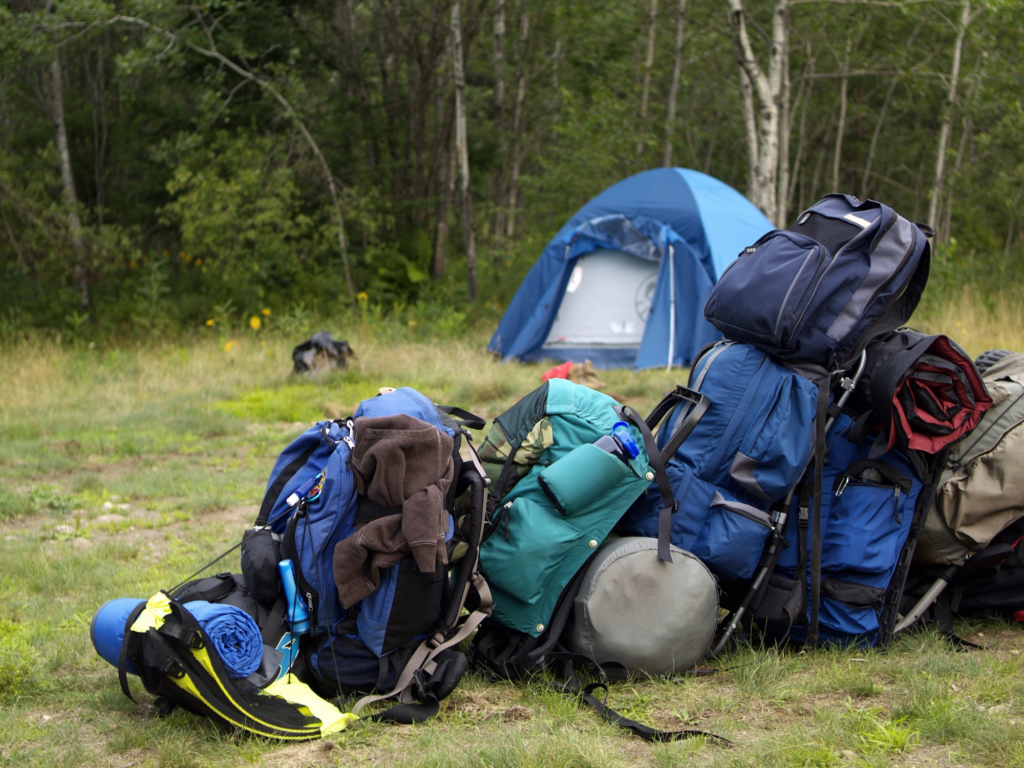 When packing for a camping trip, it is important to bring along the essentials while still keeping things light. You'll want to pack items that will help you cook meals while you're out in the wilderness and some things to make your stay more comfortable.
Some essential items include :
Tent
Sleeping bags
Sleeping pads
Food
Water
Cooking supplies
Toiletries
We always bring a camp stove, propane fuel, skillet, and dutch oven pan for cooking; these items allow us to cook our food over the campfire. If you're looking for something more lightweight than a cast-iron skillet, you can always use aluminum foil for cooking.
Another must-have item is coffee! You never know when you'll need a caffeine fix while out in the wilderness. That's why we always bring our Aeropress coffee maker with us camping. It's small and easy to transport, and it makes delicious coffee every time.
In addition to cooking supplies, be sure to pack plenty of games and activities to keep you entertained. Cards, dice, frisbees – anything goes!
And don't forget about the most important part of any camping trip: s'mores! Make sure you have all the necessary ingredients to roast marshmallows over the campfire late into the night.
Finally, think about the creature comforts that make camping more enjoyable.
Pack a few extra pillows and blankets to get cozy under the stars, and don't forget your favorite snacks and drinks to help pass the time.
Just remember not to bring too much gear – the less you have to carry, the better!
Safety Items To Bring Camping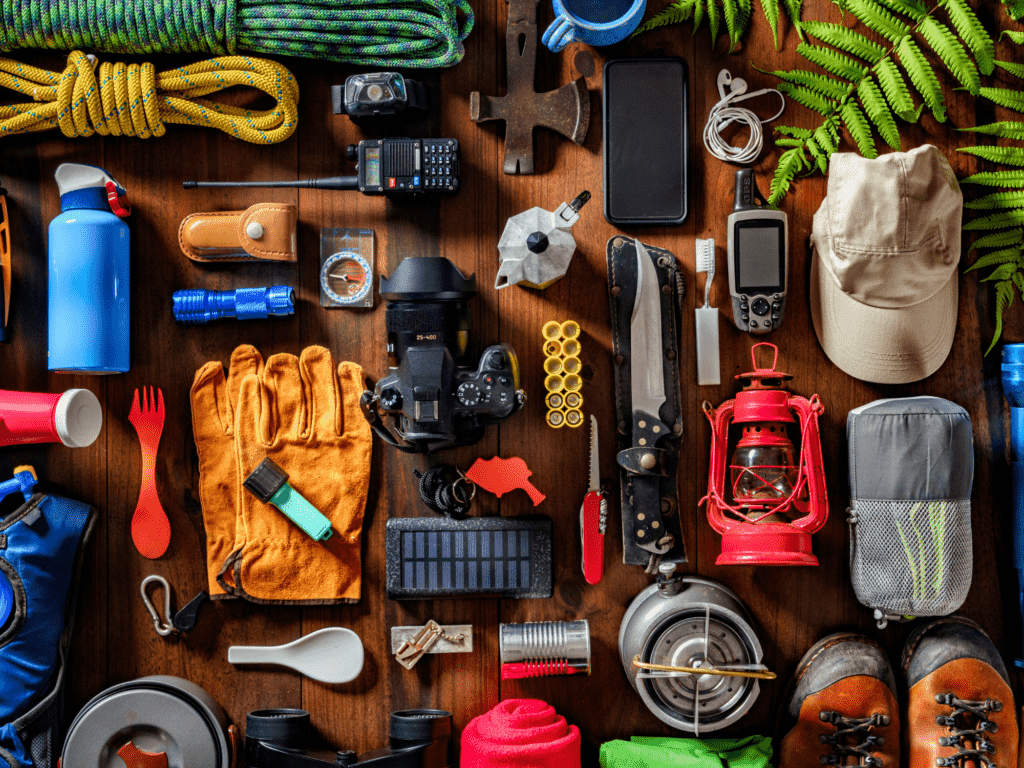 Safety is of utmost importance when camping. Many people are unaccustomed to roughing it and make the mistake of not bringing important safety items with them.
While a small knife, lantern, compass, and matches may seem like a lot to carry, it is much better than not having them and getting lost in the wild.
Headlamp/flashlight
Compass and Map
Lighter/matches
Rope
Pack your bear spray and pepper spray for safety measures.
Pocket Knife or Multi-tool for small repairs and cutting rope.
First Aid Kit includes ibuprofen, antiseptic, and plasters (bandages).
Water
Food
Extra Clothes (in case of rain)
How To Set Up and Find Campsites
When you're camping for the first time, it's important to know how to set up a campsite. This will help make your trip more fun and less stressful.
Here are some tips:
Site selection is key. Try to find a spot away from major roads and trails that has minimal attention. If you're near a water source, all the better- this will help with dishes and filtering water for consumption. The general rule is to set up a campsite 200 feet away from the water to keep it clean and safe.
If you're next to a lake and it's freezing temperatures, try to find a hill and camp away from the lake. It gets pretty cold camping next to the lake in freezing temps!
Set up a campsite to test yourself before venturing into the wilderness on a longer trip. This will help you become familiar with the process and know what to expect.
Cooking Tips and Tricks for Camping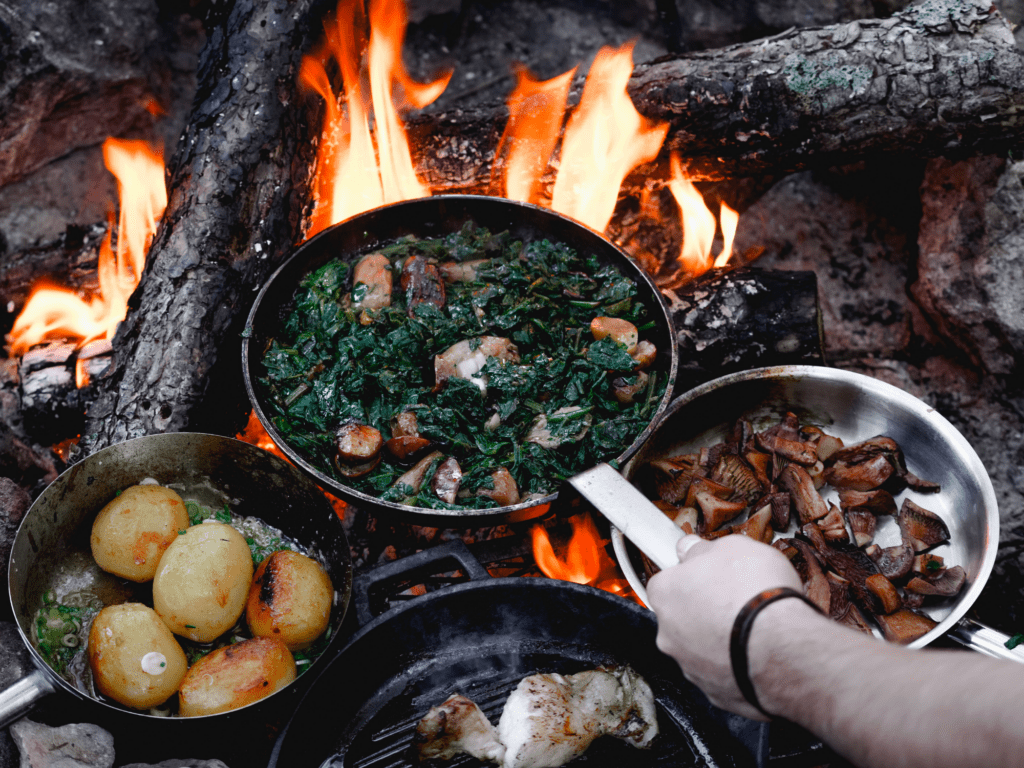 One of the best things about camping is being able to cook your own food. However, cooking outdoors can be a little different than cooking at home. Here are a few tips and tricks to help make your next camping trip a success!
Bring along a portable stove if possible. This will allow you to cook food without having to build a fire.
If you do have to build a fire, make sure it's in an area that is safe and free from debris.
Be prepared with the right kitchen gear. This includes pots, pans, utensils, plates, cups, and napkins.
Pack food that can be easily cooked on a campfire or skillet. Hamburgers, hot dogs, chicken breasts, bacon-wrapped trout, foil packs of potatoes, and onions are great options for camping trips.
Don't forget the condiments! Salt, pepper, ketchup, and mustard are all essential for adding flavor to your campfire cuisine.
Food: Meals And Meal Planning for Camping
One of the most important things to consider is your food when it comes to camping. You'll want to make sure you have enough for the trip and that you have a plan, so you're not left cooking over a campfire all day.
One key factor to keep in mind when planning your meals is how much preparation and clean-up is involved. Some foods are easy to prepare at camp, while others can be more difficult. And if you're not careful, some can even leave you with a huge mess to clean up!
When planning your camping menu, think about what three meals, two snacks, and one dinner you'll want during your trip. Then take a look at this list of easy-to-prepare camping foods and start packing!
Here are some tips for meal planning when you're camping:
-Plan ahead and make meals that are easy to prepare and clean up. Some great options are sandwiches, salads, or simple one-pot dishes.
-Avoid foods that leave a lot of residue or require a lot of pots and pans. This will save you time and hassle while you're camping.
-Pack snacks and drinks to keep everyone in your group fueled throughout the day.
-Consider on-site dining options or local restaurants while you're out exploring. This can add variety to your trip and save you time (and dishes!) in the kitchen.
Beginner Camping Tips For Securing Food
Stash leftovers in your car if you're car camping, or find a way to keep food away from animals if you are backpacking out of sight of civilization.
A high tree branch is at least 200 feet away from the campsite. This will help keep bears (and other animals) away from your food stash.
If you're having trouble finding a place to hang your food bag, try using a bear-proof fabric to secure it on a high branch.
How to Practice Setting Up Camp at Home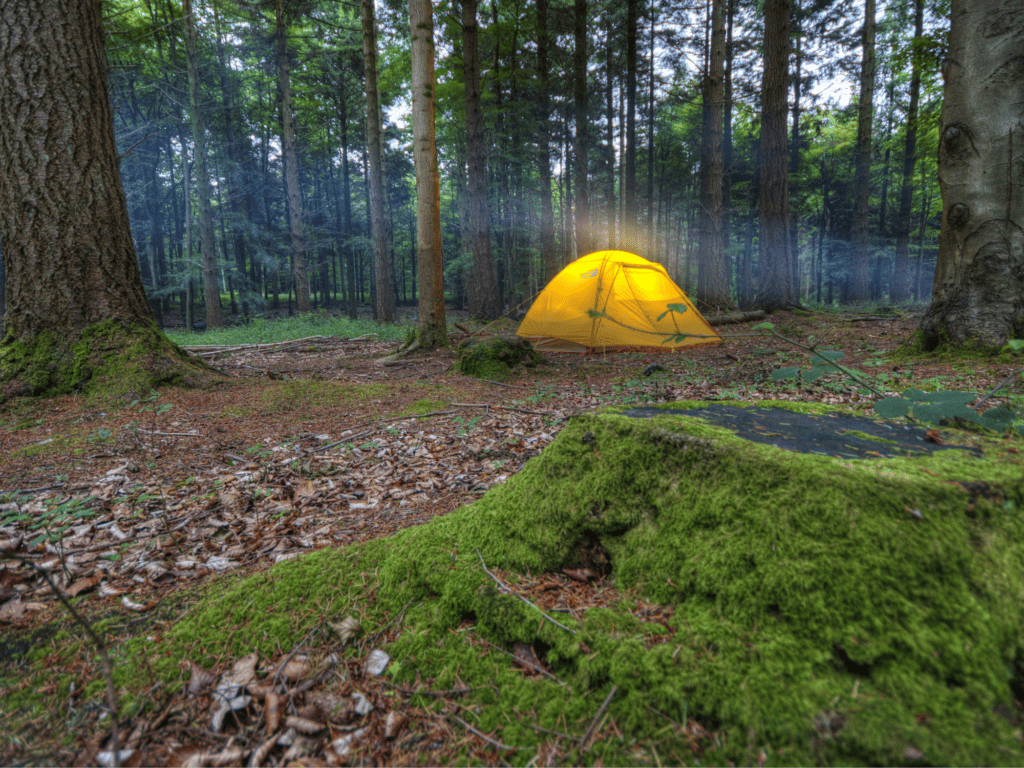 If you're a beginner camper, one of the best ways to prepare for your first camping trip is to practice setting up camp at home. This can help reduce anxiety and make the experience more fun.
To practice setting up camp at home, you'll need some gear of your own. This includes a tent, camping gear, and food and water supplies. It's also helpful to have an experienced camper nearby to help guide you through the process.
Dry runs are a great way to get comfortable setting up camp before going on a camping trip. Make sure to try out different setups and configurations to have a variety of options when it comes time to set up in the real world.
Remember that practice makes perfect! With enough preparation, your first camping trip will be a breeze.
Tent Camping Gear
Your Sleeping Bag And Stuff Sack
When heading out on your first camping trip, be sure that you've tested both your sleeping bag and sleeping pad before heading out. There are many sleeping bags to choose from, from down to synthetic and negative degree bags to fair weather temperature bags.
Also, be sure you choose a bag that comes with a stuff sack, so you can stuff your sleeping bag into a small compressed bag when not in use.
Bring A Sleeping Pad
Like sleeping bags, there are many different sleeping pads to choose from. These come in all shapes and sizes, so be sure to find one that has enough padding when blown up, fits your height, and will easily fit into your tent.
Camp Stoves
If you're planning on car camping, I'd recommend a simple two-burner propane stove for your camping adventure. However, if you plan on backpacking, there are several compact and packable camp stoves to choose from.
Water and Water Containers: How Much To Bring?
When you're camping, be sure you bring enough water to drink. You can not go wrong if you bring twice as much water as you think you'll need, especially when dehydration is a real concern in the hot summer months.
Remember that you'll need water for cooking, cleaning, drinking and keeping your animals hydrated.
Tips and Ideas For Pitching a Tent
One of the most important things to remember is how to pitch your tent when you go camping. This will keep you safe and comfortable while you're outdoors. Here are a few tips for beginners:
First, make sure you know how to assemble your tent before leaving home. Many tents come with specific assembly instructions, so be sure to read them carefully. If you're not familiar with your particular model, look at some online videos for help.
Second, make sure the ground is level and free from rocks, tree roots, or other obstacles. Try to find a spot near shade and away from fire pits if possible.
Third, pack extra stakes if using them to secure your tent or tarp. Stakes can be notoriously tripping hazards, so always use caution when walking near them.
Fourth, make sure your tent is comfortable. Avoid waking up with any muscle soreness by choosing a level site that has plenty of space inside. Most tents are water resistant these days, but it's still important to buy one that can withstand the rain.
And finally, always practice good camping etiquette! Be considerate of your fellow campers by keeping noise levels low at night and early in the morning. And always leave the campsite cleaner than you found it.
Camping Tips Safety: Tips for First-Time Campers
Camping can be a lot of fun, but it's important to remember a few things before you set out into the wilderness. Make sure you're familiar with the area you'll be camping in by reading up on it and getting a map.
Pack food, water, and other necessary items so you won't have to worry about them while enjoying nature. With careful planning, your first camping trip can be an enjoyable experience for all!
Knowing The Surrounding Area While Your Tent Camping
When camping, it's important to be aware of your surroundings and know what hazards may be present. Make sure to plan your route in advance and know where the nearest stores and emergency centers are in case you need them. Always pack extra food and water, just in case. And be prepared for the unexpected by packing extra supplies.
If you're camping close to home in warmer months, pack one extra day of food and an extra gallon of water per person. If you're camping in a more remote destination or in colder months, pack at least 2-3 days of extra food and an extra 2-3 gallons of water per person.
Hiking Essentials: Be Prepared to Navigate
When traveling, it's important to be prepared for any situation. This includes being able to navigate without the help of cell service. While having a working cell phone is certainly helpful, there are ways to navigate even if you lose reception or need to switch vehicles.
One way to do this is by downloading maps onto your phone before you leave. This can be done through an app like Google Maps, which allows users to make a custom map of any area in the world and use it offline.
If you're not comfortable using your phone as a GPS, you can purchase a physical map of the area you'll be visiting.
Another option is to download an app like Offline Maps from Google. This app allows users to select any area that encompasses your entire route for the journey and click "Select Your Own Map" for customization purposes.
With this app, you'll have all the information you need right on your phone, even if cell service isn't available. Being prepared will help ensure that no matter what happens while traveling, you'll be able to find your way.
When Nature Calls: Hygiene And Toilet Paper While Camping
Finally, remember that hygiene is important regardless of where you are camping. No one wants to end up with an infection because they didn't properly clean themselves after using the bathroom!
So make sure you pack all of the necessary toiletries and practice good hygiene habits while camping.
It's important to remember that not all campgrounds have running water and sinks. For this reason, it's best to pack biodegradable toiletries that won't leave any trace behind.
Toilet Paper And How To Deal With It While Camping
When it comes to toilet paper and camping, you'll want to use the "leave no trace" method. This means you should pack it out with you in a baggie or carry a trowel to bury it in the woods. If you are using baby wipes or even just wet wipes, that's fine too. Just make sure you dispose of them properly and don't leave them on the ground.
Camping Tips For Beginners: How To Have Fun And Survive Outdoors
How to make a campfire that will last all night long and keep you warm.
Camping Toiletries
Your camping toiletries should be biodegradable and eco-friendly – this is important to consider when leaving no trace behind. For short camping trips, the essentials are limited to the basics: toothbrush, toothpaste, face wipes (with makeup remover), baby wipes, face moisturizer, and deodorant.
In terms of makeup remover, baby wipes can double as both face wipes and toiletry wipes. Just make sure to pack enough for the entire trip – you don't want to run out! And speaking of deodorant, it's always a good idea to bring along a small travel-sized one just in case.
Toothbrushing: Things You Need to Know
Don't forget – always follow one easy rule for outdoor-friendly teeth brushing: "Spray, don't Spit." When you spit your toothpaste out, it comes out in large amounts, which can then be consumed by animals.
When you spray your toothpaste, however, you leave almost zero trace and eliminate the risk of an animal finding it and eating it. This is also a great way to make sure your minty toothpaste doesn't attract unwanted guests (animals) to your campsite.
This will help keep your campsite clean and free of any unwanted bacteria or residue.
Pack Out Your Trash After Your Adventure
When you're all done camping, and it's time to go home, don't forget to pack out your trash! This includes everything from food wrappers and cans to dirty dishes and napkins. Make sure you have a bag or something to carry it all in so you don't have to leave any evidence of your trip behind.
It's important to be mindful of the environment when camping and leave no trace of your visit. That means taking everything with you that you brought in, including your trash. So make sure to bring a garbage bag (or two) for packing up your mess!
How to Stay Safe While Camping
Camping can be a fun and rewarding experience, but it's important to remember that there are some inherent risks associated with the activity. By being prepared and taking necessary precautions, you can minimize these risks and have a safe and enjoyable trip.
This includes packing a first aid kit and knowing how to use it, picking a safe camping spot, and using gear that will keep you safe in case of an emergency.
Some of the key safety considerations when camping include:
Know your limitations. If this is your first time camping or if you're going into an unfamiliar environment, consider going with someone who is more experienced than you. That way, you'll have someone to help guide you and keep you safe during your trip.
Using gear that is appropriate for the conditions
Knowing how to respond in an emergency situation
Preparing for bad weather or other unfavorable conditions- One thing you need to be aware of when camping is that the weather can change quickly, so always pack warm clothes and rain gear even if the forecast looks good.
Staying aware of your surroundings at all times-When camping, it's important to know where you are and what kinds of animals live in the area. If you're in bear country, for example, make sure to take precautions against bears intruding on your campsite.
Being respectful of wildlife
How to Start a Campfire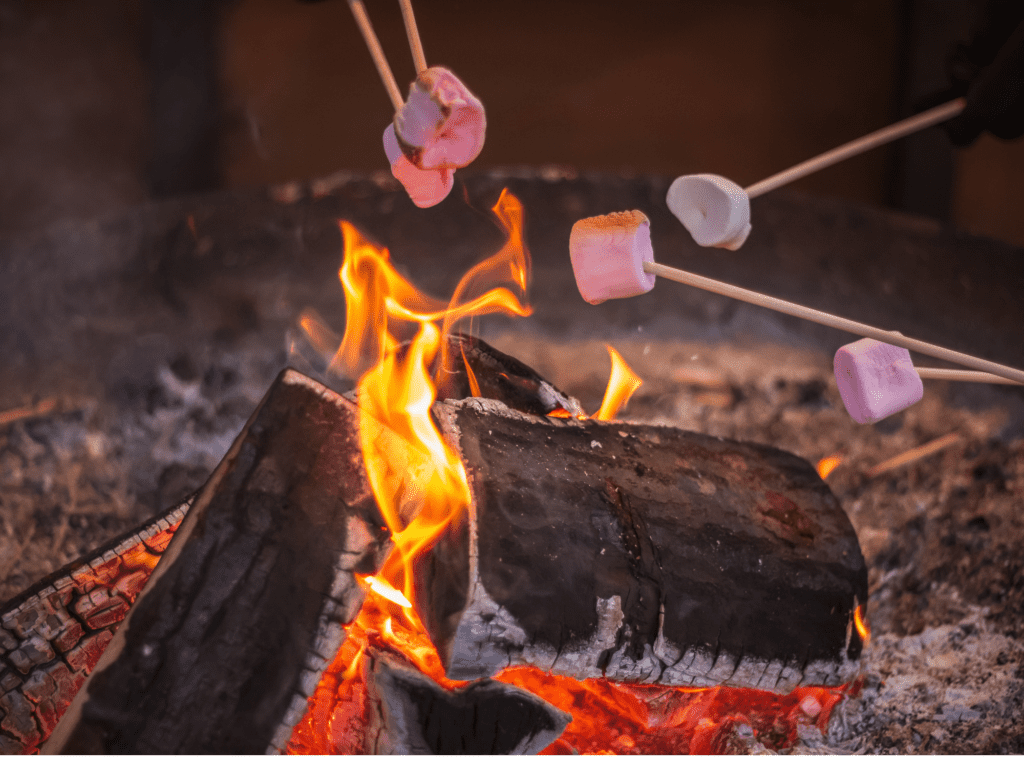 Campfires are a staple of any camping trip, and there are many ways to start one. You can use dried leaves, pine needles, or flint on a stick with tinder on the end. Another way is to use chips as a fire starter. First, gather some small sticks and create a teepee-like shape. Then, put the chips in the middle and light them on fire. Once they're burning, you can add larger pieces of wood to the fire.
Make sure you get permission from the local government before gathering and burning wood when camping. Often there are sticks and branches available for purchase if picking up wood is not allowed.
A fire provides warmth, light, and comfort while camping, so make sure you build one before it gets too dark!
What To Do When You're Lost
If you're ever lost while camping, don't panic! There are a few things you can do to try and find your way back. First, try to orient yourself by locating landmarks or using your navigation system. If you have an offline map or compass, this can also help get you back on track. If all else fails, stay put and wait for someone to come find you. In most cases, people will be looking for you if they know you're lost, so don't worry too much! Make sure to bring snacks, water, and other essentials with you in case of an emergency like this.
What To Do When You're Injured
When you're injured, the best thing to do is to stay calm and take some time for yourself. First, make sure that you're in a safe place and aren't in any immediate danger. If necessary, try to contact someone who can help you or take you to a hospital.
Once you're in a safe place, assess the injury and see if there's anything you can do to treat it yourself. If the injury is not life-threatening, take some time to clean and bandage the wound. Apply pressure if necessary to stop any bleeding. If you have access to ice or cold packs, apply them to the area for additional relief. You can also take ibuprofen or other pain relievers to help manage any discomfort.
It's important to remember that not all injuries require medical attention. Sometimes they just need some time and rest to heal on their own. However, if an injury doesn't seem like it's getting better or if it's causing severe pain, then go ahead and seek medical help.
Not into Camping But Want To Learn About Glamping?
If you'd like to try your hand at camping but feel like it may be a bit too rough, you can always explore Glamping. Glamping is a combination of the words "glamorous" and "camping," so it's really just a fancy way to say camping.
You don't have to rough it out in the wilderness if you don't want to. Glamping is a great way to get the feel of camping without having to deal with pesky things like bugs, dirt, and discomfort.
Glamping accommodations are often more luxurious.
Looking For Even More Comforts And Think RVing May Be Your Thing?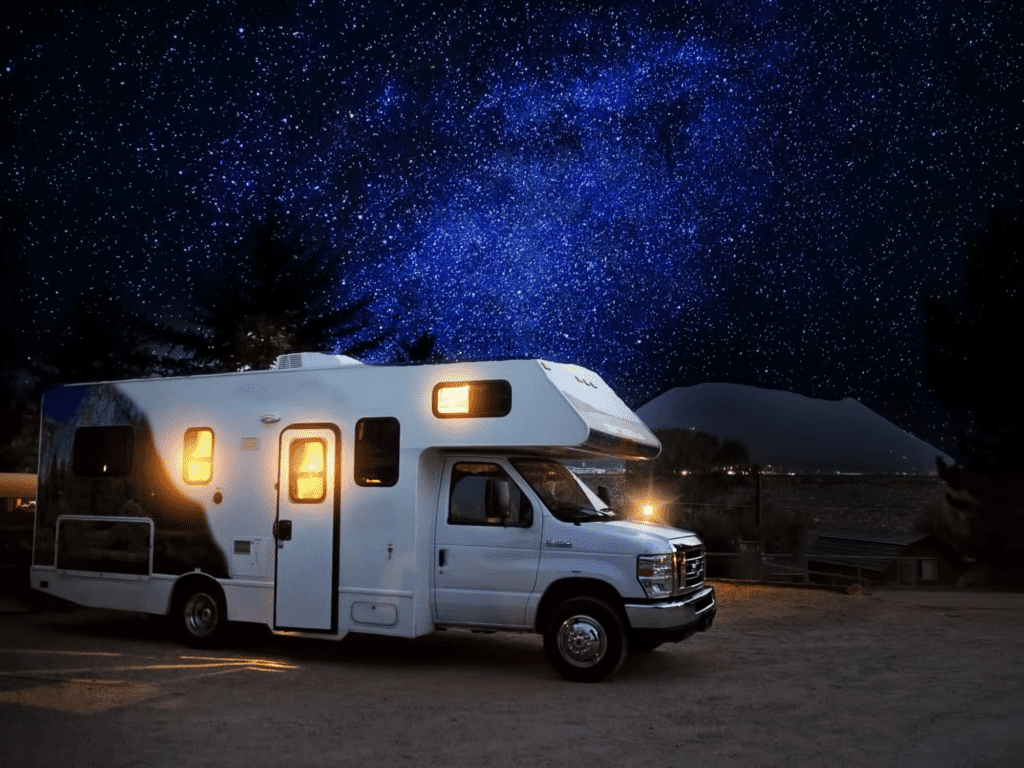 Let me tell you, camping isn't for everyone, but if you're looking to get out and explore all this beautiful country has to offer, you can do it in an RV or Campervan Too! Don't own your own? That's fine because there are plenty of rentals you can choose from to decide if campervan or RV travel is your thing.