Are you looking for a Chattanooga Weekend Getaway and wondering what to do? We have all the must see Chattanooga attractions right here!
Chattanooga, Tennessee, is a hidden gem of a city nestled in the scenic Tennessee Valley. Although it's often overshadowed by its bigger neighbors like Nashville and Memphis, Chattanooga has a lot to offer visitors looking for a fun-filled weekend getaway.
This charming city has something for everyone, from hiking and biking trails to a thriving music and food scene.
No matter what kind of weekend you're looking for, Chattanooga is sure to have something to make your trip memorable. So pack your bags and head to this scenic city for an unforgettable weekend getaway.
Pro-tip: We noticed that the clocks on our phones kept switching from Eastern to Central time zone when we were exploring the surrounding area (Chattanooga is right on the border of the two time zones). Be aware that Chattanooga operates in the Eastern time zone.
The Perfect 2-3 Day Itinerary For A Weekend In Chattanooga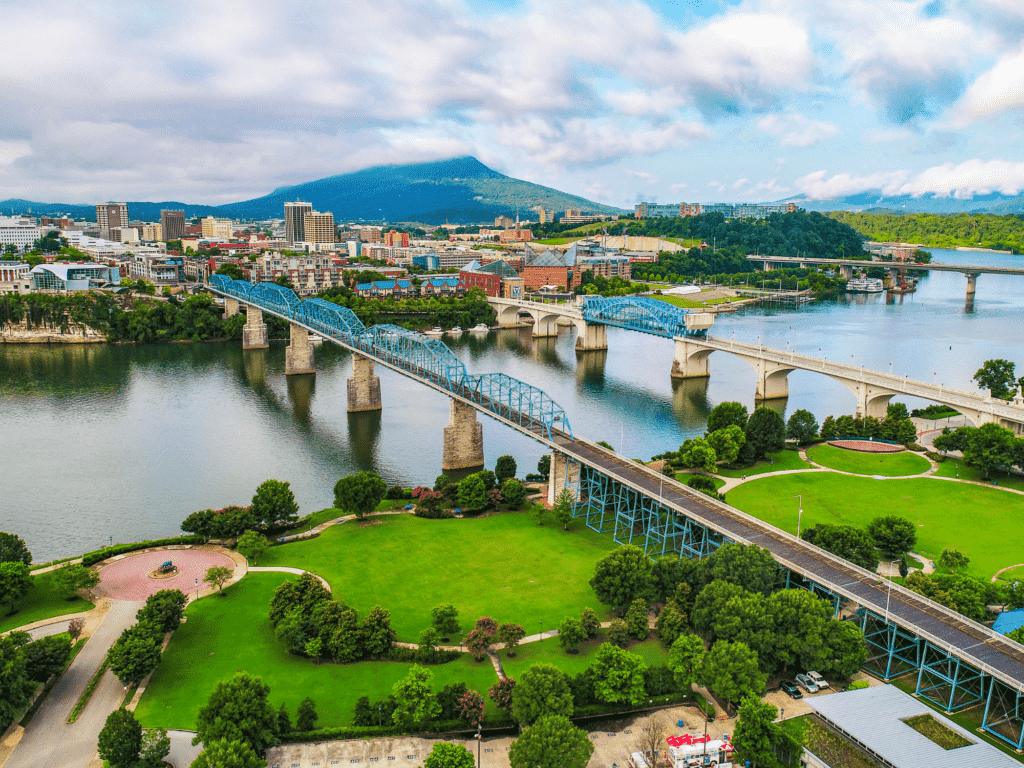 Get ready because we are about to show you how to make the most out of a Chattanooga weekend getaway! Here's our suggested itinerary for a fun-filled weekend in this charming city.
Day 1 Chattanooga Itinerary
Our first-day itinerary is jam-packed with outdoor activities and adventure. Let's explore some of Chattanooga's most popular things to do, then finish the evening by relaxing with a cold beer, delicious food, and live music.
Breakfast In Chattanooga
If you're looking for a good quality breakfast with ingredients sourced from local farms, Syrup and Eggs is the place for you.
This hip little breakfast spot has a menu that will satisfy your every craving, whether you're looking for something sweet or savory. Be sure to try the pancakes; they're some of the best in town!
Looking For A Great Coffee In The Bluff View Art District Area?
If you need a caffeine fix, head over to Rembrandt's Coffee House. This European-style coffee shop is the perfect place to get your day started. The coffee is brewed fresh daily, and the pastries are baked in-house.
Or Try Out Sleepyhead Coffee If You're In The Downtown Area
Sleepyhead Coffee is the perfect place to get your caffeine fix before starting your day in Chattanooga. This local coffee shop prides itself on being a welcoming place for everyone, with a relaxed and cozy atmosphere. With a wide selection of vegan pastries and locally roasted coffee, it's the perfect place to start your day.
Lookout Mountain- Is a Must-See Popular Tourist Spot
Lookout Mountain, just 6 miles from downtown Chattanooga is known for its sweeping views of the Chattanooga Valley. On a clear day, you can see seven states (Tennessee, Kentucky, Virginia, South Carolina, North Carolina, Georgia, and Alabama) from the top of the mountain!
Lookout Mountain is also home to Ruby Falls (more details on Ruby falls below), the tallest and most popular underground waterfall in the United States.
Tourist Activities Located On And Around Lookout Mountain Can Be Expensive
Although Lookout Mountain boasts many appealing tourist attractions, be mindful of your wallet, as some attractions can be costly.
For example, a visit to Ruby Falls will set you back $24.95 per adult, while tickets for the Chattanooga Incline Railway cost $15.00 and Rock City 24.95 per adult.
However, If you're looking for something to do on Lookout Mountain that won't break the bank, consider hiking one of the many trails, picnicking at Sunset Rock, or simply taking in the stunning views.
Remember, you don't have to do all the activities on Lookout Mountain; just pick one or two that appeal to you the most.
Ruby Falls A Beautiful Underground Waterfall- Lookout Mountain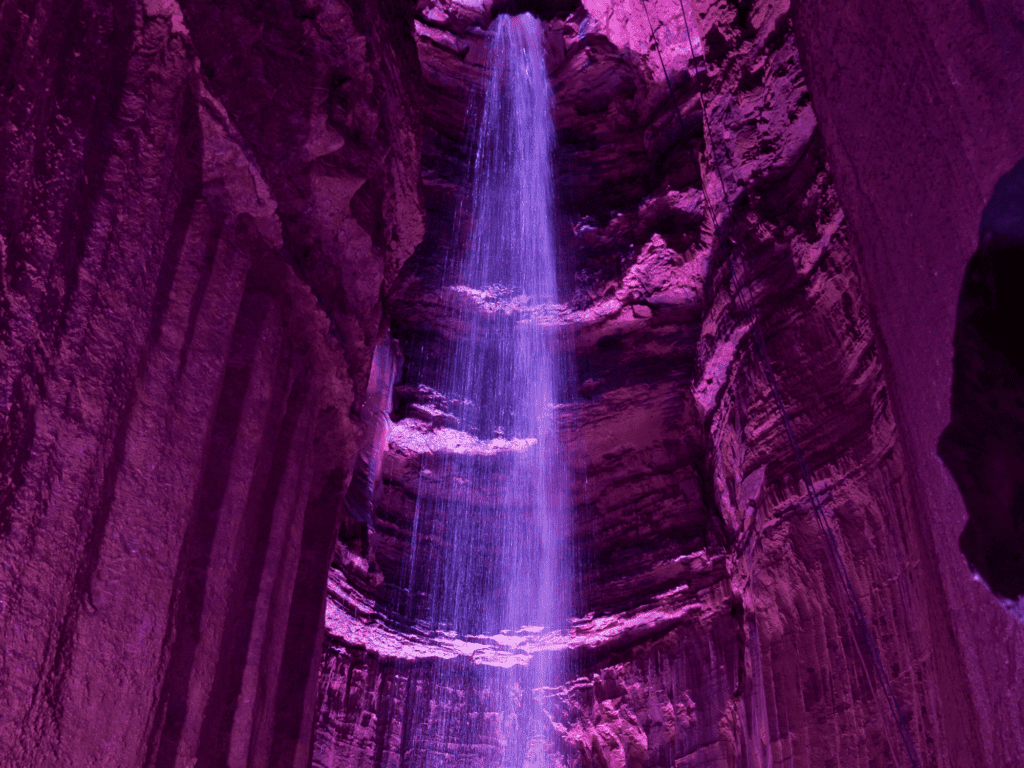 Nestled on Lookout Mountain, Ruby Falls is one of the most popular tourist attractions in the state. As the tallest and deepest underground waterfall open to the public in the United States, Ruby Falls is well worth a visit when you're in town.
A Brief History of Ruby Falls
Ruby Falls was discovered in 1928 by Leo Lambert; a cave explorer hired to develop Lookout Mountain as a tourist attraction.
Lambert and his team were excavating a new entrance to the cave when they came across a small opening that led to an unexplored section of the cave. Lambert crawled through the opening and discovered a breathtaking 150-foot waterfall. He named the falls after his wife, Ruby, and began making plans to open them up to the public.
In 1929, Lambert built an elevator that would take visitors down into the cave so they could see the falls from an observation deck. Today, Ruby Falls is still one of Chattanooga's most popular tourist destinations—it draws nearly 500,000 visitors each year!
What to Expect When You Visit Ruby Falls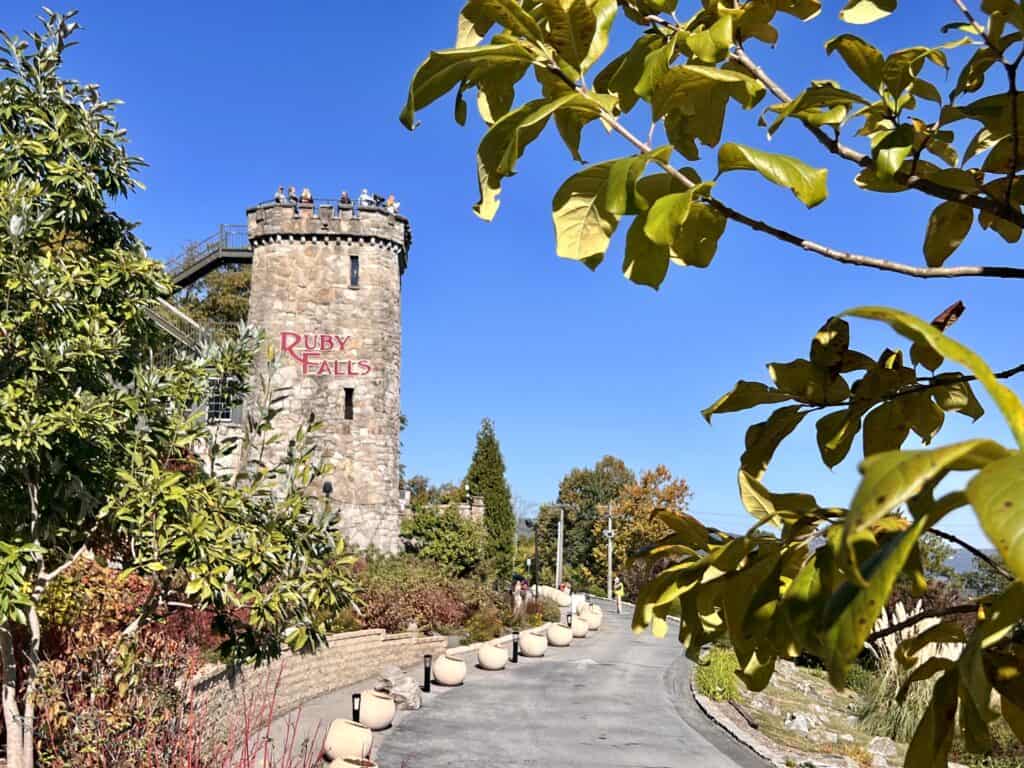 The only way to visit Ruby Falls is by taking a guided tour of the cave where the falls are located. The tour lasts approximately one hour and covers a distance of about 1/3 of a mile.
Along the way, you'll learn about the history of Lookout Mountain and get to see some other cool features that can be found inside caves, such as stalactites and stalagmites!
Of course, the tour's highlight is seeing Ruby Falls.
After completing your cave tour, you can explore some of Ruby Falls' other attractions, including an outdoor walking trail, a gift shop, and a cafe.
Feeling Adventurous? Go Zip Lining At Ruby Falls
If you're looking for an adrenaline-pumping activity, consider zip lining at Ruby Falls. Ruby Falls Zipline is an aerial adventure course with several zip lines, rope bridges, and other challenging obstacles.
The course is located in the forest canopy and offers stunning views of the Chattanooga Valley.
Visit Point Park On Lookout Mountain For Beautiful Views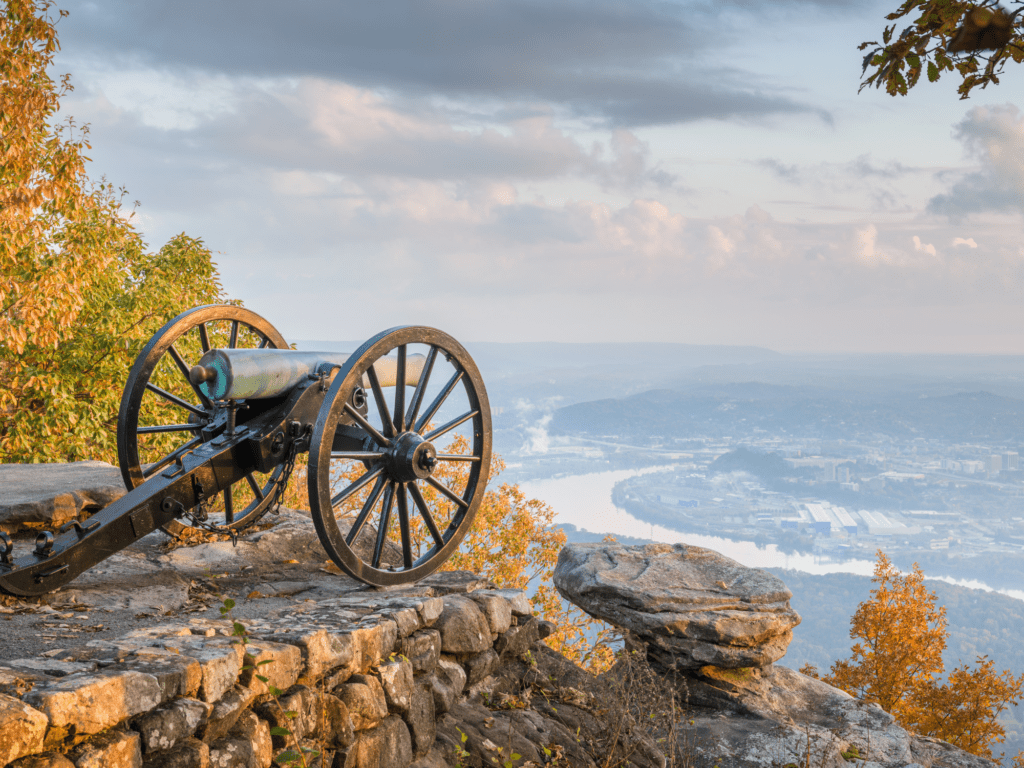 To experience the best views that Lookout Mountain has to offer, head to Point Park. This park is located at the top of the mountain and offers stunning panoramas of the Chattanooga Valley.
Point Park is also within Chickamauga and Chattanooga National Military Park, which commemorates several Civil War battlefields across Tennessee and Georgia. The park was founded in 1890, a few decades after the war's end.
The park is open from 8:30 a.m. to sunset (Eastern Standard Time), and admission costs $10 for adults (16+). Entrance is free if you have an America the Beautiful National Parks Pass or Federal Recreational Lands Pass.
Take A Hike At Point Park-It's A Free Thing To Do
If you want to burn some energy, explore the various hiking trails available throughout the park.
Rock City Gardens- On Lookout Mountain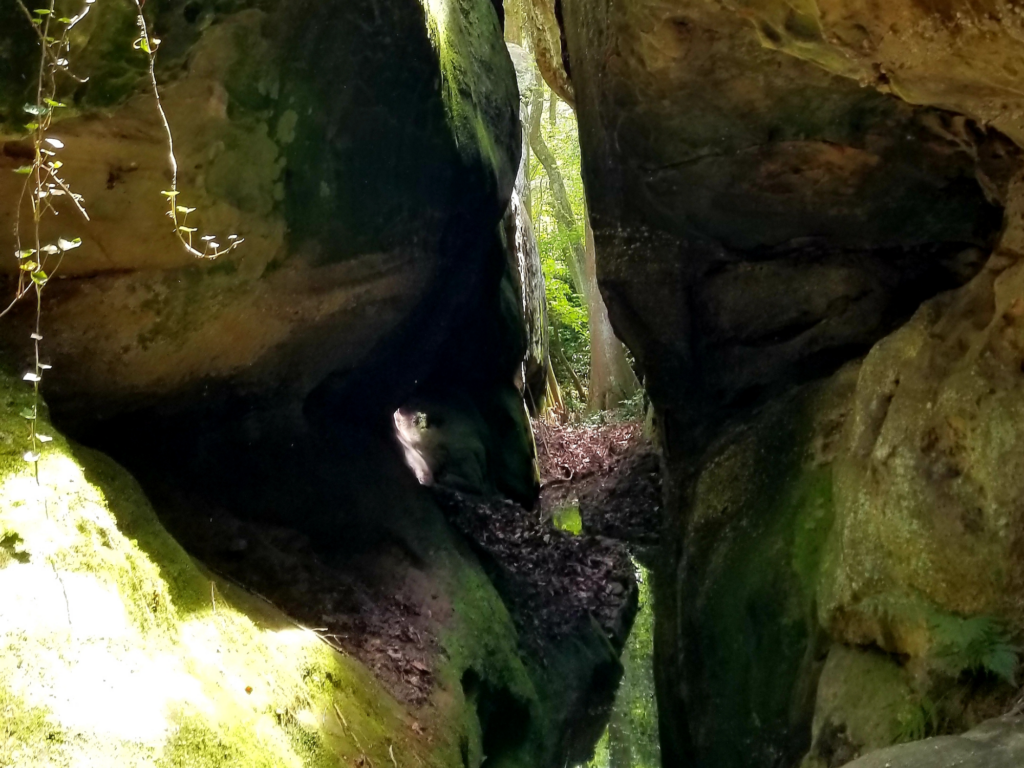 Rock City is located atop Lookout Mountain. This nature park features massive ancient rock formations, gardens with over 400 native plant species, and the infamous "see seven states" lookout.
In addition to the beautiful flowers and plants, visitors can also enjoy the many rock formations created over the years. These include Fat Man's Squeeze; a narrow passage visitors must squeeze through, Mother Goose Village, and the Fairyland Caverns, which are illuminated with colorful lights.
There is also a waterfall on site that adds to the natural beauty of the gardens.
Incline Railway-An Adventurous Way To The Top Of Lookout Mountain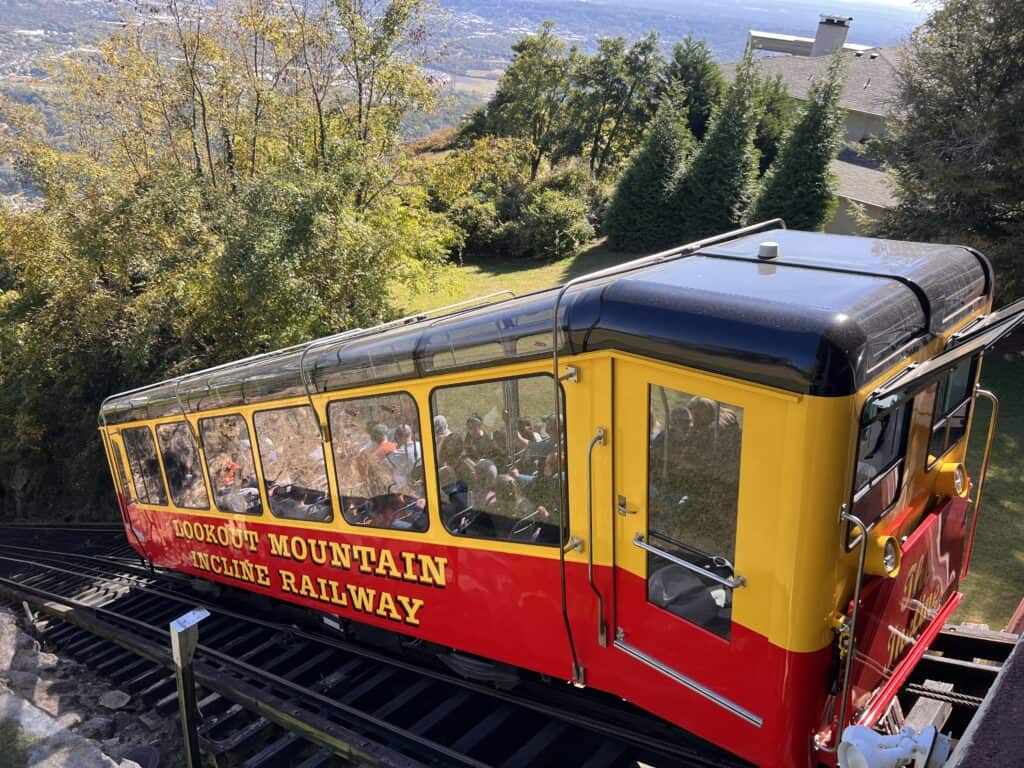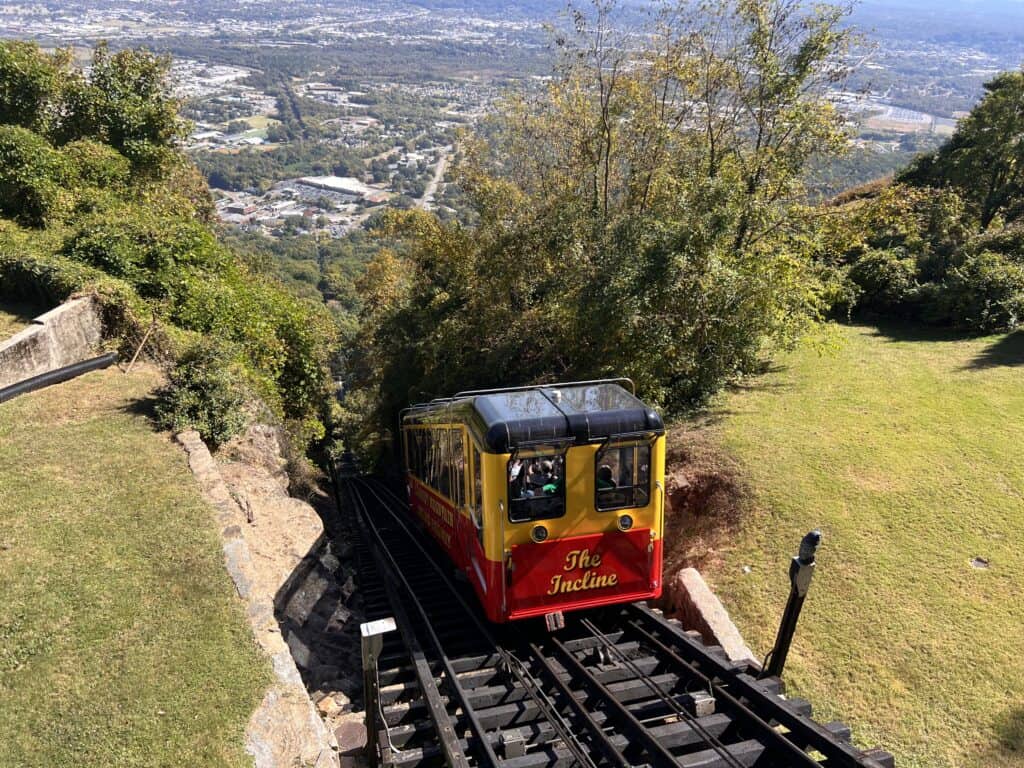 Although the most practical way to get to Lookout Mountain is typically by car, many say the most exciting experience is via the Incline Railway.
The railway has been praised as "America's Most Amazing Mile." The railway transports passengers up the steepest part of Lookout Mountain on a nearly 73% grade track, making it one of the steepest passenger railways in the world.
From the top, you'll take in views from the highest point of Lookout Mountain, giving you a bird -eye view of downtown Chattanooga. Once at the top of the railway Point Park is just a short walk away.
As mentioned, there are plenty of hiking trails to explore around the park.
At the bottom of the incline, visitors can explore the historic district of St. Elmo.
Hike Sunset Rock On Lookout Mountain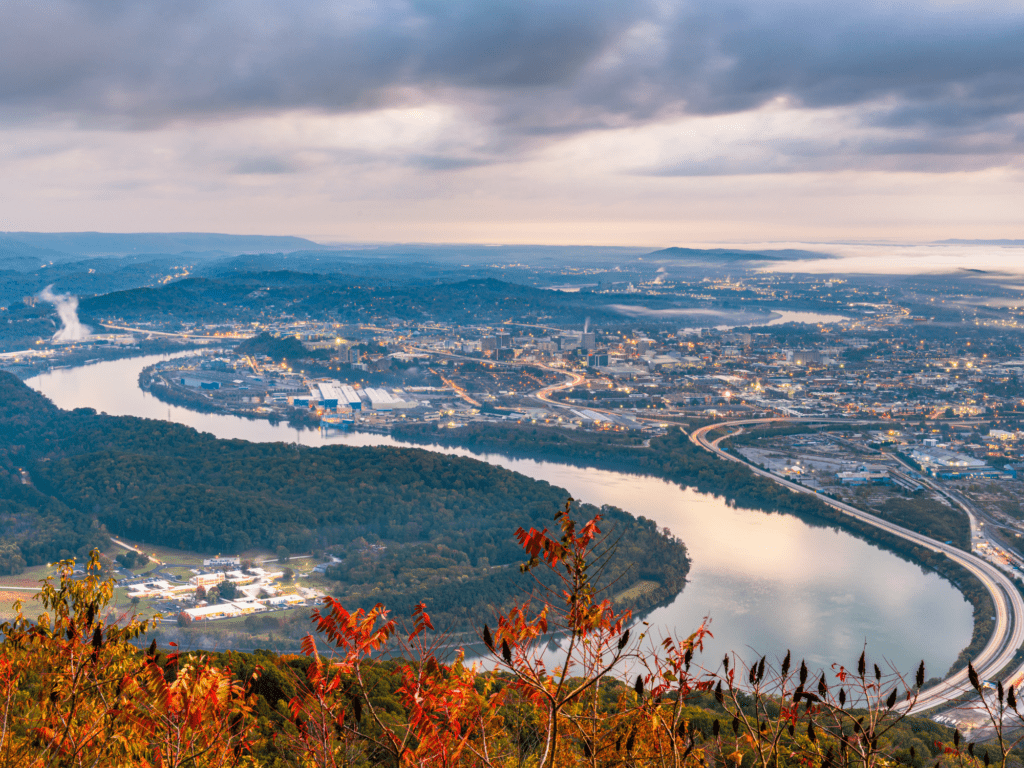 One of the best ways to experience Lookout Mountain is by hiking one of its many trails.
There are trails for all levels, so whether you're a seasoned hiker or just starting, there's a trail for you.
For a great hike with stunning views, try Sunset Rock. This hike takes you to the top of Sunset Rock, where you'll be rewarded with panoramic views of Chattanooga.
Insider Tip:
The Cravens House trailhead is a popular starting point for hikers because the Sunset Rock parking area has limited space and one-hour parking, and nearby Point Park has a $7 entrance fee.
This historic house is about halfway up the northern slope of Sunset Rock and provides ample free parking in front of and below the house on Cravens Terrace Road.
A moderate 4.5-mile hike begins here– follow the Cravens House Trail for just over 0.5 miles before connecting with Bluff Trail; it totals around 300 feet in elevation gain.
Walnut Street Bridge- One Of Our Favorite Free Attractions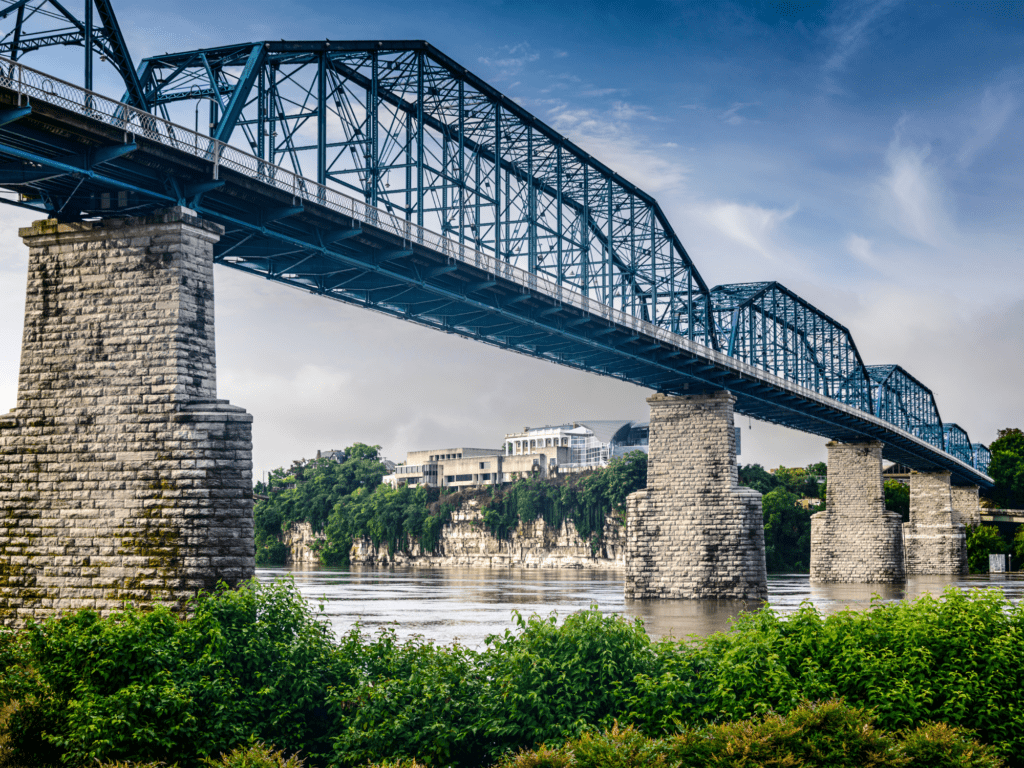 After exploring Lookout Mountain, we will take our adventures back to the city and visit the Walnut Street Bridge.
This bridge connects North Chattanooga and downtown but was closed to all motorized traffic in 1978. Nevertheless, it is still open for pedestrians and cyclists.
The bridge was set to be demolished, but the project failed due to a lack of funding. A community group stepped in and saved the bridge.
In 1990, it was added to the National Register of Historic Places and reopened a few years later–but only for pedestrians. The span of the bridge is around 2,376 feet (half a mile), making Walnut Street Bridge one of the longest pedestrian bridges in the world.
Coolidge Park Below Walnut Street Bridge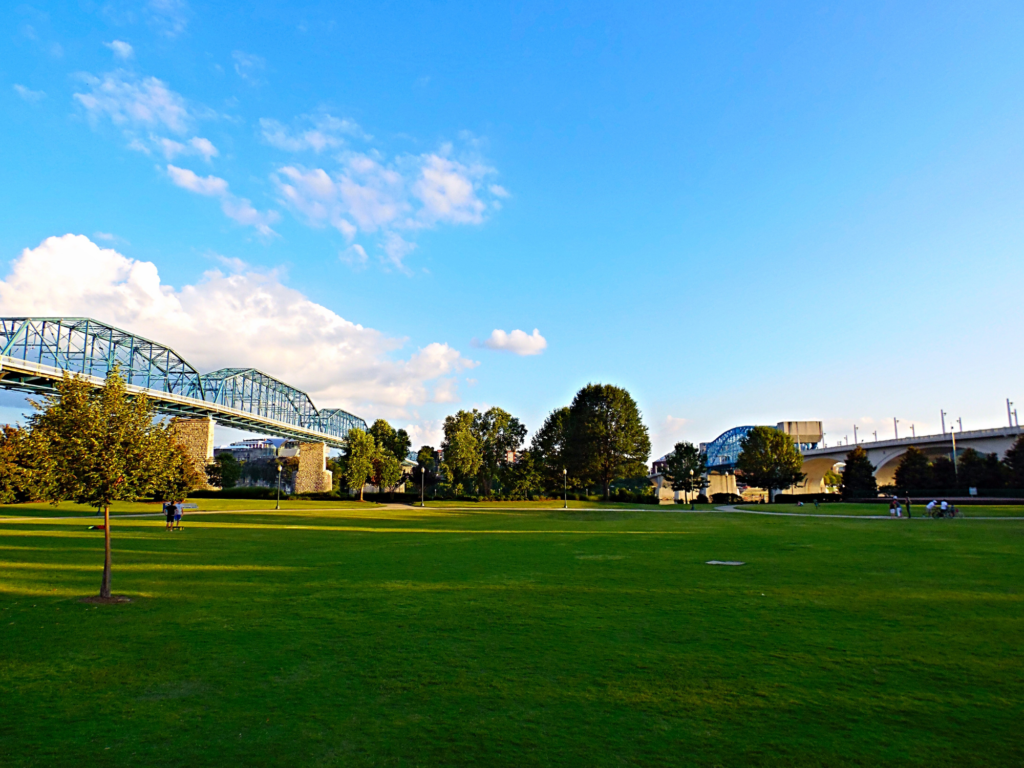 If you're looking to cool off after your walk across the Walnut Street Bridge, head over to Coolidge Park. Situated on Chattanooga's Northshore waterfront, the downtown park features a restored 100-year-old carousel, a pavilion, an interactive play fountain, and lots of open space.
This park is a popular venue for concerts, movies in the park, festivals, and special events.
Ross's Landing
After exploring Coolidge Park, make your way to Ross's Landing on the Tennessee River. This is the site of Chattanooga's first settlement, which was established in 1816. Today, Ross's Landing is home to the Tennessee Aquarium, the Imax 3D Theater, and the Southern Belle Riverboat, a fun sightseeing river cruise.
Explore The Beauty Of The Murals In Chattanooga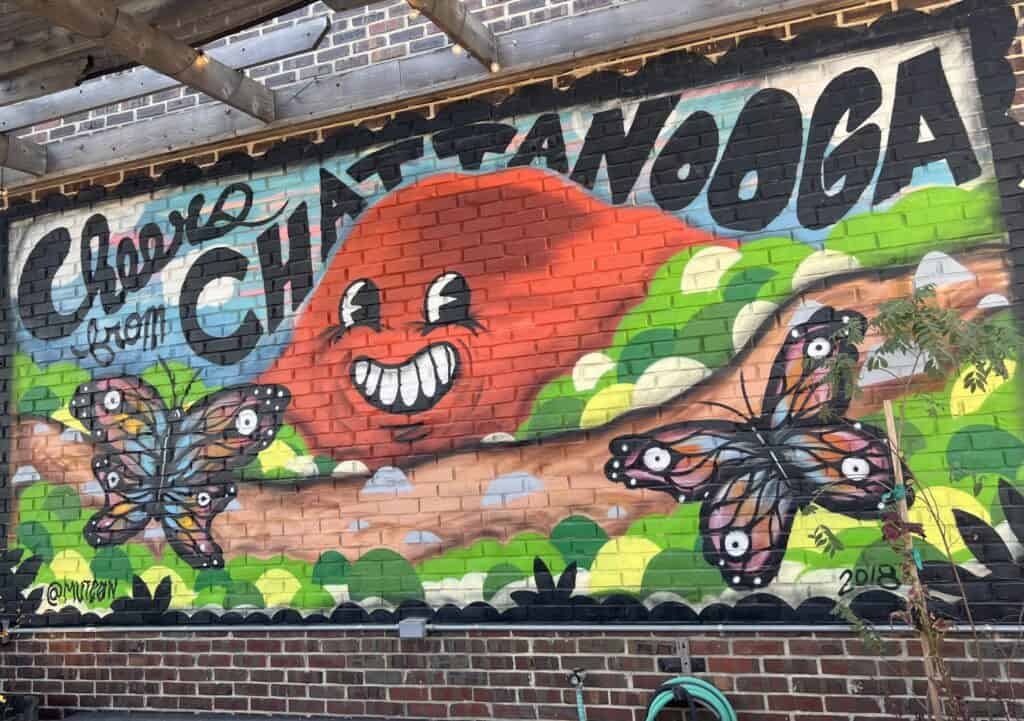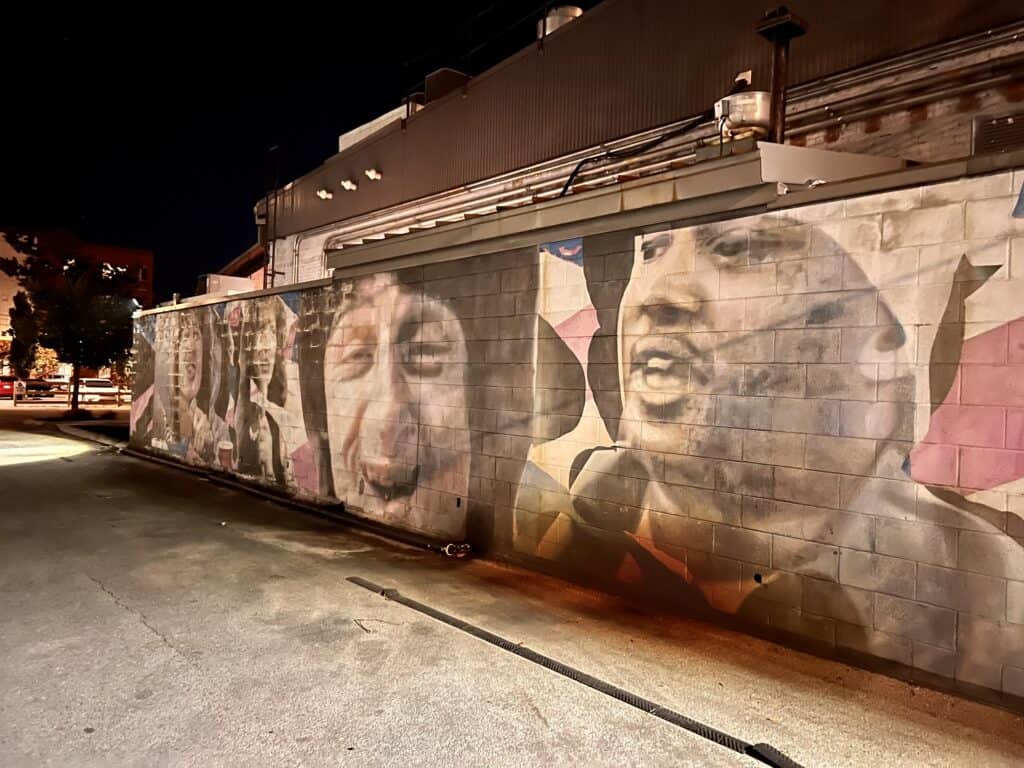 While exploring Chattanooga, you'll probably come across a few murals. Did you know that the largest mural in the southeastern US is located here?
"We Will Not Be Satisfied Until" is a mural by Meg Saligman on E MLK Blvd between King and Houston Streets. If you're interested in seeing it, it's situated next to the Bessie Smith Cultural Center.
Grab A Bite To Eat And Enjoy A Beer At One Of The Local Breweries
If you're a craft beer lover, Chattanooga is quickly becoming the place to be. With so many great breweries to choose from, it can be hard to decide where to start.
Insider Tip: One of the best things about most of the breweries in Chattanooga is that they are dog friendly, so you can bring your furry friend along for the fun.
Odd story Brewing-Our Top Choice For Beer Drinking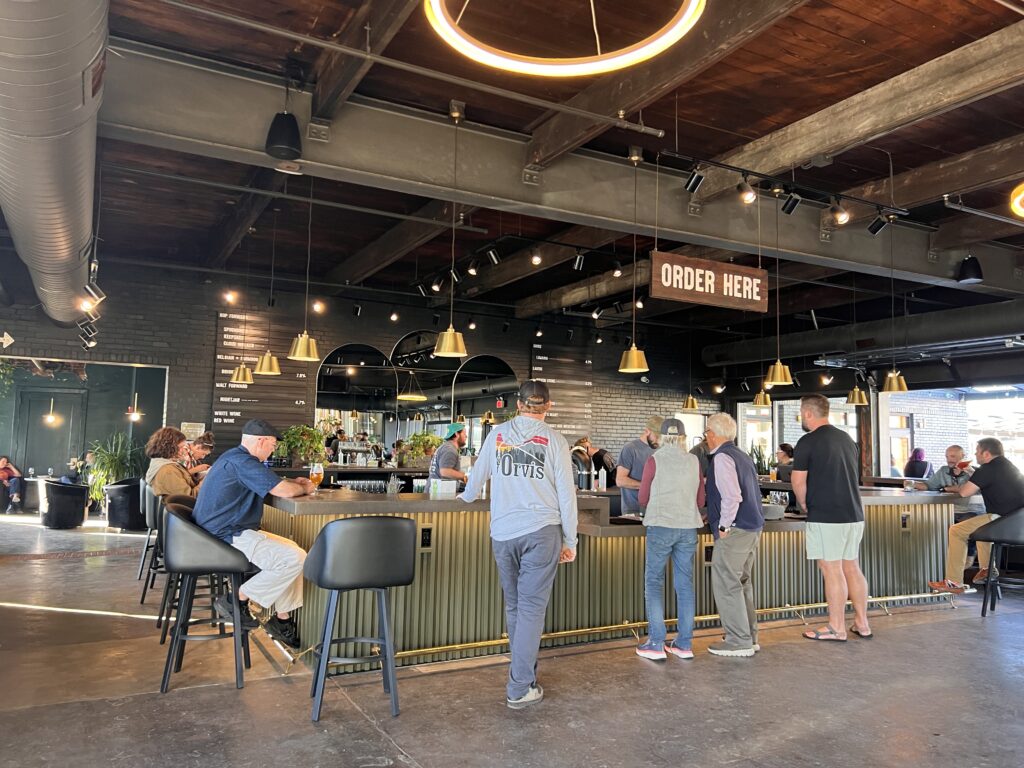 Nestled in the heart of downtown Chattanooga is Oddstory Brewing Company.
This brewery takes its name from the odd stories that make up the fabric of the city, and its taproom is filled with local art that tells those stories.
The brewery recently opened a new and larger facility at 1604 Central Ave, which is perfect for enjoying a beer with friends, furry or not.
A couple of our favorite breweries in Chattanooga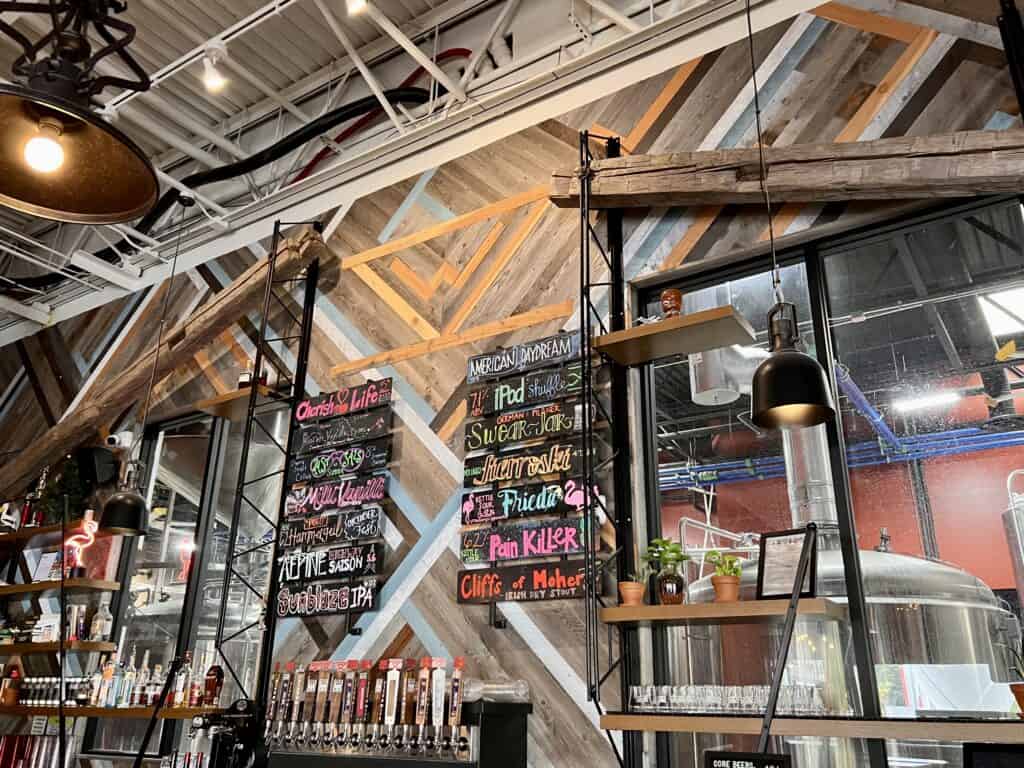 Chattanooga Brewery (dog friendly) had a $3 beer special we took advantage of.
Brewhaus is located in the Southside of Chattanooga and has a great selection of German-style beers. The brewery also has a full menu of delicious food, so you can make a day of it.
Southside Social- A Fun Restaurant With A Great Vibe
Southside Social is a unique boutique bowling alley that offers a family-friendly atmosphere.
With ten bowling lanes, 4 bars, lounge seating with flat-screen televisions, and an indoor gaming area complete with pool tables, skee ball, ping pong, shuffleboard, giant Jenga, and more.
Their outdoor courtyard features casual seating options around fire pits, ping pong tables, and cornhole.
Chattanooga Night Activities
Chattanooga has plenty to offer if you want something to do at night. There's something for everyone, from live music and theater to bars and clubs.
Music Around Chattanooga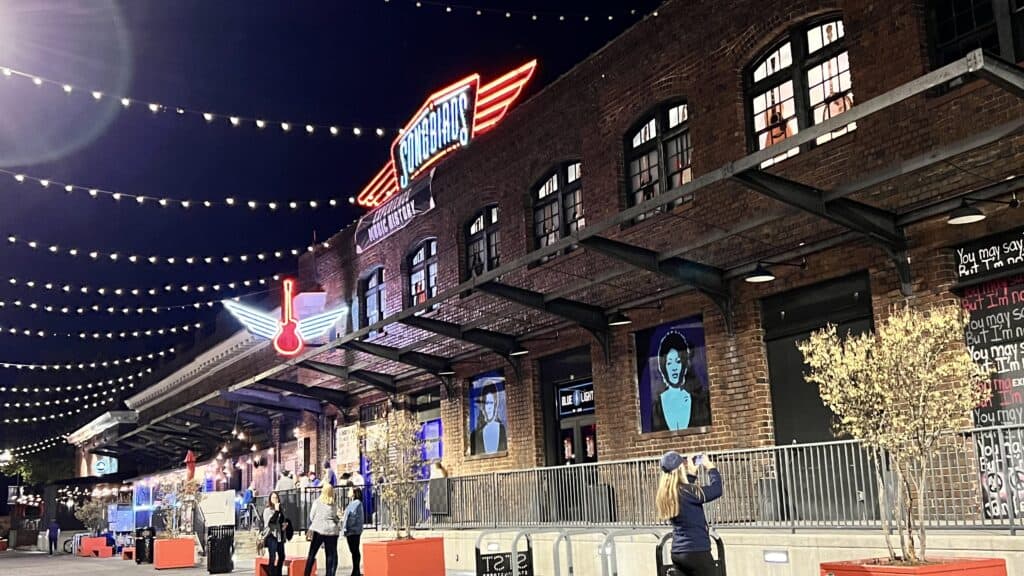 The Barrelhouse Ball Room At Five Wits Brewing is the perfect place to relax with friends, have a few drinks, and enjoy some good music.
With a rotating lineup of local and touring bands across all genres, you'll find a show you'll enjoy.
Song Birds is a great place to catch live music in Chattanooga. This intimate venue features a rotating lineup of local, regional, and national artists. With a focus on Americana and roots music, you're sure to find a show you'll love.
Song Birds is not only a place to hear great music. You can visit the guitar museum which showcases guitars and pop culture.
HiFi Clydes has a decent happy hour and an excellent stage for live music, where they host concerts with a wide range of genres. There's also a restaurant if you're looking for a bite to eat.
Late-Night Food And Drink Around Chattanooga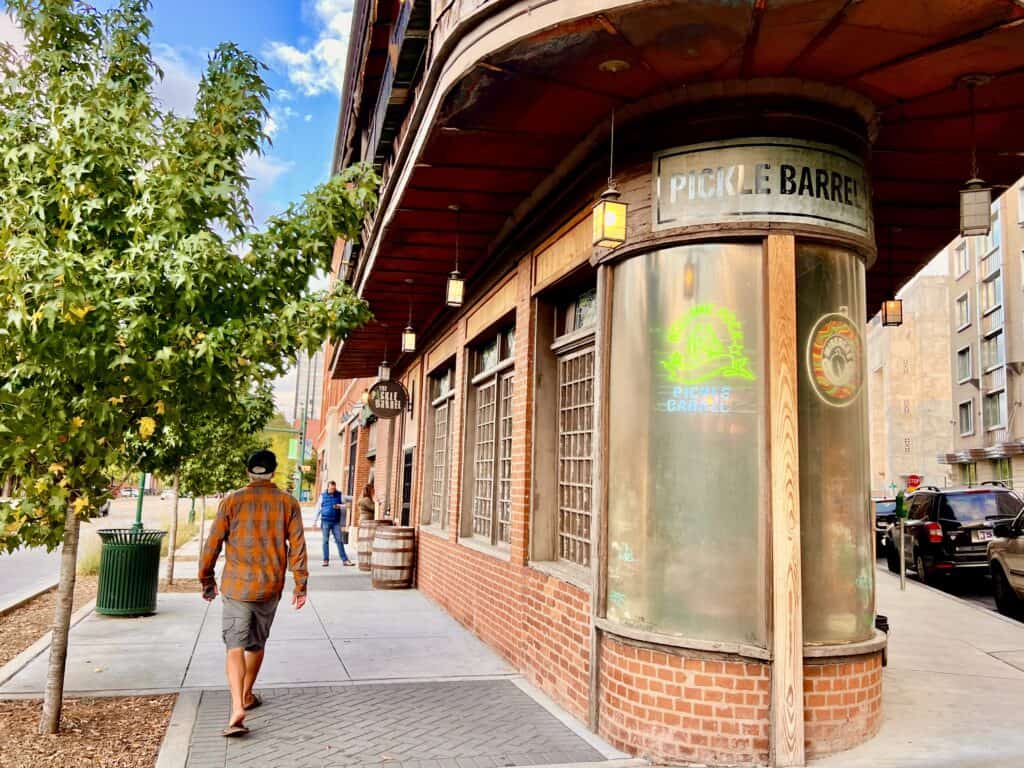 For late-night food and drinks with rooftop seating, head to the Pickle Barrel. This local favorite has a great menu of burgers, sandwiches, salads, and a wide selection of local and craft beers.
The rooftop seating offers a great view of the city, and it's the perfect place to people watch.
Late Night Party In Chattanooga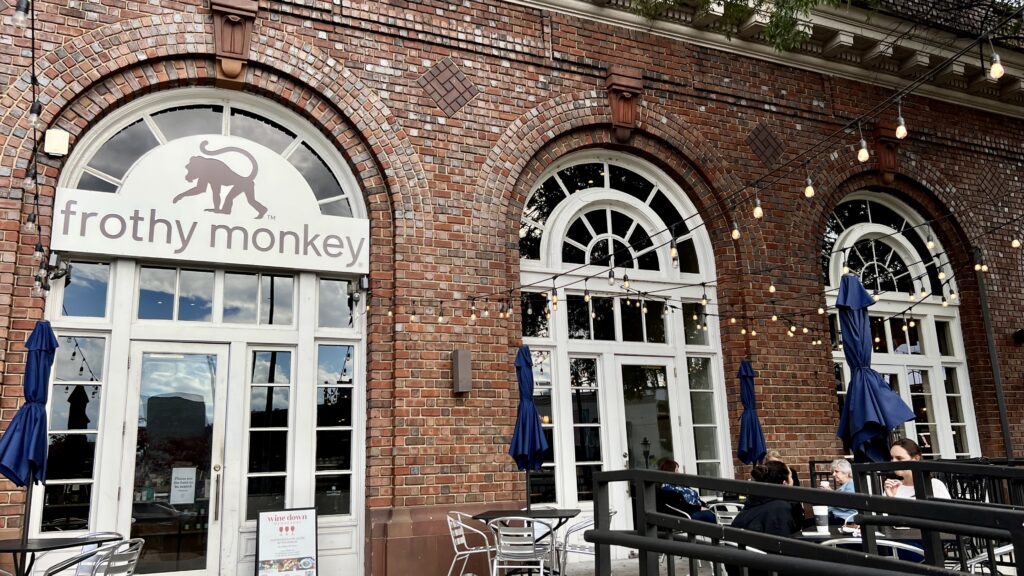 According to locals, the best night out in Chattanooga starts on Station Street. This is located on the Southside of town, where art, culture, and entertainment thrive.
The street was formally an alleyway but has since been renovated to become pedestrian-friendly, with patio access to restaurants and venues.
Recently, Station Street became the 11th street in the nation to allow on-street consumption of alcohol (if alcohol is ordered from businesses adjacent to the road).
So you can take your drink down the street with you as you check out the Comedy Catch for some stand-up, Regan's Place to do some retro dance moves to music from the '80s and '90s, Westbound Bar for some country line dances and two-stepping, Songbirds, Gate 11 Distillery, Frothy Monkey, Backstage Bar, or STIR.
Day 2 Chattanooga Itinerary
Today's itinerary takes you all over Chattanooga to get a real sense of the city and what it has to offer.
Catch Sunrise at Raccoon Mountain Overlook
For an incredible view of the sunrise over Chattanooga, make your way to Raccoon Mountain first thing in the morning.
This is one of the top places in town for a panoramic view of everything going on, and it's even more gorgeous when you catch it at sunrise.
Raccoon Mountain is only 15 minutes from downtown, and once you're there, you'll have plenty of options for biking or hiking trails. Not to mention, the views from the mountain-top are stunning—you can see the Tennessee River, mountains off in the distance, and a 12-billion gallon reservoir, all while taking it all in.
Head Below Raccoon Mountain To See The Caverns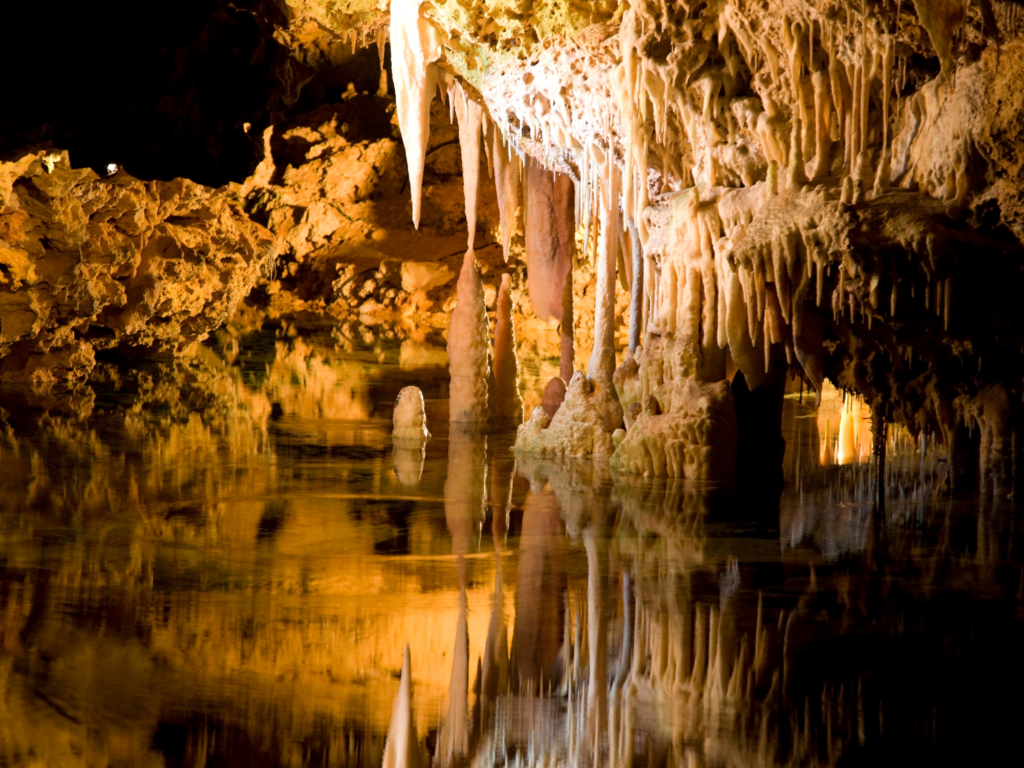 When was the last time you got to walk over and under the same mountain on the same day? Raccoon Mountain offers an experience like no other.
Did you know that Raccoon Mountain Caverns is one of the top 10 caves in America? It's true! Inside the cave is an underground labyrinth of stalactites, stalagmites, soda straws, flowstone, natural bridges, and more.
The 45-minute walking tour is perfect if you only have a limited time.
You'll get to see the stunning Crystal Palace Room – which just so happens to be the largest cave formation chamber in Southeast America – and then walk along a quarter-mile trail before heading back out.
If you're ready for an adventure, why not sign up for a wild cave expedition? You'll be kitted out with spelunking gear and have a guide to show you around.
Tours range from one to six hours, and if you choose a tour lasting longer than four hours, you even get the option to sleep in the cave!
Sculpture Fields at Montague Park- Free Thing To Do In Chattanooga
Next, we'll head to the Sculpture Fields at Montague Park. The Sculpture Fields is a free outdoor museum for modern art.
If you're looking for a place to enjoy the fresh air and check out some impressive sculptures, Look no further than Montague Park. With plenty of free parking and no entrance fee, it's the perfect spot for a day trip.
Over 40 sculptures are displayed at this 33-acre park in Chattanooga's Southside neighborhood. The land was donated to the City of Chattanooga by Mrs. Mary Thayer Montague, with the idea for the sculpture park started by local sculptor John Henry.
Wander The Bluff View Art District
The Bluff View Art District in Chattanooga, Tennessee, is a hidden gem just waiting to be explored.
This unique neighborhood is located on a bluff overlooking the Tennessee River and is home to a number of art galleries, restaurants, and cafes.
Whether you're an art lover or just looking for a unique place to explore, the Bluff View Art District is definitely worth a visit.
Walk the Tennessee Riverpark Along The Riverfront
Nestled along the banks of the Tennessee River, the Tennessee Riverpark is a nature lover's paradise. Spanning 16 miles, the park features scenic walking and biking trails, fishing spots, playgrounds, and picnic areas.
Best of all, it's completely free to enjoy! So whether you're looking for a peaceful place to take a stroll or an adventurous spot to go biking, the Tennessee Riverpark is sure to have something for you.
Visit Umbrella Alley For A Photo Op
Located in the West Village, Umbrella Alley is a great place to take photos and enjoy the Chattanooga scenery. The narrow alley is lined with umbrellas, making it an excellent spot for taking pictures in Chattanooga, Tennessee.
Moon Pie General Store-Chattanooga's Best Kept Secret
You know those things called Moon Pies? Of course, you do. They're tasty little cookies with marshmallow filling and a chocolate coating.
And Chattanooga has its very own Moon Pie General Store. If you want a taste of Chattanooga's unique history, then you need to visit the Moon Pie General Store.
If you're looking for a place to pick up some Chattanooga-themed souvenirs or snacks, look no further than this store! It's been around since 1917 and has become something of an institution.
The store is best known for its Moon Pies, but they also sell other tasty treats like candy and gifts.
Chattanooga Choo Choo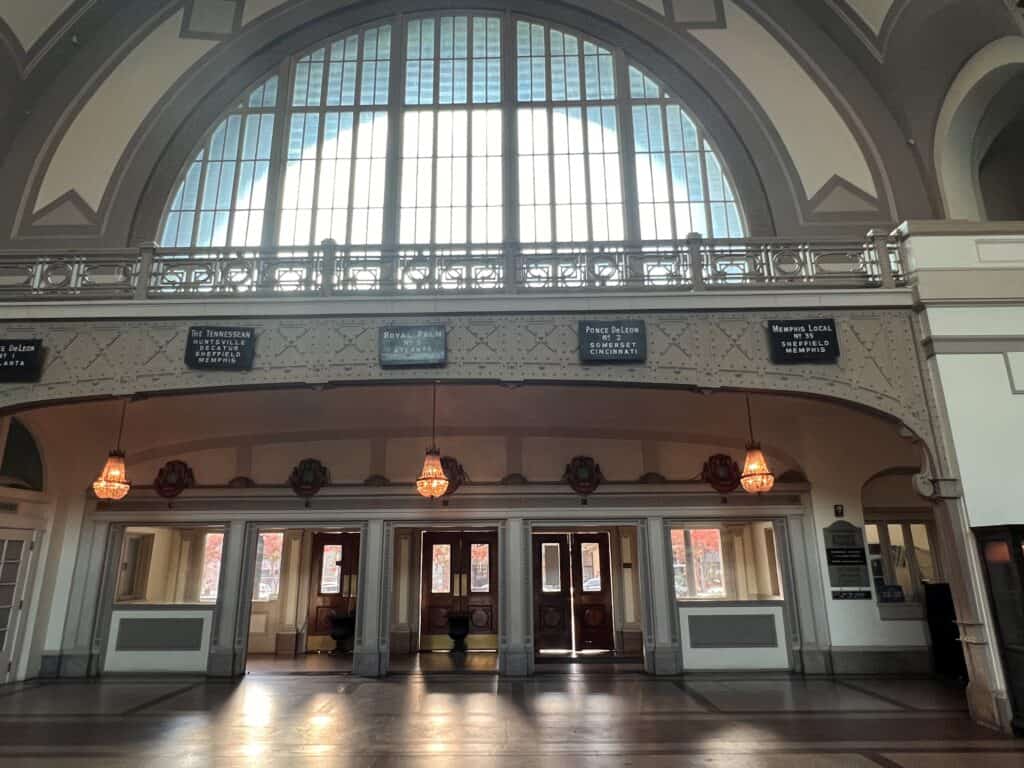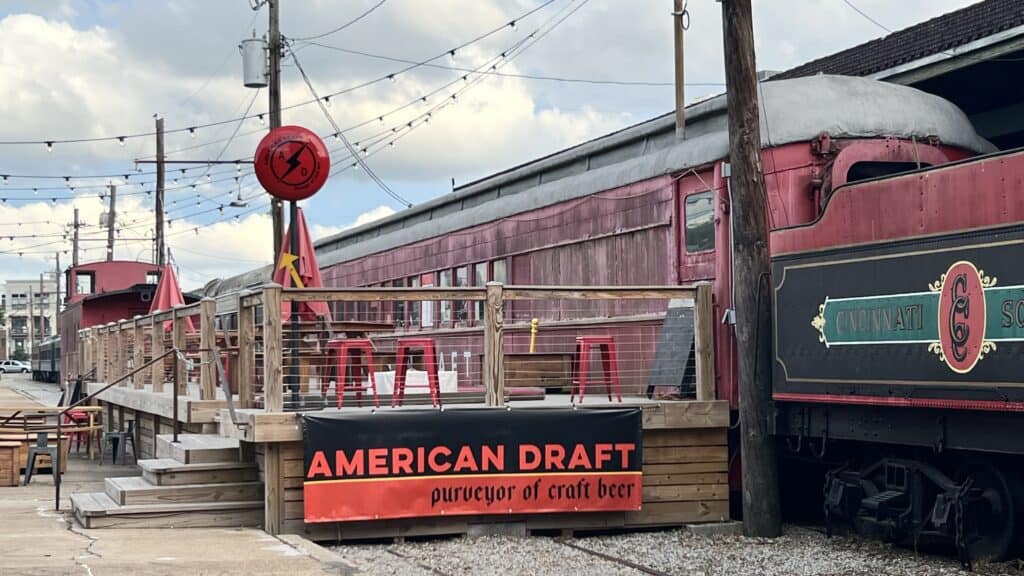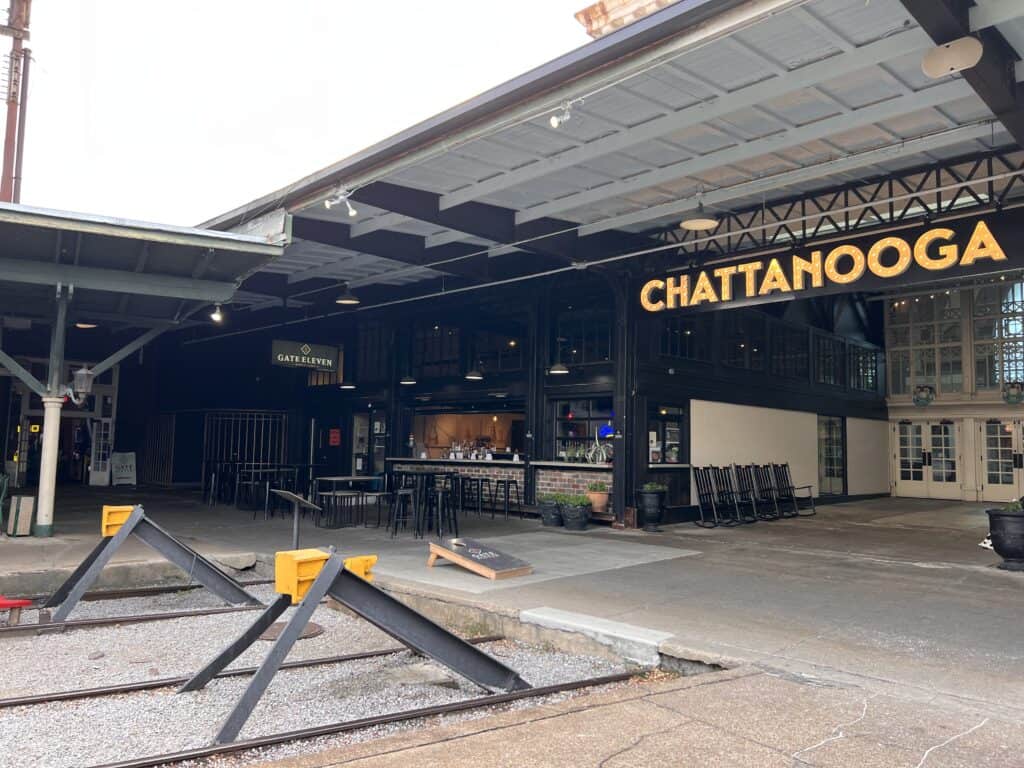 The Chattanooga Choo Choo is a historic train station that has been converted into a hotel and entertainment complex. It was originally built in 1909 as a terminal for the Southern Railway.
In its heyday, the train station was one of the busiest in the country, with over 200 trains passing through every day.
In 1973, the station was added to the National Register of Historic Places. Two years later, it was reopened as a hotel and entertainment complex.
Today, the Chattanooga Choo Choo offers various activities, including a distillery tour, live music, comedy shows, and happy hour specials.
The Chattanooga Choo Choo is also home to a number of restaurants, bars, and shops. You can even stay in one of the historic railroad cars that have been converted into hotel rooms!
Whether you're looking for a place to stay or a fun place to hang out, the Chattanooga Choo Choo is definitely worth a visit.
The Bitter Albi-Our Favorite Dinner Spot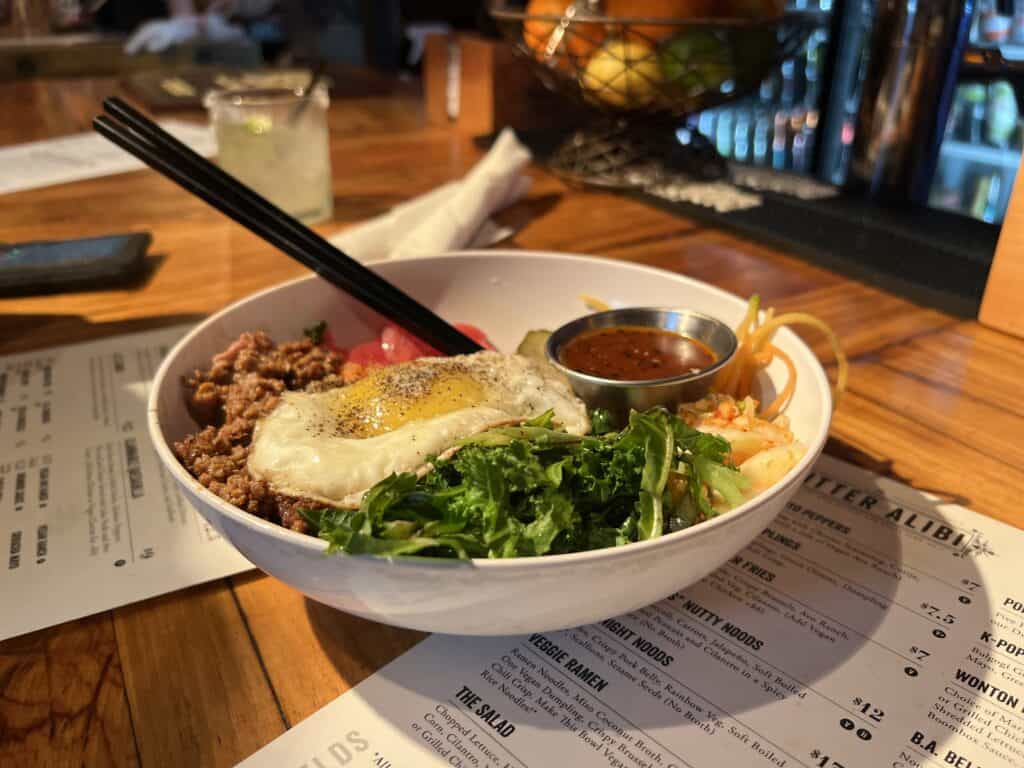 Not only does The Bitter Alibi make amazing cocktails, but the food is absolutely outstanding! We were so impressed that we ordered from here three times during our stay.
Get A Cocktail (Or Dinner) And Enjoy The Cozy Fire Pits At State Of Confusion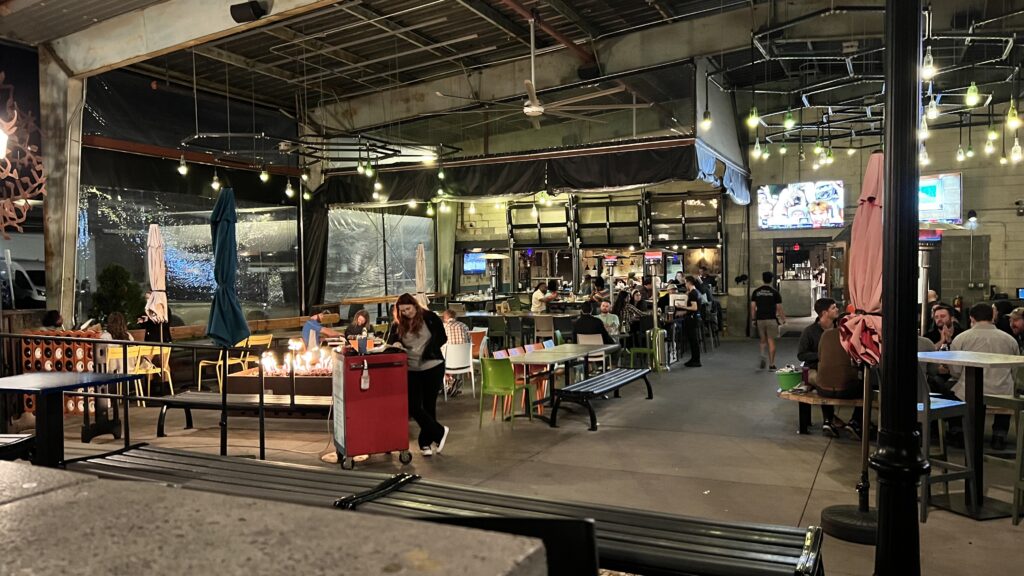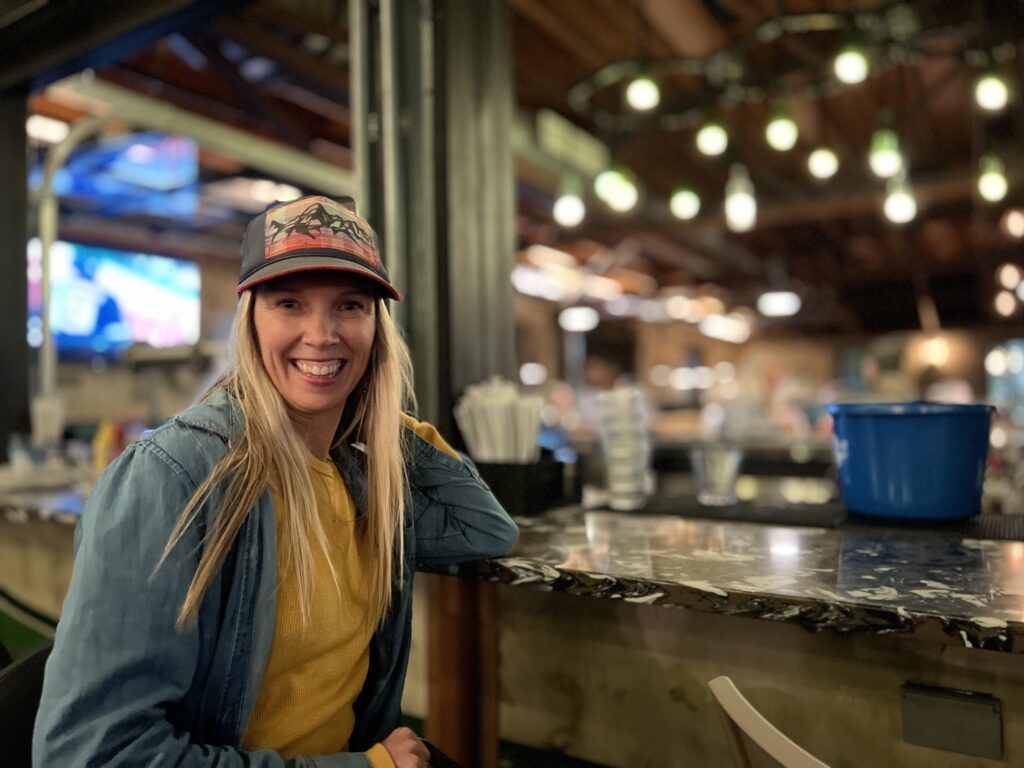 State of Confusion is a great place to grab a drink and enjoy the cozy fire pits.
With a wide selection of beer, wine, and cocktails, as well as a menu of small plates, this is the perfect spot to unwind after a long day.
Their dishes are meticulously crafted from only the finest ingredients, taking inspiration from Peruvian ceviche, Argentinian wood-fired grills, and low-country cuisine.
The signature cocktails include draft margaritas and mojitos made with our own freshly squeezed sugarcane juice.
Late Night Dining
If you're looking for a late-night bite, Urban Stack is your spot. This burger joint is open until 11 p.m. on Fridays and Saturdays, so you can satisfy your late-night cravings. They have a wide selection of burgers, sandwiches, salads, and sides.
Hair of The Dog Pub is open until 2 a.m., making it the perfect spot for a late-night drink or bite. They have a great beer and pub food selection, and the outdoor seating is perfect for people-watching.
If You Have Additional Time On Your Chattanooga Itinerary
Cloudland Canyon
Cloudland Canyon, a half-hour drive from Chattanooga, is one of Georgia's biggest and most beautiful parks. It features thousand-foot-deep canyons, sandstone cliffs, caves, waterfalls, cascading creeks, dense woodlands, and abundant wildlife.
Hike To Rainbow Falls
Chattanooga is home to many hidden gems, including Rainbow Falls. This 80-foot-high waterfall creates a mist rainbow that is visible on sunny afternoons.
The hike to Rainbow Falls is less than 10 miles from downtown Chattanooga and can provide easy access to Signal Point for sweeping views of the Tennessee River gorge.
Check Out The Exhibits At The Tennessee Aquarium
The Tennessee Aquarium, located in downtown Chattanooga on the Tennesse River, is one of the best aquariums in the country and a great place to spend a day.
With over 10,000 animals and its own IMAX theater, there's something for everyone to see.
Rock Climbing Lookout Mountain
For those who are looking for an adrenaline-pumping activity, Lookout Mountain is home to some of the best rock climbing in Chattanooga. Chattanooga's Sunset Rock has been a hotspot for climbers since the early 1960s and is open to the public year-round.
Rock Climbing Walls (A Great Alternative For Those Who Need The Comfort Of An Indoor Gym Experience)
If climbing an actual mountain is not your cup of tea, you can still enjoy the thrill of rock climbing at one of Chattanooga's many indoor rock climbing gyms.
The great thing about these climbing walls is that they offer routes for climbers of all skill levels, so everyone can enjoy climbing in a safe and controlled environment.
Get Out And Explore The Best Chattanooga Weekend Getaway
As you can tell Chattanooga has a ton to offer. From outdoor adventures and exploring caves to tasting yummy beers and food I'm sure your time in Chattanooga will be great.