The Cliffs of Moher have proudly stood above the Atlantic Ocean for over 350 million years. These massive cliffs on Ireland's West coast are the countries most popular tourist attraction.
The cliffs span over 8 miles starting in Doolin to the North and ending at Hags Head to the South.
We will discuss the two ways of seeing the Cliffs.  One way is via the massively busy visitors center or our preferred way through the Cliffs Of Moher Coastal Walk.
Before we jump into the specifics let's cover some essentials that you should know to help plan your visit.
First Things first…. What do Cliffs of Moher actually mean?
Cliffs of Moher is a natural landmark in County Clare, Ireland. The cliffs extend about 20 kilometers along the Atlantic Ocean and reach 7 meters in height at their highest point.
The Cliffs take their name from a ruined promontory fort 'Mothar' – which was demolished during the Napoleonic Wars in the early 1800s, to make room for a signal tower at Hag's Head. The word 'Mothar'in old Gaelic means 'the ruin of a fort'.
CLIFFS OF MOHER IRELAND WEATHER
The weather along this magnificent coast can be challenging.  As the Irish saying goes: "Is iomaí athrú a chuireann lá Márta dhe" or "there is a lot of weather in a March day."  Well, this holds true for any day in Ireland and especially so at the Cliffs Of Moher.
To get a feel for the weather you can visit the live weather cam and wind gauge located at the visitors center.
I also recommend having a look at the Irish National Weather Service which will help you to plan for a good weather day for your visit.
People will also tell you to avoid mornings due to fog but I wouldn't rule out the mornings. They are a great time to visit and you'll beat the crowds by going early.
While too much fog isn't a good thing, a little fog can really add to the experience making for an even more dramatic scene. If it is foggy it will likely burn off as the day goes on. Most importantly, just don't be in a hurry.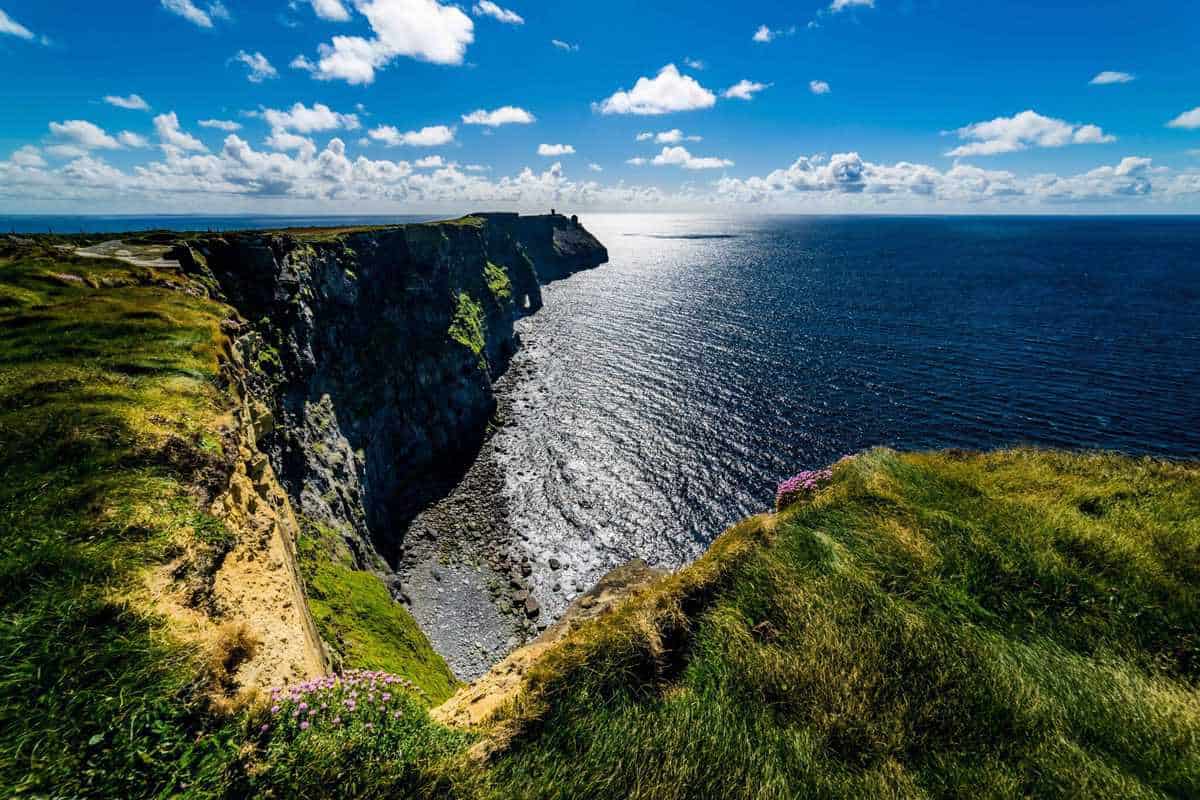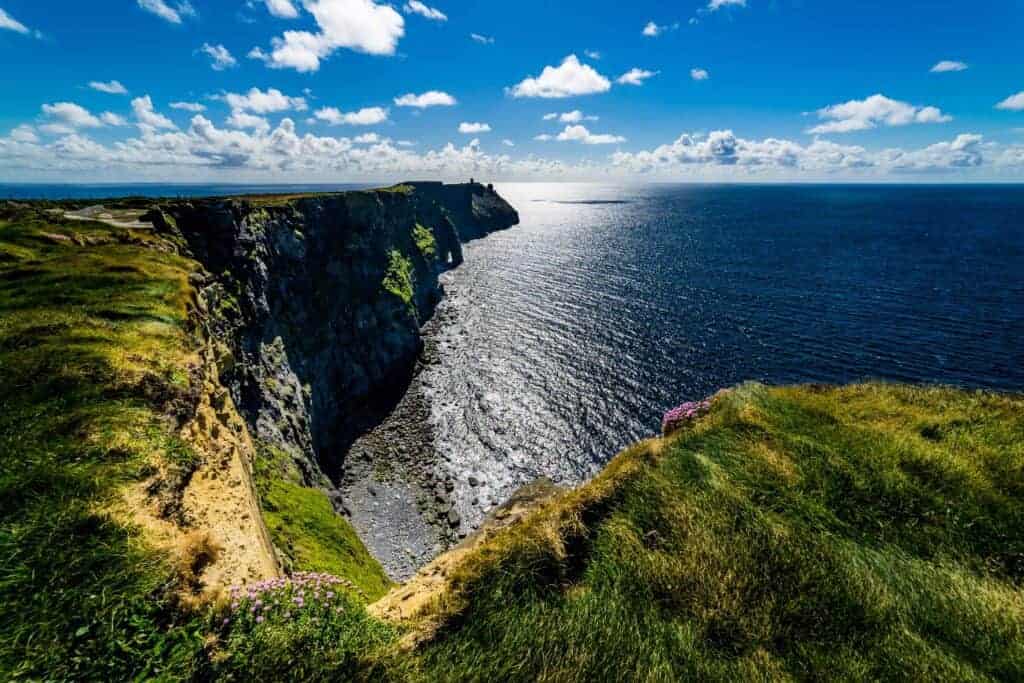 GETTING HERE- CLIFFS OF MOHER GUIDE
In my opinion, the only way to do this trip is by renting a car.  The thought of hopping on a tour bus for hours to then be fed like cattle through the visitor center entrance is a no-go for me.
But if this is your only option it's still definitely worth the experience.
If you're nervous about renting a car in Ireland that's completely normal.  We were too.  We did have a great experience renting a car in Ireland but here are some Tips and Tricks that will save you some headaches.
CLIFFS OF MOHER FROM DUBLIN
Getting to the cliffs by coach will take you about 4 hours from Dublin. You can book all-day excursions that will even take care of meals.
DUBLIC TOURS TO CLIFFS OF MOHER
If you're short on time and looking for a good full-service tour where you'll start and end in Dublin within 12 hrs I recommend looking into this tour. This is one of the best ways to see what Ireland has to offer, and it can't be beaten for convenience!
GALWAY TO CLIFFS OF MOHER TOUR
Another popular option is to catch a bus from Galway. This will only run you about 2 hours so is a far better option than coming from Dublin.
CLIFFS OF MOHER FROM DOOLIN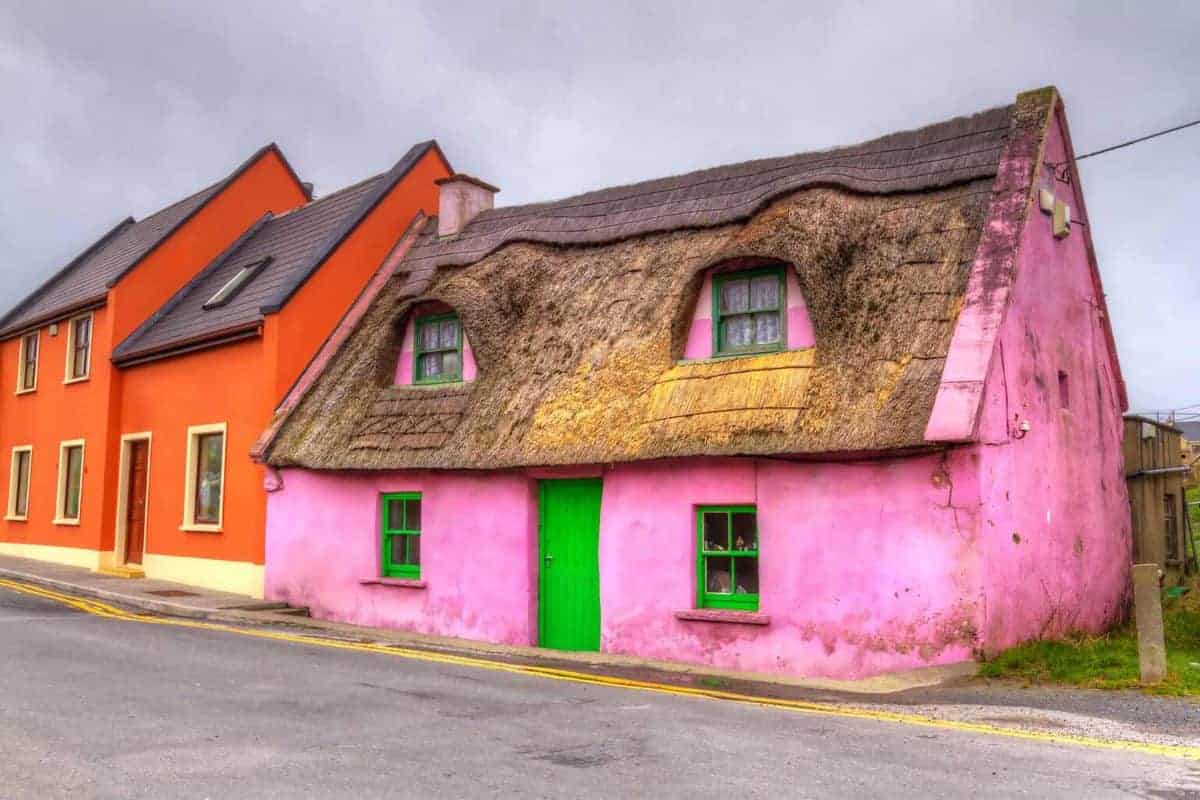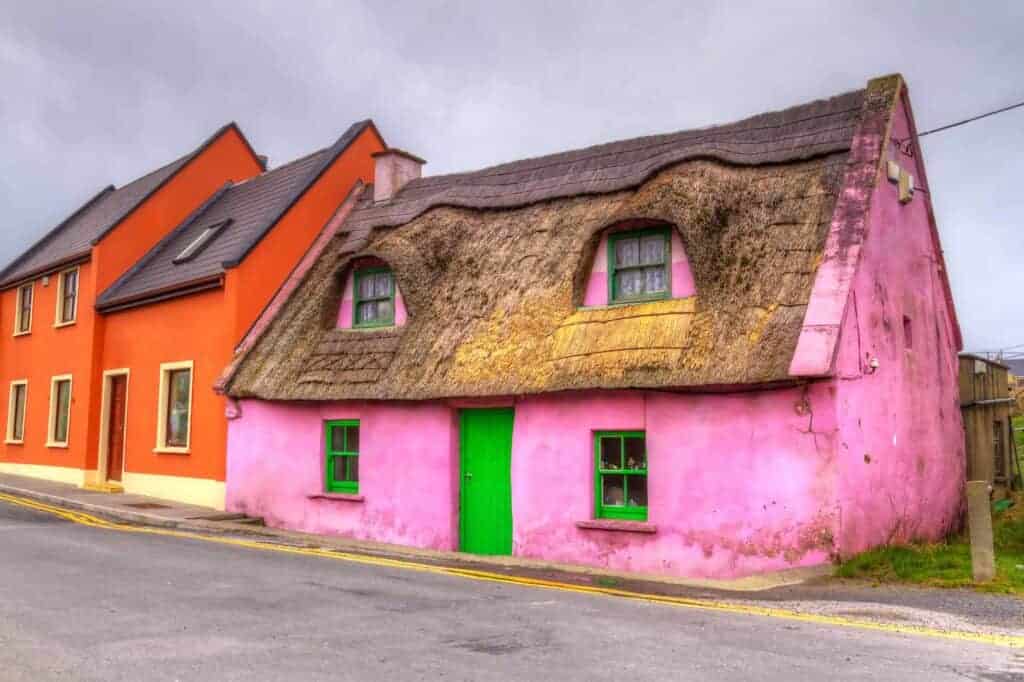 Alright, folks now we're getting to the good stuff!  Doolin is an awesome little town just a 10-minute drive from the Cliffs.  Rent yourself a car and head here for your Cliffs of Moher experience.
This charming coastal town while small still packs a punch. It's full of energy, live music, and a fun pub scene.
Be sure to check out the Doonagore Castle just outside of Doolin.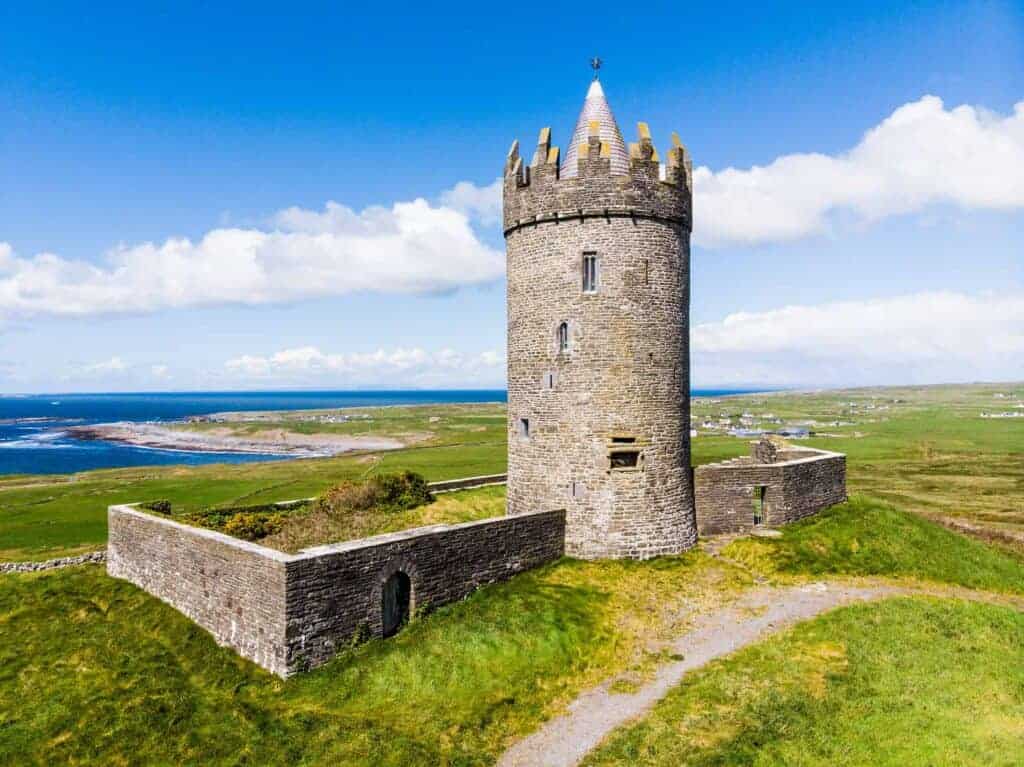 From Doolin, you'll have to option to drive to the visitors center or better yet take the Cliffs Of Moher Coastal Trail.
One piece of advice, book your accommodations early in Doolin. This place fills up fast. We tried booking 3 months out and there was nothing!
The Coastal Walk from Doolin to the visitors center is about 5 miles (2-2.5 hours).
If you continue to Hags Head from the visitors center that's another 6 miles.
There is a hop-on-hop-off shuttle service that makes hiking the full or just part of the trail a breeze. Accommodations in Doolin – Check availability at Booking.com or Hotels.com
CLIFFS OF MOHER MAP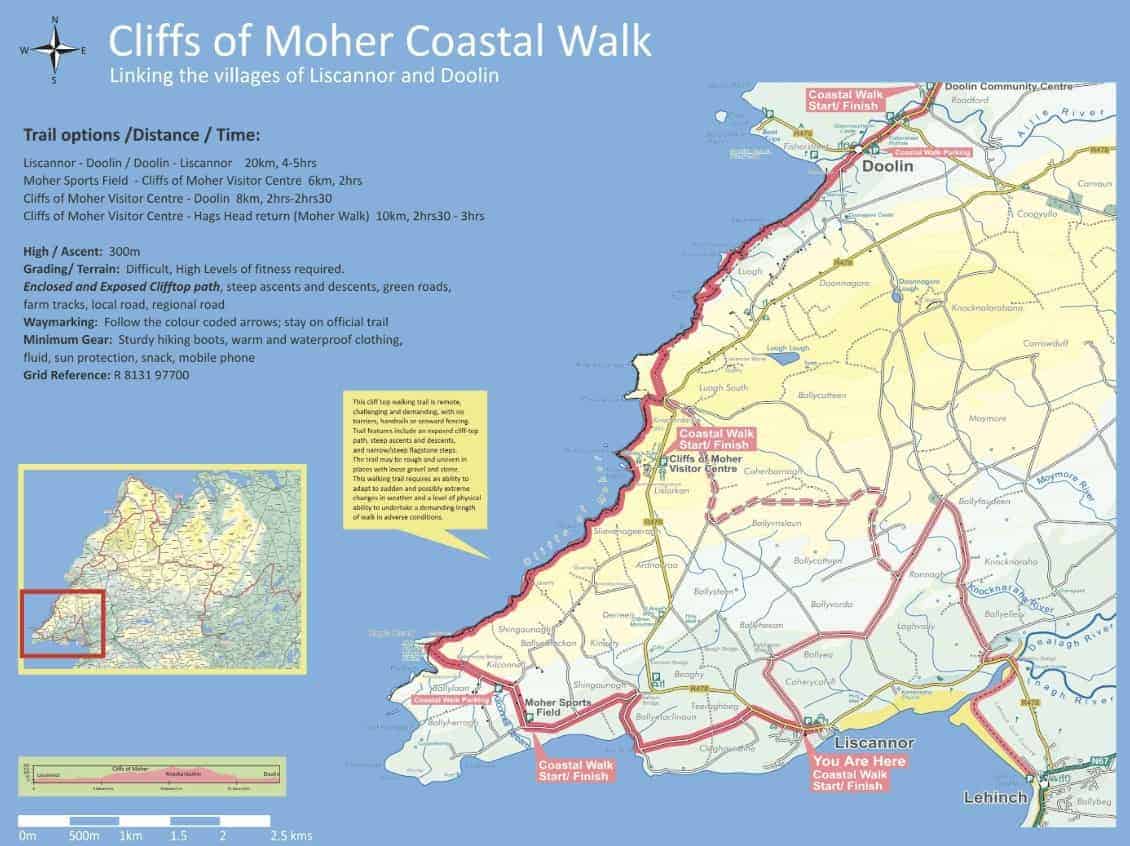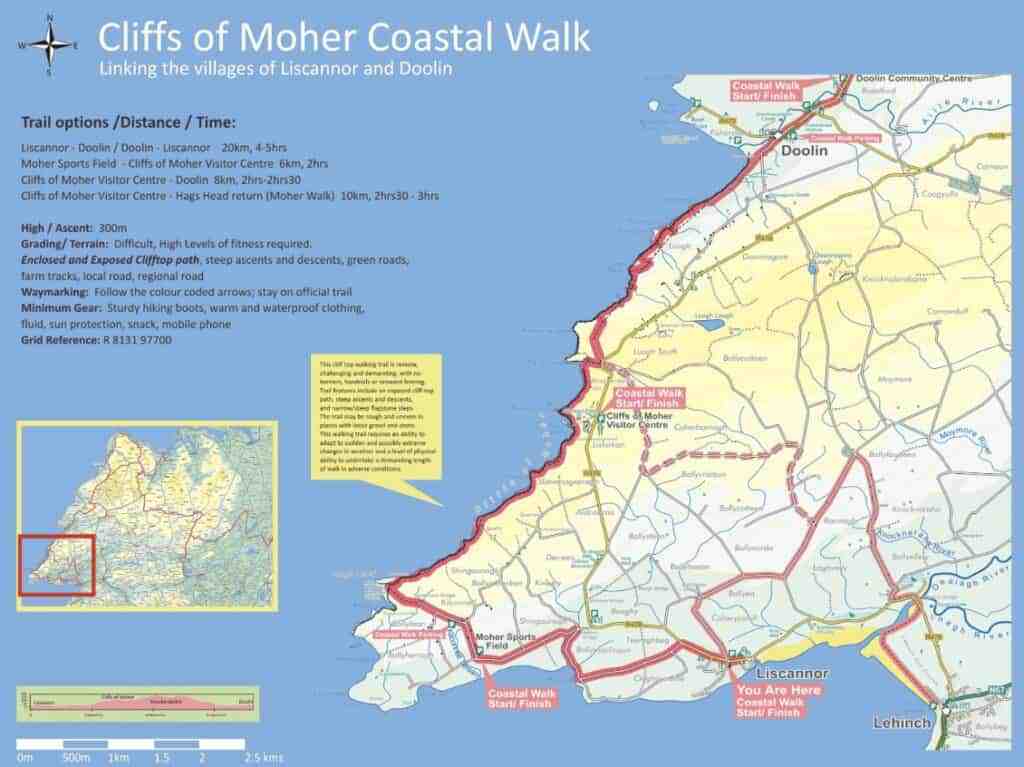 THE CLIFFS OF MOHER EXPERIENCE
Plan on spending a full day here. Pack yourself a lunch and bring an extra layer as the wind can pick up making things a bit chilly. This visitors center does have a cafe should you need anything.
The trail runs for miles along the edge of the cliffs with endless spots to relax and take in the views.
The busiest times for Moher are between 11 a.m. to 4 p.m. which corresponds to when the tour buses are here.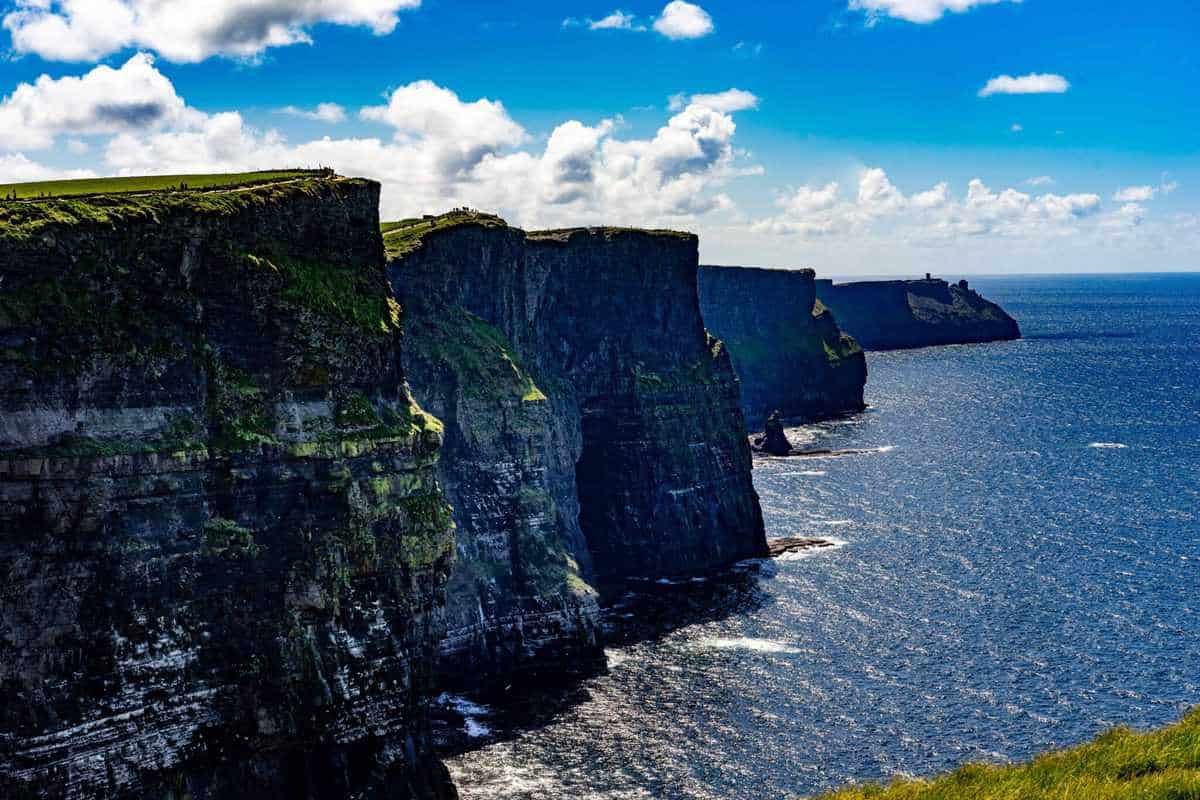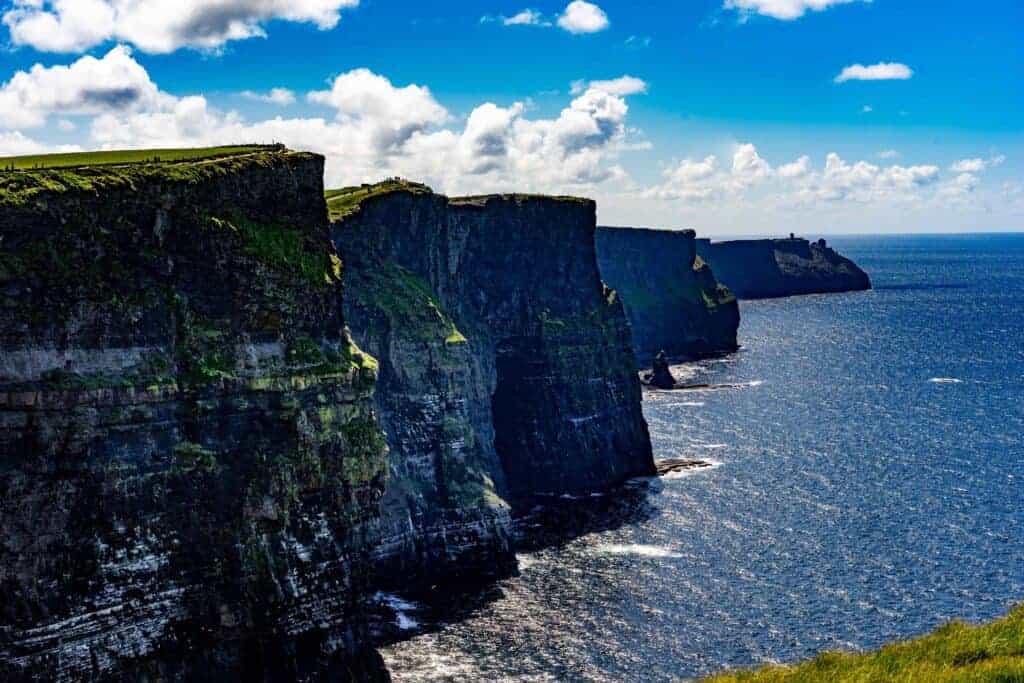 THE VISITORS CENTER
By far the most popular way to get here is through the visitors center. This is where the tour buses that come in from all over Ireland shuttle in massive amounts of people.
If you've opted for a tour bus package the visitors center is where you'll start. Don't be discouraged by the crowds as they quickly thin out once you start hiking from the visitors center.
VISITORS CENTER HOURS OF OPERATION
January 09:00 – 17:00.
February 09:00 – 17:00.
March 08:00 – 19:00.
April 08:00 – 19.00.
May to August 08:00 – 21:00.
September 08:00 – 19:00.
October 08:00 – 19:00.
November 09:00 – 17:00.
December 09:00 – 17:00.The visitors center has an ATM, restaurant, and restrooms.
ENTRANCE FEE
There really isn't an entrance fee per se but rather a parking fee. You'll pay $8 for parking or you can purchase online in advance for a discounted rate of $4.
To climb Obrian's Tower you'll have to pay an additional $2.
If you hike in from Doolin or another town along the coastal walk trail you won't have to pay any entrance fees.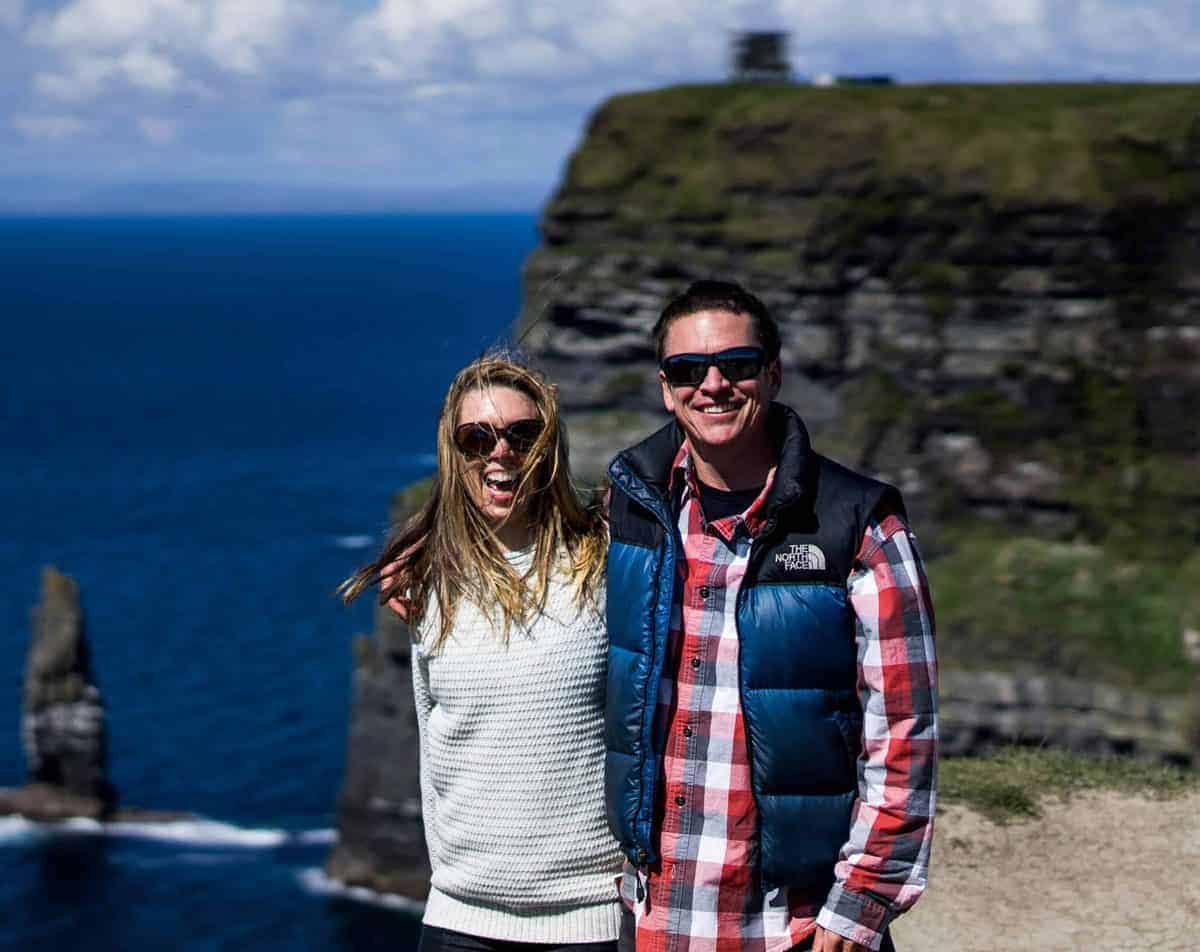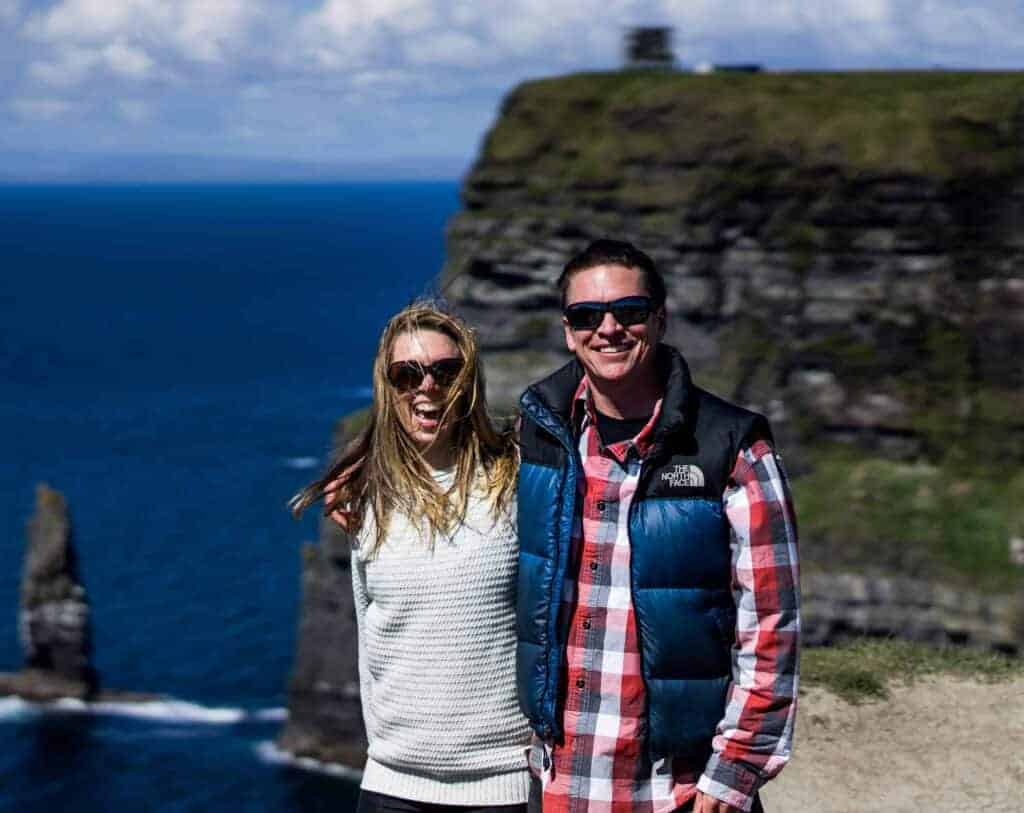 CLIFFS OF MOHER COASTAL WALK
If you look at the map from above you'll see the visitors center located right in the middle of the coastal trail.
If you're starting here you can hang either a right towards Doolin or the more popular way towards Hags Head. I would recommend taking a left towards Hags Head if you're starting from the visitors center.
Once you get to the boundary of the visitors center property you'll come to a gate-like thing that warns of death if you venture past here. Ignore and walk through the gate but don't be stupid because from here on out there is no fencing protecting you from the crumbling and delicate edge of the cliffs.  
Plenty of people have fallen to their death here trying to get that perfect Instagram shot!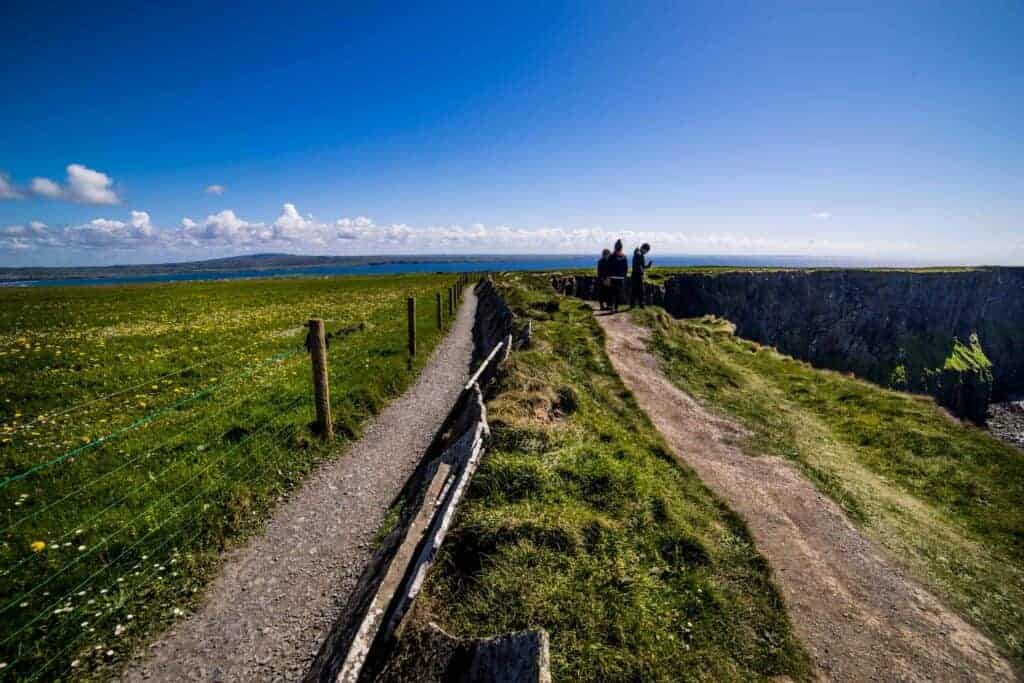 As you walk the trail it will often divide into a moderate path and a more exposed option that you can see above. If you're not a big fan of heights the inner path is probably a better option.
CLIFFS OF MOHER COASTAL WALK DETAILS
The trail itself is loose gravel but pretty moderate in grade. There is little to no shade so plan accordingly.
Liscannor – Doolin 12.5 miles, 4-5 hours
Moher Sports Field – Cliffs of Moher Visitor Center 4 miles, 2 hours
Cliffs of Moher Visitors Center – Doolin 5 miles, 2.5 hours
Cliffs of Moher Visitors Center – Hags Head 6 miles, 3 hours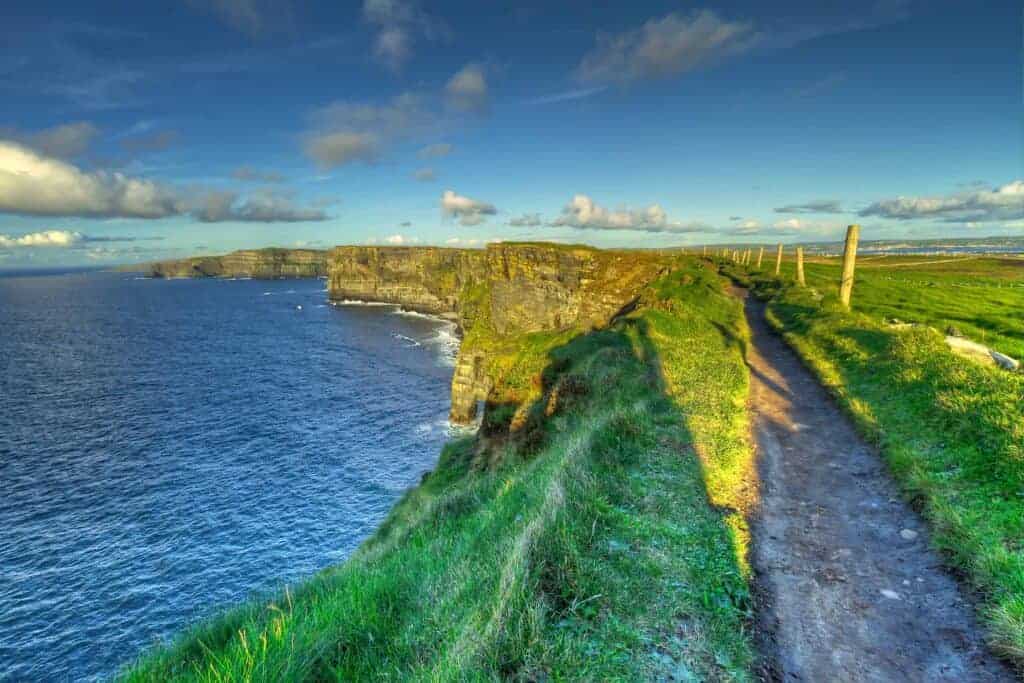 TOURS CLIFFS OF MOHER – ALTERNATIVE WAYS TO VISIT
There are many different tour companies to take you to or around the Cliffs of Moher if that's your preference. Make sure you plan ahead especially during the summer. We recommend booking a tour.
The great thing about this tour is that that you depart via a cruise from Galway and journey through the lunar landscape of The Burren en route to the Cliffs of Moher.
If you're lucky you may see bottlenose dolphins as you pass pretty villages like Kilcolgan and Ballyvaughan en route to Doolin. I think the true bonus of taking this tour is that you get to visit the smallest of the Aran Islands at Inisheer
CLIFFS OF MOHER CASTLE-MUST SEE ATTRACTION
Also known as O'Brien's Tower is a must-see while visiting this area. 
It marks the highest point of the Cliffs of Moher. At 123 meters (404 feet) high, it commands breathtaking views of the rugged cliffs below and the blue Atlantic Ocean stretching into the distance to Galway Bay.
The Tower is a reminder of the power and might of medieval Ireland when castles commanded every hilltop.
DON'T MISS CLIFFS OF MOHER SUNSET
If you're lucky enough to spend a whole day at the cliffs of Moher try and catch a sunset from there. Sunsets are spectacular and the hour before the sun goes down is a great time for photography.
A great place to catch some good photos is at the top of the viewing point. The light is perfect for capturing amazing shots, and there are some beautiful vantage points to take photos from.
CLIFFS OF MOHER CAN BE DANGEROUS -WATCH YOUR STEP
Cliffs of Moher are a popular tourist attraction, but make sure to keep your wits about you. The cliffs can be dangerous and there have been accidents in the past.
Make sure that you don't accidentally walk out onto a ledge or drop off. The area is absolutely beautiful, but it's important to be careful when you're taking photos or hiking along the trail.
Unfortunately, there have been deaths at Cliffs of Moher but I'm sure you'll be fine if you stay on the trail and watch your step.
HOTEL AND ACCOMMODATIONS
The Cliffs of Moher are most easily accessible from Doolin (located about a 10-minute drive to the north) and Liscannor (about a 10-minute drive to the south).
Doolin is the more convenient location for travelers with a car, and it has several hotels located about 5 minutes from the cliffs.
The Cliffs of Moher Hotel offers high-end accommodations in a secluded and scenic location, and it also offers an excellent restaurant that is well-known in the region.
The Cliffs Of Moher Hotel is a great place to stay for travelers who want to be near the cliffs and other tourist attractions.
The Cliff House Hotel and Restaurant is a more affordable option in Doolin, though it lacks the scenic qualities of The Cliffs of Moher.
THINGS TO DO NEAR THE CLIFFS OF MOHER
If you rented your own vehicle and are looking for additional attractions to visit around the Cliffs of Moher we recommend the following:
The Galway Hooker Fishing Experience, a boat ride that takes you out to sea for fishing where the fisherman will gladly teach you how to fish.
Doolin Cave, a beautiful and secluded cave with many different fossilized shells embedded in the limestone
Killary Harbour Beach for sunbathing, swimming and picnics.
CLIFFS OF MOHER FACTS
Here are some facts you many enjoy learning about the Cliffs of Moher :
The cliffs are about 200 meters high (656 ft) and stretch as long as 1 kilometer (.6 mile).
They were formed by the erosion of a limestone base during successive ice ages, with some sections dating back to at least the ice age in which mammoths roamed.
The cliffs are located on a spit of land about 3 kilometers (2 miles) wide and 7 kilometers long, pointing towards
The Cliffs of Moher Ireland is an iconic site that attracts more than one million visitors each year.
FINAL THOUGHTS ON VISITING
We had an absolute blast here and cruising the coastal trails was quite an experience. Here's a recap of our tips for visiting the Cliffs of Moher.
Stay near the cliffs at Doolin or one of the other nearby towns.
The busiest times especially near the visitors center are 11-4 so plan accordingly.
Check the weather before you go!
If you're here for Photography, the West facing cliffs are best in the evenings.
Bring extra layers because the ocean breeze can get chilly.