Colorado bucket list- Must do things in Colorado
There are so many things to do in Colorado, it can be hard to know where to start! We're here to lend you a helping hand with our bucket list things to do in Colorado. You'll find everything from summiting a 14er to skiing the slopes of Aspen to visiting a ghost town. So, what are you waiting for? Start planning your trip today!
Colorado Summer Bucket List
Visit 3 Alpine Lakes On One Hike (Emerald Lake Hike in RNP)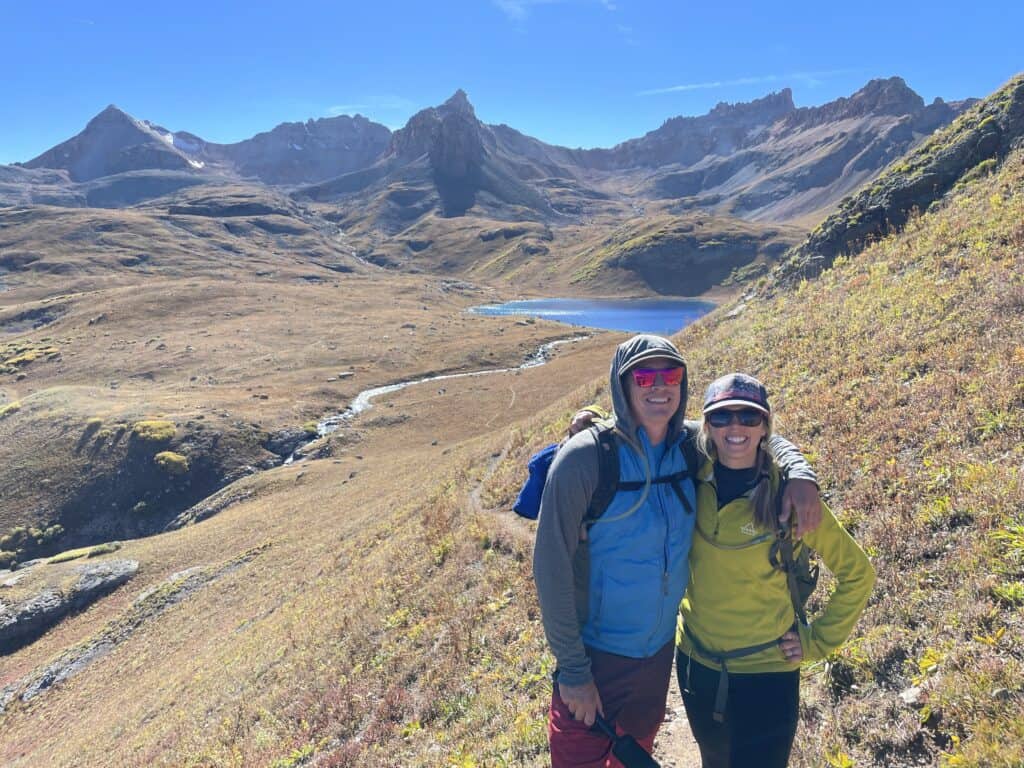 The Emerald Lake hike in Rocky Mountain National Park is a must-do for any Colorado visitor. Even though it is a short hike, it provides access to three stunning alpine lakes (Nymph Lake, Dream Lake, and Emerald Lake) backed by gorgeous mountain vistas.
Bonus: In addition to the three lakes mentioned above, If you go one more mile further, you'll hit Lake Hayiaha, which is another beautiful lake that is well worth the extra effort.
Hanging Lake in Glenwood Canyon
Hanging Lake is a jewel of a location tucked deep within Glenwood Canyon that, in simple terms, looks like something out of a fairy tale.
Being here will make you feel like you're in a movie due to its strange geological formation, distinctive flora, and mineral-rich water cascading down from the cliffs and into a teal-colored lake.
Colorado Winter Bucket List
Ski or Snowboard on a Powder Day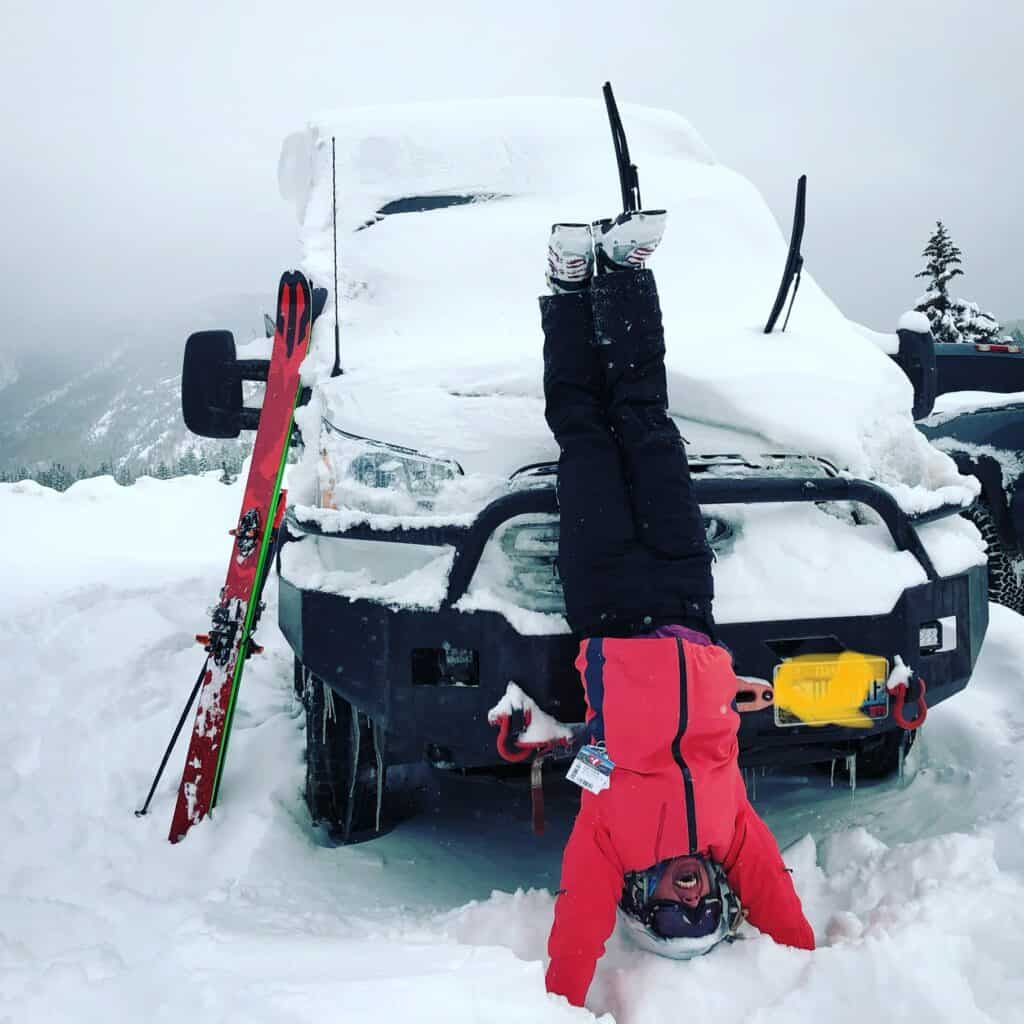 Skiing or snowboarding on a powder day is definitely the best way to enjoy the beautiful Colorado scenery and an experience that should not be missed. Colorado has some of the best downhill skiing areas in the country, and the powder days are something special.
When the snow is fresh and untouched, there is nothing quite like it. Colorado has so many ski resorts to choose from, but we had one of our best powder days at Purgatory outside of Durango, and it was ah-mazing.
Pro Tip: After skiing at Purgatory, head to Animas Brewing for a tasty beer
Experience a Christmas Holiday in Vail
Vail, Colorado, is known for its world-class ski resort and charming Christmas atmosphere. It's one of the best places in the US to unwrap the magic of the holiday season.
Aside from its unrivaled alpine beauty and architecture that will transport you to the German Alps, Vail knows how to bring the Christmas spirit to life. You'll find sparkling lights, festive markets to stroll to for hours on end, and a slew of activities and celebrations to spread the holiday joy.
Colorado Adventure Bucket List
Summit at Least One of Colorado's '14ers
For those unfamiliar with mountaineering lingo, a fourteener is a nickname for a mountain that measures at least 14,000 feet high. We're not saying you have to climb each and every one of them, but there's no better way to see the Centennial state than from high above. If I were you, I'd put at least one of Colorado's 14ers on my bucket list.
Although no Colorado 14er is "easy," certain ones are more straightforward to climb than others. Mt. Bierstadt is often a good choice for first-timers. Other relatively simple 14ers include Mt. Sherman, Huron Peak, and Handiest Peak. Options like Capitol Peak or Maroon Peak will really put your mountaineering abilities to the test if you're a first-timer.
Experience the Beauty of The Ice Lake Trail Hike
This gem of a trail, located deep in the San Juan National Forest, is known as one of Colorado's most gorgeous hikes. It features some of the state's most magnificent mountain scenery and 2 of the most scenic alpine lakes.
Hiking Ice Lake isn't a simple adventure, but with so much natural beauty surrounding you, you'll find plenty of reasons to take a break and catch your breath. Even though the two alpine lakes are the focal point of the trip, there are lovely alpine meadows, waterfalls tumbling down from rock faces, and vistas of snowy backcountry peaks along the route.
Hike or Backpack in Maroon Bells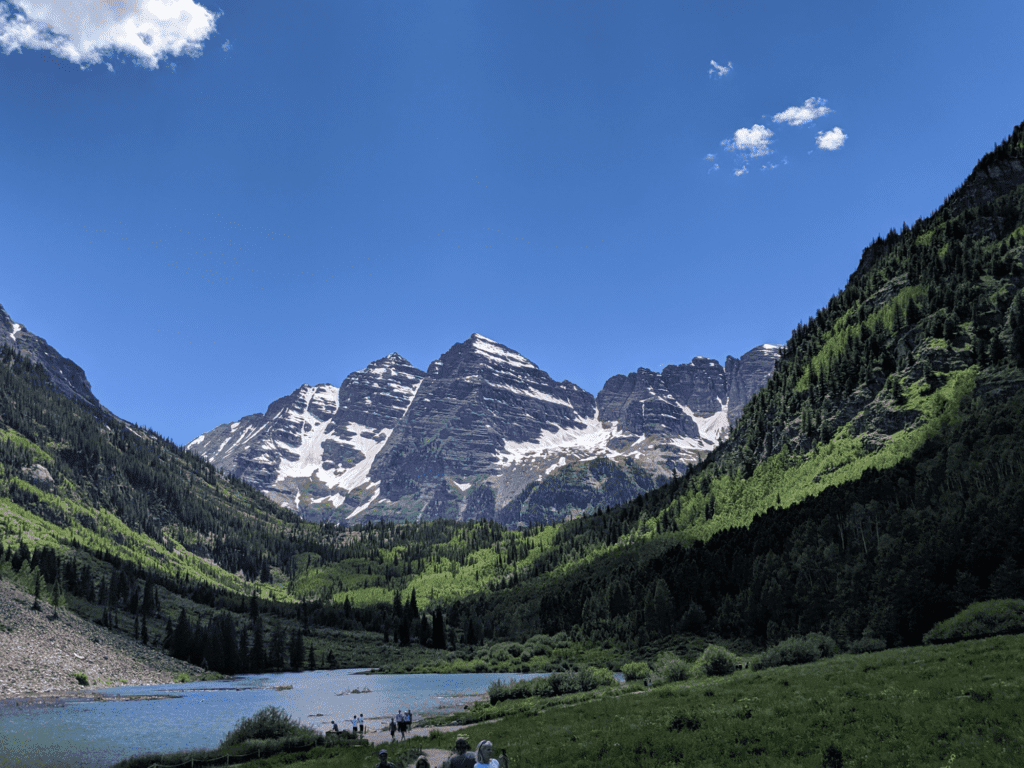 The Maroon Bells are a set of 14,000-foot peaks in the Elk Mountains near Aspen. The area is excellent for hikers and backpackers to explore the stunning Colorado scenery.
With opportunities for adventure around every bend, this area is perfect for those who want to get away from it all and enjoy the state's natural beauty. The area offers many different trails of varying difficulty, so there is something for everyone.
Whether you're looking for an easy hike or a challenging backpacking trip, the Maroon Bells have you covered.
Telluride Via Ferrata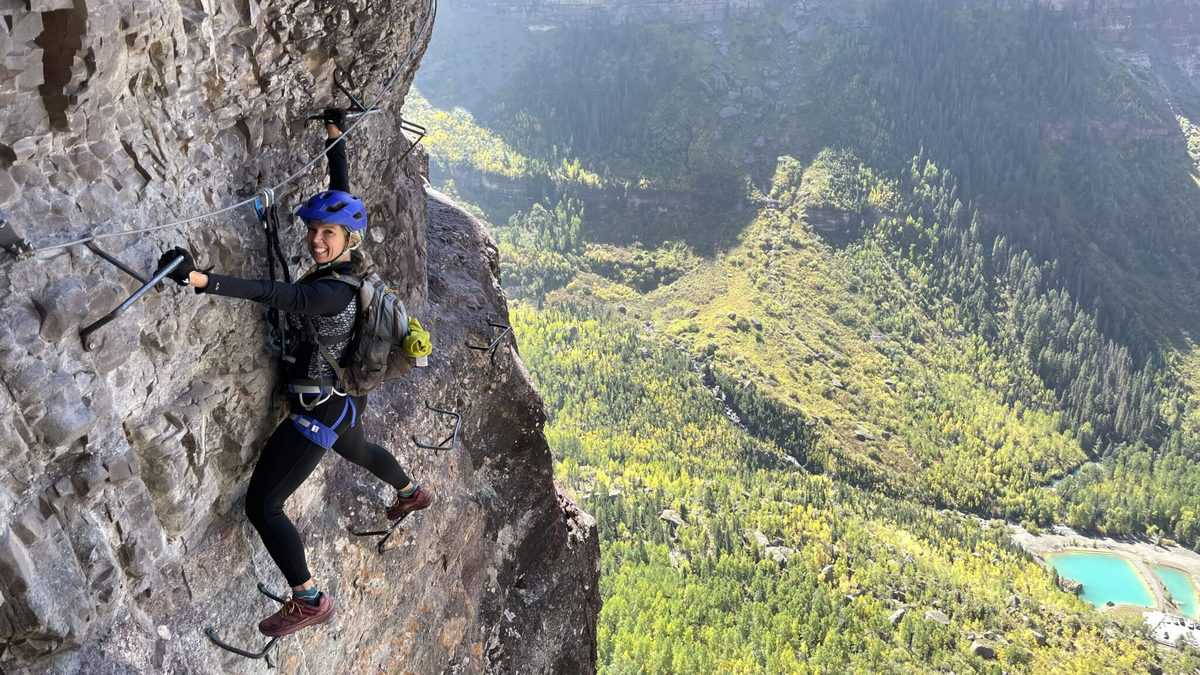 The Telluride Via Ferrata is a cliffside traverse in Colorado's San Juan Mountains. The route features several hundred-foot drops, narrow pathways, and metal hand and footholds.
The Telluride Via Ferrata is a great climb for those who want to experience the thrill of a mountain traverse. The climb can take anywhere from two to four hours, and climbers must have the proper gear before participating. We recommend going with a tour guide, as they will provide you with all the necessary equipment and instruction.
Visit Every National Park in Colorado
Colorado has four National Parks: Rocky Mountain National Park, Black Canyon of the Gunnison National Park, Great Sand Dunes National Park, and Mesa Verde National Park. All four NPs offer unique and unforgettable experiences for visitors.
Rocky Mountain National Park
Rocky Mountain National Park is Colorado's most famous park. It has spectacular views of the Rockies and glaciers and offers plenty of activities for visitors to enjoy, such as hiking, fishing, and camping.
Great Sand Dunes National Park
The largest sand dunes in North America, at over 30 miles long and contains over 5 billion cubic meters of sand, are located in the Great Sand Dunes National Park and Preserve.
Black Canyon of the Gunnison National Park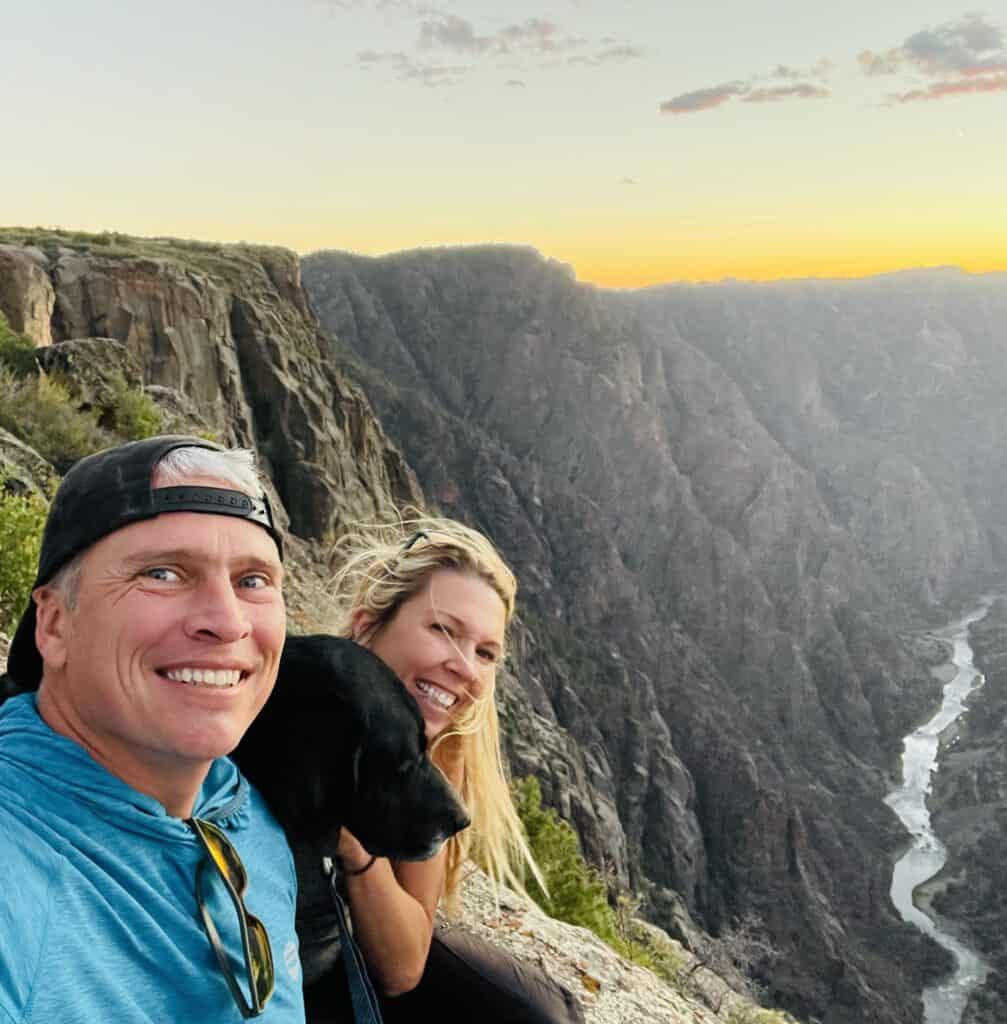 Black Canyon of the Gunnison is known for its rugged beauty, and it is a great place to see wildlife. The park has two campgrounds, one of which is open year-round.
The Gunnison Gorge offers some great hiking opportunities, and several trails lead to the bottom of the gorge.
Mesa Verde National Park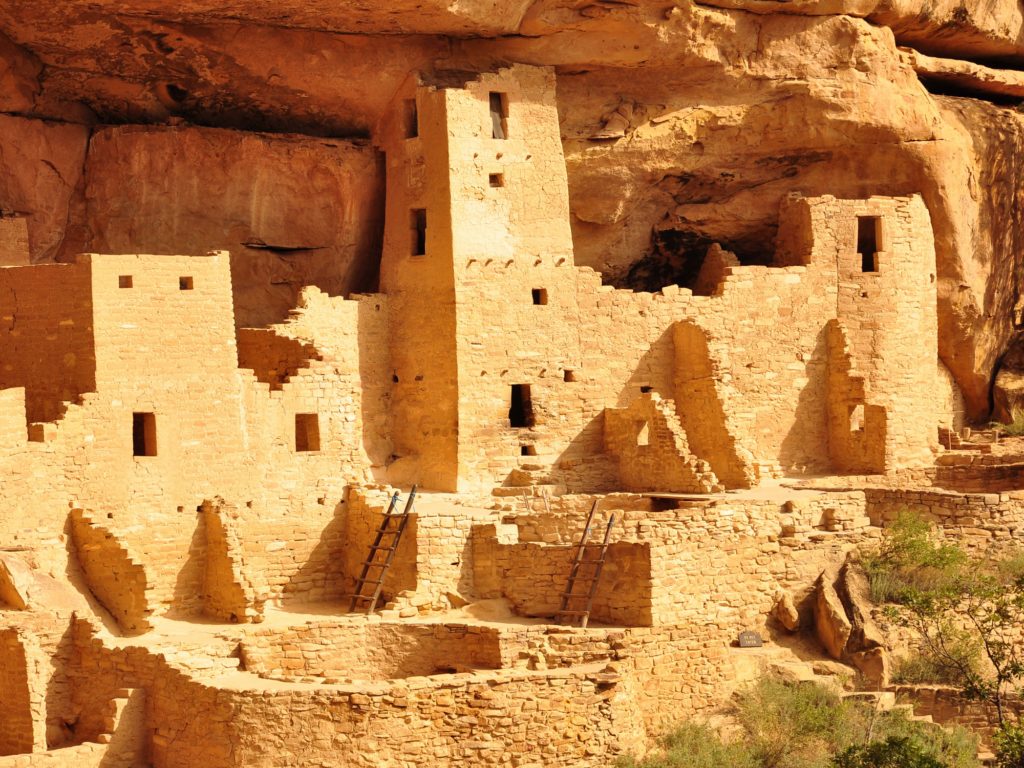 If you like to hike or are just curious about history, Mesa Verde is where you should visit. You can see the ruins of an ancient civilization that lived in this area over 1000 years ago. The ruins are located on top of a mesa, and visitors are encouraged to drive or hike to the top for a closer look. There is also a museum on-site with artifacts from the original inhabitants.
Fall Bucket List in Colorado
Take a Fall Foliage Drive Along the Beautiful Trail Ridge Road
The Trail Ridge Road stretches from Rocky Mountain in Estes Park to Grand Lake in the Rocky Mountains and is one of the most beautiful drives in the United States. Even though the road is stunning any time of year, fall delivers lovely shades as the leaves begin to change color.
Aside from the beautiful scenery, what adds to this fall drive is that it'll take you to 12,183 feet high, giving you some of the best birds-eye views of the mountains below.
Explore Pikes Peak With a Scenic Drive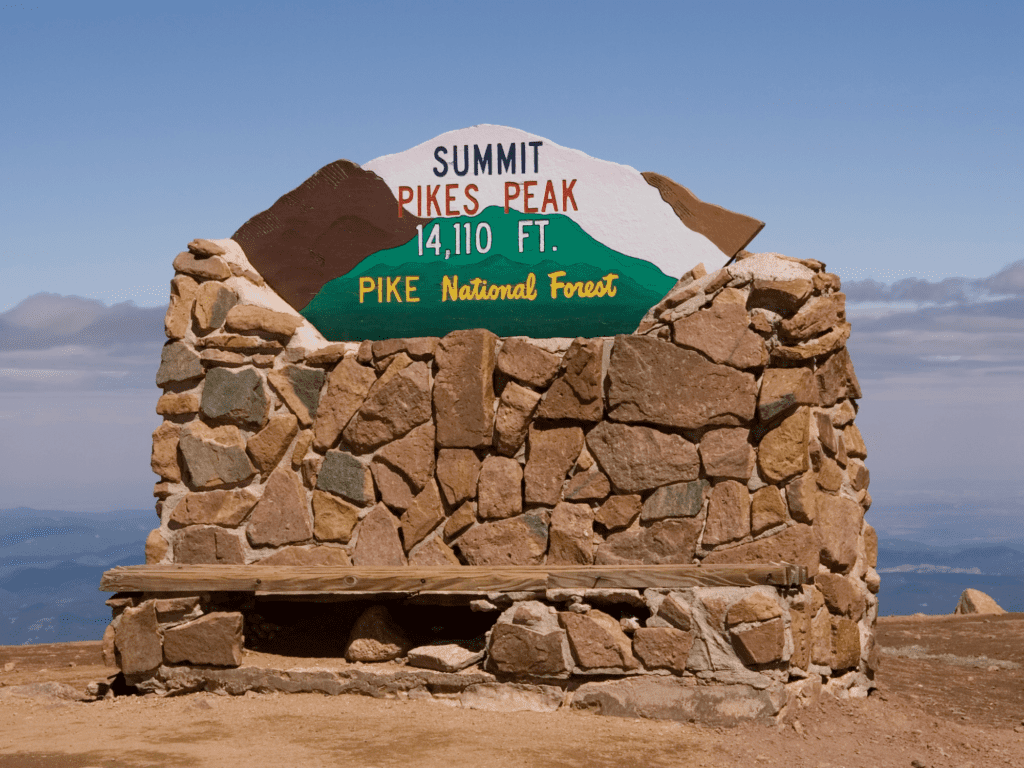 Pikes Peak is a mountain in the Front Range of the Rocky Mountains in Colorado. It is located about 20 miles west of Colorado Springs, and it dominates the view to the east. The summit of Pikes Peak is 14,115 feet above sea level, making it the highest point in Colorado.
There are many ways to access the top of Pikes Peak but for keeping things simple, let's take the toll (yes, paid and kind of expensive) scenic drive to the top. During your drive, you'll wind through an alpine wonderland, mountain reservoirs, the timberline, and then finally overtake the clouds.
If you'd prefer not to drive, you can take the Cog Railway, or if you're up for a strenuous and challenging adventure, you can cycle to the top of Pikes Peak.
The Best Cities + Small Towns to Visit in CO
Colorado is a beautiful state with plenty to offer tourists; it has a vast array of travel destinations that make it one of the most remarkable states in America. This Colorado bucket list includes places to visit in CO's small towns and cities.
Whether you're looking for a new destination or want to revisit some old favorites, this list has something for you!
Steamboat Springs
Steamboat Springs is a Colorado ski town with a lively local community and Western history. Winter sports are popular in Steamboat Springs, where you can go skiing, boarding sledding, tubing, and experience the cross-country ski trails.
The summer season is filled with outdoor activities as well. You can go hiking, biking, and fishing in the Yampa River. If you are looking for a more relaxing activity, take a dip in one of the local hot springs.
Breckenridge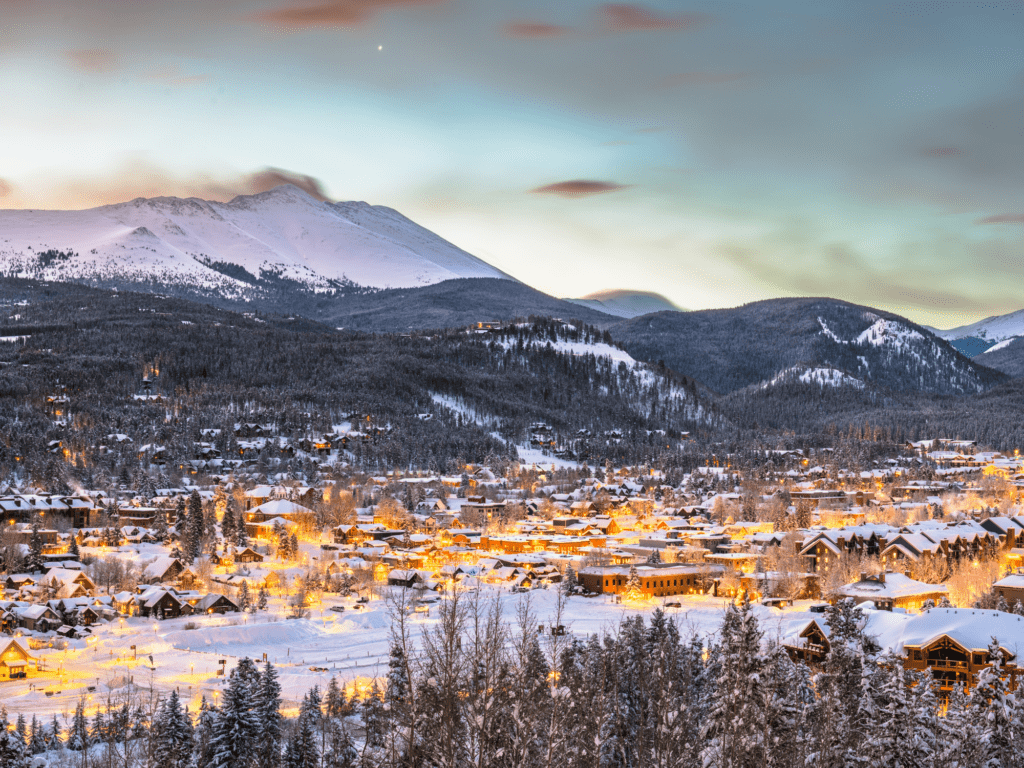 Breckenridge is a charming town in the heart of the Rockies with non-stop activities and scenic beauty. The Breckenridge ski resort boasts five peaks and 187 trails. In summer, you will find wildflowers as you hike into an alpine meadow or a cascading waterfall.
Glenwood Springs
Glenwood Springs is a city right by the Rocky Mountains famous for the array of hot springs in the area. Glenwood Springs is an excellent Colorado vacation spot for just about everyone, including families and would-be adventurers. There are also plenty of other outdoor activities you can do, like paragliding, biking, and rafting.
Manitou Springs
Manitou Springs is the perfect Colorado bucket list destination for some small-town charm, natural beauty, culture, and fun! This historic small town outside of Colorado Springs attracts visitors from everywhere to experience its mineral springs that are said to have healing powers.
Pike's Peak, Garden of the Gods, and the Manitou Cliff Dwellings are must-visit spots while you're in the area. After a full day of adventure, don't miss rehydrating with water from the springs along the 1.4-mile path through Manitou Ave, where you can taste the fresh spring water.
Colorado Springs
Colorado Springs is a small town in Colorado well known for its Manitou Springs Incline, Garden of the Gods Park, Pikes Peak- the only 14 er in the area.
The Manitou Springs Incline is definitely worth checking out if you're looking for a challenging workout. It's a steep hike that will get your heart rate up in no time. If you're looking for something a little more scenic, the Garden of the Gods is famous for its orange rock formations and is definitely worth visiting. The orange rock formations are really unique and Instagram-worthy.
Grand Junction
Grand Junction is a great place to visit if you want to enjoy the natural scenic views of Colorado. It also offers a variety of Colorado adventures without burning a hole in your pocket. The historic downtown is full of charming shops and restaurants, while wine lovers can explore the many wineries in the area. Hikers will enjoy the trails near Grand Junction, which offer stunning views of the surrounding landscape.
Golden
Golden, Colorado is underrated and has deep-rooted wild west vibes. The town is home to Coors Brewery and offers tours for the public. There are a few mountains to hike in the area, including Lookout Mountain and Table Mountain. Downtown Golden is lovely, too, with a "Welcome to Golden" sign that gets decorated for the holidays.
Estes Park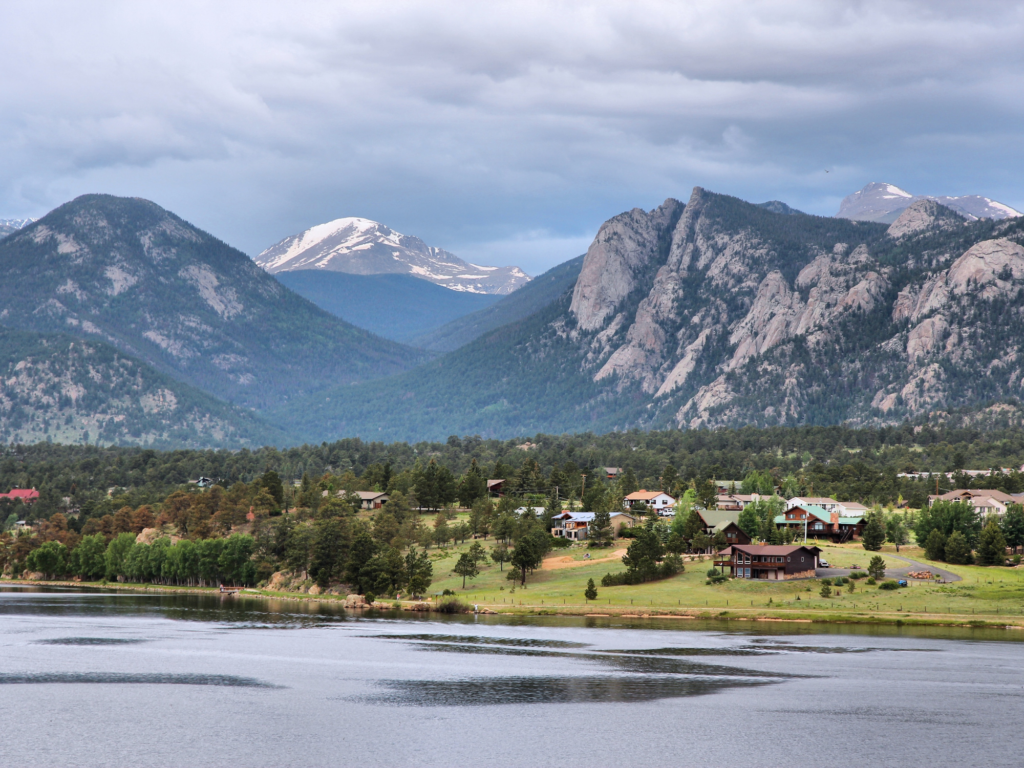 If you're looking for a quaint and relaxed town to visit in Colorado, look no further than Estes Park. The main attraction for visitors lies just outside of town in Rocky Mountain National Park. This park offers stunning views of the Rockies and plenty of outdoor activities to enjoy.
This charming town is located near Rocky Mountain National Park and is home to the Stanley Hotel—which inspired Stephen King's The Shining. In addition to its historical significance, Estes Park is also known for its excellent restaurants and shopping.
Crested Butte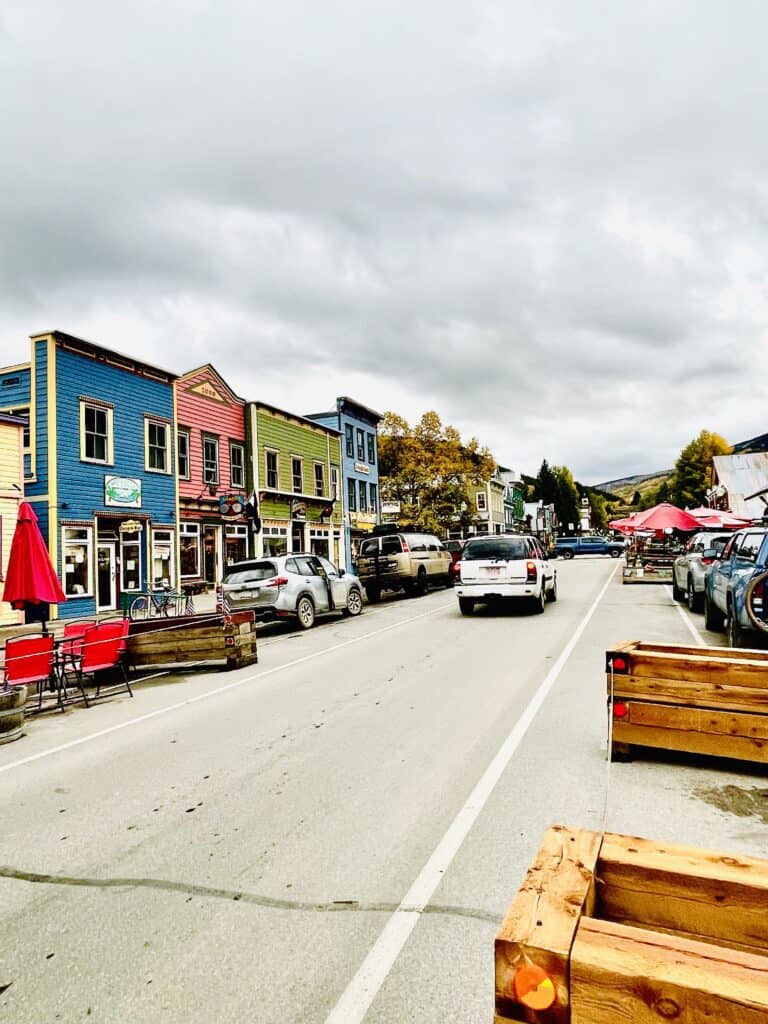 Crested Butte is a small town located in the Rocky Mountains of Colorado. It is known for being pedestrian-friendly, with picturesque historical buildings, great restaurants, and mountain views.
The ski resort is popular among winter sports enthusiasts for its challenging slopes, and in summer, the town's natural beauty attracts tourists from all over. If you're into mountain biking, I highly suggest visiting Crested Butte for some of the best Colorado riding you'll experience.
Denver
Denver is a popular destination for many reasons. The city has an abundance of breweries, some of the best parks in the country and is only about an hour away from Rocky Mountain National Park – one of the most beautiful places in America.
Denver is a city with something for everyone. It has many popular attractions, such as Coor's Field and the Red Rocks Amphitheatre.
Telluride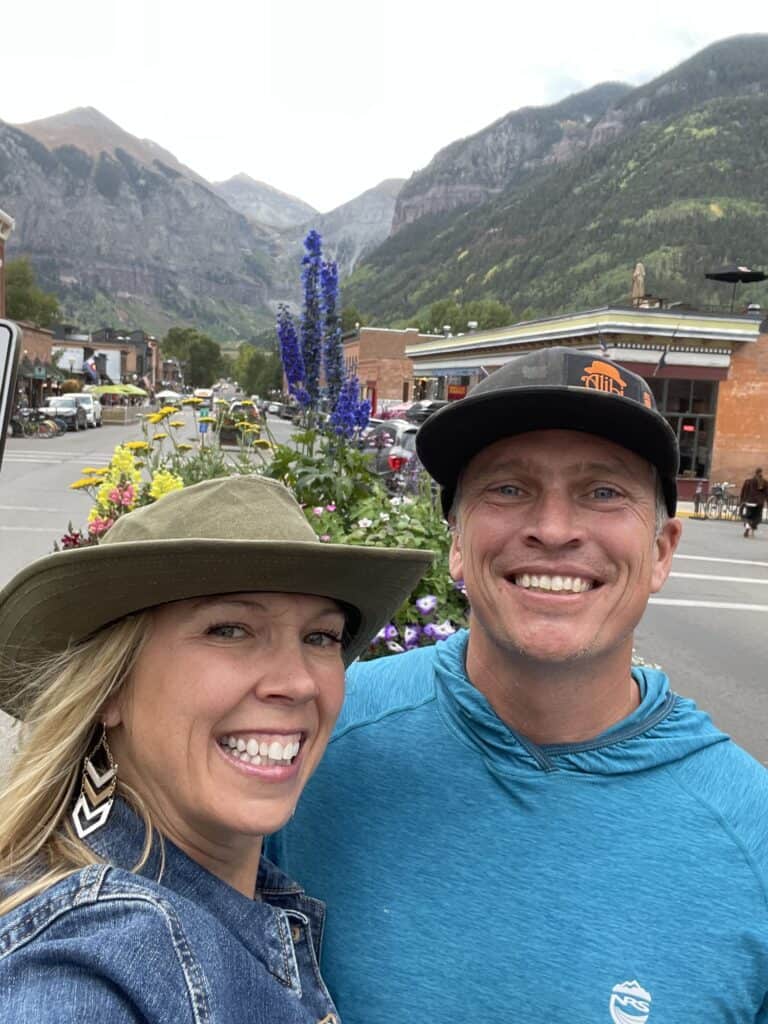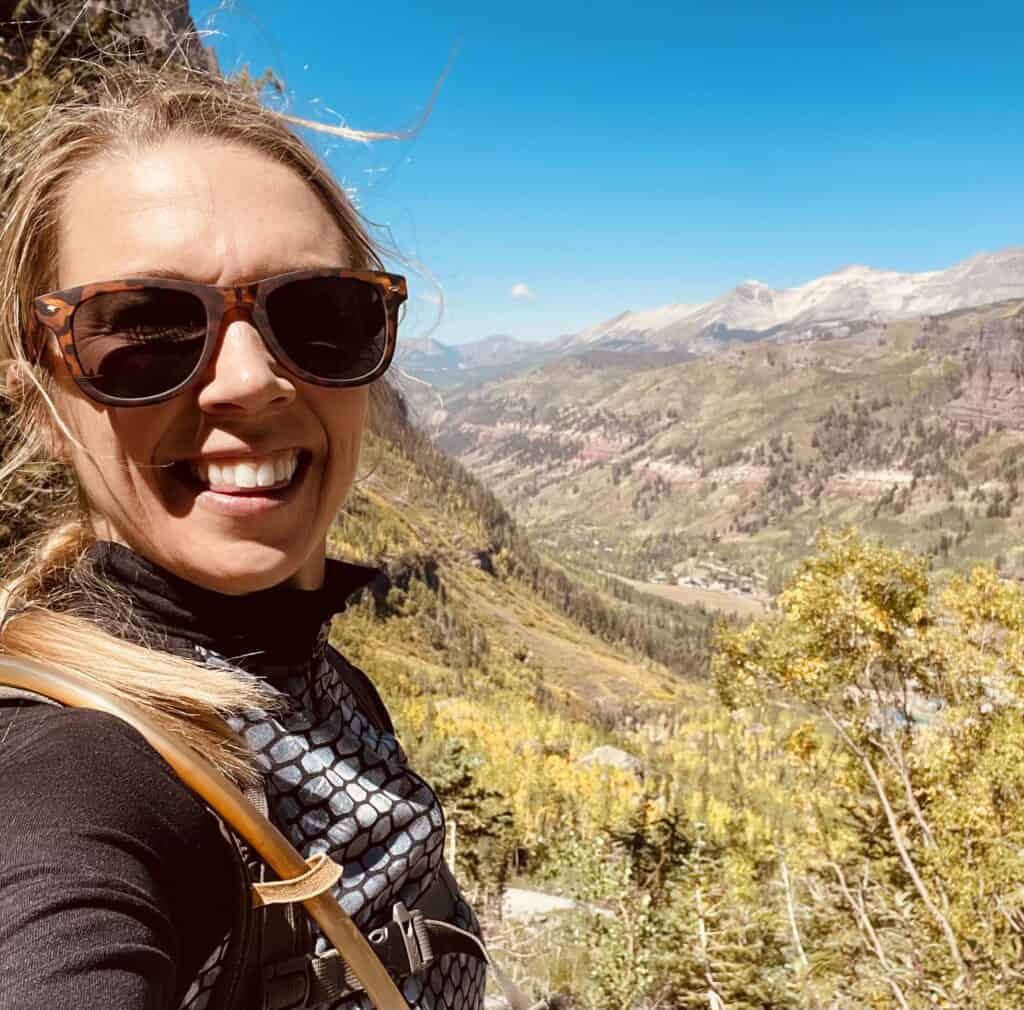 Telluride is a small town in the southwestern United States with a long history. The town was founded in the late 1800s as a mining town and retained much of its old-west charm. The surrounding landscape is also some of the most beautiful in the country, drawing visitors from all over.
Telluride is well-known for its year-round outdoor opportunities, natural beauty, and vibrant art scene. Even though skiing is the main attraction here, there are also great slopes in Telluride.
From downtown Telluride, you can take a free gondola to Mountain Village, where you can get a panoramic view of the San Juan Mountains.
Vail
Vail, Colorado, is a famous ski resort town that offers world-class skiing and other winter sports. It is also one of the best places to visit in Colorado because of its beautiful scenery and plethora of activities. In Vail Village, there are many places to shop, eat, and drink. The village features boutique shops as well as fun bars and tasty restaurants.
Ouray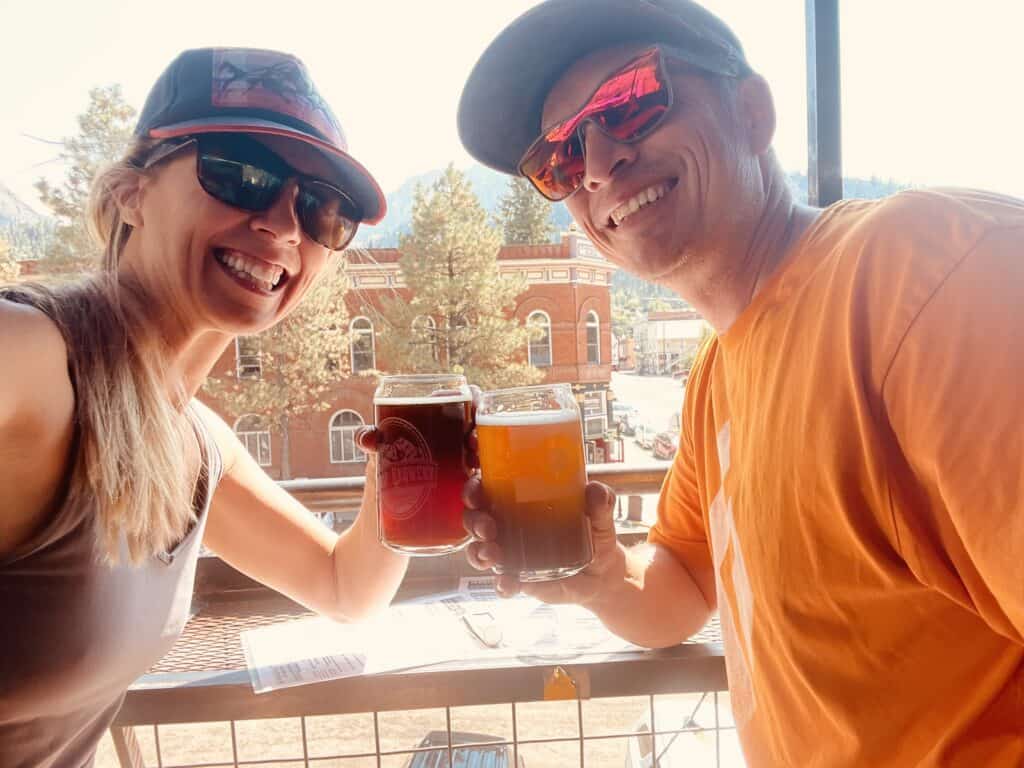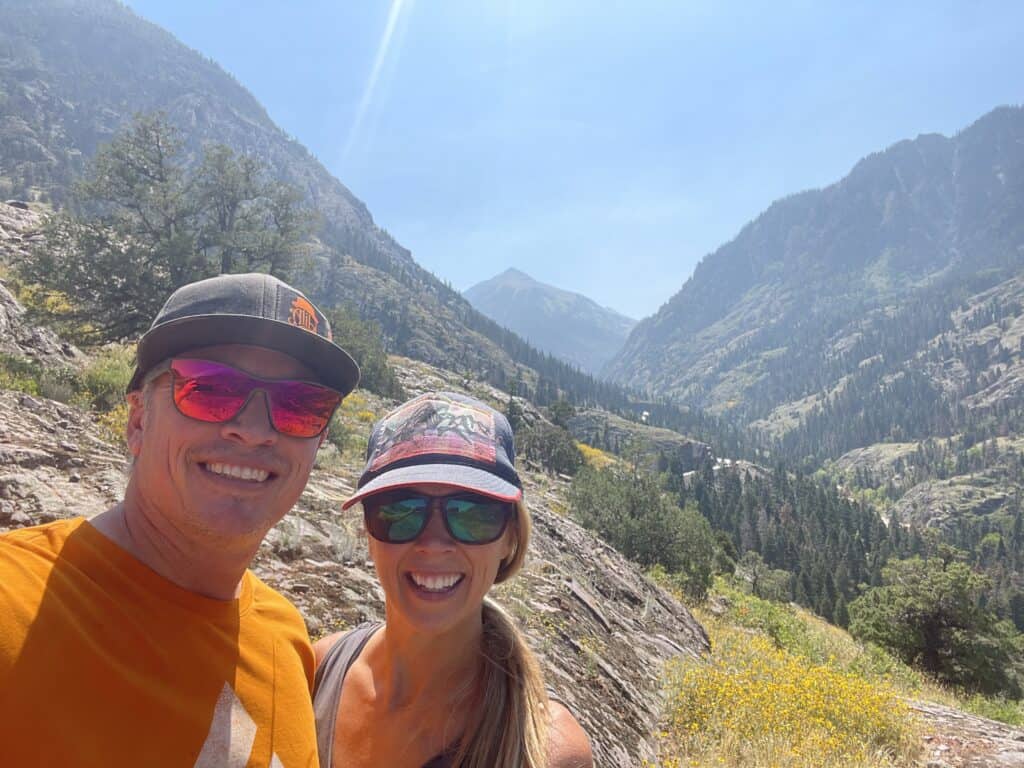 Ouray is a small town located in the San Miguel Mountains of southwestern Colorado. Ouray is known for its hot springs, hiking, and ice climbing. One of our favorite things to do during our visit to Ouray was hiking the Perimeter Trail and then finishing the day off at Ouray Brewing for a rooftop beer while taking in the fabulous views.
Aspen
Aspen is a famous ski resort town in the Rocky Mountains of Colorado that offers plenty of winter activities. Skiing, snowboarding, snowshoeing, ice skating, and sledding are all popular here. Plus, the town has a charming Main Street with plenty of shops and restaurants to enjoy.
If you are looking for a place to visit in Colorado that has plenty of outdoor activities to offer, Aspen is a great choice. Hiking and mountain biking trails are popular here, and the town is lovely in the spring and fall when the leaves change color.
Aspen is a world-class destination for those looking for a fantastic event to attend every month of the year. There's always something exciting happening in Aspen, from the Food and Wine Classic in June to the X Games in January.
Colorado Bucket Lists For Anytime of the Year
Paint Mines Interpretive Park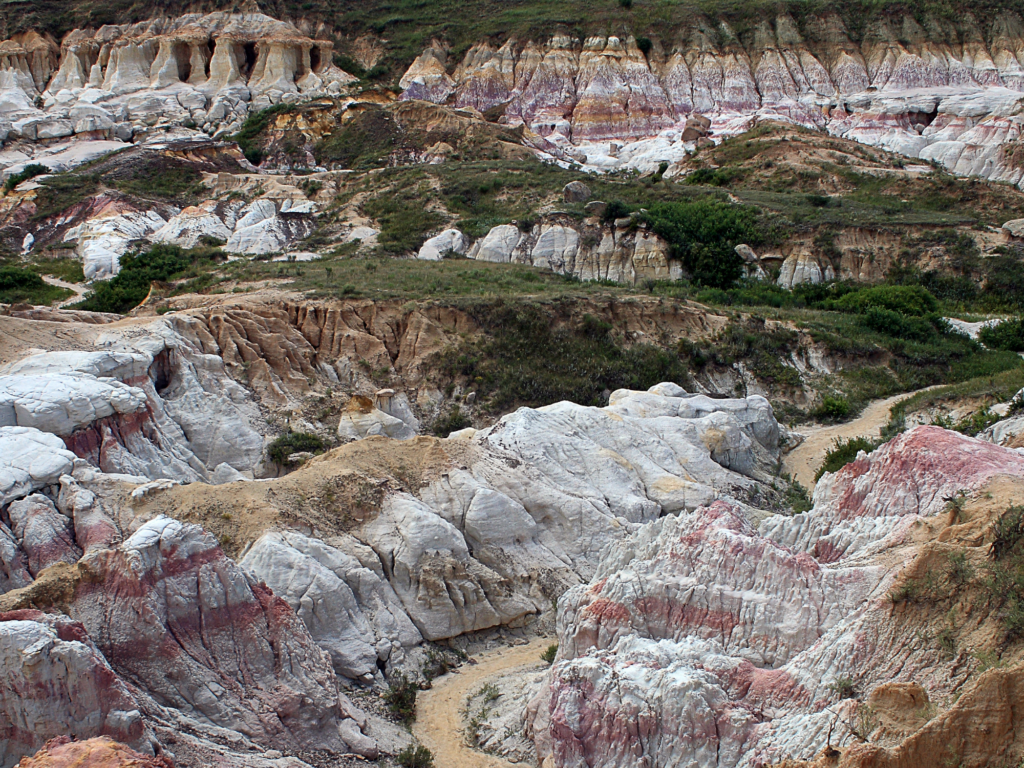 Paint Mines Interpretive Park is located east of Colorado Springs in El Paso County. The park showcases "painted rocks" made up of layers of different colored rocks. The rocks have varying degrees of iron oxide in them that have been exposed to weather over thousands of years, giving them layers of different colors. Paint Mines Interpretive Park is a great place to visit if you're looking for an outdoor adventure.
Fun fact: The Paint Mines rocks were used by the Native Americans to create different colors for painting.
See the Tallest Dune in North America at Great Sand Dunes National Park
Sand Dunes National Park, located just outside of Alamosa, is a sea of towering dunes backed by some of Colorado's most stunning mountains. Get this: it also has the tallest sand dunes in North America, with the biggest one being the Star Dune, which stands at an elevation of 14 feet!
The fact that the park is recognized as a Dark Sky Territory is another excellent incentive to put it on your list. This means there is no light pollution in the area, making viewing the stars even more spectacular (on a clear new moon night, you may even get to see the Milky Way).
The Continental Divide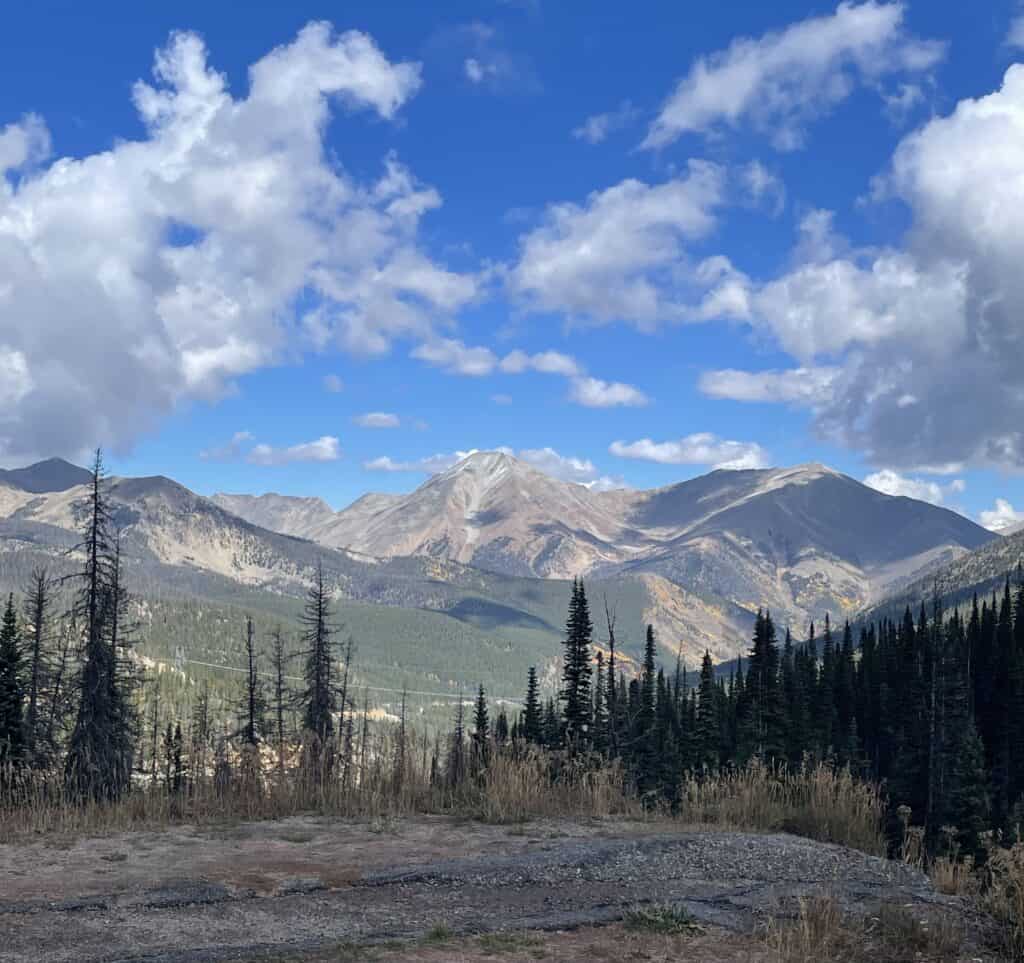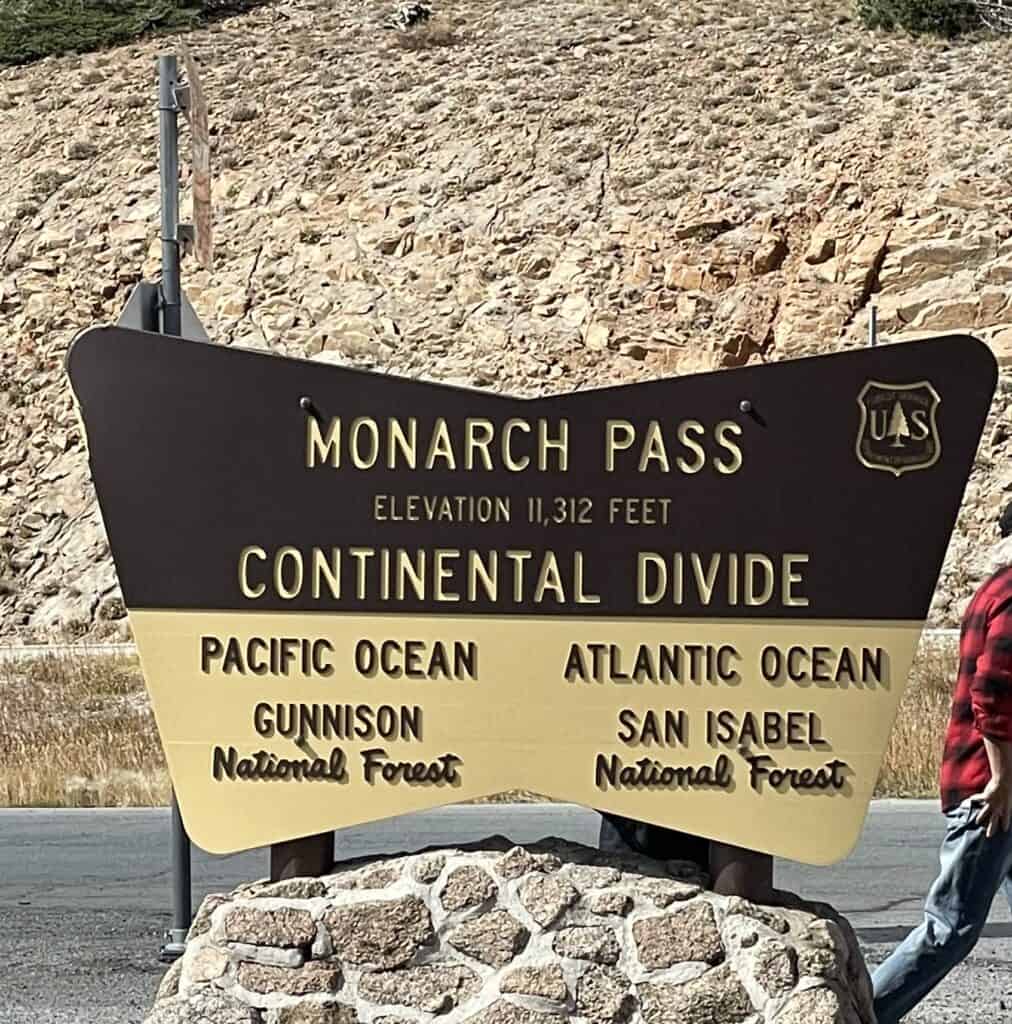 The Continental Divide is a mountain ridge that separates the waters flowing into the Pacific Ocean from those flowing into the Atlantic Ocean. It cuts through all of North and South America, making it a hugely important geological feature.
The Continental Divide is a ridge of mountains that forms the border between the United States and Canada. You can drive through it from either side, and there are many scenic spots to stop and enjoy the view. The CDT (Continental Divide Trail) is a hiking trail that spans 3,100 miles and connects three countries (Canada, America, and Mexico), five US states, and countless communities along its snaking spine.
Durango-Silverton Train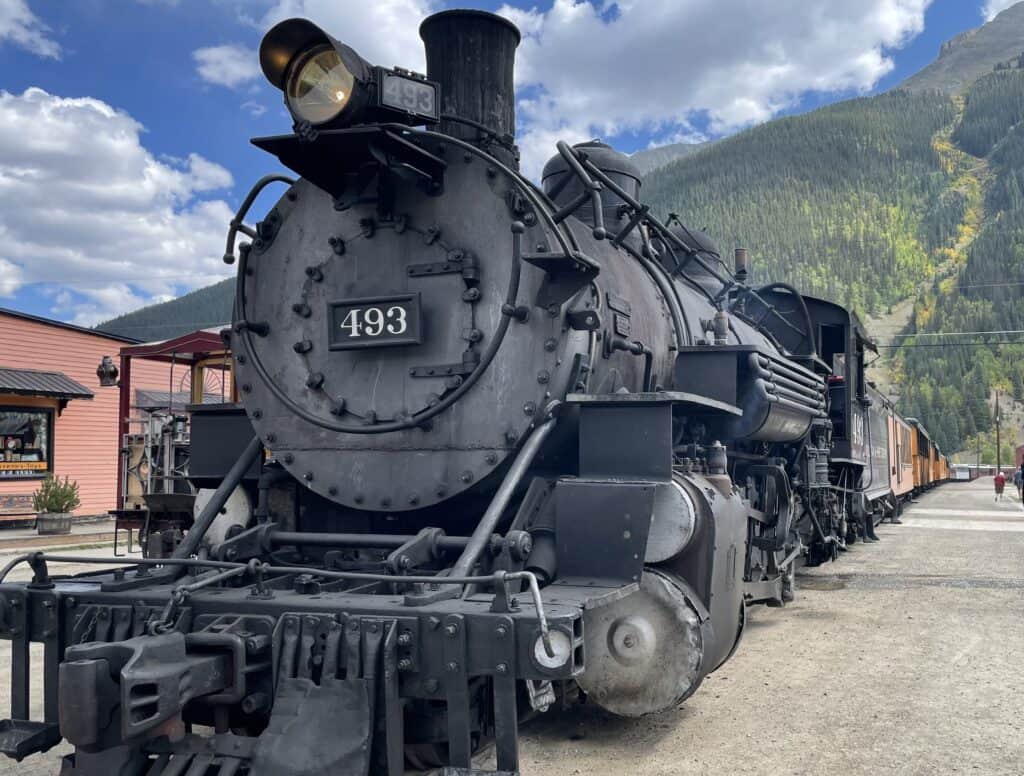 The Durango-Silverton Train is a scenic train route located in Colorado. The route takes passengers on a journey through the San Juan National Forest and offers some of the most beautiful views in the country.
The train winds its way through the San Juan National Forest and gives passengers unparalleled views of the Rocky Mountains. The train ride is considered one of the best things to do in Colorado and should definitely be added to your bucket list if you're visiting the state.
See a Concert at Red Rocks Amphitheater
Red Rocks Amphitheater is one of Colorado's most popular tourist destinations for a good reason. It's located right outside of Denver and has hosted bands and musicians from Daft Punk to the Beatles. Not only does the amphitheater have a breathtaking view, but it also has an incredible history.
The open-air theater was built into the side of a mountain and overlooks the red rock countryside. The natural rock formations make this outdoor amphitheater the perfect stage for acoustics.
Drink a Local Brewery Beer, Cider, or Wine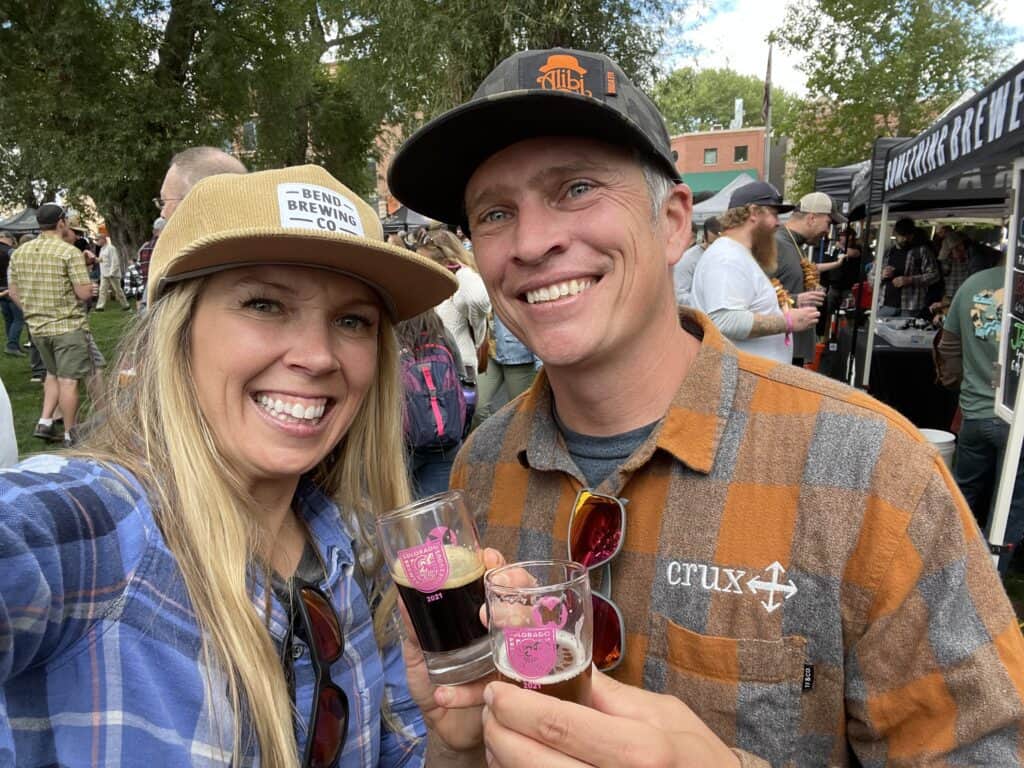 If you know anything about us, you know that we love exploring the different craft breweries in the places we visit. Colorado is known for its craft beers, ciders, and wines. There are many local breweries, cideries, and vineyards that produce excellent adult beverages. So, next time you're in Colorado, be sure to try a few of the local drinks! I'd love to list all of our favs but, to be honest, there are so many great places; it's hard because this list could go on forever, but here is a couple.
Soul Craft-Salida
Avalanche Brewing-Silverton
Bonfire Brewing- Eagle
Lefthand Brewing- Longmont
Visit a Ghost Town (Saint Elmo) Is a Great One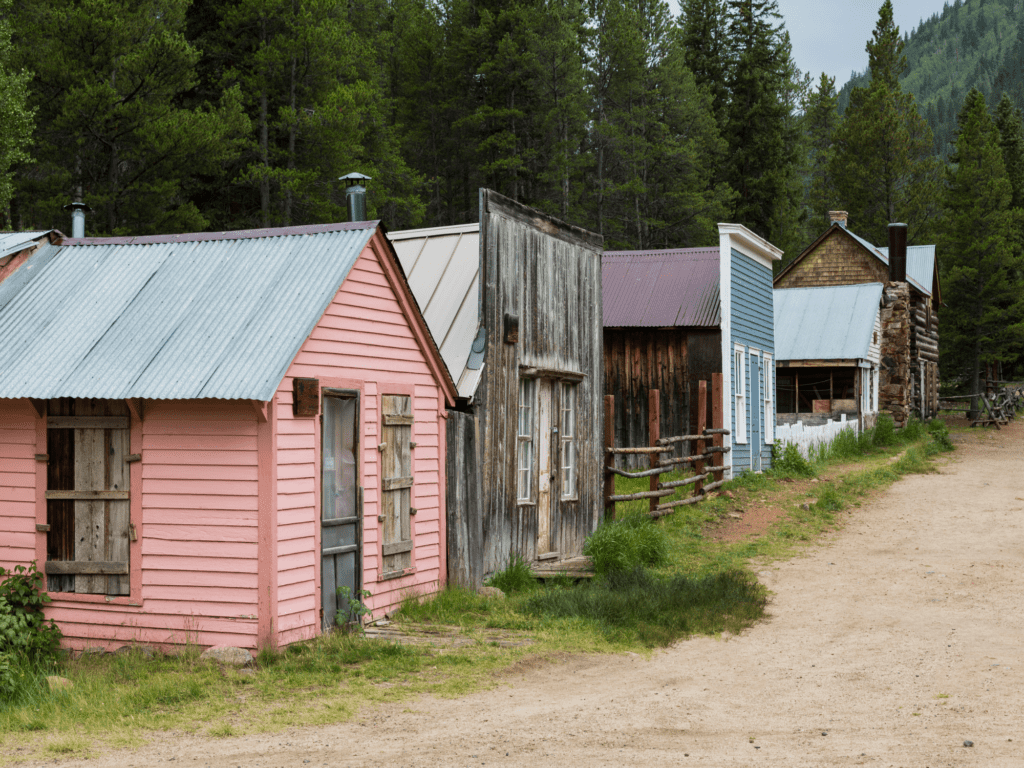 Colorado is home to some of the most interesting ghost towns in the country, some of which are among the most well-kept. For various reasons, some towns were abandoned, including those due to mining or economic difficulties, and others due to natural phenomena like harsh winters. If you're looking for a spine-tingling adventure, be sure to visit one or more of these towns.
You'll get to explore abandoned mines, churches, and schools, and you may even see a ghost or two!
Saint Elmo is a ghost town in Chaffee County, Colorado, that offers a great way to experience Colorado's many ghost towns. The town is located on Highway 24 and has been restored to its original condition. Several buildings have been preserved and interpretive signs that provide information about the town's history.
If you'd like a complete list of the Colorado ghost towns, check this out.
Get Out and Explore Colorado's Best Things to Do
I hope that this bucket list of the best things to do in Colorado will help you to get out and explore the best of the best in Colorado