Colorado Mountain towns are a great way to spend a vacation. Whether you want to go skiing, hiking, see some wildlife or just enjoy the natural beauty, these Colorado mountain towns have it all. There are so many great places to visit and so little time, but if you're strategic about your time, you may be able to see a few of these places on a weekend getaway or road trip through Colorado.
No matter where you go in Colorado, this list has you covered. Keep reading for more information on the best mountain towns in Colorado.
It's nearly impossible to get around some of these beautiful mountains without a car. There's so much to see and explore that public transportation wouldn't do it justice.
Here are our top recommendations for finding great deals on cars and SUVs.
Or if you prefer to travel in a campervan, as we do there are options for you too. How about renting a campervan or RV for your adventure? Yes, expensive upfront, but think about all the money you'll be saving on accommodations and eating out.
Outdoorsy – For the more adventurous and possibly cheaper option because you can forgo the hotel room and cook in your van.
If you're interested in learning more about Outdoorsy click here to read more information.
Colorado Road Trip Tips
Before we dive into the best mountain towns in Colorado, here are a few important tips to keep in mind as you're preparing to visit some of these Colorado mountain towns.
If you're looking for some in depth road trip tips, here are some great tips to get yo headed towards making your adventure memorable
The best time of the year to visit these mountain towns depends on what you're looking for. Yes, most of the places on this list have mountains for skiing, but some are mountain towns that are best visited during the summer months.
You can't rely on cell service in all the Colorado mountain towns listed. We have Tmobile and experienced horrible service in Ridgway, and Ouray and excellent service in Silverton. It seemed as though many people with Verizon had service in most of these mountain towns listed below.
Colorado mountains can be colder than you think. Many of these mountain towns cool off significantly after the sun goes down, so be prepared with lots of layers and a warm jacket.
Looking For Other Great Things to Do in Colorado?
Let's Get to Exploring Colorado's Best Mountain Towns
Here is a list of the top ten best Colorado mountain towns for your next vacation.
Telluride- Our Favorite Colorado Mountain Town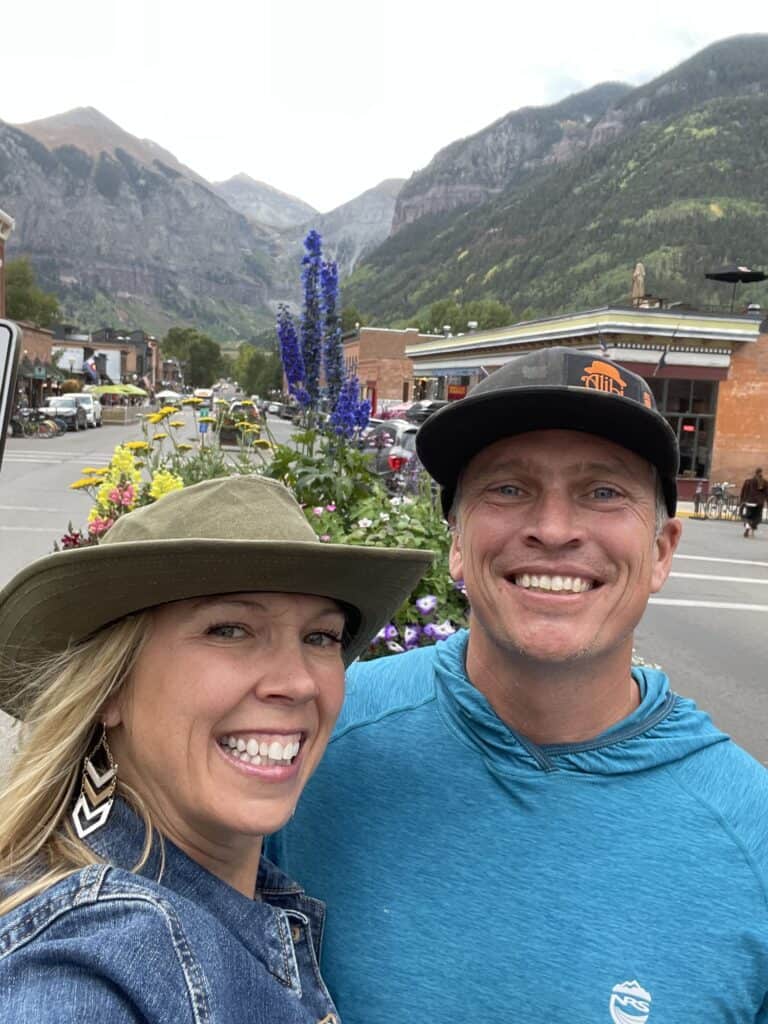 Best Time to Visit Telluride: Any Season
Telluride is a small town in the San Juan Mountains of southwestern Colorado. It is known for its stunning natural beauty and for being a great place to ski, snowboard, bike, and hike.
The town is also becoming increasingly popular as a destination for luxury vacations and weddings.
Telluride is a unique town that experiences all four seasons very differently. The town is covered in snow during the winter, and people enjoy skiing and other winter sports. In the summer, the days are long, and people spend their time hiking, biking, and fishing.
The fall brings beautiful changing leaves, cooler temperatures, and fewer crowds. And finally, in the spring, everything starts to bloom again, and colors and life return to the Telluride Mountains.
There are many things to do all year round in Telluride, but it's well-known for its festivals during the summer months. Some of these festivals include the Telluride Bluegrass Festival, Telluride Film Festival, and Telluride Jazz Celebration.
Telluride has various camping options; stay at the Town Park Campground for camping options right in town. If you're looking for something a little bit more remote, Sunshine Campground is an excellent option on the other side of Mountain Village.
Where to Eat in Telluride
Smuggler Union for upscale pub grub
Brown Dog for Pizza
Where to Drink in Telluride
Last Dollar Saloon- a basement bar that has great music and bands
Telluride Brewing Company for inventive beers
New Sheridan Historic Pub has the ultimate bar experience with pool tables in the back
Up for an adventure? If so check out our adrenaline pumping Telluride Via Ferrata experience here
Crested Butte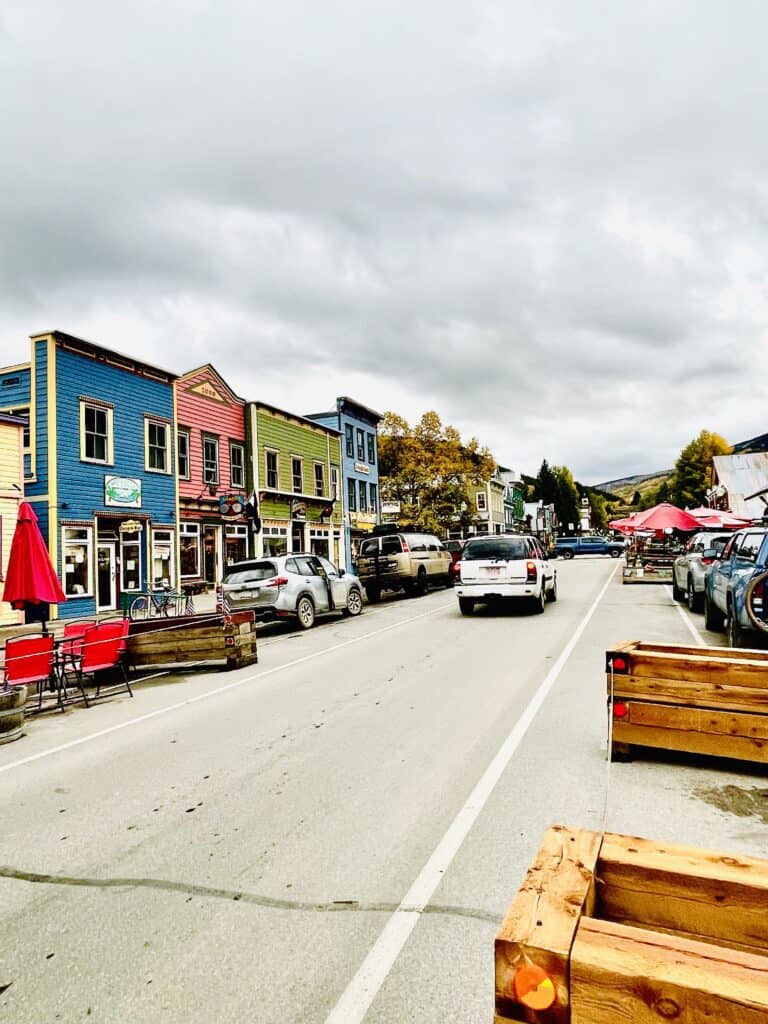 Best Time to Visit Crested Butte: Any Season
Telluride is my all-time favorite mountain town. It's beautiful, the skiing is excellent, and the town is charming.
However, Crested Butte is a close second. The scenery is stunning, the skiing is top-notch, and there's plenty to do in town when you're not on the slopes.
Crested Butte is a vibrant and charming mountain town that's a popular destination for tourists and boasts stunning views of the Rocky Mountains. The town is home to various businesses and cultural attractions, including art galleries, museums, and restaurants.
Crested Butte is known for its beautiful wildflowers. In mid-summer, the hills and meadows around Crested Butte are covered in wildflowers of all colors. Several hikes near Crested Butte offer great views of the wildflower-covered hills.
A few mountain passes in Crested Butte are worth driving to see the fall colors. The Kebler Pass, Ohio Pass, and Cottonwood Pass offer great views of the changing leaves.
Be sure to plan your trip around the peak times for color change so you can get the most out of your experience!
Pro Tip: While we were visiting, we were blown away by the amount of Himalayan food, so if you enjoy Himalayan food, you'll be in heaven here. You can find Himalayan food below Stash Pizza at Momos, Sherpa Cafe, and the brewery.
Where to Eat in Crested Butte
Stash Pizza is the absolute best, and it even has vegan pizza options
Sherpa Cafe- Fantastic Himalayan food
The Last Steep Bar & Grill
Where to Drink in Crested Butte
Kochevar's Saloon- historic dive bar experience
Dogwood- good cocktails
Eldo Brewery: They rent the kitchen out, so it seems as though the food menu changes quite often. While we were there, they had Himalayan. Pair it with a rooftop deck seating, and we were thrilled.
Silverton- Historic Colorado Mountain Town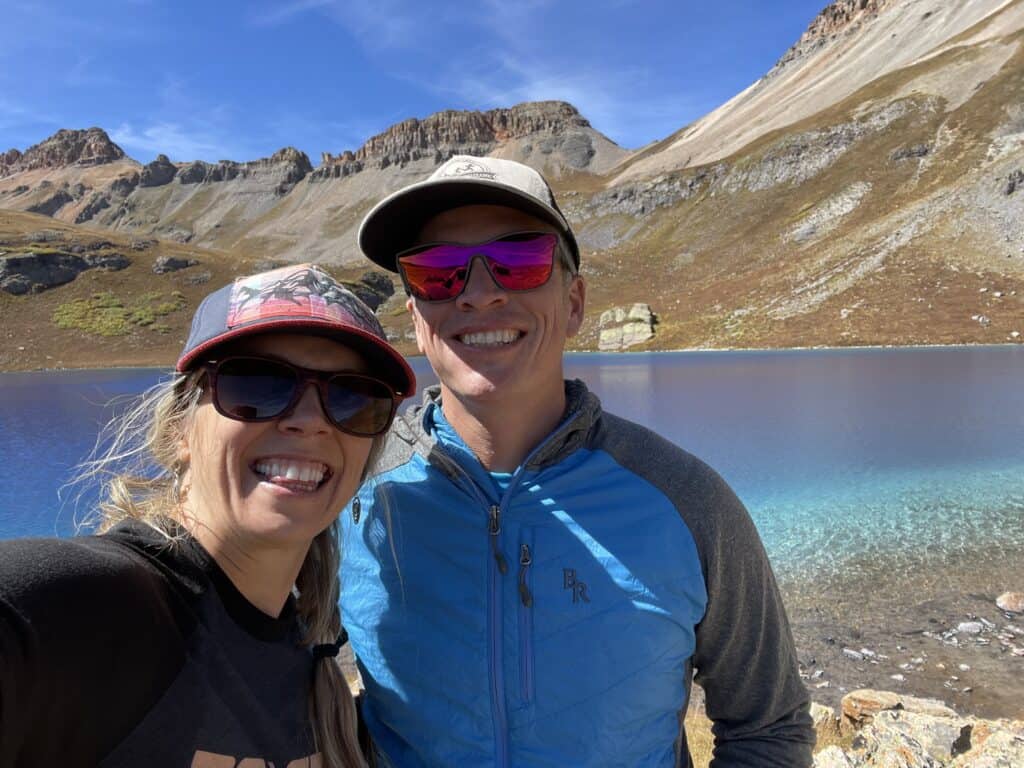 Best Time to Visit Silverton: Summer and Fall
Silverton is a historic mountain town located in the heart of the Colorado Rockies. It feels like an authentic Wild West frontier town with unpaved streets and old-fashioned buildings.
Silverton has a few small shops, restaurants, and even two breweries, but the real draw is just getting out into nature. There are many hiking trails and plenty of places to go fishing, camping, rock climbing, biking, and backcountry skiing.
The Silverton Museum is a great place to learn about the town's history. The museum is housed in the old county jail, and it has lots of information about Silverton's founding and mining history.
It's well known for the Million Dollar Highway, one of the most scenic fall drives in the USA. The highway stretches between Silverton and Ouray and is known for its stunning views and steep curves.
If you're looking for a place to relax in the mountains, Silverton is definitely worth a look!
Fall is a great time to visit Silverton because the leaves change color, and the weather is cool and crisp. If you're looking for a fun touristy experience, don't miss the narrow gauge train ride up the mountain. This train is a fun experience and takes you between Silverton and Durango.
Where to Eat in Silverton, Colorado
Handlebars Food and Saloon for their extensive menu and great decor
Brown Bear Cafe for hearty breakfasts
Where to Drink in Silverton Colorado
Avalance Brewing is our favorite out of the two breweries in Silverton; they have great beer and pizza
Handlebars Food and Saloon-Popular Wild West Bar
Looking for the best mountain views in Colorado? Check this out to see our favorites
Manitou Springs
Manitou Springs is a town in Colorado located near the base of Pikes Peak that offers up a hippy vibe. Pikes Peak is one of Colorado's most famous peaks and offers some of the best views in the state.
Manitou Springs is a popular tourist destination and offers a variety of activities and attractions.
The main attraction in Manitou Springs is the natural mineral springs that come up from the ground. The healing water from the springs attracts visitors from around the country who come to partake in its therapeutic properties.
While downtown, be sure to keep your eyes open for the eight mineral water fountains where you can drink naturally carbonated water for free; pretty cool experience if you ask me.
If you're looking for a true healing experience, head over to the SunWater Spa, where you'll find nine mineral water-soaking pools with gorgeous views of the mountains. If you're not into soaking, you can always get a facial or massage at this fabulous place.
There are also a variety of shops, beautiful gardens, and restaurants in Manitou Springs, making it a perfect destination for a day trip or weekend getaway from Denver.
Buena Vista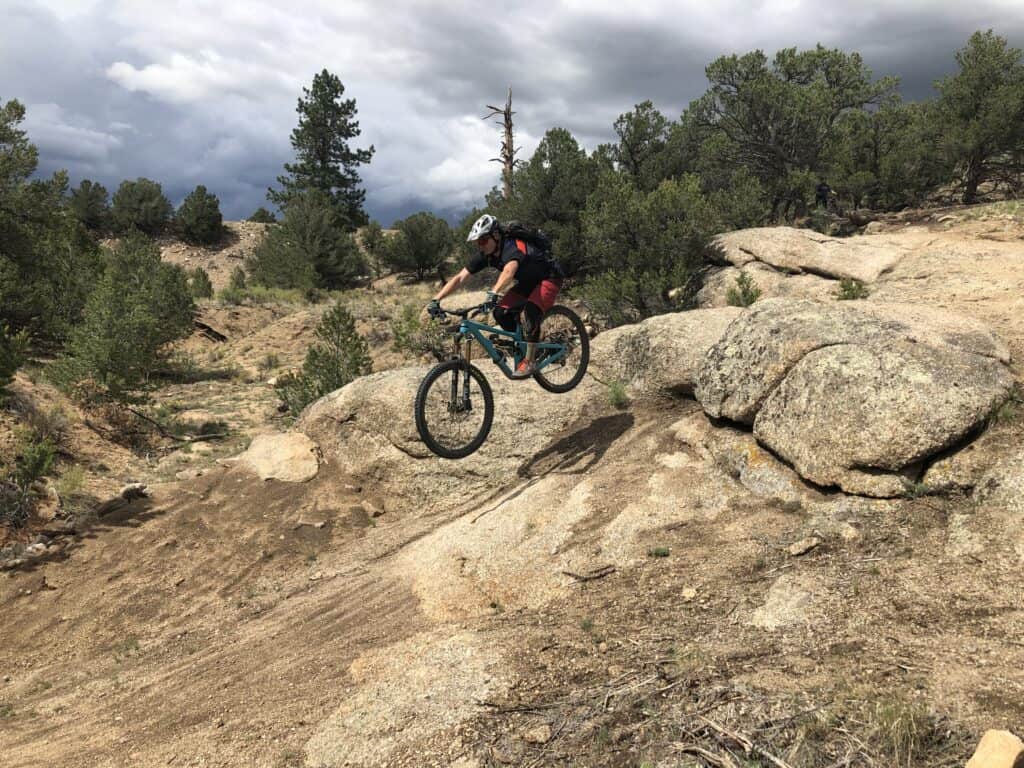 Best Time to Visit Buena Vista: Summer Months are the best time to visit
The little town of Buena Vista is a historic mining town located in Colorado's south-central region, roughly two and a half hours southwest of Denver. It is best recognized for whitewater rafting, hiking, mountain biking, and camping near the towering Collegiate Peaks and the flowing Arkansas River.
Buena Vista is an excellent destination for people visiting Colorado, thanks to its easygoing culture and welcoming attitude. The town also has a rich history, as a thriving ghost town.
If you're looking for an outdoor adventure, this small town is home to 14er summits and plenty of trails that lead to pristine alpine lakes. You'll be surrounded by some of the best scenery in the state!
If you're looking for a breathtaking view, this is the place to be.
Places to Eat in Buena Vista
Simple Eatery & Spoon It Up- freshly prepared soups, salads, and sandwiches.
Eddyline Brewery-Great outdoor seating
Where to Drink in Buena Vista
Eddyline- its a great brewery, we were visiting during Covid so we only experienced the outdoor seating but there was plenty of great seating outside!
Jailhouse- craft beer
Estes Park
Estes Park is a town in Colorado that serves as the gateway to Rocky Mountain National Park. Thanks to its stunning natural scenery and abundance of outdoor activities, it is a popular tourist destination.
Home to over 400 miles of hiking trails and some of the best fishing in the state, Estes Park is one of the most popular mountain towns near Denver. Visitors can enjoy hiking, biking, fishing in Rocky Mountain National Park or take advantage of the many other attractions in and around Estes Park.
If you're looking for beautiful mountain scenery and want to avoid the crowds, head to Estes Park and explore some of the less-traveled trails.
If you're looking for breathtaking views and challenging hikes, head to Rocky Mountain National Park. However, be prepared for the crowds – it's one of the most popular parks in America!
Estes Park is definitely worth visiting if you're looking for a great mountain town near Denver! It's only an hour and twenty minutes from the city, and there's plenty to do in the area.
If you're looking for some of the best hikes, there are trails for all levels of hikers, from beginners to those with more experience. And if you're looking for something else to do, Estes Park also has plenty of shops and restaurants.
Here are our favorite hikes when visiting Rocky Mountain National Park
Leadville- The Highest Colorado Mountain Town
Best Time to Visit Leadville: I'd say summer however Leadville does have a small local ski mountain.
Looking for high? Leadville is the highest city in the United States. At an elevation of 10,152 feet, it is a popular destination for those looking for a challenge and stunning views. The city is home to Leadville Trail 100, one of the most challenging ultramarathons in the country.
Leadville is located at the base of Mount Elbert, which is the highest peak in the state. The town is a popular destination for hikers and climbers and offers some of the best views of the Rocky Mountains.
Additionally, Leadville is home to Mount Massive, another 14er near Denver.
Leadville is one of the best places to visit in Colorado if you're looking for a classy mountain town with plenty of activities to keep you busy. The atmosphere is perfect for those who love nature and want to get away from the hustle and bustle of city life.
Where to Eat in Leadville
High Mountain Pies- Great place to grab an excellent pizza but be aware if you're visiting during the peak summer months, this place can get really busy with longer than usual wait times.
Tennesee Pass Cafe Robust menu with creative options like pan-fried Brussels sprouts with sriracha. Charming old building from the mining days
Where to Drink in Leadville
2-mile Brewery
The Legendary Silver Dollar Saloon: This place offers a cozy vibe with some great decor. The bartender was fabulous during our visit.
Creede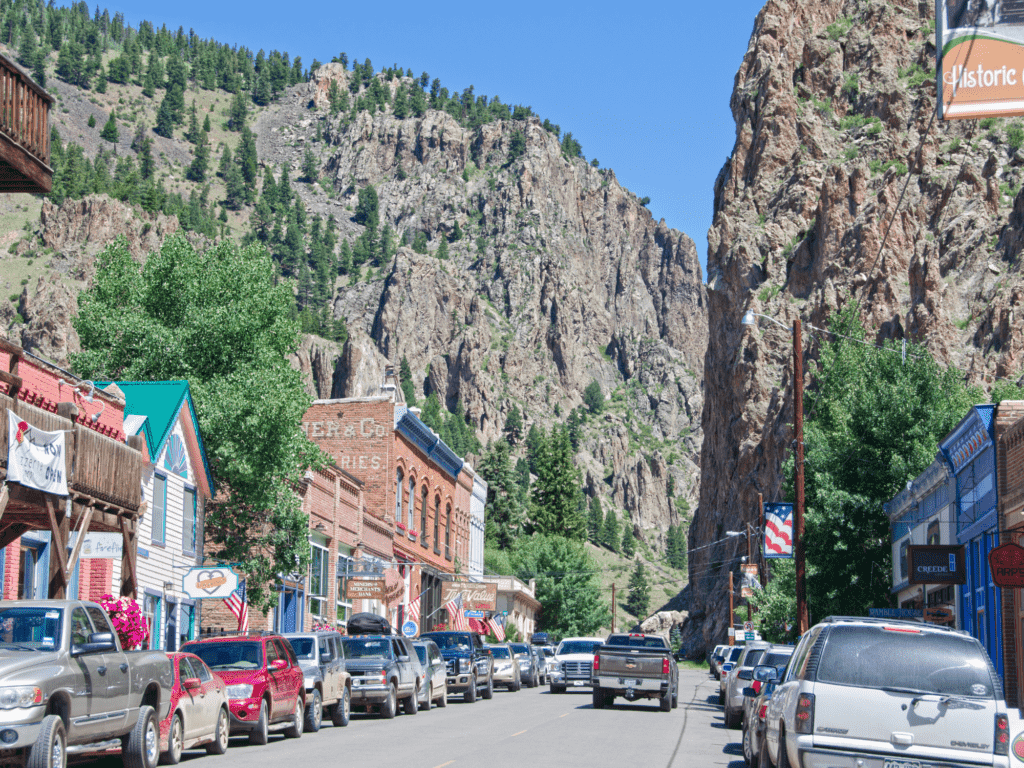 Creede is out there! And when I say out there, I mean it's not necessarily on the frequently traveled path. If you ended up in Creede, you were seeking this place out, or you ended up there via the Silver Thread Scenic Byway. Which is impressive, by the way; it is a 75-mile stretch byway Lake City to South Fork, where you'll experience waterfalls, mines, and natural hot springs.
Ok, back to Creede; Creed is known for its historic character and picturesque setting. This town is a REALLY small mountain town, but that doesn't mean it's to be missed. What it lacks in its population, it makes up for exponentially in natural attractions.
Creede is rich in history, and the town's historic character remains, with many original buildings still standing. Creede was once a silver-mining town in the late 1800s and is one of the craziest boom towns in our list of Colorado Mountain Towns.
While exploring the downtown, you can't help but be in awe as you look up into the narrow canyon and cliffs that surround the downtown.
This little city has a flourishing arts community, with several galleries scattered. Every summer, there is even a theater that puts on plays.
Camping and recreational opportunities are plentiful in the Creede area because it is surrounded by public land. There are a variety of lakes and streams within close proximity and hiking routes.
Where to Eat in Creede
Arps for dinner style comfort food from around the world
Where to Drink in Creede
Kips Grille Great atmosphere with fantastic bloody Marys
Want to learn about the 17 places we like best in Colorado? Here you go! Click here!
Salida
Best time to visit Salida: any time of year
Salida is a charming small town about two and a half hours south of Denver and makes for a great weekend getaway. It's a great place to visit if you are looking for a happening place with plenty of things to do.
The town is located in the heart of the Rocky Mountains and has something to offer everyone. You will find restaurants, bars, art galleries, and shops within walking distance of each other. There are also plenty of outdoor activities available in the area, including hiking, biking, fishing, and rafting.
One of the main draws for people visiting Salida is its white water rafting. America's most famous white water rafting river – the Arkansas – runs right through downtown. While visiting downtown, don't miss checking out the whitewater park towards the "S" mountain at the edge of town.
No matter what adventure you end up on, you'll want to wrap up your day with a well-deserved slice and beer.
Where to Eat in Salida
Amica's is our favorite place to get a slice of pizza; they offer up a dairy-free cheese option if necessary.
Boathouse Cantina- located in a historical building right along the waterfront, this is an excellent place that offers up a varied menu with Mexican and typical American pub grub.
High Side Bar and Grill- An alternative to the Boathouse Cantina is the Highside. High side is also located along the Arkansas River, with outdoor and indoor dining options.
Where to Drink in Salida
Bensons: This is where the locals go! This classic tavern is a great place to meet friends for drinks or catch live music.
Soulcraft brewery- One of our favorite breweries in the area offers an expansive taproom and outdoor beer garden
Tres Litros: Located in the heart of downtown Salida this place has a welcoming taproom; if you're lucky, you may catch some great live music while visiting
Aspen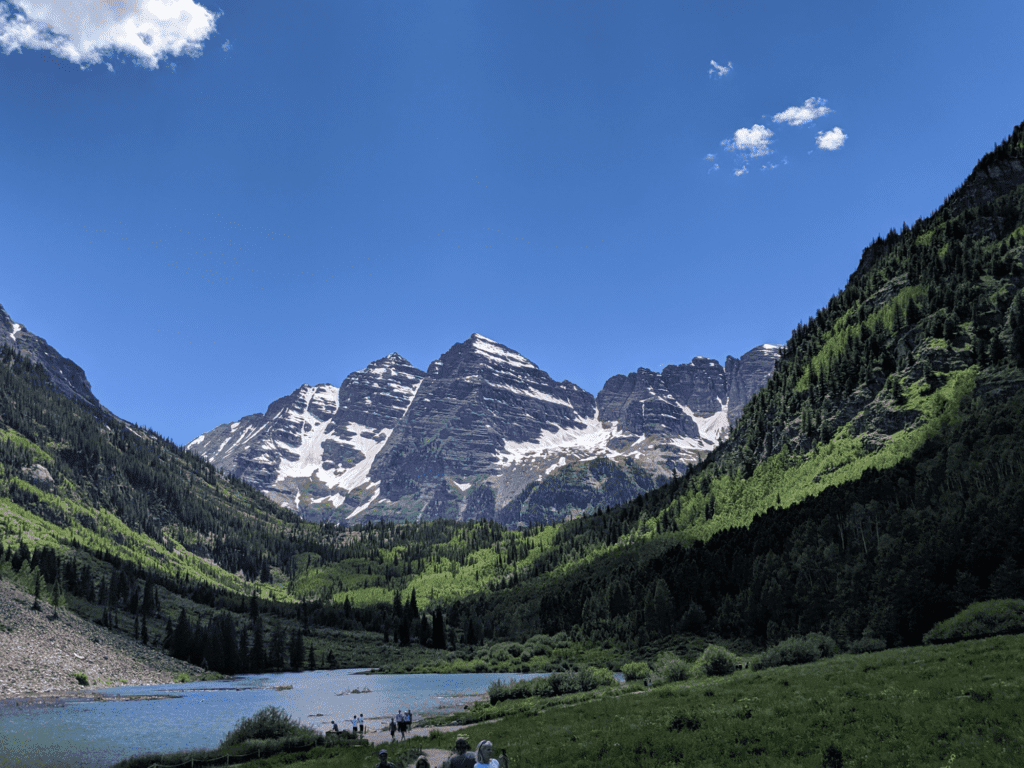 Aspen is a posh mountain town located in the heart of the Colorado Rockies. It is known for its luxury dining, accommodations, and its world-class skiing and snowboarding.
Aspen is a great place to visit for those who want to enjoy the best of Colorado. The town's natural beauty, combined with its upscale amenities, makes it a popular destination for tourists and locals alike. There are many places to eat and drink and places to stay. In addition, the designer boutiques are incredible.
With plenty of outdoor activities to enjoy, Aspen is a great place to visit any time of year. The Maroon Bells' fourteen thousand-foot peaks put Aspen on the map as one of the most scenic places in Colorado.
Where to Eat in Aspen
Aspen Public House- This is an excellent spot for Happy Hour with a fun vibe. Our favorite thing was the spicy curry poutine with a couple of happy hour beers. The menu was affordable when comparing it to Aspen standards.
White House Tavern- Super cute but smaller place; we ended up sitting at the bar as they had limited tables, and it was busy. We watched the chef prepare everyone's food. I ordered the Kale and peanut dressing, and it was bomb-diggity and HUGE.
Where to Drink in Aspen
Hooch Craft Cocktail Bar- Great decorations in the bar and some fantastic cocktails
Aspen Brewing- If you know us, you know we love trying out the different breweries.
Keystone, Colorado
This family-friendly resort town, located less than 90 minutes from Denver off of I-70, has a plethora of outdoor activities in its backyard, including some of the best skiing in the state. Keystone is also an inexpensive alpine getaway with one of the largest resorts, so it's a popular holiday destination for front-rangers and tourists all year.
The town offers a variety of activities and attractions, including restaurants, shopping, and skiing. If you're looking for outdoor activities, of course, you'll find many. Keystone has a bike park, a lake for paddle boarding, hiking trails, cross country trails, a snow tubing area, and much more.
What differentiates Keystone from the other mountain towns is its beautiful resort village. It's a magical place while snow is falling, flowers are blooming, or leaves are changing.
Keystone can get quite busy during peak seasons, and the traffic on I-70 can back, so be aware of this when planning your adventures to this area.
This mountain town is a great place to visit if you are looking for some good food; it's known for its pizza and brewery.
Ouray, Colorado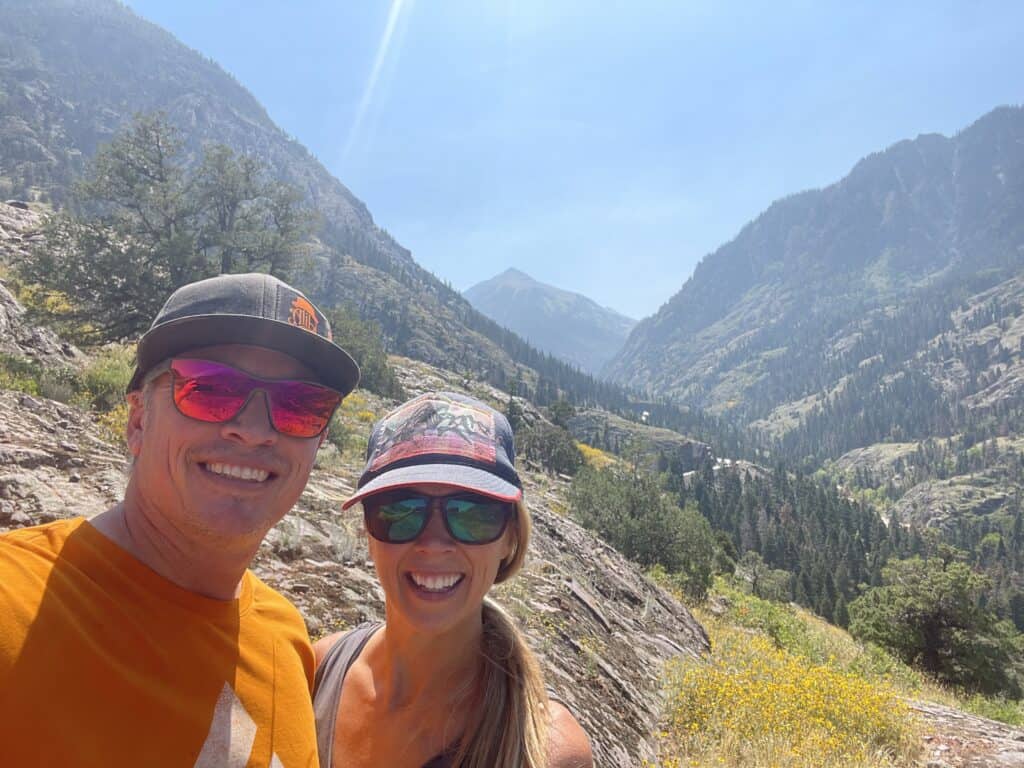 If you're looking for a "can't miss" stop on your summer mountain town tour of Colorado, make sure to add Ouray to your list. This small town is nestled in the heart of the San Juan Mountains. It is known for its Switzerland of America sign, jaw-dropping scenery, hot springs, outdoor activities, restaurants, and historic downtown.
Originally a mining town, it is a popular tourist destination for its stunning views, hiking routes above town, Box Canyon Waterfalls, off-roading adventures, its Via Ferrata, and ice climbing routes.
Ouray, Colorado, is a great place to visit during the summer and winter if you're ready for adventure. You can enjoy shopping, rooftop dining at one of the many restaurants, educational opportunities at the Alchemist museum, and even snow activities during the winter.
Ouray is a well-known place for ice climbers, so it's not uncommon for this area to experience a surge of ice climbers during the winter months.
If you're looking for mountain biking, it's not far; head over to the RAT trails in Ridgway, where you'll find plenty. Our favorite thing to do was hiking the Perimeter trail above town and partaking in the adrenaline-pumping Via Ferrata during our visit to Ouray.
Not sure what a Via Ferrata is? We think they're amazing. Learn about the one we did in Telluride here.
Where To Eat in Ouray
Outlaw restaurant-this is your traditional steak house with a cozy vibe and excellent bar. If you're lucky, they may even have someone playing the piano.
Gold Belt Bar- Nice outdoor dining and extensive menu selection
Brickhouse 737: Intimate restaurant with exposed brick & artwork, serving eclectic American cuisine & cocktails.
Where to Drink in Ouray
Ouray Brewing-Make sure to enjoy their rooftop seating
Gold Belt Bar and Grill-Good for outdoor patio seating to take in the beautiful views
Outlaw Intimate bar seating with fabulous and friendly bartenders
Fulltilt Saloon-Saloon with country decor that can even make you up a martini!
Winter Park, Colorado
Another popular ski destination is Winter Park, which also offers a lot of activities year-round. It's only an hour and a half drive from Denver, making it an easy day trip away from I-70.
Winter Park is often called Colorado's best-kept secret because it has all the Rockies' great outdoor activities and natural beauty without all the hassle of big crowds. Visitors can enjoy skiing, snowboarding, hiking, biking, fishing, and much more.
There is both a historic downtown area and a more modernized ski village at the bottom of the slopes. The major drawback I see with this place is that the downtown is located a couple of miles from the mountain, making it not walkable between the two.
The resort also offers mountain biking trails that are considered some of the best in the country. A ski train also serves the town during ski season, making it easy to get to and from.
Breckenridge
Breckenridge, Colorado, with a long and storied history, a vibrant downtown, and a world-class ski resort, offers more than simply a destination. It provides the ultimate mountain experience.
Breckenridge is a fantastic place to visit for all kinds of outdoor adventures. There are plenty of activities to keep you busy, from skiing and snowboarding in the winter to hiking and mountain biking in the summer.
Downtown Breckenridge has a variety of shops, restaurants, and bars. It is a great place to visit for those who want to experience the historical side of Colorado.
Many commercial, residential, and religious structures dating back to the gold rush can be seen throughout Breckenridge's downtown.
There are 249 preserved buildings within the "Old Town," which is east of the Blue River, dating from 1859 to 1942. Take a tour to learn more about Breckenridge's fascinating history.
Vail
Vail, Colorado, is a resort town known for its upscale service, massive ski area, attracting visitors from all over the world, and being the biggest in the state. The city is located on both sides of I-70, about two hours west of Denver.
The Austrian-inspired ski town has a lot of charm and is one of the most attractive in the region. There are two villages, Vail Village and Lionshead, and you can easily meander between the two of them. In addition to skiing, there are plenty of things to do in all four seasons during the winter.
Although the town is known for its skiing, it also has plenty to offer in the way of dining, shopping, and outdoor activities in the off-season.
In the summer, when the weather warms, camping, rafting, hiking, and fishing are all extremely popular activities.
Gore Lake is a great place to hike, and there are also plenty of hiking trails in and around Vail. For those looking for a more relaxed experience, the gondola ride is a great way to enjoy the views from the top of the mountains.
Durango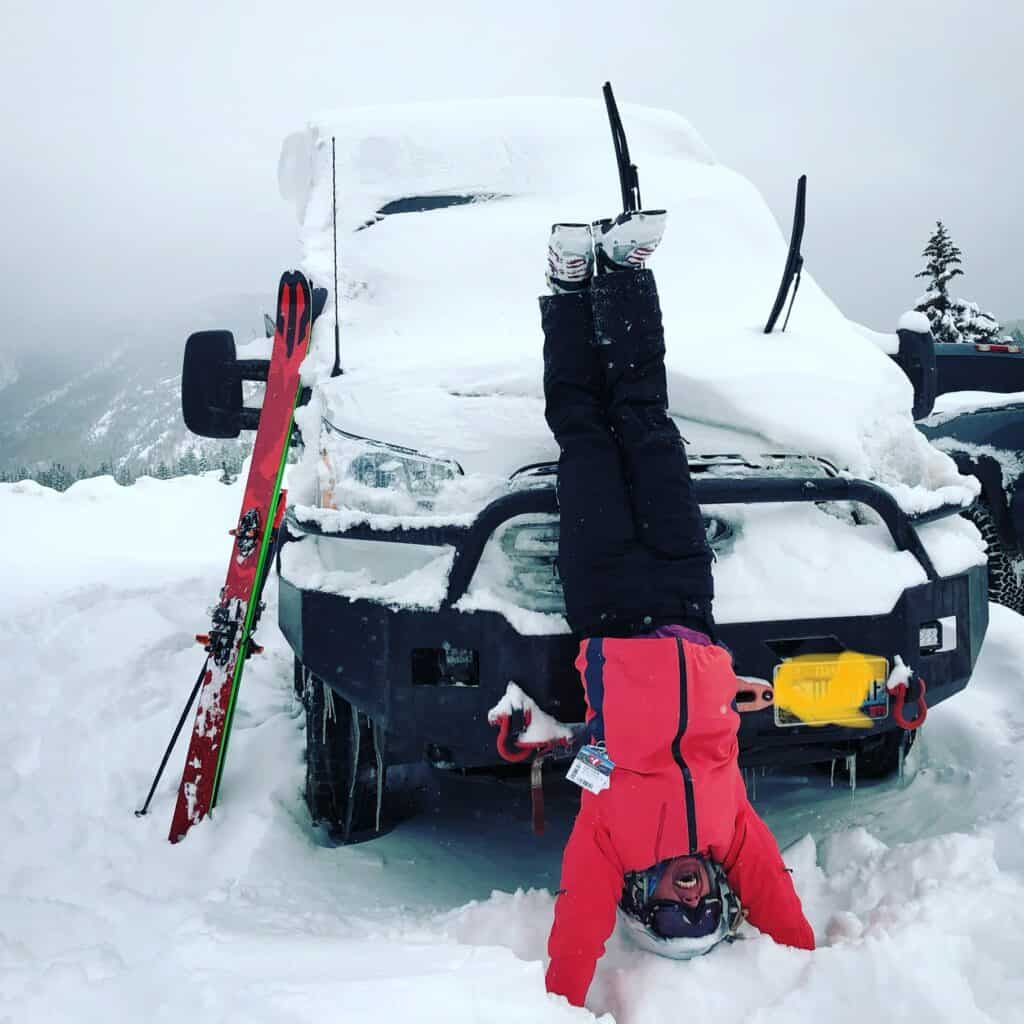 Durango is a college town located in the southwest corner of Colorado. It is surrounded by fantastic scenery, including the San Juan Mountains and Mesa Verde National Park. Durango also has a vibrant arts and culture scene, with plenty of theaters, museums, and restaurants.
The city has a cool factor that attracts many young people. It is not a resort town, so it does not have the same level of tourism as other Colorado mountain towns, but that's what makes this place unique.
If you're looking for an outdoor adventure, Durango is a great place to start. You can explore the ancient cave dwellings of the ancestral Pueblo people, take a paddle on the majestic Animas River, or head to Purgatory for some skiing. Don't forget to enjoy the stunning views of the Colorado Rockies while you're there!
Though Durango swapped out its historic saloons for craft beer pubs, Durango still retains much of its Western charm. You can find swinging doors and 10-gallon hats if you look hard enough, but the city's main attraction is undoubtedly its natural beauty. With the San Juan Mountains at its back, Durango is a great place to visit any time of year.
Steamboat Springs Colorado
Steamboat Springs is a Colorado mountain town located in the Rocky mountains. It is known for its world-class ski resort and is a popular summer destination for golfers, hikers, and outdoor enthusiasts. The city has a wide range of accommodation and dining options at various prices, as well as historical sites, galleries, and museums.
Even though Steamboat is known for its world-class skiing, this town's culinary scene has really come into its own in recent years. There are now some great restaurants, and you can even find a few craft breweries if you're looking for something a little different.
According to the locals, Strawberry Park is the best hot spring in town. It's a beautiful spot that's a great place to relax after a long day on the slopes; definitely worth a visit.
Get out and Explore Colorado's Best Mountain Towns
Did I miss one of your favorite places to visit in Colorado? If so let us know, drop it in the comments below. There is soooo much to see and do in the beautiful state of Colorado that we can't wait to go back and do more exploring.