Are you wanting to visit Crater Lake in the winter? If so, this guide is just what you need! Winter in Crater Lake offers up a whole different scene than it does is the summer, it's a dream destination for the energetic, winter-lover!
Crater Lake is open to the public throughout the year, unlike other destinations. In winters, Crater Lake transforms into a snowy fairyland straight out of a postcard.
When the landscape receives its first snow, it opens opportunities for several winter adventures for a fun-filled getaway. Usually, the average snowfall is about 42 feet every year, offering winter activities fit for a daredevil!
Skip the crowds and ski, hike, sled, and snowmobile at Crater Lake in the winter.
Access in Winter to Crater Lake
Although Crater Lake National Park is open throughout the year, some facilities and entrances are closed. The northern entrance becomes inaccessible during winter; therefore, visitors must use the southern entrance. The Steel Visitor Center becomes the winter base for all visitors and remains open from 10 am to 4 pm throughout the winter months. 
Driving Tips For Crater Lake in the Winter
To reach the southern entrance of Crater Lake, you will have to take Highway 62 starting at Medford. Although this route is open and plowed all year, it may be closed during heavy snowstorms. Depending on the weather conditions, it is advised to carry tire chains and be prepared for a harsher climate.
Staying Safe at Crater Lake in the Winter
Winter adventure does not come without its share of risks. The most hazardous concern at Crater Lake are avalanches, tree wells, snow cornices, and terrain traps. As long as you know how to avoid these dangerous conditions, you should be safe.
The Crater Lake National Park offers resources to visitors in winter so they can enjoy the adventure and stay safe doing it all. If you are planning to visit the park soon, watch this safety video, so you can enjoy this winter wonderland to its fullest. This will surely be a unique and memorable experience for you and your family.
The Temperature at Crater Lake
Snowstorms are common at Crater Lake, usually in December until late February. However, the coldest temperatures in December usually last until March. The lowest temperatures recorded in Crater Lake is 20F, it is always a good idea to check the weather conditions before heading out for your winter adventure.
What to Pack for Crater Lake in the Winter
Absolutely no cotton. Make sure you have wool or synthetics that will keep you warm while wet.
Always plan for rain or snow despite how the weather "looks."
Have an extra insulating layer such as a down/synthetic puffy coat.
Trekking poles are a must once the trail gets icy.
Sunscreen and sunglasses
Plenty of water
A portable power bank-The weather will drain the battery on your phone during the winter and cold temps. I emphasize – the weather WILL deplete your cellphone battery. Bring a portable power bank with you so that you may take photographs whenever you want!
Do yourself a favor and grab yourself some YakTrax. We tried hiking without them but got sick of having to walk slow and dance around all the slick spots. One of our favorite winter hikes, Bright Angel, would have been miserable during the winter without these.
We found these helpful at several national parks, especially in the Arches National Park, where the trail to the delicate arch was almost impossible without them.
Read more about visiting Arches National Park in the winter here.
Mount Mazama and Crater Lake National Park
For approximately a century, scientists have attempted to solve the mystery of Crater Lake's formation. A cluster of volcanoes formerly dominated the region before Crater Lake was formed. Mount Mazama, a volcano cluster, was destroyed in an enormous explosive eruption 7,700 years ago.
As a result of the explosion, the summit area collapsed and formed a substantial volcanic depression or caldera. Following smaller eruptions, as water began to fill the caldera, the magma cooled underground and crystallized over thousands of years to eventually form America's deepest lake.
Are you Looking for other fun things to do in Oregon? We got ya
Best Winter Activities To Do at Crater Lake
If you love a snowy landscape that offers white as far as the eye can see, chances are that you'll love Crater Lake in the winter.
Crater Lake national park is a winter wonderland offering smooth snow dunes for skiing and other winter activities. This National Park in Oregon has the deepest lake in the US with a beautiful vibrant blue color. 
The upside of visiting Crater Lake during the winter is that it is less crowded. Most tourists rush towards the lake for the summer activities offered. However, Crater Lake is your best bet if you like peace, snow, and snow-filled photographs. The great thing about Crater Lake Lake is you can visit in all seasons of the year.
Crater Lake in the Winter
All right lets get to exploring and dive into what you can do at Crater Lake in the Winter.
Ski Around Rim Drive
The most popular activity for the adventure seeker at Crater Lake is skiing around Rim Drive. This is a road for a scenic drive in the summers. However, once it hides under the blankets of snow, it becomes the perfect spot for skiing and snowshoeing. True winter enthusiasts can venture around the whole lake as a multi-day trip (more on this next). However, you can make it an out and back going as far as you wish for the day skier.
Skiing and snowshoeing usually start sometime in November, but the date changes every year. It's best to check online to determine when the winter activities begin before leaving for Crater Lake.
Be aware you have to bring your own skis and snowshoes with you as there are no rentals at Crater Lake.
Back Country Camping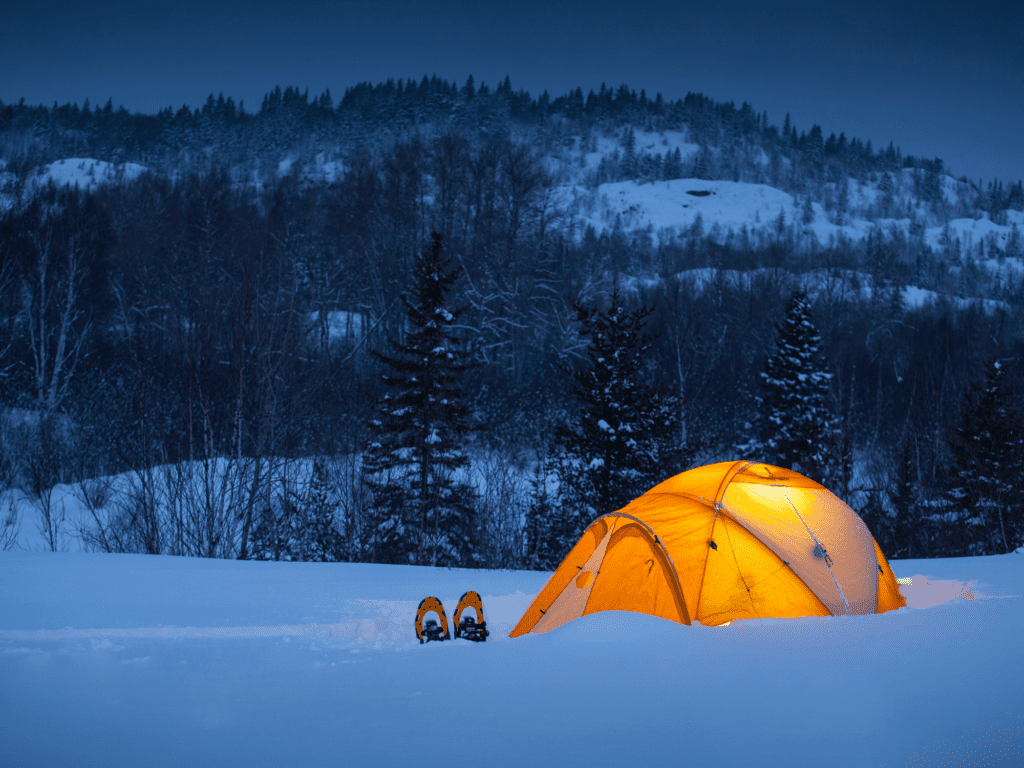 Are you looking for the ultimate experience? How about some backcountry camping? For experienced skiers, Crater Lake offers a complete circumnavigation of about 31 miles. Rim Drive becomes a snowshoer and cross-country skiing route when the road is closed to cars in the winter.
However, a backcountry permit for winter camping is required if you wish to ski around the lake.
Backcountry camping rules differ in the winter (November through May) than they do in the summer. Snowshoers and skiers must travel at least 1 mile from a plowed road before camping and must camp at least 100 feet back from the caldera's edge. Bicycles, including fat-tire bikes, are prohibited on winter trails under park regulations.
If you wish to go on shorter trails, several accessible and smaller routes are offered in Crater Lake.
Parking for Backcountry Campers
In the winter, backcountry campers can only park in Park Headquarters. All overnight parking is prohibited at Rim Village. Be sure you park between the visitor center and ranger stations, as this is allowed by the park. If you want to access the West Rim Ski Route, you'll have to ski or snowshoe one mile up the Raven Trail from Park Headquarters to Rim Village.
Short Cross Country Trails
Mazama Loop -1.7 Mile Loop Trail
If you are love skiing and other winter adventures, there are some great nordic trails to enjoy. The Mazama Loop is a 1.7-mile loop path that is one of the park's simplest and shortest ski trails. The route passes through the Mazama Campground and has views of Annie Creek Canyon, located to the south. The trailhead is north of the summer fee station on Highway 62.
Union Peak Overlook- 6-Mile Round Trip
From Rim Village, this ski is 6 miles round trip. The route ascends 240 feet on the way out, but the views of Union Peak and the Cascade Mountains more than makeup for it. This trail is best for those with a bit of skiing experience since its length, ascent, and turns make it more challenging than Mazama Loop.
Views of Wizard Island Overlook- 5 Mile Round Trip
This 5-mile round trip trail is one of the longer ones but easier to ski or go around in snowshoes. Considered a beginner-friendly hike, it offers beautiful views of the Wizard Island Overlook. This island is in the lake's center, and the trail starts from Rim Village, offering fields of snow in every direction.
The Raven Trail
The Raven trail is for expert skiers because of the challenge and adventure. Although it is a short trail of only a mile, the descent is quite steep. A 600 feet drop from the Rim Village to the Park Headquarters is challenging for skilled skiers.
The Crater Lake National Park is prone to avalanche accidents; therefore, skiers who attempt this trail are aware of the conditions. The Raven trail crosses an avalanche chute, which adds a challenge to this dangerous yet thrilling adventure.
Snowshoe Tour Led By a Ranger
The Crater Lake offers a snowshoe tour led by rangers. This is ideal for those with no prior knowledge or experience of snow safety. These hikes are for everyone because they are safe and designed for beginner.
Keep in mind that these walks are about a mile long, and covered in about two hours. Snowshoeing can be challenging and it's nothing like a summer stroll in a garden because you're battling the snow. To secure a spot on these guided trails, visitors are encouraged to make a reservation.
Usually, the ranger-led tour has a limit of 30 people at a time. You can call 541-594-3100 to secure your spot.
Sledding at Crater Lake
There are plenty of sledding options throughout the park, but there are no dedicated sled hills or snow play areas. Choose a spot with a gentle slope free of trees and other obstructions and have some fun. The open meadow South of Crater Lake Lodge is a popular sledding area for many visitors.
Downhill Skiing and Snowboarding at Crater Lake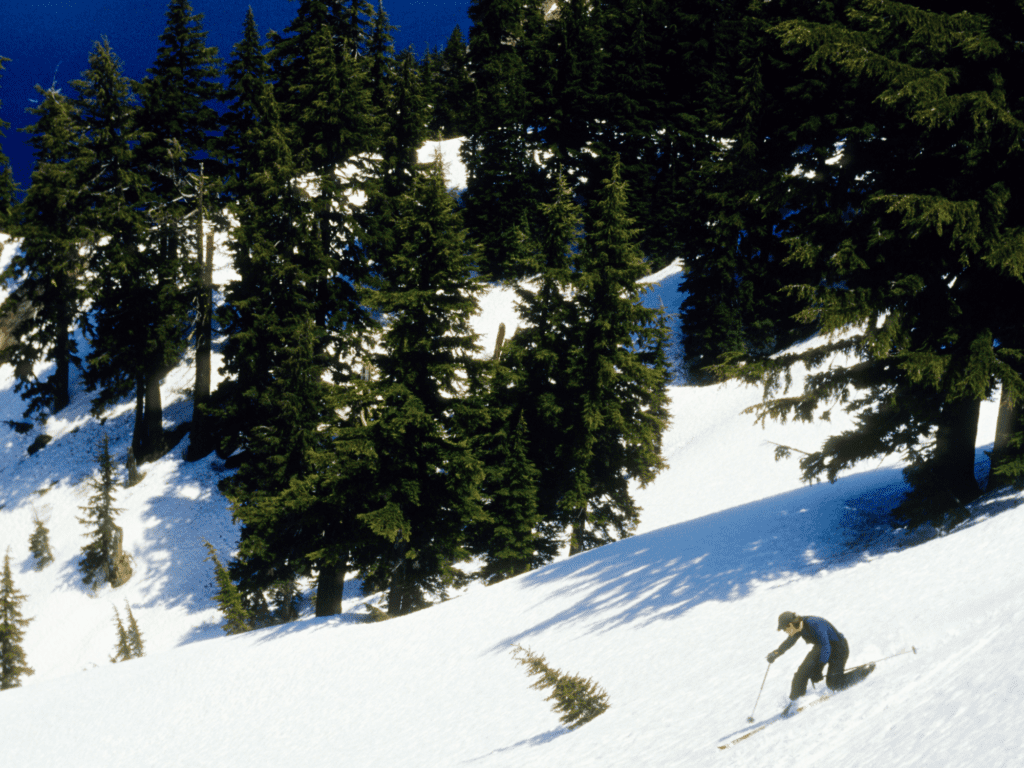 Snowboarding and downhill skiing are permitted in the park, but they are completely prohibited in the caldera. There are no chairlifts at the park, so skiers and boarders have to skin or boot pack to the top before skiing down.
If you choose to go with the downhill skiing option, be sure that you're familiar with backcountry terrain and you have all of your rescue gear with you (beacon, shovel, probe, etc.).
Snowmobiling at Crater Lake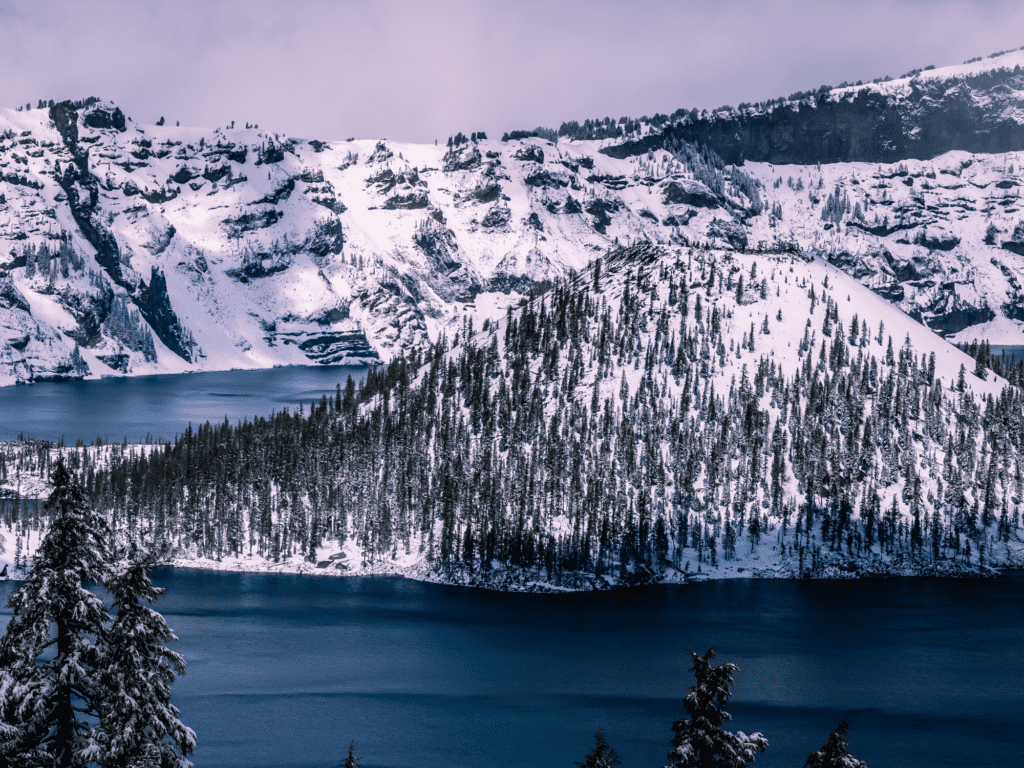 During good snow conditions, a nine-mile trail to the rim of Crater Lake is plowed for snowmobiles. This trail begins at OR Highway 138 and follows the North Entrance Road. From December through March, snowmobiles are allowed on trails as long as there's enough snow on the ground. Snowmobiles are not permitted beyond North Junction or any other snowy location in the park.
All visitors to Crater Lake National Park must have a valid entrance pass for the entire duration of their visit. Get your pass ahead of time here.
Crater Lake Snowshoeing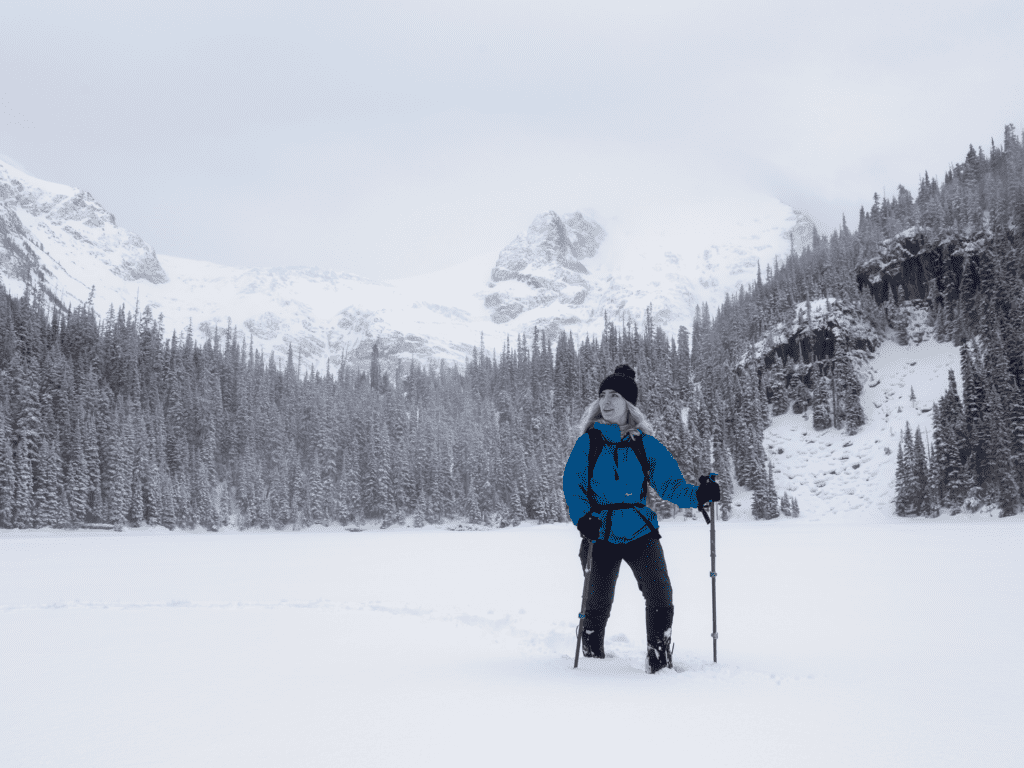 Strap on a pair of snowshoes and go for a spin in Crater Lake National Park during the winter. Meadows become white paradises as the snowy fields are covered with sparkling snow.
Snowshoe for a short distance or spend a whole day adventuring. If you're visiting for the first time, I recommend sticking to the park's paths so that you don't get yourself lost. You can find maps of the ski routes in the park newspaper.
Pro tip: As a courtesy to skiers, don't walk in the ski tracks with your snowshoes on
Spot Wildlife
While skiing or snowshoeing around Crater Lake, you can spot the wildlife! Any nature lover's dream is to see animals in their natural habitat. Crater Lake is home to deer, hare, and pine martin, whose signs are visible everywhere. If you don't spot the actual animals you're sure to spot their footprints on the fresh snow or under the trees. The sight of a deer around the village is quite common for the locals but a total delight for tourists.
Get out and Explore
 The winter adventure awaits at Crater Lake! Let us know if you have a favorite activity at Crater Lake that we missed. Drop it in the comments below. We hope you enjoy your adventure and fun at Crater Lake in the Winter