Some of our most cherished travel spots have one thing in common, altitude. And with that comes the risk of altitude sickness. It's more than just an inconvenience and can, in fact, be a life-threatening emergency. So let's follow these simple tips to avoid the dreaded Cusco altitude sickness.
In no way do I want to discourage you from traveling to these amazing places. A TON of people visit these high country attractions without any problems.  But knowing the signs of altitude sickness and things you can do to prevent it will assure a successful trip.
The above picture was taken in Nepal at just under 18,000 feet. Jill enjoying a delicious cup of coffee.
LOOKING FOR MORE INFORMATION ABOUT MACCHU PICHU OR CUSCO PERU?
AT WHAT ELEVATION DOES ALTITUDE SICKNESS START?
Machu Picchu's elevation is around 7,972. Because most altitude sickness begins at 8,200 feet or higher, Machu Picchu isn't necessarily the concern for sickness- Cusco is. Everyone who visits Machu Picchu must pass through Cusco. Flights arrive in this region, buses departing from Lima stop here; Cusco is the hub for activity in this region. Continue reading to learn how you can try to prevent Cusco altitude sickness and enjoy your time exploring the beautiful country of Peru.
IMPORTANT INFO TO CONSIDER ON HOW TO PREVENT CUSCO ALTITUDE SICKNESS
You can never predict altitude sickness, and there is no "cure" for altitude sickness. The best thing to do if you are experiencing sickness is to descend back down to lower elevation.
We ARE NOT medical doctors, so the information provided here is NOT medical advice.
HOW TO ACCLIMATE- PREVENT CUSCO ALTITUDE SICKNESS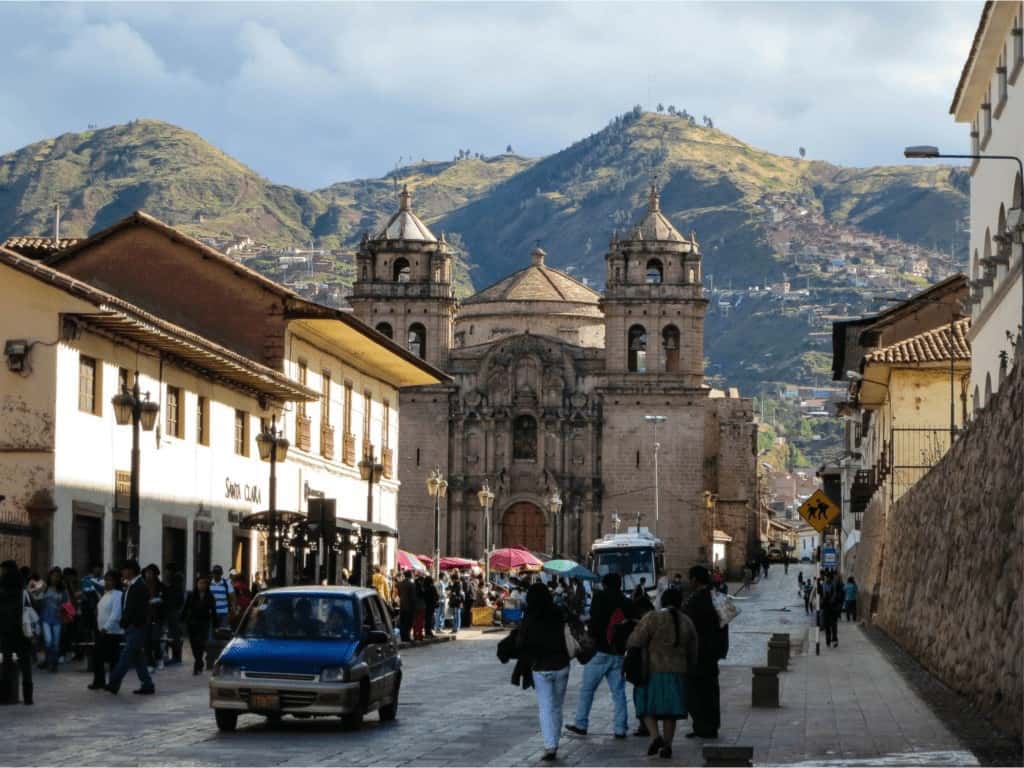 Take it easy, breathe, and relax. After all, you're on vacation! The most frequent way to visit Peru is to start in Lima and fly to Cusco. Once there, don't go directly to Machu Picchu or begin the classic Inca Trail to Machu Picchu; instead, spend at least two days getting used to the altitude in Cusco. Acclimatizing is one of the best things you can do to prevent Cusco altitude sickness.
Remember, Cusco is higher than Machu Picchu, so be patient and spend the two days in Cusco instead of rushing to Machu Picchu. There's plenty to do in the beautiful city of Cusco so there's no point in rushing it. Take a trip around Cusco City and see important Inca sites, visit the cathedral, the beautiful plaza square, or take a trip even enjoy a nice spa day getting pampered for a really great price. After two lovely days in Cusco, you'll be ready for any activity on your Peru bucket list!
Pro Tip: Many people suggest going to the Sacred Valley (Urubamba Valley) to acclimate since it is 2,000 feet lower than Cusco and then touring Machu Picchu before returning to Cusco at a higher altitude.
Alternatively, a 29-hour bus journey from Lima to Cusco is available. Some people feel that the Lima-Cusco bus is a better choice because it travels at a more leisurely pace for 21 hours. However, the route is quite winding and mountainous, so if you're prone to motion sickness, you'll be very uncomfortable.
WHERE IS CUSCO PERU LOCATED?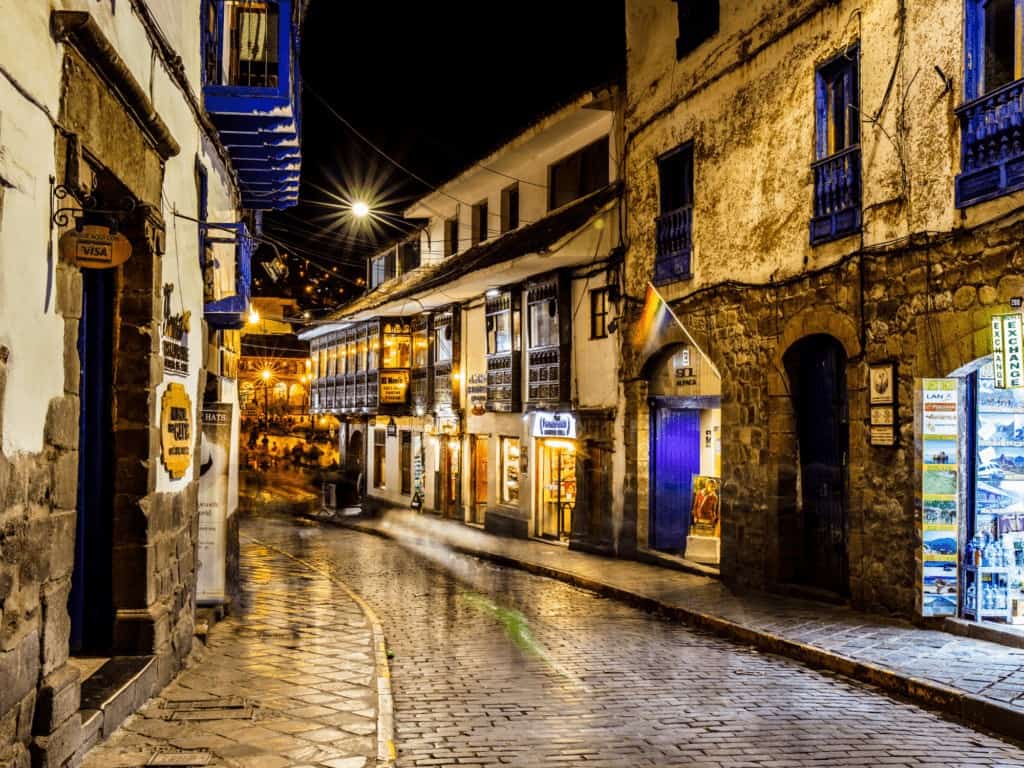 Cusco is a city located in the Peruvian Andes at an altitude of 3,399 meters/11,152 feet. With their unrivaled combination of natural beauty, cultural heritage, and opportunities for physical challenge and accomplishment, Peru's mountains have drawn people from all corners of the globe. Because people flock to this area, people munderstand what they're getting into when it comes to high elevations and how to prevent Cusco altitude sickness.
WHAT IS ALTITUDE SICKNESS?
If you've ever climbed a high mountain or spent time in a city at high elevation and experienced unexplained dizziness, nausea, or, a headache, you may have had altitude sickness. This is also known as mountain sickness to some people. This condition occurs when you go to a high altitude (elevation) too quickly. The body has to work harder at high altitudes to get enough oxygen from the air that is breathed in.
WHAT ARE THE TYPES OF ALTITUDE SICKNESSES?
Mountain sickness is a problem that can affect people who live or travel to places with high altitudes because of a lack of oxygen in the air. Lets hope that you never have to deal with any sort of altitude sickness during your travels. However, if you or someone traveling with you is feeling unwell at higher elevations, be aware that there are three levels of altitude sickness: mild, moderate, and severe.
3 LEVELS OF ALTITUDE SICKNESS
Acute mountain sickness (AMS) is the mildest form, and it's very common. The symptoms can feel like a hangover — dizziness, headache, muscle aches, nausea.
High-altitude pulmonary edema (HAPE) is a fluid buildup in the lungs that can be very dangerous and even life-threatening. Fluid buildup is the most common cause of death from altitude sickness.
High-altitude cerebral edema (HACE) is the most severe form of altitude sickness and happens when there's fluid in the brain. It, too, is life-threatening, and you need to seek medical attention right away.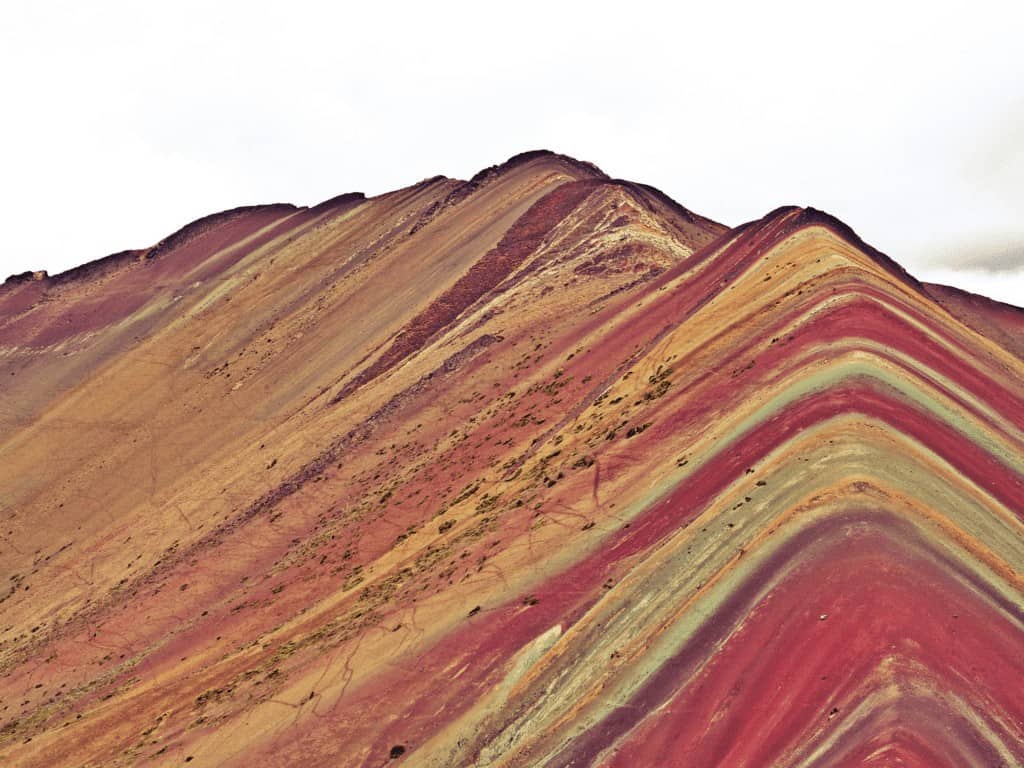 HOW BEING AT HIGH ALTITUDE AFFECTS THE BODY
When we go up higher, the air gets "thinner," which means there is less pressure. The air is less dense, so there is less oxygen in each volume of air. As a result, you need to breathe more deeply at higher elevations.
If you're not acclimated to high elevations, this shift in air oxygen levels can reduce the amount of oxygen in your blood and brain, causing physical altitude sickness symptoms. Also referred to as Acute Mountain Sickness, (AMS), or soroche as it's known to locals.
HIGH ALTITUDE AND RED BLOOD CELLS
The quantity of hemoglobin in the blood rises at high elevations. The increased hemoglobin is one of the most recognized indications of acclimation to higher places. An increased amount of hemoglobin in the circulation allows for a greater amount of oxygen to be transported throughout the body.
HIGH ALTITUDE TRAINING
I'm sure you've heard of professional athletes spending time training at high altitudes. Training at high altitude gives athletes a bit of an advantage over their competition because elevation-induced changes in red blood cells can improve their ability to manage low oxygen levels. After athletes have spent time training at high altitudes they head to a competition at lower elevations to take advantage of their changed physiology and beat out their competition.
IT TAKES TIME TO ACCLIMATE TO THE ALTITUDE CHANGE
Don't expect to be a rockstar taking a win at every competition overnight if you're training at a high altitude. People have to slowly acclimate to the higher elevations, if you try to do things too fast your body may end up paying for it. The absolute best thing you can do to acclimate your body to the changes is to rest and hydrate by drinking tons of water. (I'm mentioning water so people don't overindulge on any yummy Pisco Sours that will give you a hangover reversing our efforts to acclimate properly to the elevation).
WHAT CAUSES ALTITUDE SICKNESS OR "SOROCHE"?
The simplest way to explain what causes altitude sickness is it happens when a person travels to a high altitude without gradually acclimatizing. It is most prevalent at 8,000 feet or higher. The unfortunate thing about altitude sickness is that you never know when it will creep up on you, so you need to be aware of the symptoms and know what to do if you or someone you're traveling with is experiencing altitude sickness.
WHAT IS THE HIGHEST POINT IN PERU?
The highest point in Peru, Huascarán Sur, rises to 22,132 feet (6,746 m), making it the country's tallest peak. The Nevado Huascarán is located in the Yungay province, within the Cordillera Blanca mountain range.
Are you excited to explore more around the area of Cusco? Don't miss the full-day tour to Rainbow Mountain. You will be absolutely amazed by the colors. Learn more here
CUSCO PERU ELEVATION
The altitude of Cusco sits at a staggering 11,152 feet above sea level. Cusco is Peru's 3rd highest major city.
Lake Titicaca's Puno is the highest city in Peru sitting at 12,500 feet. Chiva is Peru's second-highest city at 11,910 feet.
MACHU PICCHU ALTITUDE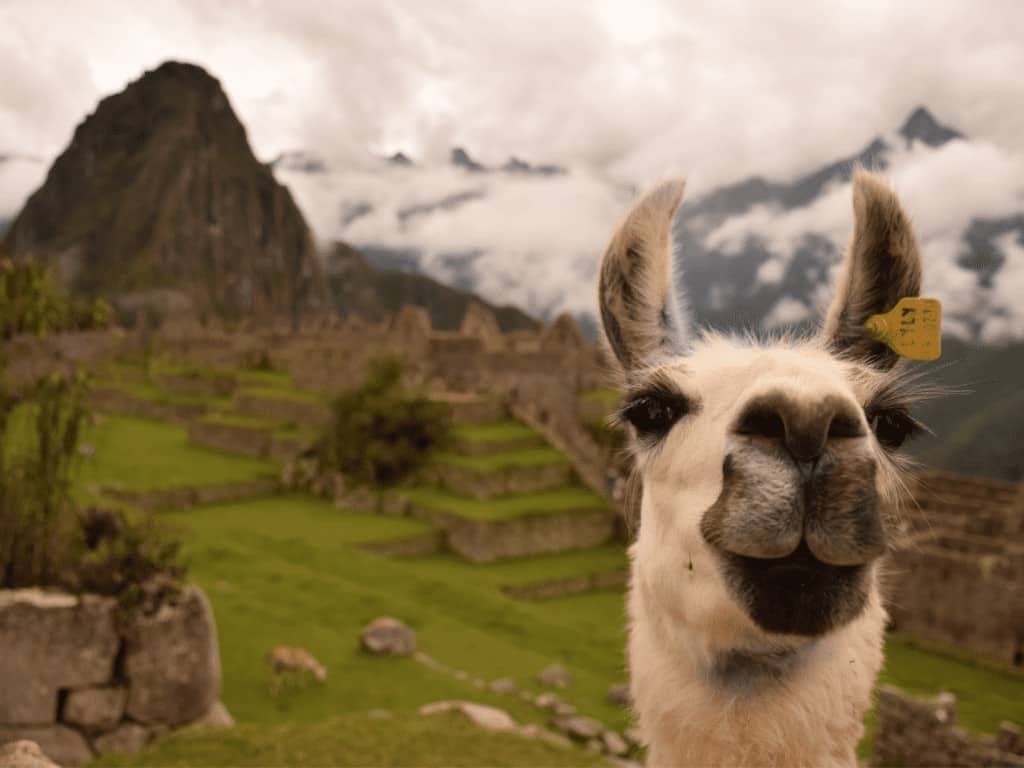 You may be wondering how the altitude at Machu Picchu will affect your visit. The good thing is Machu Pichu's elevation is quite a bit lower than Cusco. The elevation at Machu Picchu comes in at a moderate 7,972 feet above sea level, the good news about altitude sickness and Machu Picchu is that it's fairly unlikely you'll get altitude sickness while at Machu Picchu. When a person gets to heights of around 8200 feet or higher that's when you need to start to worry.
PERU CITIES-HEIGHT IN FEET/METERS
Lima elevation – 5,080 ft / 1,550 m
Cusco elevation – 10,800 ft / 3,300 m
Ollantaytambo elevation – 9,150 ft / 2,790 m
Machu Picchu elevation – 8,040 ft / 2,450 m
Puno elevation – 12,420 ft / 3,860 m
Arequipa elevation – 7,740 ft / 2,380 m
Lake Titicaca elevation – 12,420 ft / 3,860 m (Isla Amantani – 13,300 ft / 4,053 m)
As you can see the country of Peru has some cities with higher than average elevations. Knowing what you can do to prevent Cusco altitude sickness during your visit to Peru will help you to enjoy all that this beautiful country has to offer.
IS IT HARD TO BREATH AT MACHU PICCHU?
Machu Picchu's elevation is 7,972 feet or 2,430 meters. For a lot of people, this is a higher elevation than what they may be used to. Some people may experience a bit more difficulty in breathing than what they're used to. But generally speaking, those who have been exposed to higher altitudes and are somewhat fit shouldn't experience too many difficulties at Machu Picchu.
Want to learn more about booking a tour to Machu Picchu from Cusco? Check out this day tour here. If you're looking for a longer tour you can learn about the 2-day tours offered from Cusco to Machu Picchu here.
HIKING THE INCA TRAIL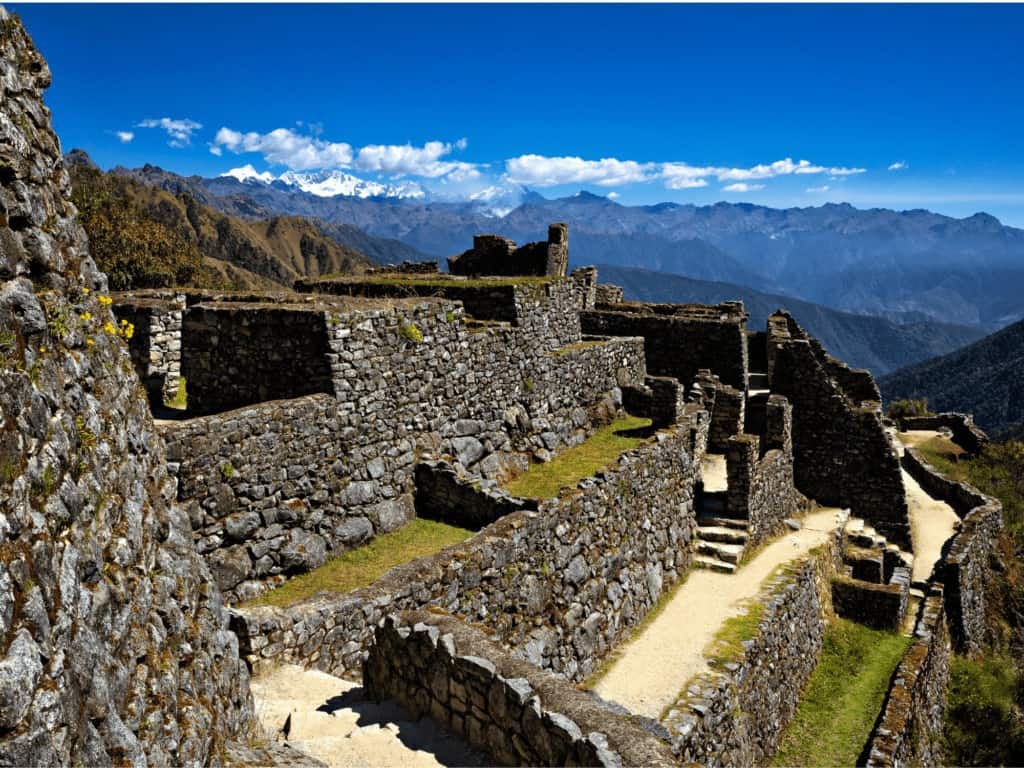 To hike the Inca Trail is one of the great iconic travel experiences anyone can have today. Thousands of people every year trek four days to reach the magnificent Incan ruins of Machu Picchu, which stand 7,972 feet above sea level. It's a journey that tests people's abilities but also rewards them richly due to their hard work. You can check out some different tour companies to get you to Machu Picchu here.
BEST THING TO DO WHEN HIKING AT HIGH ALTITUDE TO PREVENT CUSCO ALTITUDE SICKNESS
Acclimate acclimate acclimate! High-mountain trekking is a dream come true, with its jagged peaks, roaring glaciers, and chilly mountain air. However, you'll only be able to appreciate all of this if you allow your body to adjust to the higher elevations.
FUEL YOURSELF FOR YOUR HIKE
It might be tough to remember, but you'll need to eat and drink more than usual at high altitudes. Your muscles are burning calories faster, and your body will require more calories and water to function properly.
KNOW YOUR LIMITS
Before going trekking in the mountains, know your limits. Make sure you don't have any lingering illnesses or medical problems that could prevent you from having a good time.
TAKE IT SLOW
Don't hurry yourself out of a successful journey just because you're rushing. Your body will be more sluggish at high elevations, go with it. Nothing can truly prepare your body for the thin mountain air except being there – so when you get the chance, take it slow and enjoy the experience.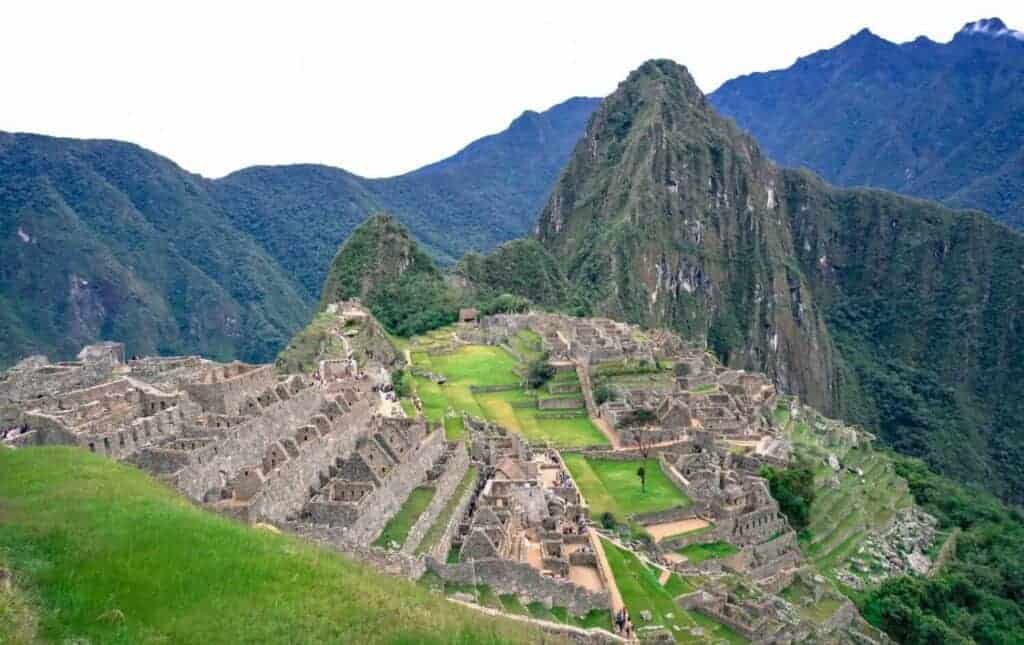 WHAT ARE THE SYMPTOMS OF ALTITUDE SICKNESS
Dizziness, lightheadedness
Headaches
Nausea
Vomiting
Diarrhea
Difficulty breathing
Racing heart
WILL I GET ALTITUDE SICKNESS?
Physical fitness, age, and gender have no bearing on whether you will get altitude sickness. Unfortunately, altitude sickness is actually poorly understood. And even medical professionals have a difficult time predicting who will suffer symptoms and who will not.
Our bodies have the ability to adapt to altitude, increasing Hemoglobin molecules, but this takes weeks if not months.
The elevation of Cusco is 11,152 feet (3,399 meters). If you live in the beautiful town of Telluride Colorado which sits at 10,000 feet then you can probably stop reading this article as you are acclimated to high altitude.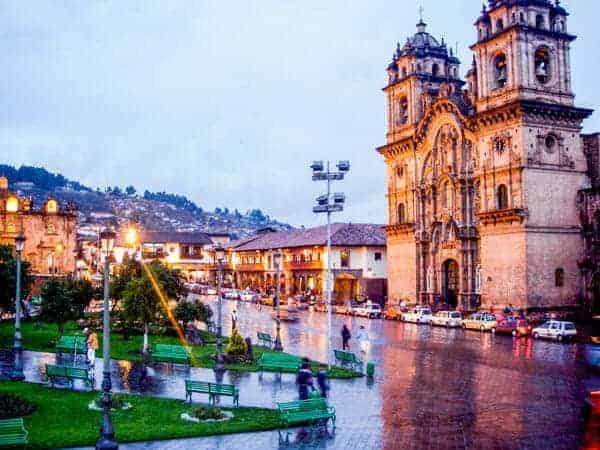 For the rest of us that live at lower elevations, we will have a higher likelihood of experiencing symptoms.
In our own personal travels, we have traveled as high as 18,000 feet on treks in Nepal.  We follow all the tips listed in this article most importantly taking it slow, and we've never had anything more significant than a mild headache.
Everyone is unique and even the most physically fit person in the group may be the one to suffer altitude sickness. Remember to keep an eye on your group and have open conversations about how everyone is feeling. This isn't something you want to "just tough it out," as that could be dangerous.
PREVENTING ALTITUDE SICKNESS IN CUSCO
REST AND TAKE IT EASY
This is, without a doubt, the simplest—and most disregarded—advice for avoiding altitude sickness. Remember that your body is adjusting to the lower amount of oxygen it receives; therefore you need to take it easy the first few days in Cusco. Don't plan a long hike the day you arrive at Cusco give your body some time to adjust to the Cusco elevation- remember your body is working overtime to provide some good ole oxygen to your blood. Spending a few days at altitude AND taking it easy will let your body adapt so that the visit to Machu Picchu or the next day of trekking won't become a problem.
STAY HYDRATED
Dehydration has been shown to contribute to altitude sickness. The air at higher altitudes is very dry and will suck the moisture from your body so drink far more water than you're used to. If you're not peeing several times a day you're not drinking enough. ** This is one of our absolute favorite water bottles for travel. The great thing about this one is that it's super compact for the times when you're not using it.
REMEMBER TO BREATH
Remind yourself to take deep breaths. It's not only relaxing but it will help get more oxygen in your body.
AVOID DRINKING TOO MUCH
Alcohol contributes to dehydration and can lead to altitude sickness. Before pounding those famous Pisco Sours in Cusco give your body a day or two to adjust to the altitude. Most importantly, listen to your body and if you're not feeling 100% you should probably skip the alcohol.
MAINTAIN GOOD HEALTH
There's no doubt that general physical health plays a role in how your body will react to the change in altitude.  If you're not a physically active person, start getting out for some walks or jogs well before your trip.
ASCEND SLOWLY
If acclimating at a slightly lower altitude is an option, this is probably the best way to let your body naturally adjust.  If you're trekking in Nepal, this happens naturally as each day you ascend to higher country.  For Cusco, that isn't always the case as you can fly direct.  Flying from sea level to Cusco would be quite a jump. Consider a stop-over somewhere a bit lower. About an hour outside of Cusco, the Sacred Valley sits almost 2,000 feet lower and would be a great place to acclimate.
Here is a tour you can do to Sacred Valley
We've talked about some behavioral actions you can take to minimize your risk of altitude sickness now; let's talk about some natural and prescribed medication that can help as well.
Be sure to read our International Travel Guide and Travel Safety.  These outline how to identify any specific health concerns for the area you will be traveling from vaccinations to visas and everything in between.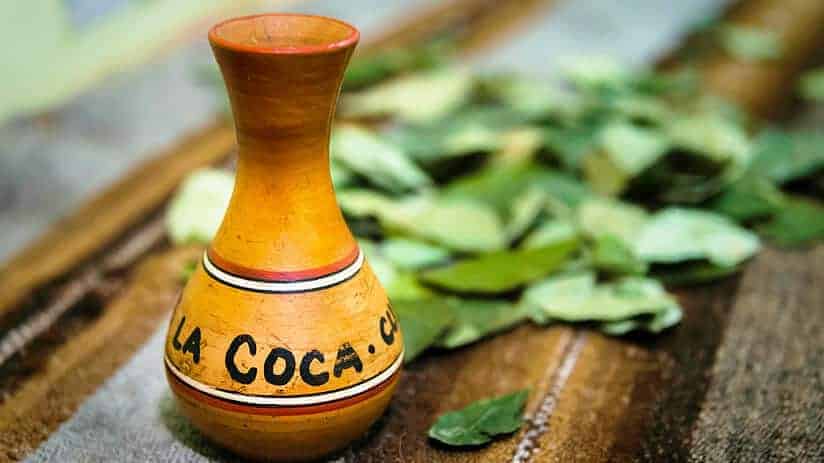 TRAVEL INSURANCE
Travel insurance is a must if altitude sickness is a threat.  Altitude sickness is unpredictable and strikes even those in perfect health.  The trouble and costs associated with a medical evacuation can all be covered through travel insurance even the flight home for definitive care.
Not to mention the many other benefits of travel insurance from theft to canceled flights. Check a quote below, you'll be surprised how affordable it really is.
ALTITUDE SICKNESS REMEDIES TO PREVENT CUSCO ALTITUDE SICKNESS
Chlorophyll drops – By helping to increase Red Blood Cell Counts, Chlorophyll increases your oxygen carrying capacity.  Increased capacity can counteract the effects of the "thin" air associated with high altitude.  This remedy is most effective if started before your trip.  They are offered as drops or pills.  I've used this brand and just put a few drops in my glass of water in the morning.
Diamox (altitude sickness medication) – A prescription drug commonly prescribed to treat altitude sickness.  Ideally should be started 24 hours before arriving at altitude.  Many people just get a prescription and have it with them should they start having symptoms.  I frequently travel with it "just in case."
Drink Coca Tea – Coca tea is everywhere in Cusco and should be on your bucket list for sure.  It's likely the first thing handed to you as you check into your hotel.  While Coca is made from the same plant that cocaine is made from, it in no way resembles the illegal drug.  It's completely safe to drink but is a stimulant so I try not to drink it in the evenings.
Oxishot –Have you seen the oxygen bars in Las Vegas? Well, now you can buy portable bottles of oxygen from Amazon. These aren't the big bottles you're thinking of. These compact bottles are just inches long and can easily be kept in a purse or small bag.
Book an Oxygenated Hotel Room- While most of the hotels and hostels in Cusco provide oxygen tanks for their guests, a handful of 4 and 5 star hotels have taken it a step further by offering oxygen-supplemented rooms and some medical services. Yep, you heard it; they're pumping your room full of oxygen!
Some hotels that offer oxygen supplementation include:
El Monasterio
Casa Cartagena
Aranwa Cusco Boutique Hotel
Palacio del Inka Cusco
Inkaterra La Casona
Casa Andina Premium Cusco
Novotel Cusco
Ramada by Wyndham Costa Del Sol Cusco
WHAT TO DO IF YOU'RE EXPERIENCING SYMPTOMS
Getting to a lower elevation is the best thing you can do.  If you are on a trek, then it's time to turn around and head for lower ground.
If you haven't been taking it easy, then it's time to start.
If you're in Cusco there are some neighboring towns that are lower elevation and also fantastic places to visit.
Most importantly, make it known that you aren't feeling well. Talk to the people at your hotel and seek medical attention or advice. Sometimes a quick visit to the clinic and a little oxygen will get you turned around. Just be sure to not ignore it as it can become a real problem.
As mentioned above don't neglect signing up for a good travel insurance when visiting countries that are at high altitude or when you plan on partaking in risky activities.
SUMMARY
While altitude sickness is a concern, it should not discourage you from seeing these amazing sights such as Machu Picchu, Annapurna Trek, or Everest Base Camp.  By taking it easy, hydrating, and following the above tips you will be able to enjoy these wonders of the world.