Planning to visit Da Nang this season? Don't skip this Danang Vietnam Itinerary we specially created for you.
With its stunning ancient temples, intriguing museums, captivating markets, and delightful cuisine just waiting to be enjoyed, there's no questioning why Da Nang, Vietnam, is one of the most sought-after travel destinations today
As the sun sets on the picturesque city of Da Nang, red-tiled rooftops glimmer in glorious lavender, pink and orange hues, blending together like a beautiful painting at day's end.
Read our Da Nang itinerary for an insight into how you can explore this amazing region to the fullest during your next vacation in Southeast Asia!
Where is Da Nang Vietnam?
Da Nang is a coastal city located in central Vietnam, nestled between the South China Sea and the Eastern Truong Son Mountains.
As the largest city in the region, Da Nang serves as a vital transportation and commercial hub, with the Han River running through its heart. The city is approximately 480 miles south of Hanoi, Vietnam's capital.
The ancient town of Hoi An, a UNESCO World Heritage Site, is about an hour to the south of Da Nang, while the imperial city of Hue, another World Heritage Site, lies about 2 hours to the north.
How is the Weather in Da Nang?
The weather in Da Nang can be characterized as tropical monsoon, with two distinct seasons: a hot and wet season from September to February and a warm and dry season from March to August.
The average temperature throughout the year ranges from (68°F to 86°F), making it an attractive destination for both domestic and international travelers.
4-Day Da Nang Itinerary
Are you ready for an adventure of a lifetime? If so, come to the beautiful city of Da Nang in Vietnam.
This gorgeous coastal city is loaded with culture, beauty, and fun activities to explore.
Here's a 4-day Da Nang itinerary to make your time here the best:
📚 Related Reading: The Best Halong Bay Cruises
Day 1: Beaches, Marble Mountains, and Han Market
Morning: Basking in the Sun at My Khe Beach
Rise and shine!
To make the most of your day, start early by heading to My Khe Beach. This stunning beach, just a short drive from the city center, is famous for its golden sand and crystal-clear water.
Often lauded as one of the most attractive beaches on the planet, My Khe Beach has earned its reputation for cleanliness and natural beauty.
As you stroll along the shoreline, take a moment to appreciate the serene atmosphere and the rhythmic sound of waves crashing onto the shore.
For the more active traveler, My Khe Beach offers a range of water sports, such as surfing, jet-skiing, and paddleboarding.
Don't forget to pack your sunscreen, beach towel, and a good book – you'll want to lounge on the sand and soak up the sun before continuing your journey.
Afternoon: Discovering the Marble Mountains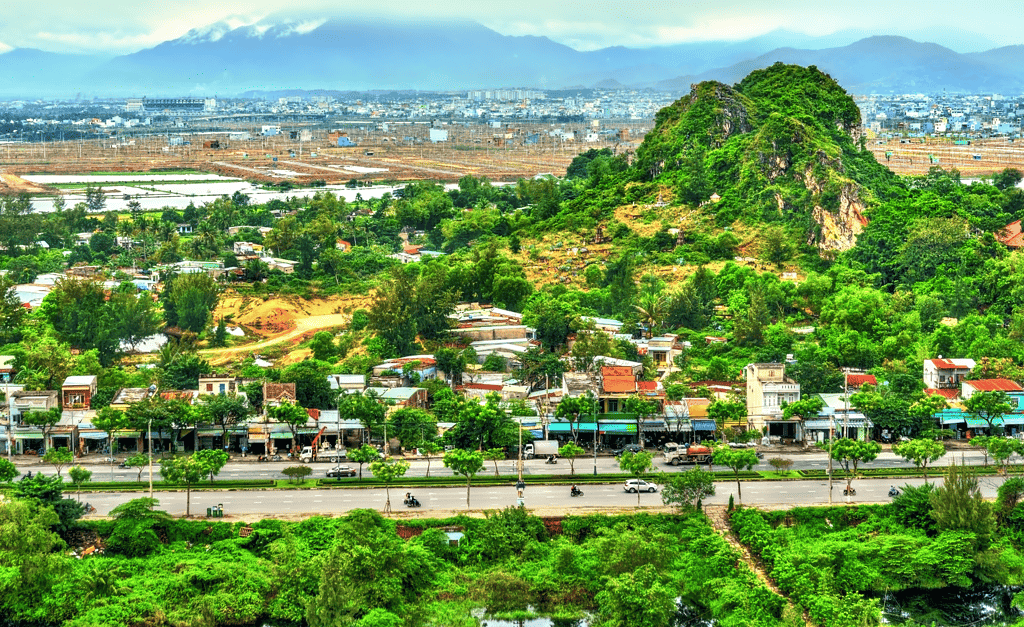 After a relaxing morning at the beach, it's time to explore the magnificent Marble Mountains, a cluster of five limestone and marble hills located a short drive from My Khe Beach.
Each mountain is named after an element: Thuy Son (Water), Moc Son (Wood), Hoa Son (Fire), Kim Son (Metal), and Tho Son (Earth).
This geological wonder is a feast for the eyes and a spiritual sanctuary, boasting hidden pagodas, caves, and Buddhist sanctuaries.
Begin your exploration with Thuy Son, the largest and most famous of the five mountains. Here, you'll find the stunning Huyen Khong Cave, a cavernous space adorned with natural skylights, intricate altars, and Buddha statues.
Take your time as you meander through the mountains, discovering hidden treasures and marveling at the architectural masterpieces carved into the rock.
Remember to wear comfortable shoes and bring water to stay hydrated, as the terrain can be challenging, and the Vietnamese sun can be intense.
Evening: Embracing Local Culture at Han Market
As the sun begins to set, immerse yourself in the vibrant atmosphere of the bustling Han Market, a shopping mecca for locals and tourists alike.
This market, situated in the heart of Da Nang, is the perfect place to experience the local shopping culture and find unique souvenirs to take home.
One of the unique aspects of Han Market is the wide variety of local products available, ranging from handicrafts and textiles to mouthwatering Vietnamese street food.
If you're a foodie, this is your chance to savor some of Da Nang's culinary delights, such as mi quang (a local noodle dish), banh xeo (sizzling pancakes), and nem lui (lemongrass skewers). Don't forget to sample some fresh tropical fruits, like mangosteen, rambutan, and dragon fruit.
As you wander the market, admire the colorful handicrafts and textiles which make for fantastic gifts or mementos of your trip.
Remember to practice your bargaining skills – negotiating is an essential part of the shopping experience in Vietnam.
A friendly smile and a little bit of Vietnamese, like "Bao nhieu?" (How much?) can go a long way in securing a good deal.
Day 2: Da Nang City Highlights and Sun World Asia Park
Morning: Dragon Bridge – The Fiery Marvel of Da Nang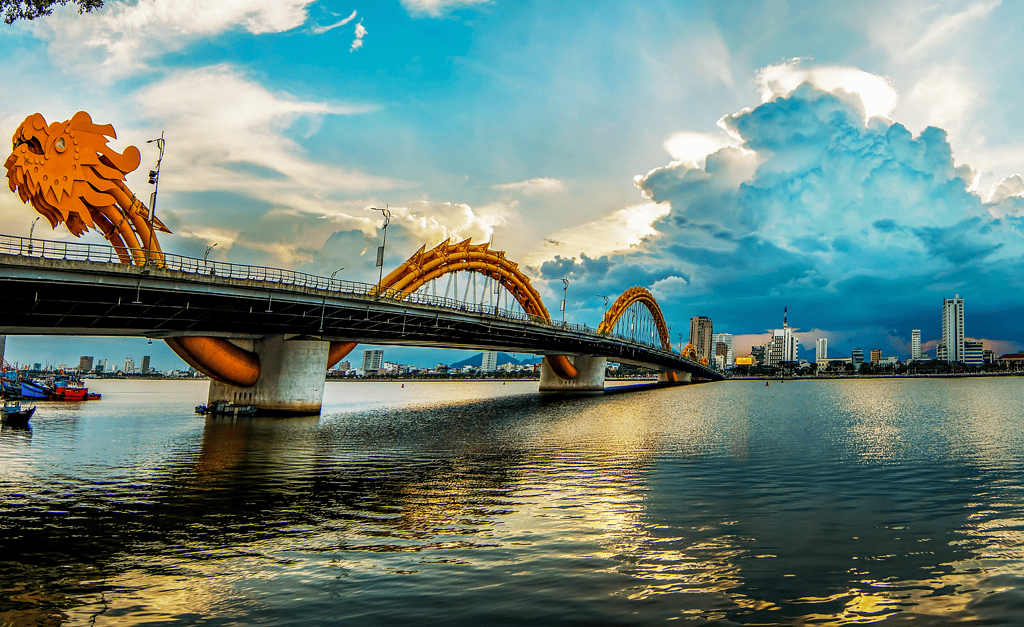 Start your 2nd day with a visit to the awe-inspiring Dragon Bridge (Cầu Rồng), a true icon of Da Nang.
Spanning 666 meters across the Han River, this impressive structure is designed to resemble a dragon – a powerful symbol in Vietnamese culture.
You may wonder why the specific length? Well, it's because the number six is considered lucky in Vietnamese folklore.
We recommend visiting the bridge early in the morning to enjoy a peaceful walk and take stunning photos without the crowds.
But don't forget to return at 9 PM on weekends when the dragon truly comes to life, breathing fire and water in an unforgettable display you won't want to miss.
Afternoon: Da Nang Museum of Cham Sculpture
After a delicious lunch at a local eatery, head to the Da Nang Museum of Cham Sculpture (Bảo tàng Điêu khắc Chăm Đà Nẵng).
This museum boasts the world's largest collection of Cham artifacts, offering you a unique opportunity to learn about the ancient Champa civilization that thrived in Vietnam from the 2nd to the 15th century.
As you walk through the museum, you'll be amazed by the intricate stone carvings, delicate terracotta statues, and other priceless artifacts that showcase the Cham people's mastery of art and architecture.
Don't miss the famous Tra Kieu Pedestal, an incredible piece of art that demonstrates Cham's exceptional stone-carving skills.
The museum's knowledgeable guides will provide captivating insights into the Cham culture, making it a truly enriching experience.
Evening: Adrenaline-Pumping Fun at Sun World Asia Park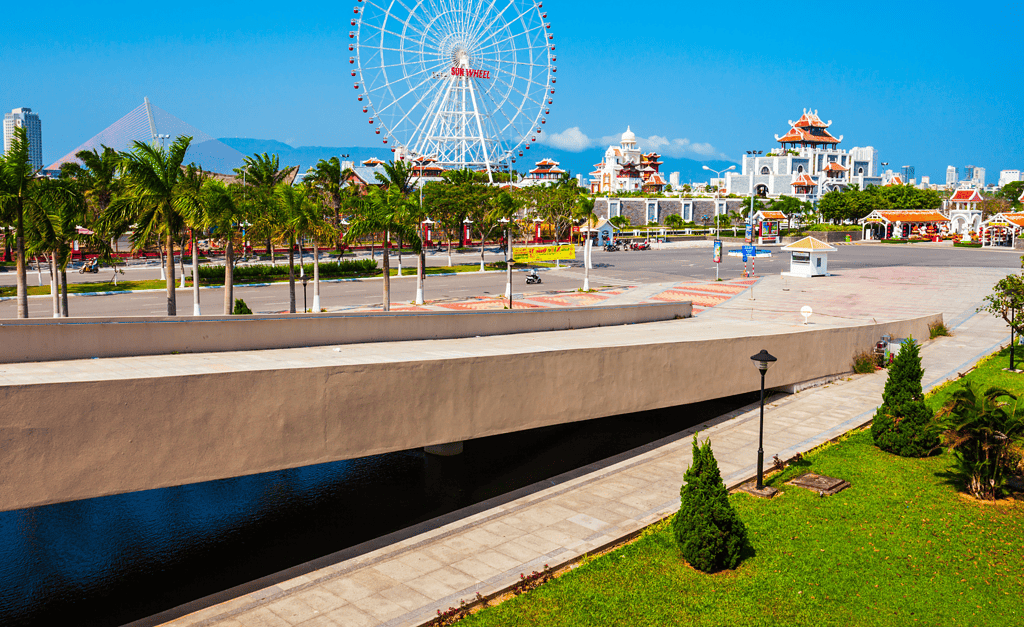 After a culturally immersive afternoon, let loose and have fun at Sun World Asia Park (Công viên Sun World Asia Park).
This amusement park offers a unique blend of Asian-themed entertainment, including thrilling roller coasters, a colossal Ferris wheel, and exciting water rides.
The park is divided into three main areas: the Central, Cultural, and Adventure Zone. In the Central Zone, you'll find the iconic Sun Wheel, one of the tallest Ferris wheels in Vietnam, offering stunning views of the city and coastline.
If you're a thrill-seeker, don't miss the heart-pumping roller coasters in the Adventure Zone. And for a touch of culture, explore the Cultural Zone, where you can learn about traditional Asian architecture and art from various countries.
Aside from the adrenaline-pumping rides, Sun World Asia Park offers plenty of other attractions for all ages. The park often hosts live performances, and you can also try delicious street food from Vietnam and other Asian countries.
As the sun sets, the park comes alive with colorful lights, making it a magical place to end your day in Da Nang.
Day 3: Son Tra Peninsula, Lady Buddha, and Hai Van Pass
Morning: A Lush Escape in Son Tra Peninsula
Begin your 3rd incredible day in Da Nang with an adventure to the lush and beautiful Son Tra Peninsula, also known as Monkey Mountain.
This captivating destination, located just a short drive from Da Nang city center, offers a perfect escape into nature, boasting rich biodiversity and a stunning coastline.
As you set out to explore the peninsula, you'll come across various flora and fauna species, many of which are endemic to the area. The verdant landscape is home to several endangered species, including the Red-shanked Douc Langur, making the peninsula a paradise for nature enthusiasts and wildlife photographers alike.
A must-see landmark on the peninsula is the iconic 800-year-old banyan tree. With its sprawling roots and massive canopy, this majestic tree is a living testament to the area's rich history and natural beauty. Visitors can marvel at the tree's sheer size and even pose for a photo with the ancient banyan as the backdrop.
Afternoon: Awe-Inspiring Views at Linh Ung Bai But Pagoda
Next, make your way to the Linh Ung Bai But Pagoda, nestled on a hillside overlooking the city and the sea. This sacred site is home to the magnificent Lady Buddha statue, standing at 67 meters (220 feet) – the tallest Buddha statue in Vietnam and is truly a sight to behold.
As you approach the pagoda, you'll be greeted by an imposing stone gate, and lush green gardens dotted with vibrant flowers. The temple grounds feature a large courtyard, surrounded by several smaller shrines and statues, inviting visitors to take a moment for contemplation and reflection.
Climbing the steps up to the Lady Buddha, you are rewarded with breathtaking views of Da Nang city, the picturesque coastline, and the vast expanse of the sea. On a clear day, you can spot the distant Cham Islands, making the climb well worth the effort.
Late Afternoon: A Scenic Drive Through Hai Van Pass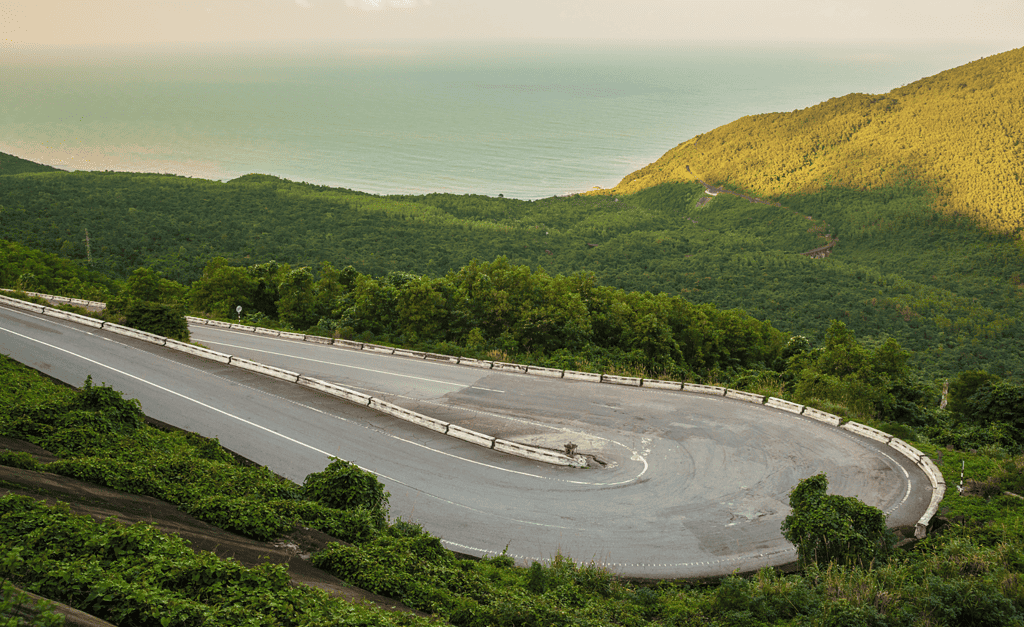 With your spirits lifted from the awe-inspiring views at Linh Ung Bai But Pagoda, embark on a scenic drive through the famed Hai Van Pass. This (13-mile) stretch of winding road takes you through some of the most scenic landscapes in Vietnam, offering panoramic views of the coastline and mountains.
The road hugs the mountainside, providing a thrilling driving experience while showcasing the area's natural beauty. The pass has become a popular destination for road trippers and motorcyclists seeking adventure and unforgettable views.
Along the way, you'll come across several lookout points, perfect for taking a break and snapping photos of the stunning surroundings. One such spot is the Hai Van Quan, a historical fortress built during the Nguyen Dynasty. This ancient structure provides a glimpse into Vietnam's past and an ideal vantage point to appreciate the beauty of the pass.
Day 4: Ba Na Hills, Golden Bridge, and Helio Center
Morning: Heading to Ba Na Hills
To kick off your 4th day, go to Ba Na Hills, about 30 kilometers west of Da Nang. Your adventure begins with a scenic cable car ride to the resort. As you ascend, you'll be treated to panoramic views of the lush greenery, cascading waterfalls, and the distant cityscape.
The cable car system at Ba Na Hills holds several Guinness World Records, including the world's longest single cable car system.
Full Day: Exploring Ba Na Hills and the Golden Bridge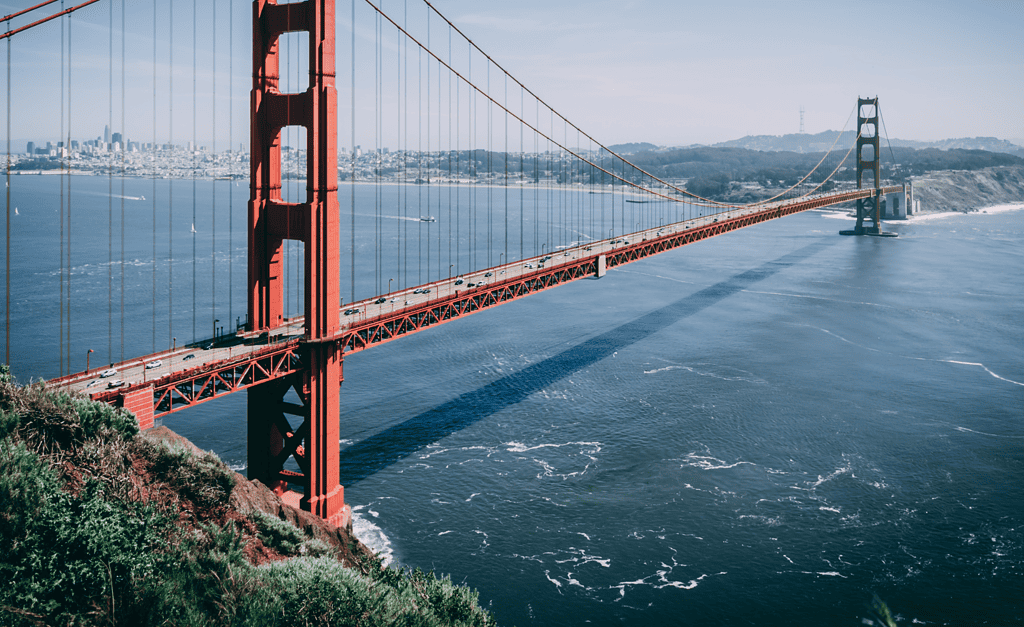 The Golden Bridge, known as Cầu Vàng in Vietnamese, has become a must-visit attraction since its completion in 2018. Nestled in the Ba Na Hills at an elevation of around 1,400 meters above sea level, this remarkable structure has captured the imagination of visitors worldwide.
The bridge's design concept symbolizes the "hands of the gods" holding up a golden thread, which represents the path to enlightenment and prosperity. As you walk along this shimmering path, you'll be able to fully appreciate the breathtaking views and the intricate details of the stone hands.
When in Ba Na Hills, explore the French Village, a charming replica of a 19th-century European town. With cobblestone streets, elegant architecture, and colorful flower gardens, it's easy to lose yourself in the old-world charm of this quaint village. Remember to grab a bite at one of the French-themed restaurants or cafes to fuel up for the rest of your day.
In addition to the French Village, Ba Na Hills is home to a variety of enchanting gardens. Wander through the Le Jardin D'Amour (Garden of Love) and the Debay Wine Cellar, where you can learn about and taste local wines.
Evening: Unwind at the Helio Center
As the sun sets, it's time to say goodbye to Ba Na Hills and return to Da Nang for a fun-filled evening at the Helio Center. This family-friendly entertainment complex offers a wide range of leisure activities for all ages.
Start your evening by exploring the indoor game zone, which features everything from classic arcade games to state-of-the-art virtual reality experiences. Challenge your friends to a friendly competition or try your hand at winning a prize from the various claw machines.
If you're in the mood for singing, head to the karaoke center, where you can belt out your favorite tunes in a private room with friends or family. With an extensive song selection in various languages, you'll be sure to find a tune that gets everyone on their feet.
Rounding Up Danang Vietnam Itinerary
Closing the weekend in Da Nang, Vietnam, is a must-do experience that leaves one feeling refreshed and enlightened. Its picturesque seascapes and historical monuments, combined with a vibrant culture, make it an ideal destination to visit again and again.
Truly, there is no better place than Da Nang to wrap up your 4-day journey – take a moment to appreciate the beauty around you before heading home.
So let Danang take you on an ultimate trip full of delights for the senses – it is guaranteed to captivate even the most seasoned traveler!

What's the one thing they must see for a tourist in Danang Why?


The Golden Bridge in Da Nang is a must-see for its unique and surreal architecture. Suspended high in the mountains of the Ba Na Hills, it creates an illusion of a golden ribbon held by giant stone hands. It offers an incredible panoramic view of the surrounding lush landscape and cityscape.
Do You Tip In Vietnam
Tipping is not traditionally a part of Vietnamese culture, but it's increasingly appreciated, especially in service industries. The amount is often discretionary, with 10% being a standard tip in upscale establishments.
Can you swim in Da Nang beaches?
Yes, you can swim in Da Nang's beaches, known for their warm, crystal clear waters and soft sands. My Khe Beach, in particular, is famous for swimming due to its gentle slope and year-round safe sea conditions.
What do you wear in Danang?

Da Nang experiences tropical climate, so lightweight, breathable clothing is ideal. A raincoat or umbrella may be useful during the rainy season (September to December). When visiting religious sites, modest attire covering shoulders and knees is necessary to respect local customs.