If you only have time for a day trip to Sedona, don't worry.
That's where we step in and work our magic to ensure your Sedona day trip is a memorable experience.
We've been enjoying the beauty of Sedona for years, uncovering its hidden treasures and experiencing all that this destination has to offer.
From the towering red rock formations to the hiking and biking trails, Sedona has captured our hearts and kept us coming back for more.
We've witnessed the sunsets, explored the mystical vortex sites, and indulged in the flavors of the local cuisine.
With each visit, we uncover new layers of Sedona and discover hidden gems that make this place truly special.
Who's This Itinerary For
This itinerary is for anyone looking for an unforgettable adventure in Sedona, Arizona.
Whether you're a first-timer or a returning adventurer, our itinerary is designed to showcase the best that Sedona has to offer.
If you're a nature lover, our itinerary will take you on hikes, allowing you to experience Sedona's landscapes up close.
If you're a spiritual seeker, our itinerary includes visits to Sedona's vortex sites, where you can connect with the earth's energy and rejuvenate your mind, body, and soul.
If you're an art enthusiast, we'll introduce you to Sedona's vibrant art scene, where you can discover local galleries and studios showcasing a diverse range of artistic styles and mediums.
If you're a foodie, our itinerary includes recommendations for the best local restaurants, wineries, and breweries, where you can savor the flavors and indulge in the delicious food.
In short, this itinerary is for anyone who wants to experience the wonders and magic of Sedona.
Who's This Day Trip To Sedona Itinerary Not For?
While our day trip itinerary to Sedona is designed to cater to a variety of interests and preferences, it may not be suitable for everyone.
Our itinerary is jam packed and includes hikes and outdoor activities, which may not be suitable for everyone.
If you prefer a leisurely pace, this day trip may not be for you. Check out our 2 day Sedona itinerary here.
Day Trip To Sedona
All right now that we've figured out who this itinerary is for and who it is not; lets dive into the best things to do on a day trip to Sedona
Morning: Hike To Devils Bridge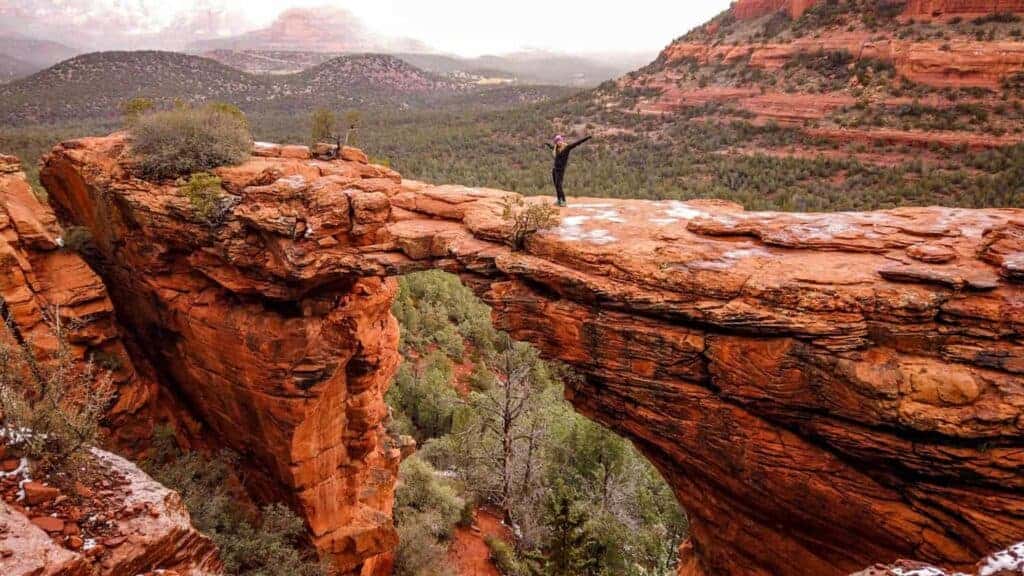 Although the title suggests a "morning hike," for some, it implies starting extremely early.
We highly recommend hitting the trail as early as possible, as the popular trailheads tend to fill up quickly.
Our favorite place to park is the Mescal Trailhead.
This trailhead is easily accessible and will result in a manageable 4.2-mile roundtrip hike.
Parking And Hiking Devils Bridge
Situated along Long Canyon Road, you'll find a smallish parking lot and this is where you'll park.
After parking at the lot on Long Canyon Road, you'll begin your hike by following the Mescal Trail.
You won't be on this trail for too long before it comes to an end. At this point, continue on the Chuckwagon Trail until you (almost) reach Dry Creek Road.
Just before you reach Dry Creek Road, you'll notice the point where the Devils Bridge trail veers off from the Chuckwagon Trail.
Don't worry, there's a sign marking this spot to ensure you won't miss it. Once you see the sign, follow the trail that branches off. After that, cross over Dry Creek Road and continue to the parking lot specifically for Devils Bridge.
After enjoying the scenic views and capturing some photos at the top of Devil's Bridge, it's time to make your way back down the trail.
As you descend and notice the growing number of people along the trail, you'll appreciate the early morning start you had. You can thank me later!
Breakfast At Coffee Pot Restaurant
After the invigorating early morning hike, it's time to refuel and satisfy your hunger. Head to Coffee Pot Restaurant, a popular breakfast spot in Sedona.
The menu offers a variety of tasty dishes, from classic American breakfast staples like pancakes, omelets, and bacon to their famous "101 Omelettes." Whether you're craving a hearty meal or something lighter, you'll find a bit of everything here.
Alternative Breakfast Option Secret Garden Cafe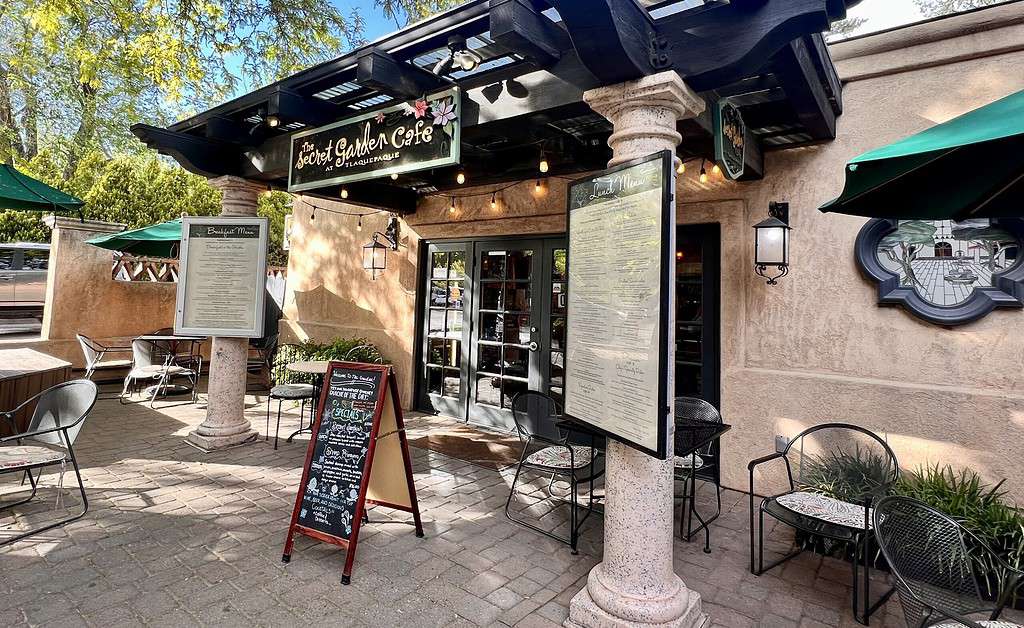 The Secret Garden Cafe is a cute and quaint spot to grab breakfast (or even lunch and dinner) inside the northern entrance of Tlaquepaque. What we enjoyed most about the Secret garden was their pet-friendly garden patio.
Good To Know: The Secret Garden Cafe offers a Happy Hour Monday to Friday, between 4 PM and 6 PM- this applies to the bar tables only. During Happy Hour, you can take advantage of 50% off on specialty wines, local craft beer, and well bar drinks.
Mid-Morning: Explore The Spiritual Side Of Sedona In Uptown Sedona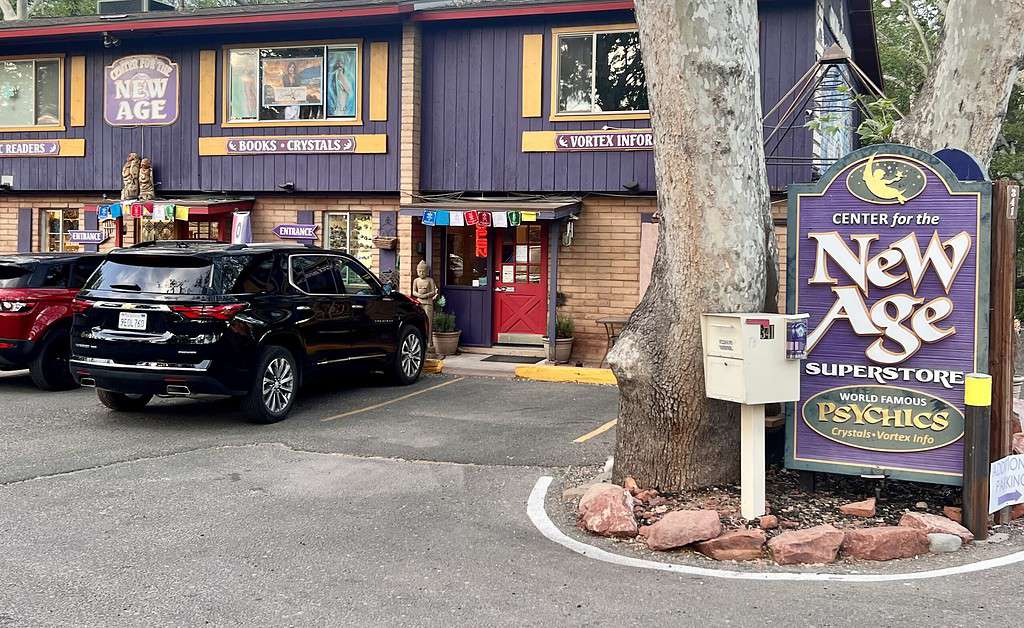 Indulge in some spiritual retail therapy at the Center For New Age Superstore, a metaphysical store offering a wide selection of crystals, gemstones, and other spiritual items.
Browse through the shelves, learn about the properties of different crystals, and find a special piece to carry the positive energy of Sedona with you.
Are you curious what all this Vortex And Spiritual stuff is? If so here ya go.
A vortex is a natural location where energy is believed to be exceptionally powerful, capable of being sensed by certain individuals. This energy is thought to flow in a spiral motion and can have an impact on those who visit or reside in the area.
Sedona is known as one of the world's most spiritually powerful locations, and is home to multiple recognized vortex sites. The four most popular vortexes in Sedona are Airport Mesa, Cathedral Rock, Bell Rock, and Boynton Canyon.
Visitors to vortex sites may experience various sensations, such as tingling, warmth, or a profound sense of peace and tranquility. Some believe that the vortex energy can facilitate healing, personal growth, and spiritual development.
If you're interested in exploring the Sedona vortex phenomenon and want to do a vortex tour, there are vortex tours by Jeep and spiritual vortex tours.
Want To Learn More About Vortexes? Check Out This Jeep Tour
Go Shopping In Sedona
There are plenty of places to shop in Sedona, whether you're looking for a souvenir or in search of unique treasures.
Uptown Sedona is a vibrant shopping district filled with a variety of stores offering jewelry, artwork, clothing, and more.
Tlaquepaque Arts & Shopping Village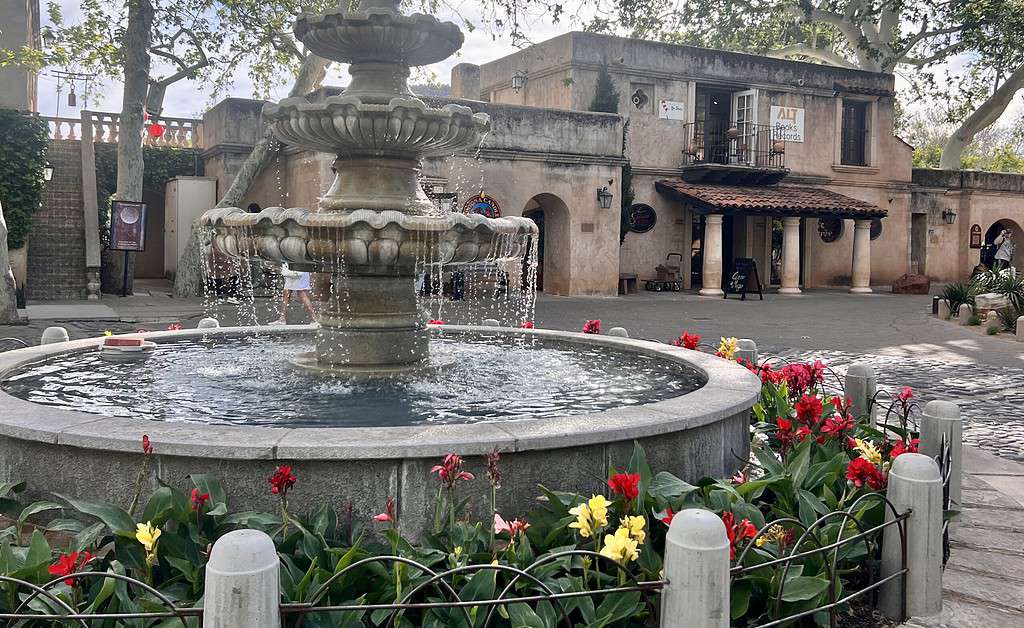 If you prefer a more relaxed shopping environment, the Tlaquepaque Arts and Crafts Village is worth a visit.
This Spanish-style village showcases an assortment of art galleries, specialty shops, and restaurants nestled amidst beautiful courtyards and fountains.
Grab Lunch To Go At Wildflower Bread Company
Given our packed schedule for the day, we don't have much time to spare for a sit-down lunch. However, we have a perfect solution – make a quick stop at Wildflower Bread Company and grab a sandwich to-go.
Pro Tip: Don't forget to get one of their freshly baked bread loaves or pastries for later.
Afternoon: Chapel Of Holy Cross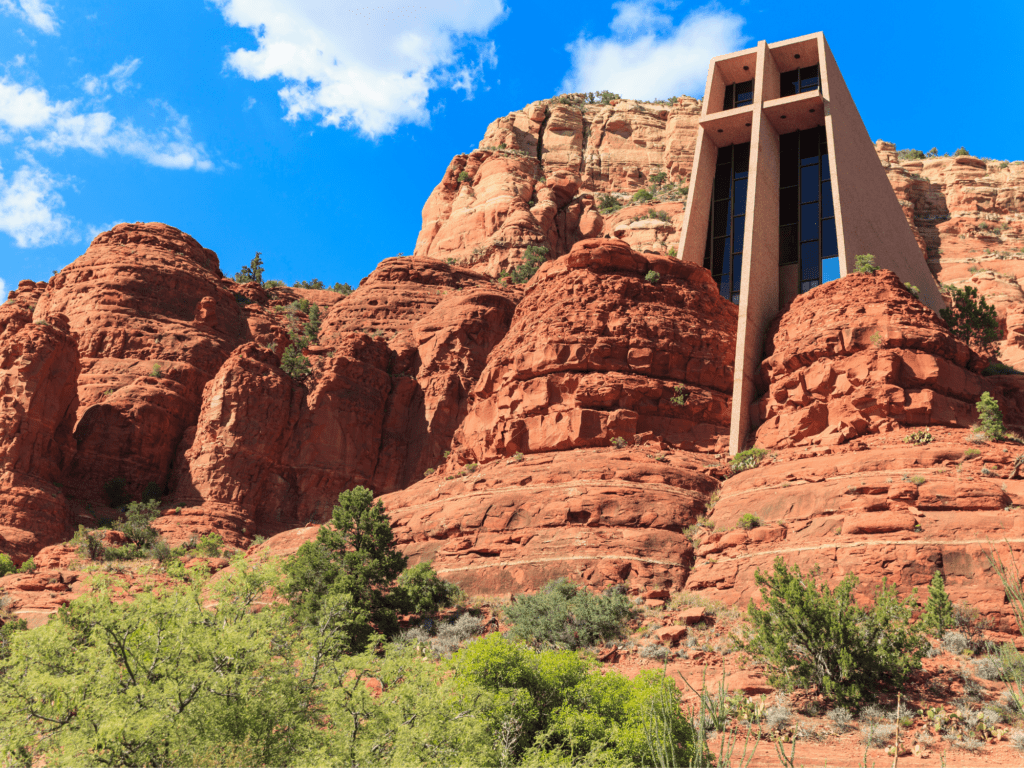 Don't miss out on visiting the Chapel of the Holy Cross, a architectural masterpiece situated among the red rocks. It has been ranked as a number one attraction in Sedona.
Even if churches are not typically your thing, this iconic structure perfectly complements the natural beauty of the surrounding red rock scenery.
Due to its popularity, the Chapel can get busy on weekends and during peak season. As a result, finding parking can be challenging as there are only about 45 spaces available. I recommend taking the first spot you find because it's unlikely you'll come across another one.
Good To Know: The Chapel of the Holy Cross is open 9 AM-5 PM seven days a week. The Gift Shop is closed on Christmas and Easter.
Afternoon Cathedral Rock Hike
Sedona is a hiker's paradise, offering numerous trails that you can conquer in a single day.
To make the most of your 24-hour trip to Sedona, we recommend a shorter (1.2 miles round-trip) but popular hike that allows you to see as much of the area as possible.
This hike is short, but it packs a punch with rock scrambling and breathtaking views. It's a great trail from beginning to end.
If you're interested in tackling a longer trail, we have an alternative suggestion for you below.
Parking At Cathedral Rock
The starting point for the Cathedral Rock Trail is on Back O Beyond Road, which has two adjacent parking lots.
The parking area on Back O Beyond Road fills up quickly and can definitely be a challenge when trying to park. Especially later in the day, luckily you have the option to take the shuttle to Cathedral Rock.
Check the schedule here and be sure to verify the shuttle operating hours because it varies throughout the year.
If you decide to park at the trailhead, you'll need to buy a Red Rock Pass. It costs $5 per day or $15 for a week. You can get the pass at the machine located at the trailhead, but they only accept credit cards. If you have an America the Beautiful Pass, you can use that instead and don't need to buy a Red Rock Pass.
Good To Know: Word on the street is that the Back O Beyond parking lot is closed from Thursday through Sunday, between 7 am to 5:30 pm. During this time, the only way to access the lot is via the Sedona Shuttle, so once again be sure to check the shuttle schedule.
Hiking Cathedral Rock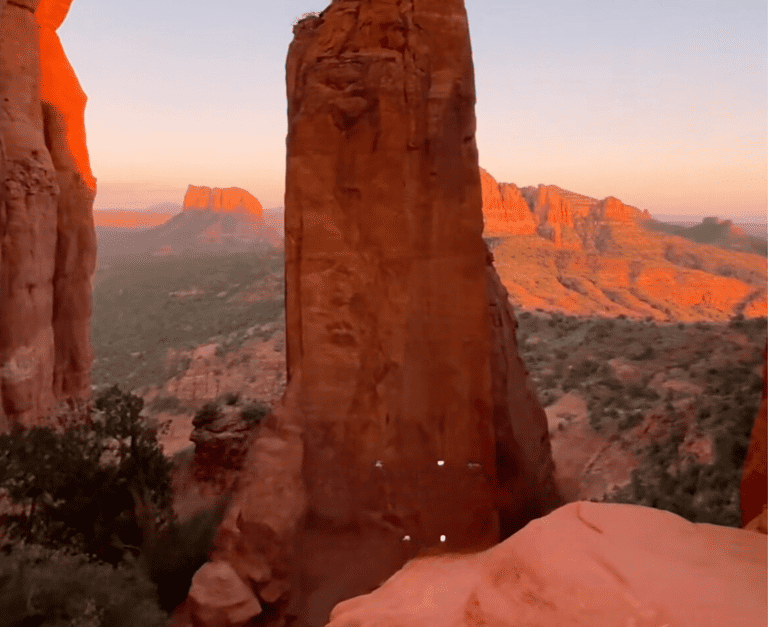 The hike to Cathedral Rock involves climbing and scrambling up onto the rock formation from the Cathedral Rock Trailhead.
The climb begins almost immediately at the start of the trail. The trail is identifiable by the wire baskets filled with rocks, which serve as trail markers.
Once at the top you'll enjoy a saddle between two massive sandstone spires, offering unobstructed 360° views.
Alternative (Longer) Hike Option To Boynton Canyon
As Promised, I'm providing an alternate hike for those of you who are looking to knock out some mega mileage on your weekend trip to Sedona.
While not as challenging as Cathedral Rock, this hike is longer and follows a mostly level path that provides shade from the sun. The trail ends at the rear of the canyon, where a quick ascent leads to a viewpoint of Boynton Canyon.
Good To Know: Boynton Canyon is the location of one of the four popular Sedona vortexes.
Parking For Boynton Canyon Hike
The parking lot for this hike is situated on Boynton Canyon Road, close to the junction with Boynton Pass Road. With a capacity of approximately 25 vehicles, this lot tends to fill up quickly especially in the busier months.
If you're not able to find parking in the lot overflow parking can be found along Boynton Pass Road, west of the junction with Boynton Canyon Road.
Hiking Boynton Canyon
The hike in Boynton Canyon starts off on a flat trail. After about a mile, there are a few short ups and downs, but nothing too challenging.
Around the two-mile mark, the trail gradually begins to climb towards the back of the canyon. The last mile is uphill, with the steepest section being the final half-mile.
Good To Know: The Subway Cave is a short hike off of Boynton Canyon hike if you're interested in seeing the Subway Cave.
Mid-Afternoon: Take A Dip In The Water To Cool Off
After completing your hike, treat yourself to a refreshing cool-off by taking a dip in the water. Luckily, there are several options near Sedona that allow you to do just that.
A. Grasshopper Point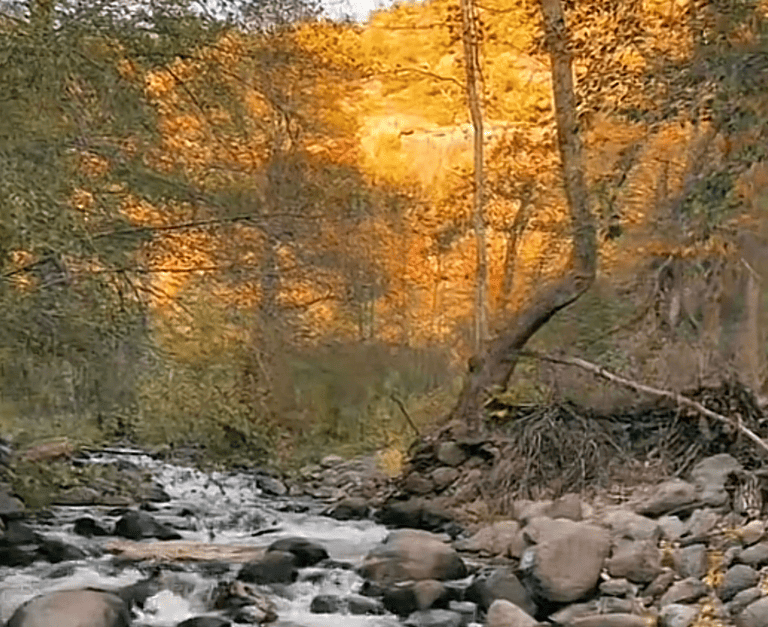 ⌛️Driving Time From Sedona: 6 Minutes
Grasshopper Point is a large swimming hole located in Coconino National Forest, along Oak Creek Canyon. It has a decent amount of shade and offers a great combo of deep pools and tall cliffs with built-in ledges for relaxation or jumping.
Good To Know: For day use, there is a fee of $9 per vehicle. If you prefer to walk in, you can park along Route 89A and pay a fee of $2.
B. Red Rock Crossing AKA Crescent Moon Ranch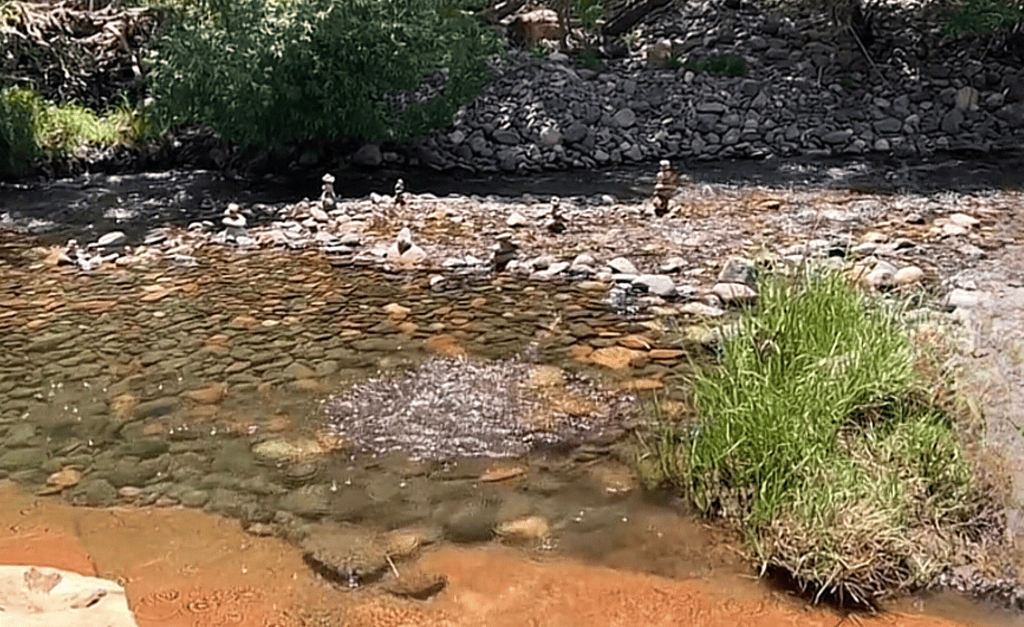 ⌛️Driving Time From Sedona: 15 minutes
Red Rock Crossing, is a popular spot in Sedona for swimming. It offers several swimming holes, all with fantastic views of Cathedral Rock.
Each swimming hole has its own distinct features. You'll find wide red rock beaches without shade, secluded coves with plenty of trees for shade, deep pools, and a large red rock slab that's perfect for sunbathing.
Good To Know: A day-use fee of $11 per vehicle is required for entry (cash or check only).
C. Slide Rock State Park
⌛️Driving Time From Sedona: 15 Minutes
Located within Slide Rock State Park, this swimming hole may not be a hidden gem, but it is definitely worth a visit.
Slide Rock is a well known attraction in Sedona, with a natural waterslide stretching 80 feet, created by sandstone rock formations.
Along the park's half-mile section of Oak Creek, you'll find a handful of natural pools of different sizes and depths, great for a refreshing dip.
Good To Know: The entrance fees for the state park fluctuate between $10 and $30 per vehicle, depending on the time of year.
Happy Hour Or Relax: Cocktail, Beer Or Wine Time In Sedona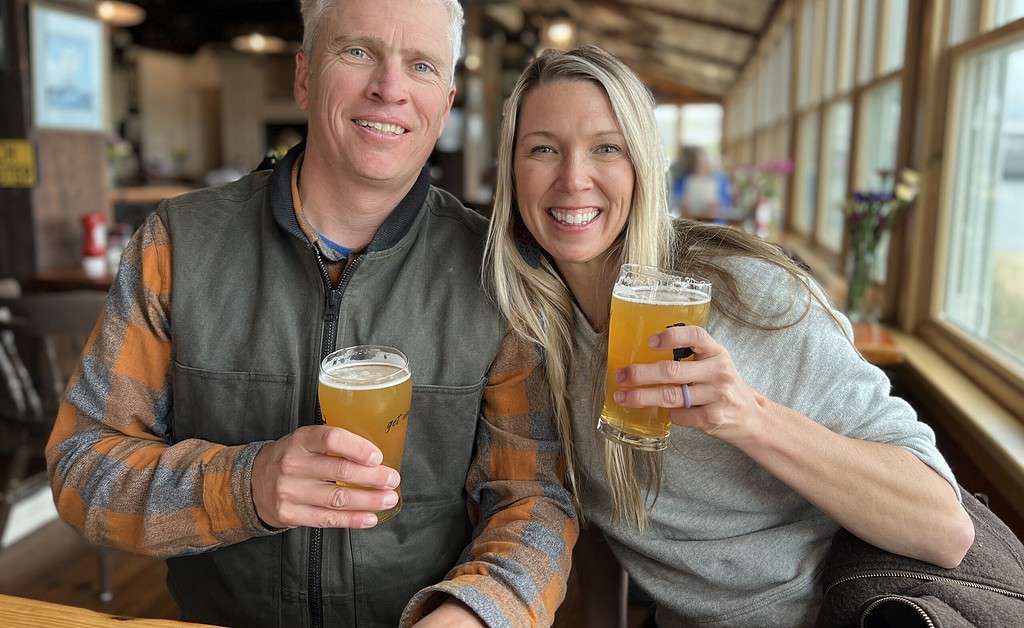 After your hike and/or dip in the water, it's time to indulge in a refreshing drink at one of the many spots around Sedona?
Sedona offers a variety of options for a post-hike libation. You can visit one of the local breweries or if beer isn't your thing, fear not! Sedona also has some a couple wine bars and places to get a cocktail.
Our Favorite Places To Get A Drink In Sedona
The Art of Wines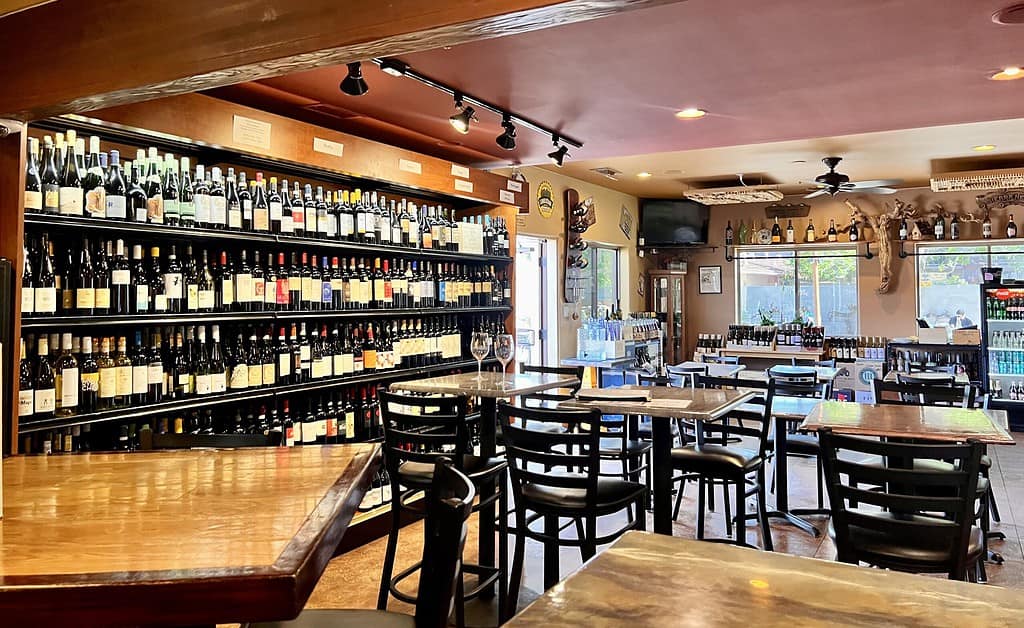 A wine bar that offers a diverse range of wines from various regions. Additionally, they serve craft beers and offer food. You can also enjoy events and live music in their welcoming and dog-friendly courtyard.
Mooney's Irish pub
If you're looking for a chill unpretentious place to get a drink Mooney's offers just that.
Sedona Beer Company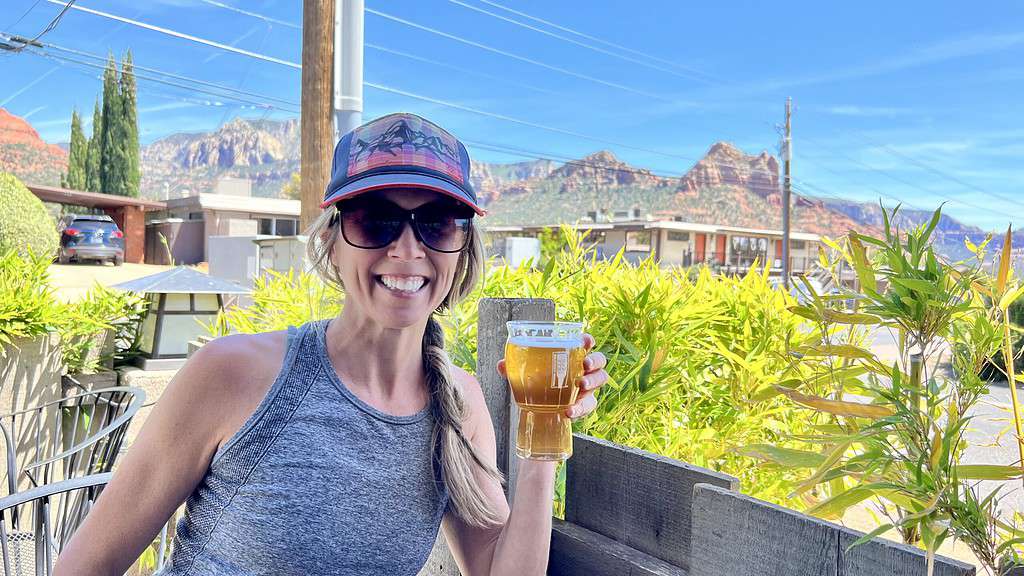 Has a great selection of beers and a spacious outdoor patio (that's dog friendly), making it the perfect spot to unwind after a day of hiking.
Street Side At Don Diego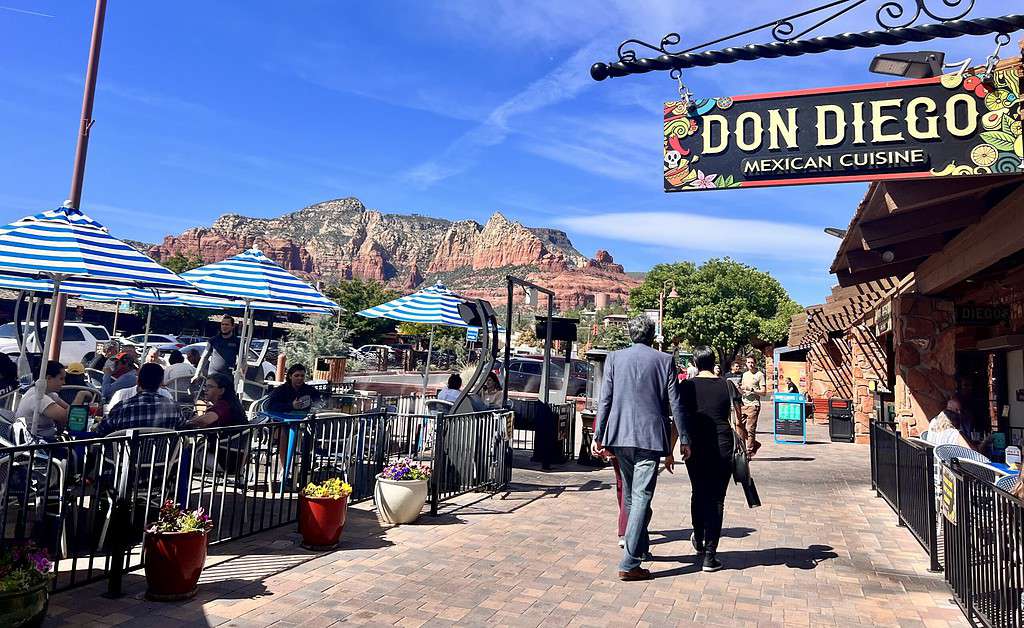 Enjoy the beauty of Sedona while sipping on a refreshing cocktail at Don Diego's, a lively restaurant located in the heart of the city. Take in the views of the red rocks as you unwind and soak up the vibrant atmosphere of Sedona.
Dinner Time At Hideway House
The Hideaway House in Sedona is a charming restaurant that offers a variety of delicious Italian dishes.
You can enjoy your meal while taking in the stunning views of Sedona's red rocks from their outdoor patio.
It's the perfect place to indulge in pasta, pizza, salads, or upscale sandwiches all while being surrounded by the natural beauty of Sedona.
Evening Enjoy A Sunset At Airport Mesa
As the day nears its end, make your way to the Airport Mesa Scenic Overlook for an unforgettable sunset experience.
Located atop Airport Mesa, this vantage point offers panoramic views of Sedona's landscapes.
The overlook provides an ideal spot to see the vibrant colors of the setting sun painting the sky and illuminating the red rock formations that surround the area.
Wrapping Up Your 1 Day In Sedona Itinerary
As you reach the end of your one-day itinerary in Sedona, take a moment to reflect on the experiences you've had and the memories you've made. From sunrise to sunset, you've truly made the most of your time in this famous red rock destination.
Now, as the sun sets over the red rocks, take a deep breath and soak in the beauty that surrounds you. Whether you hiked the scenic trails, explored the local art galleries, or savored the delicious cuisine, Sedona has undoubtedly left its mark on you.
More Time In Sedona?
If you have more time in Sedona, there's plenty more to explore. Check out our two-day itinerary, which offers a variety of options and activities to experience the best of Sedona.
From hikes to peaceful spots, cultural landmarks to local attractions, there's something for everyone.
Alternatively, you can visit nearby towns like Cottonwood ,Jerome enjoy the Verde Valley Wineries.
In Cottonwood, you'll find charming shops, art galleries, and wineries in the historic Old Town. Don't miss the chance to taste some local wines and enjoy the laid-back atmosphere.
Jerome, known as the "Ghost Town," is another intriguing destination.
Explore its mining history, browse the quirky shops, and take in the panoramic views. For the adventurous, you can even visit the famous haunted locations.
Getting Around Sedona
Due to the crazy popularity of Sedona, getting around the area is becoming increasingly difficult. Trailheads and attractions are often overcrowded, making it challenging to find parking and navigate through the busy streets.
SEDONA SHUTTLE
I highly recommend trying out the new Sedona Shuttle that provides transportation from Park and Ride lots to popular trailheads throughout Sedona.
The shuttle service is slowly expanding to include more Park and Ride's making it a VERY convenient way to get around town.
Good To Know: The Sedona Shuttle hours vary throughout the year but currently operates year-round, Thursday thru Sunday and everyday during spring break Mar 1 – Apr 17. I recommend visiting the official website to download the app, see maps and transportation options.
Parking In Uptown Sedona
There are several free parking lots located throughout Sedona. However, finding a a spot in Uptown Sedona can be challenging, especially during peak tourist seasons.
Sedona is a busy town with lots of shops, restaurants, and galleries, attracting a large number of visitors. Because of this, parking spaces fill up quickly, and it can be frustrating to drive around looking for an open spot.
To make parking in Sedona easier, you can either park at one of the park and rides and shuttle into town, luck out and find a spot in the free parking, or find a side street parking option and walk a bit further into town.
Parking At Trailheads in Sedona
Do not pay for parking at every trailhead if you'll be in Sedona for more than 3 days be sure to Purchase The Red Rock Pass its the more economical way to go. If you have a National Parks Pass it will work at most trailheads.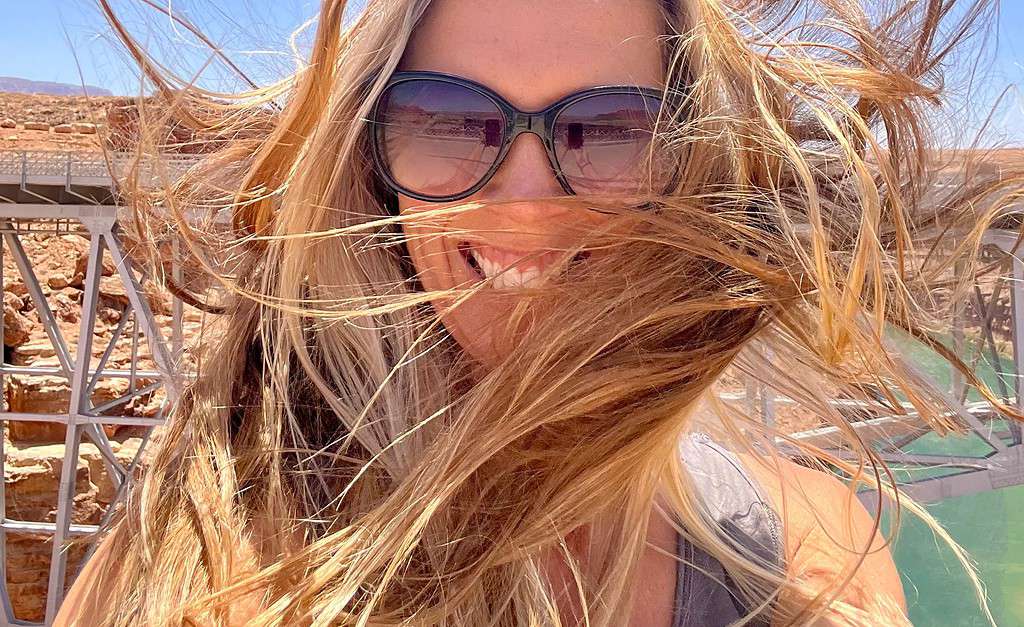 FAQ About Sedona
Is One Day Enough In Sedona
One day may not be enough to fully experience everything it has to offer. However, with planning you can still make the most of your time and enjoy some of the highlights.
What is the most famous thing in Sedona?
One of the most famous features of Sedona is its red rock formations. The most famous rock formations in Sedona are Cathedral Rock, Bell Rock, and Courthouse Butte.
Can you see all the Sedona vortexes in one day?
While it is possible to visit multiple vortexes in Sedona in one day, experiencing all the vortexes in their entirety may be challenging due to time constraints and the distances between them.
Is Sedona a dark sky community?
Yes, Sedona is recognized as an International Dark Sky Community. Sedona has taken measures to preserve the natural darkness of the sky by implementing lighting regulations that minimize light pollution.