The world-famous Delicate Arch is one of the West's most enduring symbols. At over 60 feet tall this massive arch only gets more impressive once you walk beneath it. The hike itself is also great and features a large slick-rock ridgeline that you'll walk as you follow cairns. Don't forget to look behind you because the views are ridiculous.
Distance
3.2 mi round-trip
Time
1.5 hours
Elevation
670 Ft
Season
Year-round
For more information about Arches National Park and why Winter is the best time to visit check out,
COMPREHENSIVE ARCHES NATIONAL PARK GUIDE
BEST TIME TO HIKE DELICATE ARCH
If you can hit Arches National Park in the off-season you are in for a real treat. Even mid-day you probably won't have more than a dozen people to share this spot with. Compare that to the hundreds you might see mid-summer.
Sunrise is your best bet to skip the crowds and makes for some great picture taking, although I do think sunset is the best if you're after that perfect shot.
My favorite time is late evening and to pack yourself dinner and stay well into the night. The stars are tremendous and the night photography options are endless.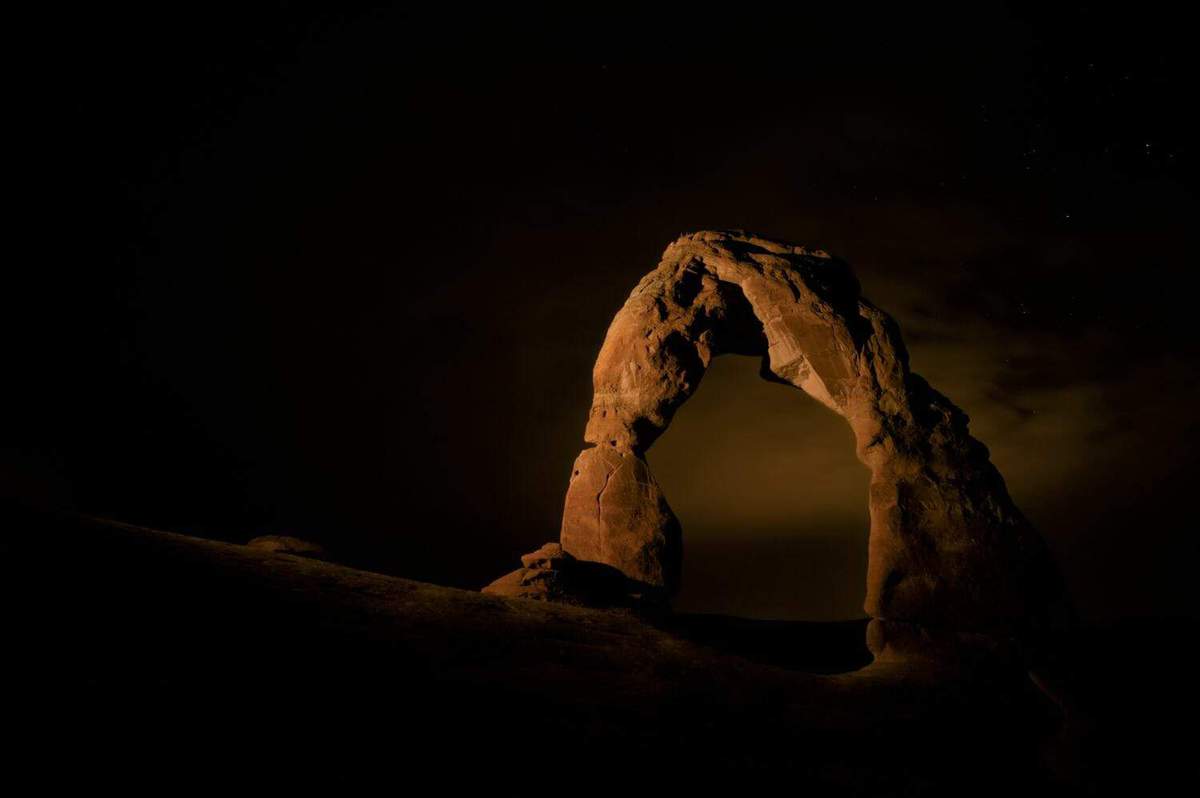 DELICATE ARCH HIKE TRAILHEAD
The trailhead is just before the Delicate Arch Viewpoint and the large parking lot has restrooms available but no water.
The hike has almost no shade so plan accordingly and bring plenty of water and sunscreen. Reason number 1-million to visit the arches in the Winter. Did you know Arches National Park sees up to 3,000 vehicles a day during the busy summer months!
The trail starts off with a bang at the Wolfe Ranch. The historic homestead building is just a short walk from the parking lot (we're talking a couple hundred feet).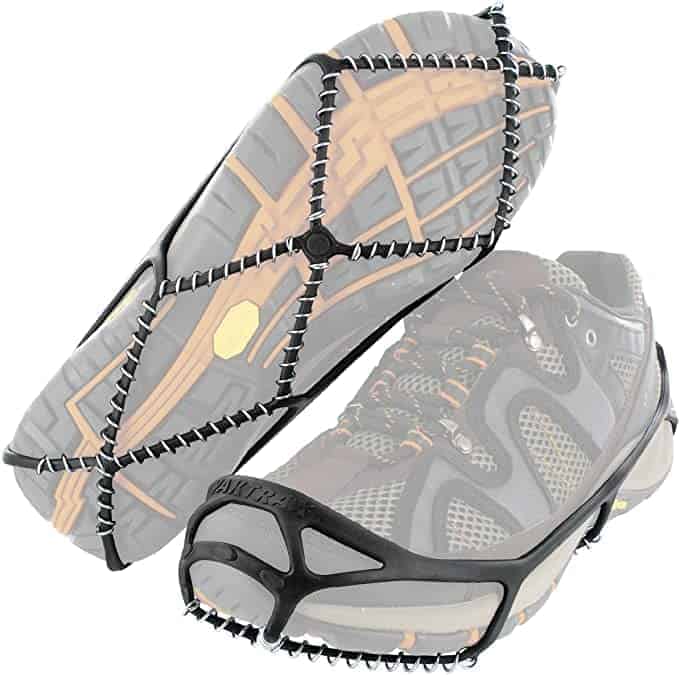 We loved hiking the Delicate Arch in the winter. In fact, winter is great time to visit Arizona's most popular National Parks. But the area does freeze and will occasionally get some snow. This can make for some pretty slick trails at times. We keep a pair of these slip on Yak Trax handy just in case. They came in real handy on this trip.
HERE'S A QUICK VIDEO WE PUT TOGETHER FROM OUR LAST DELICATE ARCH HIKE.
WOLFE RANCH – ARCHES NATIONAL PARK
In 1898 the Civil War Veteran John Wesley Wolfe left Ohio in search of drier climate. With his oldest son at his side the two settled this 100+ acre property along Salt Wash.
Today you can get a glimpse of what life was like over 100 years ago. The one-room humble dwelling and its root cellar are remarkably well preserved. While you can't walk in the structure you can easily have a look inside and walk about the surrounding area.
---
CHECK OUT THESE OTHER GREAT ARCHES NATIONAL PARK HIKES

7 Not To Miss Arches National Park Hikes
---
DELICATE ARCH PETROGLYPHS
As you continue down the well-maintained trail you'll cross the Salt Wash bridge. The Delicate Arch Trail continues straight but be sure to hang a left and check out some really well-preserved petroglyphs.
At just 0.2 miles you'll reach the rock wall and get up close and personal with the petroglyphs. Continue east along the wall and you'll be rejoined with the main trail in about a tenth of a mile.
After a short up and down you'll start winding your way through a desert landscape full of red-rock and desert plants. Add some blue sky or a dusting of snow and the contrast is stunning.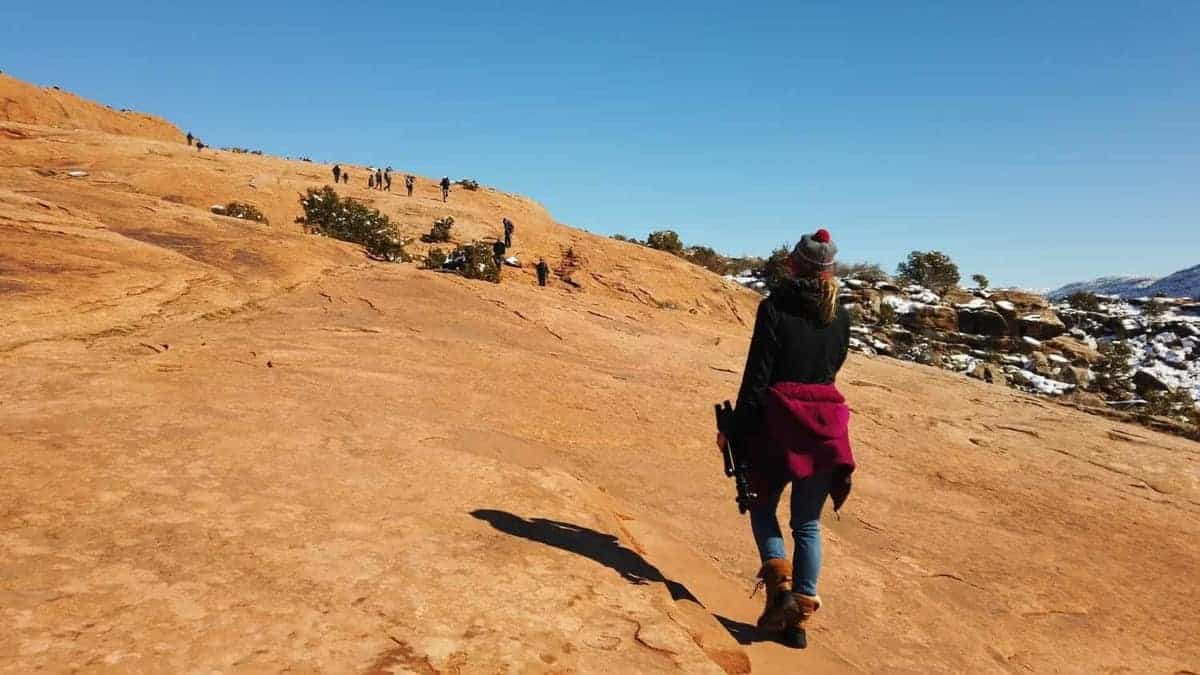 From here you'll start working up a massive slickrock ridge with cairns marking the way. Don't forget to occasionally look back, the views are great. After a short staircase etched into stone you'll top out in a narrow wash. You'll then head right and work your way behind a massive sandstone fin as you follow the rock path.
The best part about this hike is how you never see Delicate Arch coming. The anticipation starts to get to you and then bam!
As you walk up the final pitch you'll have a massive wall to your right. Eventually, that wall gives way and reveals Delicate Arch.
The arch sits in this natural amphitheater-shaped bowl that begs for you to just sit back and let the warm rock sooth your aching muscles.  Whatever you do, don't be in a rush.  Plan on spending some time here.  It's a rather special place.
On a road trip? Don't miss these other great spots