Devils Bridge hike in Sedona Arizona greets you from the start with sweeping views of red rock scenery and lush high alpine desert. This exciting trail throws down big, with an opportunity to stand on top of this massive yet devilish arch.
Being one of the most iconic hikes in Arizona, the Sedona Devils Bridge in one of Sedona's largest sandstone arches standing 54 ft tall, 45 ft long, and about 5 ft in width. Devil's Bridge is unique for its bridge-like formation, as well as for the fact that you can walk out onto the top of the arch.
If you haven't stood atop an arch then it's time to scratch that one off your bucket list. Join us as we tackle Devils Bridge trail, one of Sedona's most popular trails,
WHERE IS DEVIL'S BRIDGE TRAIL LOCATED?
The Devil's Bridge trail is located in the Coconino National Forest on the northwestern side of Sedona off Highway 89A and Dry Creek Road.
DEVIL'S BRIDGE TRAIL SEDONA HIKING INFO
DEVIL'S BRIDGE HIKE DISTANCE
2-6 miles depending on start location
1.Main trailhead 2 miles round trip. (This option requires 4×4)
2. Mescal Trailhead 4.2 miles round trip.
3. Dry Creek Trail 4.6 miles round trip
LENGTH OF TIME: 1-3 hours
ELEVATION GAIN
400-500 feet

DIFFICULTY: Easy to moderate with one short section of steps/rock scrambling just before the Devil's bridge
SEASON TO HIKE DEVILS BRIDGE AZ?
Year around but winter is our favorite time
IS DEVIL'S BRIDGE HIKE DOG FRIENDLY? Yes, dogs are welcome but keep them on leash
LOCATION: West Sedona
DEVIL'S BRIDGE PARKING
To begin your Devils Bridge hike, there are 3 different areas you can park. The first option is for those who have 4×4 vehicles and the other 2 options are for people who don't have a 4×4 vehicles.
DEVILS BRIDGE TRAILHEAD PARKING WITH A 4×4 VEHICLE
If you happen to be in Sedona with a high clearance 4×4 vehicle, you can drive directly down to the Devil's Trailhead. This will make your hike just a 1.8-mile round trip. To get to the parking area, you will drive Dry Creek Road past the paved parking lot and continue down the dirt road for 1.3 miles until you get to the parking lot for Devils Bridge.
This is recommended only for high clearance 4-wheel drive vehicles. Even your average SUV would have trouble. In my opinion, it's best to just hike to the trailhead. Or better yet follow the Pro Tip below.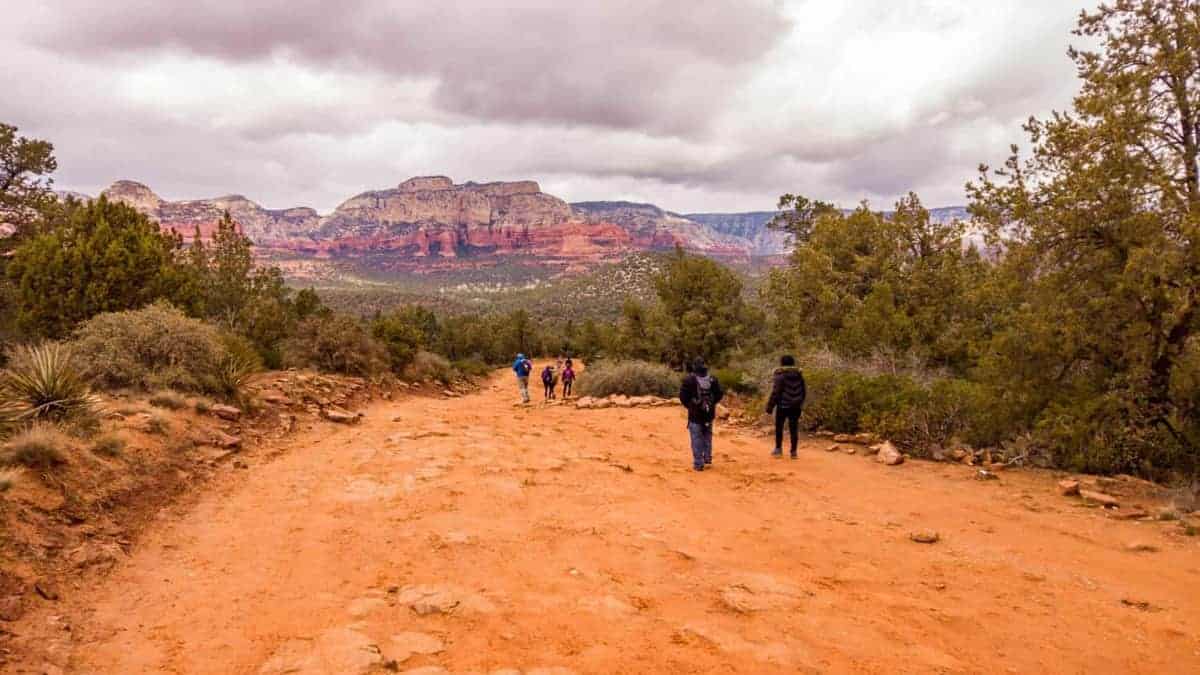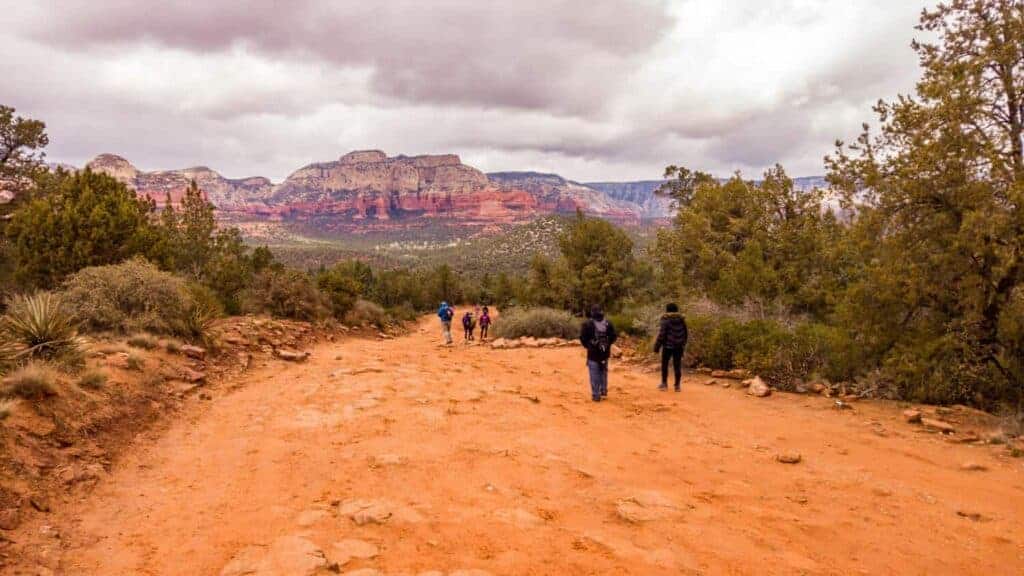 Devil's Bridge Hike PRO TIP: Don't park at the Dry Creek lot for this hike ESPECIALLY during the busy season. Even in the middle of the winter this place gets packed. Instead, park at Mescal Trailhead. (Information below) or for a little longer hike park at Long Canyon Trailhead.
DEVILS BRIDGE TRAILHEAD PARKING WITHOUT A 4×4
OPTION 1: DRY CREEK ROAD PARKING LOT- NOT THE BEST OPTION
Dry Creek Trailhead Parking Lot:
34°53'24.5″N 111°49'14.1″W
People who don't have a 4×4 vehicle can drive down Dry Creek Road for a short distance and park in the paved lot for the Dry Creek Vista Trail. Parking here makes your Devils trail hike a dusty somewhat uneventful 4.6 miles round trip adventure. This is because you'll be walking along the popular Pink Jeep tour 4×4 route which isn't the best route for hikers to enjoy their Devil's bridge Sedona hike. We think the best option for enjoying the hike is to start at Mescal Trailhead.
OPTION 2: MESCAL TRAILHEAD PARKING LOT- BEST OPTION:
Mescal Trailhead Parking Lot:
34°54'06.5″N 111°49'36.2″W
Most people opt for parking at the Mescal Trailhead. This is what we did and what we recommend doing. This route is best for people who do not have a 4×4 vehicle and will make your hike an enjoyable 4-mile roundtrip.
To get to the Mescal trailhead continue on Dry Creek Road to the stop sign at the intersection of Long Canyon Road, turn right and travel 0.2 miles to the Mescal Trailhead on the right. Use the signed Mescal-Chuckwagon trail connection to reach Devils Bridge Trailhead. Mescal trail parking is a small dirt parking on the side of the road.
DEVIL'S BRIDGE PARKING FEE
If you park at the Dry Creek Road/Chuckwagon trail parking lot, you will need to purchase the Red Rock Pass to park in in this area. The cost is $5 for one time use, $15 for one week or Annually for $20. The pass can be purchased at the kiosk at the trailhead or online here.
If you have an America the Beautiful Pass, you won't need to buy a Red Rock Pass because your America the Beautiful pass includes parking for this Devil's Bridge Arizona area. To get your U.S. Parks pass click here.
For more information about the recreational and parking fees click here.
ARE THERE RESTROOMS AT THE DEVIL'S BRIDGE TRAILHEAD?
There are pit-toilet restrooms at the trailhead for Chuckwagon and Dry Creek Road, there aren't any for the Mescal trailhead.
SEDONA ARIZONA WEATHER
Sedona
Thursday, 11 November
Fri
Sat
Sun
Mon
Tue
Wed

+

23°

+

23°

+

23°

+

23°

+

18°

+

19°

+

9°

+

10°

+

11°

+

12°

+

9°

+

8°
HOW TO HIKE DEVIL'S BRIDGE
To access the Devil's Bridge trailhead you'll need a high clearance vehicle as mentioned above, otherwise you'll have two options as recommended by the USFS. The Chuckwagon Trail and Mescal Trails wind through stunning red rock scenery with numerous signs pointing the way to Devil's Bridge.
2 RECOMMENDED DEVILS BRIDGE TRAIL DIRECTIONS
1. MESCAL TRAILHEAD TO DEVILS BRIDGE
Mescal to Chuckwagon to Devil's Bridge trails (4 miles round-trip) via Long Canyon Road
2. CHUCKWAGON TRAIL FROM DRY CREEK ROAD
Chuckwagon Trail to the Devil's Bridge Trail from Dry Creek Road (5.8 miles round trip).
BEST TIME OF DAY TO HIKE DEVILS BRIDGE?
For cooler temperatures and parking availability, come early in the day. This route may get extremely crowded by 8 or 9 a.m. Crowds tend to be at their heaviest from about 10 a.m. to 3 p.m.
DEVILS BRIDGE TRAIL MAP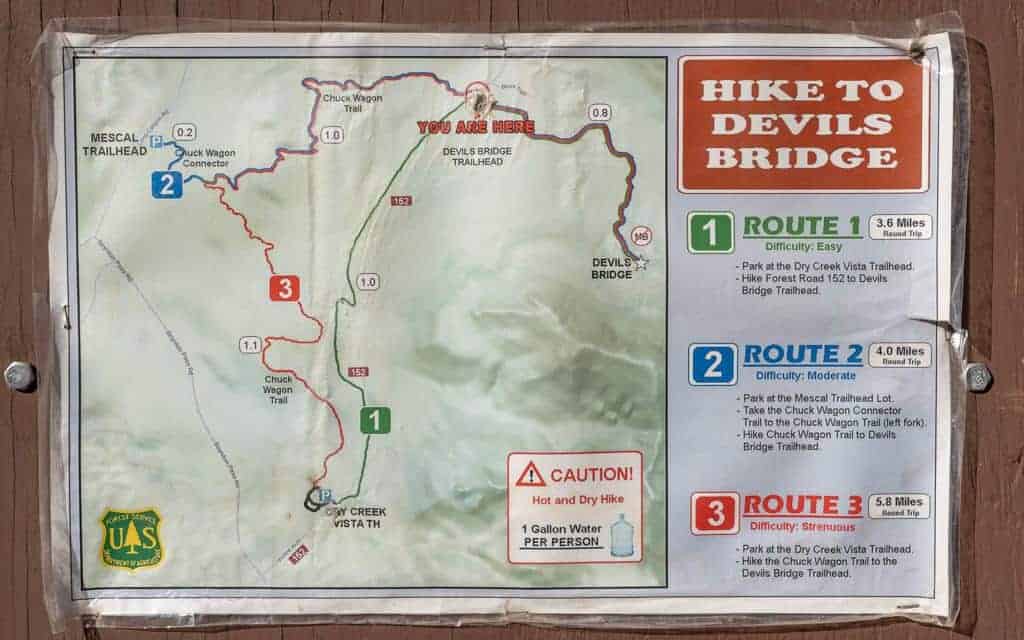 ABOUT THE HIKE
Here's a quick video of the hike
Located right in Sedona, Devil's Bridge Hike is a must-do that should be easy to fit in, even for the busiest of schedules. The trailhead starts just 5 miles from town and can be combined with a number of other trails should you want a longer hike.
Be warned, this trail does get busy but it's busy for a reason, it's awesome! I'll throw out a Local Tip here in a bit on how to avoid some of the crowds.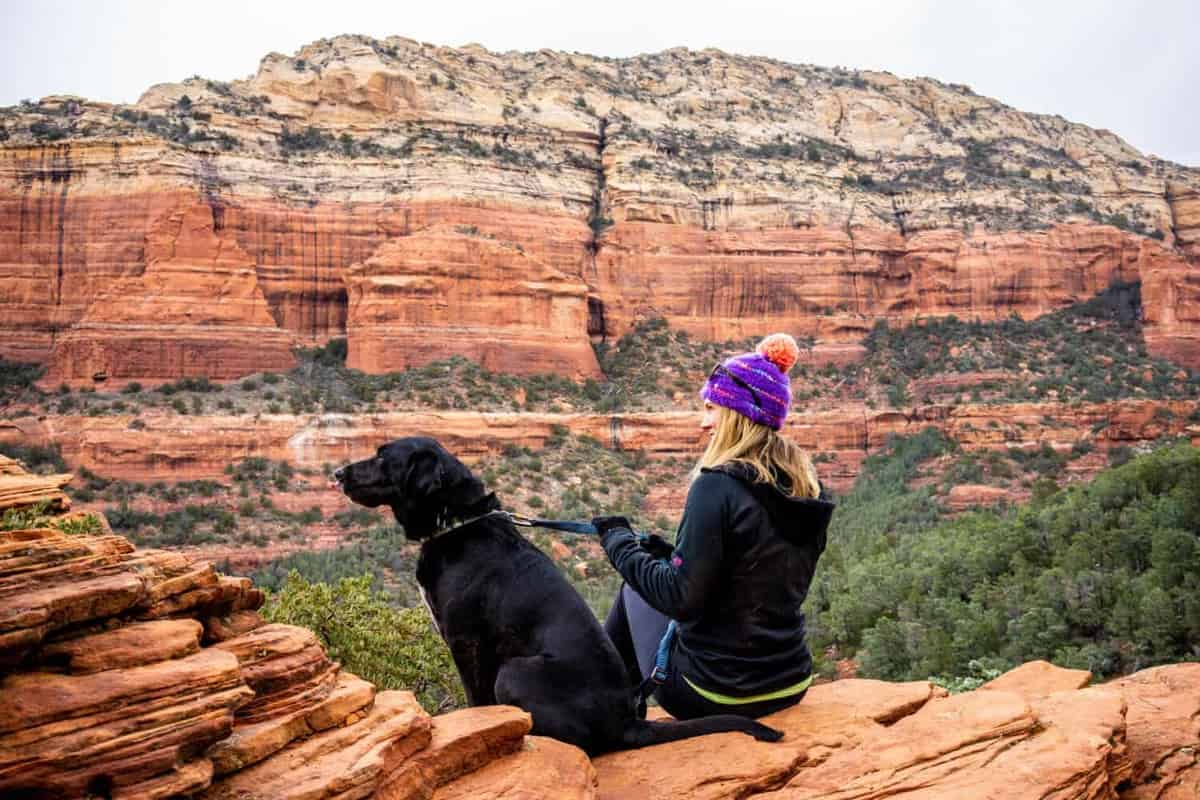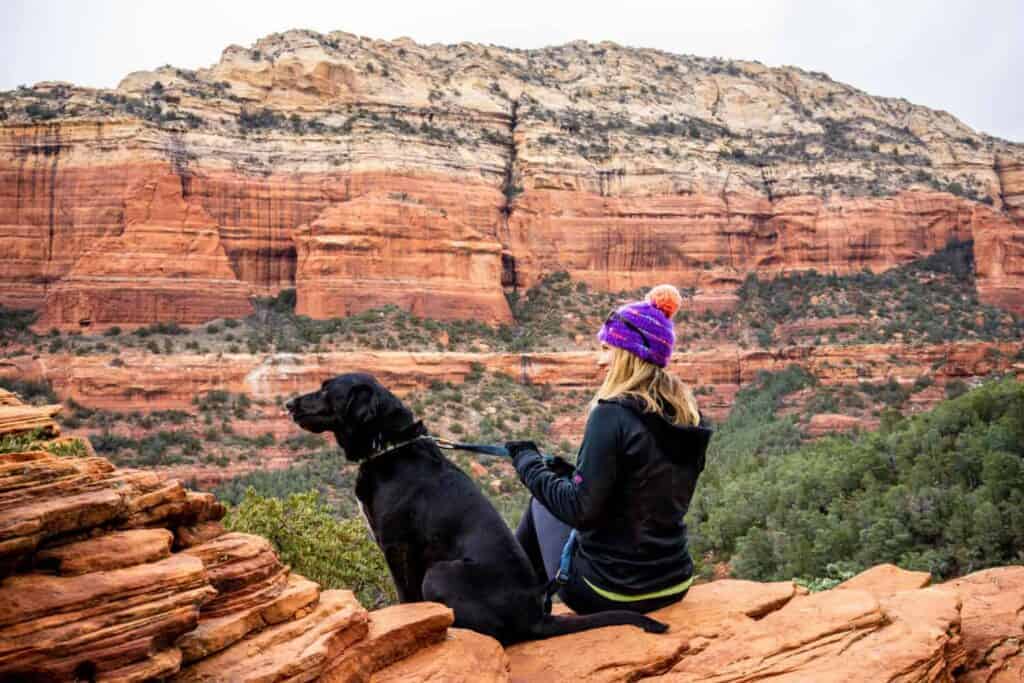 IS IT SAFE TO WALK ACROSS DEVIL'S BRIDGE?
The top of Devil's Bridge is not as narrow as it appears in photos. However, there are no rails on the sides of the arch, and you'll need to be careful as you walk across. If someone has already gone across, wait for them to return before walking yourself over. If you have a strong fear of heights, I recommend that you avoid walking across the devils bridge.
BEST SEASON TO HIKE DEVIL'S BRIDGE TRAIL
If I had to pick the best time in general to visit Arizona, I would say the winter. The temps are cool and the crowds are gone. While it's true, some places like the North Rim of the Grand Canyon are closed, Arizona in the winter is a magical place.
And if you're lucky as we were to have a dusting of snow, the white on red of the Sedona Red Rocks is a stunning site.
Regardless of the season, avoid weekends and try for early mornings or late evenings to avoid the crowds.
Yaktrax were a must while hiking around Arizona in the winter. From Grand Canyon to the Arches National Park these came in real handy.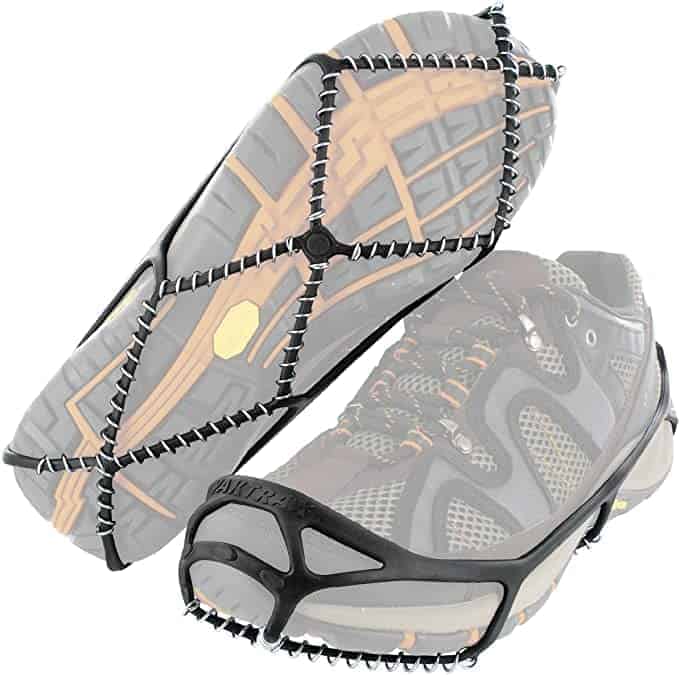 ---
It's time for a road trip yo! Get out and explore now!
11 Stunning Destinations Not To Miss In The US
Scenic Drives Of The U.S. You Don't Want To Miss
---
HIKING DEVIL'S BRIDGE TRAIL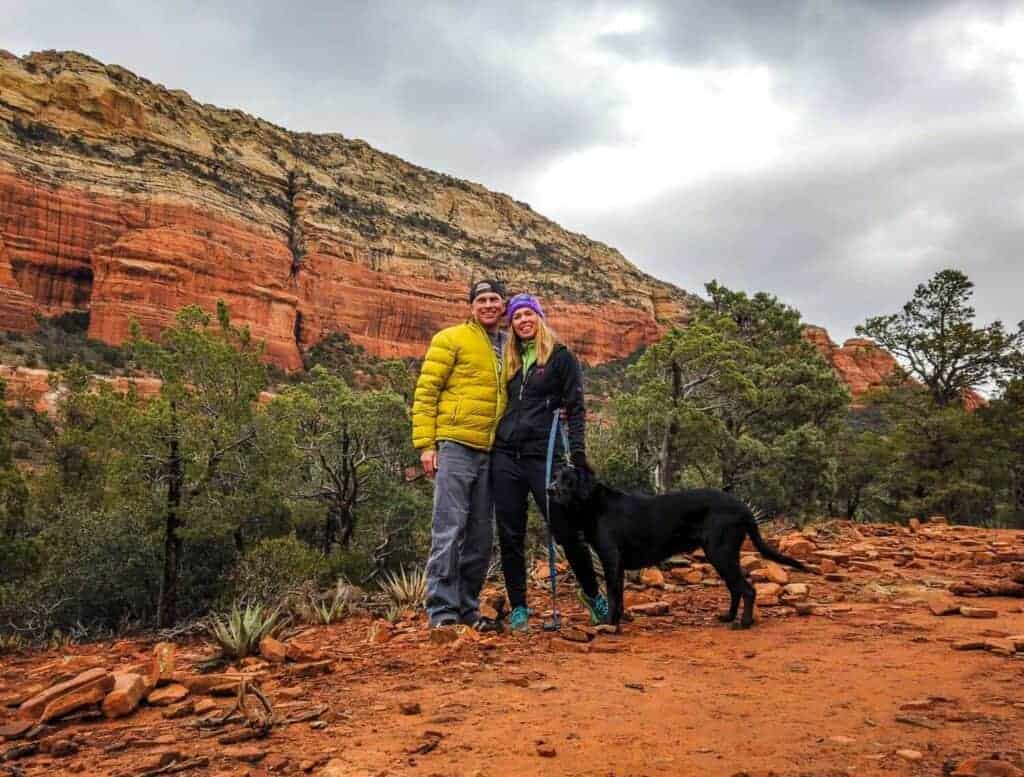 The trail itself starts out relatively flat with a few short ups as you meander your way through this scenic canyon. You'll want your camera out for the entire hike as you pass through the red rock canyon filled with all sorts of cacti and Juniper.
At around 3/4 of a mile from the Devil's Bridge trailhead (not the parking lot) you'll have the option to go left where you can visit the base of the arch and gaze up at this mighty beast.
If you stay right you will begin your journey up to the arch itself. From here the hike gets a bit narrow and steeper.
---
---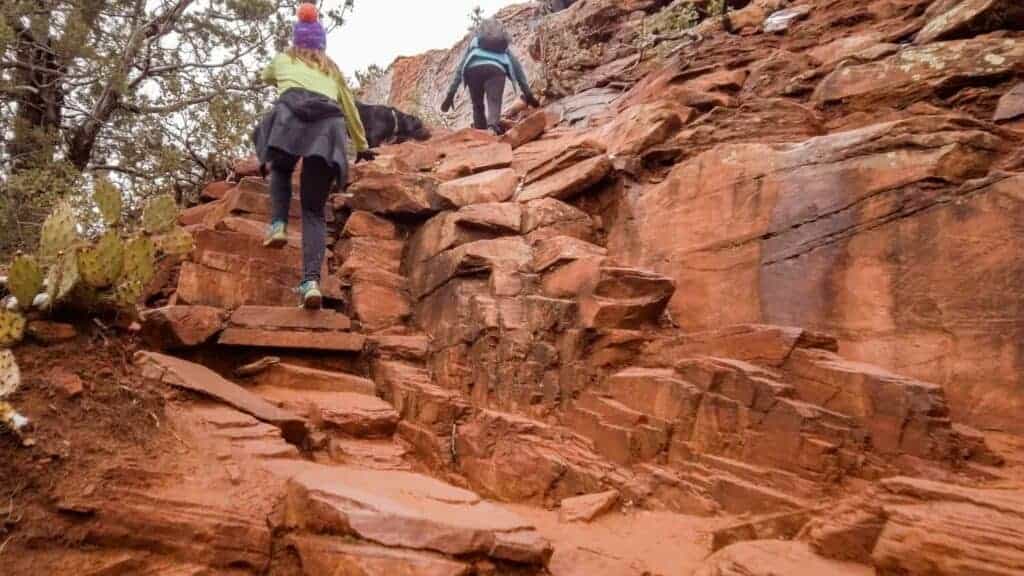 This is where Devil's Bridge Hike really gets fun. As the trail steepens the path becomes more ledgy and rocky and tight in some places where you may need to yield to fellow hikers. There are plenty of places to catch your breath as well as some great viewpoints to grab a quick bite.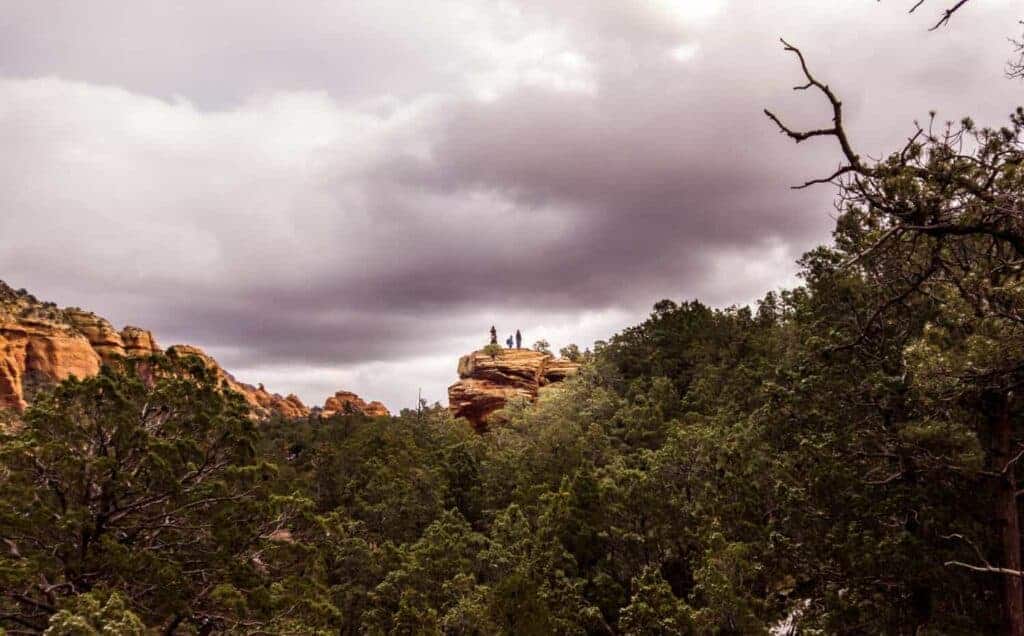 Once on top you'll be rewarded with a terrific view of the arch as well as a chance to walk on the arch itself. While the arch may look narrow it's actually plenty wide to walk on for those that can handle the heights.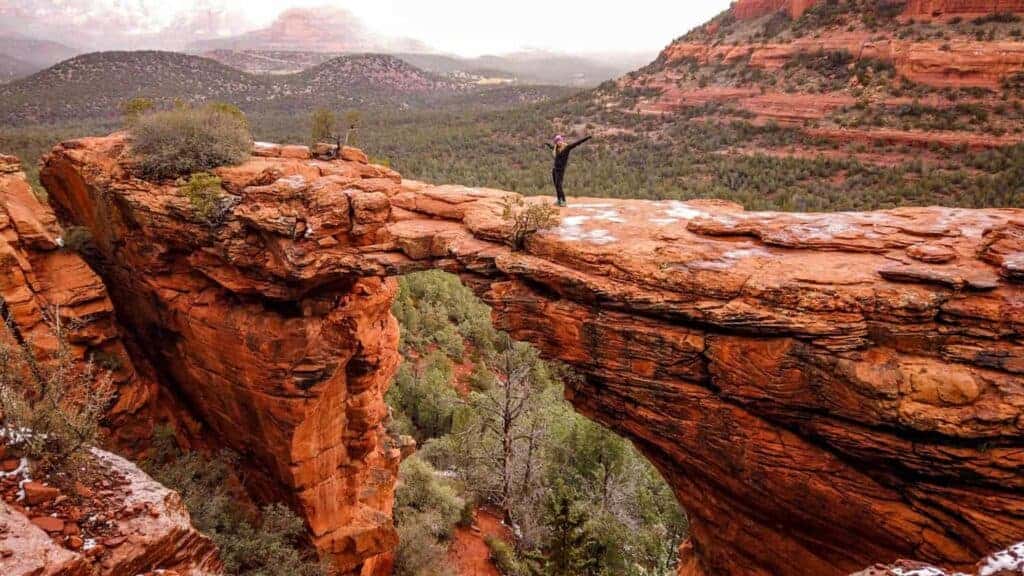 Congrats you made it! Now get out on this thing and leave the camera with a fellow hiker for an epic photo opportunity. Standing on an arch is a bucket list must.
FAQ AND RECAP ABOUT DEVILS BRIDGE
HOW DO YOU GET A PICTURE ON DEVIL'S BRIDGE?
First you have to do the hike, next you have to wait in line to cross the bridge to get your photo, last you have to be brave enough to walk out onto the bridge.
There are two excellent vantage points to capture the Devils Bridge from. The photographer will have to walk towards the edge of the cliffside, which is a bit to the left of the major route, in order to get a true feeling for the height and scale of the Devils Bridge.
IS DEVIL'S BRIDGE WORTH IT?
Absolutely! The hike is beautiful the bridge itself is spectacular and you can't help but be in awe over the red rock background.
HOW TALL IS DEVILS BRIDGE?
Devil's bridge is 54 ft tall, 45 ft long, and about 5 ft in width.
WHEN IS THE BEST TIME TO VISIT DEVILS BRIDGE?
We think the earlier you can start your hike to Devils bridge the better. This is a very popular hike and the crowds start showing up by 9am so beat the rush by getting out there early.
HOW LONG DOES IT TAKE TO HIKE TO DEVILS BRIDGE IN SEDONA?
Depending on your ability and the route you choose the hike can take from 1-3 hours
THOUGHTS ABOUT THE HIKE
August and I think Devil's Bridge trail is one of the best hikes in Sedona. We really liked this hike because it was a short one that gave us fantastic views and scenery. It was a pleasant substitute for mountain biking which is typically what we're doing in the Sedona area.