Finding a digital nomad job (work from anywhere) is easier than you might think. As the world turns more and more to the internet the traditional office space is being replaced by laptops and virtual meetings.
If you want to travel full-time, explore the country by RV, live abroad, or just live in a van down by the river, there's an opportunity out there waiting for you.
What Are Digital Nomad Jobs
Jobs that allow you to travel, move about, and work from anywhere in the world.
What Are The Best Jobs To Do From Home?
Remote jobs or digital nomad jobs are ideal for working at home. They give you the flexibility to create your own schedule so that you can build your life around family and not your job.
What Skill Do I Need To Be A Digital Nomad?
The sky is the limit. As long as those skills can be shared over a computer the potential is there. Auto mechanics have become digital nomads by sharing their expertise through videos.
The Benefits Of A Remote Job
Your own schedule: A lot of remote jobs have a very flexible schedule as long as you get your hours in. Perhaps you're not a morning person and would prefer to get your work done in the evenings.
Your office is where you park it: You can literally work from anywhere. Maybe it's on your back deck enjoying a sunny day or overseas on your favorite white sand beach.
Save money: Just think of the money you'll save. No commute, parking fees, or outrageous lunch expenses.
Staying focused: Imagine having your workspace all to yourself. No more pencil tapping office neighbors or people stopping by distracting you from your work.
Are you excited?  I hope so because this could be your first step to the freedom you deserve. 
But if you don't find what you're looking for I don't want you to get discouraged because there are some other great options we will be looking at as well.
The Best Sites For Finding Digital Nomad Jobs
The remote job niche is getting more and more popular but still many sites fail to allow you to sort for them. This can make finding the jobs frustrating and quite frankly just a waste of time.
Even some of the leading sites like LinkedIn don't offer very many online jobs or make them really difficult to find.
1. FLEXJOBS
FlexJobs offers a tremendous variety of digital nomad jobs. They have everything from seasonal, temporary, part-time, and full-time jobs that all allow you to work from anywhere.
While the site is free for those who wish to post jobs, for you and I there is a $14.95 monthly fee to use it. They are however frequently running specials and I was able to get in for under $10.
If you ask me that's a small price to pay for the job opportunities they post.
2. HUBSTAFF TALENT
Hubstaff Talent gives you some additional options that other job sites don't. In addition to full and part-time jobs, they offer freelance contract and fixed price job opportunities.
These are especially useful for those that are just looking for some side income or temporary work. Perhaps you just need some extra cash for that trip of a lifetime or to pay off some debt.
3. PANGIAN
Pangian is more than just a remote work listing platform. They have an impressive Pangian chat community where you can connect with fellow remote workers from all over the world.
They have some great marketing and remote working tips to help you spice up your resume and online presence. And that of course is all in addition to the 10k plus jobs they have listed.

This completely free platform has been growing rapidly. What makes it unique is that AngelList focuses only on startups. If you want in on an early startup this is the place.
While not all jobs are specifically remote opportunities it's easy to sort and find ones that are. They also offer investment opportunities for startups if that is of interest to you.
5. REMOTE.CO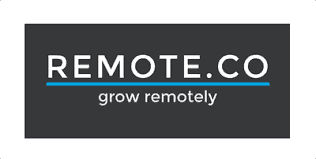 Remote.co is actually part of Flexjobs but offers some great additional features. If you go to Remote Companies you can learn details about the various companies to make sure you're a good fit not just for the job but also what the company stands for.
6. WE WORK REMOTELY

With over 2.5 million monthly visitors this popular job posting board has a lot of jobs in software engineering and design. We WeWorkRemotely is also free to use for the job hunter.
7. JOBSPRESSO
This high volume board has daily postings making it worth your time to check daily. They also do a good job of broadcasting new jobs over social media if you prefer to follow them that way.
Tips For Finding Digital Nomad Jobs
Several of these job sites don't even take a traditional paper/scanned resume. Instead you will be filling out a profile in their system along with a picture.
It's really important to have a good picture and not some selfie you took in the backyard.
Several of these sites have tips on how to fill out your profile and market yourself. Make sure you read through those to give you the best shot at a good job.
Best Jobs for Digital Nomads
When it comes to digital nomads looking for remote work, the opportunities are endless. While some jobs require extensive experience or a certain skill set, there is something for everyone out there.
Technology And Digital Nomad Jobs
Some of the best digital nomad jobs involve working with technology, such as web development and programming. These types of jobs typically require workers to be highly skilled in coding languages like HTML and JavaScript.
Furthermore, many digital nomads find success by taking on freelance work or contracting opportunities that allow them to telecommute from anywhere in the world.
Affiliate Marketing Jobs
Affiliate marketing is something that anyone can do and it's an ideal job for digital nomads as it requires minimal investment, offers good returns, and can be done from anywhere.
Affiliate marketing involves promoting other people's products or services to earn a commission. Depending on the niche you choose to pursue, there is a wide range of options available in terms of potential.
Copywriting, VA And Content Creation
Other popular digital nomad jobs include copywriting, virtual assistant work, content creation, data entry, editing and proofreading and video editing.
These positions require a strong command of the English language and excellent writing skills. Additionally, many digital nomads are self-employed entrepreneurs running their own online businesses such as web design or consulting services.
Freelancing
Freelancing is an excellent career path for individuals who possess unique skillsets and thrive on independence. Popular freelance jobs for digital nomads include web and graphic design, app development, freelance writing and editing, content creation and marketing.
Email marketing also has become a popular form of freelance work for digital nomads, requiring few tools and minimal setup time.
Podcasts And Podcast Editing
Lately podcasting and podcast editing become popular among digital nomads looking for an interesting and creative way to make money.
Podcasting is a great job for someone with a knack for storytelling and an interest in audio production.
As the demand for podcasts increases, so does the need for podcast editors who can help shape and polish the content into something that people will want to listen to.
Gig Economy Work For Digital Nomads
Finally, many digital nomads have found success in the gig economy, taking on short-term or one-off assignments from companies such as Uber and TaskRabbit.
These types of jobs offer flexibility and the ability to work when and where you want, making them perfect for digital nomads who are constantly in motion.
Gig Sites For Finding Work
Some sites that digital nomads can use to find work include Upwork, Freelancer.com, Fiverr and PeoplePerHour.
Other popular websites to consider include Guru, 99designs, DesignCrowd and Toptal. These sites allow digital nomads to post their resumes and portfolios so they can get hired for freelance gigs or longer jobs.
No matter what type of job you're looking for, there is sure to be something that fits your lifestyle and needs.
Travel Nursing
Those who choose to pursue a career in travel nursing have the opportunity to work with different teams of healthcare professionals and experience new cultures, while still providing vital medical care.
This type of job is perfect for those who want to combine their passion for helping others with an interest in travel.
Wrapping Up Digital Nomad Jobs
Overall, digital nomad jobs provide an excellent option for people who want to travel the world while earning a living.
With more and more employers embracing remote work opportunities, now is the perfect time to embrace the digital nomad lifestyle. Good luck!