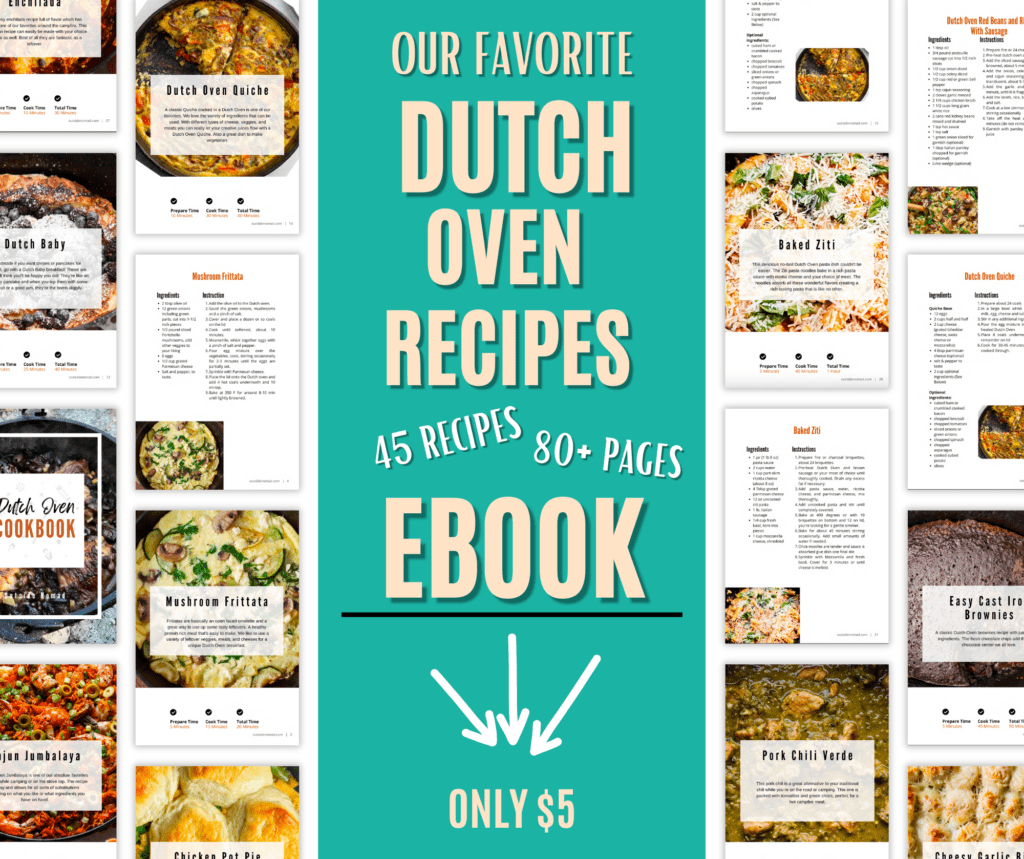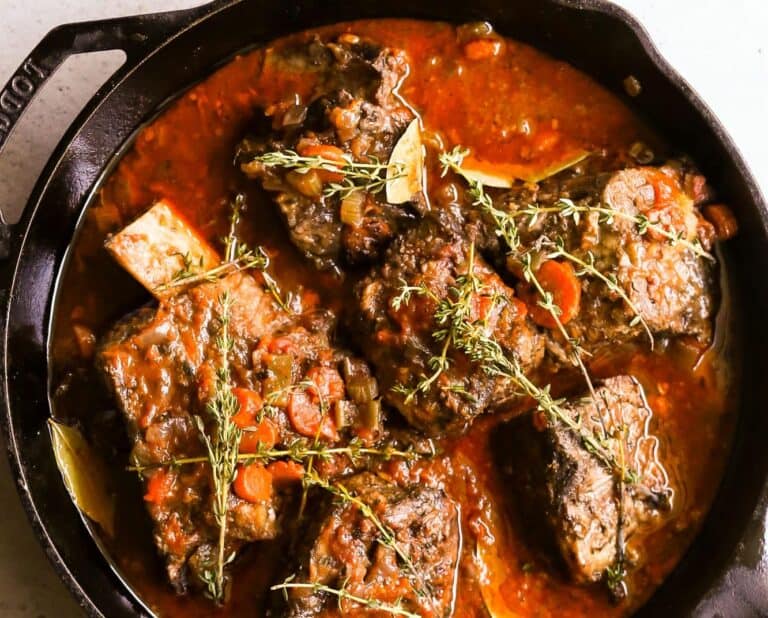 Yield:

6
Whiskey Braised Short Ribs
Total Time:
2 hours
15 minutes
Paired with a scoop of mashed potatoes these fork tender short ribs are intense with flavor. Deglazing with whiskey gives this dish a unique and rich flavor that you won't believe you made over the campfire.
Ingredients
2 Tbsp unsalted butter
1 Tbsp extra virgin olive oil
3 lbs boneless beef short ribs
1/4 cup flour
3 medium carrots, peeled and diced
3 celery stalks diced
2 large shallots, peeled and cut into wedges
4 cloves garlic, minced
1 Tbsp tomato paste
2 Tbsp light brown sugar
1 Tbsp Worcestershire sauce
1/2 cup Irish whiskey (+2 Tbsp for sauce)
3 cups beef stock (+ 1/4 cup for sauce)
4-5 sprigs fresh thyme
3 bay leaves
salt and pepper
Instructions
Prepare coals and pre-heat Dutch Oven. This recipe cooks for over 2 hours so you will need two batches of coals. Start half now and reserve the rest to start in 1 hour.
Generously season the short ribs with salt and pepper. Then coat ribs with flour.
Heat the oil and butter in pre-heated Dutch Oven. Add the floured short ribs and brown on all sides, about 10 mins. Remove and set aside.
Add the carrots, celery and shallot wedges to the pot. Season with salt and pepper. Saute until the vegetables are softened and beginning to caramelize, about 10 mins.
Add the garlic and saute 2 mins longer. Stir in the tomato paste, brown sugar, and Worcestershire sauce and cook for 2 mins.
Deglaze with 1/2 cup Irish whiskey. Bring to a boil and reduce by half. Stir in 3 cups beef stock and bring to a boil.
Reduce heat to a simmer and place short ribs into the pot with the thyme sprigs and bay leaves. Cover and cook for 2 – 2 1/2 hours or until fork tender, turning occasionally.
Remove the dutch oven from heat and remove the short ribs to a plate and cover with tin foil
Strain the vegetables from the liquid. Pour the braising liquid into a fat separator or simply strain off as much fat as you can with a ladle or spoon. Pour the strained liquid into the dutch oven, add the additional whiskey, and stock.
Season the sauce with salt and pepper and bring to a boil. Continue to boil until you reach your desired consistency for the sauce. Serve the short ribs with the sauce spooned over the top.
How To Determine How Many Coals To Place On, And Under Your Dutch Oven:
The amount and placement of coals on and under your Dutch Oven is important. We often just use the coals from a fire which takes some practice as the heat produced from that is more difficult to measure. We recommend using charcoal briquettes for the most consistent results.
The perfect amount of briquettes is based on your Dutch Oven diameter. For example, if you are using a 10" Dutch Oven, you will need two coals per inch, or a total of 20. To figure out how many coals to place on and under you oven all you need to do is remember the number 2.
For the lid you'll want to place 2 more than the oven size on the lid and for underneath you'll want to place 2 less than the oven size. So for our 10" dutch oven we would place 12 on the lid and 8 on the bottom. For a 12" dutch oven you would place 14 on the lid and 10 on the bottom. This works out to about a 350 degree oven which is just right for most recipes.
Recommended Products
As an Amazon Associate and member of other affiliate programs, I earn from qualifying purchases.
Nutrition Information
Yield
6
Serving Size
1
Amount Per Serving
Calories

858
Total Fat

58g
Saturated Fat

26g
Trans Fat

3g
Unsaturated Fat

31g
Cholesterol

237mg
Sodium

508mg
Carbohydrates

16g
Fiber

2g
Sugar

7g
Protein

62g
Don't miss these other mouth watering Dutch Oven Campfire Recipes