This Mediterranean dish blends prunes, capers, and olives for a sweet and savory chicken dish that is out of this world. Best of all it's VERY easy to make. Serve over rice or pilaf and with a side of warm french bread to enjoy every last drop of the savory sauce.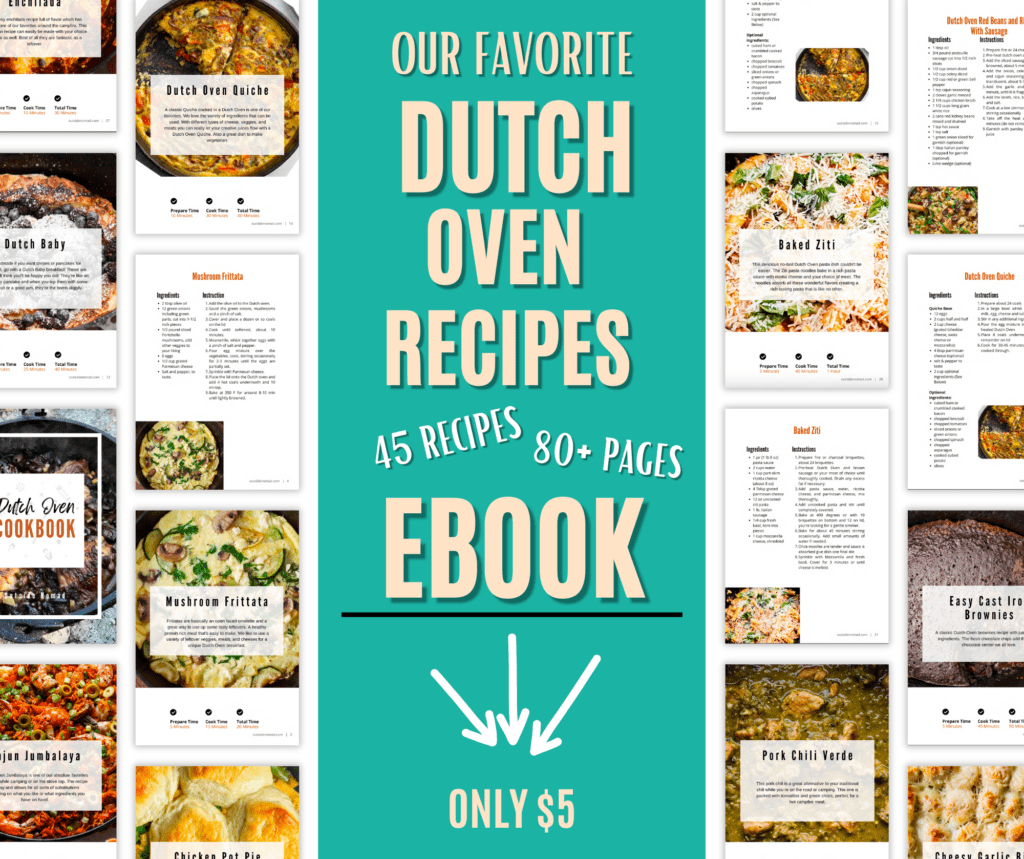 Yield:

4-6 Pieces
Dutch Oven Chicken Marbella
Enjoy a gourmet campfire experience that is sweet and savory but without any of the work. The Mediterranean Chicken Marbella uses chopped prunes capers, and olives to create this magical sauce that's combined with chicken for a slow bake. This irresistible combination is easy to prepare and perfect for a campfire cookout.
This dish creates a delicious sauce that is perfect for spooning over your favorite rice or pilaf. We often get a fresh loaf of French bread to soak up every last bit of this savory sauce.
Ingredients
1 cup chopped prunes
1 cup Mediterranean or Greek olives, pitted & halved
½ cup dry white wine
¼ cup capers
¼ cup red wine vinegar
6 cloves garlic, roughly chopped
2 tablespoons dried oregano
2 bay leaves
1 teaspoon salt
4 chicken thighs, skin on
1 tablespoon olive oil
4 teaspoons brown sugar
Instructions
MARINATE CHICKEN for 6-24 hours. While not required, this does help meld all these amazing flavors into the chicken. Combine all of the ingredients except for oil and brown sugar and keep cool in refrigerator or ice chest.
PREP THE FIRE - You need about 2 dozen charcoal briquettes or coals from the campfire. You'll want a hot Dutch Oven shooting for around 425 degrees. Once coals are ready knock them flat and place Dutch Oven on top.
BROWN CHICKEN - Place 1 tablespoon olive oil into the pre-heated dutch oven. Make sure oven is plenty hot, a drop of water should instantly pop and sizzle. Remove chicken from marinade and rub skin with brown sugar(SAVE THE MARINADE). Place skin side down in Dutch Oven and cook until skin is crispy and brown, about 6-8 minutes. Then flip and cook for additional 2 minutes.
BAKING - Remove Dutch Oven from coals and add marinade. Place cover on Dutch Oven and prepare about 9 coals underneath and 18 coals on lid. Bake for about 30 minutes or until chicken is cooked through.
SERVE - Delicious with rice or pilaf with sauce spooned over the top.
How To Determine How Many Coals To Place On, And Under Your Dutch Oven:
The amount and placement of coals on and under your Dutch Oven is important. We often just use the coals from a fire which takes some practice as the heat produced from that is more difficult to measure. We recommend using charcoal briquettes for the most consistent results.
The perfect amount of briquettes is based on your Dutch Oven diameter. For example, if you are using a 10" Dutch Oven, you will need two coals per inch, or a total of 20. To figure out how many coals to place on and under you oven all you need to do is remember the number 2.
For the lid you'll want to place 2 more than the oven size on the lid and for underneath you'll want to place 2 less than the oven size. So for our 10" dutch oven we would place 12 on the lid and 8 on the bottom. For a 12" dutch oven you would place 14 on the lid and 10 on the bottom. This works out to about a 350 degree oven which is just right for most recipes.
Recommended Products
As an Amazon Associate and member of other affiliate programs, I earn from qualifying purchases.
Nutrition Information
Yield
5
Serving Size
1
Amount Per Serving
Calories

453
Total Fat

25g
Saturated Fat

7g
Trans Fat

0g
Unsaturated Fat

18g
Cholesterol

138mg
Sodium

980mg
Carbohydrates

32g
Fiber

4g
Sugar

17g
Protein

26g
Looking for more amazing recipes? Here are 45 Mouth Watering Dutch Oven Recipes