There's nothing like the great outdoors. The sun on your face, the wind in your hair, and a delicious meal cooking over the open flame. But, it's easy to face a meal rut when you're out on the road and need something filling to keep going. Munching on the same things can get boring, and you never know when the sweet or savory cravings will hit you.
That's where having some easy-to-prepare and yummy meal ideas will save the day for you. If you're lucky enough to have a campervan, these meals will make your trips more enjoyable and less tiring. So, fire up that stove, and let's get cooking!
Insiders Tips: You will find that some of these recipes require an oven to bake your food, but if you don't have an oven or dutch oven for outdoor cooking, a great option is an Omnia oven over a propane stove
Looking for Other Good Ideas for Cooking on the Road? Don't Miss These Ideas
You May Also Enjoy Reading 25 Campervan Kitchen Accessories For Van Cooking
What Are Some Easy-to-Prepare Meal Ideas for Your Campervan Trips?
You can make lots of great meals in a campervan, but some are definitely better than others. When it comes to filling and tasty campervan meals, these come out on top:
Curry
Lentil soup
Overnight oats
Zucchini Boats Filled with Your Favorite Veggies and Protein
One-Pan Pesto Chicken Penne
Looking for more ideas for eating on the road whether you're in an RV, Skoolie, or Campervan Keep on reading
Breakfast Meals For Road Trips
Omelette Eggs, Hot Sauce, and Sausage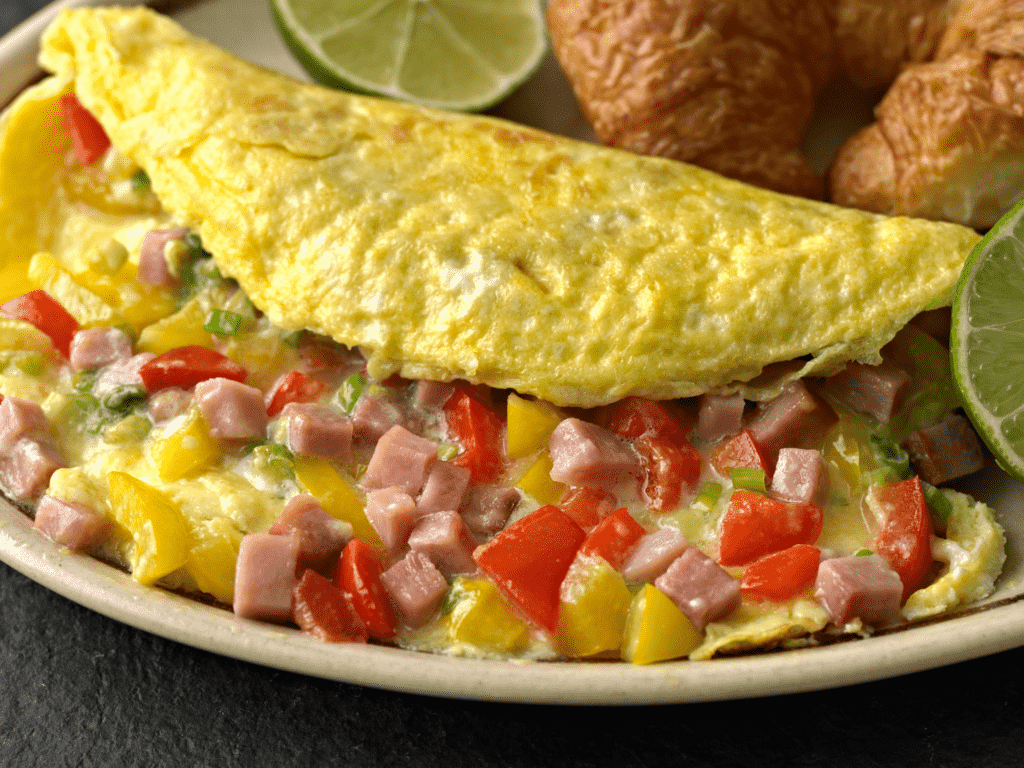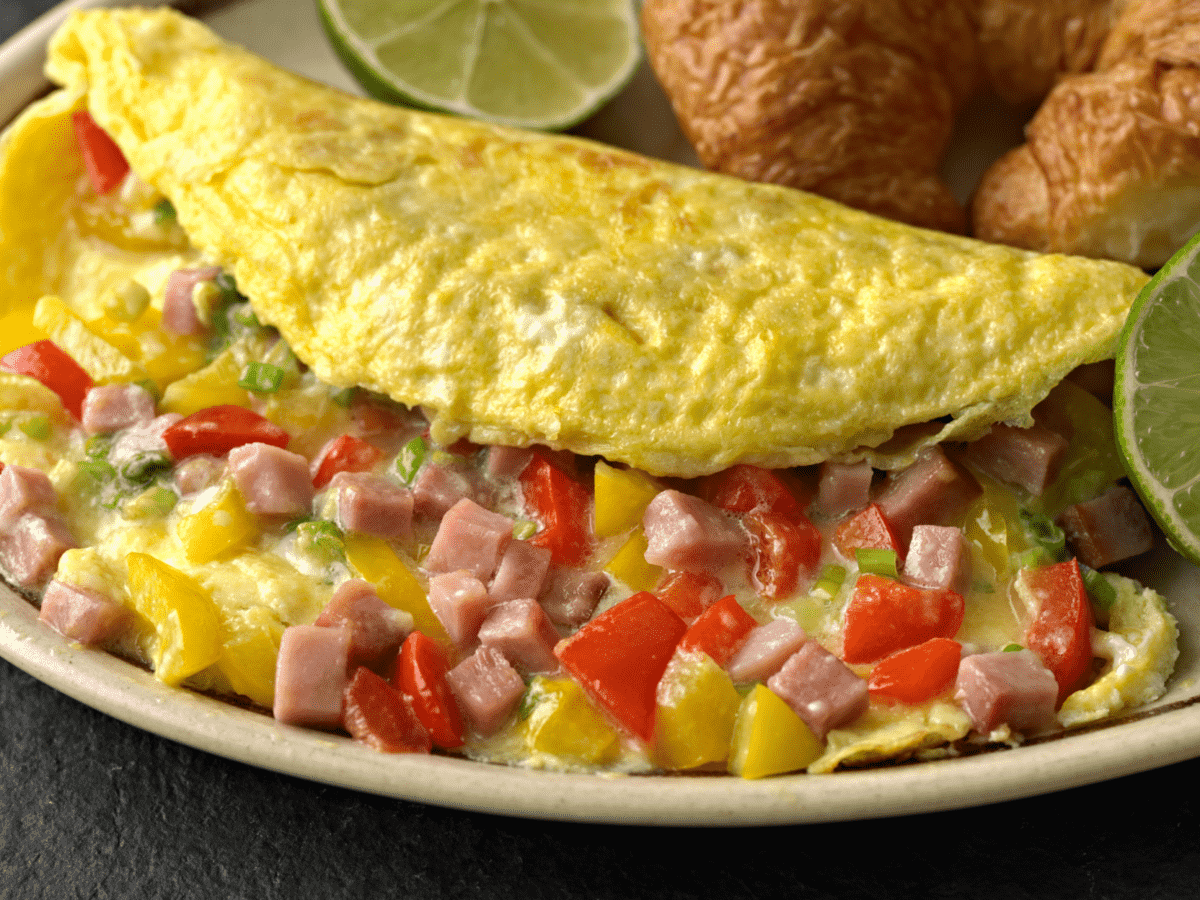 A popular road trip breakfast is an omelet with hot sauce and sausage, which can be cooked in a frying pan, on a griddle over campfire coals, or even in a dutch-oven if you're in for a relaxing breakfast.
Omelets are great because you can use leftover veggies from the night before or add some of your favorite fresh veggies for a new flavor.
The ingredients are simple: eggs, cheese, and any other toppings you'd like to include.
You can vary the style of your omelet by how you cook it.
To make a traditional omelet:
Beat eggs in a bowl and season them with salt and pepper.
Heat up a frying pan with a bit of olive oil, butter, or bacon grease.
Pour in the egg mixture and cook until it's almost set but still runny on top.
Add your favorite veggies and cheese on top and cover the pan with a lid. Cook for another few minutes until the cheese is melted.
Sausage Rolls
A great breakfast dish for a road trip is sausage rolls. Sausage rolls are a traditional dish in both the United Kingdom and Ireland. They're so popular that it's easy to forget how wonderful they are: A buttery puff pastry baked to golden perfection lends a light flakiness and crunch to go with the hearty meat filling made of eggs, sausage, onions, and spices.
These can be made with either pre-made pastry or homemade and are fast and easy to make while on the go. The ingredients are simple!
Eggs and Toast-Simple and Easy Campervan Meal
The simple breakfast of eggs and toast is always a winner on the road. Not only are eggs and toast quick it requires little clean-up so you can get on the road sooner.
Overnight Oats- Favorite Easy Campervan Meal for Breakfast
Overnight oats are a breakfast staple for many people. It is easy to make, and you can prepare it the night before, so all you have to do in the morning is take it out of the fridge, put it in a bowl, and enjoy.
Overnight oats are great because you can use any kind of milk or non-dairy milk (such as almond or soy). People enjoy the ease of overnight oats because they can make it the night before and not have to worry about making breakfast in the morning.
We love topping our overnight oats with some fresh fruit, chia seeds, and nuts, but you can top it with whatever you like.
Lunch Ideas For Van Camping, RVing and Travel
Grilled Cheese Sandwiches and Tomato Soup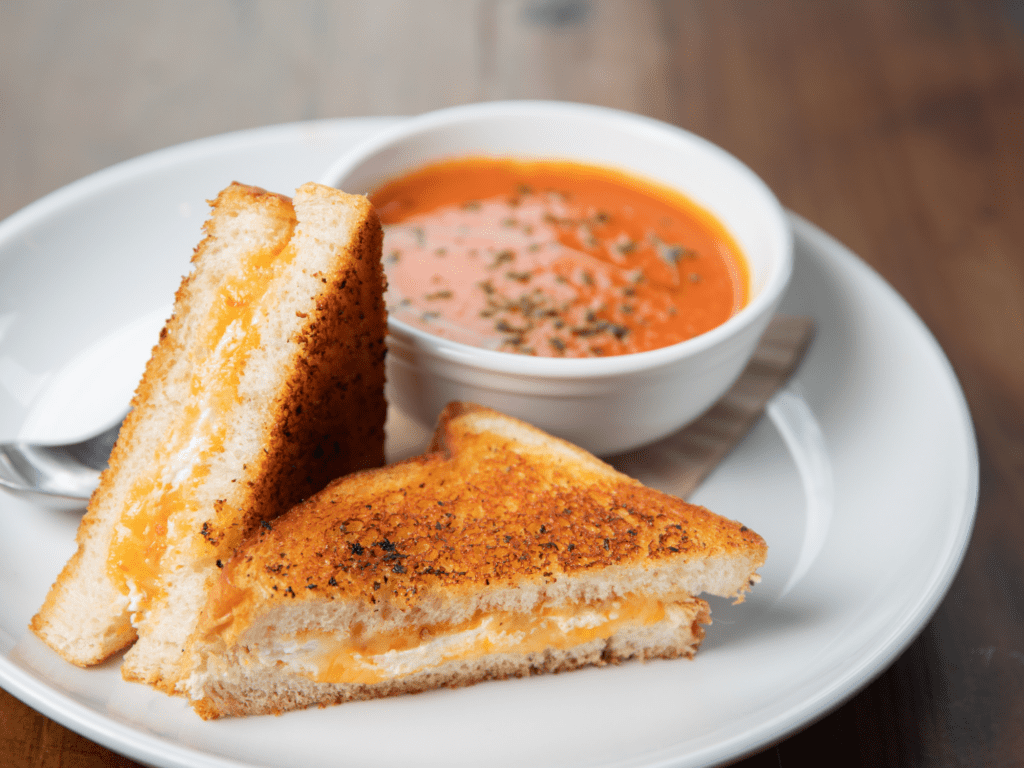 Grilled cheese and tomato soup is classic comfort food, perfect for a cozy campervan meal. The best thing about this dish is that you can cook it in the van without sacrificing its flavor or quality.
Simmer canned tomatoes with garlic, onion, and seasonings until heated through to make the soup.
For the grilled cheese, use your van's stovetop to grill thick slices of bread until they are golden brown and crusty. Then add your favorite cheese to the slices and serve with the hot soup.
This easy meal will please any hungry camper, and it can be easily customized to suit your taste. So next time you're planning a long road trip, add grilled cheese and tomato soup to your menu.
Mac' N' Cheese
Simply boil the water and add the mac and cheese mix, following the instructions on the box. You'll have a hot and cheesy meal that's perfect for a camping trip in just a few minutes.
Plus, this meal's clean-up is a breeze. So, always pack some mac and cheese before hitting the road – it's an easy way to make a delicious meal with minimal effort.
If you'd like to add some pizzaz to your mac, I recommend sauteing some garlic, red peppers and adding frozen peas. Don't forget to top with some hot sauce.
Rice, Beans, and Salsa (Cheap and Easy Campervan Meal)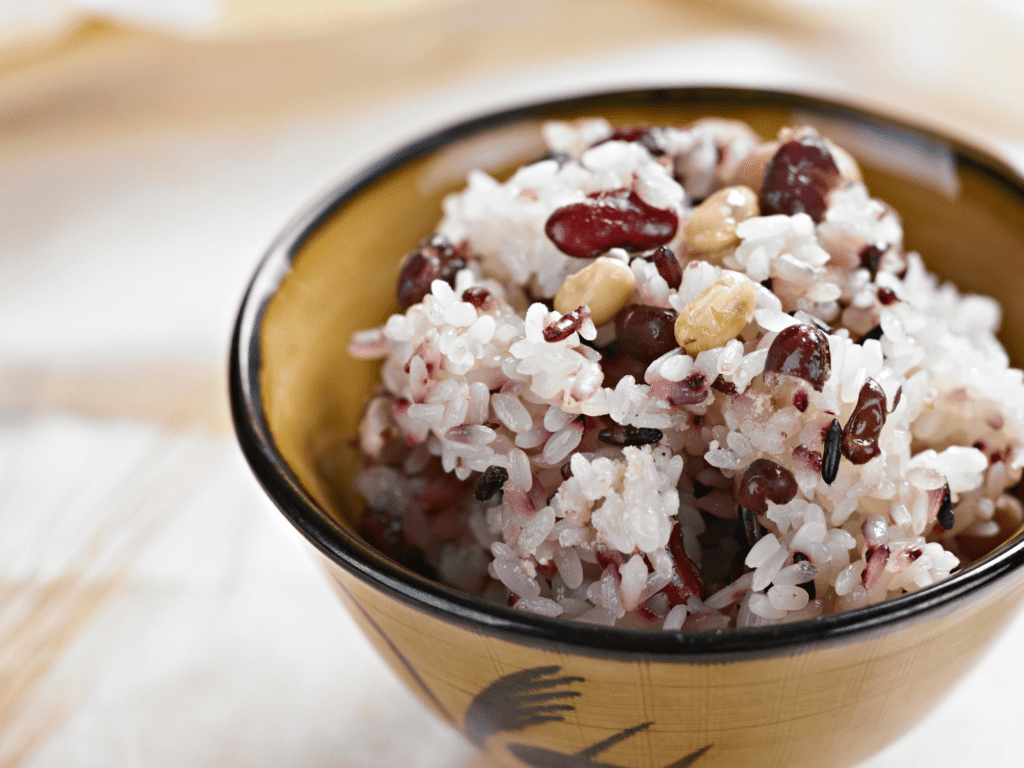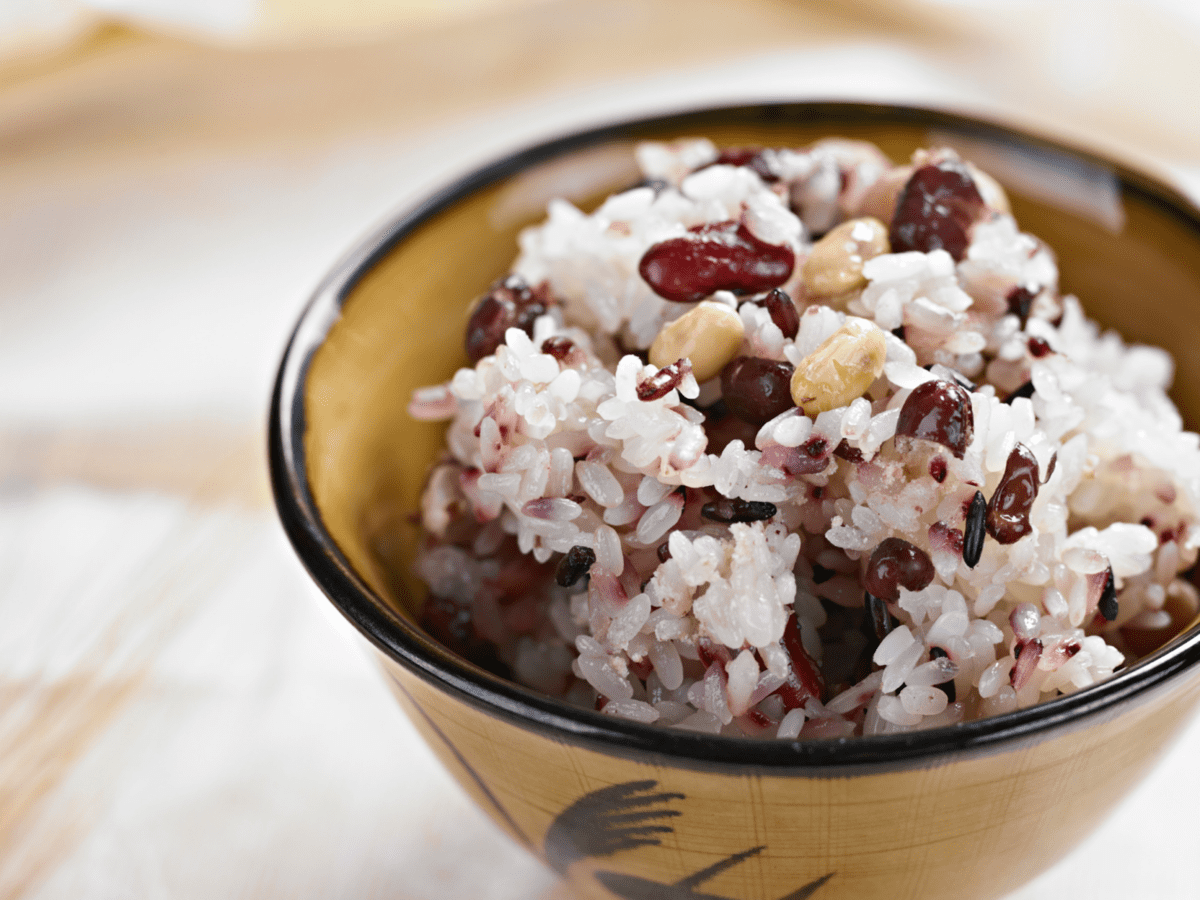 If you're looking for a nutritious, cheap, and easy-to-make campervan dish, look no further than rice and beans. This classic combination is not only packed with protein and fiber, but it's also incredibly versatile.
You can make it with white or brown rice, black or pinto beans, and any number of spices and seasonings. You can cook it in one pot on your camp stove or instant pot, making clean-up a breeze.
All you need is rice, beans, salsa, and spices of your choice. If you practically live on the road and snacking on junk food is not an option, rice and beans are a go-to dish.
Egg Sandwiches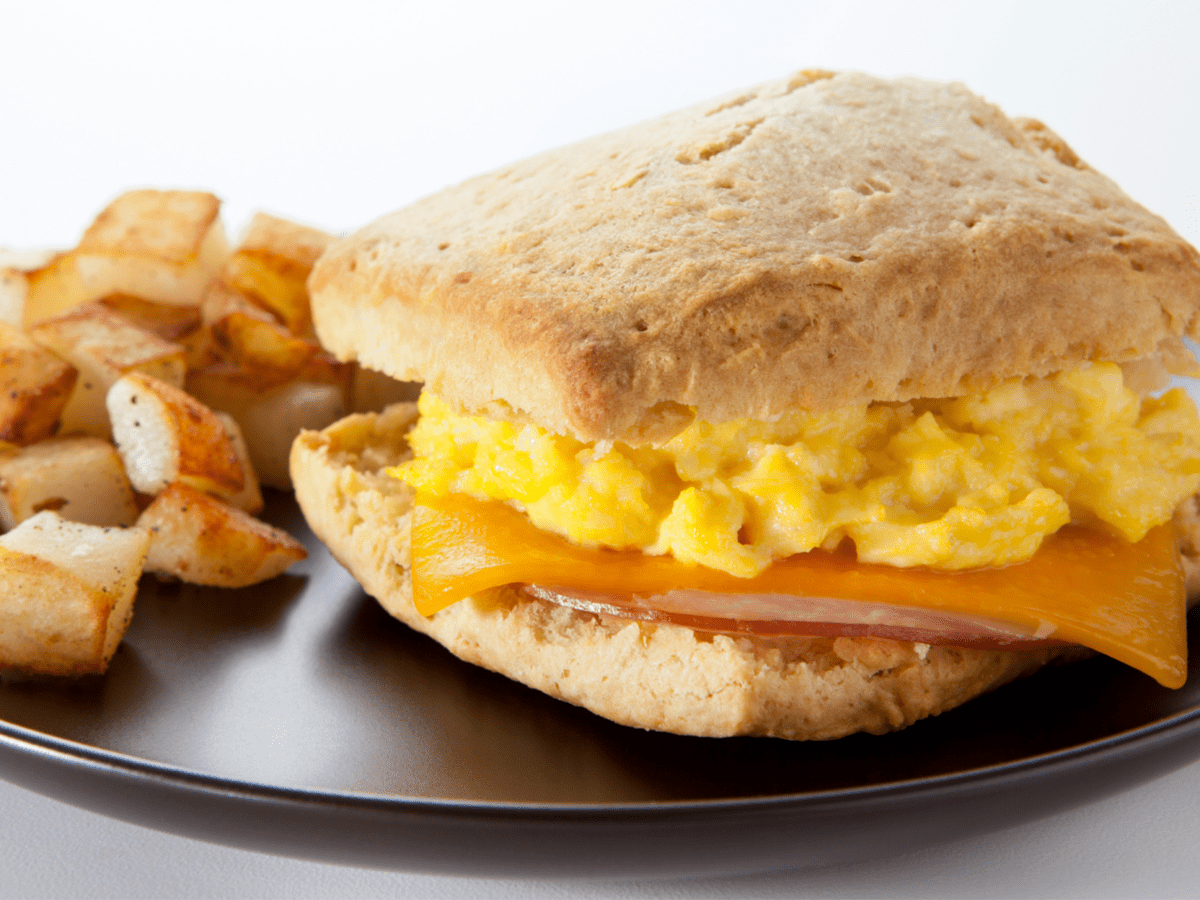 Egg sandwiches are a delicious and easy-to-prepare meal that can be enjoyed on the go. You need a pan, some eggs, and your favorite bread.
To make a basic egg sandwich, simply fry an egg to your desired level of doneness and then place it on a slice of bread. You can also add additional toppings, such as cheese or bacon.
When cooking in a campervan, it is essential to use a stovetop burner or portable grill that is designed for outdoor use. This will help ensure that your food is cooked evenly and safely. You can enjoy a delicious and satisfying egg sandwich anytime, anywhere, with just a few simple ingredients.
Dinner Campervan Recipes
Quinoa Stir-Fry (Make Vegetarian or Add Steak)
If you're looking for a hassle-free meal to prepare in your campervan, quinoa stir-fry is one good option. You can start by cooking the quinoa in a pot of boiling water. While the quinoa is cooking, chop up your vegetables into bite-sized pieces.
Once the quinoa is cooked, simply stir-fry the vegetables in a pan with a bit of oil. You can add any seasonings you like, but a simple salt and pepper will suffice.
Quinoa stir-fry is a healthy and delicious meal you can easily prepare in your campervan without making any mess.
Spaghetti and Meatballs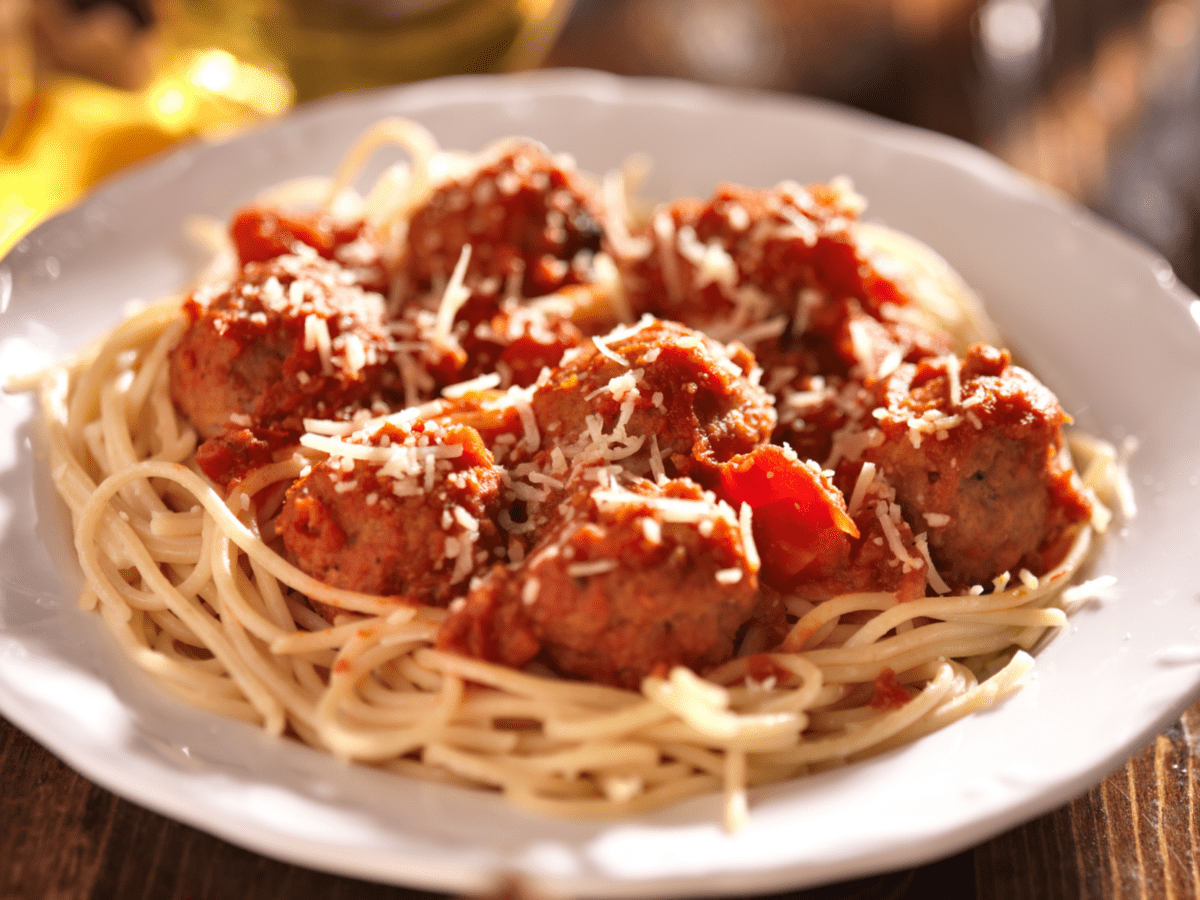 Spaghetti and meatballs is a classic dish you can easily make in the campervan. The ingredients are simple and inexpensive, making it an excellent option for budget-minded travelers.
Plus, you can quickly adapt this dish to accommodate different dietary needs. For example, vegans can omit meatballs or substitute them with a plant-based alternative.
You can also cook spaghetti on your van stovetop or, if you're feeling more adventurous, in a dutch oven. Either way, this hearty dish will hit the spot after a long day of exploring and traveling.
Chili Con Carne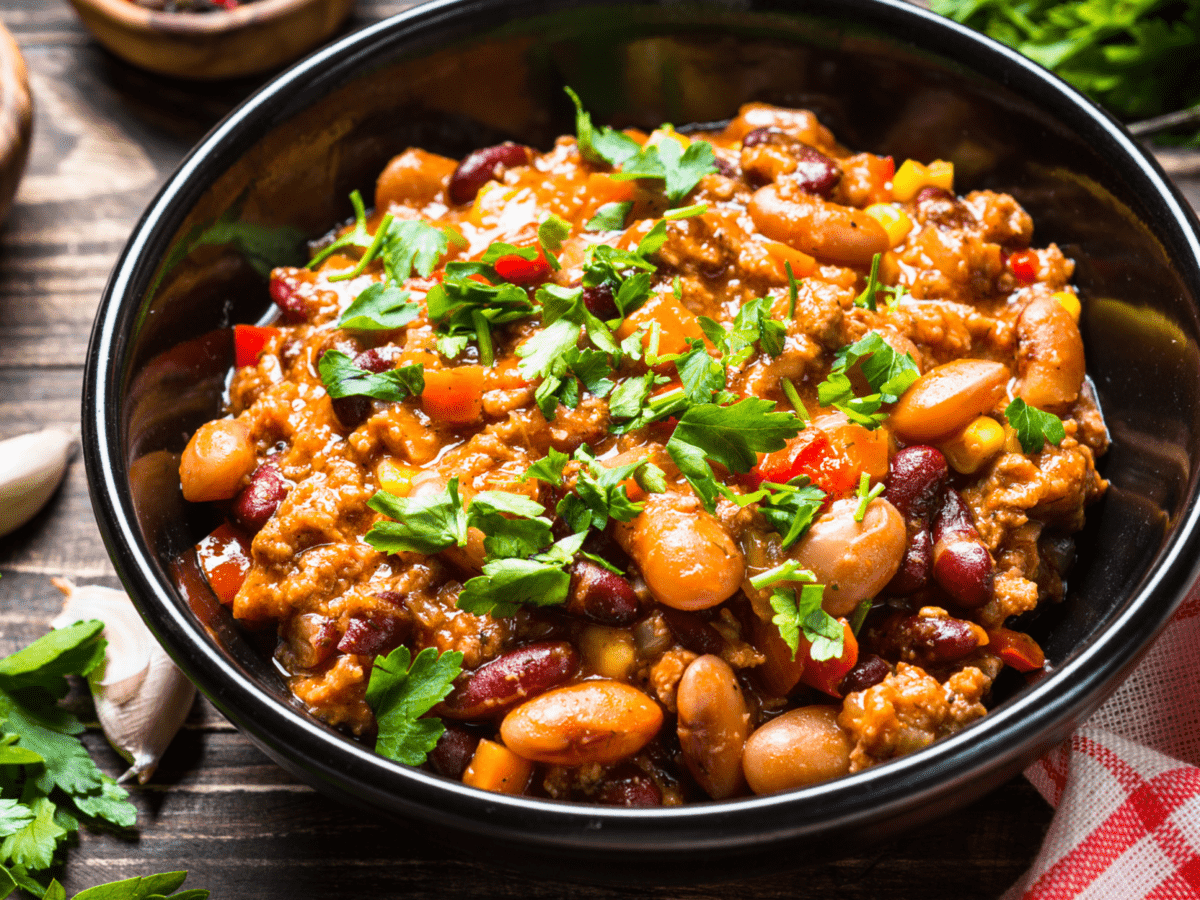 Chili con carne is the perfect meal for a night in your campervan. Not only is it hearty and filling, but it's also easy to make.
Plus, chili is the perfect dish for using up any leftover ingredients you might have lying around. To make chili con carne in your van, simply sauté some onions and garlic, then add in your ground beef or turkey.
Next, stir in a can of diced tomatoes, a can of red kidney beans (rinsed and drained), and a tablespoon of chili powder. Season to taste with salt and pepper, then let the chili simmer for 20-30 minutes.
Serve with shredded cheese and chopped green onions on top.
Spaghetti Bolognese
This classic dish is always a winner, and it's perfect for anyone who loves Italian food. The finger-licking Bolognese delight is made with a simple tomato and meat sauce, then served over spaghetti noodles.
While spaghetti Bolognese traditionally contains beef, you can also make it with ground pork or turkey to ease your work. Just cook up some ground beef or pork with onions and garlic, then add in a jar of tomato sauce and some seasonings.
Serve it over a bed of spaghetti, and you've got a filling and delicious meal right in your campervan. Spaghetti Bolognese is perfect for a cold winter night and also relatively easy to make, making it a superb option for busy travelers.
Sloppy Joes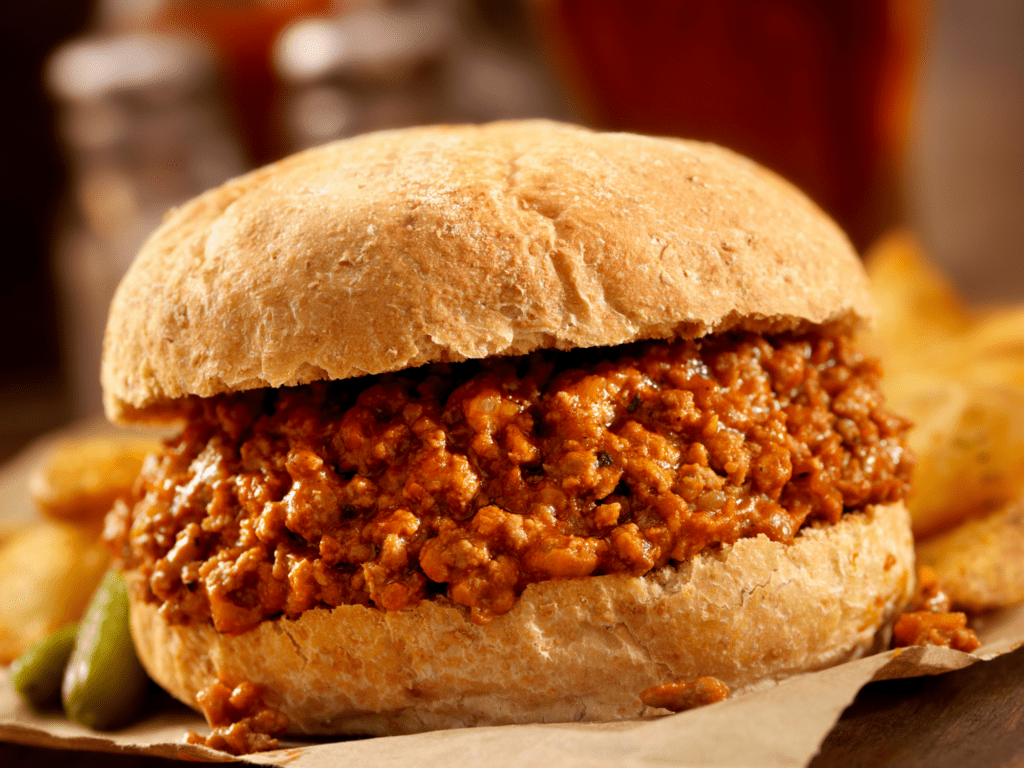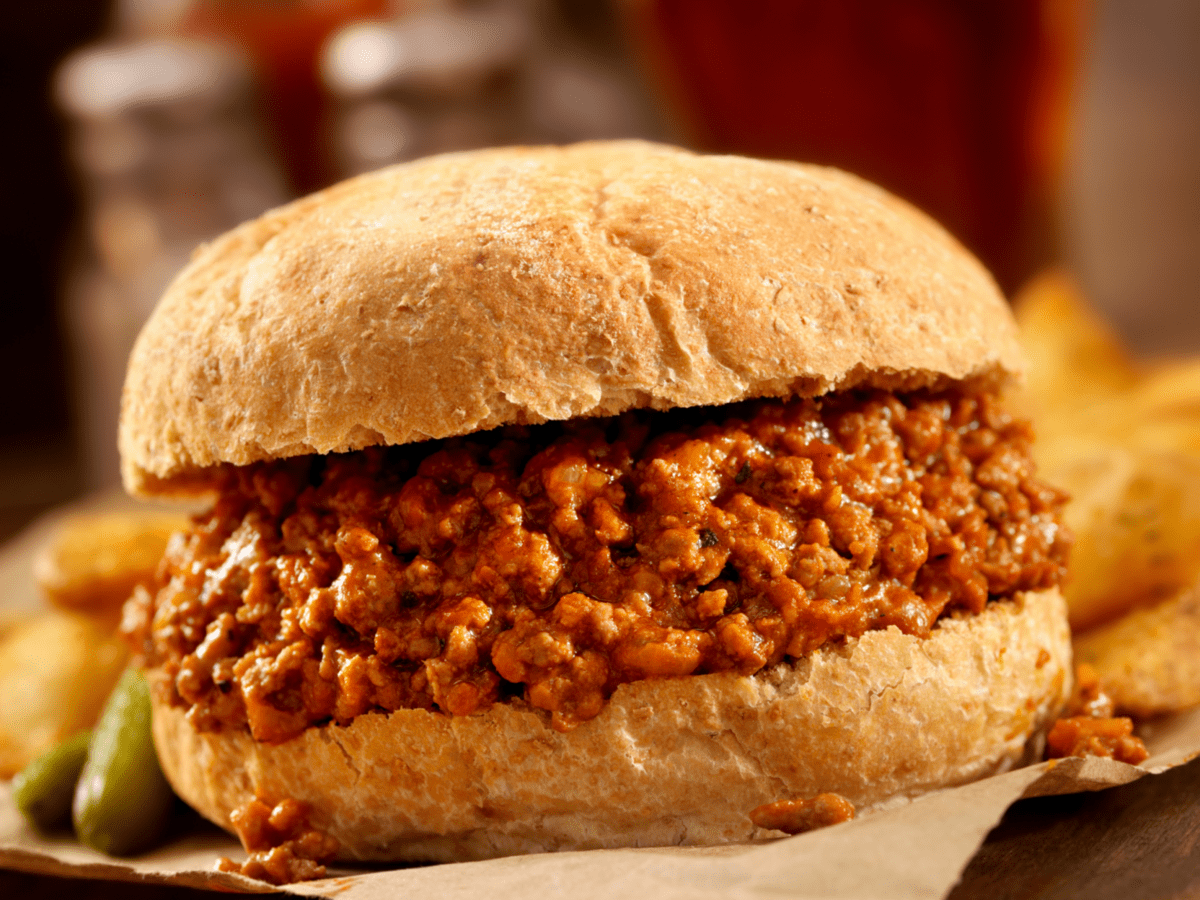 Sloppy joes are a classic American sandwich, and they make a perfect meal for camping in a campervan. Sloppy Joes are easy to prepare, and they're hearty and filling – perfect for a long day of hiking or exploring.
To make sloppy joes in your van, simply brown some ground beef in a pan and add a can of tomato sauce. Then, spoon the mixture onto hamburger buns and enjoy. Sloppy joes are best served with a side of chips or fries, and they'll keep you satisfied all day long.
Grilled Salmon With Fry Pan Roasted Vegetables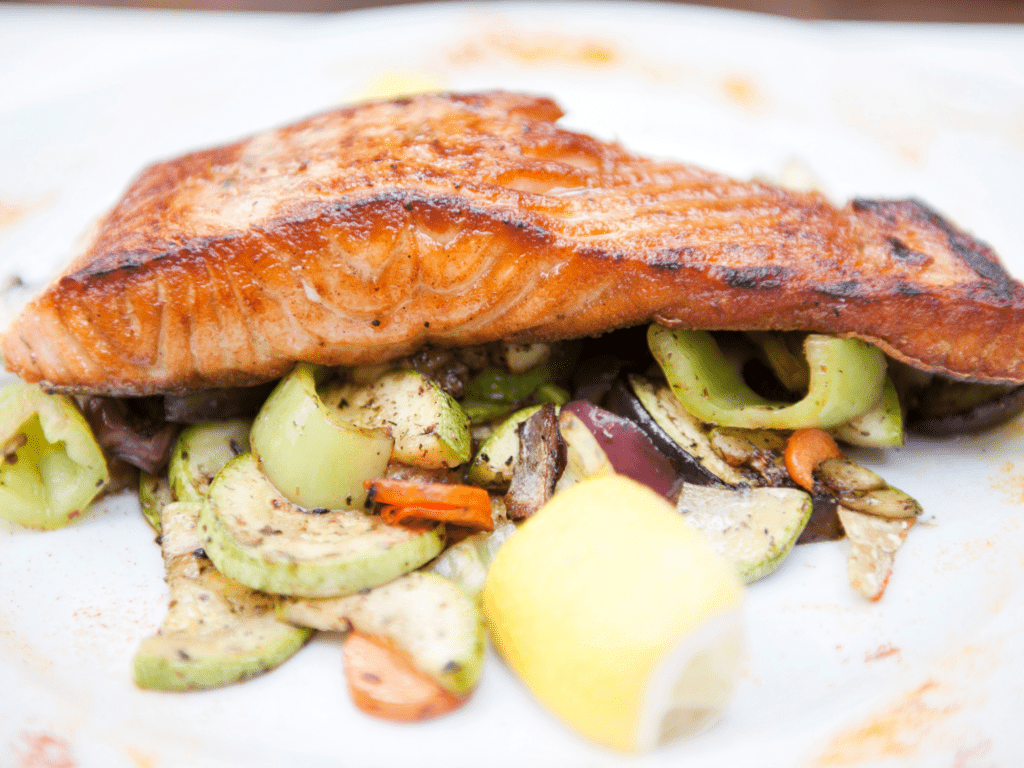 Grilled salmon is another superb option for a healthy, hearty meal while camping. You can easily prepare it in your campervan by grilling the salmon on a portable grill or campfire.
To add some extra flavor, try marinating the salmon in a homemade citrus marinade or BBQ sauce. Roasted vegetables are also a great option to accompany the salmon.
You can cook veggies on the grill alongside the fish or roast them in the oven. Serve the grilled salmon and roasted vegetables with rice or quinoa and a simple green salad for a complete meal.
Vegetarian Chili
If you're craving a hearty chili while traveling but want to keep things vegetarian, this recipe is for you. It's packed with beans, vegetables, and all the savory spices you love and can easily be made in your campervan.
Just sauté the onions and garlic, then add the rest of the ingredients and let it simmer. In no time at all, you'll have a delicious meal that will leave you feeling satisfied.
Vegetarian chili is easy to make ahead of time and reheat when you're ready to eat, making it the perfect campfire meal.
Spaghetti Squash With Marinara Sauce
Spaghetti squash with marinara sauce is a tasty and easy-to-prepare campervan dish. First, cut the spaghetti squash in half lengthwise and scoop out the seeds.
Next, place the squash halves cut side down in an instant pot for 30-40 minutes, or until the squash is tender. Once the squash is cooked, use a fork to scrape out the flesh into strands. Finally, top with your favorite marinara sauce and enjoy.
Eggplant Parmesan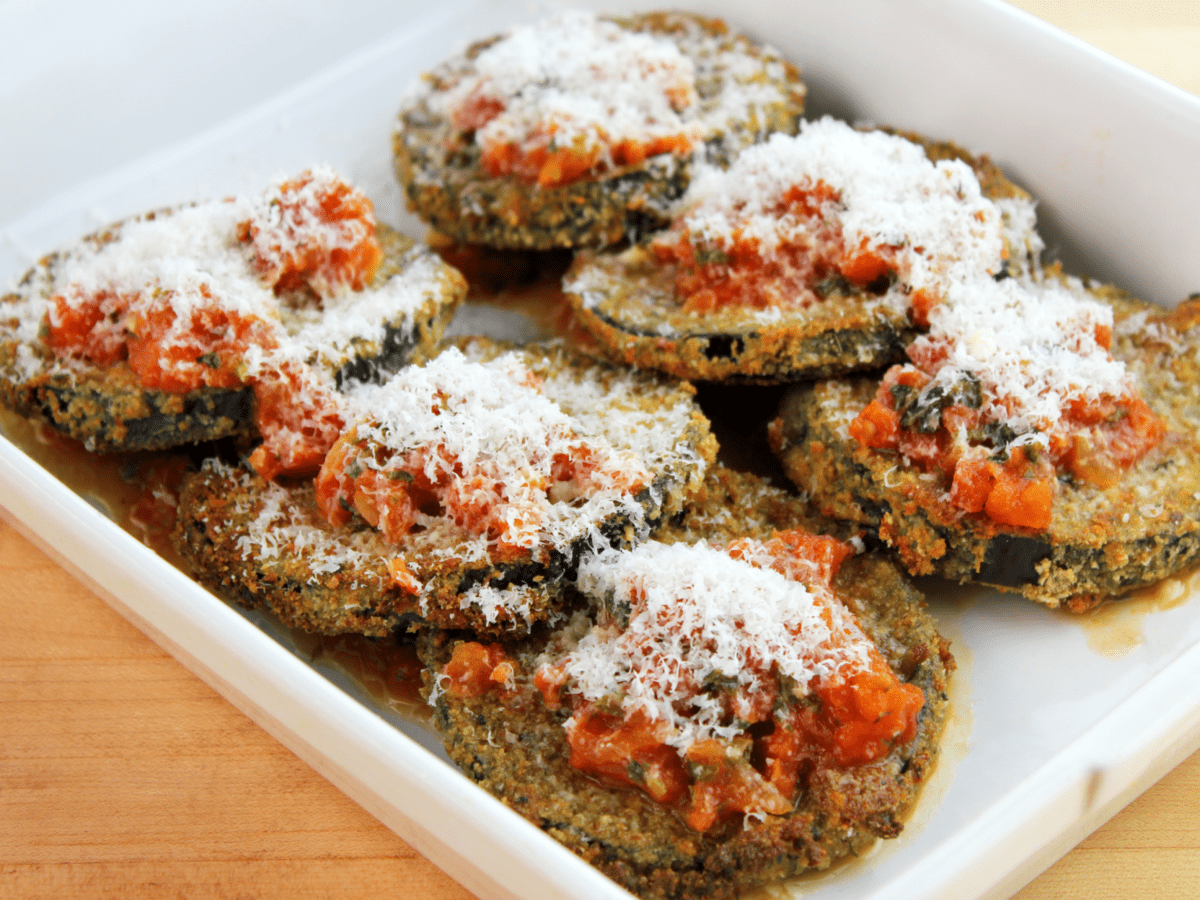 Eggplant parmesan is a classic Italian dish that is perfect for campers. Not only is it delicious, but it is also relatively easy to prepare. The first step is to slice the eggplant into thin slices. Next, lightly dust the slices with flour and pan-fry them in olive oil until they are golden brown.
Once the eggplant slices are cooked, you can begin assembling the dish. Start by spreading a layer of tomato sauce on the bottom of your baking dish. Then, add a layer of eggplant slices, followed by a layer of mozzarella cheese. Repeat these steps until you reach the top of the dish.
Finally, bake the eggplant parmesan in your campervan oven until the cheese is melted and bubbly.
Turkey Meatloaf
Turkey meatloaf is an excellent campervan dish for a few reasons. Here are some of them:
It's relatively easy to prepare. You can mix all of the ingredients together in one bowl and then shape the meatloaf into patties, ensuring there's minimal clean-up required.
Turkey meatloaf is very versatile. You can add whatever seasonings you like or even experiment with different types of ground meat.
This dish is very filling and satisfying, perfect for a long day of hiking or exploring.
Turkey meatloaf reheats well, so you can make a big batch and enjoy leftovers for days.
If you want a delicious and easy-to-prepare campervan meal, look no further than turkey meatloaf.
Insider Tip: As mentioned above, you can use an Omnia oven, a propane stove, or a dutch oven if you don't have an oven in your van.
Zucchini Boats Filled with Your Favorite Veggies and Protein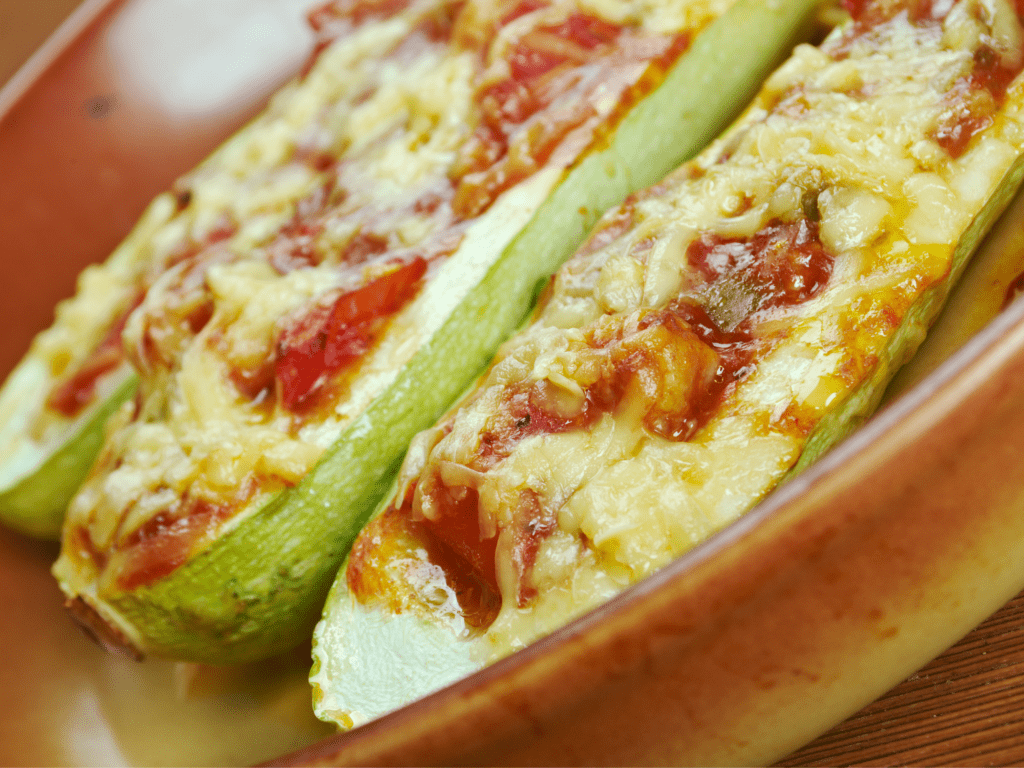 This dish is simple to make and can be adapted to whatever ingredients you have on hand. Preheat your oven, slice zucchini in half lengthwise, scoop out the seeds, and fill the boats with your favorite veggies or protein.
The combination of diced tomatoes, onions, garlic, and ground beef is ideal, but you can really use any combination of ingredients that you like. Once the boats are filled, just bake in the oven until the zucchini is tender and the filling is hot and bubbly.
This dish is not only delicious, but it's also an easy way to get your veggies in while you're on the road. So next time you're feeling cramped in your campervan, whip up a batch of these zucchini boats and enjoy a healthy and delicious meal.
Salads (Yep, Salad is a Whole Meal)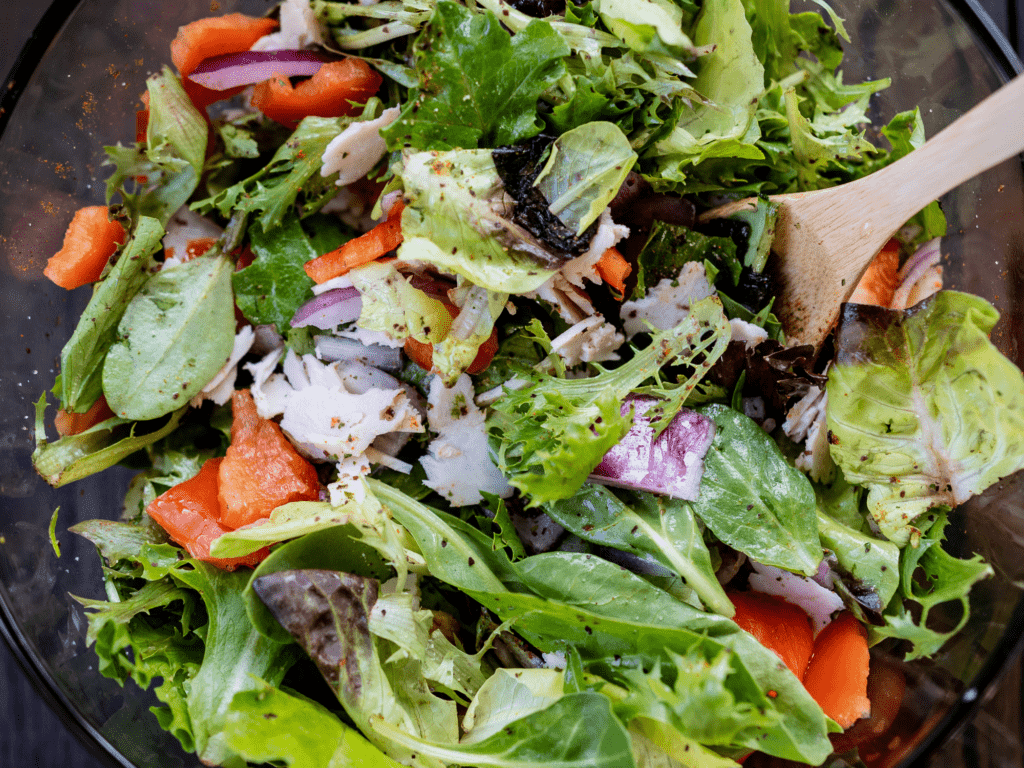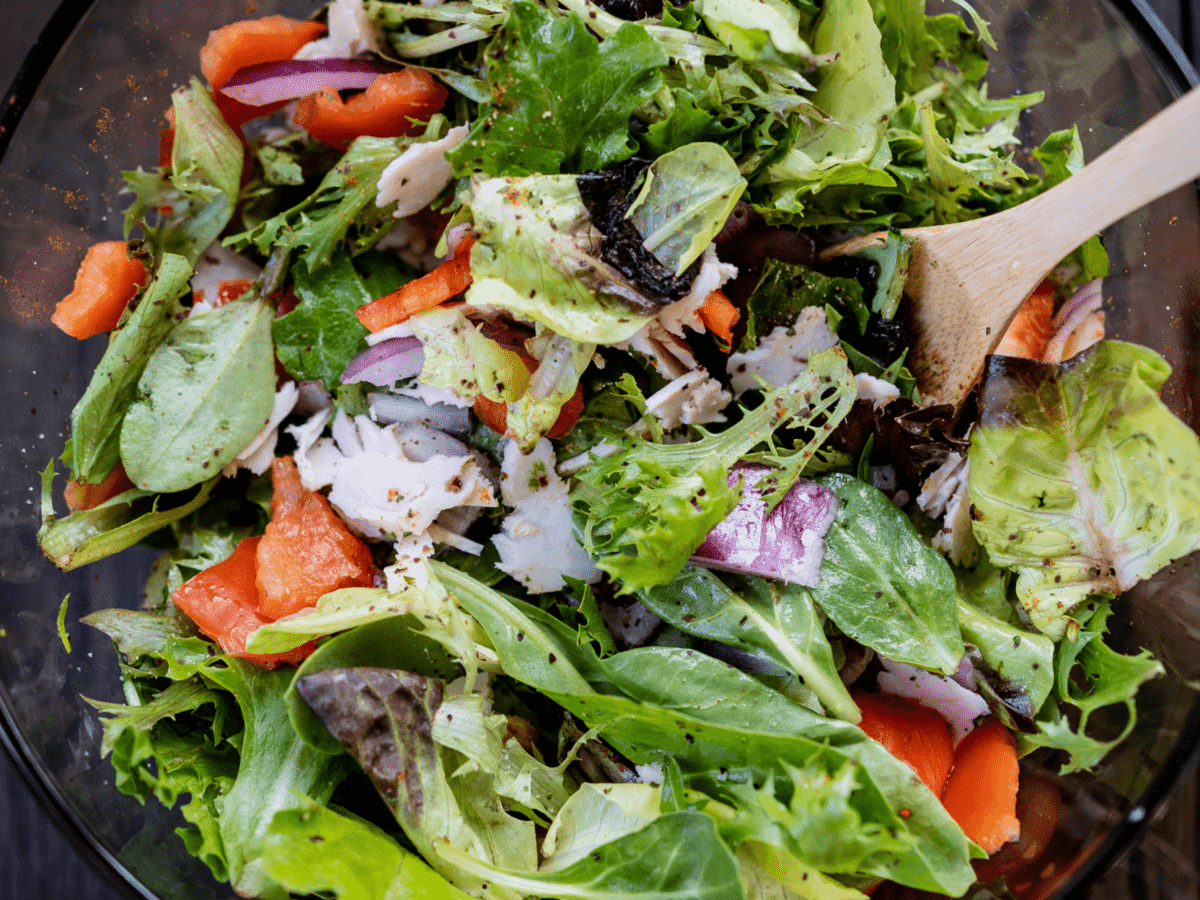 A salad is the perfect option if you're looking for a light but filling meal to enjoy in your campervan or RV. Salads include a variety of ingredients, so you can easily find something to suit your taste. Since salads are easy to prepare and require no cooking, they're ideal when you're on the road.
To make a salad in your campervan, simply chop up your chosen ingredients and mix them in a bowl. If you want to add extra protein or healthy fats, consider adding some cooked chicken, fish, or tofu.
For a bit of sweetness, add some fruit or diced vegetables. And for a bit of crunch, add some nuts or seeds. Then simply dress your salad with your favorite dressing and enjoy.
Mexican Rice Bowl (Can Even be a Breakfast Option)
What exactly is a Mexi-bowl, you may be thinking? The best way I can describe it is that it's a burrito bowl with multiple layers. It has all of the ingredients found in a burrito but without the tortilla. With fresh veggies and a homemade seasoning blend, what's not to love about this recipe?
The best thing is that you may personalize these bowls to your liking. This recipe only takes 20 minutes to make, so you'll be able to enjoy it quickly! They're also a great way to use up any leftovers you might have in your fridge.
Personally, I am a big fan of chicken (breast or thigh meat works great here), but you can also use pork or beef.
I like to use seasonings, black beans, rice, protein, and veggies (onions, bell peppers, mushrooms). For toppings, Shredded Mexican blend cheese, sour cream, chopped cilantro, and sliced jalapenos are all delicious topping choices.
Our favorite way to make a Mexican rice bowl is with our instant pot, but you can also use one of those packets of instant rice if you don't have any cooked rice on hand.
One-Pan Pesto Chicken Penne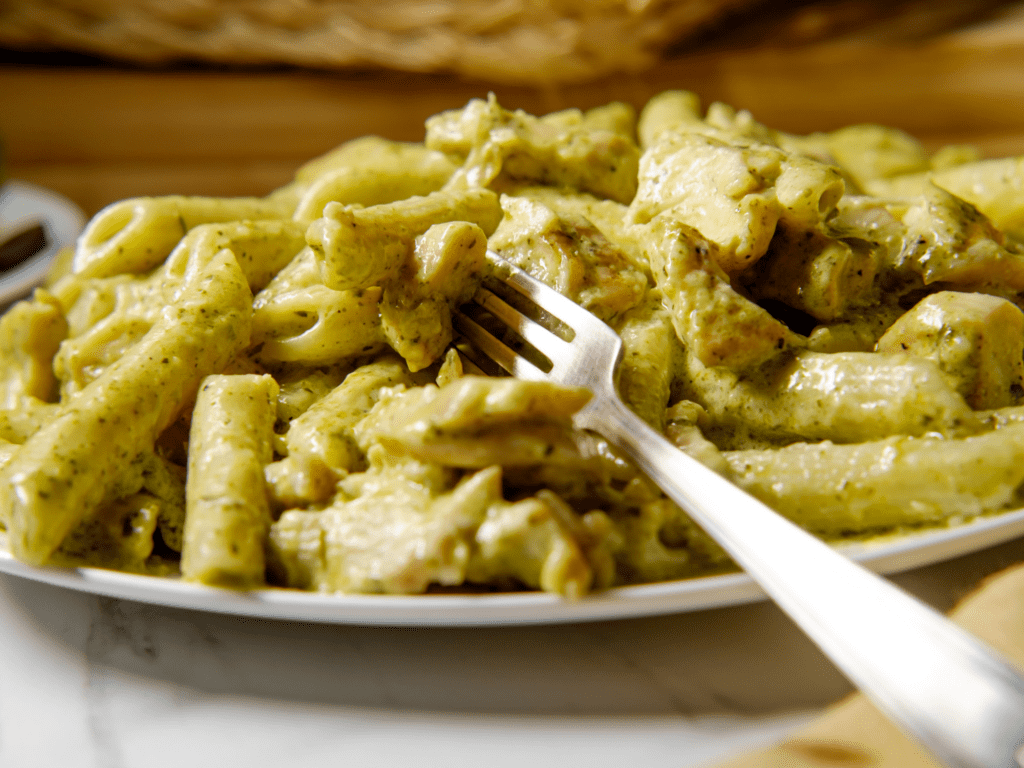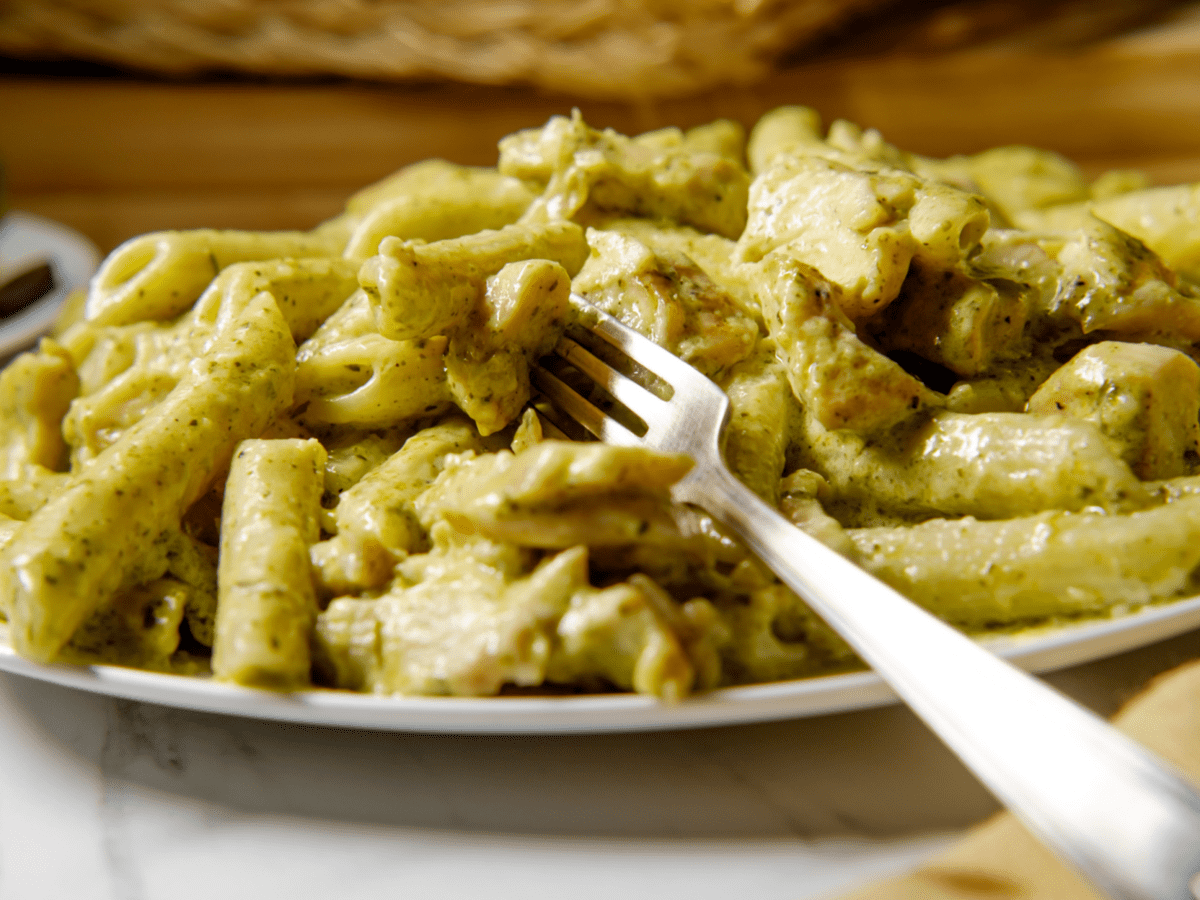 One-pan pesto chicken penne is the perfect dish for campers. It makes a great meal when combined with salad, but it can also be a nice side dish to have at lunch or dinner.
This Creamy Pesto Chicken Pasta comes together in about 25 minutes, is super creamy, and uses just a few simple ingredients. 😉
The first step is to put a pan on your stove and add some olive oil. Combine the chicken, garlic, salt, and pepper, cooking until the chicken is browned. Then, mix in the heavy cream, parmesan, and pesto, stirring until evenly combined. Next, bring to a boil and cook until the sauce has reduced about five to seven minutes. Toss in the pasta and cherry tomatoes, stirring until evenly coated. Remove from heat.
To serve, sprinkle parmesan cheese and basil on top!
Curry- Our Favorite Easy Campervan Meal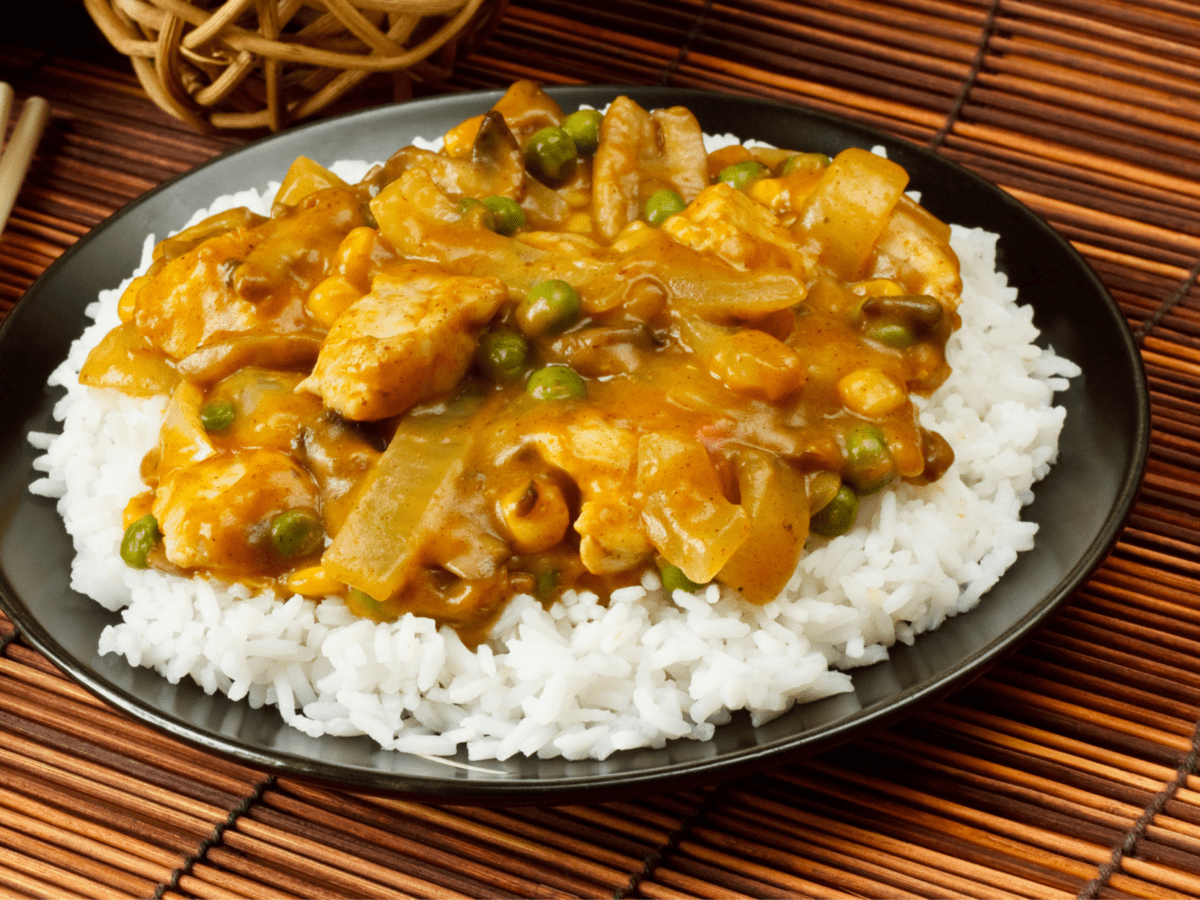 Curry is a great meal to make in a campervan or RV because it's sooo easy. You can either buy a premade jar of curry; our favorite is Maya Kaimal brand, or you can make your own curry with curry paste and powder and some coconut milk. We
like to make our curry with lots of veggies. We usually make a big batch of rice, then add our homemade or jarred curry to it. We'll eat it with some naan bread or chapati (Indian flatbread) and a side of raita, which is a yogurt sauce that helps cut the heat from the curry.
We always have a jar of curry in our cupboard for those nights when we just don't feel like cooking but want something warm and tasty to eat. We love this recipe because it's so easy and cheap to make.
Lentil Soups (Great Vegetarian Food Option)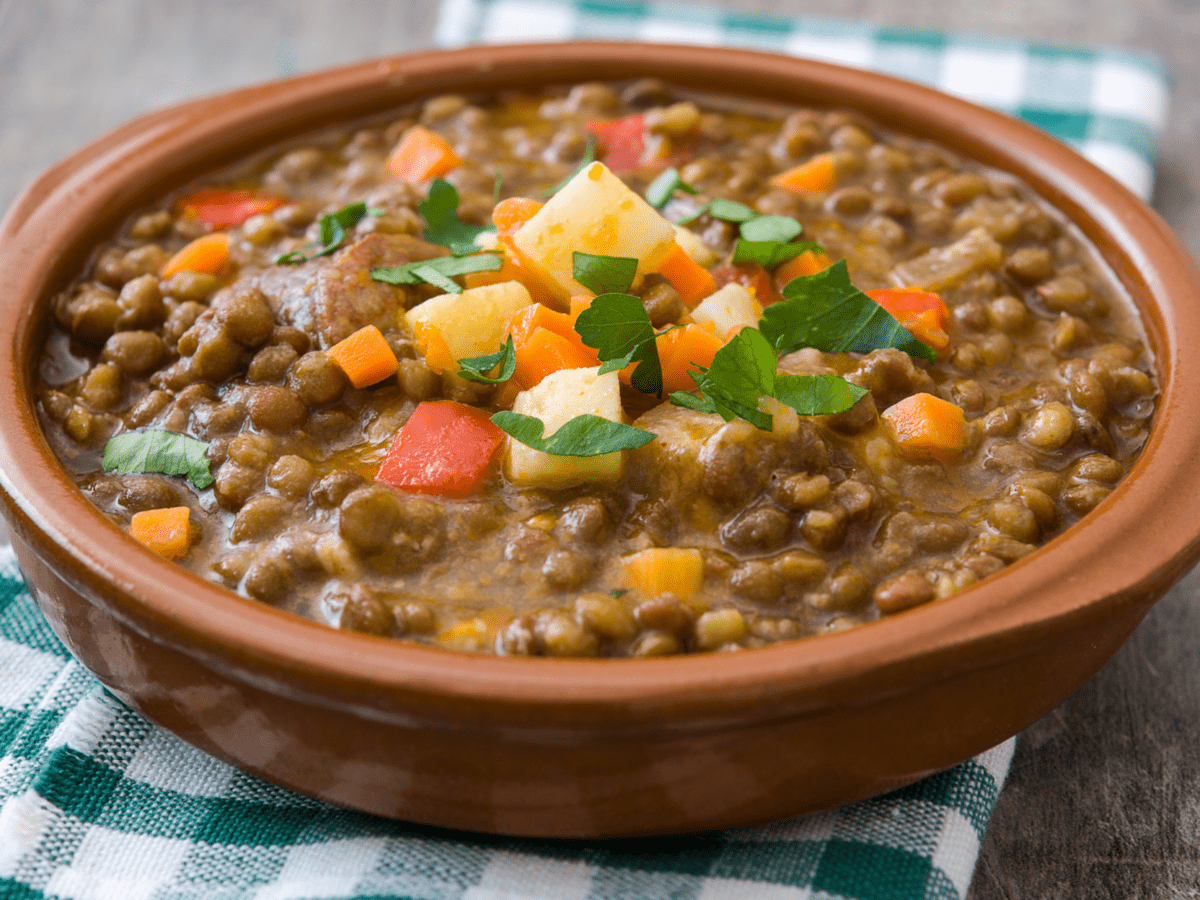 Lentil soups are an affordable option for vegetarians living on the road. Lentils are packed with protein and fiber, taste good hot or cold, and can be eaten as a meal on their own or used as a side dish.
The great thing about keeping some lentils on hand is that they are versatile and really can be prepared in a variety of ways. You can keep it simple or get creative with your lentil soups.
The following is a list of some ingredients we like to throw into our lentil soup recipes.
Onions, clove garlic, carrots, stalks of celery, diced tomatoes, and collard greens or kale.
Butter Chicken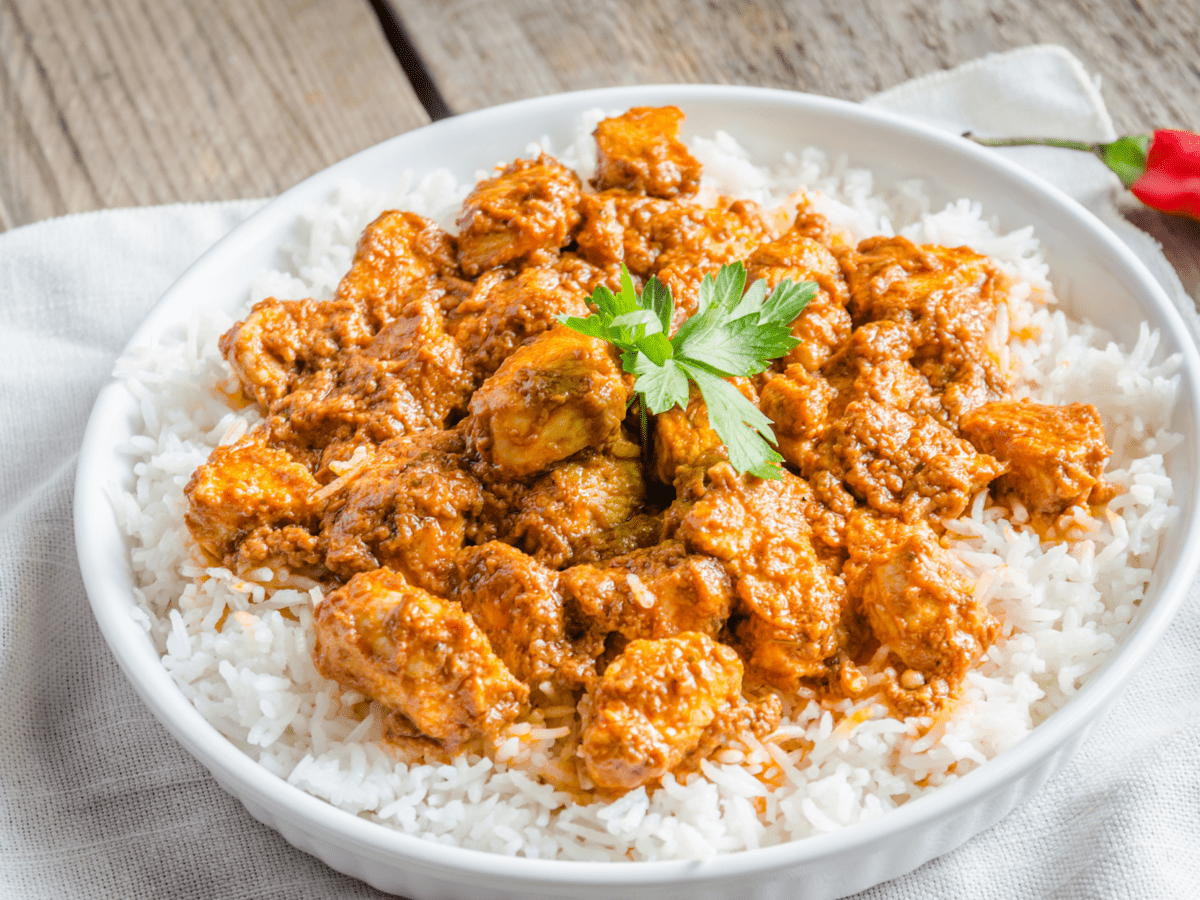 Yep, can you tell we like Indian food! Butter chicken is one of the most popular Indian dishes in Western countries, and for good reason. I
t's super easy to make and tastes delicious. We like to make butter chicken in a larger batch so that we can have leftovers for the next day.
Our go-to for butter chicken is typically the jarred sauce to keep things easy. If you're feeling adventurous, of course, there are LOTS and LOTS of ways to prepare this without the jarred sauce.
The best thing about butter chicken is how well it pairs with rice! We usually make a big batch of basmati rice to go along with our butter chicken.
Egg Fried Rice
As you can see, a lot of our recipes include rice. A good way to use up the leftover rice is to make egg-fried rice. Fried Rice can be as simple or as elaborate as you like. It is a great way to use up leftover vegetables too.
Some of our favorite things to throw in our rice are leftover meat from the night before, vegetables such as peas, carrots, peppers, corn kernels, and broccoli florets.
Don't forget to add some soy sauce, sesame oil, and a little bit of salt and pepper.
Food and Various Things We Always Have In Our Camper Van For Home Cooking Away From Home
Salsa
Jar of Curry
Sweet potatoes
Beans of all sorts
Rice
Lentils
Salt and Pepper
Pasta
Oil
Pasta Sauce
Can of tuna
can of crush tomatos
Tortillas
Box of Pad Thai like this
Get Out and Explore While You Eat Well
So, now you know the importance of stocking up your campervan with suitable ingredients before heading out on your trip. Planning ahead and having easy-to-make meals with you will save you money and time while on the road.
Plus, it's always nice to have a home-cooked meal after a long day of driving. So, next time you're headed out on a road trip, be sure to stock up your campervan with all the necessary ingredients. Bon Appetit!