DIY Overland Expedition Vehicle Build
Jill and I are building our dream Overland Truck for full-time travel that can take us all over the world. After several years living in our self-built van we had a pretty good idea of what we wanted. Our dream build started years ago and is finally coming to fruition. We couldn't be more excited! So join us for the adventure, bumpy roads, and learn how to build your ultimate camper.
Introducing Expedition Truck RockSea!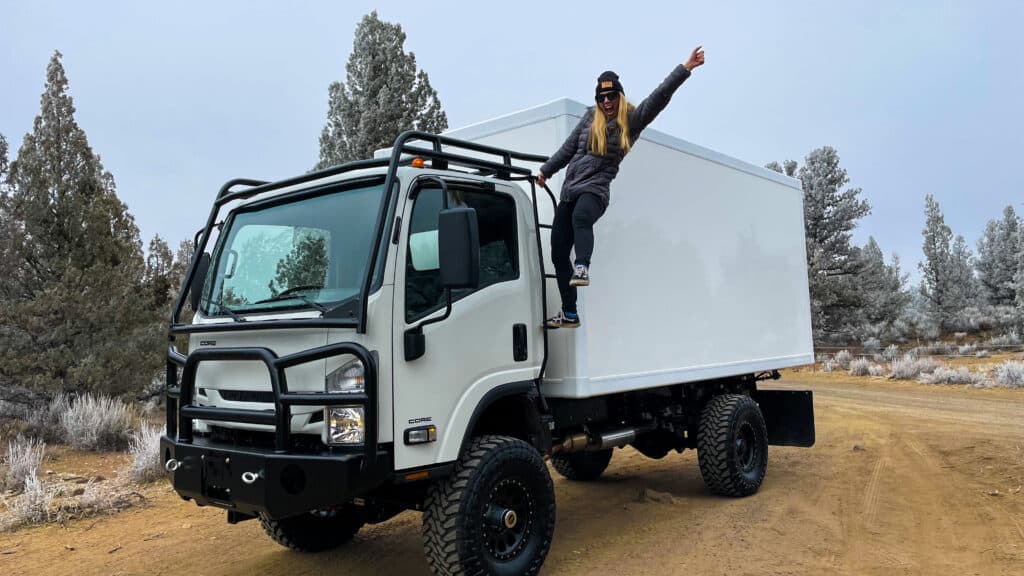 Don't Forget To Join…
Our DIY Overland Camper Build Facebook group is for people just like you that want to learn more about building your dream rig. Wether it's a campervan, box truck, skoolie, or airplane with wheels, you've come to the right place.
Check Out Our Expedition Truck Build Series Over on YouTube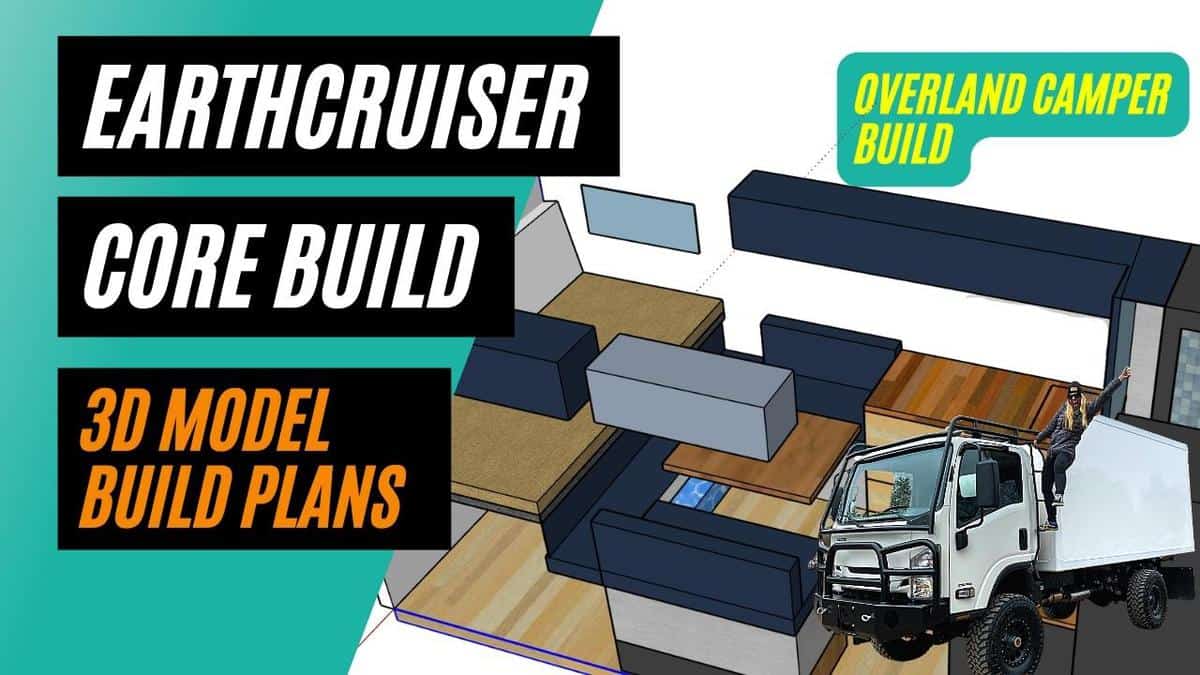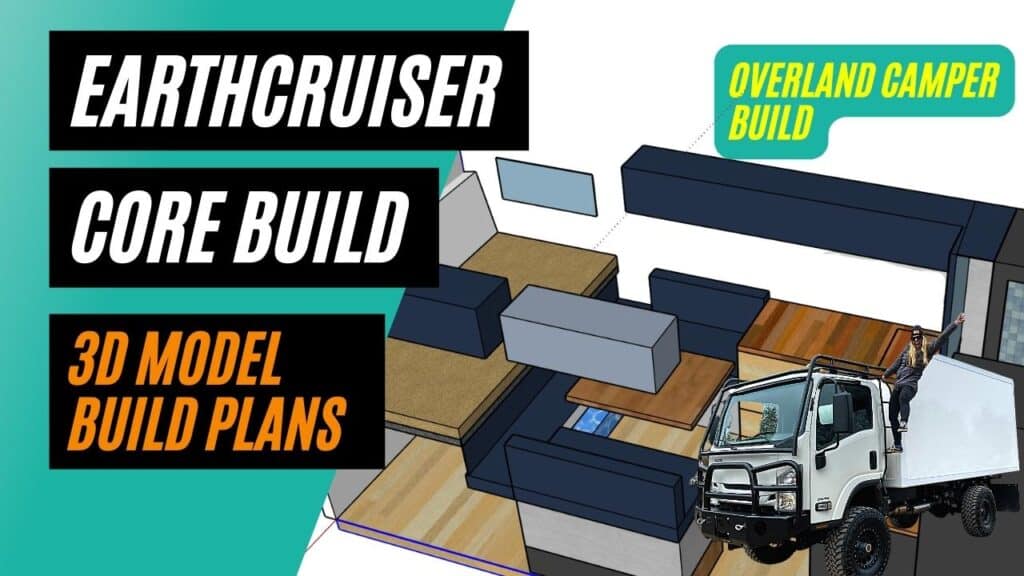 Expedition Truck Chassis
Head to our Amazon store for links to the products we used for our DIY build
The chassis is based off an EarthCruiser CORE which is a heavily modified Isuzu NPR truck. Basically everything behind the the transmission is stripped and replaced with top of the line 4×4 aftermarket parts.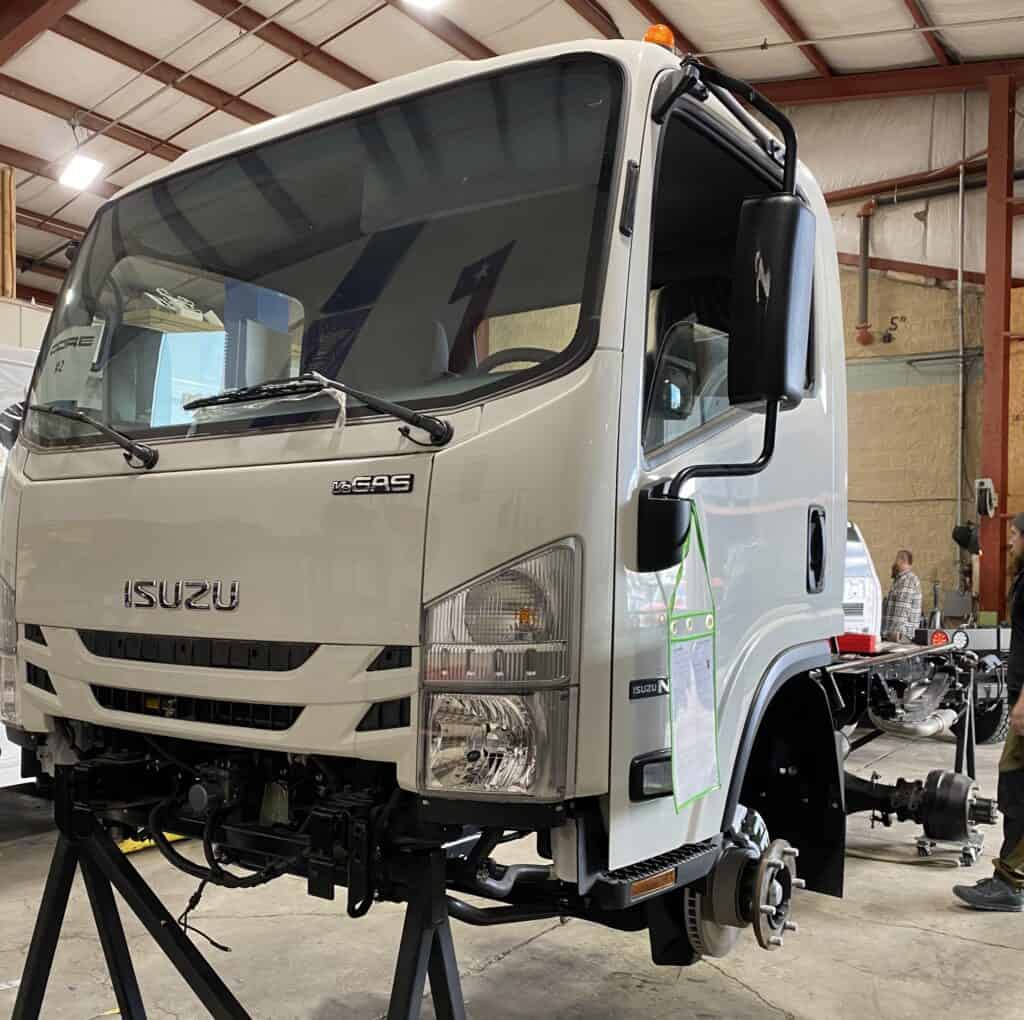 Atlas 2-speed transfer case
Fusion axles with front and rear ARB air lockers
60 gallon stainless steel fuel tank
4-wheel disc brakes
Method wheels with 12.5″ x 37″ tires
Safari rack, side ladder, and front winch bumper
135 inche wheelbase
Check Out These Other Camper Van Build Topics
Total Composites Expedition Camper Box
The camper box is from Total Composites out of Vancouver BC. EarthCruiser offers the option to have their standard 13′ foot box assembled and mounted or you can have a completely custom box built for you by Total Composites.
The base CORE chassis includes the torsion free sub-frame which is required to prevent twisting to your box while off roading. You can get the chassis with or without the camper box mounted.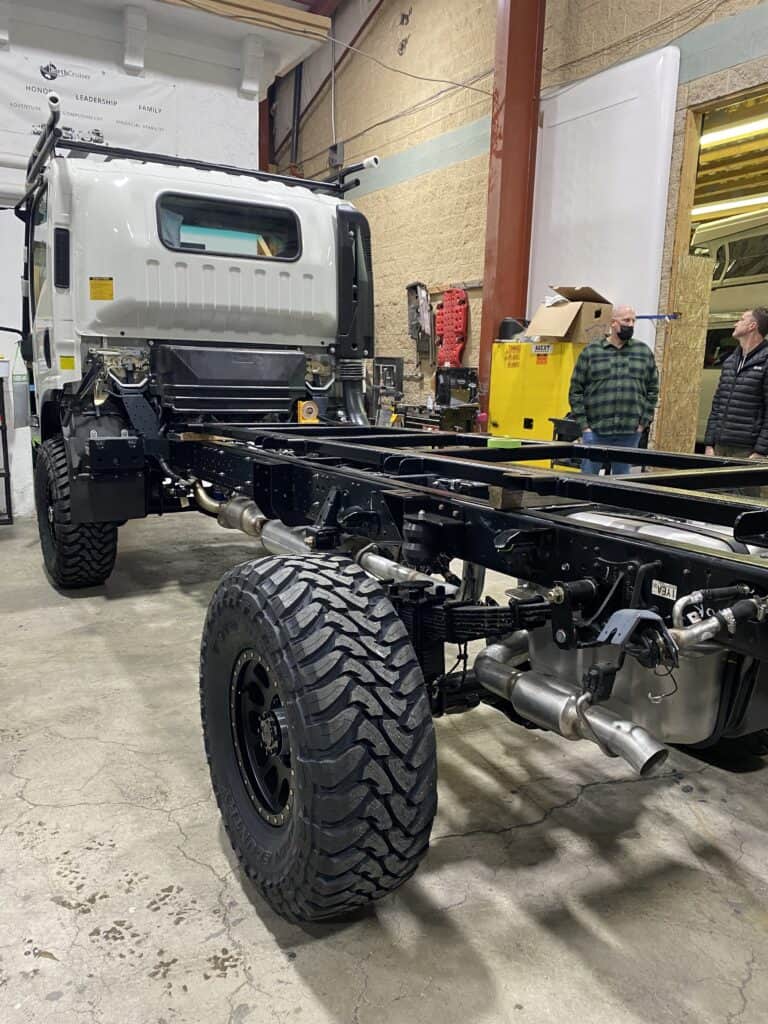 We opted for a custom 14′ box which was assembled and installed by EarthCruiser. Here are the specs for the camper box,
Exterior Length – 14.7′
Interior Length – 14.2′
Exterior Width – 6.7′
Interior Width – 6.4′
Exterior Height – 6.8′
Interior Height – 6.2′
The floor of the box is 3″ thick and composed of FRP panel skins, foam, and 3/8 sheet of marine plywood. In addition the floor has steel beams that run through floor for attachment to subframe. The roof, front, and back panels are 3″ thick with foam and FRP outer skins. The roof also has several wire chase channels built in should you need them. The side panels are FRP skins with foam and are 2″ thick.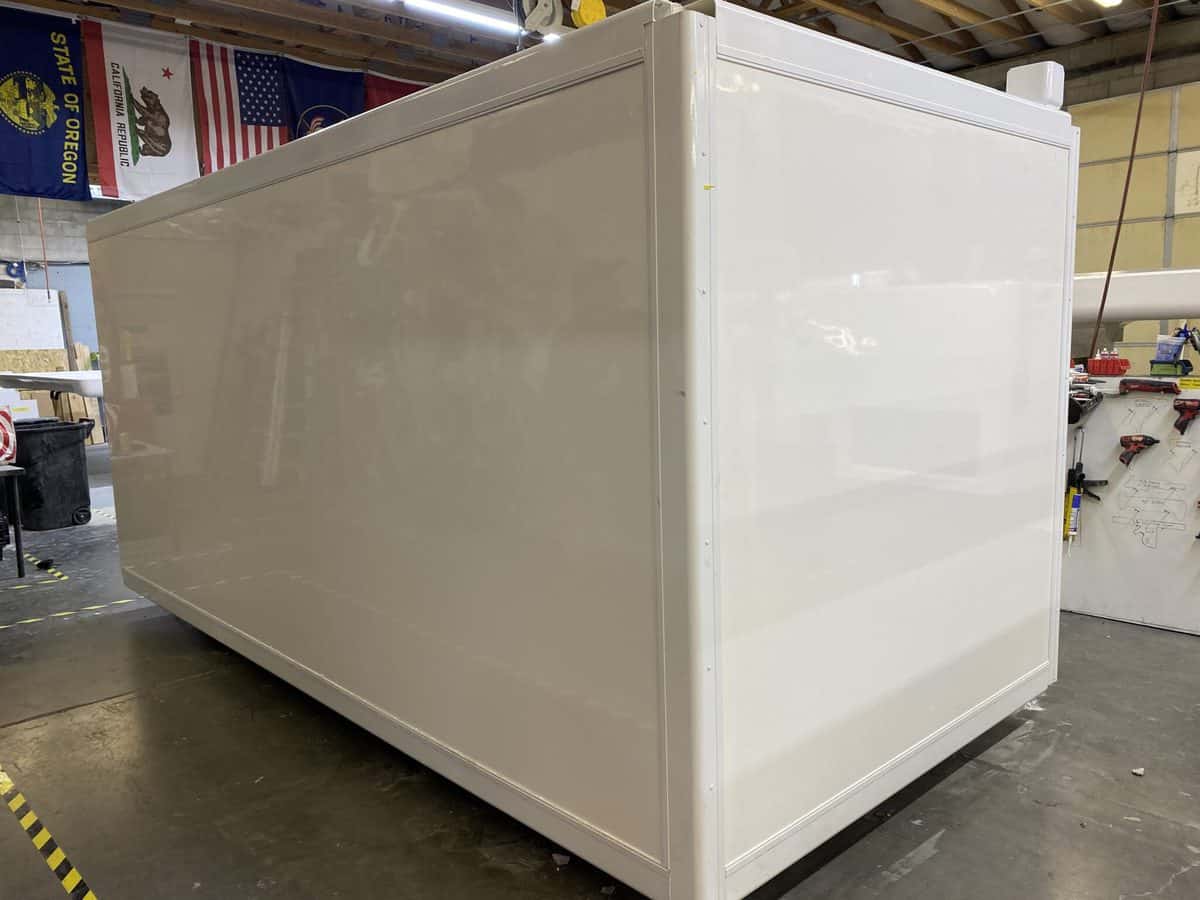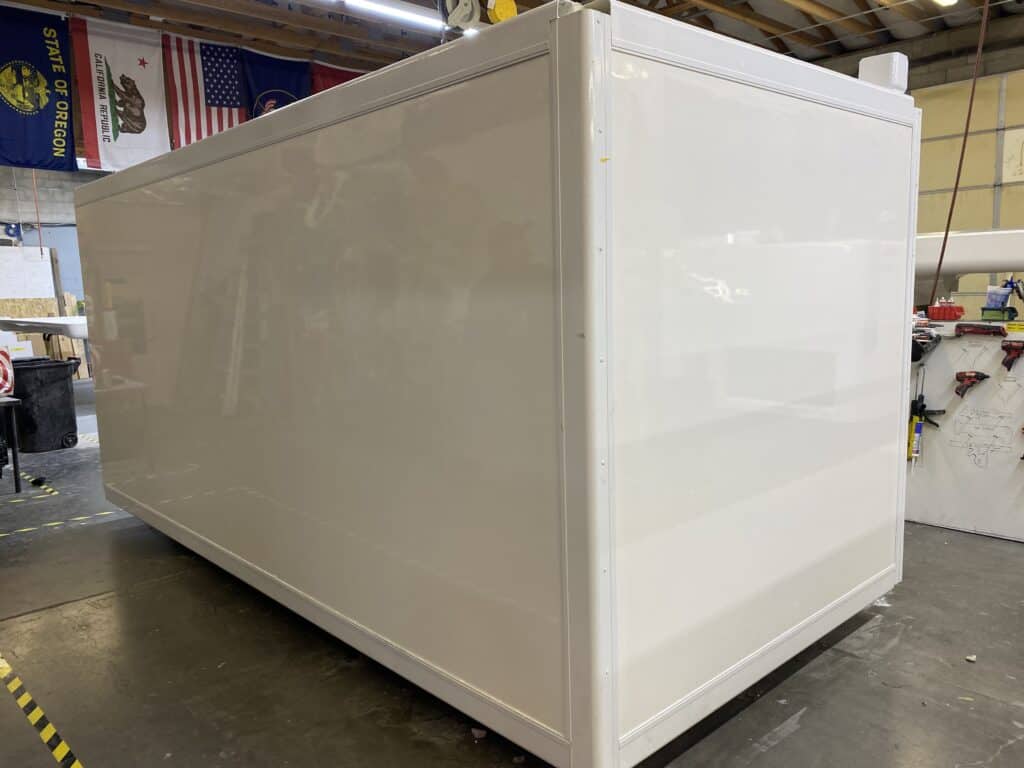 You can add addition steel reinforcement wherever you desire. We added steel reinforcement on the sidewall for an awning as well as rear supports that are rated for up to 800lbs.
This thing is ridiculously well insulated and efficient for either warm or cold weather travel.
Electrical System
For electrical we are using Mastervolt and their sister company CZone. The Mastervolt and CZone combination offers digital switching, remote monitoring, and a slick touch screen user interface. They also offer secondary alternator charging solutions. You can learn more about the individual components we're using and why we chose these over Victron on our YouTube channel. Click HERE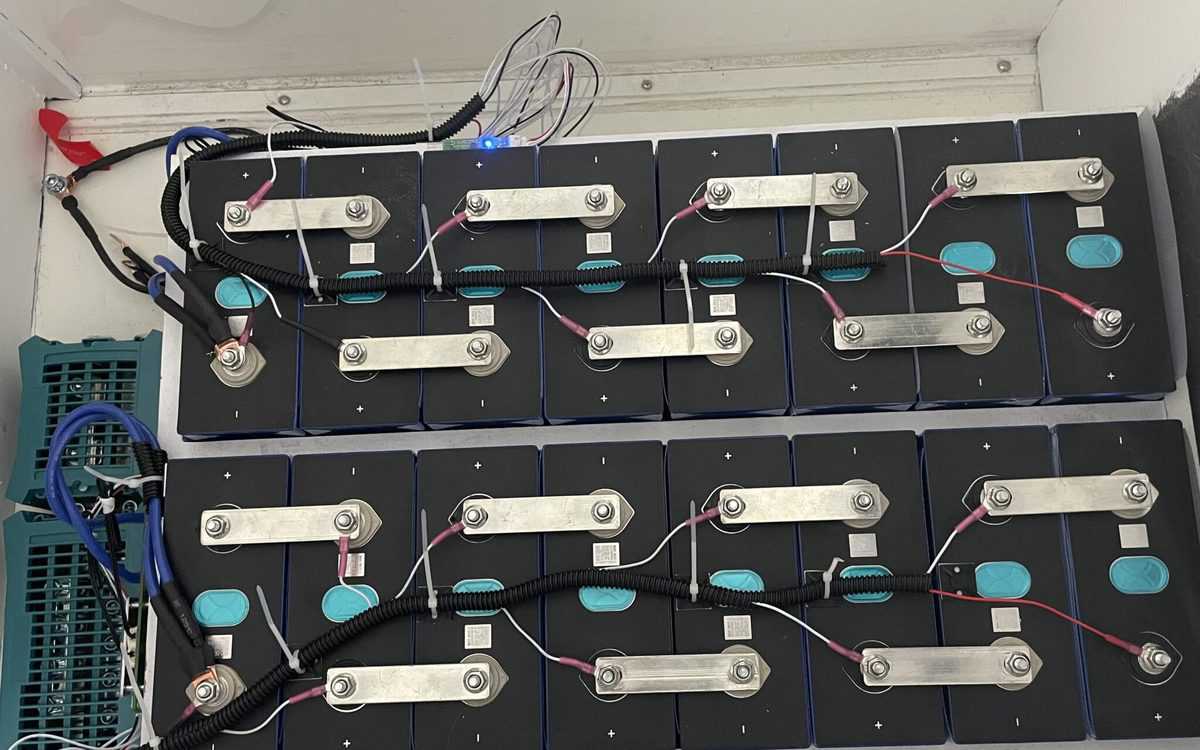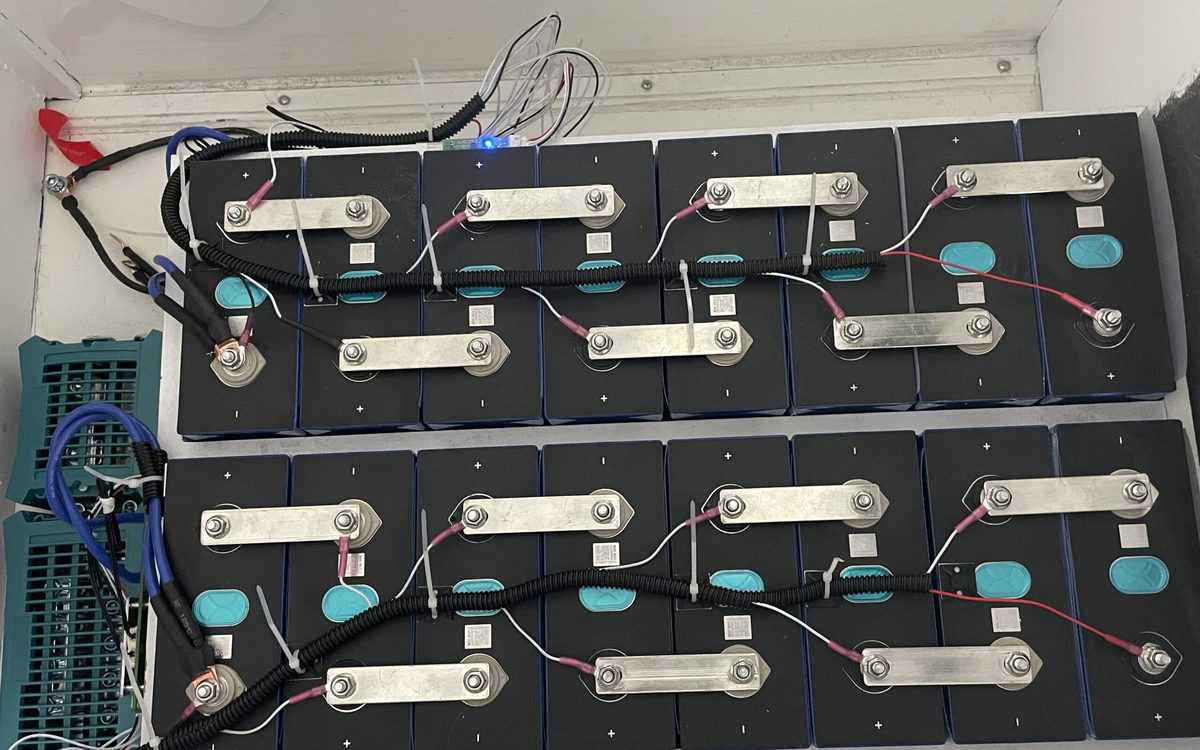 Here are some of the highlights to our electrical system
The Best Off-Grid Campervan Air Conditioner – Finding a good off-grid air conditioner is no easy task. Here's a list of a few of our favorites. Check out our YouTube on the DC air conditioner that we're installing to see if it's right for you – DC 12v/24v Air Conditioner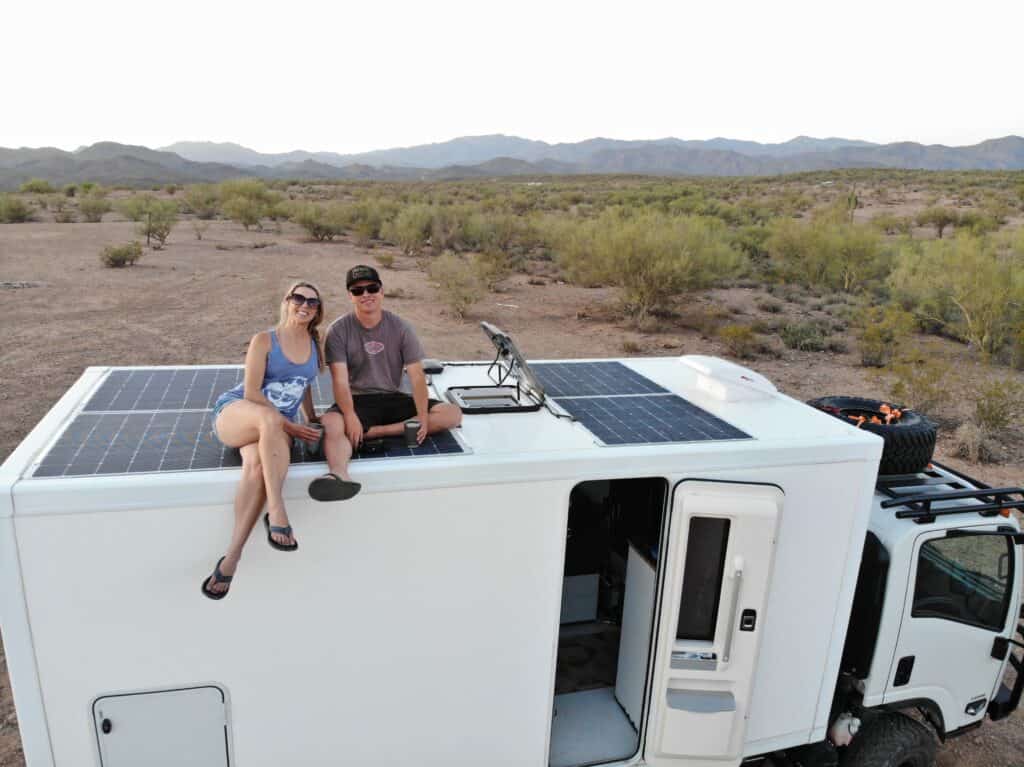 Mobile Internet Resources
👉Mobile Internet For RV and Vanlife – WiFi, Boosters, Satellite, and Unlimited Cellular
👉How To Power Starlink Satellite Internet on 12 Volt DC
👉The Best Starlink Plans For RV, Vanlife, and Nomadic Travel.
👉Best Starlink Accessories For RV and Vanlife
Rixen Heating System
We love to chase good skiing so a robust and reliable heating system was a must. We ended up going with the Rixen Hydronic system. This system functions by heating a 2-gallon hydronic tank that is heated by either 120v or an exterior gas furnace which pulls from the vehicles fuel tank.
The heated fluid runs throughout the camper where you can then add heat exchangers for hot air or hot water. We have an air heat exchanger as well as 2 plate heat exchangers for water, one for sink and one for shower.
Check out our YouTube Overview of the Rixen Heating System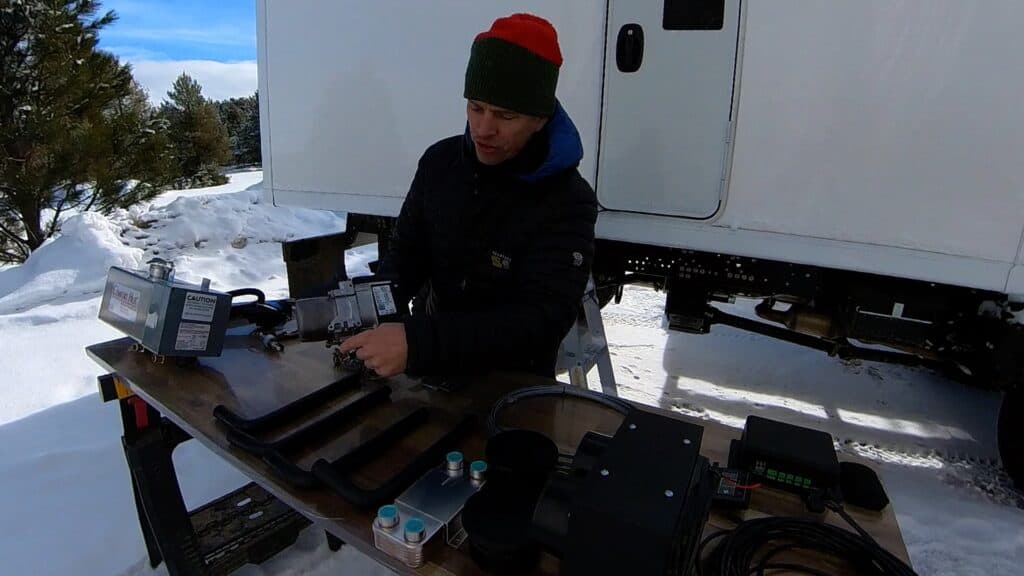 In addition the system can tie into your vehicle coolant system to provide heat while driving or to preheat your engine for cold starts. It's a very flexible and expandable system.
Shower/bathroom
We opted for a separate shower and toilet area. We have a dedicated 24 x 26″ shower stall and then across from that is our Airhead composting toilet. We have the urine diverter plumbed to a 7 gallon holding tank.
The shower has the option to run as a standard shower pulling fresh water from our 50 gallon tank or can be run as a recirculating shower.
Here's a video going over the build design in 3D Google Sketchup.
Kitchen
We have 50 gallons of fresh water and 16 gallons of grey water storage. Our cooktop is a dual burner induction cooktop and we have a combo microwave/air fryer for our baking needs. In addition we frequently use our Instant Pot and outside barbecue.
Windows, Skylights, and Fans
For windows, cargo doors, and skylight we're using Tern Overland products. Tern offers dual pane acrylic windows which provide great insulation properties and include integrated insect and black-out screens. For additional fresh air we have a Maxair fan located above the bathroom area.
👉The Best Windows For Campervan Conversions
DIY Overland Truck Questions?
We love questions so ask away! Our preferred place to answer questions is over at our DIY Box Truck 4×4 & Overland Vehicles facebook group. But if that's not convenient just leave a comment below and we'll get back to you as soon as possible.
More Great Build Articles…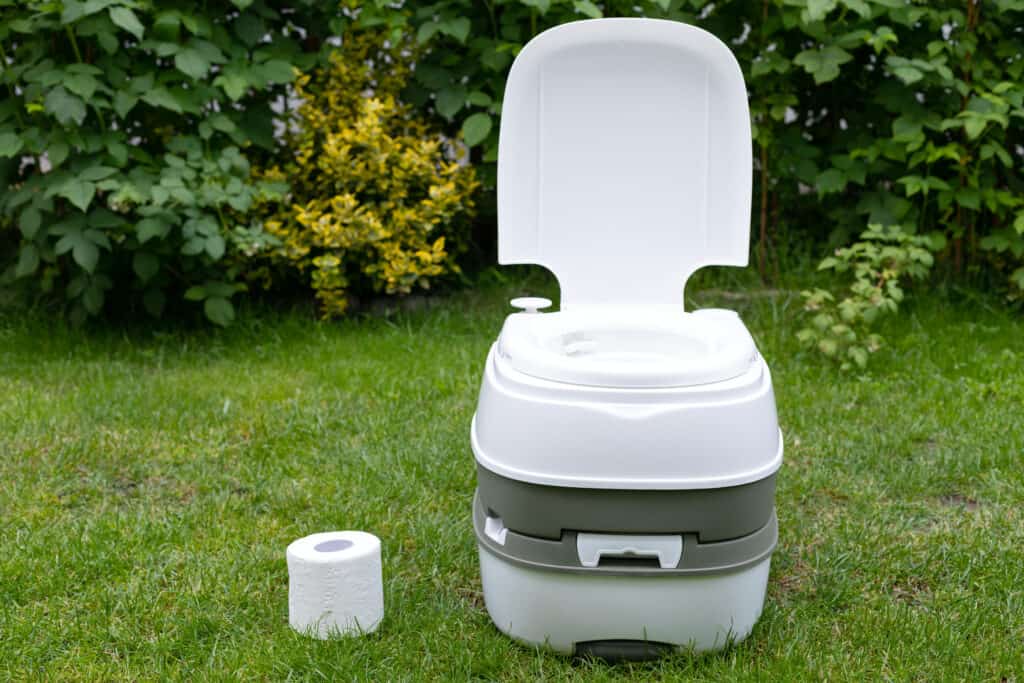 Looking for the best portable camper van toilet? Look no further! We've got you covered…