Watching the world whiz by through the open window on a road trip is a special thing. The classic road trip is a staple for many and is often one's first experience of travel.
Perhaps that's why road trips are so great. With the popularity of road tripping it can get a bit busy. Especially so around holidays or peak summer months.
You all know we're big fans of traveling in the off-season and a road trip is no different.
If we had to pick our favorite road trip time it would be Fall. Fall Road Trips are simply the best. The sun sits lower and the temps start to drop. But more importantly, your fellow travelers are out in far fewer numbers.
So let's explore 9 Fall Road Trips that deserve a spot on your bucket list.
1. Blue Ridge Parkway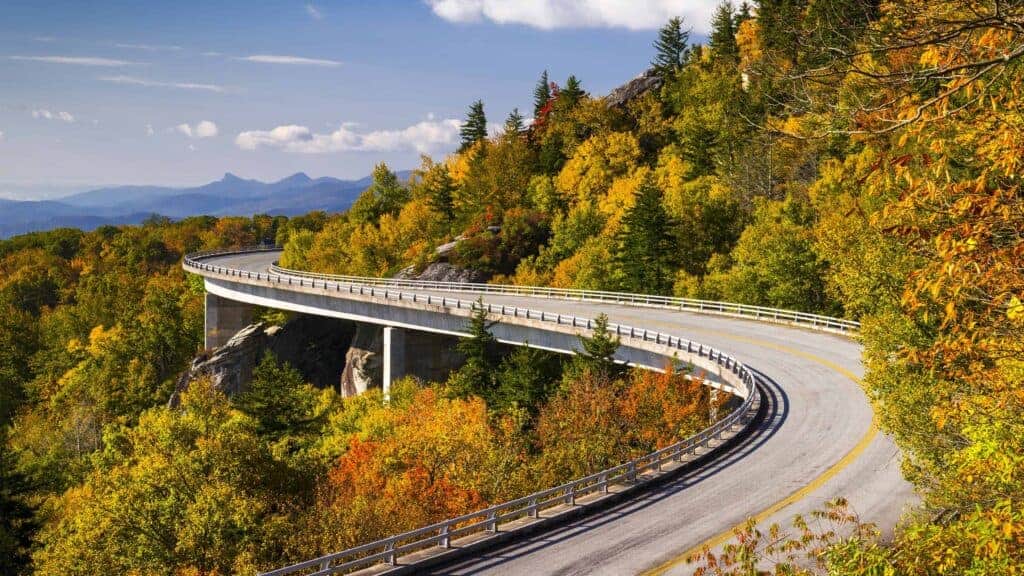 The National Park Service dubbed Blue Ridge Parkway "America's Favorite Drive." This scenic drive gets only more breathtaking during the Fall.
While the road itself is not a National Park, it does connect Shenandoah National Park in Virginia and the Great Smoky Mountains in North Carolina. The road is over 470 miles long.
You'll wind your way through some of America's finest country. Along the way are numerous viewpoints and hiking trails. You'll even pass by Monticello, the home of Thomas Jefferson.
You can find a great interactive map of the drive at Blue Ridge Parkway
2. MILLION DOLLAR HIGHWAY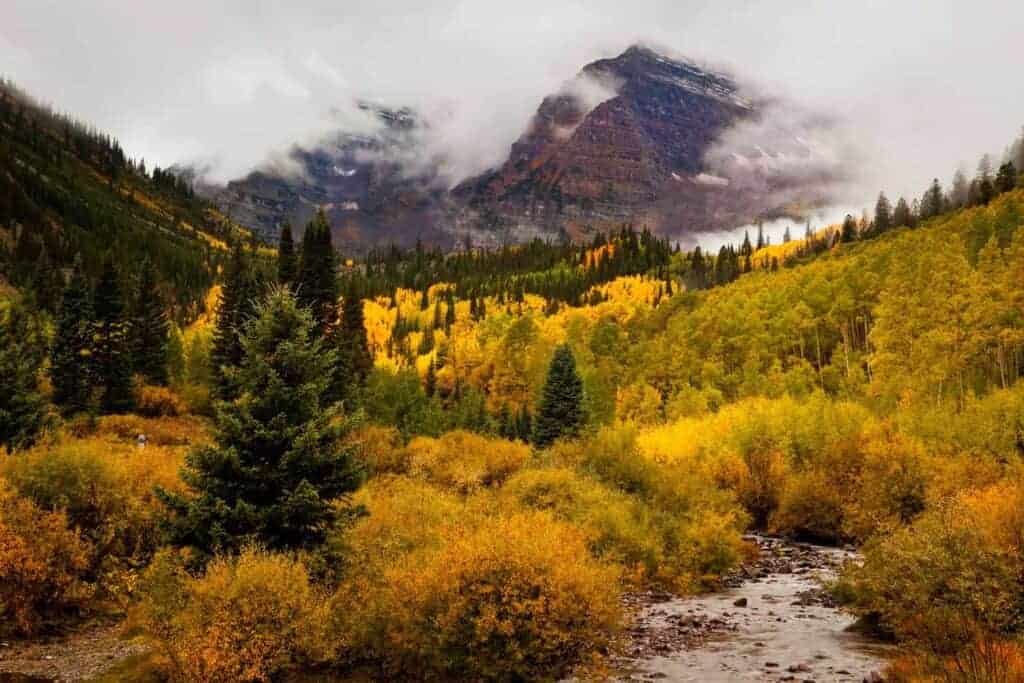 The Fall colors paired with the steep mountains of the Million Dollar highway in Colorado makes for a memorable experience. The highway connects to amazing towns, Silverton and Ouray Colorado. Both of which are absolutely stunning in the Fall. This is hands down one of our favorite areas to visit.
Shoot for late September to early October.
3. VERMONT'S ROUTE 100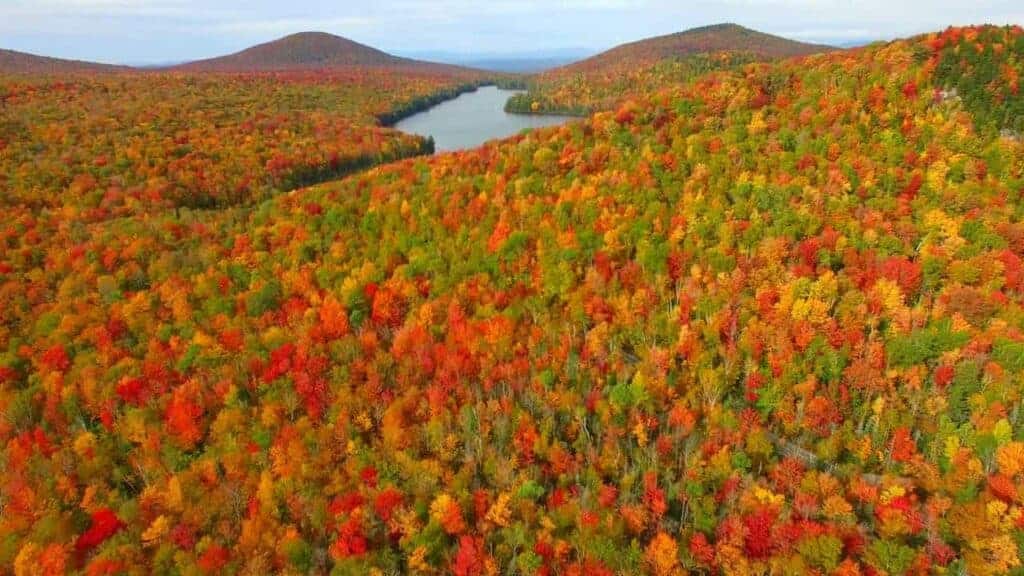 New England by many is considered the champion in Fall colors. Vermont's Route 100 made popular by the many ski areas that dot the road has another time of year it shouldn't be missed.
When the colors pop here you can see why many say this is the greatest area for fall colors. The rolling hills make it seem almost endless.
4. NORTH CASCADES HIGHWAY, WASHINGTON STATE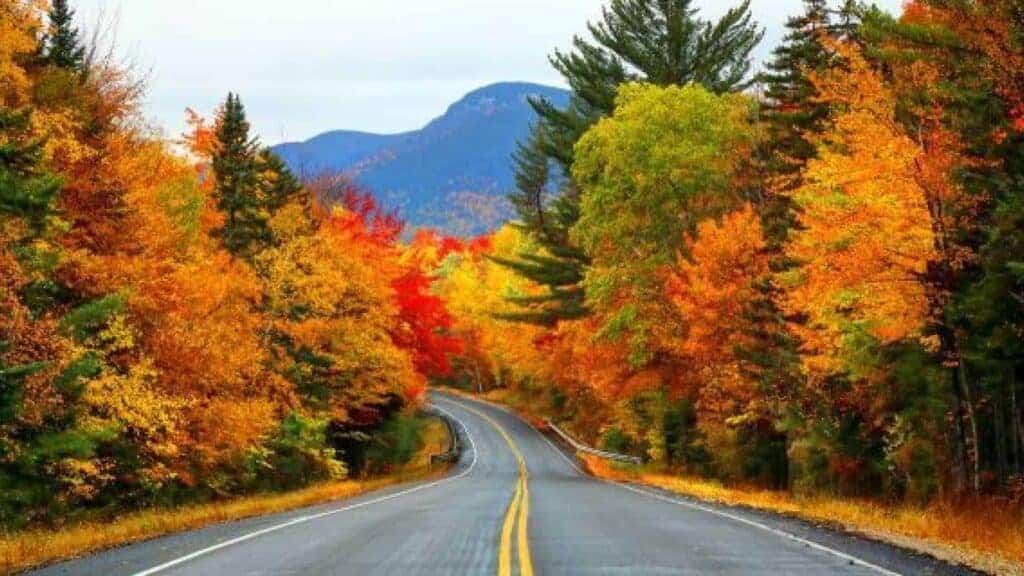 The North Cascades are home to us and offer up some impressive mountains. This pass closes over the winter and Fall could not be a better time to say, "see ya next year."
On the East side of the pass you'll find one of the Best Small Towns Of The West, Winthrop Washington. A perfect hub for a fall road trip.
Have you heard of Glamping? This new and trendy luxury camping is a perfect complement to a fall road trip.
5. UPPER PENINSULA, MICHIGAN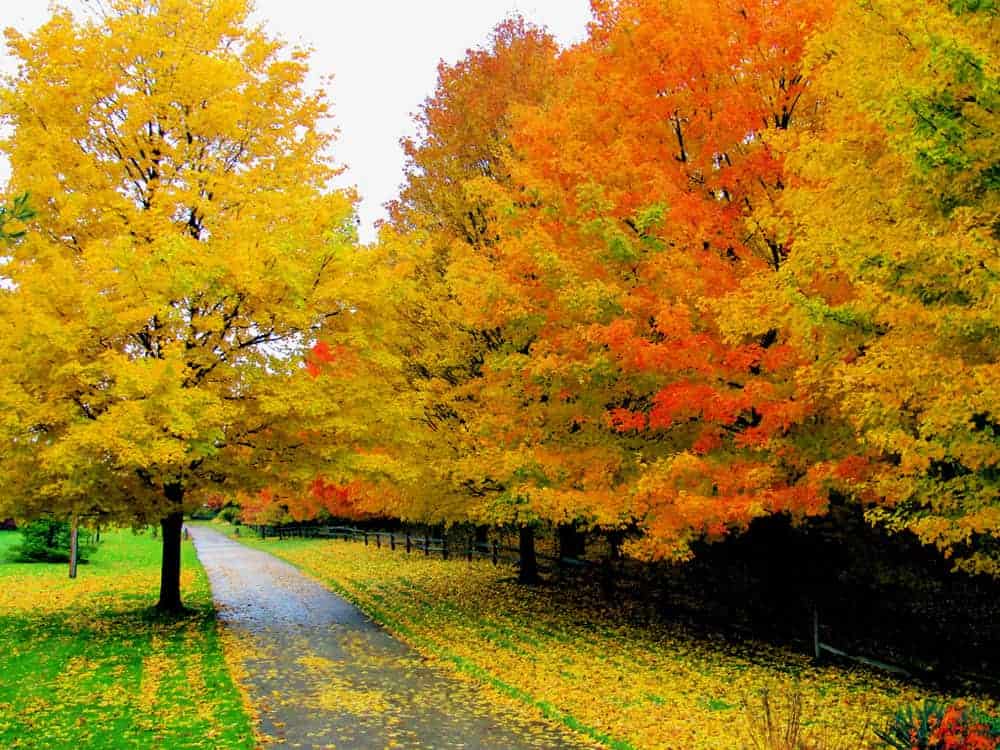 This densely forested area between the Great Lakes is a terrific place to catch a colorful show.
The Keweenaw Peninsula and Copper Harbor would be an epic spot to explore these massive forests of Michigan's UP.
Copper Harbor sits on a finger-like peninsula surrounded by Lake Superior. The area has no shortage of great outdoor activities.
Jill and I are most excited about the biking and can't wait to make a fall road trip out of this one.
6. SONOMA COUNTY CALIFORNIA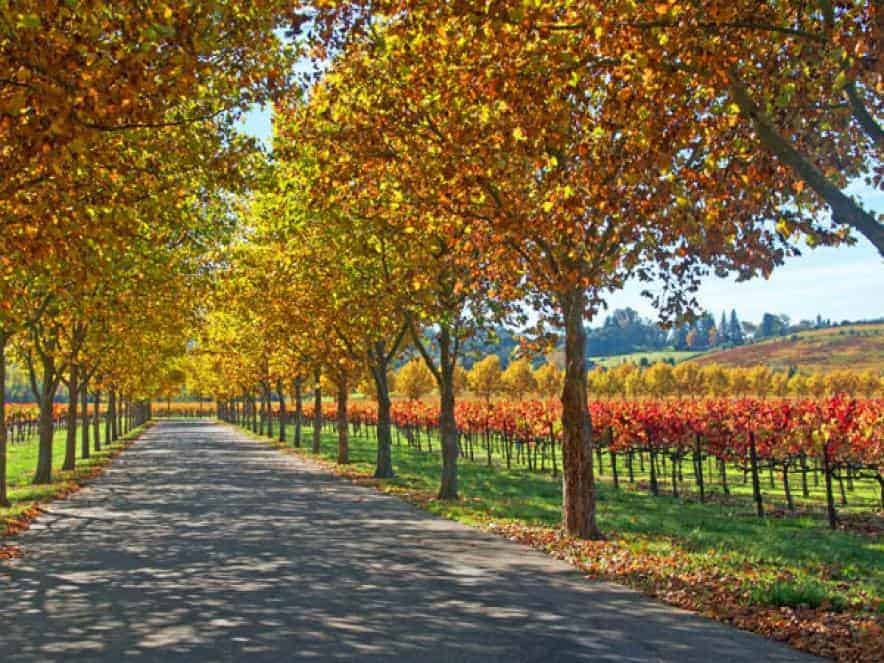 The vineyards that line the country hillsides make for a great Fall color show. Much like the amazing wine they make these vineyards throw down some big color.
Fall is a great time for a wine tasting trip. So head to Sonoma Country or your local winery for a trip that will tempt both your eyes and taste buds.
7. LAKE OF THE OZARKS, MISSOURI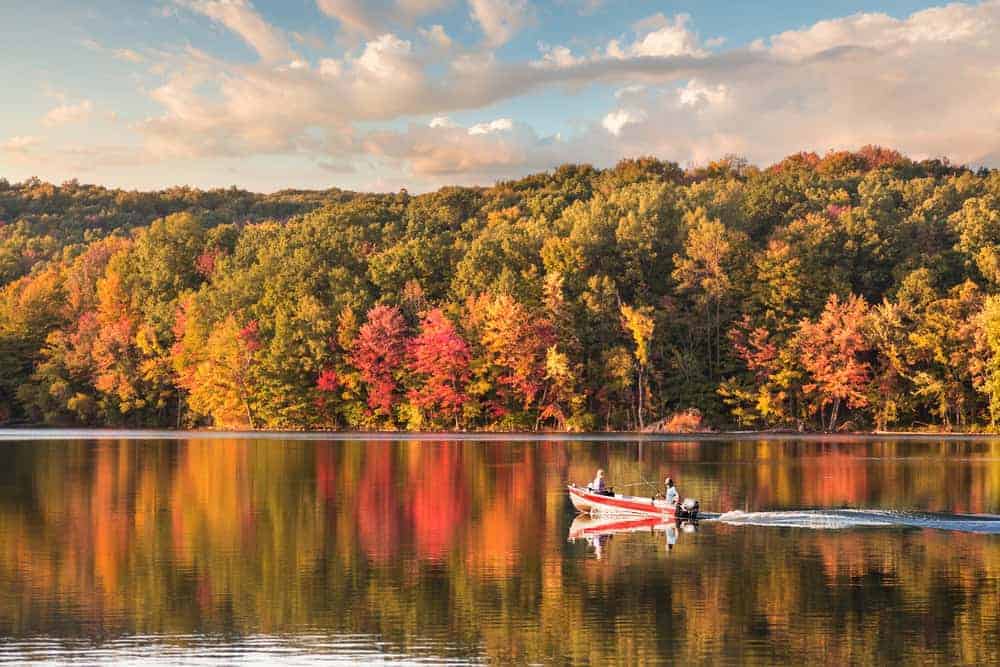 Towards the end of October Missouri's popular summertime lake getaway gets only better in the Fall. As the crowds thin and the temps cool, the Ozarks are at their prime.
Enjoying the Fall colors from a boat or kayak is a perfect way to celebrate the season. If staying on land is more your thing the hills are full of hiking and biking trails. The area is also well known for its wineries so a leisurely stroll through the vineyards during fall is another great option.
Take your Road Trip to the next level with these great road trip ideas.
8. GLACIER NATIONAL PARK, MONTANA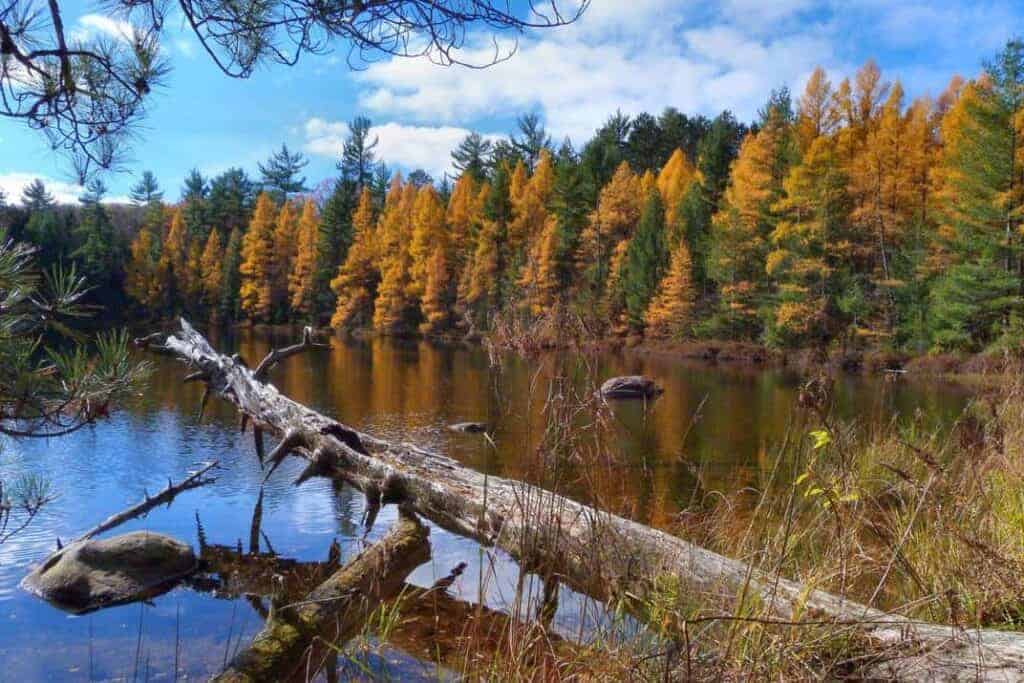 One of our favorite trees to see during the fall is the Tamarack. These trees are unique because they lose their needles each year. Before their needles drop they turn a bright gold color that makes for an impressive contrast between their neighboring evergreen trees.
Glacier National Park in the fall is a great time to visit as this place slows way down. You'll feel like you have the park to yourself.
9. MCKENZIE RIVER, OREGON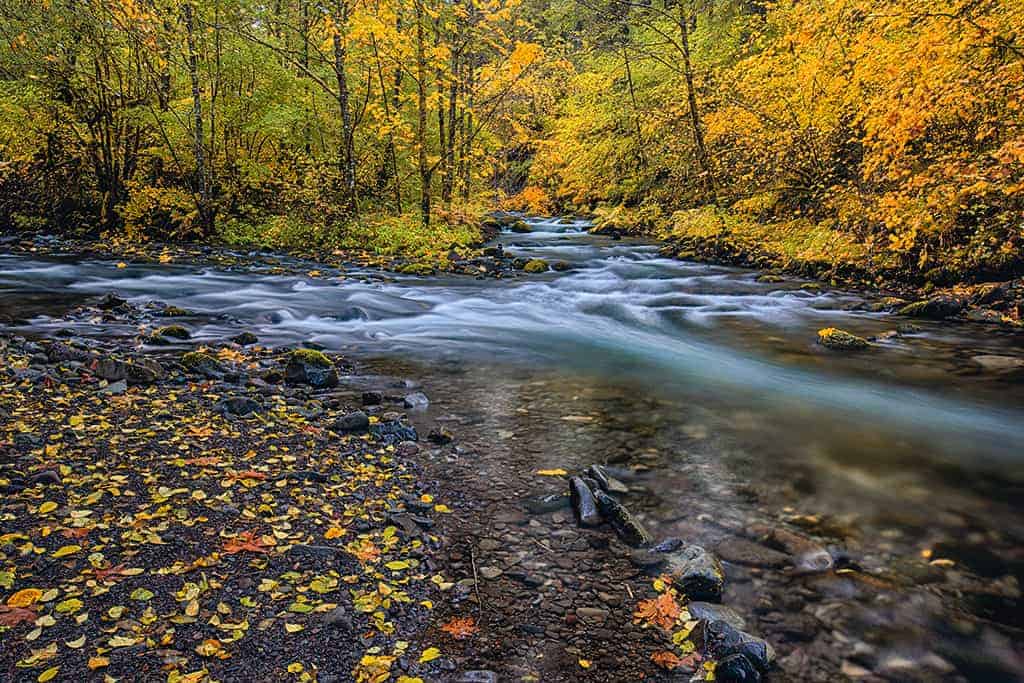 The McKenzie River runs from Clear Lake clear down to Eugene, passing through stands of deciduous trees along the way.
Check out the McKenzie River National Recreation Trail or drive the McKenzie Pass-Santiam Pass Scenic Byway. Both of these make for an ideal fall road trip.
WHAT'S YOUR FAVORITE FALL ROAD TRIP?
Fall is such a great time for a road trip. Make it a point to get out and explore a new spot in your own home state. I promise you'll be amazed at what you'll find.