Florida beaches are great because they offer some of the clearest water and finest sand in the world. The Gulf of Mexico provides an ideal environment for these unique features, making it one of the few places on Earth where this can be found.
Florida is home to a variety of beaches with different characteristics depending on where you go. From Jacksonville down to Key West, you can find everything from quiet secluded coves to bustling boardwalk attractions with plenty of activities for everyone in between.
Plus, many local businesses have taken advantage of Florida's unique water quality by offering boat tours and other aquatic activities that wouldn't be possible elsewhere.
Top 21 beaches with the clearest water in Florida
1. Clearwater Beach Florida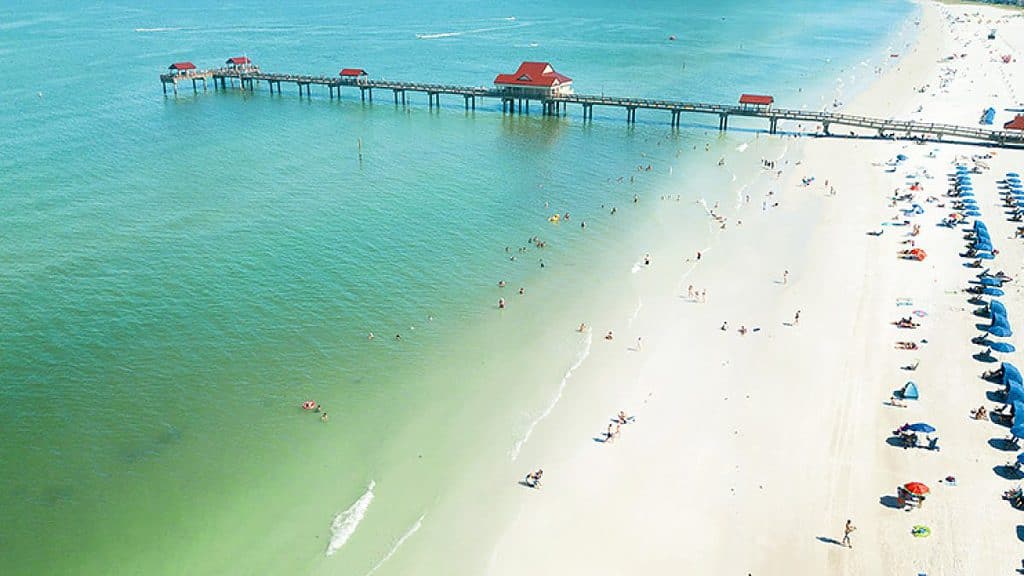 A casual beach town that's always abuzz with activity and good vibes. Regarded as one of America's finest beaches, these crystal clear waters and sugar sands are magnificent. Take it to the next level with a Dolphin cruise or get your hands wet at the Clearwater Marine Aquarium.
After a day of cruising the beach be sure to check out the amazing restaurants of clearwater. And if you're looking for a good deal, Groupon has some great local restaurant discounts right now.
Here are some TOP rated accommodations for Clearwater beach
2. Destin (One The Emerald Coast Beaches Of Florida)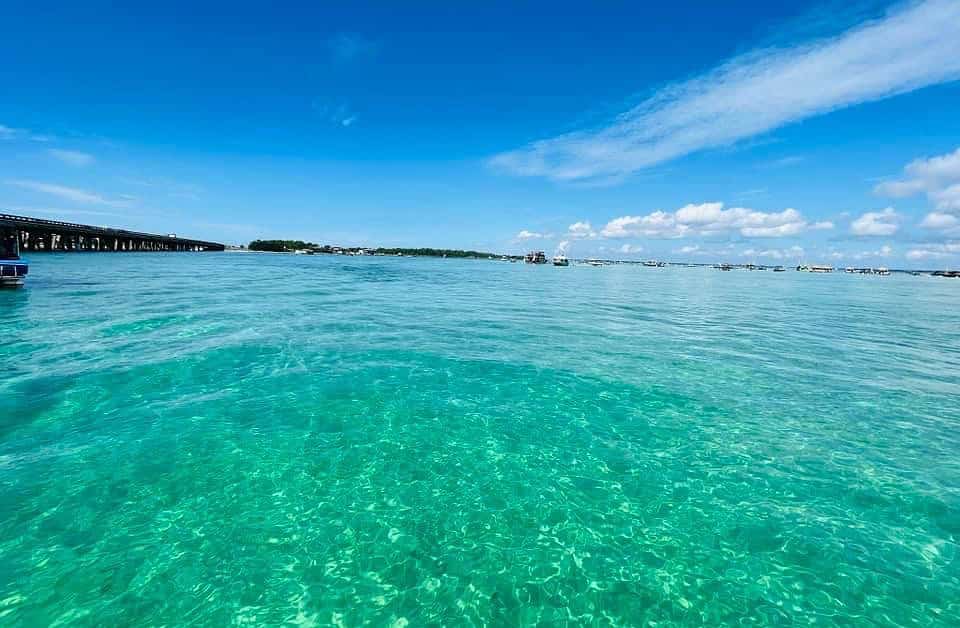 Destin, Florida is located on the southern coast of the United States, between Pensacola and Panama City. It is known for its clear water beaches that line the coastline and provide stunning views.
The clear water beaches in Destin, Florida offer visitors an incredible view of marine life such as dolphins, manatees and stingrays.
Visitors can also enjoy other activities such as swimming, surfing, kayaking or paddle boarding in the warm waters of the Gulf of Mexico.
The sand is soft and white with plenty of shade trees to relax under while taking in the beautiful scenery around you. If you're looking for a place to stay, here are some popular places to stay in the area.
While you're in the area check out,
13 Free Things to Do in Pensacola, Florida You Can't Miss
3. Siesta Key (Beautiful Turquoise Water)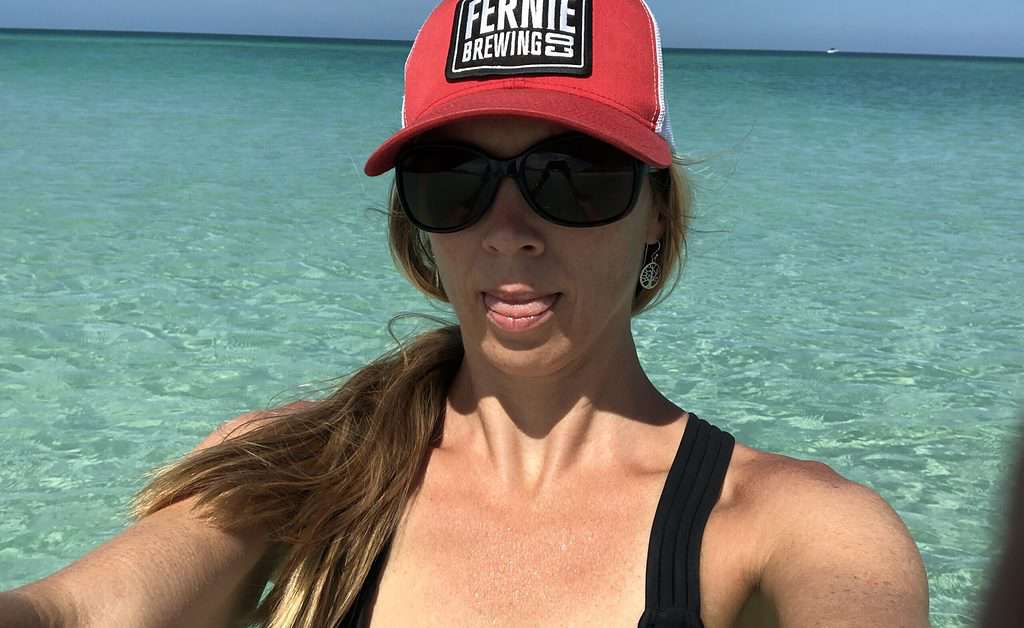 Siesta Key's water is clear and beautiful due to its location on the Gulf of Mexico. The warm waters of the Gulf provide a natural setting for the white quartz sand and crystal blue water that are popular attractions at Siesta Key.
Siesta Key is a barrier island located off the coast of Sarasota, Florida on the beautiful Gulf of Mexico. It is famous for its breathtaking beaches, which offer swimming, jet skiing, parasailing, fishing and more in its clear blue waters.
Other attractions in Siesta Key include Siesta Village (where you'll find shops cafes restaurants), Sunset Pier and Siesta Farmers Market. Here are some Groupon deals to make your money go a little further.
4. Key West (Boasts A Lively Nightlife Scene)
Key West's water is clear due to the combination of factors such as its "island like" location in the middle of an ocean and the presence of beautiful coral reef that surrounds it.
The ocean waters around Key West are free from pollutants and other disturbances that would otherwise cloud or pollute them. Additionally, the coral provides a natural habitat for many types of fish which further contributes to the clarity of the water.
Key West is also surrounded by stunning crystal clear waters with beautiful coral at the bottom that make it an ideal spot for snorkeling, diving and other aquatic activities. Visitors can explore these waters up close in some of the clearest waters you'll ever see.
5. Fort De Soto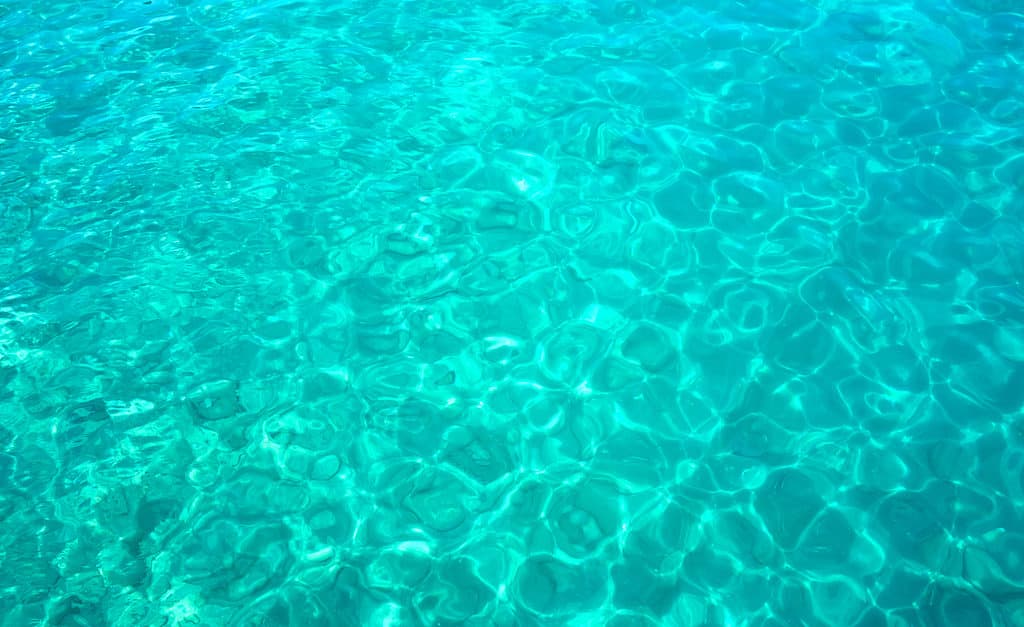 Fort De Soto Beach is one of the most gorgeous and unusual clear water beaches in Florida because it offers not only the beautiful crystal clear water and sands of other beaches, but also some history.
The fort itself is an actual historic structure from the Spanish-American War that has been preserved as a museum filled with fascinating information.
Furthermore, the park has a huge campground with two hundred and thirty-six available sites which provides amenities such as grills, utilities, and laundry facilities for visitors to enjoy.
Fort De Soto Park is located near St Petersburg on Florida's west coast and consists of five interconnected islands stretching over 1,136 acres.
It also has miles of gorgeous vistas to explore along with its stunning beaches perfect for swimming or just relaxing on the sand. Be sure to check Groupon for some great discounts on restaurants and area activities.
6. Navarre Beach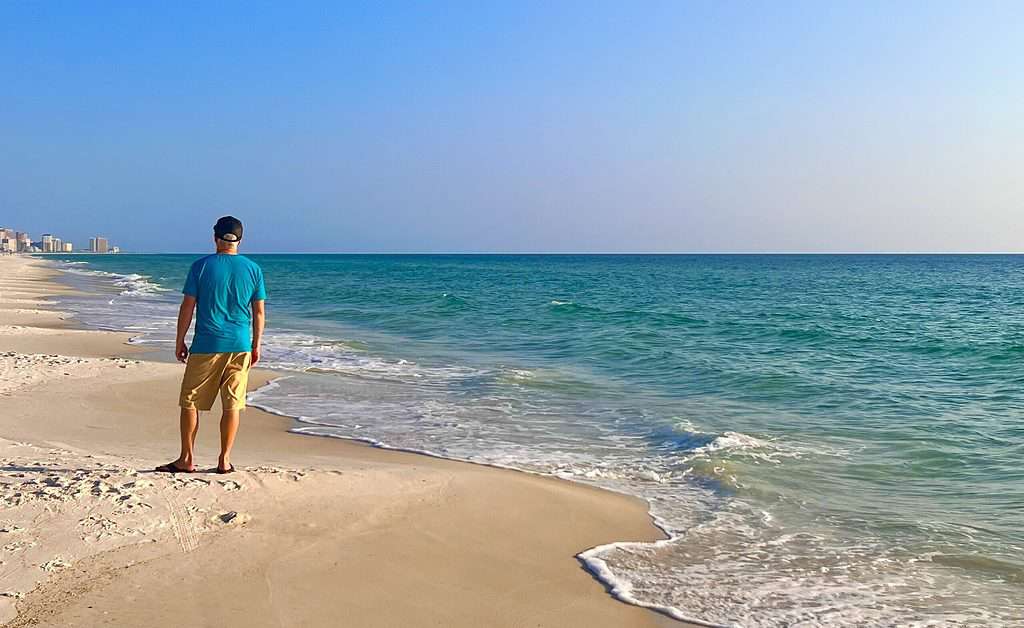 Navarre Beach is a popular destination for visitors looking for a quiet, less touristy beach experience.
It is located next to Pensacola Beach but has its own unique charm with beautiful white sand and emerald green waters.
The water here is some of the clearest in Florida, making it an ideal spot for swimming, lounging on the beach, fishing at the pier, paddleboarding and bike riding.
Navarre Beach spans Santa Rosa Sound and Gulf Islands National Seashore and is conveniently located on the Gulf of Mexico. There are several seafood restaurants nearby as well as other fun activities like turtle conservation center that make visiting this quaint beach town even more enjoyable.
7. Panama City Beach (Panhandle Of Florida)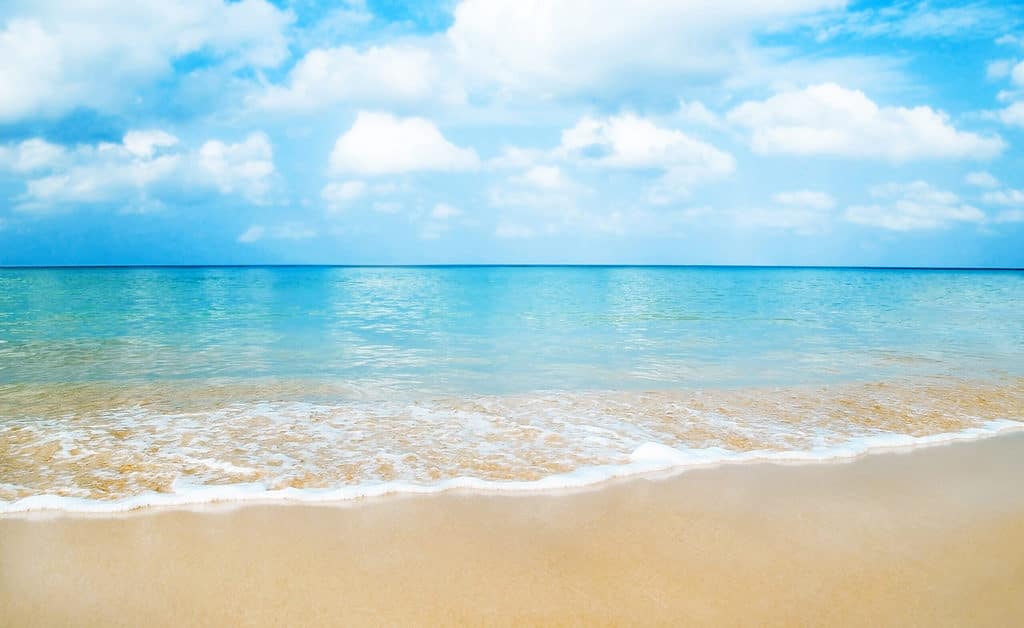 Panama City Beach is located on one of Florida's most iconic beaches with miles of white sandy beaches perfect for relaxing or taking part in various water activities like snorkeling or boat rides that allow you to see stunning views of its clear waters up close.
Moreover, it also has an uninhabited barrier island known as Shell Island that offers visitors clean waters full of marine life untouched by humans making it a perfect destination for those seeking the great clear water along with marine life.
Along with the crystal clear Florida waters, the town is full of fun things to do and has more of a party vibe to it.
The massive Pier Park's SkyWheel will afford some amazing views and is perfect for scoping out your next beach spot. Groupon often has discounted tickets for the SkyWheel.
8. Anna Maria Island (Perfect Beach Getaway)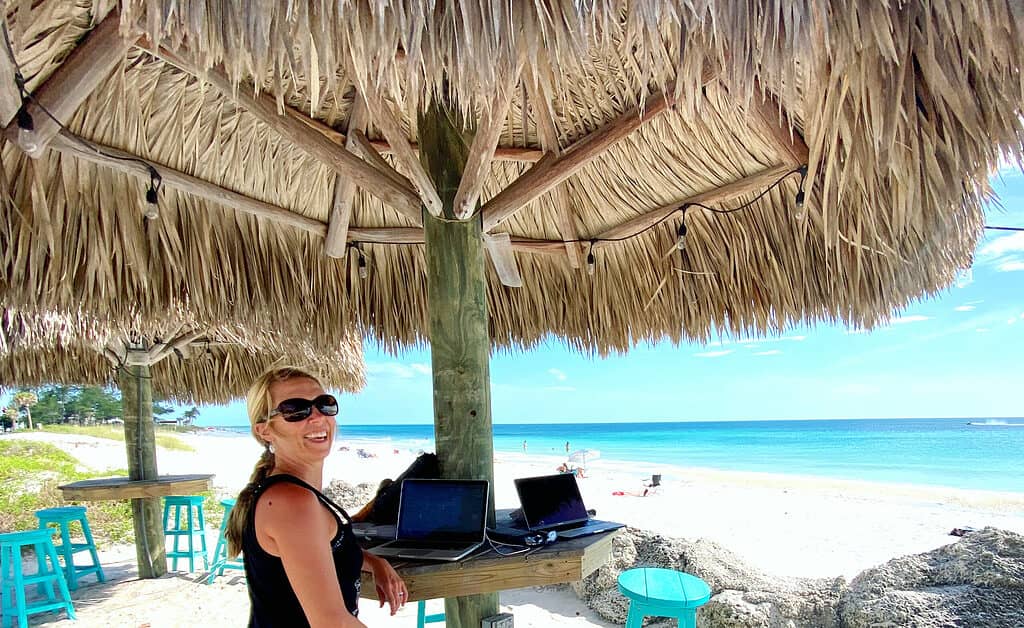 The water at Anna Maria Island is clear due to its location on the Gulf Coast of Mexico. The warm waters of the Gulf help to keep the sand and water smooth and free from debris, making it easier to see to the bottom of the ocean floor.
Additionally, there are no high rises or other structures that could potentially block or distort your view of the water.
Anna Maria Island is located North of Sarasota and boasts over 22 miles of beaches with sugar-white sands and emerald green waters that allow you to easily see to the bottom of the ocean floor.
There are also a number of hotels, resorts, cottages, camping options available for those looking to stay for a while.
Here are some more beaches to add to your bucket list,
23 Unbelievable Beaches You Must Visit In The USA
9. Dry Tortugas (An Island Paradise)
Dry Tortugas National Park is a beautiful beach and a truly unique experience. The water is some of the clearest in Florida, making it perfect for swimming, snorkeling and diving.
The sand is white and pillowy, and just perfect for chilling on. In addition to pristine beaches and clear water don't miss the historic Fort Jefferson full of captivating history.
The Dry Tortugas islands are located seventy miles west of Key West in the Gulf of Mexico and can be reached by boat or plane from mainland Florida or via ferry from Key West (there are no food options on site so make sure to eat first!). There are seven small islands making up this national park which offer plenty of opportunities for relaxation away from the crowds.
10. Caladesi Island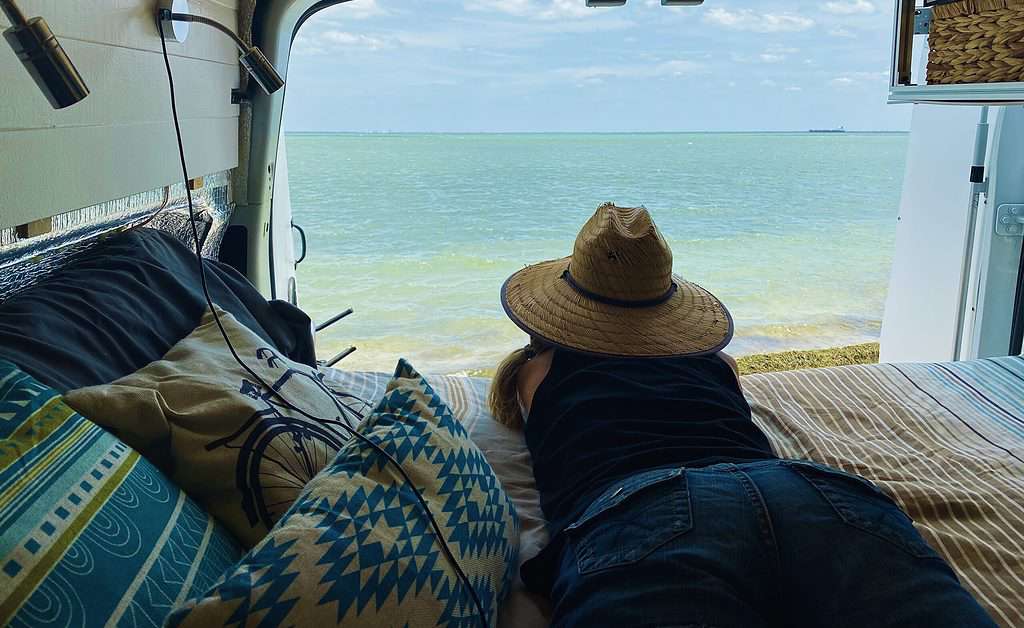 The water on Caladesi Island is clear due to the fact that it is located in the blue-green waters of the Gulf of Mexico and only accessible by boat. This remote location helps keep away any potential sources of pollution, ensuring that visitors can enjoy the pristine waters without any worries.
Caladesi Island is located north of Clearwater Beach on the northern end of a barrier island in Dunedin, Florida. The island has 157 acres which were preserved by author Myrtle Scharrer Betz in 1946 with a deed restriction and remains untouched to this day. There are many activities available for visitors including kayaking through mangroves, swimming, hiking and fishing – all in clear blue waters!
11. Smathers Beach
Smathers Beach is a beautiful beach to visit in Florida due to its size, cleanliness, and laid-back atmosphere. It is one of the largest beaches in Key West and has something for everyone to do. Additionally, it has some of the best shade trees along the beach should you need a break from the sun.
The only downside to Key West is how expensive things are but I've seen some good restaurant discounts on Groupon.
12. St. Augustine
St Augustine's beaches are known for their clear water due to the city's location on the Matanzas River. The river provides visitors with stunning views of the water and access to some of the clearest water in Florida.
The city also has a number of parks and green spaces, making it a great place to enjoy the outdoors. Visitors can take a stroll along the pier or check out the clear waters down below at St Johns County Ocean Pier Park, Crescent Beach and Butler Beach.
St Augustine has a bunch of fun places to eat and you can often score a 2-for-1 at Groupon.
13. Biscayne National Park
Biscayne National Park's is a clear water oasis. The park protects one of the largest reef systems in the world, making it an even more attractive destination for those who enjoy snorkeling, kayaking, SCBA and paddleboarding.
Biscayne National Park is located in South Florida and offers visitors stunning beaches, crystal clear waters and plenty of opportunities to enjoy nature – from relaxing on the shoreline to swimming with marine life. Visitors can also explore trails around the park or take boat rides around its scenic waterways.
14. Honeymoon Island State Park
If you're seeking a picturesque spot to explore nature in Florida, Honeymoon Island is the place for you. With four miles of stunning beaches, three miles of trails through pristine and untouched slash pine forests, and plenty of wildlife including eagles, osprey, great horned owls, gopher tortoises, raccoons and armadillos – there's something here for everyone!
A visit to the Rotary Centennial Nature Center guarantees an educational journey about Honeymoon Island State Park's remarkable past and natural resources.
While you are there, don't forget to find out why this place is called Honeymoon Island! Enjoy leisurely activities such as swimming in the pristine waters, fishing for a variety of species, hunting for shells on beach shores, going around on hikes or bike rides – all these make it a perfect destination suitable no matter who your travel companion is.
Additionally, it also serves as the gateway to get access Caladesi Island which too is another untouched state park worth visiting!
15. New Smyrna Beach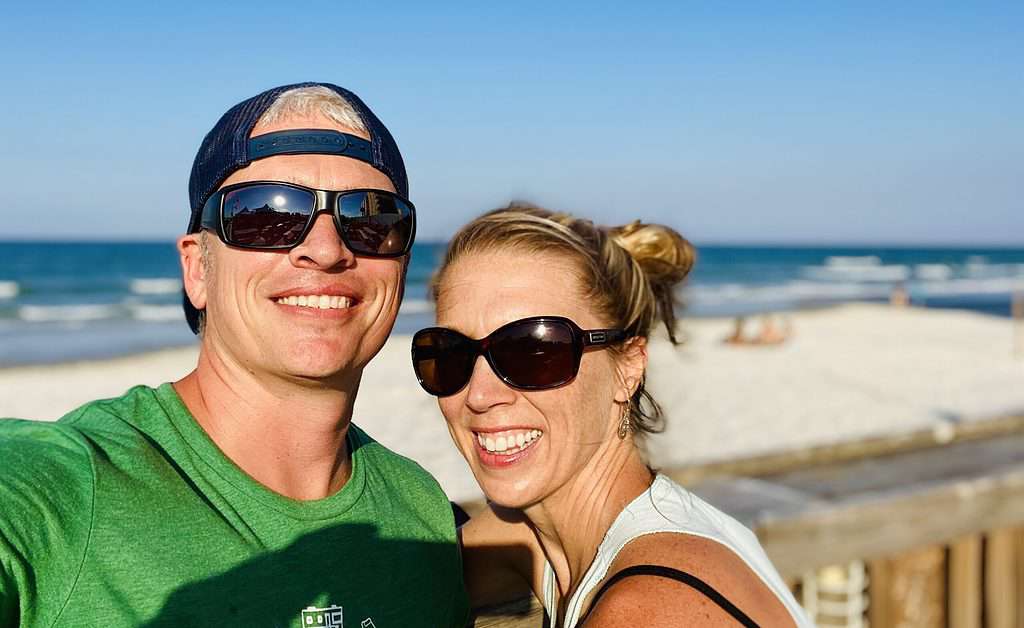 New Smyrna Beach is a great beach to visit for clear water because it has seventeen miles of beaches with awe-inspiring crystal blue water and white sand.
It is also known for having some of Florida's best waves, making it an ideal location for surfing and kitesurfing. Moreover, many local shops, restaurants, hotels and bed & breakfasts allow dogs on their premises which makes it a fun place for the pups.
Pro Tip: New Smyrna Beach is known as the shark bite capital of the USA so keep this in mind while enjoying the beautiful turquoise waters.
16. Miami Beach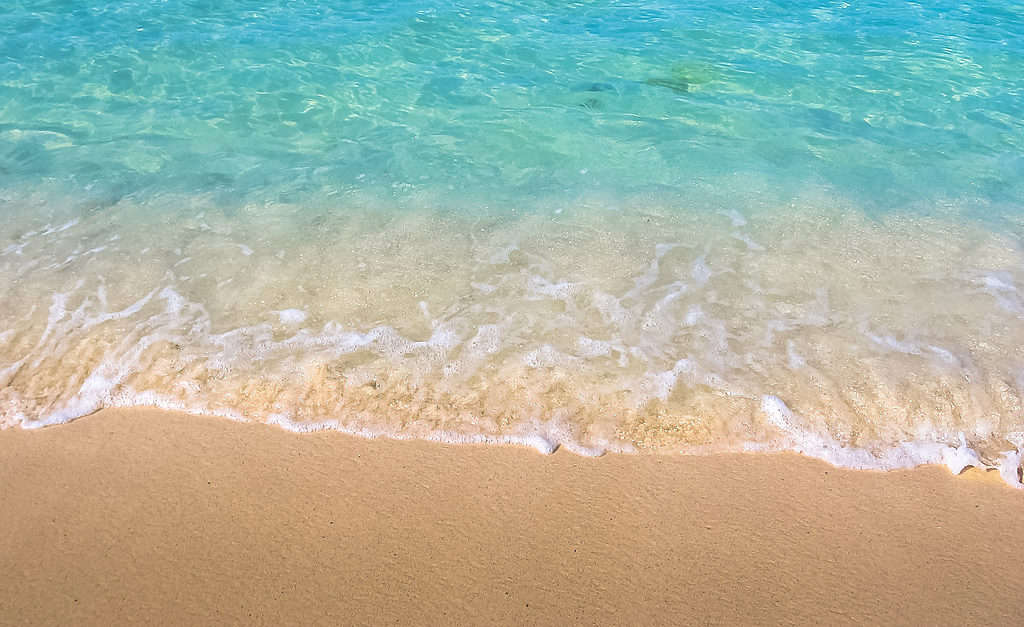 The crystal clear waters at Miami Beach can be enjoyed from both sides of the beachfront – on one side you'll find white sand beaches packed with both partygoers and families, while on the other side you'll find an array of luxury stores, boutique hotels, spas and restaurants among other attractions.
To top it all off there are also many rooftop restaurants with breathtaking views of the gorgeous beaches and mesmerizing ocean waves – perfect for taking pictures! Be sure to check out Groupon for some 2-for-1 dining specials.
17. Sanibel Island
Sanibel Island's water is clear because of the unique east-west orientation of the beach and its location off the coast of Fort Myers.
The island is 30 miles from Fort Myers and known for its beautiful beaches and clear blue-green water. Swimmers, bikers, paddleboarders, kayakers and snorkelers can enjoy this quiet atmosphere while taking advantage of nature's offerings.
18. Crystal River
Crystal River is a beautiful beach to visit in Florida due to its unique attraction – the manatees. The town is known as the manatee capital of the world, with Three Sisters Springs hosting a wildlife refuge and providing a unique experience.
Renting kayaks or snorkel gear will allow visitors to get up close and personal with these majestic creatures while exploring the crystal clear water of Crystal River.
19. Crab Island
Crab Island Beach in Florida is known for its clear water because of its unique location. It is off the coast of Destin, specifically on the north side of Destin Bridge, and it's actually a sandbar with no land. The shallow waters range from 1 to 4 feet deep depending on when you visit.
The waters here are perfect for activities such as jet-skiing, paddleboarding, dolphin sighting cruises and fishing trips – just be sure to check out the local attractions nearby like Tailfins Waterfront Grill or AJs on the Harbor before you go!
20. Jupiter
Jupiter Beach in Florida is a beautiful beach to visit due to its close proximity to the Gulf stream waters, which keeps it at a comfortable 78 degrees year-round.
Additionally, Jupiter is known for its water sports such as stand-up paddle boarding, surfing and snorkeling in its calm and clear waters.
The crystal clear water during incoming tides makes Jupiter an even more attractive boating destination with plenty of opportunities for offshore fishing as well as fantastic seafood restaurants located nearby.
Jupiter Beach can be found on the east coast of Florida near North Palm Beach along State Road A1A.
Click HERE to view map.
21. Rosemary Beach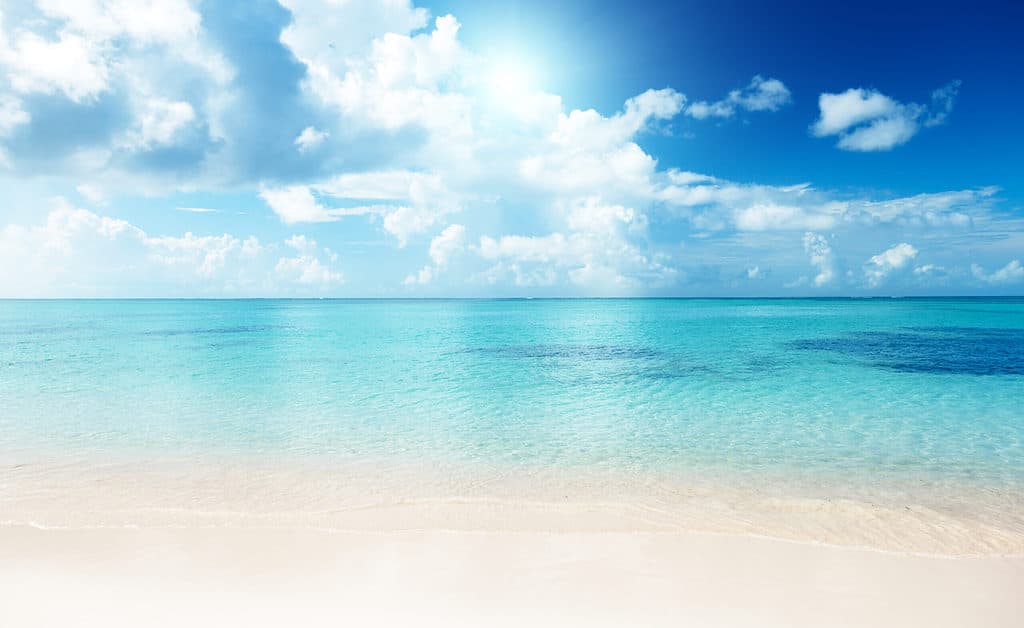 Rosemary Beach is a picturesque town where New Urbanism and West Indies styles coalesce.
This beach community features immaculate beaches, clear water, an ample town square, celebrated restaurants, meandering pathways and cobblestone streets to create the perfect romantic atmosphere — no surprise that CNN named it one of "America's Most Romantic Small Towns."
When you explore Rosemary Beach's inviting patios or al fresco dining areas, you'll understand why!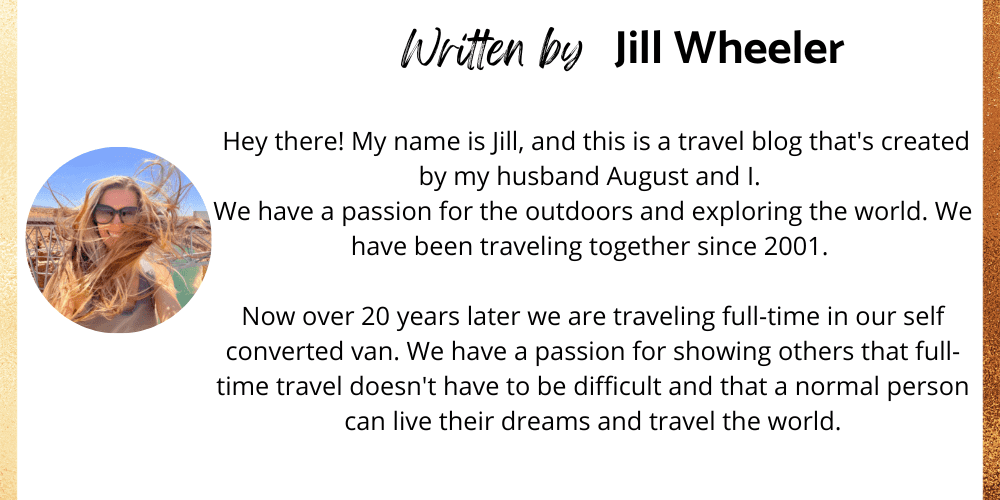 Why is the water so clear?
The water at some beaches in Florida is so clear because of a combination of factors. Earth's rotation creates upwelling, which brings deeper, more sediment-rich water inland and to the surface. Beaches with physical barriers like reefs can block this kind of upwelling, keeping waters clear. Coarser, heavier sediments will sink to the bottom, keeping the water clear at the surface. Rain run-off can darken the water while days of light winds and sun can keep it clearer.
Florida's waters are known for being extremely clear due to its location along the gulf coast in spring and fall seasons when waters tend to be clearer than other times of year due to fewer storms or currents affecting them as much as they do during other seasons/times throughout the year.
What Beach in Florida Has the Clearest Water?
The beach with the clearest water in Florida is Siesta Key Beach. The water is clear due to its shallow depth and white sand bottom. Siesta Key Beach is located near several other popular beaches, such as Longboat Key, Lido Key and Venice Beach.
When Is the Best Time to Visit Clear Water Beaches in Florida?
Starting in October the summer rains have slowed making for some of the clearest waters. In addition, the crowds are bit less making for a more enjoyable and affordable experience.