Whether you live in the Kansas City area or are visiting, check out some of the free things to do in Kansas City. Activities range from shopping to museums to parks – there is something for everyone.
Berkeley Riverfront
On the south bank of the Missouri River is a scenic park where you will find walking trails, courts for sand volleyball, and a beautiful waterfront recreational area. You can walk or rent a bicycle. The wetlands area contains walkways, benches, and informational displays.
The Cathedral of the Immaculate Conception
This historical cathedral is beautiful and offers free self-guided tours. The building is easily recognized by the gold-plated dome, which is visible from a distance even at night due to its lighting.
The City Market
Located downtown, the City Market includes a farmer's market, shops, and boutiques that offer items from all over the world. You can get anything including baked goods, candy, organic produce, coffee, tea, and soda. Non-food items include games, flowers, gifts, and jewelry.
Ernie Miller Nature Center
Lots of outdoor activities are available at the Ernie Miller Nature Center, including camping, walking trails, classes, art, and more. A fee is required for some of the activities but many free activities are available.
The Ewing and Muriel Kauffman Memorial Garden
Loaded with perennial flowerbeds and unique trees, the Memorial Garden has benches and brick walkways so you can enjoy the landscape in any season. Bronze sculptures and fountains grace the planted areas and neatly trimmed foliage.
Hallmark Visitors Center
The home of Hallmark Cards, the location offers exhibits and interactive displays that explain the history and spirit of Hallmark. You can learn more about their cards, movies, and ornaments.
First Friday- A Great Free Thing To Do In Kansas City
The first Friday of every month is a great day to explore all that Kansas City has to offer. This is when the Crossroads district comes alive, with live music, art galleries, restaurants, shops and more. There is no charge to visit, and some galleries offer live music and refreshments.
More than 40 galleries participate in the First Friday Art Walk every month. The event begins at 5:00 pm and ends at 9:00 pm on the first Friday of every month. Parking is abundant, but crowds can be rough, so it's smart to come early or take public transportation.
Explore Downtown Kansas City
There are lots of different neighborhoods to choose from in Kansas City, but downtown Kansas City is a vibrant destination for many people. There are lots of things to do in Kansas City MO that are free one of the most popular things to do is take free downtown KC streetcar that allows you to explore downtown without traffic jams or hassle of driving your car around town!
A couple of our favorite places to visit in Downtown are the City Market, which is a great place to grab lunch and enjoy some of the local flavor. The Liberty Memorial is another popular attraction in downtown Kansas City MO that offers free admission!
If you're looking for a good ole Irish Pub we recommend the Dubliner, which is a great place to grab some food and drink with friends. If you're looking for something more lively the Power & Light District is a fun destination that offers lots of different types of entertainment.
The Nelson-Atkins Museum of Art
The Nelson-Atkins Museum of Art is a world-class treasure located right in the heart of Kansas City that is free to enter. The ever-expanding collection makes The Nelson-Atkins Museum unique each time visitors explore. Visitors can enjoy the beautiful and expansive grounds, the world-renowned art collection, or walk through the sculpture garden to get firsthand experience with art and history through sculptures, and works of art found throughout the museum.
Nelson-Atkins Museum of Art has a focus on 20th century art. The museum includes paintings, architecture, photography, and decorative arts all under one roof.
Jacob Loose Park
The Jacob L Loose Park covers 75 acres and includes a rose garden, a garden center, a Japanese Tea Room, tennis courts, a playground, and walking trails. It sits on the location of the Civil War's Battle of Westport.
Kaleidoscope
Located in the Crown Center, Kaleidoscope is a hands-on artistic experience for people of all ages. Children create using Hallmark materials which are often seasonal or relating to a holiday.
Kansas City Public Library
The Central Library in Kansas City, which is on West 10th Street, is housed in a particularly unique building. On either side of the main entrance, the building is decorated to look like a huge bookshelf. It has several books painted on the walls. Inside you will find all sorts of books as well as historical information.
The Kemper Museum of Contemporary Art
View many examples of contemporary art in the free museum. Tickets are encouraged to ensure access while capacity is limited, but tickets are still free. Some artwork changes while other collections are permanent features.
The Money Museum at the Federal Reserve
One of the fun free things to do in Kansas City, Missouri, is to learn about money at the Federal Reserve, including production, printing, backing, and history. Enjoy interactive exhibits and see Truman's coin collection.
Penguin Park
Penguin Park is named for the larger-than-life penguin sculpture that was added to the park in 1965. More animals were added, including an elephant, a giraffe, and a kangaroo. The park includes a playground, tennis courts, walking trails, and more.
Swope Park
Covering 1,805 acres, Swope Park is the largest park in the Kansas City park system. The park features hiking trails, gardens, fountains, and the Lakeside Nature Center, the largest rehabilitation center for animals in the state.
Other attractions housed in Swope Park that are not free include the Kansas City Zoo (which houses over 1,000 animals) and a treetop adventure park. It also has an outdoor amphitheater where concerts and musicals are performed.
Union Station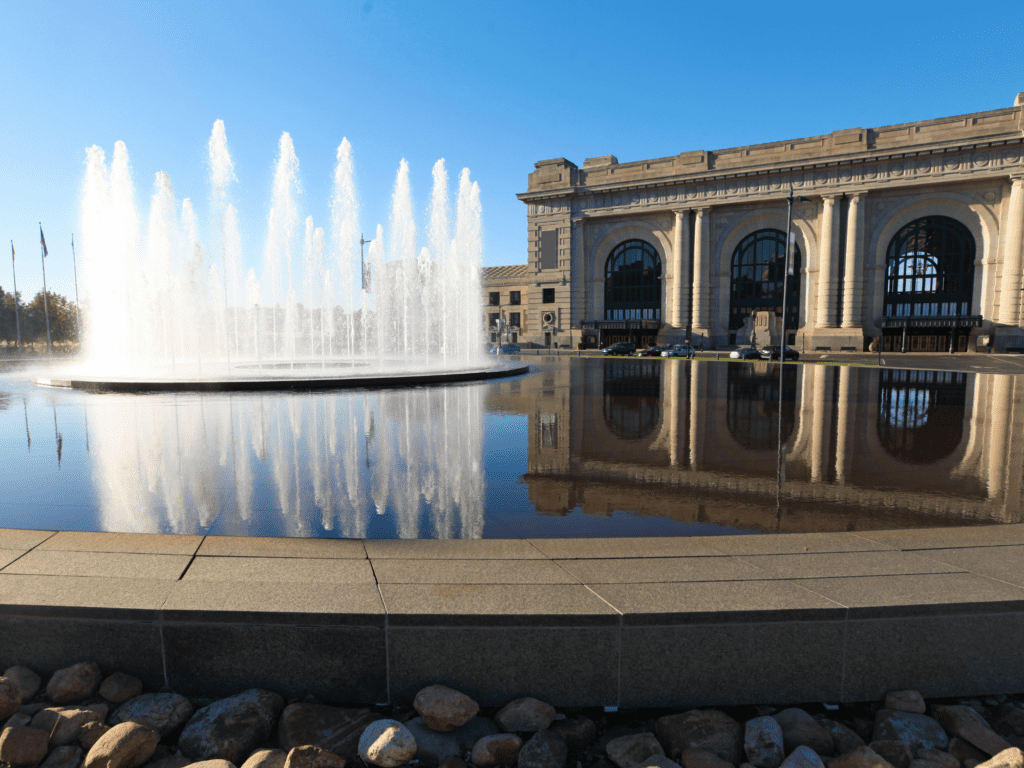 The historical Union Station is home to a variety of paid attractions, but the building is an architectural masterpiece that is free to enter and explore. The station was active from its origin in 1914 until it was closed in the 1980s. Renovation began in 1996 and was finished in 1999.
The Grand Hall features a 95-foot ceiling from which hang three chandeliers that weigh 3,500 pounds. The central arch holds a clock that is six feet wide. The Amtrak train still stops at the Union Station and you can board it there.
Westport
One of the oldest neighborhoods in the area, Westport was farthest west during the time of the pioneers and the last stop for provisions. Now it has boutiques, restaurants, and nightlife.
The neighborhood makes up about 170 acres on the west side of Kansas City. Its restaurants include ethnic food from all over the world. It has stores of all types, including games, jewelry, and soap, plus salons, spas, and manicurists.
Get Out Explore The Best Free Things To Do in Kansas City
I hope this list of free things to do in Kansas City will help you to get out and explore KC and the great things it has to offer