Seattle is a fun and exciting place to explore. From the bustling Pike Place Market to the snowy slopes on Mt. Rainier, you're going to love your time in this city. Seattle has some of the best tourist attractions, museums, and parks and the great thing is some of them are even free. Let's explore some of the most popular free things to do in Seattle Washington so that you can save money while seeing the best attractions in the city.
LOOKING FOR MORE FUN THINGS TO DO IN SEATTLE
Ballard Locks (AKA Hiram M. Chittenden Locks)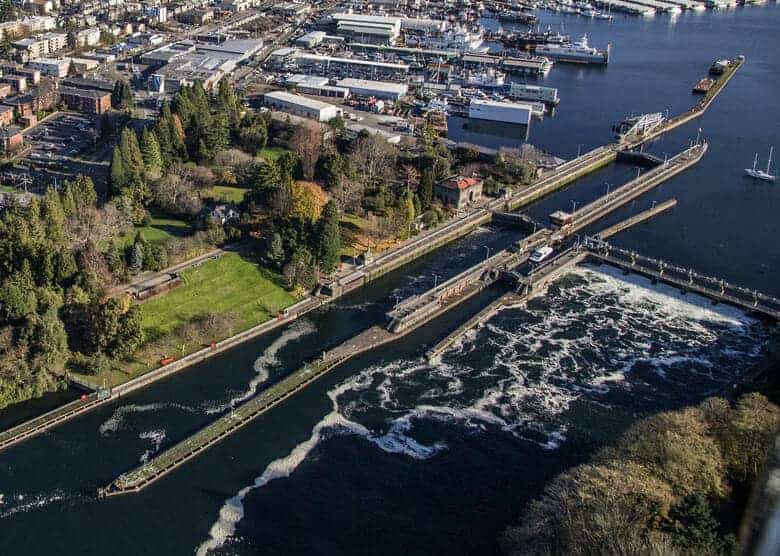 One of our favorite free things to do outdoors in Seattle is to walk the mighty Ballard Locks and surrounding garden. The Ballard Locks connect the salt water of Puget Sound with the freshwater of Lake Union and Lake Washington. The bodies of water have over a 20-foot difference in water level height thus requiring locks.
Operated by the U.S. Army Corps of Engineers this vital pathway operates 24-hours a day. From small personal watercraft to larger commercial vessels the Ballard Locks is a busy spot.
The locks are surrounded by a beautiful botanical garden and walkways where you can walk right along the locks and see all the action up close. You can even cross the water, by walking across the massive lock's swinging channel doors. When you do cross the locks be sure to check out the Ballard Locks Fish Ladder.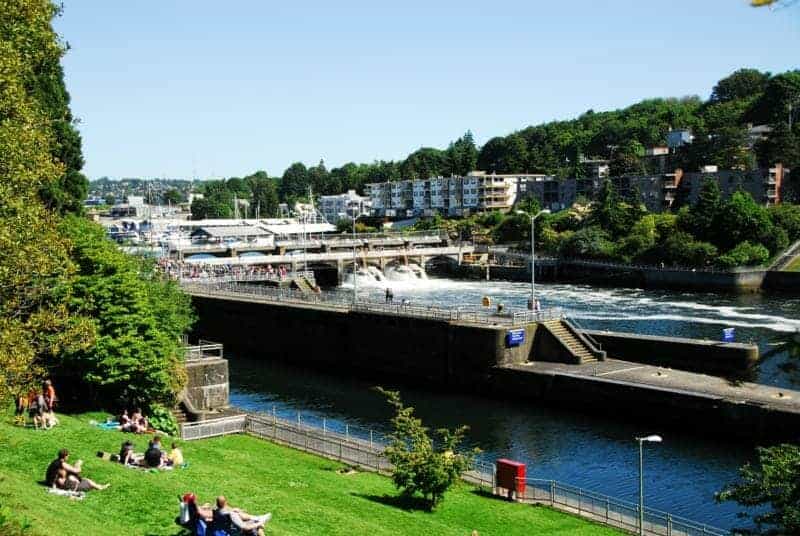 Don't miss the Lockspot cafe at the entrance to the Ballard Locks it's a fantastic chowder house that serves up Fish 'N Chips and other assorted seafood.
Ballard Locks Fish Ladder
The fish ladder is something you don't want to miss especially during the salmon migration. In the early 1900s when the locks were built special attention was paid to the Salmon giving them access to their spawning beds upstream.
Best Viewing Times
King Salmon or Chinook – July through November peaking in August
Silver Salmon or Coho – August through November peaking end of September.
Red Salmon or Sockeye – June through October peaking in July
Vistor Center
Stop in the visitor center for brochures, information, and FREE guided walking tours. Summer hours (May – September) are 10 a.m. to 6 p.m. daily. Winter hours (October – April) 10 a.m. to 4 p.m. Thursday – Monday.
The Ballard Locks Park also hosts FREE weekend concerts during the summer. Check the Ballard Locks events for more info.
Check out the Ballard Locks here on Google Maps.
Seattle Center and The Space Needle… Free (To Roam Around the Area)
No trip to Seattle would be complete without laying eyes on The Space Needle. The Space Needle is one of the most recognized structures in Seattle. It has an observation deck that rotates completely around every hour. The cost to enter this is $19.95 or you can walk around the grounds for free!
The Seattle Center is a free and awesome place to wander around. You can see the Space Needle, visit art galleries, go inside the historic armory, and hang out by the International Fountain. The Seattle Center Armory was originally built in 1939 and some of the old armory remnants still remain today. The Armory now serves up fresh local food and beverages and is a gathering place for free cultural performances and celebrations that attract people from all around the world.
There's no better way to spend your time at the Seattle Center than with an ice-cold beverage on their 60-foot outdoor deck.
Seattle's Waterfront Over The Puget Sound
Another thing we like to do every time we're downtown is to explore Seattle's waterfront. Just a quick walk from the Pike Place Market the wooden piers of Seattle's Waterfront provide stunning views over the Puget Sound and West Seattle. There are plenty of places to sit and enjoy the view while listening to the seagulls squawking around you. Enjoy your time by watching the ferries, shipping vessels, and boats of all sorts cruise across Elliott bay.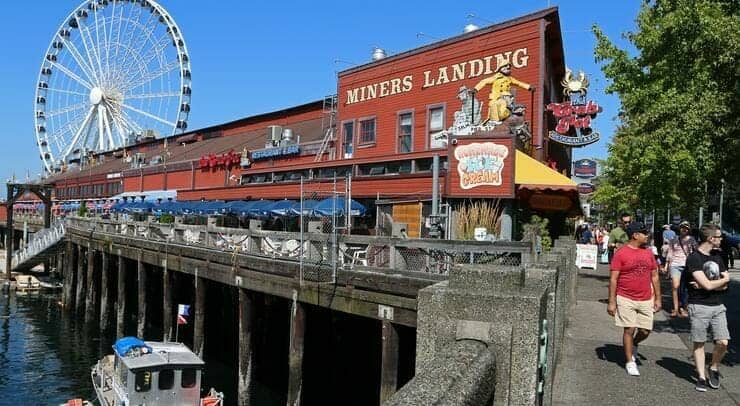 From Ferris wheel rides to the Seattle Aquarium it has a bit of everything.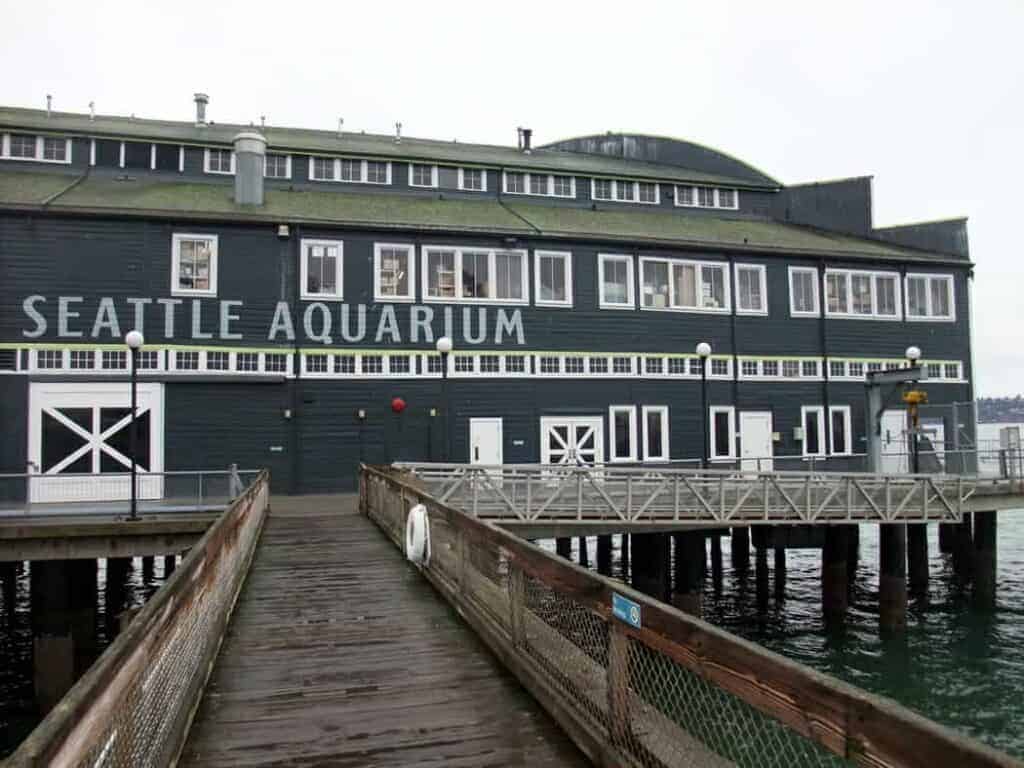 Roam Around Pike Place Market
One cannot venture all this way and NOT take in the Pike Place Market! The Pike Place Market; Seattle's epicenter is one of the best things to do in Seattle!
With views of the water, Pike Place Market will capture your every sense! There are buskers waiting to entertain you, vendors selling everything from locally grown produce, to jam, flowers, fresh fish, and seafood! 
This historic market in the middle of downtown Seattle has a rich history and is full of life. The Market opened in 1907 and is still going strong today, it bustles with energy from 10 am – 6 pm 363 days a year closed only on Thanksgiving and Christmas Day! Stop by to take in this 9-acre market for yourself and explore stalls offering arts, crafts, and delicious food along your way.
What to do at The Pike Place Market
Watch the Fish Fly at Pike Place Fish
We think one of the best attractions in Seattle is the Pike Place Fishmongers at Pike Place Fish Co. If you've never seen them in action, I can tell you it's an entertaining show. Not only will you be taken back by the massive selection of fresh fish but in order to keep up with the orders, these fish really do fly. To keep the sales moving the fish are tossed from the outer display racks to the middle where the fish are weighed and packaged for sale. It makes for quite a show.
They also overnight ship fish packed on dry ice just about anywhere so be sure to grab something to meet you when you get back home.
Stop by Pike Place Fish and you may just be lucky enough to catch a fish! They have been featured on TV shows and documentaries, and even team-building videos for the workplace!
Take a break from the big city with these great day trips from Seattle
Rachel The Pig
Rachel the Pig is a local legend! Turn around from The Fish Company and you will see a big brass pig, Rachel. This is Pike Place Market's mascot!
Though many tourists have their photo taken with the 550-pound bronze pig at Pike Place Market, they might not realize that it's a local hero. The Pike Place Market foundation decided in 1986 to build this super-sized bank as a way to raise funds and support housing services for low-income neighbors who live near the market.
Rachel has an average annual donation generating $10K per year for local charities. Stop by to take your photo with this big pig!
The Gum Wall
After you've finished your photoshoot with Rachel the Pig, you'll see a set of narrow stairs heading down. Take the stairs and turn right at bottom you are now in Lower Post Alley at the Gum Wall!  You may find it disgusting or intriguing (a bunch of pieces gum plastered over old brick walls) but either way it's a must-see.
The Seattle Gum wall has been accumulating gum since the early 1990s when theatergoers waiting for events at the adjacent venue would stick gum to the walls to pass the time.
The gum wall has become a popular photo spot for people who like to pose in the middle of the alley with their friends.
For a great view, happy hour, or a delicious meal, hit up the Alibi Room which is adjacent to the gum wall in Post Alley.
The Magic Shop
When's the last time you went to a magic shop? The Market Magic Shop in Pike Place Market has been a visitor favorite for years. Not only is it the longest-running magic shop in the Pacific Northwest (1973) but it is one of the best magic shops you'll find. From legit magic to simple tricks and handshake buzzers they have it all.
If you're planning a road trip check out these must see small towns of the West
The World's First Starbucks Location-Free To Look Inside
I personally prefer small, local coffee shops. But if you're in Seattle and want to visit the first-ever Starbucks this may be worth your wait.
The first thing you'll notice about the original Starbucks isn't the rich aroma of coffee or even the original Starbucks logo on the window (which you should definitely check out), it's the long line of people waiting to buy their coffee. During all hours of the day, rain or shine, people flock to see this Seattle attraction to get their hands on a cup of coffee.
The inside of this Starbucks is worth seeing, particularly since it includes the original flooring, fixtures, counters, and brass labels that were used on their bulk coffee bins in 1971.
Location: Pike Place Market 101 Pike St, Seattle, WA 98101 USA
Admire The Hammering Man
Let's leave the Pike Place Market area and walk towards Pioneer Square. On the way, you will amble down 1st Ave (an easy, 15 min, slightly downhill walk) passing the Seattle Art Museum. This is home to the Hammering Man. The Hammering Man is a free Seattle site that is worth checking out. The strange man stands tall over the passersby who are probably too busy to notice him. He is the symbol of the working class's early days in Seattle, industriousness, dedication, and hard work.
Visit The Seattle Art Museum for Free
The Seattle Art Museum is the center for world-class visual arts in the Pacific Northwest. The Seattle Art Museum has a number of free days throughout the year, including Free First Thursdays on the first Thursday of each month. Seattle Art Museum is guaranteed to be an exciting and educational experience for all visitors.

Fun Fact: The Seattle Asian Art Museum is a cheap and/or free activity to do in Seattle too! The art community wants everyone to be able to appreciate art, regardless of their ability to pay so they have a "suggested" admission, if you can offer some money, do it!
Seattle Public Library Admire The Architecture
While visiting a library might not sound all that exciting this 11-story glass and steel structure is rather impressive. Located in the heart of downtown it's easy to combine with many of the other destinations I've mentioned.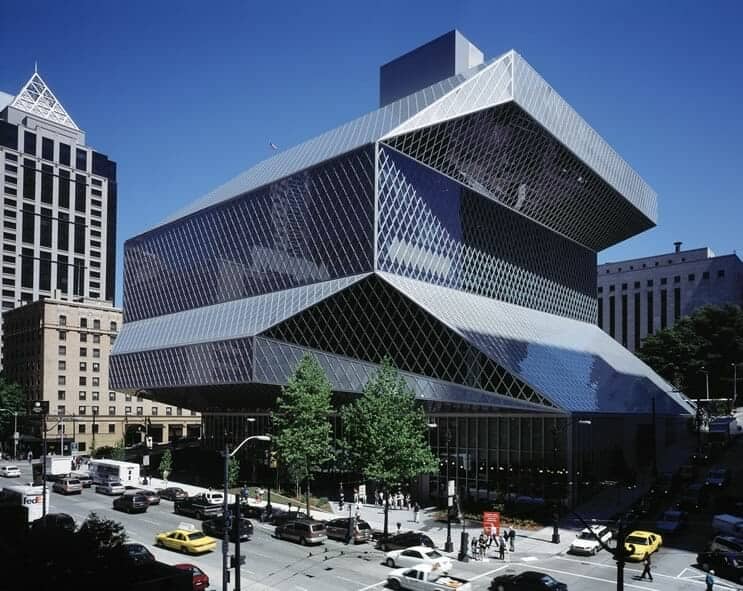 It's a great place to take a break from the crowds and don't miss the Red Hall on the fourth floor.
Seattle Buskers Are Free To See!
Seattle Buskers are some of the best performers you'll find on the streets. These performers brighten our days by singing, playing music and offering entertainment through magic or puppet shows. They're not just performing, though they're giving the city of Seattle its unique personality that you won't find anywhere else.
They typically stick to two spots: Pike Place Market and Pioneer Square. Market buskers pay $30 for an annual performer's permit. Last year, the Pike Place Market Preservation and Development Authority issued 400 of them! .
The Seattle Buskers are really good at what they do and are definitely worth checking out!
Cost: Free!! Spare a little change for the performers if you're able 🙂
Enjoy Pioneer Square and Some of the Oldest Buildings in Seattle
Pioneer Square is the city's oldest neighborhood and a cultural center, with art galleries, cafés, and trendy bars filling the buildings from the 1800s.
Pioneer Square is home to the Klondike Gold Rush National Historical Park where you can learn all about Seattle's history from when it was a small sleepy town to what became of this city after the great gold rush of 1897!
After checking out the historical park make your way over to Occidental square where you can enjoy bistro-style seating surrounded by greenery and Bocce Ball courts.If you're lucky you may catch some live music or games sponsored by the Seattle Parks Department.
Fun fact: The first-ever art walk in the USA was in Pioneer Square! Pioneer Square has been home to many artists since the 1960s and every Thursday, art lovers can do self-guided tours of the galleries in Pioneer Square for free.
Another Fun Fact: Merchants Cafe' is the oldest continuously operating bar in Seattle opened in 1890.
While we're here talking about free and cheap things to do in Seattle why not check out some of our favorite dive bars in the Seattle area. If dive bars aren't your thing we have a blog about our favorite rooftop bars here.
Discover Seattle's Discovery Park
Discovery Park is one of those things to do in Seattle for free that shouldn't be missed it's situated on a bluff overlooking Puget Sound offering spectacular views of both the Cascade and Olympic Mountain ranges. It is the largest park in Seattle and is a true gem. With a mix of greenery, shoreline, and a vast network of trails there's something for everyone.
The park is located on Fort Lawton which was once an active military base during World War II. At the center of the park, you'll find many historic Fort Lawton buildings and structures adding to its charm. Be sure to visit the West Point Lighthouse for more great views of the Puget Sound.
Getting Around Discovery Park
The East Parking lot is nearest to the visitor center where you can grab a map. While there are other parking areas I recommend just walking about.
Don't miss these fun and funky iconic Seattle restaurants
Fremont Troll is a Free Seattle Activity
The friendly Fremont Troll lives under the Aurora Bridge in the Fremont neighborhood of Seattle. He is made from rebar steel, wire, and extremely strong cement. He stands 18 ft tall with a shiny metal eye and is crushing a Volkswagen Beetle in his left hand. He's a friendly troll allowing people to clamber all over him for photo opportunities!  Visiting the Troll is one of those things to do in Seattle for free that people really enjoy doing!
Wondering WHY there's a troll in Fremont? The city had a competition to come up with an artistic replacement to rehabilitate the area that was once known as a dumping ground for trash and a haven for drug dealers.
Fun Fact: The Fremont Troll in Seattle is quite famous. He has been featured in movies such as Twilight and Sleepless in Seattle!
Looking to get out of the city and explore some of the amazing places around the Pacific Northwest? Check out some of our favorite places we like to go around Seattle.
Gas Works Park
Gas Works is no ordinary park. A former gasification plant, operated from 1906 to 1956 the park incorporates numerous pieces of old equipment that make for a spectacular skyline. While a portion of the gasification plant is off-limits a large part has been restored so you can get up close and personal with some of the old equipment from the former Seattle Gas Light Company.
The park itself is situated on Lake Union and offers some of the best views in the city. Be sure to hike up the hill for an even better view of the Seattle skyline. If you're in Gasworks on a windy day, bring your kite because it's one of the finest kite flying areas with one of the most picturesque settings.
You can find Gas Works Park here on Google Maps.
Get Quirky on Capitol Hill (Broadway)
My Posse's on Broadway! Yes, This song by Sir Mix-A-Lot is about this area in Seattle.
If you're looking for a unique thing to do in Seattle don't miss the progressive and welcoming neighborhood of Capitol Hill. Broadway is the main street running the length of the neighborhood and it's packed with shops, bars & restaurants plus LGBTQIA+ clubs. You can find laid-back coffee shops and consignment stores open any time of the day and late into the evenings. But the real fun happens late at night when the locals on Capitol Hill emerge looking to have some fun.
Admire Some of the Best Views of Seattle at Kerry Park
For amazing views of Elliott Bay, downtown Seattle and occasional views of Mount Rainier head to Kerry Park. Kerry Park is a small park located on the Southside of Queen Anne Hill. This is one of our favorite places to visit in Seattle because there are relatively few tourists you can enjoy the view in peace. The evenings at Kerry Park become a photographer's dream because the views of downtown Seattle at night are incredible. You can see the city lights, brightly lit ferries, and the iconic Space Needle shining high in the sky from Kerry Park.
Alki Beach West Seattle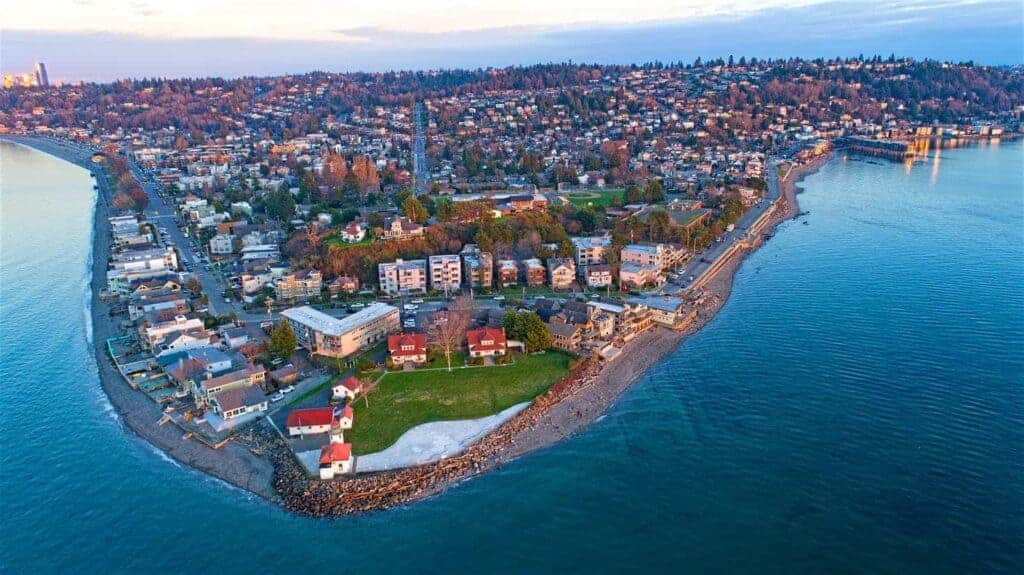 A 2.5 mile stretch of sandy beach in the heart of West Seattle. You have the choice of either a paved walkway or the beach itself. You can rent kayaks and paddleboards or play a game of beach volleyball.
All along Alki Beach, you'll find an assortment of restaurants and cafes for a bite to eat or drink. Spud Fish & Chips is a Seattle classic and should not be missed.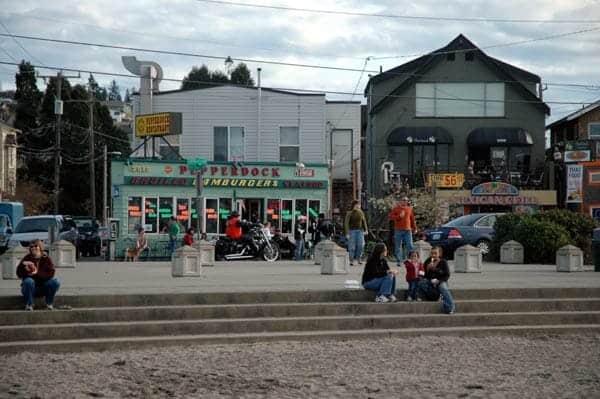 At the end of the beach, you'll be rewarded with the Alki Point Lighthouse which is maintained by the US Coast Guards and dates back to 1913. It has limited seasonal hours Memorial Day through Labor Day, but the tours are free when it's open. Check the website for the most up-to-date information.
Looking For The Active People? Head To Green Lake Park
Green lake is one of the most popular parks in the city of Seattle. It's located north of downtown Seattle and is the heart of the Green Lake neighborhood. Greenlake park has a 2.8-mile loop that is a perfect recreational spot for runners, bikers, skaters, and walkers. People come to use this park for boating, picnics, gathering with friends, and swimming. 
There are lots of affordable restaurants that offer happy hour which makes a visit to Green Lake one of our top 5 cheap things to do in Seattle.
Walk or Ride The Burke Gilman trail
The Burke Gilman trail is one of the most popular paved trails in Seattle that connects many popular neighborhoods and landmarks throughout Seattle. The trail stretches along the shores of Puget Sound for about 20 miles and is a very popular tourist activity for anyone looking for an outdoor adventure. People enjoy walking, jogging, cycling, and commuting along this trail
The Burke Gilman trail can be found near the Fremont Troll, Gas Works Park, University of Washington, and many other areas throughout the city. The Burke Gilman Trail is a great way to see many different sides of Seattle like historic neighborhoods, the bustling University District, and even the beautiful scenery of Kenmore Washington.
Volunteer Park
Volunteer Park in Capitol Hill is home to the Volunteer Park Conservatory and the Seattle Asian Art Museum. The park itself is a huge park surrounded by beautiful homes and winding pedestrian paths. Exploring this park can last for as little or long as you like providing you a great free thing to do in Seattle.
Our favorite part of the park is the Volunteer Park Conservatory which offers free admission to guests on the First Thursday and First Saturday Every Month. This conservatory has a large variety of plants and climate-controlled buildings to house the various plants.
Seattle Art Museum's Olympic Sculpture Park
The Olympic Sculpture Park overlooks the Puget Sound and features large-scale outdoor artwork and some lovely water views. The award winning Sculpture Park is the largest green space in downtown Seattle making it one of the best free things to do in Seattle outdoors. If you are feeling a little crowded from all the downtown sites this is a great space to take in the natural beauty of the Northwest.
The self-guided walk takes you through towering pieces of art as you wind your way down to the waterfront.
Find it here on Google Maps
Enjoy Golden Gardens and a Beach Bonfire
Another popular park is Golden Gardens in Ballard, an 87-acre area with views of the Olympic Mountains and one of the Northwest's most beautiful beaches.
People flock to this park to enjoy the sun, sand, and stunning views. We love strolling the trails and the short loop on the northern end before ending our evening with a bonfire in a designated fire pit on the beach.
If you do anticipate a bonfire in your future make sure to get there early because they are very popular and the pits go fast! People in the city love taking advantage of free things to do in Seattle especially the bonfires at Golden Gardens!
We love drinking and eating good food and we spend a good amount of time finding places that we enjoy. Check out some of Seattle's unique restaurants that we love to visit.
Sail For Free at The Center for Wooden Boats In South Lake Union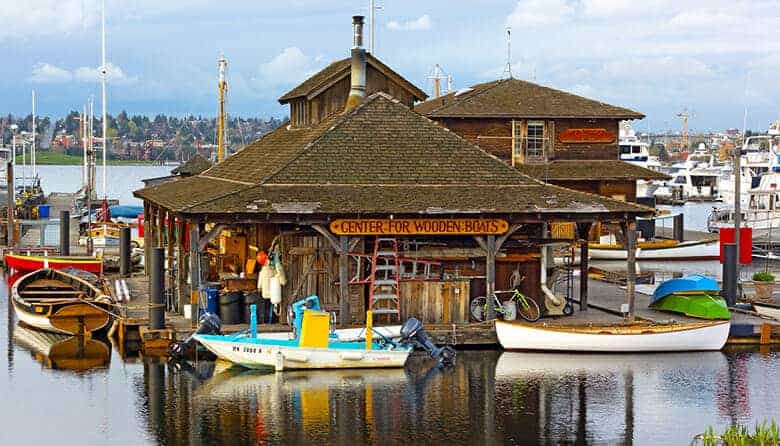 A mecca for anyone who appreciates sailing or wooden boats. Admission is free and they even offer FREE sailing trips every Sunday on Lake Union. This is one of my favorite hidden gems of Seattle.
There's no better way to see Lake Union than by boat but you must sign up in person so get there early. Check out their website here.
Frye Art Museum-Always Free to Visit
The Frye Art Museum is an art museum situated in the First Hill neighborhood of Seattle. The museum opened to the public in 1952 as Seattle's first free art museum and that reputation still continues today.
The collection includes paintings and sculptures from early 19th century German and American influence. You can also discover contemporary works that blend art, media, and installation.
The museum also features a wide variety of rotating exhibitions showcasing local, national, and international artists The best thing about the Frye Art Museum is the museum is always free to visit.
Enjoy Nature At Washington Park Arboretum
Washington Park Arboretum is full of free things to do! This oasis on the shores of Lake Washington will surprise you with its lush green spaces and varied local flora. Some of the plants you'll see at the Arboretum are collections you won't find anywhere else in the Northwest. Make sure you walk along the arboretums most iconic stroll a 3/4 mile path through the heart of the arboretum featuring azaleas, magnolias, dogwoods, and blooming cherries set against a backdrop of evergreen trees
The park is home to a network of 200 acres of trails that will wind through this beautiful landscape of plants and trees.
Free Walking Tour of Seattle
Did you know that many cities throughout the world offer free walking tours? They sure do and we love taking them. Taking a free walking tour of the area you're visiting gives you the lay of the land and lets you know a bit about the city. The great thing about taking these tours is that oftentimes you'll get the insider's beta as to what the locals like to do in the area. The guide may fill you in on the non-touristy hotspots like affordable Happy Hours and deals throughout the city.
Enjoy a Waterfall in The City of Seattle at Waterfall Garden Park
The 22-foot tall manmade waterfall in Pioneer Square's Waterfall Garden Park is both entertaining and picturesque. This is one of Seattle's best activities since visitors can enjoy the view from the top as well as the sound of cascading water. Pioneer Square Waterfall Garden Park is a lovely escape offering beautiful flowers and a nice place to sit and reflect in comfort.
FAQ About Seattle
What's Seattle Best Known For?
There are a plethora of things! Seattle is known for Starbucks and the coffee culture in general, the grunge music scene, the Seahawks, the Space Needle, Pike Place Market, headquarters of many tech businesses (including both Amazon and Microsoft), hiking, kayaking, and an active outdoor lifestyle
Is Seattle Expensive to Live?
Seattle's cost of living is 56.8% higher than the national average
What is the Best Month To Visit Seattle?
The ideal period to visit Seattle is between September and October. The city's peak season is during the summer when rates rise and availability decreases.
Looking for Free Things to do in Seattle on a Rainy Day Don't Miss
The Seattle Underground Tour
Drinking Beer at one of the Many Amazing Breweries
Eating Some Seafood at Matts in the Market
Eat Some Vietnamese food at Pho Bak
Visit The Museum Of Pop Culture