Whether you're a beginner or a veteran to living the vanlife, I wanted to share my best campervan gadgets. We're going to skip the unnecessary stuff so you don't end up with a bunch of clutter and things you won't actually use. Keep reading to find out what made our list and why.
How to Choose the Best Campervan Gadgets
When choosing the best gadgets for your campervan there are several things to keep in mind. When you keep the following suggestions at the forefront, you'll dodge buying things that ultimately won't be used and become a waste of money.
Here are our best suggestions:
Make sure the gadget(s) will actually improve your traveling experiences.
Ask yourself if the gadget is fad-based or actually time-tested.
Check the quality and durability to ensure you are getting your money's worth.
Be sure the gadgets will be something you'll actually use often.
With these tips in mind, let's look at our roundup of gadgets we think you'll love.
Campervan Gadgets That'll Make Life on the Road Easier
Comfort and Relaxation
We doubt you'll be spending all your time inside the van. So whether you're indoor or outdoor, here are a few gadgets to ensure you stay comfortable and relaxed.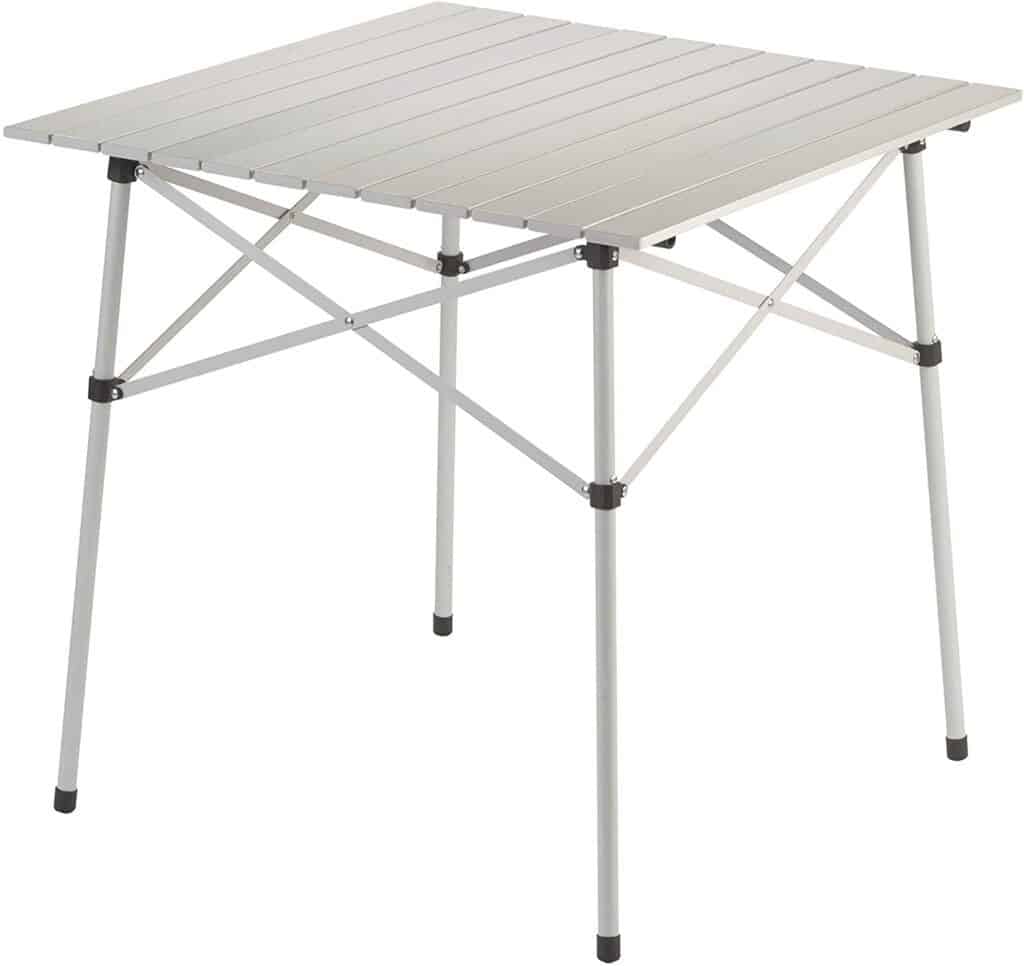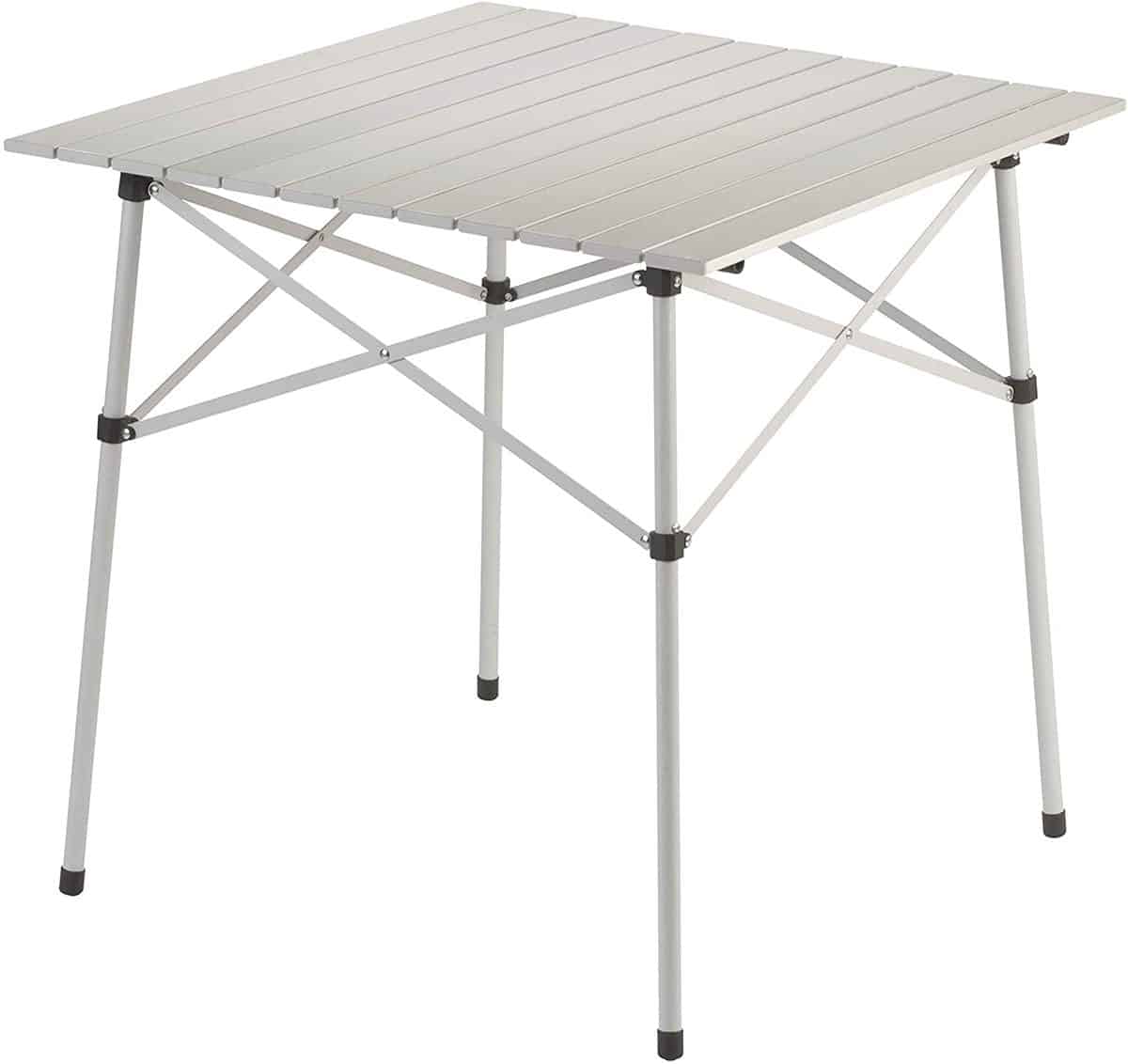 Since you'll most likely spend time outside the van, don't worry about what you'll dine or play games on with the Coleman Outdoor Folding Table. It's considered ultra-compact, meaning it will take up minimal space, but still folds out big enough for seating four people.
Don't Miss: Campervan Kitchen Accessories For Van Cooking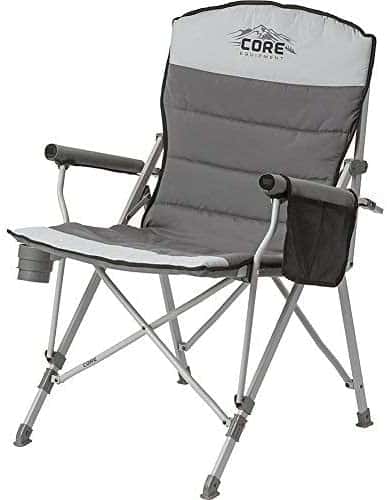 If you have a table, you'll also need comfortable chairs. This foldable relaxing camping chair provides enough cushion for comfortable sitting and comes with a few gadgets of its own. It includes an oversized cup holder and pocket for holding your gear.
RELATED: The Best Campervan Storage Ideas To Make Vanlife Easier. Click HERE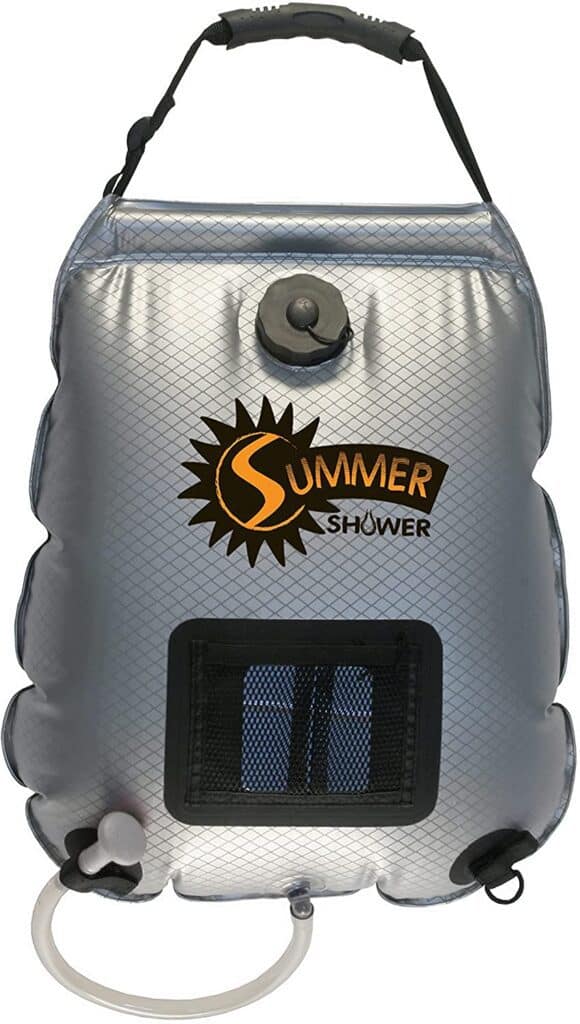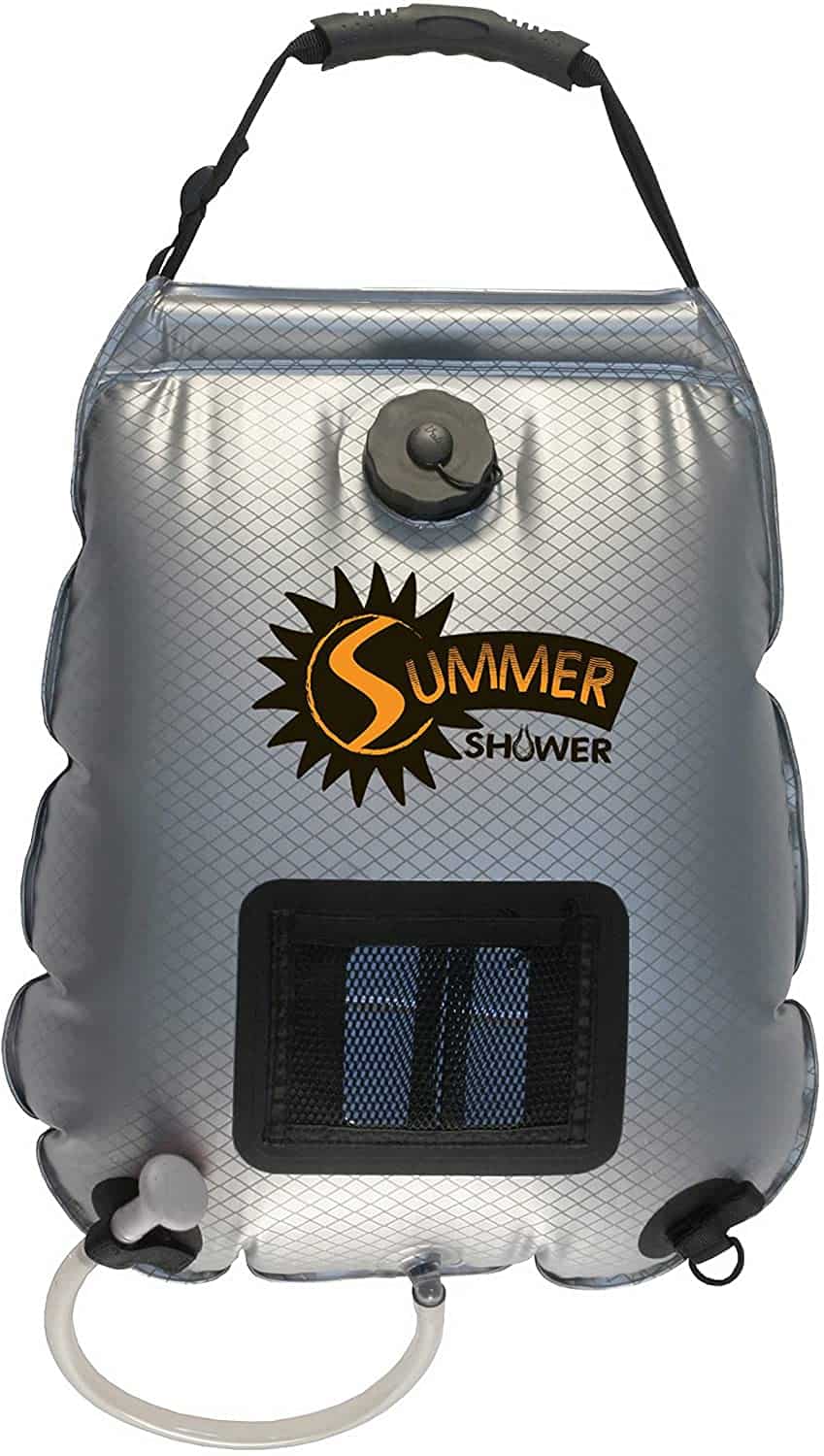 Whether you need a shower, you have dogs on board or would like to wash off dirty kids (or bikes/gear) at the end of a long adventurous day, this Advanced Elements Portable Shower Kit will come in handy. It has a 5-gallon capacity to ensure you have enough water for whatever you need to get done.
Tech-Related
Living the campervan life doesn't mean you can't have a little technology on hand. Below are a few tech-related gadgets that are awesome to have on hand.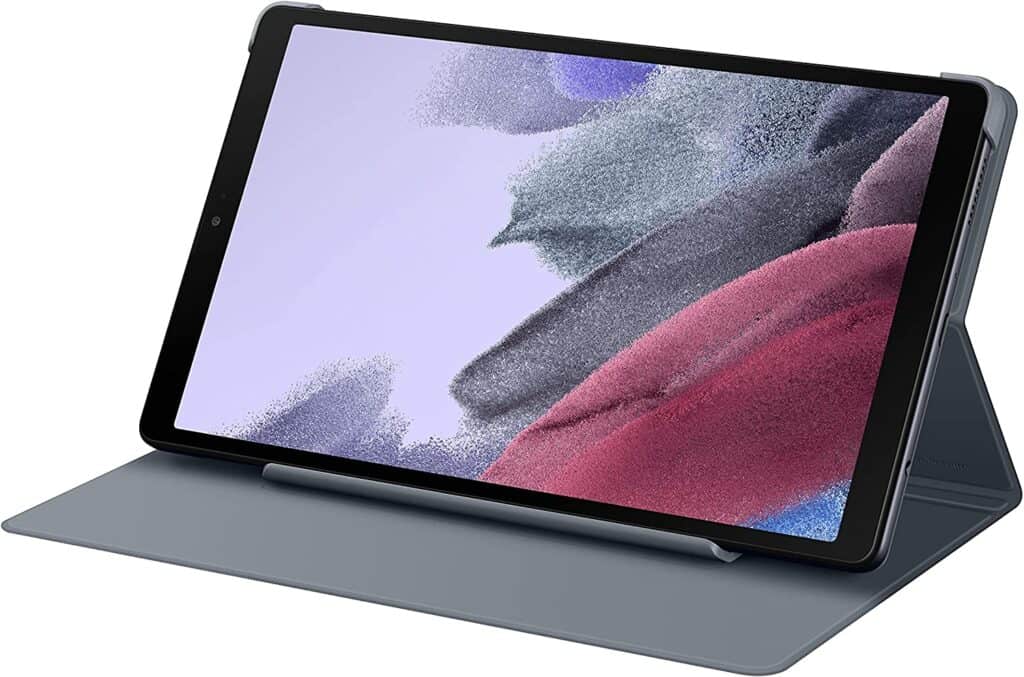 Having a little technology along your campervan journey can come in handy, especially when you're looking to curl up with a good "book." The Samsung Tab is the perfect gadget for doing that and some. You'll also enjoy two free months of YouTube Premium with this particular kind.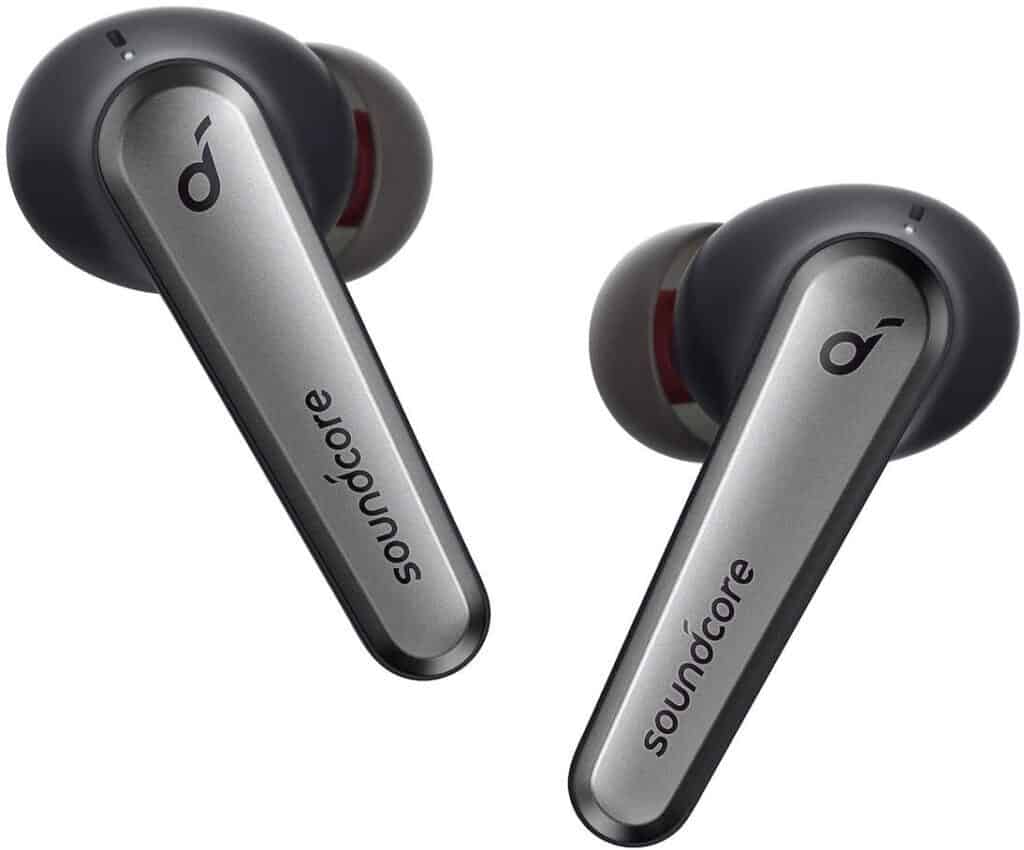 These are growing increasingly popular and rightfully so. They are noise canceling, can take calls, have wireless charging, and more. This certainly takes having headphones to the next level, and without taking up much space at all.
Kitchen and Cooking
There's nothing like being able to cook on the go. Not to mention, it can also save you lots of money. Here are our top picks to make sure you're ready to cook (and enjoy) a fabulous meal.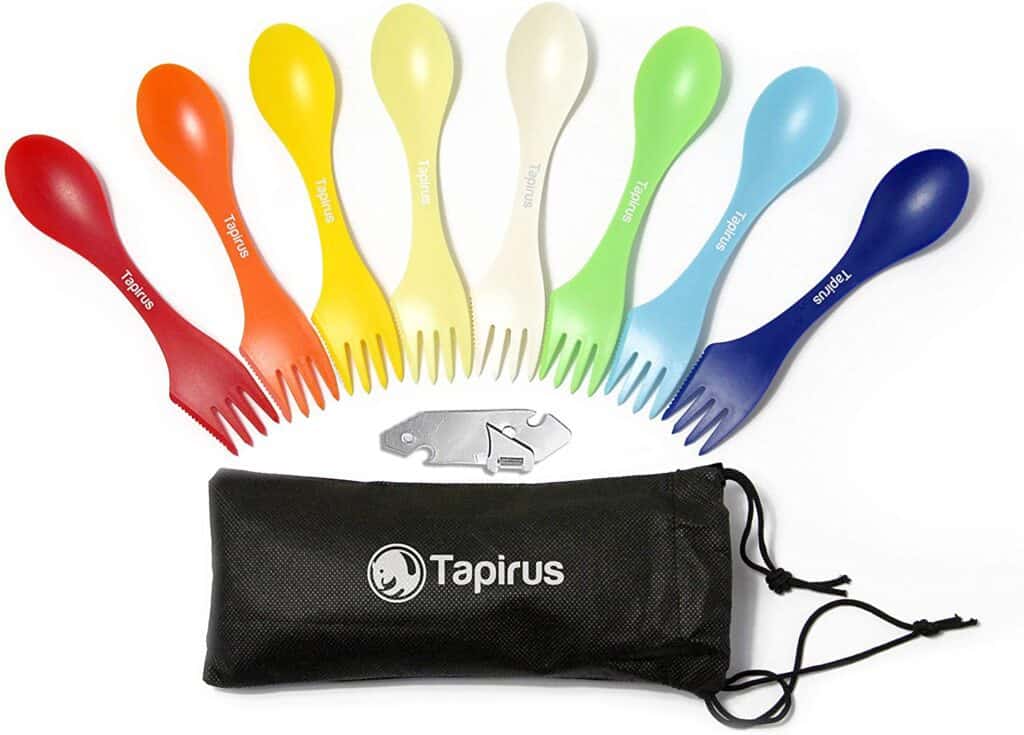 You can't go wrong by having this set of Tapirus Sporks on hand. You'll conveniently have a fork on one end and spoon on the other along with a bottle opener and carrying bag. This is a versatile set of 8 that you'll be glad you have.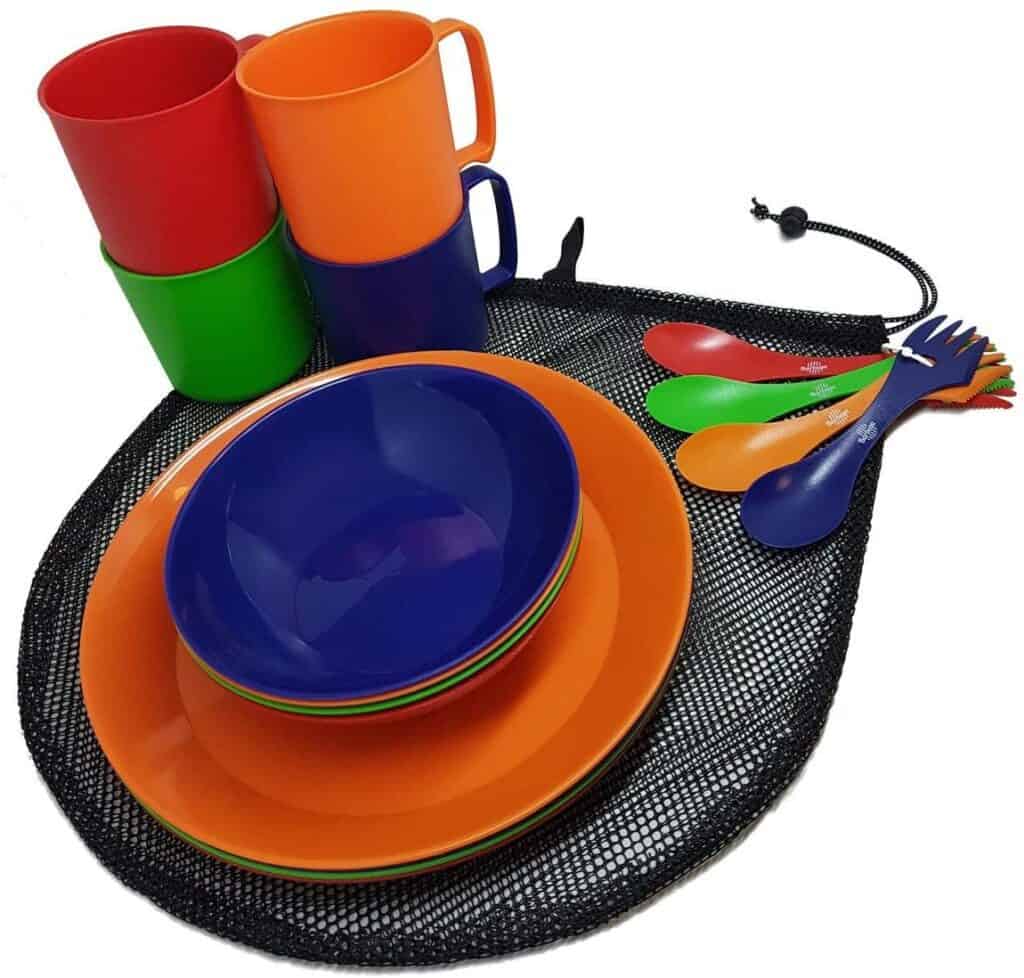 Since you're limited on space, you definitely don't want to pile up on dishes. This convenient dinnerware set comes with enough plates, bowls, utensils, and cups for four people. The set also comes with a mesh bag to help keep everything together.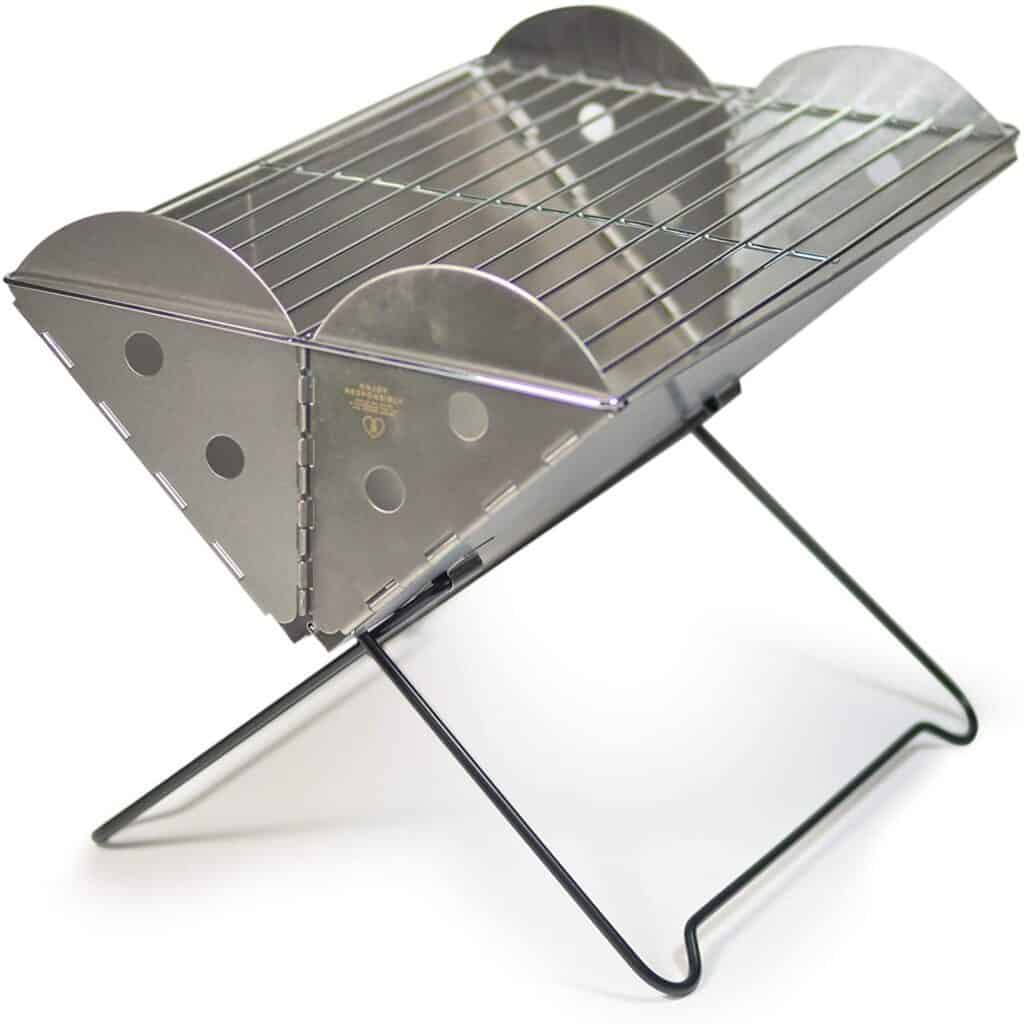 There may not be a grill at every place you stop so having a foldable grill and fire pit on hand will help take the guesswork out of what you'll do for outdoor cooking. It's stable, safe, and can be put together in as little as 30 seconds.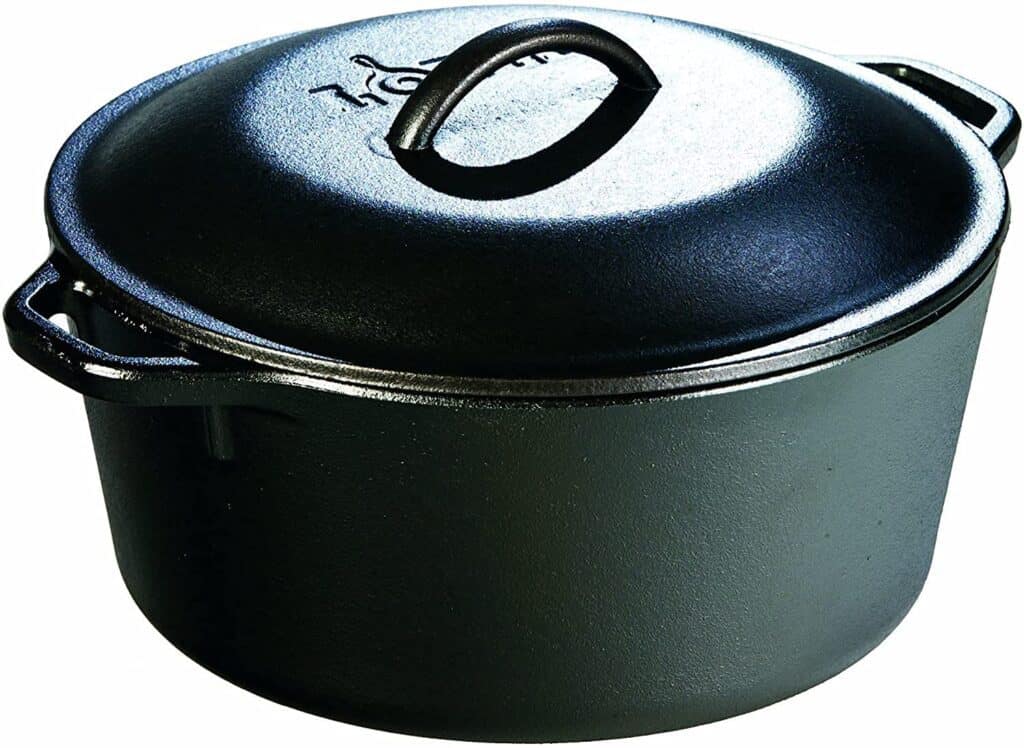 Not only is cast iron a reliable cooking appliance to have on hand, but with a dutch oven, you can get a lot of cooking done in one pot. Whether you're sauteing vegetables or cooking a full casserole over an open fire, a dutch oven has the capacity to handle whatever meal you put in it.
RELATED TO DUTCH OVENS: 45 Mouth Watering Dutch Oven Recipes
Lights and Safety
Having proper lighting and safety on board is extremely important when living the campervan lifestyle. These are our top suggestions of gadgets you can't go wrong with investing in.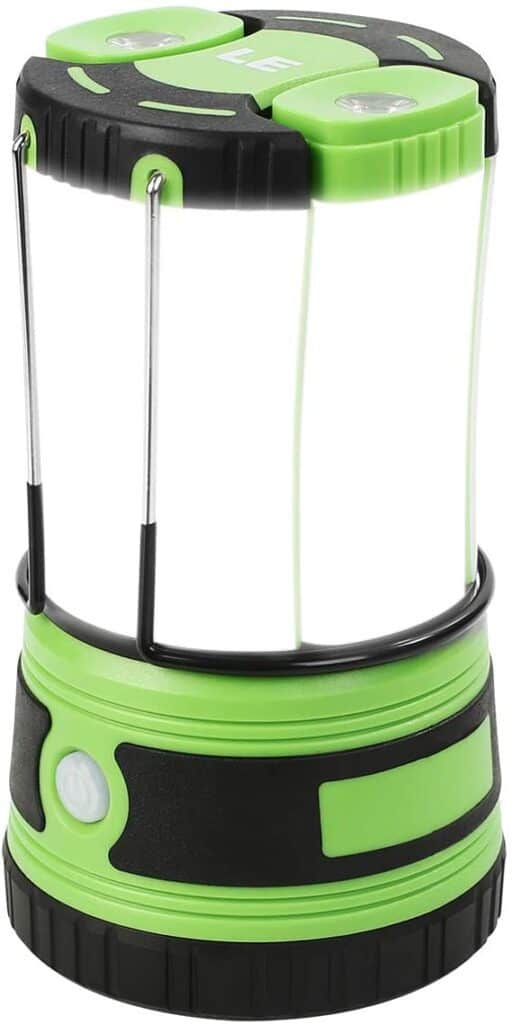 Once the sun has gone down, you don't want to use up the light in your campervan. Instead, be sure to have lighting like this Lepro Lantern. It's 3-in-1 multifunctional with two detachable flashlights, which comes in handy.
Powered three ways, wide applications, and the super bright light are all reasons to have this lantern on board your campervan.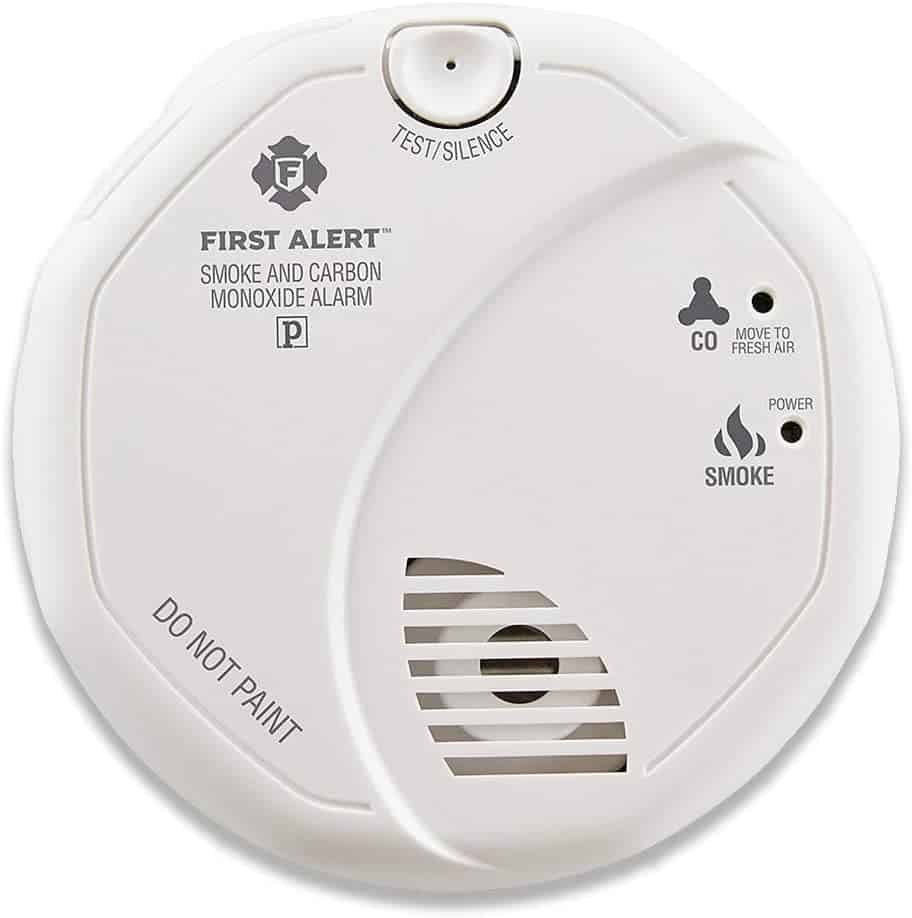 You don't have to live in a home to need one of these. Keep your family safe by putting one of these inside your campervan. This First Alert comes with a 7-year warranty and is completely battery powered.
Looking for ways to keep your van garage organized? Don't miss this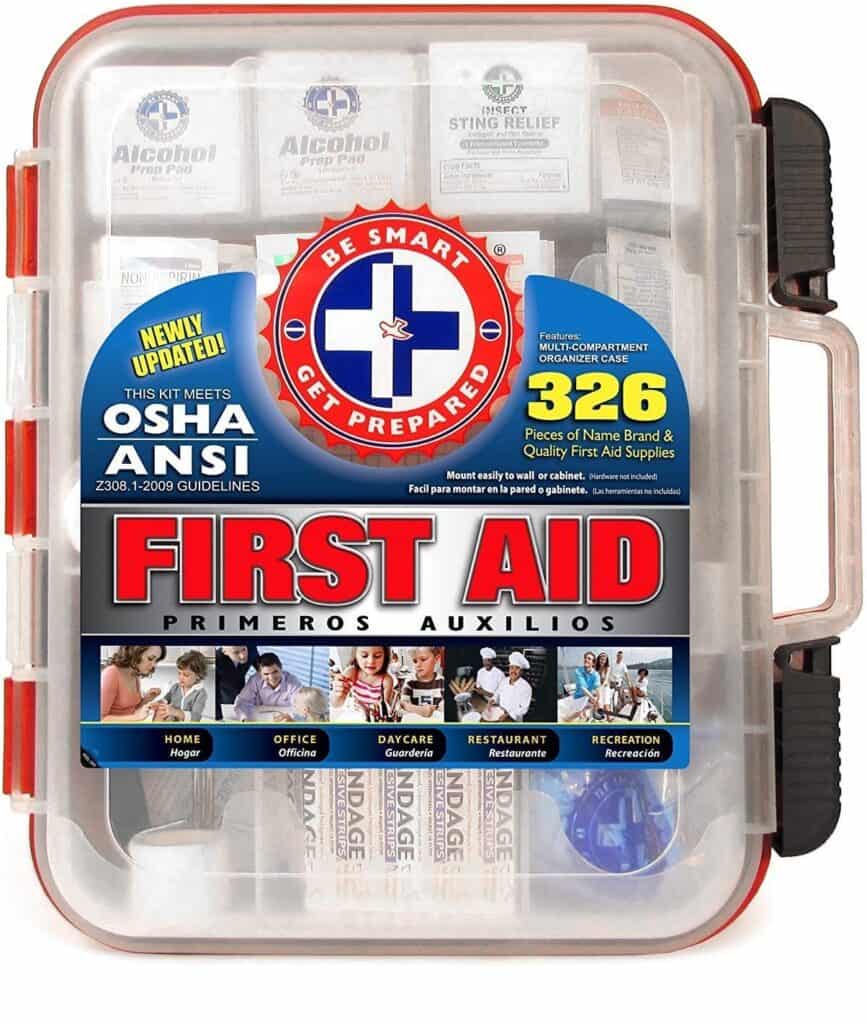 If you don't have one of these in your campervan yet, this set is a must-have. It exceeds OSHA standards and ensures that you'll have what you need in the event of a basic emergency situation.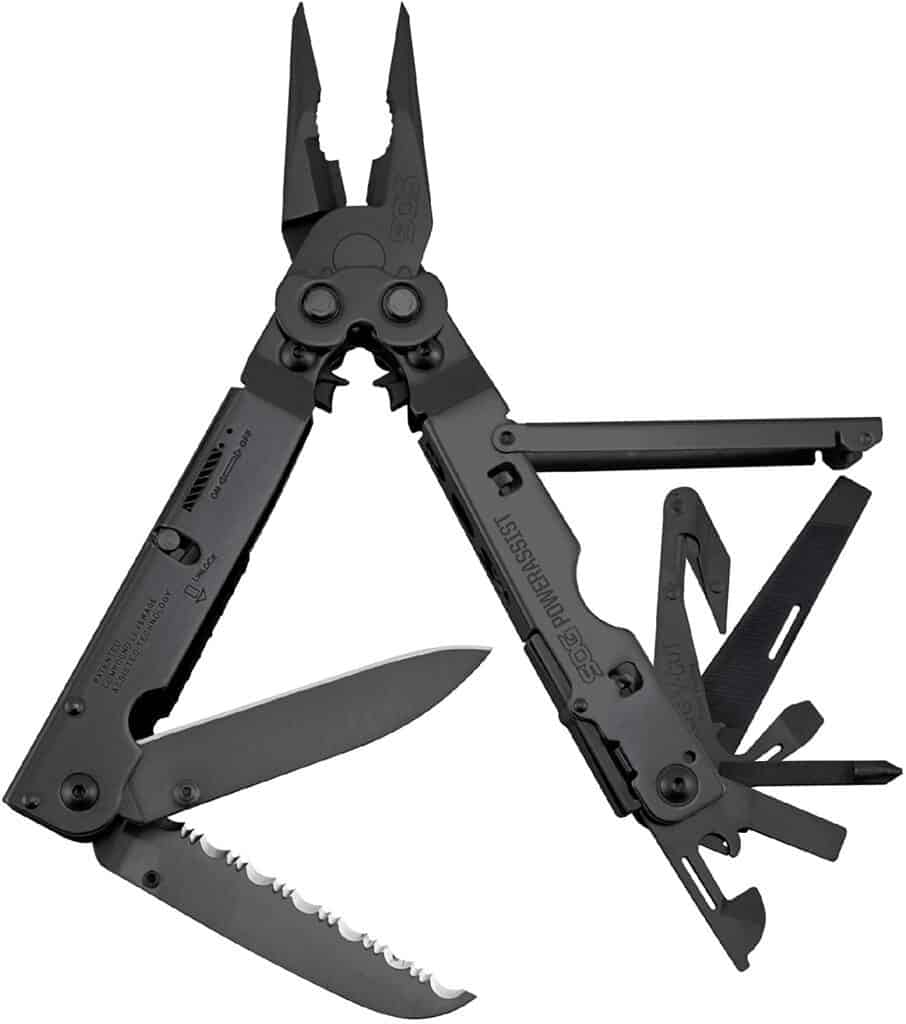 This gadget has just about all you need in a pocket knife-style contraption. It actually has 16 tools, 2 pliers, a multi-tool pocket knife, and more. The SOG Multi-Tool Pliers are something to always have on hand. They'll come in handy when you least expect it.
Get Out and Explore
While there is much more we could add to this list, these are things that often fly under the must-have radar. Use our suggestions to make sure you have just what you need in your campervan so you can enjoy your travels. Is there anything you'd like to add to this list? Let us know in the comments below!