Are you looking for Colorado's hidden Gems? If so keep on reading to explore the best places to Visit in Colorado
It's no secret that Colorado is a pretty unique place; if you're looking for the best-hidden gems in Colorado, we're here to uncover our favorite places.
The state of Colorado is an outdoor enthusiast's dream. If you're interested in hiking one of the Colorado 14ers, skiing at one of its many ski resorts, biking, camping, or enjoying fresh mountain air at an abandoned ghost town, you're going to love your time in this great state.
Colorado is a state that deserves A LOT of time to explore. After spending two long periods in Colorado, I can now finally say we've found some of our favorite hidden gems in this beautiful state.
Want more travel Ideas for Colorado Check out our guides below
Trinidad
Trinidad is a small town in southeastern Colorado about three hours from Denver that tourists often overlook. Trinidad's downtown is full of boutiques, restaurants, and art galleries; all tucked away in the shadows of Fishers Peak.
If you're looking for outdoor adventures, Trinidad has a lot to offer visitors, including beautiful scenery, a rich history, and plenty of trails nearby. Just west of Trinidad, there is a large lake that offers fishing, boating, waterskiing, and more.
Trinidad is a great stop for visitors heading towards New Mexico, thanks to its two state parks and proximity to one of Colorado's most scenic byways Scenic Hwy of Legends.
Estes Park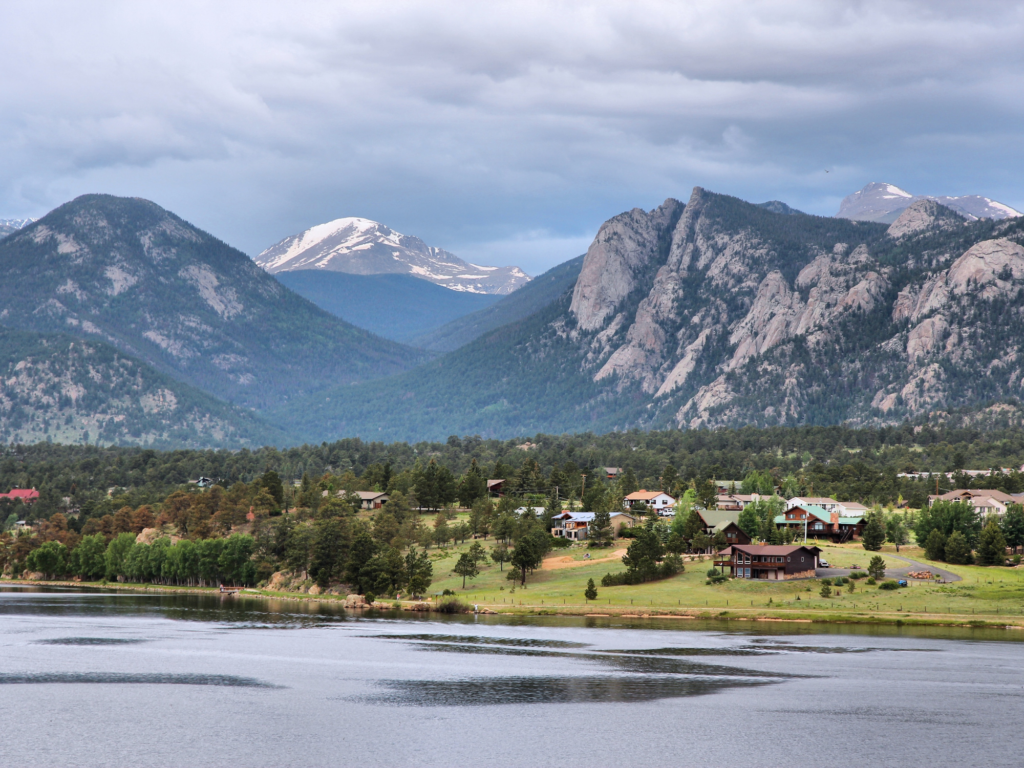 Estes Park, home to Rocky Mountain National Park, is a small town in Colorado known for being the inspiration for Stephen King's novel, The Shining. The city has a rich history and beautiful scenery, making it a popular tourist destination. There are plenty of things to do in Estes Park, including hiking, fishing, sightseeing and of course visiting the National park.
The Estes Park Hotel is a historic hotel in Estes Park; the hotel is said to be haunted and offers a haunted tour. Guests have reported hearing strange noises and experiencing cold spots in the hotel. If you like creepy hotel experiences, this may be something you would really enjoy.
Rainbow Falls is a waterfall located in Manitou Springs, 20 minutes from Colorado Springs. It is known for its stunning rainbow-colored rocks and beautiful views. The locals refer to this area as graffiti falls due to the artwork that has been added to the walls of the falls over the years.
The waterfall is easily accessible and makes for a great day trip or stop on your travels through Colorado.
Canyons of the Ancients National Monument- Dolores
Canyons of the Ancients National Monument is a national monument in Colorado that contains some of the oldest ruins in North America. The monument is located in the Four Corners region and is known for its ancient cliff dwellings and other archaeological sites.
Despite being a little challenging to get to, Canyons of the Ancients National Monument is definitely one of Colorado's best-hidden gems.
If you plan to visit this monument, it's recommended that you stop at Canyons of the Ancients Visitor Center and Museum in Dolores to get the lay of the land and the current conditions of the area.
Indiana Jones Home- Antonito
The Indiana Jones Home is a bed and breakfast in Antonito, Colorado. The setting was used as the home of Indiana Jones in the third movie, Indiana Jones and the Last Crusade. The Bed and breakfast has done a fantastic job creating four different cabins that are all a little different but are decorated to showcase the Indiana Jones movies.
Geyser Spring Trail- Colorado's Only Geyser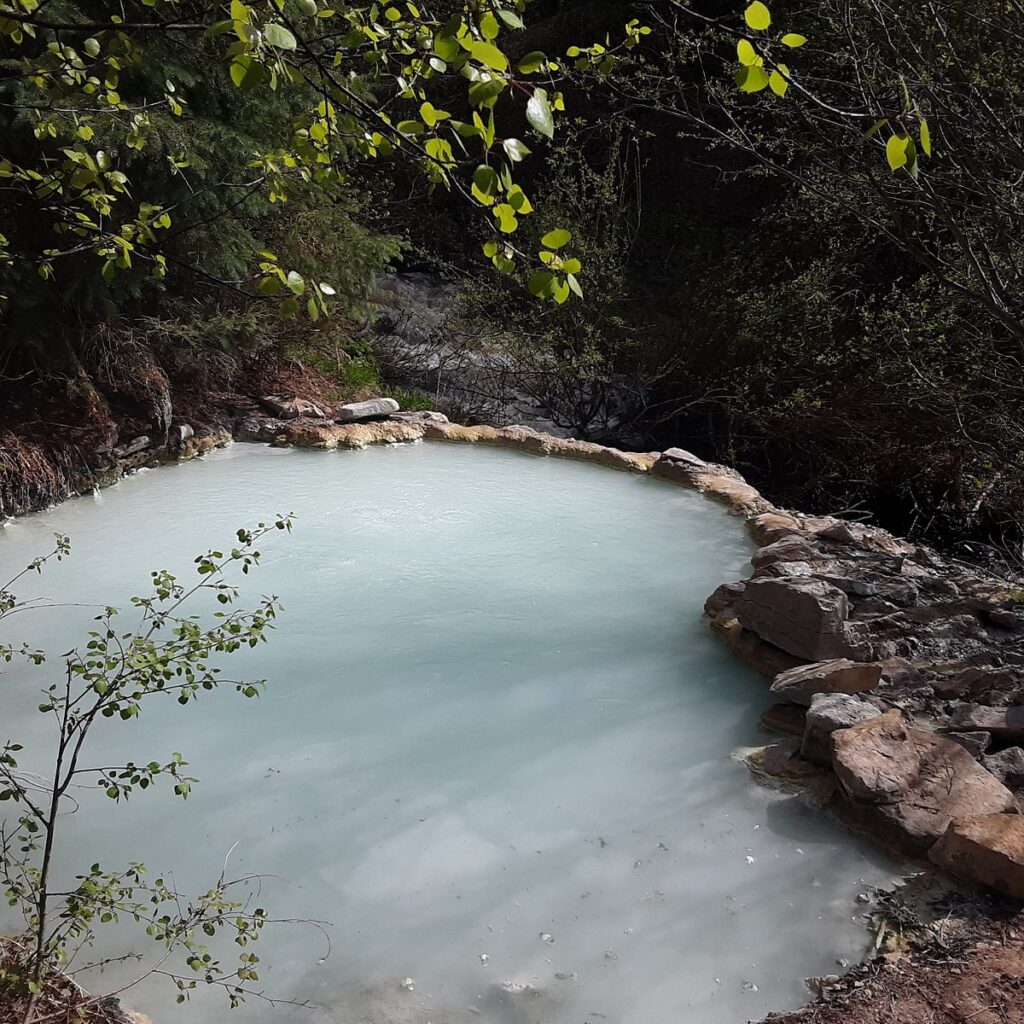 The Geyser Spring Trail is located in the San Juan National Forest between Telluride and Dolores and leads to Colorado's only geyser.
We started on Dunton Road/County Road 38/NFSR #535 and drove 23.3 miles through gorgeous fall foliage and beautiful scenery on a paved roadway for around 15 miles. The final 6 miles were on an unpaved road. The trailhead is south of the tiny town of Dunton, a late 1800s mining community that has been transformed into a private resort known as Dunton Hot Springs.
The trail is located 2.2 miles south of Dunton and climbs 500 feet over 1.3 miles, passes through aspen groves before ending at a hazy aquamarine lake that erupts every 30 to 40 minutes or so.
Florissant Fossil Beds National Monument-Cripple Creek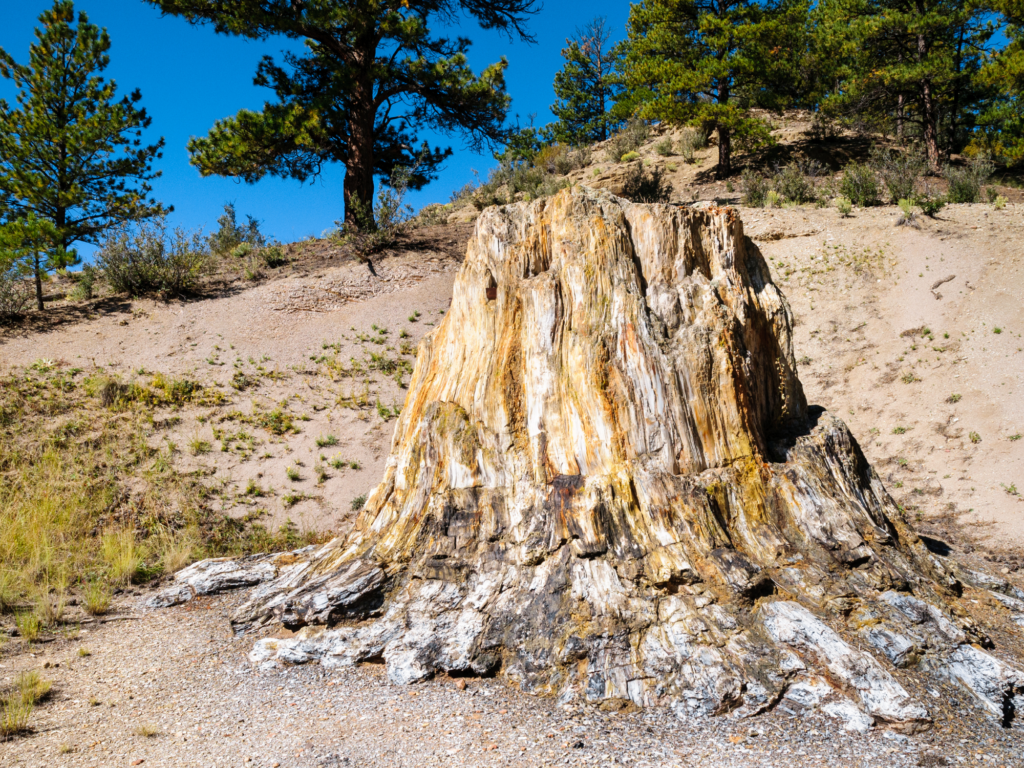 Located just a few miles from the town of Cripple Creek, Colorado is the Florissant Fossil Beds National Monument. This monument is home to one of the richest fossil deposits in North America, and it is definitely worth a visit for anyone interested in natural history. The park offers a variety of different exhibits and tours that will teach you about the fossils that have been found there.
If you're looking for a place to visit in Colorado off the beaten path, consider Florissant Fossil Beds National Monument. This monument is home to some of the best-preserved fossils in the world, including 34 million-year-old redwood tree stumps!
Paint Mines Interpretive Park- Calhan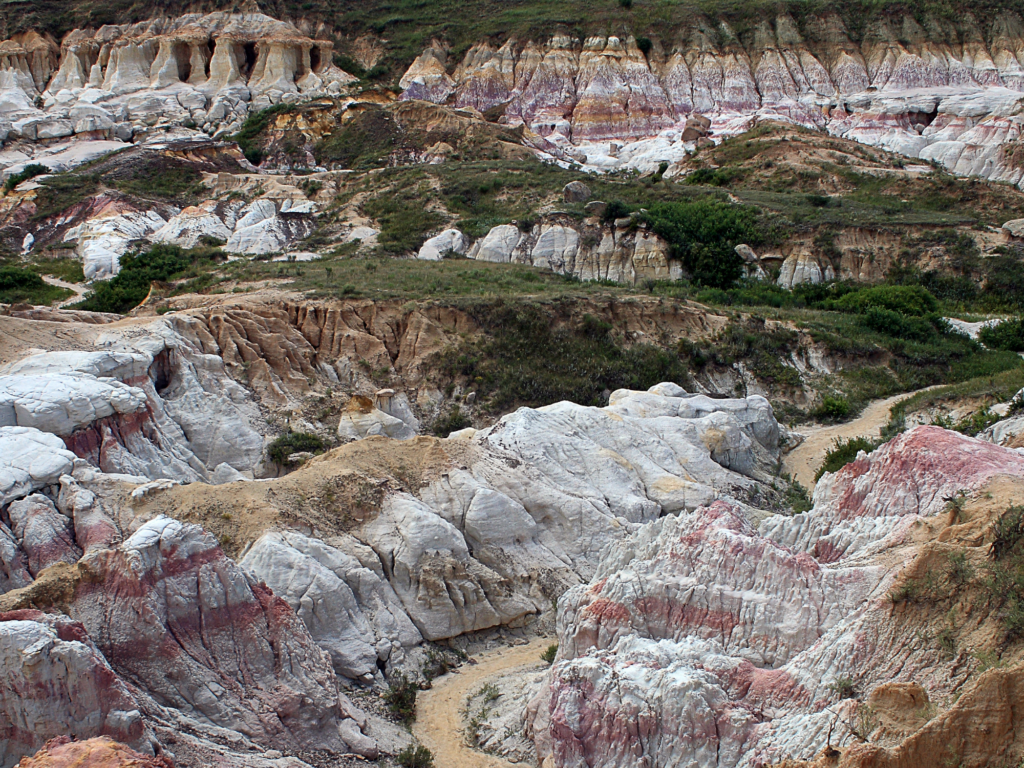 The Paint Mines is one of Colorado's most unique and colorful places. If you've been to Bryce Canyon National Park, I'm sure you're familiar with seeing the infamous hoodoos within the park, but you can see them here at this park too.
This area has fascinating geological formations with winding canyons, spires, grassy meadows, and beautiful wildflowers in late summer. Take some time to explore the area and walk around the four miles of trails within the park. I think you'll really enjoy the beautiful colors of the rock formations.
Colorado's mountains have a lot of activities to keep your adrenaline pumping, but the mountains can also be relaxing. After a long day of hiking or skiing, dip your toes into one of the many hot springs and enjoy the relaxing experience.
Penny Hot Springs Near Carbondale
The Penny Hot Springs, located 12 miles south of Carbondale, are a hidden gem in the Colorado mountains. These hot springs are along the river surrounded by mountains and are perfect for a peaceful afternoon.
The springs are undeveloped and easy to miss but well worth the stop if you're in the area. I think you'll find these springs offer a peaceful and relaxing environment and are perfect for a quick escape from the everyday grind.
Hot Sulphur Springs- Hot Sulphur Springs
Hot Sulphur Springs is a small town in Colorado and home to one of the state's hidden gems – the Hot Sulphur Springs.
The hot springs are the small town's main attraction and a frequent go-to location for skiers and boarders from Winter Park Resort and Ski Granby Ranch in Grand County, who come to unwind their aching muscles after a hard day on the slopes.
This rustic and peaceful town is a great place to visit if you're looking for a quiet getaway.
The area is home to 21 thermal springs with different temperatures and minerals. Visitors can enjoy soaking in the springs, hiking, fishing, and biking in the beautiful surroundings.
Hanging Lake- Glenwood Springs
Glenwood Springs is a picturesque town located in the heart of Colorado's stunning Rocky Mountains. Nestled between the towering peaks of Glenwood Canyon and the rushing waters of the Colorado River, this charming town is home to some of the state's most scenic areas.
One such destination is Hanging Lake, a rare travertine geological formation that can be visited via a very nice hiking trail. This is a really neat area that we definitely recommend visiting.
Some people may not consider National Parks a hidden gem; however, I beg to differ with so many things to see in Colorado; a national park like Black Canyon of the Gunnison is a true gem. While we were there during the fall, there were very few crowds and plenty of hikes to be had.
Black Canyon of The Gunnison National Park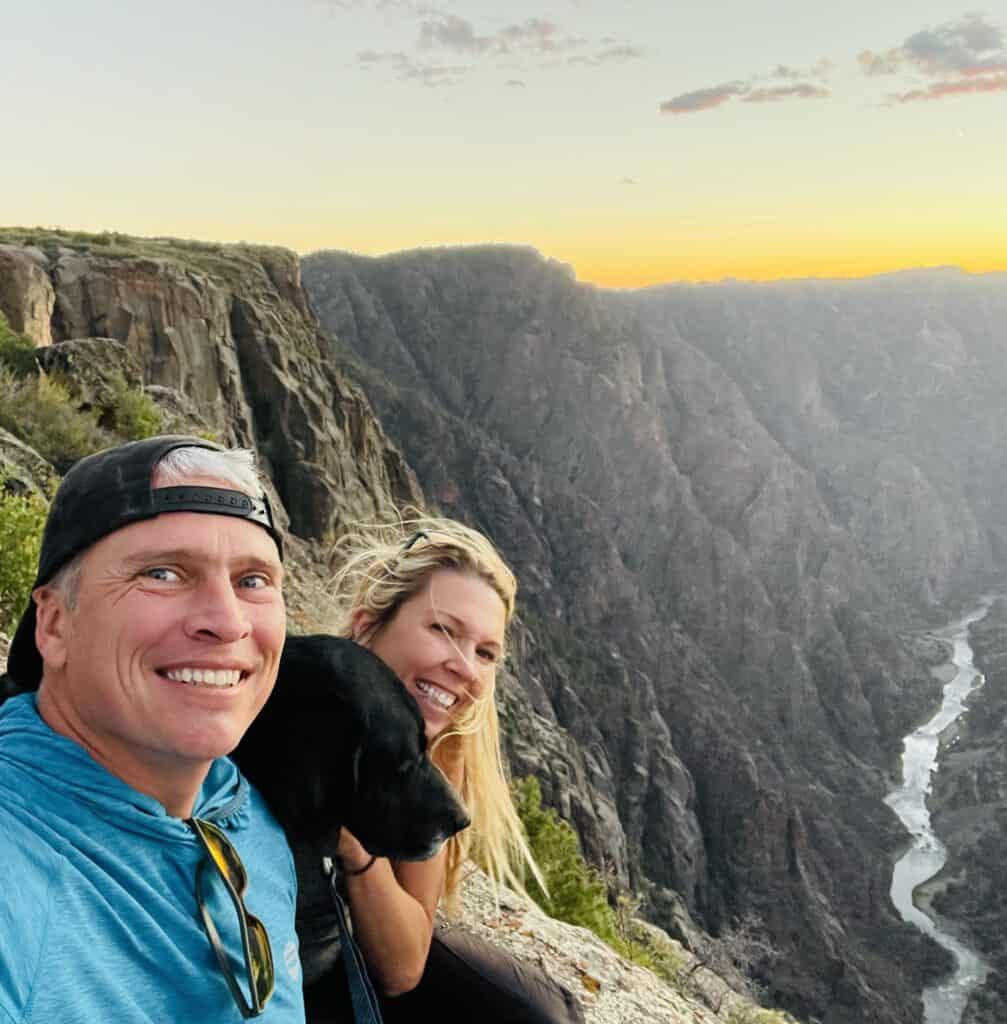 Black Canyon of the Gunnison National Park makes our list of hidden gems because it is one of the lesser-known National Parks in Colorado. However, it makes up for its lack of popularity with its stunning beauty and uniqueness.
The Black Canyon of the Gunnison is a National Park in Colorado known for its desert landscape, black rock formations, and various viewpoints and hiking trails. It is a great place to visit for those who want to experience the natural beauty of Colorado.
The park is located in western Colorado and features some of the most rugged and inaccessible terrain in the state. Visitors can enjoy hiking, camping, fishing, and wildlife viewing in the park.
Mesa Verde National Park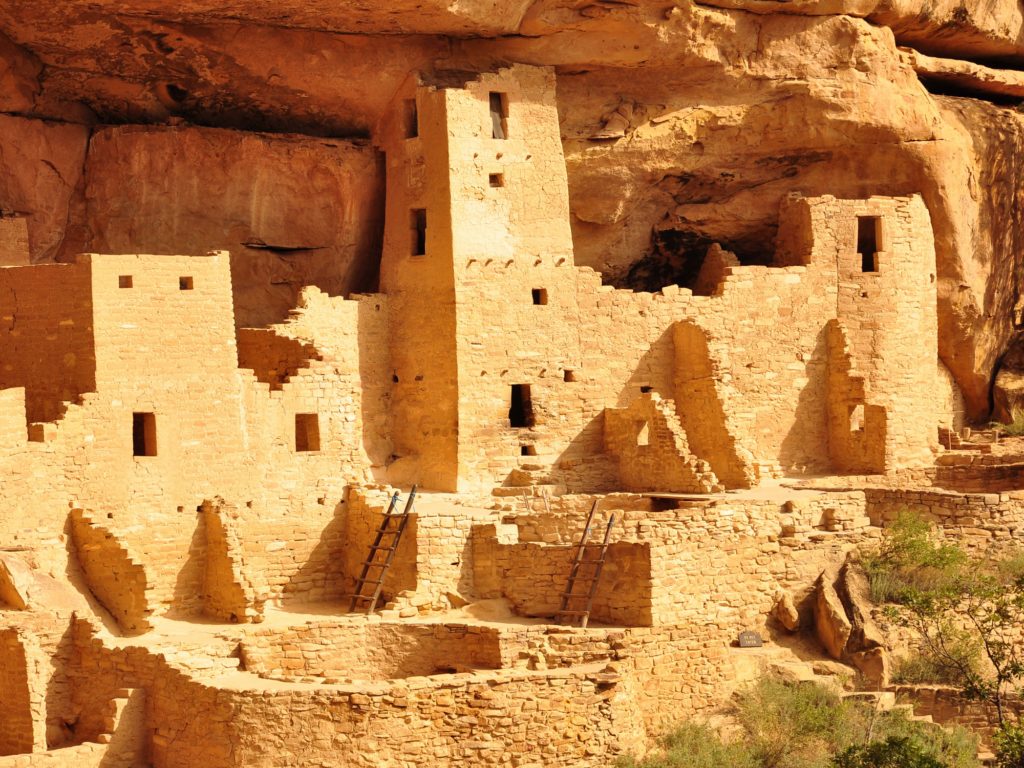 Mesa Verde National Park is a National Park located in Montezuma County, Colorado. The park contains over 4,700 archeological sites, including 600 cliff dwellings. These dwellings are some of the best-preserved and most notable in the United States.
While visiting Mesa Verde don't miss the well-known Cliff Palace. Cliff Palace is one of the most popular attractions in Mesa Verde and is definitely worth a visit if you're in the area.
Rocky Mountain National Park
Rocky Mountain National Park is one of Colorado's most popular tourist destinations. With its stunning mountain scenery and abundance of outdoor activities, it's easy to see why. If you're looking for a smaller adventure, enjoy hiking the trail around Bear Lake or viewing Long's Peak.
For a more breathtaking experience, visit Sky Pond and Lake of Glass, two of the most beautiful glacial lakes in the park.
Here's our in depth guide to hiking trails in Rocky Mountain National Park. Click here to get our guide
Off the Beaten Path in Colorado
We love exploring and getting on the back roads. Often we'll plan a route that's two times as long just so we can get off the main tourist routes and see the hidden gems of what the state has to offer.
One of our more favorite drives is taking the Silver Thread Scenic Byway between Creede and Lake City. Speaking of Creede, the Wheeler Geologic area is worth a visit.
Don't miss our favorite small towns in Colorado write up where you'll learn about off the beaten path towns you must see in Colorado
Located 2 miles east of Creede, you'll find a true hidden gem. Wheeler Geologic Area is a ghost city-like area with spires and minarets that seem to float like clouds above the surrounding mountains and national forest. This unusual geologic occurrence was formed as part of the San Juan Mountains' violent volcanic activity over millions of years and erosion.
The San Juan Mountains, which straddle the Utah/Colorado border, are Colorado's largest volcanic region. Volcanic formations that were active 40 million to 30 million years ago formed a composite volcanic field covering 9,000 square miles and was up to 4,000 feet thick.
When it comes to ghost towns, Colorado is full of them. If you're looking for some of our favorite hidden gems, check out the following:
Crystal Ghost Town-By Marble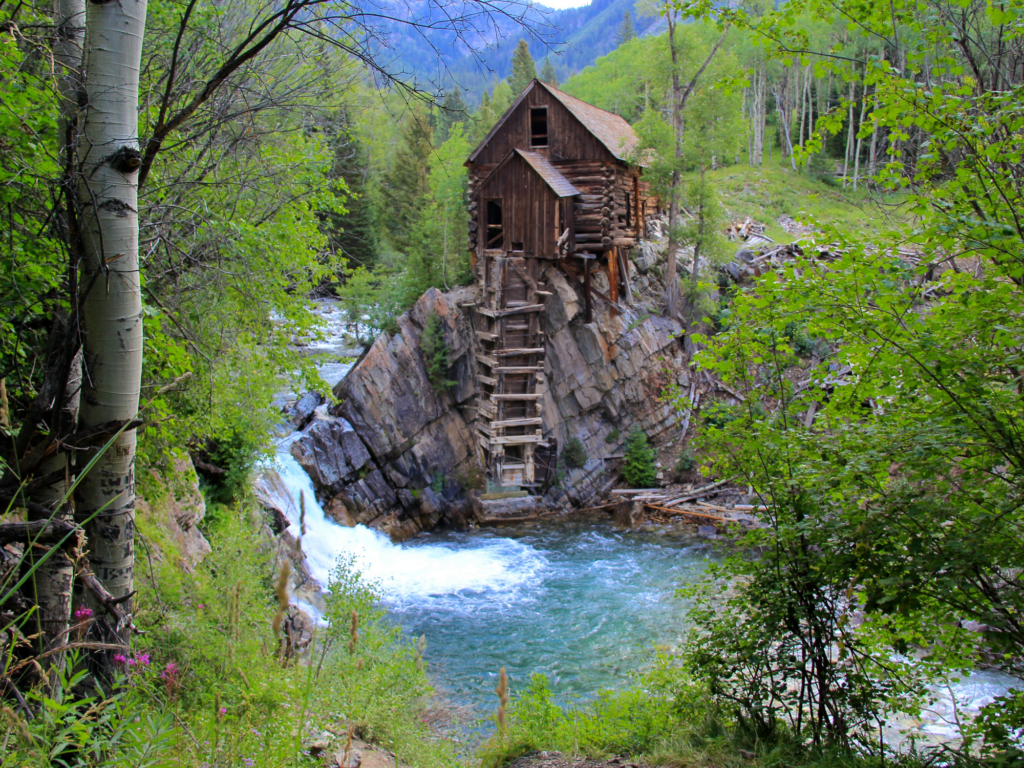 Crystal Ghost Town, located 6 miles from Marble, Colorado, is a small, abandoned town. It's known for the picturesque Crystal Mill, a highly sought-out spot for photographers, hikers, and explorers.
The ghost town was founded in 1881 by the Denver and Rio Grande Western Railroad as part of its expansion into the area. At its peak, the town had a population of around 1,000 people.
However, when the railroad pulled out of the town in 1942, the population quickly dwindled and was eventually abandoned. Today, it remains abandoned and is a popular tourist destination for explorers and adventurers.
St Elmo Ghost Town
St. Elmo, Colorado, is one of the most accessible and well-preserved ghost towns in the West, located just southwest of Buena Vista. It's about a thirty-minute drive from town.
There are 43 structures still standing, including a saloon, courthouse/jail, and commercial building. This ghost town is open all year, making it one of the few worth seeing in the winter months. The General Store is accessible during the summer season only.
The town was once home to over 2,000 people and was a boomtown due to the rich silver and gold deposits found there. The town is now a popular tourist destination for those who want to see what life was like in a mining town during the 1800s.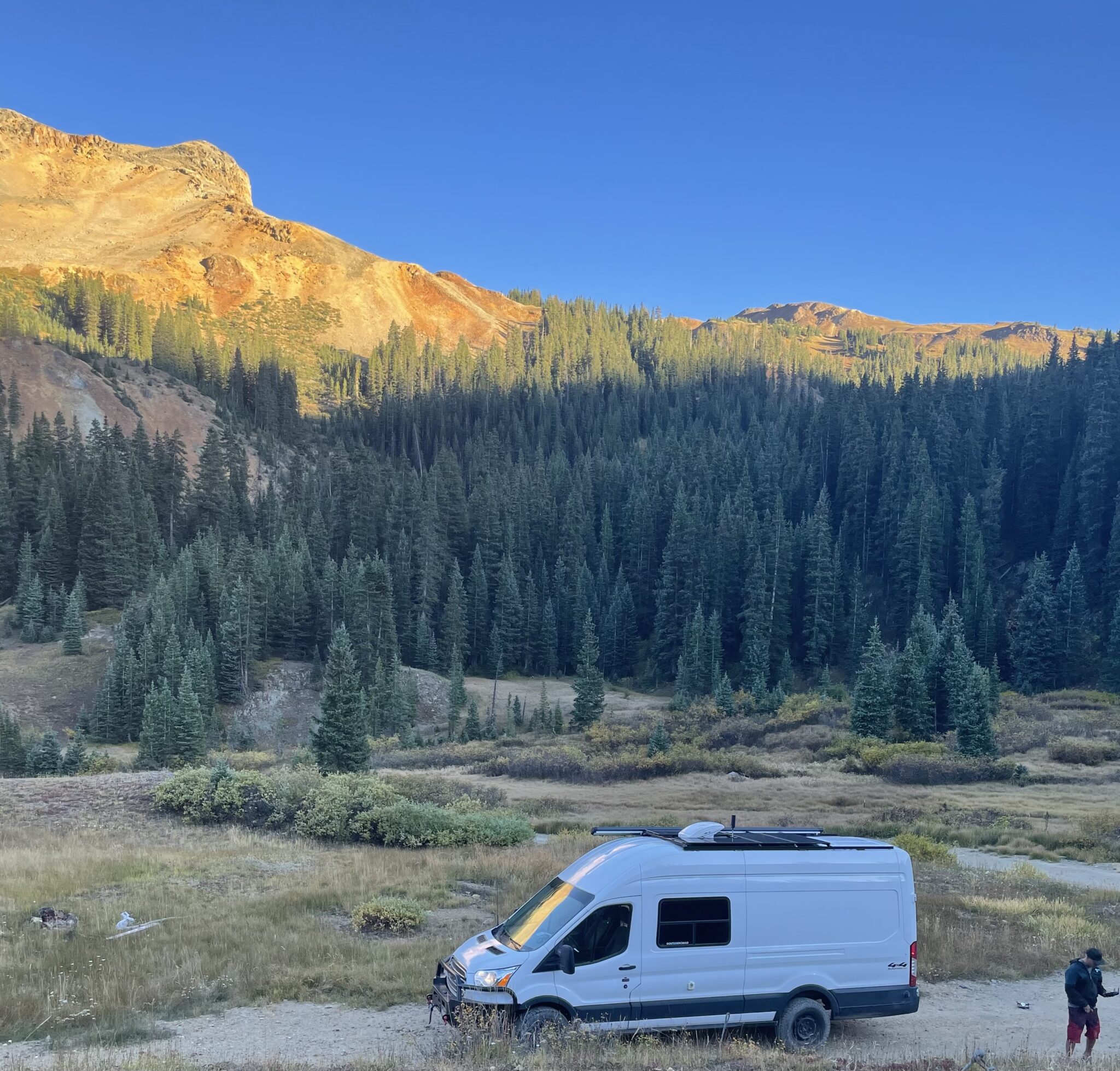 I REALLY want to know. How do you find new places to explore? What method do you use to find these remote or hidden places?
FAQ
What is the prettiest part of Colorado?
I know that this may be debatable; however, in my experience, the prettiest parts of Colorado and the prettiest mountain towns in Colorado are in the SW area of the state. I can't think of a better way to spend your time than visiting places like Telluride, Silverton, and Ouray.
Does Colorado have Wilderness?
You bet it does; if you're looking to get deep into the Wilderness, there's no better place than Colorado. With over 3.5 million acres of land set aside to preserve the natural state of Colorado, there are plenty of places to enjoy the natural beauty of the area.